We have put together a list of the best restaurants in Palm Beach, Florida. If you are looking to dine in Palm Beach, we have you covered with an amazing list of restaurants.
After exploring Palm Beach you will be sure to have worked up an appetite. Palm Beach is probably best known for its glitzy and glamorous reputation but has equally amazing restaurants. Try one of the 15 restaurants we have chosen on where to eat in Palm Beach.
Whether you are looking for an old school breakfast diner, a neighborhood lunch spot or dinner there are so many dining options in Palm Beach. Head to one of the many Italian restaurants, sushi, French or a fine dining steakhouse.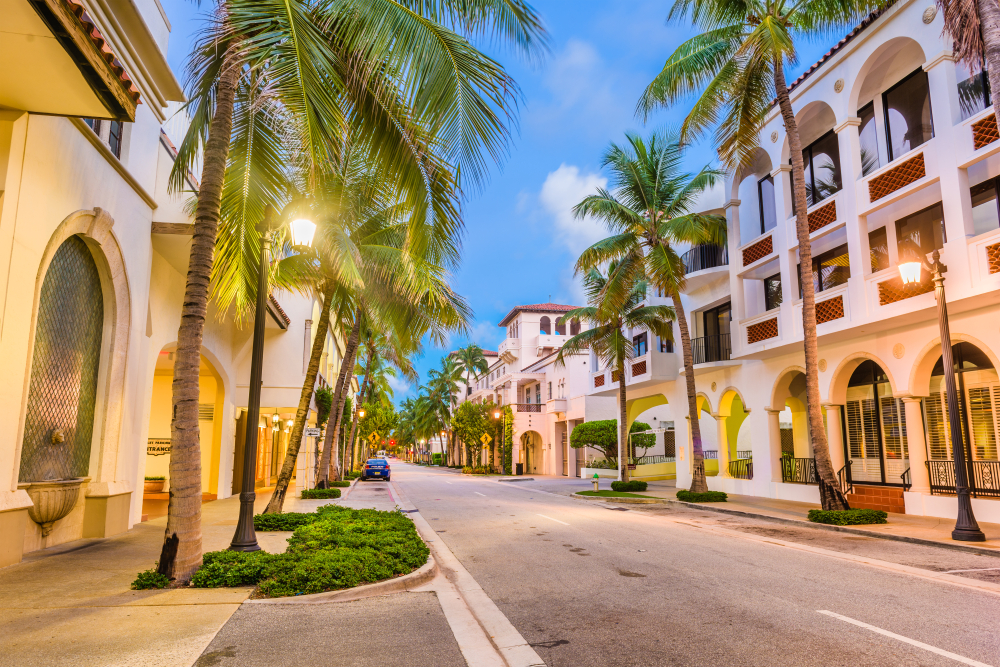 15 Best Restaurants In Palm Beach FL You Must Try
Palm Beach Grill
One of the restaurants on Palm Beach island, is Palm Beach Grill. Since 1999, they have been serving American classics and comfort food dishes.
On the menu starters include deviled eggs, rosemaries focaccia and a jumbo shrimp cocktail. Pair with the heirloom tomato salad, PBG dinner salad and an iceberg wedge. House specialities include the famous cheeseburger, French dip au jus, and the silver service kosher hot dog.
Larger entrees include true dover sole with pomme puree, creole jumbo shrimp, a florida red snapper, slow roasted pork ribs and a prime filet with béarnaise sauce. Pair with warm kale panzanella, braised red cabbage, seasonal vegetable, roasted beets and creme corn.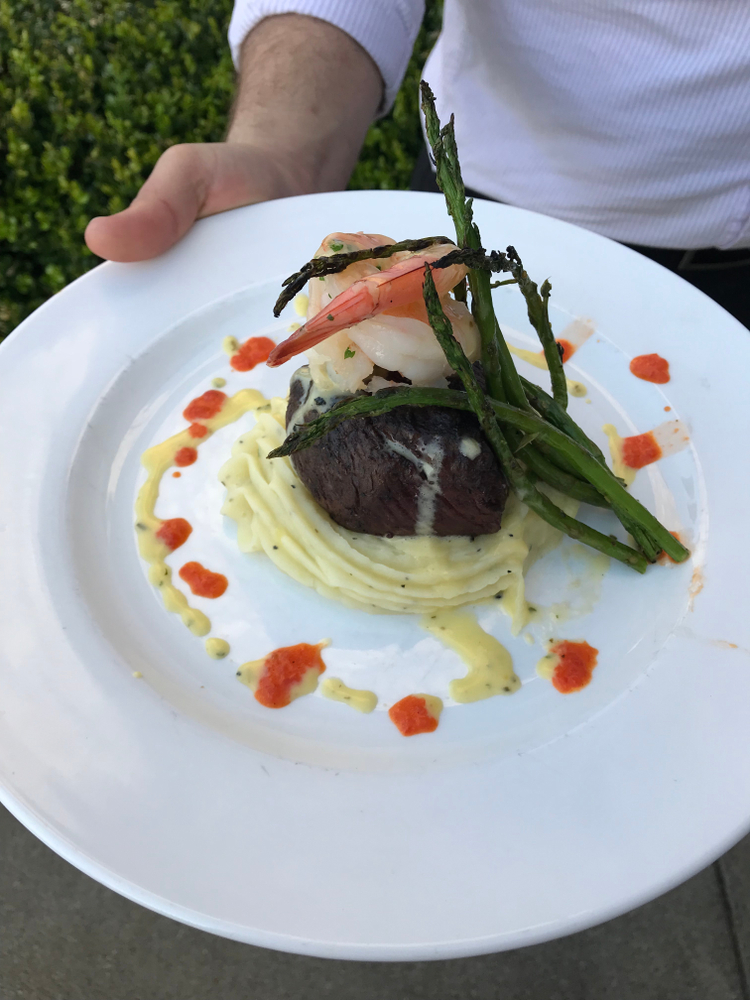 Green's Pharmacy Luncheonette
Green's Luncheonete serves one of the best breakfast in Palm Beach since 1938. Breakfast here starts at 7 am and is served until mid-day. Come sit at the counter of this old school diner or grab one of the tables while you enjoy breakfast or lunch at Green's.
Breakfast starts with egg dishes served with home fries, grits or oatmeal. Pair with your choice of meat, juices, cereal, pancakes, waffles and a variety of pastries. For lunch dishes choose between burgers, melts, grilled cheese, sandwiches, fish and chips patter, chili and soup of the day, and a variety of salads.
The Circle at the Breakers
Located inside the esteemed Breakers resort, the Circle serves one of the best brunch in Palm Beach! Every Sunday the Circle is transformed into a spectacular brunch experience that everyone in Palm Beach loves. Brunch here is served 11 am to 2:30 pm and the price is $155 per person and reservations and dress code are required.
Brunch here is an event starting with sitting in the rotunda dining room that is exquisite. Favorites include a caviar station, a seafood station with lobster, jump shrimp, stone crab and more. They also have a full breakfast station with waffles, eggs Benedict, made to order dishes and fruit. Other choices include imported cheese and meats, carved lamb chops, fresh fish and carved beef tenderloin. Or choose from a sushi or raw bar and an entire dessert table with over 30 choices.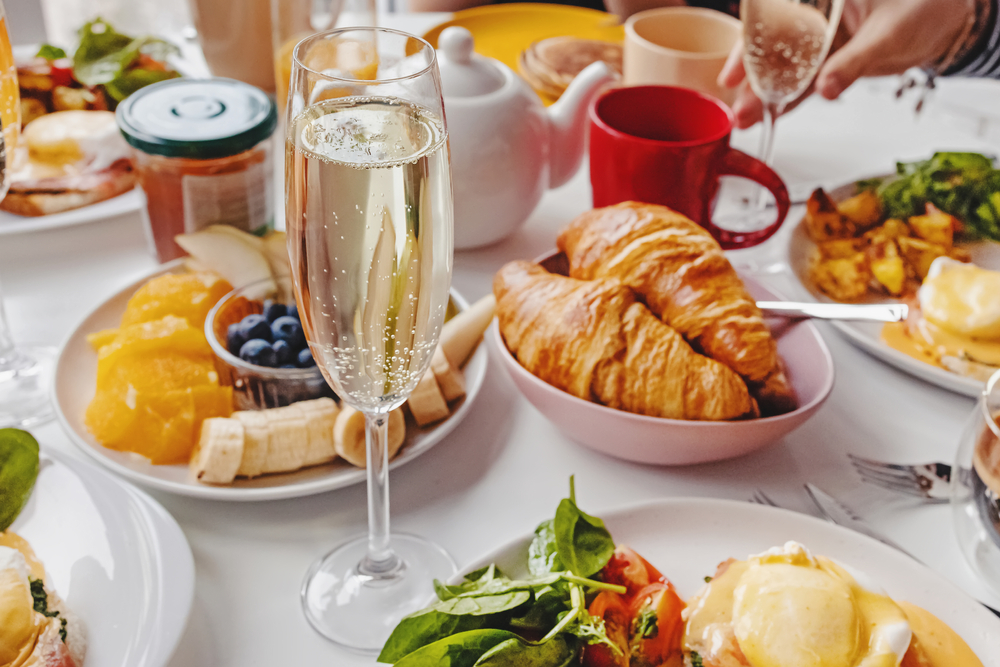 Meat Market Steakhouse Palm Beach
Meat Market gets out vote as one of the places to grab the best dinner in Palm Beach. This upscale steakhouse also has a glamorous bar and lounge. Stop by for happy hour from 4 to 8 pm in the bar and lounge, and dinner is served starting at 4 pm. The lounge area is reservation only on Friday and Saturdays and features a custom menu with top shelf drinks and food.
The happy hour here is amazing! Choose from $10 glasses of Champagne, and signature cocktails like a lychee martini or meat market margarita. Pair with $2 oysters, $3 shrimp cocktail or a daily ceviche, gouda tater-tots and a American style Kobe beef tartar.
On the dinner menu you can find truffle oysters rockafeller, wagyu dumplings, roasted bone marrow short ribs and a wood grilled artichoke. IF you are craving steaks, choose from a 7 oz wagyu, a spectacular 30oz tomahawk, a grass fed ribeye or a umami duck half. Pair with a marrow butter, habanero chimichurri, jack Daniels garlic or a bernaise sauce.
You will find all the traditional steakhouse sides with a twist, like scalloped potatoes with a goat cheese or lobster mashed potatoes and Mac and cheeses. Asparagus, crispy brussel sprouts, creamed spinach, or sliced tomatoes.
SurfSide Diner
Head to the SurfSide Diner for some of the best Palm Beach food served homestyle in a friendly neighborhood restaurant. This is a great option for breakfast or lunch restaurants in Palm Beach. They are open daily from 8:30 am to 3 pm.
The menu starts with daily specials, such as a Mediterranean turkey burger, Santa Fe salad bowl or a Chimichurri jumbo shrimp bowl. Breakfast is served all day, and lunch begins at 11 am. Choose from burgers, salads, or sandwiches like egg salad or tuna salad. Choose your toppings, breads and sids. And pair your entree with a delicious milkshake.
Menu favorites include a grilled chicken burrito, fish tacos, a rueben or turkey club, and a pulled pork sandwich. For breakfast try the omelettes with your choice of toppings, a Benedict, avocado toast or choose from pancakes and French toast.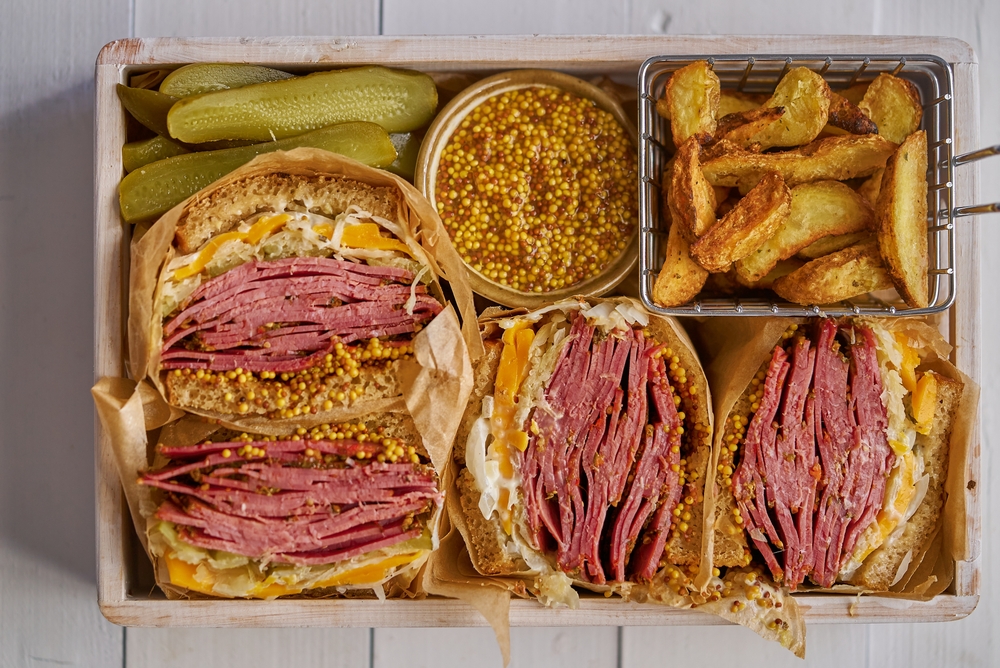 Buccan Palm Beach
Buccan Palm Beach is one of the places to eat in Palm Beach, and the sister restaurant of Imoto Sushi. They feature an American cuisine paired with the freshest ingredients from local purveyors. Order from the sandwich shop from 11:30 am-3:30 pm. While dinner is served 5 to 9 pm.
To start, the raw menu features hamachi tiradito with Peruvian chilies, a steak Tartare with black truffles, and a red snapper ceviche. Next, on the plant based menu you can find a shaved vegetable salad, beech mushroom gyoza, or a brussel spout ceaser salad with cashew Parmesan.
The crispy section of the menu include a short rib empanadas, or a confit Rohan duck pancake. The flour and water section offers a Maine lobster fettuccine , a squid ink orecchiette with Italian sausage or a sheep's milk ricotta with spiced lamb. Or choose from spicy pork tacos, a local snapper in Thai yellow curry, Shawara half chicken, and a grilled prime skirt steak with bean ragu.
BiCE Ristorante
For those trying to decide what to eat in Palm Beach, why not head to BiCE Ristorante? They have locations around the world, but they serve amazing Italian food. Open daily from 11:30 am to 10:30 pm. Whether you chose to dine here for lunch or dinner you are in for a treat.
On the lunch menu, try the eggplant Parmesan, tuna tartar, or the carpaccio di Manzo. Pair one of the appetizers with the large selections of salads. From the Insalata Cesare, caprese con burrata, crab salad, or the grilled shrimp salad. Pair with a pizza, panini or one of the pasta entrees.
For the dinner menu, try the penne arrabbiata, butternut squash ravioli, seafood risotti or tagliolini bolognese. Fish dishes include a mediterranean stripped bass, or fresh fish of the day. Meat dishes include a chicken paillard, a veal scaloppini, or a grilled NY strip steak.
Save room for the "dolci" desserts. Choose from a Sicilian cheesecake, creme brûlée, Ley lime pie or a layered chocolate mousse cake.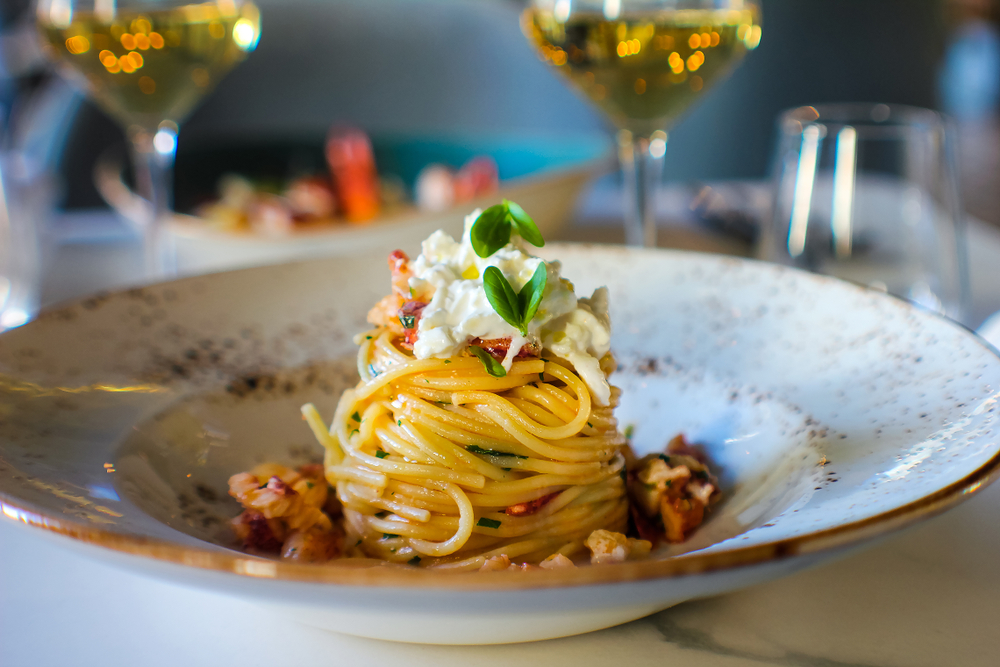 Renatos
Renatos is another of the Italian restaurants in Palm Beach that makes our list of the best places to dine. Located just off popular Worth Ave, the menu here aims to showcase Italian cuisine with a continental twist.
For the past 35 years Renatos has been serving mouth watering Italian cuisine. Try appetizers such as pan seared foie gras in blackberry brandy sauce, beef carpaccio or olio arrostito Spanish roasted octopus.
The main courses include a variety of risotto dishes with exotic mushrooms, main lobster or seafood. All pasta here is handmade, from tagliolini, fettuccine or spaghettini. Pair with bolognese, main lobster, or pork sausage. Second dishes include a seared black grouper, prosciutto wrapped chicken breast, braised veal shank, and a dry-aged NY strip steak.
Terrine
Trevini is a great option for fine dining in Palm Beach! This white-line Italian restaurant is open Monday to Saturday from 11:30 am to 10 pm. Both the food and the ambience here are spectacular. Whether you choose to dine indoors or outdoors under the lights this is one of the best restaurants in Palm Beach Fl for a special event.
On the antipasti menu try the creamy burrata, calamari, seafood salad, grilled shrimp gazpacho, beef carpaccio, or Vitelli tomato sliced veal. The pasta dishes range from eggplant ricotta, linguine con Vongole, orecchiette with rock shrimp, or a penne smoked salmon.
For seafood main courses try the yellow tail snapper or the sautés rock shrimp. Meat mains include a veal chop Milanese, chicken breast Frances, braised beef short ribs and a roasted lamb rack. Pair with one of the spectacular wines offered.
This is the place to save room for dessert! Try the cannoli, flourless chocolate cake, tiramisu or the tartufo ice cream.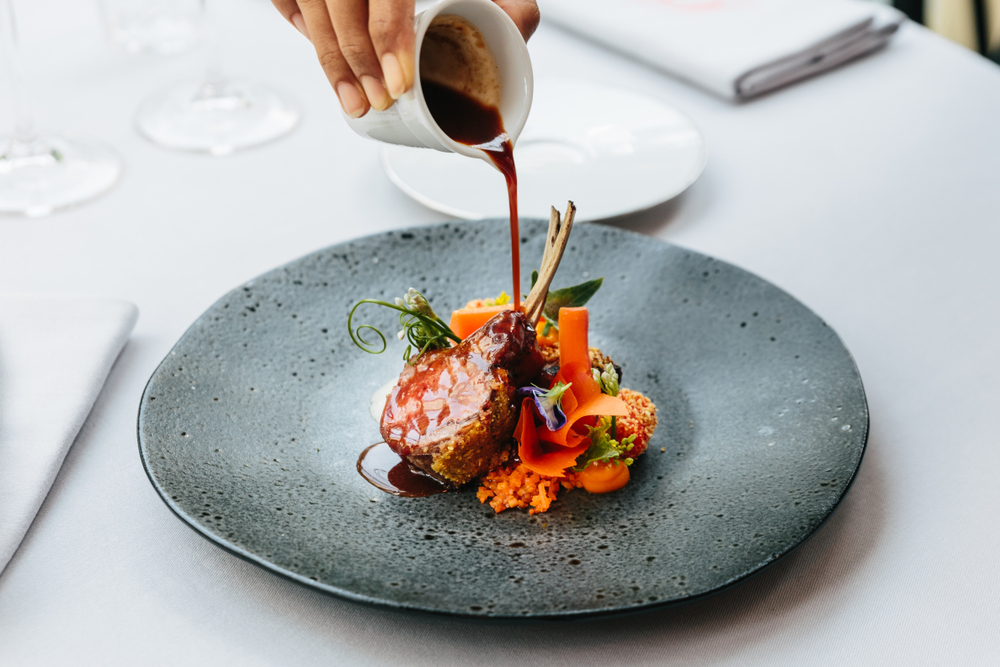 Restoration Hardware
For those who are looking at restaurants near Palm Beach, and are willing to cross the bridge to West Palm Beach the RH rooftop restaurant is worth a visit. It offers some of the best dining in Palm Beach. The Restoration Hardware rooftop restaurant is open daily from 10 am to 9 pm. Dine beneath the glass atrium with fountains, chandeliers and olive trees for an amazing atmosphere.
They serve a bunch/lunch and dinner menu. On the brunch and lunch menu dishes featured include a RH scramble with far fresh eggs, smoked salmon bagel or avocado toast. For sharable dishes try the : prosciutto with seasonal fruit, shrimp cocktail or crispy artichokes. Entrees like the RH burger, truffled grill cheese, lobster roll and roasted half chicken make up the menu.
For the Dinner menu, it expands on the brunch/lunch menu with addition of burrata roasted peppers, salads, a shaved ribeye, broiled salmon and a 16 oz charred ribeye steak.
Al Fresco
Al Fresco, is one of the waterfront restaurants in Palm Beach Florida. For those looking at dining in Palm Beach and want views of the Atlantic Ocean and Intercontinental for breakfast, lunch and dinner this is your place.
We consider this to be one of the best spots for lunch in Palm Beach. The menu here is large and has something for everyone. Appetizers on the menu range from al fresco "golfballs" or meatballs with spicy sauce, truffle fries, eggplant rollatine, and shrimp cocktail. For those craving something lighter the salad menu here is phenomenal. There is a Mediterranean seafood, Iceberg wedge, calamari, or roasted beat salad.
Entrees include burgers, sandwiches like Rueben or turkey club to gas fired brick oven pizzas. Or go for the seafood pastas, chicken parmigiana and Milanese. Main dishes include a pan seared salmon and a roasted lemon chicken. Pair these dishes with French fries, broccoli rabe and haricot verts.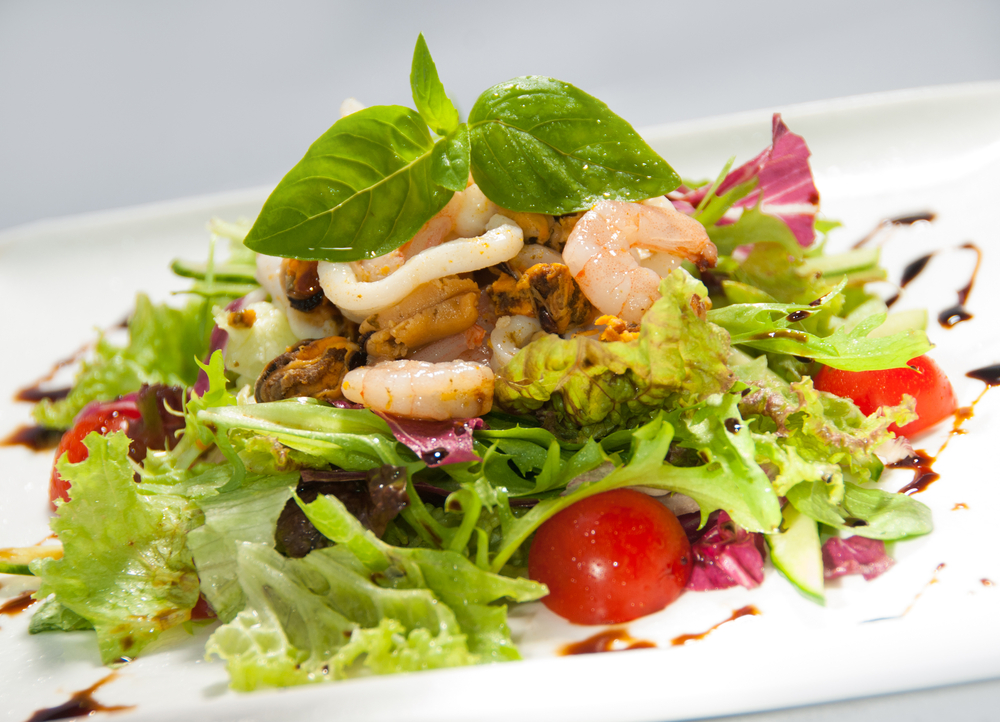 Le Bilboquet Palm Beach
As far as French cuisine goes, Le Bilboquet is one of the best Palm Beach restaurants! First opened in 1986, for the past 35 years "Bilbo" has been transporting diners back to chic Parisian cafe. The restaurant is located on Worth Ave and is open for lunch (12 -3:30 pm) and dinner ( 5:30 -10 pm), and worth noting they do have a dress code!
They serve a brunch ( weekends), lunch and dinner menu. Start with hors d'oeuvres like a French bread basket, fresh ricotta na peas, calamari or foie gras terrine. If wanting to share dishes try the salmon fume or chef's selection of cheese and meats.
For main entrees, try the modules marinieres and frites, lobster curry or local seafood stew. For non-fish dishes try the Cajun poulet, the skirt steak with fries, the Rohan confit duck or the tartare de boeuf.
This is one of the best restaurants in Palm Beach to save room for dessert!Choose from the dark chocolate mousse, Creme Brûlée, coconut panda cotta with exotic fruits, berries with bourbon vanilla ice cream and seasonal house made sorbets.
Imoto at Buccan
Imoto at Buccan is the place to go for sushi in Palm Beach Florida! Diners will be delighted by a James Beard nominee chef Clay Conley who believes in big flavors for his Asian dishes. The little sister of Buccan restaurant next door ( some of the best food in Palm Beach), feast on sushi and sashimi, small plates and wood fired tempura. Dinner here is served from 5 to 9 pm daily.
Imoto believes is sharing small plates. To start try the Peking duck tacos, half dozen oysters, pork belly fried rice, or lobster potstickers. Next on the menu is crudo sashimi. Try the hamachi with jalapeño, white ponzu salmon or octopus sashimi. Now for the wood fired dishes they offer a NY strip, grilled cauliflower with curry mint yogurt and marinated wagyu.
For those craving traditional sashimi they have eel, tuna, toro, yellowtail, salmon and uni. As for sushi rolls the menu includes California roll, spicy seared yellowtail with jalapeño and fried garlic, a super salmon roll, a Daimyo roll with a wasabi aioli, and the house favorite Imoto roll with inure and miso sauce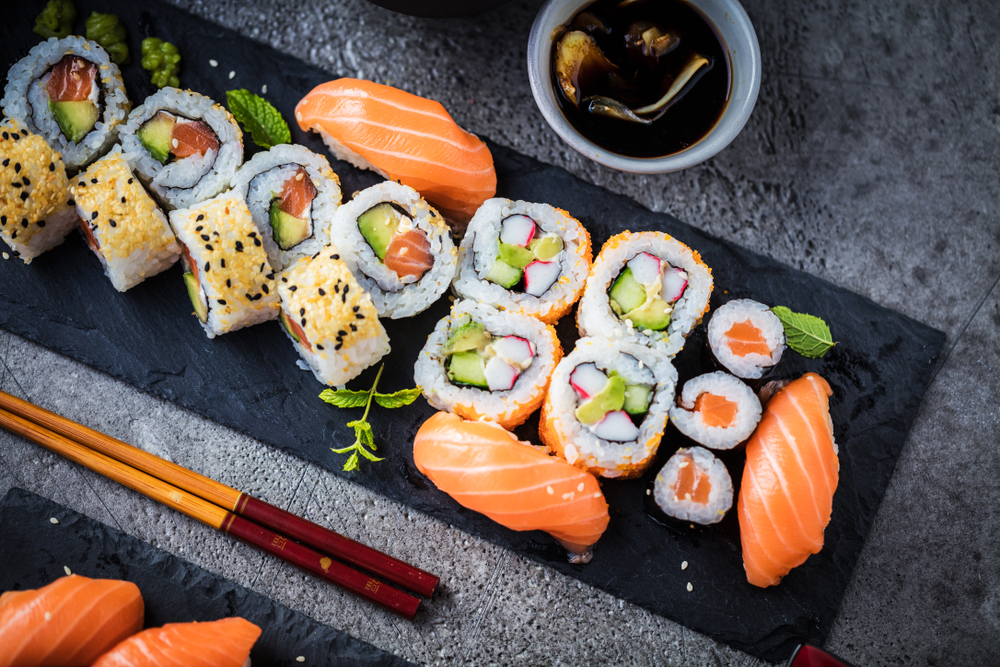 Cafe Via Flora
For those looking at where to eat in Palm Beach Fl, and want amazing Italian food head to Cafe Via Flora. Located on Worth Avenue, this gorgeous outdoor cafe transports you a lush tropical destination with large umbrellas, bougainvillea, palm trees and fountains.
Cafe Via Flora features a menu based on Tuscany flavors and dishes. Don't be deterred by the white linen tablecloths as the owners strive to be a cozy neighborhood favorite! In addition to being an Italian restaurant, they also double as a steakhouse.
If in the mood for steak the dinner menu features a Costoletta Di Vitello a 16 oz roasted veal chop or the filet mignon both served with vegetable of the day and potatoes. For those who are craving Italian, to start try the beef carpaccio or lobster bruschetta salad. Fresh pasta dishes include Linguini Vongole (seafood linguini), Gemelli all Genovese a tin pasta with shrimp and pine nuts or an Old School Tagliatelle bolognese.
Pizza Al Fresco
Pizza Al Fresco is one of the best restaurants in Palm Beach Florida for those who are craving a wood burning pizza. This casual restaurant features a gorgeous outdoor courtyard and is open daily for 11 am to 10 pm.
On the menu you will find appetizers such as burrata, meatballs, and antipasto sampler. They also offer salads like a caprese or mediterranean seafood with shrimp scallops and calamari and entrees such as a lemon garlic marinated chicken, Branzino with capers and mushrooms, and a Cannelloni filled with veal and spinach.
The pizza menu here is extensive and they even offer a gluten free crust option. For those who are more adventures try the Messina with ground beef, avocado and jalapeños, the Spangola with chorizo and onions, Tartufo Nero with black truffles, Dello Chef with broccoli rabe and crumbled sausage or the the Frutti e Mare a seafood pizza. They also have traditional options such as pepperoni, Hawaiian, and Margarita as well!