If you have never been to Sand Key Park, you are in for a real treat!
Sand Key Beach is ranked as one of our top beaches In Clearwater and once you visit, you will see why!
I call Sand Key a hidden gem because most tourists don't know that it exists and instead flock to Clearwater Beach.
While Clearwater Beach is nice, it is too touristy for my liking, and we love heading to Sand Key for a little break in the crowds!
While Sand Key can get busy on weekends and high season, it is not nearly as busy as the ever-popular Clearwater Beach, despite having the same features!
This beautiful park is a true gem filled with pristine white beaches, shells, sunset views, picnic areas and more. We have even seen coyotes here which is kind of wild!
Read on for some tips for visiting Sand Key Park and beach!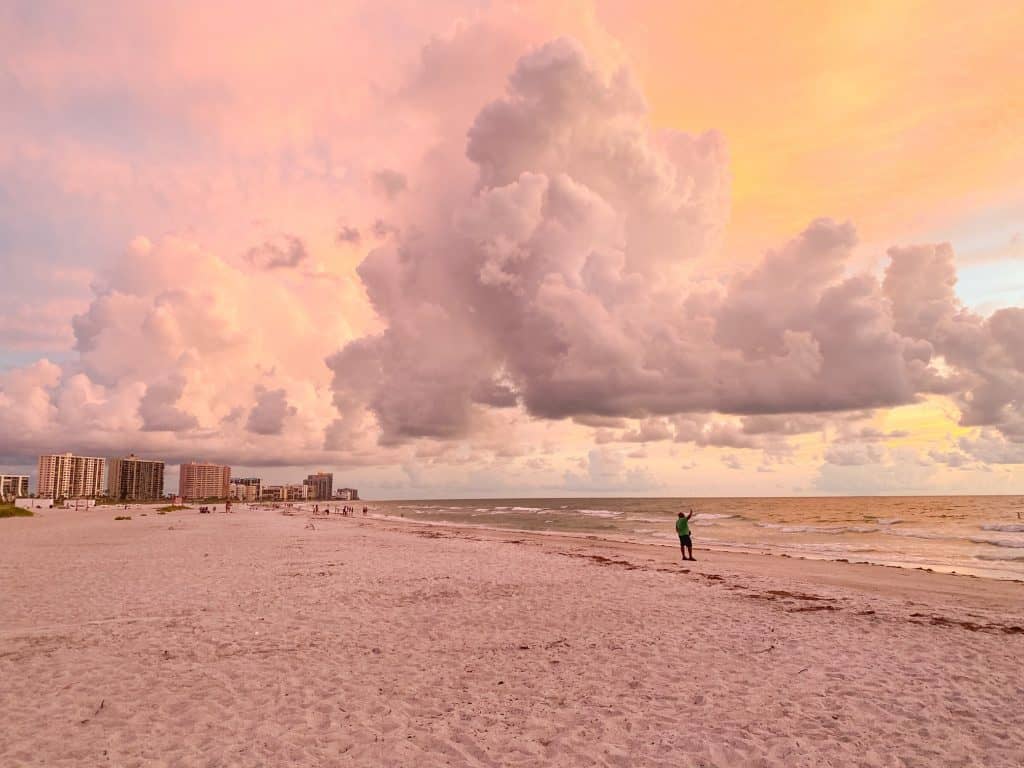 Where Is Sand Key Located?
Sand Key Park is located just south of Clearwater Beach over the Sand Key Bridge.
The bridge is huge and not hard to miss. If you are coming over the bridge, Sand Key park is quite unassuming and the entrance is wooded and looks like a small park.
You would never know the cool and unique areas to explore beyond that!
The address for Sand Key is 1060 Gulf Blvd. Clearwater, FL 33767
The park is quite easy to find!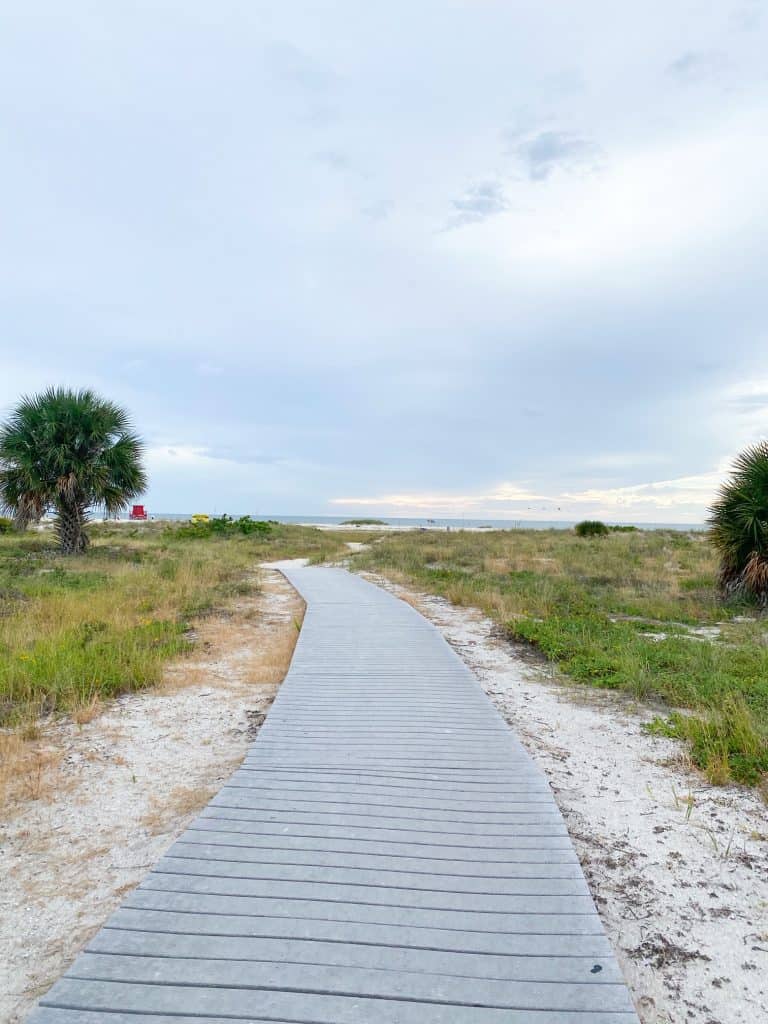 How Much Does It Cost To Visit Sand Key Beach?
Visiting Sand Key beach is NOT free like some people may think! But it is a lot cheaper than parking at Clearwater Beach!
You have to pay a beach parking permit at Sand Key which is $5.
The $5 cost to visit Sand Key is very affordable and helps with the upkeep of the park.
Do not try and skip paying this fee or else there are added fines. Plus, it is doing your share to help the park stay clean and up to date.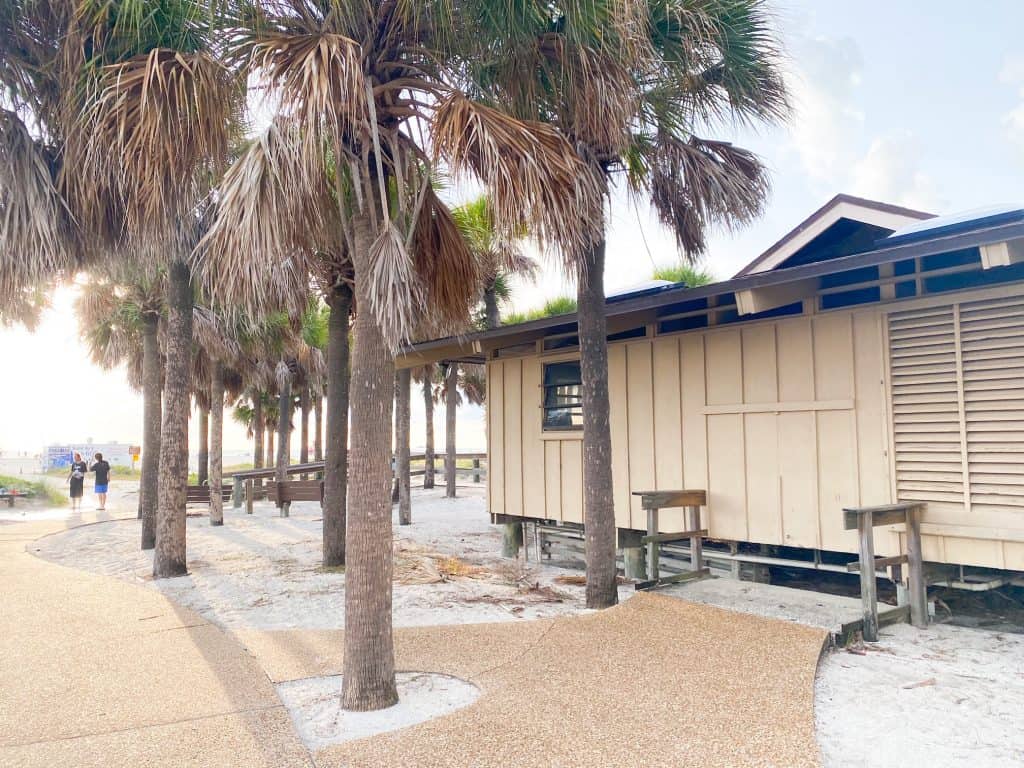 How Late Is Sand Key Open?
Sand Key is open from 9am until sundown.
Sunset changes depending on the time of year you visit, so keep this in mind. If you stay too long or take advantage, you will get fined.
If you want to walk the beach at night or stay for a long time into the night, this is not the place to do that!
If you stay in Sand Key Park past dark, I recommend staying no longer than 30-45 minutes past sunset so that you don't get fined.
Just long enough to pack up your stuff, use the restroom, and dust off the sand.
Anything longer will get you a possible fine!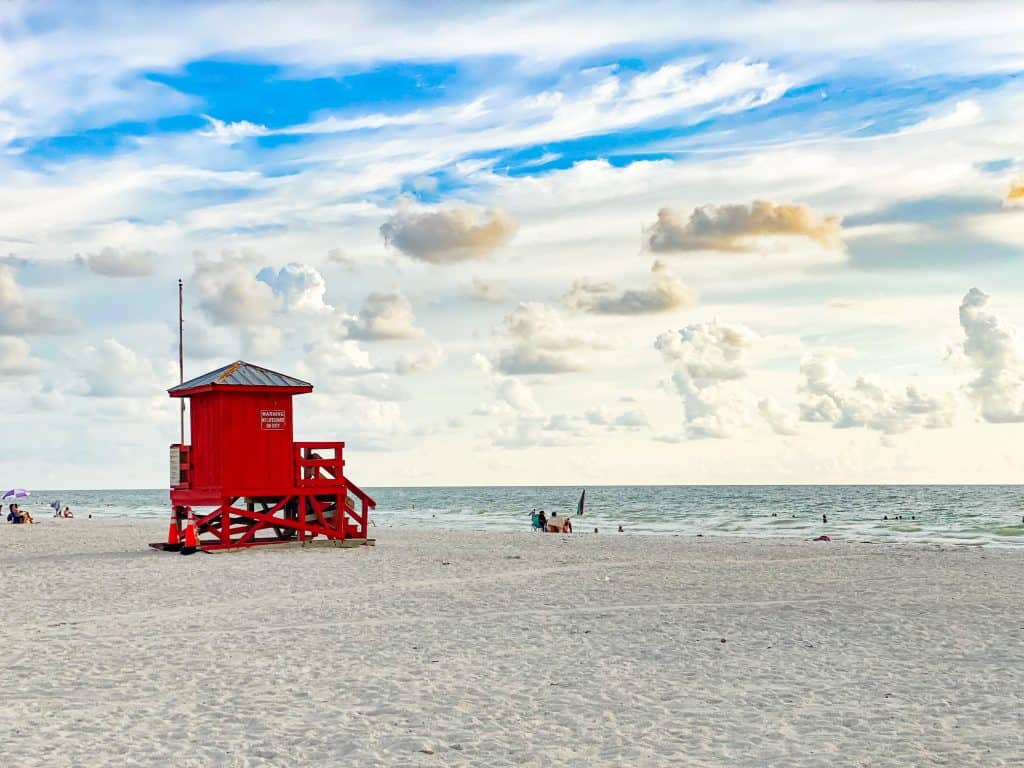 Things To Do In Sand Key Park
Although the park is on the smaller end compared to others such as Fort De Soto Park, there are still a few things to do!
This lovely park as two distinct areas, a beach and a park, which is why you may hear it referred to as either Sand Key Beach or Sand Key Park! Neither of these are wrong!
If you are looking to go to the park, there are two picnic shelters with grills, a playground, a dog park, water fountains, restrooms and more.
You can also wander along the roads and explore the wooded areas and check out the salt marsh with viewing benches where you can spot wildlife.
On the beach, you have a stretch of white sand that is great for shelling.
Sand Key Park is also home to the operations for an artificial reef program which is really unique and cool.
The park is also home to conservation efforts for Sea Turtles in Florida and they are protected when they lay eggs on the beach.
There are also umbrella and cabana rentals and kayak and bike rentals during high season.
Wildlife At Sand Key
Believe it or not, Sand Key is home to a variety of wildlife, if you keep a wary eye out!
As I said above, I have even seen multiple coyotes here before which is kind of crazy but cool!
In the salt marsh area of the park, you can see heron, spoonbills, great horned owls, roseate and more.
On the ocean side, you can see plenty of fish, sting rays, dolphins [if you are lucky!] sea turtles [if you are very lucky], blue herons, pelicans and more.
Just keep your eyes peeled and you will find that there is life all around you at Sand Key beach.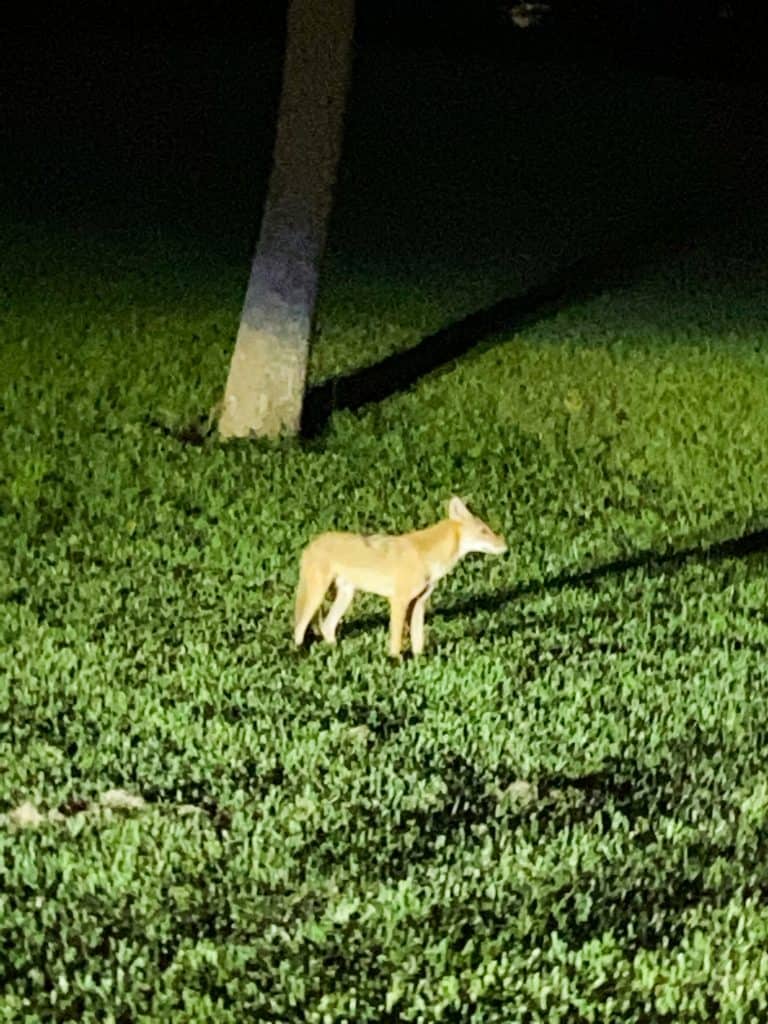 Getting A Beach Wheelchair
Sand Key Beach is wheelchair accessible and has two beach wheelchairs that you can use.
During life guard, you must request one from the life guard on duty.
During the off season, the parks suggest calling 727-582-2100 to schedule a time for you to visit Sand Key Park so that a ranger can meet you and drop off the wheelchair.
Of course, this isn't quite as easily accessible as it could be, but it is a start that it is offered for use.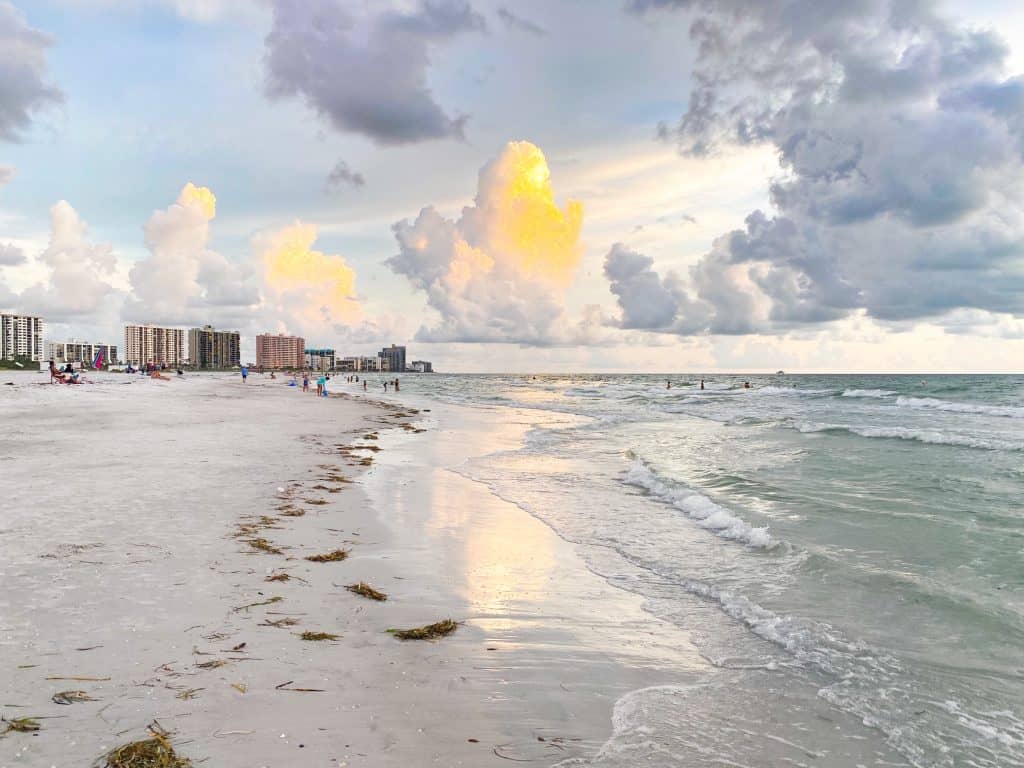 I hope you enjoy visiting Sand Key Beach as much as I do! It is one of the best beaches on the coast that isn't overrun and super touristy and for that I love it!
Did You Find This Post Helpful?
If so, we would love to keep in touch! We enjoy seeing photos and comments about your experiences in Florida! You can follow us on Instagram and we will repost your photos on our feed and comment too! Just tag us at @floridatrippers and hashtag #floridatrippers. We can't wait to see your travels!