If you have never visited Fort De Soto Park, you are in for a real treat! Fort De Soto is truly one of the best coastal playgrounds the Sunshine State has to offer!
Fort De Soto park expertly blends the natural coastal beaches and waterways of Florida with very interesting and unique history which includes forts and more!
With over 7 miles of waterfront, 238 campsites, 15 picnic shelters, seven miles of paved trails, two large swimming centers, historic forts and more, there is truly something for everyone!
If you are looking for one of the best things to do in Saint Petersburg, this park should be on your list!
Although it isn't one of the State Parks in Florida, it is the largest park in the Pinellas County Parks system and you are going to love it!
Before you visit Fort De Soto, here are some things you should know!
History Of Fort De Soto
Before we get into the fun stuff, we need to have a talk about the historic stuff. If you are a history buff, then this portion may actually BE the fun stuff!
You may be wondering where Fort De Soto gets its name! It is from the Spanish Explorer Hernando De Soto.
Originally, the Tocobaga Indigenous peoples lived here from 1000 Ad to 1500 AD. They mainly lived in and around Mullet Key and traveled to and from the Pinellas peninsula on canoes.
Of course, this didn't last too long after the Spanish explorers came in 1528 and sadly all that remains of the Tocobaga people are historic finds.
Around the mid 1800's, the five keys that make up Fort De Soto began to be used as a fortification. Fort De Soto area of Florida was used as a military blockade for the Civil War.
The forts at Fort De Soto were ordered to be constructed in 1898 and the forts were completed in 1900. As mentioned above, it was named after the famous Spanish explorer!
The cannons and guns you see when wandering around Fort De Soto actually were never used to defend the Tampa Bay area, but they had the ability to do so if necessary.
Believe it or not, in just 23 years, the fort was abandoned and only one person cared for Fort De Soto.
Pinellas County purchased the land from the military to open a public park and by 1963 Fort De Soto was dedicated a park!
The park was purchased for $26,500.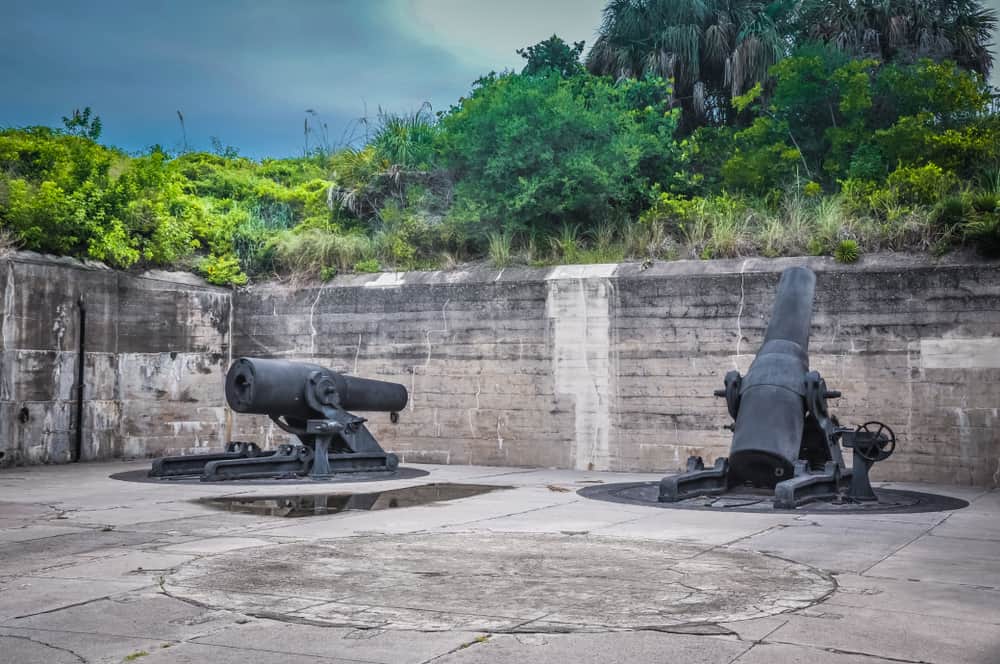 Where Is Fort De Soto Located?
Fort De Soto is located southwest of Saint Petersburg Florida. It consists of five offshore keys or islands.
These are the names of the islands: Madelaine Key, St. Jean Key, St. Christopher Key, Bonne Fortune Key and Mullet Key.
This is the address for Fort De Soto: 3500 Pinellas Bayway S, St. Petersburg, FL 33715
You can visit Fort De Soto by either boat or drive in by car!
When driving in by car, you have to pass two tolls [depending on where you come] so make sure to have change on hand. You do not have to pay the tolls when leaving the Fort De Soto area.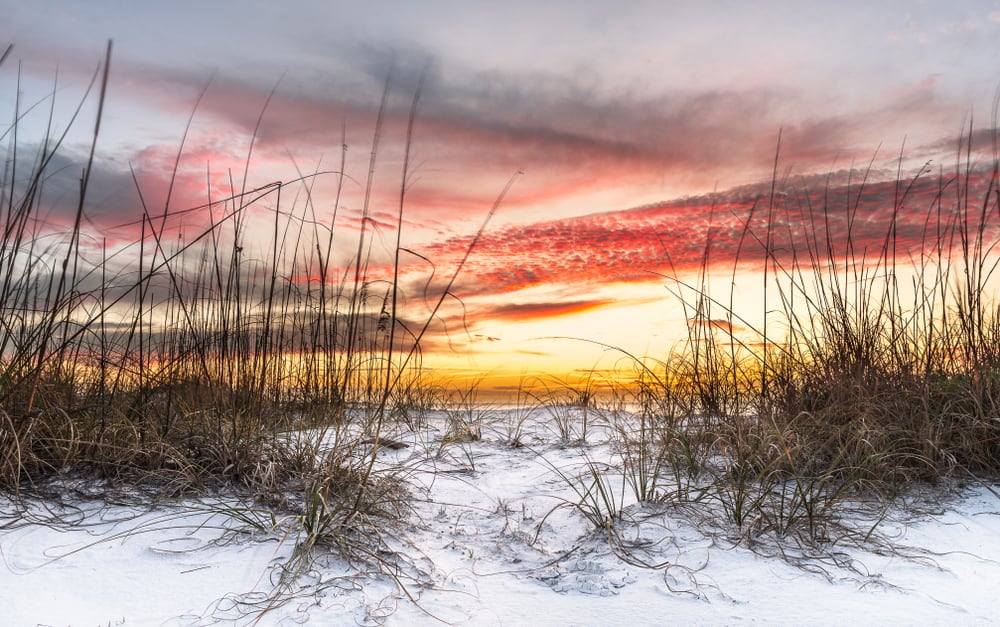 How Much Does It Cost To Visit Fort De Soto?
When you enter Fort De Soto, there is a park-run toll both. Sometimes this booth is open, sometimes it isn't.
If the booth is open, it collects the $5 parking fee. If you have a disabled parking tag, you do not have to pay the fee.
If you are entering Fort De Soto on foot or bike, you also do not have to pay the fee.
If the toll center is closed and you are driving in, you must pay the $5 for parking at the parking lot that you end up parking at.
After all, $5 is such a small fee to help the upkeep of Fort De Soto park!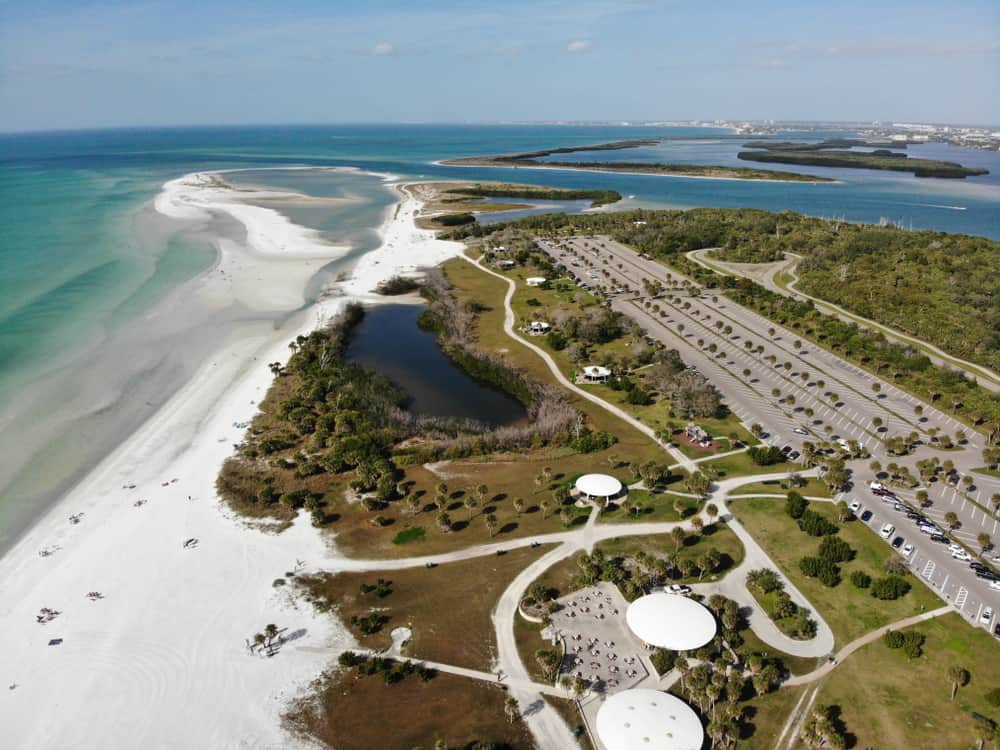 Fort De Soto Park Map
Below we have linked a map of Fort De Soto. This is directly from the Pinellas County website.
If you are looking for a more detailed Fort De Soto map, or want to save the link, you can find it on their website!
The Fort De Soto map will show you where things are located and how to find them which can be a little confusing if it is your first time as it is quite a large park!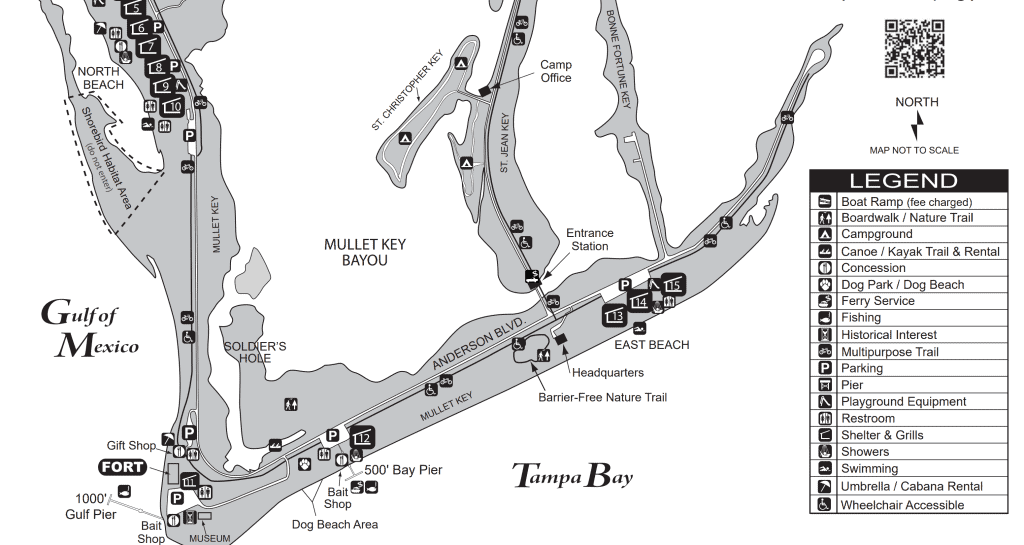 What Time Does Fort De Soto Park Open And Close?
Fort De Soto Park opens at 7am and closes at sundown. Sometimes sundown is at 5:30pm and sometimes it is at 8:30pm.
If you are visiting Fort De Soto during the winter in Florida, make sure to pay attention and leave right as it gets dark in respect for park rules.
The fishing pier hours are from 7am-11pm every day.
I love getting to Fort De Soto a few hours before sunset and relaxing and watching the sunset!
Beaches At Fort De Soto
While there are 7 miles of waterfront at Fort De Soto, there are also a few different beaches you can explore! It is home to some of the best stretches of Beaches in Saint Pete and Clearwater!
If you consult the map above, you will see what I am talking about!
The most popular beaches at Fort De Soto are North Beach and East Beach. Each have a different vibe and feel. This is truly one of the best things to do on the West Coast Of Florida!
North beach is more popular with many more shelters and grills and East Beach only has a few.
You can also visit the beach near the Fort and the Gulf Pier and bait shop but it is much smaller and can get quite buggy. I like visiting the beach near the Fort so that I can see the submerged Battery Bigelow.
There is also a dog-friendly beach at Fort De Soto if you are looking for a good Dog Beach Near Tampa!
Camping At Fort De Soto
Camping at Fort De Soto is super fun! It is one of the best spots for Camping In Florida and is affordable and a unique experience!
There are 238 family-camping sites and a primitive youth camping area that is frequented by youth groups and organizations from around the state.
The prices for camping at Fort De Soto Park are between $37-$45 depending on the type of campsite you are looking for.
There are both waterfront and regular campsites at Fort De Soto so it depends on the price and availability if you are looking to stay.
You can see more about the rates on the Pinellas County Website!
If you cancel your Fort De Soto camping reservation in under 48 hours, you will be charged a $5 fee.
All of the campsites at Fort De Soto have water and electrical hookups from 30-50 amps, picnic tables, and charcoal grills.
You can access Wifi at the camp store and main office.
Pets are allowed at Fort De Soto campground but only between sites 86 and 164 so make sure to book one of these if you want to camp with your furry friend.
Some sites at Fort De Soto can only handle tents and small campers, but the majority of them can handle any type of camping unit or RV so that everyone can stay and enjoy!
Camping at Fort De Soto is truly a unique and wonderful experience!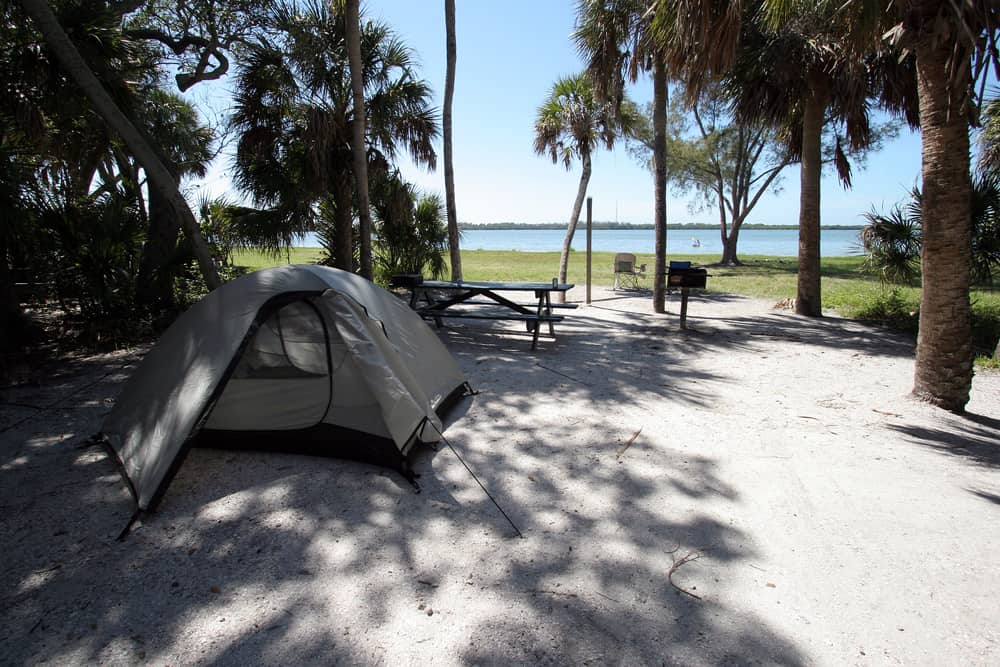 Visting The Forts At Fort De Soto
The main fort at Fort De Soto is located at the south-west side of the park. You can consult the map linked above and it shows that there is a spot marked FORT next to the fishing pier.
This fort is free to enter with your $5 fee and you can walk around and look at all the cannons, the fort walls and more!
We love going to Fort De Soto to do photoshoots in the fort as it lends a haunted vibe and makes for a fun and unique photoshoot background.
Of course, you can visit for the history and not the photos and there is plenty of it!
We also love Battery Bigelow which is a submerged part of the fort near the fishing pier.
The sign says no rock climbing, as people used to actually scale the edges of it [and of the main fort!] or go bouldering around it which can be quite dangerous.
It is okay to walk on the submerged Battery Bigelow or to snorkel around it and it is a popular spot for local photographers to shoot photo sessions, but you should not physically climb on the fort like you are scaling a wall!
Finally, if you head to Egmont Key, there are the ruins of the unique Fort Dade!
Despite the beaches and swimming at Fort De Soto, the history at this park is very interesting and unique!
Watersports At Fort De Soto
If you want to do more than just camp and swim at Fort De Soto, there are plenty of other options for you!
You can rent kayaks and canoes from Topwater Kayak Outpost for $23 for an hour all the way up to $70 for a full day.
You can canoe or kayak on the 2.25 mile paddling trail through the mangroves, or you can even kayak to Egmont Key if you have the stamina!
You can also bring your own equipment for watersports such as kiteboarding, windsurfing and more! This is truly one of the best places for Kayaking Near Tampa!
Fishing At Fort De Soto
Fishing is allowed at Fort De Soto but you must have a permit!
You cannot fish at Fort De Soto without a permit!
If you are fishing on the designated fishing pier or somewhere else throughout the park, you must have one!
You can purchase your fishing license online from the Florida Fish And Wildlife Conservation Commission or at most bait and tackle shops.
The fishing pier at Fort De Soto is open until 11pm.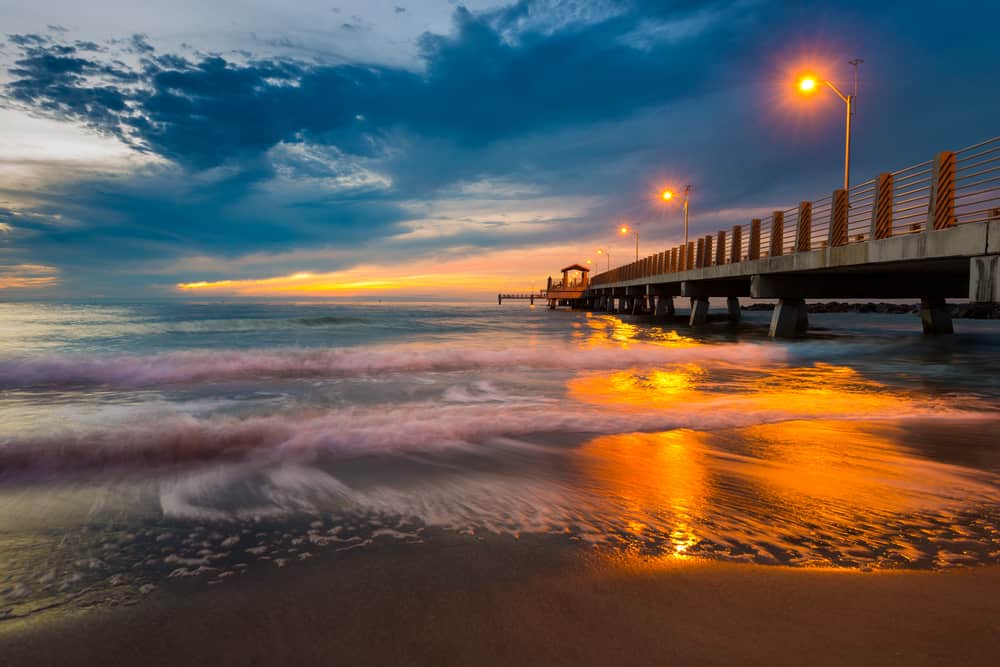 Visting Egmont Key
Egmont Key is located just off the coast of Fort De Soto. It is home to Fort Dade and pristine sandy beaches.
You can take the 30 minute ferry from the Bay Pier at Fort De Soto and visit!
You are usually dropped off for 3-4 hours before the ferry comes around again!
You can snorkel around ruins from Fort Dade, hike through the island, go swimming in the clear water, or just relax on the sandy beach!
The ferry to Egmont Key operates daily in spring and summer and almost every day in fall and winter.
I do suggest booking your Egmont Key ferry in advance so that you won't be disappointed!
There are no bathrooms or snacks on Egmont Key, but the ferry does have both.
If you are visiting, make sure to pack plenty of food and water!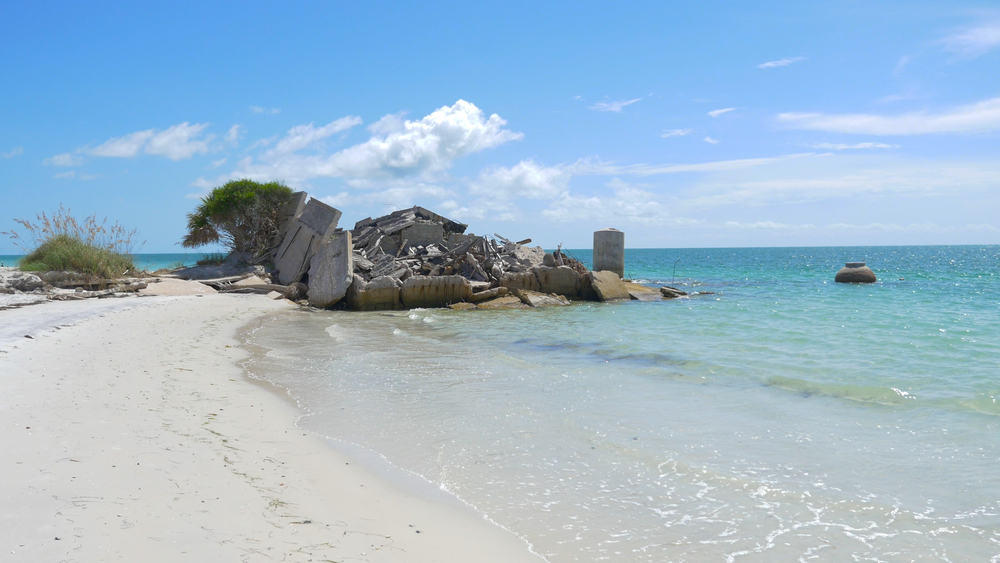 Quick Tips For Visiting Fort De Soto Park
When visiting Fort De Soto Park, make sure to wear sun protection and bring plenty of sunscreen! The sun can get blazing hot and you want to be prepared!
I highly suggest booking your camping at Fort De Soto in advance as the campground has a tendency to fill up quickly.
There are a variety of areas of Fort De Soto that are protected for the safety of animals such as Sea Turtles and more, so make sure to never go into these areas!
If you are visiting the Fort or Battery Bigelow, do not climb or scale the walls like you are rock climbing. People get hurt and it is against the rules!
If you want to fish at Fort De Soto, make sure that you have the proper fishing permit!
Always remember to pay your $5 for parking so you don't get an added ticket!
No alcoholic beverages are allowed so make sure to leave it at home!
I hope that you enjoy visiting Fort De Soto Park as much as I do!
Did You Find This Post Helpful?
If so, we would love to keep in touch! We enjoy seeing photos and comments about your experiences in Florida! You can follow us on Instagram and we will repost your photos on our feed and comment too! Just tag us at @floridatrippers and hashtag #floridatrippers. We can't wait to see your travels!