If you are familiar with Punta Gorda, Florida, then you know that it is paradise for those who enjoy fishing, boating, the sun, and shopping! It is also a great location for foodies! There are tons of fantastic restaurants in Punta Gorda, and we've created this list to make sure you know 15 of the best ones!
Punta Gorda is a vibrant area and is home of marinas, and a fantastic pace of life that is both relaxing and exciting. From the water to the sun and the food in between, many locals and tourists love to enjoy the quiet beaches, the historic cites, and culture.
While walking down town you will find shops, art galleries and an eclectic assortment of places to eat! This location is a prime spot to visit and live: it isn't as expensive as some areas, and it isn't as crowded as others. It is a great destination for travelers on a budget, and this includes foodies! So make sure to visit Punta Gorda, but also make sure to stop and enjoy the food– the restaurants in Punta Gorda are truly something you don't want to miss!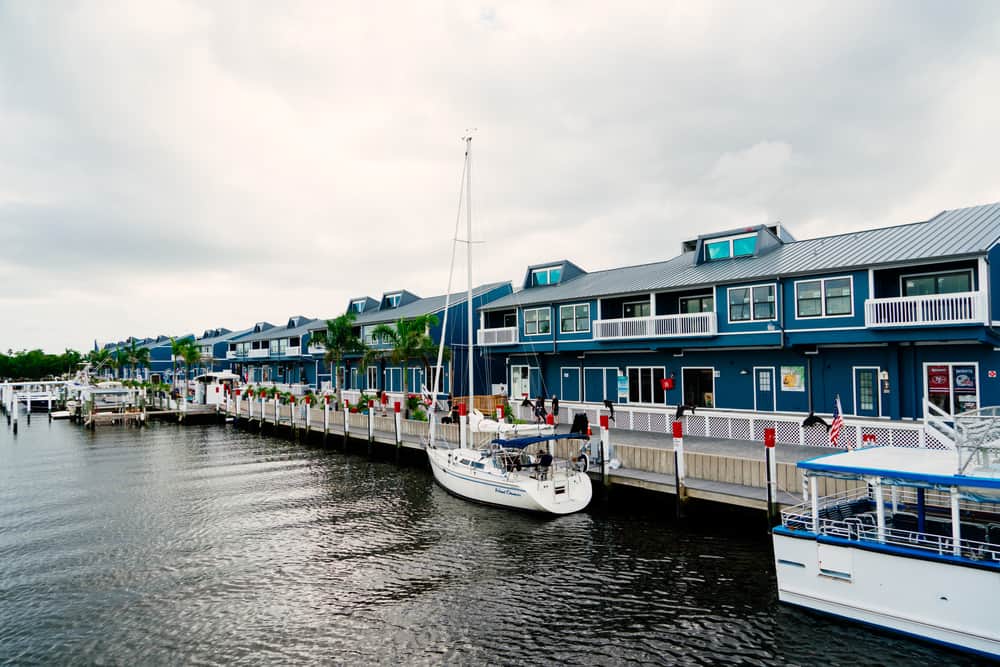 15 Restaurants in Punta Gorda FL You Must Visit
1. Captains Table
If you are looking for one of those restaurants in Punta Gorda that is historic and located right on the water, look no further than the Captains Table! This restaurant is located right in the Waterfront Mall. This means it looks out over Charlotte Harbor. And because of this, it offers the must fresh seafood around!
Most people love the elegant nature of this restaurant. It offers both lunch and dinner, with dinner being served daily at 5 pm. Reservations are definitely recommended, but walk-ins are encouraged when space is available.
Most people come here for the "sea fare" which includes things like lobster ravioli, snapper piccata, and the captains platter. But if you don't want fresh fish from the local marina and harbor, you can always order pork chops, stuffed mushrooms, and lamb too! This is the place to go for elegant food and views!
2. Burg'r Bar
Looking for one of those restaurants in Punta Gorda that offers the best burgers around? Look no further than Burg'r Bar! This place has not only been voted Best Cheeseburger of 2018, but also Best Breakfast of 2018!
That is right! You can dine here for breakfast, lunch AND dinner. Plus there is a full bar! The goal of Burg'r Bar is to provide a casual atmosphere where friends can enjoy eating and spending time together.
The lunch and dinner menus feature a variety of options. From appetizers to soups and salads, specialty burgers, hot dogs and plenty of a la carte sides, you won't be disappointed. And if you visit for breakfast, this is one of the restaurants in Punta Gorda you will fall in love with! Seriously. Who wouldn't love biscuits and gravy, stuffed french toast and a Bloody Mary?
3. River City Grill
Does global comfort cuisine sound yummy? Then check out the restaurants in Punta Gorda that offer it! In fact, make sure to check out River City Grill. Located in the heart of downtown, this restaurant fits in well with the charming, riverfront community.
Service and food quality are of the top priority at this location. And this restaurant seems to be well recidved in the community as it uses Wordern Farm as their supplier. This means all ingridents are locally owned and operated. And most ingredients are all organic! So you know you will get fresh food.
Enjoy a glass of wine to add to the atmosphere, and make sure to order a soup of a day with your river city sizzlers! All of the comfort food here– from pulled pork to pot roast and fish and chips– will leave you full and happy! But make sure to be aware of when this restaurant is open and closed!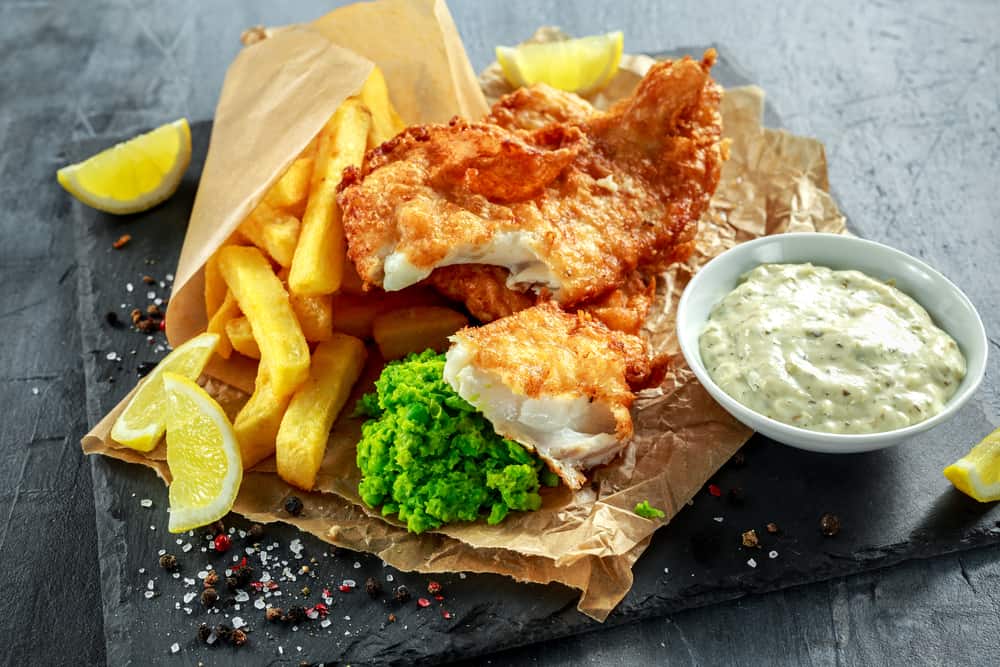 4. Riviera Bar and Grill
Not to be mistaken with River City Grill, make sure to check out the Riviera Bar and Grill! These are two different restaurants in Punta Gorda! Enjoy casual dining here with famous surf-and-turf food! Here you will come for the delicious food, but end up staying for a great time!
Guests love to stop by and listen on live music and entertainment at this wonderful grill. Boaters also love that this spot has boaters access! Which means you can pull up, dock, and swing on in to get some food. And the food is a must!!
From Island Mussels to wings, seared ahi tuna, fresh catch, and more, you will not be disappointed with the options and taste! And what better way to top it off than a slice of peanut butter cheesecake? These flavors are a must, and are best coupled with a great time with the live music and great friends!
5. Toulas
We promise that there are no shortage of good restaurants in Punta Gorda, FL. Toulas is a fast paced restuarant where you can get Greek cuisine. From sandwhiches to salads and everythign in between, this place is casual and fun! And better yet? It won't break the bank to eat here!
Toulas is famous for their subs and Greek food. But don't worry, you can go beyond Greek cuisine here too! They have things like philly cheese steaks and a gyro philly to please all of their visitors! This place is also super friendly for vegans and vegetarians, which is always a plus!
And don't forget to check out their deals too! This local spot offers great BOGO prices on certain days, where you can get 1 pita and get the 2nd half off. Always check facebook and the signs on the door for these wonderful deals. You own't be disappointed!
6. Laishley Crab House
Located on the Peace River waterfront, the Laishley Crab House offers both stunning views and breathtaking food. This is one of the best restaurants in Punta Gorda, and is perfect for a nice date night, or an evening out. I mean, what is more romantic than an outdoor dining deck?
So while you enjoy the view, you can also enjoy the fresh food! Due to this restaurant being right on the water, the seafood comes highly recommended. Laishley's is obviously famous for their crab, but the variety of their lunch, dinner, sushi and catering menus keep people coming back!
In fact, guests seem to love the avocado crab salad, oyster bar, grouper reuben and more. The fresh and unique take on traditional seafood sets this crab house apart from others. We promise you won't be disappointed! And if you're not a fan of seafood, no worries! There are plenty land-friendly options too. Guests seem to love the steak!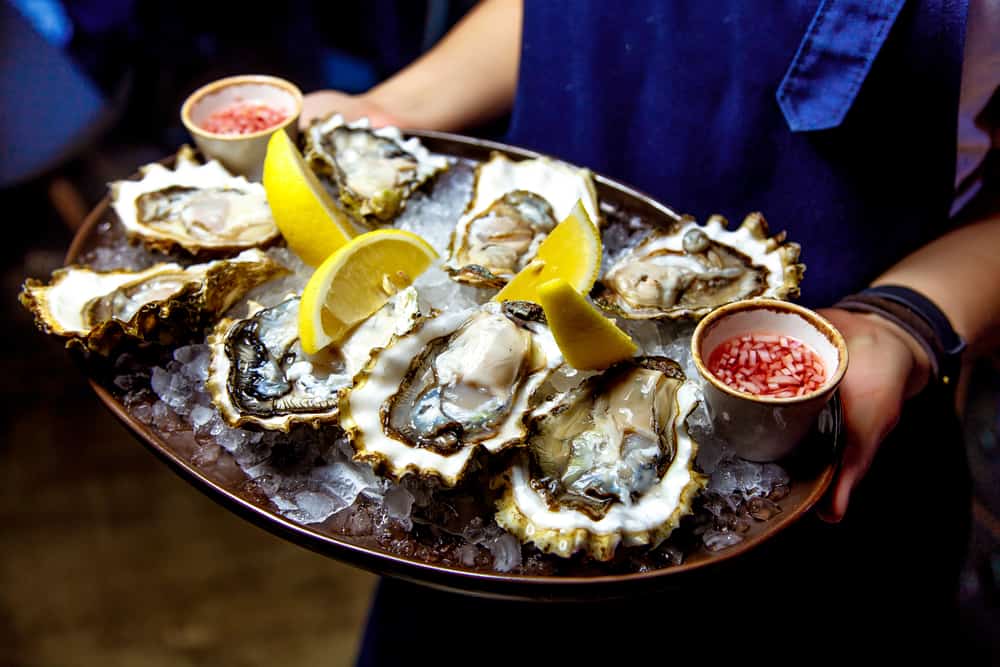 7. Carmelos Italian Ristorante
Looking for one of the best Italian restaurants in Punta Gorda? Look no further than Carmelos! Whether you dine-in, take-out, or get delivery, you are sure to drool over the endless amounts of pasta, pizza, cheese and garlic here!
This restaurant is truly one of the best restaurants in Punta Gorda as it is the perfect combination: it hits the sweet spot! From romantic dinners to special group events or even just a casual night out, there is a wide-range of authentic Italian options.
That is right! true Italian! So whether you love tradition like chicken parmigiana, or you want to try something different like veil scallopine, you will definitely fall in love. And make sure to pair these meals with a nice glass of wine. Or if you are taking pizza to go, don't forget that dessert!
8. Celtic Ray Irish Pub
We know we all love a good bar, but we want to make sure that we include bars with food on this list of best restaurants in Punta Gorda! So we are adding Celtic Ray Irish Pub to the list. Open from 11 a.m. until 1 a.m. (the next day), there is plenty of time to stop by here!
Many people love to visit here for a taste of Ireland: there are traditional foods offered from fresh ingredients. Don't pass up on the fish and chips, for example! You can order this food with your drinks, or you can always take it out as takeout! And don't forget that there are many vegetarian options here too!
But what really keeps people coming here is not just the food and late hours– it is the joy! This bar is truly a great experience beyond the food. The staff is great, the ambiance is fun, and more! They have music every weekend (always live), and comedy night once a month!
9. Pioneers Pizza
We all know how hungry we can get after being on the water all day. Sometimes, you really need to fill that void in your stomach with a huge pizza! This is why we added Pioneers Pizza to this list of restaurants in Punta Gorda! All pies are stone oven baked here, so you know it will be hot and crispy!
From vegan options to those meat lovers, and all that is in between (pesto white sauce pizza, greek pizza, bruschetta pizza and more), there are options for everyone. The pies are huge, fairly priced, and always fresh!
And if you aren't feeling a pie, please don't stress! There are other options. From wings, to appetizers (which feature sliders, mozzarella and more), and Stromboli, there will be something on the menu for everyone. Keep those Italian loving tastebuds happy after a day out in Punta Gorda!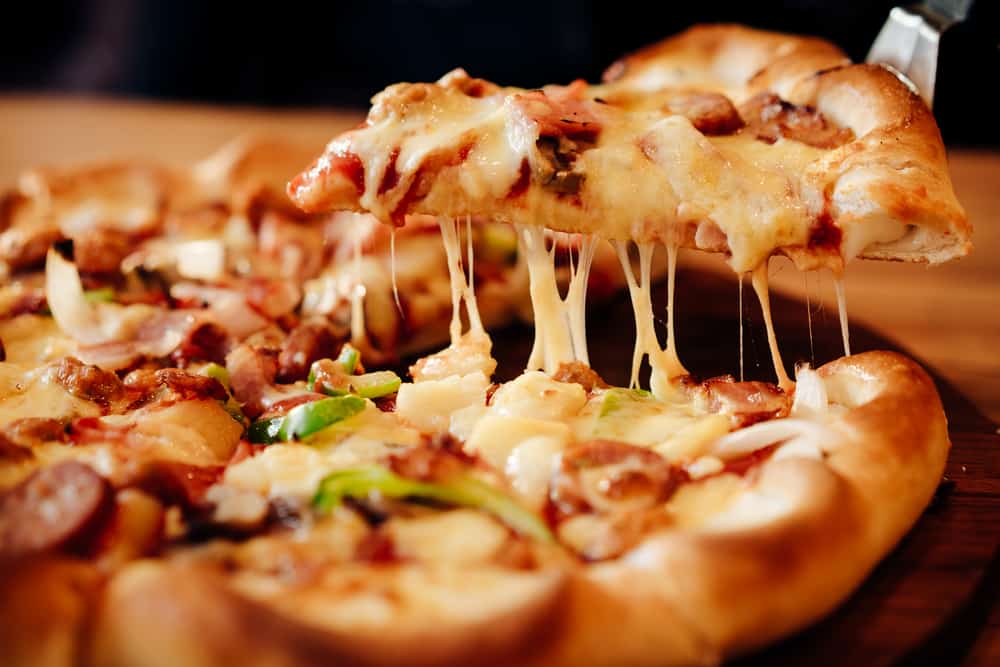 10. Top China
We know how hard it is to find a good Chinese restaurant, but we wanted to make sure to have this cuisine on this list in case you were really craving it! As one of the strongest Chinese restaurants in Punta Gorda, you will sure to get some flavorsome meals here.
From orange chicken to wontons and prawns, you can order take out or dine in! The staff here is always professional, and the prices are average. Better yet? They are always quick! Many people say the food is always hot upon pick up too!
This restaurant also offers vegetarian options in addition to meat-heavy combos. Just be careful not to go on a Monday, because they are not open then! But on any other day, this place is open fairly late, so you can order your cravings whenever you have them.
11. Elena's South Restaurant
Want to step back in time? Try Elena's South Restaurant! This diner is all things American, but guests tend to flock here for delicious breakfast and brunch. But don't worry, there are lunch and dinner options here too!
In between the retro booths, pink walls, and huge diner portions, guests love the enjoy the classics: eggs, pancakes and french toast are a must! And for our lovely gluten free and vegan friends, there are options too!
This local cuisine combined with great service and a cute area to eat in really keeps people coming back. Some argue that it is one of the best restaurants in Punta Gorda for breakfast, but you may want to make that judgement call for yourself! Although we will warn you: get there early. Everyone knows Elena's!
12. Village Fish Market & Restaurant
New England Style Seafood? Sign us up! For a restaurant and lounge on the water, this is one of the best restaurants in Punta Gorda, no doubt about it! Village Fish Market opens for breakfast at 8 am, and then has regular lunch and dinner menus that start at 11 a.m.
People love their biscuits and gravy, and their lobster Benedict. Being right on the water definitely has its perks, as anything related to seafood is super fresh! But people also enjoy the omelettes and breakfast platters too!
Beyond this, guests really just love the larger portions and endless options of sides. From fries to rice and mac-n-cheese, the parings go well with any finfish, shellfish, or sandwich you may get! Better yet? This place is casual! And unlike the stuffiness of some places on the water, you can really relax here, without sacrificing a pretty penny for a view.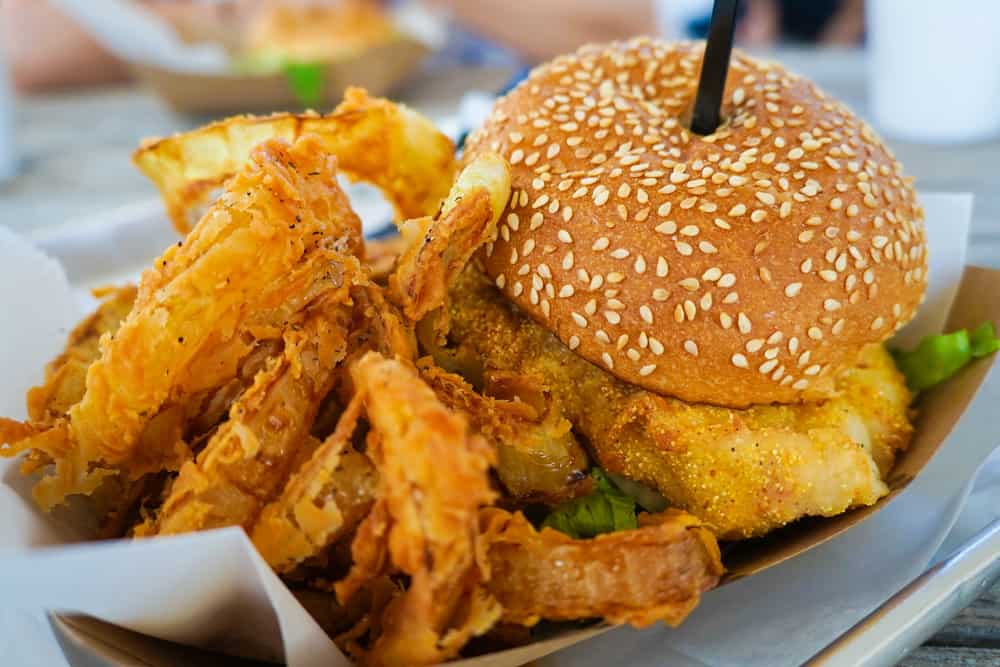 13. TT's Tiki Bar
If you are anything like us, you love the vibe of being on the water. If you want one of those restaurants in Punta Gorda that really channels its Tiki vibes, look no further than TT's Tiki Bar! Take advantage of the fresh, open air. Dip your toes in the sand of Charlotte Harbor!
From the tropical drinks, and top notch cuisine, everyone loves to come here, especially in the evenings. There is always a line up of live entertainment, and the crowd and service never disappoint!
But please don't worry: this place isn't just about fun. It is also about great drinks and fresh food too! While relaxing on the waterfront with a sunset, make sure to try iconic drinks like the mermaid lemonade or the Tiki Tai. And for dinner, don't fill up on the bar bites, although those pretzel bites are good! Save room for burgers, sandwiches, bowls, tacos and more!
14. Healthy Pho Asian Fusion- Vietnamese Cuisine
We have already talked about Chinese food, but what about other Asian cuisine? Check out Healthy Pho Asian Fusion! This is one of those restaurants in Punta Gorda you do not want to miss! It is locally owned and family operated, offering authentic flavors!
As a fusion place, you will get Asian fusion with Vietnamese cuisine. Healthy Pho is known for their original dishes that were inspired from old family recipes. Most guest love the Pho, and rice or vermicelli dishes here.
You are bound to feel warm after the tasty soup, but the welcoming nature of the family who runs this restaurant will also have you feeling so comfortable! Combine the culture and tradition here, and enjoy lunch and dinner! With vegan options and beyond, guests really do love the noodle bowls and rice here! And don't forget to try the tofu vegan spring rolls too!
15. Working Cow
While it isn't exactly a restaurant, we wanted to end this list with something special: an ice cream shop! (And, honestly, who says you can't have ice cream for dinner?). If you are looking for a quick bite, stop at one of the best restaurants in Punta Gorda that will help satisfy your sweet tooth!
From soft serve to hard scoop, sherbets, sorbet, and frozen yogurts, there are over 50 flavors to choose from when eating ice cream here! And if you don't want the sweets, there are also sanwhiches/wraps, hot dogs and burgers available here too!
Get your ice cream in a cake or a cone, add some toppings, and enjoy! This is such a fun place with great outdoor seating, and yummy desserts! We promise you will have a grand time and get a sugar rush from stopping here!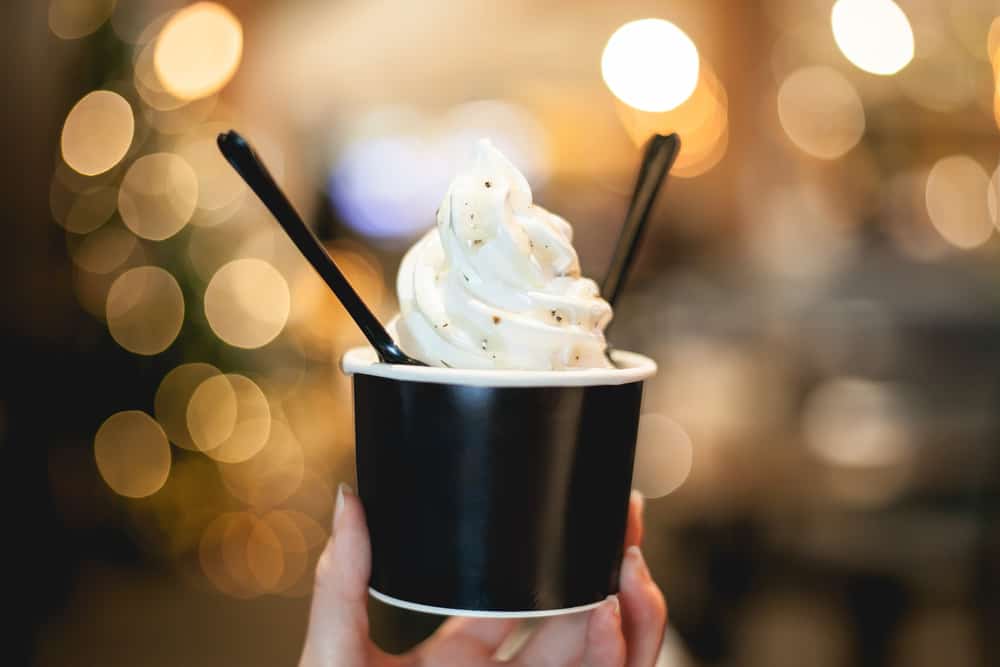 And there you have it, folks! 15 restaurants in Punta Gorda you must try! From quick-stops, to fancy dinners, views on the water, and every type of cuisine you can imagine, Punta Gorda is the perfect place to let your foodie heart fly! And don't forget to check out some of the amazing beaches that are in this area too– that way you work up an appetite! Enjoy!