Are you looking for the best beaches in Southwest Florida, but don't know where to start? There are so many beautiful beaches in the Sunshine State that it can be hard to narrow it down. Thankfully, you've come to the right place!
Some of the best beaches in South Florida can be found on the west coast of the state. Their location makes for beautiful sunsets, sea breezes coming off the Gulf of Mexico, and lots of seashells. You might even be lucky enough to see some sea turtles!
From public beaches on the mainland to secluded beaches on the barrier islands, there is something for everyone. Grab your beach towel and keep reading to discover some of the prettiest beaches in Southwest Florida.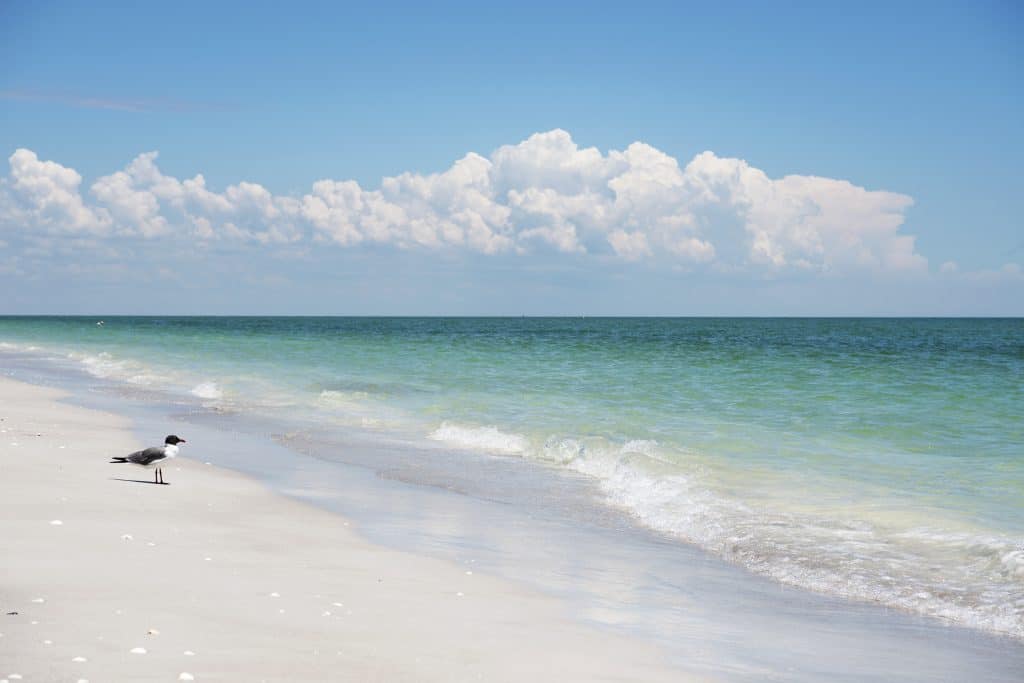 12 Prettiest Beaches In Southwest Florida
Lighthouse Beach, Sanibel Island
As one of the best islands in Florida to escape to, Sanibel Island boasts some of the best beaches in Southwest Florida. Even though it's only an hour's drive from Fort Myers, when you arrive at Sanibel Island it will feel like you've escaped to a much more secluded island.
Lighthouse Beach got its name from the metal lighthouse that was built in 1884. It was one of the first lighthouses on the Gulf and still stands today. It makes for a cool element in the epic sunset photos you can capture there! This is truly one of the best things to do on the West Coast Of Florida!
One of the most popular things to do at Lighthouse Beach is to go hunting for seashells, or "shelling". Of all the beaches in Southwest Florida, the beaches on Sanibel Island have the best terrain for shells to wash ashore. The lateral formation of the island, combined with gradual slopes along the beach, creates the ideal conditions for finding small, unique treasures.
In addition to the beautiful beach, you can also find hiking trails, a fishing pier, and a picnic area.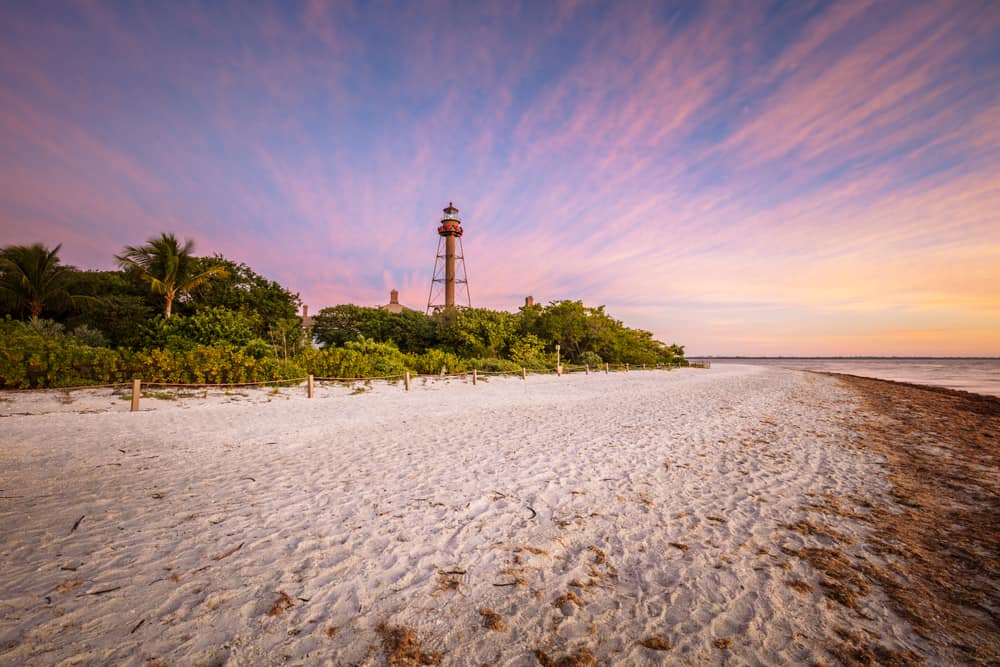 Lovers Key Beach, Fort Meyers Beach
What used to be a set of isolated barrier islands, accessible only by boat, is now a State Park, complete with over two miles of pristine beach. Lovers Key State Park is home to a variety of wildlife, including manatees and dolphins, making it one of the more undeveloped beaches in Southwest Florida.
Lovers Key lives up to its name, as it is also a popular location for romantic getaways and beachside weddings. You can spend time with your significant other while taking a sunset cruise or renting kayaks and hoping to spot some dolphins. Lovers Key is definitely one of the best Florida beaches for couples.
Lovers Key isn't just for lovers though! With Fort Meyers nearby, Lovers Key makes a great day trip for the whole family. Hike one of the various trails, visit the Discovery Center, then relax under an umbrella at the beach.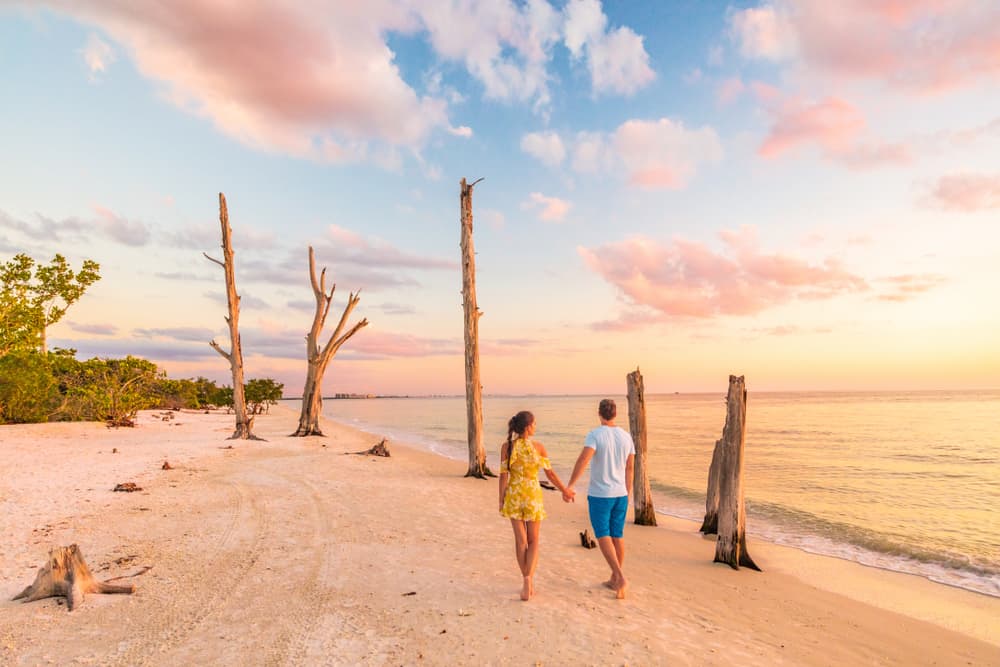 Naples Beach and Pier, Naples
The municipal beach in Naples has a combination of all the best things Southwest Florida beaches have to offer. It has over seven miles of soft white sand, turquoise water, spectacular sunsets, and palm trees swaying in the wind. Located just a fifteen-minute walk from downtown, it's one of the best beaches in Naples.
Naples Beach also has a fishing pier that dates back to the 1880s. At 1,000 feet long, the pier offers plenty of space to try your hand at fishing. You don't need a fishing license and can pick up bait and snacks at the concession stand on the pier. It also makes an awesome spot to watch the sunset! This is truly one of the best things to do in Southwest Florida!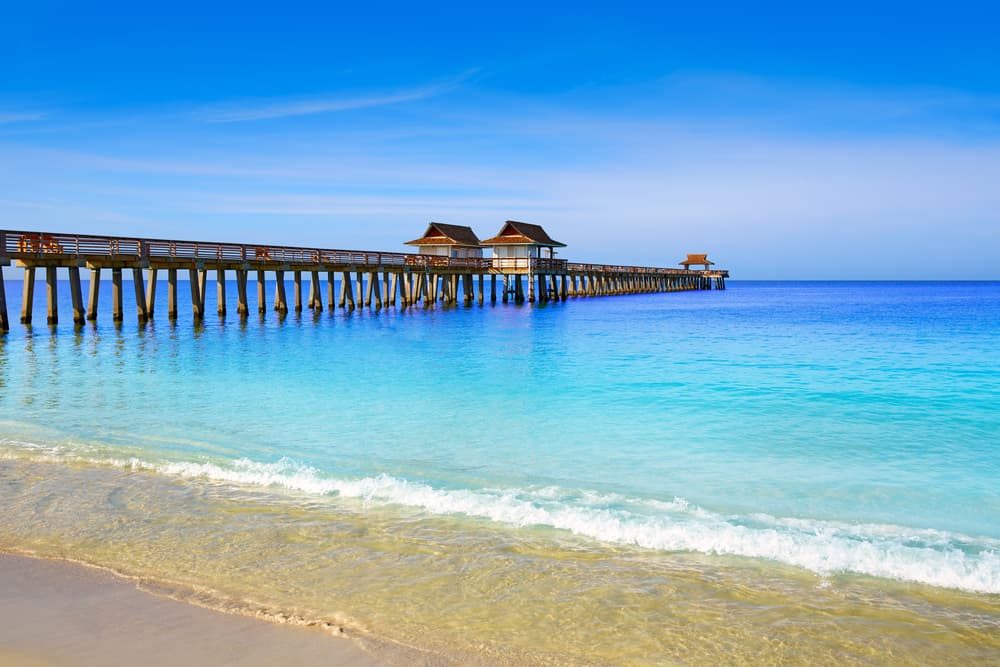 Beer Can Island, Longboat Key
Beer Can Island on Longboat Key (not to be confused with the Beer Can Island in Tampa) is a magical spot and one of the prettiest beaches in Southwest Florida. Dotted with driftwood and white sand, this secluded beach near Sarasota is a great place to escape for some exclusivity.
Beer Can Island, also known as Greer Island, is accessible by boat or by walking across the Longboat Key Bridge. We recommend parking at Coquina Beach and walking the bridge. For more in-depth directions, check out our tips for visiting Beer Can Island.
Like many beaches in Florida, Beer Can Island has a delicate ecosystem. To protect the natural beauty of the beaches, please remember to take everything out that you bring in with you!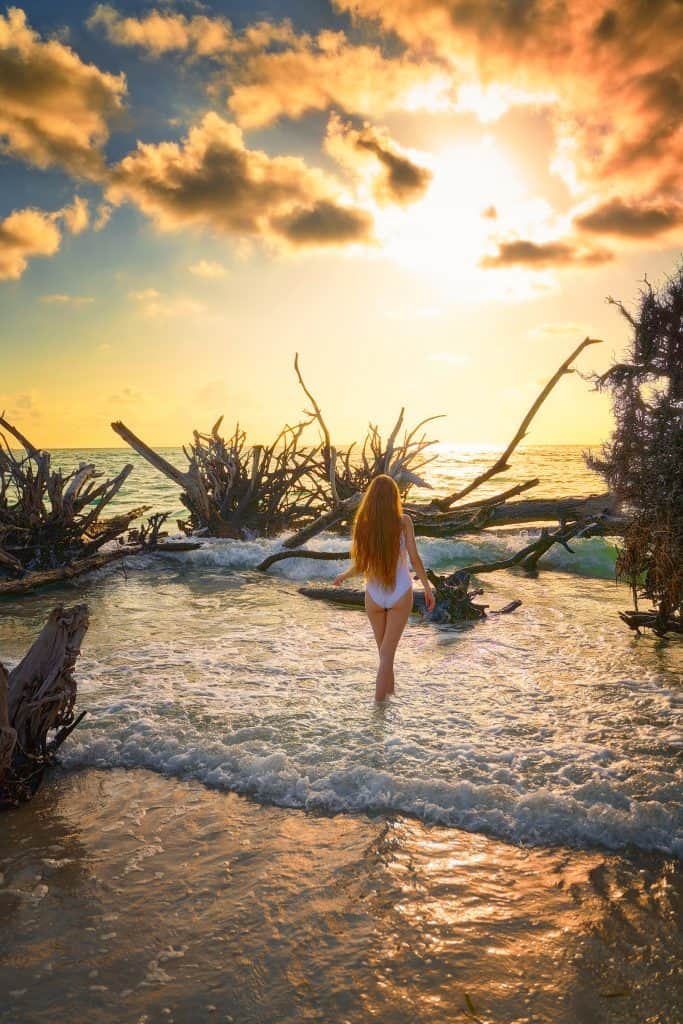 Stump Pass Beach State Park, Englewood
Stump Pass Beach State Park has one of the most-loved beaches in Southwest Florida. Located within an hour's drive from both Port Charlotte and Punta Gorda, this Florida State Park is a wonderful place to spend the day. Enjoy views of the ocean on one side, and views of Lemon Bay on the other!
In addition to swimming and snorkeling in the astonishingly blue water, you can take advantage of the 1.3 mile long hike around the park. The trail passes through different natural habitats, full of local wildlife. Keep an eye out for birds of prey such as bald eagles and ospreys.
Similar to many of the beaches on the west side of Florida, Stump Pass Beach is also a great place for shelling, and you might even find some shark teeth among the shells!
Just be aware you'll have to pack your own food as there are no concessions.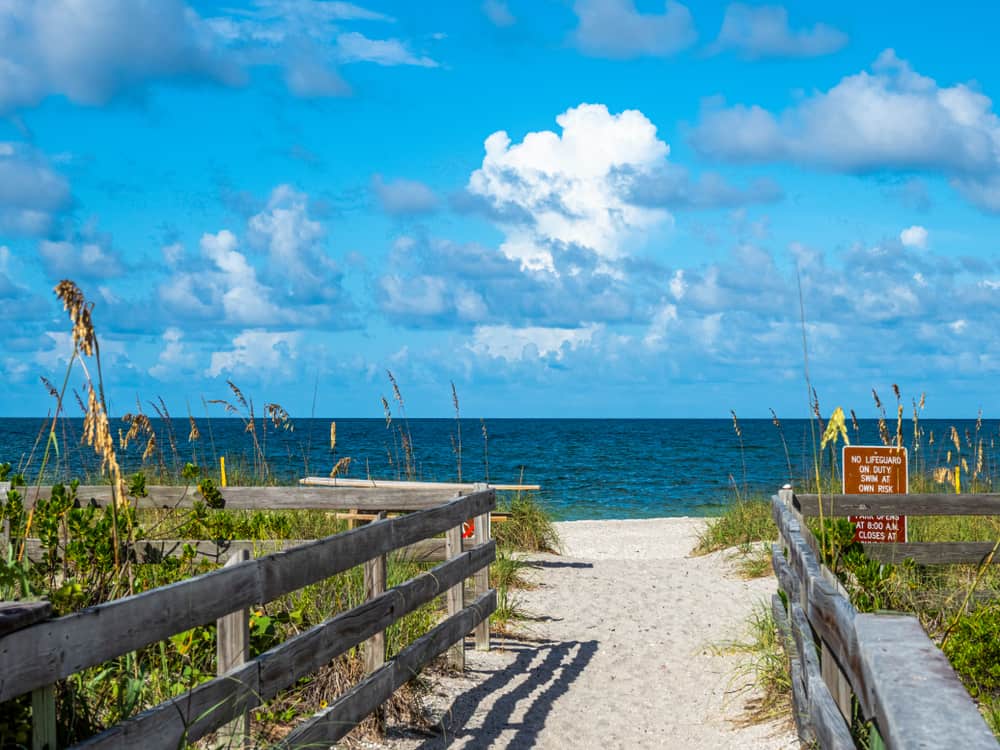 Tigertail Beach, Marco Island
Marco Island is one of the largest of the barrier islands near Naples, and it contains several of the best beaches in Southwest Florida. Marco Island is known to be an excellent spot for shelling and Tigertail Beach is no exception.
To get to Tigertail Beach is an adventure in itself. You have to walk almost a mile from the parking lot, including through or around a small lagoon, but it's definitely worth it. You'll have three miles of white sand beach to comb. People have been known to find sand dollars as well as shells, and dolphins can sometimes be seen just offshore!
There is a concession stand, playground, and restrooms located at Tigertail Beach. You can rent kayaks and standup paddleboards on which to paddle around the beautiful blue water.
Tigertail Beach is also a stop on the Great Florida Birding Trail, so bring some binoculars! If birds aren't your thing there are other fun things to do on Marco Island.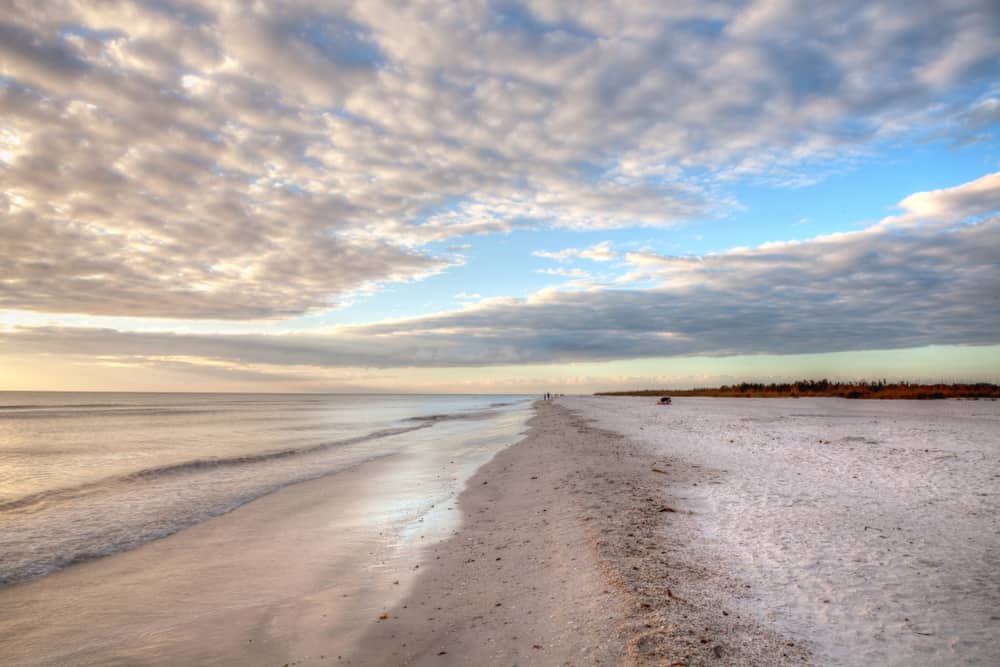 Bowman's Beach, Sanibel Island
Another of the best beaches on Sanibel and Captiva Islands is Bowman's Beach. It's one of the more popular beaches in Southwest Florida and is located within a 45-minute drive of Cape Coral. However, it still manages to feel quiet and peaceful.
Like many of the gulf beaches on the west side of Florida, the water is nice and warm. If you want to do more than swim in the water or relax in the sun, there is ample space for sailing and windsurfing. Bowman's Beach is another of the best beaches for shelling.
Bowman's Beach also has one of the best dog beaches in Florida! You can bring your furry friend as long as you clean up after them. When you both tire out, cook up something on the bbq grills, enjoy a picnic, and watch the sunset.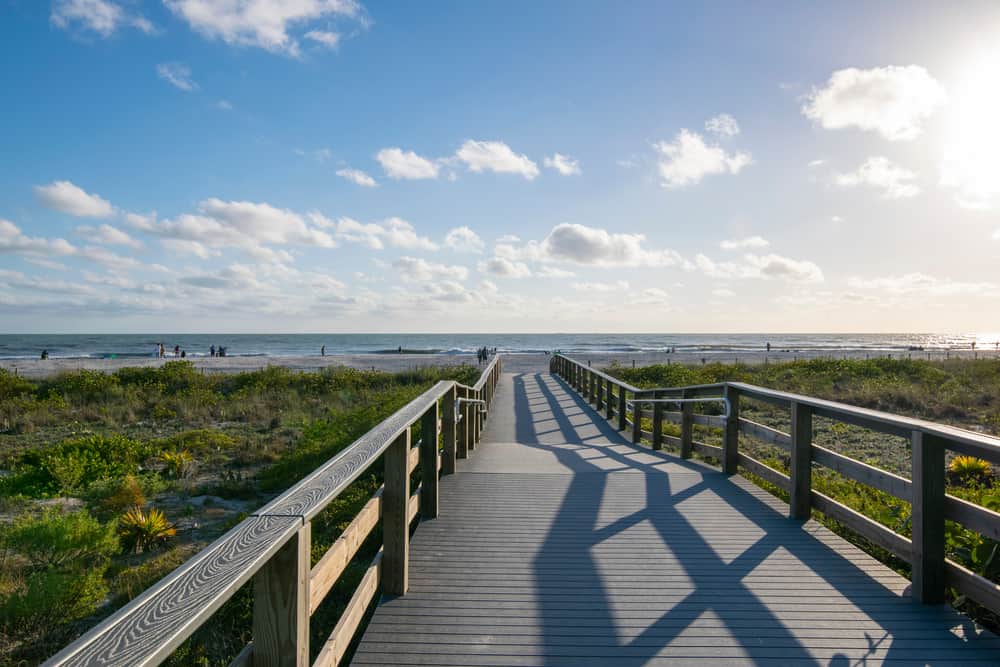 Barefoot Beach, North Naples
Barefoot Beach is one of the more low-key beaches in Southwest Florida and is located in a nature preserve. Even though it's easy to access, Barefoot Beach will feel more secluded than it is.
Barefoot Beach Preserve is made up of more than 300 acres of natural land near Bonita Springs. It's just a half-hour drive from Naples and a 15-minute drive down the road from Bonita Beach Park.
The water is shallow and warm, with many shells to be found washed up on the shore. Keep an eye out for dolphins playing in the waves! When you need to stretch your legs, there is a mile-long walking loop trail.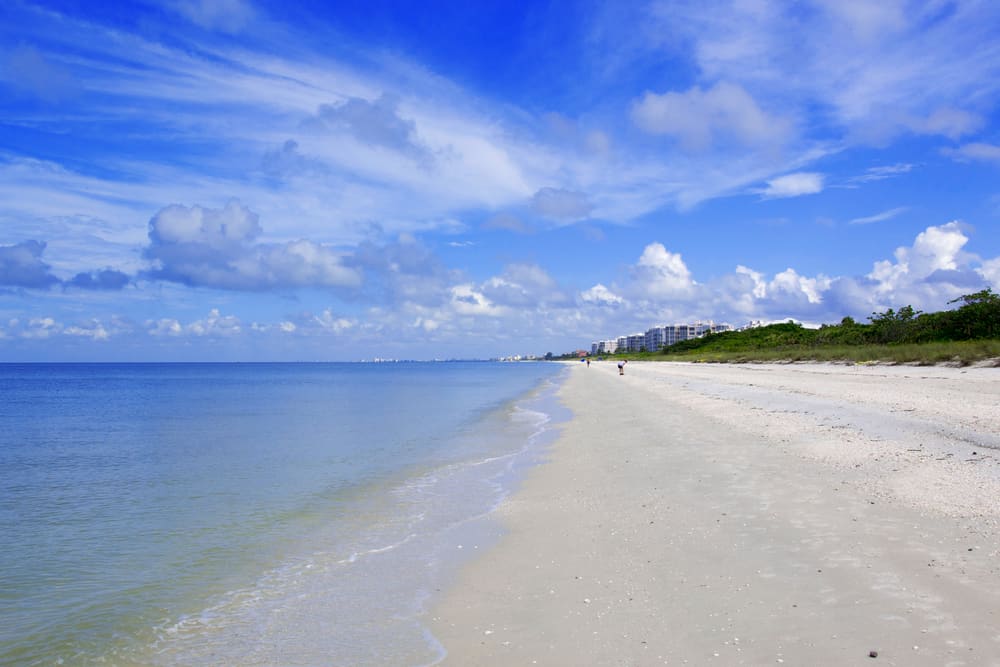 Englewood Beach, Englewood
Englewood Beach is one of the most popular beaches near Port Charlotte, and one of the prettiest beaches in Southwest Florida. Located just north of Stump Pass, it's a wonderfully family-friendly beach with excellent facilities.
Because of its large size, Englewood Beach doesn't get too crowded very often. It boasts clean white sand and is a great spot for shelling. The sunsets from Englewood Beach are not to be missed! You might even catch a drum circle if you're there on a Sunday evening.
If you want to do more than relax you can rent jetskis or play volleyball. If you'd rather fish, there's a fishing pier and there are multiple companies you can ask to take you out on their boats.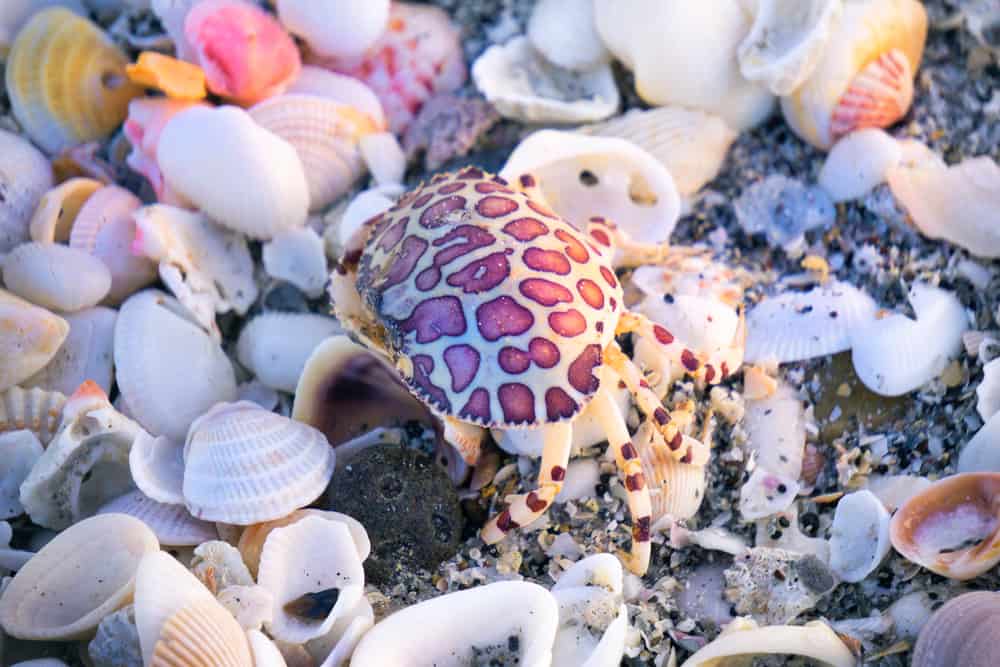 Keewaydin Island, Marco Island
Keewaydin Island is another of the beautifully undeveloped beaches in Southwest Florida. Accessible only by boat, this secluded spot is perfect for those seeking the ultimate getaway.
To get to Keewaydin Island, you can take the Hemingway Water Shuttle off of Marco Island, or rent a boat out of the marinas in Marco Island or Naples. The shuttle does multiple drop-offs and pick-ups every day. The plus side to needing a boat is that Keewaydin Island isn't as crowded as some of the other beaches in Florida.
Pack a cooler with snacks, or order hot dogs, sandwiches, and ice-cold beer from the "Burger Barge" when it swings by.
Both the shuttle and the beach are pet-friendly, so you can enjoy your time on Keewaydin Island with your four-legged friend!
Since it's a nature preserve, keep an eye out for local wildlife. You might see some gopher tortoises burrowing along the trail and sea turtles nesting amongst the dunes. (Remember not to touch sea turtles, especially babies!)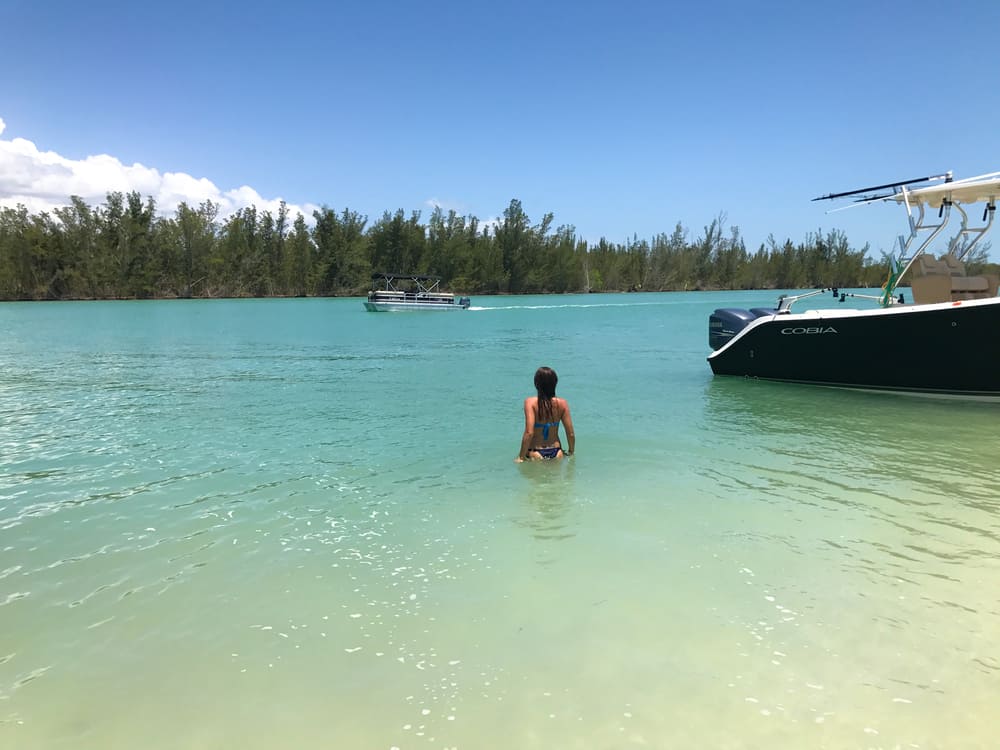 Gasparilla Island, Boca Grande
Gasparilla Island is home to the Gasparilla Island State Park, and one of the prettiest beaches in Southwest Florida. With colorful beach houses and shops, it almost has a New England vibe, but with some Florida charm.
The water off of Gasparilla Island is beautifully clear. In addition to swimming, Gasparilla Island is an excellent spot for fishing, snorkeling, and shelling. (Do be aware that sometimes the tide can get pretty strong and is not safe for swimming.)
Gasparilla Island is also home to the historic Boca Grande Lighthouse. Originally built in 1890, it has been restored to its former self, and now houses a museum showcasing local history. It's the only lighthouse on the west coast of Florida to be open to the public!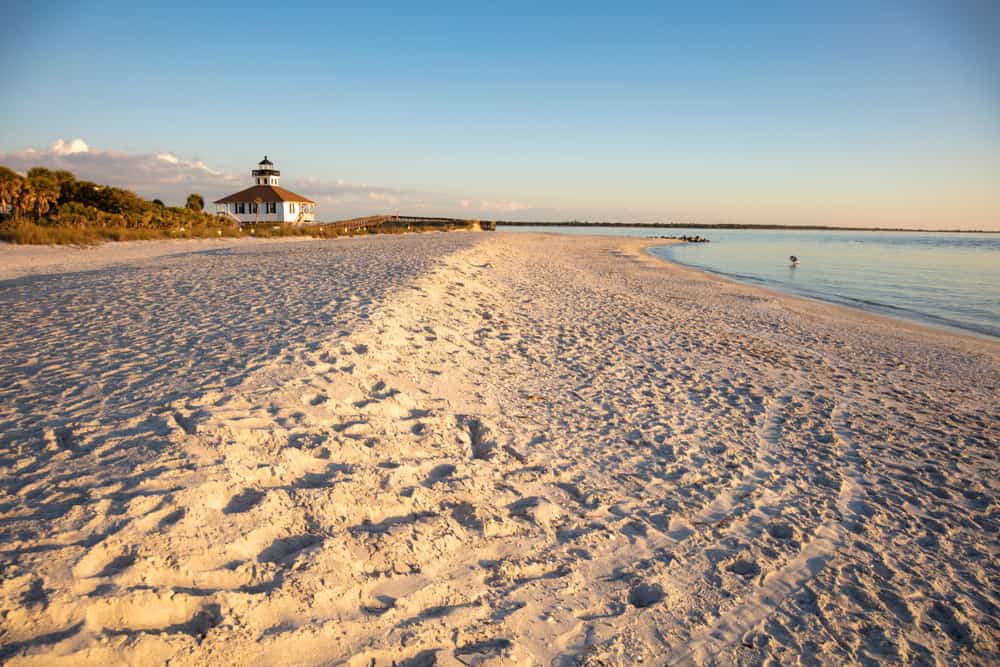 Clam Pass Park, North Naples
One of the most unique beaches in Southwest Florida is Clam Pass. It's truly a hidden gem and relatively unknown to tourists. It takes a bit of effort to reach, but this beautiful beach near Naples is well worth it.
It is also one of our favorite secluded beaches in Florida!
You can take a free tram from the parking lot to the beach in Clam Pass Park, but if you're up for an adventure you can walk the three-quarter-mile long boardwalk through coastal habitat, and then wade through the waters of the pass. Be aware that the waters do have a tide, and can get high enough for an adult to be submerged to the neck.
Once you reach the beach you will be greeted by beautiful blue water and powdery sand! Facilities at the beach include restrooms, a restaurant, and life jacket loans.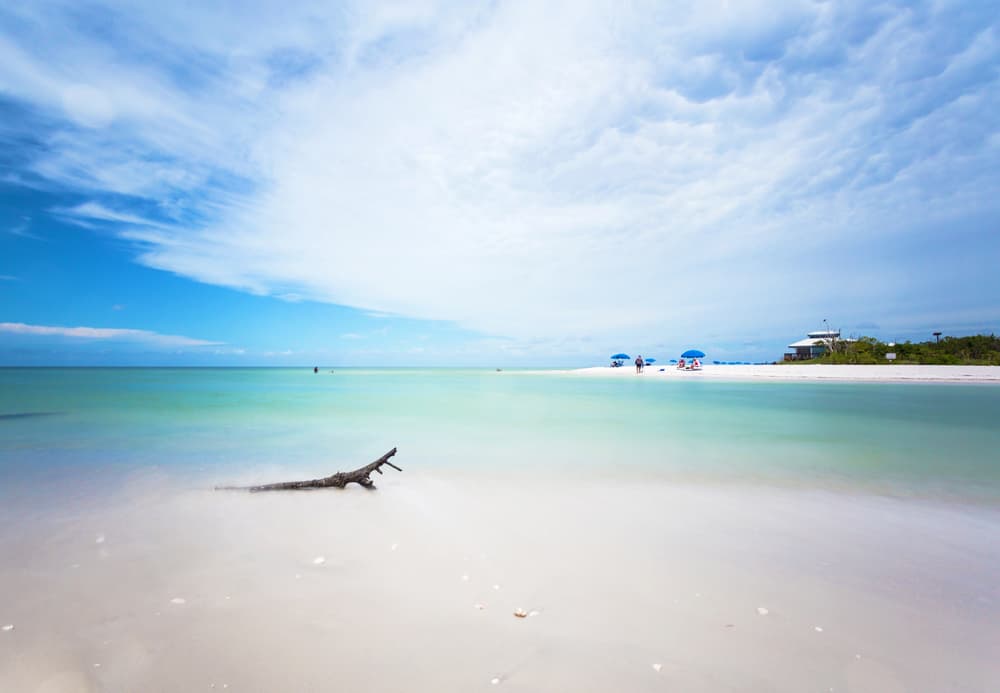 We hope you found this post helpful in picking which beaches to visit in Southwest Florida! You simply can't go wrong with whichever beaches you decide to visit on the west coast, as they will all have beautiful sunsets and warm water. Whether you want secluded or mainstream, you'll enjoy the beaches in Southwest Florida.