So, you're looking for luxury hotels in Key West? You've come to the right place!
We love Key West. It's truly like a tropical paradise and is the perfect vacation spot if you're wanting those gorgeous tropical beaches with blue waters but want to stay in the United States. When we think of Key West, we think of fun, romance, and of course, luxury.
Key West is the southernmost point in the United States, making it closer to Cuba than Miami. Key West is known for its variety of watersports, bustling nightlife, Duval Streets, historical sites, gorgeous pastel architecture, and of course, luxury hotels.
There are no end of luxury hotels in Key West, and a wide variety too! Each one has their own little charm about it making it different from the others. During your stay in Key West, you will soon realise why so many famous names chose to call with place from; from Ernest Hemmingway and Tennessee Willians to Elizabeth Bishop and Jimmy Buffett.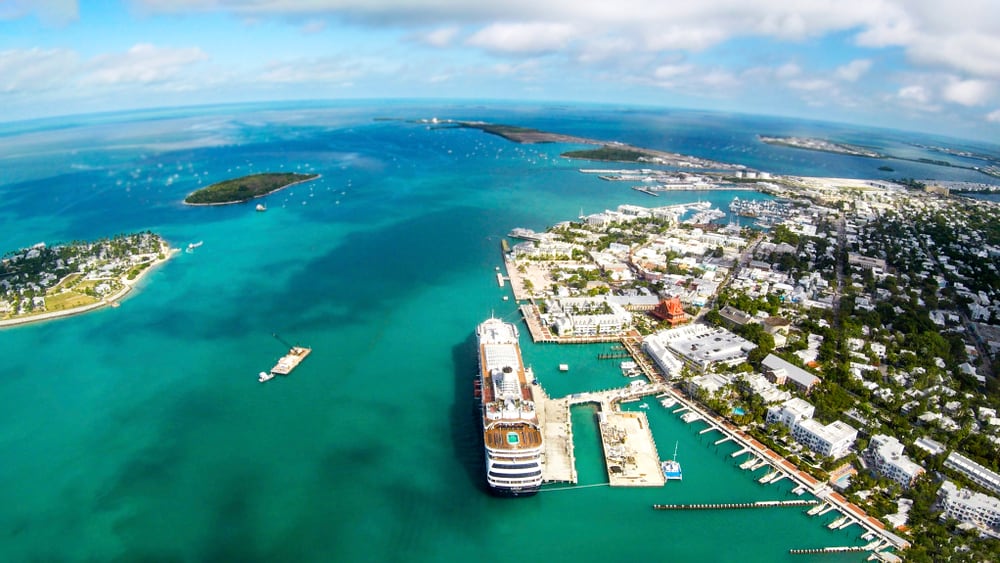 Casa Marina Key West, A Waldorf Astoria Resort
We love resorts as a form of luxury hotels in Key West, and the Casa Marina Key West does not disappoint!
Located on a private beach along the shore, you won't have to worry about the beaches being too crowded. This resort is perfect if you're wanting a quiet morning stroll on a beach, or to do some sunbathing in peace.
This luxury hotel in Key West is set in a 1920s building, and the exterior is really giving us 'old Hollywood; vibes. The symmetry and the lines of palm trees to the entrance just screams luxury!
Casa Marina Key West offers oceanside massages, and the onsite Spa has a selection fo other massages, facials and aromatherapies. The resort also has an onsite gym and two oceanfront pools for you to enjoy. What could be better than going for a swim in a pool listening to the sound of the waves!?
If you're looking to do some watersports, a wide variety such as deep-sea fishing and windsurfing are easily accessible. This is truly one of the best luxury hotels in Florida!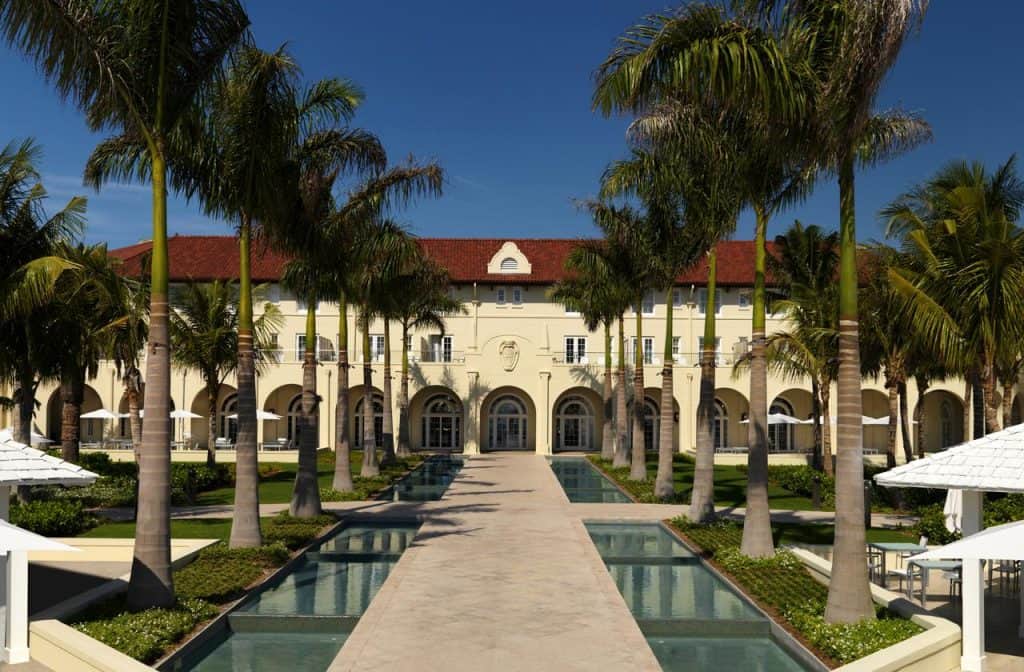 Margaritaville Key West Resort & Marina
A luxury hotel in Key West with the word 'Margarita' in the title? Count us in!
Margaritaville Key West Resort & Marina will really have you feel like you're in a tiny town in a tropical country. You can enjoy many on side amenities such as a business center, fitness center, shops, and water-sport facilities. We can see ourselves spending a lot of time in this luxury hotel in Key West. You could have a lot of fun without even leaving the resort!
Margaritaville is centrally located in the popular historical Old Town area, with the Key West Aquarium being just adjacent to the hotel. Don't worry, The resort is still waterfront and benefits from a heated hot tub and pool.
We hear that the food at the onside restaurant, Bistro 245 is very good and serves breakfast, lunch, and dinner.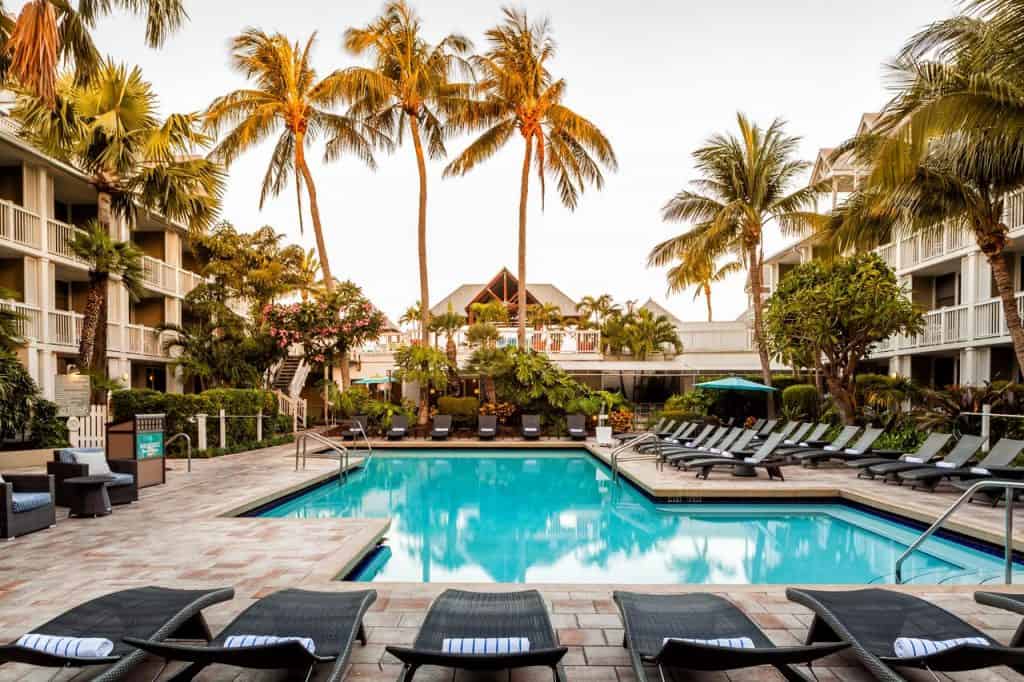 Parrot Key Hotel & Villas
If you love your luxury hotels to have beautiful minimal, clean deco, then you will love Parrot Key Hotel & Villas!
Nestled along the Florida Bay, this luxury hotel in Key West is surrounded by lush green landscapes and gardens, we love being around nature so we know we would love going for a swim in one of the four (yes, four!) outdoor pools. They are surrounded by palms and large potted plants, making them feel super private.
Kayaking is a popular activity to do at this resort, and you can enjoy an on-site massage or a snack at the poolside The Grove Kitchen and Bar.
This hotel is a short drive away from Old Town, but there is a complimentary shuttle that will take you to the city centre.
The rooms are decorated with a modern neutrals palette and come with a private terrace. This is one of the luxury hotels in Key West which is the ultimate romantic getaway!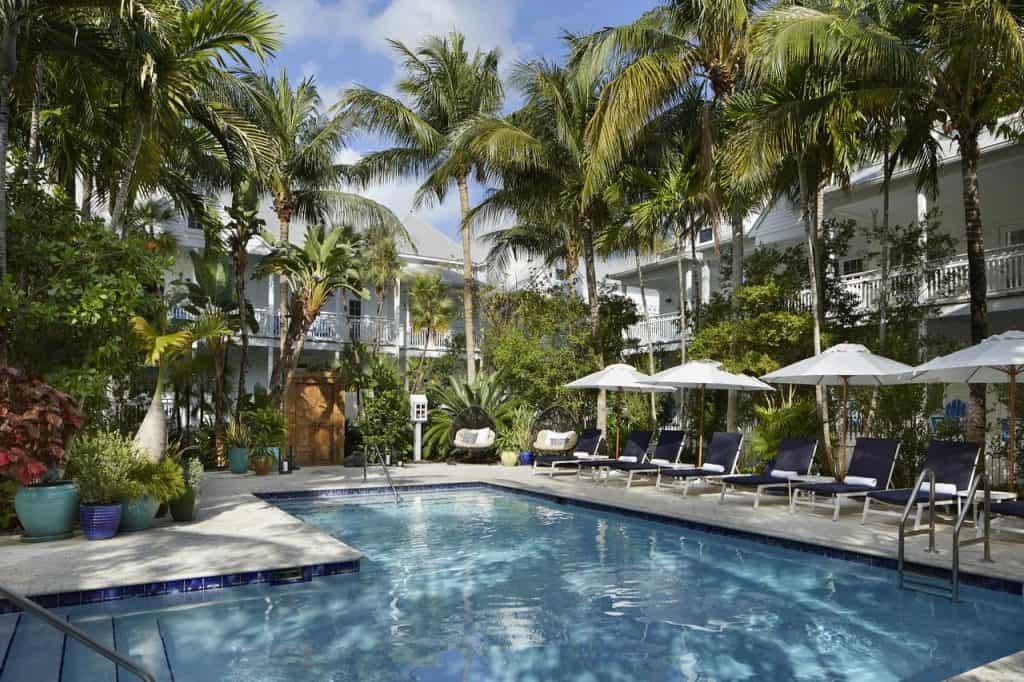 Hyatt Centric Key West Resort & Spa
Looking for luxury hotels on Key West Island? Hyatt Centric Key West Resort & Spa may be the one for you!
Each room comes with a private balcony for you to enjoy a glass of wine and watch the sun go down on – Florida is famous for its sunsets!
There's a tonne of super fun activities to enjoy at the luxury hotel in Key West. There's scuba diving, snorkelling, and jet boats. If you chose, you can go on a Jet Ski island tour where you can explore the surrounding area.
This resort is known for its seafood. There are two onside restaurants; Shor American Seafood Grill and Blue Mojito Pool Bar.
There's also other amenities such as the Jala Spa which offers deep tissue massages, focials, body wraps, and nail care, as well as a fitness center.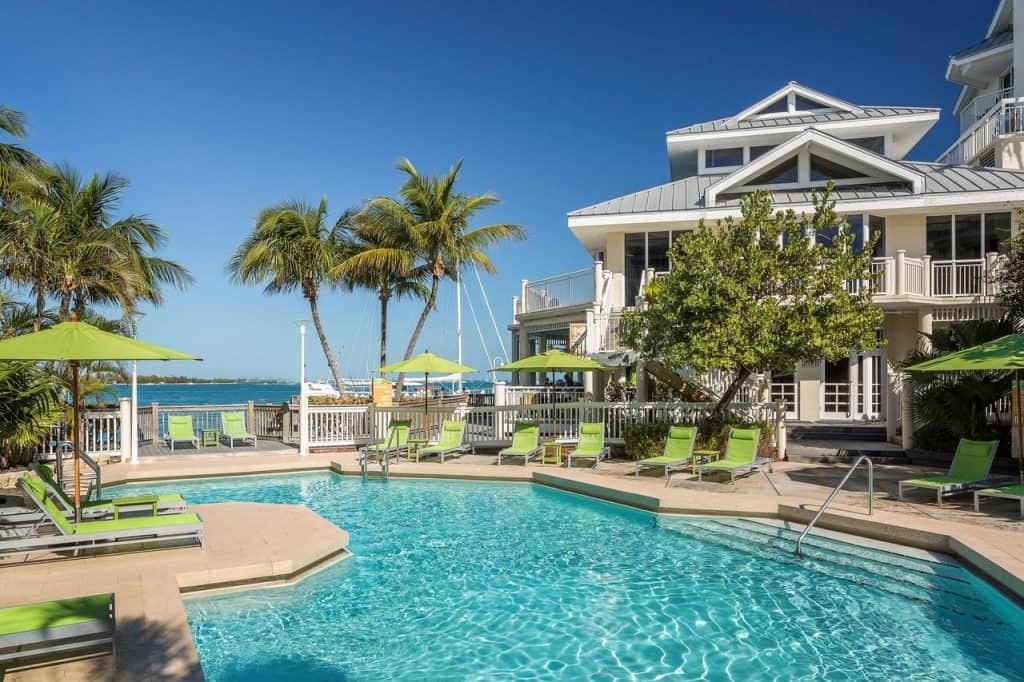 Pier House Resort & Spa
Piers House Resort & Spa is another amazing luxury hotel in Key West that is full of wondering foliage. You could easily imagine yourself in a tropical jungle here!
Speaking of a tropical jungle, this luxury hotel in key west has a private beach and instant beach access.
There are three different onside restaurants and we love the look of the quirky Chart Room Bar. You can enjoy fresh seafood or sample cocktails right on the beach!
Pier House is conveniently located just one minutes walk away from the famous Duval Street entertainment district and a five minute drive away from the Hemingway Home and Museum.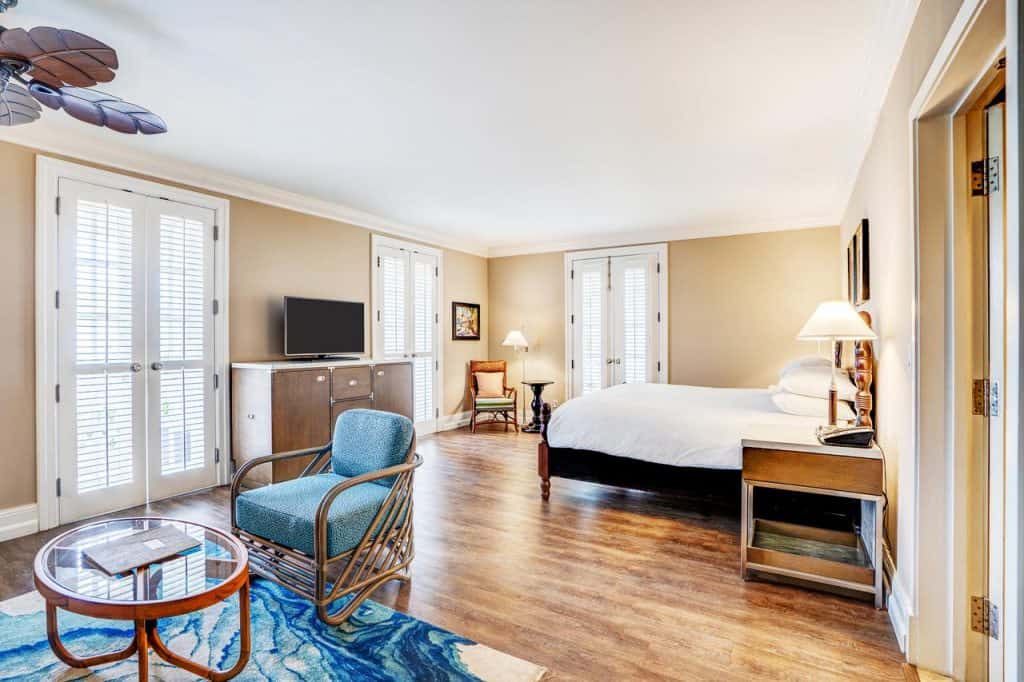 Ocean Key Resort & Spa, a Noble House Resort
We love how bright and colorful this luxury hotel in Key West is!
Ocean Key Resort & Spa overlooks the gulf of Mexico. You can enjoy some spectacular views from here, especially from the outdoor pool. If you're lucky, you could even have an ocean from view from your private balcony.
There is an onsite spa that offers various different massage therapies, nail treatments, and facials. There's also an onsite fitness centre, but we think that the best thing about this luxury hotel in Key West is the fact that they have glass-bottom boat tours – how fun!
This hotel is right in the heart of all of the Key West action being just a minutes walk away from from Mallory Square Plaza, but if you don't fancy going out you can enjoy drinks at the resort at Sunset Pier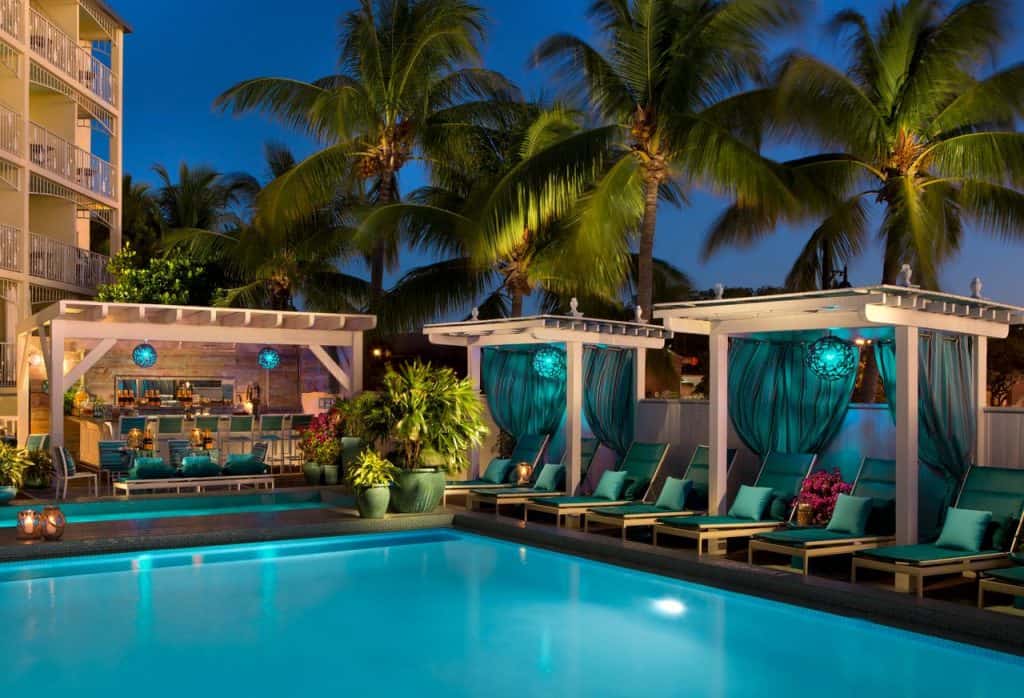 The Gardens Hotel
The Gardens Hotel is a luxury hotel in Key West that is adult only. This is the place to go if you really want to get away and relax, as this hotel is known for being very quiet and feeling secluded.
Each room comes with either a private balcony or a private patio with views. There is also a breakfast buffet and an outdoor pool for you to enjoy a relaxing swim.
If you fancy going on a bike ride around the surrounding area, you can hire one onsite. There is also live Jazz music that is performed every Sunday in the gardens, which sounds like a dream to us!
If you're visiting Key West to learn all about the culture and history, this luxury hotel in Key West is for you as the Key West Butterfly and Nature Conservatory, The Key West Shipwreck Museum, Key West Aquarium, and Conch Tour Train are all located less than 1.2 miles away! On top of that, the Ernest Hemingway Home Museum is just 550 yards from the hotel.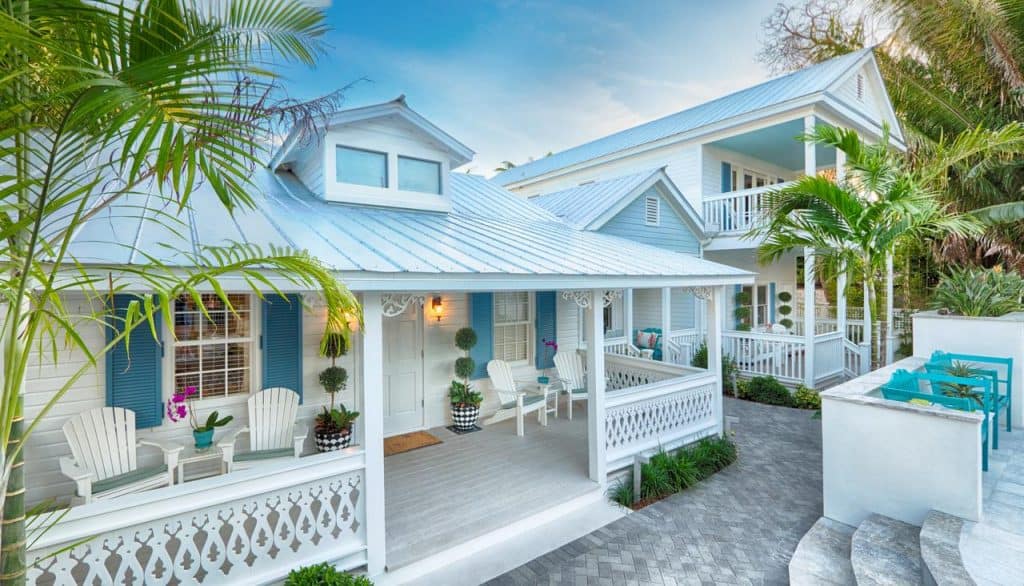 The Saint Hotel Key West Autograph Collection by Marriott
Now, this luxury hotel seriously has that WOW factor!
The Saint Hotel Key West is perfect if you want to be close to all that Key West has to offer as it's just 50 yards from Duval Street.
The hotel offers a gorgeous infinity pool with a waterfall. There is also a great onsite bar which has many cocktails and drinks for you to enjoy.
Guests have said that the staff are some of the most friendly staff they have ever experienced and enjoy the valet and concierge service.
This hotel is great for a long weekend getaway, or if you're a tourist wanting to do some exploring.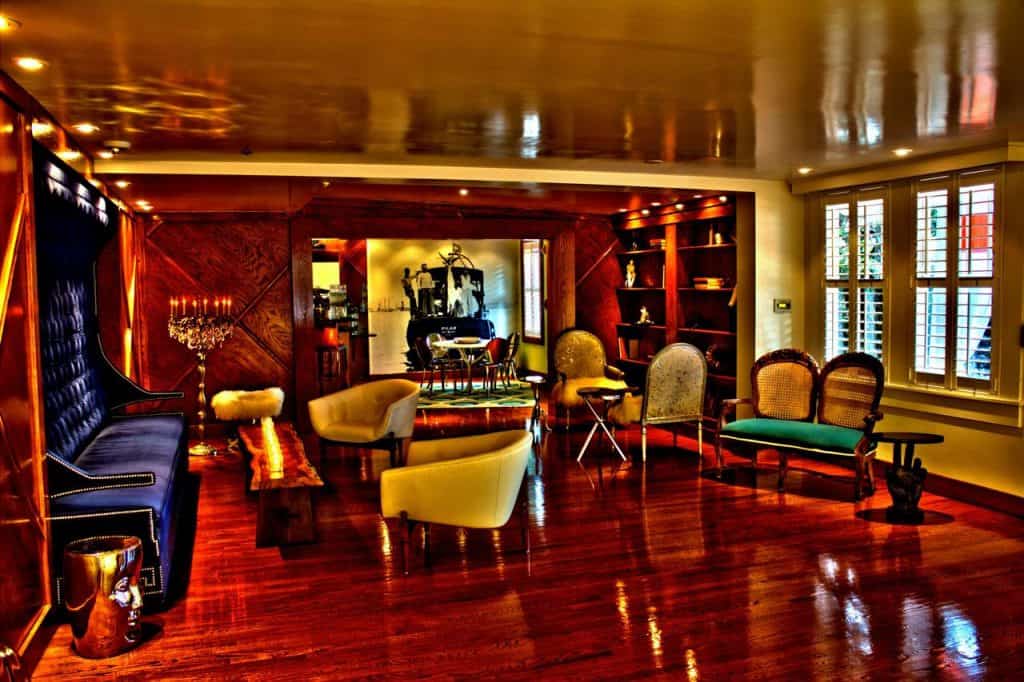 Modern Rendezvous
If you're staying in Key West for a little longer, why not consider booking out a vacation home?
There's a lot of advantages to booking a vacation home instead of a hotel, you can cook for yourself and is ideal for families or larger groups as you can all be together. It can also be nice to be on vacation and fend for yourself!
The Modern Rendezvous is a luxury hotel in Key West that really lives up to its name!
The modern decor and floor to ceiling windows really make the place bright and inviting. There are plenty of plants around to make you feel like you are in a tropical paradise. Here, you will truly feel like you are alone on an island which sounds like a great vacation to us.
There is a private pool and a garden, which comes equipped with a barbeque with a seating area for you to enjoy meals in the gorgeous warm Florida evenings.
If that isn't enough to convince you, there is an outdoor shower and an outdoor bath! Oh, and all of this is just 700 yards away from Smathers Beach and close to South Beach!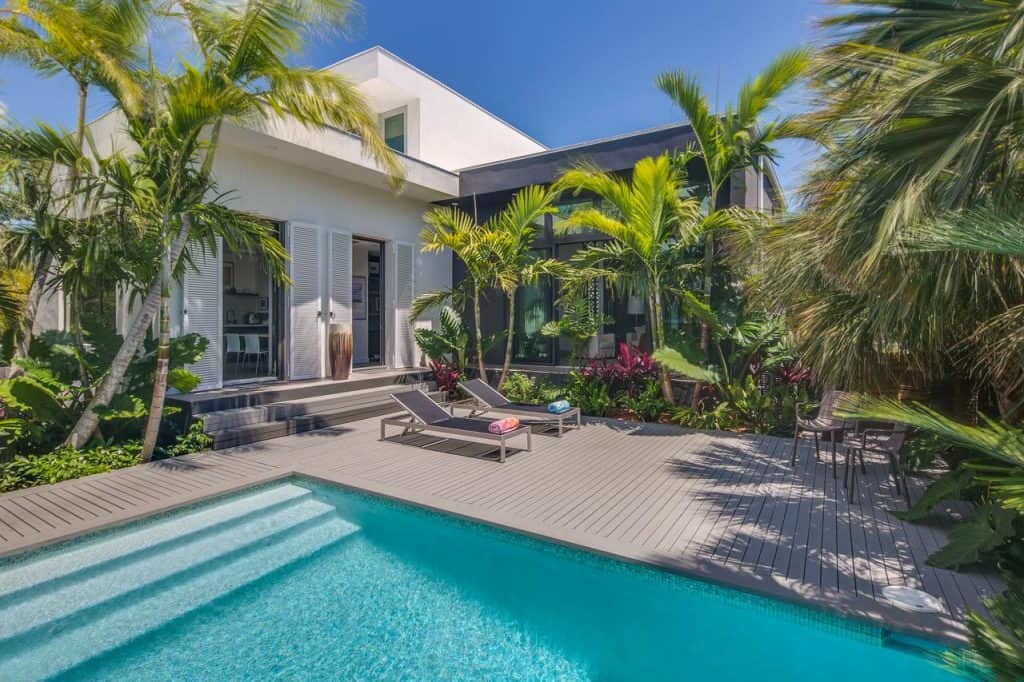 Island Paradise
Have you always loved the beautiful Key West houses? Well, now you can stay in one yourself!
Island Paradise is a three bedroom vacation home with a private pool and garden. The interior may surprise you, it certainly did us!
Surprisingly spacious and modern on the inside, this luxury hotel in Key West has a gorgeous large kitchen, outdoor dining, and amazing wooden features that we are seriously crushing over. Just look at that wooden bedroom!
Island Paradise is an 8 minute walk away from Mallory Dock and Mallory Square is only half a miles away.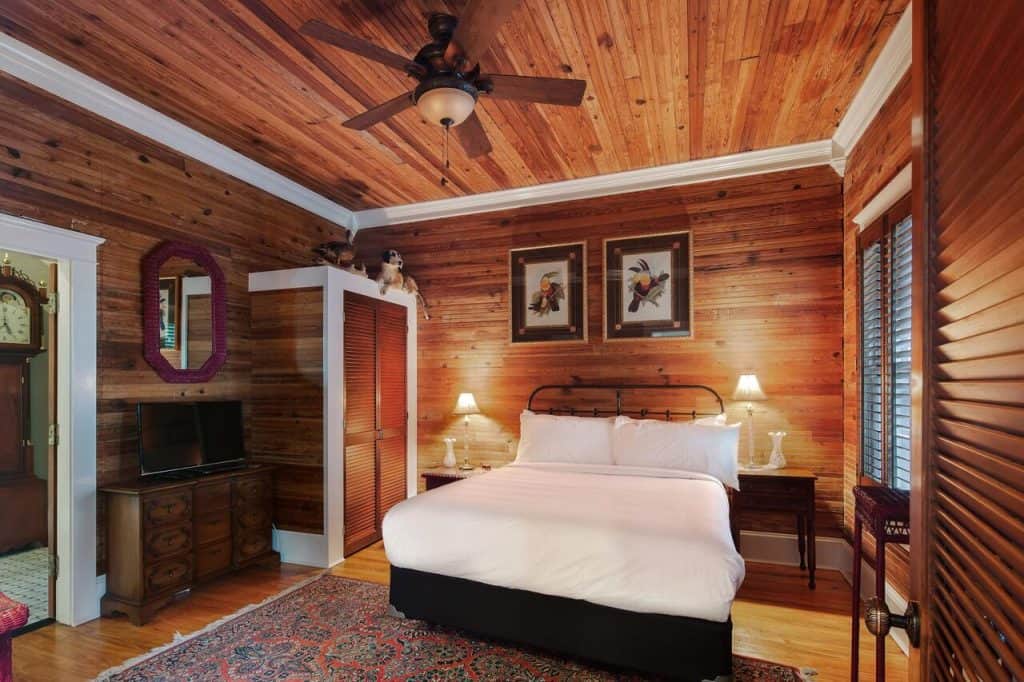 Sunset Key Cottages
You will really be reminded that you're close to the ocean with the beautiful blue theme at Sunset Key Cottages.
This luxury hotel in Key West is accessible by the 24 hour Margaritaville Key West Resort & Marina ferry, so you can stay out enjoying the Key West nightlife as long as you like!
The best part about Sunset Key Cottages is that you don't even have to leave your bed to have breakfast! A continental breakfast and newspaper is delivered straight to your door every morning.
The onsite restaurant, Latitudes, has a variety of seafood as well as carribean options. You can also enjoy your meal alfresco at the patio watching the sunset.
This is the perfect place for you if you want to be out of the way, but not skipping out on anything. This luxury hotel in Key West is very tranquil and relaxing. There is even an onsite spa and tennis court!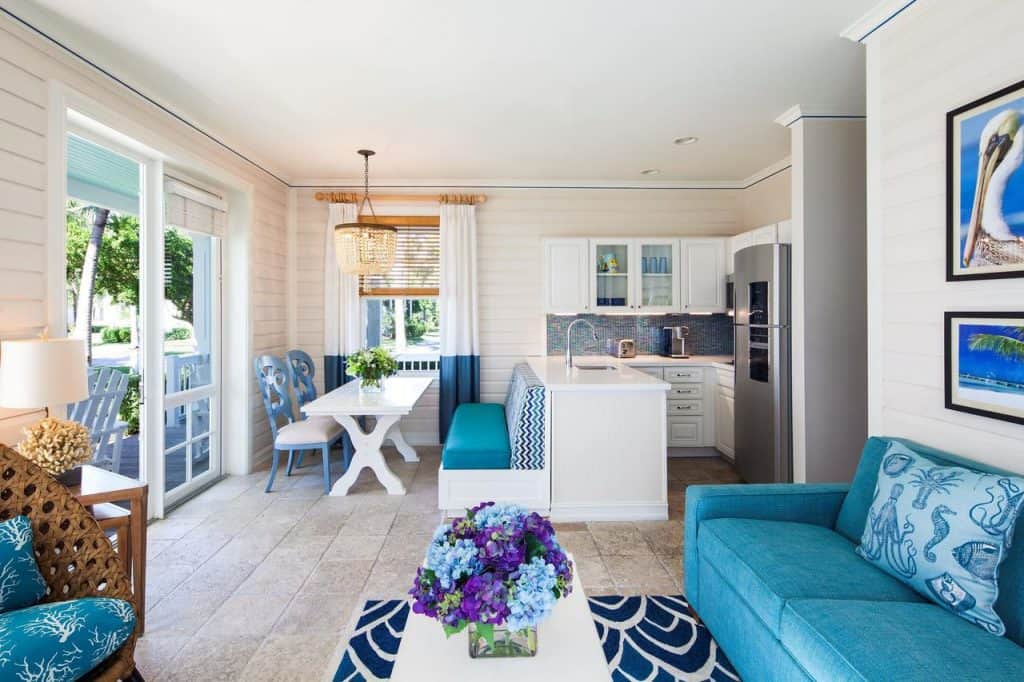 Oceans Edge Key West
Panoramic ocean views, six swimming pools, and a waterfront bar and restaurant? Does that sound amazing to you?
Oceans Edge Key West is a luxury hotel in Key West that is a little further out from Duval Street than the other hotels we've mentioned (a 19 minutes drive) but we think it can be nice to stay further out as you may find some hidden gems!
This luxury hotel in Key West boasts rooms with a balcony or patio, a paddle shop, onsite watersports and a 165-slip marina.
This resort is great if you're having a longer stay as there's such a wide variety of things to do. Plus, you're going to need time to try out all of the different pools!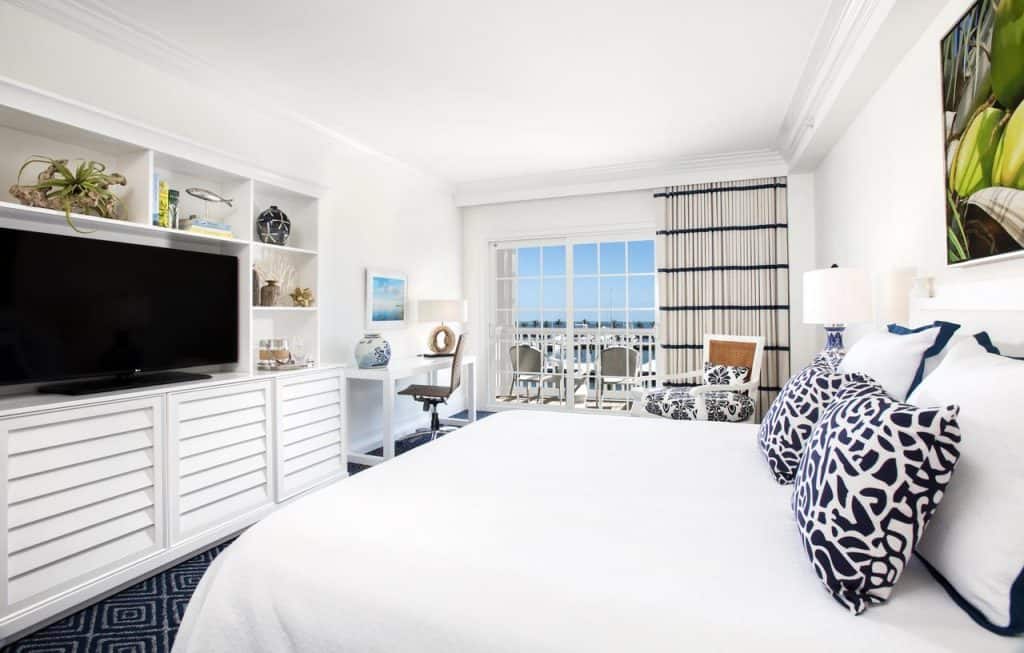 And thats our list of luxury hotels in Key West! We hope that you have found something that will work for you and that you enjoy your trip to Key West. There really is something for everyone in Key West as there is so much culture and history. We believe that it is a place where everybody should visit at least once, even if it is to just take in the gorgeous architecture!