Ready to cool off at one of the beaches in Pensacola? If you are looking for beautiful beach views, sunset vibes, and fun under the sun, then keep reading. We have narrowed down the list to include only the best beaches near Pensacola Florida you must visit! So, ready the bags and head out the door to one of these hidden gems!
We love trips to the beaches in Pensacola for the totally different views this barrier island has to offer. Only eight miles long and a quarter mile wide, the island is the perfect place to enjoy the warm Gulf waters and some of the most relaxing sunsets along the coast.
From artificial reefs, to beach front zip lining, multiple historic and conservation sites, there is something here for everyone to discover. Swim, eat, shop, play and dance along the world renowned Emerald coast.
With the vibrant coastal city a short drive away, Pensacola beach is the best place to plan the ultimate getaway.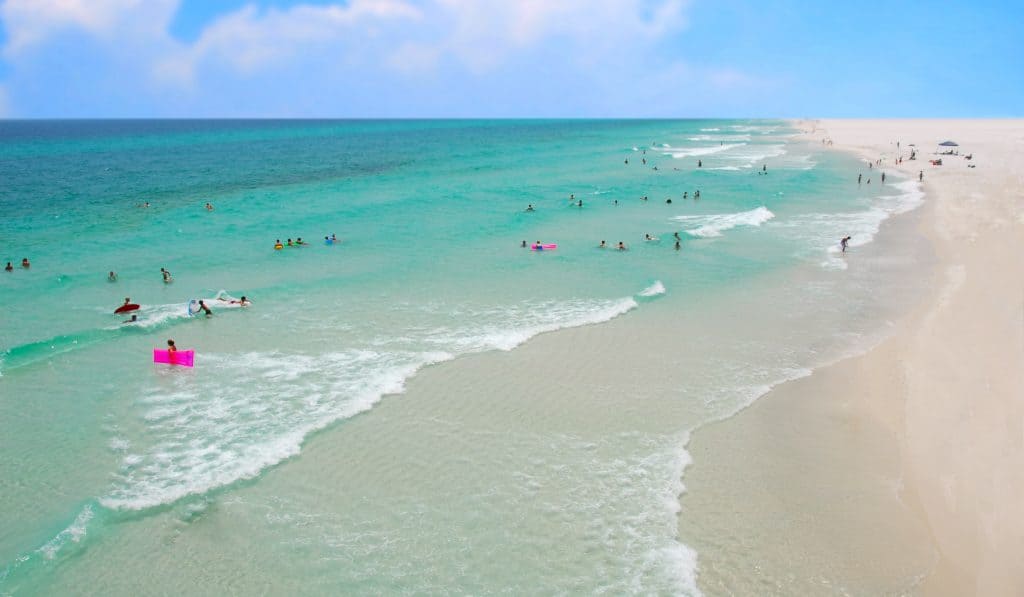 7 Best Beaches In Pensacola Florida You Must Visit
Opal Beach
Opal beach is considered to be one of the best beaches in Pensacola. This destination spot sits in the middle of Pensacola's barrier island, halfway between Navarre beach and Casino beach. The shore sits just inside the protected sands of the Gulf Islands National Seashore.
Due to its narrow nature, this beach offers visitors a completely different experience on each side of the Gulf of Mexico! The gulf side offers an uninterrupted view of the gulf coast's crystal clear emerald waters and powdery soft white sands.
The bay side of the island is popular among families for its shade, calm waters and alluring nature walks. Unlike other beaches in Pensacola, this hidden spot is located away from the island's commercial developments. It is pure bliss to relax and feel at ease here without a condo blocking your view!
Thanks to the maintenance from the state park, Opal beach is well loved for its beautifully pristine and protected shore line. A lack of crowds found at this serene beach is yet another reason visitors call this spot one of the best beaches in Pensacola!
With so much this beach has to offer the all-day beach goer, you will want to be sure to pack the cooler for a big day of fun. Opal beach has all the essentials needed to stay out all day like bath houses, restrooms, and even picnic tables.
If you enjoy biking, bring your cruiser along for a tranquil ride among the tall sand dunes and oak trees as this is truly one of the best things to do in Pensacola!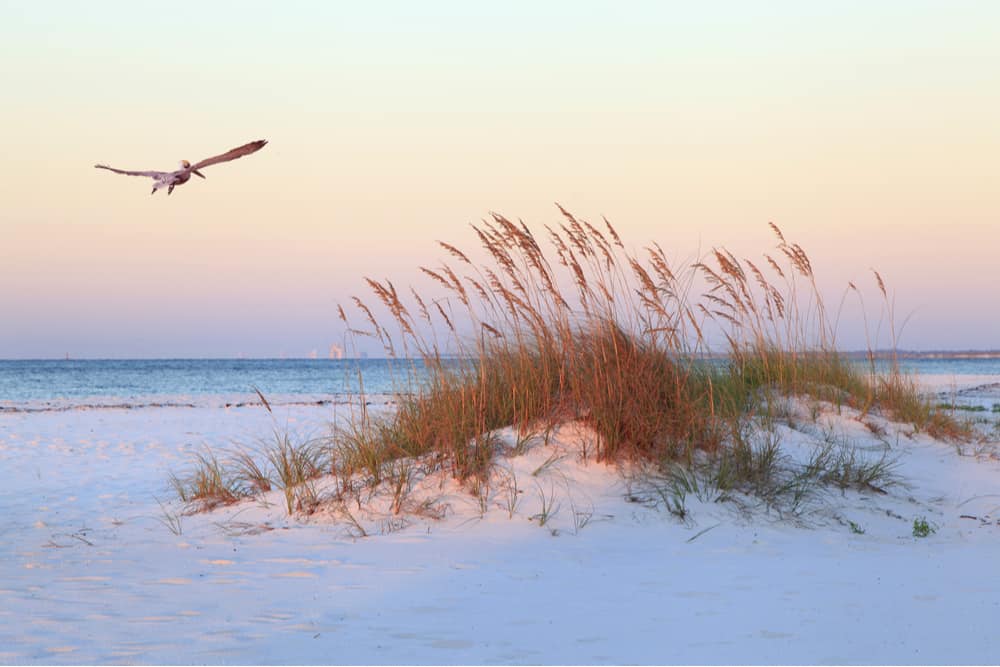 Naval Live Oak Nature Preserve
Another great beach included in the Gulf Island National Seashores is the Naval Live Oak Nature Preserve. A huge plus side to this beach is that you will not have to fight traffic to get here! It's no wonder locals chose this shore over other beaches in Pensacola, as it completely skips all the beach bridge traffic! This hidden gem is tucked away in nearby Gulf Breeze.
The land of Naval Live Oaks was first purchased in 1828. It served as a tree farm to harvest live oaks for old ship reconstruction and preservation. It is noted that in 1927 America's most beloved, "Old Iron Sides", was reconstructed with some of the live oak from Pensacola.
Today, the National Forestry Services help to protect the trees and preserve the environment. Over 7.5 miles of shaded hiking trails allow visitors to explore the coastal forest. Dolphins are frequently seen swimming here.
With outstretched calm and shallow waters, this spot is perfect for families. Find driftwood, a shore decorated with close by wetlands, and shade under the canopy of the live oaks!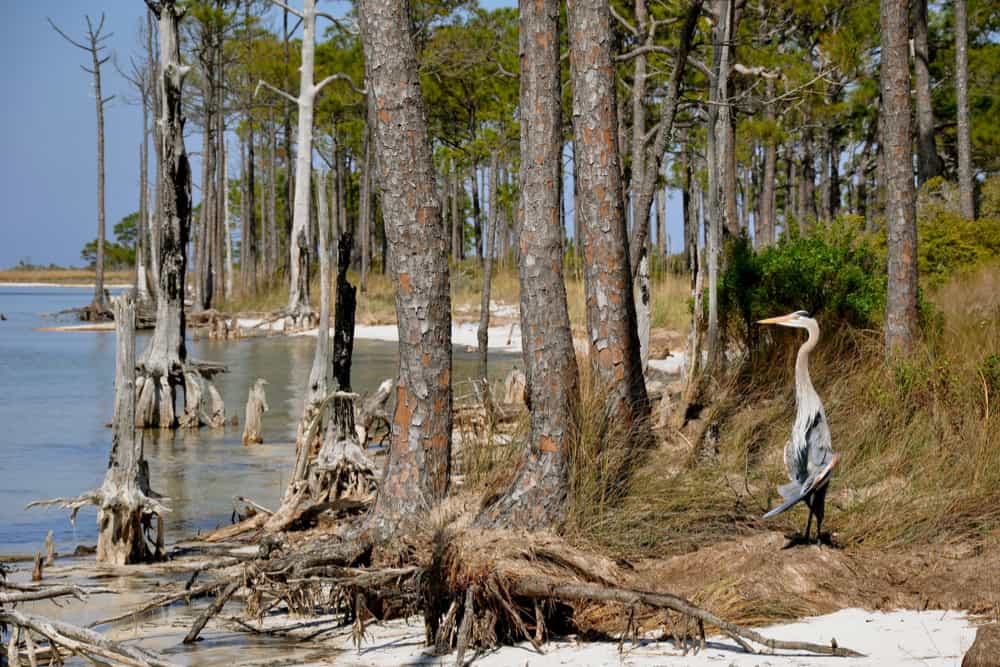 Park West Beach
Another destination spot among beaches in Pensacola is Park West. This sweet spot is the last public beach access before entering the Gulf Island National Seashore and trust us, it has everything. Visitors are able to enjoy easy beach access with two large close-by parking lots.
The quiet waters of Park West's sound side is perfect for those who love paddle boarding, kayaking, and fishing. As the beach features plenty of parking and a boat launch, it is one of our favorites to enjoy the water from too.
This small beach includes 2 covered pavilions with picnic tables at each, and a pirate ship themed playground for the kids. A cute colorful "borrow box" of beach toys gives anyone who forgot to bring their plastic shovels and buckets, a chance to play.
Across the street restrooms and bath houses are located.
The gulf side of Park West is a great spot to host a beach day bbq. Enjoy the grilling under the shade from one of the many large covered pavilions. Don't have a table? No worries; this beach is complete with picnic tables to help celebrate the perfect beach day or any occasion.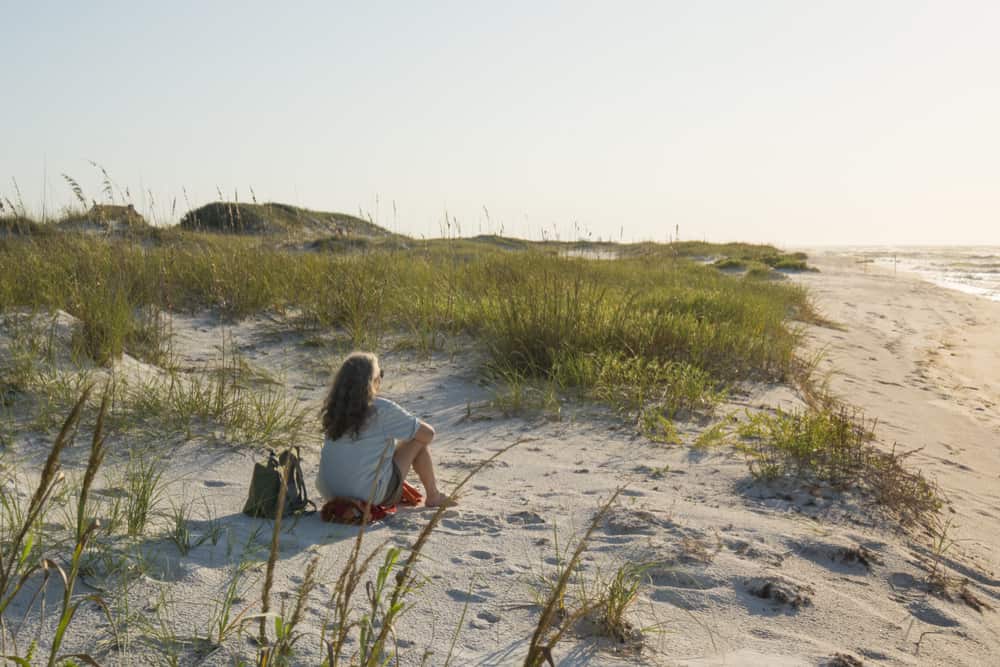 Perdido Key Beach
Our list would not be complete without the mention of Perdido Key beach, spanish for "lost island". Perdido Key holds some of the best beaches near Pensacola, like the world-renowned Johnson Beach and Perdidio Key State Park.
Perdidio Key falls under our list of favorite beaches in Pensacola for its unique roots as a Southern sanctuary for beautiful views of the Gulf waters, abundant wildlife and wetlands. From the shore, visitors are able to see a variety of wildlife such as blue herons, sandpipers, and pelicans.
We also love the maragaritaville vibes combed across these Pensacola beaches. Colorful houses sitting on stilts paint the vibrantly fun and relaxed coastline known to this area.
While in the area, go check out the Naval Air Musuem and Pensacola Lighthouse! This black and white light house is loved so much it even made it to our list of the 12 Coolest Lighthouses in Florida!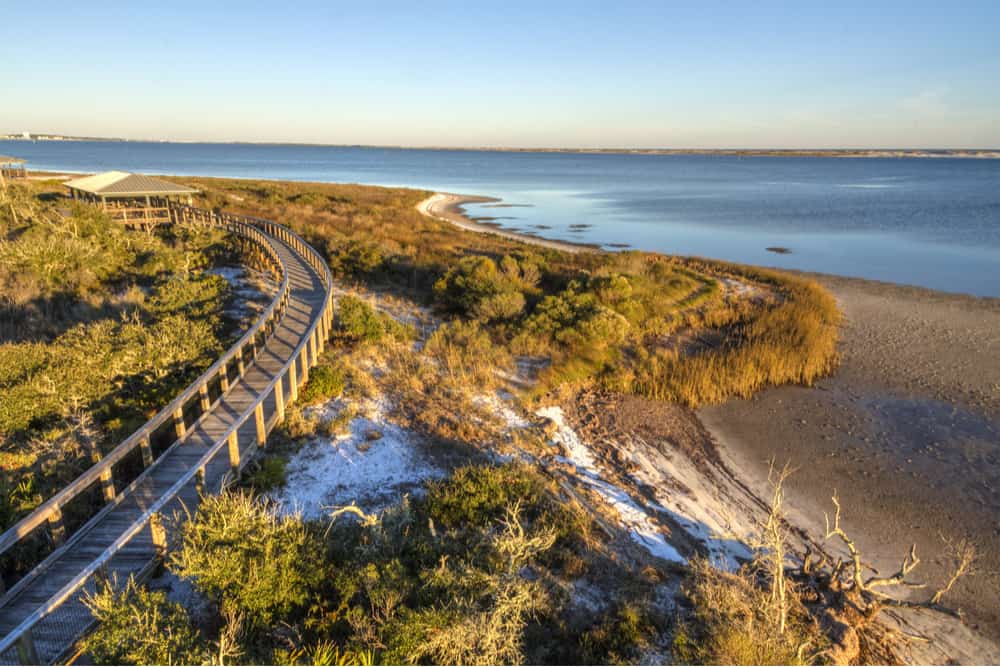 Fort Pickens
If you are a history buff, you will LOVE visiting Fort Pickens. This famous fort was built in 1834 to protect Pensacola Bay and Pensacola Pass. European powers had long considered this bay one of the most important along the Northern Gulf coast for its excellent anchorage and protection for ships.
Today, this massive fort serves as a historical site! It is the perfect place to go on a romantic date or even to take the whole family to. Not only is this spot full of fun and interesting pieces of history, it is also one of Pensacola's best beaches to watch the sunset from!
Fort Pickens is one the few beaches near Pensacola that you can camp at, so for the fullest experience possible, be sure to book a spot to sleep under the stars!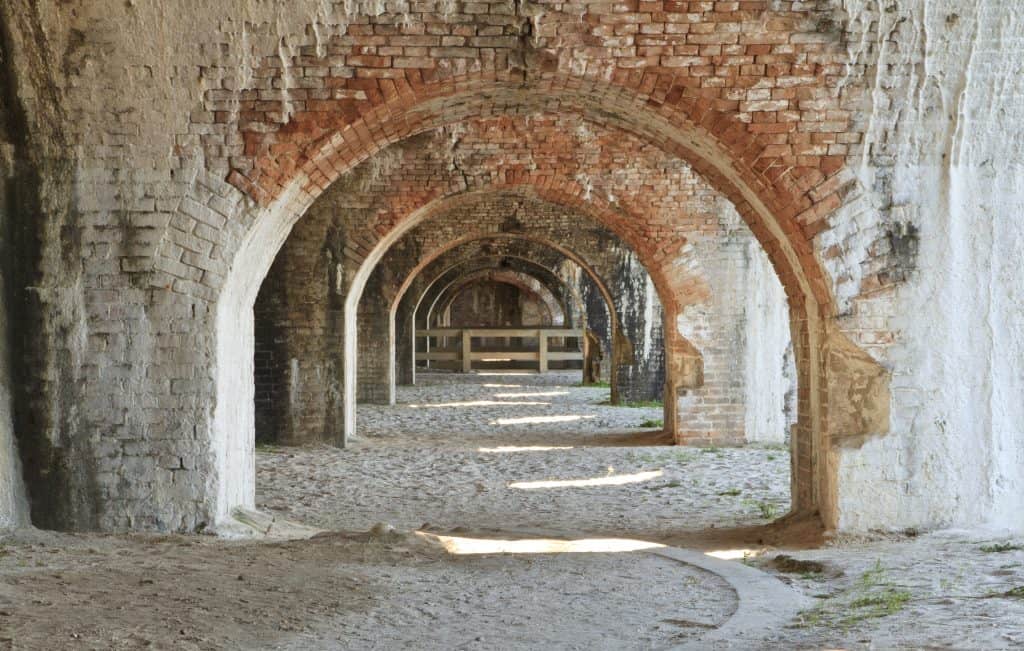 Casino Beach
Casino beach is regarded as the central hub for all beaches in Pensacola. It's large parking lot and central location to southern seafood, live music, luxury shopping, and jet ski rentals make this a fan favorite of Pensacola beaches.
What was once an actual Casino on the beach flourished from 1931 until 1950. Today, you can still feel that same lively spirit travelers fell in love with ages ago.
Live concerts frequently get beach goers feet dancing on this fun sandy shore. Fishermen and kids alike love seeing big fish from the pier, and surfers love the waves here. With the boardwalk of shops nearby, there is something to discover for everyone! Make sure to see the famous Casino Beach landmark, the giant colorful beach ball soaring into the sky!
This is the best beach in Pensacola to catch the annual Blue Angels flight show. Masterful Navy pilots showcase tactful aviation skills in this yearly demonstration with cool tricks. In parts of the show, they even fly right over the water and soar straight into the air!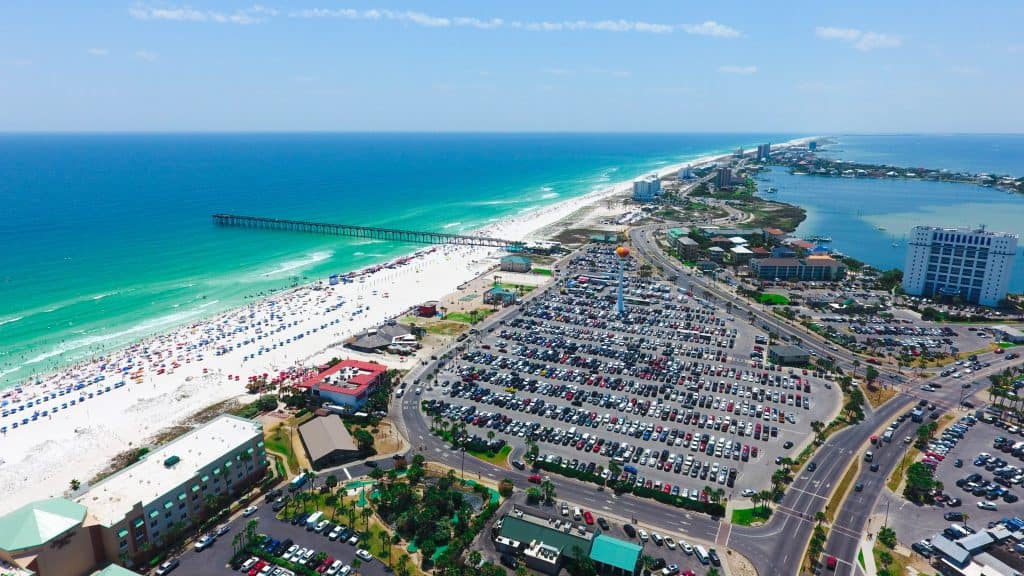 Quietwater Beach
This beach is nestled just behind the Pensacola Beach Boardwalk, and holds one of Pensacola Beach's most iconic landmarks, The Shell. The famous landmark is an amphitheater used as a great backdrop to host a variety of activities such as concerts, artwalks, and live entertainment.
Contrary to the name, Quietwater beach hosts the biggest and best parts of the fun to be had on the island. This is by far, the best beaches in Pensacola for jet ski rentals, beach volley ball, and big name concerts.
See the island from a seagull's point of view with a parasailing adventure through the sky, or take a family dolphin cruise from a local boat captain. On this shore there is no limit to the fun. There is even a zip line course for the brave explorers!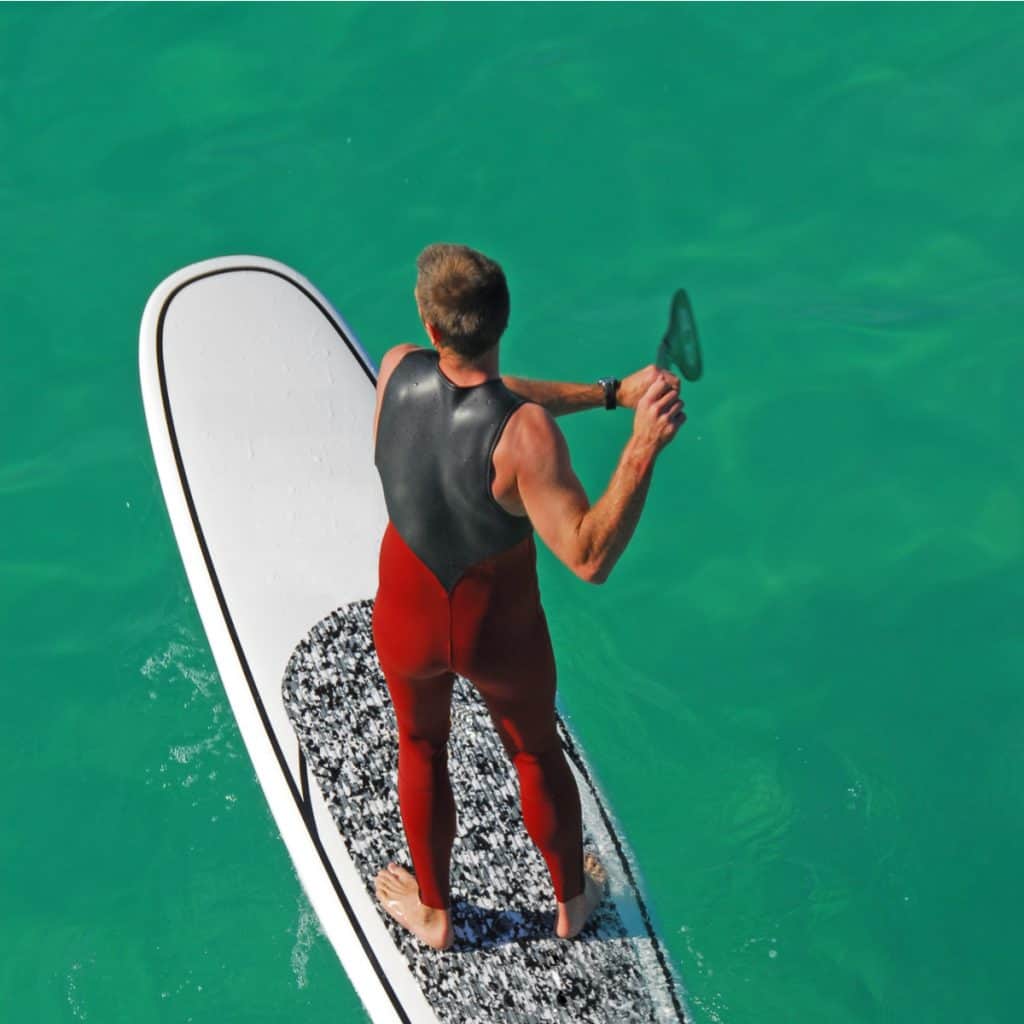 Navarre Beach
If you want to find the most relaxing beaches near Pensacola, look no further than to the oasis that is Navarre Beach. Unwind in the waters of this charming beauty found on the east end of the Pensacola barrier island.
Here, visitors are able to reconnect back with nature. Instead of turning into yet another commercialized beach, locals chose to purposefully keep this beach community centered and very quaint. With its laid back vibes and unobstructed Gulf views, this simple shoreline is the go-to for beaches near Pensacola for deep relaxation and a great tan.
The pier at Navarre Beach is unrivaled among this coast. At over 1,500 feet in length, it is Florida's longest pier! Pack the fishing poles to cast out into the sunset. The pier is a great place to either catch fish or enjoy a magical view of the shimmering Caribbean like waters below!
Stop by the Sea Turtle Conservation Center on Navarre beach to meet and learn about the resident green sea turtle, Sweet Pea! Scuba divers and snorkelers alike can discover hers pieces of sea turtle as well as many other underwater inhabitants at the artificial reefs of the Navarre beach Marine Park.
From the warm waters and soft powdery sand, the trip to one of these amazing spots will truly be unforgettable. Whether you decide to build sandcastle fortresses, or get your groove on to live music at quietwater beach, we know you will have a great time.
Just remember to bring the sunscreen!