Are you looking for a list of fun things to do in Pensacola Florida? Not to worry we have you covered with a list of the best things to do in Pensacola!
Pensacola was first settled in 1559 by the Spanish and is one of the oldest European Settlements in the United States! Pensacola makes one of the perfect weekend getaways in Florida! It is the westernmost city in the Florida Panhandle. Known for its beautiful white sand beaches, historical monuments, state parks and more.
If visiting Pensacola in November checkout the Pensacola Seafood Festival a three-day seafood lovers dream making Pensacola a perfect destination for Florida in the Fall. Or if you are in the area during the holiday season in December checkout the Pensacola Winterfest with over 400,000 lights and a trolly ride through historic downtown it the perfect way to spend an evening!
Check out our Airbnb's suggestions for unique places to stay such as the Sanctuary of Light Cabin, the Pelican Retreat Cottage or the Waterfront Cabin on the Bay just a few minutes from Pensacola Beach!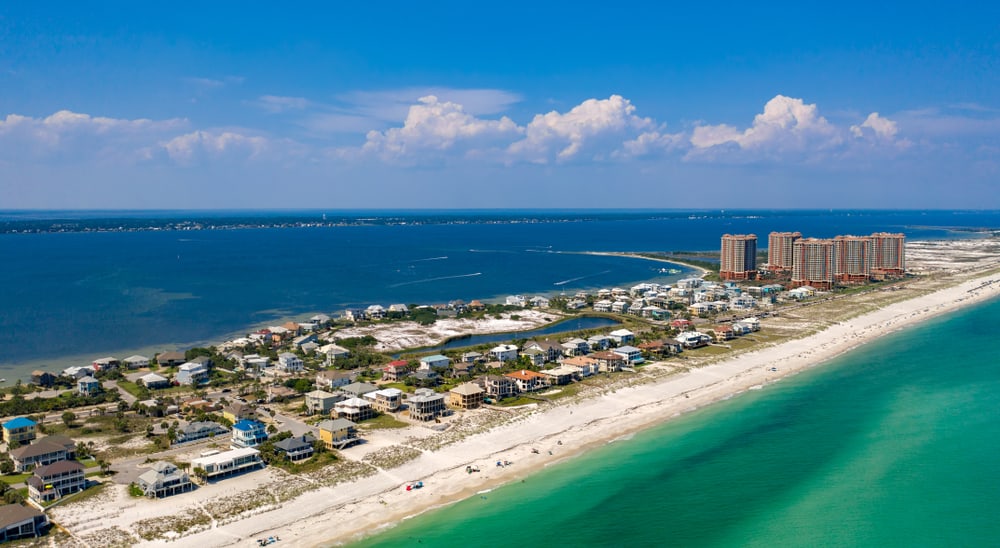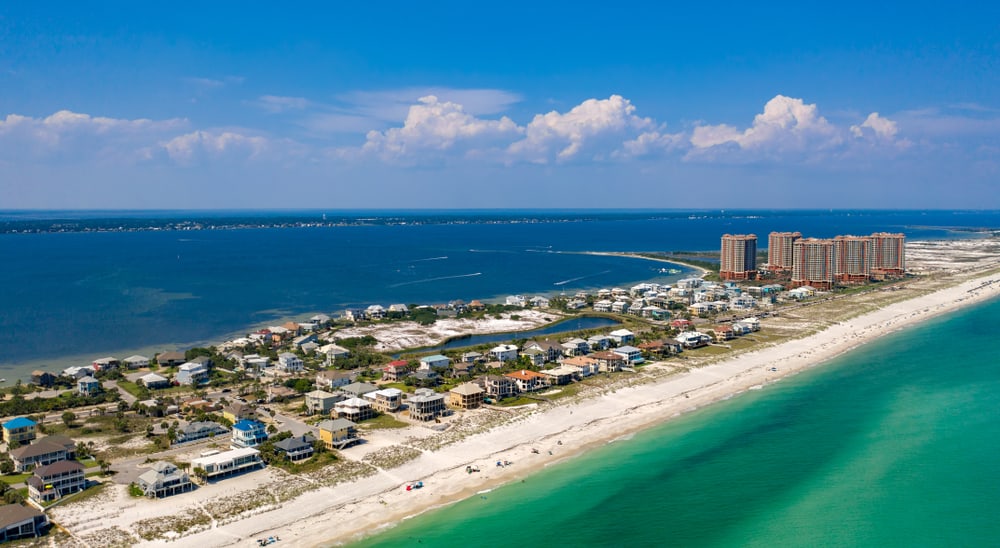 14 Fun Things To Do In Pensacola Florida
Naval Aviation Museum
The Naval Aviation Museum is one of the must see attractions in Pensacola. If you are looking for things to do in Pensacola that are educational this is your place! The Naval Aviation Museum is one of the largest and most-visited in Florida!
The best part is this is one of the free things to do in Pensacola as the entry is free and the museum is open Tuesday through Saturday from 10 am to 4 pm. For those 16 and older remember to bring an ID as they are required for entrance to the museum.
The Museum is located aboard Naval Air Station Pensacola and was established in 1914. The museum property extends through 37 acres and has 150 restored aircraft throughout all branches of the United States Military on display. From flight displays used on education field trips for school aged children.
In the giant screen area catch a screening of several movies like the history of flight, Apollo 11 or Aircraft Carrier. If you want to experience Apollo 11 in virtual reality interactive experience you can do so for $10! You can feel what it is like launch into space and land on the moon – complete with heat and shaking!
The museum recently opened a new attraction called the Blue Angles 4-D experience in Hanger One where you will enjoy an interactive experience in custom seats of what it is like to fly in the Blue Angels Air Show. Admission is extra and costs $7 per person! Or join in viewing one of the Blue Angels Air shows – check the website for practice dates.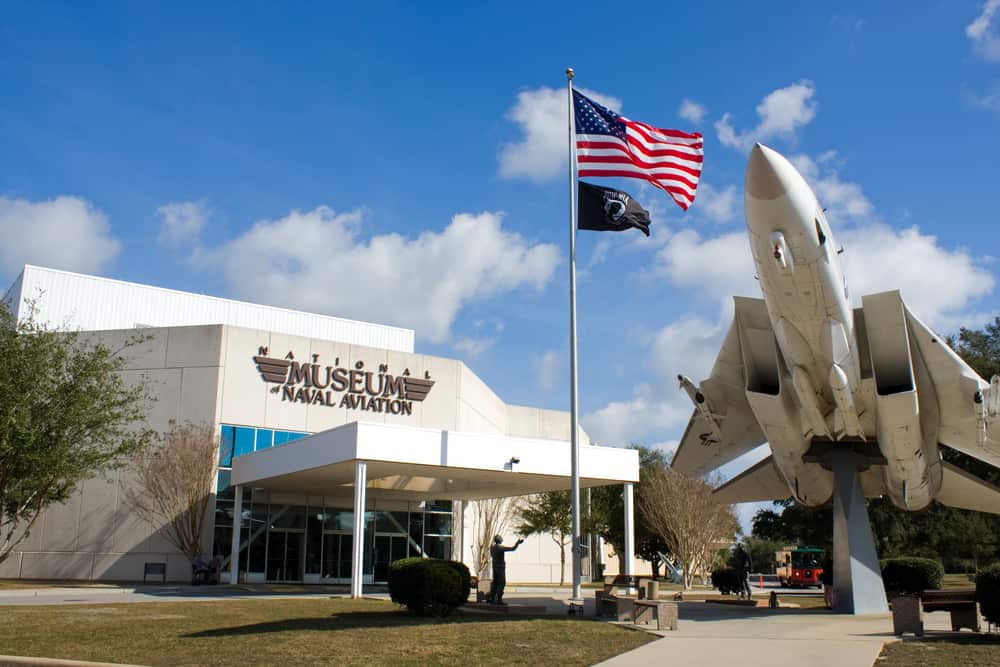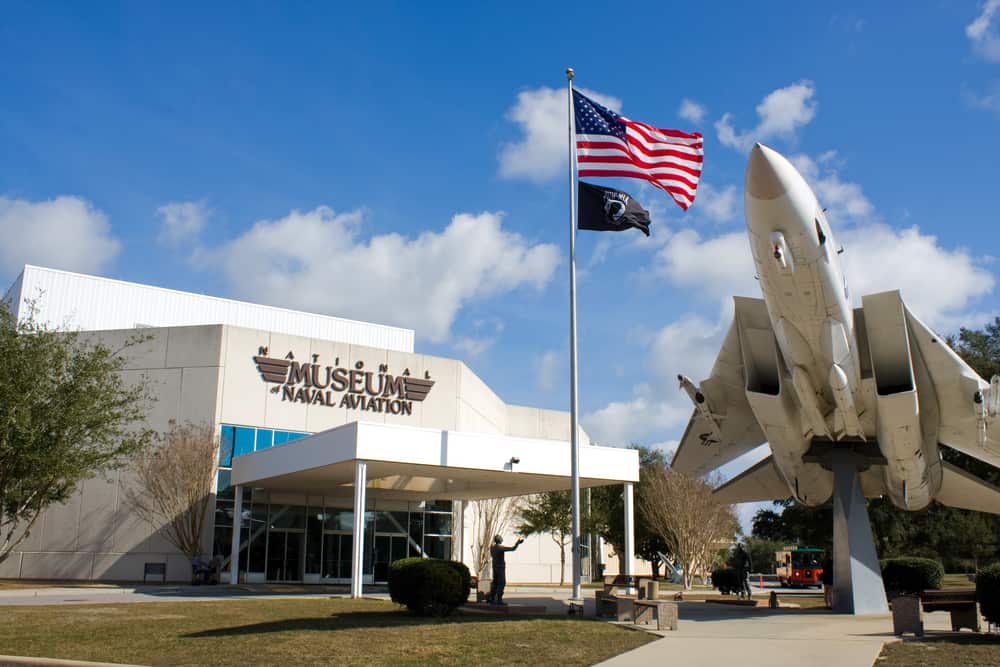 Seville Quarter
The Seville Quarter is one of the fun things to do in Pensacola and is located in the historical downtown of Pensacola. Open from 4 pm to 12 am/1 am Monday through Saturday this is the perfect place to head if looking for something to do in the evenings!
First founded over 40 years ago in an abandoned warehouse you will find Rosie O'Grady's Goodtime Emporium which is an entertainment home with 8 different themed rooms! At Rosie O' Gradys you will find a dueling piano bar. If you are looking to dance head to Phineas Phogg's Balloon works or if looking for live music and a more relaxed environment head to End o'the Alley Bar and Courtyard.
If you are looking for a pub with a WWI theme head to Lili Marlene's for karaoke and live music. Or Apple Annie's for lunch! If playing billards is more your style you will want to head to Fast Eddie's. If you just want a cozy evening we suggest heading to Palace Oyster Bar for drinks and dinner!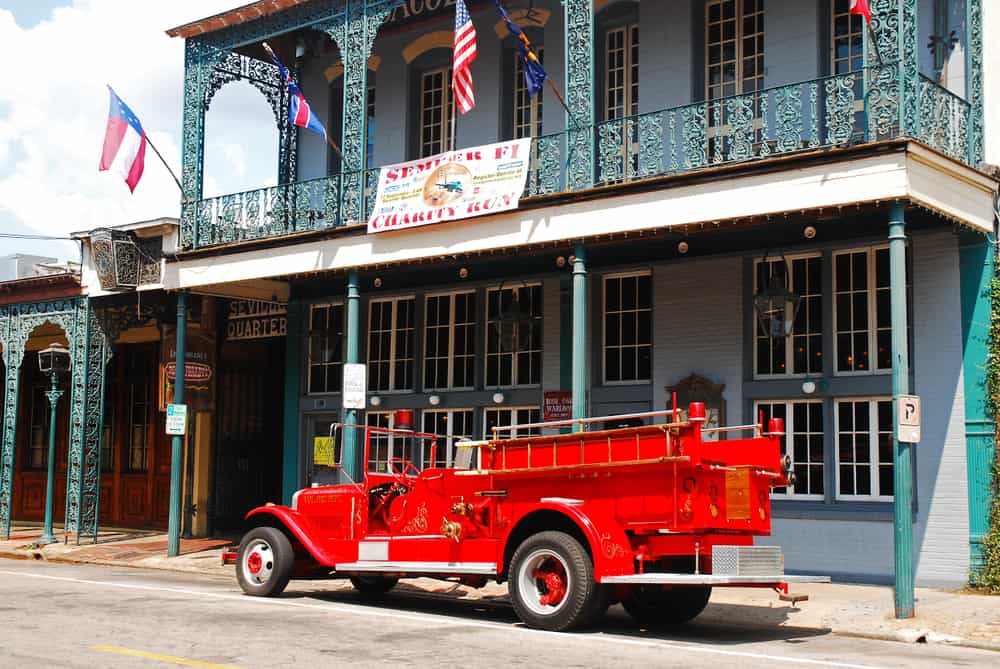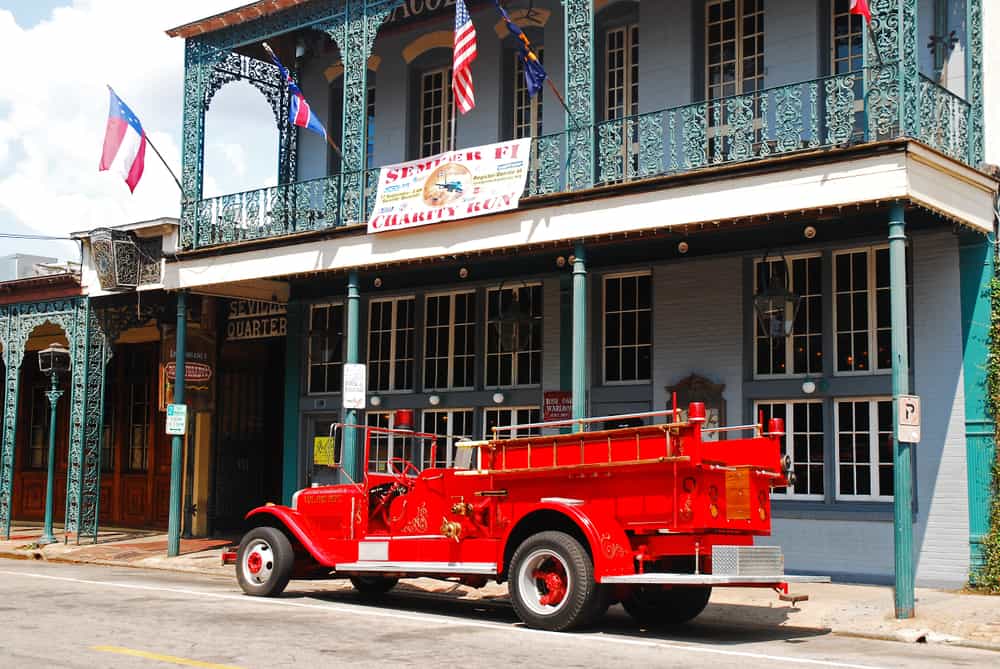 Pensacola Lighthouse and Maritime Museum
The Pensacola Lighthouse and Maritime Museum is another of the Pensacola attractions located at Naval Air Station Pensacola. Just as with the aviation museum an ID is required for anyone 16 years of age or older.
The museum and lighthouse which was built in 1859 are closed on Monday and Thursdays otherwise open 10 am to 4 pm. Admission is $8 for adults, $4 for military, seniors and children.
Come prepared with proper shoes are you will be climbing up 177 steps to the top of the historic Lighthouse with amazing views of the Gulf Coast! After climbing to the top visit the museum and grounds. Inhabited by the lighthouse keepers until 1965 it was converted into a museum in 1995.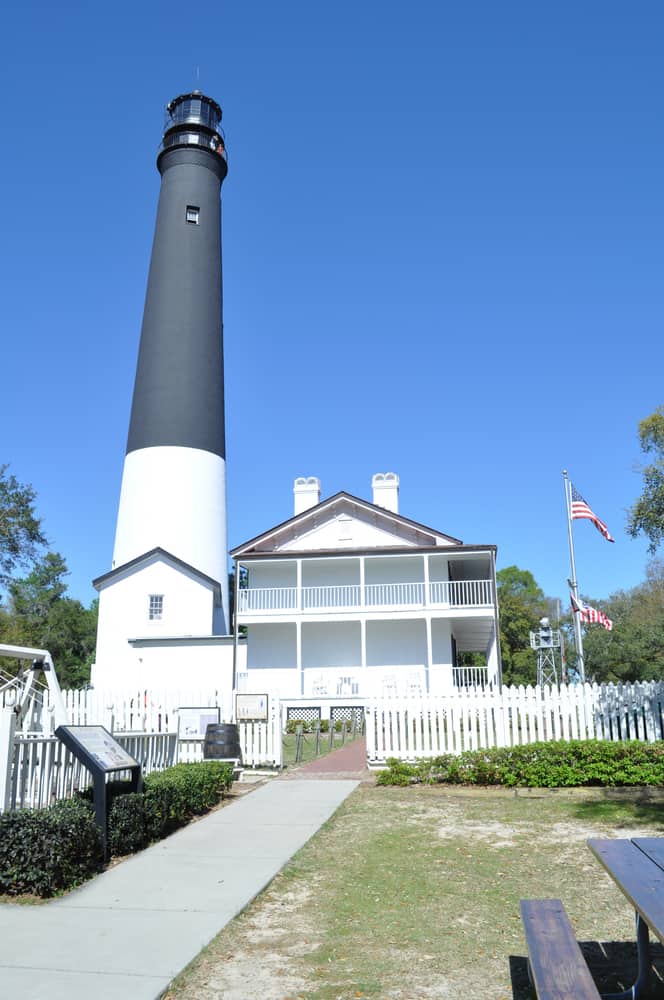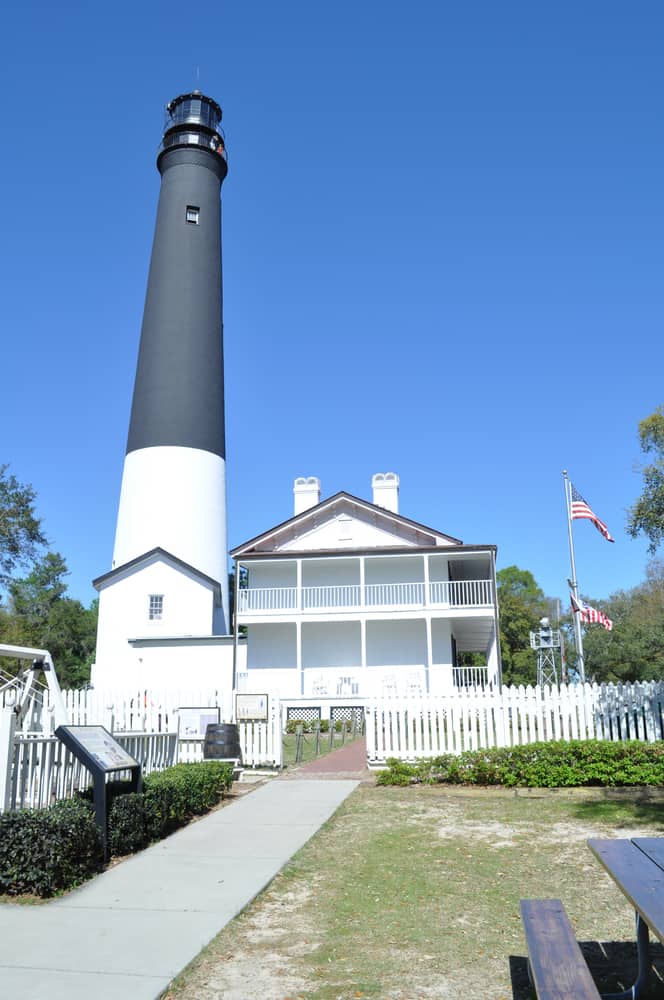 Fort Pickens
Fort Pickens is part of the Gulf Island National Seashore and costs $25 per car to enter the park or $15 for a single passenger. It was in 1816 that the United States began fortifying the coastline specifically Pensacola Bay one of the most important ports on the Gulf Coast.
If you like history Fort Pickens should be on your list of things to do in Pensacola. Construction on Fort Pickens began in 1828 and was completed in 1834 and was the largest brick structure built to protect the coast. It stayed in use until 1947. It was one of four forts built during the time period.
After visiting Fort Pickens you can check out the other areas of the Gulf Island National Seashore Park complete with trails, fishing, birding, and beaches.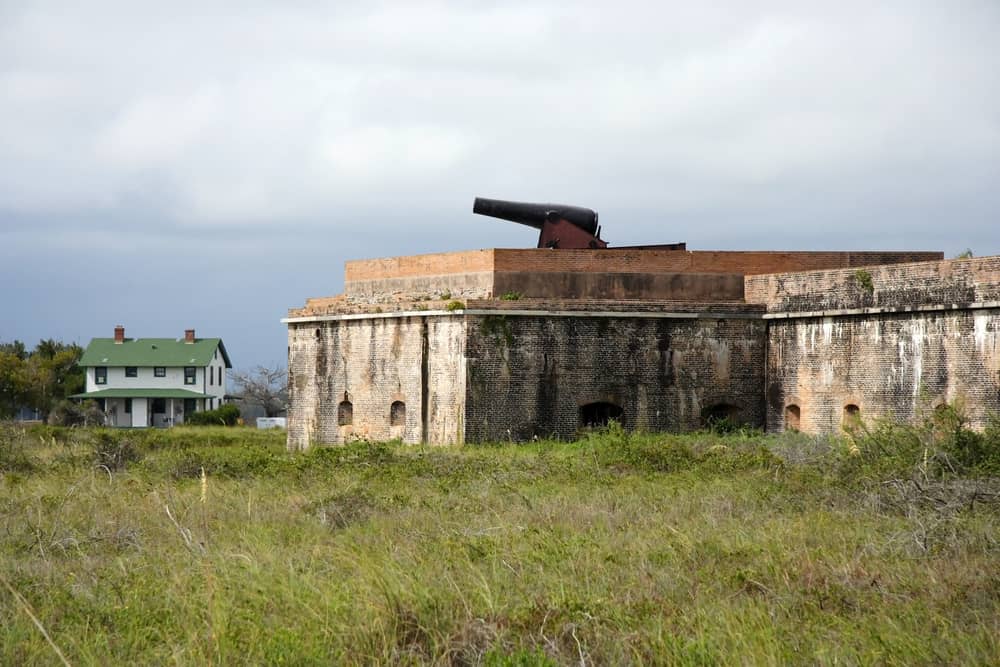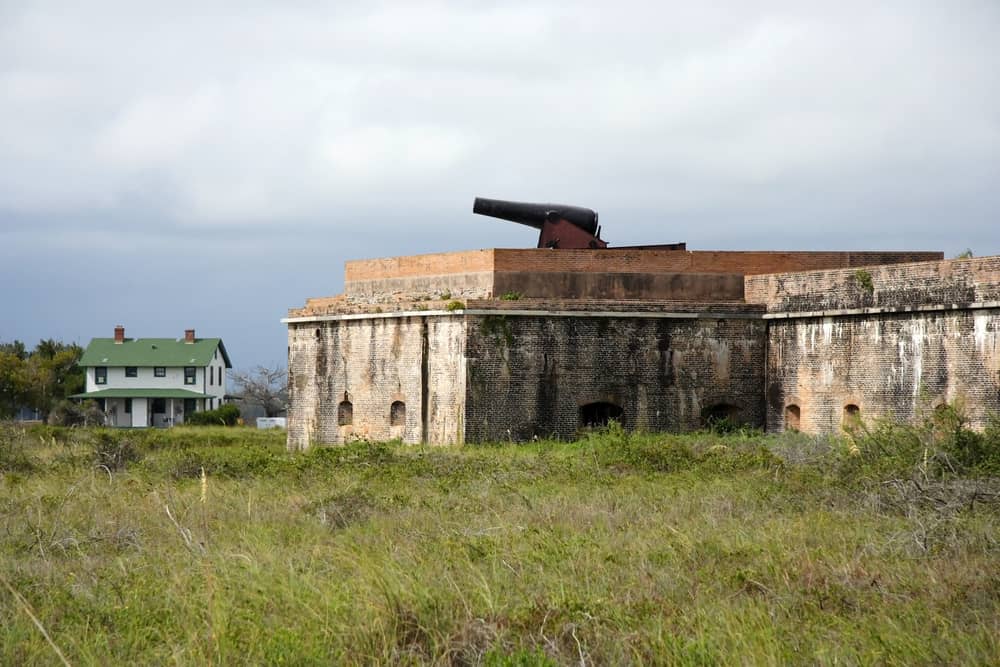 Perdido Key State Park
Perdido Key State Park is one of the best things to do in Pensacola. This state park is open 365 days a year and costs $3 per car to enter. This is the perfect state park if you would also like to visit a less popular beach.
Enter via the beautiful wood boardwalk that will take you over the dunes to the beautiful white sand beach! While you are here keep an eye out for the Perdido Key beach mouse only found here and sea turtles who use this area to nest.
There are covered picnic tables located just off the beach perfect for a family beach picnic. The beautiful dunes and large white sandy beach make this the perfect place to sunbathe and swim in the warm gulf water.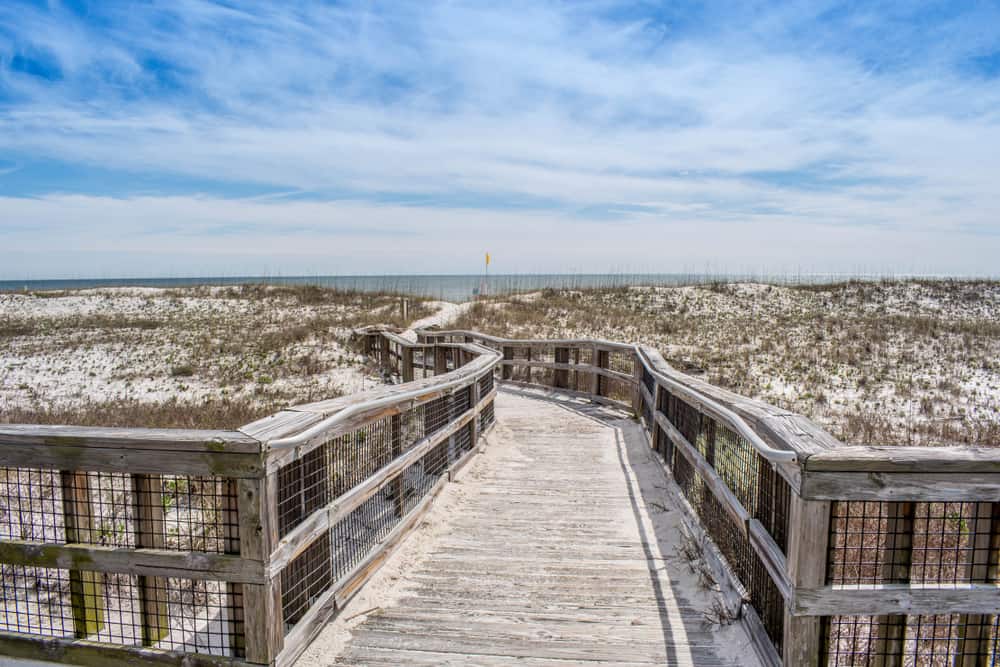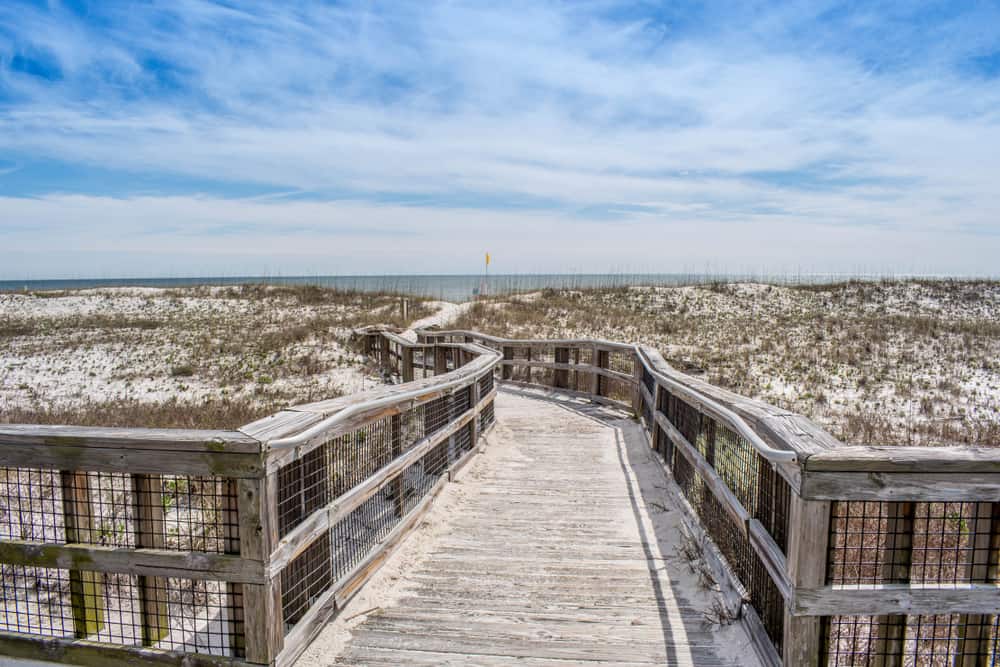 Pensacola Museum of Art
Head to the Pensacola Museum of Art if looking for indoor activities in Pensacola. The Museum is open Tuesday, Thursday and Saturday from 10 am to 4 pm, however check the website for new opening hours and days.
Tickets are $8 and include the art museum as well as Museum of Industry, and Historic cottage in Pensacola Village however are free for SNAP benefit card holders.
Pensacola Art museum is located in downtown Pensacola and is part of the University of West Florida. As the only art museum in the area it is worth a visit to view modern and contemporary art. You can find works by the likes of Salvador Dali, Alexander Calder and John Martin.
Pensacola Beach
On most visitors list of things to do in Pensacola the beach is one of the first things mentioned. Pensacola Beach is one of the prettiest beaches in Florida and has perfect year round weather with white sugary sand and warm turquoise water.
There are numerous beaches to visit in the area from action packed beaches to quiet State Parks. Pensacola beach is one of the best things to do in Pensacola with kids and best off all it is free! Grab your sunscreen, chairs, towels, cooler, umbrella and head out for a great day at the beach!
Not to worry there are plenty of restaurants located on the beach, as well as areas with full service amenities that will provide chairs and umbrellas for a cost. There are two areas of the beach broken up into Casino and Quietwater beach.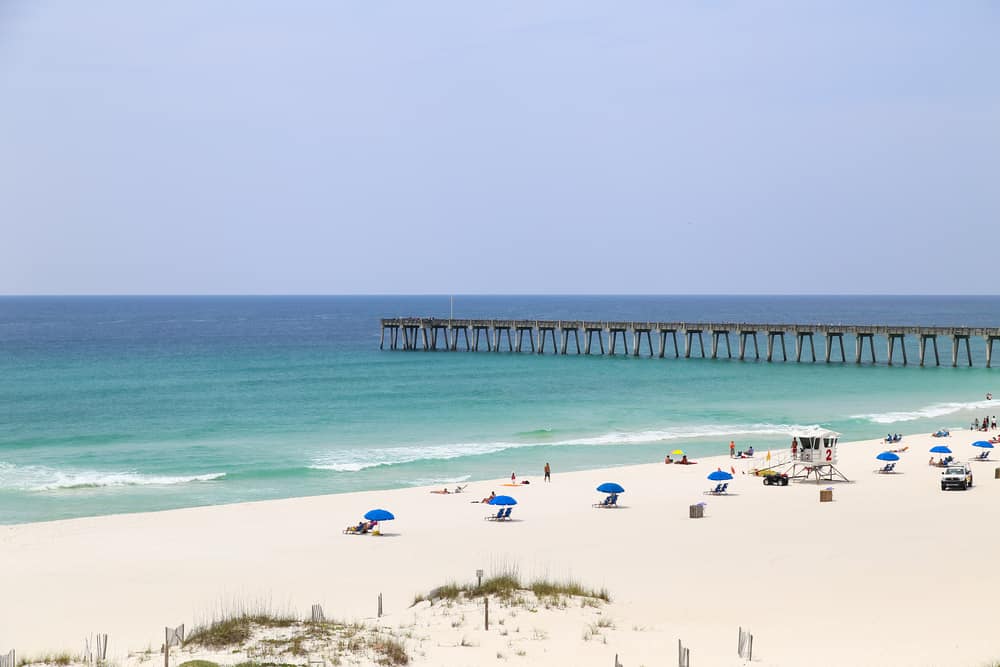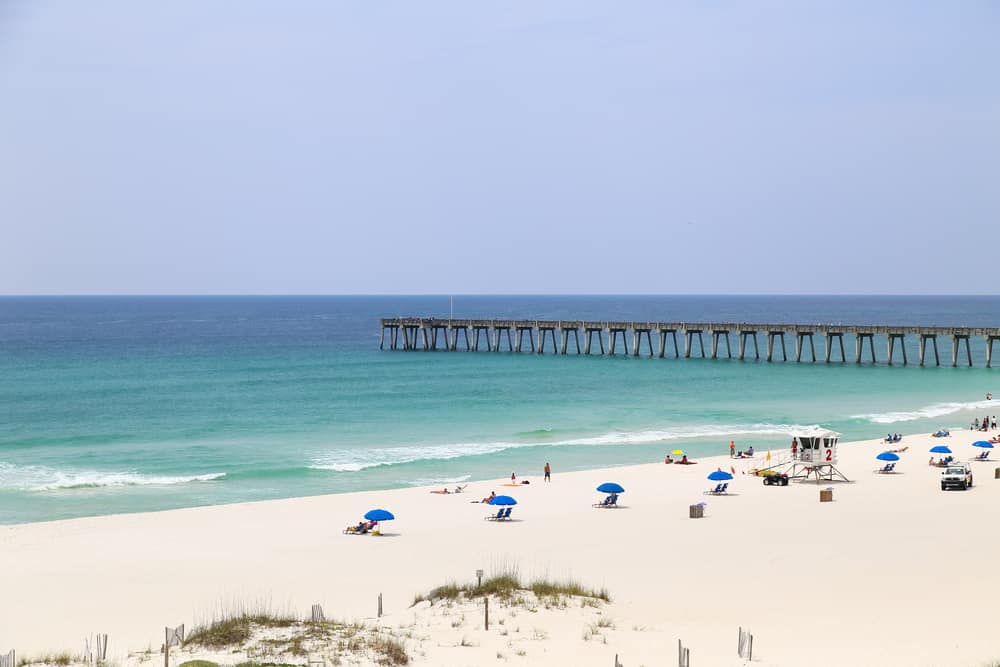 Pensacola bay Cruises
Pensacola Bay Cruises is one of the adventurous things to do in Pensacola. If wanting to sightsee from the water to get a unique perspective head to Pensacola Bay Cruises. They offer a regional ferry as well as sunset cruises and dolphin cruises.
The ferry is a two story boat that shuttle between Pensacola, Pensacola beach and the Gulf Islands National Seashore. There is a bar on board serving drinks as well as soda and water and has bicycle storage for those wanting to ride on the trails of the State Parks or explore downtown Pensacola.
Tickets are $20 for adults, and $18 for military, seniors and college students $15 for children 3-12 and free for those under 2! A good tip is to book one of the cruises where National Park rangers are on board explaining the history of Pensacola as well as the wildlife and landscapes!
Tarklin Bayou Preserve State Park
There are several State Parks to visit if looking for outdoor things to do in Pensacola. Tarklin Bayou Preserve is open 365 days a years from 8 am to sunset and costs $3 per car. So it makes for an inexpensive outing.
The Bayou Preserve is a wet-prairie on the coast with a bunch of rare plants and animals so keep a lookout! At this 4000 acre preserve you will have the opportunity to see the endangered pitcher plant that is unique to this area.
Follow the beautiful boardwalk or take one of the nature trails to observe the unique flora and fauna. Or pack a lunch and picnic at one of the picnic benches located along the boardwalk and trails.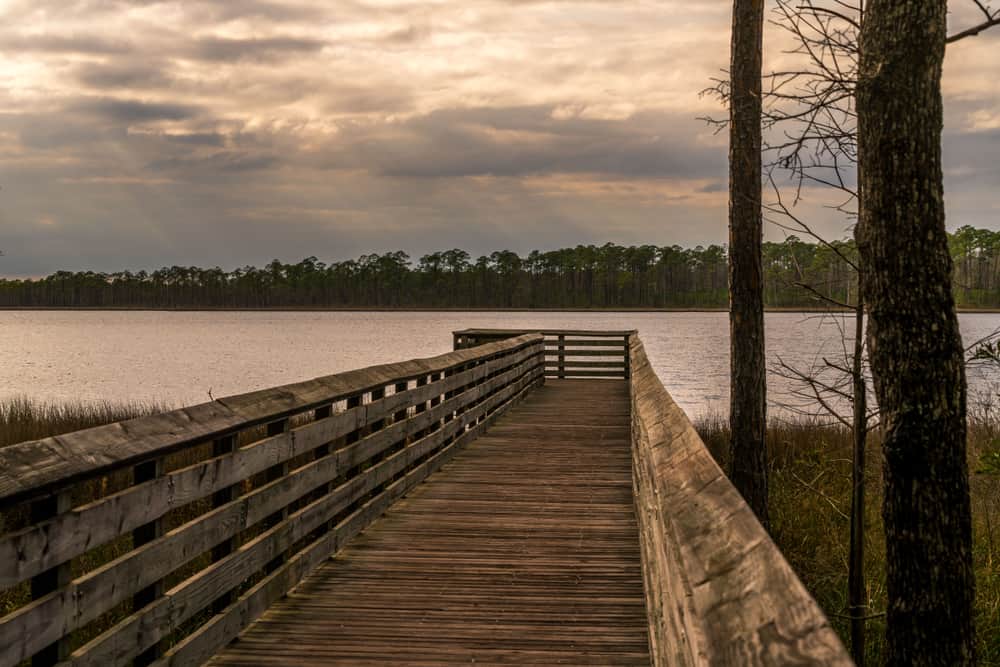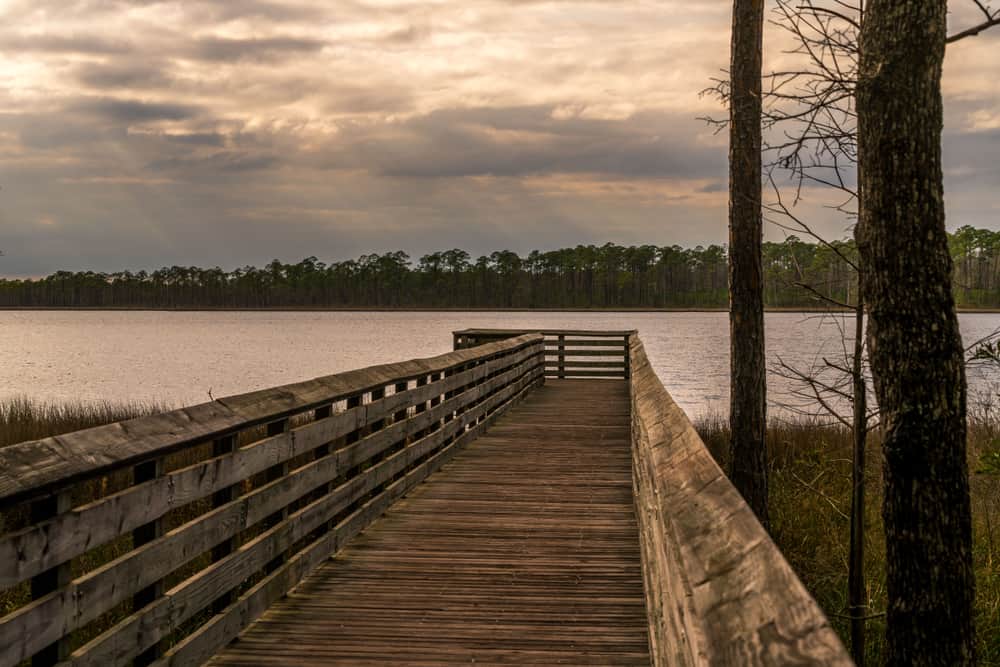 Graffiti Bridge
A visit to the Graffiti bridge is one of the free things to do in Pensacola, you can even bring your own paining supplies and add your own creation to the bridge.
This local landmark has been around for a few generations with both messages and pictures and is located at the 17th avenue railroad bridge! There is an area next to bridge to pull over and park to take pictures or add your personal touch to the bridge!
The art works are constantly changing so each time you visit you will be delighted with new art. A great place off the beaten path to visit and take some pictures with some bright custom works of street art.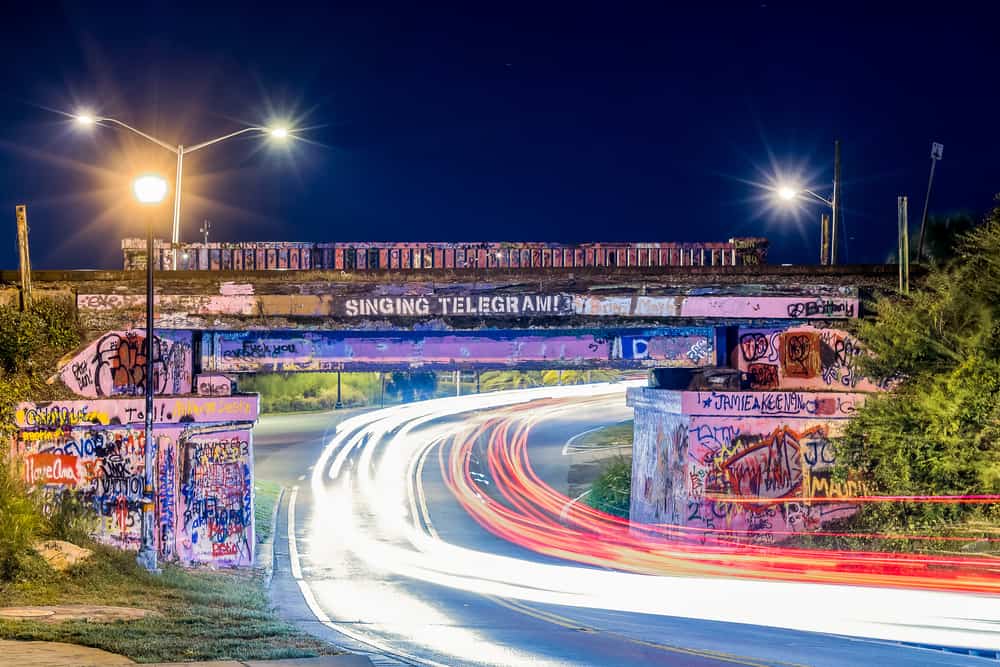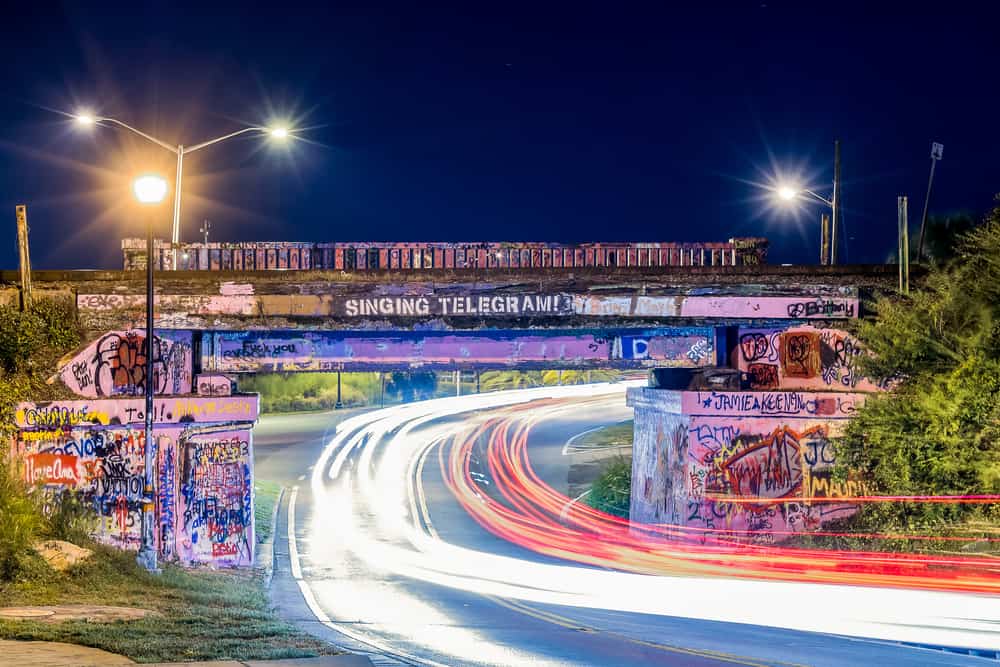 Blue Wahoos Ballpark
Are you looking to watch a AAA baseball game while in town? A visit to the Blue Wahoos Ballpark is one of the best things to do in Pensacola then! The affiliate team of the Minnisota Twins play here.
They host seasonal events making this one of the best things to do with kids. They host movie night and season events in addition to baseball games. Now in their 8th season the Blue Wahoos is a stadium with one of the best views.
The Wahoo's stadium is perfect for those wanting to get up close to the game as it is one of the smallest in the Southeast with just over 5000 fans. The stadium also hosts a bunch of youth athletics games and community events like dinners, egg hunt, Wahooloween, New Years even fest.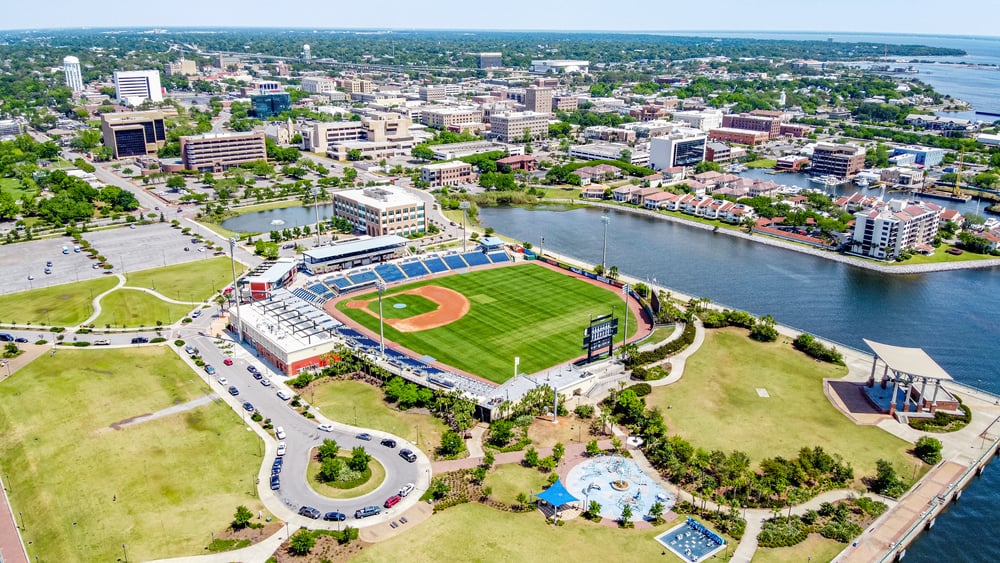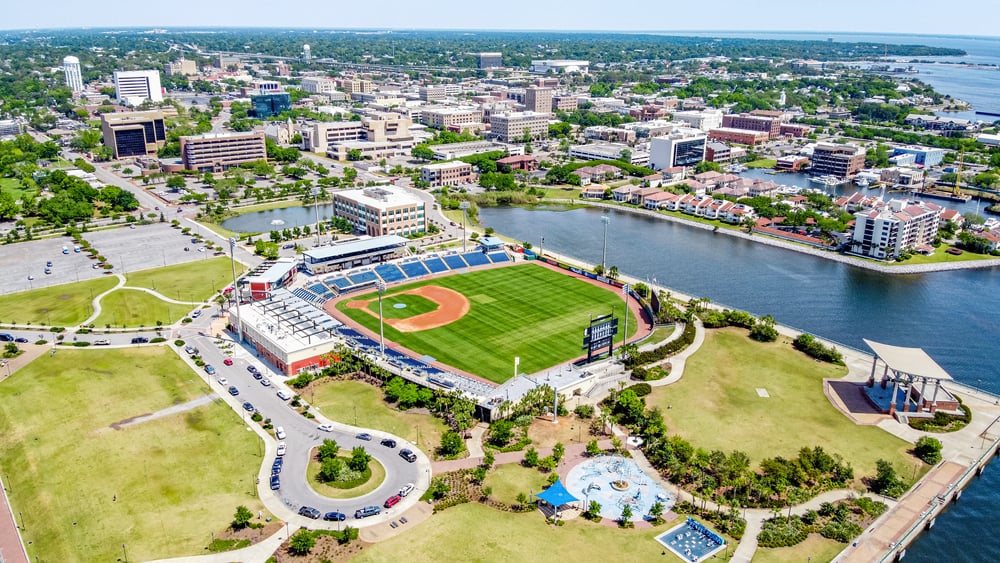 Pensacola Golf Country Club
The Pensacola Golf Country Club is the place to head if looking our outdoor things to do in Pensacola! It is the oldest private club in Florida and has been around since 1902.
While this is a private club if you get the chance to play golf here jump at the chance! The course was completely redesigned in 2004 after a Hurricane Ivan destroyed the area. Pensacola Golf club sits right on the Pensacola bay and has gorgeous views of the water!
If in Pensacola for golf check out another one of the best golf courses in Florida in nearby Destin called Kelly Plantation!
Fort Barrancas
Located inside one Gulf Islands National Park one of the best National Parks in Florida you will find Fort Barrancas. In the same park as Fort Pickens make sure you also make a visit to Fort Barrancas. Located on a high point over the Pensacola this is one of the must do things in Pensacola.
The fort was constructed using over 6 million bricks to build walls that are twenty feet high and over four feet wide! It remains one of the best military engineering projects and was completed in 1844.
Not only did For Barrancas survive the Civil War it has survived multiple hurricanes and still stands strong today. A testament to the engineering it was restored in 1980's so that visitors could walk though the fort and battery and learn the history from the visitors center.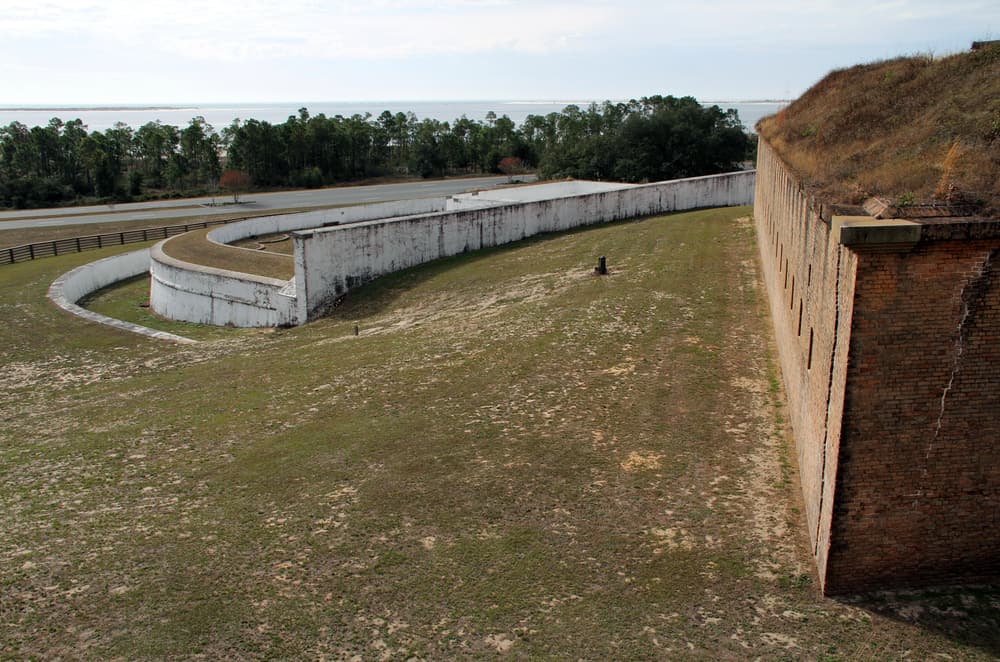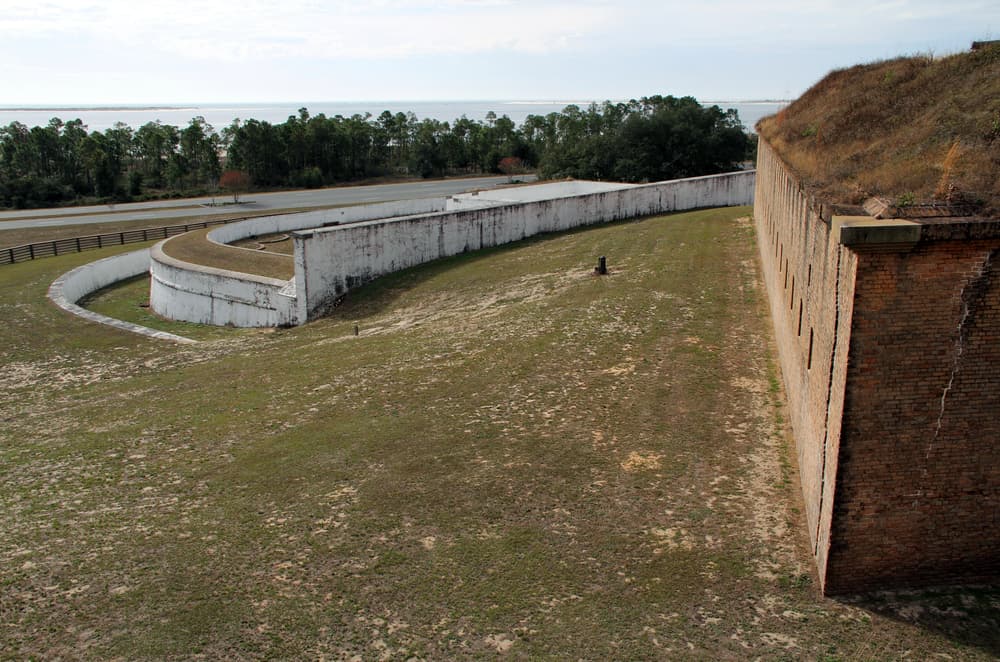 Pensacola Children's Museum
The Pensacola Children's Museum is one of the perfect things to do in Pensacola with kids. The museum explains the 450 year history of Pensacola in a way children can understand and have fun interacting with displays!
The Museum is split over two-floors and has a ton of interactive hand-on exhibits for children such as a Fort, Village and Trading post. Children have the opportunity to dress up in period clothing, or play in the play area or read one of the books about the area.
This is the perfect place to head on hot summer day, if its raining or if you want an educational and fun indoors space for children. The museum is open Tuesday through Saturday from 10 am to 4 pm and on Sundays from 12 pm to 4 pm. Admission is $8 for adults and $4 for children 4-12.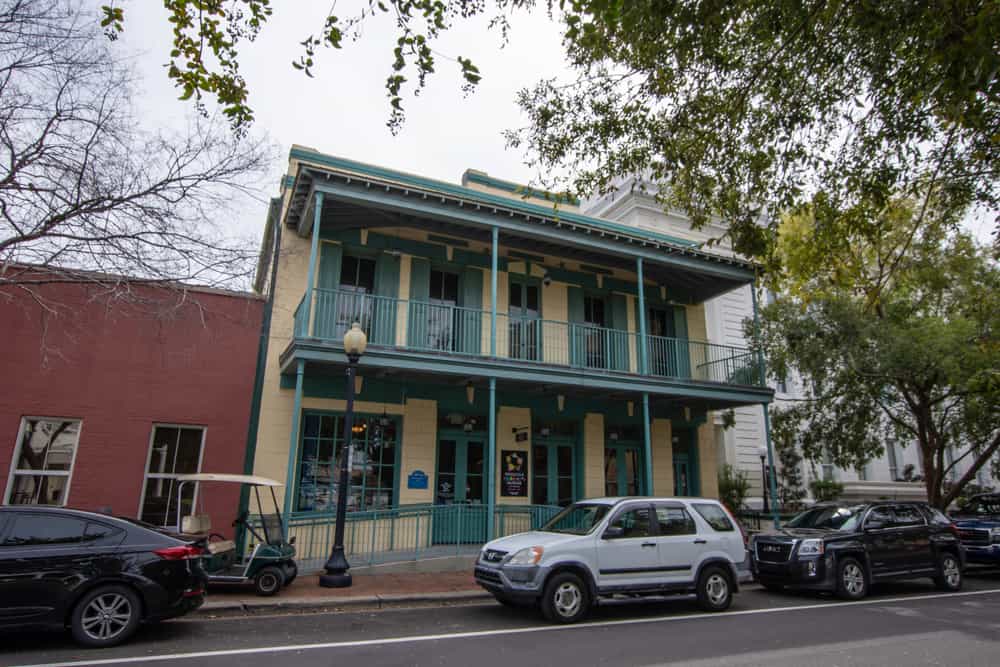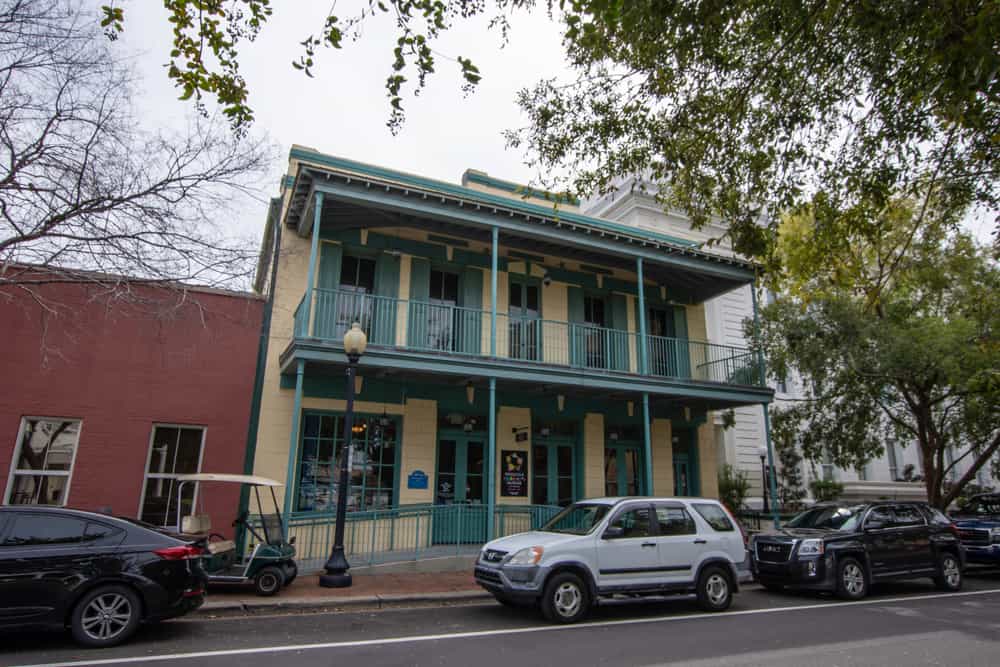 Did You Find This Post Helpful?
If so, we would love to keep in touch! We enjoy seeing photos and comments about your experiences in Florida! You can follow us on Instagram and we will repost your photos on our feed and comment too! Just tag us at @floridatrippers and hashtag #floridatrippers. We can't wait to see your travels!