When you think of exploring the great outdoors in the Sunshine State, you probably think of long, sandy beaches, or the wetlands of Everglades National Park, but did you know that there are many pretty botanical gardens in Florida?
Visiting the botanical gardens in Florida is a wonderful way to unwind and take in some nature, without the crowds at the beaches. You can wander down acres of paths or manicured lawns, listen to the soothing sound of a fountain, or sit in the shade of a beautiful pavilion.
Florida's climate lends itself to a wide variety of stunning flowers and lush tropical plants. Some plants are native to Florida, while others have been transplanted from places around the world. You'll be surrounded by bold, colorful blooms no matter the time of year!
Many of these flower gardens in Florida also have habitats for local wildlife, such as butterflies and hummingbirds. You'll be able to learn all about the different flora and fauna, and the measures taken to preserve them.
Whether you are a nature-lover or just want some peace and quiet, be sure to check out the best botanical gardens in Florida.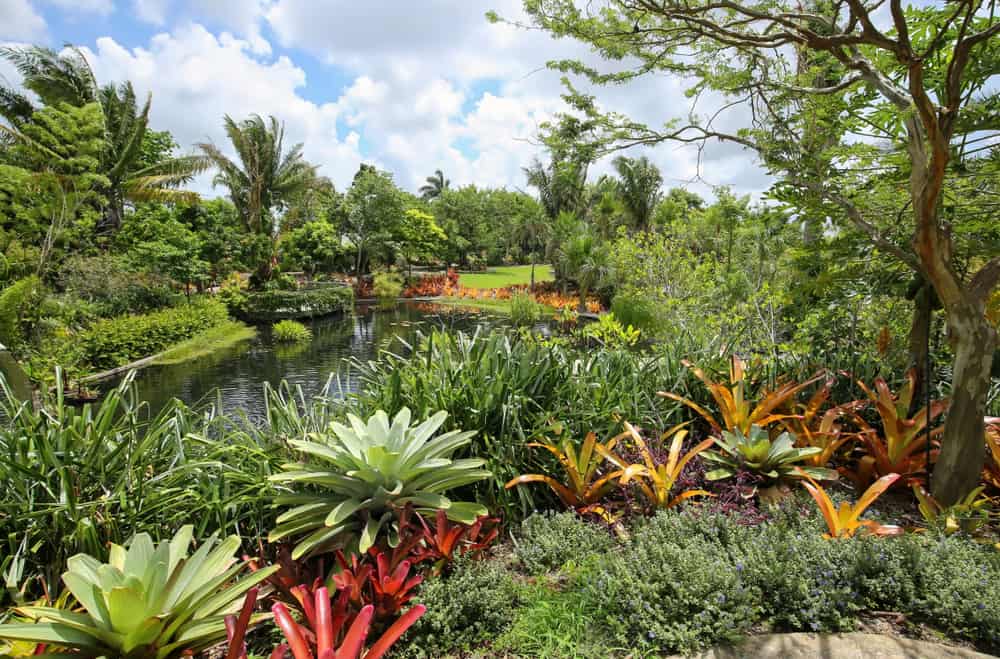 12 Prettiest Botanical Gardens In Florida
Harry P. Leu Gardens, Orlando
The Harry P. Leu Gardens in Orlando are one of the biggest botanical gardens in Florida, with almost 50 acres to explore. Located just minutes from downtown Orlando, this urban oasis is right on the banks of Lake Rowena.
The gardens include both temperate and tropical plants, with many flowering trees. If you have a smartphone, you can scan QR codes as you walk to learn more about whichever flower or plant you're admiring.
The Harry P. Leu Gardens also have delightful special events for all ages. Depending on the time of year, kids can search for dinosaurs or fairy doors hidden among the trees, and adults can enjoy movie nights or concerts.
Bring a bagged lunch to eat on the patio of the welcome center!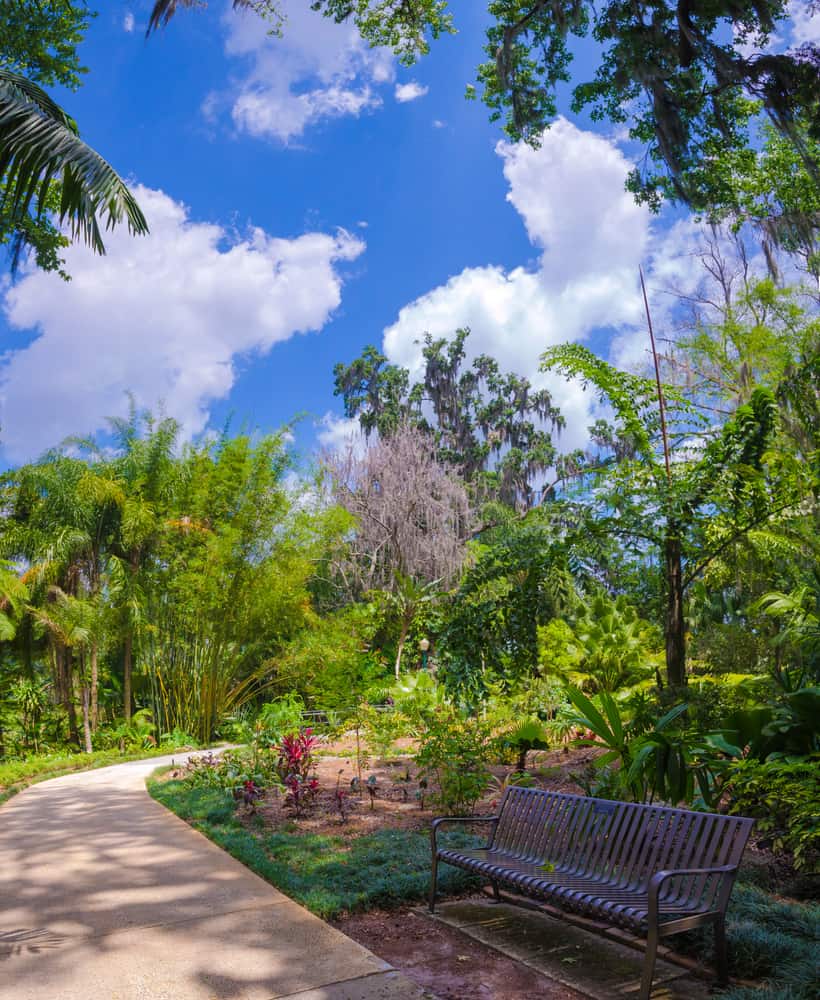 Port St. Lucie Botanical Gardens, Port St. Lucie
The Port St. Lucie Botanical Gardens are an excellent visit for those who like things to be neat and orderly. Each garden is categorized by type of plant, such as The Hibiscus Garden, The Bamboo Garden, and The Cactus and Succulent Garden.
You can stroll along paved walkways or the new boardwalk along the river. There are benches throughout on which to rest, but you can also beat the heat inside their pavilion building.
The Friends of Port St. Lucie host fun annual events throughout the year. These include a winter art show featuring local artisans and a Halloween trick-or-treat trek through the garden.
Like many of the botanical gardens in Florida, The Port St. Lucie Botanical Gardens are completely run by volunteers, who are happy to chat about the many unique plants. These beautiful gardens are free to visit, but if you feel inspired, you can support them by purchasing a native Florida plant to take home!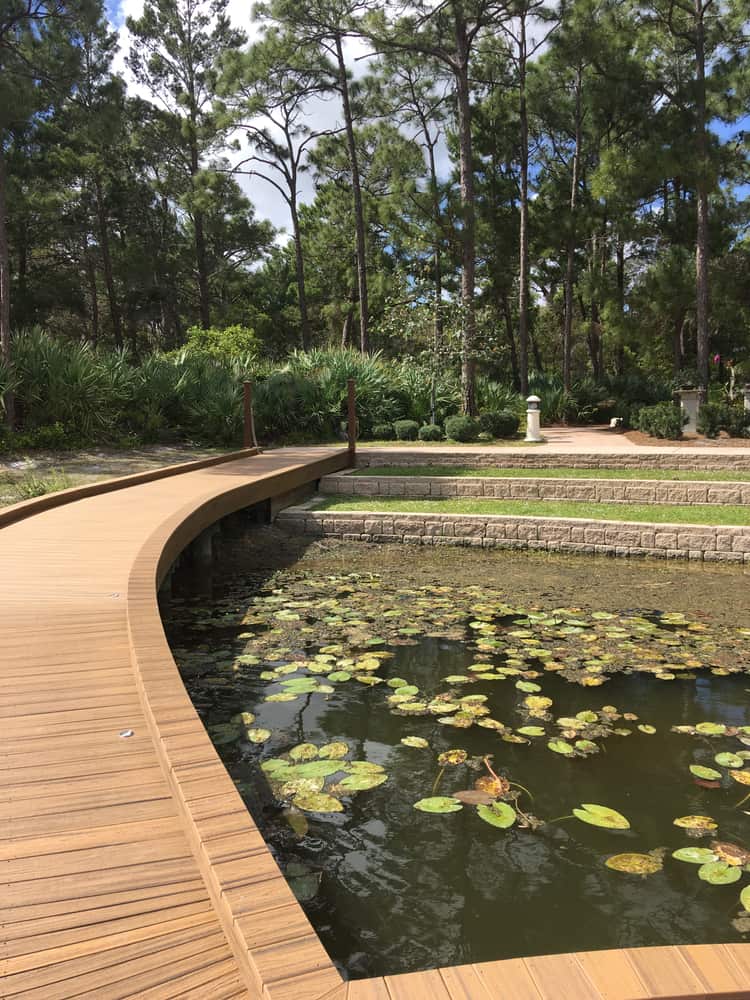 Sarasota Garden Club, Sarasota
The botanical gardens within the Sarasota Garden Club are a wonderful escape from the hustle and bustle of the city. Open to the public during daylight hours, the Sarasota Garden Club is located right on Sarasota Bay. Although one of the smaller botanical gardens in Sarasota, they're still worth visiting!
There are nine individual gardens in which to relax, including a "quiet garden" and a "falling waters garden". However, if you want something a little more hands-on, or your thumb is feeling particularly green, every Friday morning the Sarasota Garden Club welcomes both members and non-members to work and help maintain the gardens.
The Sarasota Garden Club's gardens are also a great spot to spend some time before seeing a show at one of the nearby performing arts centers! While you're in the area, check out other fun things to do in Sarasota.
Key West Garden Club, Key West
The Key West Garden Club at West Martello Tower is truly a hidden gem of Key West and one of the most unique tropical gardens in Florida. It is both a botanical garden and a historic site!
Set right on the shore, Martello Tower is a former Civil War fort that now holds gorgeous tropical flora and fauna. The tower was built in the mid-1800s and used during the Spanish American War, but then fell into ruin after WWII. In 1949 it was named a National Historic Site by the State of Florida.
Discover different "rooms" that house a wide variety of flowers, one of the most popular being their stunning orchids. The vaulted ceilings make for a distinctive setting, with views of the ocean beyond the brick walls.
Botanical gardens in Florida are usually home to a variety of creatures, such as birds, fish, and insects. However, the butterfly garden at The Key West Garden Club is definitely a highlight!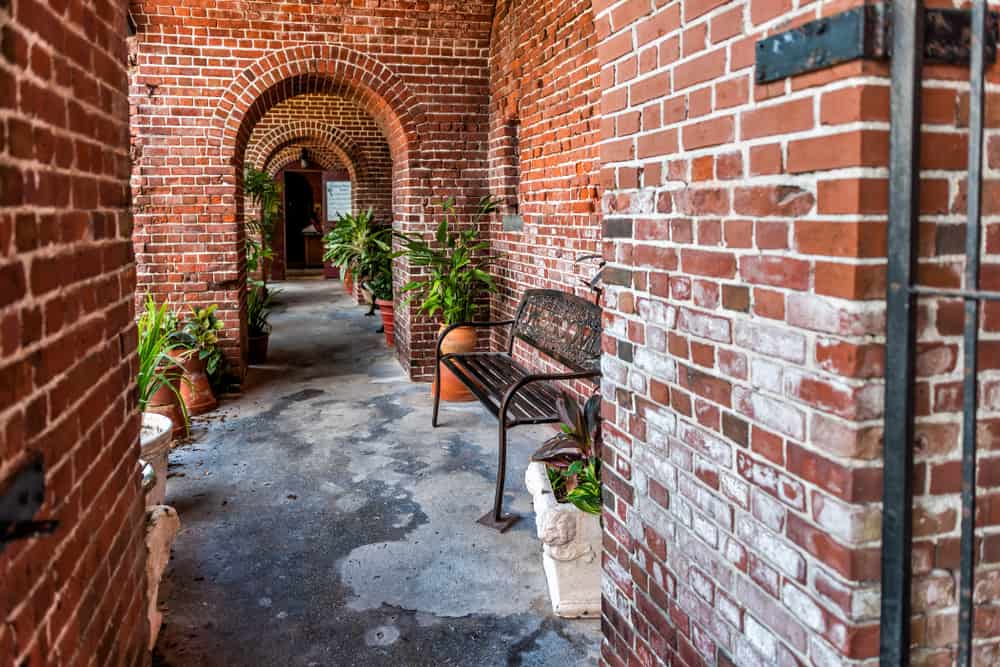 Peace River Botanical & Sculpture Gardens, Punta Gorda
The Peace River Botanical & Sculpture Gardens are some of the newer botanical gardens in Florida. In addition to spectacular plants, they feature a wide variety of sculptures by artists from around the world.
These gardens in Punta Gorda were designed with Florida's natural ecosystems, such as wetlands and marshlands, in mind. You can walk along the boardwalk and take in the view from the observation deck. Wander around the almost 30 acres of gardens and admire the thoughtful pairing of nature and art.
The Peace River Botanical & Sculpture Gardens are still expanding! They have plans for fun additions including a Welcome Center, a multi-use pavilion, a plant shop, and a cafe. New sculptures will also be added, so if you visit multiple times you'll be able to see how things grow and change.
Sunken Gardens, St. Petersburg
The Sunken Gardens in St. Petersburg are one of the most-loved botanical gardens in Florida. Located right in the middle of St. Pete, this hidden gem is a gorgeous spot to escape the city, without having to leave it.
A true staple of St. Pete, these gardens in Central Florida have been around for more than 100 years. The original owner was a plumber, and he drained a shallow lake in order to create his "sunken" garden.
There are thousands of native and exotic plants and animals, and they are considered a "living collection". Meander down shady paths, gaze down at the koi fish as you cross their pond, and say hi to the flamingos. There have been flamingos on exhibit since the 1950s!
For more info check out these tips for visiting the St. Pete Sunken Gardens.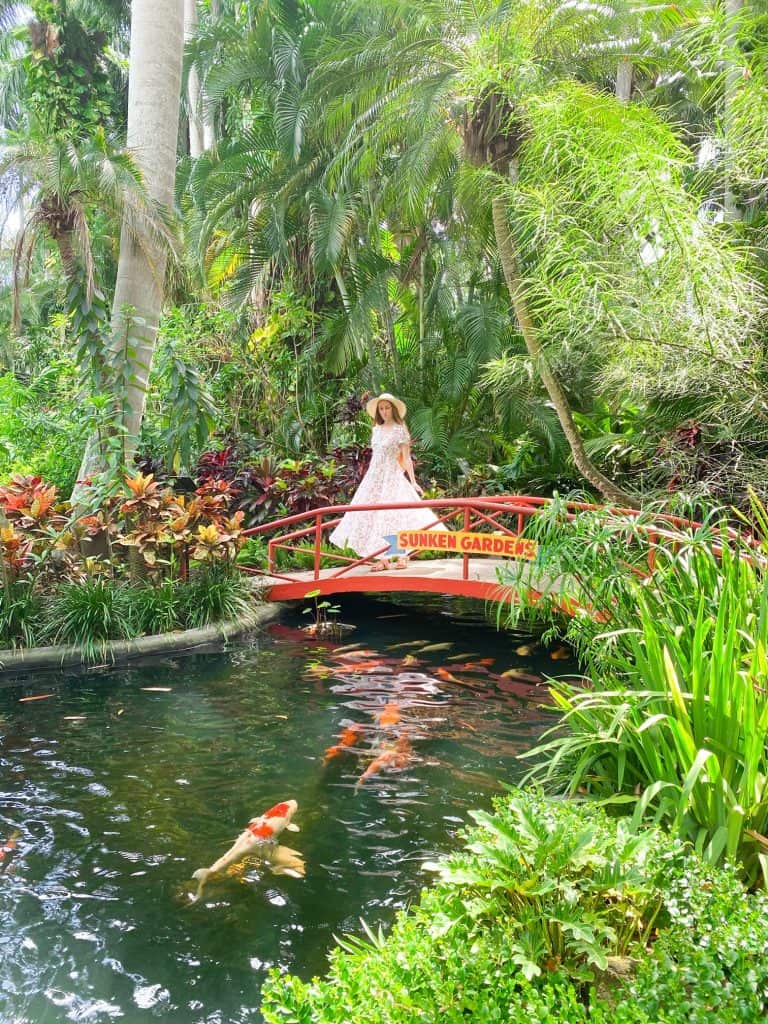 Marie Selby Botanical Gardens, Sarasota
The Marie Selby Botanical Gardens are the most well-known botanical gardens in Sarasota. They are comprised of two locations: the Downtown Sarasota Campus and the Historic Spanish Point Campus. Combined, they provide 45 acres to explore, and are some of the prettiest botanical gardens in Florida.
The Downtown Sarasota Campus has eight separate greenhouses- one of which, the Tropical Conservatory, will make you feel like you've just stepped into a rainforest. For younger visitors, they also have a Children's Rainforest Garden, with bridges and rope swings that create the feeling of swinging through the trees.
You can also learn about the native trees of Florida and their unique root systems by visiting the Banyan Grove or the Mangrove Walkway.
The Historic Spanish Point Campus includes historic buildings and a footbridge around the property that offers beautiful views. Even older than the buildings though are the Archaic Shell Ring and the Shell Ridge Midden. These shell mounds are thousands of years old!
As some of the best botanical gardens in Sarasota, both locations of the Marie Selby Botanical Gardens have unique collections that make them worth seeing. Just be aware that you will need separate admission tickets for each of them.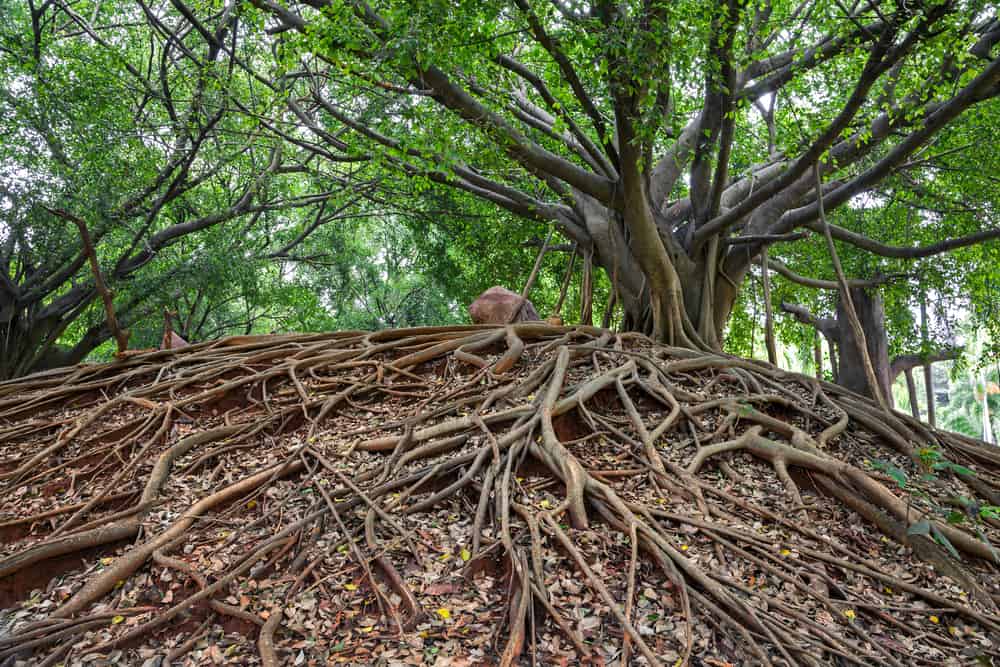 Cedar Lakes Woods and Gardens, Williston
Just a 45 minute drive from Gainesville lies one of the most unique botanical gardens in Florida. Cedar Lakes Woods and Gardens in Williston was once an abandoned limestone quarry, but is now full of walkways, ponds, and gardens.
The founder of Cedar Lakes Woods and Gardens, Dr. Raymond Webber, originally bought the property to turn it into a personal fishing pond. He and his team dug, cleaned, and created walls and pathways. When it was time to add some greenery Dr. Raymond took up gardening, and ultimately decided to share his creation with others.
Rock planters full of flowers and plants line the quarry walls, and bridges connect little islands surrounded by bright blue water. Many domestic animals can be found, including Guinevere the swan, and Big Ben the blue catfish. It's also a pet-friendly garden, as long as pets remain on a leash.
Truly one of the best botanical gardens in Northern Florida, Cedar Lakes Woods and Gardens are surrounded by 64 acres of conserved woodlands that can also be explored.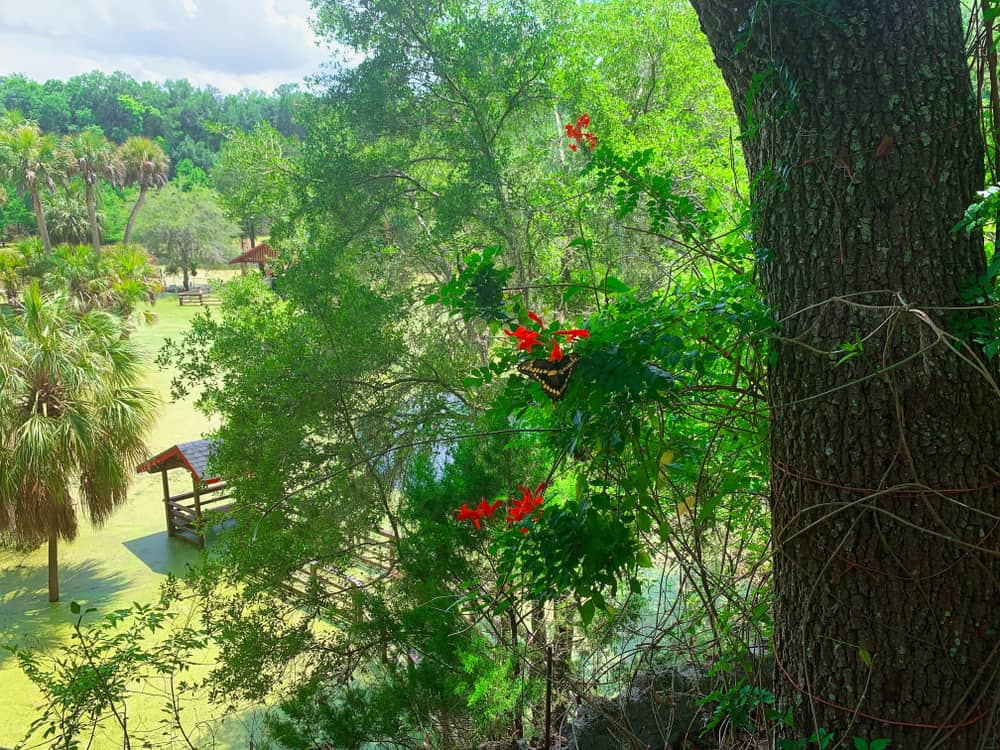 Naples Botanical Garden, Naples
One of the best things to do in Naples is visit the Botanical Garden. The Naples Botanical Garden is one of the biggest botanical gardens in Florida, covering 170 acres of paths, lakes, and gardens.
Many of the gardens within the Naples Botanical Garden are categorized by different places around the world. The Caribbean Garden has fruit trees and a vanilla orchid trellis, as well as cacti and succulents. The Asian Garden includes a lotus pool, magnolia trees, and a Thai pavilion. Meanwhile, the Water Garden is home to beautiful water lilies and a boardwalk.
Wander at your leisure, or if something piques your interest, self-guided audio tours are available.
You can easily spend a whole afternoon at the Naples Botanical Garden. If you get hungry, the Fogg Cafe serves food with local produce, meat, and honey. After your meal, you can relax in a hammock on the lawn or play a round of Bocce ball!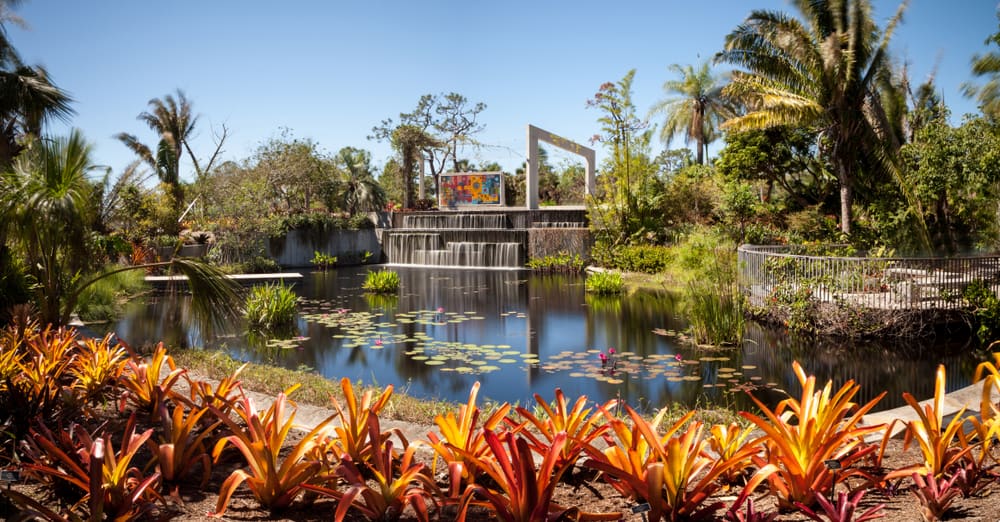 Miami Beach Botanical Garden, Miami Beach
The Miami Beach Botanical Garden manages to pack a lot into just 3 acres. Small though it may be, it's still one of the best botanical gardens in South Florida. Traffic noise is muted by the dense trees and plants, creating a peaceful, little sanctuary right in Miami Beach.
The different gardens include a Japanese Garden, and a Native Garden full of plants native to Florida, including the corky stem which attracts Florida's state butterfly, the Zebra Longwing. There's also an Edible Garden, from which papaya, pineapple, and pomegranates are all actually harvested.
The Miami Beach Botanical Garden aims to be sustainable and works to educate others in sustainability practices. Visit the Garden Center for classes, purchase cuttings and propagations from the garden's wide variety of plants, or pick up a bag of garden compost soil to help your plants grow.
You can also buy food to feed the fish and turtles within the garden. This is a great activity if you are visiting botanical gardens in Florida with children!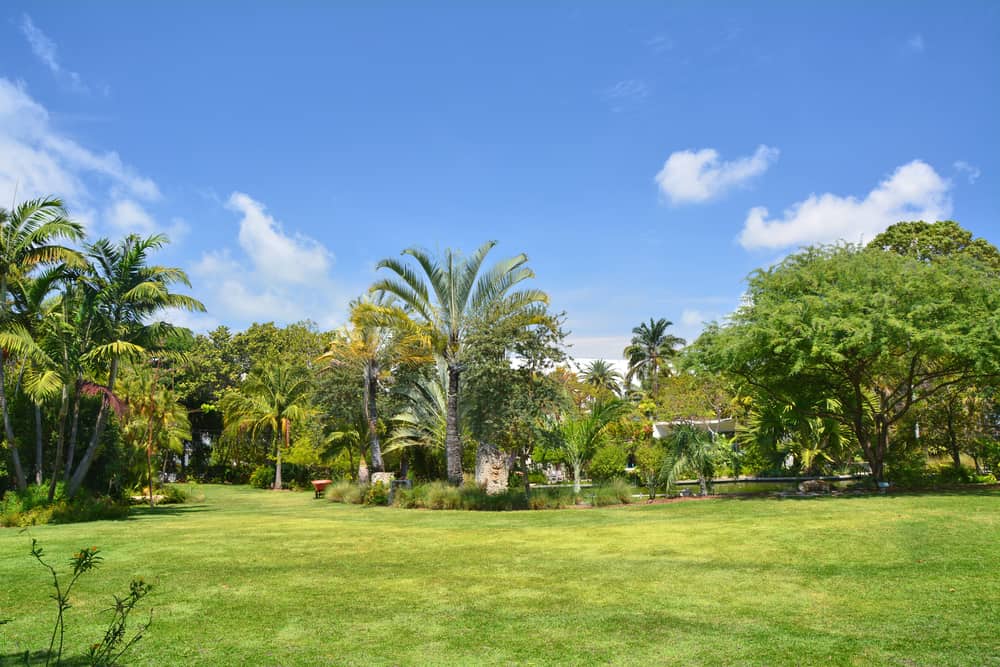 Fairchild Tropical Botanic Garden, Coral Gables
Of all the botanical gardens in Florida, Fairchild Tropical Botanic Garden may have the most events and activities of them all. As if the vast amount of tropical plants wasn't enough, there is always something going on to keep you entertained.
Just south of Miami, this expansive tropical garden in Coral Gables spans over 80 acres. With panoramic views from the overlook, palm tree glades, butterfly gardens, a farm, and tropical fruit conservatories, there is a lot to see. So much so that, if you didn't feel like walking, you could take a guided tram tour.
Fairchild Tropical Botanic Garden also hosts all sorts of events throughout the year, for all ages. There are watercolor and oil painting classes, pet-friendly live music nights, ice cream-making classes, and even an introduction to beekeeping!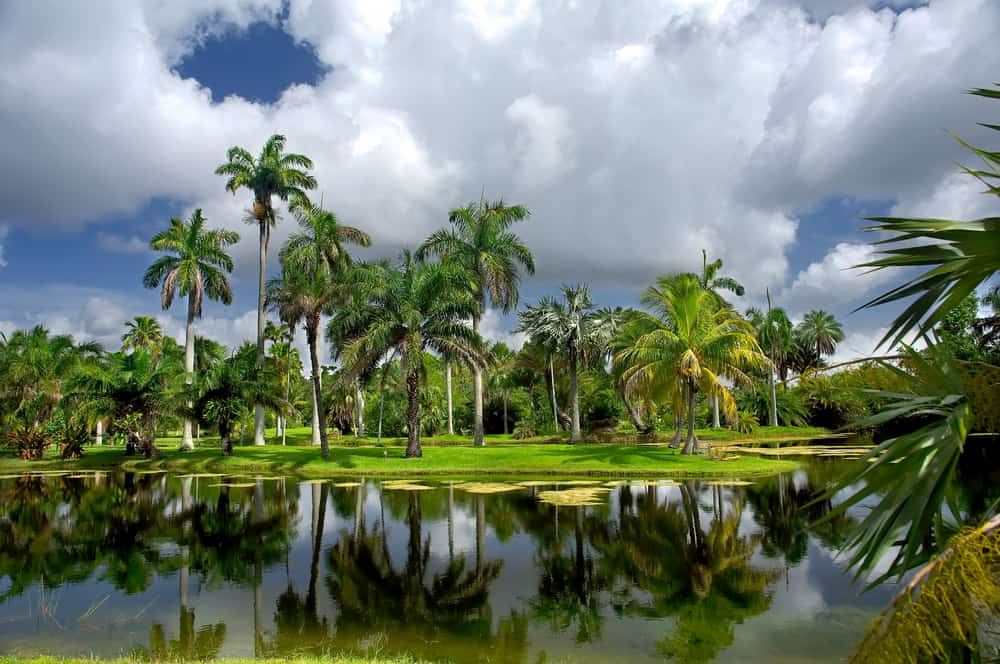 McKee Botanical Gardens, Vero Beach
Another of the best botanical gardens in Central Florida is McKee Botanical Gardens. Though under a different name, these botanical gardens have been around since the 1920s, and McKee Botanical Gardens is now a Florida Landmark.
In 1922 Arthur McKee and Waldo Sexton had originally planned to grow citrus trees, but decided that the land was too beautiful to develop. They opened McKee Jungle Gardens, which particularly showcased orchids and water lilies.
However they were forced to close in 1976, and acreage was sold to condo developers. In the 1990s, a group of volunteers was able to save the remaining 18 acres from development, and McKee Botanical Gardens was reborn.
McKee Botanical Garden still has one of the largest collections of water lilies in Florida, along with 10,000 other native and tropical plants. Attempting to keep with the original owners' vision, it is a "wild place of natural beauty". To this day it's still one of the best botanical gardens in Florida.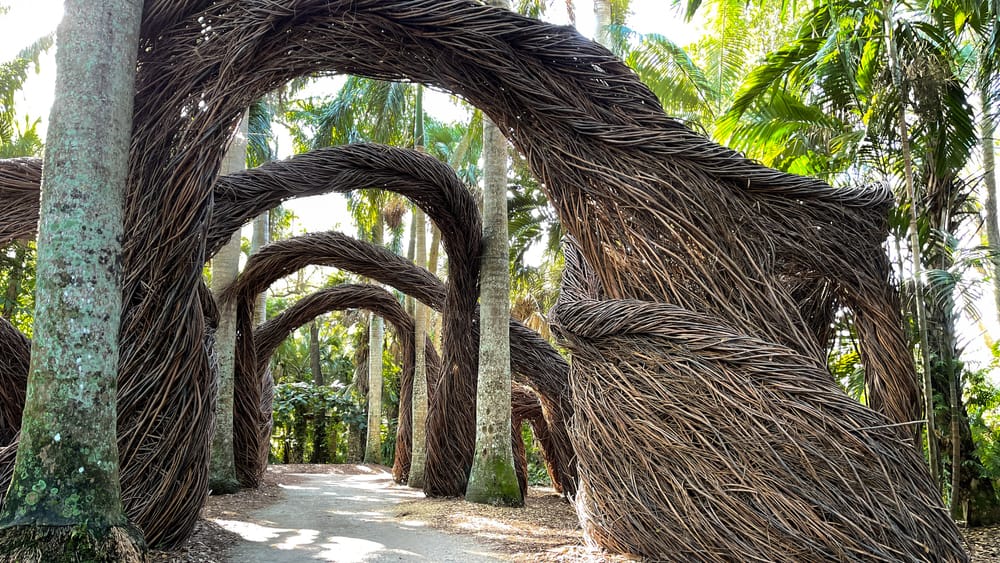 Whether you are just escaping the city, or looking for something different to do on vacation, visiting one of these botanical gardens in Florida is a great way to spend an hour or an afternoon. We hope you found this list helpful and that you are able to see all of the natural beauty Florida has to offer!