Are you looking for lighthouses in Florida? If so you have come to the right place. In this article, we will walk you through the lighthouses of Florida. Some you can climb, some you can enjoy the grounds, some are haunted, some are in the most beautiful locations; all have a lot of history.
From the TV-famous Saint Augustine lighthouse to the lesser-known St. Petersburg lighthouse. We will walk you through them, giving you the information you need so that you can make the best decision on which one to visit.
Florida has twenty-nine lighthouses, all different shapes and sizes. Fourteen of them are open to the public, and six have grounds you can tour. In this article we have picked the ones we believe are not only the most aesthetically pleasing and also the ones that have the most interesting history. They are all either open to the public, or else their grounds are open to the public.
So let's take you on a little tour of the lighthouses of Florida.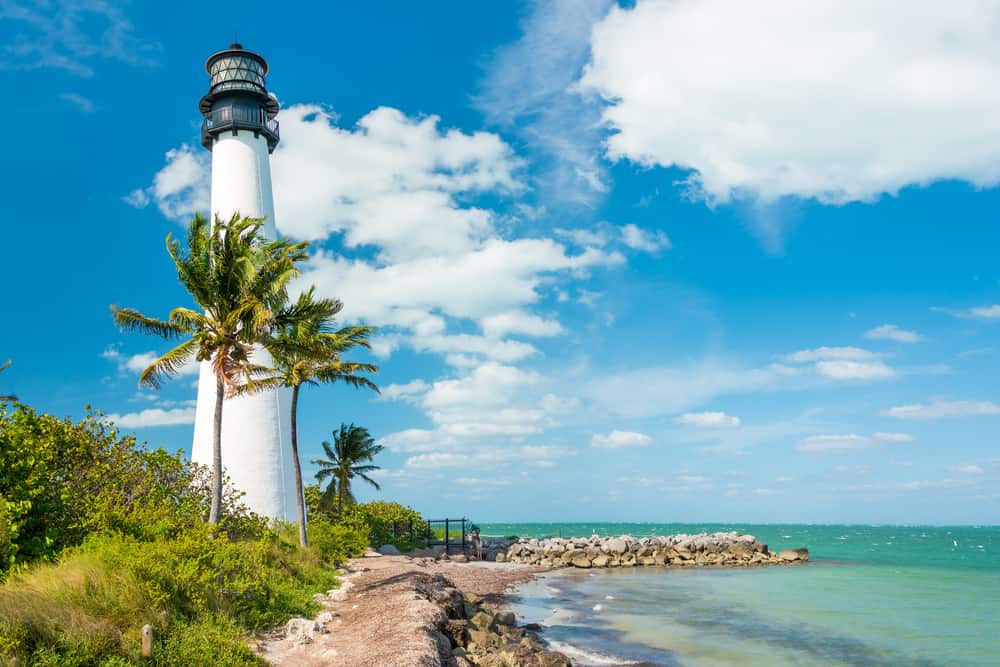 St. Augustine Lighthouse
Our guess is that this is one of the lighthouses in Florida that you will have heard of. Not only is it the oldest lighthouse in the United States but St. Augustine Lighthouse is also said to be the most haunted, featuring in episodes of Ghost Hunters and Buzzfeed Unsolved.
This is an iconic lighthouse standing 167 feet tall with distinct black-and-white spiral stripes, topped by a red lantern guarding Florida's oldest port.
The lighthouse was built of brick in 1871 and took three years to build. It was first lit on October 15, 1874, and is still active today. It was restored in 1994/5 and again in 2000.
There are 219 steps and children must be at least 44inches to climb the tower or over 7 for the spooky evening tour. Admission is for adults and $10.95 for seniors and children 12 and younger.
If you have smaller children there is a playground at the base of the lighthouse and a puppet theatre.
This Saint Augustine lighthouse might just be what you need to amuse all the family.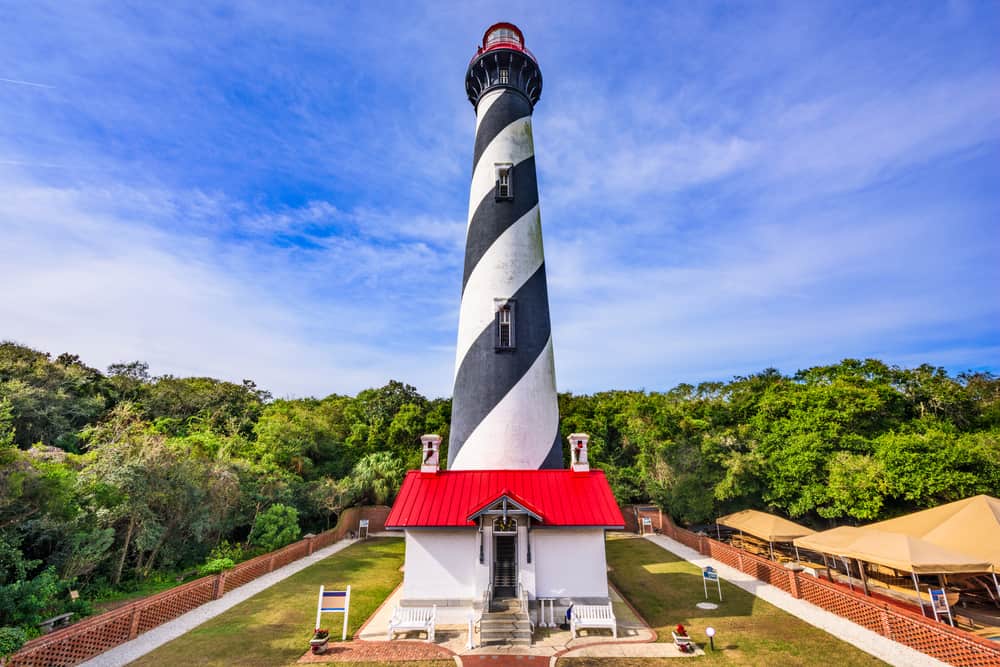 Pensacola Lighthouse
Built in 1859, the Pensacola Lighthouse is located on Naval Air Station Pensacola. This lighthouse is on the National Register of Historic Places and is an active U.S. Coast Guard aid to navigation. It is also said to have the best views of the Gulf Coast at the top of its 177 steps.
The Pensacola Lighthouse was struck by lightning in 1874 and then again the following year. It was discovered that the lightning rod was defective and all the metal fixtures melted. It also received a hit during the civil war and experienced an earthquake, however, after all this, it is still standing.
This is another one of the lighthouses of Florida that is famous for its ghostly activity and ghost tours are offered for the brave and adventurous.
Due to its location on an active military base, there are a few things you need to be aware of, for example, you will need to take proper ID and no bags or purses are allowed on the property.
We suggest you check before you travel to make sure you have the information you need so as to not be turned away or disappointed. It is $8 for an adult and $4 for children and over 65's. The hours of operation change, so please check the website.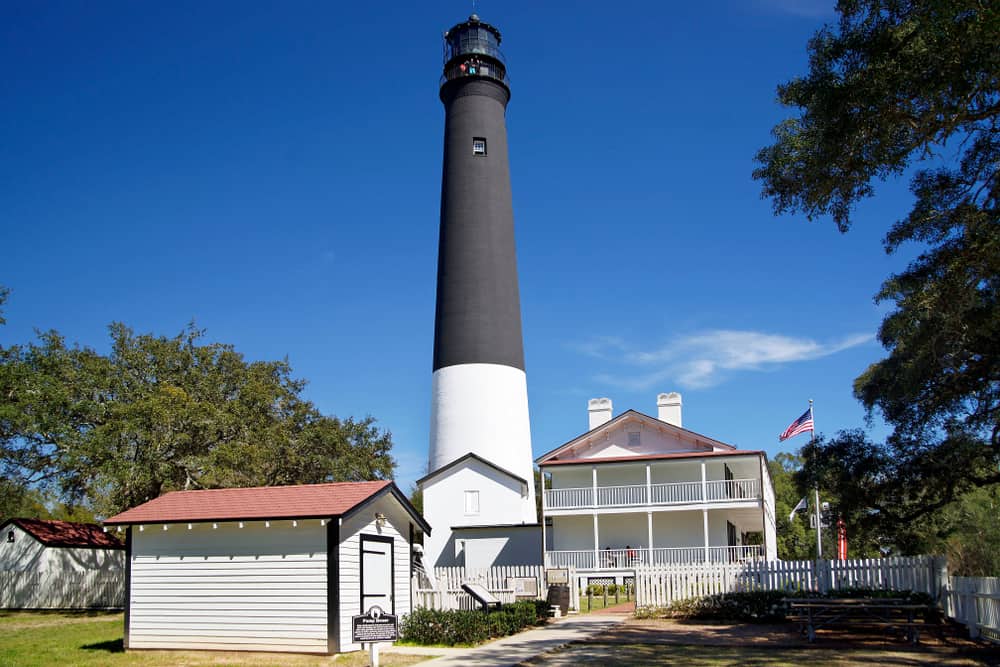 Bill Baggs Cape Florida State Park and Lighthouse
Built in 1825 and the oldest structure in Miami, Cape Florida State Park Lighthouse affords stunning views of the Atlantic Ocean and Biscayne Bay. The first tower of this Miami lighthouse was damaged during the Second Seminole War and rebuilt in 1846.
When the lighthouse was originally built, it guided sailors around the Florida reef and later became a beacon of hope for fugitive slaves and Black Seminoles waiting for safe passage to the British Bahamas. Now it serves as a reminder and is in the National Register of Historic Places.
There are lighthouse tours Thursday through Monday and children must be at least 42 inches tall to ascend the stairs. The lighthouse contains 109 steps.
Admission is $8 per vehicle, $4 for a single occupant, and $2 for pedestrians and cyclists.
One of the lighthouses in Florida with a lot of history and interesting ties to the community.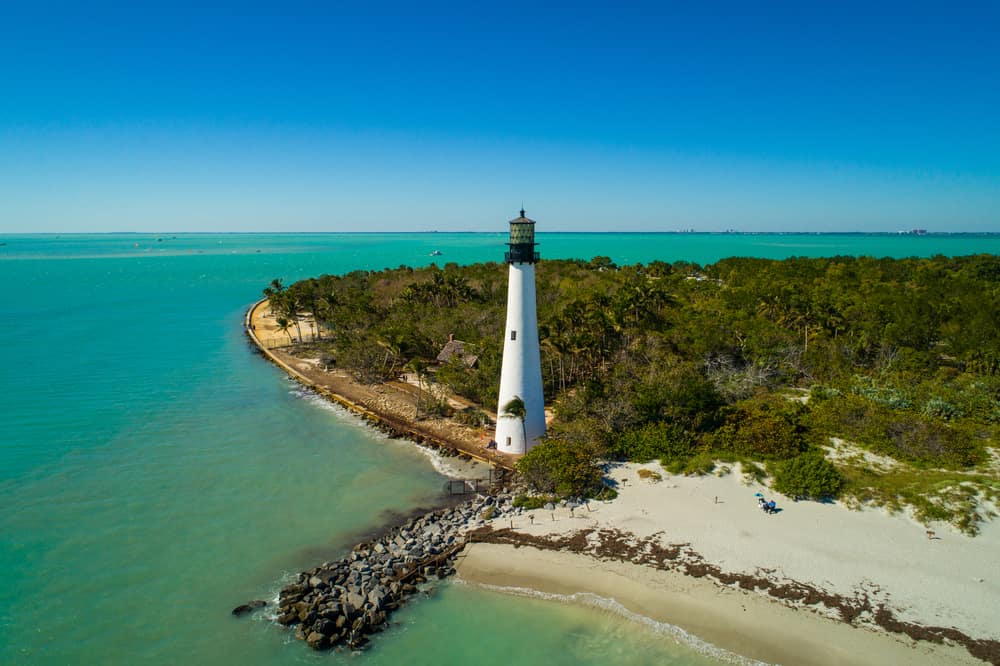 Ponce de Leon Inlet Lighthouse
The tallest lighthouse in Florida at 175 feet with 203 steps, you will be rewarded with an incredible view of Daytona Beach, which will make all the climbing worthwhile.
Constructed in 1887, this Daytona lighthouse was declared a National Historic Landmark in 1998. It took four years to build and was first lit on November 1, 1887.
You can explore on your own, have a privately scheduled tour, or sign up for one of the museum's special after-hours events.
The Ponce de Leon Inlet Lighthouse is considered one of the most complete and authentic facilities in the country. And it really is very striking as the red brick towers above its surroundings.
Admission is $6.95 and $1.95 for children age 3-11 and is open daily from 10 am excluding thanksgiving and Christmas.
This lighthouse in Florida is really colorful and is well worth a photo opportunity.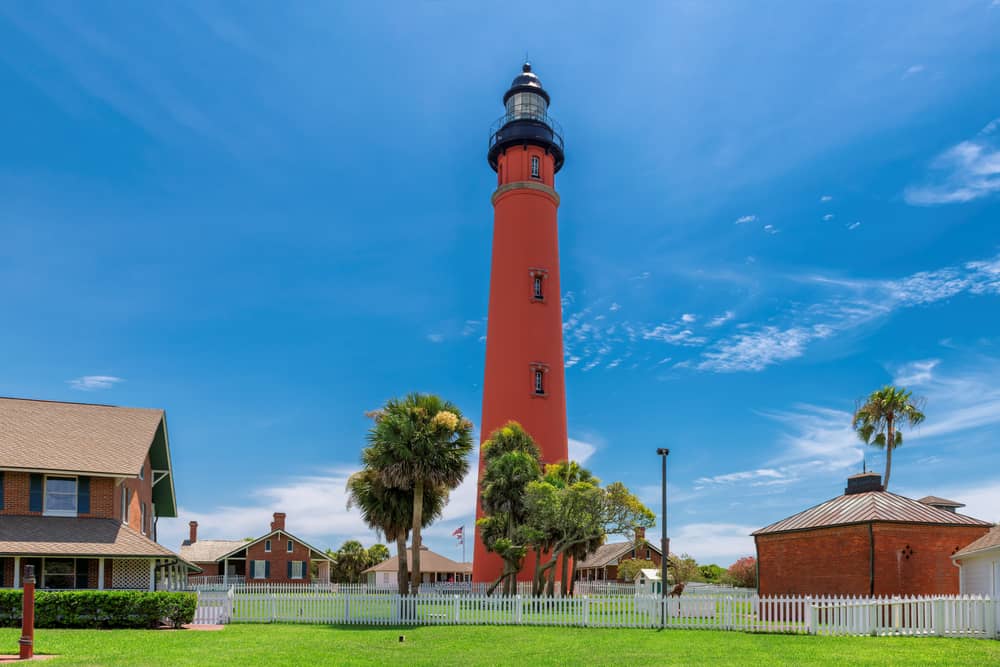 Jupiter Inlet Lighthouse & Museum
Built in 1860, the Jupiter Inlet Lighthouse crowns 120 acres of nationally significant property. Situated where the Indian and Loxahatchee Rivers meet, this area is considered an Outstanding Natural Area. It's also a very historic area with signs of human habitation dating back at least 5,000 years found in the sands.
Jupiter was one of six Florida lighthouse projects assigned to Lieutenant George Gordon Meade of the U.S. Army Corps of Topographic Engineers.
Children must be 48″ tall to climb and people must be able to climb the 105 steps unaided. It is $12 for adults and $6 for children 6-18.
Admission days vary so check the website. There is a lot to do here, including tours of the museum to see how the lighthouse keepers lived in a Seminole chickee hut, a pioneer homestead, and a lighthouse keeper's workshop.
This Jupiter lighthouse also has a live camera so you see what the view might be like on the day you visit.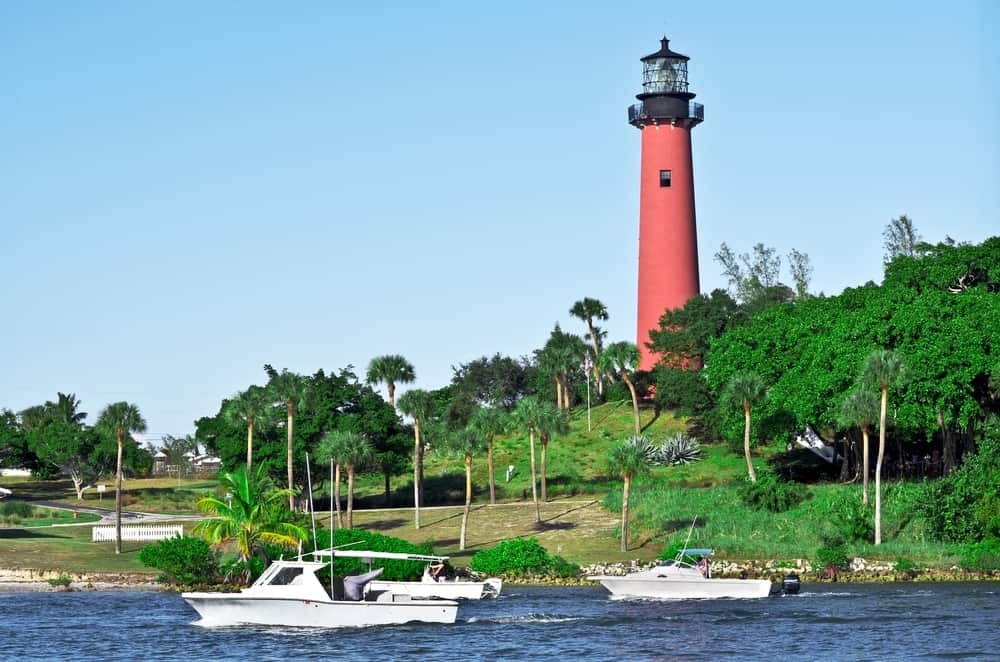 St. George Lighthouse
A 72-foot brick lighthouse, the St. George Lighthouse stood for 153 years before falling into the Gulf of Mexico in 2005. Pieces were retrieved and in 2008 restorations were complete.
At first, the St George Island lighthouse was difficult for the ships to see and when it was damaged by storms in 1846, it was decided to rebuild the lighthouse at the island's southern cape. This lighthouse lasted three years until it was flattened by a hurricane in August of 1851. Again it was rebuilt in 1852 further inland and was apparently built to last this time.
The light was turned off during the Civil war and relit in 1949 and it stood until 1992 where it was damaged by Hurricane Andrew and never really recovered until restored in 2002 until its final demise in 2005. Now restored, it has 92 steps and you must be 40 inches to climb.
Opening hours do change with the seasons so please check before travelling. Admission is $5 for adults and 43 for children aged 7-12.

This is one of the lighthouses in Florida that has been through a lot and surely is worth a visit for that alone.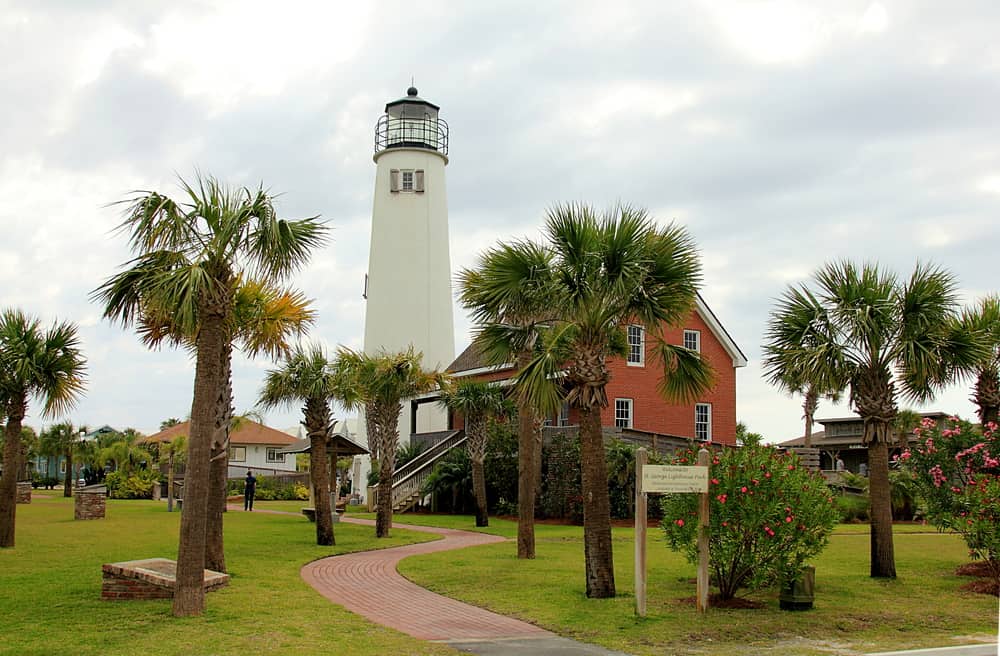 Sanibel Lighthouse
This Sanibel Lighthouse is closed to the public but you can visit the grounds.
An iconic structure off the coast of Cape Coral, it stands 112 feet high and was built in 1884. Unlike the other brick lighthouses, this one is a brown square pyramid, metal skeletal tower. It was one of the first lighthouses on the Gulf coast north of Key West and the Dry Tortugas.
Like all good lighthouses, it comes with a story and this one is of a murder in 1919. The assistant keeper of the lighthouse was killed for reportedly insulting someone's wife. His assailant apparently later got off at court, claiming self-defense.
In 1972, the Coast Guard proposed discontinuing the lighthouse but local residents banded together and assumed management of the lighthouse property
In 2016 the lighthouse and dwellings were added to the City of Sanibel's Register of Historic Sites and Structures.
This is one of the lighthouses in Florida that isn't the most aesthetic to look at but is still well worth a visit.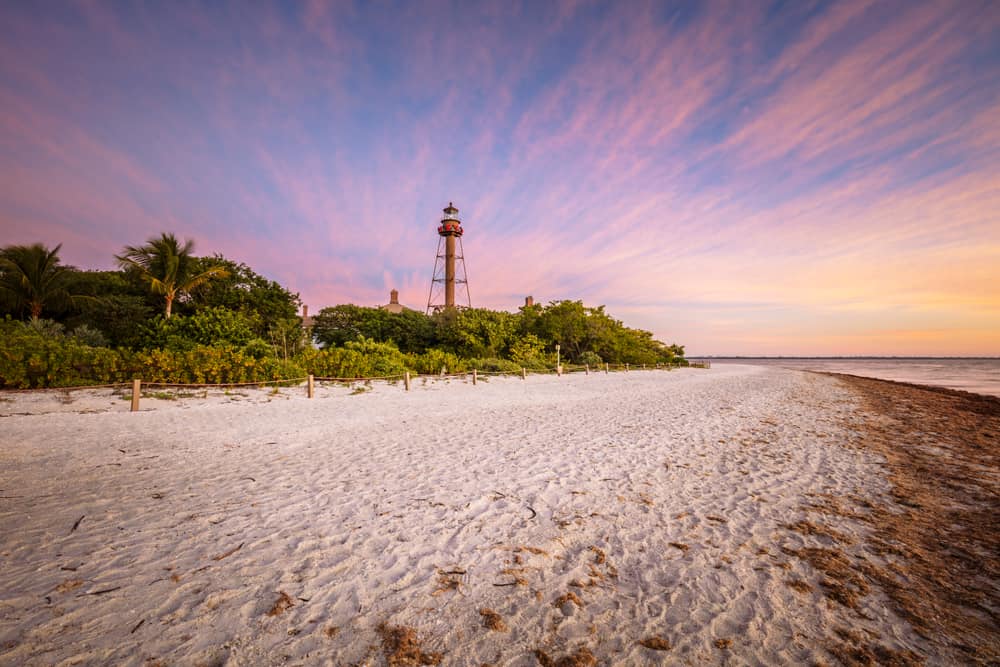 Key West Lighthouse
The first Key West Lighthouse was a 65-foot tower, built in 1825. The first keeper, Michael Mabrity, died in 1832. His widow, Barbara, became the lighthouse keeper and served for 32 years, making history as one of the first female keepers. In 1846 it was destroyed in the Great Havana Hurricane and in 1847 a larger 86 feet high lighthouse was built with 88 steps.
A whitewash brick tower with a black lantern, it stands tall over this well-known tourist spot and is the most visited of all lighthouses in Florida.
It was decommissioned in 1969 and it is now a museum dedicated to Key West's maritime heritage.
Admission is $17 for adults and $8 for children 7-18.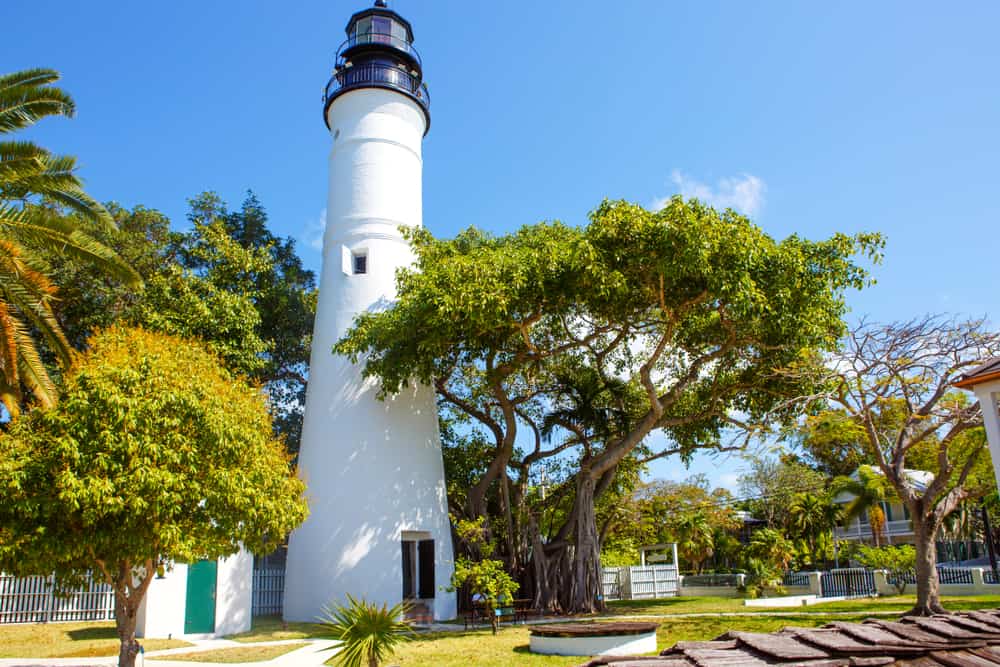 Amelia Island Lighthouse
Constructed in 1838-1839, the Amelia Island Lighthouse stands 64 feet tall Iand has 69 steps. It's one of those pretty white brick tower lighthouses with a black lantern. The lighthouse itself is not open to the public but you can visit the grounds.
Located near the northern end of Amelia Island, it is the oldest existing lighthouse in the state of Florida, being the only one that has never had to be rebuilt.
Interesting to note that when the light first shone on the land below from this lighthouse, Florida was not yet a state.

The lighthouse is open on the 1st and 3rd Wednesday of each month but please check. Admission is $5.00 per adult, $3.00 per child ages 12 and under.
If you like your lighthouses in Florida with a lot of mystery then this one is for you.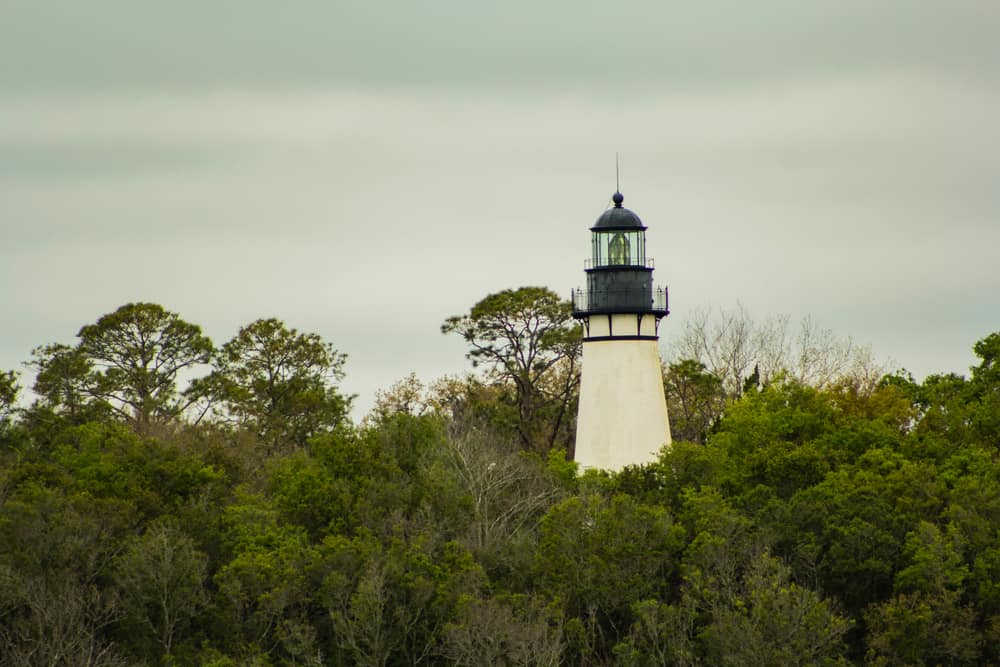 Cape Canaveral Lighthouse
Owned by the United States Space Force, the Cape Canaveral Lighthouse has stood on the Cape for over 150 years.
Standing 65 feet tall and constructed out of brick, its lamp was first lit in 1849. Complaints by mariners led to a new iron lighthouse being built in 1868. At that time this lighthouse was fitted with the best lantern of the time, a First Order Fresnel Lens. Invented by a Frenchman, Augustine Fresnel in 1822, the light could be seen 18 miles out to sea. This new tower stood at 151 feet.
In 1983 the lighthouse was moved ¼ mile inland over concern of erosion and the new lamp was lit in 1994 using the original lighthouse as the foundation.
In 1939, the Coast Guard took over the responsibility of the lighthouse and in 2000 the Air Force became the owner of the lighthouse.
Since the lighthouse is located on Cape Canaveral Air Force Station, visitors must take one of the many tours offered. Reservations are required in advance (Canaveral Tours takes care of getting proper clearance).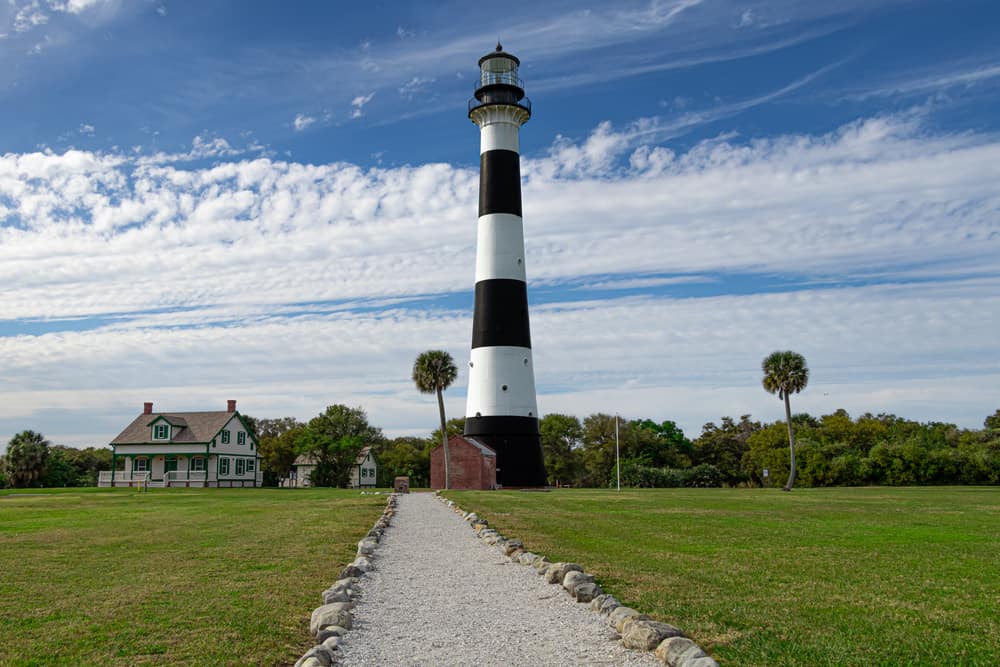 Tortugas Harbor Lighthouse
Also known as Garden Key Light, this lighthouse is located at Fort Jefferson, on Garden Key in Dry Tortugas. Completed in 1826, the 65-foot tall light was on the eastern shore of Garden Key.
However, the lighthouse never seemed to do its job properly, with some of the light not being visible. Shipwrecks and navigation issues increased until 1858 when a more adequate lighthouse, the Dry Tortugas Light (now known as the Loggerhead Light), was constructed on Loggerhead Key. You can visit Dry Tortugas National Park and at the time of writing the lighthouse is going through an extensive refurbishment.
The Tortugas Harbor Lighthouse sustained serious damage after hurricanes in 1873 and 1875. As a result, the Lighthouse Service advised that a new lighthouse be constructed. By the end of 1876, the new lighthouse was finished as one of the bastions of Fort Jefferson called Loggerhead Lighthouse.
This is one of the lighthouses in Florida that has gone through a lot and if you want to see how the area currently looks you can take a virtual tour. You can only reach this lighthouse by boat or ferry, so plan ahead.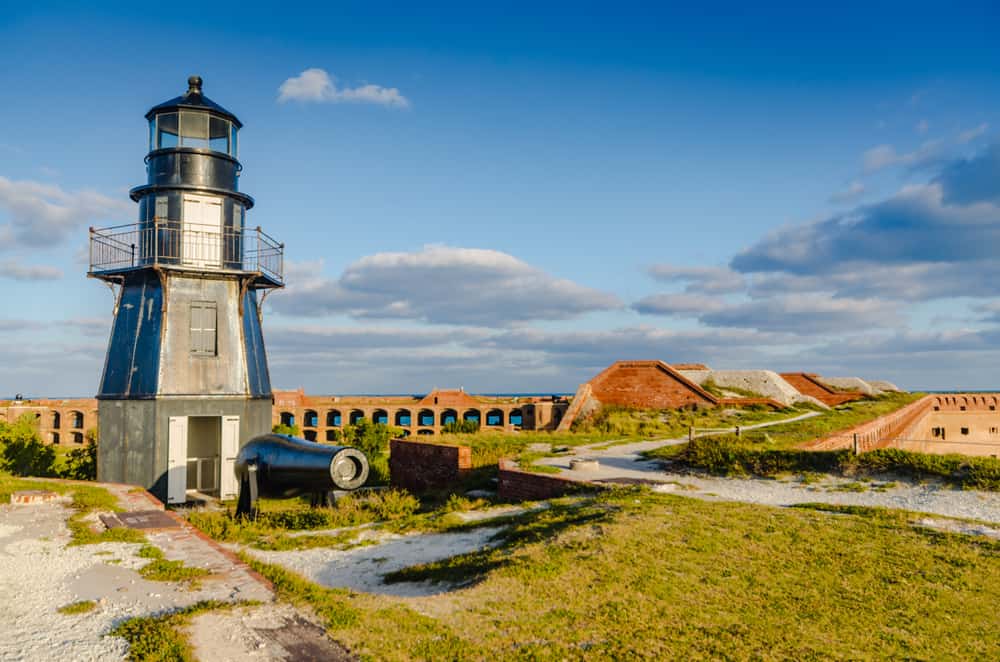 Egmont Key Lighthouse
When Egmont Key Light was built in 1848 it was the only lighthouse on the Gulf Coast between Key West and St Marks. It was damaged the same year it was built by a hurricane. The keeper at the time survived by getting into a boat with his family and tying the boat to a tree. When he saw the damage to the lighthouse in the aftermath he rowed away and never returned.
Another hurricane a few weeks later caused more damage and finally, beach erosion threatened to topple the tower and a new one was completed in 1958.
Near St Petersburg, this lighthouse sits on a wilderness island in the mouth of Tampa Bay, only accessible by boat or ferry. This beautiful island has amazing beaches.
It's a beautiful spot full of history, woodland trails, and of course the lighthouse.
You can't go into the lighthouse except on special events and guided tours, but the area and the lighthouse are well worth a visit.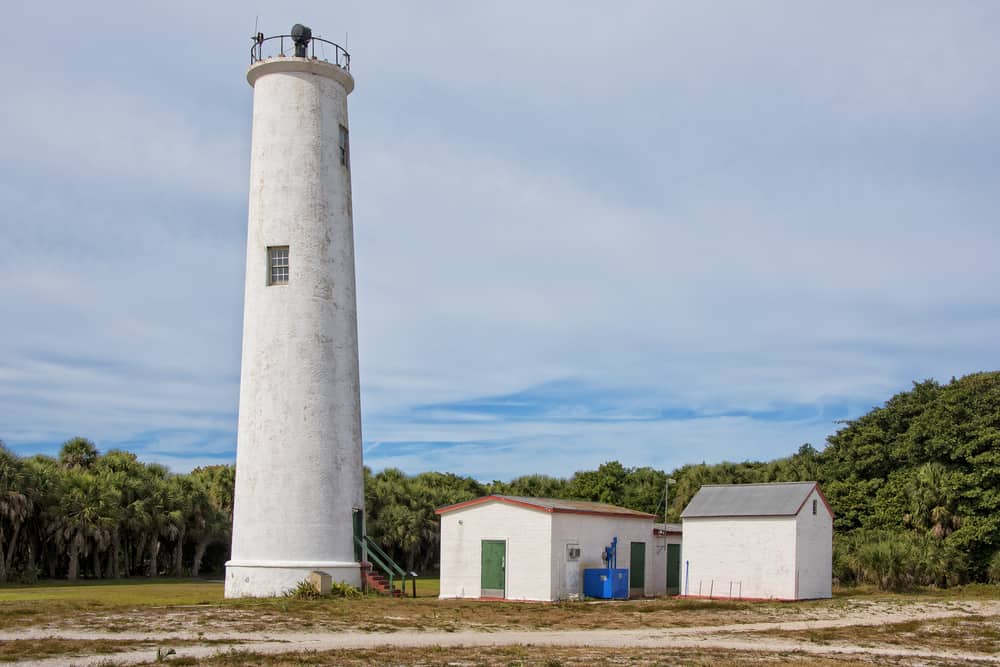 One of the lighthouses in Florida that is well worth spending a day at. We hope we have convinced you that a trip to one of the lighthouses of Florida is worth your time. Whichever one you visit please do let us know and we would love to see your photos.
Did You Find This Post Helpful?
If so, we would love to keep in touch! We enjoy seeing photos and comments about your experiences in Florida! You can follow us on Instagram and we will repost your photos on our feed and comment too! Just tag us at @floridatrippers and hashtag #floridatrippers. We can't wait to see your travels!