Are you looking for the best restaurants in Jacksonville? We have you covered with our list of the best restaurants in Jacksonville!
Whether you are in town for one of Jacksonville's musical festivals like Springing the Blues or playing golf in nearby Ponte Vedra or just visiting some of the best things to do in Jacksonville make sure you leave time to eat!
The culinary scene in Jacksonville has expanded in the last few years and is now flourishing all over the Jacksonville area! These best restaurants in Jacksonville will wow you with their menu's offerings. From Italian, to French to Seafood to Asia and Vegan there is something on the list for everyone!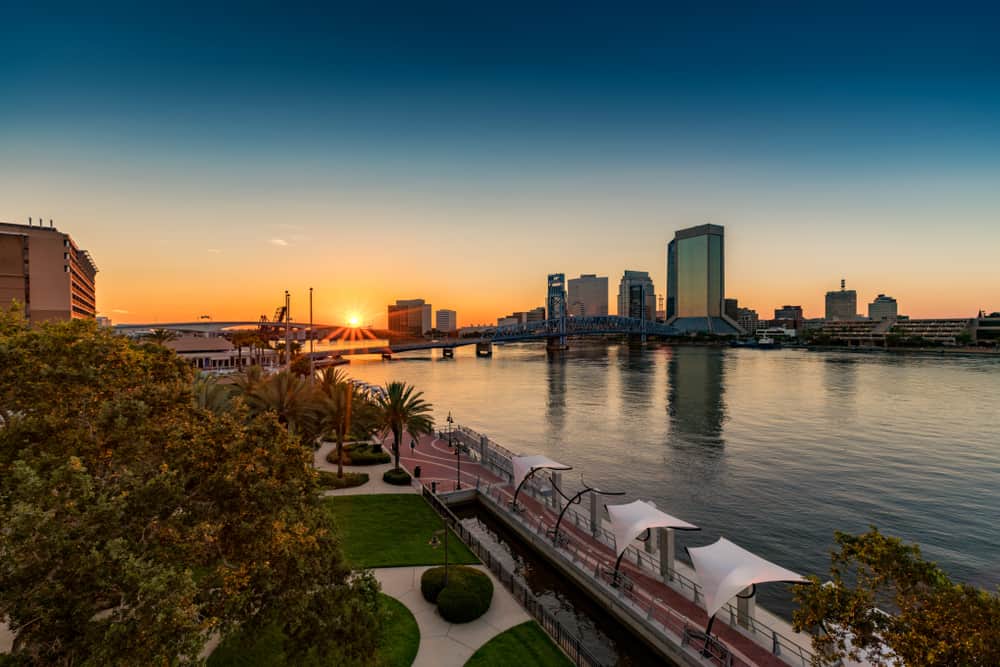 15 Best Restaurants In Jacksonville You Must Try
Green Papaya
If looking for one of the best restaurants in Jacksonville for Thai food head to Green Papaya. Located in the River City Marketplace this Thai restaurant serves delicious large portions in a friendly setting!
They have lunch specials for under $10, try the Hawaiian Chicken, Red or Green Curry, Thai Chili Cashew, General Tso Chicken, Pad Thai, or The Amazing coconut peanut curry sauce!
For dinner they serve larger portions of some of the lunch specials as well as a larger meu. Try Thai Style Eggplant, Pad Ba Mee, Duck with Yellow Curry, Thai Garlic Duck.
Or try the Green Papaya Sampler for an appetizer with egg rolls, coconut shrimp, krab Rangoon, spring rolls, and chicken satay!
Restaurant Orsay
Orsay Jacksonville is one of the best French dining restaurants in Jacksonville! With an ever changing seasonal menu using the freshest ingredients with a southern flare. Unlike traditional French restaurants Orsay aims to be friendly and accessible for all.
This French bistro has a raw bar featuring cold water oysters from the Gulf, East and West coast depending on season. As well as local Atlantic caught shrimp and oysters.
Stop by for Brunch and you can start your meal off with Mimosas, Sangria or cold brew coffee, soups and salads, deviled eggs, omelettes, charcuterie and entrees like Bourbon and Orange French Toast, Carolina Trout, Chicken Duck Confit Hash!
For dinner try the Grand Plateau Raw Bar plate, Steak Frites, Cassoulet, Lobster Pot Pie, Bouillabaisse with local caught seafood.
Orsay Jacksonville also serves a Vegetarian and Vegan menu such as omelettes with mushrooms and gruyere, Faux Croque Madame, Spring Vegetable Shepherd's pie, Sautéed Heirloom Vegetables, Seared Tofu and more!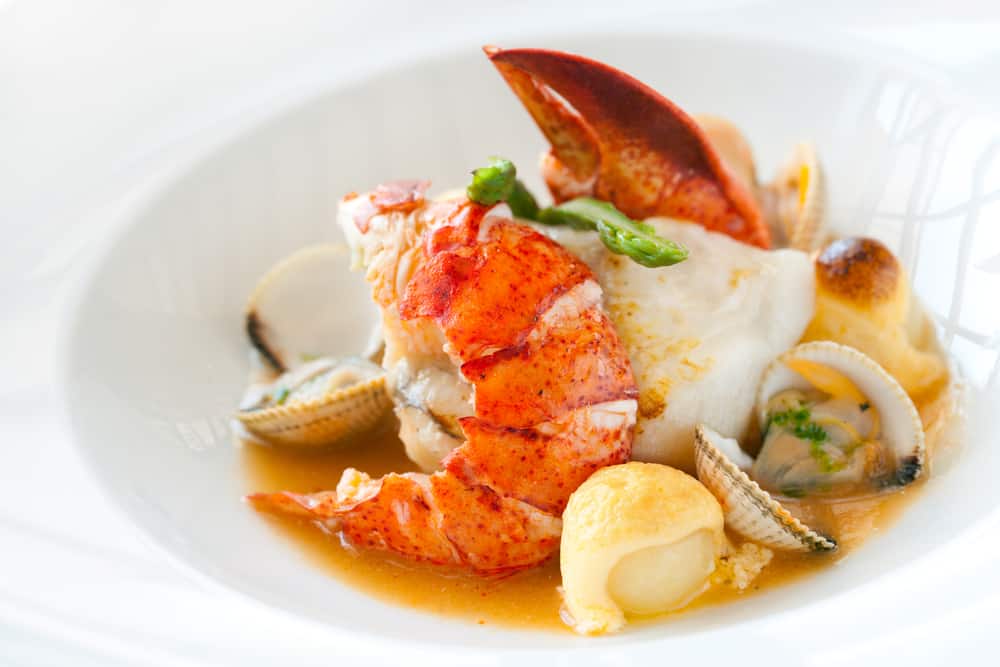 Taverna
Taverna used Italian ingredients in a sophisticated way focusing on seasonal produce and local seafood. Located in San Marco Square just minutes from downtown Jacksonville and is known for its Italian heritage as well as some of the best restaurants in Jacksonville.
If looking for a Sunday Brunch head to Taverna and dine on prosciutto scones, omelettes, lemon ricotta pancakes, steak and eggs, breakfast pizza, steak and eggs!
For food menu start with truffle fries, cheese and salumi platter, herbed ricotta, or meatballs and sautéed calamari. From soups and pizzas like the Soppressata pizza with Italian dried salami fried egg and mozzarella.
All the pasta is made in house from fettuccini to ravioli. For mains they have a vegan entree with chickpeas and roasted veggies as well as salmon, scallops and Bistecca, sandwiches and more!
They server a happy hour from 4 pm to 7 pm that can be in house or taken home! For $30 you can take home a bottle of wine and two appetizers. Or enjoy happy bites, wine, beer from Cigar City, and cocktails in house!
Marker 32
Marker 32 is one of the Jacksonville Beach Restaurants located on Beach Boulevard. Opened in 1992 this fiver star restaurant is family owned and the chef has been voted as one of the best chef's in America!
At this restaurant you will have some of the best Jacksonville food! For the table try the M32 Broiled Oysters, Deviled eggs and Fried Oystres, Twice Cooked Thai Baby Back ribs or steamed Mussels.
For main courses the menu ranges from Seared Scallops, Wood Grilled Pork Chops, Panned Chicken, Shrimp Fettuccini, Grilled New Zealand Rack of Lamb and a Vegan Pad Thai. They also feature a local caught fish dish that rotates depending on the fresh catch of the day and blue crab cakes.
Make sure to leave room for dessert like a Chocolate Tort or Bourbon Cherry bread pudding or Creme Brûlée.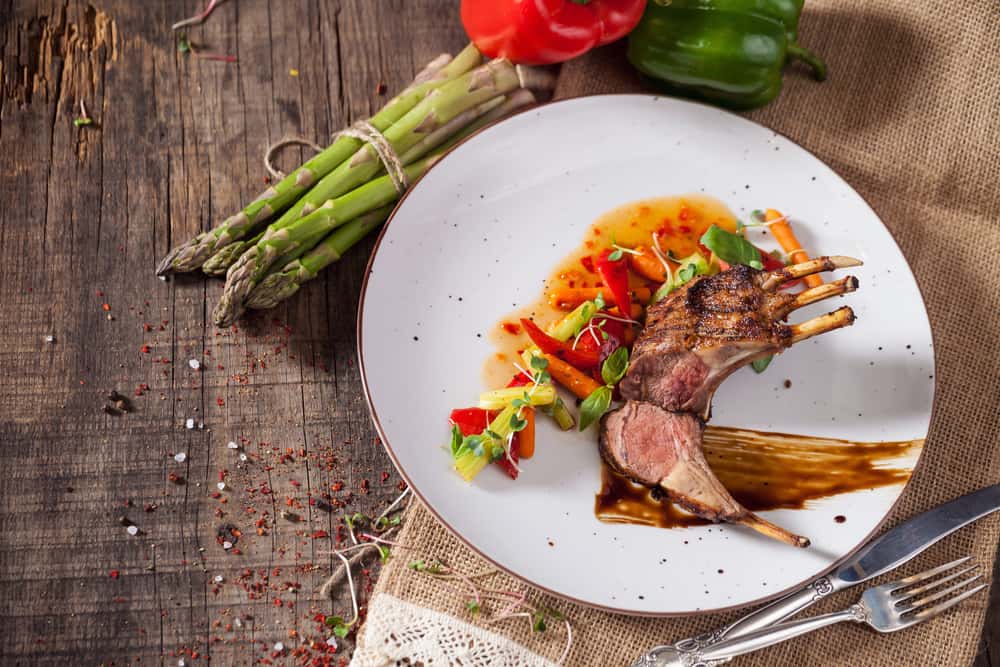 Matthew's
Matthew's Restaurant is also located in the San Marco Dining area. Chef Alex Yim lets French techniques influence his Mediterranean focused menu using farm to table ingredients and sustainable seafood!
The restaurant also has an extensive wine menu and requires a business casual dress code.
Head to the "M Lounge" for happy hour Monday through Fridays from 4:30 pm to 6:30 pm for $7 bar bites, $5 craft beers, wine and wells and $7 cocktails.
If looking for one of the best restaurants in Jacksonville for a special occasion try the Chef's Adventure Tasting Menu at Matthew's. $85 or $135 with wine this six-course menu is a culinary showcase.
For dinner menu try the seared foie gras or scallops or escargot. For mains try the Japanese A5 wagyu, local grey grouper, tempura tofu, Ribeye or Berkshire pork chops.
Julington Creek Fish Camp
Julington Creek Fish Camp is owned by the same group that owns Marker 32 as well as several other fish camps! Located on the St. John's River this is a great spot if looking for a seafood restaurant in Jacksonville you can even dine outdoors on the water!
For lunch and dinner they have all the fried seafood you could want from shrimp, scallops, clams, fish and crab or combo platters! Other menu favorites include a Salmon BLT, seared yellow fin tuna, blue crab cakes, Baja fish tacos, and fish camp shrimp and grits with local caught shrimp!
On the dinner menu they have a daily fresh catch, Whole Fresh Catch Fried fish, Chef's Steak, Broiled Seafood Platter, and Spicy Seafood linguini.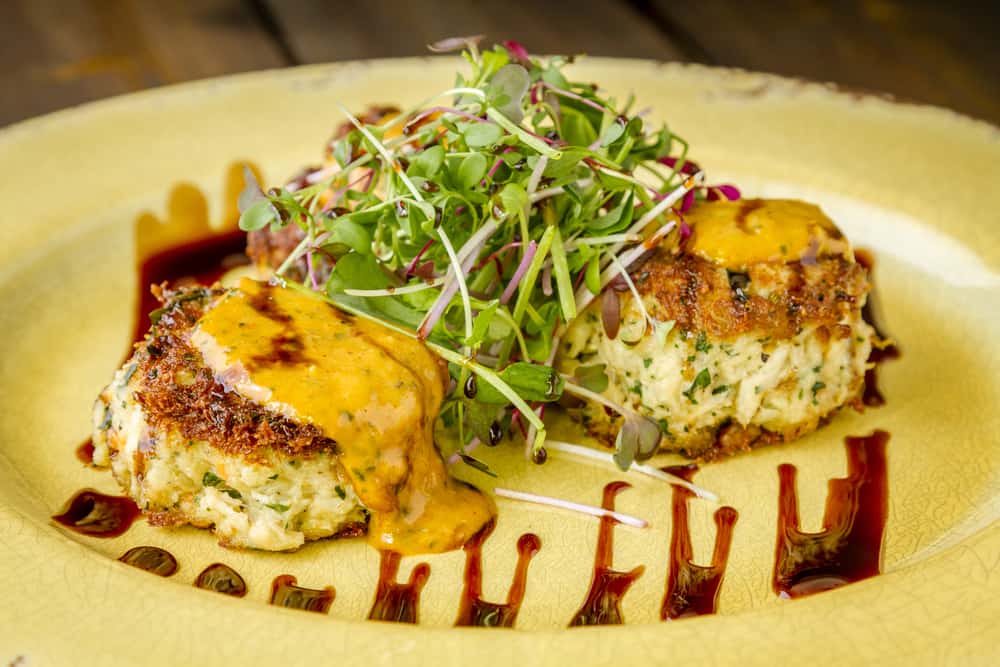 Azurea at One Ocean
If wanting to dine on the Atlantic Azure at One Ocean is the one of the best places to eat in Jacksonville. This award-winning restaurant is open for breakfast, lunch and dinner and has a lounge to grab drink and quick bites!
What makes Azurea dining unique is you can see the water from any seat in the restaurant and with an ever changing seasonal menu you will always have something new to try. You can even stay at the one ocean resort property!
With mains like a Southern Burger, Azurea Seafood Cobb salad, scallop risotto, Bronzed Southern Swordfish or a local catch trio! Or for lunch you can try the local catch tacos, jumbo crab-cake or grilled seafood flatbread.
13 Gypsies
13 Gypsies serves some of the best Jacksonville food that is rooted in Spanish traditions. Chef Kimball makes everything from scratch from the bread, sausage, cheese, cured meats and veggies!
With so many delicious homemade eclectic menu items ranging from zanahorias , mushroom escabeche, house made pastas, fresh house made chorizo or albondigas pork and beef meatballs.
To house made peasant bread or dry cured meats, Empanadas of kale, pan-fried whitefish and pescado en adobo which is fish marinated with spices and vinegar. Smoked chicken thighs and Spanish mojo pork!
13 Gypsies focuses on their kitchen trying to be zero-waste using trimmings in the desserts, as side dishes and as appetizers.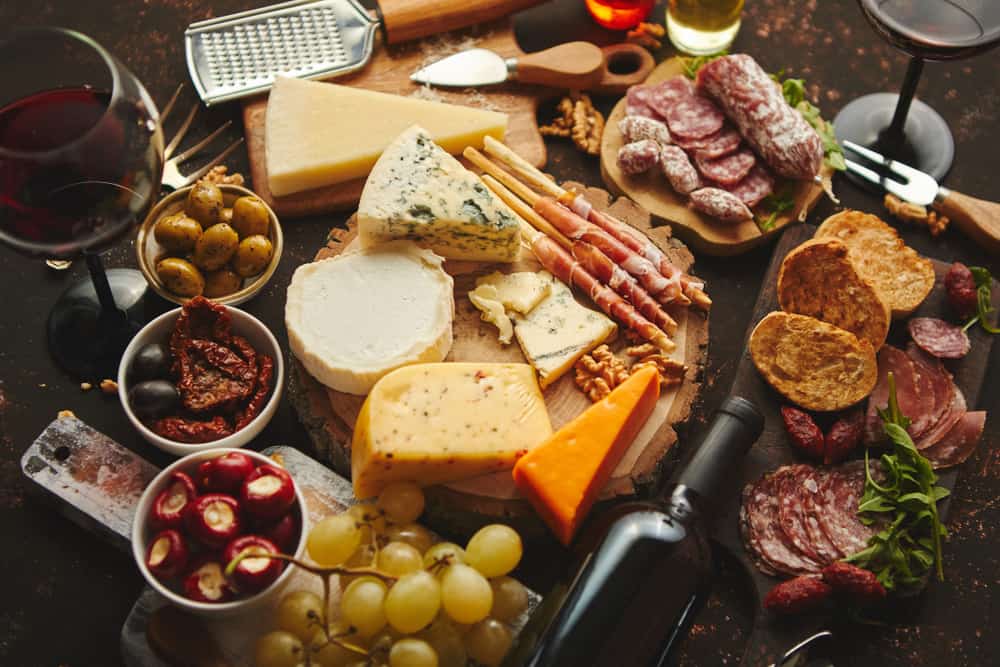 Black Sheep
Black Sheep Jacksonville is located in the Five Points Historic Riverside area and is modern American food using local ingredients and handcrafted foods. Enjoy the rooftop bar area to try one of the hand crafted cocktails or craft beer.
The restaurant is closed on Monday and Tuesday. And serves a brunch Friday through Sunday in addition to dinner.
For brunch they have menu favorites like avocado toast,, smoked trout bagel, shishito pepper omelette, Korean short ribs and shrimp and grits.
For dinner menu ranges from soups and salads to fresh catch of the day, angus ribeye, cacio e pepe pasta, crispy skin salmon, and springer farm chicken and pappardelle with hand made pasta and rabbit sausage.
Bowl of Pho
Bowl of Pho is a Vietnamese restaurant that uses dark woods and Asia art to create an inviting atmosphere for diners. They are closed on Tuesday but open every other day.
If looking for restaurants in Jacksonville that are no frill but serve delicious Vietnamese Food you have come to right place.
They have Vietnamese egg rolls and spring rolls salads and most importantly pho. Pho is a soup made from long homemade simmering broth that comes in beef, chicken, shrimp or pork broth. With noodles and different cuts of meat you can customize your own bowl of Pho.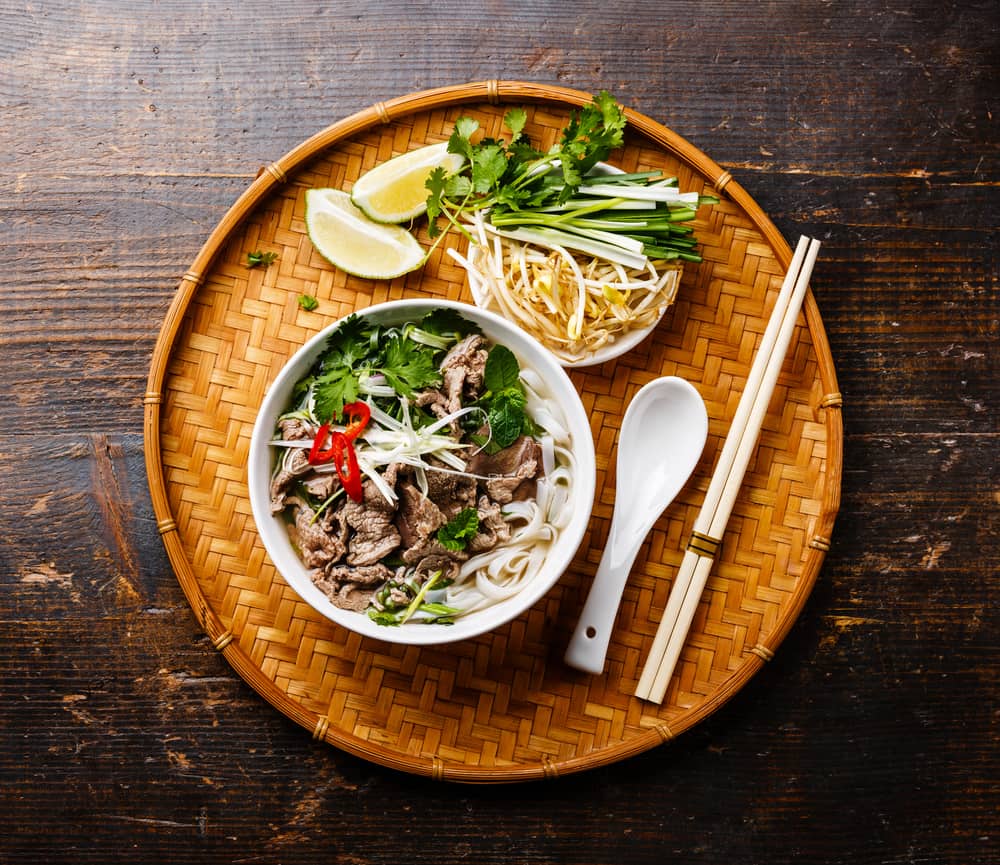 The French Pantry
The French Pantry is one of the best places to eat in Jacksonville for lunch. This weekday lunch spot always has a line but is worth the wait. All menu items are homemade using the freshest and best quality ingredients. They deliver their homemade bread to restaurants around Jacksonville.
They have tons of menu items for lunch ranging from hot rueben, muffulata, turkey goat cheese and pesto to paninis like chicken, eggplant and shrimp.
They also serve bruschetta's like chicken and artichoke, eggplant or portabello mushrooms. Or try on of the salads like Thai Chicken or Raspberry!
On site they have a bakery and are one of the best restaurants in Jacksonville for fresh pastries, breads and dessert items.
Enza's Italian Restaurant
Enza's Italian Restaurant is another one of the best restaurants in Jacksonville if looking for authentic Italian from Sicily. Enjoy live piano music six night a week. The restaurant is closed on Monday.
Enza's has served large portions in a relaxed dining room for over 40 years. They believe passion is the key to a great meal, and their menu favorite include Chicken Parmigiana, Seafood Lasagna and low-carb chicken Stephanie.
They serve pasta dishes and seafood dishes like Grouper Francese, Shrimp Aglio E' Olio, Mussels and Clams and Lobster Ravioli. Expect to see the owner of the restaurant while dining here!
Check the website for opportunities to attend cooking classes and demonstrations here at Enza's!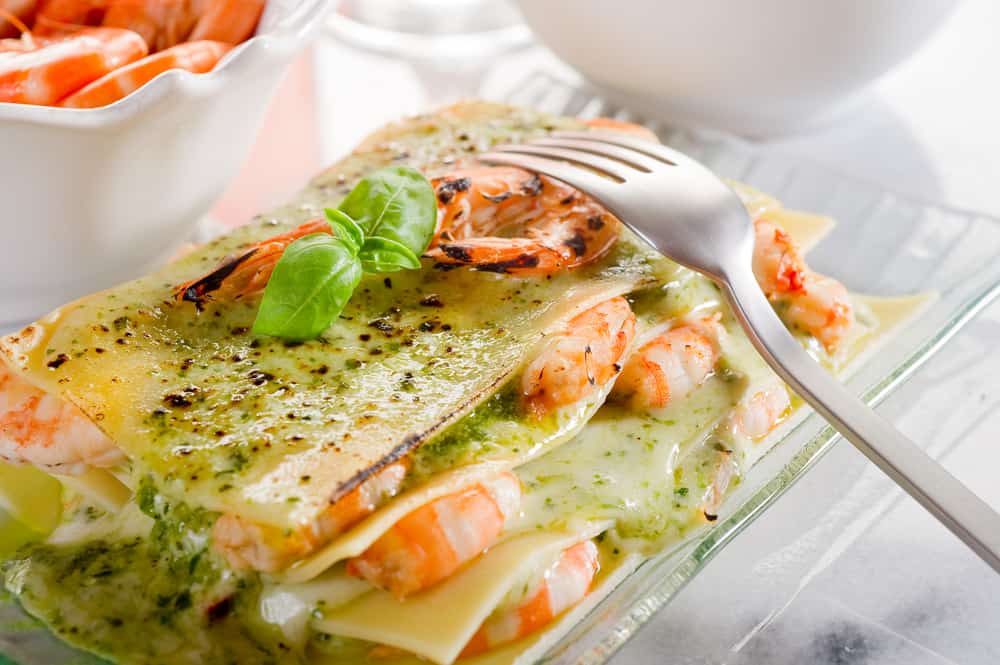 Burrito Gallery
Burrito Gallery has several locations throughout Jacksonville (downtown, beaches, gate parkway and Brooklyn) and serves massive burrito masterpieces! Burrito Gallery is one of the best Jacksonville food places if you want "Jax Mex" food.
They pride themselves on fresh ingredients with several locations each prides itself on having a full bar with local craft beers and cocktails some locations have rooftop bars and outdoor seating. You will find local art hanging on the walls at each location.
Try the burritos, tacos, or Quesadillas. You can have your option of blackened shrimp, steak, grilled chicken, carnitas, ground beef, tofu, or grilled veggies.
They also have specialty brisket tacos, bacon cheeseburger, curry or jerk chicken or the fresh fish or grilled mushroom.
Carmine's Pie House
Carmine's Pie House is a neighborhood pizza joint located in Riverside. They have a weekday lunch special for $8 for 2 slices and drink, while Tuesday and Wednesday from 8 pm to close they do half price drafts and wines, Monday to Friday Happy hour 2pm to 6pm with $2 slices and half prices drinks.
They are one of the best resaurants in Jacksonville if looking for pizza. With both New York Thin and Chicago Stuffed you can choose your own toppings from meat, fruit, veggies and gourmet toppings like shrimp, goat cheese, avocado or vegan cheese.
Or try the calzones and Stromboli or salads, subs and paninis. On the dinner menu there is chorizo mac and cheese, creamy chicken pesto, stacked eggplant parm, uncle alfredo's Alfredo, lobster ravioli or mimi's original lasagne.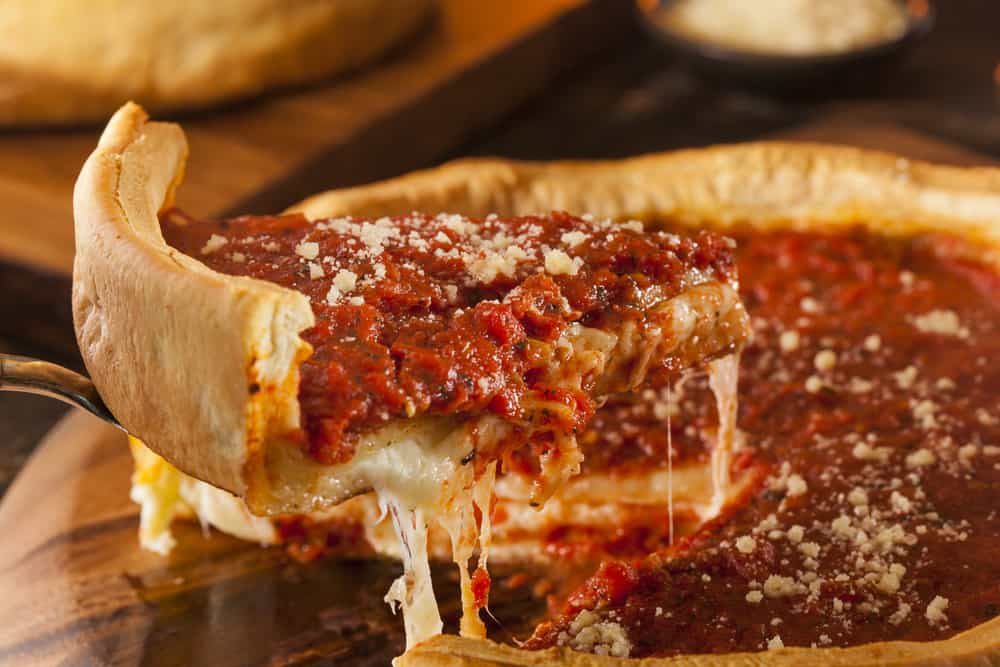 Southern Roots Filling Station
If looking for one of the best restaurants in Jacksonville serving vegan menu items head to Southern Roots Filling Station. Located within a store the separate restaurant area serves breakfast and lunch.
You can purchase bulk foods like seeds, honey, peanut butter, nutritional yeast, grains, granola, coffee, beans and candy's from around the local area!
For breakfast try the Blisscuit a tofu egg salad on cheezy garlic biscuit, or Tempeh bacon biscuit, coconut chia pudding or even PB and Chia!
For lunch they serve sammies made with village multigrain bread and have several options from Proud Mary a pumpkin seed pesto, to Garf a smokey seed spread, salads, bagels and toast and protein and grain bowls!
If craving something sweet try the vegan and gluten free made in house baked goods. From donuts, scones, muffins, bars, and cookies they hae a seasonally rotating menu!
Did You Find This Post Helpful?
If so, we would love to keep in touch! We enjoy seeing photos and comments about your experiences in Florida! You can follow us on Instagram and we will repost your photos on our feed and comment too! Just tag us at @floridatrippers and hashtag #floridatrippers. We can't wait to see your travels!