Are you looking to visit the best breweries in Tampa? We have you covered with a list of the best breweries in the area to grab a locally brewed beer!
Tampa is the third largest city in Florida and has become known as a craft brewery destination! From downtown Ybor, to near the USF campus, Plant City, South Tampa, and Seminole Heights we have you covered with breweries located throughout Tampa!
Many of the breweries are child and pet-friendly making a visit to one of the locally-owned breweries a perfect family activity. For those looking to join a run club or practice yoga check out several of the breweries below!
Whether you live in Tampa or are returning home from a day trip from Tampa or playing at some top golf courses in Florida stop by any of these breweries to complete your trip!
Since 2012 Tampa Bay Beer Week is held during the first week of March when all the craft breweries from the Tampa Bay Ale Trail get together!
If needing an Airbnb in Tampa we have you covered with our list of the best places from waterfront homes to bungalows!
10 Best Breweries In Tampa You Must Visit
Coppertail Brewing Company
Coppertail Brewing has one of the most unique names of the breweries in Tampa located in downtown Ybor. Named after the owner's five-year-old's mythical sea creature called a "Coppertail" who lives in the Tampa Bay!
The unique 100-year-old two story tap room building is decorated with historical Tampa finds like old wood and rail car metal! Including an outdoor covered patio area.
Tours of the Coppertail Brewery are $7 and include a beer to drink during the tour of the brewery. Lasting about 45 minutes you can sign up Thursday through Sunday, tours are offered on the hour!
This Tampa Bay brewery offers bar snacks like cheese board, wings, fish dip, pizzas, vegan burger and regular burgers, salads, tacos and sliders.
Beers on tap include Unholy a Belgian Trippel, Free Dive an IPA, Independent a pilsner, Night Swim a porter, 6th anniversary hop skull 10.5% ABV IPA, Oktoberfest, Purple Drink a sour, and 10.6% ABV nitro stout.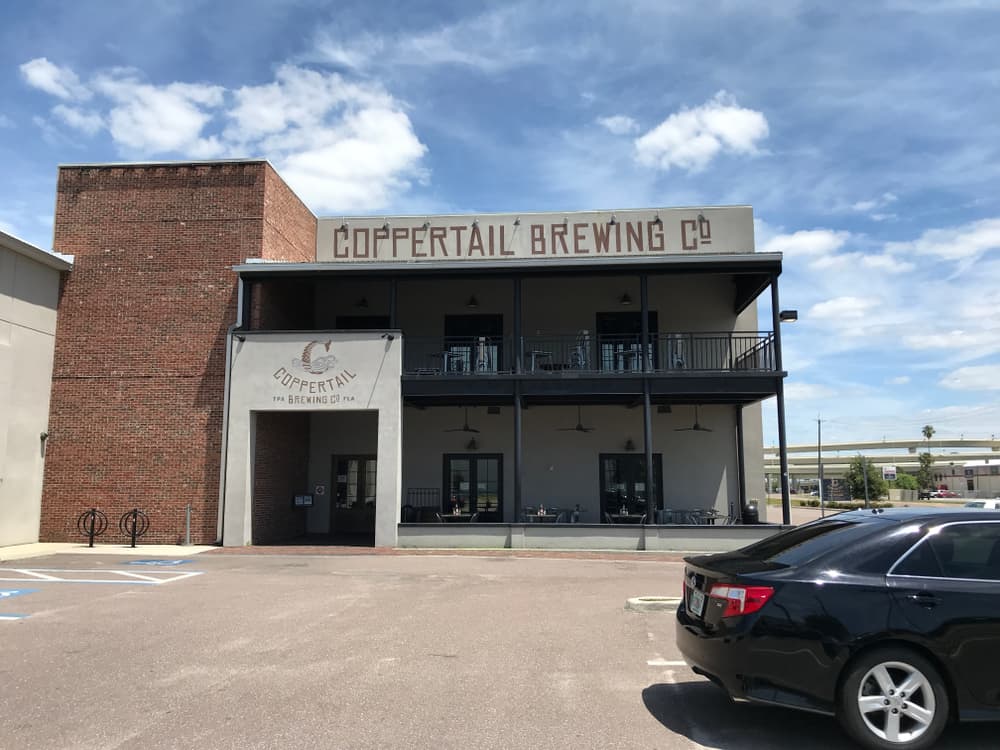 Keel Farms
Keel Farms is one of the Tampa area breweries located in nearby Plant City, right off of I-4. Founded in 2013, Keel Farms focuses on Agrarian Ale and Cider. This local brewery used farm-fresh ingredients to produce unique small batch beers and ciders.
The tasting room is located within Keel & Curley Winery, and has live music every Friday and Saturday night starting at 6pm. Tours of the brewery are offered on the weekends from 1pm – 4pm starting on the hour.
For the ciders the apples come from upstate New York, and have unique added fruit flavors such as Elderberry Agarian Cider, Strawberry Lime, Pineapple, and Mango.
For tap list they offer a Honey Ale, Sustain IPA with papaya, Harvest Gose that is constantly changing and evolving as it is brewed in small batches, Cultivar NEIPA a NE IPA, and Farmhouse Saison.
Keel Farms also offers a full menu with favorites like Chips and Queso, sales, Keel Farms Cubano sandwich, and Providence Smash burger.
Also, checkout the wines at Keel and Curley three flavors of blueberry wine. If in town for the annual strawberry festival Keel Farms is the perfect place to visit after!
81 Bay Brewing Co.
81 Bay is one of the breweries in Tampa that produces craft beer. Opened in 2016, in South Tampa by three friends this Tampa brewery is a relaxing place to come enjoy a beer seven days a week.
The taproom is quite large with games such as corn hole, darts, pool, arcade games, board games, TV's and live entertainment!
The beers on tap range from on the lighter side options of a Coriander Orange Wheat and Griddle Cake an apricot Maple blonde ale to Sours like Santa Muerte a watermelon kiwi sour ale, or Ocean Breathes salty a grapefruit ginger gose to IPA's like sunk viking, and Dark side beers like an Irish Red, Coffee Porter!
On Mondays they host Bingo, Tuesdays are 1/2 off IPA from 4-7pm and open mic nights, Wednesday are trivia, and Thursday like many of the breweries in Tampa host a run club that picks up trash along the run!
Come for Sunday fun day of $15 bottomless mimosas with food trucks! Special events like Silent Glow Yoga are held the third Tuesday of the month and include a beer before yoga for $20!
While child-friendly the brewery is adults only after 8 pm! 81 Bay is dog friendly great if you are coming from one of Tampa's friendly dog beaches!
Hidden Springs Ale Works
Hidden Springs is a Tampa brewery opened by Joshua Garman and Austin Good in 2015 who specialize in brewing craft beer. If visiting on the weekend try one of the best breakfast spots in Tampa Oxford Exchange before heading to the brewery.
Hidden Springs hosts weekly events like Yappy Hour Monday if bringing your dog you get 20%, Run the Heights the Thursday run club with 20% discount, and Sundays hop off the Brew Bus at this brewery!
Beers brewed on site include Shun the Believer a sour ale with coconut and kiwi, Big Guava sour, Li'l Sebastian a IPA, Sassy Pants a citra IPA, It's a Kölsch, and Stoppin' Short a pilsner.
The Apple of my eye an apple pie sour with milk sugar donates a portion of each sale to the Lion Eye Institute. Checkout their social media pages for special collab releases.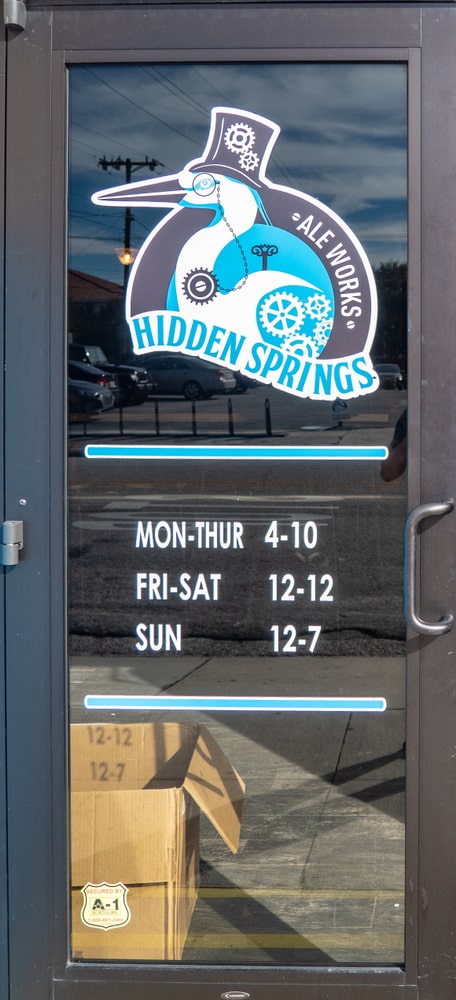 Bay Cannon Beer Company
Bay Cannon is one of the chicest breweries in Tampa opened in 2019. With Tiffany blue couches and chairs and white brick walls this is a light and bright industrial space! It opened in the former home of DeSoto Brewing that closed 83 years ago!
This brewpub was founded by two friends Joe and Matthew and located in west Tampa. The regular beers on tap includes a Blonde Ale, a Hazy IPA, Amarillo Citra Pale Ale, Brown Ale, Chocolate Porter, Amber Lager and Chai Porter!
Bay Cannon Beer Company also have new beers introduced through their social media pages that rotate such as the curry pineapple sour! On Sundays the brewery brews special beers using local ingredients at the West Tampa Market where you can enjoy beer, food and shopping all in one place!
The brewpub serves food from their restaurant Guava Grill like the Pork Veijo rice bowl, chicken and waffles, steak sandwich, wings, nachos and more!
Brewery specials include $0.75 wing Wednesday, Thursdays burgers and buy one get one beers, and Saturday and Sunday beer brunch!
Tampa Bay Brewing Company
The Tampa Bay Brewing Company or TBBC for short is one of the breweries in Tampa that has two locations, in Westchase and Ybor. The beers from TBBC can be found outside Florida in both Boston and France!
The Ybor location is the original location in the heart of downtown Ybor near the TECO street car line. There are 24 beers on tap and a full service kitchen. Live music is held on Friday nights, with beer-inspired special menu on Friday and Saturday nights!
The Westchase location opened in 2014, also has 24 beers on tap and a full service kitchen. This brewery also has covered outdoor space with fire pits! Just 20 minutes from the airport, it's the perfect place to relax after visiting one of the prettiest beaches in Tampa!
The 24 rotating beers on tap at both of these breweries in Tampa include Reef Donkey an IPA pale ale, Old elephant foot a Hoppy IPA, Double Coast Lager with lime, Last days of Summer a sour ale with peach and mango, and Gourds Gone Wild a collaborating with Southern Brewing it is a Pumpkin ale perfect for fall!
The food menu includes favorites like Cantonese Calamari, Red Eye Cider wings, Shepherd's Pie, Beer Battered Fish and Chips, 15th Street Burger, Tarpon Springs Salad and pizzas.
Cigar City Brewing Company
Cigar City Brewing Company made our list of fun things to do in Tampa! Opened on January 30th, 2009 by Joey Redner, Cigar city built their brewery on the idea of ale and lagers mixed with Florida citrus flavors!
What makes this one of the unique breweries in Tampa is that all the beer is vegan! Cigar City brewery now distributes its beers to over 40 states and 12 international markets!
You can visit the three different locations, the first on Spruce Street, the second located in Thunder Alley across from Amealie Arena, and the Brewpub and Taproom at the Tampa International Airport perfect for those waiting to jet off from Tampa!
The Ybor locations serves Spanish inspired foods such as croquetas, chicharrones, Cuban meatloaf, roasted chicken with rice and bean, grouper sandwich, and a variety of flat breads. Each menu item comes with a beer suggestion!
For beers try Florida Man a IPA, The Margarita Gose a German style sour with orange, Guayabera a Citra pale ale, Fancy Papers a Hazy IPA. They also offer a constantly rotating seasonal beer list!
For those interested a 40-minute brewery tour is offered for $8 including a collectable glass and four samples of beer!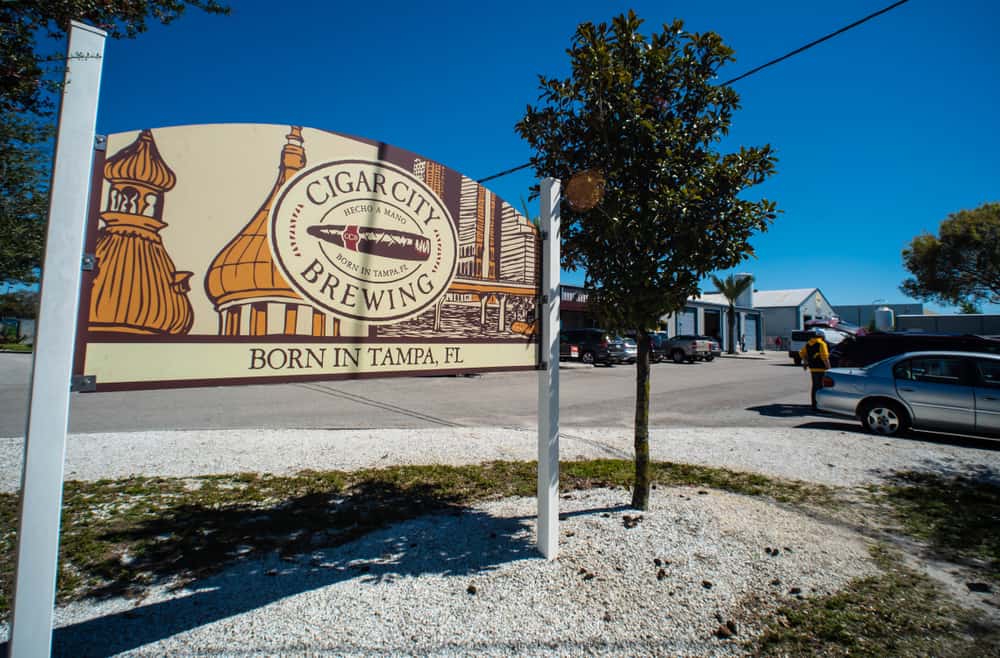 Brew Bus Brewing
The Brew Bus in Tampa experience was founded in 2011 by Anthony Derby who wanted to combine the brewery experience with a transportation service!
For a fun thing to do in Tampa you can hop on the Brew Bus for a weekly tour such as Friday Night Heights, the Full Pour Tour on Saturday that visits three breweries over 4.5 hours including two of Brew Bus's own brew, or the Local Loop on Sundays that visits 12 breweries for only $10 that you can hop on and off! Or you can book a private tour for your friends and family!
The Brew Bus Tampa also has a taproom in South Seminole Heights. The taproom has great specials like a free pint for anyone working or living in Seminole heights on Monday, Tuesday Trivia, and happy hour Monday through Thursday from 4 pm to 6pm with $5 beer and Ciders!
Try the Rollin' Dirty red ale, Last Stop IPA, You're my Boy a fruit beer, A Lingering Tingle a sour, Florida Avenue IPA, and Cucumber Berliner Weisse a sour! They also serve a full cocktail menu and wine!
If hungry they serve a full menu with foods like cheese curds, fish tacos, barbacoa pork nachos, crab cake BLT, salads, wings and more!
Angry Chair Brewing
Angry Chair Brewing is one of the breweries in Tampa you should visit if wanting to try stouts! After all, that is what the brewery is known for but also brew IPA's, pilsners, sours, and ales.
The name "angry chair" is unique and the brewery aims to be a relaxing place to come to escape your angry chair – or the place that causes you stress!
The taproom opened in 2014 is located in Seminole Heights is over 1000 square feet and has 16 beers on tap! An industrial space open Friday to Sunday from 12 pm to 8pm with lots of wood and metal like tractor seating make for a cool atmosphere. Pets are welcome and music is constantly being played!
Beers on tap include Indigo Sun a wheat beer, Tangerine Tiger a sour, Vodnik a pilsner, 2nd Anniversary Stout, Adjunct trail a Sweet stout, Imperial Awakening a milk Stout, and Chocolate Bollocks an English porter! While they don't offer flights this Tampa brewer offers 5 oz pours.
Check their website for parking tips as the area is known for towing!
Mr. Dunderbak's Biergarten and Brewery
Mr.Dunderbak's is one of the original breweries in Tampa. Founded in 1974 near University of South Florida Campus, and in 2009 moved to Tampa Palms and opened Dunderbrau brewery!
With over 500 beers offered try of their own brrewered beers. The Dunderbrau McKraken Wee Heavy is a Scotch ale, Dunderbrau Obligatory IPA, Dunderbrau Pangea Porter, Dunderbrau Solera 11 is a sour beer, and Dunderbrau Roggen a German Rye Beer.
Come hungry as this brewery and biergarten serve some of the best German food in the area. The large and varied menu has vegetarian option like tofu bratwurst, meatless Ruben, cheese spatzle to traditional German fare. Try the Bratwurst and sausages, Schnitzel and any number of sandwiches.
The atmosphere is a Munich inspired beer hall with long wooden picnic tables and German flags complete with a European grocery store.
Did You Find This Post Helpful?
If so, we would love to keep in touch! We enjoy seeing photos and comments about your experiences in Florida! You can follow us on Instagram and we will repost your photos on our feed and comment too! Just tag us at @floridatrippers and hashtag #floridatrippers. We can't wait to see your travels!