With an array of culinary choices and a vast set of options, choosing between restaurants in Clearwater seems like a daunting task. But what if it didn't have to be that hard? We've compiled our list of the best restaurants in Clearwater to make dining easier!
The best food in Clearwater isn't just seafood, either! The Tampa Bay Area created culinary stars like Greg Baker, Chris Ponte, Jeannie Pierola, and Ferrell Alvarez. Between these chefs and the melting pot community, you can choose any type of cuisine imaginable.
Clearwater boasts amazing spots for Sushi, French, Mexican, South American, Italian, Spanish, and American Southern cuisines. Whether you're in the mood for breakfast, brunch, lunch, dinner, or just cocktails, there's a place for you.
It's so easy to become overwhelmed! Below, we've broken down the best of the best restaurants in Clearwater and all of its sister cities like Dunedin, Safety Harbor, Largo, and Oldsmar!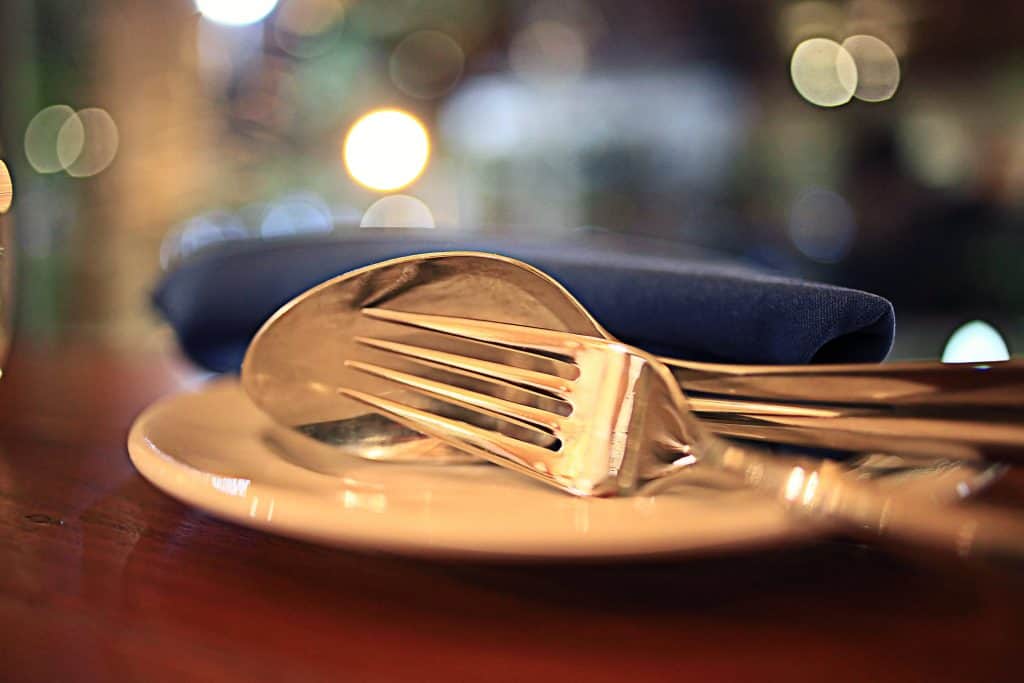 18 Best Restaurants In Clearwater Everyone Should Try
The Black Pearl
While its name evokes images of Captain Jack Sparrow and his ship, you won't find any pirates here! At the Black Pearl, you'll still get an elevated dining experience with food that he might have eaten.
The Black Pearl, found in the heart of Dunedin, serves up fresh Gulf seafood and American fare with a French twist. With a swanky atmosphere, you'll understand why it was voted "Best Romantic Dining" by Tampa Bay Magazine.
Chef Christopher Artrip believes "life is too short to eat bad food." The Best Chef according to Zagat 1999, his kitchen works in tandem with the service staff like a symphony to create an unforgettable dining experience. Meals are prepared using only the freshest local seafoods, meats, and vegetables.
Start with the complimentary Artisan Yeast Bread and an amuse-bouche like the Heirloom Tomato Gazpacho. Afterward, move on to a first course like the Asparagus Bisque or Escargot before transitioning to the entree course.
Then experience the culinary bliss of the Chilean Sea Bass Lyonnaise or the always-creamy White Truffle Lobster Risotto. If you're feeling adventurous, try the Maple Leaf Farms Duckling with its crispy skin. We dare you not to eat too much.
You have the option of enjoying a cheese course with goat cheese and apricot jam, or you can jump straight to dessert. Try the signature Black Pearl Ice Cream, made with black licorice. For a truly French dessert, try the Tarte Tatin for two. In layman's terms, it's a warm, upside-down apple pastry with brown sugar and spices always baked to order.
The Black Pearl makes its home on 315 Main Street in Dunedin. Hours are Sunday and Monday from 5 – 9 PM, Tuesday through Thursday from 5 – 10 PM, and Friday and Saturday from 5 – 11 PM.
Pizzeria Gregario
Only a few pizzerias in the country use 100% stone milled grains. Fewer yet mill their own fresh grains in house. This is just a taste of the level of dedication Pizzeria Gregario puts into their food every day, at one of the best Italian restaurants in Clearwater.
If you catch a glimpse of Chef Gregory Seymour, he's most likely wearing a t-shirt instead of his white chef coat. Because he's worked in both fine-dining establishments and pizzerias, he knows the importance of quality ingredients.
As a result, all of the food at Pizzeria Gregario is nutrient rich! This essentially means that none of the food or ingredients use any refined sugars or artificial flavorings. You'll taste this in the highest quality olive oil and regionally, locally, and most importantly, humanely sourced proteins.
The menu only features nine pizzas. Once you take your first bite, you'll understand why they don't need to list more. It's so hard to try something new when your favorite pie is calling out to you!
Try the spicy 4 Cheese with Fontina, gorgonzola, sharp provolone, and Romano. The Puttanesca is also spicy with olives, capers, garlic, and chilies. If you're not one for spice, then you can't go wrong with the classic Margherita or the Sausage and Onion pies.
Wash it down with Florida Craft Beers or a glass of one of Pizzeria Gregario's assorted red and white wines. Make sure to ask for the Garlic Schmoo for your pizza crusts! You'll fall in love with the dipping sauce made of garlic, olive oil, salt, and lemon.
Pizzeria Gregario sits on 400 2nd St in Safety Harbor. Hours are Wednesday through Friday from 5:30 – 9 PM, and Saturday from 5 – 9 PM.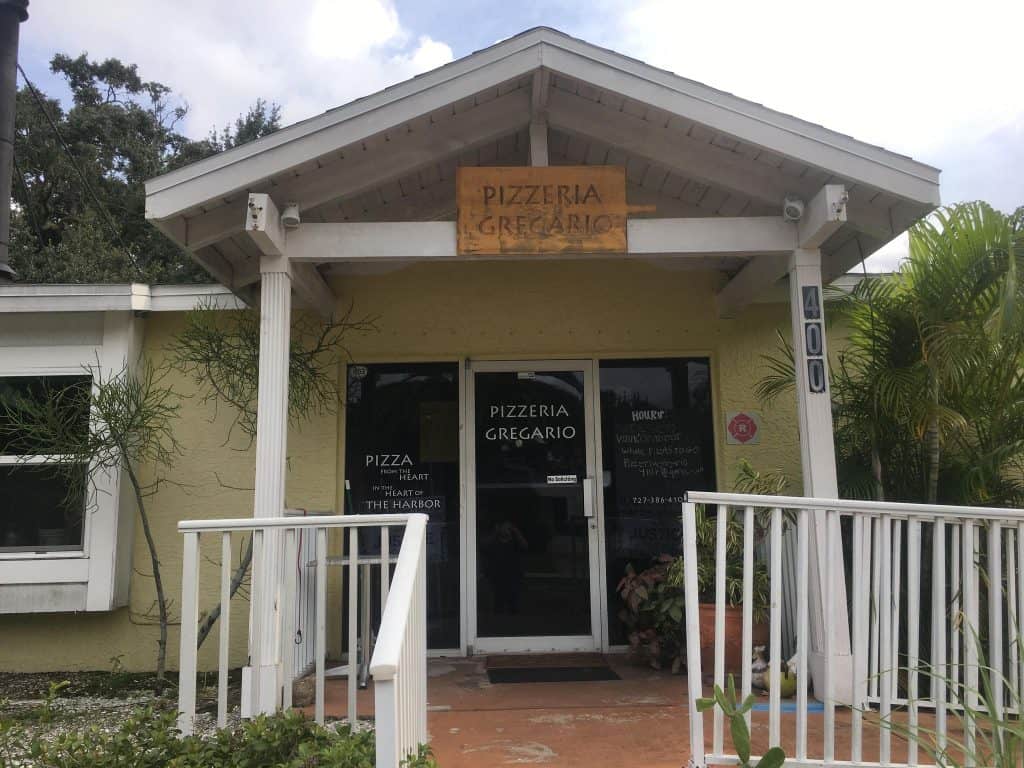 Ocean Hai
Found inside the Wyndam Grand Clearwater Beach, you don't need a hotel reservation as an excuse to take dining to a new "hai!" This premier Asian-fusion concept can be found steps away from Clearwater Beach, one of the prettiest beaches in the Bay Area.
This oceanfront hidden gem uses the freshest ingredients, with fish caught directly from the turquoise waters of the Gulf of Mexico. If it was fresher, it would still be in the ocean.
Executive Sous Chef Sean Ragan "[understands] that a meal is not only meant to fill one's hunger, but to awaken the senses by bringing joy, excitement, and comfort." Having trained under Julia Child herself, his menu accomplishes just that. Taste why he holds the Le Cordon Blue Medallion.
For Breakfast, you'll find classic staples like pancakes, eggs, and waffles. For those with a more adventurous palate, you can get avocado toast. Another favorite to try? The Portuguese Baked Eggs with ricotta and manchego, peppers, olives, and seasonal vegetables.
Dinner is really where the Asian-fusion takes off with pot stickers, Mongolian meatballs, and the crispy vegetable spring rolls. Save room for the Rack of Lamb or the Misoyaki Salmon.
Sushi lovers will enjoy nigiri and sashimi. If you're looking for a roll, try our favorite, the Crazy Asian roll, made with the most beautiful marbled Waygu beef, fresh king crab, and truffle salt.
Find Ocean Hai inside the Wyndam Grand Clearwater Beach Resort at 100 Coronado Dr. Breakfast served daily from 7 – 11 AM with dinner service on Wednesdays through Sundays from 5 – 10 PM.
Tiki Tavern
A lot of the selections on this list have been fine dining options, but if you're looking for a down-to-earth hot spot, we haven't forgotten you! The Tiki Tavern in Safety Harbor is your all-in-one total entertainment experience!
Immediately when you walk in, island vibes fill the air. In a casual neighborhood setting, servers don tropical and Hawaiian shirts! The live music lineup constantly changes, so check their schedule for the best of the local music scene! Catch your sports team on one of the flat-screen TVs inside and outside!
First, grab yourself a Tiki favorite: The Big Island Pretzel. They're not kidding when they say "big" either, it's hung on a hook when it comes out to your table! All eyes are on your table as you dip in three sauces, queso cheese, stone ground mustard, and Nutella.
If you still have room, move on to the Island Bowls, filled with rice, fresh vegetables, and your protein of choice, whether it be pork, salmon, or tuna. Our favorite sandwich is the Yard Bird, a buttermilk-fried chicken breast with ancho-honey drizzle and caramelized onions.
The newest edition to Tiki Tavern's lineup is Sunday Funday Brunch! Every Sunday, enjoy an island brunch from 11 AM – 3 PM. You'll come for the Bloody Mary bar, but stay for the good vibes and live music starting at 1 PM!
Stop by the Tiki Tavern at 201 Main St in Safety Harbor. Hours are Sunday, Wednesday, and Thursday from 11 AM – 12 AM, Friday and Saturday from 11 AM – 1 PM, and Monday and Tuesday from 3 PM – 12 AM.
Bascom's Chophouse
Opened in 2001, Bascom's Chophouse marries the fine dining and traditional steakhouse experiences. In addition to the expected steaks and seafood, modern additions like Wagyu beef take the concept to the next level.
Bascom's has garnered many awards over the years. The Tampa Bay Times awarded the restaurant "Best of Best" in three categories: Steakhouse, Romantic Restaurant, and Fine Dining. Bascom's also received the prestigious "Best of Award of Excellent" by the revered Wine Spectator Magazine for their superior presentation, well-chosen assortment, and thematic match to their menu.
Chef Tony Bonanno, a Largo native, trained in classical French techniques. He also has vast skill sets in Mexican, Asian, Caribbean, Italian, and molecular gastronomy cuisines.
Consequently, this allows him to elevate specials like Bascom's burger by topping it with Australian goat cheese, candied bacon, and onion and truffle confits.
Because of the high demand and because it's one of the best steakhouse restaurants in Clearwater, we absolutely recommend making your reservation online well in advance. Bascom's also offers private dining and catering services.
Find Bascom's on 3665 Ulmerton Rd. Hours are Monday through Thursday from 5 – 9 PM, Friday and Saturday from 5 – 9:30, and Sunday from 4 – 9 PM.
Carmel
Tucked away in Northwood Plaza, you'll find one of the best restaurants in Clearwater. Carmel will transport you to the villages of France, Morocco, Italy, Greece, and Spain while you sip on global wines. Cheers, indeed!
Inside the upscale eatery, the decor lends itself to an atmosphere that feels like a living room with red lounge chairs in a warm dining room filled with abstract art.
Carmel's menu focuses on modern Mediterranean and Moroccan dishes. The wine list may be small with only 30 labels, but thoughtful consideration makes each glass a perfect pairing with whatever dish you order.
In addition to traditional servers, Carmel uses revolutionary MenuPad technology. Control your dining experience with your finger tips from the comfort of your table. Choose your food and time when it comes out! Servers, of course, are still available to guide you through featured items!
Start your dinner with the Ahi Tuna Tartare complimented with avocado and mango or the delicious Moroccan Chicken Flatbread! Move on to guest favorite, the creamy Sea Scallops and Truffled Wild Mushroom Risotto. The Moroccan Chicken is spicy but not overwhelming. Carmel's Crab Cakes are packed with real meat, never breadcrumbs and fillers.
Attend Sunday Brunch and enjoy the Mimosa and Bloody Mary Bar! Make sure to try the Huevos Rancheros, some of the best in town. Don't forget the adorably tasty mini Blueberry Muffins!
Find Carmel at 2548 N McMullen Booth Rd. Hours are Monday through Saturday from 12 – 9 PM and Sunday from 10 AM – 8 PM.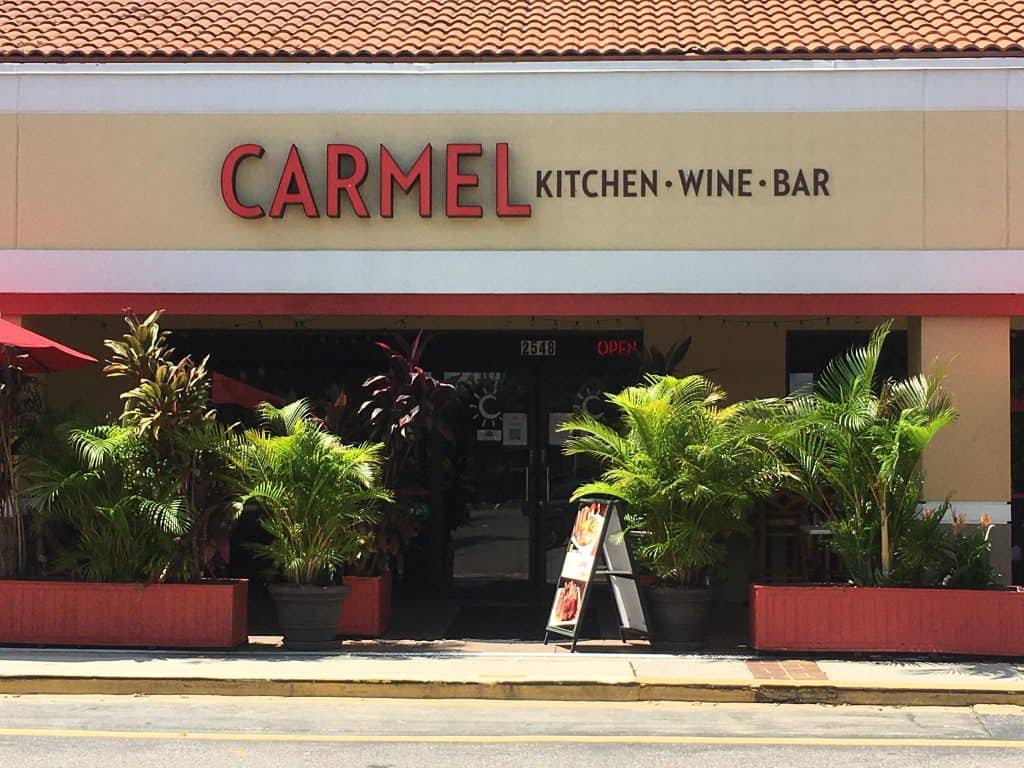 Lenny's
Lenny's has been an iconic mainstay since 1958. Family-owned, it's like walking into an old friend's home. The joint moves with the hustle and bustle of a New York diner. One of the best restaurants in Clearwater, breakfast and lunch are served all day.
The charm of the atmosphere is infectious. The back wall features pictures of locals and the ceiling tiles are painted with sassy platitudes like, "Sometimes I think I understand everything. Then I regain consciousness." Watch out for the fuzzy spider that drops down when a certain door opens.
If the kids get too scared (I know I certainly did when I was a child!), don't worry. A balloon artist comes on Sundays that can twist and shape balloons into fantastic hats and any animal you can name!
Nobody does comfort food quite like Lenny's. First, you're given the infamous complimentary Danish basket. But don't fill up, the portions are huge! Country style breakfasts are hearty, whether you're having French Toast or Omelettes.
For lunch, the deli sandwiches are mountainous! In fact, I've been able to make a second pastrami sandwich because the meat was piled so high! Look out for the changing daily lunch specials, always delicious. Our favorites are the Fried Chicken and Meatloaf.
Find Lenny's Clearwater at 21220 US Hwy 19 N. Hours are Wednesday through Friday from 8 AM – 2 PM and Saturday through Sunday from 7 AM – 3 PM.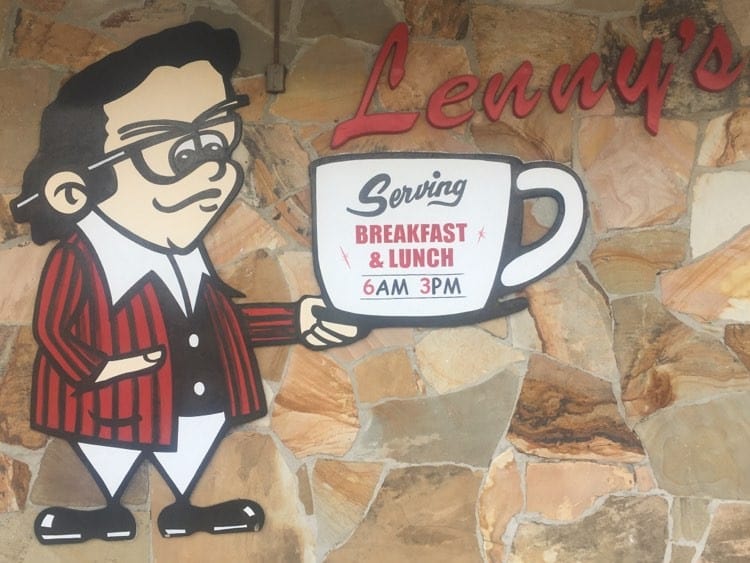 The Columbia
A trip to the Columbia is one of the best things to do in Tampa, but did you know that there are multiple locations including Sand Key Beach and Sarasota? Not only does it celebrates over a century of history, culture, and cuisine integral to the area, its atmosphere is unbeatable.
Once a sleepy Cuban cafe, the Columbia gained popularity when it was transformed into a vibrant dining room featuring live music and flamenco dancing. 115 years and five generations later, the same family runs the restaurant today, the oldest in Tampa Bay.
Once you step inside The Columbia, you'll recognize the experience is something truly special, from the flamenco dancing to the incredible ambiance, and the hospitality provided by the staff.
Highlights of the iconic menu include the savory "1905 salad," the traditional chicken and yellow rice, sangria by the pitcher, and the legendary flan. Sharing a meal here is one of the most romantic things to do in Tampa.
To dine at The Columbia is truly to taste the inspiring culture of the region, and of those that founded it. Make sure to share a piece of flan when you go.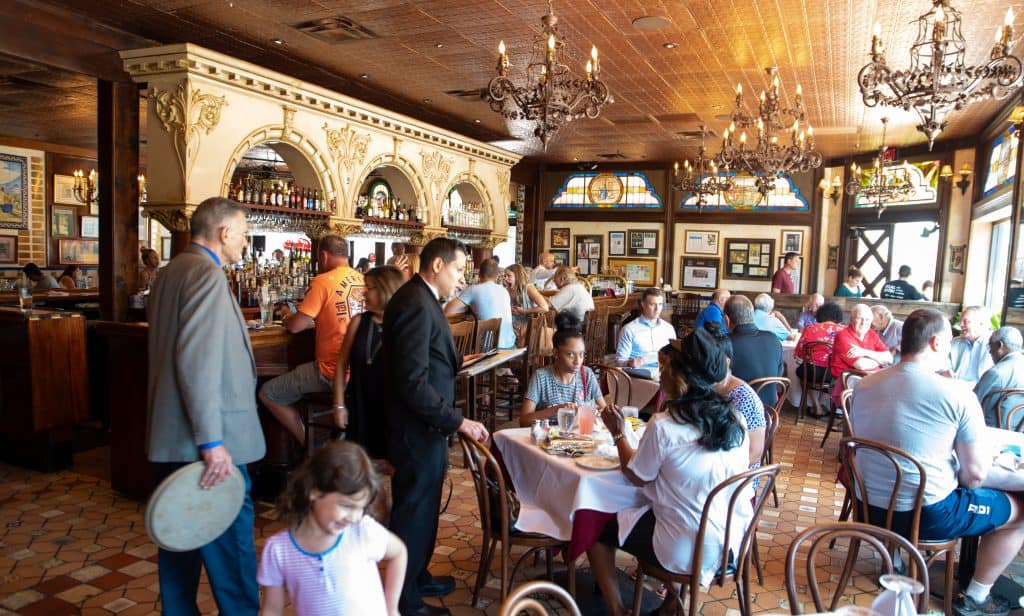 Ban Thai & Sushi
Have you ever been to one of those hole-in-the-wall restaurants? The outside seems unassuming and sometimes completely hidden. In between an Einstein's and a Fedex, you'll find Ban Thai & Sushi, one of the best Thai restaurants in Clearwater.
Not your average, run-of-the-mill Thai place, expertly appointed decor creates a warm and inviting aura. You can sit at regular tables, but the booths with their ornate decorations make for a perfect date night in the Bay Area.
Start with the seaweed salad, but try not to fill up, the portions are more than generous! When you move on to your main courses, the heat level is never too much and blends with the flavor profile perfectly. We love the Chicken Pad Thai for its sweet peanut flavor.
Sushi-lovers, rejoice! With some of the biggest rolls we've ever seen, you'll try exciting new flavor combinations. If you love tuna, you absolutely need to try the Tuna Tornado Roll. Can't decide what fish you want? No problem, get the Crunchy Roll with tuna, salmon, and escolar.
We commend you if you're made it this far and still have an appetite. Then sample lychee, and exotic fruit, or get it on top of homemade coconut ice cream! Wash it all down with a delicious plum wine to wind down the evening.
Find Ban Thai and Sushi at 2519 McMullen Booth Rd. Hours are Monday through Saturday from 11:30 AM – 9:30 PM, and Sunday from 11:30 AM – 9 PM.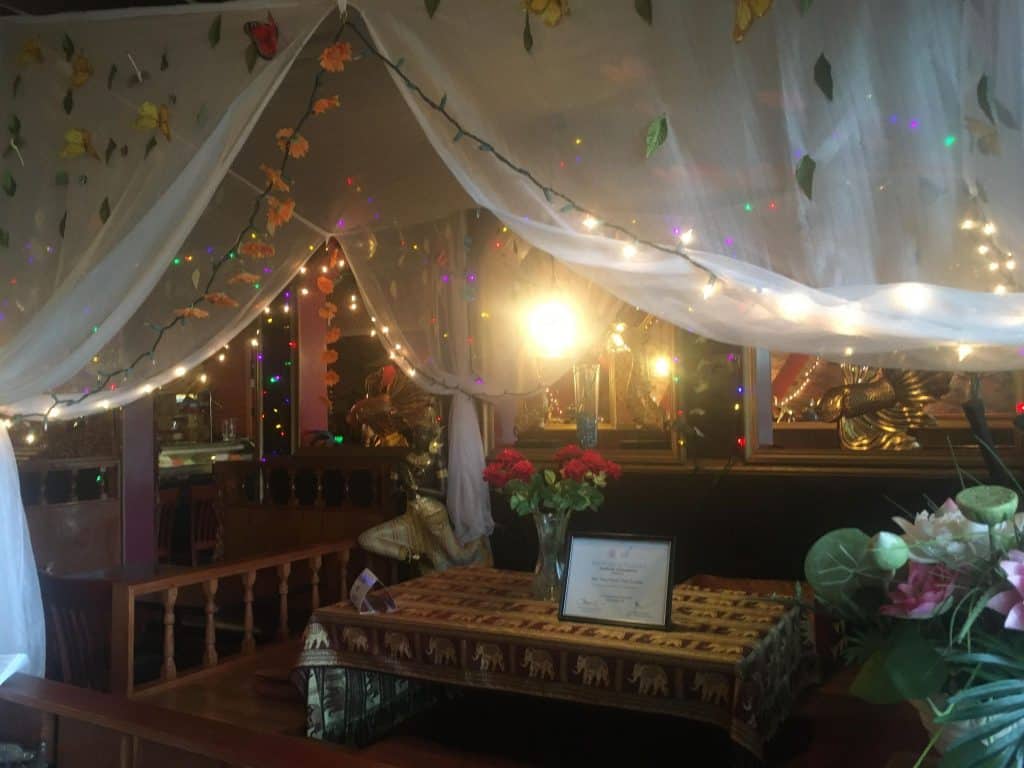 Casa Tina
In a town known for its Scottish heritage, you would never expect to find a good Mexican restaurants. You'd be surprised. At Casa Tina, one of the best restaurants in Clearwater, you'll find the most authentic, fresh Mexican cuisine.
In the heart of Dunedin, partners for life Javier and Tina Marie Avila built their dream from the ground up. The resulting hidden gem has been a beloved spot for years in the community. A true family affair, some of the Avila children have put ten years of service into the restaurant, sleeping. in booths and peeling tomatillos.
Inside, the decor is colorfully delightful and creates an infectious mood. The exposed brick walls are painted bright pink and blue with hanging paper lanterns strewn about. In the center of the dining room, you can usually see acrobats spinning and dancing on aerial silks and hula hoops.
At Casa Tina, you'll find the freshest, healthiest, and most authentic Mexican cuisine around. Enjoy everything from fresh Ceviche and Enchiladas to their famous Mole Poblano. Of course, the complimentary chips and salsa is some of the best in town.
The staff of Casa Tina devotes themselves to giving back to the community that made their business a smash. Every Monday, the restaurant sponsors fundraisers that benefit the community, especially art and music programs for children.
You'll also find some of the best festivals in Florida here. Casa Tina goes all out and celebrates in a big way for Dia De Los Muertos and Mexican Independence Day, to name a few.
Southern Fresh
Blink and you'll miss it. Just across the Safety Harbor Post Office, and just a touch to the north, you'll find what appears to be a small residence. Walk inside and you'll find Southern Fresh, one of the best restaurants in Clearwater.
Inside, you'll feel at ease in a homey dining room. This is because the space was transformed from a small cottage into a restaurant! The result is a laid-back atmosphere that feels like your best friends just decided to open a restaurant next door.
Southern Fresh specializes in Southern-style cooking with a fresh spin. The staff and kitchen pride themselves on local, fresh grown produce. You can also enjoy your dishes on an expansive patio. You'll dine in dappled sunlight, surrounded by towering oaks with Spanish moss draping down.
In fact, Southern Fresh's charm is so infectious, Hallmark used it as a location in one of their feature films! If you watch Love in the Sun, you'll see Southern Fresh featured in all of its glory!
But what makes Southern Fresh so unforgettable is the food. Try the juicy, delicious pan-fried chicken, the always-fresh, blackened Redfish, and the must-have Meatloaf! It's difficult to choose between all the sides offered, but our favorite is the green beans cooked with bacon.
Afterward, head outside with a specialty cocktail from the bar. On the patio, you'll find a fire pit. Share a few drinks, some laughs, and if you're still hungry, some delicious banana pudding!
Find Southern Fresh on 122 3rd Ave N in Safety Harbor. Hours are Tuesday through Thursday and Sunday from 11 AM – 9 PM, and Friday and Saturday from 11 AM – 10:30 PM.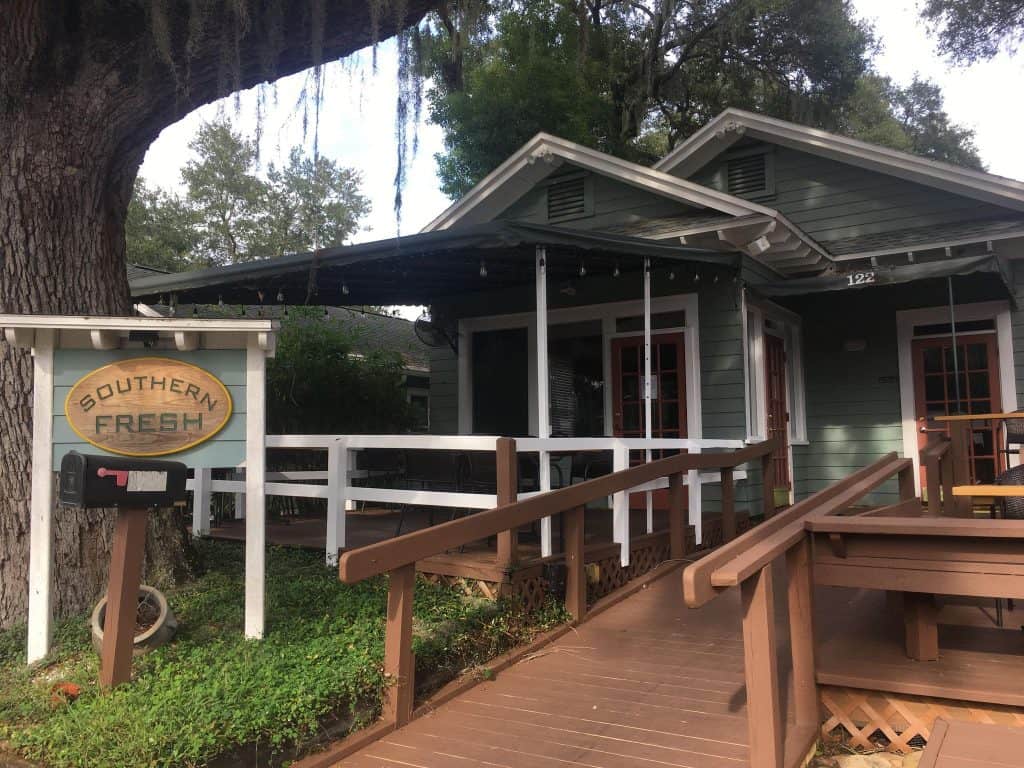 Island Way Grill
Just steps away from Clearwater Beach, one of the best beaches in Florida, you'll find the hottest spot for brunch and dinner in the Bay Area. Island Way Grill has become beloved for its fresh Gulf seafood, making it one of the best restaurants in Clearwater.
With a friendly, tropical, laid-back atmosphere, enjoy stunning views of the harbor as you dine. The menu revolves around the Grill's oak and citrus fired open fire pit. Your meal will be perfectly seared with a touch of smokiness.
All of the seafood is caught fresh daily. Every morning, a fleet of boats sail out into the Gulf of Mexico. What they bring back is featured in the daily specials. If the fish were any fresher, it would still be in the ocean.
Sushi-lovers will drool over a huge selection of rolls and sashimi. Smaller appetites will savor the Crab Bisque, Blackened Scallops, or the delicious, wok-fried soft shell crab.
Choose from "Fire and Ice" selections, chilled fish with spicy flavor profiles. Our favorite is the Thai High Mussels, perfectly balanced with coconut milk, garlic, and basil.
Find Island Way Grill on 20 Island Way on Clearwater Beach. Hours are Sunday through Thursday from 4 – 9 PM and Saturday from 11 AM – 10 PM. Brunch served Sunday from 10 AM – 1:30 PM.
Wildflower Cafe
Opened in 2000 by good friends and owners, Leslie Alfred and Joan Dragon, Wildflower Cafe had aspirations of becoming an engaging neighborhood spot. Exceeding that goal, today you'll find a charming open-air cafe with a unique and seasonal menu that has delighted locals for the past 20 years.
But it's not just the locals that have fallen under Wildflower Cafe's spell. Tampa Bay Times named Wildflower its Top Choice for Lunch and Breakfast in Reader Polls as well as Best of the Bay in Creative Loafing!
Before you dine, check out the Market! Open from Monday through Saturday from 10 AM – 3 PM, here you can pick up delicious offerings to take home for supper like soups, salads, and quiche. If you're only your way out, you can grab cookies and cakes in addition to greeting cards and party goods!
For your meal, you can choose between the open-air dining room with windows that peer out into the lush gardens outside. If you and your furry friend have just come from the dog beach, dine on the patio surrounded by oaks and hanging plants. It's the perfect way to fall in love with fall in Florida.
Try not to be overwhelmed at your options when it comes time to order. Breakfast and lunch fare has never been so delicious with the deepest quiches, biscuits with maple sausage gravy, or the Wildflower signature crepe with portabello mushrooms, wilted spinach, sun-dried tomato, caramelized onions, and cream cheese.
Wildflower Cafe also runs a program called Water for Wells. Sip on crisp, Florida Spring water for a reasonable price. The proceeds directly go to help build wells in impoverished countries.
Dine at Wildflower Cafe on 1465 S Ft Harrison Ave. Hours are Monday through Saturday from 8 AM – 2:30 PM and Sunday from 8:30 – 2 PM.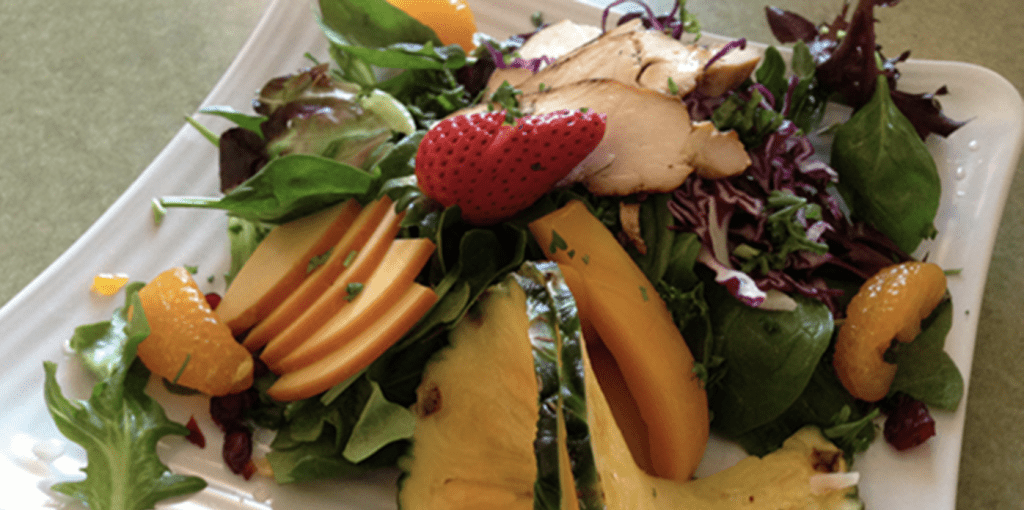 Flamestone
With two locations in Oldsmar and Trinity, Flamestone has been making a name for themselves for years as one of the best restaurants in Clearwater.
At Flamestone American Grill, you'll find sophisticated yet casual American fare with an emphasis on nature's most basic elements: fire and stone. Food is grilled over an open flame and guacamole is made table side using a traditional Molcajete made of lava stone.
Choosing between that guacamole and one of the artesanal Flatbreads will be your first difficult decision of the evening. Then pick between steaks of certified Angus beef, aged 30 days and hand-cut in house, or fresh seafood like Cedar Salmon, Fresh Ahi Tuna, or Seared Chilean Seabass.
For early birds, check out the Sunset Menu available exclusively from 4 – 5:30 PM. Try the Bacon Bourbon Pork Chop, the smothered and blackened Prime Rib, or Chicken Marsala. House wines at this time are $4.50, sangrias, martinis, and margaritas are all $6, and the daily dessert special is only $5.
The stunning full liquor bar features 150 wine labels to choose from with 35 by the glass. During happy hour from 2 – 7 PM, sit at the bar or a high top and enjoy $2 off glasses of wine, cocktails, domestic drafts, and appetizers!
Don't forget about dessert! Among the quirky selection, you can roast Campfire S'mores at your own table or munch on Fried Oreos, to name a few.
Dine at Flamestone on 4009 Tampa Rd. Hours are Monday through Thursday from 4 – 9 PM, Friday and Saturday from 4 – 10 PM, and Sunday from 11 AM – 9 PM.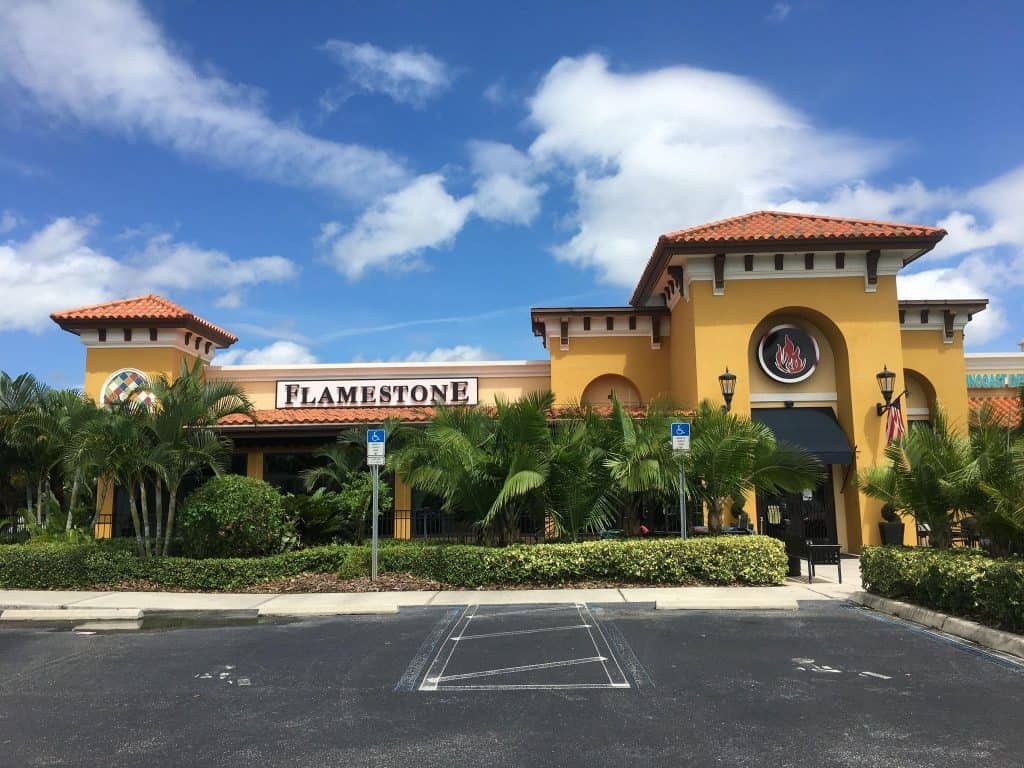 Pico Rojo
If you're looking to support more family businesses these days without sacrificing the quality of food, then head on over to Pico Rojo. Here, you'll enjoy traditional Latin American cuisine at one of the best restaurants in Clearwater.
Family-owned, Pico Rojo's goal has been to introduce Latin American Rotisserie Chicken to the community with an emphasis on ecological responsibility. Because the chicken roasts in an Ecological Rotisserie-Oven with charcoal, the result is the most moist, delicious meat with very few fumes emitted.
Once you step inside, you'll be immediately greeted by the warm staff. The dining room makes for romantic dining, with exposed white brick and intimate lighting with lanterns and chandeliers. In the corner sits a cooler that holds Jarritos, fresh juices, beer, and glass-bottled sodas.
Choose between a half or quarter of a beautifully roasted chicken, light or dark meat. You get your choice of sides, and it's difficult to pick from the fried green plantains, black beans, fried yuca, quinoa, corn, and french string beans. You can also order salads, sandwiches, and empanadas.
Afterward, make sure to try their authentic Latin American desserts that taste like they were imported! Try the empanada de queso, the bread pudding, or the legendary flan.
Dine at Pico Rojo at 2475 McMullen Booth Rd. Hours are Monday through Friday from 11:30 AM – 9 PM and Saturday from 12 PM – 9:30 PM.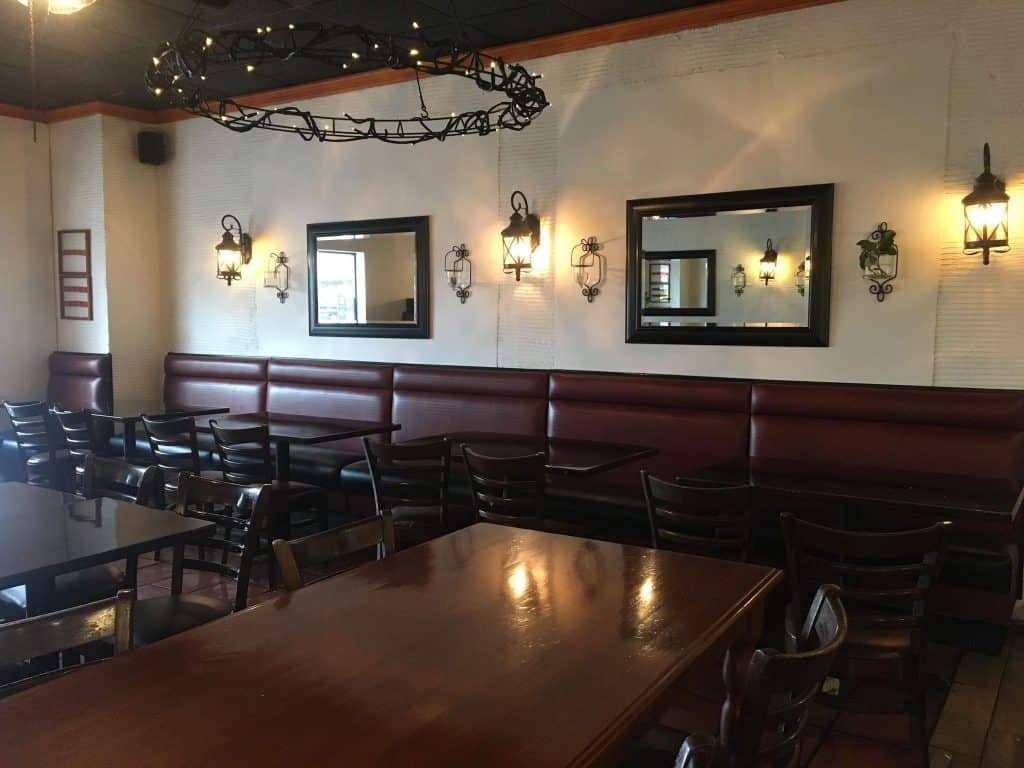 Parts of Paris
In a quaint, unassuming cottage built in the 1930s, you would easily miss this French restaurant. So keep your eyes peeled for Parts of Paris, one of the best restaurants in Clearwater inspired by Parisian bistros in Europe.
Even with its white tablecloths and intimidating menu, Parts of Paris still manages to create a casual setting. Perfect for an afternoon brunch or a classy dinner, catch up with your loved ones in this vibrant social atmosphere.
Because Parts of Paris serves French bistro food fare, you'll find terrines, pates, and artisanal charcuteries. To try everything, you'll want to create a coursed meal for yourself, starting with the Escargot or Beet Salad.
Next, move onto the entree course with Bouillabaisse, Rack of Lamb, or Steak Frites, all popular selections. You have the option of opting for a cheese plate, or you can skip right to dessert. Who wouldn't with chocolate truffles with berries or Crepe Suzette?
The Parts of Paris bar stays open all night long for libations! Choose from an array of French wines and champagnes. A mixologist behind the bar awaits ready to shake up specialty cocktails. Our favorite is the Marie Antoinette "Eat Cake" with Grand Marnier, vanilla and chocolate liqueurs, and whipped cream!
Dine at Parts of Paris on 146 4th Ave in Safety Harbor. Hours are Monday through Thursday 3 -11 PM, Friday and Saturday from 3 – 12 PM, and Sunday from 12 -10 PM.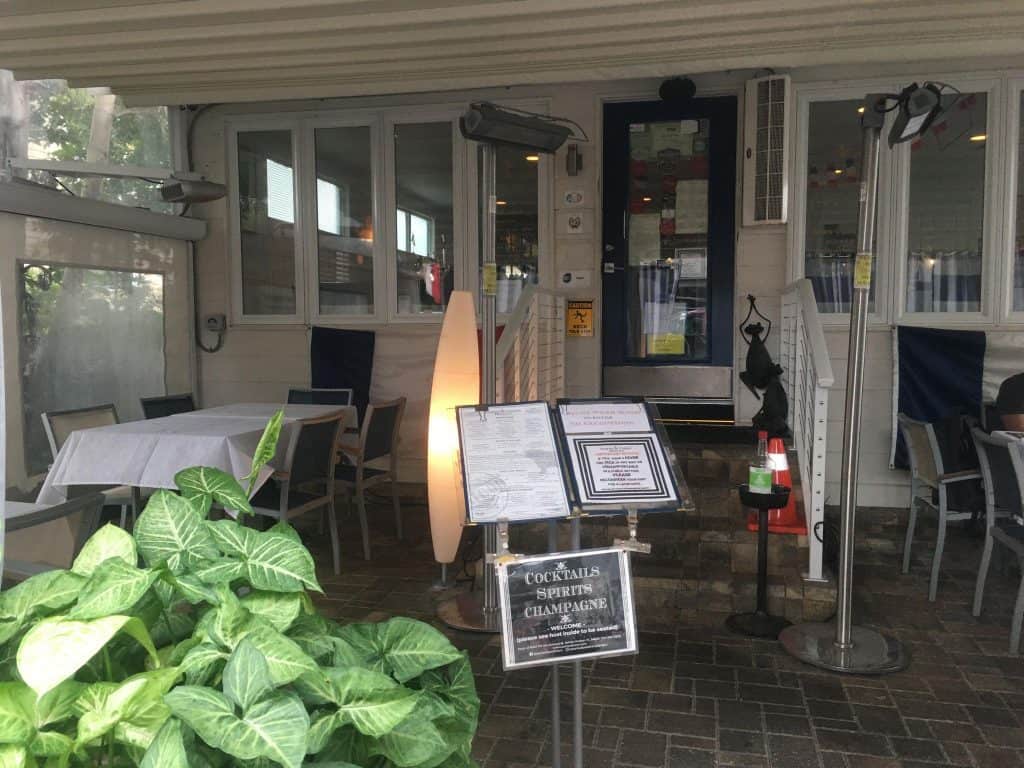 Frenchy's
Once upon a time in 1981, Michael Preston, nicknamed "Frenchy" because he spoke English and French, opened the first Frenchy's. A small cafe made its roots in Clearwater beach after Preston fell in love with the area.
Over 30 years later, Frenchy's is now a local chain with locations in Safety Harbor, Clearwater Beach, Dunedin, and Palm Harbor. Most locals will tell you you've never truly been to Clearwater Beach if you haven't dined at Frenchy's.
The biggest and brightest of the locations is Frenchy's Rockaway Grill, sitting right on the sands of Clearwater Beach. Walk up after a morning or afternoon of enjoying the swim and surf, and taste what makes Frenchy's so famous.
Locals know that Frenchy's pride and joy is their Grouper Sandwich. The freshest fish is either fried or grilled, and prepared in a variety of styles. Get it as a Reuben, Caribbean-style with jerk seasoning and sauce, or Buffalo-style with blue cheese. Yum!
If you're not hungry just yet, then head over to the bar. Sip on Frenchy's favorites like the Pineapple Lemon Drop Martini or the Rockaway Flip Flop Margarita. You can even get your drink in a 20 oz color-changing cup! One drink per person with valid ID.
Swim up to Frenchy's Rockaway Grill on 7 Rockaway St. Hours are Sunday through Thursday from 11 AM – 11 PM and Friday and Saturday from 11 AM – 12 PM.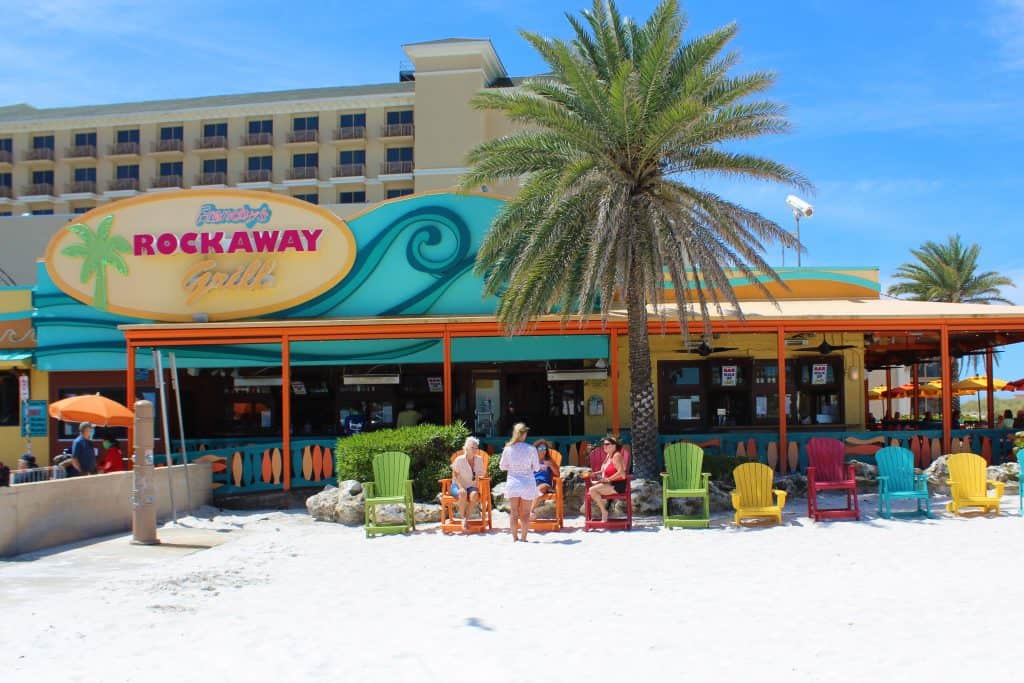 Did You Find This Post Helpful?
If so, we would love to keep in touch! We enjoy seeing photos and comments about your experiences in Florida! You can follow us on Instagram and we will repost your photos on our feed and comment too! Just tag us at @floridatrippers and hashtag #floridatrippers. We can't wait to see your travels!