Are you looking for the best breakfast in Tampa? We are here to help with our suggestion of the 15 best places in Tampa to grab breakfast!
It is often said that breakfast is the most important meal of the day! Whether you are looking for a quick spot before heading to the Tampa beaches or an all-day weekend brunch we have you covered!
On this list you will find something for everyone in your group from gluten free, to Vegan, to all an American breakfast!
We have chosen a wide variety of the best breakfast and brunch places in Tampa ranging from Instagram hotspots, to local gems and Tampa staples!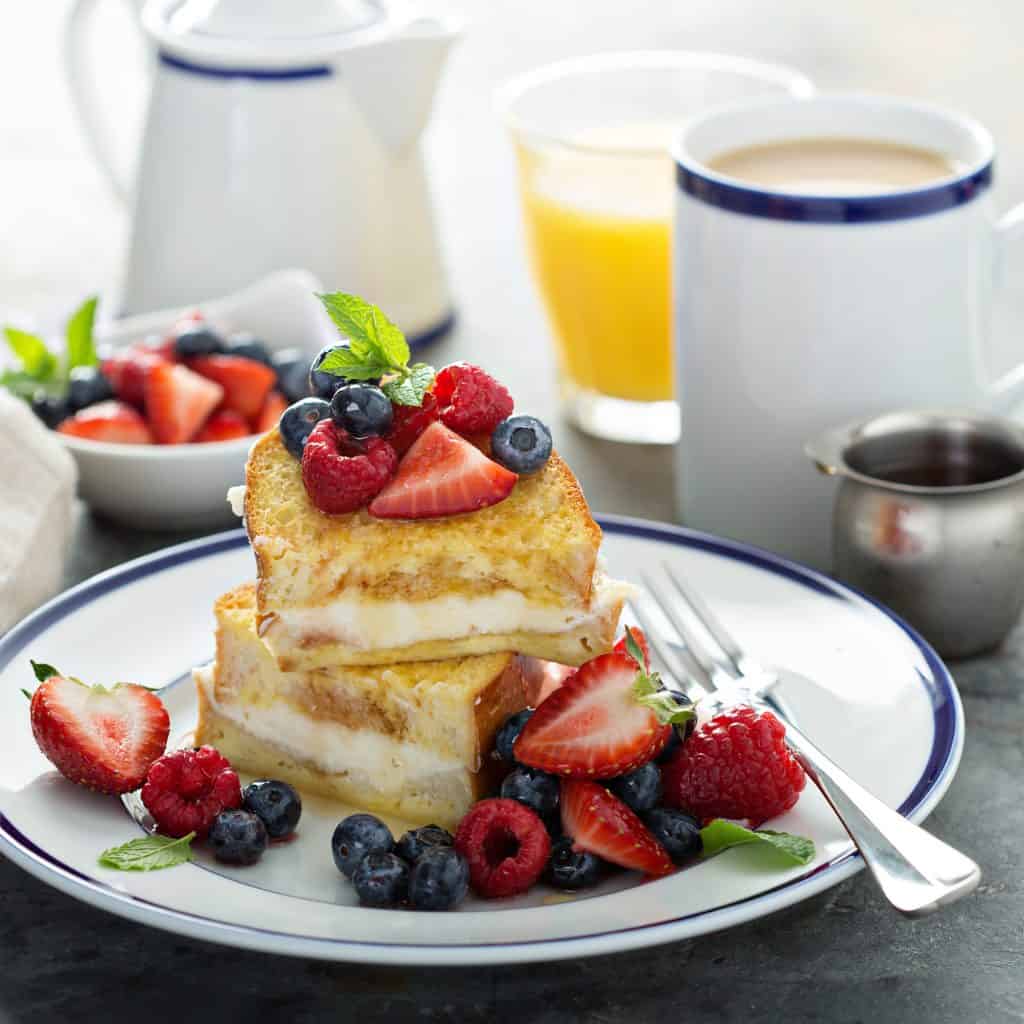 15 Best Places for Breakfast in Tampa
Oxford Exchange (Downtown Tampa)
Oxford Exchange is known to locals as an Instagram hotspot. Often voted one of the best breakfasts in Tampa. It is open at 9am daily.
The checkerboard marble floor and the eclectic decor makes for an "instagramable" space, opening up to an outdoor glass conservatory complete with a fountain and hanging plants!
You can enjoy a wide variety on the ever-changing menu ranging from Breakfast Tacos, Eggs Benedict, Stuffed French Toast, to Salads and pancakes. All their meats are hormone free and many of the items on the menu are organic!
They serve locally roasted Buddy brew coffee, as well as cocktails even boasting a Champagne bar. Oxford exchange also have a bookstore and shop while you wait on your reservation. Making this one of the best breakfast places in Tampa.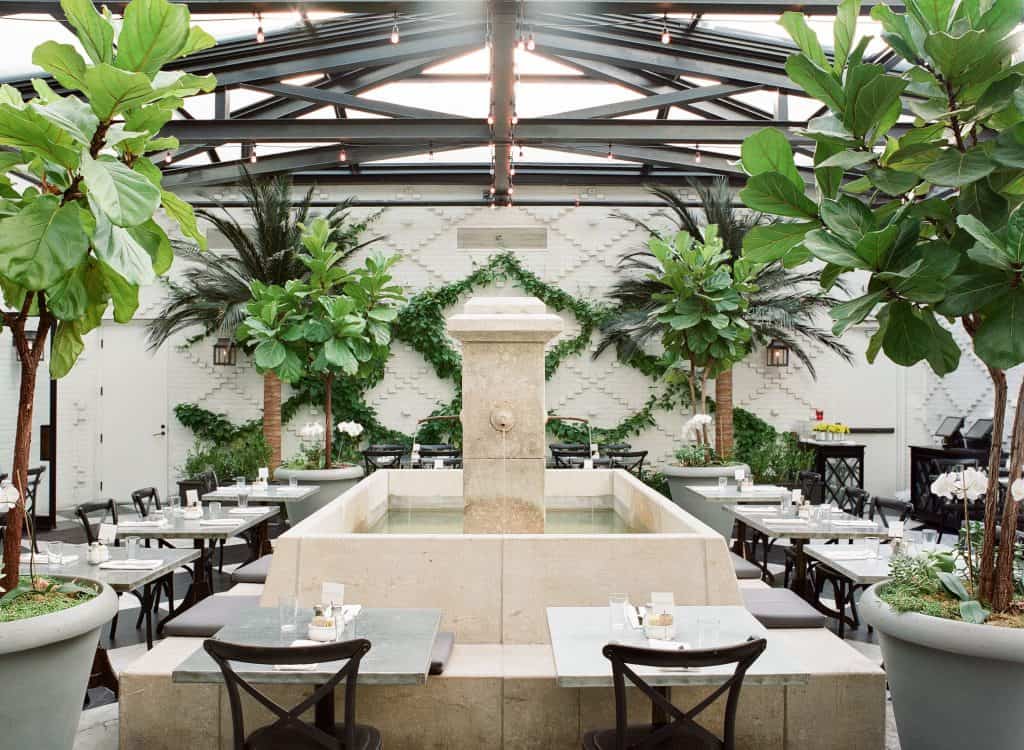 Datz (South Tampa, St. Petersburg, and Riverview)
Datz opened in 2009 and is one of Tampa's most popular restaurants for Breakfast and Brunch in Tampa. This gastropub serves breakfast 7-11 Monday to Friday and brunch on Saturday and Sunday starting at 8:30 am. The say they serve comfort food with a flair!
Next door is their sister restaurant Datz dough if you want to grab a coffee or doughnut while waiting! The reason it is one of the best breakfasts in Tampa is due to the large portions and delicious menu.
From chicken and Waffle Benedict, to waffles that rotate flavors seasonally to Crème Brulé French toast with fresh Florida Strawberries and Pork Belly Burrito to vegan friendly Farmers market scramble there is something on the menu for everyone in your party.
They also serve Cocktails such as prickly pear mimosas, Champagne Supernova, Bloody Mary's, and a full spirits menu for those of you wanting to enjoy a cocktail!
Daily Eats (SOHO)
Daily Eats serves one of the best all-day breakfasts in Tampa! With a diner vibe, Daily Eats has transformed typical diner food in healthy comfort food. They are open 8 am to 8 pm.
One of the most popular breakfast items is the Cap n' Cluck. It is Cap n' crunch breaded French toast topped with chicken tenders and eggs. If looking for something a little lighter try an Açai bowl, or chia pudding.
Other standouts of the menu include New York Strip Benedict as well as staff favorite Avo toast. They also serve burgers, omelettes, pancakes and breakfast bowls.
Brunchies ( Carrollwood and Lutz)
Brunchies is open from 7 am –2pm and serves breakfast in the Tampa area. The serve affordable home style food in a relaxed family-friendly environment.
What is unique about Brunchies is they serve breakfast in skillets. For example, Buccaneer feast which includes blueberry crunch cakes, 2 eggs, bacon and potatoes or grits, also on menu is Route 66 with corn beef hash and potatoes.
Many of the items on the menu have local names from around the area. If looking for the best breakfast in Tampa that is quick yet delicious, Brunchies is your pick!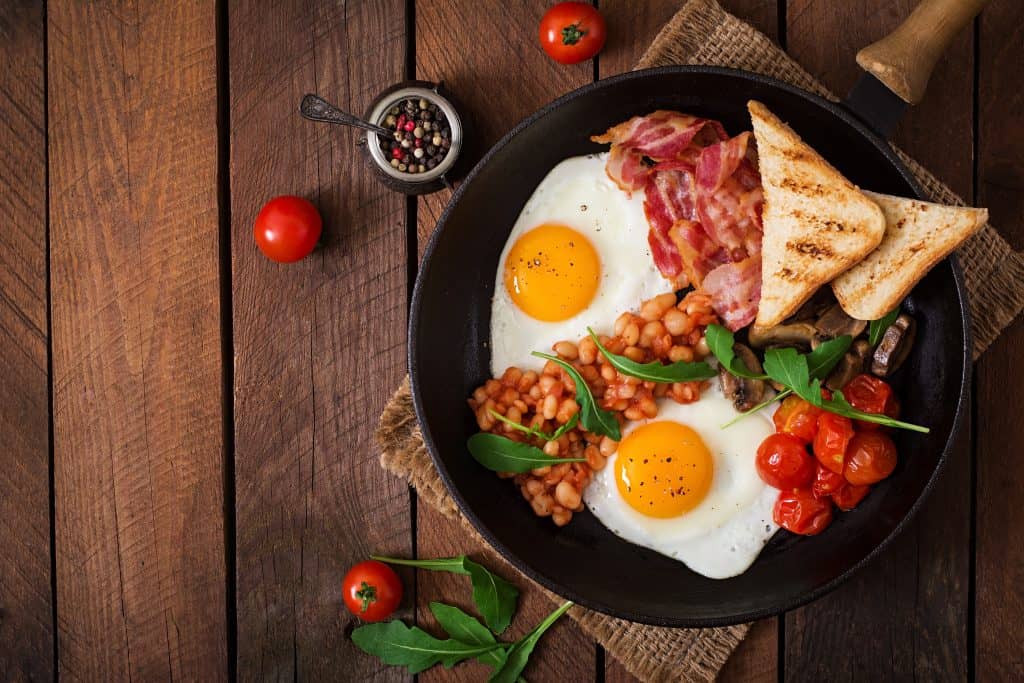 Trip's Diner (Tampa, Seminole, or St. Petersburg)
Trip's Diner is a locally owned restaurant that opened in 2012 and is named after the owner's triplets! This neighboorhood sport serves one of the best diner breakfasts in Tampa! They are open from 7am-9pm 7 days a week!
This diner has a traditional feel with checkerboard floor and red barstools but a modern take on breakfast. Try the Red's shrimp and girts, eggs benedict BST with spinach fried green tomatoes and bacon, or the breakfast Cuban.
If you are hungry try the pancakes affectionally called "Hubcakes" because as Trip's says they are as big as a hubcap!
All menu items are family recipes and cooked to order. If visiting the St. Petersburg location across the Tampa Bay check out the Salvador Dali museum or Suken Gardens!
La Creperia Café (Ybor)
La Creperia is the best breakfast in Tampa if looking for a French inspired meal! No travel needed to transport yourself for a French breakfast!
Chef Dino has been making delicious sweet and savory crêpes for over 33 years using healthy fresh ingredients. They open at 9 am on weekends and 10 am during the week.
Try one of the savory breakfast crêpes made with buckwheat flour such as the Southwest with eggs, cheese, guacamole, tomatoes, jalapeños and sour cream. Or if in the mood for sweet crêpes try the maple madness, with butter maple syrup, banana and walnuts.
La creperia also serves vegetarian crêpes, wraps, sandwiches, juice smoothies and iced coffees. Try of the many coffee offerings from their Espresso bar.
Check out our suggestion for this Historic Ybor Bungalow Airbnb if looking to stay in the area!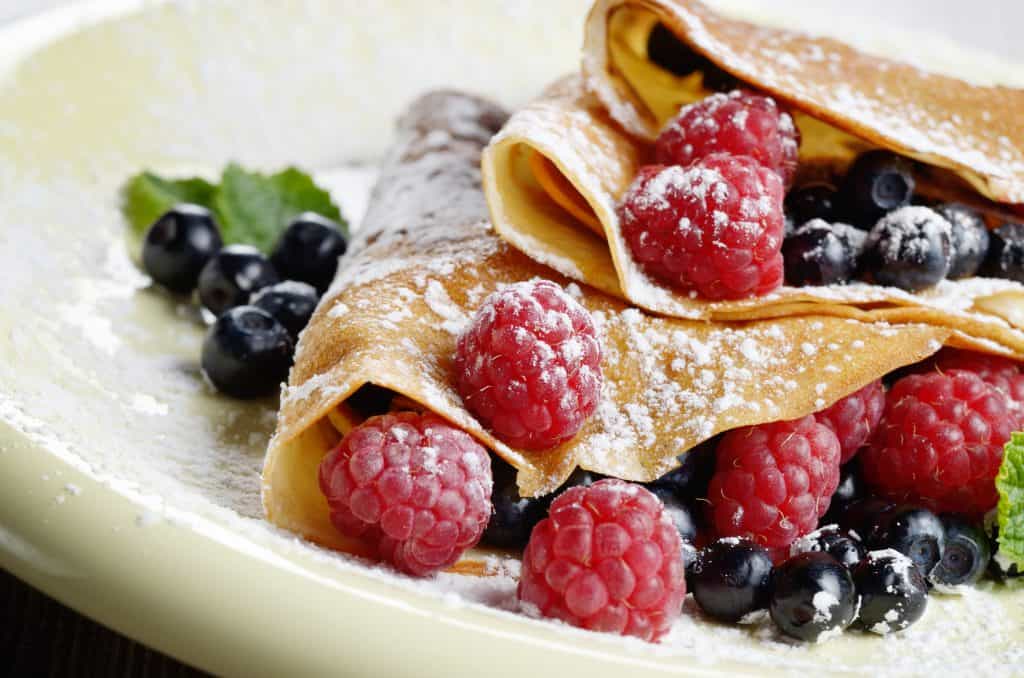 Pinky's Diner (South Tampa)
Pinky's Diner is perfect spot for a quick breakfast in Tampa. Make a reservation in advanced or be prepared to wait in line. Trust us, it is worth the wait! While you are waiting to eat at one of the best breakfast places in Tampa take advantage of Pinky's self-service coffee bar!
Pinky's is known for their opened faced Frittata's and offer six choices. Try the Tuscan with turkey, prosciutto, rosemary, spinach, onions and tomatoes.
If craving something sweet try the stuffed French toast made with Cuban bread and a homemade berry sauce. Or try the oatmeal pancakes as the menu says " find out what the fuss is all about"!
For those wanting outdoor seating there is a patio with extra seating. Pinky's is open from 7am-2pm during the week and 8am -2pm on weekends.
Élevage SoHo Kitchen & Bar (South Tampa)
Élevage is located inside the Epicurean Hotel across the street from its sister restaurant Berns Steak House.
Jason Baford the executive chef serves one of the best brunches in Tampa. This upscale brunch experience is currently only open on Sunday from 10 am-6pm.
Try the Burrata with tomatoes, melon and walnut pesto for something light, they also serve Huevos Rancheros, Açai Bowls, Kale Salads and breakfast potatoes. As well as a seasonal menu with high quality ingredients and a full cocktail menu!
Cask (South Tampa)
Cask, is acronym for the restaurants full name Craft A' Fare Social Kitchen. Opened in 2015, Cask serves southern inspired American fare. Open on Friday, Saturdays, and Sundays from 11 am to 4 pm.
As one of the best brunches in Tampa, Cask's #1 rule is your satisfaction is the top priority!
Some of the best brunch items are Avocado toast served 3 ways, poke bowl, breakfast tacos, deep-fried French toast, filet mignon with eggs, pulled pork sliders, chicken n' waffles and a mimosa salad.
As a social kitchen they offer a full section of sharable plates like chicken biscuits, pretzels and buffalo cauliflower. Cask offers gluten free and vegetarian options.
For those who enjoy an alcoholic beverage with your brunch, Cask offers bottomless Mimosas during a 1.5-hour period for $20, and $5 Bloody Mary's as well as tons of craft cocktails!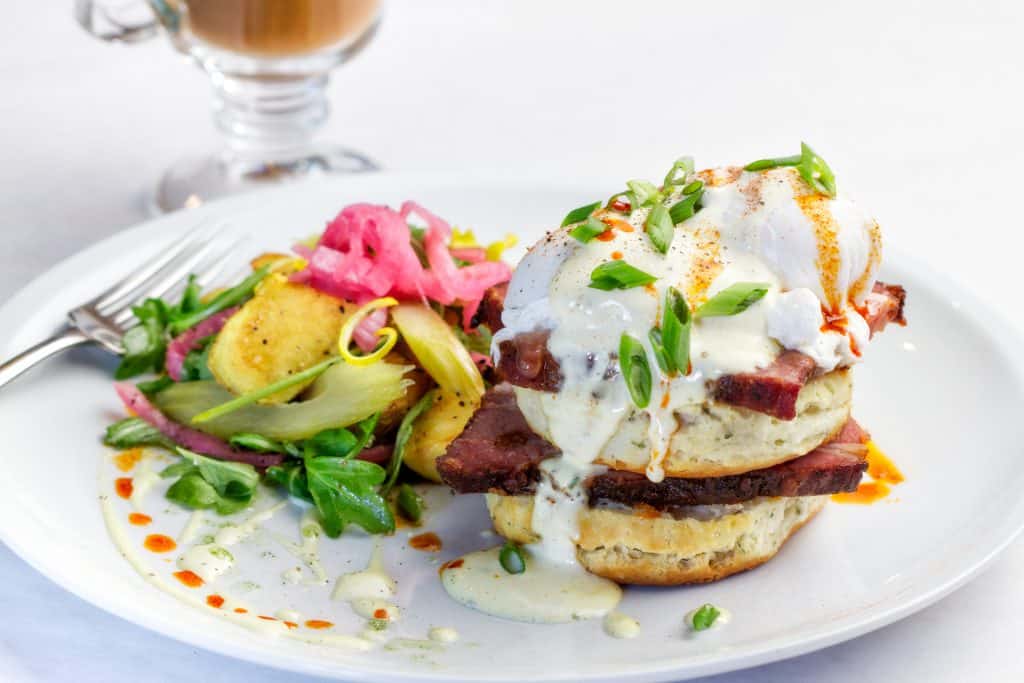 First Watch (Fowler, Downtown and Henderson)
First watch is a great option for breakfast in Tampa. Open from 7 am to 2:30 pm every day. If going during the weekend you can click "get in line" reservation on their website.
First Watch has been opened for 37 years, as is known for homemade bakery items and healthy fare.
The healthier fare on the menu makes First Watch the best breakfast in Tampa for those wanting to focus on lighter breakfast. They offer power wraps with egg whites, turkey, spinach and mushrooms, as well as power bowls, breakfast tacos, granola bowls, fresh juices and a Kale tonic.
Not to worry they serve breakfast favorites as well such as egg sandwiches, omelettes, pancakes and waffles! First Watch supports Project Sunrise, where they buy fair trade coffee from female coffee growers.
Graze 1910 (Tampa Heights)
Graze is the best breakfast or brunch in Tampa if looking for a cool spot to hang out. Located in Armature Works the old TECO street car facility dating back to 1910, is now a neighborhood hangout on Tampa's waterfront.
There are two locations, Graze 1910 located within Armature Works and Graze located in South Tampa. Graze 1910 serves breakfast all day, and is open Monday through Saturday 8 am to 9pm and Sunday 9 am to 9 pm.
Graze serves refined comfort foods for breakfast. The have vegan and gluten free options as well. For families looking to come, they serve what is called family meals that serve 4 people and often run specials on their social media accounts!
Try the BYO bowl with 3 eggs, 1 base, 1 protein, 2 veggies and cheese, or the smoked salmon tartine or benedict. They also serve burgers and homemade waffles.
Grazer serves a full menu such as Rose, Bloody Mary's, or Kombucha for those wanting something non-alcoholic!
Rusty Pelican (Rocky Point)
Are you looking for the best brunch in Tampa while dining waterfront? If so, Rusty Pelican should be your choice for Brunch. This Tampa staple has been open from 1978, and serves brunch on Saturday and Sunday from 10:30 am to 2:00 pm they now serve an a la carte brunch.
Rusty pelican is known for fresh seafood, and offers scallops, crab legs, shrimp cocktails, crab cake Benedict. Also serve fried chicken and waffles, slow roasted prime rib, and omelettes.
If looking to enjoy a drink, one of the best brunches in Tampa offers unlimited mimosas for $18. They have four juice choices of orange, tangerine ginger, Watermelon and pineapple peach! Rusty pelican also serves $6 brunch cocktails.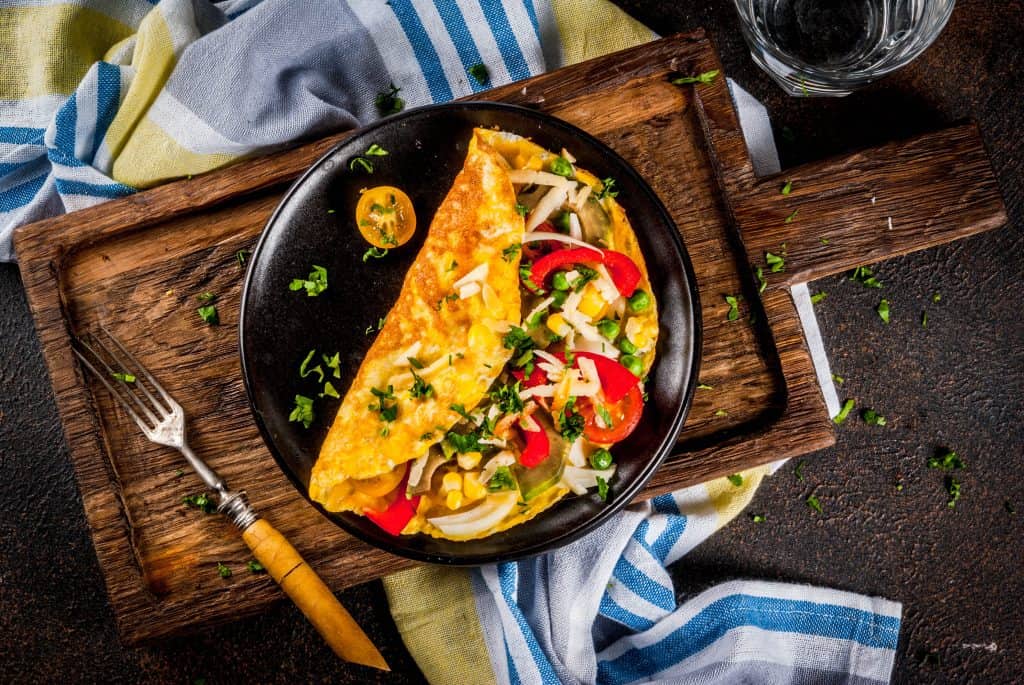 Another Broken Egg (South Tampa)
Another Broken Egg is one of the best breakfasts in Tampa if looking for a locally owned restaurant in South Tampa. They serve breakfast from 7 am to 2 pm, seven days a week!
If looking for a gluten free breakfast menu, Another Broken egg has you covered! Some menu standouts include Bananas Foster pancakes, Lobster and Brie omelette, Chilaquiles (tortillas with eggs and goats cheese), Crawfish bowl.
For healthier fare they serve egg white omelets, power bowls, salads and sandwiches.
Another broken egg serves a variety of cocktails from Brunch Old Fashions, to mimosa, Bloody Mary's and spiked cold brews for those wanting their coffee with a little something extra!
The Brunchery (South Tampa)
The Brunchery is a Tampa bay staple since 1985, and is located 2 miles south of Raymond James Stadium. This is the best breakfast in Tampa for those looking for good portions and a gluten free menu option. Open from 7 am to 2 pm.
They are known for benedicts, all of which can be made gluten free. Try their namesake Brunchery Benedict with ham, mushroom and swiss. Or the Bayshore served on a croissant with scrambled eggs and bacon!
Other popular menu items are the fresh Quiché of the day, crêpes, waffles, Aida's Açai bowl and the Lox platter.
Boca (Hyde Park)
Boca is the best brunch in Tampa for those looking to eat farm-to-table! They buy from local farms around the area. Boca serves brunch Saturday and Sunday starting at 10.
The menu at Boca is eclectic ranging from yellow fin tuna bibimbap, mussels, brie and apple flatbread, salads and roasted butternut squash soup. Boca is the one of the few brunches in Tampa to serve a "staff meal" on the menu, serving whatever the chef cooks up!
For those looking for your typical eggs and bacon, they serve the old man egg platter and French toast. Or try the BBQ pork Benedict, or steak and grits.
Goody Goody (Hyde Park)
Goody Goody is located in Hyde park and open from 7 am to 9 pm. If you are looking for pancakes, they are the best breakfast in Tampa. Each pancake served is 12 inches! They also sorce all their eggs from Florida farms.
They serve breakfast sandwiches such as the sailor man – poached eggs, with spinach served open-faced. Goody Goody is famous for their burgers even at breakfast time. But also serve BLT's, friend chicken plate, omelettes, and everything in between.
On this list of the 15 best breakfast or brunch destinations in Tampa you are sure to find somewhere for every occasion! From Bridal parties, to a boozy water front brunch, to a quick breakfast at your locally owned neighbor joint we have you covered.
Did You Find This Post Helpful?
If so, we would love to keep in touch! We enjoy seeing photos and comments about your experiences in Florida! You can follow us on Instagram and we will repost your photos on our feed and comment too! Just tag us at @floridatrippers and hashtag #floridatrippers. We can't wait to see your travels!