Are you looking for a list of the prettiest beaches in Tampa Florida? Look no further!
Arriving into Tampa International Airport (TPA), you are very near some of the best beaches in Tampa, or less than an hour if arriving from Downtown Tampa.
Tampa Bay is located on the Western Gulf Coast and includes the cities of Tampa, St. Petersburg and Clearwater. The peninsula is located between the Bay of Tampa and the Gulf of Mexico.
Recognized for it powdery white sand and warm turquoise waters it is home to some of the best beaches near Tampa Bay! Including a few award-winning beaches! From secluded beaches, to beaches only accessible by boat, to family friend beaches, and nature preserves Tampa Bay Area is home to some of the best beaches!
Known as the "Sunshine City" for averaging 361 days of sunshine you can visit Tampa beaches year round! With miles of shoreline ranging from secluded nature preserves to popular full service beaches there is a beach for everyone!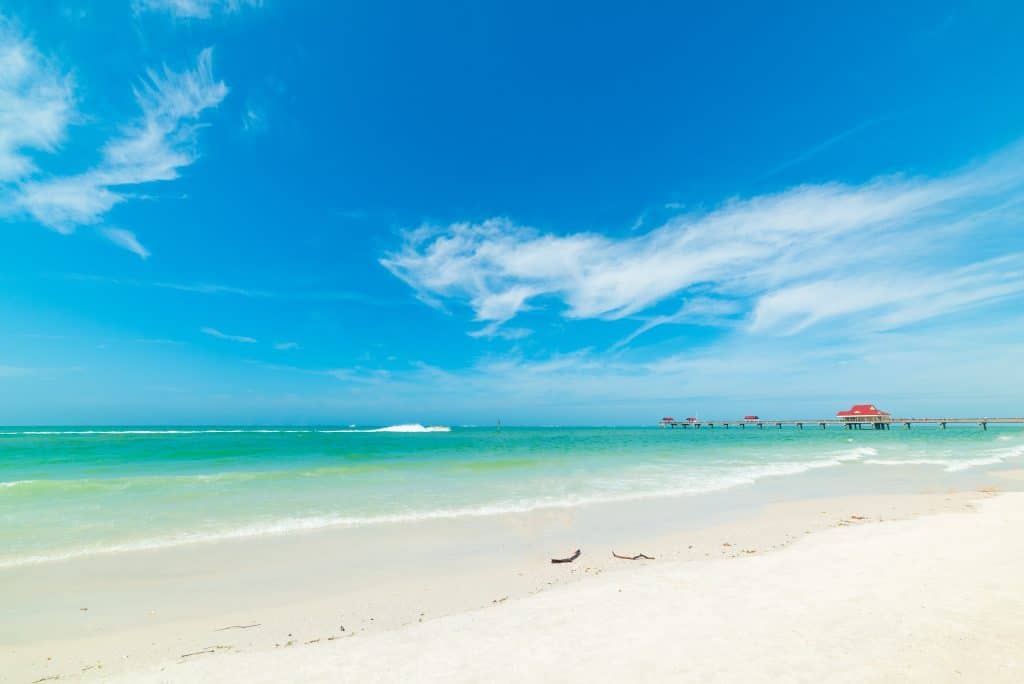 14 Prettiest Beaches in Tampa Florida
Ben T. Davis Beach, Tampa, Florida
Ben T. Davis is the closest Tampa beach from both the airport and downtown! About 10 minutes from the airport and 15 minutes from downtown. It is the largest public beach in the area, while narrow it is lined with palm trees and connected to the new four-mile Courtney Campbell Trails. The Trail is popular with walkers and bikers. You can even rent bikes to take a break from the beach!
One of the best beaches in Tampa to play volleyball or catch the sunset. The beach is popular with locals wanting a quick drive to the beach! There are picnic tables, grills and restrooms. You can rent bikes, kayaks and paddle boards. Parking is extremely affordable at just $0.55 per hour!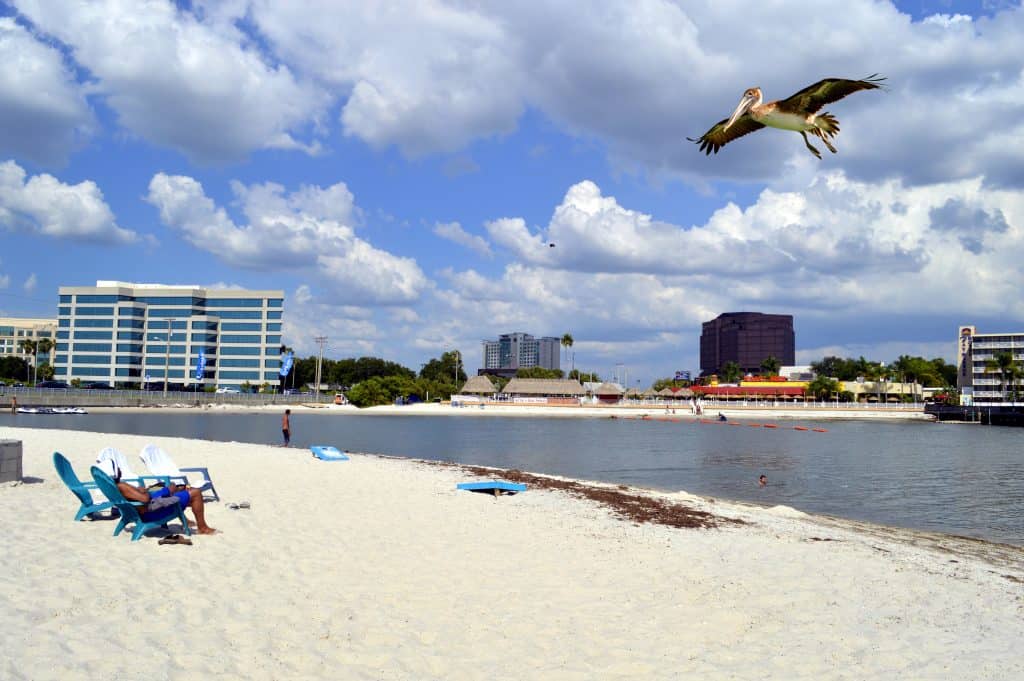 Clearwater Beach, Clearwater, Florida
Clearwater Beach is voted not only one of the best Tampa Bay beaches, but one of the best beaches in the United States! This gorgeous pristine white sand beach located on the Gulf Coast, is lined by a beach boardwalk connecting it to Pier 60. Before the sun sets head to Pier 60 to watch the sunset while listening to live music and enjoying a bite to eat or drink!
Popular with locals and spring breakers alike Clearwater Beach offers almost any amenity a beach goer could want! From cabana rentals for those wanting to relax without having to bring their own beach setup, to kayak, jet ski and paddle board rentals for those wanting to be more adventurous! There are numerous restaurants and bars as well!
As an alternative to parking at the beach, you can find free parking in downtown Clearwater and take the paid ($4 for adults, $2 children) ferry to the beach.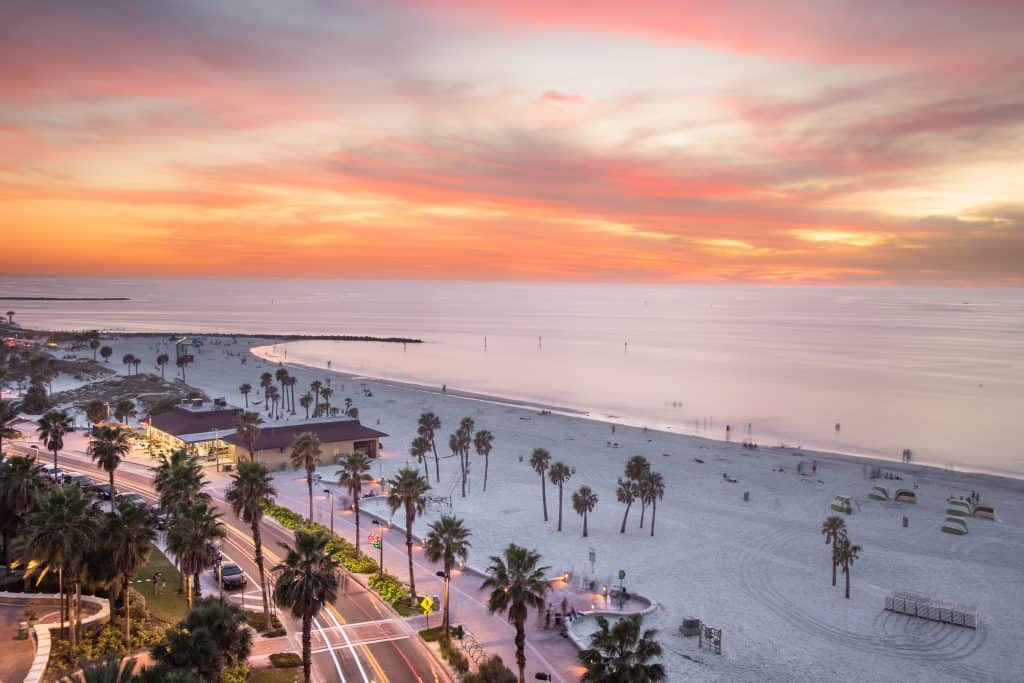 Fred Howard Park, Tarpon Springs, Florida
Fred Howard Park is located about 25 miles from Tampa International Airport in Tarpon Springs, Florida. This 155 mile state park is connected by a scenic one-mile causeway that brings you to the beach. Located on an island the sandy white beach is perfect for enjoying the sun.
And the calm turquoise water is perfect for swimming! The unobstructed views of the gulf make Fred Howard Park one of the best beaches near Tampa Bay to watch the sunset.
Popular with swimmers, kayaks, fisherman, and windsurfers this beach and nature park has it all! As a nature preserve you can often see endangered wildlife such as osprey, eagles and tortoises, as well as manatees and dolphins! Parking is only $5 for the day.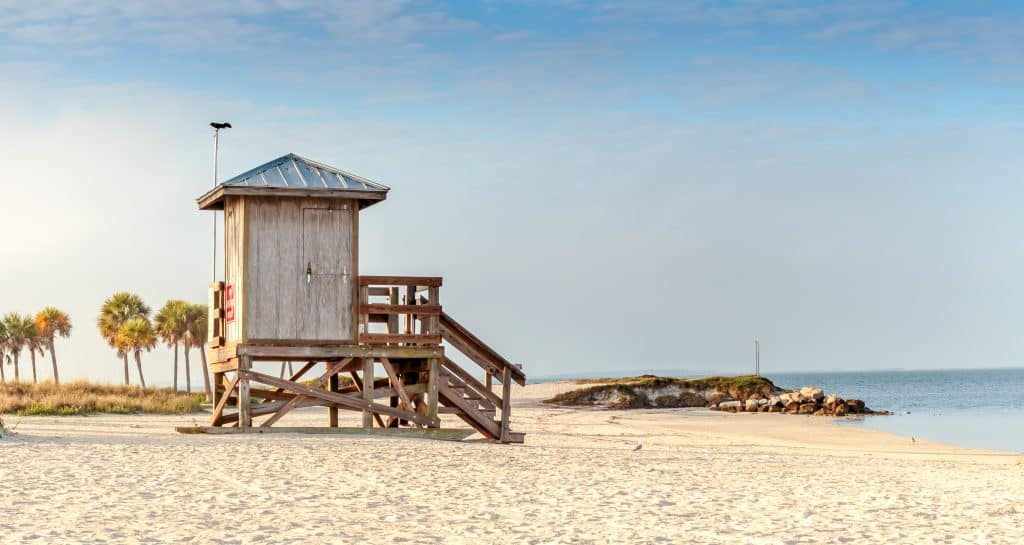 Caladesi Island, Dunedin, Florida
Are you looking for a remote beach only accessible by boat? Just a few miles north of Clearwater beach you will find Caladesi Island! To reach one of the best beaches near Tampa Bay, take a quick 15-minute ferry ride ($14 Round trip) from nearby Honeymoon Island.
Caladesi Island was once connected to Honeymoon Island but in 1921 a Hurricane separated the islands! This three mile stretch of white sand is perfect for collecting seashells, relaxing on the white sand beach or swimming in the warm Gulf water!
Not to worry, there are bathrooms, picnic tables as well as rental chairs and umbrellas. There is also a café located on the island in case you come hungry.
For nature lovers you can kayak through a three-mile loop through mangroves. Perfect for spotting blue herons, osprey, bald eagles, and fish. There is also a hiking trail through the live oaks! A visit to Caladesi Island is worth the work to visit one of the best Tampa Bay beaches!
Check out our recommended Airbnb's if looking to stay in the area!
Honeymoon Island, Dunedin, Florida
Honeymoon Island is the sister island of Caladesi Island. This state park has over four miles of pristine untouched beach! Making it one of the best Tampa Bay beaches. Honeymoon Island is broken up into three areas, the south, north, and dog beach.
On the south end of the island there is a picnic and beach area, with soft white gulf sand. While the north end is known for surfing, and hiking trails. IT is also home to flat tide pools This beach even has a dog friendly area! Unique to this beach, is the Osprey trail is located nearby is home to over 50 Osprey nests. Parking is $8 per car.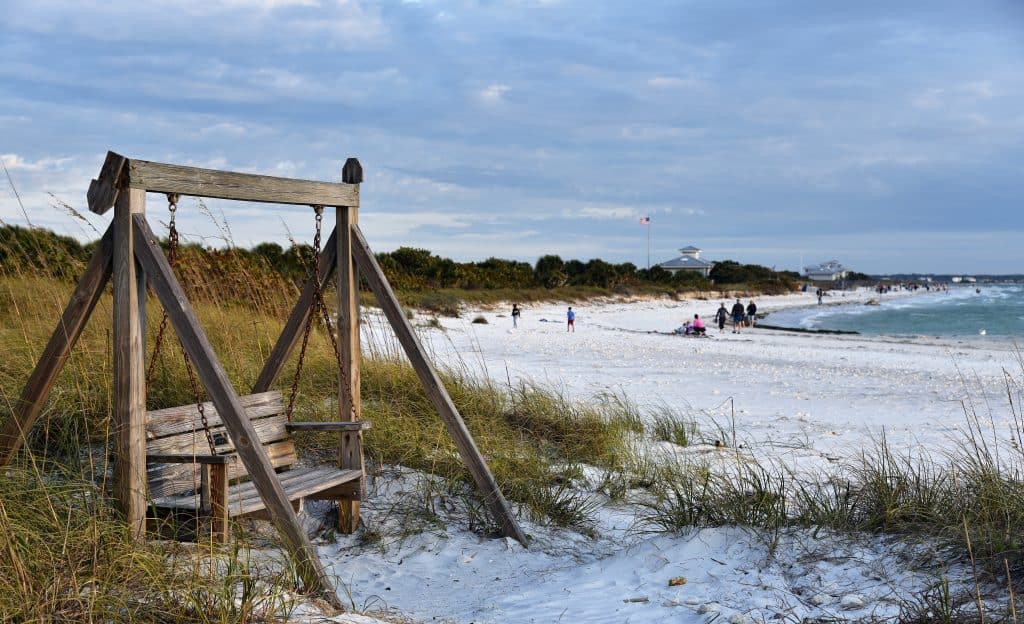 Sand Key Beach, Clearwater, Florida
Sand Key beach located on the barrier island is known as a "secret beach"! This 1 miles stretch of white gulf sand is known for its abundance of seashells. The Kemp Ridley sea turtle nesting makes this one of the best beaches in Tampa for spotting sea turtles!
Only 1-mile from more popular Clearwater Beach, there is a boardwalk, showers, playground, picnic area as well as dog park! Unique to this beach are sand dunes, salt marshes and birds. Located near several resorts, there are plenty of restaurants in the area. If looking for a bite to eat, try famous Columbia restaurant located just a short 10-minute walk away! Parking is $3 an hour.
Sunset Beach, Treasure Island, Florida
Sunset Beach, is located on a 3.8-mile Barrier island broken up into several beaches. Sunset beach is located on the south side. Popular for its laid back atmosphere this Tampa Florida beach is popular with LGTBQ community. Story has it this is the beach that inspired Jimmy Buffett's "Margaritaville" song!
Located between two rocky jetties, surfers flock due to the windy conditions. For beach goers make sure to stay until sunset for an incredible view over the Gulf. Free parking is located along the island, just look for Orange and Blue signs with a "P"! A crossed out "P" indicates no parking.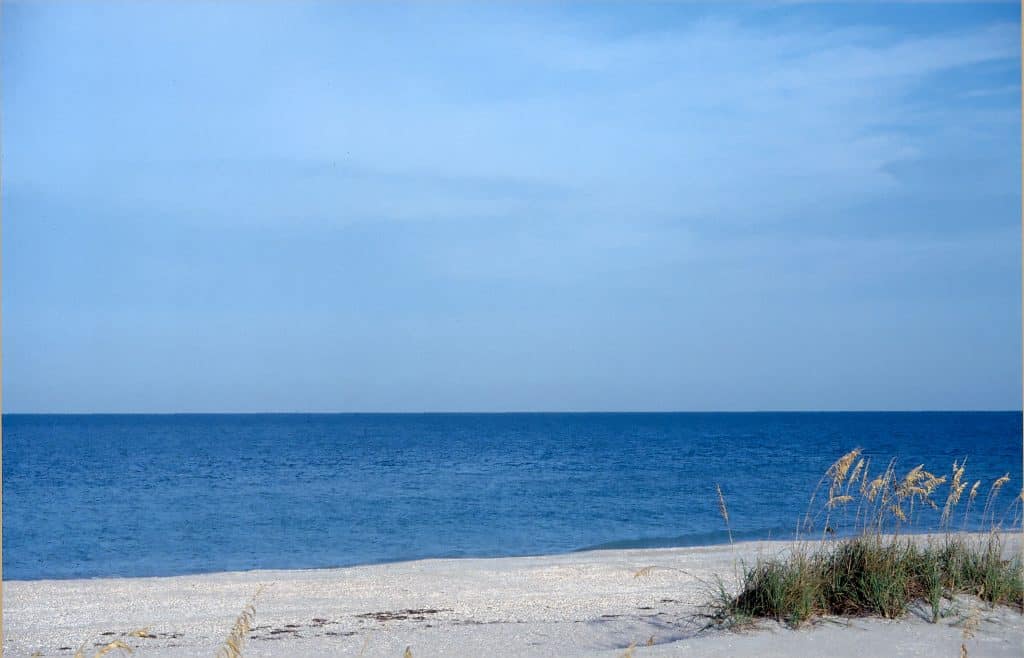 Indian Rocks Beach, Pinellas, Florida
Indian Rocks Beach, or IRB as it is known to locals is the best beach in Tampa Bay area for easy access. It has over 27 beach access points located along three miles stretch of soft white sand beaches. Known for its calm water, IBR is very family friendly beach.
Once the playground of the Tampa Elite, this small town of 4000 is a relaxing beach town. This lively town hosts an Oktoberfest every October not to be missed if visiting during this time. The Indian Rocks Nature Preserve makes Indian Rocks Beach the best beach for bird watching. You can also spot dolphins from the beach on occasion! Don't forget to stay for the sunset!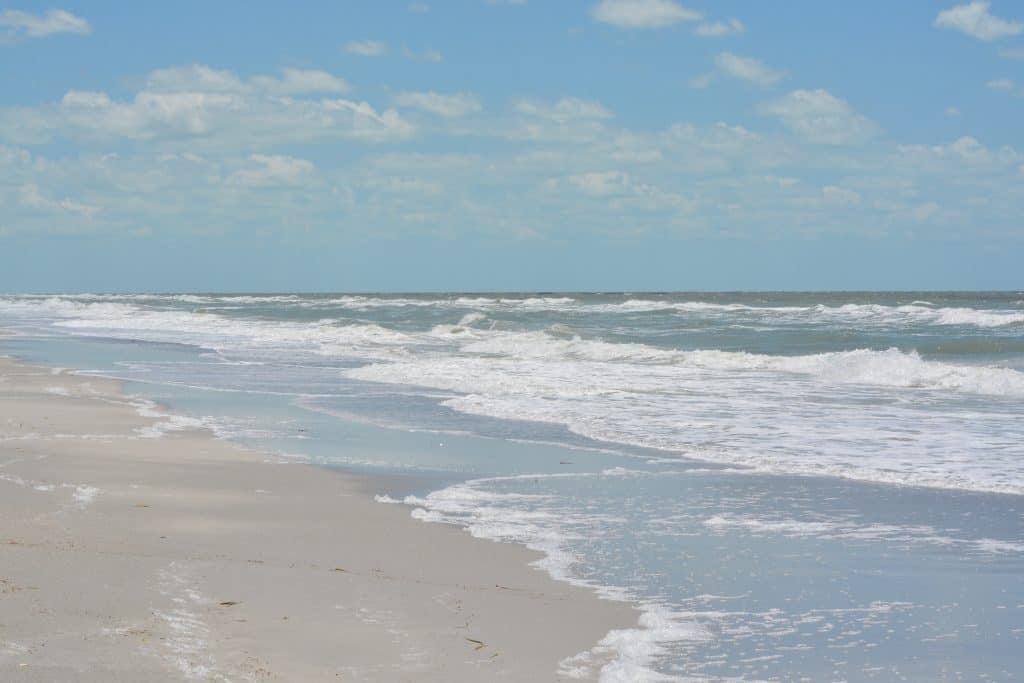 Pass-A-Grille, Long Key Island, Florida
Pass-a-Grille beach is located on the southern tip of St. Petersburg Beach, on an island between the Gulf of Mexico and Boca Ciega Bay. Best known for the Don CeSar hotel, this laid back small town has an artsy vibe described as Old Florida. Pass-a-Grille is one of the best beaches near Tampa Bay area as it sits on an undeveloped four-mile stretch of powdery white sands with turquoise water.
For families head to Hurley Park on 15th avenue for a full amenity beach, or the southern tip for the dog friendly beach! From here you can take a short excursion to Shell Key from Merry Pier, or hop on a dolphin watching charter. Along 8th Avenue you will find beach bars and restaurants. Parking is easy to find in the area!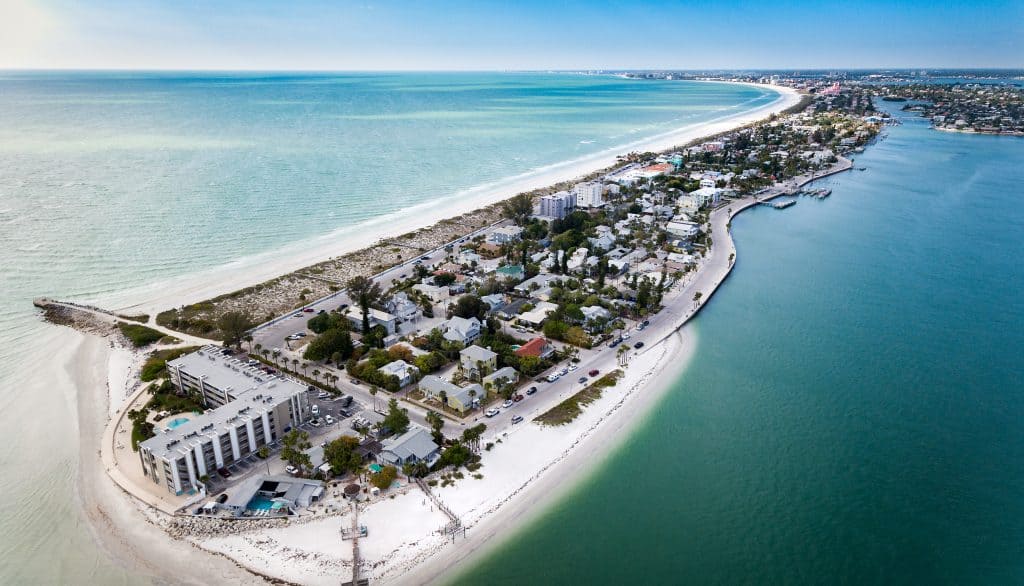 Madeira Beach, Pinellas, Florida
Madeira Beach is located about 15 minutes west of downtown St. Petersburg, and between Treasure Island and Reddington beaches. Known as "Mad Beach" to the locals is home to a 2.5-miles stretch of powdery white sand. Perfect for relaxing on the beach or swimming in the calm clear water! Madeira Beach is connected to St. John's pass village by an 1,100-foot boardwalk.
Quite popular on the weekends, this one of several Tampa Bay beaches perfect for enjoying an evening out, as St. John's pass is home to over 100 stores and restaurants. During the last weekend of October Madeira Beach hosts a seafood best bringing over 100,000 tourists to the area. Parking can be found at various points along the beach and is $5 for 2 hours.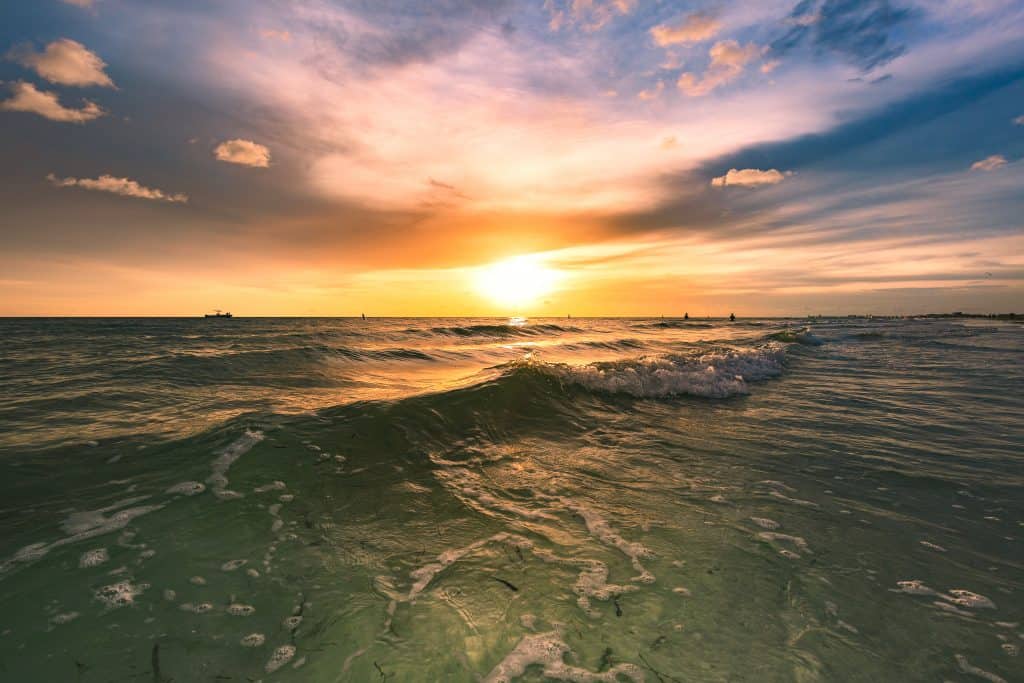 Fort De Soto Beach, Pinellas, Florida
Fort de Soto beach is the largest public park in Pinellas County. With over 1000 acres of land and 5 islands on the Gulf of Mexico this beach park is known for its tranquility. Fort de Soto's North beach was voted by Parent's magazine as the best Tampa Bay beach for families!
Fort de Soto's north beach is the biggest beach in the area, and most family friendly. With picnic tables, pavilions, bathrooms, lifeguards, and a pirate ship playground it is best beach for families! The beach has soft white sand, and calm water with both a tidal pool and sandbar!
East beach is perfect for shell collecting, and those wanting their own slice of beach, as it is often not as crowded as north beach! Bay Pier is great for those wanting to fish, as well as those taking a ferry to Egmont Key state park ($20 round-trip). Just past north beach is Shell Key preserve an 1800 acre wildlife preserve perfect for kayaking and canoeing around a 2-mile route. Don't forget to check out the Fort before or after you head to the beach! Parking is $5.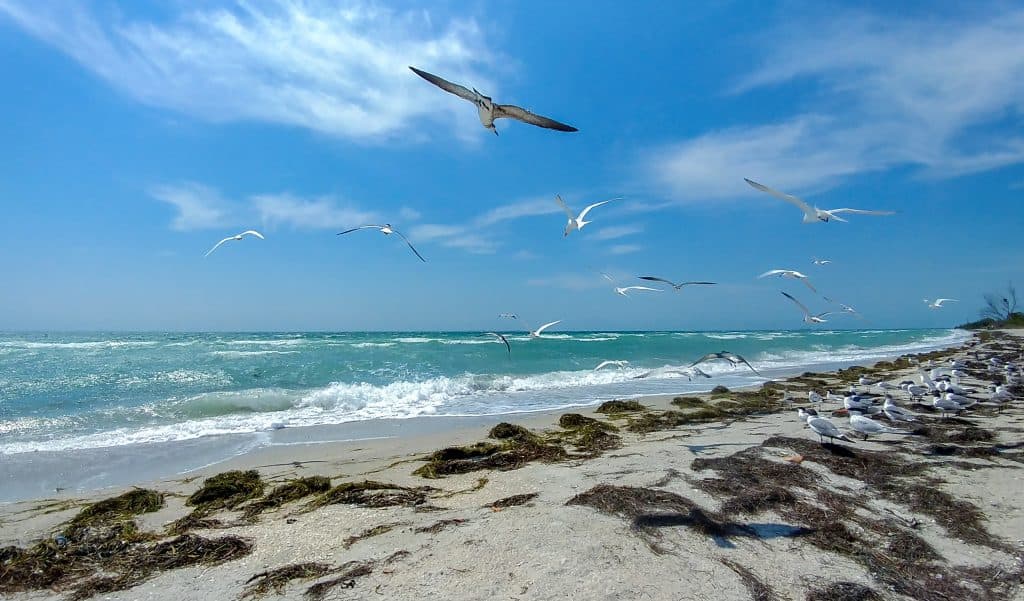 Egmont Key Beach, St. Petersburg, Florida
Egmont key beach is the most secluded beach on our list! This 400 acre Florida state park is located on an island only accessible by private boat or ferry. The twenty-minute ferry ride departs from Fort de Soto and is $25 for adults and $12.50 for children. Unlike Caladesi Island, no bathrooms or facilities of any kind are available. So remember to pack everything you need for 3-4 hour beach day!
This is one of the best beaches near Tampa Bay area if you want a get-a-way on an uninhabited island. The island is home to both a lighthouse from the 1850s and Fort Dade from the Spanish American war. On Egmont Key you will find a secluded white sand beach perfect for collecting seashells, snorkeling and swimming. Egmont Key state park is also home to a nature preserve with wildlife such as gopher tortoises dolphins and birds.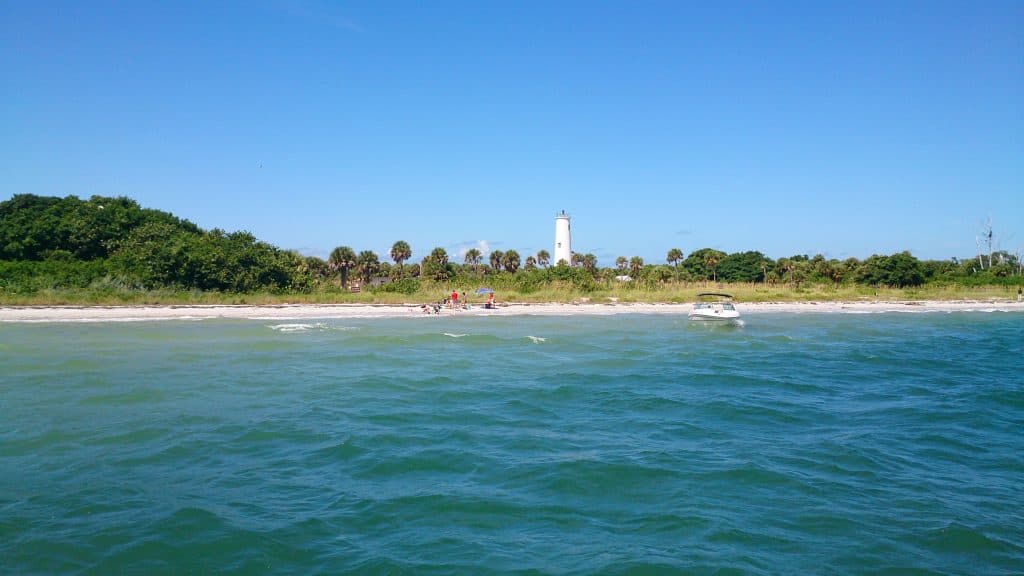 St. Pete Beach, St. Petersburg, Florida
St. Pete Beach is home to the famous pink hotel known as Don CeSar! This is the best beach in Tampa if everyone in your party wants something different for their beach experience.
Known as a resort area lined with hotels, restaurants and shops finding parking at this beach is often difficult, unless you come early! But, a free green energy shuttle known as "Freebee" shuttles guests along gulf boulevard and has numerous stops along St. Pete Beach.
With 10 public beach walkways, this award-winning beach has a wide sandy beach. From beach cabana rentals, to restaurants, bars, water sports St. Pete Beach is a full service beach.
The water is beautiful turquoise color, and the white sand make this one of the best beaches near Tampa Bay Area. For those wanting a little more seclusion at the northern tip of St. Pete Beach is Upham beach. Those willing to venture further out will find fewer crowds making this beach popular with locals, and surfers!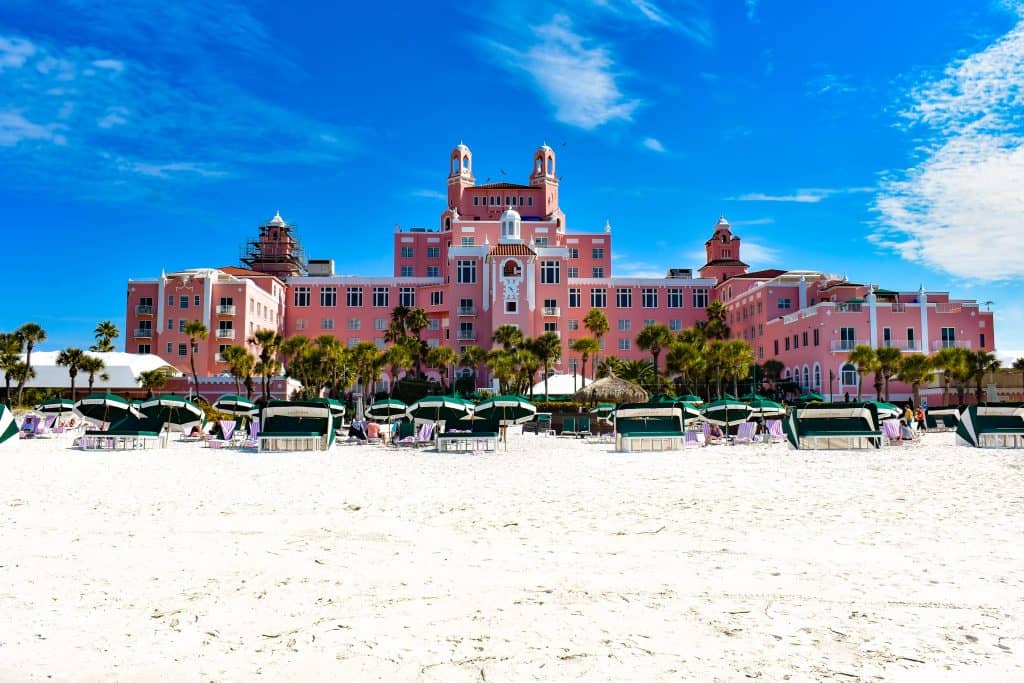 The 14 prettiest beaches in Tampa Florida all have something in common. These Tampa Bay beaches offer year round sunshine, warm turquoise water and powdery white sand!
Making this area the perfect destination for both tourists and locals to visit the beach! From secluded islands to award-winning beaches Tampa Bay Area is the perfect destination to visit.
Did You Find This Post Helpful?
If so, we would love to keep in touch! We enjoy seeing photos and comments about your experiences in Florida! You can follow us on Instagram and we will repost your photos on our feed and comment too! Just tag us at @floridatrippers and hashtag #floridatrippers. We can't wait to see your travels!