When vacationing on one of the most beautiful Islands in America, staying at the best Airbnb in Key West can make your vacation that much more special!
Key West has a picturesque landscape with beautiful blue water and white sand beaches. Relaxation comes naturally as soon as you step off the plane at Key West.
There is no better feeling than waking up to the fresh saltwater breeze from your private backyard beach. Or maybe being near all the action is where you want to be, and a private balcony overlooking Duval street is your forte?
Whichever you prefer, this list of the best Airbnbs in Key West has accommodations for every type of traveler.
15 Best Airbnbs in Key West
Studio With Private Beach
Everything about this beachside condo is exactly what you would expect from a Key West vacation.
When you stay in this Airbnb overlooking the Atlantic Ocean, you will have private access to the beautiful sandy shores of the beach outside.
Additionally, this location in just a five-minute walk to all of the entertainment of Duval Street!
Click here to check out rates: VRBO.com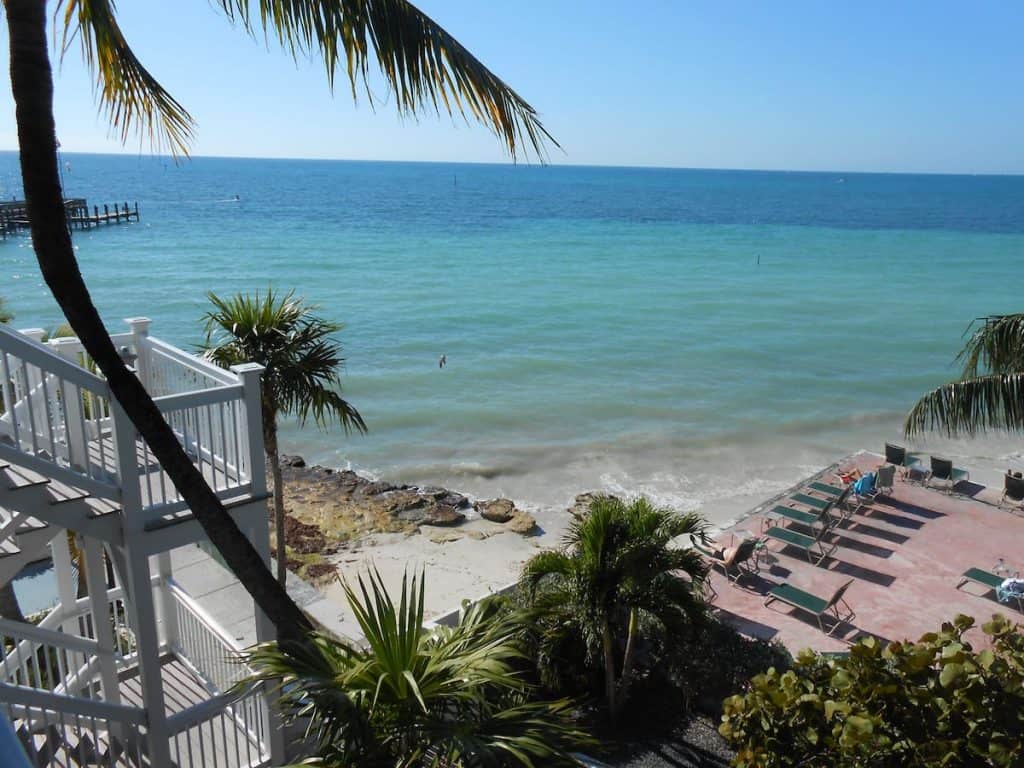 Birds of Paradise
Just a short walk from the beach, this Airbnb in Key West is the perfect getaway for the entire family.
Spend your days at the nearby beach, then spend your nights relaxing by the heated pool! This pool is huge in Key West standards because it stretches the length of the house.
The backyard of this home is like an oasis. It is filled with lush greenery and a private heated pool! You can even shower off in the wooden outdoor shower right near the pool area! This is truly one of the Best Places To Stay In Key West!
If you feel like having a home-cooked meal, the kitchen is equipped with everything you need including stainless steel appliances. There is plenty of room for everyone to enjoy time together between the dining area and the joined living room!
When it's time to get out of the house this Airbnb is in a great location! It is close to Higgs Beach and Smather's Beach and just a relaxed bike ride away from Duval street.
Click here to check out rates: VRBO.com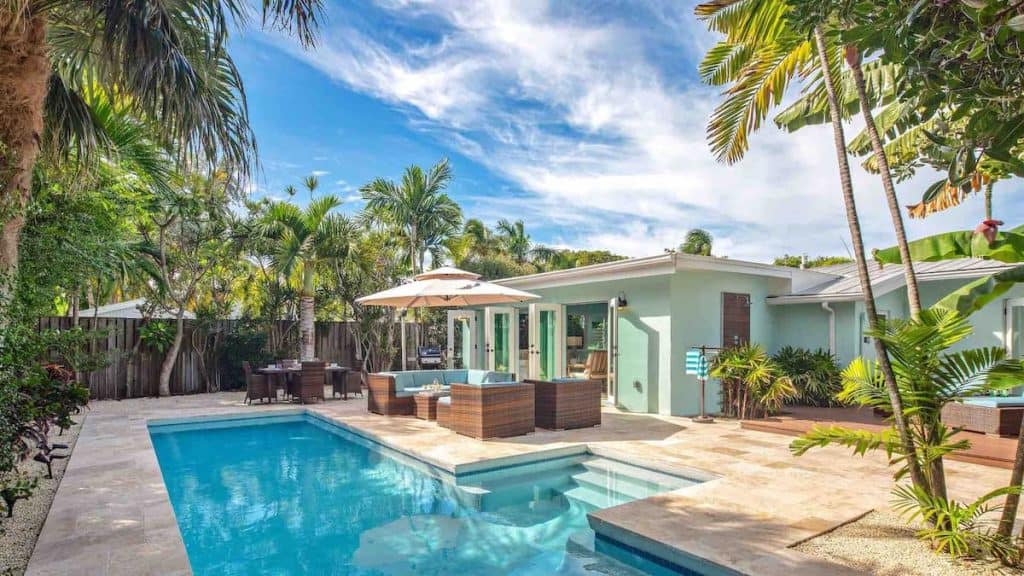 Tranquil Cottage
One of the best ways to enjoy Key West is to dive into Duval Street! It is lined with bars and restaurants and is the premier spot to have fun in Key West.
This cottage is steps away from the hustle and bustle of Duval but it provides a spa-like atmosphere perfect for unwinding. You'll truly get the best of both worlds if you choose to stay here.
This romantic one-bedroom one-bath cottage can accommodate two guests. Renting here gives you access to the compound's shared pool and a private courtyard just for you.
This is one of the Key West cottage rentals that you don't want to miss!
Click here to check out rates: VRBO.com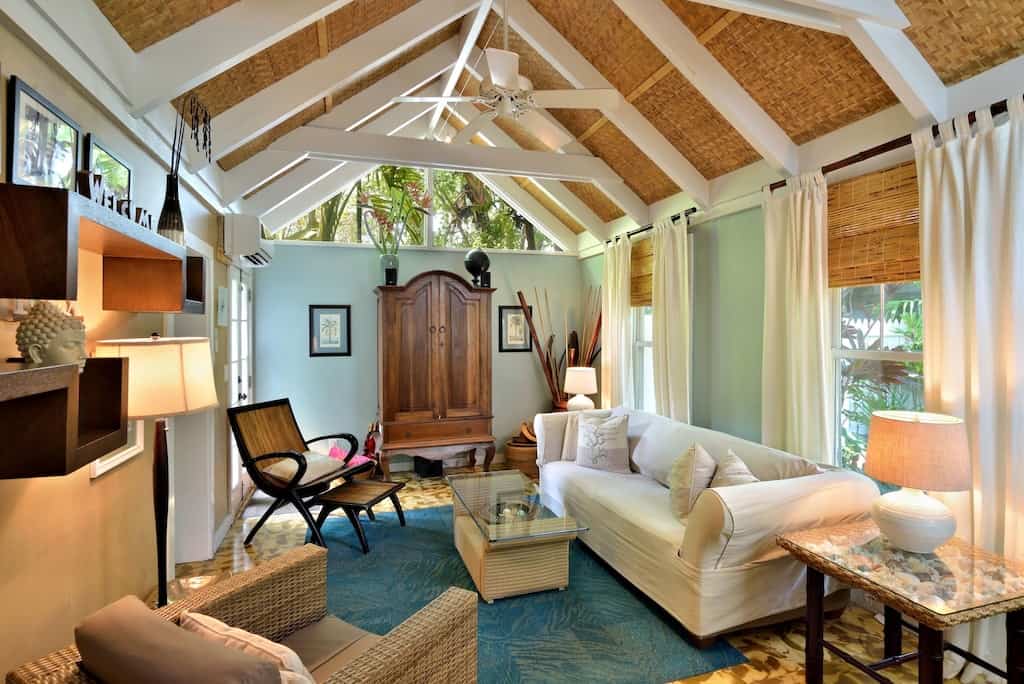 Bed & Breakfast
This cozy bed & breakfast is the perfect Airbnb in Key West to put your feet up and take in the sunshine. Start your morning with breakfast provided by the B&B and wash it down with a complimentary bottomless mimosa (or two).
Not a mimosa person? No problem! They also provide complimentary happy hour every afternoon for those who want to soak up some beach time first!
In addition to all of the complimentary events, this location allows you to relax poolside under the shade of lush palm trees. However, before you retire to the poolside, feel free to take some time on the town with the available bikes to rent on-site!
The rooms are small, cozy, and bright with a porch area to relax on! You might even want to leave the sliding glass doors open to let some fresh air in!
The rooms are quaintly designed and have an amazing tropical feel to them! They sleep up to three so this B&B is perfect for couples looking to getaway.
Click here to check out rates: Airbnb.com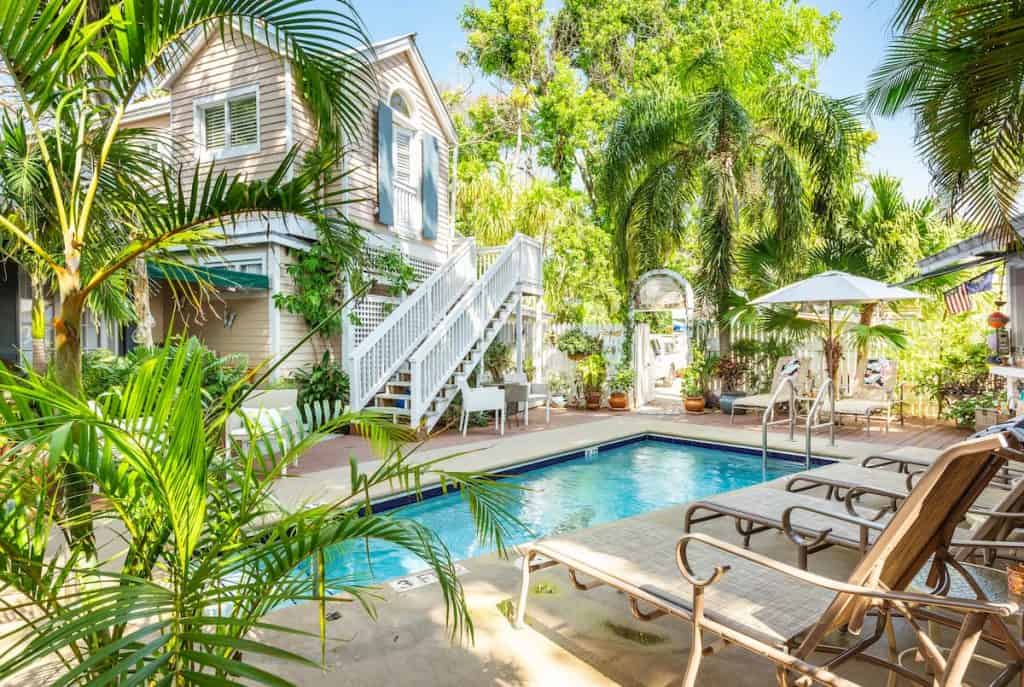 Conch Cottage
For all the couples or solo travelers out there! This is the Airbnb in Key West for you. This private cottage, just steps from Duval street, has all the amenities you will need for a relaxing vacation.
This cottage comes with a private outdoor area including a hot tub! This is a really special find among all the VRBOS in Key West. This much privacy is a real luxury!
Located less than a mile from both Duval Street and South Beach, you're sure to have a relaxing time at this hidden gem of a cottage. The cottage has one bedroom and one bath and can sleep 2 guests.
Click here to check out rates: VRBO.com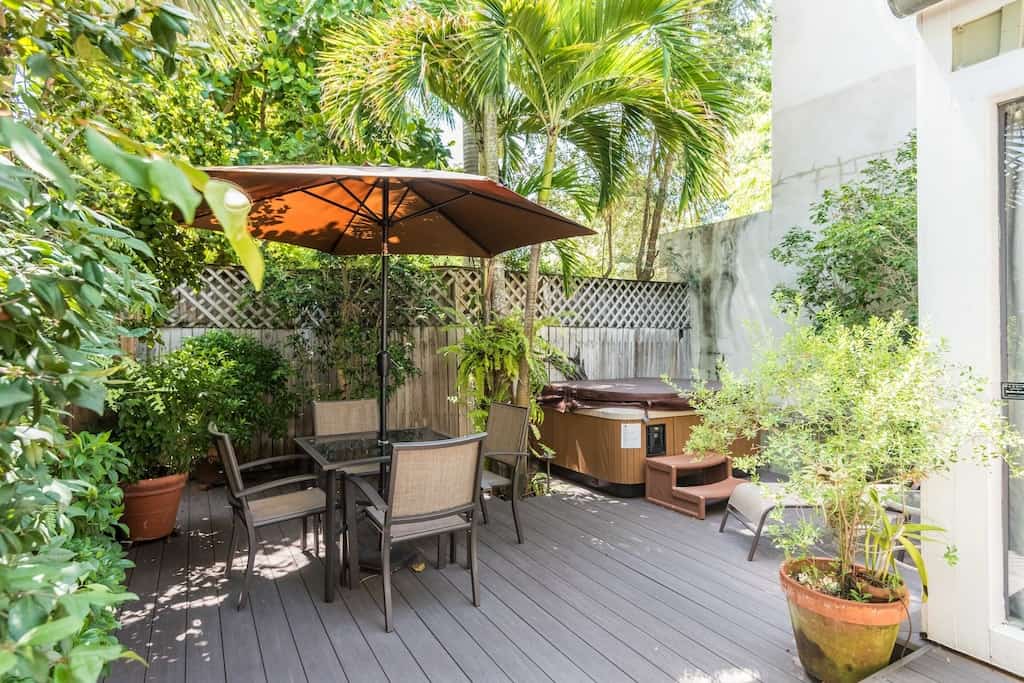 Hidden Beach
This is truly a hidden paradise right in the heart of Key West!
This property is located right on the water of the natural beach and provides private access to the beach! Nestled between Louie's Backyard and Beach Resort you will be in the prime location to enjoy Key West to the fullest.
This is a cozy location for two that has all the amenities you need! Full kitchen, free WiFi, and washer and dryer in the unit are all here at your disposal. This is a one-bedroom one bathroom unit that can host two guests. This is a truly special entry on our list of Key West vacation rentals.
Click here to check out rates: VRBO.com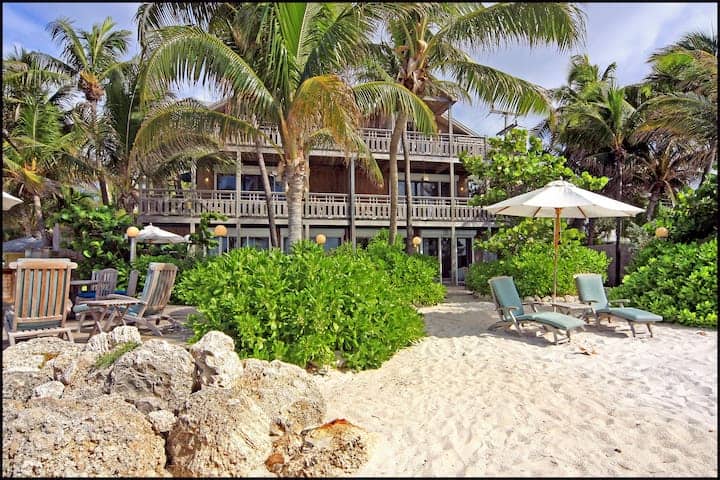 Old Town Estate
This is a great pick if you are looking for a Key West Airbnbs getaway for a large group. This amazing estate can sleep 10 guests in 5 bedrooms. It also boasts has 5.5 bathrooms!
Don't worry, the estate does not compromise on location. It is within walking distance from Old Town and Duval Street, as well as South Beach. There are two reserved parking spaces if you choose to rent a car, but the area is so walkable that you can definitely get around on foot.
Check out this epic backyard and huge private pool. The whole house is optimized for that iconic indoor-outdoor Key West living. You won't miss a moment of Florida Sunshine staying at this epic vacation rental.
Click here to check out rates: VRBO.com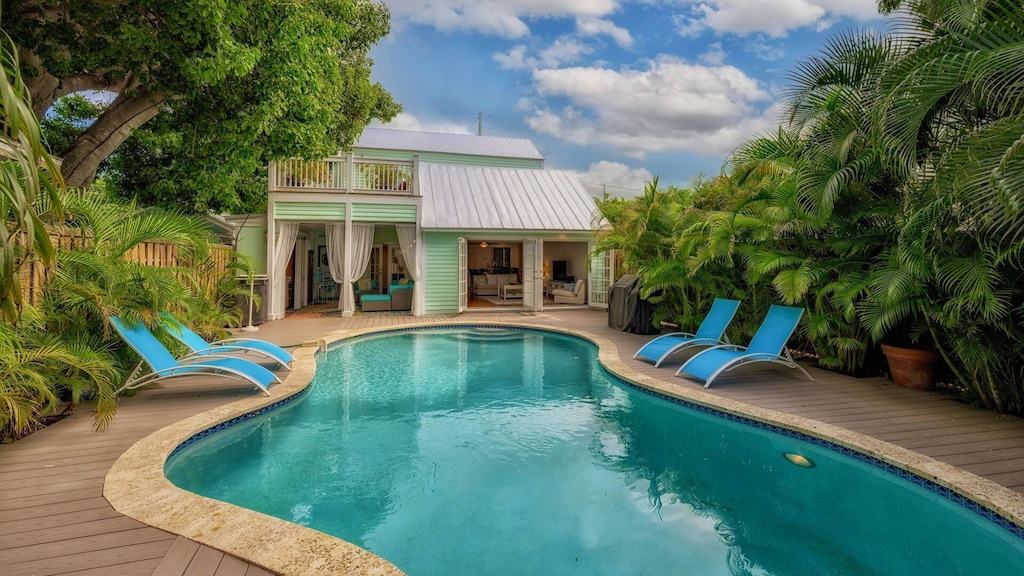 Dockside Daydream
Grab your family or a group of your good friends and relax at this dockside Airbnb in Key West!
This vacation home has room for six guests making it perfect for groups or families to explore Key West together.
Everything in the home is newly renovated, so there is nothing you won't have. This Airbnb has everything your group will need! Amenities include wifi, a flat-screen TV, a kitchen with all the necessary appliances, and an outdoor area to take in the warm Florida evenings.
The community is just 2 miles from Smather's Beach, one of the prettiest beaches in Florida!
In addition to being so close, this Airbnb has an on-site pool, jacuzzi, and bbq for when you just want to relax with your group!
Click here to check out rates: VRBO.com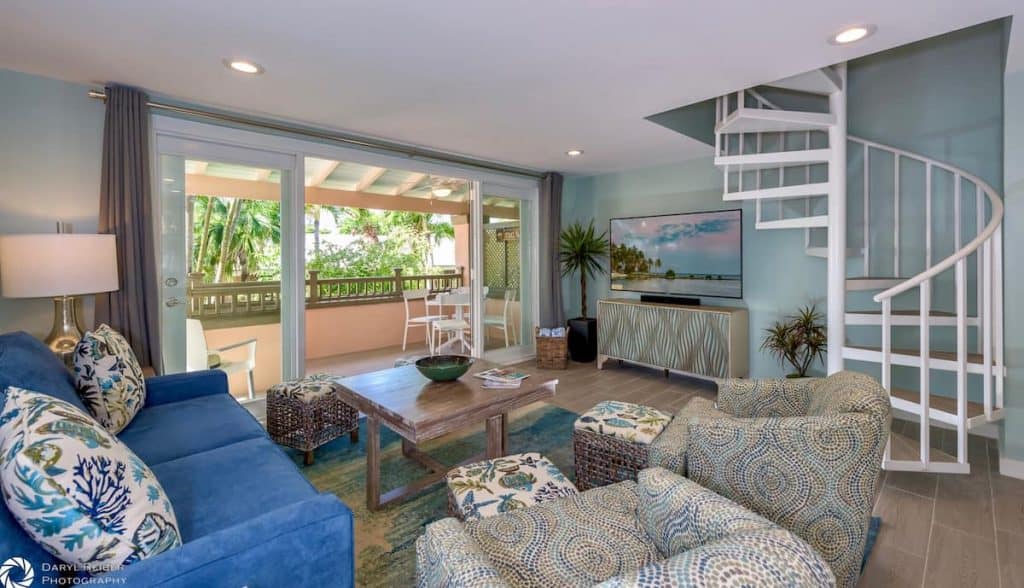 Parrot Key Hotel & Villa
Parrot Key Hotel & Villa is a vacation spot that has everything you will need to enjoy your stay in Key West.
The rooms are modeled after the Key West lifestyle boasting large windows, with ample sunlight and a bright, laid-back atmosphere. This exclusive hotel room can sleep 4 guests in 2 bedrooms. It also has 2 bathrooms.
The views from the rooms are stunning! You will either overlook the Gulf of Mexico or the lush gardens on the property.
Parrott Key is located in Old Town Key West and is just a short ride to downtown.
Click here to check out rates: VRBO.com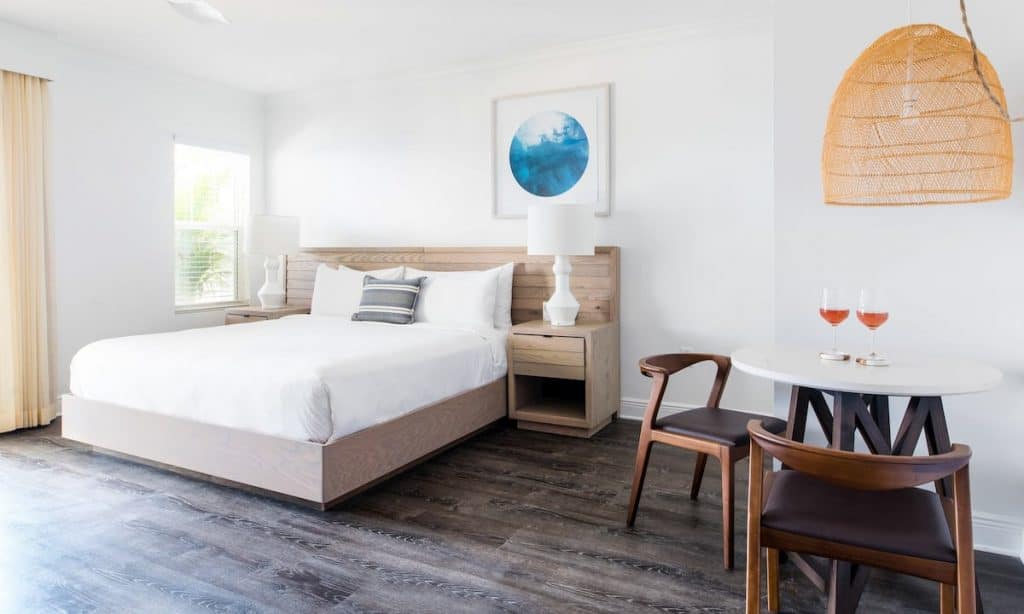 Key West Penthouse
Everyone loves a penthouse view. And if that view includes lush palm trees stretching out to the ocean, well that's even better!
This high-rise Airbnb in Key West is in an excellent location. It is close to the city center, but just far enough away to enjoy a quiet night without distractions.
The penthouse has everything groups of up to six will need to enjoy their stay. It is fully equipped with a kitchen, wifi, and a pool on-site! This Penthouse has two bedrooms and two full baths.
Cozy up in the tropical penthouse and enjoy everything Key West has to offer!
Click here to check out rates: VRBO.com
Beach Side Condo
Take in some infamous Florida sunsets right from the balcony of this beachside condo overlooking the Atlantic Ocean. This condo is an absolutely perfect place to stay for friends or families and provides everything you need for a picture-perfect vacation.
If you can get yourself off the balcony, the inside is beautifully designed with vaulted ceilings and floor-to-ceiling windows providing an abundance of natural light.
The grounds provide a large community pool and access to the waterfront just out the back of the property. If you're looking to swim and have more beach activities, Smather's Beach is a short walk away!
Guests will also have access to the on-site gym, BBQs, and jacuzzis! There is also restaurants and attractions just minutes away from this spectacular Airbnb!
Click here to check out rates: VRBO.com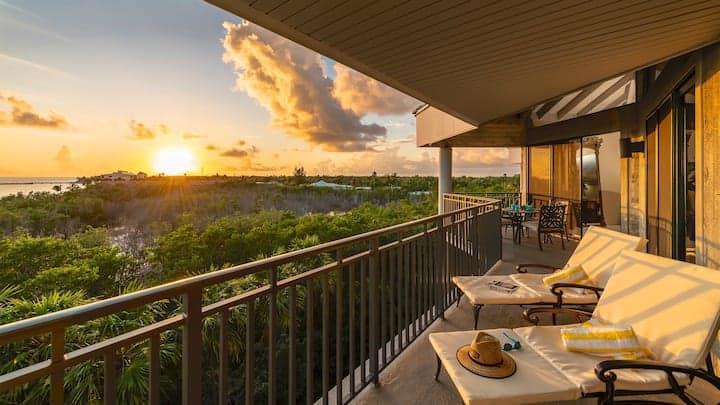 Studio At The End of Key West
Are you looking for a cozy, romantic getaway? Then you might want to check out this charming studio in the heart of Key West!
This studio feels like your own hideout the way the grounds are lined with lush palm trees. Feel free to find yourself relaxing near the shared pool, or grilling up some lunch on the BBQ!
Inside these studios have all the comforts of home including free WiFi and a kitchenette. The interior design is so comforting and cozy with hardwood floors and vaulted ceilings.
When it's time to take in the sights distance will not be a factor! This studio is just steps from Duval street and less than a quarter-mile from the Earnest Hemmingway House!
Everything you came to Key West to see is right at your fingertips when you stay in this charming studio.
Click here to check out rates: VRBO.com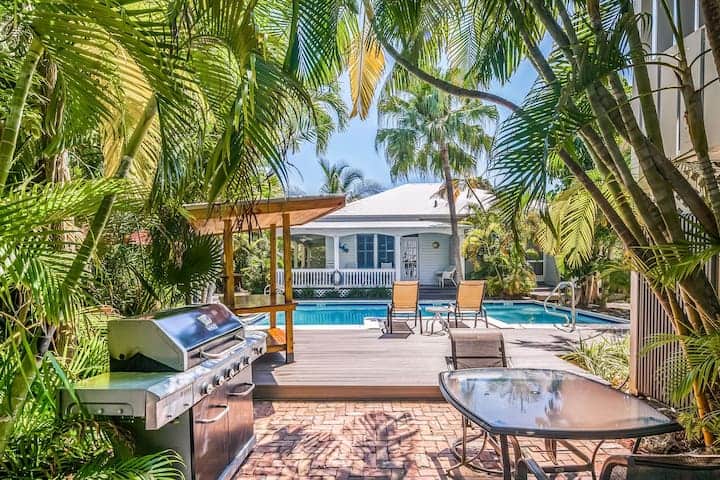 Top Floor Ocean Views
You'll feel like royalty taking in the ocean views from this top-floor condo. The condo is newly renovated and has all the amenities you need to have an amazing trip!
This entry on our list of the best Airbnbs in Key West can sleep six guests. It has two bedrooms and two bathrooms. The condo is spacious 1357 square feet. Staying here gets you to access to the complex's amazing pool and fitness room.
This condo has a great location and is less than 2 miles from all the major tourist attractions in Key West. It is nestled between Smather's beach and Higg's Beach, two of the best local beaches.
Click here to check out rates: VRBO.com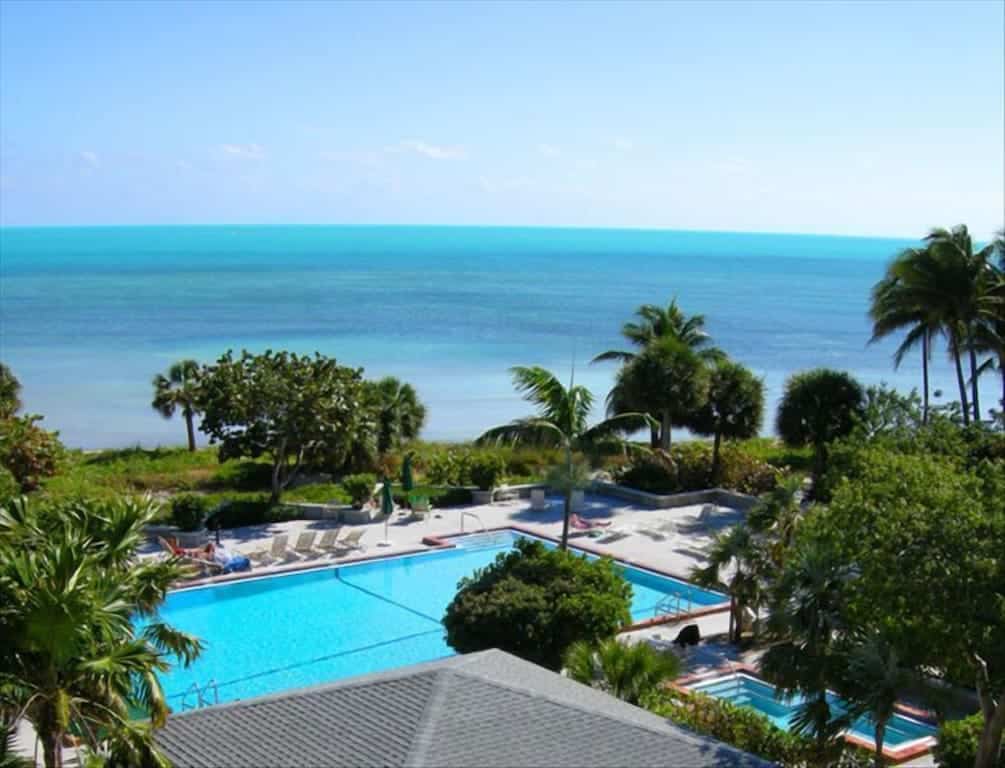 Old Town Cottage
Are you looking for a charming Key West cottage that can fit the whole family or a bigger group of friends? Your Key West rental homes search is over! Come stay in this classic cottage that can host 6 guests. This is everything you're looking for in a Florida cottage, it even has a white picket fence!
This whitewashed cottage has two bedrooms and three bathrooms. It's large by cottage standards- 1300 square feet. The backyard of this property is truly special. It has a private plunge pool and an outdoor shower. The kitchen doors open right onto the back deck and it has a pass-through window for the perfect Florida indoor-outdoor dining experience.
Located steps from the happening Duval Street and less than a mile from South Beach, this cottage makes the perfect home base for your Key West Adventures.
Click here to check out rates: VRBO.com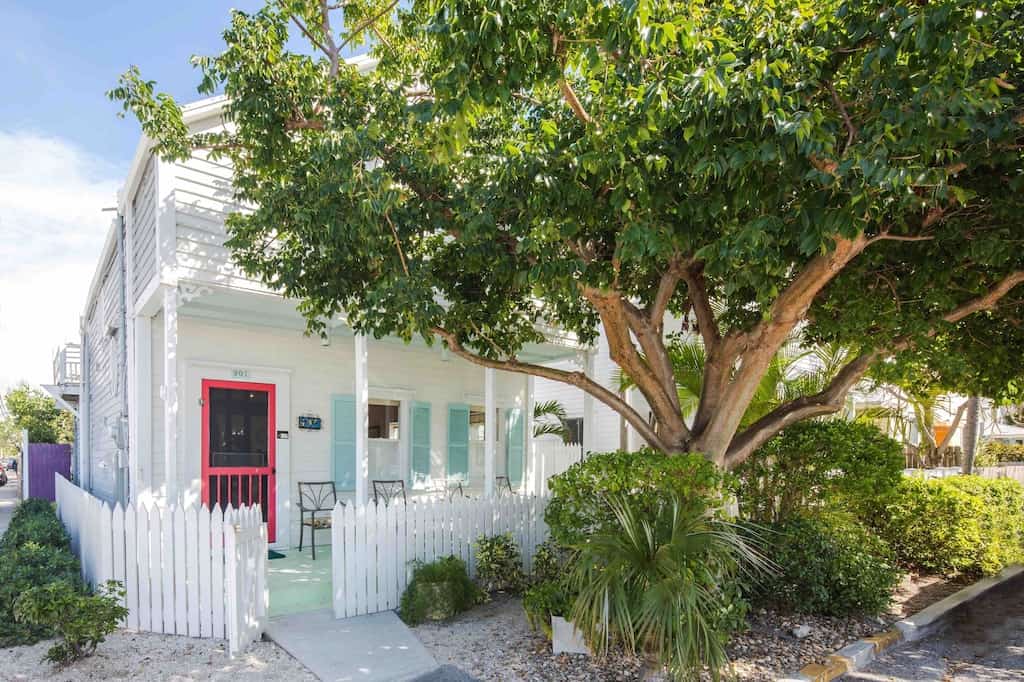 The Jasmine Jewel
Closing out our list of the best Airbnbs in Key West with a truly special luxury property. They don't call it the Jasmine Jewel for anything! Make sure you check out the photos of this gem.
The Jasmine Jewel has a to die for lush private backyard with a beautiful pool and deck. The well-appointed house can sleep 6 guests. It has two bedrooms and two and a half bathrooms. The property has a chef's dream kitchen and the whole back wall of the living room opens out to the pool.
Located in an extremely private gated community, the Jasmine Jewel is just steps away from the hustle and bustle of Duval Street. It's also less than a mile from South Beach and has easy access to Fort Zachary state park. Of all the airbnbs in Key West with a pool this one is a truly special choice for your next getaway.

Click here to check out rates: VRBO.com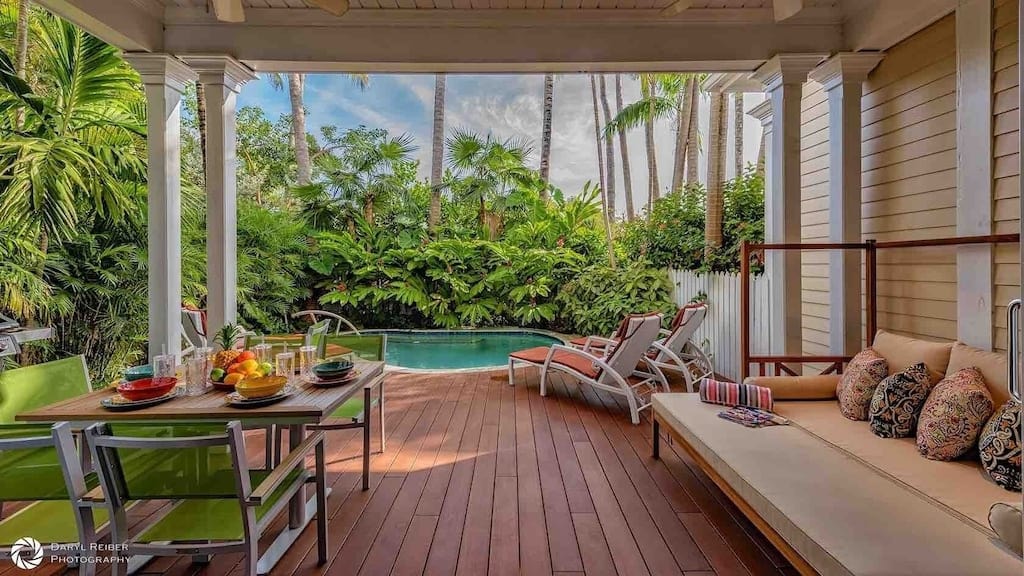 When you want to escape to the tropics of Key West there is no shortage of activities and adventures to explore. Having the perfect home to go back to after a day in the sun can be the cherry on top of an already perfect day.
From condos to villas, there is an Airbnb in Key West for every type of traveler! Whether you are looking for luxury or minimal there is no shortage of perfectly located Airbnb's for you and your guests.
The Keys are a beautiful getaway. The hardest part of your getaway won't be where to stay, but how to find the time to enjoy every little thing your vacation will have to offer.