Are you looking for the perfect Florida gifts for your loved ones? We know shopping can be overwhelming, especially with the limited time you have on vacation.
Not only that, but there are so many Florida gifts to choose from. How can you make sure you pick the right ones?
Well, we've done at least some of the work for you and compiled this list of our favorite Florida souvenirs. Even better, all of these Florida souvenirs can be found online!
You can rest assured that you will find the perfect Florida gifts to commemorate your trip. You can also feel confident they will arrive on time, as we've chosen some of the highest rated small businesses on the market.
If you run out of vacation time to shop for gifts from Florida for your friends and family, or you have the tendency to be forgetful, this list could be a lifesaver.
Forgot to get a present for that one friend you promised you'd bring something back for? You can sip your mimosa on the plane ride home and do some online shopping!
With these carefully pre-selected souvenirs from Florida, your loved ones will never be the wiser.
Is it from some super expensive Florida boutique or a small Etsy shop? They will never know!
Of course we know not everyone is shopping for souvenirs from Florida to give away. There is no shame in treating yourself to a little something special!
Forgot to buy something to commemorate the last time you were in Florida? It's never too late for that!
Whether you need Florida gifts for you or for someone else, we are here to help! And with that said, keep scrolling and happy shopping!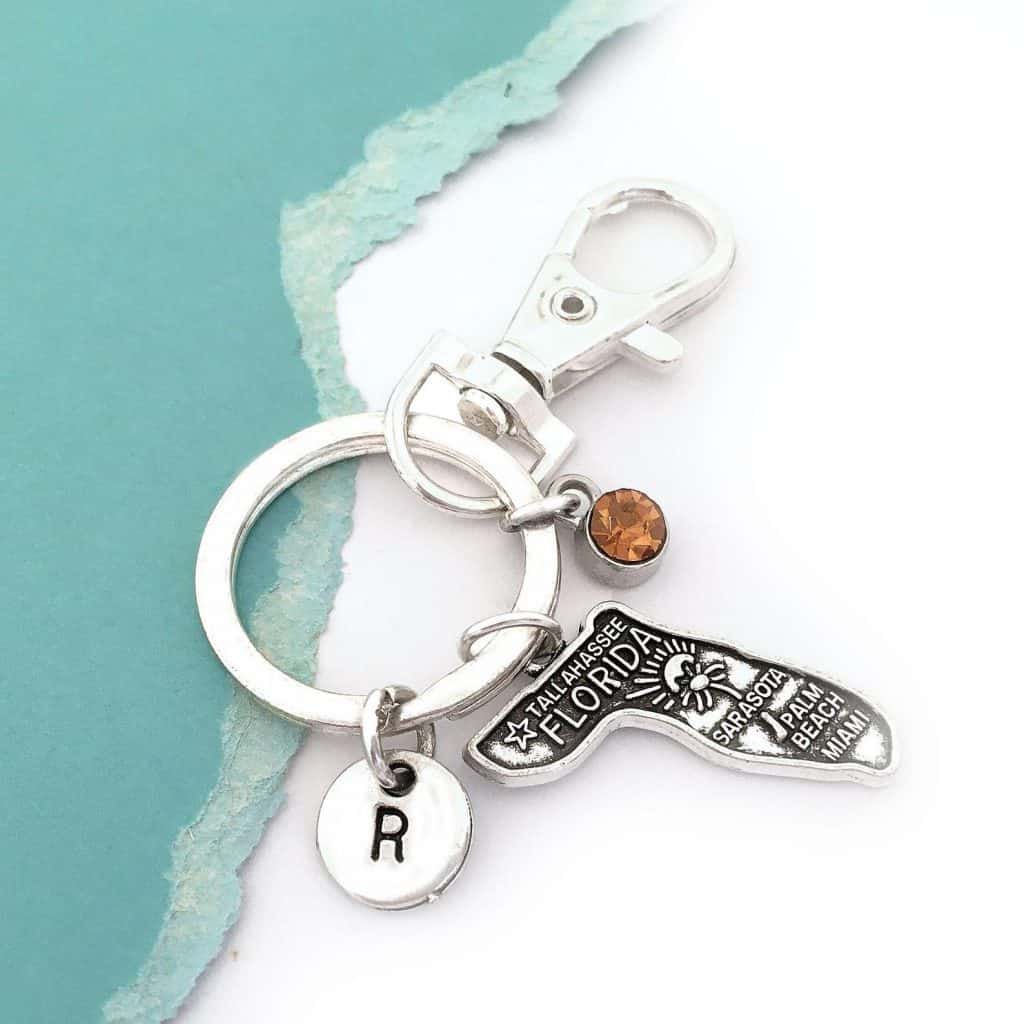 12 Best Florida Gifts And Souvenirs You Will Love
Florida Sea Turtle Vinyl Sticker
If you're trying to do Florida gifts on a budget, these vinyl sea turtle stickers designed by CJs Sticker Shop are the perfect way to go! They start at just $2.99!
All of the stickers in this shop are designed by a local artist from Sarasota, Florida. Yay for supporting independent artists!
The artist, Sean Conners, hand draws all of his designs. Your souvenir will be authentic and unique in every way.
The sea turtle sticker comes in five different sizes: 2″, 3″, 4″, 5″, and 6″. They cost $2.99, $3.09, $3.84 $4.58, and $5.09 respectively.
With all these size choices, you can definitely find a sticker perfect for whatever you're going to stick it on.
Water bottles, laptops, night lights, and phone cases are just a few of the things reviewers have suggested. But of course there are endless possibilities for where to put your stickers!
Also, if you love stickers but don't love the one we've linked here, this shop has tons of Florida themed stickers. There are other adorable turtles as well as manatees, alligators, flamingos, and even some that are shaped like the state of Florida.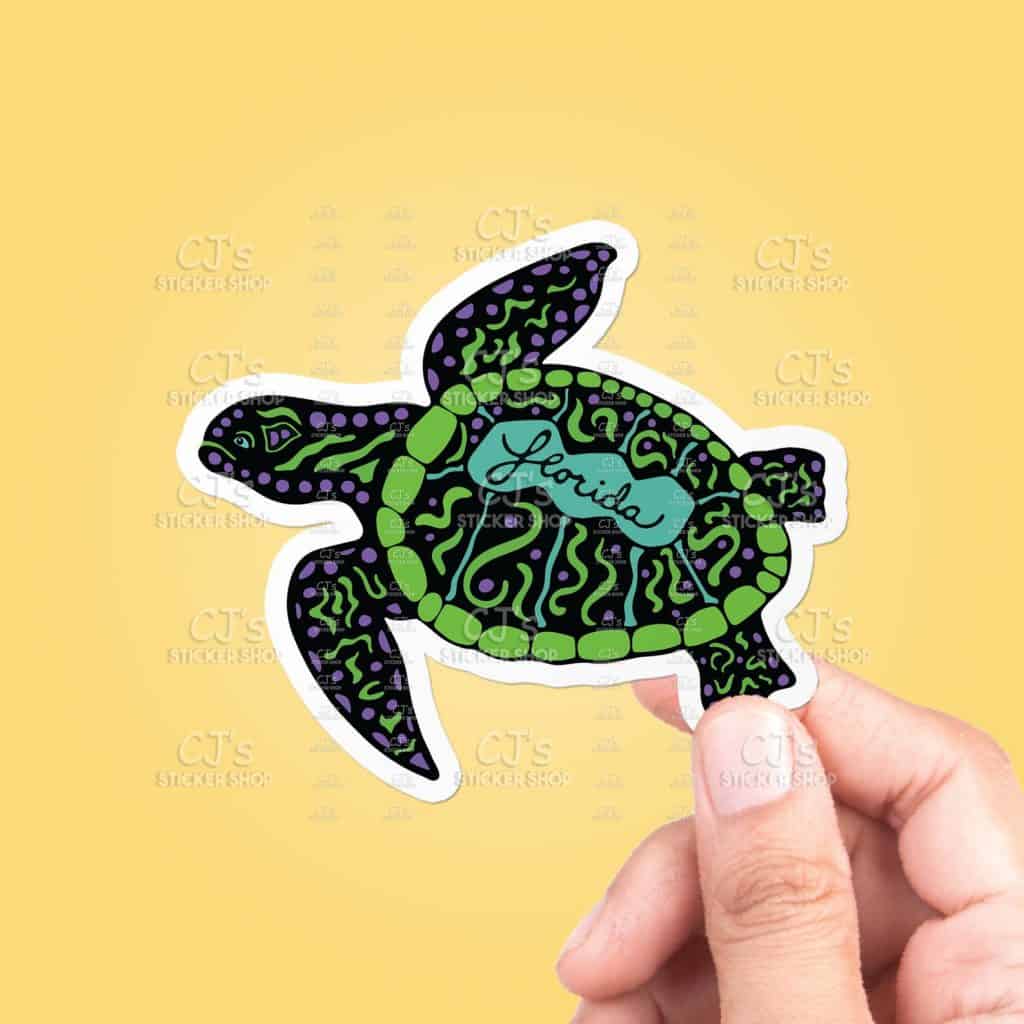 Florida Mug
Do you need a little extra sunshine to start the day? This Florida Mug from Mugs By Mad Kitty Media will give you a drop of Florida sunshine every day with your morning coffee.
This is one of the best choices for Florida souvenirs if you're looking for something personal on a budget. These mugs are also individually hand-decorated by the shop owner so you can customize the design to your liking.
All the mugs come with a standard (and beautiful) pastel design featuring a blue ombré print of the state of Florida, complete with a heart and flowers on top. This super sweet design really pops on the solid white background.
You can have the mug with no text, with the word "Florida", or with any name you choose! You can also choose from three different colors for the handle: red, black, or white.
These mugs come in an 11 ounce size, as well as a 15 ounce size for all of you serious caffeine drinkers. The mugs range from $12.95 to $17.95 depending on size and the personalization you choose.
What better way is there to remember your Florida vacation than to drink out of the state of Florida every day?!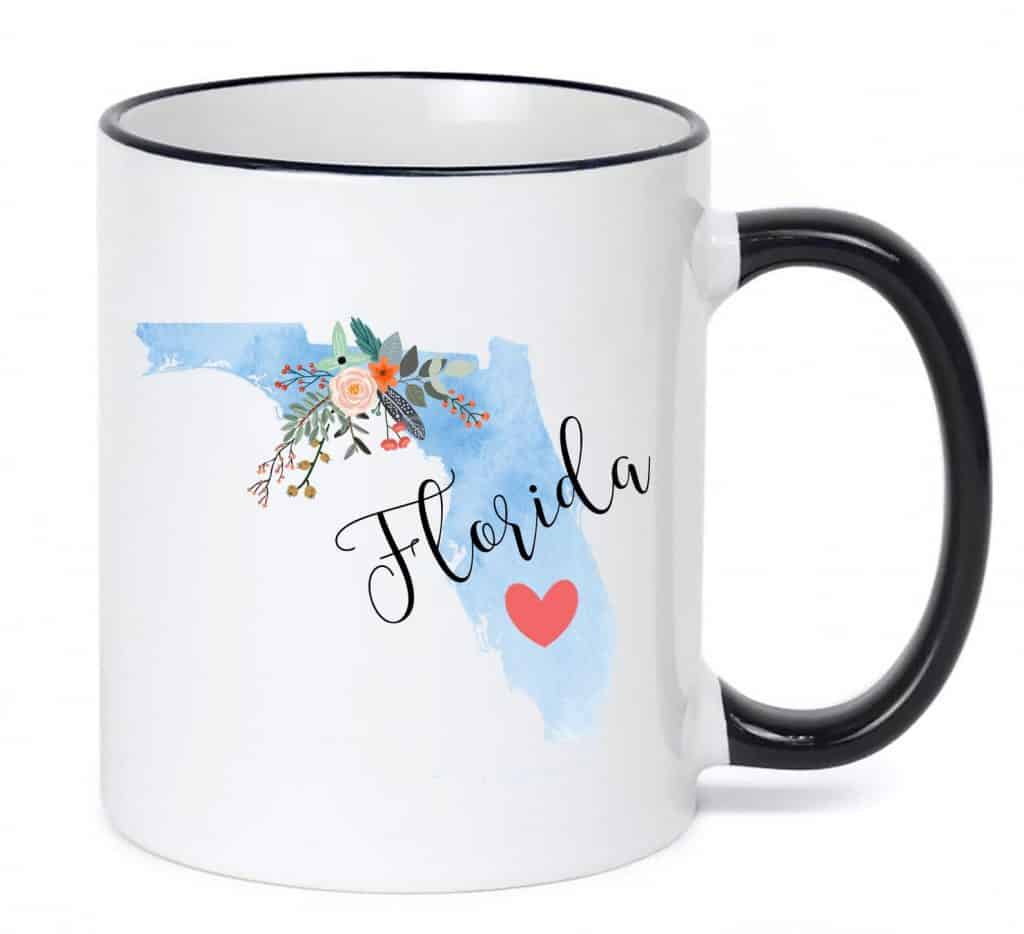 Florida Map
Looking for gifts from Florida that can also serve as simple and classic wall decor? Check out this Florida Map from Lord Of Maps.
This black and white outline of Florida is an original drawing reproduced on heavy paper so feel free to frame it or just hang it up as is! It's a super classy design in neutral colors that can fit with pretty much any decorating motif.
Etsy reviewers love the unique hand-written style of the map, and they also rave about the quality.
The map come is three sizes: 16 x 12 inches, 20 x 16 inches, and 28 x 22 inches. They are priced at $19.99, $34.99, and $54.99 respectively.
This would be an especially great gift for a homesick college student or snowbirds missing their Florida residence in the warmer months.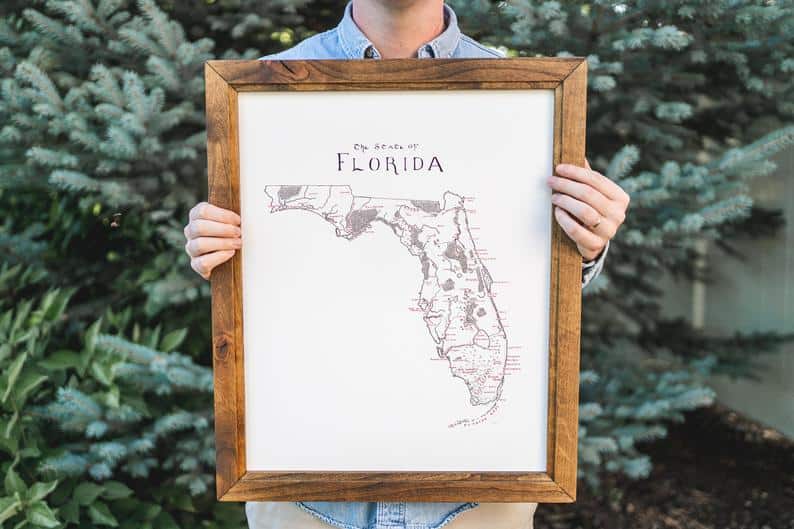 Personalized Charm Keychain
One of the best things about buying your Florida gifts from Etsy is that many of them are customizable. Choosing a favorite color or adding someone's name can really step up your gift-giving game.
This Personalized Charm Keychain from Charm Zoo allows for not one but three customizations. These little things can make your souvenirs from Florida feel super personal and thoughtful.
You can choose both the birth stone and letter (first initial) you want on the keychain. Who doesn't love things with their birth stone in them?!
These cute little keychains range from $7.90 to $13.90 depending on your personalizations. There's also an option to add a clasp so the keychain will be super easy to take on and off.
There are a bunch of different clasp options too, so the possibilities are endless!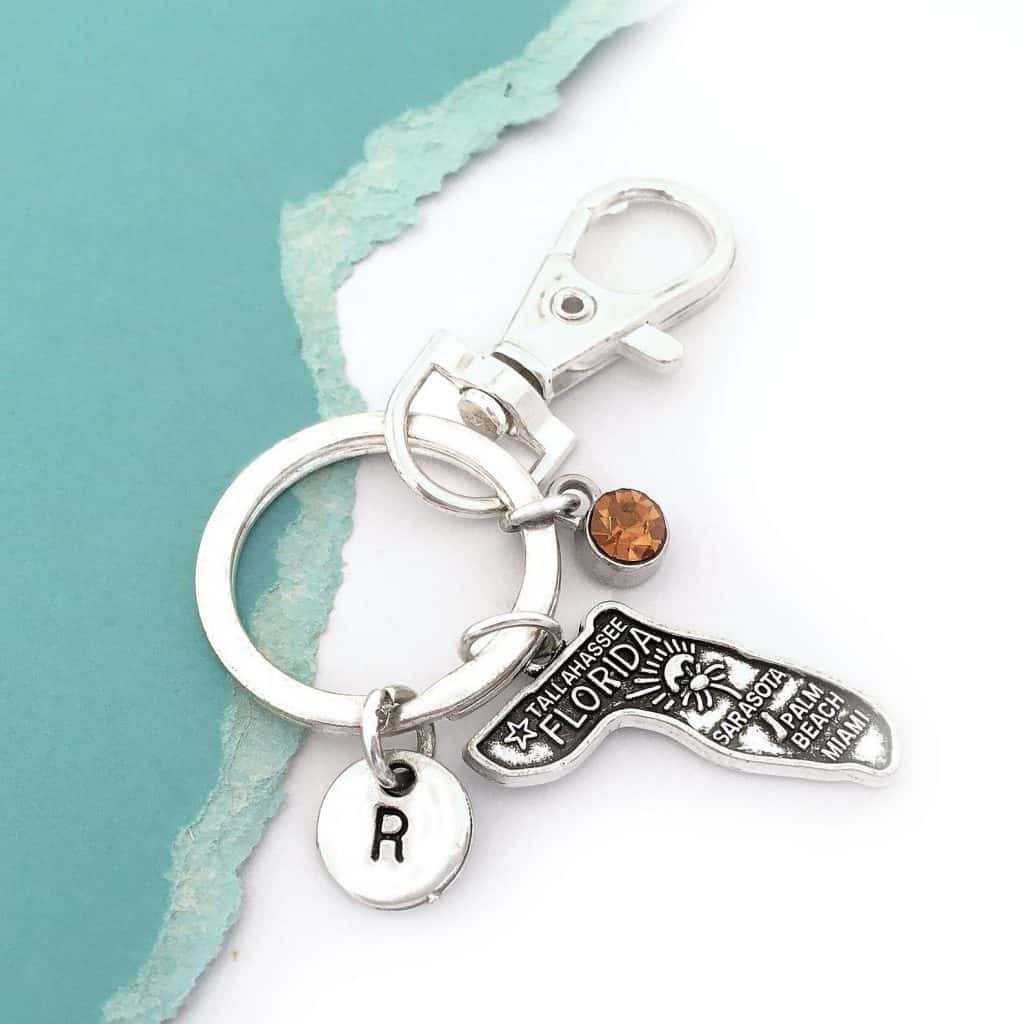 Disney World 1971 Souvenir License Plate
If your Florida vacation includes a trip to Disney World, this is one of the best Florida souvenirs for you. This Disney World 1971 Souvenir License Plate from Vintage Plates has rave customer reviews.
1971 was the year Disney World opened, so with this license plate you will certainly look like you know your way around. Reviewers say they've received lots of compliments on their "vintage" Disney plate.
Reviewers also stress the high quality of this product.
The Florida sun can fade the color on just about anything, but not this license plate. It is treated with a heat of 400 degrees (F) in order to provide super long-lasting color.
It is also one single piece of metal, so you don't have to worry about decals rubbing off over time.
The plate costs $16.95 and is a universal size that should fit the front of any vehicle.
While many of the souvenirs from Florida on this list are meant to commemorate your trip after the fact, we highly recommend purchasing this one ahead of time, particularly if you are planning a road trip and will be driving your own car to see Mickey.
This way, you can arrive in style and be sure to impress with your unique Disney paraphernalia.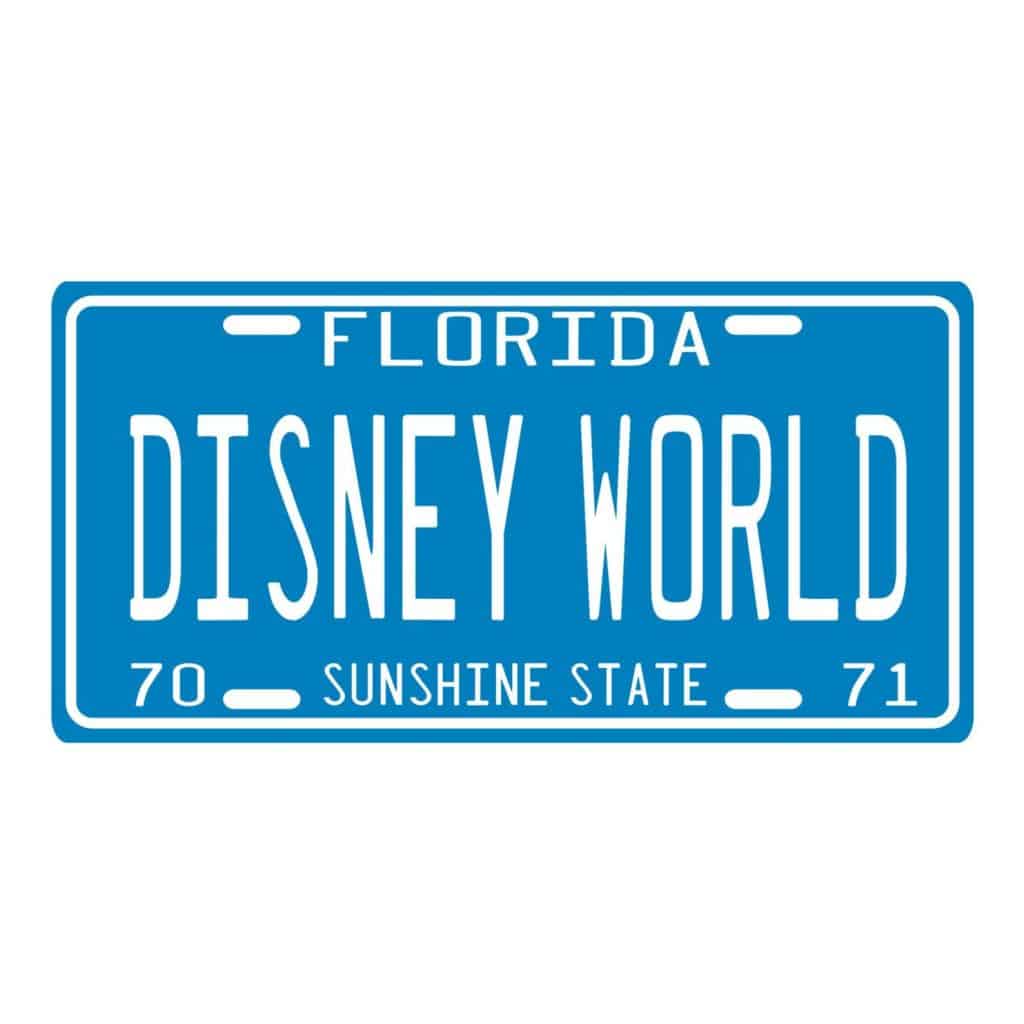 Florida Beach Sand Bracelet
If your idea of the perfect gifts from Florida includes simple and elegant accessories, consider this Florida Beach Sand Bracelet from Naturetopia Creations. This is one of the most unique and authentic Florida souvenirs out there, and it's still under $25.
This beautiful bangle-style bracelet features a simple design with two small charms. One charm is shaped like the state of Florida, and the other is round and filled with sand from the beach of your choosing.
On the seller's page, there is a drop down menu of 13 different beaches you can choose from! Most of the major Florida beaches you'd visit on vacation are included in this list; such as Melbourne Beach, Clearwater Beach, and Daytona Beach. You can also opt to remove the state of Florida charm for a more understated look.
If you want to take a real, genuine, natural piece of Florida home with you, this bracelet will definitely fit the bill.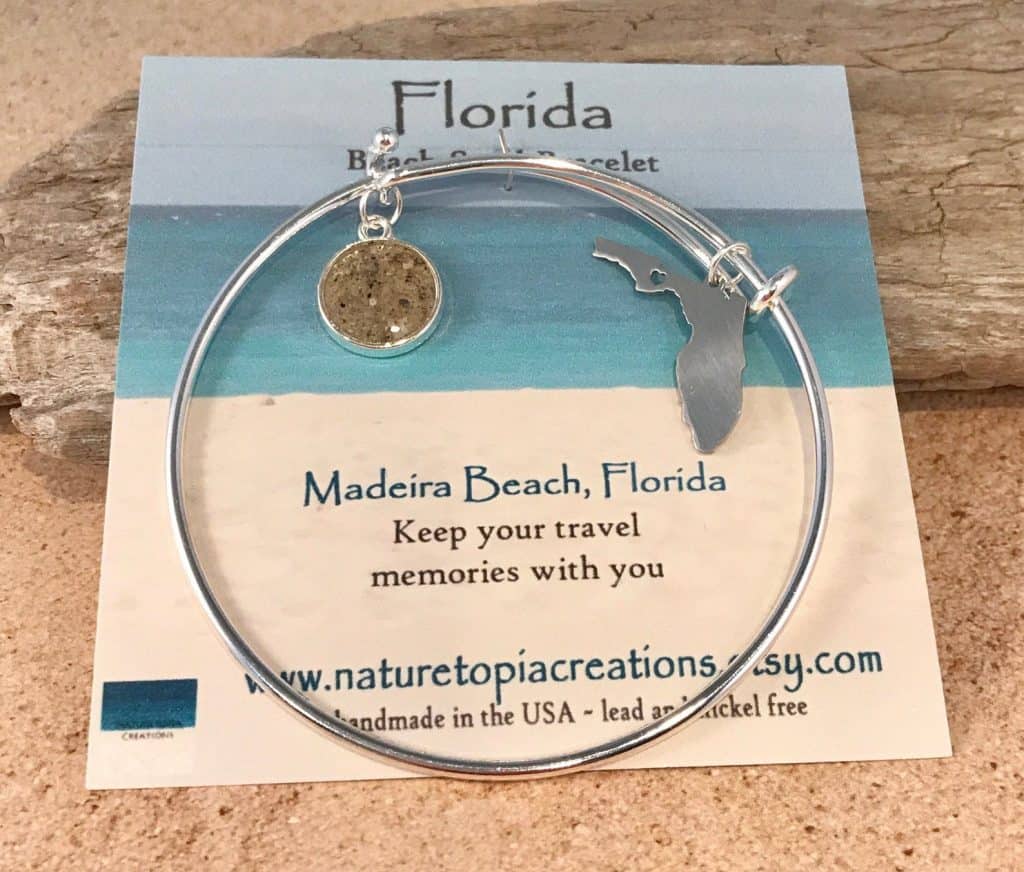 Alligator Salt And Pepper Shakers
Give every meal a taste of the sunshine state with these Alligator Salt And Pepper Shakers from Shaking Things Up.
Everyone knows that Florida is famous for its alligators, and these salt and pepper shakers are much less dangerous than the real thing! There's no better way to represent Florida's wildlife than your own miniature set of gators.
This Etsy seller has a collection of over 800 sets of antique salt and pepper shakers. She's been collecting them (mainly from garage sales) ever since she was a kid.
Because these salt and pepper shakers are vintage garage sale finds, there is only one set in stock. However, if they're gone by the time you read this, never fear and read on!
There are multiple listings for different alligator sets in this shop, as well as other Florida-themed salt and pepper shakers like dolphins. There is even a set to commemorate a visit to the Kennedy Space Center.
Prices vary between different sets of course, but most of them are between $9 and $16.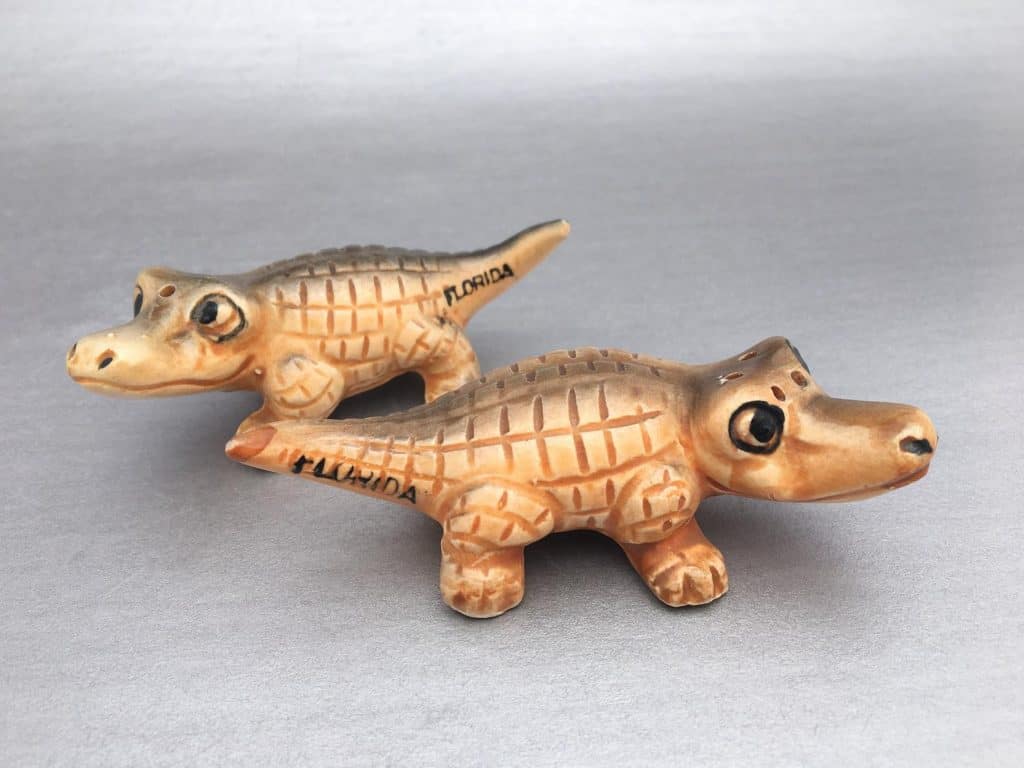 Personalized Florida Gator Head Decanter And Whiskey Glasses
Speaking of alligators, are you trying to find Florida gifts for the Gator fan in your life? This Personalized Florida Gator Head Decanter And Whiskey Glasses from All Gifts Shop would make an awesome Christmas or birthday present.
This is the most expensive of the Florida souvenirs on our list, starting at $39.99. But, we would not have included it if we didn't think it was completely worth it.
You can get the pair of whiskey glasses for $39.99, the decanter for $59.99, or a set with both for $69.99. You can even upgrade your set to include 4 whiskey glasses for just $10 more (definitely the best deal).
There are two lines of customizable text which can hold up to 20 characters each, so you have endless options for what to write.
Most custom glassware uses vinyl decals. Although cute, these can easily rub off in the dishwasher or even just with warm water in the sink.
Not this time!
The design is etched directly into the glass so it will last for life! If you were on the fence, this is your sign to go ahead and treat yourself to some fancy, custom Gator accoutrements for your home bar.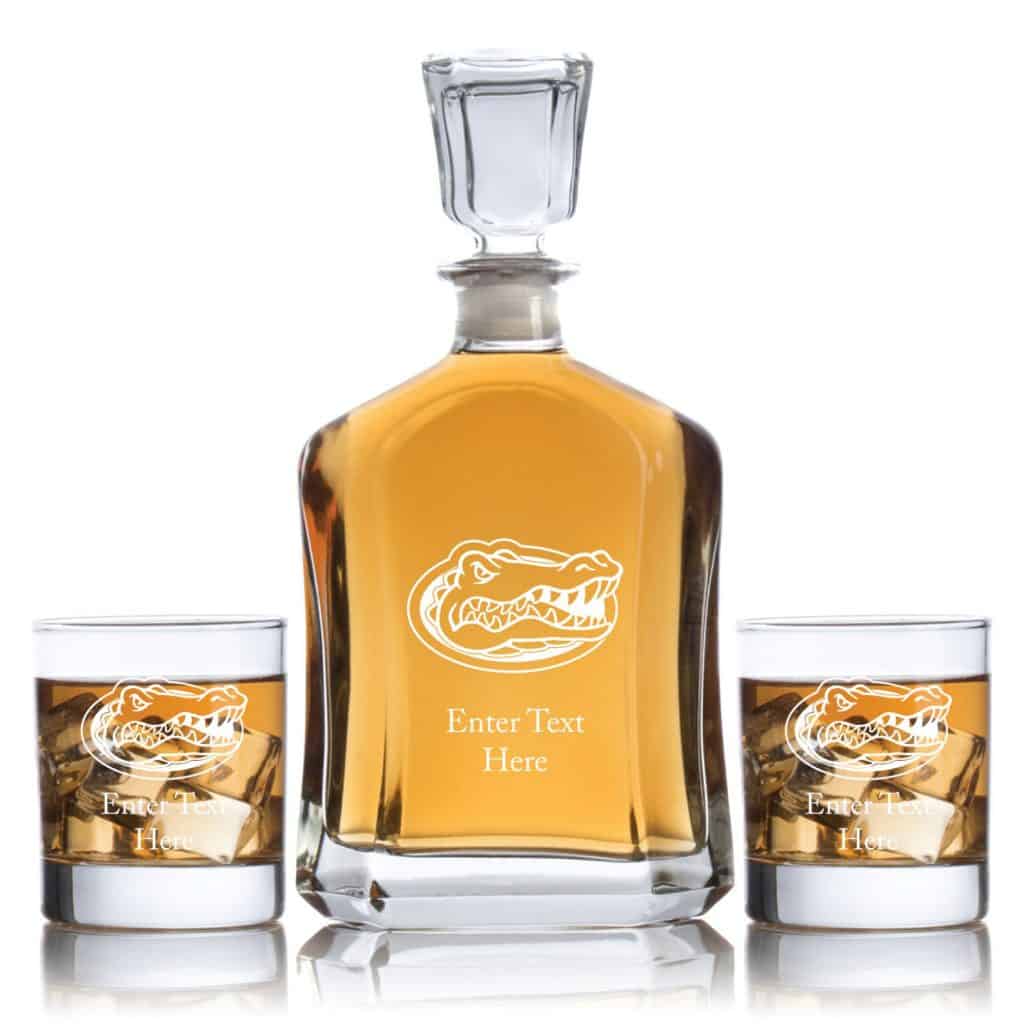 Miami City Skyline Vintage Retro T-Shirt
Does your Florida gifts shopping list include Miami souvenirs? This Miami City Skyline Vintage Retro T-Shirt from T2UShop will definitely fit the bill.
There are three shirt styles you can choose to have your vintage Miami design printed on: V neck, crew neck, or long sleeve. Depending on the shirt style these Miami souvenirs go from $16-$22.
There is also a kids shirt option. This is one of the best Miami souvenirs for your whole family!
You could even twin with your bestie in this super fashionable tee.
The shirt is available in a variety of colors, 10 to be exact. So don't worry, everyone can get their favorite color!
This shirt is 100% cotton, machine-washable, and uses eco-friendly ink! It also has a myriad of 5 star reviews.
If this shirt sounds like it will fulfill your needs for Miami souvenirs, you can find it on Etsy!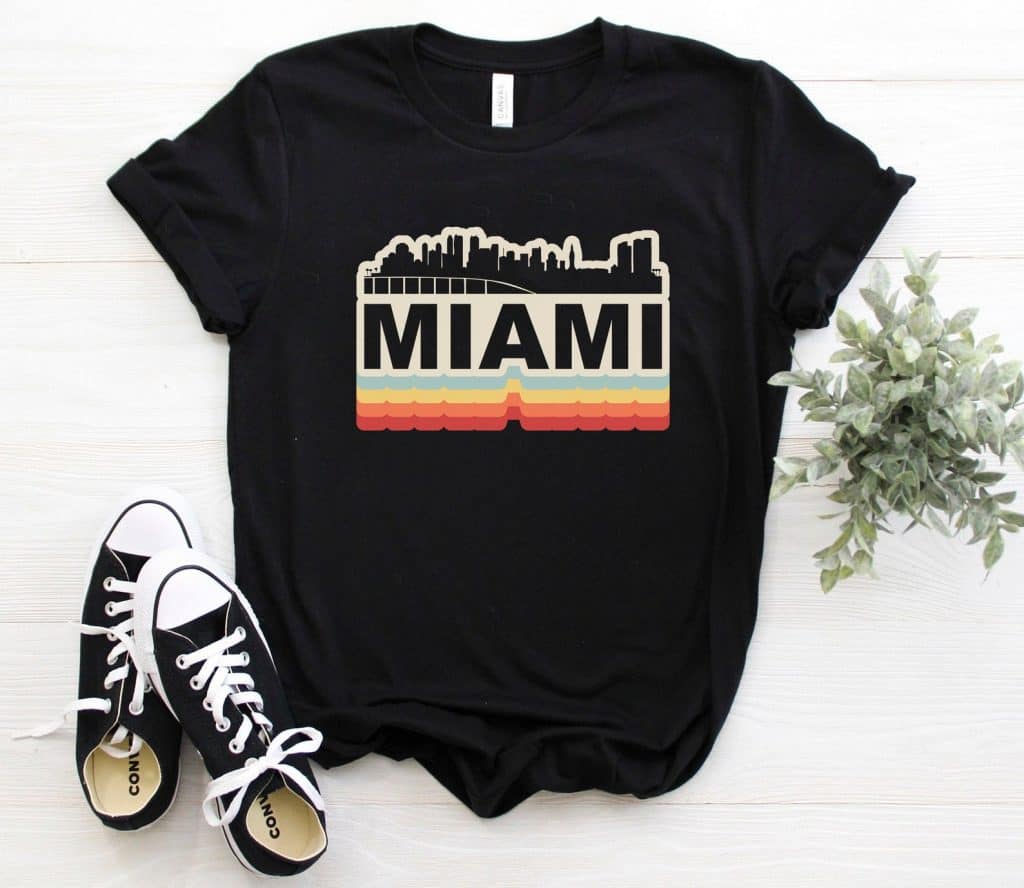 Miami Iron On Patch
Into fashion and making it your own? Looking for more unique Miami souvenirs?
Take a look at this cool Miami Iron On Patch from Black Lamb Studio Shop.
Unlike most of the other souvenirs from Florida on this list, this item doesn't allow for any customizations from the seller. However, you seriously have endless possibilities for what to do with it so that's no problem!
This patch is super easy to use, so you don't have to be an expert to get your one-of-a-kind look. Just peel off the back, iron on, and rock your cool new outfit.
You can put it on jeans, backpacks, tote bags, and so much more! If you ask us, we think it would look amazing on a denim jacket.
This patch is 6 inches wide and only $12.99! So grab one now and send us a pic of your new look!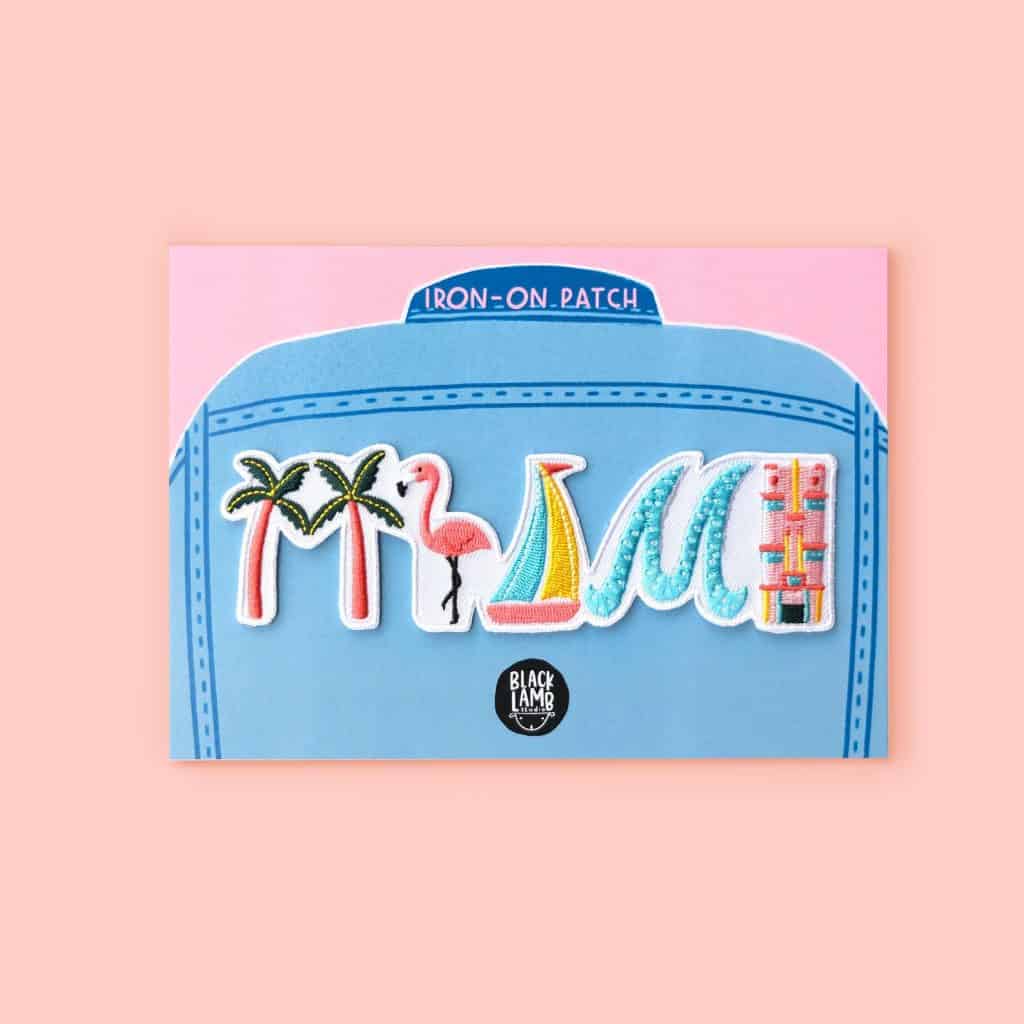 Florida State Shaped Bottle Opener Keychain
This adorable Florida State Shaped Bottle Opener from Midwest Opener Co is super convenient because it's also a keychain! Now every time your friends go to crack open a cold one, they will think of you and the awesome time you had in Florida.
All of this seller's bottle openers come with a small hole and a keyring to go in it. This way you can put it on your keys or just toss it in that kitchen drawer.
This bottle opener is made of 14ga stainless steel so it will hold up through even your wildest of nights. This is an awesome deal at just $9.99!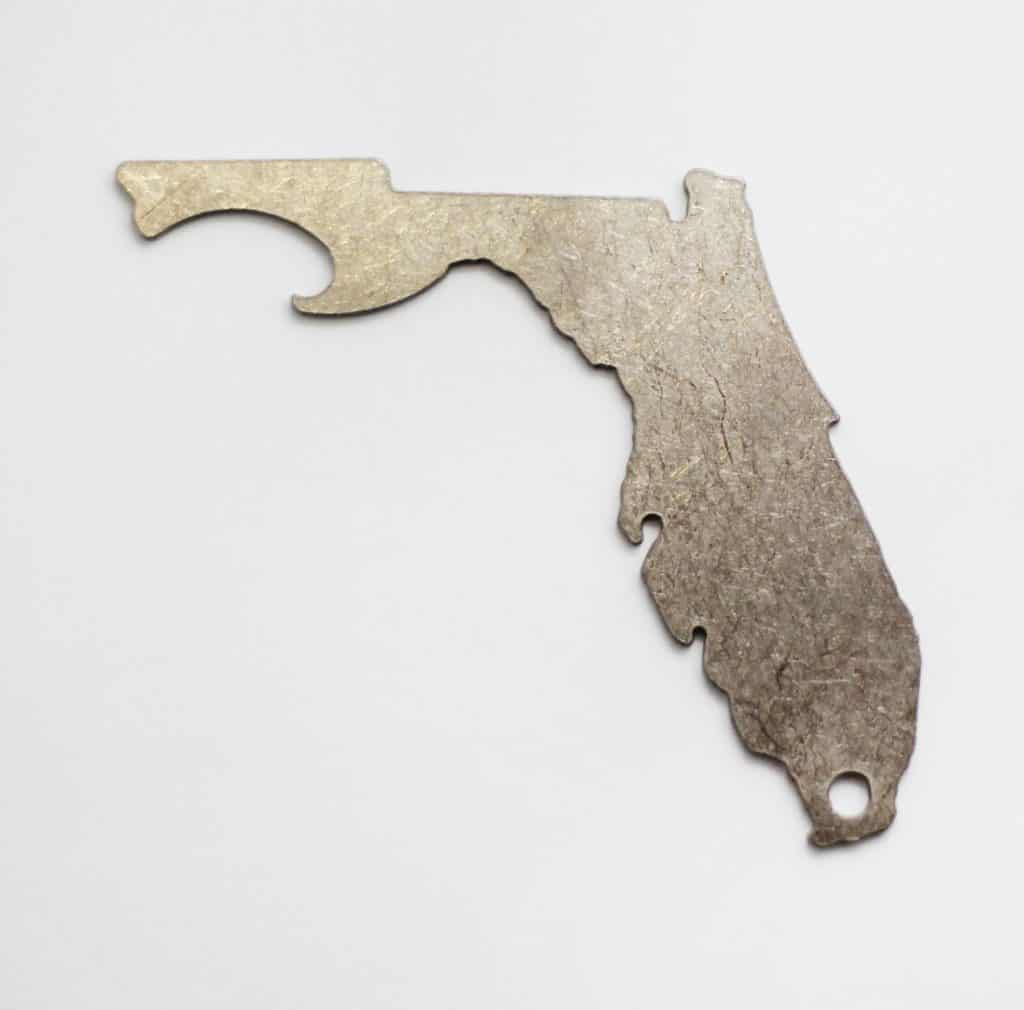 Florida Scented Candle
If you're looking for gifts from Florida for a homesick loved-one, we recommend this Florida Scented Candle from Hello You Candles.
In contrast to the last two Florida souvenirs on this list, this candle can be made super custom.
First you can choose from a white or a more rustic brown label. Then you can have whatever you want written on the back!
What better way to tell someone you miss them than a personalized message right on the gift?
The wax used in these candles is eco-friendly soy wax grown right here in the USA. The seller also promises the finest essential oils are used to create that perfect Florida scent.
Although we can't tell you exactly what Florida smells like, we imagine it's something like fresh citrus mixed with salty sea air. Maybe there's even a hint of mangrove trees after a storm.
Whatever it is, reviewers have nothing but great things to say about the smell of Florida in this candle.
You can get either a 9 ounce candle for $24, or a 16 ounce candle for $28. Soy candles burn super slow compared to other types of wax, so you can enjoy hours upon hours of this relaxing Florida scent, no matter how far you may be from home.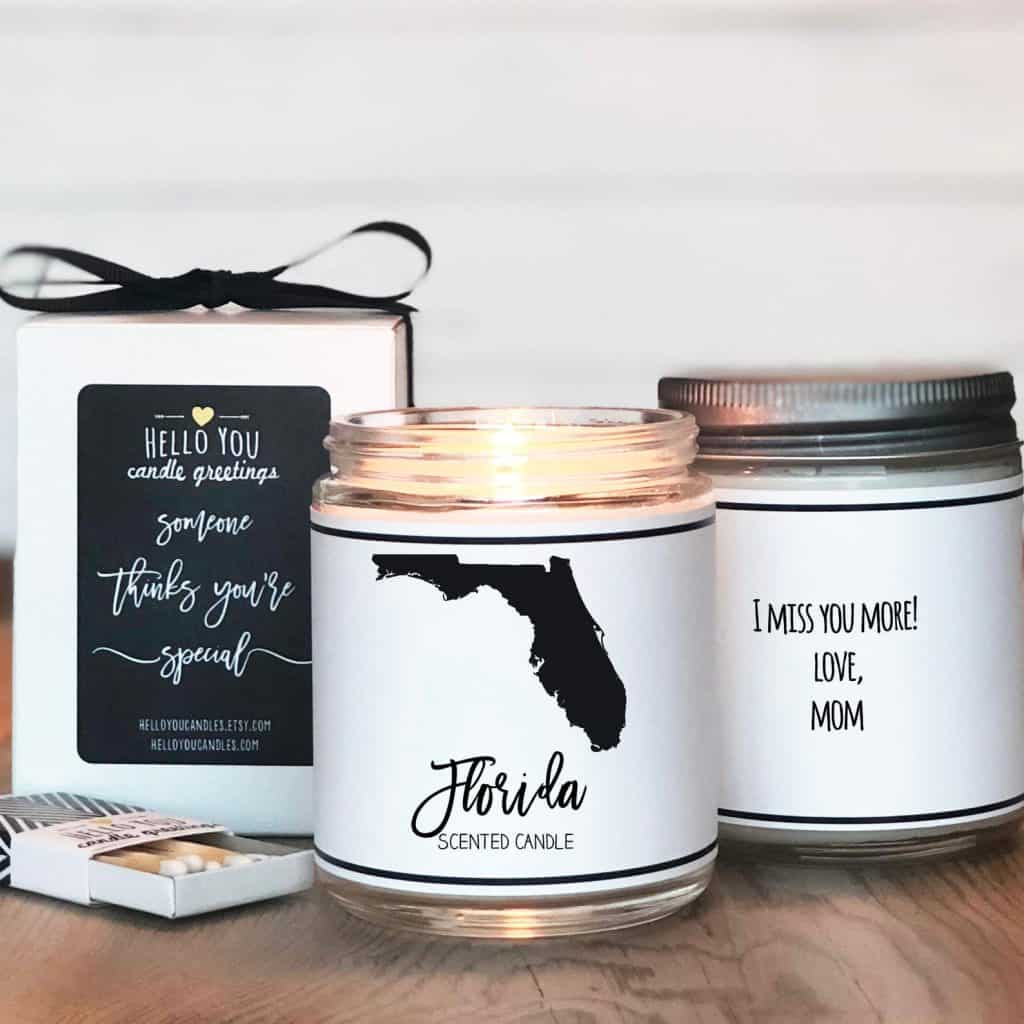 With all of the choices online for souvenirs from Florida, it can be totally overwhelming to know where to start. We know the feeling of trying to find that perfect memento.
From artwork to accessories to mugs and keychains, where does one even begin?
The gifts from Florida on this list are just the tip of the iceberg of what's out there, especially online. That's why we tried to do just a bit of the shopping for you in the Florida souvenirs department.
That being said, if none of these Florida gifts perfectly satisfy your shopping needs, we hope you've gleaned a bit of inspiration. And if you do purchase any of these Florida gifts, be sure to send us a pic!
Whether you are looking for Florida souvenirs for others or looking to treat yourself to some Florida gifts, we sincerely hope this list has made your shopping easier.
Good luck and happy shopping Florida Trippers!
Did You Find This Post Helpful?
If so, we would love to keep in touch! We enjoy seeing photos and comments about your experiences in Florida! You can follow us on Instagram and we will repost your photos on our feed and comment too! Just tag us at @floridatrippers and hashtag #floridatrippers. We can't wait to see your travels!