In a state surrounded by water on three sides, the number of beaches to choose from can be overwhelming, but we've got you covered with a list of some of the best beaches in Florida.
With natural wonders in the Everglades, exhilarating theme parks, and exciting nightlife, it's no wonder tourists flock to the Sunshine State, but the number one reason Florida has attracted people from all over the world is for the state's absolutely stunning beaches.
Where there's a will, there's a wave. No matter where you are in the state, some of the most beautiful beaches in Florida are no more than two hours away.
Going to the beach is one of the definitive summer must-dos! Since it's summer all year round in the Sunshine State, here are some of the top Florida beaches to visit for a great vacation (or even a staycation for the locals).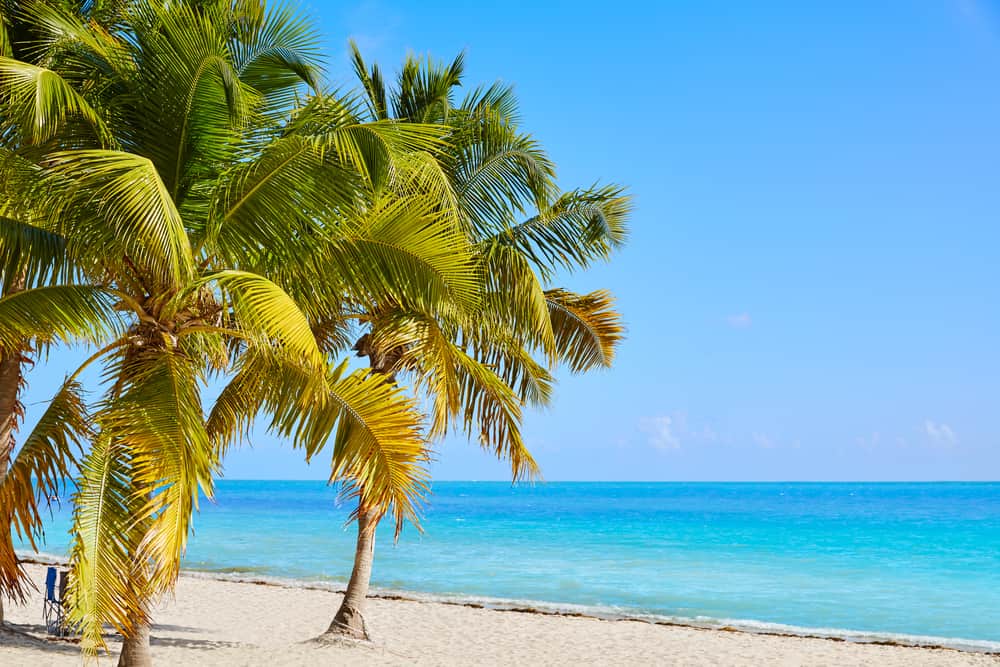 17 Prettiest Beaches in Florida to Seas the Day
Amelia Island
On the northeast coast of the Sunshine State lies one of the nicest beaches in Florida to visit – Amelia Island. Tourists and locals alike visit this barrier island for a refreshing dip in the pristine waters and to admire the plethora of native wildlife.
Amelia Island is the perfect spot for a peaceful getaway whether guests prefer to stroll along the shore of one of the top Florida beaches, lounge under an umbrella with a favorite beach read, or explore the historical sights on the island influenced by the French, Spanish, and English at different points in time.
Perhaps one of the most magnificent experiences on Amelia Island is to go horseback riding on the beach! It's the only state park in Florida that allows it.
Visitors have an opportunity to get a closer look at the real Florida, including salt marshes, coastal maritime forests, and stunning beaches where shells and shark teeth are waiting to be discovered.
The George Crady Bridge Fishing Pier offers fishermen a place to cast their lines in hopes of a good catch. Fishing bait, tackle supplies, snacks, and refreshments are available at the On the Line Bait and Tackle Shop nearby.
Not only is Amelia Island home to some of the best beaches in Florida, but it also offers an array of accommodations from luxury hotels to adorable beachfront condos.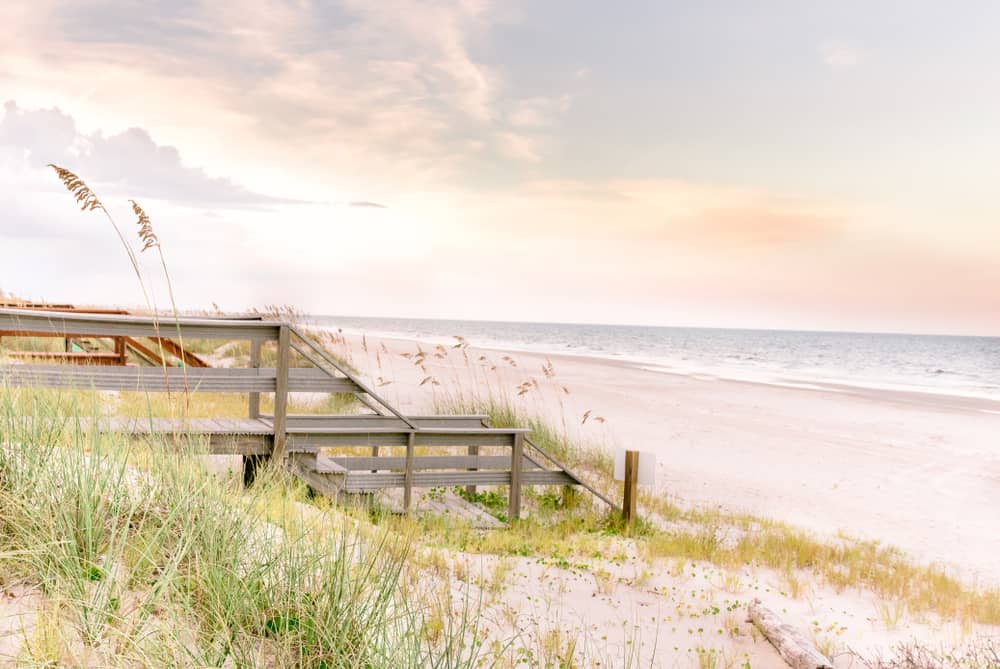 Pensacola Beaches
One of the top Florida beaches is literally at the top of the state, at the western-most point on the panhandle. This is truly one of the best things to do on the West Coast Of Florida!
Locals and tourists come to Pensacola to enjoy the city's many beautiful beaches with their emerald waters and sugar-white sand. The lively bunch populates the main beach while those looking for a serene beach experience head to the Gulf Islands National Seashore.
The luckiest beachgoers may even spot a turtle between March and October, which is turtle nesting season. Be careful not to disturb these endangered animals.
The Footprints in the Sand Eco-Trail features educational signs and QR codes with information about the local wildlife and plant life. Those who are up for a longer, slightly more rigorous hike can opt for the 6.9-mile stretch of the Florida Trail that ends at the historic Fort Pickens.
If you want awesome beachfront accommodation, there are plenty of rental options! This will help you appreciate these good beaches in Florida even more.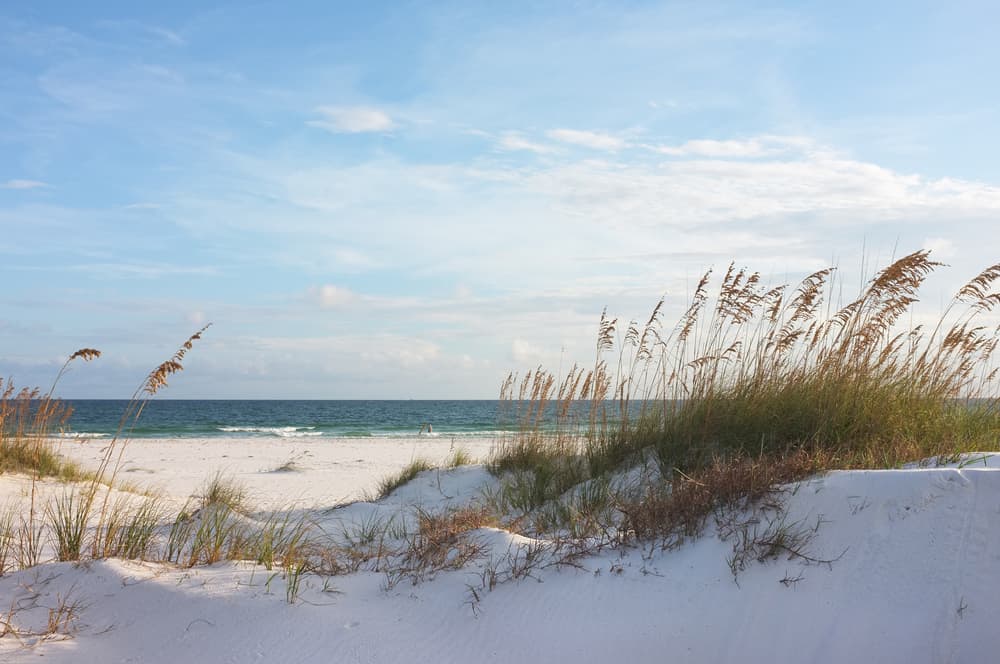 Cocoa Beach
The clean, wide beaches along Florida's Space Coast offer something for everyone, whether it's a calm, peaceful day under the sunshine or a fast-paced adventure that gets your blood pumping. The beautiful, warm waters and versatility of Cocoa Beach make it one of the best beach destinations in Florida.
Make sure to check out our list of the Best Things To Do In Cocoa Beach for your trip.
The Cocoa Beach Pier is a great spot if you're looking for some excitement. Visitors can dine at any one of the delicious restaurants, have a drink during happy hour, or shop at a quaint boutique while live music fills the air.
The pier also provides great fishing spots and a killer view of the Atlantic Ocean. Beach, water sport, and fishing equipment rentals are available, not to mention the beach volleyball court for a great game.
Though there are countless wind and water sports to participate in like stand-up paddleboarding, kayaking, or parasailing, one of the top things to do in Cocoa Beach is surf.
For a taste of Cocoa Beach's surf culture, head to the beach early in the morning to watch locals and pros alike catch some waves or check out some of the local shops that create custom, handcrafted surfboards and stand-up paddleboards. The iconic Ron Jon Surf Shop, which is the largest surf shop in the world, is a can't-miss either, not to mention it's open 24 hours.
There are four main parks with access to one of the best beaches in Florida:
Alan Shepard Park – Named after famed NASA astronaut, the park offers a great view of the shuttle launches – it's quite a sight to behold. It's within walking distance of popular retail establishments and also features picnic tables as well as shower and restroom facilities. The parking fee is $2.50/hr. or $15/day per vehicle.
Sidney Fisher Park – This family-friendly beach park also has picnic tables, but with the added bonus of a playground. The parking fee is $2.50/hr. or $15/day per vehicle.
Lori Wilson Park – One of the nicest beaches in Florida is accessible through Lori Wilson Park, which has a lovely nature trail boardwalk through the Maritime Hammock Preserve. Besides the picnic tables as well as shower and restroom facilities, there's also a dog park. Best of all, parking is free!
Robert P. Murkshe Memorial Park – Though there are no pets allowed on this stretch of beach, there is a pavilion as well as restrooms and showers for guests. Parking is free.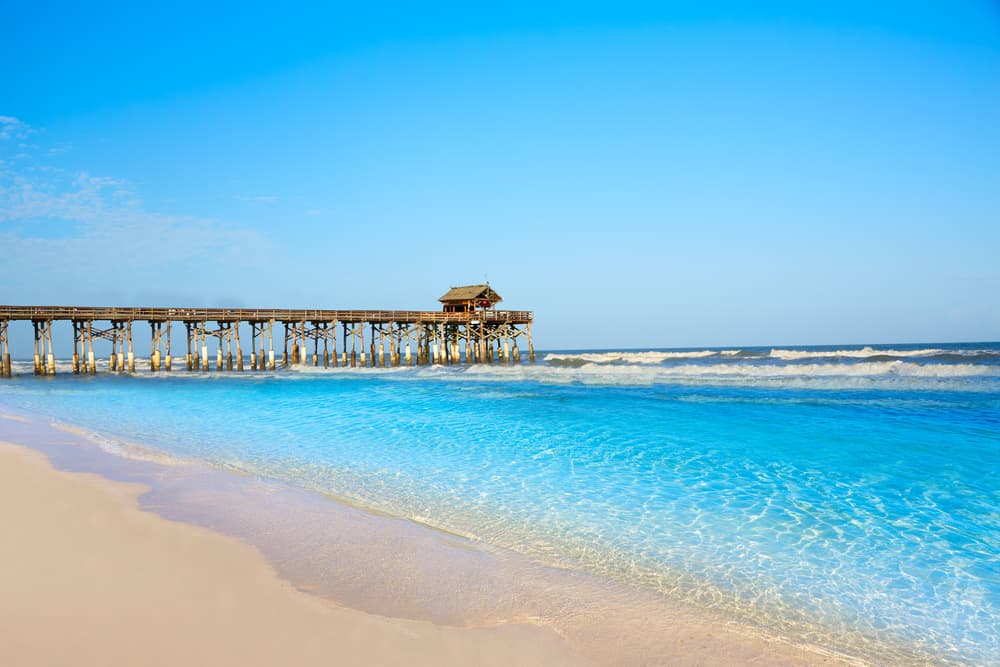 Honeymoon Island
Honeymoon Island State Park features numerous amenities and spectacular sunsets that make it one of the top Florida beaches locals and tourists love to visit. It is truly one of the best beaches near Tampa!
Main Beach has a wide expanse of soft, powdery sand where families settle down for their beach day with coolers, umbrellas, and water sports gear. This beach is closest to the parking lot as well as the restrooms and café, which is why it's usually the busiest on a weekend or holiday.
For those with furry friends, you'd be happy to know that Honeymoon Island is pet-friendly! There's even the dedicated Dog Beach, which not only allows dogs on a six-foot leash, but it's great for fishing as well. As it's on Hurricane Pass, though, swimming might not be the best idea due to the rougher waters.
On the northern end of the island is the quieter, more tranquil North Beach for those looking to spend a peaceful day enjoying the salty breeze, collecting shells, or admiring the wildlife. Though Main Beach has soft sand, this one does have lots of shells and rocks, so come prepared with water shoes if you plan on taking a dip in the ocean.
Though these are some of the nicest beaches in Florida for different reasons, Honeymoon Island also has about three miles of hiking trails through one of the last remaining slash pine forests which are brimming with wildlife.
The incredible variety of birds, such as osprey and eagles, also attracts birdwatchers to Honeymoon Island. Visitors can check out the Nature Center if they'd like to learn more about the wildlife in the area as well as the flora.
The history of the island is also a fun little bonus. The story goes that in the 1940s, Clinton M. Washburn, in an effort to rebrand the island since it was previously named Hog Island, announced that newlyweds could apply for a free vacation to Honeymoon Island.
Couples would stay in cottages with names like "Love Nest," though there was no electricity or plumbing, and enjoyed activities such as swimming, fishing, and exploring the island.
Visitors these days can look at old photos of the honeymooners at the Nature Center and learn a little bit more about this unusual history. For instance, what is now Honeymoon Island used to be much bigger until a hurricane split it in two about 100 years ago – Caladesi State Park, another one of the best Florida beaches, makes up the other half.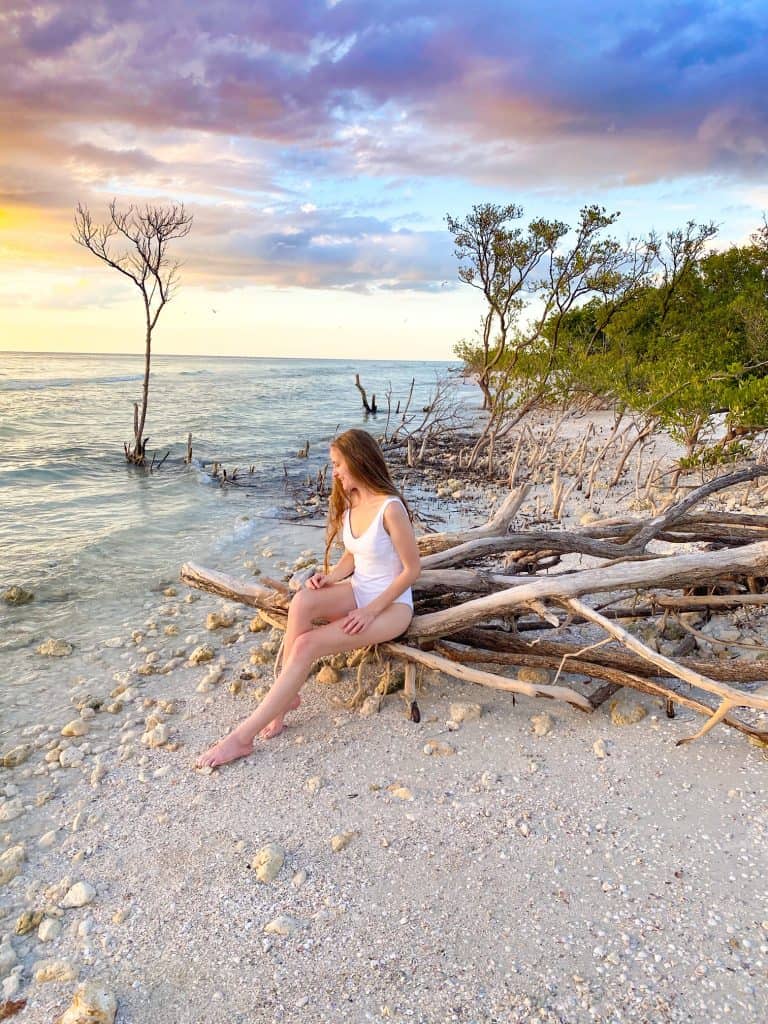 Caladesi Island State Park
Surprisingly, this beautiful barrier island paradise has remained largely undeveloped, making it one of the best beaches in Florida for those who prefer a quiet, peaceful beach trip. This Florida beach destination is not far from Clearwater.
Visitors to Caladesi Island State Park can bring their fishing gear and hope for a good catch (as long as state fishing regulations are adhered to) or pack a picnic to enjoy at any of the pavilions while the kids have fun at the playground. The tranquil hiking trails and paths along the dunes can be so relaxing as well.
For a unique experience, paddle a kayak through the mangroves on the island or try camping on a boat! The marina is equipped with electrical service and water hookups as well as a grill for a completely different camping experience.
If you're up for a bit of a walk, Caladesi Island State Park is also accessible by foot from Clearwater Beach since Dunedin Pass was filled in by Hurricane Elena in 1985, though many would consider six miles quite a far walk.
The most convenient way to get to Caladesi Island is via boat; if you're in luck, you might even see some dolphins making a splash!
The Caladesi Ferry is available to take visitors to one of the top beaches in Florida while others arrive on private boats, but Florida locals insist that the best way to visit the island is by kayak and will even rent them out at a more affordable rate than a rental company.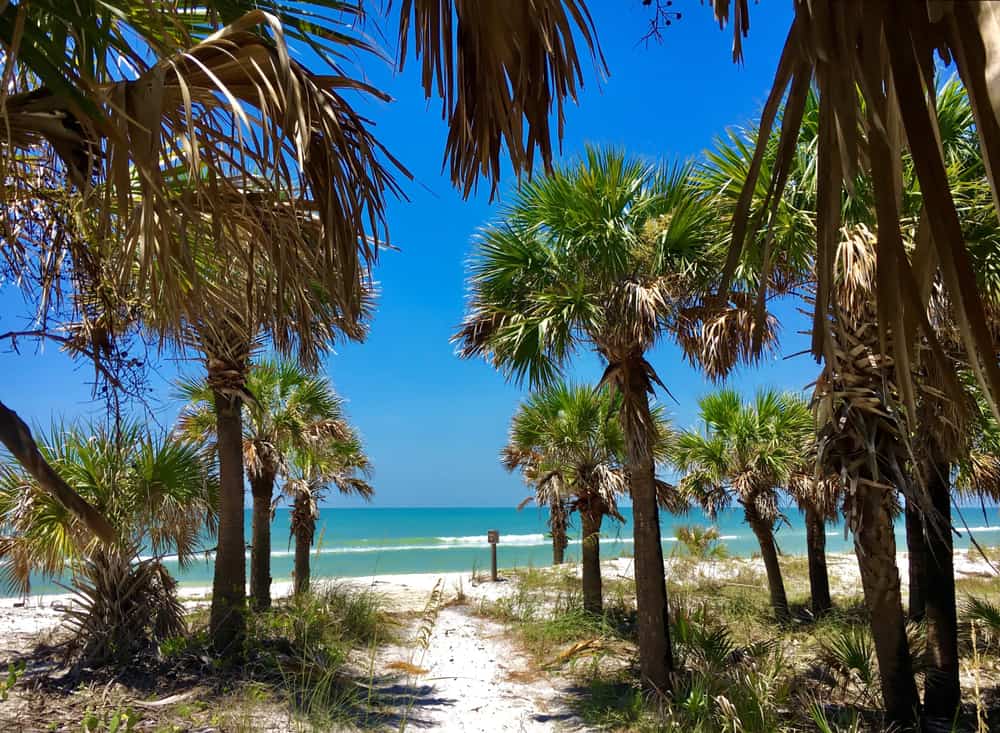 Clearwater Beach
Going to the beach is definitely one of the best things to do in Florida, and according to Trip Advisor, Clearwater Beach was the country's #1 beach for multiple years! Perhaps it's the calm ocean waters, the powdery white sand, or the limitless recreations in the area that make it one of the top beaches in Florida to visit.
This positively vibrant beach is teeming with activity from street performers and local artists to people rollerblading along Pier 60, rock climbing, or going down the inflatable slide! Don't forget to check out our list of the best things to do in Clearwater Beach!
Thrill-seekers can also rent jet skis and Waverunners or go snorkeling, scuba diving, or parasailing while fishing enthusiasts can enjoy spearfishing or even charter a boat with a professional.
The fun doesn't stop when the sun goes down, either. In fact, Clearwater Beach is one of the coolest beaches in Florida because of its spectacular sunsets. Pier 60 actually hosts a nightly sunset celebration featuring live music, buskers, and local artisans.
Throughout the month, the Sunset Cinema screens great movies the whole family can enjoy as well. How perfect would it be to watch Pirates of the Caribbean on the beach?!
Besides the amazing things going on every day, Clearwater Beach hosts numerous events and festivals throughout the year like the Clearwater Offshore Nationals for boating enthusiasts, the John's Pass Seafood Festival for the foodies, and the Sugar Sand Festival that showcases incredible sand sculptures!
Ultimately, this is one of the best beaches in Florida because of…well…the actual beach! The waters are so calm, which makes it ideal for a relaxing day, and the city does a great job of maintaining the cleanliness of the beach, raking the superfine sand daily in the early morning. It's also one of the only beaches nearby with lifeguards on duty all year long.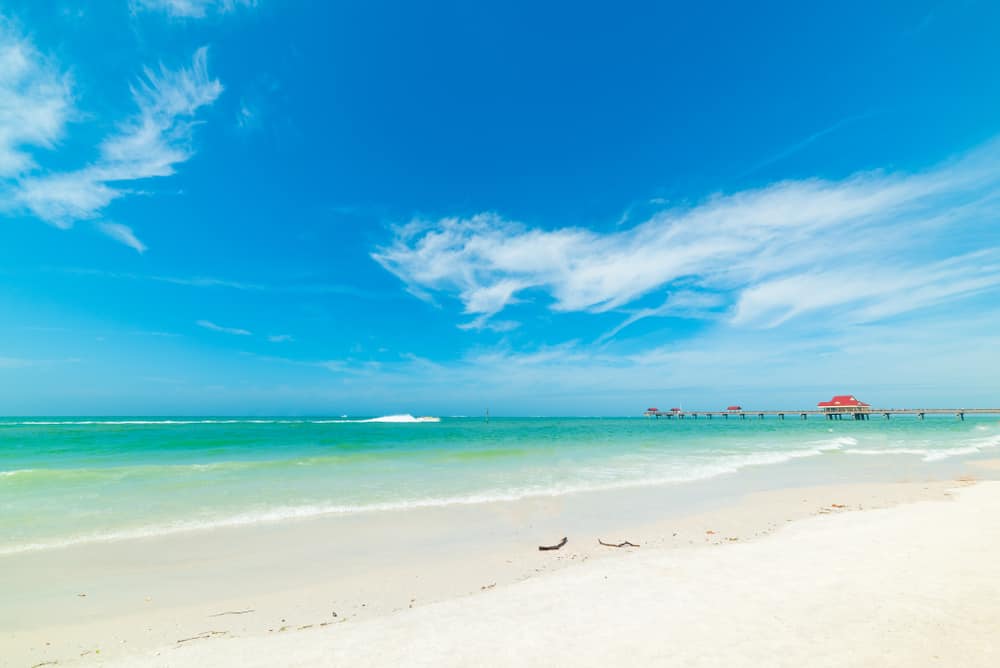 Beer Can Island (Longboat Key)
For those who want to get away from it all, or at least feel like they are, Beer Can Island is one of the best beaches in Florida to escape to. Though the name does not conjure images of beauty, this is actually a photogenic spot perfect for a photo shoot.
The soft white sand, turquoise waters, driftwood, and fallen trees of this hidden gem in Florida almost make it feel as if it was deserted.
It's the perfect oasis if you're looking for a quiet, private day at the beach to walk along the shore or hang a hammock between the trees and enjoy the breeze, though you should be wary of the rip currents.
Before you visit, keep in mind that there are no amenities or facilities, so plan accordingly. This secluded Florida beach is accessible by boat or by foot along either Broadway Street or North Shore Road at the north end of Longboat Key near Sarasota.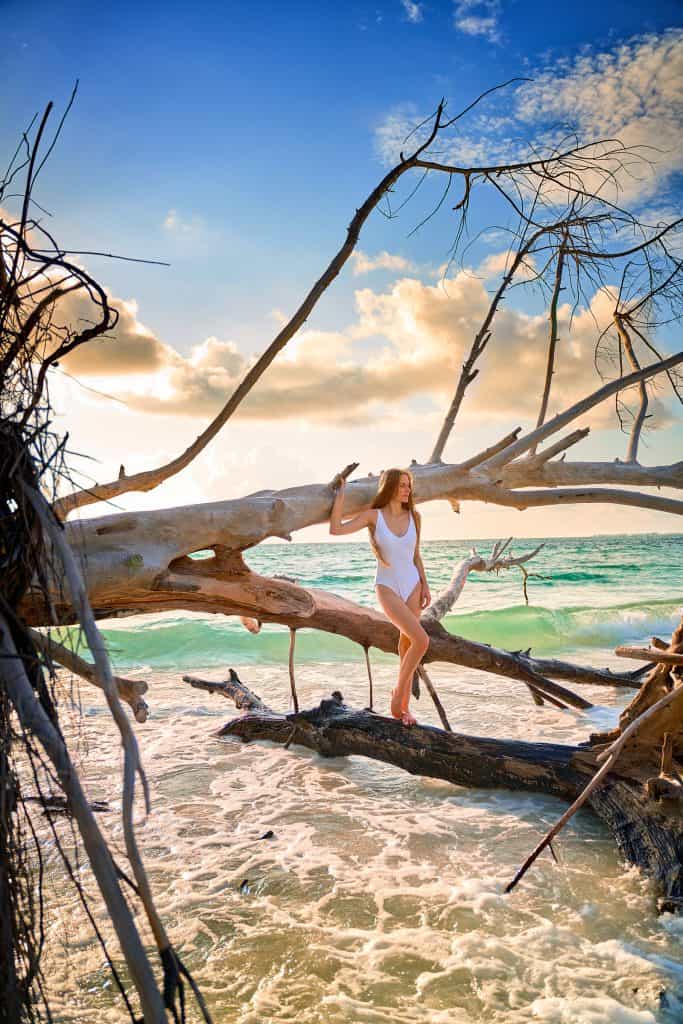 Siesta Key
As its name suggests, Siesta Key is one of the top Florida beaches to come and relax. The powdery white sand, tranquil ocean waves, and soft, salty breeze are huge draws.
Many vacation rentals and hotels in Siesta Key are right on the sand with really convenient beach access. Visitors can charter a boat, rent vehicles and equipment for water sports, or book a fun excursion like parasailing or snorkeling.
There's free yoga on the beach in the mornings and an exhilarating Siesta Key Drum Circle on Sunday evenings that can make anyone feel the beat and move with it.
The evenings are filled with live music coming from multiple sandy beach bars, the scents of delicious, fresh seafood from nearby restaurants, or the friendly lights of a local ice cream shop.
When not directly on the beach, opt to ride a bike around town to the small boutiques and cafés in Siesta Key Village and feel the fresh breeze for a laid-back experience or use the free trolley to get around.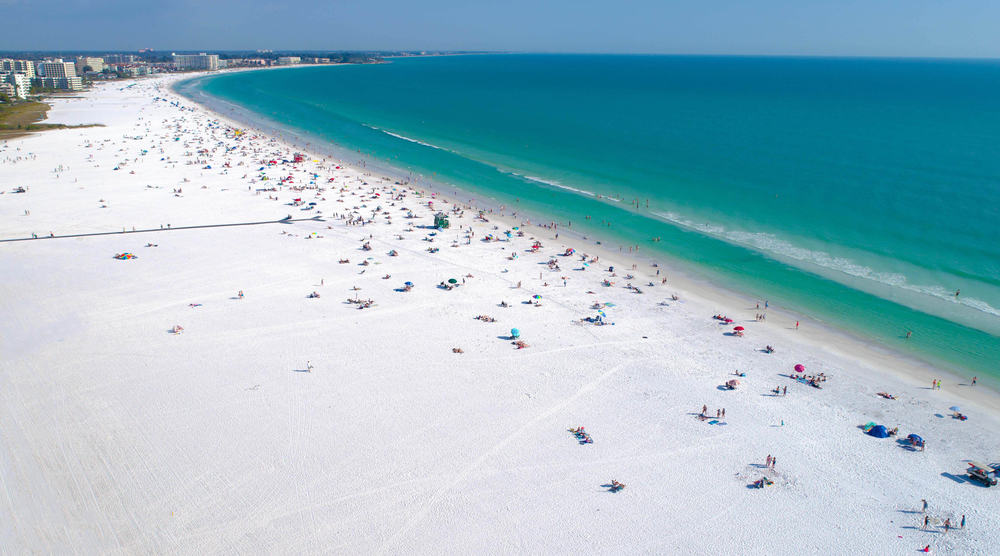 Venice Beach
Just south of Sarasota lies fourteen miles of one of the best Florida beach vacation spots – Venice Beach.
Like many top Florida beaches along the Gulf Coast, Venice Beach has soft, pristine sand to dig your feet into and settle down for a fantastic day of sunbathing or kick around during an awesome game of beach volleyball at one of the two courts available.
Visitors can bring their own grub and set up in the picnic area. Alternatively, there's a concession stand as well as numerous cafes and restaurants along the shore. Lifeguards are on duty year-round, so there's no worry about safety, and there are restrooms and outdoor showers available for guests to wash away the sand and salt of the day. Even better, the parking is free!
The beautiful, warm Gulf waters make Venice Beach one of the Florida beaches ideal for swimming and boating. Beachcombing is one of the locals' favorite pastimes as the beach is brimming with treasures like fossilized shark teeth and lovely shells.
During turtle nesting season (May – October), lucky beachgoers may even spot turtle nests or turtles hatching and making their way back to the ocean! It's important to be mindful of these events so as not to disturb these amazing marine creatures.
The Venice Public Fishing Pier is a great place not only to fish but also spot dolphins and shorebirds, not to mention it's right by the only dog-friendly beach in Venice, Brohard Park.
Visitors can also walk or bike along the paths through the Venetian Waterway Park, where they may even spot alligators in the water. At the end of the trail, guests are rewarded with the ruggedly beautiful Caspersen Beach. Though it's not as immaculate and manicured as the main Venice Beach, the soft sand is complemented by dramatic rock formations that make this spot something special.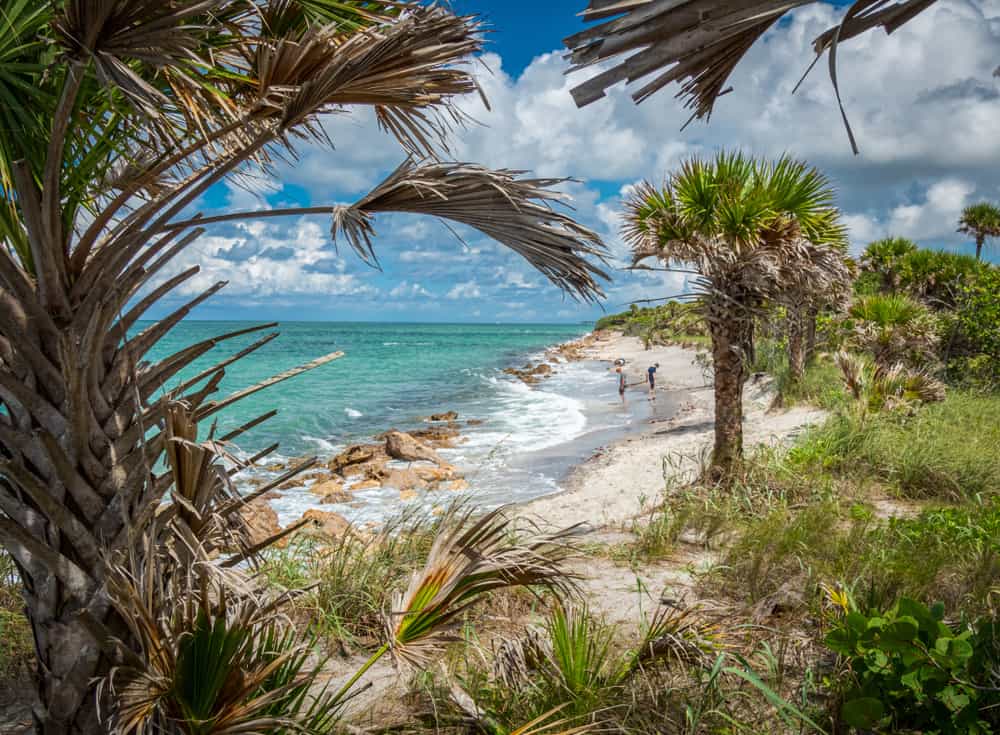 Fort Myers
The wide expanse of a gradually sloping shoreline with the softest sand is one reason that Fort Myers Beach is one of the nicest beaches in Florida. This vacation paradise is dotted with both luxury resorts and quaint condos as well as the pier, fresh seafood restaurants, tiki bars, the Times Square shopping district, and much more.
Relaxing at the beach could mean setting up a lounge chair and laying under the sun or calmly canoeing through the mangrove forests, spotting dolphins or gentle manatees in the ocean.
Adventurous visitors can opt to go parasailing, ride a catamaran, or even try a sunset or full-moon excursion on a stand-up paddleboard. Treasure hunters will enjoy geo-seeking in Lovers Key State Park. Boaters can fish for trout, redfish, or tarpon (so long as state regulations are followed).
Lovers Key State Park not only has a beautiful stretch of one of the best Florida beach vacation spots, but it also offers miles of hiking and biking trails. The state park is a paradise for birdwatchers as there are over 40 species of birds that have been recorded.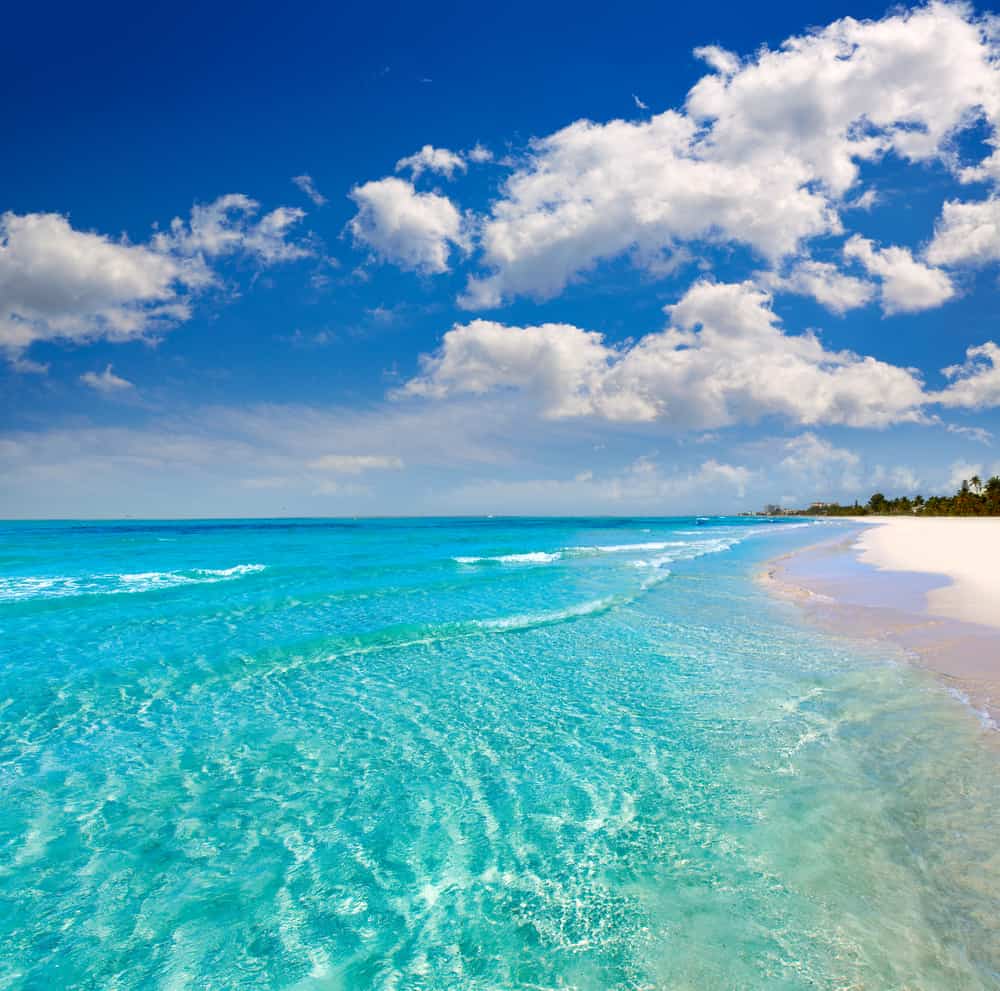 Bahia Honda Key
The palm-lined beach of Bahia Honda State Park is the perfect view on a lovely, bright day in the Florida sunshine. It's considered one of the top Florida beaches these days, but originally gained popularity when it became a stop along the railroad that Henry Flagler built all the way down to Key West.
Travelers would hop off the train to enjoy the balmy, salty ocean breeze and admire the spectacular view of the ocean. Unfortunately, the railroad track was destroyed by a hurricane in 1935 and the Overseas Highway was built over it, though the use of that bridge ceased in 1972.
Visitors can choose from any of the three beaches located at Bahia Honda State Park. On the west end of the island is Calusa, the smallest beach. Sandspur is the largest beach in the state park and is located along the southeast side of the island. The shallow water at Loggerhead Beach on the south side makes it ideal for families with young children.
Bahia Honda State Park lends itself to snorkeling or scuba diving for beginners because of its shallow waters that are bursting with tropical fish, coral, and other marine life. Kayak rentals are available as well or visitors can try geocaching, a real-life treasure hunting game.
Make sure to check out some of our other favorite things to do in the Lower Keys in addition to Bahia Honda!
As if the crystal-clear water wasn't enough to entice visitors, Bahia Honda State Park is home to some rare flora and fauna that can be found along the three nature trails, one of which leads up to the bridge for a fantastic bird's eye view of the island. The Great Florida Birding Trail here is perfect for bird enthusiasts, who can spot birds from the trails below or the bridge above.
Bahia Honda State Park has cabins and campgrounds where visitors can spend the night as well as a marina for the boaters.
Don't forget to check out our list of the Best Florida Keys Beaches for some more ideas of places to visit!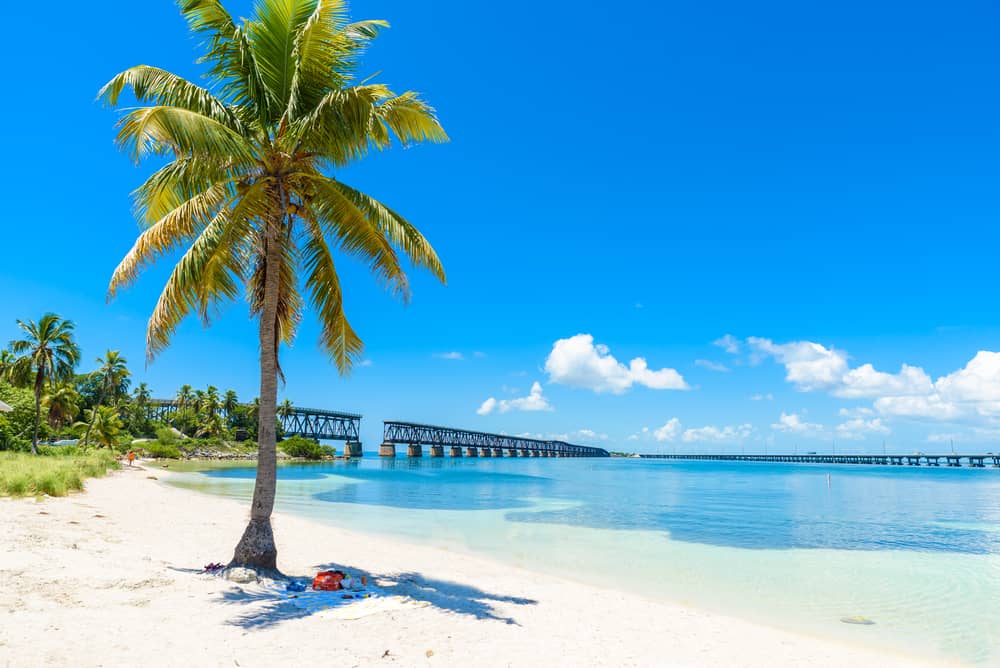 Smathers Beach
Key West is known for many things, but generally not sandy beaches because the shores are usually rocky. Smathers Beach, though, had sand imported to make it one of the best beaches in the Florida Keys.
Smathers Beach is the largest in the city and offers visitors so many activities and amenities. Along with the beach volleyball courts, vendors line the beach to rent jet skis or snorkeling equipment. People can also book a windsurfing or parasailing adventure for a bit of a thrill.
During the busy season especially, there are plenty of food trucks where people can grab a delicious bite from a local business. This clean beach with plenty of shade and countless activities also make it a popular Spring Break destination in Florida.
There are restrooms and shower facilities available. Hotels, bed and breakfasts, and other rental properties are generally in keeping with the overall laid-back vibe of Key West with the added bonus of being right by one of the best beaches in South Florida.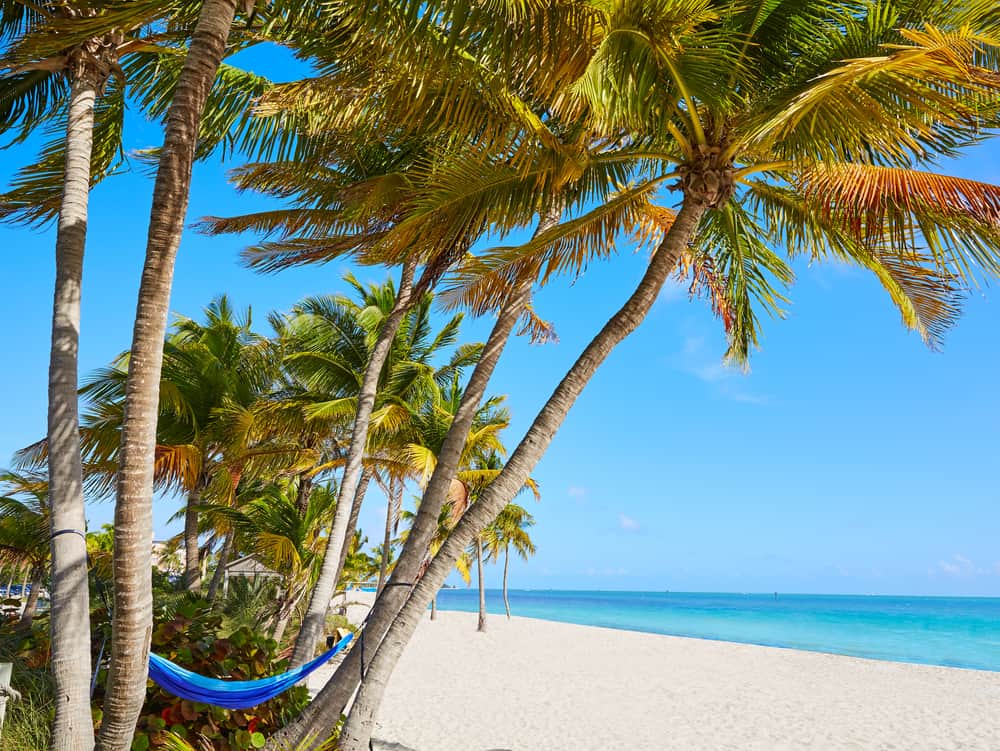 Sand Key
Sand Key Beach is found just off the coast of Clearwater and is one of the best vacation beaches in Florida. This is a hidden gem beach, and you will feel like a local as you chill here and avoid the crowds of other beaches in the area.
This gorgeous west coast beach features amazing white sand, shells to uncover, and breathtaking sunset views. This is a great place to bring your significant other to enjoy peace and seclusion. While the beach is not free, it is worth the $5 parking fee.
The beach here is not super big, but it is great for swimming and sunbathing. If you want time out of the sun, you can rent an umbrella or cabana. There are also kayak and bicycle rentals available. If you need a beach wheelchair, you can get one of those too.
Sand Key Park includes plenty of fun things to do if you somehow grow bored of the beach. There is a concession stand, a boardwalk, and a nature trail.
The nearby salt marsh is a fantastic place to spot wildlife. Sit on the viewing benches and wait to see herons, roseate spoonbills, anhinga, and more as they feed and nest.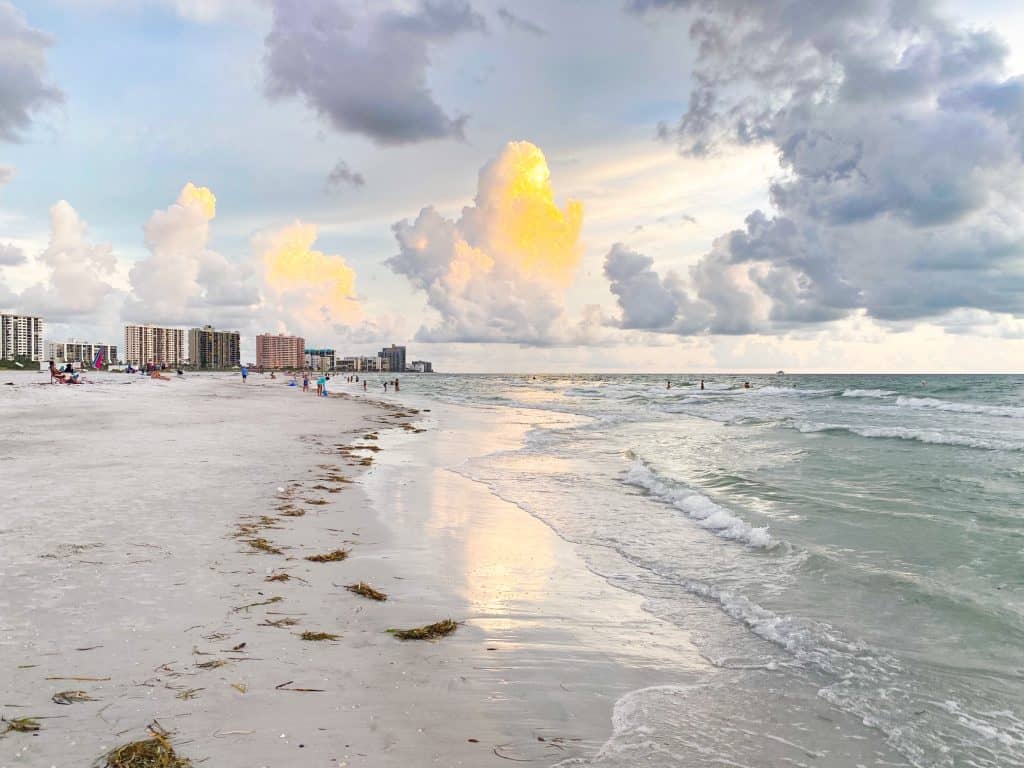 Fort DeSoto
Fort DeSoto Park has some of the best beaches in Florida for history lovers and is also one of the best things to do near St. Petersburg. There are three beaches here spread out on a V-shaped island.
North Beach is the biggest and most popular beach here. The stretch of white sand is perfect for swimming and watching the sunset. Kids will have fun on the pirate ship-themed playground. There is a snack bar, a bathhouse, restrooms, and plenty of shaded picnic tables.
East Beach is much smaller and less crowded, making it perfect for couples seeking time alone. There are picnic pavilions to rest under when the sun gets too hot. This is a good place for wind boarding.
The Dog Park and Beach is the closest to the fort and is a wonderful place to let your four-legged friends play in the water. This beach is also near the fishing pier.
Make sure to visit the historic sites on the island as well. Fort DeSoto, Battery Bigelow, and Battery Laidley date back to the late 1800s. Learn all about their significance at the Fort DeSoto Museum.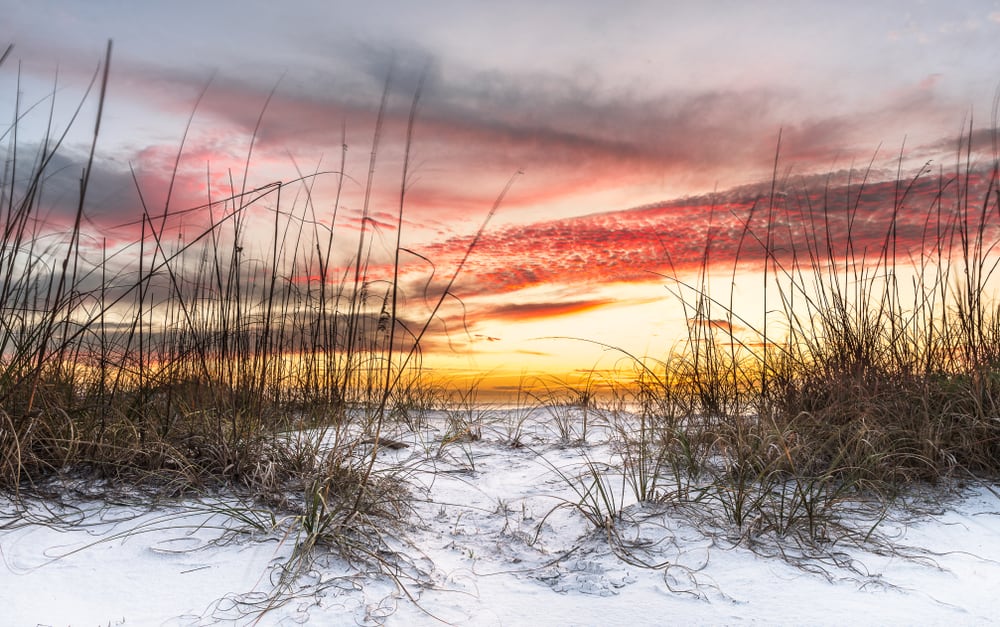 South Beach
Miami's South Beach is another of the most popular vacation beaches in Florida. This is a lively neighborhood with a fun atmosphere and awesome nightlife. South Beach attracts all sorts of famous and young people who want to have a great time.
This district also has a cool art scene with plenty of art galleries and amazing art deco architecture. Even the lifeguard stands are brightly colored and waiting for an Instagram photoshoot.
If that sounds like your type of place, then you need to head to South Beach for an epic Florida beach vacation ASAP! You will fall in love with one of the prettiest Florida beaches
The beach has amazingly white sand and beautiful turquoise water. This is the place for all the classic beach activities from working on your tan to building sandcastles with your kids to swimming in the clear water. This beach is also great for jet skiing.
If you are looking for some of the best gay beaches in Florida, head to the 12th Street Beach part of South Beach. You will know you have arrived when you see all the Pride flags waving in the ocean breeze.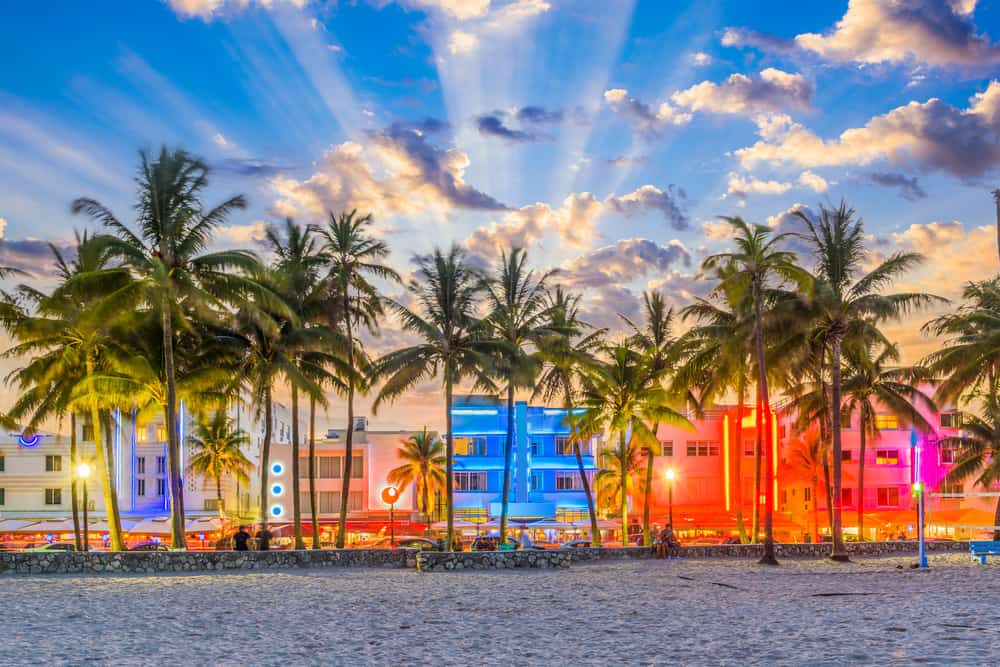 Daytona Beach
Daytona Beach on the east coast is one of the most famous beaches in Florida and is also one of the closest to Orlando. You cannot go wrong visiting this thrilling beach.
While Daytona Beach is known for its crazy and busy spring break energy, do not let that discourage you from checking it out. The area encompasses about 35 miles of beaches where you can make some great memories with friends or family.
There are so many fun and unique things to do at the beach that there is no way to be bored. The boardwalk and pier are great places to walk, soak up the vibe, and grab a snack.
There are a few great parks right next to the water with cool rides, splash pads, and volleyball courts. The Daytona Lagoon has epic waterslides, a lazy river, bumper cars, laser tag, mini-golf, an arcade, and more!
When you are not at the beach, you can check out Daytona's other attractions including the famous Daytona International Speedway where the Daytona 500 NASCAR race takes place. You can also visit the Motorsports Hall of Fame of America, the Museum of Art and Science, or the Ponce Inlet Lighthouse.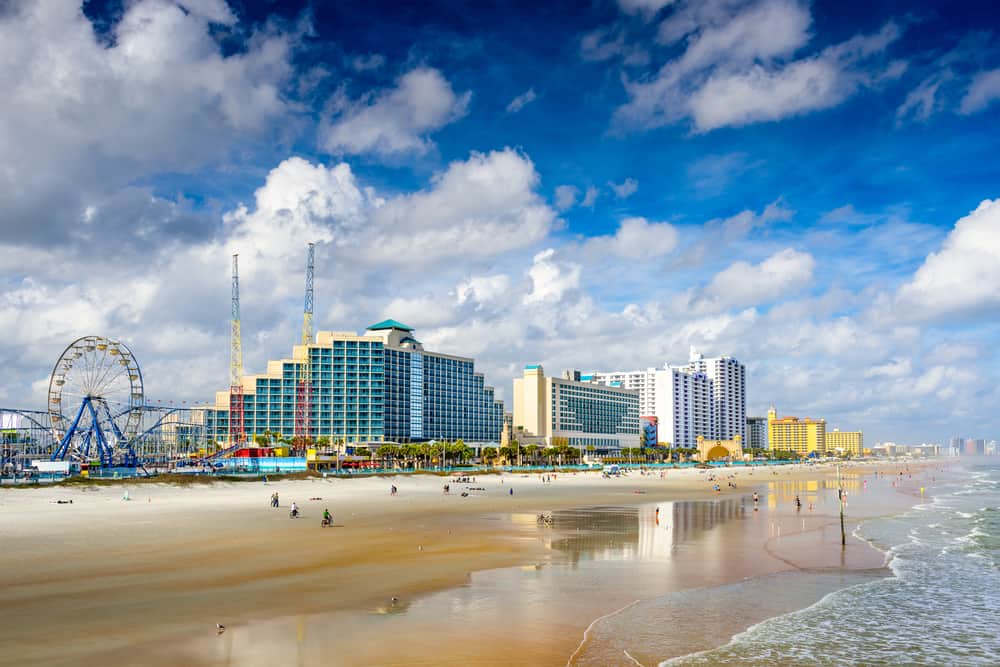 Sanibel Island
Sanibel Island is one of the best day trips from Fort Myers. There are a few great beaches here to check out. You really couldn't ask for better beach destinations in Florida.
Lighthouse Beach is found on the far eastern end of the island and encircles the Sanibel Lighthouse. This historic lighthouse is unique with its red iron design. This beach is a great place to find shells and go for a swim. There is also a fishing pier and a nature trail.
Tarpon Bay Beach on the island's southern curve is usually not very crowded and is a great place to hang out. Be careful not to disturb turtle nests. There are plenty of hotels and restaurants nearby.
If you want a more secluded beach, head to Bowman's Beach. This pet-friendly beach features picnic tables, barbecue grills, and a place to launch kayaks and canoes. There are also extensive nature trails.
The last beach on Sanibel is found near the bridge to Captiva Island and even extends onto the other island. Blind Pass Beach, also known as Turner Beach, is one of the best places to find new seashells for your collection. It is also a good place to fish. Swimming, however, is discouraged because of the swift currents.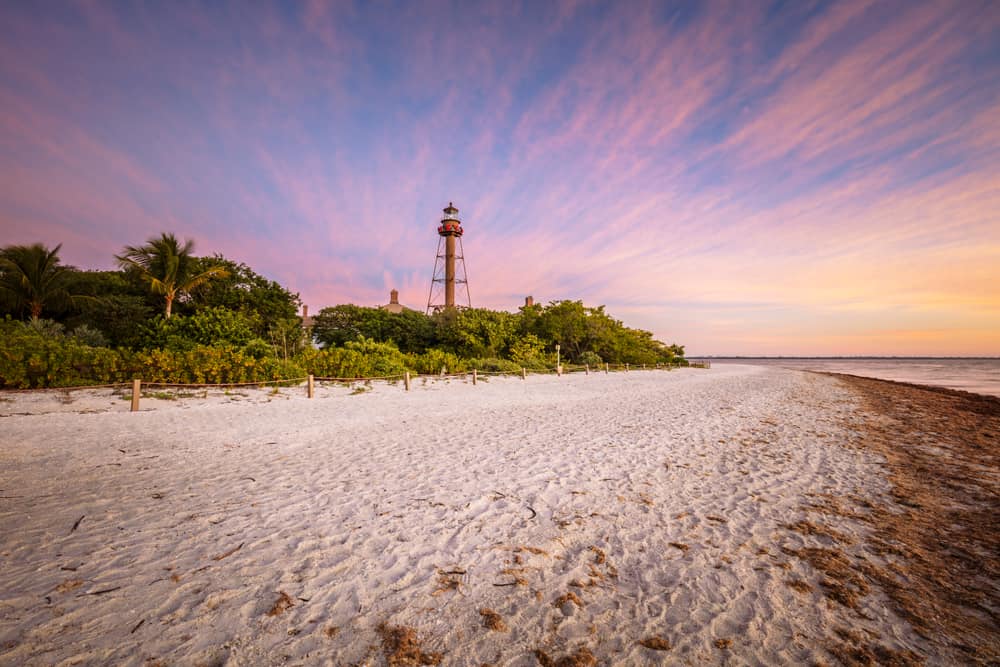 Did You Find This Post Helpful?
If so, we would love to keep in touch! We enjoy seeing photos and comments about your experiences in Florida! You can follow us on Instagram and we will repost your photos on our feed and comment too! Just tag us at @floridatrippers and hashtag #floridatrippers. We can't wait to see your travels!