Planning the best Florida road trip can be a daunting task, even if you're a native. Florida is one of the few states where you could drive eight hours and still be in the same state!
Millions of tourists make Florida a hot destination because of the variety of activities. There are just so many things to do in Florida!
Roller-coaster enthusiasts will love the theme parks. Birders and nature junkies will love the best Florida hiking trails. Overworked vacationers will love the beaches in Florida.
Whether you're a beach bunny, have an adventurous spirit, or want some rest and relaxation, there is something for everyone in Florida.
With that being said, because the state is so large, it's hard to know where to go first! There's so much ground to cover. Luckily, we're here to help.
We've mapped out our best Florida road trip ideas to make your vacation memorable!
We'll take you through the top destinations in the state so you won't have any problem finding fun and interesting things to do in the Sunshine State.
Let's go on the best road trip around Florida!
Did You Find This Post Helpful?
If so, we would love to keep in touch! We enjoy seeing photos and comments about your experiences in Florida! You can follow us on Instagram and we will repost your photos on our feed and comment too! Just tag us at @floridatrippers and hashtag #floridatrippers. We can't wait to see your travels!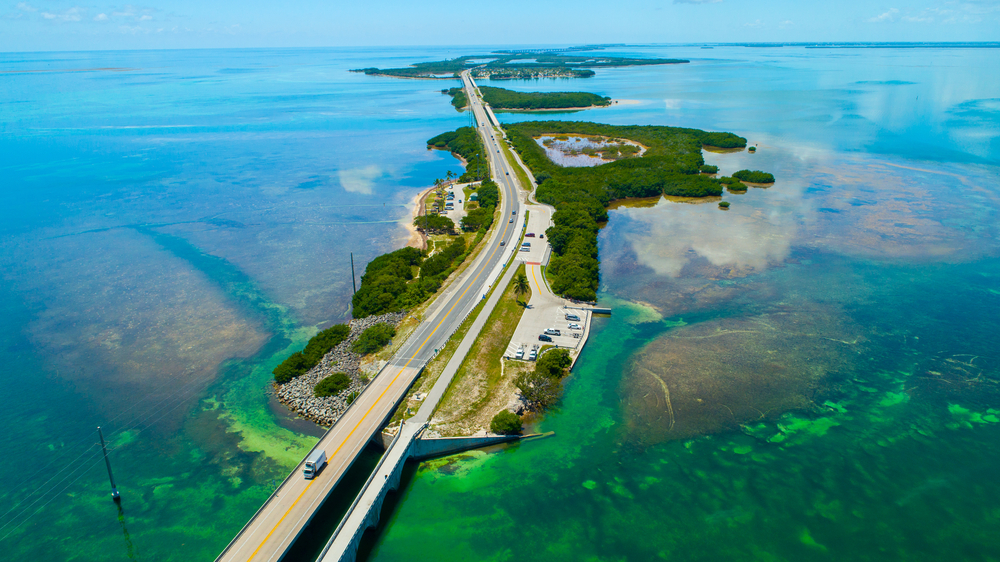 15 Best Florida Road Trips And Scenic Drives
Miami to Key West
Highlights
Downtown Miami
Coral Castle
Everglades National Park
Dry Tortugas National Park
Seven Mile Bridge
The journey from Miami to Key West is one of the most scenic drives in Florida! The drive is lined with greens and blues from the beaches and palm trees.
This is a great Florida road trip with kids!
It will take you through some of the most beautiful attractions the Sunshine State has to offer. It has something for everyone, no matter your interests. It's easy to pick and choose to tailor the perfect Florida itinerary for you!
Starting in the iconic city of Miami, you'll breathe in the South Florida culture before heading to some scenic attractions for outdoor enthusiasts.
Paddlers especially will want to make a stop at some of the best kayaking trails in Florida in the Everglades.
You can even see a real castle! Look out for Coral Castle, made completely of stone. As you head further south, you'll start to breathe in the salty air of the Atlantic as you visit coral reefs and beaches.
When you finally land in Key West, you'll have access to some of the most beautiful Florida beaches as well as some incredible historical sites. Don't forget to have a piece of Key lime pie while you're there!
There really are so many things to do in Key West!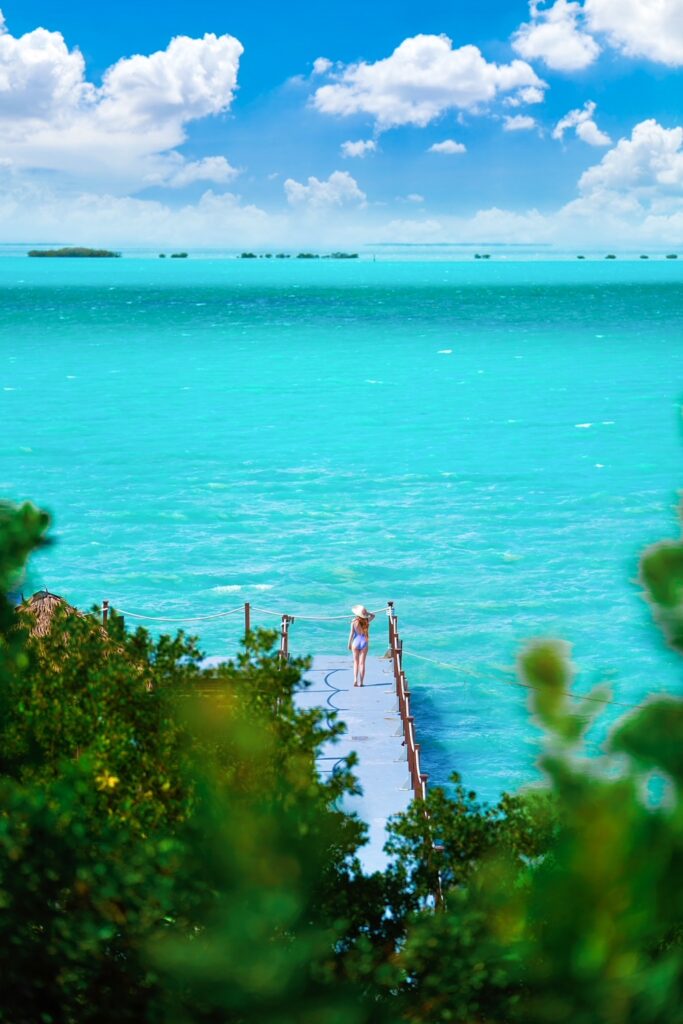 Central Florida Road Trip
Highlights
Circle B Bar Reserve
Celebration
Bok Tower
Rock Springs/Kelly Park
The drive from Tampa to Cocoa Beach will take you directly across the state, allowing you to see the best of Central Florida!
You get nature, theme parks, and even a quaint town owned by Disney! These are some of the best places to stop in Florida!
Starting in Tampa allows you to soak up the emerging city's culture, restaurants, and nightlife before moving on to more scenic pursuits.
As you approach Lakeland, you'll be able to walk through the Circle B Bar Reserve and see a lot of wildlife.
Along the drive, you can stop by Bok Tower, a Carillion tower that rings as it's played like an instrument before you approach Disney World or Universal. Spend a couple of days at the parks while staying at a cozy Airbnb!
Before you approach Cocoa Beach, make a stop at Rock Springs/Kelly Park where you can take a dip or even tube down one of Florida's prettiest springs near Orlando.
When you make it to your destination of Cocoa Beach, you'll enjoy the shorelines of one of the best family beaches in Florida!
If you are planning a road trip to Florida, you need to check out these highlights!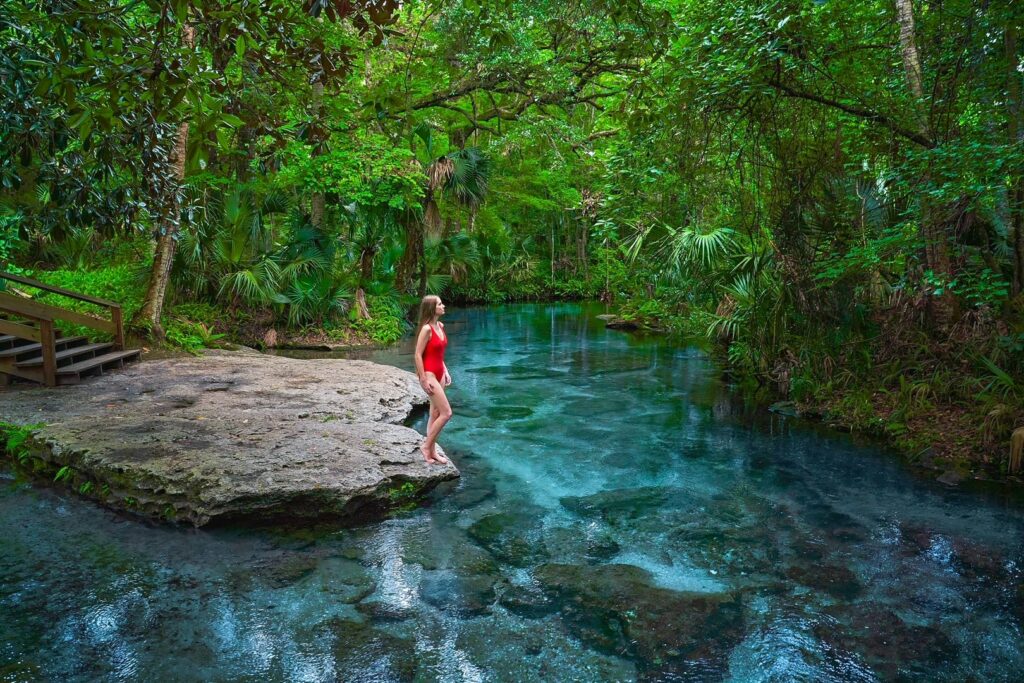 Florida East Coast
Highlights
Amelia Island
St. Augustine
Daytona Beach
Kennedy Space Center
McKee Botanical Gardens
Miami
Driving the East Coast is the Florida equivalent of driving the Pacific Coast Highway. Start with the best things to do in Amelia Island before moving down to Miami.
You'll experience a smorgasbord of different Florida attractions!
Amelia Island might just be the prettiest island in Florida, but don't spend too long there!
St. Augustine just to the south has incredible historic sites and castles. It is also the oldest city in the United States.
If you plan your best Florida road trip just right, you can attend one of the many festivals held in Daytona Beach like Biketoberfest.
After you've enjoyed the beach, head down to Merritt Island to visit the Kennedy Space Center!
If you stop in Vero Beach, you must pay a visit to the McKee Botanical Gardens which showcases the best of Florida flora.
Then as you arrive in Miami, relax on South Beach, one of the best beaches in Miami, and soak up the sun as a reward for your journey!
This is a great Florida East Coast road trip the whole family will love!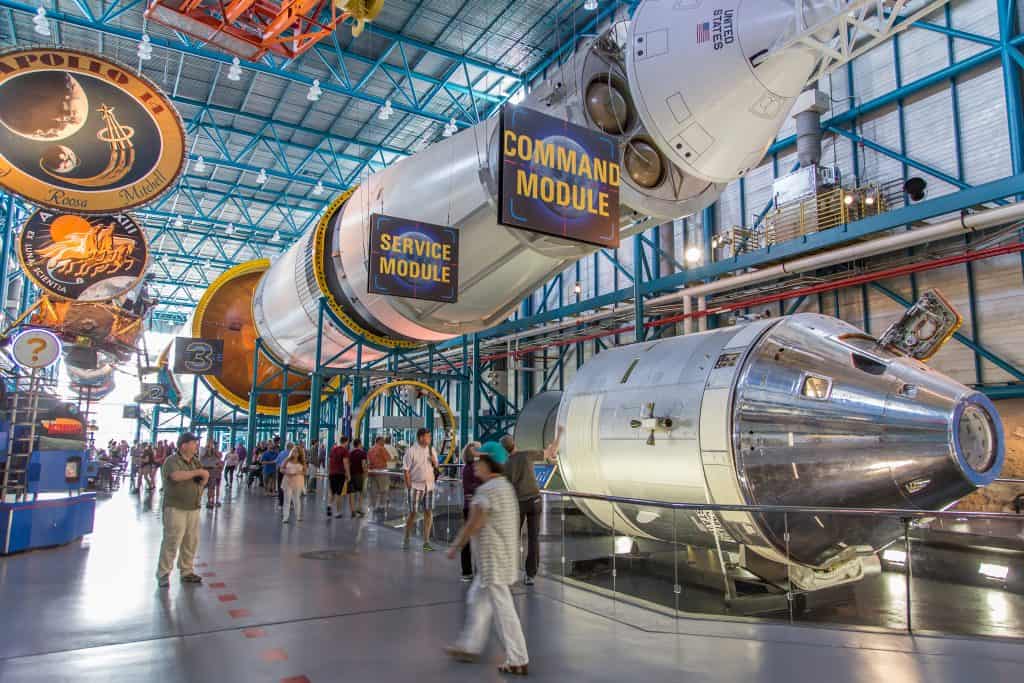 Haunted Florida Road Trip
Highlights
Spanish Military Hospital Museum
St. Augustine Old Jail
Cassadaga Hotel
Tampa Theatre
This road trip is perfect to welcome fall in Florida which is when things start to get spooky! There are over 570 documented haunted sites in Florida.
This Florida road trip for adults and kids alike starts off in Tampa, where the old historic theaters are haunted! Try the Tampa Theatre downtown or the Capitol Theatre in Clearwater.
Ybor City also offers walking ghost tours that take you through the historic buildings.
From there, head to Orlando and visit Lake Eola. It is said a small brown terrier runs along the lake's east shore before vanishing into thin air.
Afterward, Cassadaga is waiting for you! This is one of the most haunted places in Florida!
A spooky forgotten town full of psychics, check out the Helen Cassadaga Cemetery or the Cassadaga Hotel.
Then head to Daytona Beach to tour the Ponce de Leon Lighthouse! One of the best lighthouses in Florida, it is also haunted!
Finally, head to St. Augustine, the motherlode of haunted cities in Florida.
There are so many St. Augustine ghost tours to take that will leave you feeling spooky like the Old Jail and the Spanish Military Hospital Museum.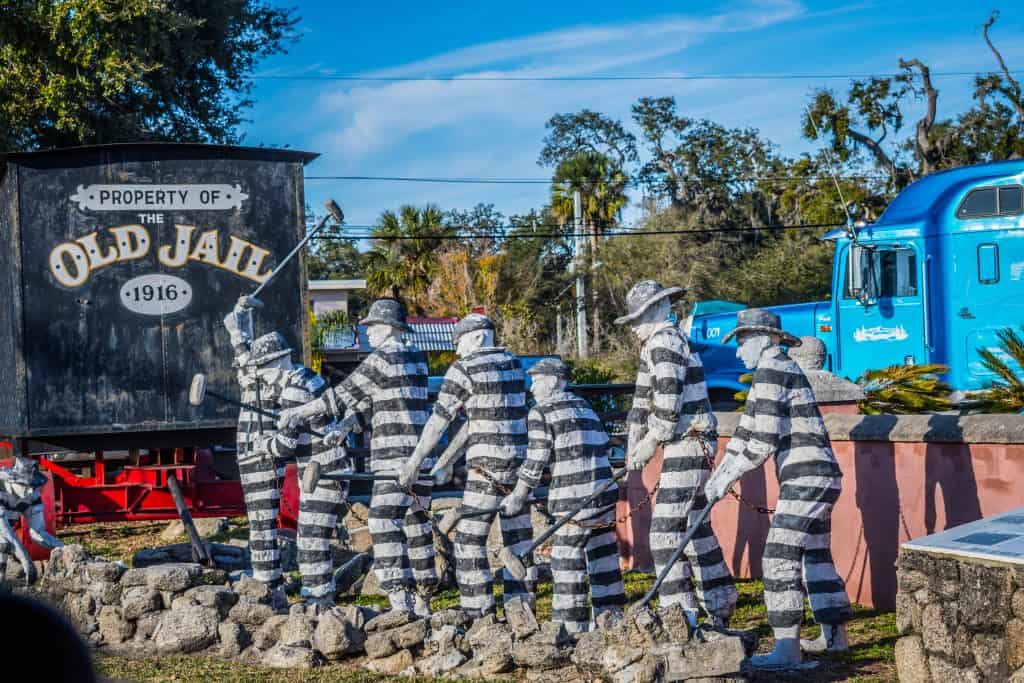 Florida Springs Road Trip
Highlights
Ginnie Springs
Devil's Den
Rainbow Springs
Ichetucknee Springs
A road trip to Florida's natural springs can be perfect for summer or fall! They are the most scenic places in Florida!
The 72-degree waters will cool you down during the hottest summer day. During the winter, manatees migrate to the springs to keep warm.
Start your tour in Weeki Wachee to watch mermaids swim in the spring waters before heading north on US 19 to Crystal River, a spring near Tampa. If you time it right, you can attend their Manatee Festival!
Take US-41 to get to Rainbow Springs State Park, which actually has six waterfalls! Then hop back on US-41 to head north to Devil's Den, a diver's haven!
Get back on, you guessed it, US-41, and keep going north and you'll hit three springs grouped very close together! Take your pick between Gilchrist Blue Springs, Ginnie Springs, or Ichetucknee Springs. Or visit them all!
End your journey by driving north for just another hour and you'll reach Madison Blue Springs, where you can swim and relax as your final reward!
If you are planning a road trip in Florida, you definitely need to check out some springs!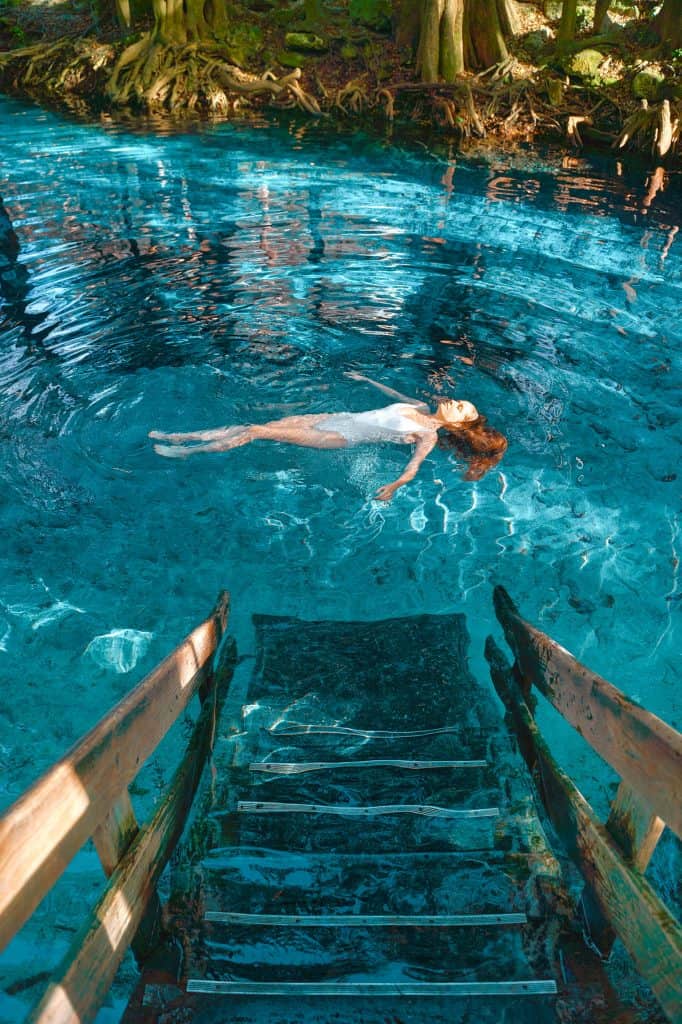 Tampa to Naples Roadtrip
Highlights
Ca D'Zan
Florida Domes
Matlacha
Edison & Ford Winter Estates
Ringling Museum
For a relatively short day trip, make the drive from Tampa to Naples! Along the way, you'll hit some major Gulf Coast cities, each with its own architectural gems.
This is the best Florida West Coast road trip!
In Tampa, you can take advantage of some of the best museums in Florida, Tampa restaurants, and even the lovely Curtis Hixon Park. If you decide to spend an evening there, there's even a speakeasy!
When you head south to Sarasota, a treasure trove of attractions awaits you! Skip the traditional beaches and head out to Beer Can Island, a truly secluded spot.
Or check out architectural masterpieces like the Ringling Museum and the Ca D'Zan!
Next up in Fort Myers, you can tour the Edison and Ford Winter Estates! Yes, the Thomas Edison of the lightbulb and the Henry Ford of Ford Motors. You can see their homes, their vintage Ford vehicles, and even their laboratory!
As you pass through Cape Coral, you'll get to drive through Matlacha, a charming village. The homes are painted with bright neon and pastel colors. It actually feels more like Key West than Cape Coral!
When you land in Naples, you can take advantage of the fabulous Naples beaches, especially on Marco Island.
If you charter a boat, you can make your way to the Florida Domes, the sunken remains of a millionaire's former home, now a haven for Florida wildlife.
Anyone interested in history will agree this is one of the best driving trips in Florida!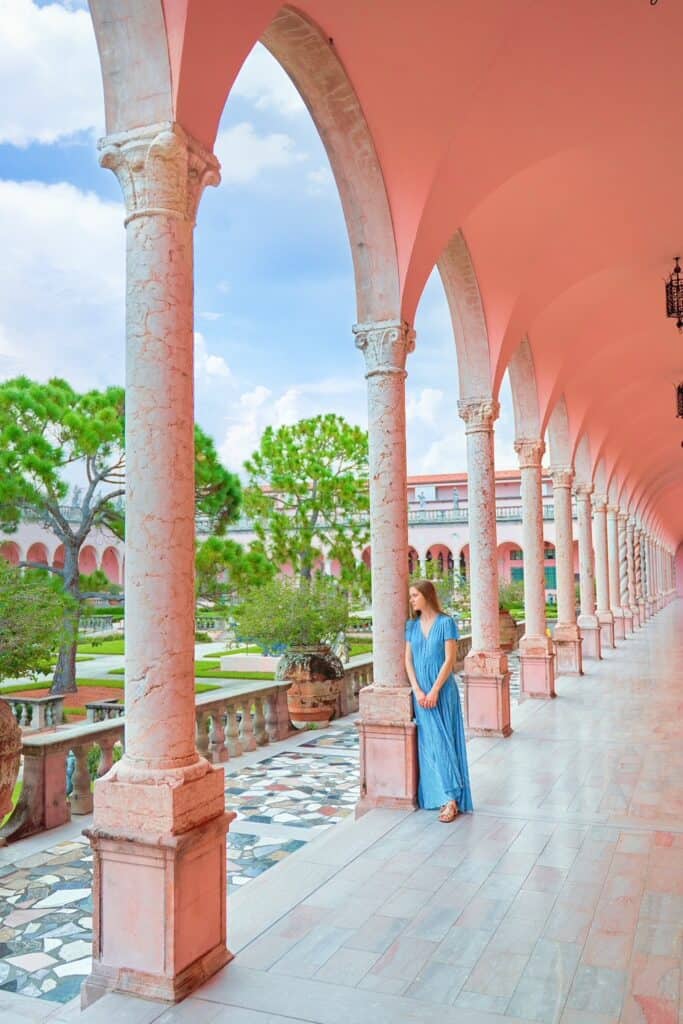 Everglades Road Trip
Highlights
Anhinga Trail
Nine Mile Pond
Mahogany Hammock Trail
Pa-Hay-Okee Overlook
The Everglades National Park is a gigantic place to explore. It's hard to know where to start! Luckily, this road trip through the park will allow you to experience a little bit of everything the park has to offer.
Enter the park from the southernmost entrance off the Ingraham Highway. Here you'll start your journey at the Coe Visitor Center.
As you start driving, right off the bat, you'll have your pick between the Anhinga Trail or the Gumbo Limbo Trail, some of the best hikes in Florida.
The road continues through the Pinelands and into the Dwarf Cypress Forest whose leaves actually change during fall in Florida!
After passing Rock Reef Pass, stop at Pa-Hay-Okee Overlook. You'll have the best views of the enormous sawgrass prairies from the elevated platform.
After another 20 miles, you can see the nation's largest mahogany tree on Mahogany Hammock Trail!
Unfortunately, it doesn't make for a great photo op. The tree is 90 feet tall and the shorter trees shroud the mahogany's height.
Keep on to Nine Mile Pond for canoeing and kayaking!
If you're driving towards the end of March to early April, stop at Mrazek Pond. During this time, and only this time, it becomes one of the best birding spots in the country.
After passing several optional hiking trails, you'll arrive at the Flamingo Visitor Center, your final destination. Here, you can book an airboat tour to see the nooks and crannies of the park not visible from the road.
It is clear the Everglades is one of the top places to go on a road trip in Florida!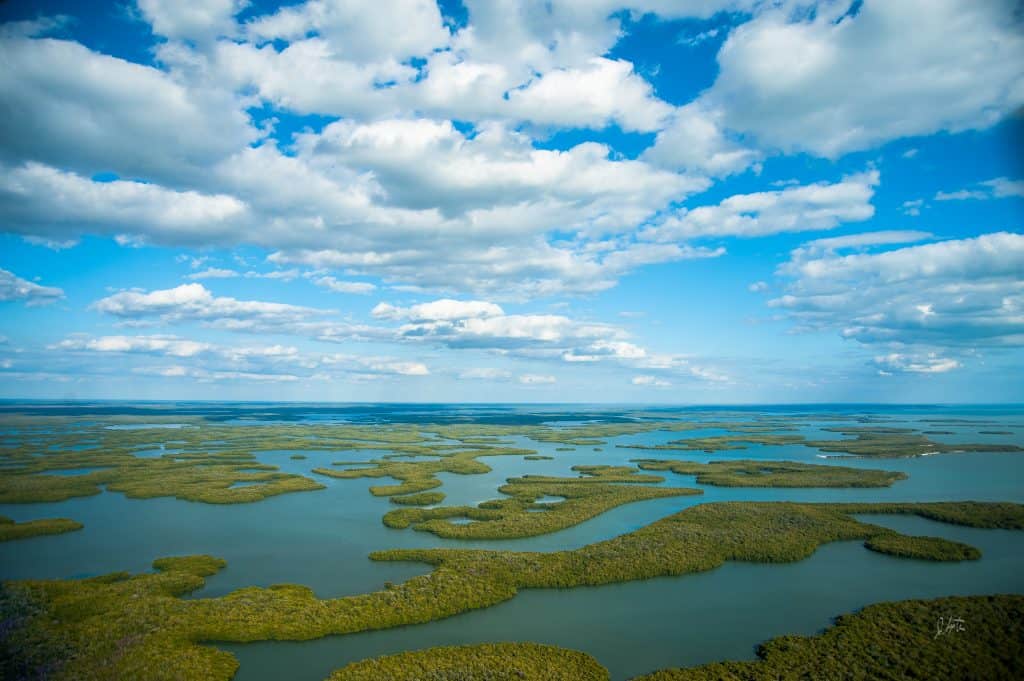 Waterfall Road Trip
Highlights
Falling Waters State Park
Rainbow Springs
Big Shoals State Park
Devil's Millhopper Geological State Park
There are amazing waterfalls in Florida! On this Florida road trip, you'll discover the best sound is a waterfall crashing down in front of you!
Start in Chipley in the Panhandle with a bang. Falling Waters State Park is home to the largest of Florida's waterfalls at 73 feet high!
From there, head to Bristol to get to Torreya State Park. Consider skipping this waterfall if you're not a strong hiker.
Afterward, the following three waterfalls are thankfully close together. First, see the "Disappearing" Waterfall at Camp Branch Conservation Area.
Then head to Big Shoals State Park, which also offers river rafting! Just to the south is Falling Creek Falls.
As you head south to Gainesville, you'll reach Devil's Millhopper Geological State Park. Here the waterfall was created by a series of sinkholes. You can even stand inside the sinkhole right next to the waterfall!
Finally, you'll end your journey with a refreshing reward at Rainbow Springs State Park in Dunnellon just outside of Ocala.
Here, you'll get not one, but six waterfalls! You can also enjoy swimming, tubing, kayaking, snorkeling, and more.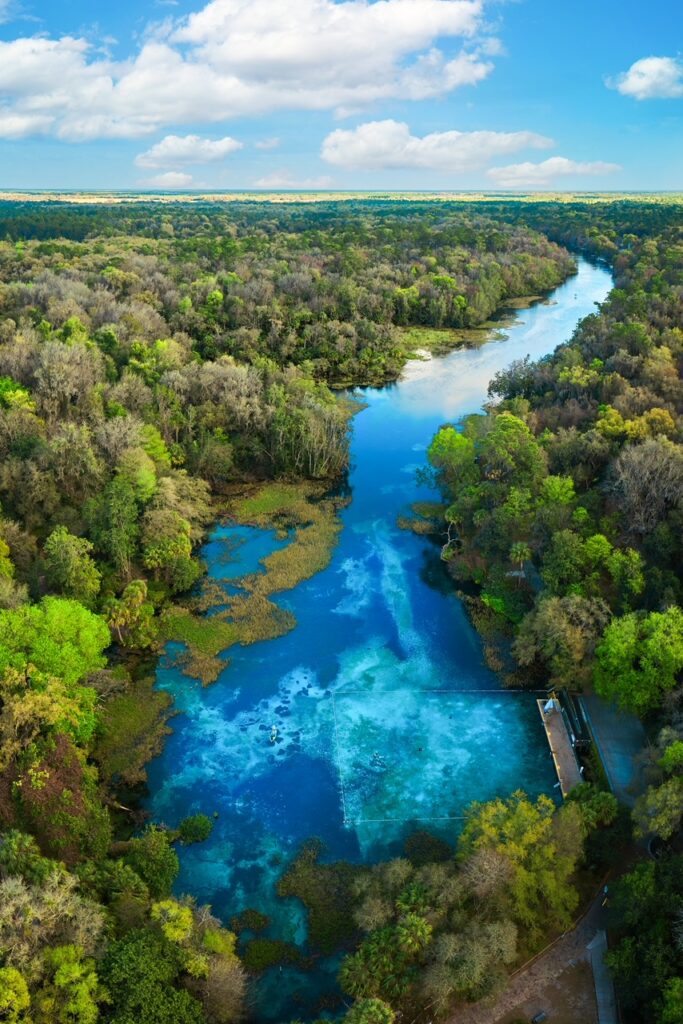 UFO Sighting Tour
Highlights
Gulf Breeze
Fort Walton Beach
Panama City
Unidentified Flying Objects?
Did you know that next to California, Florida has the most UFO sightings of any other state? On average over 30 sightings are reported each month in Florida!
If you're skeptical about whether or not life is out there, it doesn't matter. This Florida road trip will take you through the best places in the panhandle.
Start in Panama City, where two bright orbs were seen zig-zagging over Tyndall Air Force Base. As you head west, ride the shoreline, as this has been a popular sighting place.
As you approach Fort Walton Beach, look out for a white diamond-shaped craft with a vapor trail as well as saucer disks.
Even if you don't see anything, you'll have an enjoyable night walking the beach and looking at the stars through binoculars.
You'll eventually land in Pensacola where the most sightings have been recorded. Head to the Gulf Breeze neighborhood especially! Keep your eyes peeled!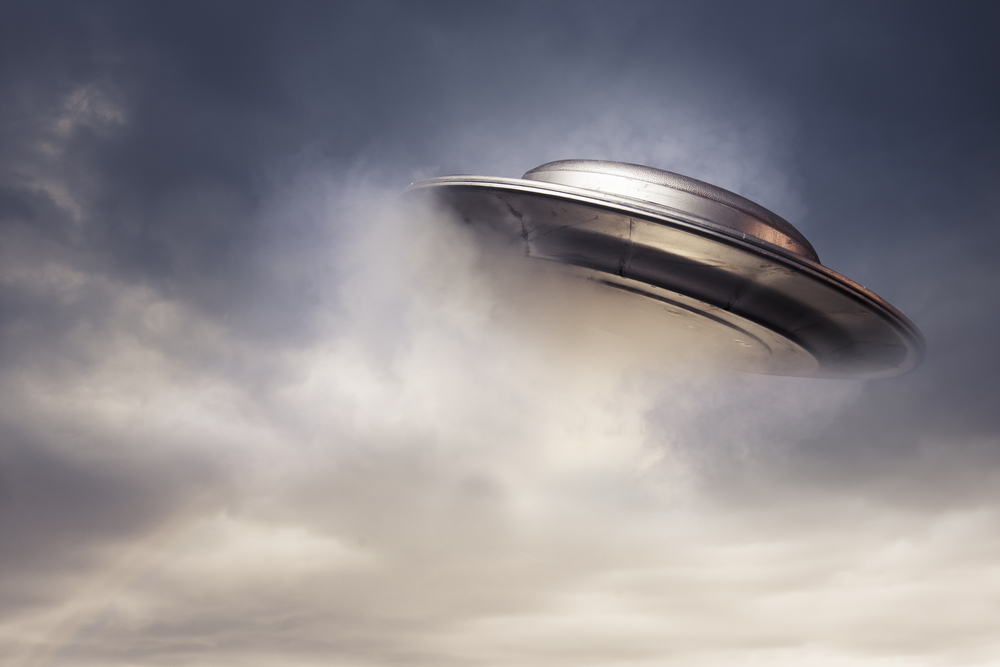 North Florida Road Trip
Highlights
Falling Waters State Park
Wakulla Springs State Park
Castillo de San Marcos
Big Talbot Island State Park
Begin your journey across the top of the state in the panhandle at Falling Waters State Park, the tallest natural waterfall in Florida!
Then head to Marianna, the only open-air-filled caves in Florida. Outside of the Florida Caverns, you can also hike, bike, or camp on the Chipola River.
Then you'll head to Edward Ball Wakulla Springs State Park, beautiful and perfect for swimming and snorkeling. It's also one of the best springs for camping in Florida.
Next, get a taste of the prehistoric as you travel to Devil's Den. A natural spring, Devil's Den is actually a karst window, which means it's a huge open cave over a river. Divers will love descending the depths!
Next, it's time for St. Augustine. History buffs will love exploring the oldest city in the United States! Stop at the Castillo de San Marcos to see a real Florida castle!
You'll end your North Florida Road Trip at Big Talbot Island, one of the best things to do in Jacksonville! The beaches here are covered with driftwood and dried tree branches, creating the illustrious Boneyard Beach!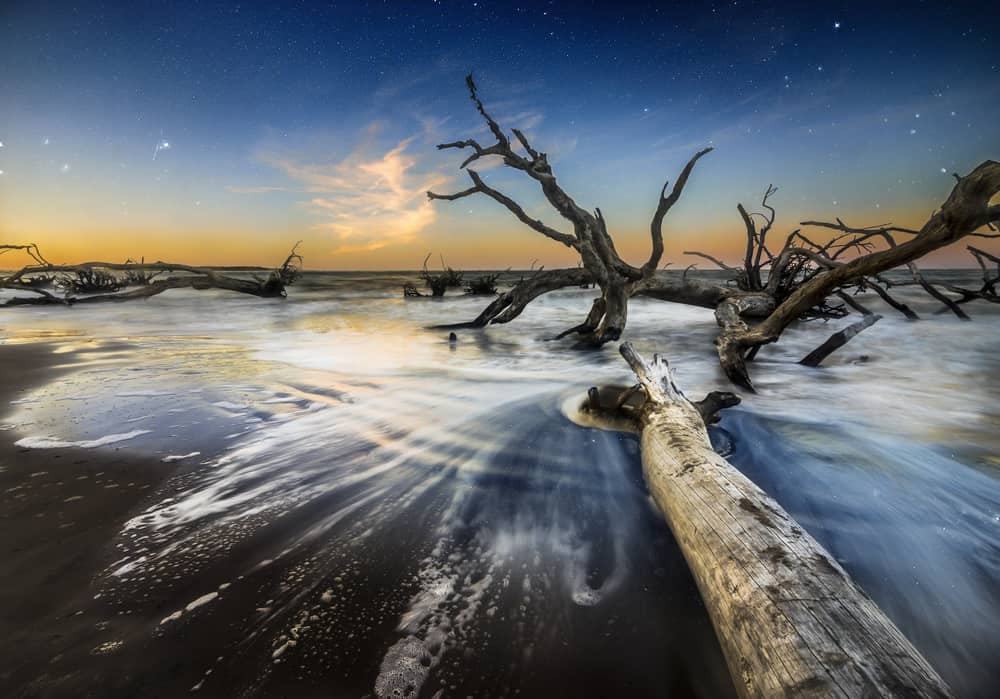 Florida Castles Road Trip
Highlights
Castillo de San Marcos
Solomon's Castle
Don Cesar
Coral Castle
Did you know that there are real castles in Florida? Europe has nothing on the Sunshine State!
This Florida road trip takes you from St. Augustine all the way down to the West Palm Beach area to see the best castles in Florida!
When you start in St. Augustine, you're practically in the castle capital of the state! Here you have Castle Warden which eventually was turned into the first Ripley's Believe It Or Not!
You also can see Villa Zorayada which is a replica of the Alhambra Palace. Don't forget the historic Castillo de San Marcos, once a Spanish fortress of war. Castle Otttis is also here, but because it's privately owned, tours are rarely available.
From there, head to St. Pete to see the Don Cesar. Built originally to be a "pink castle," today it functions as a high-end resort and spa! You can even take ghost tours of the grounds.
Next up is Solomon's Castle. The home and art studio of Howard Solomon, the castle is made entirely of aluminum. You can even have lunch at the Boat on the Moat!
Finally, you'll head down to the mysterious Coral Castle. Made of 1,000 tons of coral rock, the structures have been arranged into elaborate gardens complete with bougainvillea.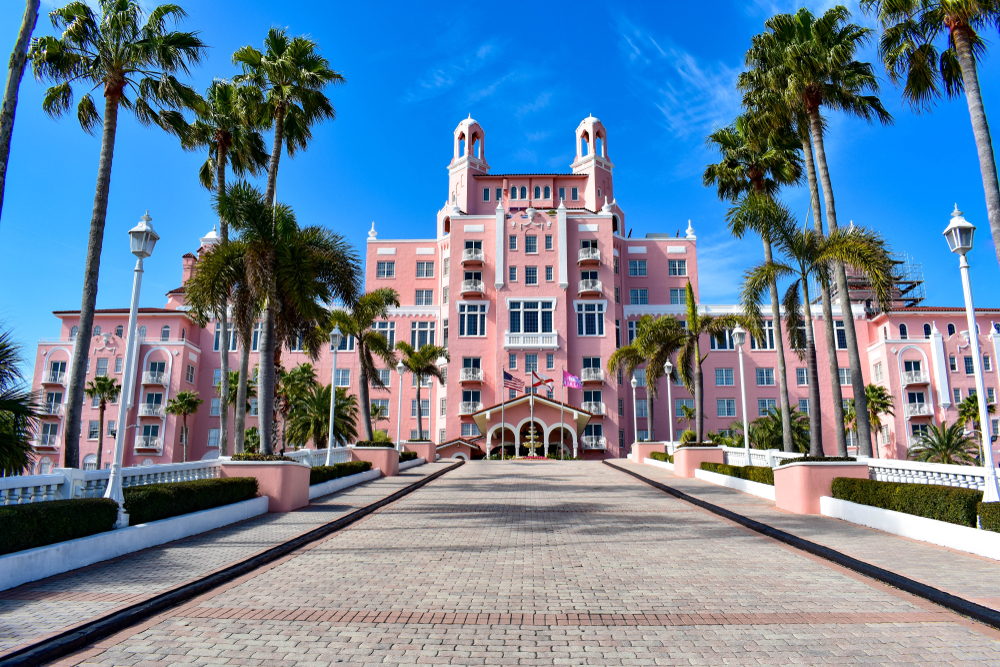 Surfing Road Trip
Highlights
St. Augustine Beach
Daytona Beach
Cocoa Beach
Boynton Beach
Similar to the East Coast Road Trip, this Florida road trip will take you along the Atlantic coast. This is where all the best waves are!
So if you're a surfer, load up the car for these can't-miss surfing spots in Florida!
Start north at Jacksonville Beach before hitting St. Augustine. From there you can hit Flagler Beach before heading to Daytona Beach.
If you visit Daytona on Christmas Eve, you can even see Santa surfing! This is a great winter in Florida activity.
Then you can hit the waves at New Smyrna Beach before heading down to Cocoa Beach. Don't forget the Sebastian Inlet, just to the south of Melbourne.
The last leg of your trip will take you to the beautiful beaches of Jupiter, where you can take a break to see the limestone formations!
From there, hit West Palm Beach before concluding your trip to Boynton Beach.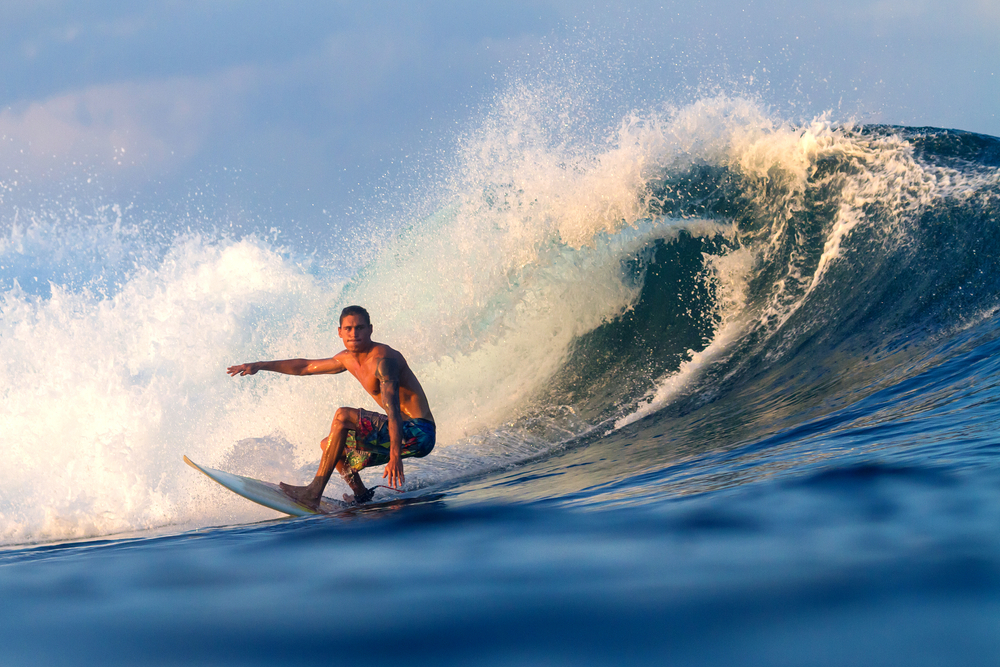 Scenic Hiking Road Trip
Highlights
Blowing Rocks
Bok Tower
Big Talbot Island
Ocala National Forest
This Florida road trip from Jacksonville to Jupiter is designed to take you on some of the most unique hiking trails the state has to offer. You won't see sights like these anywhere else.
First, start at Big Talbot Island in Jacksonville, where the Black Rock Trail will take you to the beach. You'll see dried, sun-bleached trees creating Boneyard Beach!
Next in Gainesville, you'll find the Prairie Paynes Loop Trail. Here bison and wild horses roam free. Hop down to Dade City to attempt the four-day, 39-mile Citrus Hiking Trail!
Head down to Bok Tower outside of Lakeland next. The tower is actually a Carillon bell that can be played like an instrument!
You'll finish your tour at Blowing Rocks in Jupiter, where waves crash up against limestone as you walk along the beach.
Overall, this is one of the best road trips in Florida for nature lovers!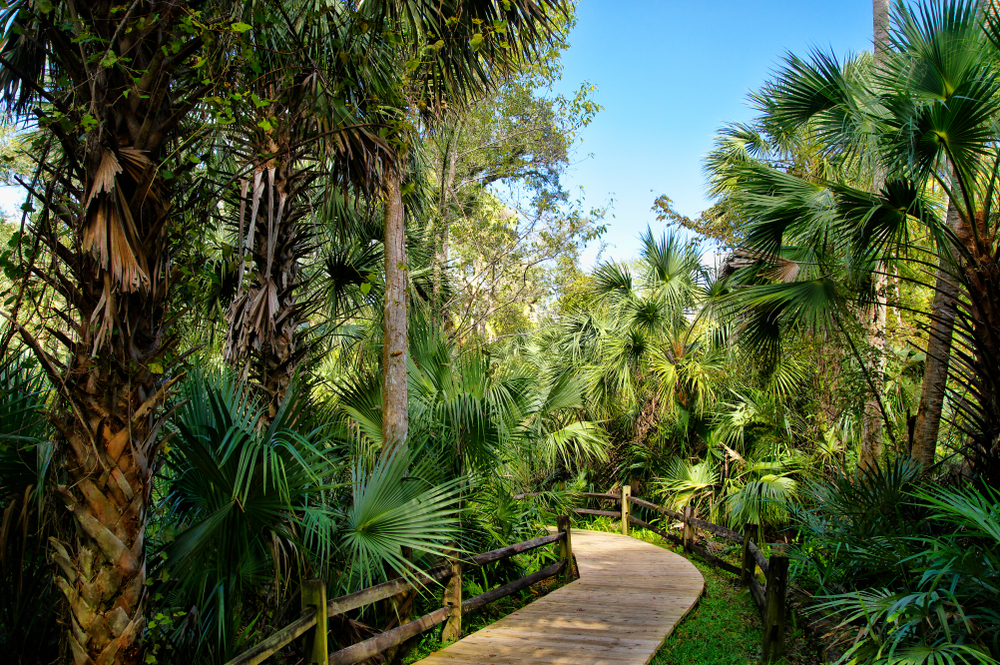 Brewery Road Trip
Highlights
Cigar City Brewing
7venth Sun Brewing Company
Hourglass Brewing
Persimmon Hollow Brewing Co.
Craft beer is having a revival, not only in Florida but across the country! To taste the best that local breweries have to offer, take the Brewery Road Trip!
Start in the Tampa Bay area where you can hit up the highest-rated brewery in Florida, Cigar City Brewing. There are plenty of other breweries in Tampa to check out too.
Likewise, you can visit Cycle Brewing in St. Pete and 7venth Sun Brewing Company in Dunedin.
Next, head to some Orlando breweries! Grab a Grove IPA or Side Chick Blonde at Deadly Sins Brewing. Try out Hourglass Brewing or Persimmon Hollow Brewing Co. as well!
Finally, head to Jacksonville and grab a pint at Green Room Brewing. You can even bring your own food or order from a binder of restaurants that deliver right to the bar!
This is one of the best weekend road trips in Florida for adults!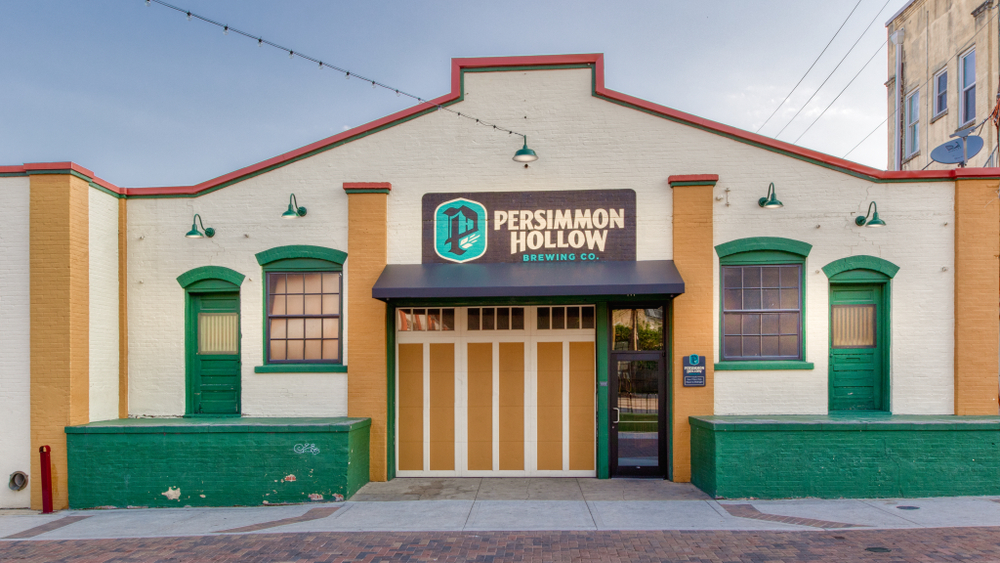 Florida Keys State Park Road Trip
Highlights
Bahia Honda State Park
Windley Key Fossil Reef Geological State Park
Curry Hammock State Park
Oleta River State Park
There are beautiful state parks in Florida, rivaling those across the country.
This South Florida road trip will take you from Jupiter all the way to the end of the Florida Keys to enjoy some tropical state parks!
Start to the north of Jupiter at Jonathan Dickinson State Park to walk through pine scrub flatwoods and mangrove forests.
Then head to Fort Lauderdale to Hugh Taylor Birch State Park to see native Florida wildlife like butterflies, turtles, and of course, alligators.
Right on Biscayne Bay in North Miami Beach, you'll head to Oleta River State Park next. Here you can find the greatest concentration of Australian pine trees!
Now you'll be crossing the bridge to the Keys and traveling west. In Key Largo, stop at the John Pennekamp Coral Reef State Park. You'll love snorkeling among the reefs and seeing the tropical fish!
Next up at the Windley Key Fossil Reef Geological State Park, you can see fossils frozen in time in the Key Largo limestone.
Then head to Curry Hammock State Park, housing one of the best beaches for shelling.
Finally, at scenic Bahia Honda State Park, you can walk up to the gorgeous, dilapidated bridge.
Since you're at the end of your journey, sit and relax on the beach and stay for one of the most beautiful sunsets in the state.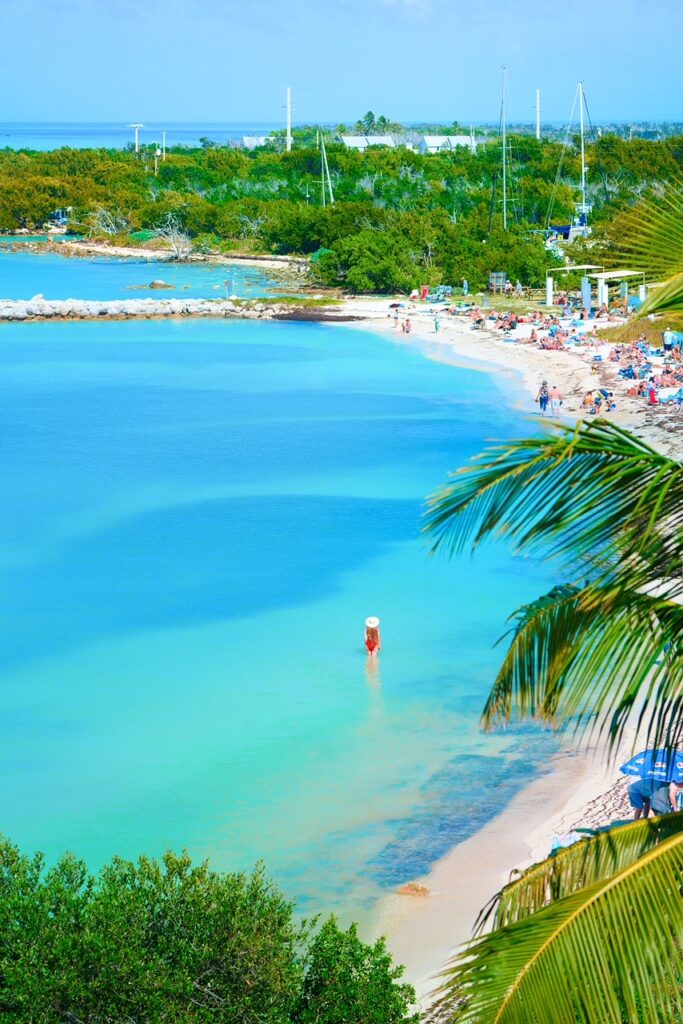 Hopefully, this Florida road trip planner helped you plan an epic vacation!
Did You Find This Post Helpful?
If so, we would love to keep in touch! We enjoy seeing photos and comments about your experiences in Florida! You can follow us on Instagram and we will repost your photos on our feed and comment too! Just tag us at @floridatrippers and hashtag #floridatrippers. We can't wait to see your travels!