Planning a Florida road trip can seem daunting since there is so much to do and see in this U.S. state, but don't worry, because we have you covered! Florida has always been a vacation hot spot and with good reason!
Millions of people flock to Florida each year to enjoy the tropical weather and beaches as well as the many amusement parks, cool cities, and national parks. Whether you are into rest and relaxation or have a more adventurous spirit, Florida has something for you! The state has a ton of fun activities for families and nature lovers alike.
So, if you are ready to explore the Sunshine State in detail, keep reading to find our best suggestions for a road trip of Florida. This path will lead you through the top destinations of the state so you won't have trouble finding the most fun and interesting things to add to your Florida itinerary. Let's go!
Don't forget to check out our Detailed Road Trip Packing List so you don't forget any essentials for your trip!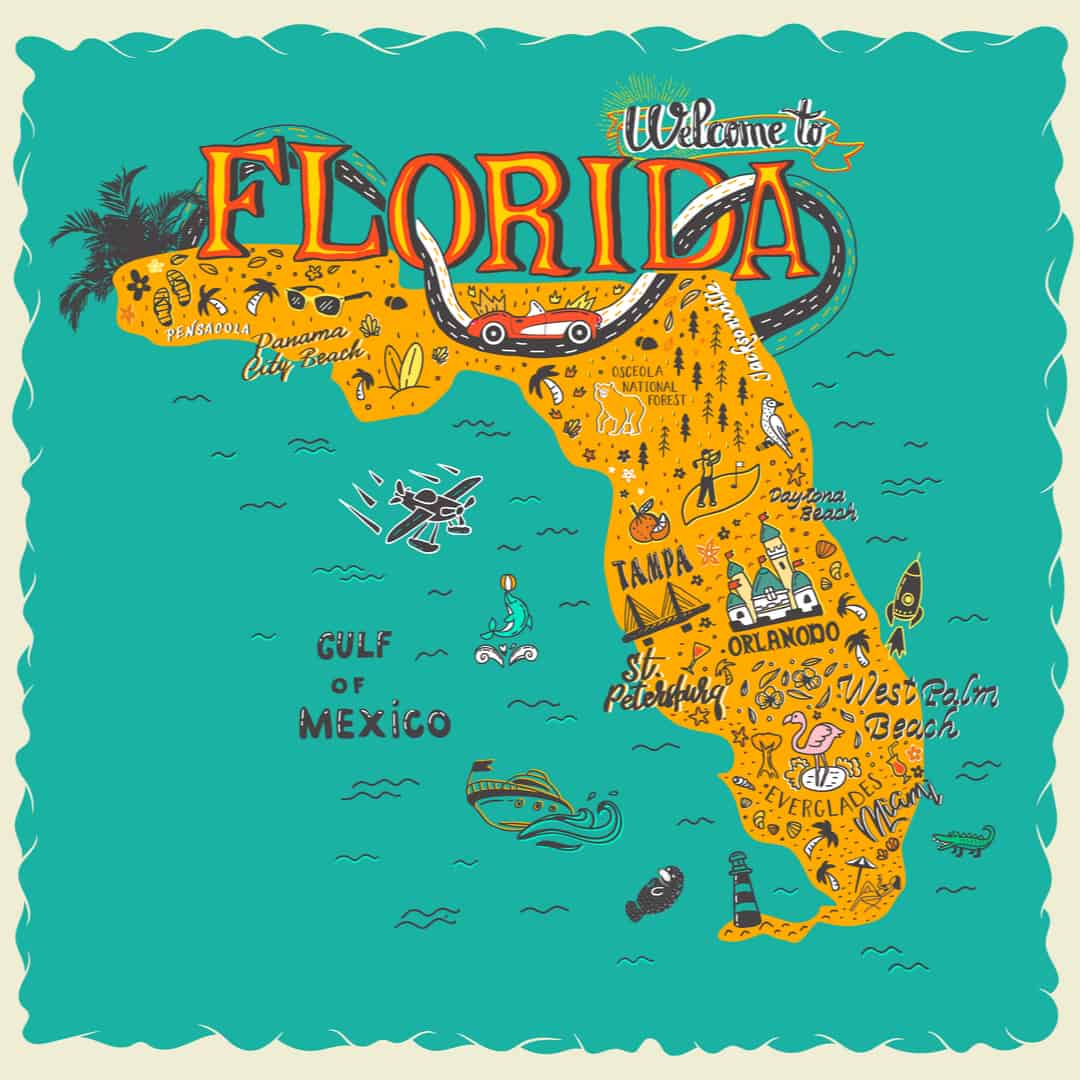 The Perfect Florida Road Trip Itinerary You Should Steal
Start Your Florida Road Trip by Flying into Jacksonville
Your Florida road trip will start in Jacksonville when you fly into the airport. Make sure to check Skyscanner before you book to get the best rate. After you collect your luggage, you will need to rent a car before you do anything else.
There are plenty of car rental places at the airport, so it won't be hard to find a car. Pick out the best vehicle for your needs and passenger size, then head into Jacksonville proper.
Of course, if you are coming from a close enough state, you might want to save money and chose to drive your own car on your trip. Jacksonville is near the border of Georgia, so you will not have to drive too far into Florida to reach the first stop on this road trip.
If you want to be extra prepared for your road trip, you can download any of a number of helpful travel apps. We have a list of our favorite ones here! If you want help figuring out what to pack for your Florida trip, check out our tips here!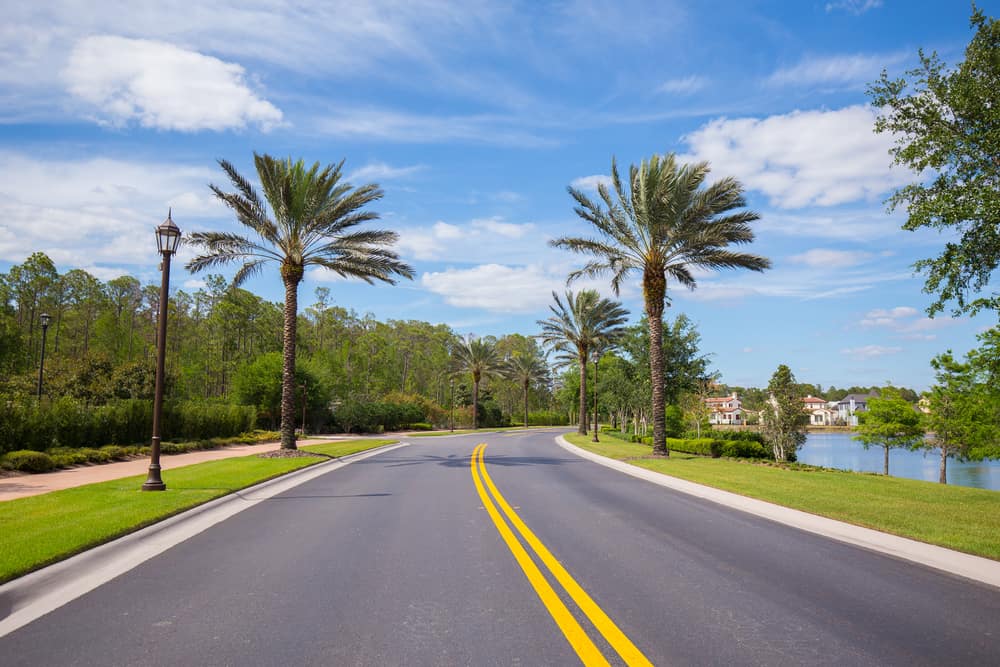 Stop 1: Jacksonville
Jacksonville is nestled between the border of Georgia and the Atlantic Ocean. This big city has a fun, hip vibe with a mix of southern charm.
There are a ton of fun things to do within city limits as well as a constellation of state parks surrounding the area for those who love to spend more time in nature than at a bar. Also, did we mention there are over 20 collective miles of white-sand beaches? If you want to just be a beach bum during your time here, that is perfectly acceptable, too!
Jacksonville is where you will find the largest population in Florida, and it is even the largest city by area in the continental United States.
The area was originally home to the Timucua Native Americans before becoming a French colony called Fort Caroline in 1564. After the U.S. gained Florida, the city of Jacksonville was formed, named after President Andrew Jackson.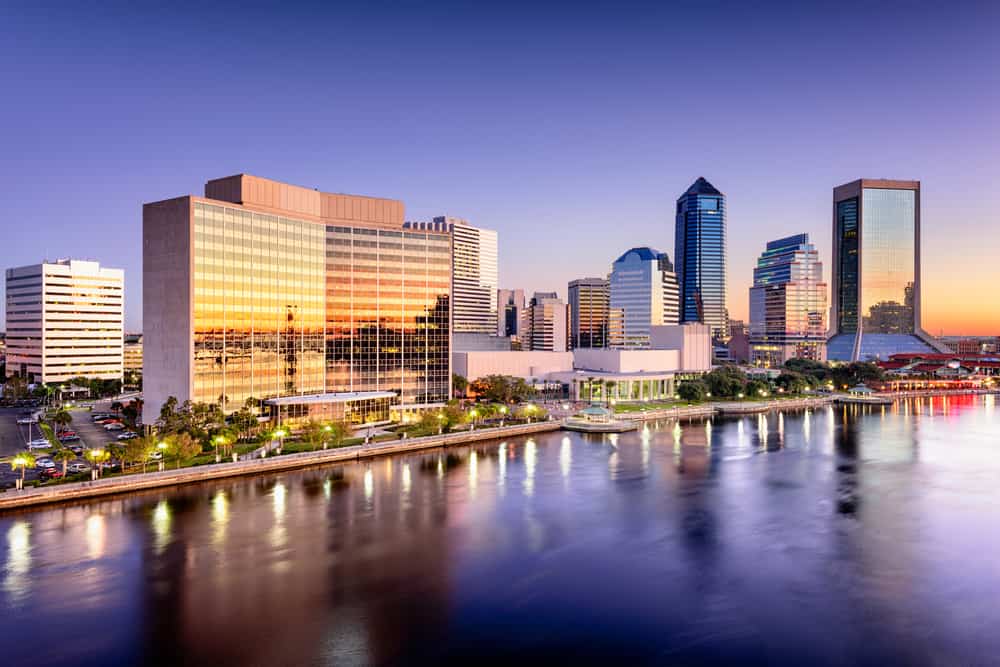 Things to Do
Cummer Museum of Art & Gardens
This art museum is full of over 5,000 pieces of artwork, including some by famous painters such as Norman Rockwell, Peter Paul Rubens, and Winslow Homer. Outside of the building are beautifully manicured gardens where you can find the 200-year old Cummer Oak.
Stroll Down the River Walk
The beautifully constructed walkways in downtown Jacksonville will lead you along the St. John's River while providing amazing, photogenic views of the city. There are also plenty of restaurants and museums along the way.
Find Cool Beaches at Big Talbot Island State Park
Big Talbot Island State Park is about a thirty-minute drive northeast of Jacksonville and is worth the drive if you want to find cool beaches. The unique Boneyard Beach is known for its trees that have been bleached into skeletons by the sea. Blackrock Beach has beautiful rock formations. This state park is also full of hiking trails.
Explore Amelia Island
Amelia Island is just under an hour north of Jacksonville and is the perfect day trip from the city. Here you can visit the cute, historic town of Fernandina Beach, walk along white-sand beaches while possibly spotting some dolphins, or check out Fort Clinch State Park.
Where to Stay
Affordable: Tricove Inn & Suites. Check Rates: Booking.com
Mid-Range: Riverdale Inn – Jacksonville. Check Rates: Booking.com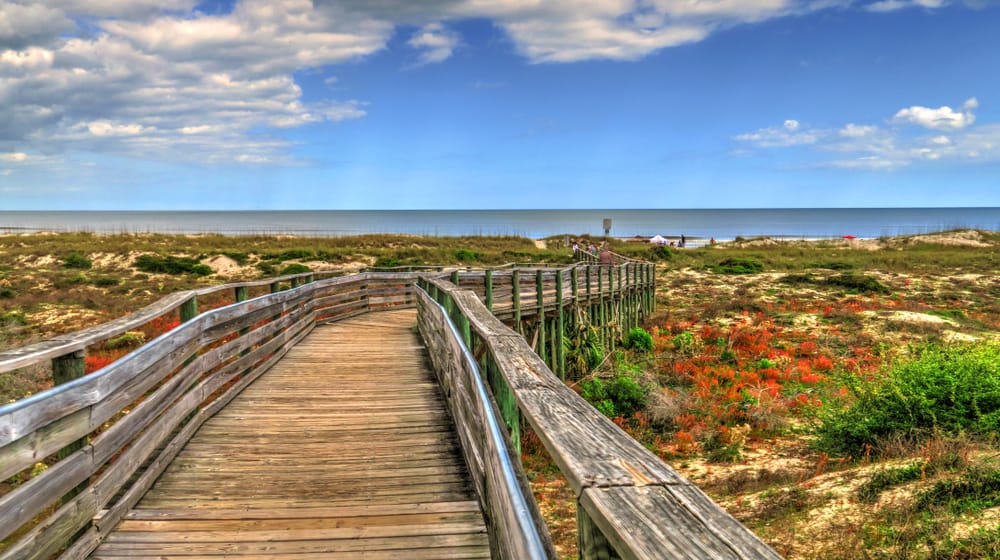 Stop 2: Saint Augustine
Saint Augustine is only just under an hour south of Jacksonville, so you will not have far to drive to the next stop on this Florida road trip .
This coastal city is enduring with its historic feel mixed with the Spanish influences leftover from when it was founded by explorers from Spain in 1565. As one of the oldest cities in America, it makes sense that Saint Augustine's nickname is the Ancient City. With so much to do and see in this city, you may want to stay at least a night or two here.
History buffs especially will be in awe of Saint Augustine. You can find the oldest wooden schoolhouse and a jail from 1890. Anyone interested in architecture will love to see the buildings and their Spanish connections.
The gorgeous Lightner Museum is housed in an old grand hotel you must see to believe. Saint Augustine is a great city to just wander through and find picture-perfect scenes around every corner.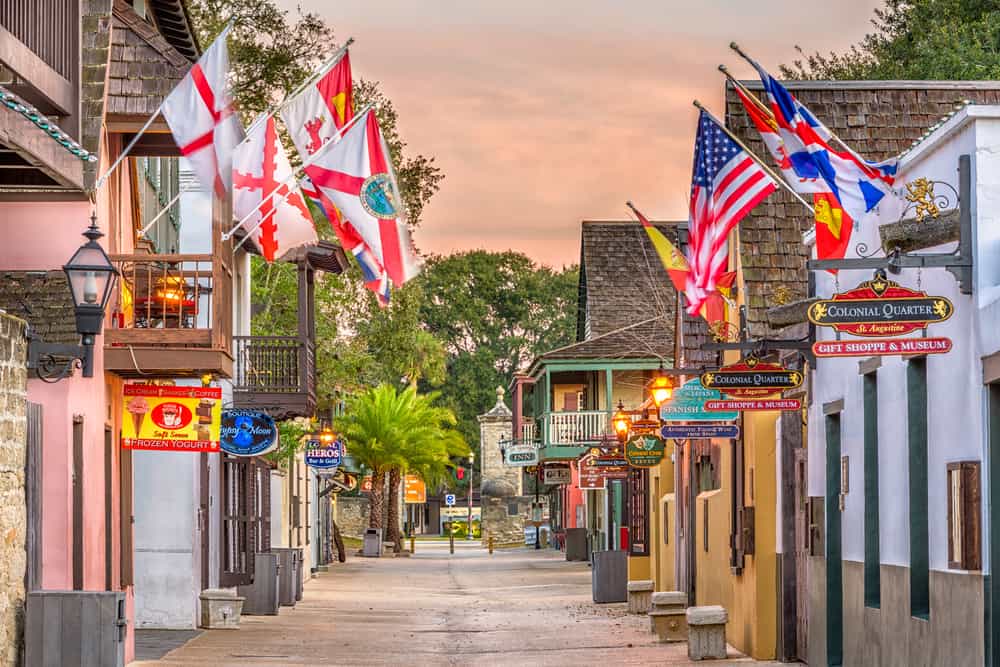 Things to Do
Walk the Historic St. George Street
A walk along St. George Street and the Colonial Quarter will make you feel as if you have been transported back a couple of hundred years. There are plenty of beautiful buildings, cool museums, and historic demonstrations here to enjoy. If you want, you can even ride on the Old Town Trolley.
Discover the Fountain of Youth
Ponce de Leon's Fountain of Youth Archaeological Park is another location to explore if you want to time travel. You can take a sip of the legendary Fountain of Youth, walk through a replica Timucua village, and watch a cannon get fired.
Admire the Castillo de San Marcos
This 17th-century fortress is situated on the Mantanzas River and is one of the most popular tourist spots in the city. You will be able to explore the old fort, listen to historical reenactors, and watch weaponry demonstrations.
Have Fun at an Alligator Farm
You can't come to Florida and not see an alligator. While you hopefully don't stumble into the path of a wild gator, the St. Augustine Alligator Farm allows you to see the fascinating creatures safely while watching performances and learning a thing or two about these giant reptiles. There are more than twenty species found here.
St. Augustine Pirate & Treasure Museum
Those traveling with kids or anyone interested in pirate lore will want to drop by the St. Augustine Pirate & Treasure Museum. You will be able to see a number of authentic pirate artifacts and climb aboard a pirate ship replica. Avast, ye mateys!
Book Here: St. Augustine Pirate and Treasure Museum Tickets
Where to Stay
Affordable: The Lion Inn – Saint Augustine. Check Rates: Booking.com
Mid-Range: Bayfront Inn. Check Rates: Booking.com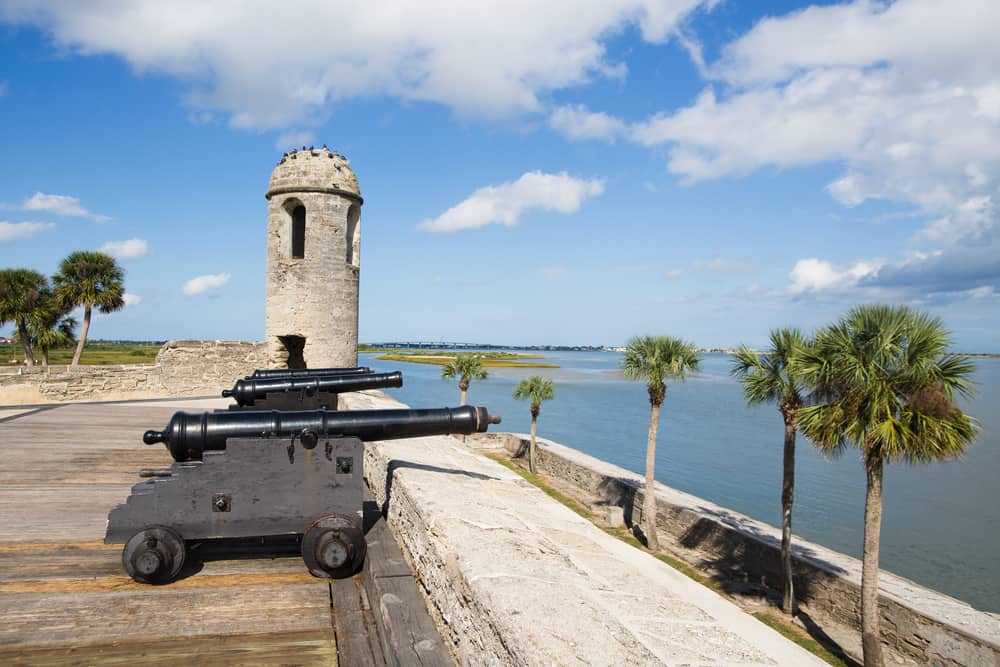 Stop 3: Ginnie Springs
From Saint Augustine, drive two hours west to reach the next stop on your Florida road trip, Ginnie Springs. This beautiful, privately-owned oasis is a bit of a hidden gem in Florida and is popular among the locals.
You will not want to skip this spot if you love the idea of spending time on the water. Ginnie Springs is comprised of seven natural springs that remain at about 72 degrees Fahrenheit year-round. These pools are surrounded by shady trees and are close to the Santa Fe River.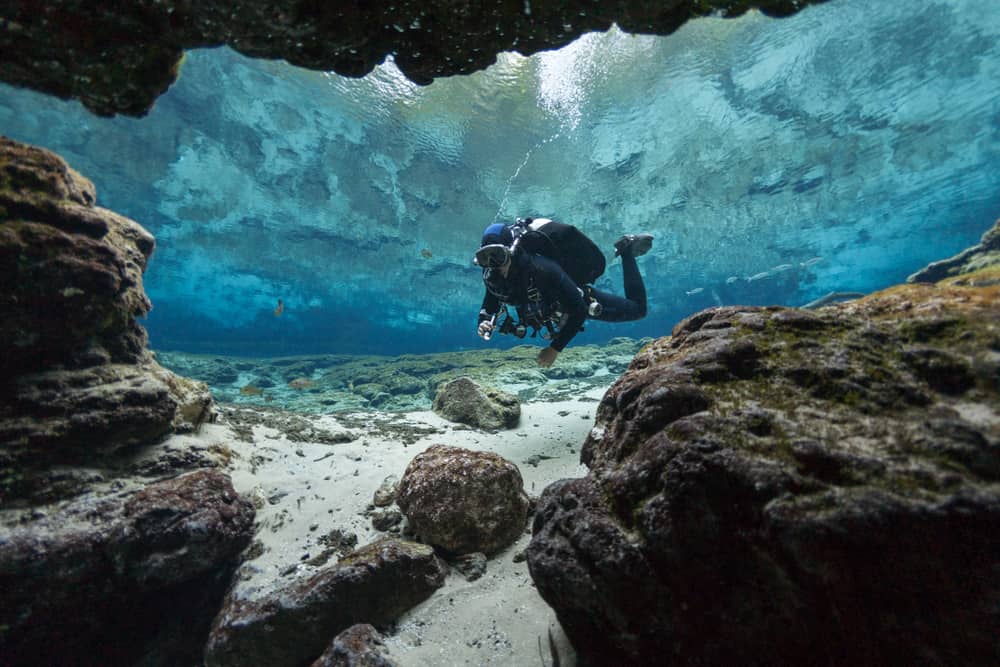 Things to Do
Go Snorkeling
The crystal clear water paired with its warmth makes for the perfect place to go for an underwater swim. You can rent snorkeling gear at the Ginnie Springs Store before diving in. As you explore, you may see fish and turtles. You can go scuba diving in the caverns here too, but you must be experienced.
Kayak the Santa Fe River
Find yourself a kayak, canoe, or even an upright paddleboard and take to the water. This form of travel will give up a bit of an arm workout as your cruise along the river. Give yourself a break every so often to snap a photo of the light-dappled trees and bright, blue water.
Float the River in an Inflatable Tube
If you want to bask in the sun and relax, you can grab a tube and gently float in the water. With an hour-long route down the river, you can take time to soak in the peaceful nature around you. Just don't fall asleep and drift too far!
Where to Stay
You can stay at a hotel nearby or you can camp in the park.
Affordable: High Springs Country Inn. Check Rates: Booking.com
Mid-Range: Rum Island Cabin on the Santa Fe River. Check Rates: Booking.com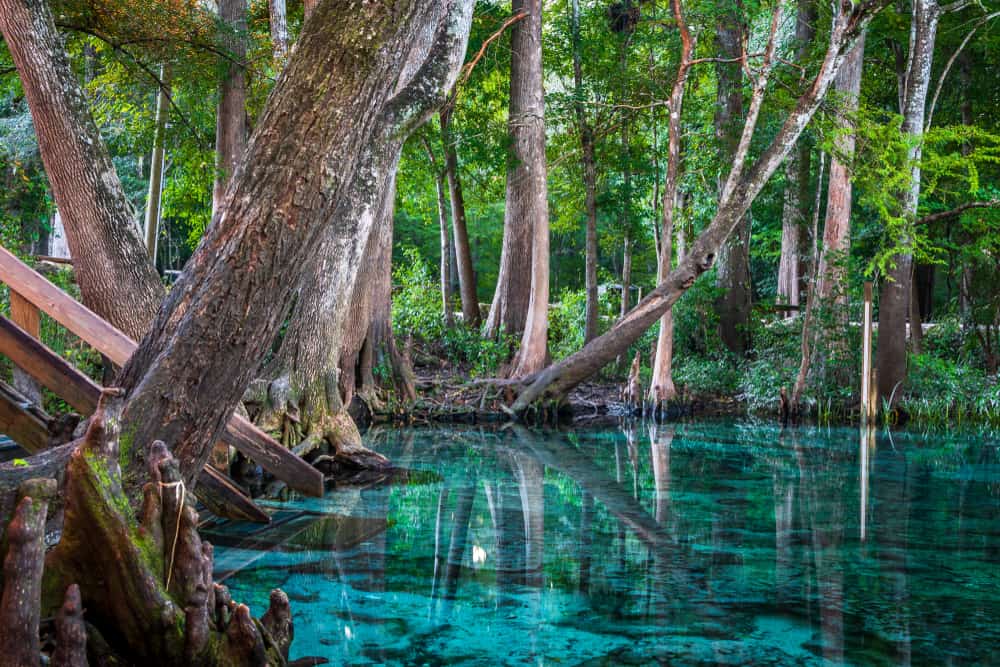 Stop 4: Devil's Den Prehistoric Spring
From one spring to another, you will have to drive an hour south to get to Devil's Den Prehistoric Spring. Unlike Ginnie Springs, this is not a place to go to only chill or swim lazily. Devil's Den is for those who want to snorkel or go scuba diving.
You can bring your own gear or rent some there. People have been coming to this spring to dive since the early 90s, and you will want to check it out too if scuba diving is one of your hobbies.
This natural hot spring is unique in that it is found in an underground cave where many Pleistocene Age fossils have been found. These remains, including many animals and even some human specimens, are now on display at the University of Florida's Museum of Natural History.
The water here stays at a consistent 72 degrees Fahrenheit throughout the year, so even in the colder months, it will keep you warm. The steam that rises from the water, like from Hell, is what gave the spring its name.
If you choose to dive here, you will be impressed by the clear water and interesting rock formations. Light breaks through above the water to light up the cave and paint a pretty scene.
Underneath the surface, there are multiple passageways to explore, with the deepest being 90 feet down. Those traveling with kids younger than six might want to skip this stop since snorkeling is not an option for younger kids. Pets are also not allowed on the grounds.
Where to Stay
The closest place to stay with good options is Gainsville, which is about a thirty-minute drive north of Devil's Den. You can also camp at the spring.
Affordable: Rodeway Inn Gainesville. Check Rates: Booking.com
Affordable: Hampton Inn Gainesville. Check Rates: Booking.com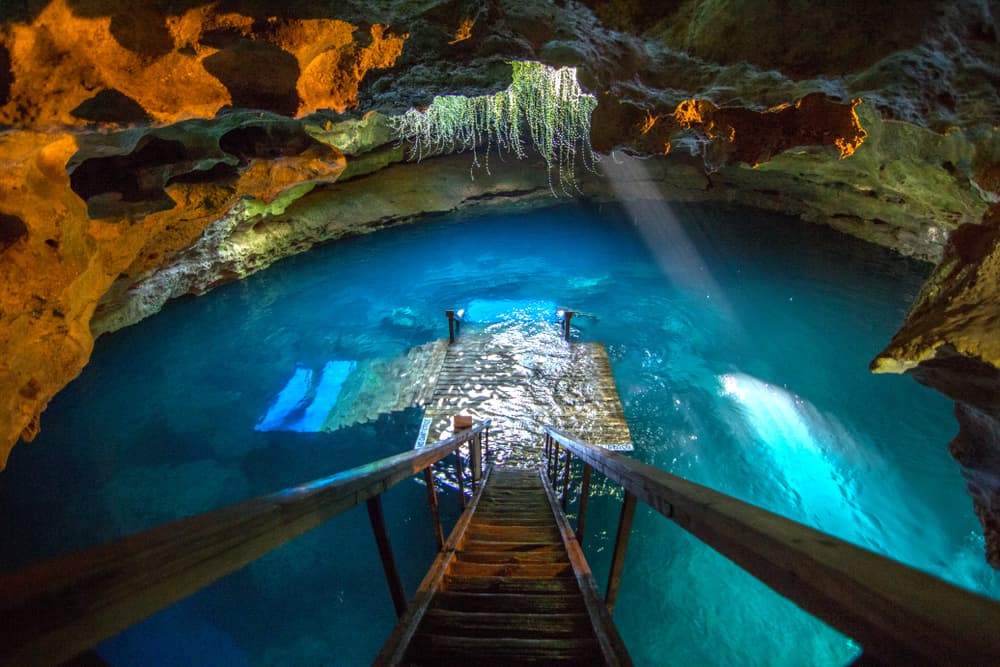 Stop 5: Crystal River Preserve State Park
Another hour drive south to the Gulf coast will bring you to the Crystal River Preserve State Park. This 27,500-acre park has a diverse estuary landscape consisting of scrubs, forests, salt marshes, and mangrove islands.
Nature lovers will feel right at home here! You can fill many relaxing hours bird-watching, fishing, bicycling, kayaking, or any number of other fun outdoor activities.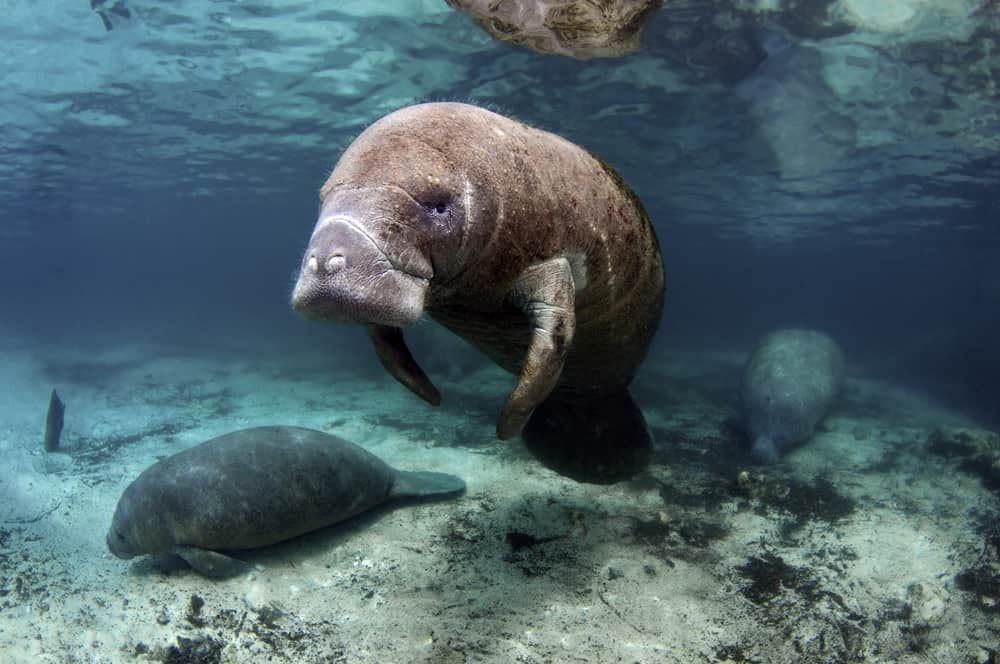 Things to Do
Go On a Scenic Hike
This state park has many twisting trails to hike along to get beautiful views and perfect photography lookouts. There are some shorter trails, but if you are looking for a longer hike, try the Seven-Mile Loop Trail. You will walk by creeks, beaches, giant trees, and pretty wildflowers. You may even spot some otters.
Take an Informative Boat Tour
If you prefer sitting and relaxing on vacation over hiking for hours, you can take a boat tour instead. Board the Monroe for an hour and a half narrated tour of the river. You will get the chance to see bald eagles, osprey, and maybe even some bottle-nosed dolphins.
Swim With Manatees
The Crystal River National Wildlife Refuge can be found right between the city of Crystal River and the state park. This 80-acre refuge is a haven for West Indian manatees, an endangered aquatic mammal. The usually shy and elusive animals come together here in the winter, though there are some here year-round.
If you want to swim with these gentle giants, the refuge allows you the chance to get up close and personal with them. If you have an underwater camera, you could not dream of better conditions. The shallow water is very clear and you are sure to get some great photos of this once in a lifetime experience.
Book Here: Crystal River Florida 3-Hour Swim with Manatees
Kayak at the Three Sisters Springs
The Three Sisters Springs are near the manatee refuge in the city. Kayaking here will feel as if you are cruising in a tropical paradise. You can relax as you glide through the bright, turquoise water.
Where to Stay
Affordable: Days Inn by Wyndham Crystal River. Check Rates: Booking.com
Mid-Range: Moss Rose Vacation Home. Check Rates: Booking.com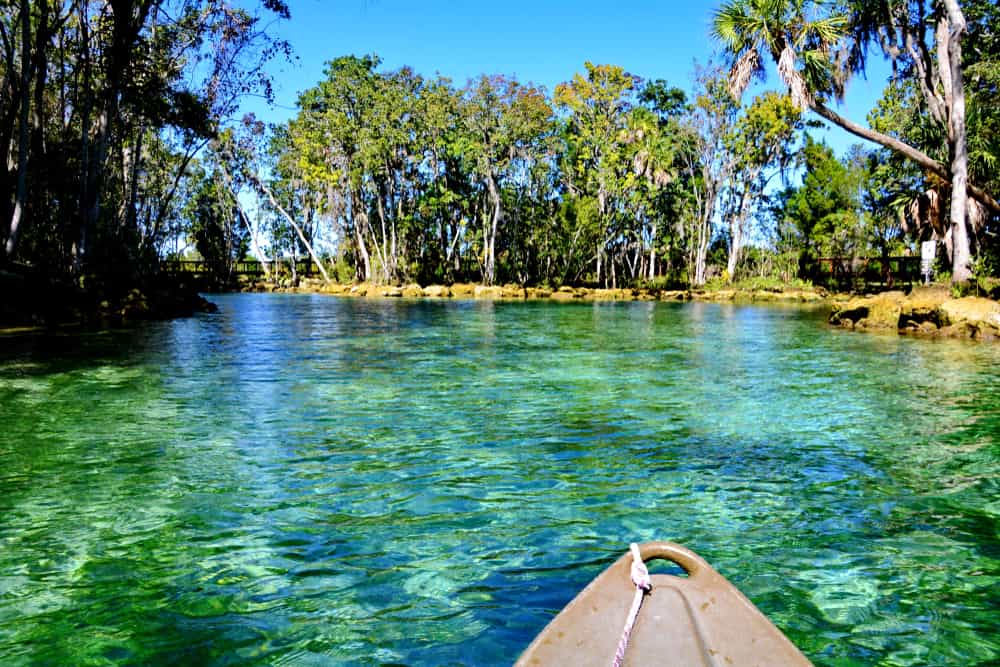 Stop 6: Weeki Wachee Springs State Park
A short, thirty-minute drive south along the coast will bring you to the next stop on this epic Florida road trip. Weeki Wachee Springs is a smaller state park, but there is still a ton of fun things to do here.
It is the perfect place for families looking for a good time or those who love a great mix of kitschy shows and lovely nature. Weeki Wachee Spring could be done in a day.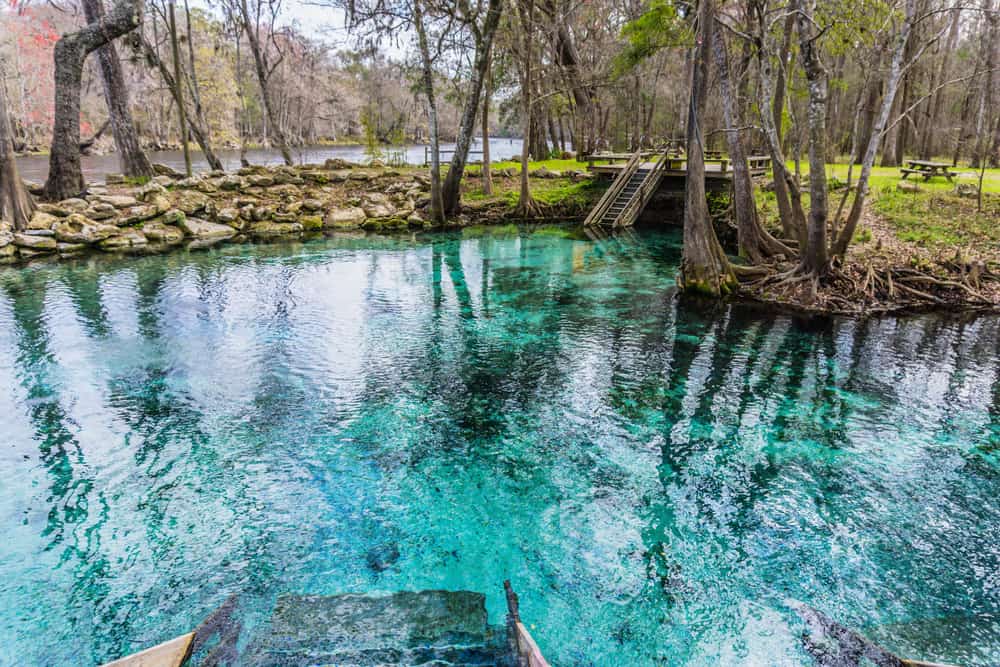 Things to Do
Attend a Mermaid Show
The mermaid show here has a 60-year history and is worth seeing. The magical mermaids perform underwater acrobatics in a natural spring while the audience watches from an underground auditorium. Kids and adults alike will be mesmerized by the skills of these costumed swimmers.
Zoom Down Slides at a Waterpark
Buccaneer Bay Waterpark mixes natural elements with fun rides. There are multiple water slides, many of which dump you into a natural spring. If thrills aren't your thing, you can grab an inner tube and float along a natural river. There is also a wading pool for younger kids.
Take a Boat Tour
Hop aboard a tour boat to enjoy a peaceful trip along the Weeki Wachee River. As you go along, make sure to keep your eyes peeled and your camera ready, because you will see a number of animals, from bald eagles, turtles, herons, and even manatees if you are lucky.
Paddle Down the Weeki Wachee River
Weeki Fresh Water Adventures will let you rent a canoe, paddleboard, or kayak so you can explore the Weeki Wachee River on a more personal level. The paddling run here is about five and a half miles through lush forests. Watch for water birds and enjoy the lull of the water.
Where to Stay
Affordable: Quality Inn – Weeki Wachee. Check Rates: Booking.com
Mid-Range: Holiday Inn Express Hotel & Suites Spring Hill. Check Rates: Booking.com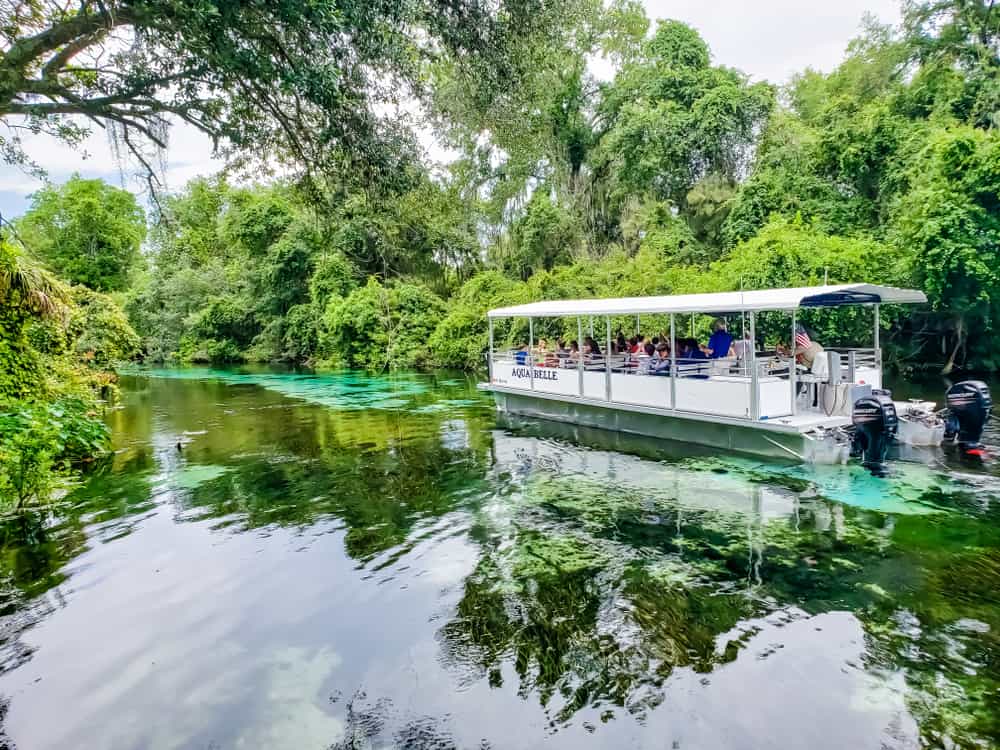 Stop 7: Tampa
Keep going down the coast for another hour to reach Tampa. This city is the third-largest in the state and is home to the largest port in Florida. Tampa is a hip and modern city created from the perfect mash-up of art, culture, history, and a fun, cool atmosphere. There is something for everyone in this awesome city, and you will be missing out if you skip it on your Florida road trip.
Tampa is bordered by a large bay to the south and by nature preserves to the north, so if you are not much of a city person, you can escape to nature. If you love history or museums, you can visit the Tampa Bay History Center or the American Victory Ship & Museum.
Animal lovers will want to check out the Lowry Park Zoo, Big Cat Rescue, or the Florida Aquarium. You could also catch a show or musical performance at the David A. Straz Jr. Center for the Performing Arts.
Tampa is also known for its amazing and diverse cuisine and is a great stop for foodies on your Florida road trip! This city is a great destination if you love to eat since there is a ton of food styles to try. Cuban and Spanish food is prevalent and of course, seafood menus are abundant in this coastal city.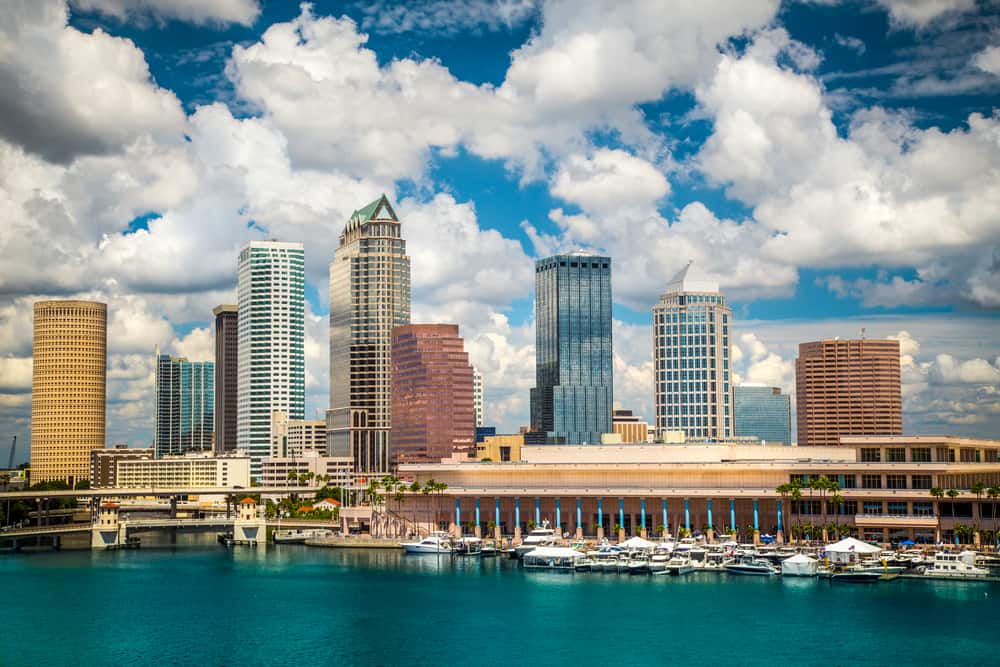 Things to Do
Ride Rollercoasters at Busch Gardens
Busch Gardens is part amusement park and part zoo. This expansive park is full of thrilling rides and animals roaming authentic habitat enclosures. If your family is restless from being cooped up in the car during your road trip of Florida, then Busch Gardens provides a place to burn off some energy.
Book Here: Busch Gardens Tampa Bay: Park Admission
Take a Boat Tour of the Tampa Bay
There are plenty of fun boat cruise companies to look into during your stay in Tampa. If you want to see dolphins, book a tour especially for that or you can book a relaxing cruise with panoramic views of the skyline. Or, if you want to captain your own ship, you can even rent a speedboat and race through the waters for heart-stopping fun.
Book Here: Tampa Bay 2-Hour Speedboat Adventure
Cool Off at the Adventure Island Waterpark
Another theme park, this time dedicated to water fun, is the Adventure Island Waterpark. This park is across the street from Busch Gardens and offers a day of swimming, floating in a lazy river, and rushing down waterslides.
Book Here: Tampa: Adventure Island Park Admission
Take a Day Trip to Clearwater Beach
Clearwater Beach is about forty minutes west of Tampa and makes for a fun day trip from the city. You can spend time chilling at some of the amazing white sand beaches or you can check out the Clearwater Marine Aquarium. This aquarium is known for being home to Winter the dolphin, who inspired the 2011 movie Dolphin Tale. The movie was also filmed here.
Book Here: Clearwater Marine Aquarium General Admission
Where to Stay
Affordable: Tampa Inn Near Busch Gardens. Check Rates: Booking.com
Mid-Range: Tampa Marriott Water Street. Check Rates: Booking.com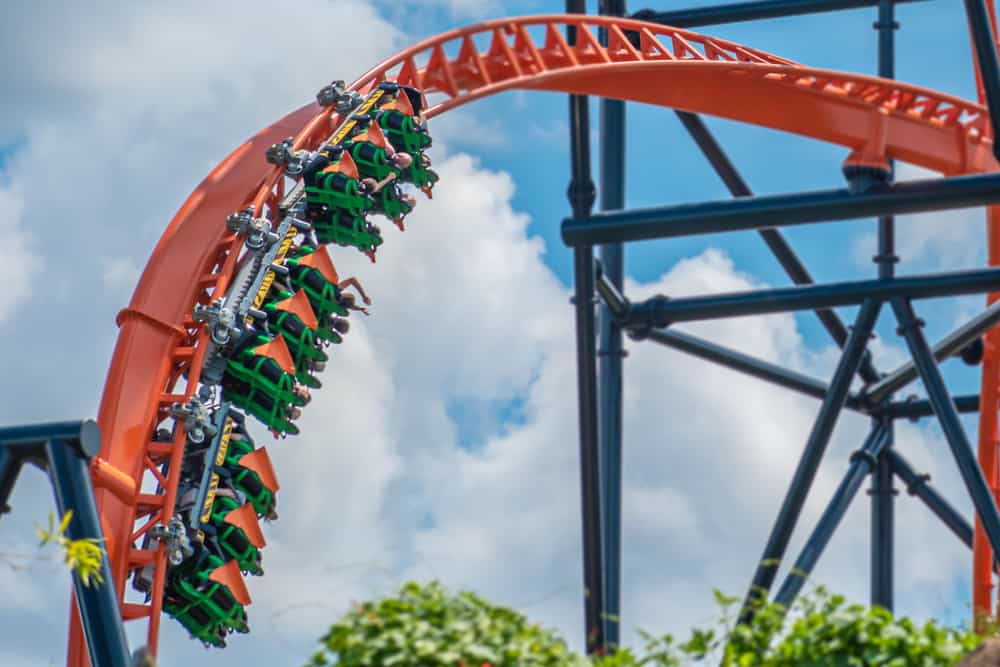 Stop 8: Bok Tower Gardens
From Tampa, you will drive about an hour and a half into Central Florida to the Bok Tower Gardens. This beautiful park and centerpiece tower was designed over 80 years ago by Edward Bok and has since become an amazing tourist attraction.
The unique tower and the sprawling gardens that surround it create a serene atmosphere perfect for a relaxing trip. This is actually one of our favorite stops on this Florida road trip!
The main draw here is the wonderful 205-foot "Singing Tower." Within the tower is a carillon, a rare musical instrument made of 60 bells. Twice a day, the tower rings out with a thirty-minute concert. To avoid missing out on this peaceful and interesting experience, try to be in the park at one or three o'clock.
While at the Bok Tower Gardens, you must also stroll through the lovely gardens crafted by landscape architect Frederick Law Olmsted, Jr. There are many gardens with different features to explore, but no matter which ones you walk through, you will find a variety of vibrant plant life, a ton of bird species, and cool statues. You can also check out the Pinewood Estate. You can tour this historic, Mediterranean-style mansion.
Where to Stay
Affordable: Green Gables Inn. Check Rates: Booking.com
Mid-Range: Hampton Inn & Suites Lake Wales. Check Rates: Booking.com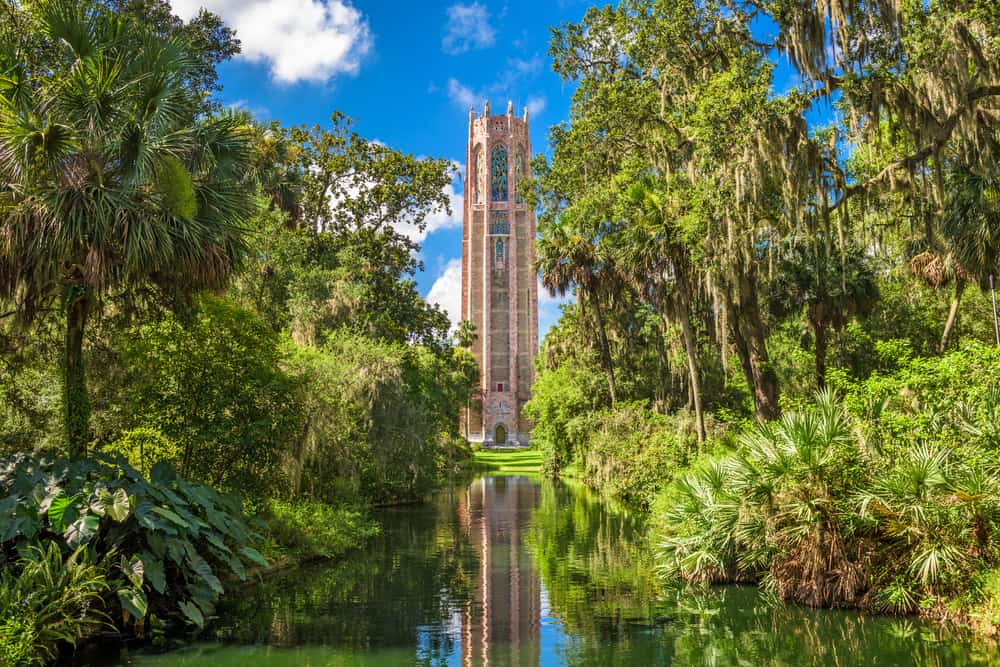 Stop 9: Orlando
Orlando is an hour north of the Bok Tower Gardens and is one of the most visited cities in Florida and is obviously a must for your road trip. Otherwise, can you even say you went to Florida?
This city is bursting with incredibly fun amusement parks and is surrounded by nature preserves. You will not find a lack of things to do in this crazy-awesome city! You will probably want to schedule at least two to three days here to see the top sights.
As a top tourist location not only for Americans but vacationers from around the world, it makes sense that Orlando has become so prevalent in pop culture.
The city has been featured in many TV shows, movies, and books over the years. The city is also home to a few music recording studios and movie studios. If you are wanting to shop 'til you drop on your stay in Orlando, there are also a few large malls to check out.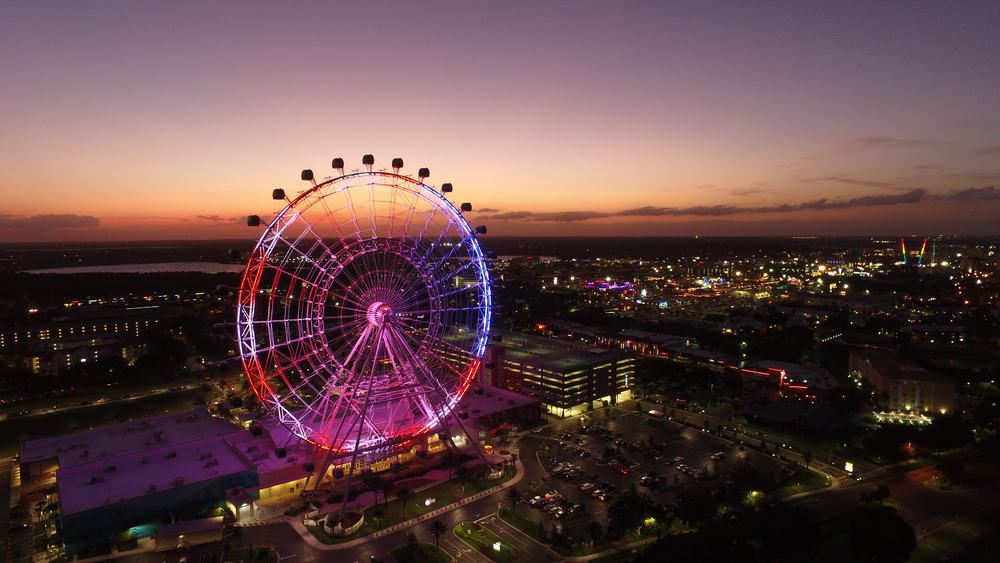 Things to Do
Feel Like a Kid at Disney World
People are bound to ask if you went to Disney World on your Florida vacation and Orlando is where you will find this world-famous theme park. Even if you are not traveling with kids, there is no shame in visiting this magical destination.
Disney World comprises of four separate parks: Magic Kingdom, Disney's Animal Kingdom, Epcot, and Disney's Hollywood Studios. You can visit each one to get your fill of Disney fun or if you don't have the time or money you can check out only one or two. Each park has rides, restaurants, and assorted entertainment.
Have Movie-Themed Fun at Universal Studios
Universal Studios Florida is another top theme park in Orlando. This park has rides and entertainment based on blockbuster movies and TV shows, such as Jurassic Park, E.T. the Extra-Terrestrial, Men in Black, and The Simpsons.
In more recent years, the main draw for some visitors has become the Wizarding World of Harry Potter, which allows fans of the famous books and movies to walk down recreated locations from the series as well as ride the Hogwart's Express.
Ride the Ferris Wheel at ICON Park
If you are not afraid of heights and love great views, then head over to ICON Park on International Drive where you will find an amazing 400-foot tall Ferris wheel. This wheel has been part of the city's skyline since 2015 and is one of the top ten tallest Ferris wheels in the world.
Book Here: Orlando: The Wheel at ICON Park Observation Wheel
Explore Wekiwa Springs State Park
If you want to get away from the many thrills Orlando has to offer and take time to calm down, you can take a trip to Wekiwa Springs State Park. This 7,000-acre park is beautiful and offers the opportunity for many outdoor activities, including kayaking, swimming, hiking, or snorkeling.
Hike in the Tibet-Butler Nature Preserve
Another great place near Orlando to become one with nature is the Tibet-Butler Nature Preserve. There are almost four miles worth of hiking trails here where you can enjoy the sight of many bald eagles, ospreys, otters, tortoises, and alligators.
Where to Stay
Affordable: Days Inn by Wyndham Orlando Downtown. Check Rates: Booking.com
Mid-Range: Park Plaza Hotel Orlando – Winter Park. Check Rates: Booking.com
Luxury: Walt Disney World Swan. Check Rates: Booking.com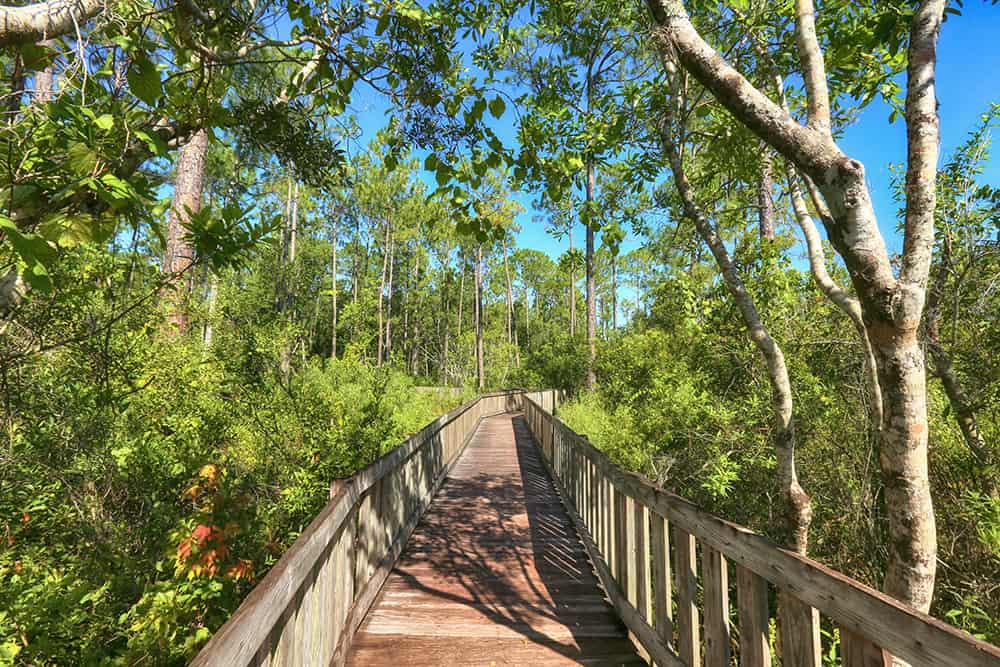 Stop 10: Cocoa Beach
For the nest stop on your Florida road trip, drive an hour east to the Atlantic coast where you will find Cocoa Beach. This might be a small town, but it is a tourist hub and for obvious reasons.
Cocoa Beach is found on a strip of land just off the Florida mainland and so it is surrounded by premium beaches. You can enjoy an array of outdoor activities that will allow you to relax in nature or if you seek thrills you can try out some water sports such as jet skiing or surfing.
When night falls, you can be entertained by the city's nightlife, including fun bars and cool jazz clubs. Whatever you are looking for in a vacation, you are bound to find it at this stop on your Florida road trip.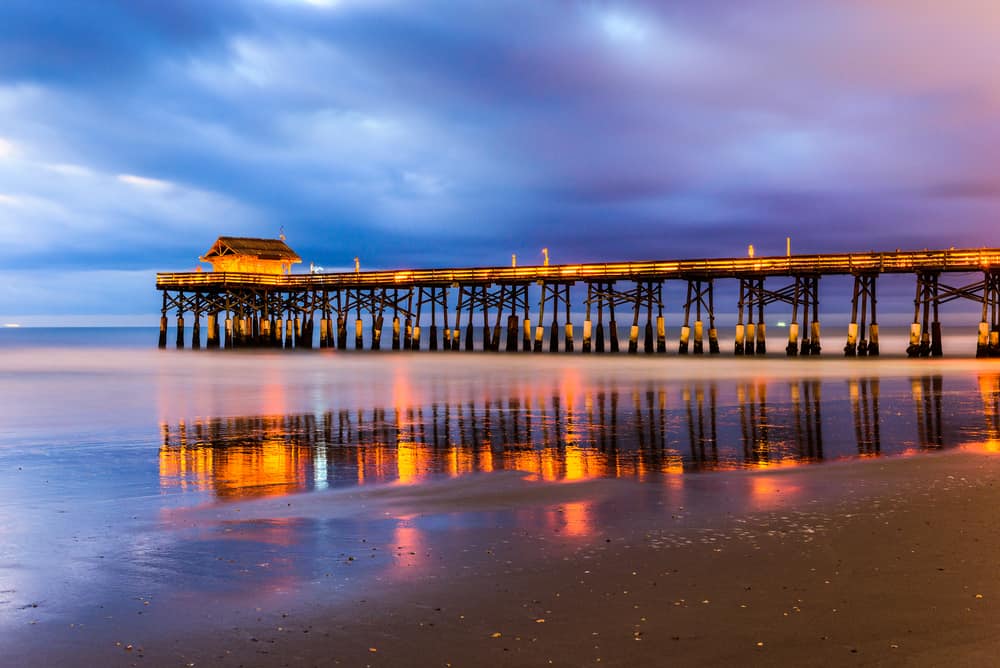 Things to Do
Kennedy Space Center
North of Cocoa Beach, you will find one of the main draws for tourists in the area, the Kennedy Space Center. This is bound to be an exciting spot to visit for anyone interested in space travel and NASA. There is plenty to see here, including an Astronaut Hall of Fame, NASA memorabilia, and historic space crafts and equipment.
Book Here: Kennedy Space Center: Admission Skip the Ticket Line
Kayak to Find Wildlife
Kayaking is popular throughout Florida and Cocoa Beach is no exception. If you want to be able to search out manatees, dolphins, birds, and more, then consider booking a kayaking tour. You will be able to slip through the water and get up close and personal with the amazing nature Florida has to offer. There are even nighttime expeditions available if you are brave enough!
Photograph the Cocoa Beach Pier
If you are looking for a place to capture fantastic sunset photos, you should head down to the Cocoa Beach Pier. In the evening the almost 1,000-foot structure is light up and looks very pretty against a dramatic sky. During the day here, you can fish off the pier and as it gets later, you can try out some of the bars and restaurants.
Check Out the Florida Surf Museum
Cocoa Beach is one of the top surf destinations on the east coast, so it makes sense that a museum dedicated to the thrilling water sport would be located here. There are exhibits full of surfboards, photographs, and information about surf legends. If you are into surfing, you need to check it out!
Where to Stay
Mid-Range: Radisson Resort at the Port. Check Rates: Booking.com
Mid-Range: Hilton Cocoa Beach Oceanfront. Check Rates: Booking.com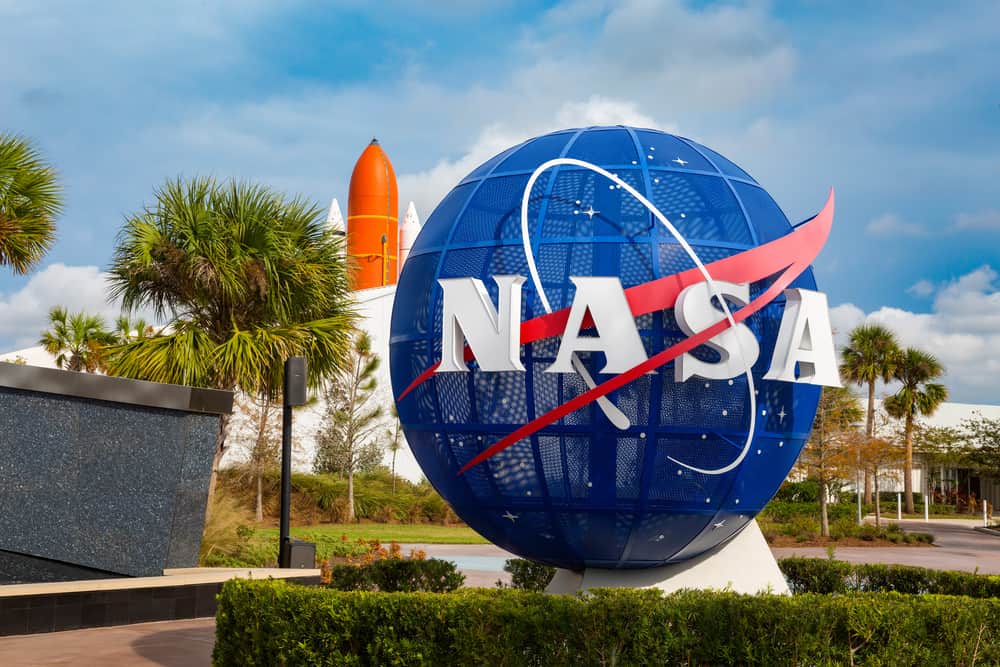 Stop 11: West Palm Beach
Drive two hours south along the coast from Cocoa Beach to reach West Palm Beach. While West Palm Beach is similar to Cocoa Beach geographically, it is a larger city, though still much smaller than nearby Miami. It is also one of the oldest municipalities in Florida, dating back to 1894. Because of this, there is plenty of history here, but modern life has not been blocked from moving in either.
Whether you like to spend your days laying on a beach, enjoying art and culture, bar hopping, walking historic neighborhoods, or rushing down waterslides, West Palm Beach is the place for you! The list of things to do here could easily go on and on, but we'll list some of the best options to get you started.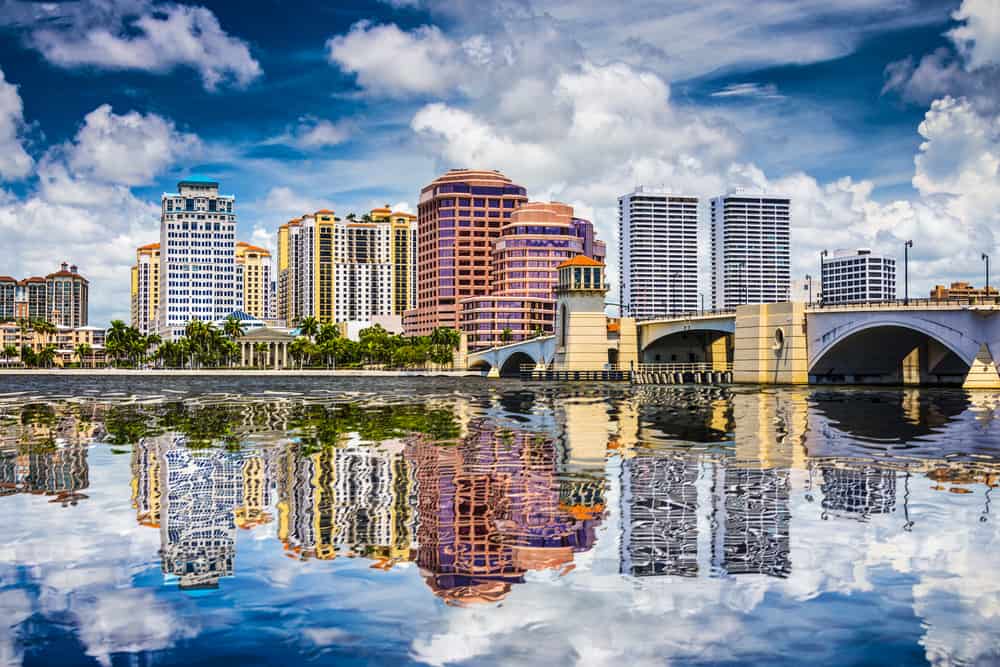 Things to Do
Discover Diverse Art at the Norton Museum of Art
This museum is perfect for art lovers, especially those who like a diverse array of work. While there are pieces by many artists you may recognize, such as Pablo Picasso, Claude Monet, and Jackson Pollack, there is also a notable Chinese exhibit for a look into the country's culture.
Explore the Flagler Museum
The Flagler Museum is not your typical museum. It is the former mansion of Henry Flagler of Standard Oil wealth. The 100k square foot building was built in 1904 and has strong Spanish and French influences. If you love exploring or photographing opulent buildings, then be sure to check this one out!
Enjoy Rapids Water Park
If you need another water park on your Florida itinerary then Rapids Water Park is an option for you. This fun park hosts over thirty waterslides, a wave pool with six-foot waves, and a quarter-mile-long lazy river so you will not run out of thrilling and cool things to do during your time here.
Stroll Downtown West Palm Beach
If you are looking for a good nightlife scene, then head to downtown West Palm Beach. There are plenty of fun bars, restaurants, clubs, and live music venues. You can walk from place to place on foot while taking in the hip vibe the area offers.
Book Here: West Palm Beach: Downtown Food Tour
See Wildlife at the Lion Country Safari
Located just west of the city, you will find the unique Lion Country Safari, which has been open since 1967. Here you will be able to drive yourself among the one thousand animals that make this park their home, including giraffes, rhinos, ostriches, lions, and many more. If you want to get even closer to the animals, check out some of the animal experiences available.
Where to Stay
Affordable: Hotel Biba. Check Rates: Booking.com
Mid-Range: The Citrus Cottage. Check Rates: Booking.com
Luxury: The Brazilian Court Hotel. Check Rates: Booking.com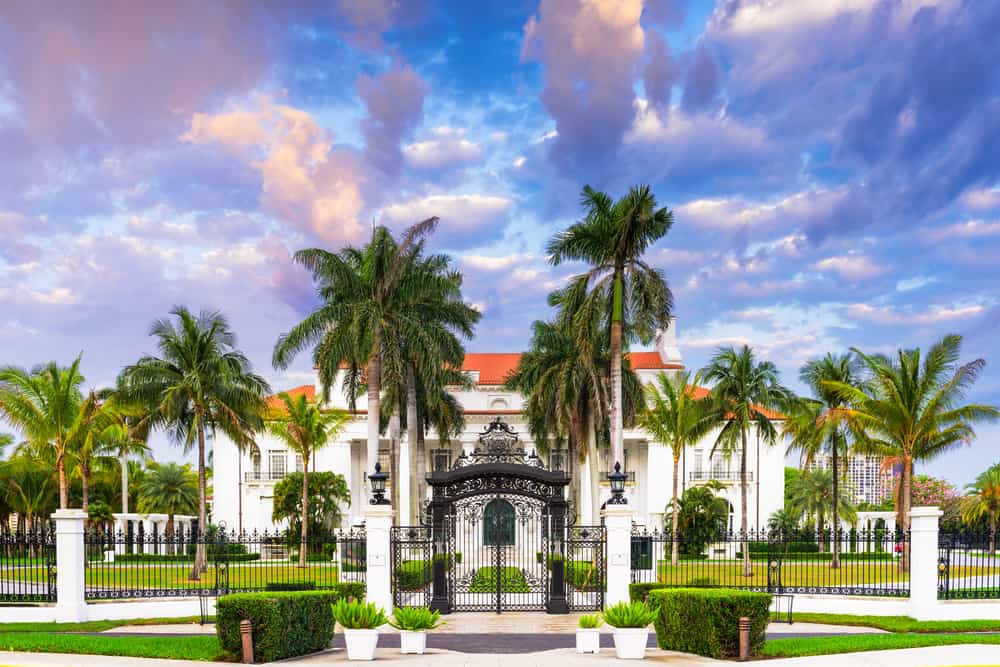 Stop 12: Miami
Keep going down the coast for a little over an hour to get to Miami. This major city is the second-largest in the state and has the third-largest skyline in the United States after New York City and Chicago. The Port of Miami is the busiest in the world and is a popular stop for many cruise lines. Overall, Miami is an amazing city you cannot bear to leave off of your Florida road trip.
As a major tourist city, there are plenty of attractions here to fit the interests of everyone in your road trip group. Miami is whatever you want it to be. Do you want it to be a party city?
Then, hit the clubs and take in the glamorous feel of the city. Are you a nature or animal lover? The Miami Zoo or Jungle Island might be perfect for you. If you are into art and culture, then you need to check out the Art Deco Historic District or the Vizcaya Museum and Gardens.
Things to Do
Relax at Miami Beach
Found on an island just outside of Miami proper, you will find the perfect beach to relax and soak up the sun. Slather on some sunscreen, roll out your towel in a prime locale, and get ready for a great beach day. Check out the nearby South Point Pier to get wonderful, panoramic views of the beach and ocean.
Find Some Good Food at the Bayside Marketplace
Not far from Miami Beach, you will discover the Bayside Marketplace. This shopping center is full of specialty shops and delicious restaurants, though it might be the amazing views of the water and ships that make it so interesting and worth the visit. You will find Miami's Hard Rock Cafe here if you are one to check off these world-famous restaurants.
Discover Animals at Jungle Island
Right around the corner from the Bayside Market is another great tourist attraction called Jungle Island. Originally opened as Parrot Island in 1936, this park has a long history and was even once visited by Winston Churchill. Today, Jungle Island is found on Watson Island and is home to over 3,000 animals, most notably an array of parrots.
Visit Little Havana
Miami is full of Cuban immigrants and a third of the city's population is comprised of people of Cuban descent. Havana is the capital of Cuba, and Little Havana is a district in the city that lets the Cuban people's culture shine. Allow yourself to be swept into the Latin atmosphere full of upbeat music and the heavenly smell of authentic food.
Where to Stay
Affordable: Hilton Garden Inn Miami Brickell South. Check Rates: Booking.com
Luxury: Mondrian South Beach. Check Rates: Booking.com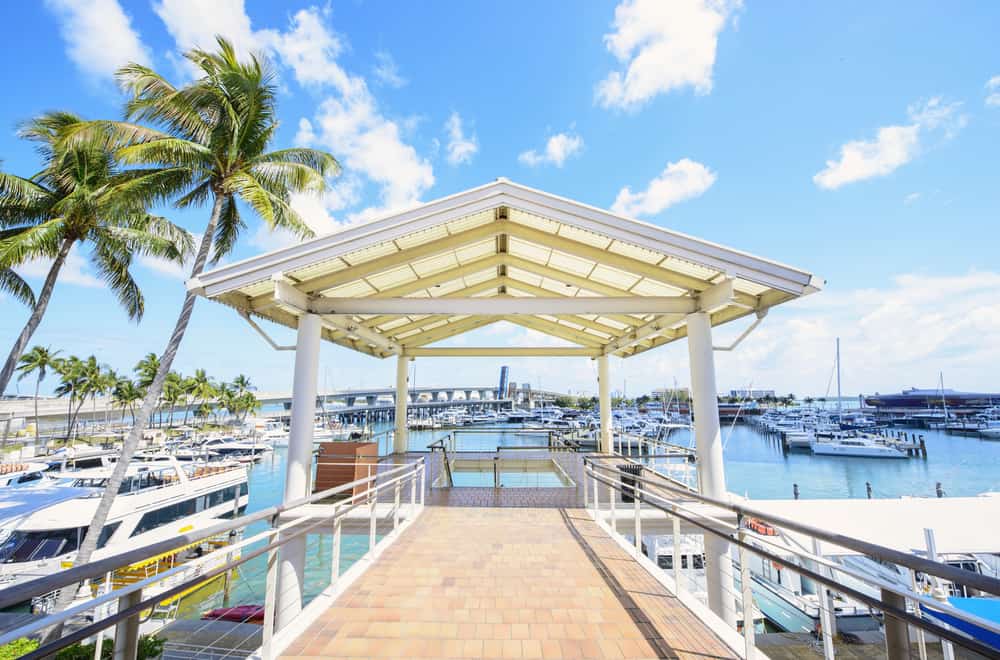 Stop 13: Everglades National Park
From Miami, it is about an hour's drive to the Everglades National Park, the third-largest national park in the continental United States. This diverse park was established in 1947 and its unique landscapes and ecosystems cover 1.5 million acres in southern Florida.
The intriguing wetland has been drawing in birdwatchers, hikers, conservationists, and nature lovers for decades. As soon as you arrive, you will discover why that is the case.
You won't be able to stop clicking your camera as you take in the amazing views of marshes, sloughs, and mangrove and cypress trees. Plus, you don't have to be an ornithologist to appreciate the sheer number of bird species here. Also, be sure to keep an eye out for alligators, pythons, and manatees.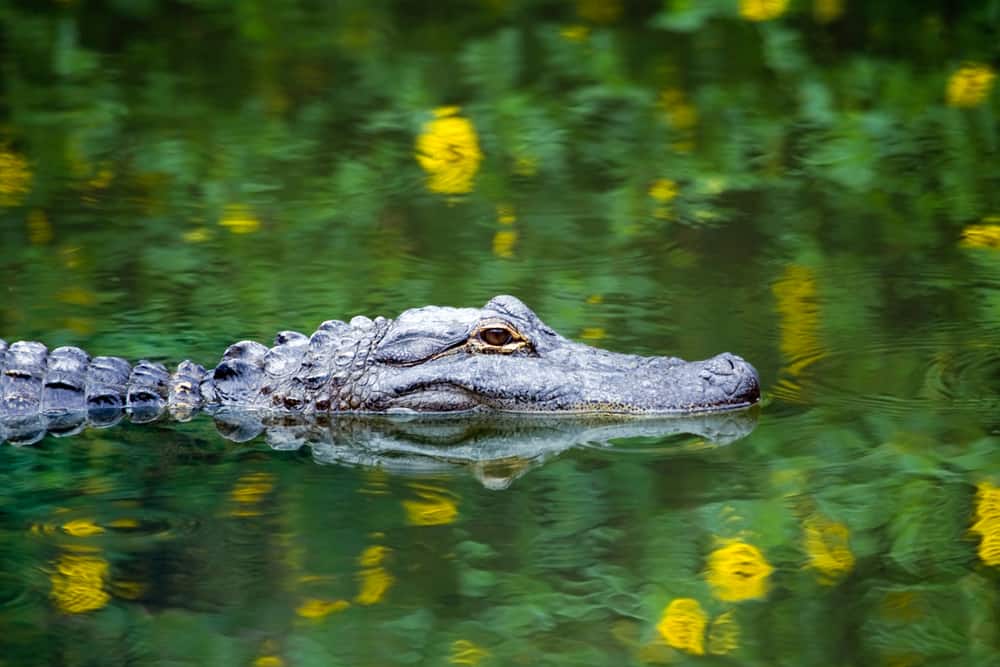 Things to Do
Hike Some of the Many Trails
There are a ton of scenic hiking trails throughout the Everglades, so if you want to see the park while getting a workout, then lace up your hiking shoes and get going. The trails vary in length and difficulty, but no matter which one you choose, you are bound to be treated with gorgeous views.
Enjoy an Airboat Safari
Riding in an airboat is a must-do activity while in the Everglades. The odd-looking boats are iconic to the area and photos of them will surely pop up if you search the Everglades. Book a boat tour to enjoy a thrilling ride through the Everglades that you will not soon forget.
Book Here: Everglades National Park Airboat Tour and Wildlife Show
Check Out the Views from Shark Valley
Shark Valley is one of the more popular areas within the park. Here, you can take a fifteen-mile tram ride, perfect for families or individuals who want to bypass hiking for a more leisurely time. You should also check out the 45-foot Shark Valley Observation Tower for perfect panoramic views of the Everglades.
Where to Stay
You can visit the Everglades as a day trip from Miami or you can camp in the park.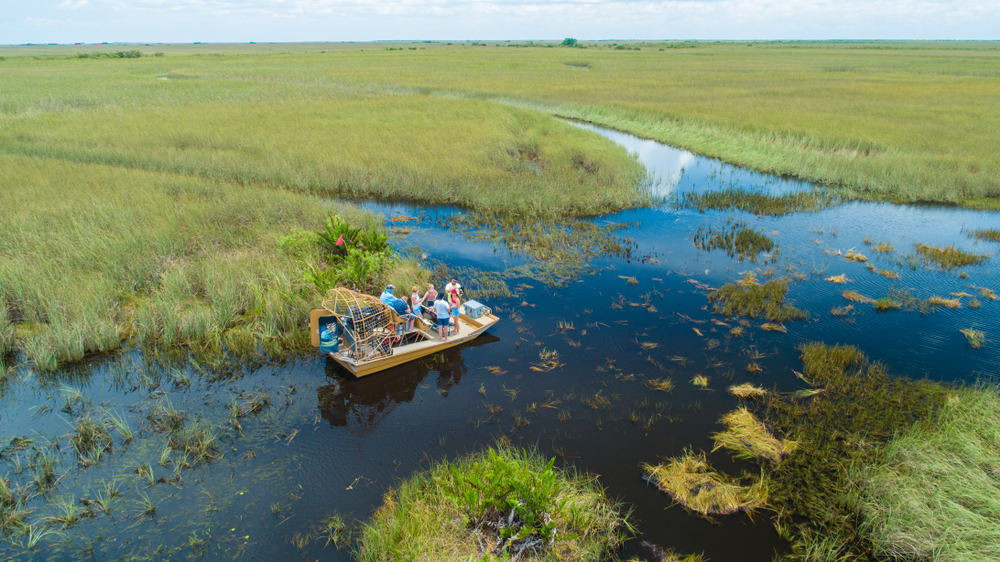 Stop 14: Biscayne National Park
Biscayne National Park is under an hour from Miami or the Everglades and involves a boat ride since it is found on a strip of land just off the coast at the northern end of the Florida Keys. Interestingly, the park consists more of water than land and includes a large portion of the ocean around the Elliot Key island.
This beautiful nature preserve is made up of beaches, mangrove forests, and extensive coral reefs. If you are lucky, you might even see some of the many endangered or vulnerable species that make this place their home, including manatees, sea turtles, Schaus' swallowtail butterflies, or smalltooth sawfish.
Along with nature, the area is also rich in human history as people have lived in the Biscayne Bay region for a good 10,000 years. Biscayne National Park is a great day trip from Miami or you can stay longer if you wish to explore more fully during your Florida road trip.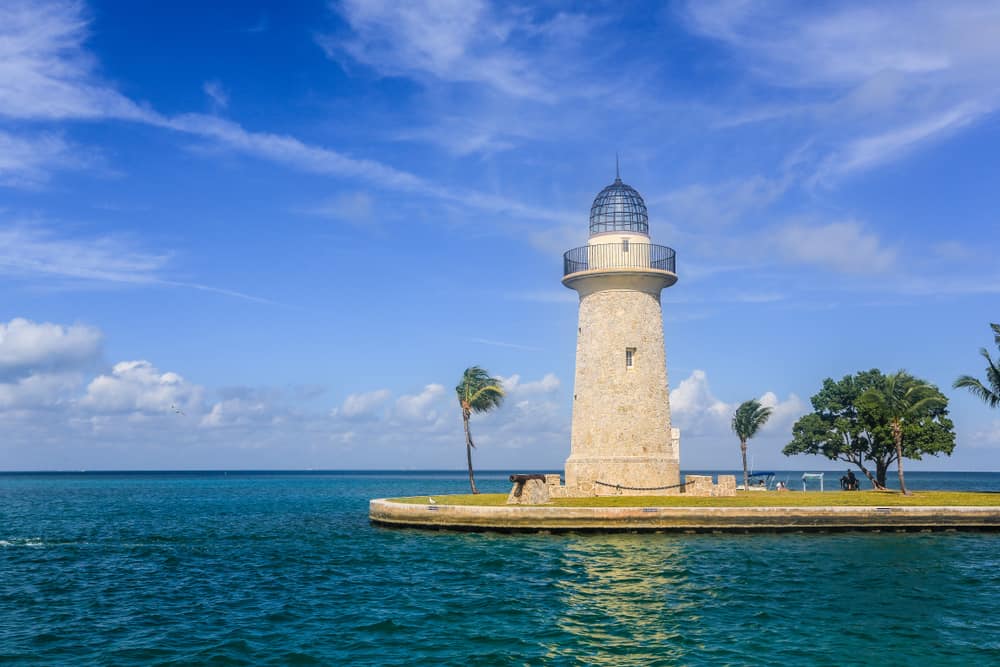 Things to Do
Snorkel in a Coral Reef
Biscayne National Park includes a portion of the Florida Reef, one of the largest reefs in the world. If you want a better view of this underwater ecosystem then you can get from a boat, then consider going snorkeling. Along with seeing amazing plants and creatures, there are several shipwrecks in the area you can check out!
Photograph the Boca Chita Key Lighthouse
Island hop up north to the small Boca Chita Key. This cute island features hiking trails and campgrounds, but the main attraction is a picture-perfect lighthouse from the 1930s. After snapping some photos of the lighthouse, climb up the 65-foot structure to the observation deck for stunning views of the water.
Kayak Through the Calm Waters
Kayaking in the park will allow you access to areas where bigger boats cannot reach. You will get a unique look at the amazing sights this lush park has to offer as you cruise through the calm water. Be careful not to drop your camera overboard as you are sure to want to take a ton of photos.
Where to Stay
Like with the Everglades, Biscayne National Park can be visited from Miami as a day trip since it is under an hour away. Alternatively, you could camp right on the island.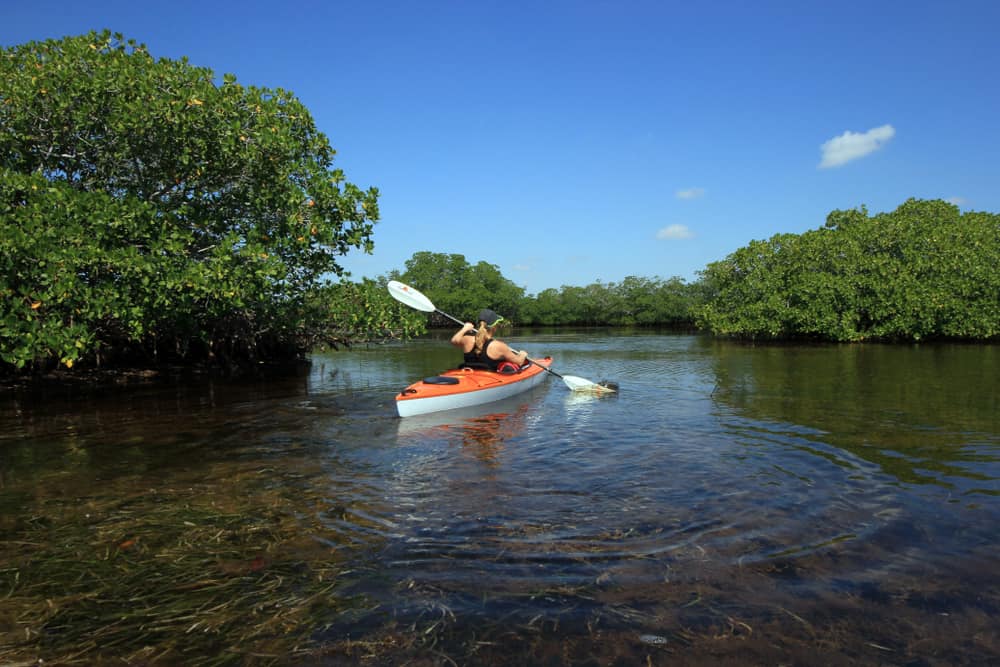 Stop 15: Key West
To get to the next stop on your Florida road trip, it is a three and a half-hour drive south from Miami or a little less time if you chose to camp at Biscayne National Park. Key West is the southernmost point of Florida and is a popular spot for tourists due to its number of fun, water-focused, and historic activities.
You will want to spend at least a full day or two here, but you might want to never leave this serene place. Key West offers a host of things to do so you will not be bored. You can chill at the beach or go fishing. However, if you are looking for a more heart-stopping past time, you can look into parasailing or jet skiing.
There are also plenty of historic sites you can visit, such as the Little White House where President Harry S. Turman once stayed or the pre-Civil War era Fort Zachary Taylor.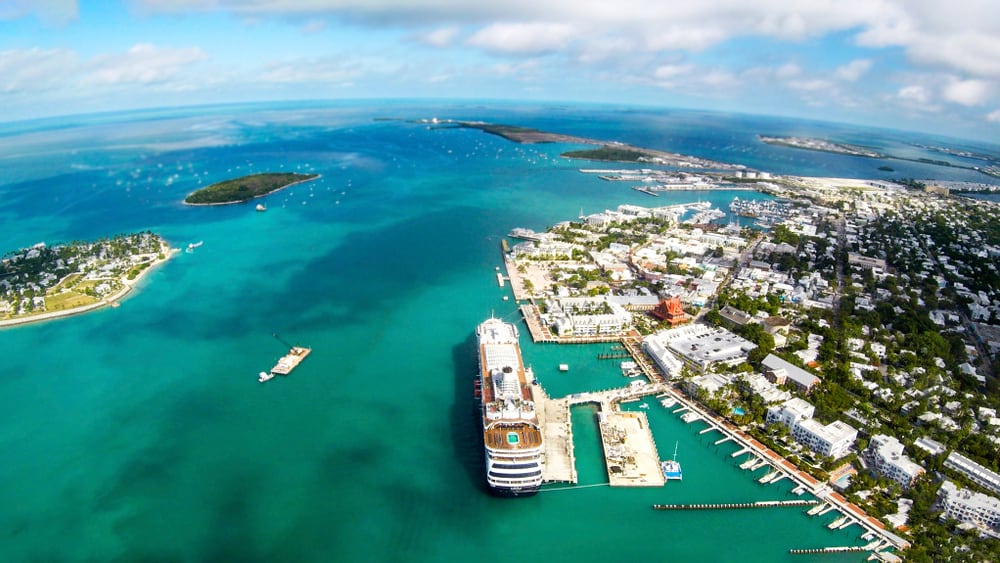 Things to Do
Visit the Ernest Hemingway Home and Museum
The well-known writer Ernest Hemingway lived on Key West during the 1930s and worked on A Farewell to Arms and For Whom the Bell Tolls here. The beautiful house became a U.S. National Historic Landmark in 1968.
Along with amazing architecture and Hemingway memorabilia, you will find many cats with extra toes that are said to be descendants of Hemingway's cat, Snow White.
Take a Boat Tour of the Key West National Wildlife Refuge
Off the coast of Key West, you will find a smattering of tiny, uninhabited islands and picturesque water stretching for miles. There are a number of different boat tours you can take here, some of which include watching dolphins play, snorkeling in the crystal clear water, enjoying a good meal and drinks, or watching the sunset over the water.
Book Here: Key West: Dolphin Watching & Snorkeling
Join a Walking Tour to Take in All the Sights
Since Key West is so small, it is easy to see it all on foot. Join up with a knowledgeable, local guide in order to walk through the town and see all of the popular and historic sights the island has to offer. Make sure to check out all of the cute, colorful houses as well.
Book Here: Key West: History and Culture Southernmost Walking Tour
Where to Stay
Mid-Range: Blue Marlin Motel. Check Rates: Booking.com
Luxury: Ocean Key Resort & Spa. Check Rates: Booking.com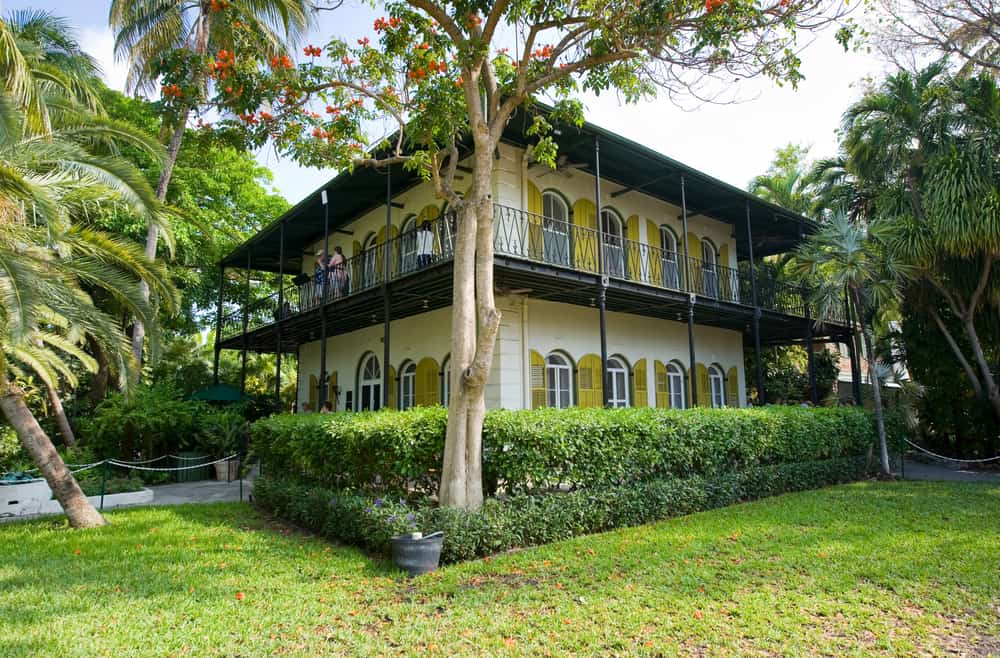 Stop 16: Dry Tortugas National Park
Finally, you have made it to the last stop on your Florida road trip. You can visit Dry Tortugas National Park as a day trip from Key West by taking the ferry. A ferry ticket will set you back $175, but the journey is just as good as the destination.
The two and a half-hour trip is just as scenic as anything else in Florida and will give you the opportunity to see wildlife in the water, including the possibility of sharks, dolphins, rays, or sea turtles. It is possible to take a seaplane to the island as well, but it is more expensive.
Once you make it to the island, you find a place stuck in the past. You can walk along the beach, birdwatch, swim and snorkel, or kayak, but the main attraction here is Fort Jefferson, a hexagon-shaped fortress that covers 16 acres.
It was built in 1847 and is the third-largest fort in the United States. It is also made from over sixteen million bricks, making it the largest brick masonry structure in North or South America. Take a tour here to see what it might have been like to live and work in the fort during the Civil War. History buffs are sure to have a great time exploring each room.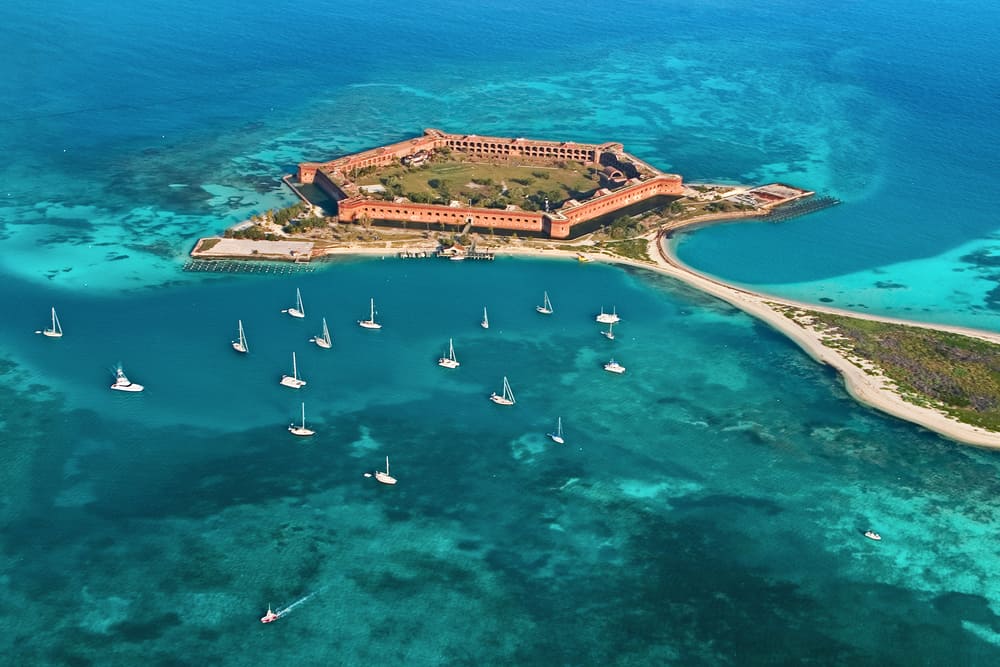 End Your Florida Road Trip by Flying Out of Miami
From the Florida Keys, circle back to Miami, where you can catch a flight home. Or, if you drove, keep going north as you embark on your journey home. You might be sad that your Florida vacation has come to a close, but you have had so much fun and made so many amazing memories you will not soon forget your time in the Sunshine State.