Are you looking for the prettiest beaches near Tallahassee for a day trip or weekend get-a-way? We have you covered with our list of the best beaches to visit!
While Tallahassee is landlocked and not located on the Gulf Coast if you are willing to drive an hour to two hours you will find some of the best beaches in Florida on the Gulf Coast! And trust us these beaches near Tallahassee are all worth the drive if looking for beautiful warm turquoise water and sugary white sand beaches!
We have you covered with all the best places to eat in Tallahassee after returning home from your beach day! Or if you are looking for the best nightlife hotspots after getting that perfect tan check out our suggestions for the best bars and clubs in Tallahassee.
If you have friends in town visiting from one of these nearby beach towns in Florida or if looking to do some shopping at Tally and Fin a cute beach boutique we have a list of suggestions of things to do in Tallahassee.
These beaches are the perfect place to visit on the weekends or if you have time off during the week and need to feel that sea air or put your toes in the sand check out these beaches on our list!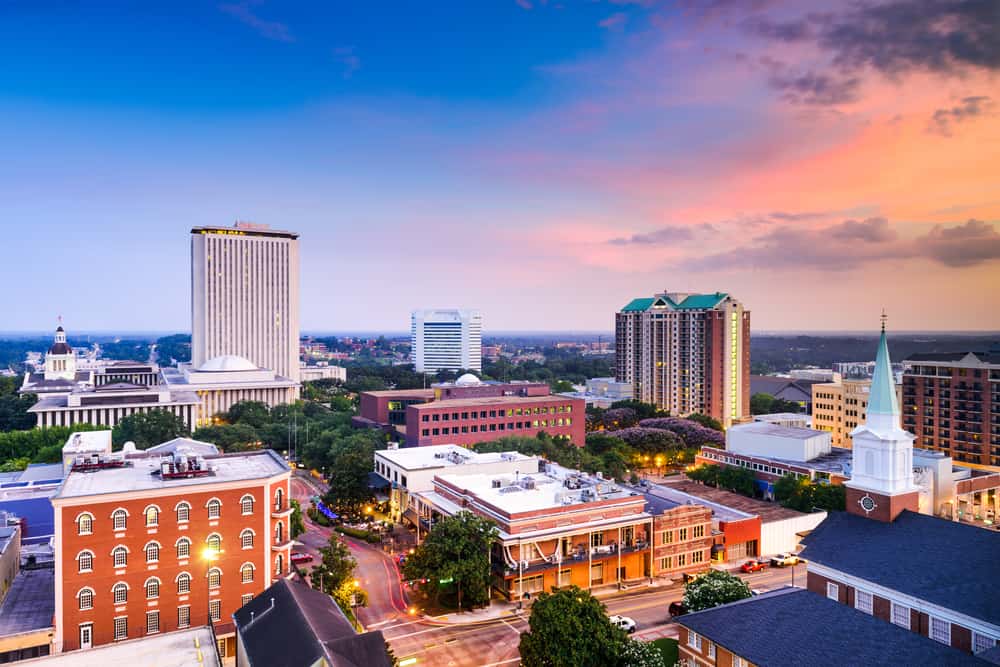 8 Prettiest Beaches Near Tallahassee
St. George Island
St. George Island is one of the beaches near Tallahassee. Since Tallahassee is landlocked it takes about an hour and a half to reach the coast and St. George Island is one of the best beaches to visit for both a day trip to weekend get-a-way. Here you will find over 28 miles of coastline along this barrier island that is situated on the Gulf of Mexico.
St. George Island is the beach to visit if you are looking for relaxation with an untouched coastline that shows off the beauty of the Gulf Coast. St. George has it all when it comes to beach going from sunbathing on the pristine white sand, to swimming in the warm Gulf water, collecting shells or kayaking. You can also explore wildlife on the islands marshes as it is untouched by development.
Many Tallahassee locals have a weekend beach home in this area as it is perfect destination. And to top it off the beach is pet-friendly and dog friendly beaches near Tallahassee. If you want to spend the night in the area you can camp at the Dr. Julian G. Bruce St. George Island State Park that has a $6 entrance fee or stay in a nearby Airbnb or hotel.
If you want to be more active during your trip to St. George Island you can charter a boat for fishing off shore or even from shore there are a ton of fishing opportunities on the island. OR bike along the 6 mile paved pathway.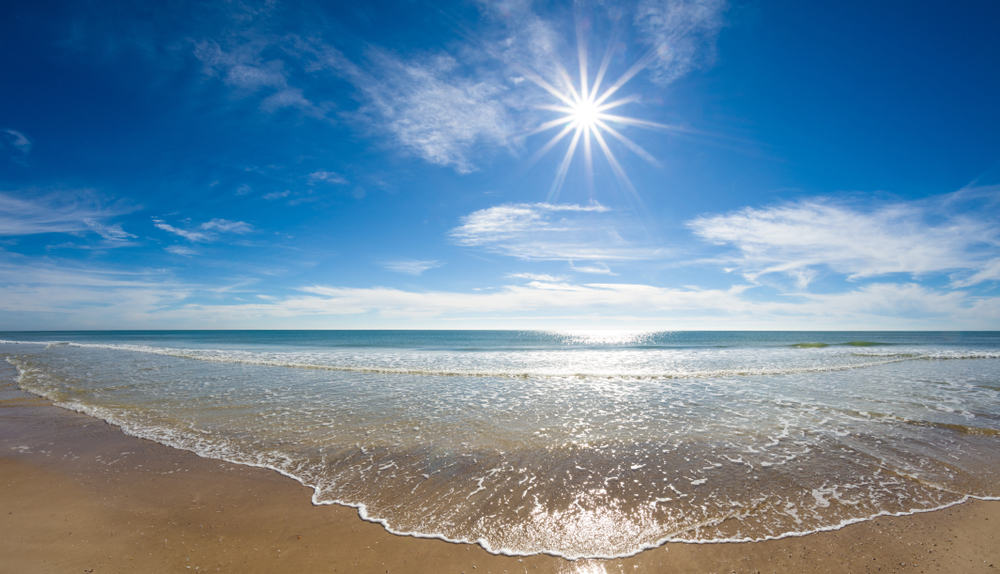 Seaside
Seaside is one of the prettiest small beach towns in Florida. Located just over two hours southwest of Tallahassee a visit to this beach near Tallahassee is a bit of a trek but totally worth the drive! Located in the town of South Walton off of highway 30A the town is best known for being where the Truman Show was filmed.
If you are looking for a beach town near Tallahassee that is picture perfect Seaside should be your destination. The town itself is an experiment in new urbanism with pastel colored beach homes along the pristine white sand of the Gulf Coast.
Seaside has everything you could want from restaurants, shops, a farmers market and beach all in a walkable area. Once you reach the beach and cross over the dunes you are met with the beautiful turquoise Gulf waters and sparkling white sand.
This beach is perfect for families with a large sandy beach, restaurants scattered along the beach for dining and normally calm waters. Whether you are looking to relax on the beach, build sandcastles, or jump in the water for some water sports.
Several areas of the beach have rental options for chairs and umbrellas for those not wanting to have to drag their own to the beach! And if staying at a nearby beach resort many provide these services. Seaside is an upscale beach community with plenty of opportunities to watch the sunset from the numerous restaurants overlooking the Gulf Coast. Or if playing golf at nearby Kelly Plantation this is the perfect beach to visit.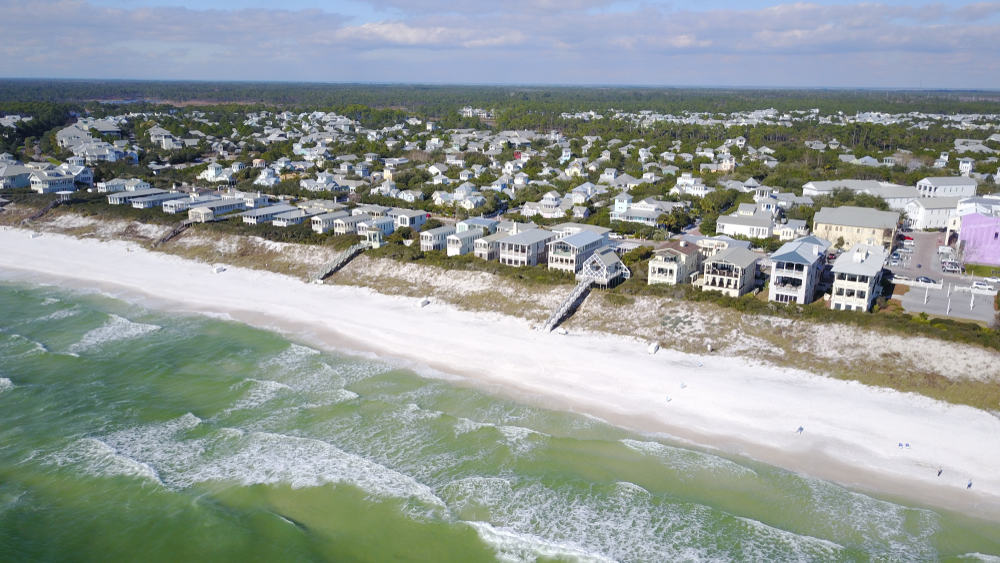 Panama City Beach
Panama City Beach is another of the beaches near Tallahassee. A quick two hour drive west you will arrive at one of the most popular beaches in not only Florida but in the entire United States! Situated on highway 30A you will find over 27 miles of coastline to choose from.
While Panama City Beach might be well known for the beach that college spring breakers head to it is also a very family friendly beach with the sugary white sand and warm turquoise Gulf Waters. From playgrounds and amusement parks nearby it the perfect family friendly beach near Tallahassee.
Not to worry if not looking for a family friendly beach there are tons of oppurunity for adventure. From jet skiing, parasailing, scuba diving or air boating through the marshes you will have plenty of activities to thrill you.
There are a ton of restaurants as Panama City Beach is known as the seafood capital of the south. If in the mood for seafood head to any number of restaurants along the beach. If you happen to be in town for the Gulf Coast Jam a three day country music festival on the beach you are in for a fun weekend.
If you are looking for a unique place to stay check out our suggestion of a Glamping Airbnb called the Luxury Camping at Grayton Beach State Park.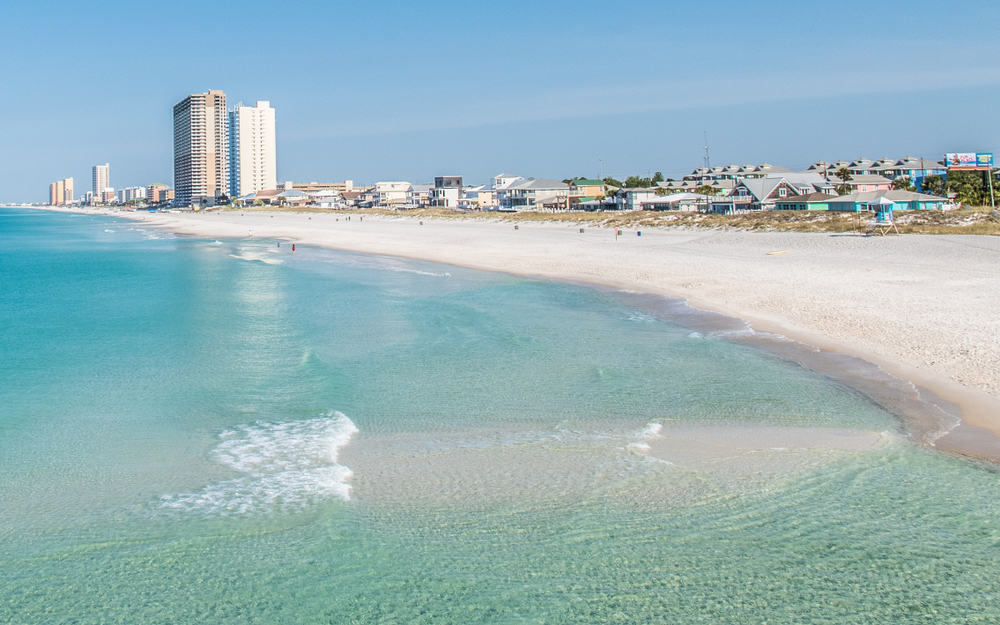 Cape San Blas
Cape San Blas is located about a two hour drive south of Tallahassee and is on located off the tip of Florida on St. Josephs Peninsula and situated on the St. Joseph Bay. This is one of the few beaches that not many tourists visit due to its remote location. If you are looking for a town and beach with a old Florida feel Cape San Blas is your place!
This is the best beach near Tallahassee if looking to get away in one of the most unpopulated areas just 20 minutes from Port Joe. Families flock to Cape San Blas on the Gulf for a get-a-way to unplug and experience nature without any crowds. Which is surprising because Cape San Blas has been voted on the best beaches by Dr. Beach himself!
From paved pathways to nature watching and other water activities head to T.H. Stone Memorial St. Joseph Peninsula State Park off of Highway 98 for both a beach day and nature watching. With over 20 miles of shore line with wide white sand beach and dunes it makes the perfect place to relax on the beach and swimming in the warm water or even hunting for shells.
If looking to explore nature head along the nature path to see turtles, birds and other wildlife. You can rent kayaks, canoes, paddle boards and more. Or even fish or ride horses on the beach. Plus Cape San Blas is another one of the dog friendly beaches near Tallahassee.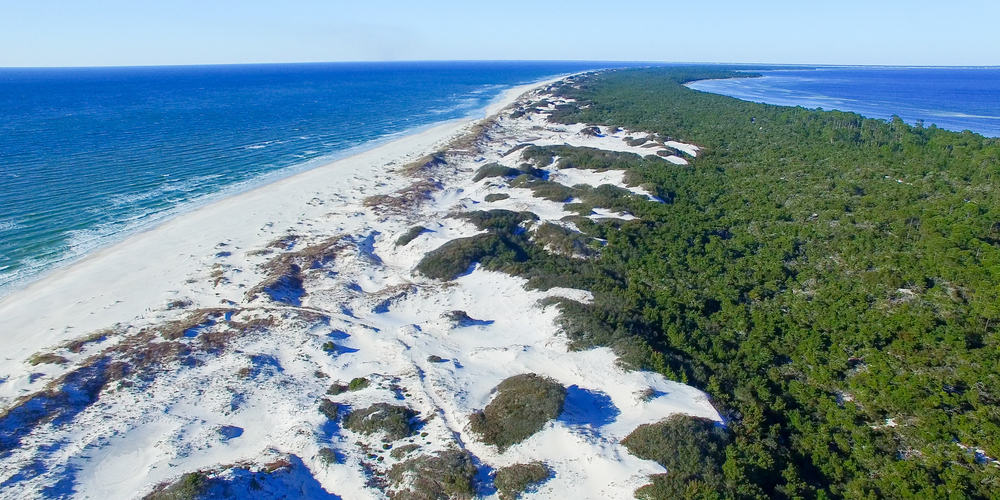 Bald Point State Park
Bald Point State Park is one of the closest beaches to Tallahassee. Located about 45 to 50 minutes south of Tallahassee this is the perfect beach to head to for a day trip! The journey is just 30 miles to Panacea. Bald Pointe State Park costs $4 per car to enter and is open from 8 am to sundown every day of the year!
Bald Point is located on Alligator point which connects two bays called Ochlockonee and Apalachee. There are two beaches to visit on Apalachee Bay! If you are looking for wildlife viewing while on the beach this is the place to head to. There is a fishing dock and restrooms and picnic tables for beach goers.
The State park has over 4800 acres of costal area perfect for those looking to be adventurous. The wind between the two bays means windsurfing is popular here as is swimming in the calm and warm waters. There is a north beach access point and a sunrise beach access point both along Bald Point Road.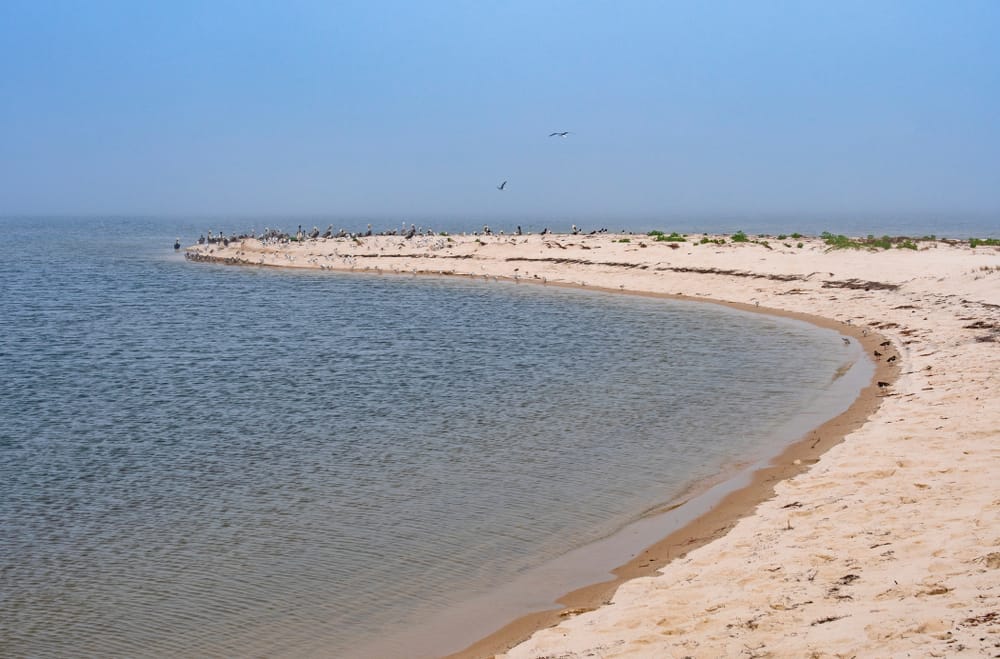 Carrabelle Beach
At just over an hour south of Tallahassee Carrabelle beach is also located off of Highway 98. If heading here on the weekend get there early as parking fills up very quickly. However, it is the perfect beach near Tallahassee to visit during the week to avoid the crowds.
Located to the east of Apalachicola on the Gulf in the village of Carrabelle you will find a beach with a cape cod vibe. You will see the lighthouse called the Crooked River Lighthouse before seeing the beach.
You will find the typical sugary white sand beaches in two different areas on what is known as Florida's Forgotten Coast. You will find parking, showers, picnic area, restrooms and even grills making this the perfect place for a beach day!
This beach is known for its calm waters due to nearby Dog Island blocking the wind and waves making Carrabelle Beach perfect for those families with young children. While it does get quite crowded you can find space on this long beach.
Nearby you will find Old Carrabelle Beach to the west of Carrrabelle Beach while there is no parking for facilities the beautiful sandy beach is worth the trek. This beach is known for its beautiful sunsets away from the crowds.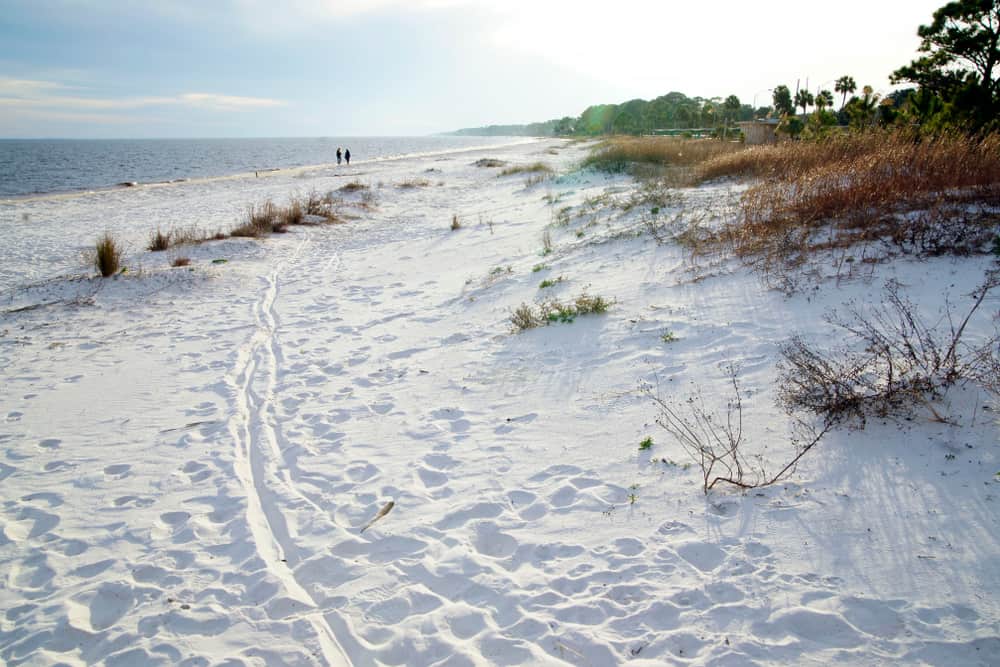 St. Marks National Wildlife Refuge
St. Marks National Wildlife Refuge is one of the closest beaches to Tallahassee at just over 30 minutes south! This 70,000 acre wildlife refuge is home to beaches, hiking trials, light house and only costs $5 to enter per car! Open year round from daylight to sunset
At the Wildlife Refuge you will find a several tiny beach while most people come here for the lighthouse or to see wildlife there is a space reserved on a rocky beach for swimming the laying out on the Gulf Side.
Enjoy one of the nature trails near the lighthouse that lead to one of the small beaches. You can find a ton of people bird watching, marshes to explore and shells to collect! Kids love the beach here because of all the shells and land crabs running along the rocks and shells. The water is warm and calm with almost no shade on shore.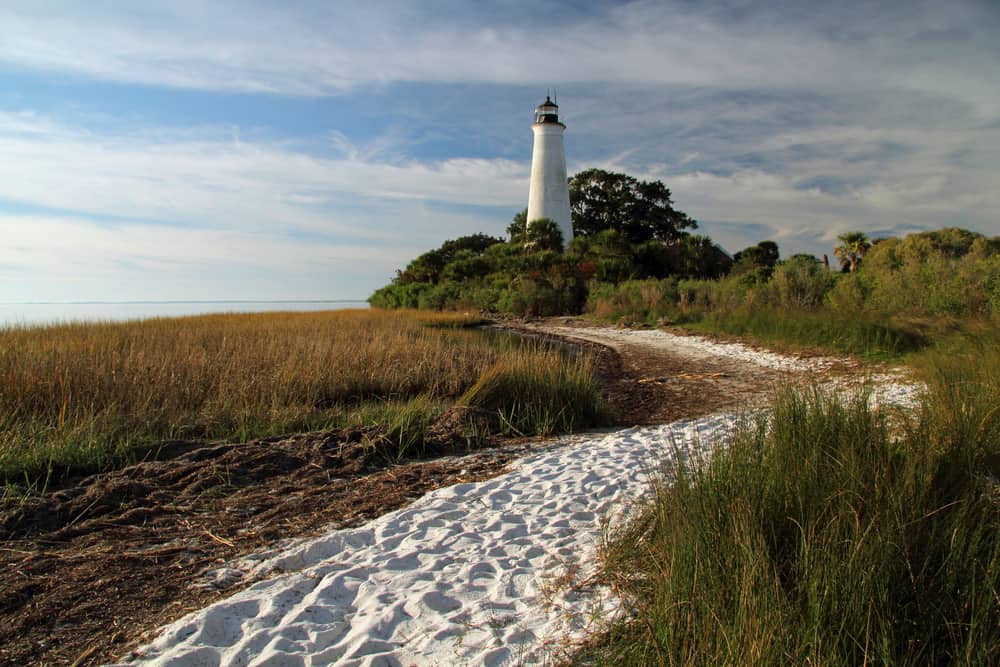 Grayton Beach
Grayton Beach is another one of the beaches near Tallahassee perfect for a day trip to weekend stay. It is one of the first beach town in South Walton. Located about two hours and fifteen minutes west of Tallahassee Grayton beach is located between Destin and Panama City!
Grayton Beach is located inside of Grayton Beach State Park and costs $5 to enter per car! This beach is one of the prettiest beaches to visit! Nearby Grayton beach on Highway 30A you have small beach towns like Seaside, Sandestin, Alys and Rosemary beaches! Each is worth a visit. Grayton beach made our list because of its wide white sand beaches located on the Gulf.
Grayton beach is an eclectic town known for its artists. If looking to take a fishing charter you can do it right from the beach! The 2000 acre State Park is best known for its dunes and lake. If you are a resident of the area you can even sign up for one of the parking permits to drive on the beach! So don't be alarmed if you do see vehicles on the beach.
Another unique feature of Grayton beach is the fresh water estuary that flows from the lake into the ocean. You can paddle board out to the ocean for a fun activity for those looking for something more activity focused other than sun bathing!
If looking for a beach you camp at this is the best beach near Tallahassee for you! If looking for a unique place to glamp check out our suggestion of this luxury bell tent on Grayton Beach! Head to nearby Red Bar a restaurant everyone in the area raves about!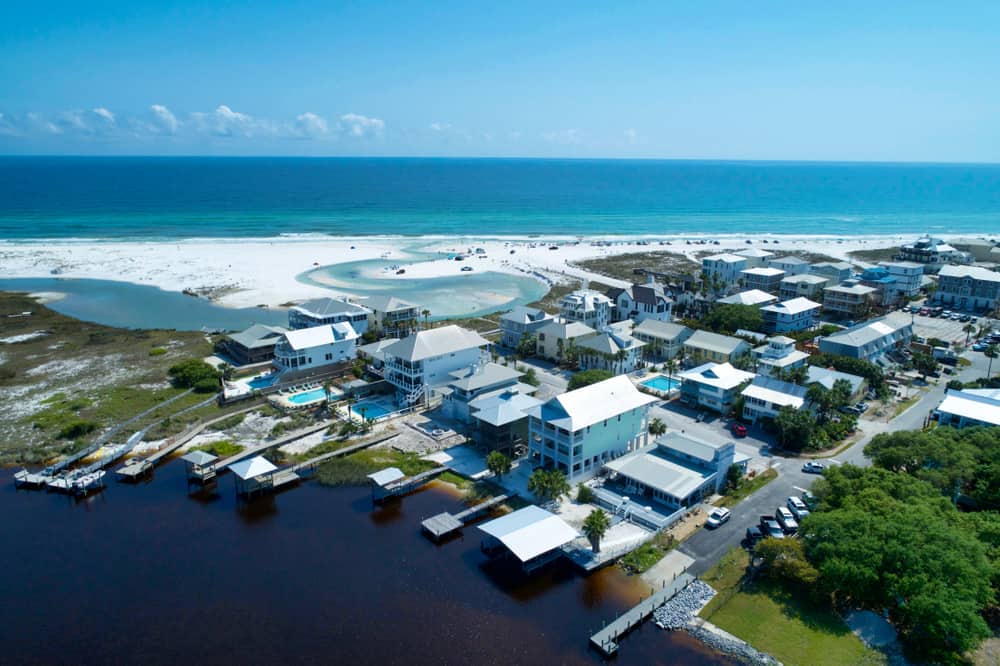 Did You Find This Post Helpful?
If so, we would love to keep in touch! We enjoy seeing photos and comments about your experiences in Florida! You can follow us on Instagram and we will repost your photos on our feed and comment too! Just tag us at @floridatrippers and hashtag #floridatrippers. We can't wait to see your travels!