If you have never been to Juniper Springs, you are in for a real treat! These springs are the epitome of Florida beauty. They are home to some of the prettiest water in the state, and there are so many fun things to do here!
Don't believe us? Consider how we rank Juniper Springs in our Best Springs in Florida Article! It shouldn't be a surprise that Florida is home to some of the most amazing springs, but we really want to stress Juniper! So please do visit!
This lovely spring is one of the oldest and best-known recreation areas on the East Coast! It is perfect for swimming, camping, and hiking. So take a dip in the bubbling springs, and relax under the canopy of palms and oaks. This oasis is something you don't want to miss!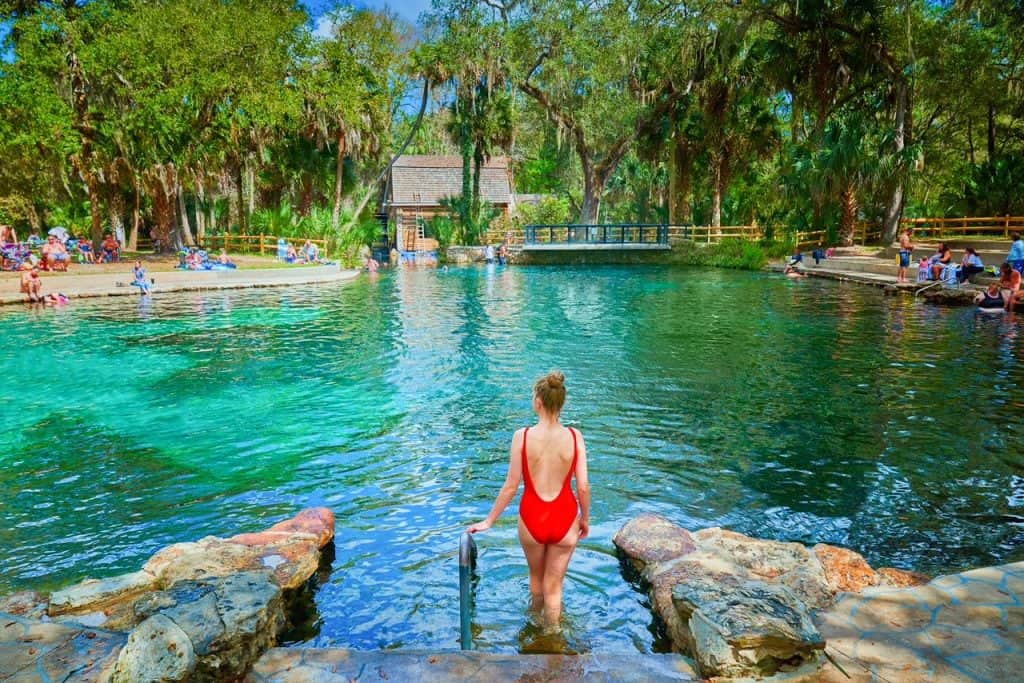 Where is Juniper Springs?
Juniper Springs is located between Ocala and Ormond Beach. Along SR 40, this large complex is hard to miss! It is in the Ocala National Forest, which is just east of Ocala itself.
It was established in 1908, and the natural spring forms the headwaters of Juniper Creek. This creek winds it way to Lake George in the Saint Johns River too, so there is plenty of room between this spring's water and recreation area!
Here is the address for Juniper Springs: 26701 E Highway 40 Silver Springs, FL Parks. Or you can type in Juniper Springs Recreation Area and use your GPS as a guide!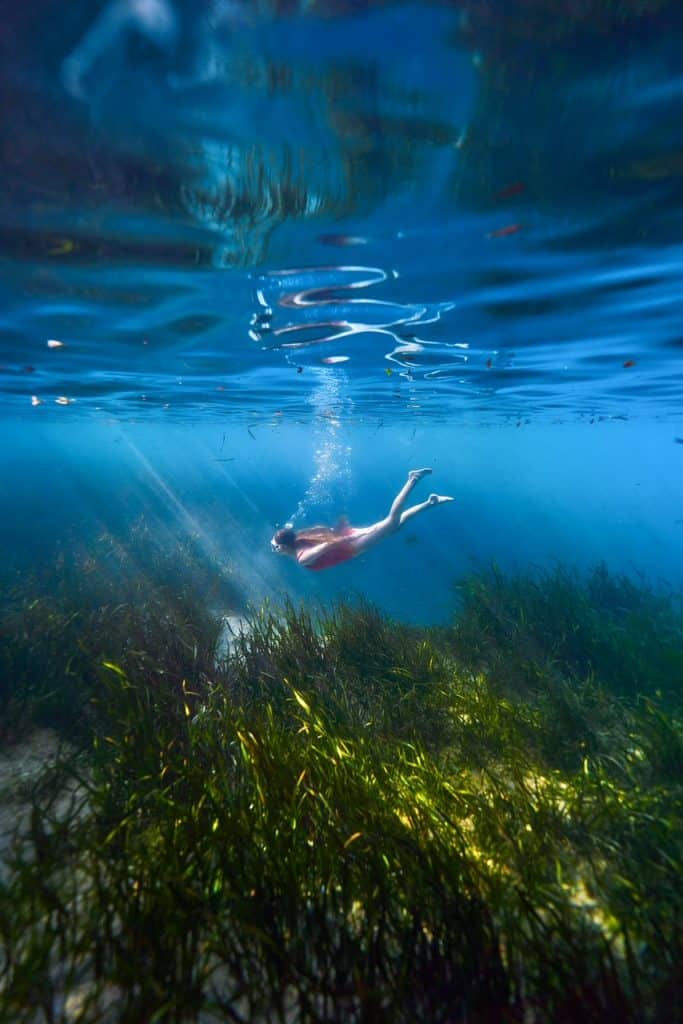 How Much Does it Cost to Visit Juniper Springs?
It costs about $6 dollars a person to get into Juniper Springs! Talk about a cheap day in Florida! However, if you are interested in renting kayaks and canoes and more, there are other fees you may have consider!
There is an on-site concessionarie with canoe rentals. It costs $45.00 to rent this canoe for the day, and it includes a shuttle transport. Please do note that this does require a $20.00 deposit.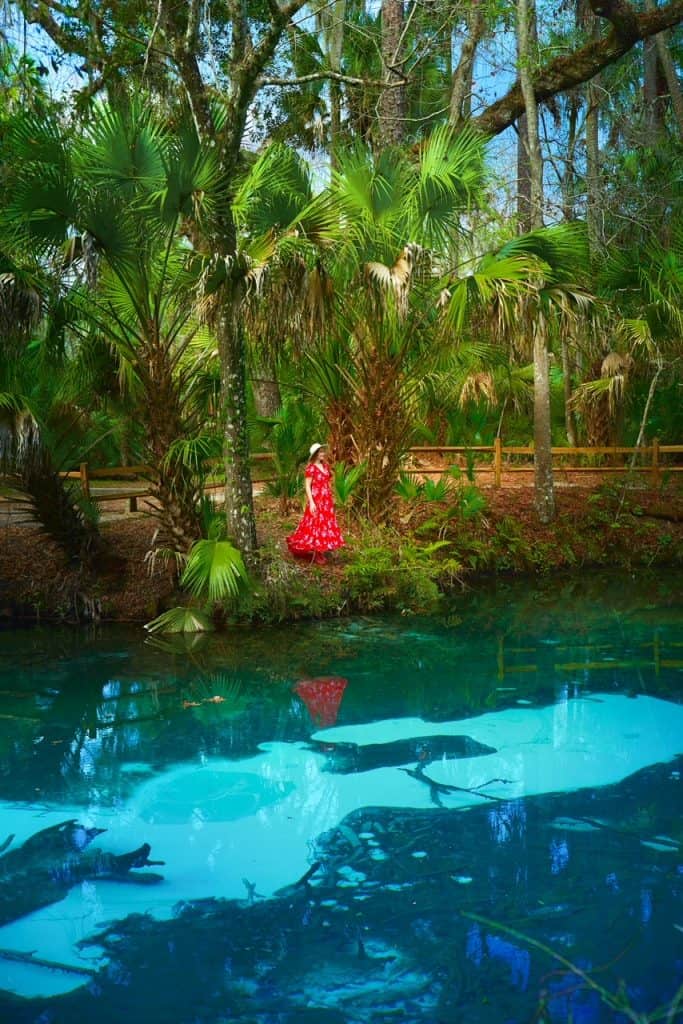 If you bring your own canoe or kayak, there is a $6 launch fee. And if you get too tired to bring yourself back down the rivers, you can also pay a $12.00 haul-back fee.
And if you are considering spring hopping, look at the Ocala National Recreation Area Pass. The Ocala National Forest/Springs Hoper Pass is a day use pass that is $70.00 (plus tax) per person. It is good from the date of purchase through the end of the year. It includes springs like Juniper Springs, Alexander Springs, Clearwater Lake, Wildcat Lake, and Silver Glen Springs! You can purchase this spring at Juniper Springs easily!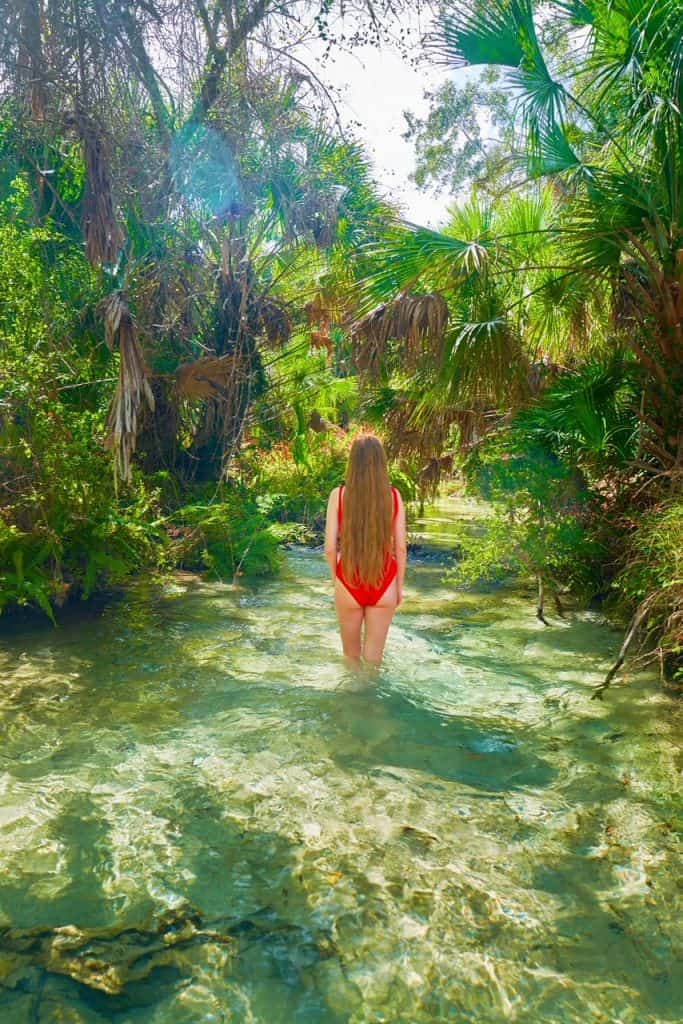 What Time Does Juniper Springs Open and Close?
Juniper Springs is open from 8 a.m. to 8 p.m. daily. It may close earlier seasonally, so make sure to check! And if you are camping at Juniper Springs, you have 24-hour access to the gates with an access code.
When you arrive, make sure to come a bit earlier if possible because there will be a slight crowd. The large parking area is for day use only. And overnight parking is available for backpackers! You just have to pay a small fee!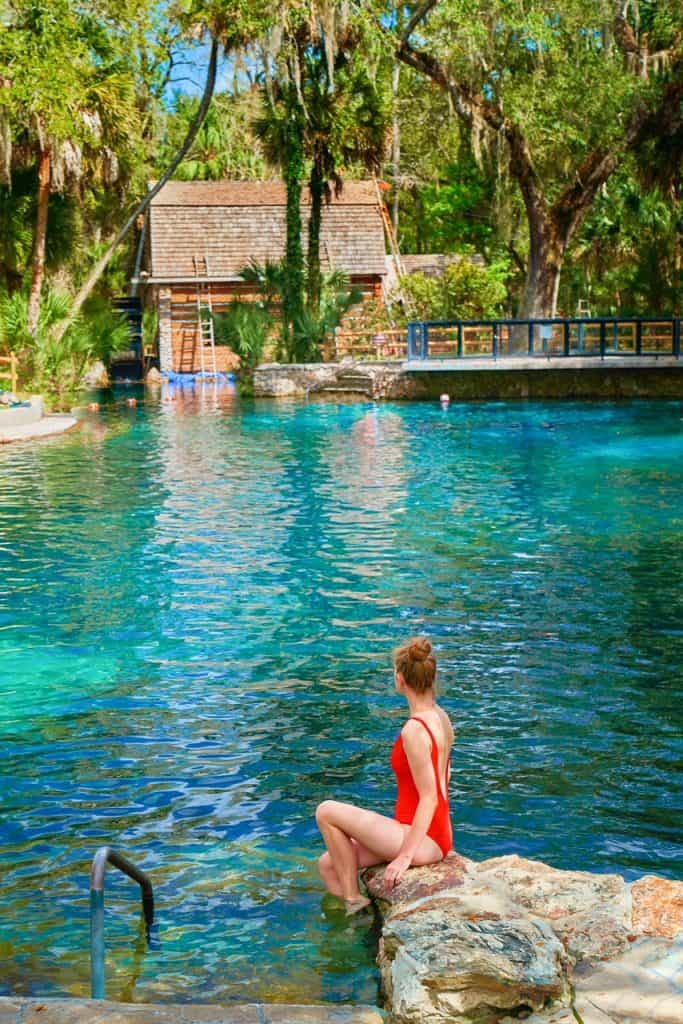 Map of Juniper Springs
Don't worry! We won't let you get lost at Juniper Springs. We know this spring is so large: from the springs to the campsites and more. So follow a long and stay safe!
How Cold is Juniper Springs?
Juniper Springs in Ocala is a notable crystalline pool. It features a lot of spring outflow. This means the springs are shallow at one end and deep enough to jump into at the other. Natural tapegrass grows along the bottom.
But how cold is it?! On average, the temperatures of this spring sits at a fairly constant 72 degrees. This is because of the daily water flow– 13 million gallons pass through this recreation area and springs! And with the shade from the canopy's, this water can get chilly on a cool day, or be warm on a hot day!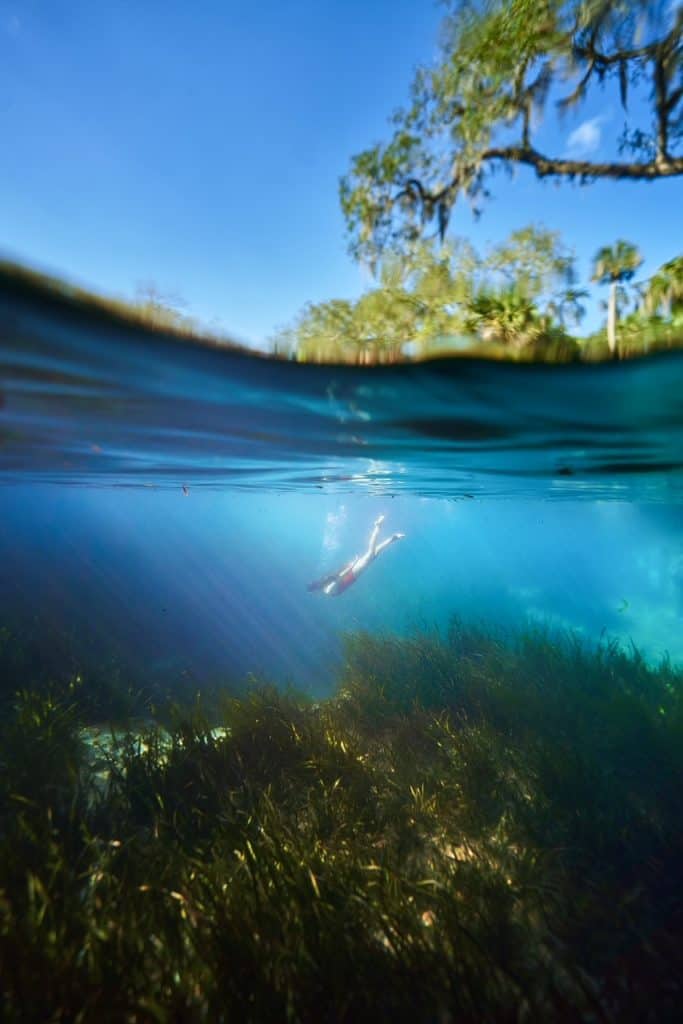 Are There Alligators at Juniper Springs?
All people who visit springs in Florida always ask if there are alligators in the water. Are there alligators at Juniper Springs? The answer is yes.
Alligators live naturally in the springs area. However, there are many signs that warn visitors about these gators. They typically mind their own business! Don't harass the natural wildlife, but do keep an eye out for it!
And speaking of wildlife at Juniper, you will see turtles, different species of fish, and maybe even an eel when you are here! And if you explore Fern Hammock, you are bound to see some animals. This is the real side of Florida!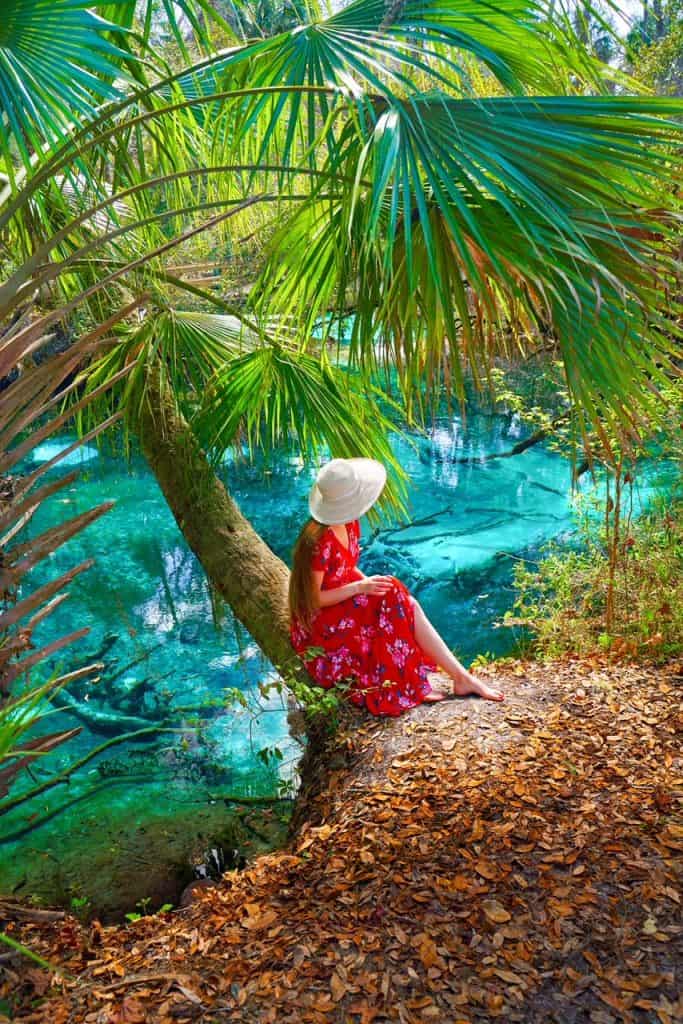 Crowds at Juniper Springs
Crowds are something you always want to consider before visiting anywhere! People definitely come to Juniper to cool off. Visiting Juniper is a great and cheap way to escape the heat. And with the camp sites, bathing areas, canoe adventures, and more, people do visit here!
Juniper Springs can get busy– especially on the warmer days. During summer and on weekends, like on a Saturday in July, expect some people. However, Juniper Springs Recreation does not full up quite as fast as other springs. Especially on weekends! But if you are worried, get there early!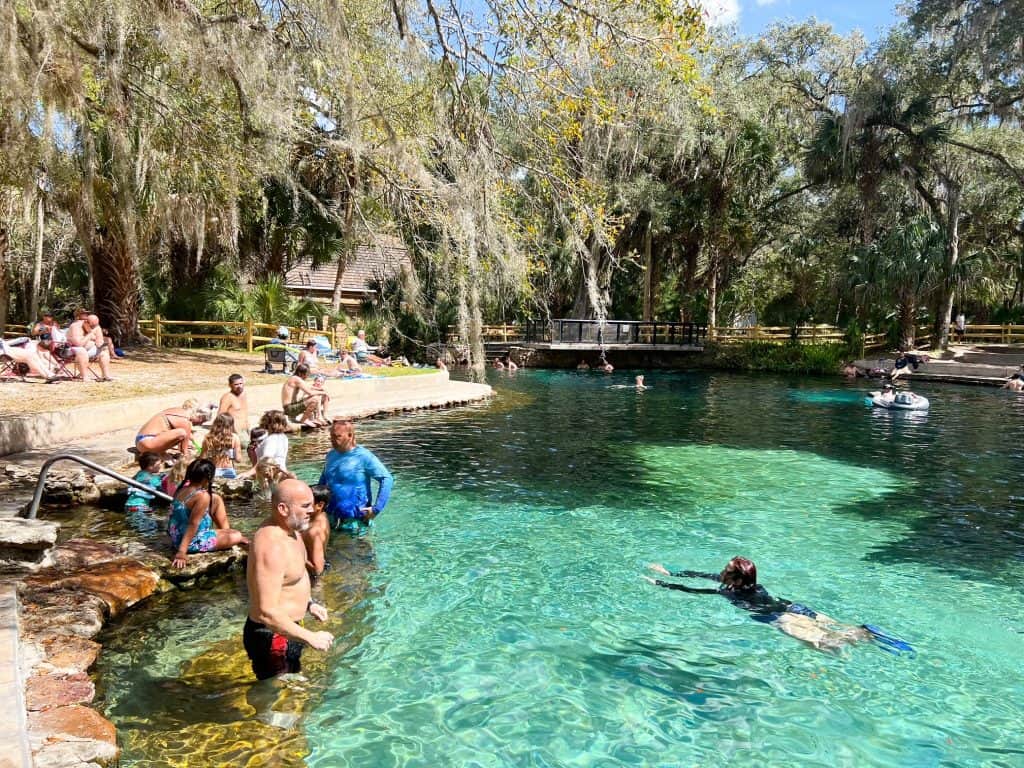 Water Sports at Juniper Springs
If you are considering visiting Juniper Springs in Ocala, there are tons of things to do here. We do want to note, first hand, that there is no wading in the spring runs. And there is no fishing in the springs or runs!
Aside from this, recreational areas have active swimming. This is a swim at your own risk area, so be aware! There is boating allowed, but it is non-motorized. You can canoe and kayak at Juniper Run and Juniper Wayside. And you can rent these boats at Juniper in case you don't own them yourselves!
In terms of other water sports activities, many people love to jump and dive into this spring area. Many also bring in snorkels so they can explore the greenery under the crystal water! Tubing is not allowed, however, so be careful with those big blow-ups!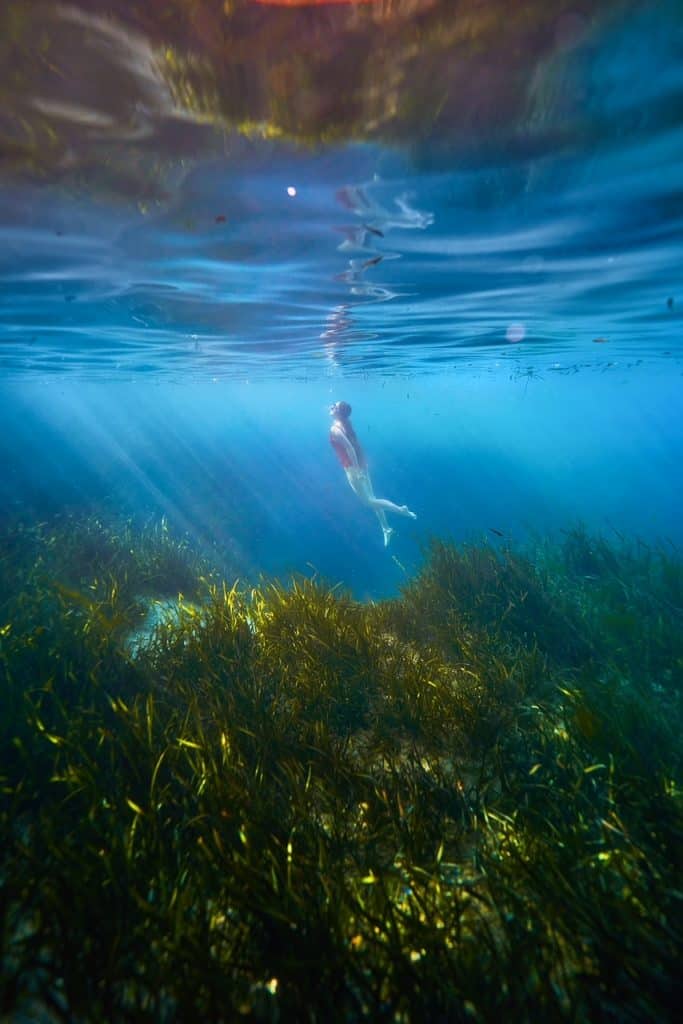 Camping at Juniper Springs Recreation Area
One of the most popular things to do at Juniper Springs in Ocala is to take advantage of the Juniper Springs recreation area and camp! This is super popular because many people love camping under the dense canopy of live oaks that surround the springs.
In fact, this spring is one of the nation's top destinations for camping! This is because there is plenty of things to do on site, but also because of the shade the canopy provides. As mentioned earlier, campers have 24 hour access to the gates of the springs with an access code!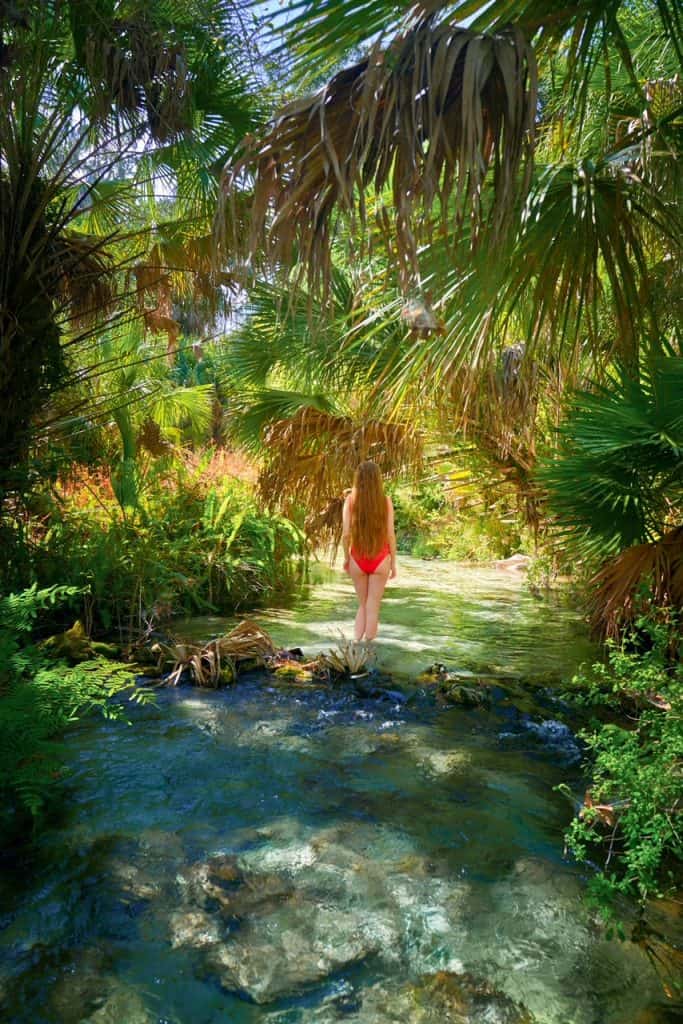 To camp, make sure you make a reservation! You can do this at either Recreation.gov or call 1-877-444-6777. The use of this spring and its campgrounds can be medium to heavy, so please call in advance!
There are other 79 unique sites here to camp in! You can camp in either a tent or RV, and it costs about $31.00 a night to stay here. All the walkways and nature trails surrounding the campsites at Juniper Springs in Ocala are accessible. You'll love the area with picnic tables, easy parking, an interpretive site, and more!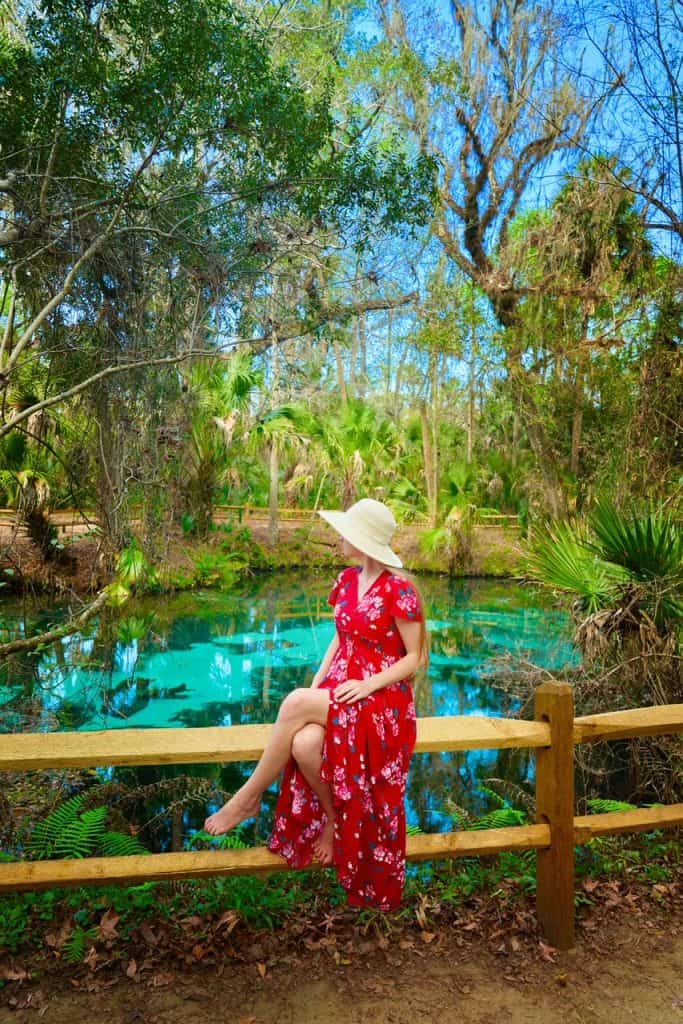 Explore Fern Hammock
Fern Hammock Springs is located inside the Juniper Springs Recreation Area! This park features sparking springs and takes you to a subtropical setting. The bottom of the pool in this area is sandy, with patches of aquatic grass.
People love the blue water here, but please be aware that swimming is prohibited due to ecological considerations. This hidden gem features an irregularly shaped main pool and a wooden footbridge that is super picturesque. It is such a fun place to explore!
However, please do make sure to ask a ranger for a map on how to get here! For people who are visiting Fern Hammock it can be a bit confusing to get to. And remember: don't go swimming! Just enjoy the blue water!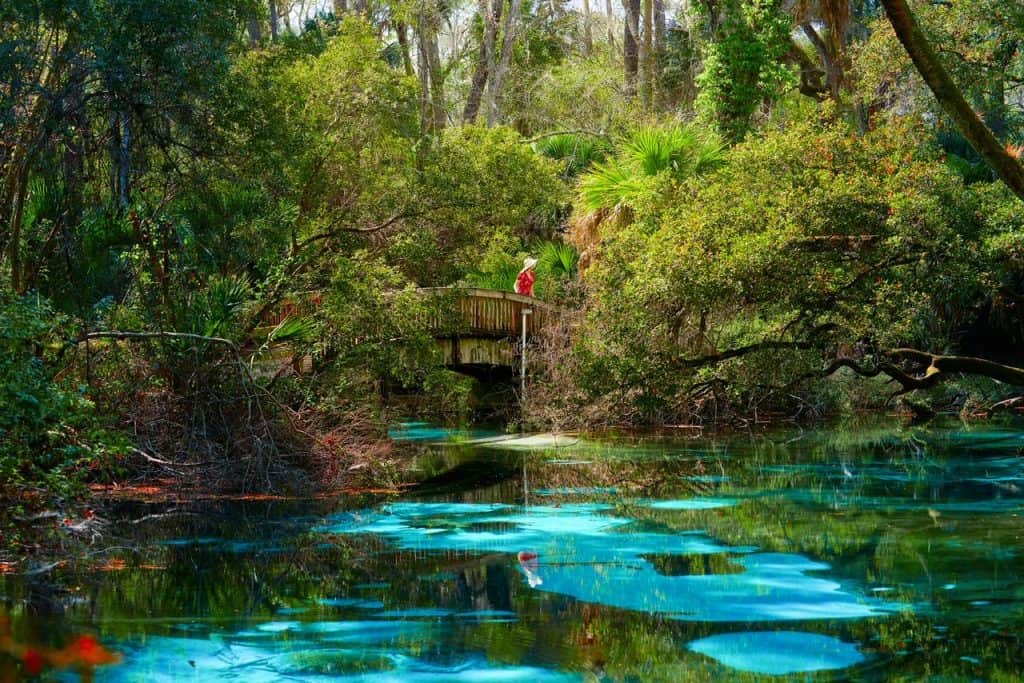 And there you have it, folks! All the trips and tricks and must-know information for Juniper Springs Recreation Area. We know you will love this spring: it is one of the best places to visit not only in Ocala, but in Florida! This mini Paradise is something you don't want to miss, so take a trip, enjoy some sun, jump in the water, and maybe even rent a canoe or go for a hike! The paradise is something you don't want to miss!