You've braved the beaches, and you're tired of crowded theme parks, but have you taken the time to explore the best springs in Florida?
Thanks to the Sunshine State's natural underground aquifer, about 800 billion gallons of water flow through limestone to bubble up to form more than 700 natural springs in Florida. That's the largest collection anywhere on earth!
The water's temperature never goes above a crisp, refreshing 72 degrees Fahrenheit, and through that crystal clear water, you can see entire ecosystems thriving: aquatic plants, gorgeous rock formations, and wildlife like manatees and turtles.
Did You Find This Post Helpful?
If so, we would love to keep in touch! We enjoy seeing photos and comments about your experiences in Florida! You can follow us on Instagram and we will repost your photos on our feed and comment too! Just tag us at @floridatrippers and hashtag #floridatrippers. We can't wait to see your travels!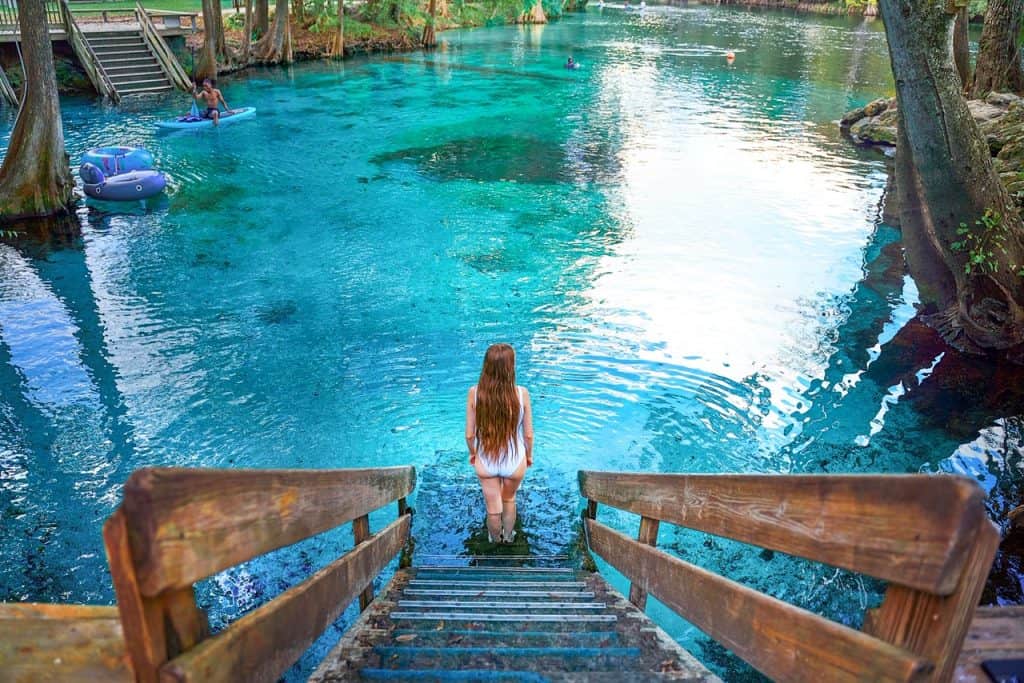 Your first visit to one of these natural springs in Florida will make you understand why Ponce De Leon thought these waters contained rejuvenating properties.
While we can't promise you a dip in this spring water in Florida will make you look younger, you won't need a literal Fountain of Youth to feel refreshed after enjoying the recreation they have to offer: tubing, diving, snorkeling, swimming, kayaking, photography, and even glass-bottom boat tours.
Are you overwhelmed by all the things to do in Florida and don't know where to begin? Don't worry, we've got you covered. We've mapped out the prettiest, best springs in Florida so all you have to do is suit up, get in the car, and jump in!
Listed below are our picks for the prettiest springs in Florida. We recommend visiting any and all that you can so you can beat that Florida heat, reconnect with yourself and nature, and soak up all these hidden gems have to offer.
Now, let's get into the list of springs in Florida!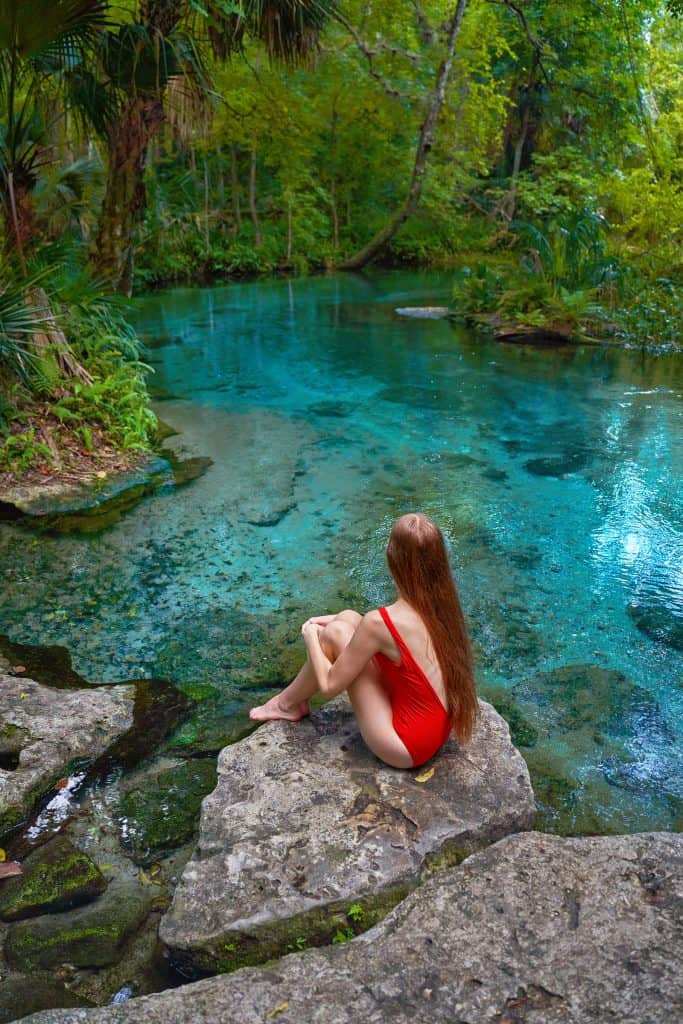 17 Best Natural Springs In Florida You Must Visit
Devil's Den
Located just north of Ocala in Central Florida, Devil's Den is actually underground. The most prehistoric of Florida springs, this hidden gem is a perfect spot for divers and snorkelers alike.
Visitors walk down a wooden staircase into a cavern that appears to open up into another ethereal world.
Divers can descend up to 54 feet in the springs (120 feet in diameter) to look through the clear, aqua water which is always 72 degrees, making it one of the best springs in Florida.
The grounds of Devil's Den also boast some of the best cabins in Florida as well as RV parking with a heated swimming pool, charcoal grills, and picnic tables. There are also pavilions with lawn games for the whole family to enjoy!
Offering something for everyone in the family, Devil's Den is truly one of the prettiest and most mysterious Florida swimming springs. It is also the only spring in Florida without alligators.
This is truly one of the best things to do in Gainesville.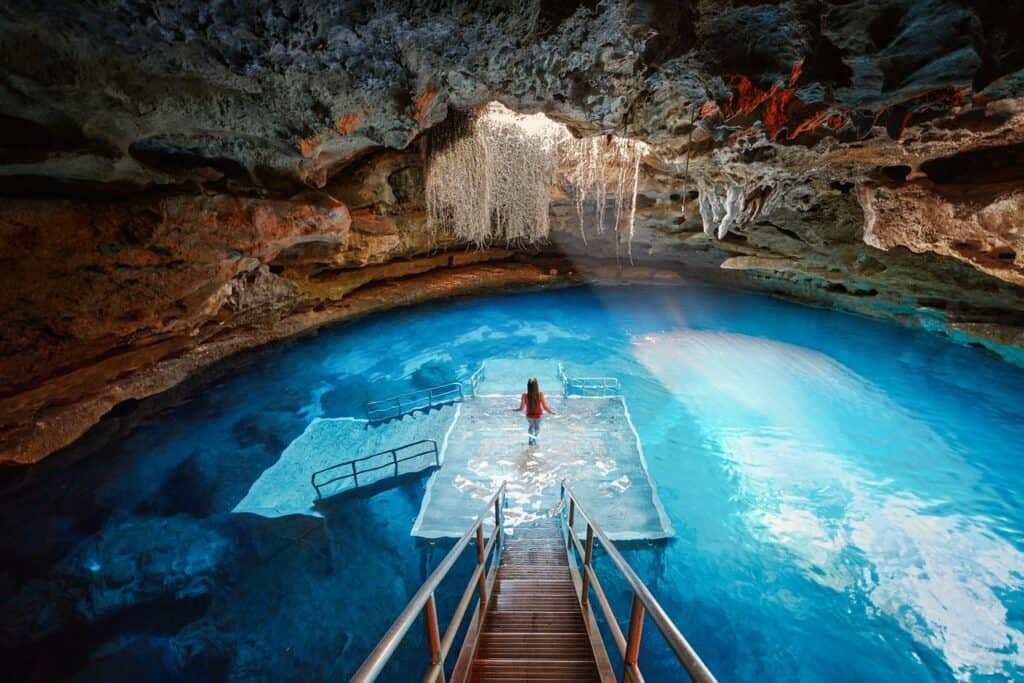 Crystal River
Just about 90 minutes north of Tampa Bay, Crystal River is actually a large network of about 40 natural springs, originating in King's Bay before emptying into the Gulf of Mexico. Only accessible by boat, Crystal River has earned its nickname as a "water lover's paradise" with a multitude of activities and wildlife to see.
You could visit Kings Spring, which is 75 feet across and at its deepest point, 30 feet, where an underwater cave awaits adventurous divers.
Or you could go to Three Sisters Spring, where you can swim with manatees that congregate in the winter months in the cool water. This is one of the most popular springs in Florida for manatees!
Crystal River is one of the most popular springs near Tampa!
Even if you don't want to dip your toes in the water, there are wildlife tours on a trolley, boardwalks, Tampa hiking trails, lots of dining, and wooded parks with kayak launches!
A haven for snorkelers, swimmers, and divers, the area has been preserved by hard-working locals who recognize the true wonder of this group of natural Florida springs.
This is one of the best things to do in Tampa for nature lovers!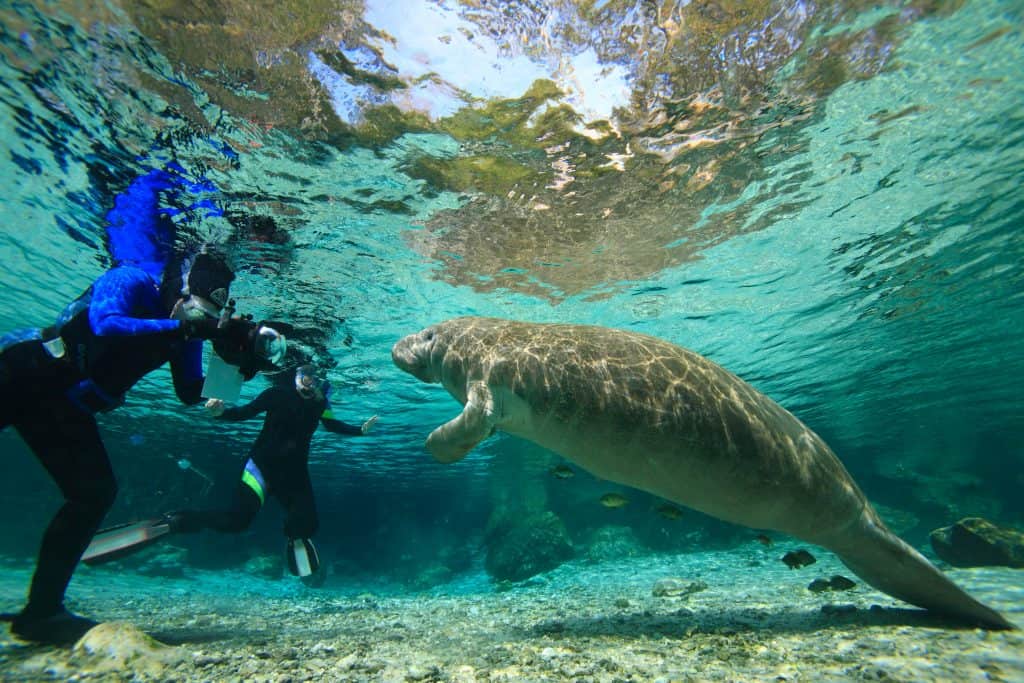 Rainbow River/Rainbow Springs
With such an enchanting name, it's no surprise that Rainbow River is home to one of the best springs in Florida with a variety of natural wonders. Its history spans centuries when native Floridians regularly visited these sapphire waters, believed to have magical healing powers.
Whether you choose to believe that or not, you undoubtedly will bask in the natural Florida spring's beauty with endless experiences and amenities. At the headspring of the river is a gigantic swimming area with white sand and limestone underneath your toes.
Nature trails are surrounded by man-made waterfalls and natural gardens, a popular destination for Florida birders.
If you want to try camping in Florida, this is the place to do it!
Campgrounds along the river have kayaks and canoes for rent, so you can see the oaks that line the riverbanks. Areas of the river are dedicated to tubing down this natural "lazy" river.
This is one of the best tubing springs in Florida perfect for a day of relaxation!
Jump off of docks or swing off of ropes tied to tree limbs. You will share the water with turtles, basking in the sun on logs while herons and blue ibis flutter by.
It is truly one of the best springs in Florida for camping!
The combination of activities, nature, and wildlife make Rainbow River one of the most beloved and beautiful Florida natural springs.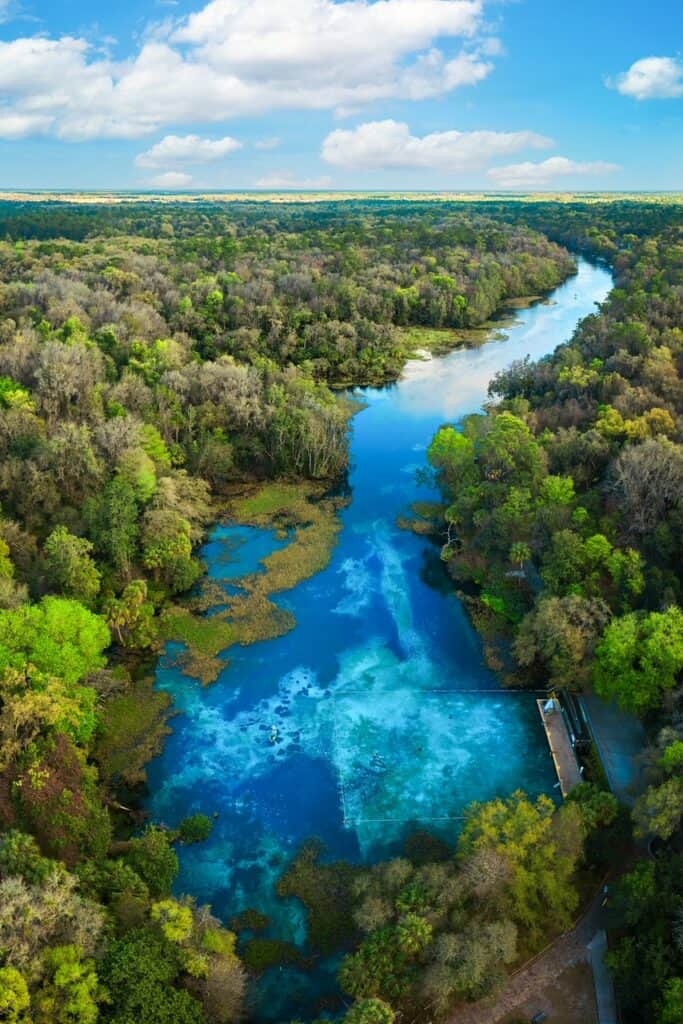 Ginnie Springs
Along the Santa Fe River lies a true slice of pure Florida. Ginnie Springs boasts some of the clearest waters of all the natural springs in Florida.
Made up of a group of seven springs, white sand, and caves, Ginnie Springs is a must for any serious cave divers or snorkelers.
Visitors can enjoy tubing, kayaking, canoeing, and swimming in addition to campgrounds with picnic tables, grills, and volleyball courts!
If you want to stay longer, there is a rental cottage available to make the most of your time in one of the best springs in Florida.
If you decide to snorkel or paddleboat down the Florida springs, the clear water may reward you with a view of bass, catfish, mullet, and if you're lucky: turtles.
This is also one of the best springs in Florida with campgrounds making it a popular place for weekend getaways and parties!
Overall, we think Ginnie Springs is the most beautiful spring in Florida!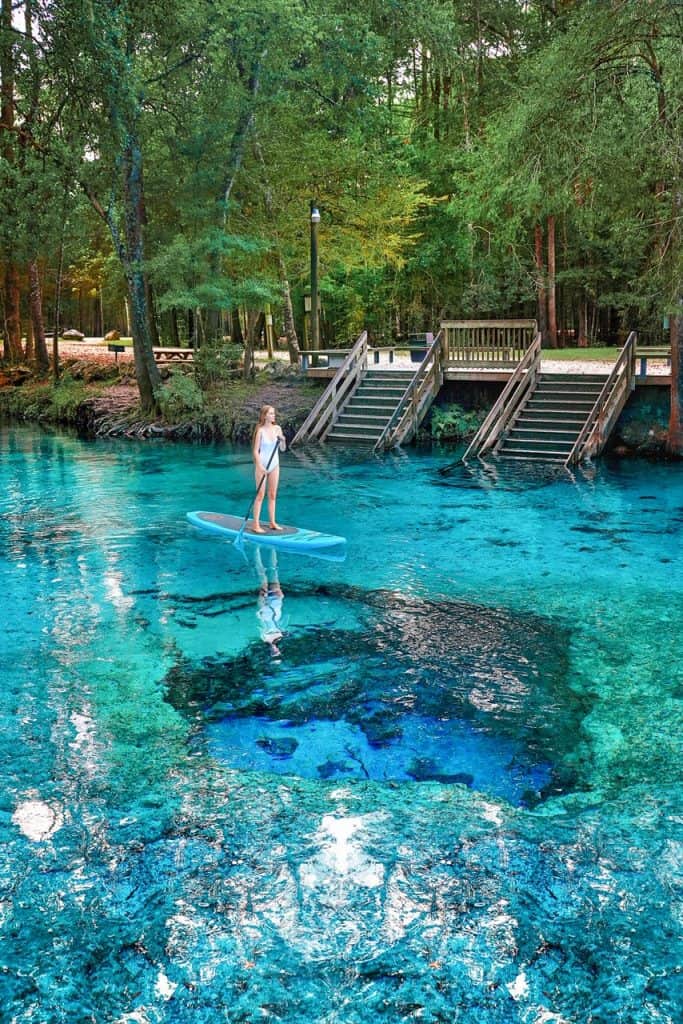 Weeki Wachee
Have you ever thought that while, yes, the natural springs in Florida are beautiful, they don't have enough whimsy? Well then, you are in luck, because next up on our list is Weeki Wachee Springs, where you can meet a real, live mermaid!
Okay, mermaids are make-believe, but the swimmers that don the incandescent fins only add to the beauty of paradise, paying homage to the yesteryear of Florida tourism.
As if this wasn't family-friendly enough, Weeki Wachee is also home to Buccaneer Bay, the only water park fed by a first-magnitude spring. It is one of the best water parks in Florida!
While swimmers can bask in the beautiful blues and greens of the Florida natural springs, divers can explore the freshwater cave system, confirmed in 2007 to be the deepest in all of North America.
In addition to the perfect day trip from Tampa, the natural beauty of Weeki Wachee makes a beautiful backdrop for events hosted within the Florida state park, such as weddings and family gatherings, with a range of indoor and outdoor pavilions.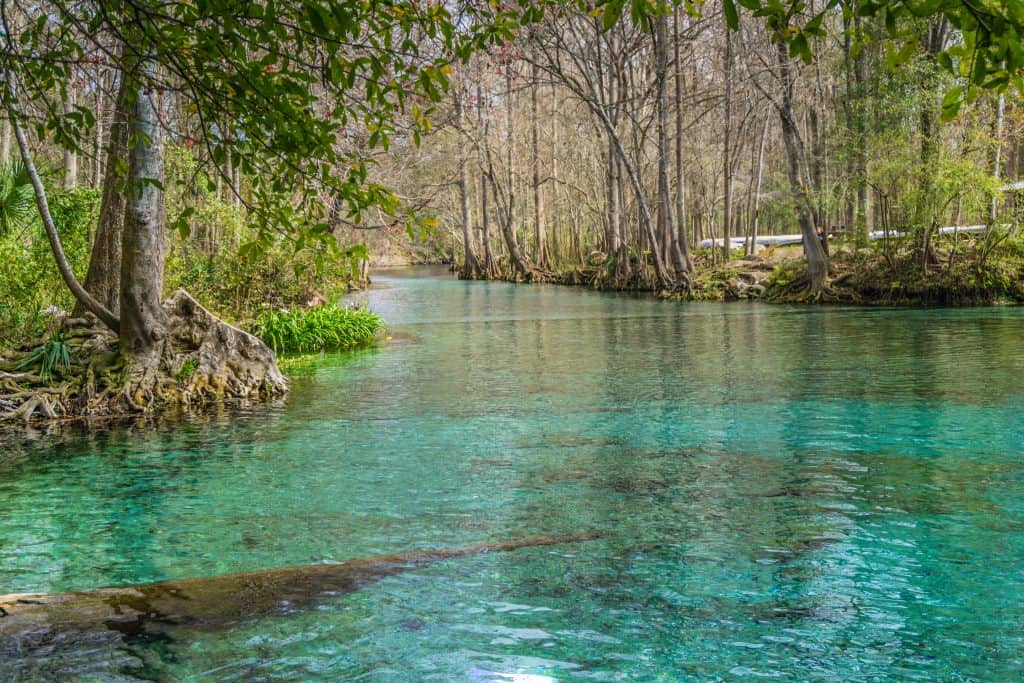 Ichetucknee Springs
North of Gainesville, eight major crystalline springs unite to form the Ichetucknee River, one of the best springs in Florida. It is home to one of the best natural lazy rivers in Florida!
If you want a relaxing day, you can canoe, kayak, or go tubing in the upper region of the area of the state park, where the pristine waters will gently carry you down the Ichetucknee River.
Scuba divers and snorkelers can find a bit more adventure through the waterways in this lovely spring in Florida!
Hikers can choose one of three hiking trails, with entrances at the north of the river. The tame Blue Hole trail leads to the Blue Hole Spring, the largest in the park.
The intermediate Tressle Point trail is a self-guiding trail that looks at areas where in the past phosphate ore was mined. The longer Pine Ridge trail traverses through majestic sandhills and underneath the longleaf pines.
This is one of the best springs near Tallahassee as well.
Gilchrist Blue Springs
Florida's newest state park, Gilchrist Blue pours 44 million gallons of fresh water out of its second-magnitude spring before flowing out in a shallow spring close to the Santa Fe River. The waters, lying along floodplains in the area, boost and support a wide variety of ecological habitats.
We are obsessed and think Gilchrist Blue is truly one of the best springs in Florida!
If you drive about 25 miles south of Lake City, you can swim in one of the most clear springs in Florida. You will see a wide variety of native fish, turtles, and invertebrates that call this set of natural springs in Florida home.
Patrons can participate in snorkeling, swimming, and paddling at the main springhead and on the spring run.
Gilchrist Blue Springs also has a series of hiking trails popular for geocaching, an outdoor treasure hunt game where players find caches hidden in nature using coordinates and GPS devices.
It is recommended that visitors arrive early in the morning, as capacity is limited, and you will be turned away! You don't want to miss out on one of the best springs near Jacksonville.
With so much to offer and so much wildlife to see, it's no wonder that Gilchrist Blue is one of the best springs in Florida. As one of the greatest hidden Florida gems, it rightly deserves its new state park status.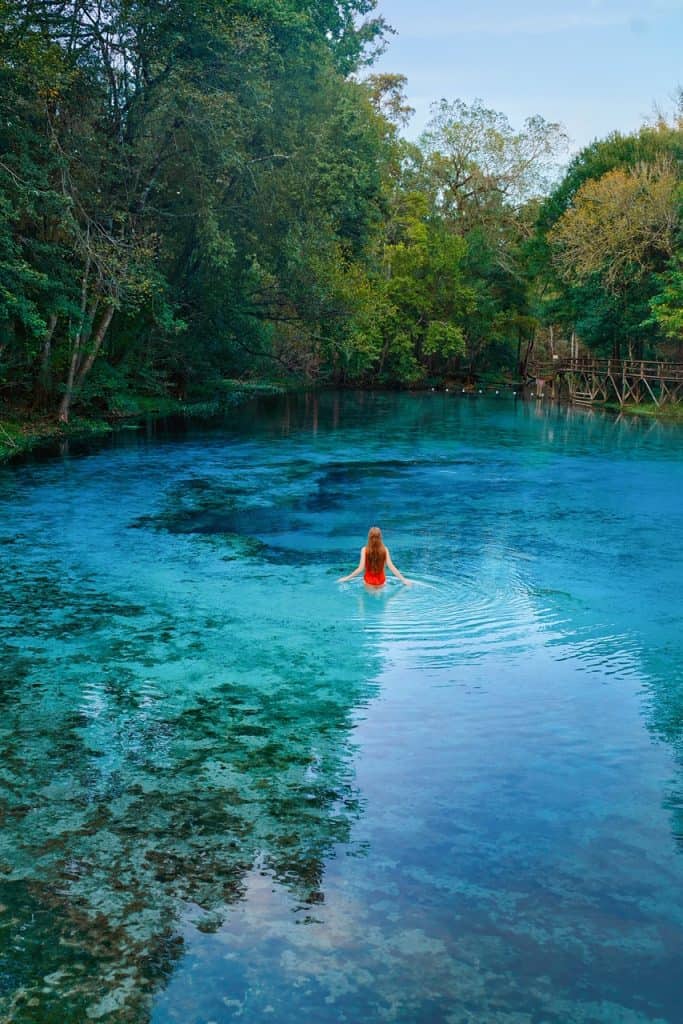 Madison Blue Springs
Voted the #1 swimming hole in the country by USA Today, Madison Blue Springs is revered as one of the best springs in Florida. It is a truly stunning pool that makes you feel like you are in a remote tropical oasis!
Around 82 feet wide and 25 feet deep, the inviting, crystal-clear springs are surrounded by lush scenery made up of hardwoods and pines, making for a perfect day trip for Florida families and explorers alike.
Rent a canoe and marvel at the manatees in the river that are known to swim right underneath you. Take a trip off the beaten path and discover and dive into a vast, self-guided cave system to jolt your adrenaline.
Float down the river in an inner tube and you'll drift to a small beach with picnic tables for a quick lunch at one of the best freshwater springs in Florida.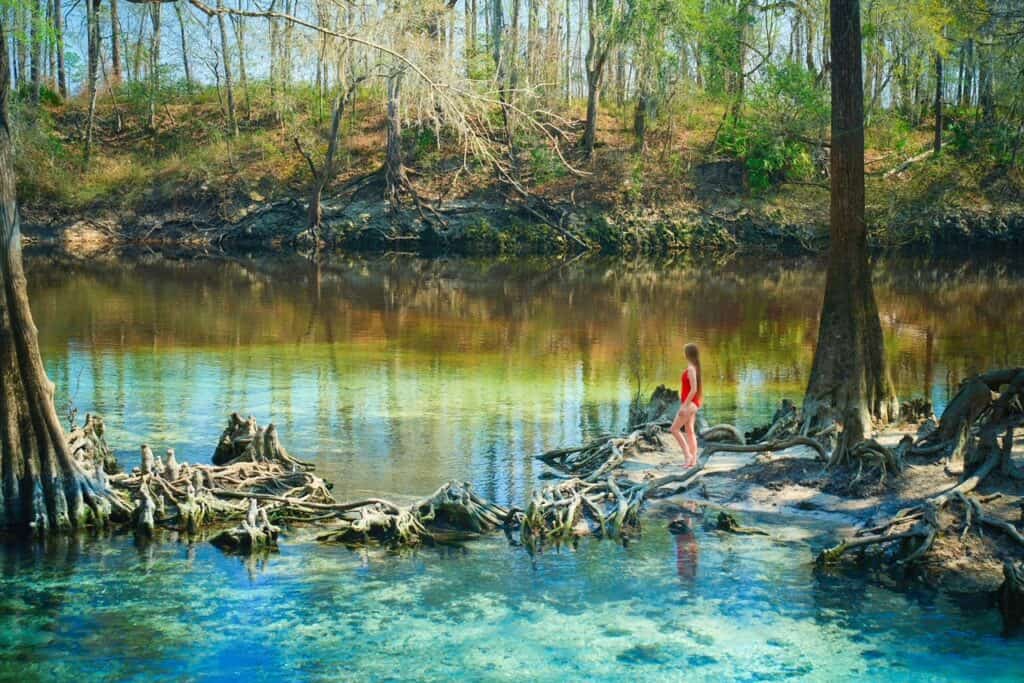 Juniper Springs
In scenic Ocala National Forest, Juniper Springs is tucked away in a subtropical area of palm and oak trees before winding and emptying into Lake George in the Saint Johns River.
In use since the 1930s, a group of conservationists built a mill that provides electricity to the adjacent campgrounds and picnic areas.
The main springhead is perfect for swimming, snorkeling, paddling, bird watching, and picnicking. Hikers can easily spend all day traversing the statewide Florida trail that winds through the area, with information about the sub-tropical foliage. It is one of the prettiest springs in Ocala and you must visit it!
The seven-mile Juniper Springs run is considered to be one of the most beautiful and scenic routes for kayakers in the entire state of Florida.
Dappled sunlight peeks in through the towering oaks, while otters play and alligators drift along in the shallow waters. There is even a haul-back service offered for your canoes and kayaks if you want to experience it all over again–without the hassle.
Considering the historic campgrounds and RV parking among the amenities available, it's easy to turn a lazy day at one of the best springs in Florida into a relaxing evening for the entire family in the heart of nature.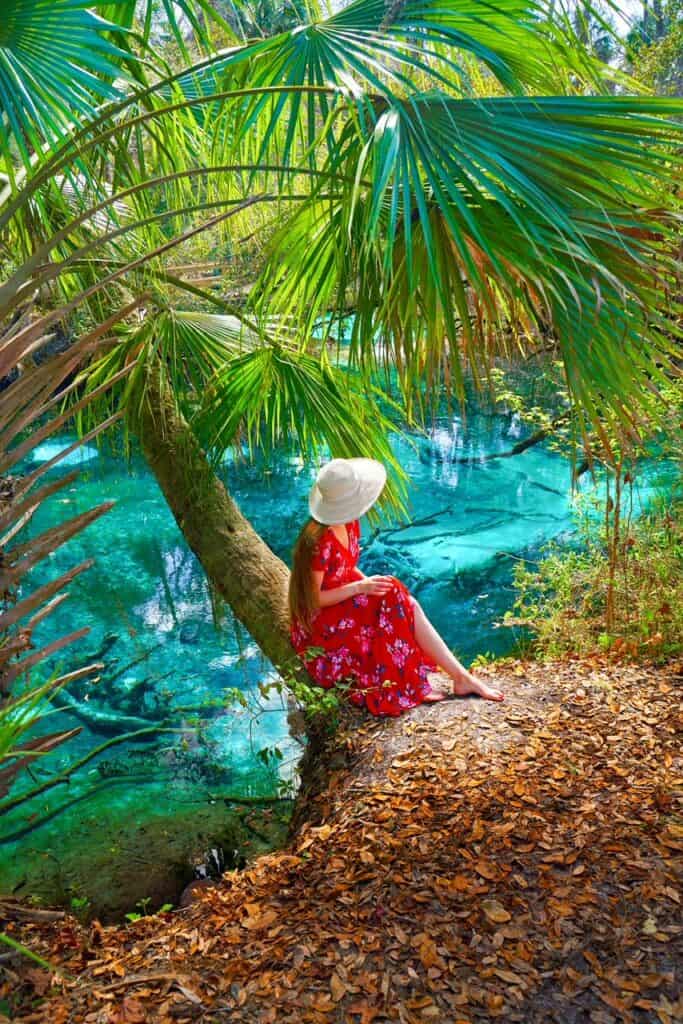 Silver Glen Springs
Pine, oak, and cedar trees surround the quaint, aquamarine waters of Silver Glen Springs, perfect for swimming, snorkeling, and sunbathing. This is one of the clearest natural springs in Florida!
A variety of freshwater and saltwater fish call this spring home, along with manatees seeking solace from the cold, winter waters of the Saint Johns River.
Hikers traversing the Spring Boils trail will be able to spy many smaller springs bubbling up and feeding into the streams that empty into Lake George.
Fishing, with a suitable freshwater license, of course, is permitted downstream of the swimming hole area.
Also located in Ocala National Forest, this beautiful Florida spring is also a notable archeological site! Those with a keen eye will be able to spot a variety of fossilized snail shells embedded in the middens along the shores.
Visitors are encouraged to arrive early in the day, as capacity is limited as this is one of the best Florida springs for swimming and everyone knows it!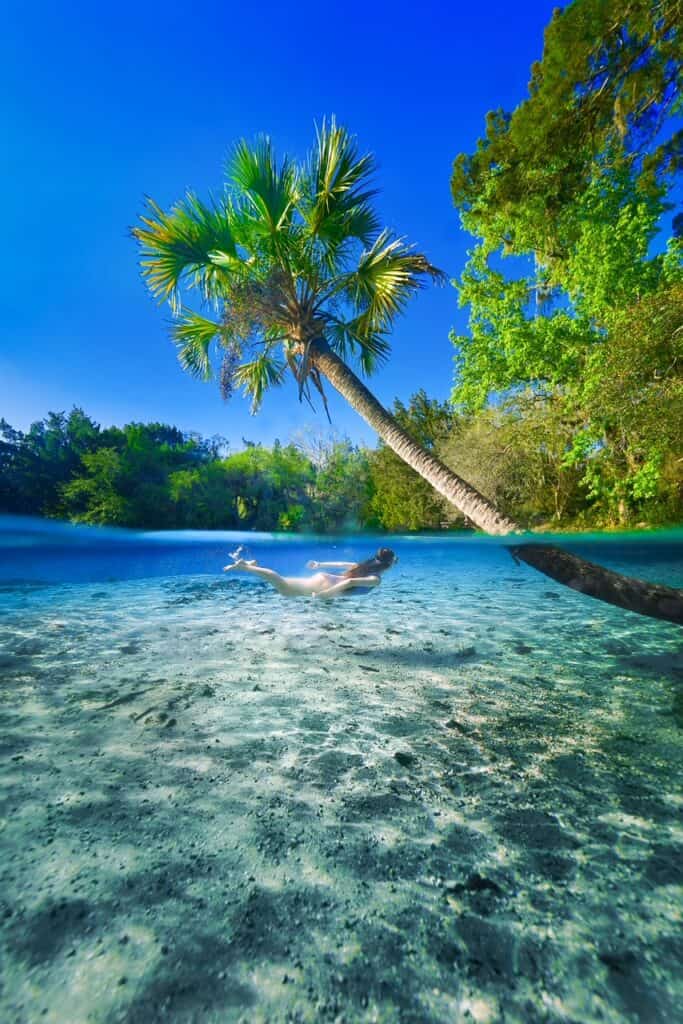 Alexander Springs
This first-magnitude spring in Florida is considered by many to be one of the easiest and most accessible for visitors to explore and enjoy, especially for younger and older explorers.
A gradient slow, slope eases swimmers and divers into the cooling, crystalline waters. A smooth, limestone floor releases tiny bubbles up around snorkelers.
Popular with families, activities include but are not limited to biking, horseback riding, fishing, kayaking, and canoeing.
Alexander Springs was notably once home to the indigenous Timucuan people, who thrived in the forests of maples, sweetgum, and cabbage palms.
Nature trails harbor educational signage, identifying vegetation that the Timucua would use in their diets.
Since the Timacuans were known to revere and even repent for their use of the plant life, we urge you to leave nothing but footprints and take nothing but memories when visiting these natural springs in Florida.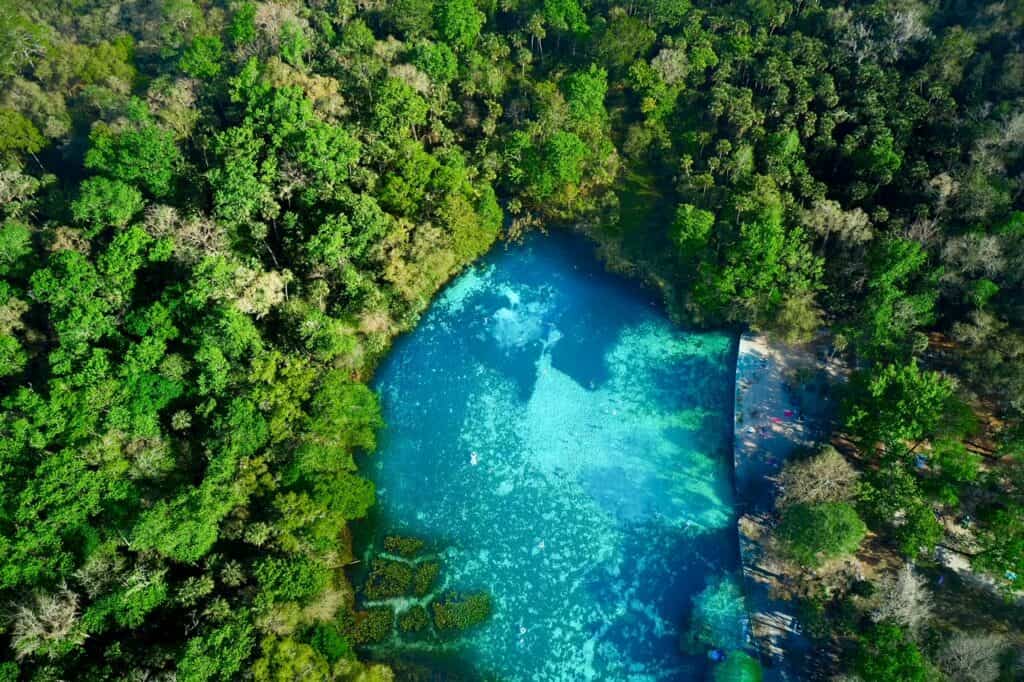 Rock Springs Kelly Park
The free-flowing springs at Rock Springs at Kelly Park are a bit cooler than their counterparts, usually topping out at a chilly 68 degrees, making this destination perfect for the hottest of Florida summers.
Kelly Park is located in the middle of Apopka, Florida. Tubers can rejoice while floating through mangroves and looking at the fish and turtles sharing the water with them.
You can also take a canoe or a glass-bottom boat down the river until it opens up into an open swimming area.
Any time we share a photo from Rock Springs, people cannot believe that it is real! It is one of our favorite cold springs in Florida, and we can't suggest it enough.
Campers can also enjoy the grounds with lots of RV parking, pavilions, and nature trails. This is one of the best springs in Florida for quiet picnics with the family or a loved one!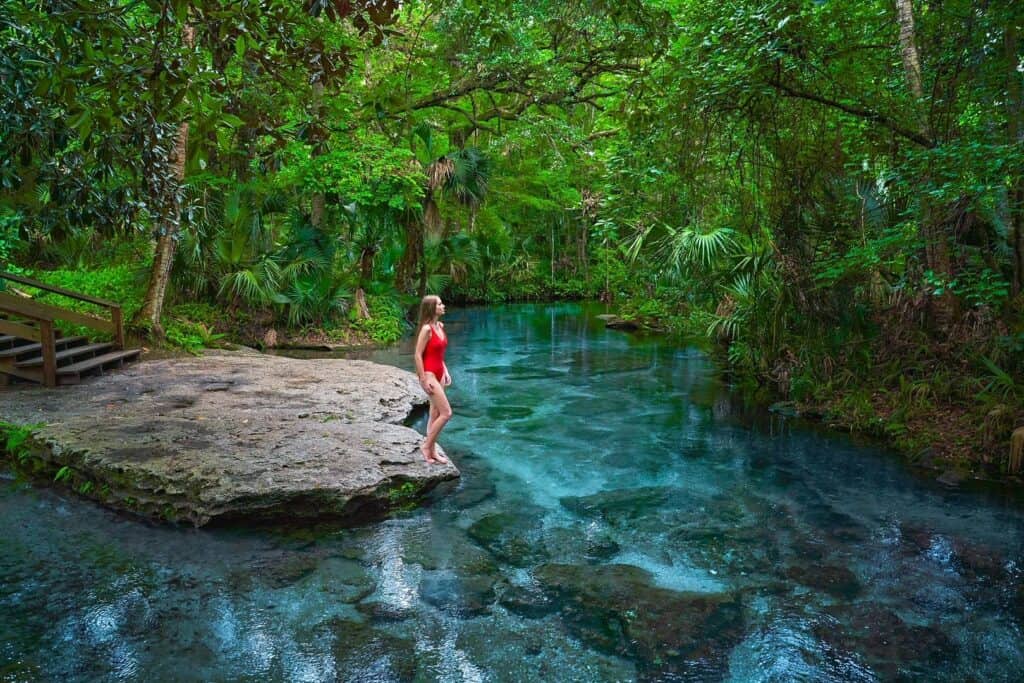 Little River Springs
Little River Springs is one of the best springs in northern Florida. Found along the Suwannee River, this 150-foot-long spring is ideal for swimming and snorkeling. The tea-colored water of the river and the bright blue water of the spring create a fascinating waterscape.
The spring has some of the clearest water in Florida. It is beautiful and perfect for exploring underwater. One really cool area to explore is the 1,200-foot-long cave system.
When you are not enjoying the year-round 72-degree water, you can walk the nature trails or enjoy a picnic. The 125-acre park has great restroom facilities, too.
Also, did we mention this Florida spring is free? It is a great, affordable place to bring the family for a day in nature. There are plenty of shallow areas for young kids.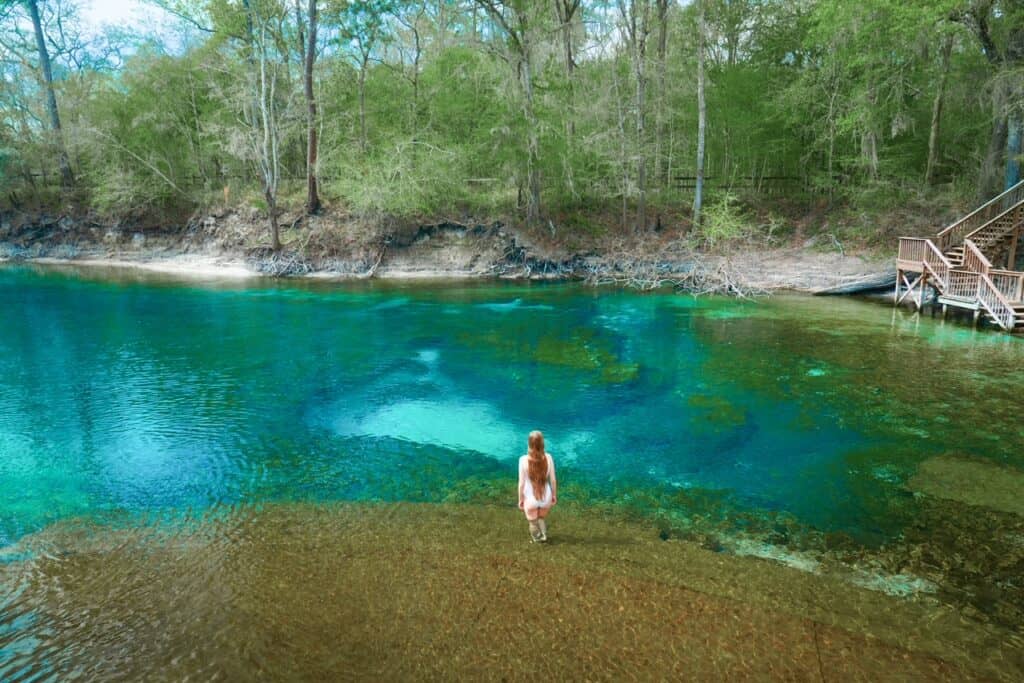 Royal Springs
Royal Springs is another gorgeous swimming hole on the Suwannee River in north Florida. A forested hiking path provides great views of the spring and river.
This is an awesome Florida spring if you are looking for a thrill.
The best way to enter the spring is by jumping or diving in from a platform over the deep section. This spot is 43 feet deep, but if deep water makes you uneasy, there is also a shallow end.
The pretty water is 72 degrees throughout the year and is super refreshing in the summer. You will have so much fun swimming and tubing at one of the best free springs in Florida.
There are also picnic tables and a boat ramp.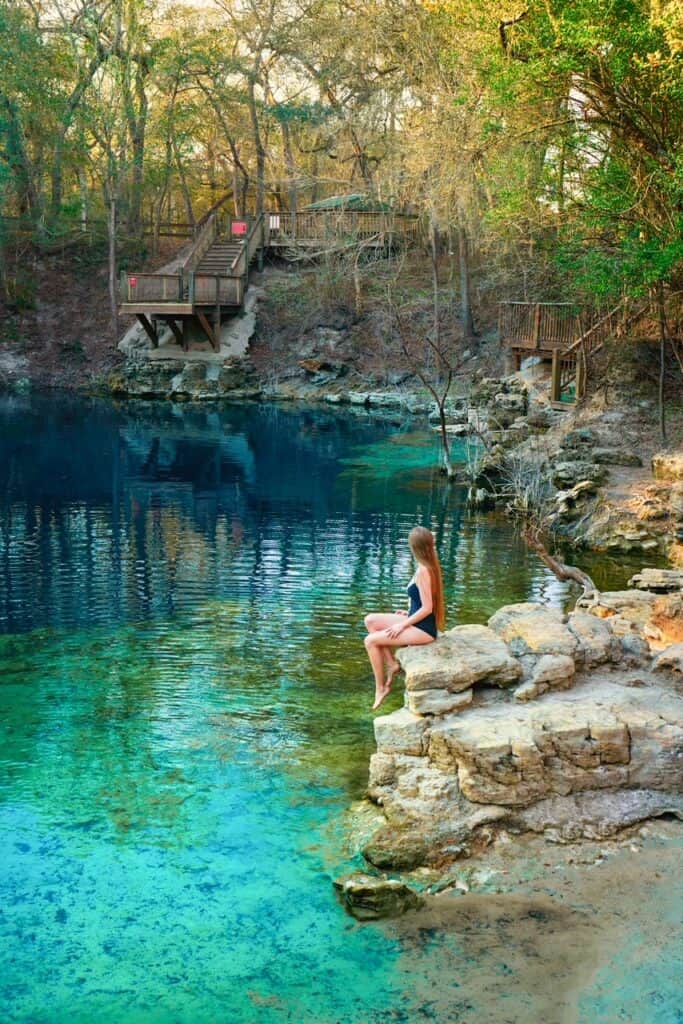 Peacock Springs
Wes Skiles Peacock Springs State Park has five second-magnitude springs that are secluded among pine and maple trees. This is a beautiful place in North Florida to swim and dive.
The impressive underwater cave system is the largest in the continental U.S. at 33,000 feet of surveyed passages. Bring your scuba certification and get ready for a memorable time exploring underwater.
Even if you are not a diver, this is a wonderful place to swim. You can also hike award-winning nature trails with educational signs so you can learn along the way. Keep an eye out for wildlife.
This Florida state park is open year-round from 8 a.m. to sundown. There is a small fee to park.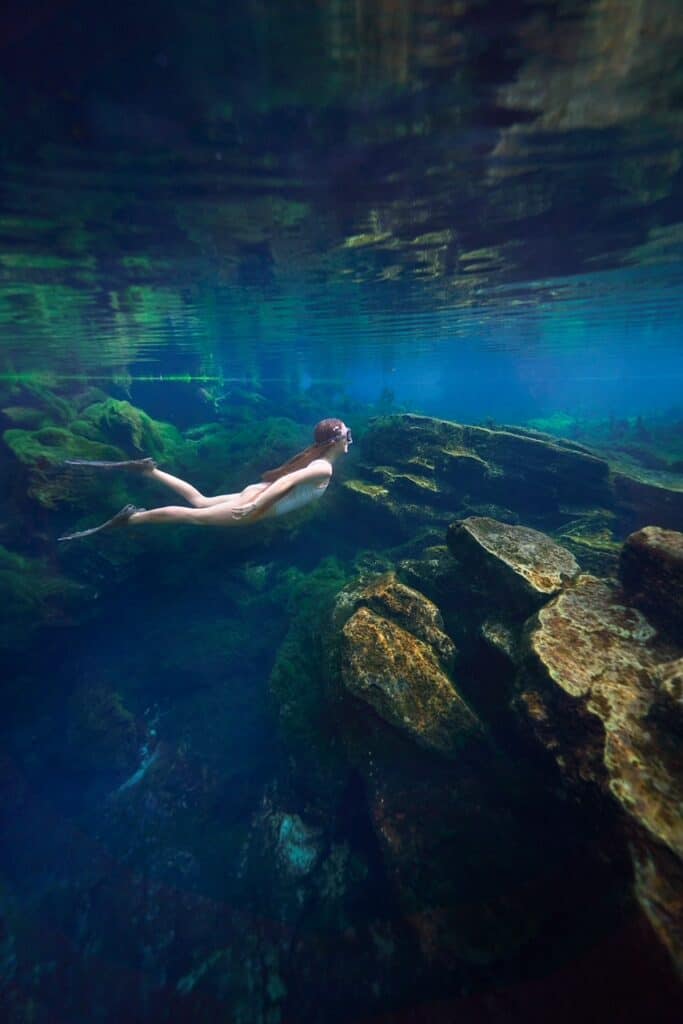 Emerald Cut
Just a few miles from Kelly Park, you will find King's Landing where you can launch a canoe or kayak and paddle the gorgeous Emerald Cut. This section of the Rock Springs Run twists through lush trees and will make you feel as if you are paddling through a tropical paradise.
This Wild and Scenic River in Florida will highlight the amazing ecology of the state. You can bring your own kayaks, rent, or book a tour. No matter how you experience this slice of natural beauty, you will have a great time.
The route is about 3 miles roundtrip. The first half is against the current while on the way back, you can float along effortlessly. Make sure to check out our tips for Kayaking Emerald Cut at Kings Landing.
During your journey, you may spot alligators, turtles, river otters, deer, and a variety of Florida birds. The path gets its name from the vivid green of the trees, so get ready to take a ton of photos.
Since it is located in Apopka, it is great for a day trip from Orlando.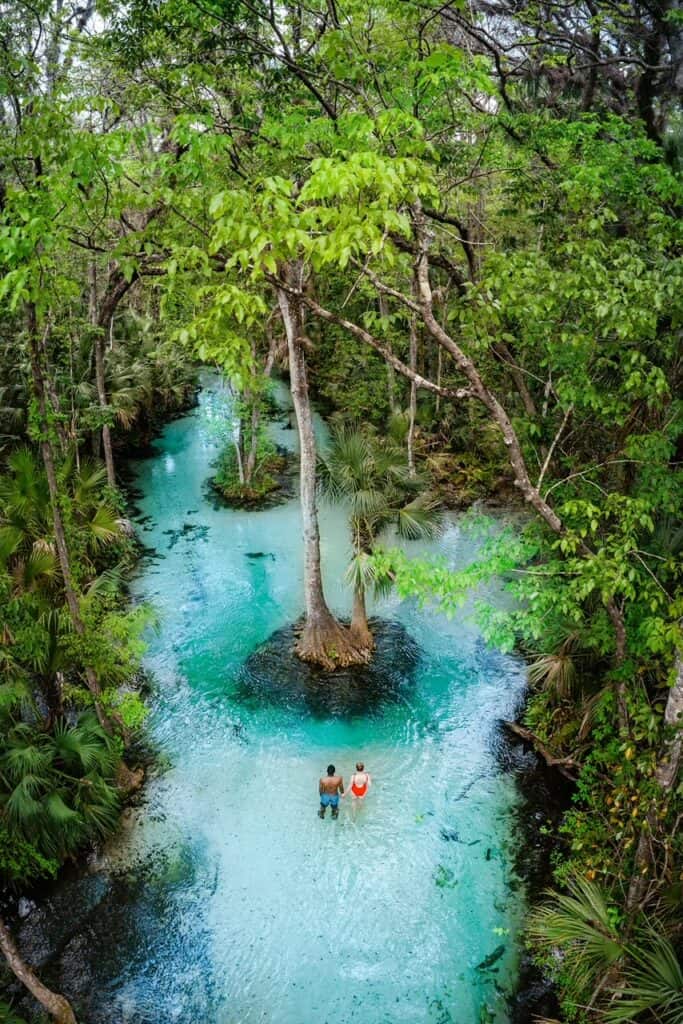 Silver Springs
Silver Springs State Park is on the edge of Ocala National Park in a beautiful location.
Found on the Silver River, this park has a history dating back to the 1870s. Like many tourists before you, come and enjoy the clear water and scenic nature.
One of the top things to do here is taking a glass-bottom boat tour. You will love the unobstructed view of aquatic life.
Other Silver Springs activities include kayaking, canoeing, hiking, camping, and spotting wild monkeys. Keep in mind, though, that swimming is not allowed.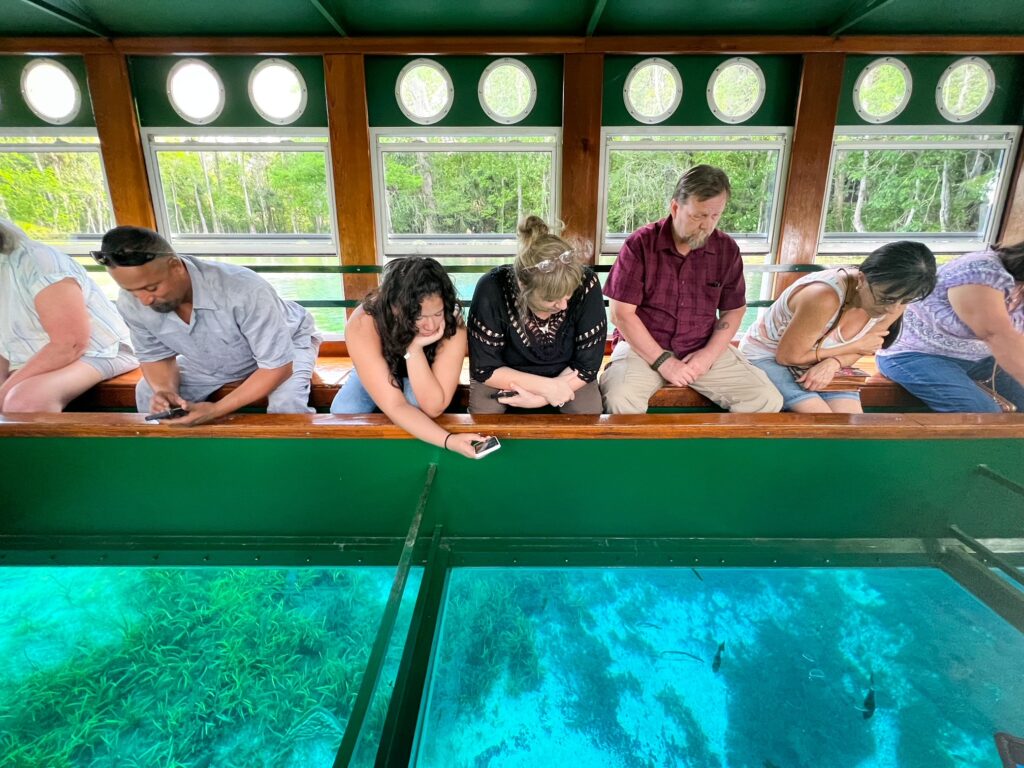 Florida Springs Map
No matter what time of year you are planning a Florida road trip and encounter some of the best springs to visit in Florida, there will be something special to encounter.
This springs of Florida map will help you visualize where they are around the state. Some are really close to each other and others are a bit of a drive!
You can cool down and dive in during the hottest summer days, or canoe with the gentle manatees in the winter. What will always endure is the unique and peaceful adventure you cherish in the most beautiful nature Florida has to offer.
We hope you find this map of Florida springs helpful when planning your adventure!
See the map of the best natural springs in Florida here!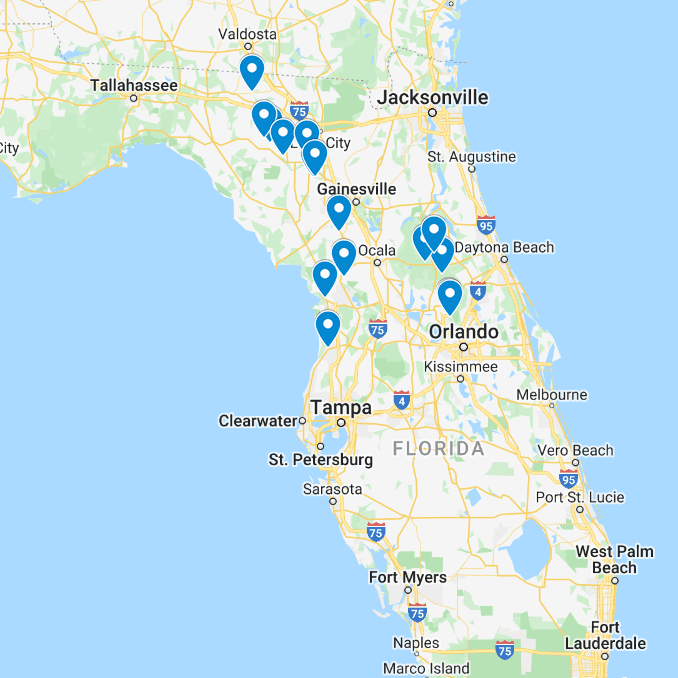 Did You Find This Post Helpful?
If so, we would love to keep in touch! We enjoy seeing photos and comments about your experiences in Florida! You can follow us on Instagram and we will repost your photos on our feed and comment too! Just tag us at @floridatrippers and hashtag #floridatrippers. We can't wait to see your travels!