If you are looking for the perfect Florida oasis, look no further than Kelly Park! Kelly Park is the epitome of Florida beauty and is home to the fabulous Rock Springs!
The water from Rock Springs is crystal clear. The park is quite huge so you can go camping or hiking when you aren't on the water. It is truly one of the best things to do in Florida!
The Rock Springs run is nature's perfect lazy river and what sets it apart is the fact that it is shaded and intimate.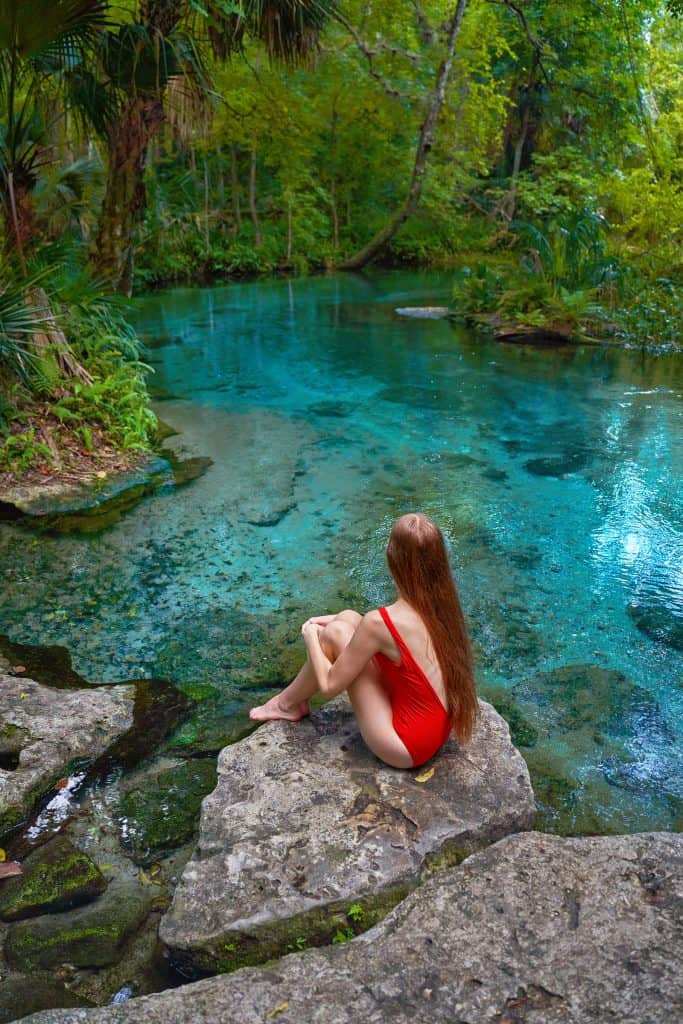 Kelly Park is also home to over 7 miles of hiking trails and is popular for camping.
Rock Springs is actually quite a large river and spans a longer area, but the headwaters are in Kelly Park.
26,000 gallons a minute bubble up from underneath the surface and the temperature is at a constant 68 degrees! Kelly Park and the Rock Springs Run are truly a Florida Hidden Gem that you shouldn't miss!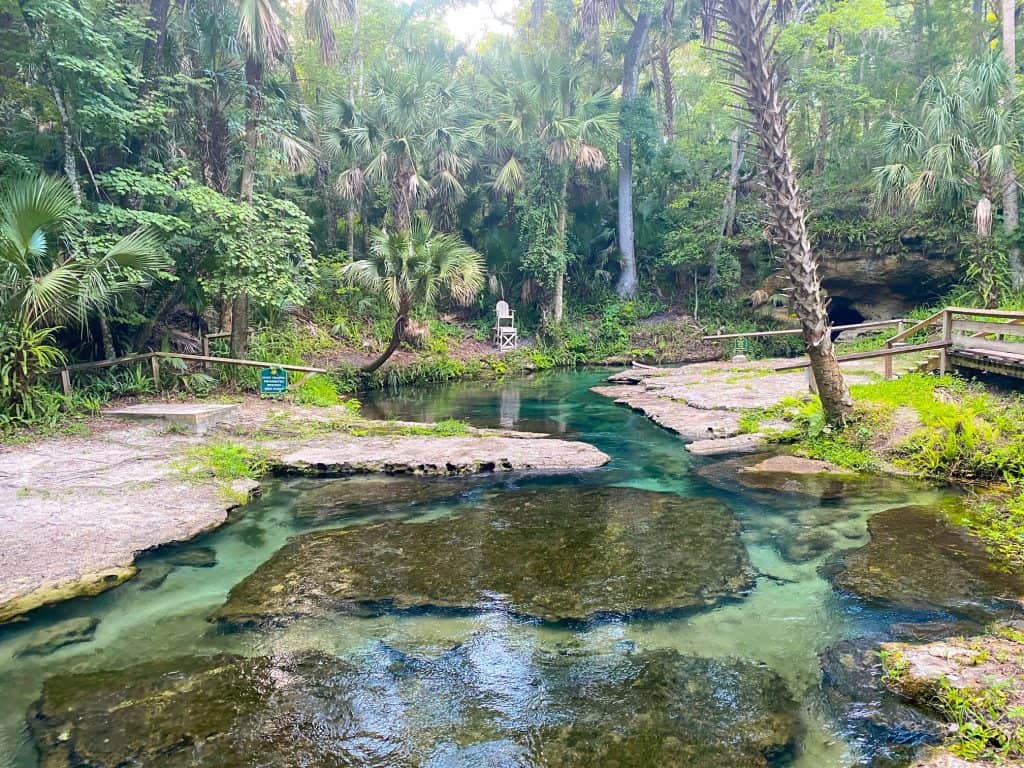 Where Is Kelly Park?
Kelly Park/Rock Springs is located just 40 minutes outside of Orlando near Apopka.
It really feels like you are in the middle of nowhere, but if you drive just 20-30 minutes away, you are back to all the stores and houses.
This is the perfect Day Trip From Orlando, especially if you are doing theme parks all day and want something different to see.
It is the perfect escape to nature and popular with both Orlando locals and tourists.
The address to Kelly Park in Florida is: 400 East Kelly Park Rd Apopka Florida 32712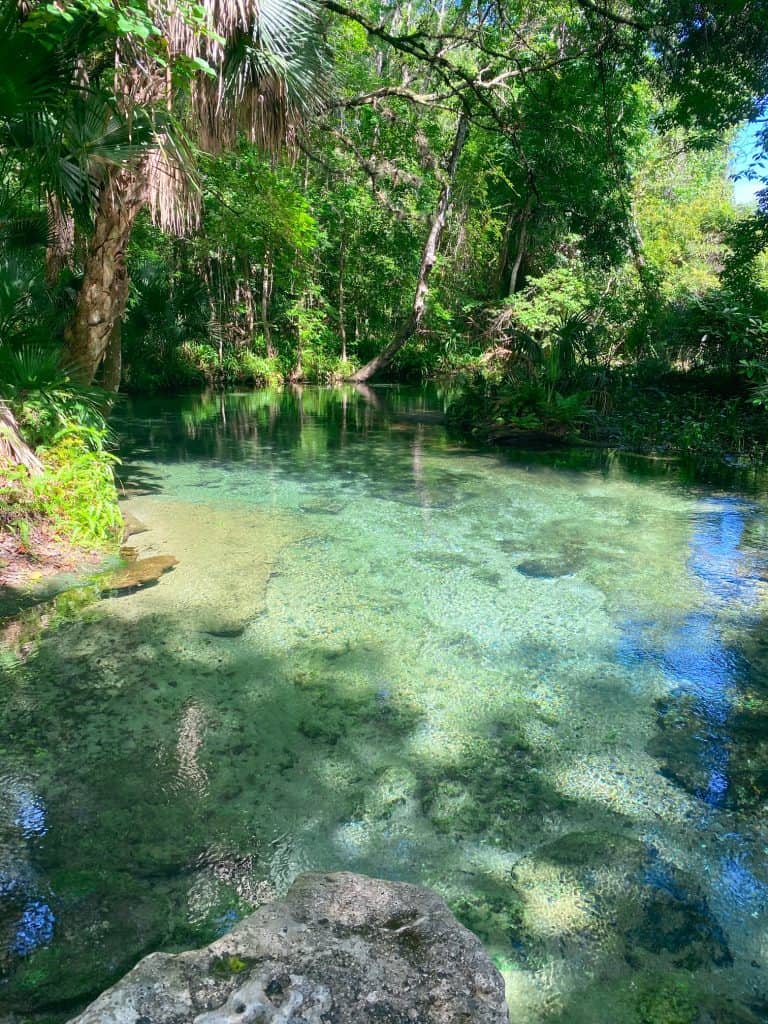 What Is Rock Springs?
You will generally see Rock Springs and Kelly Park used in the same sentence. This can get very confusing so let me break it down for you!
Kelly Park is the name of the nature park. There is hiking, camping, swimming and more.
Rock Springs is the name of the Florida spring which has headwaters in Kelly Park.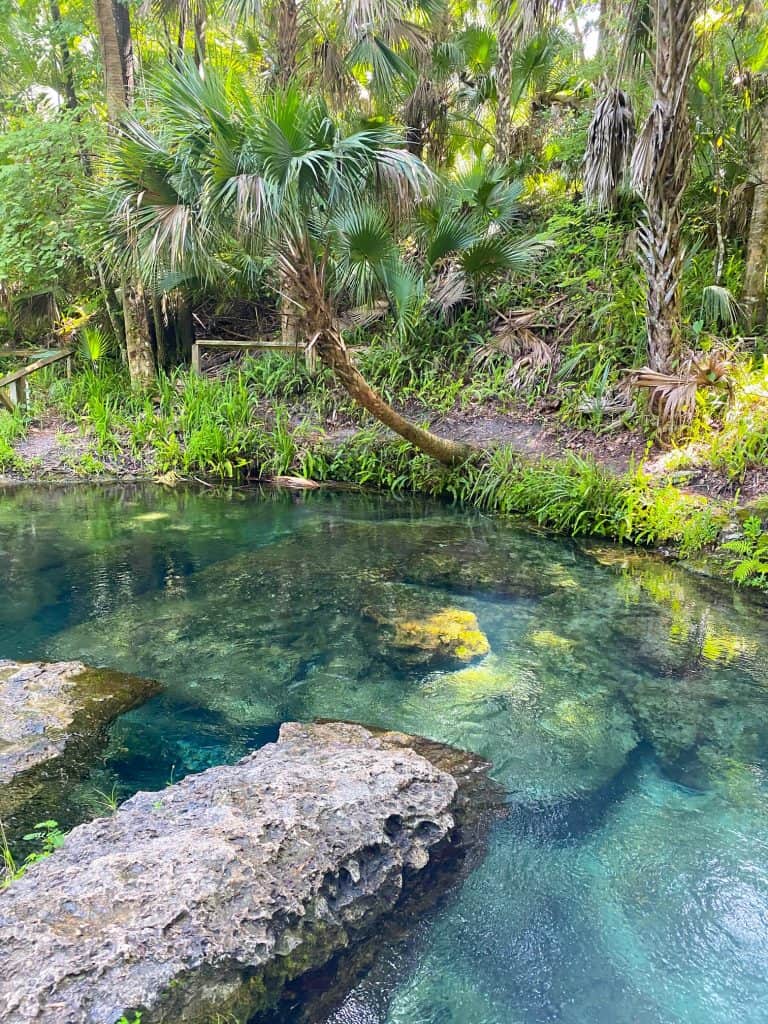 Kelly Park also has a popular Rock Springs Run which starts at the headwaters of Rock Springs and then goes for around 30 minutes until you reach the end area.
That being said, Rock Springs continues on for about 8.5 miles outside of Kelly Park.
You can launch a kayak or paddle board outside of the tubing area and kayak for 8.5 miles down the Rock Springs Run river until that river merges with the Wekiwa Springs Run.
This kayak run goes through a pristine forest with crystal clear water and is truly amazing!
I just wanted to break down the difference between Kelly Park and Rock Springs for you for the sake of this post! Either way, it is truly one of the Prettiest Springs In Florida!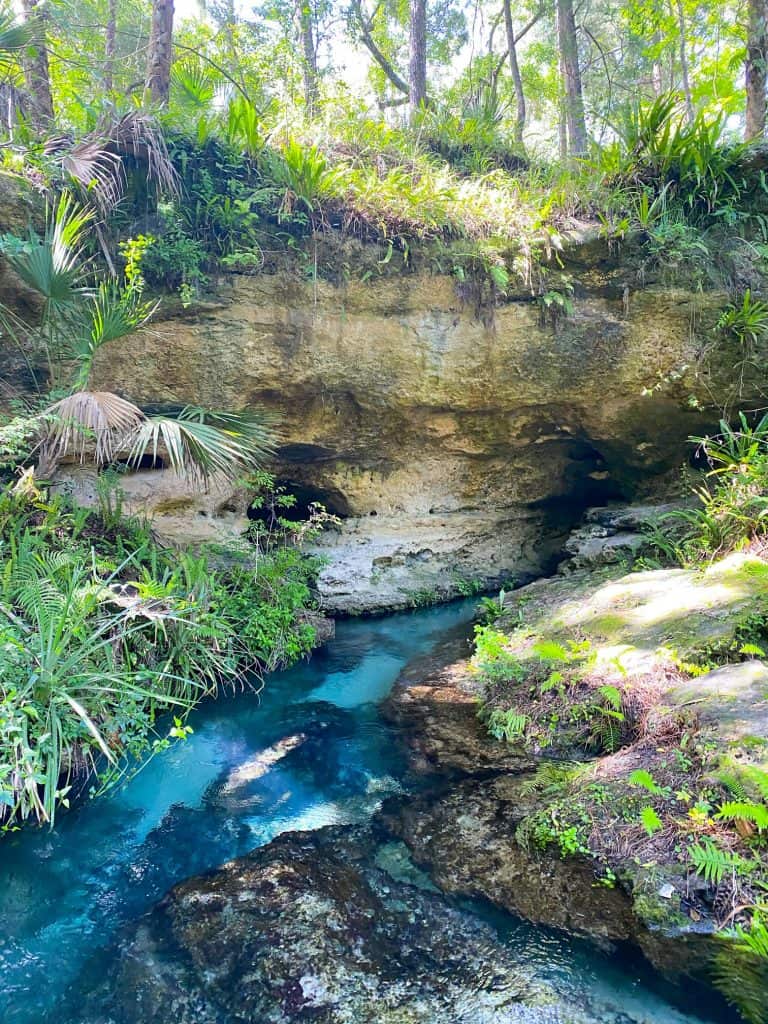 How Much Does It Cost To Visit Kelly Park And Rock Springs?
Visiting Kelly Park is SO affordable!
It costs just $3 for a car of 2 people and $5 for 3-8 people.
There is an additional $1 for everyone after 8 people and it costs $1 to come in via bike or motorcycle.
No pets or alcohol are allowed in Kelly Park or Rock Springs so keep this in mind when planning your trip!
If you want to launch your kayak at Kelly Park's Camp Joy, the fee is $3 for 1-2 people or $5 for 3-8 people. The same pricing applies, but the location for dropping in your boat is not the same as the tube run at Rock Springs.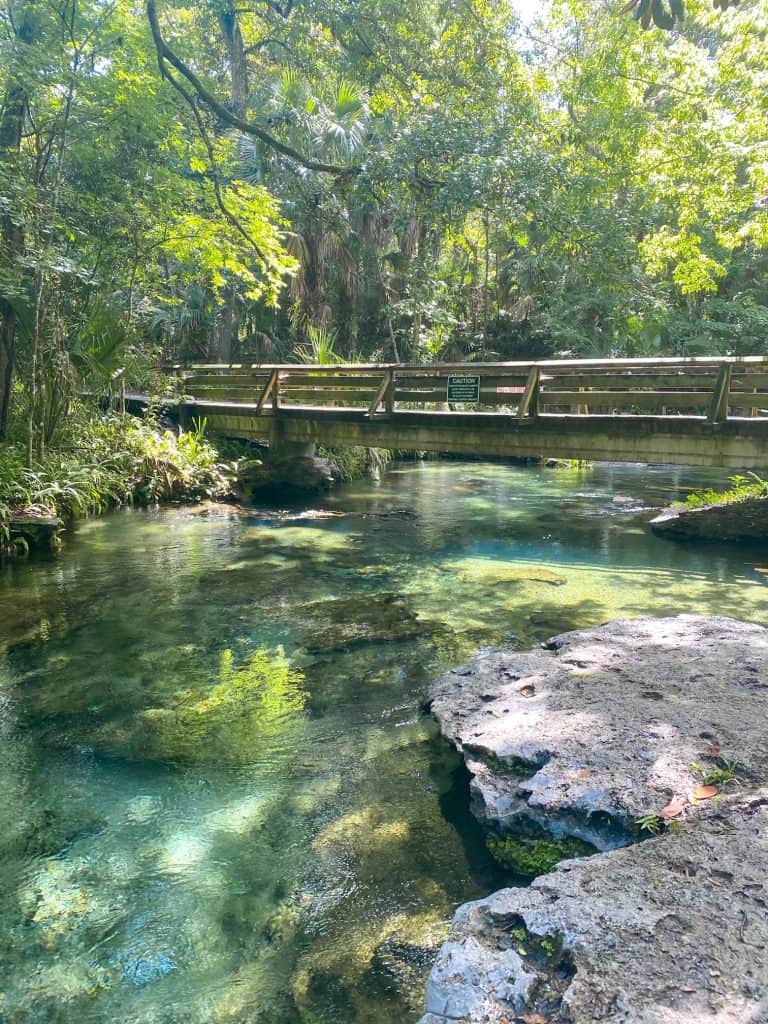 What Time Does Kelly Park Open And Close?
Kelly Park opening times depends on the season and what is going on. You can always call the park and ask any questions you may have.
I did this many times and the rangers and staff are very helpful!
In summer, Kelly Park is open from 8am to 8pm.
In winter, Kelly Park is open from 8am-6pm.
Keep in mind that the waterfront closes one hour prior to park closing. Sometimes, the rangers will let you stay and take photos, but you should be respectful of the rules!
The phone number for Kelly Park is 407-254-1906 in case you want to call with any questions!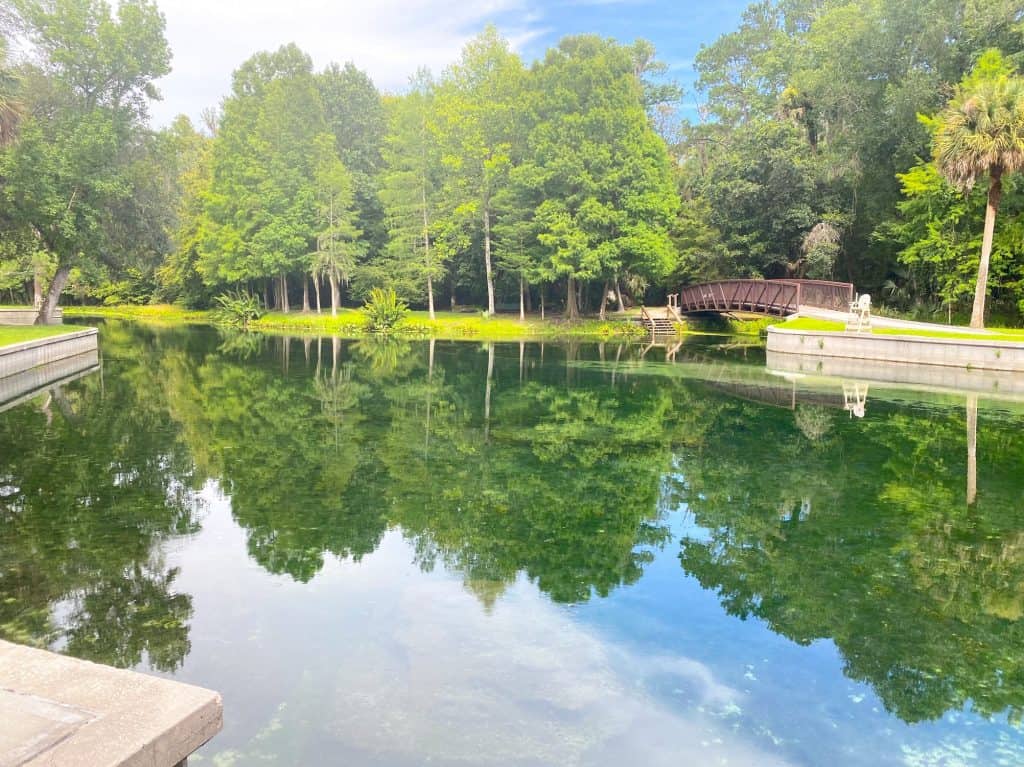 Crowds At Kelly Park/Rock Springs
Believe it or not, Kelly Park is very popular among both tourists and locals. It is a truly amazing place, so it is no surprise as it is one of the Prettiest Springs In Florida!
As a result, the park will fill to capacity quite early, especially on the weekend.
It is strongly advised to be there right at opening or between 8-9am.
Only 280 cars are allowed to Kelly Park and to visit Rock Springs every day.
Once you enter and park, you are NOT ALLOWED to leave and return. If you leave, you will not be allowed re-entry and will have to go to the back of the line.
If you are truly set on tubing Rock Springs and visiting Kelly Park, it is essential to get there very early.
You will have better luck going during the week, but even then it is still crowded.
If you are unsure, you can always call the informational phone number shared above to ask any questions you may have and to see if Kelly Park is at or nearing capacity.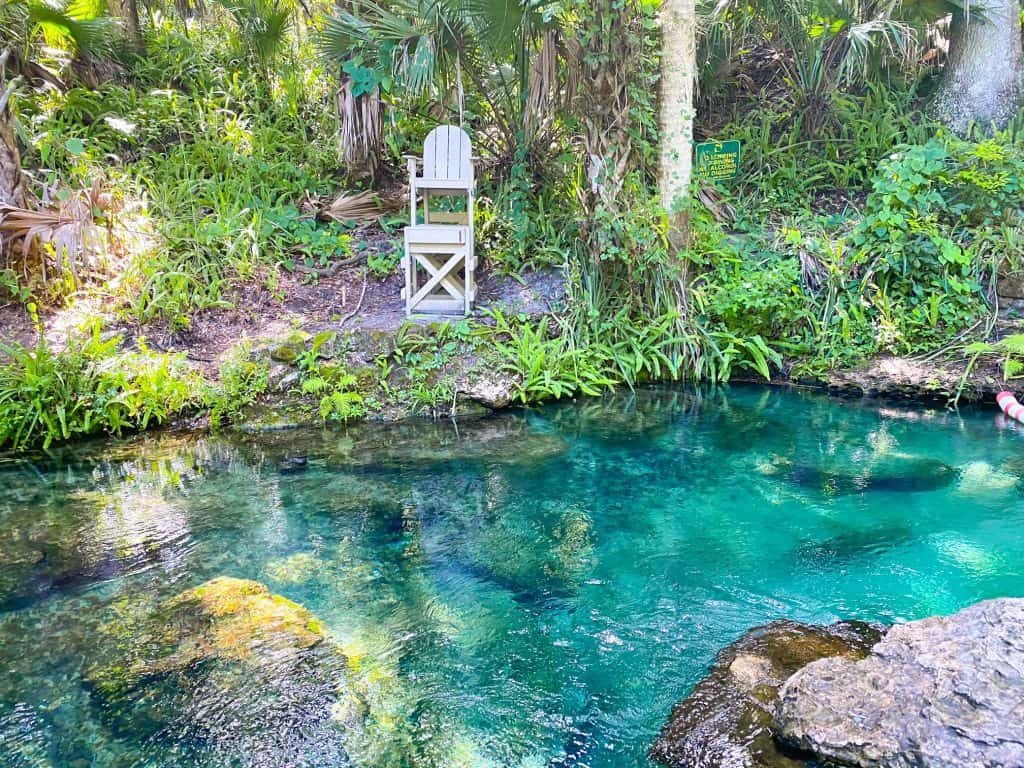 How Cold Is Rock Springs At Kelly Park?
Rock Springs is a constant 68F temperature all year round!
Rock Springs in Kelly Park is one of the few Florida springs that is 68F instead of the typical 72F that you see in other springs.
It is actually 4 degrees cooler than other springs in Florida.
No matter what time of year or what the temperature is outside, the water temperature at Rock Springs/Kelly Park is always 68F.
There are 26,000 gallons of crystal clear water that pump out from below the surface every minute!
This is what makes tubing Rock Springs the perfect natural lazy river in Florida.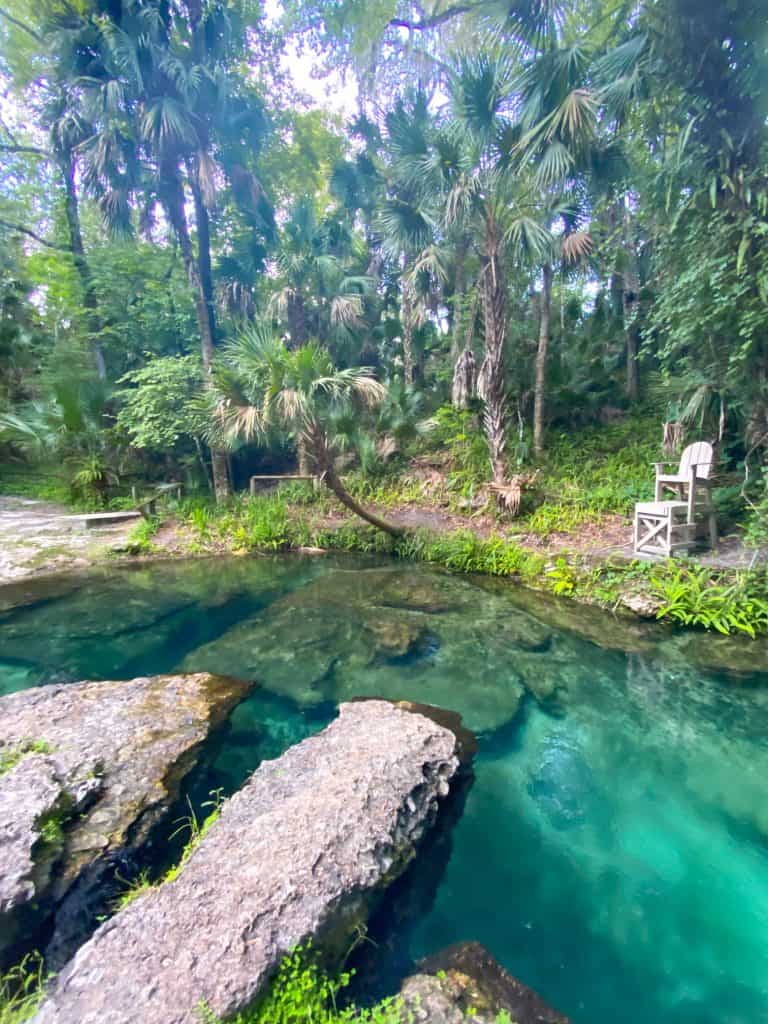 The Tube Run At Kelly Park
The Rock Springs tube run is actually quite fun and chill! It is one of the shorter tube runs at Florida springs and is only 3/4 of a mile long.
As a result, you can do the tube run multiple times! Most people stay for a few hours and do it at least 3-4 times as it usually only takes 20-30 minutes to complete.
The Rock Springs run in Kelly Park is pretty shallow for the most part so you can touch the bottom.
If you are not a strong swimmer, make sure to wear a life jacket, but rest assured that it is quite a relaxed tube run.
One of the best parts of the Rock Springs tube run is the fact that it is shaded in many parts.
This makes it the perfect Florida oasis because you are covered by the trees but just enough light seeps in so that you stay warm when you get out of the cool water.
You will put your tube in at the head of Rock Springs and then you will ride the run all the way to the sandy beach area at the end.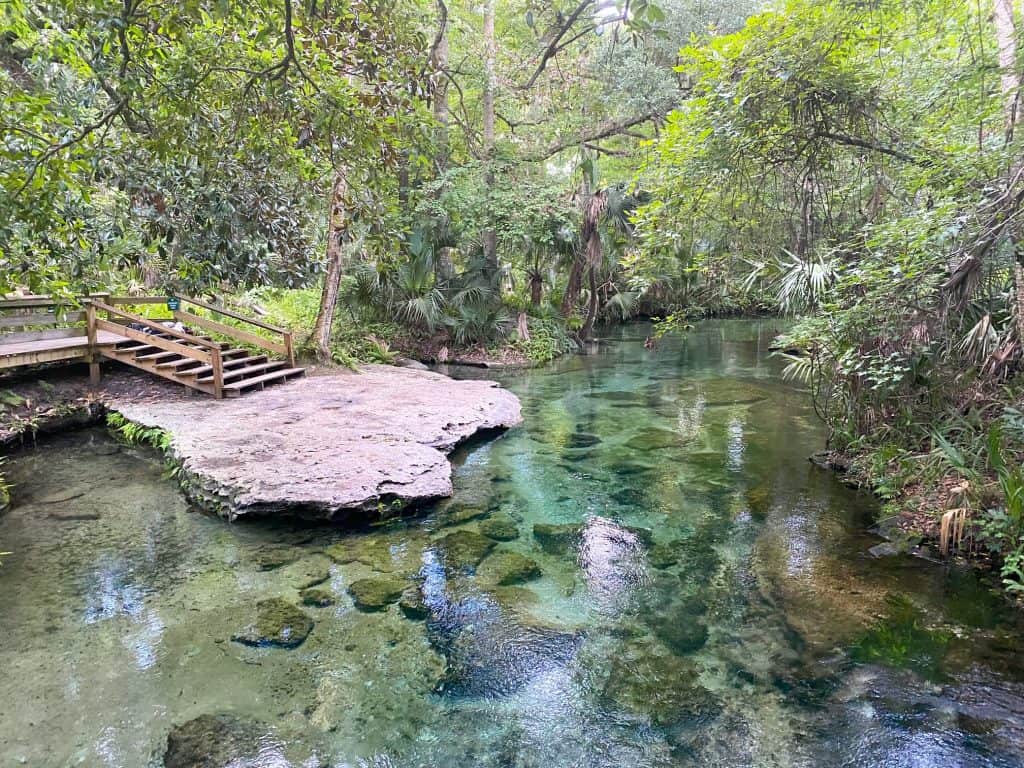 Finding The Head Of Rock Springs
When we arrived in Kelly Park, we looked for the head of Rock Springs for about 30 minutes before giving up and going back to the entrance and asking.
Keep in mind, when we visited, it was during the week and not crowded at all.
We recommend simply asking a ranger at the entrance for a map and instructions on how to find the Rock Springs headwaters.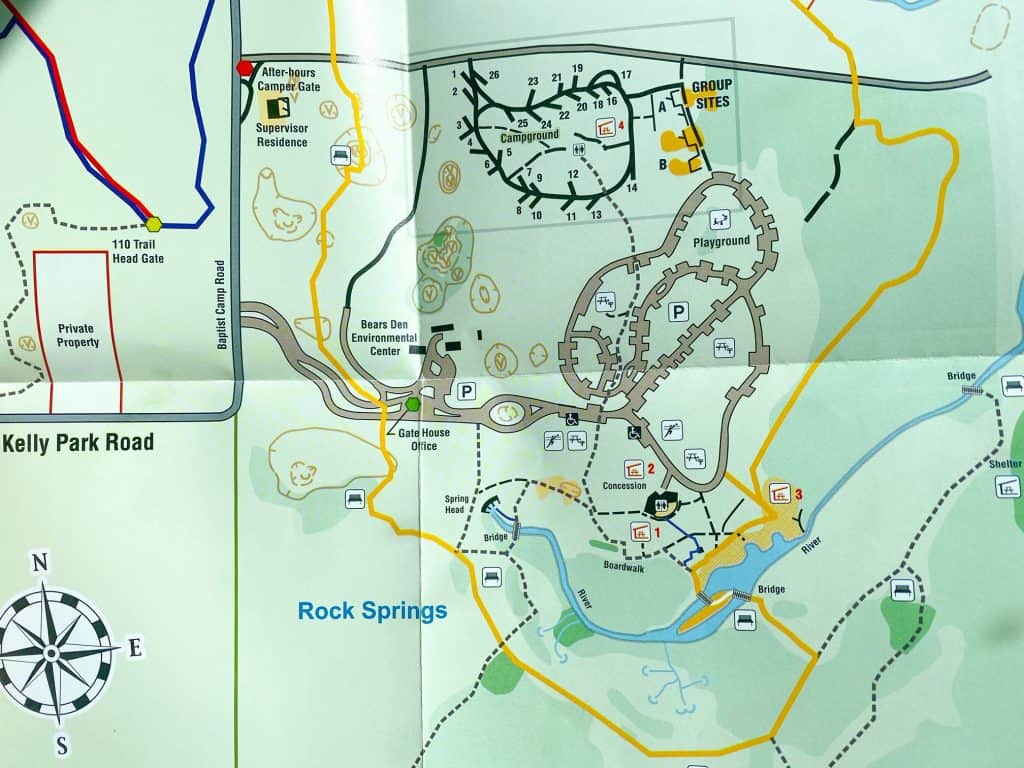 If you don't want to ask, it is pretty easy, but you can miss it if you don't know where to look!
As soon as you come in Kelly Park, the road will split around a roundabout type thing.
Immediately after that, you will see a volleyball net and picnic tables on your right. This is where you want to park!
You can see on the map that it says "Spring Head" as opposed to the wider end of the river in Kelly Park. That is the end of the run.
Once you park near the beach volleyball net, you can walk toward the trees and through a picnic area.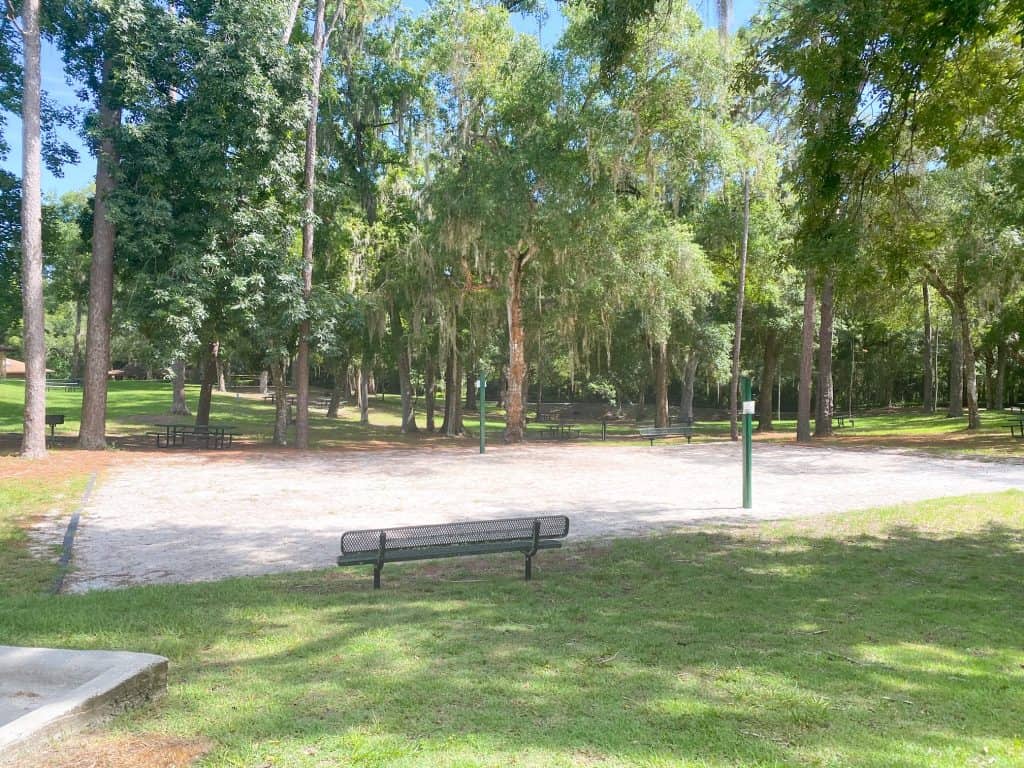 Then, you will see a boardwalk staircase that will take you down right to the headwaters of Rock Springs.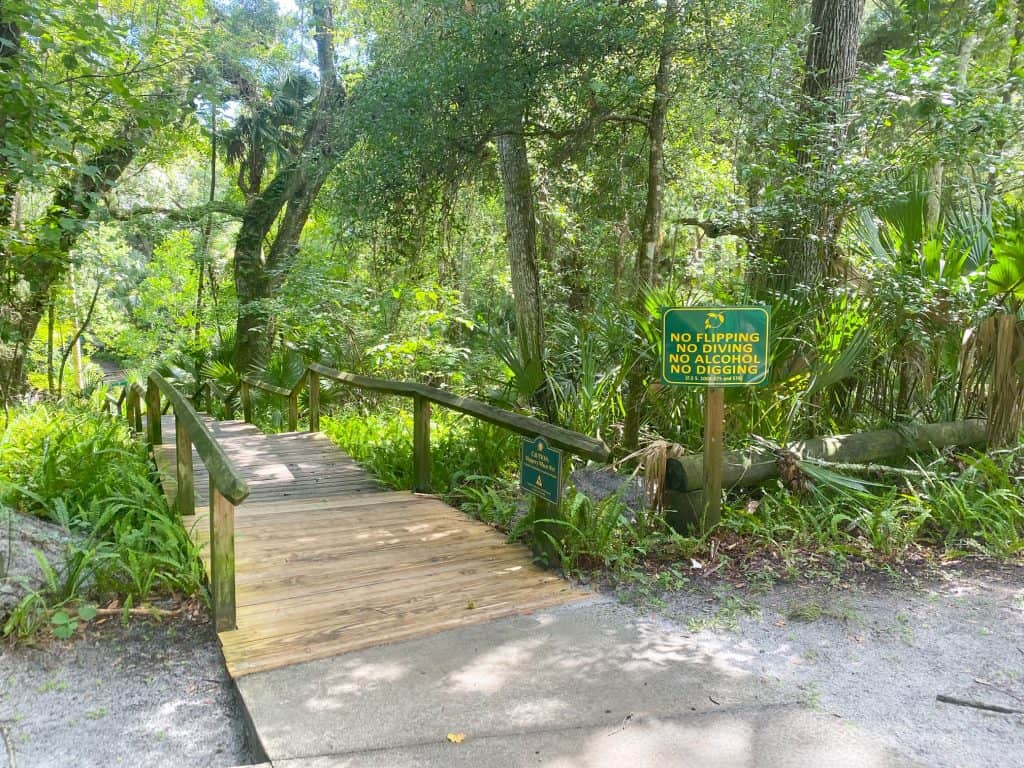 If you are visiting on a busy day, you probably won't need these directions. If you are not visiting on a busy day or are coming early in the morning or late at night, this is the place to be for the best views!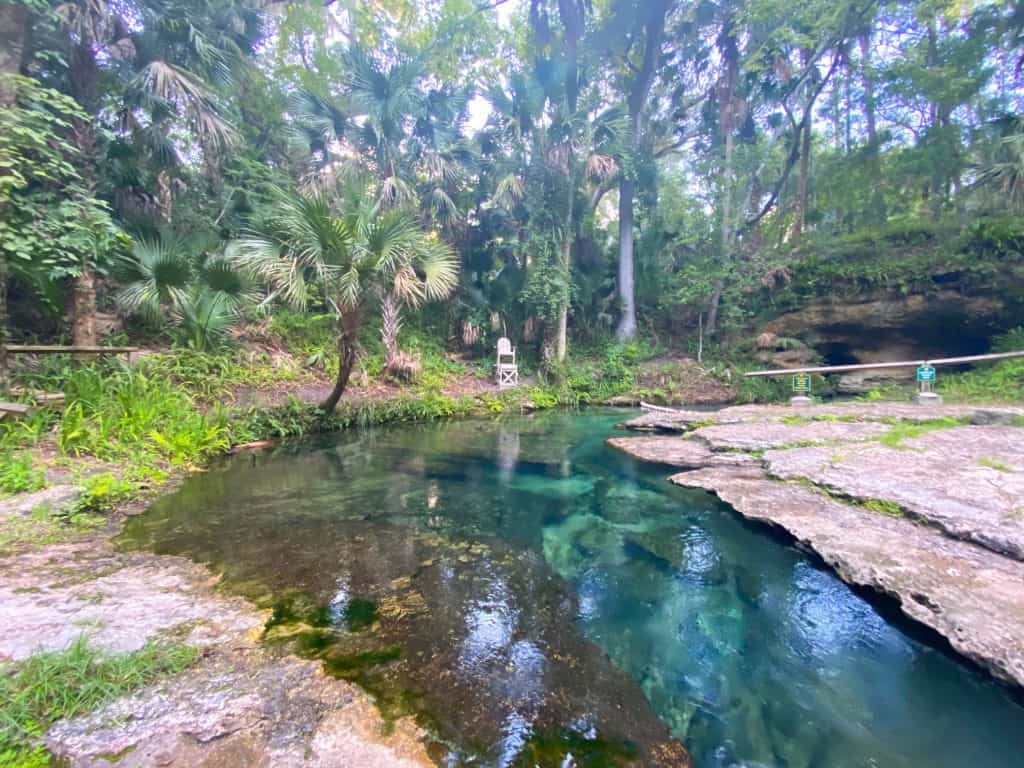 Camping At Kelly Park
Camping is a big deal at Kelly Park and it is actually quite affordable!
Campsites include grills, water, electricity, and a picnic table. You can book camping in advance and it sells out quickly, especially during busy season, so make sure you do this!
The cost of camping is $18 for Orange Country residents or $23 for visitors at a single campsite. This is per day. A single campsite can hold up to 2 tends and up to 6 people are allowed.
If you are coming with a family and want a larger campsite, the cost is $36/night for Orange County residents and $46/night for everyone else. A family campsite can hold up to 12 people with 4 tents.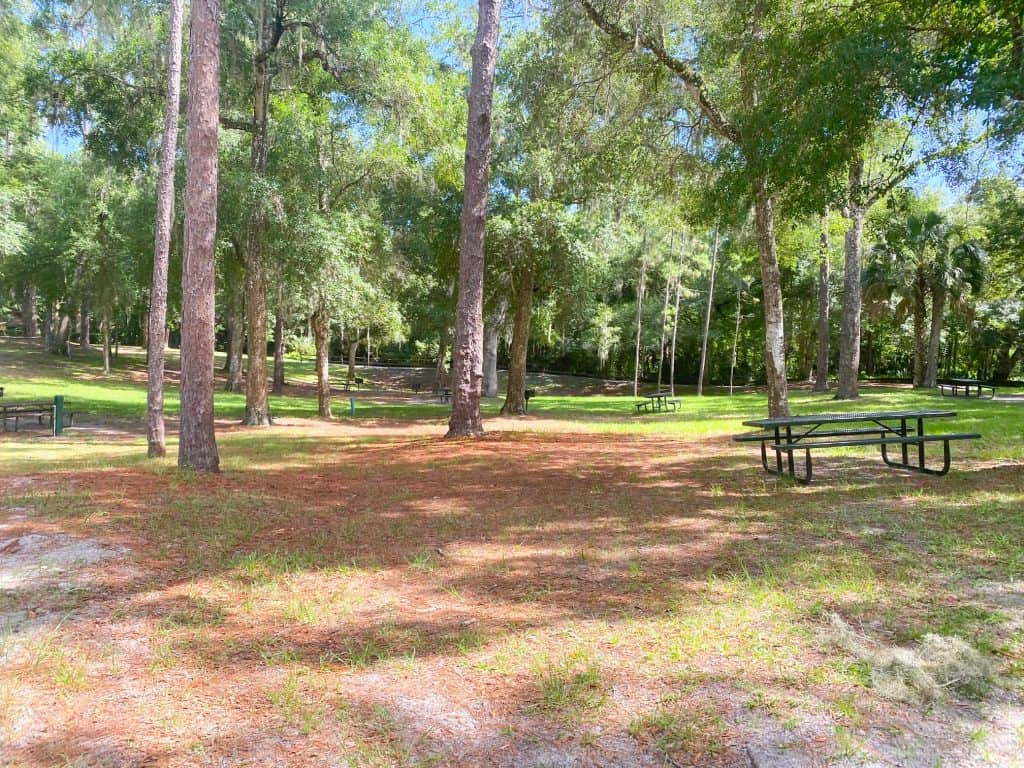 Animals At Kelly Park
There are TONS of animals and wildlife at Kelly Park and around Rock Springs! All you have to do is keep your eyes open!
There are huge signs throughout Kelly Park which explain what types of animals to look out for.
YES, there are alligators in Rock Springs, but usually further down the river than the tube run area.
Of course, the alligators are wild animals and can go wherever they want, so keep this in mind.
The park frequently reaches capacity, so we are sure no alligator in its right mind would really want to hang out with all that many people laughing and splashing around.
We saw on owl, plenty of fish, and deer, in a short period of time. There are also snakes, bobcats and more!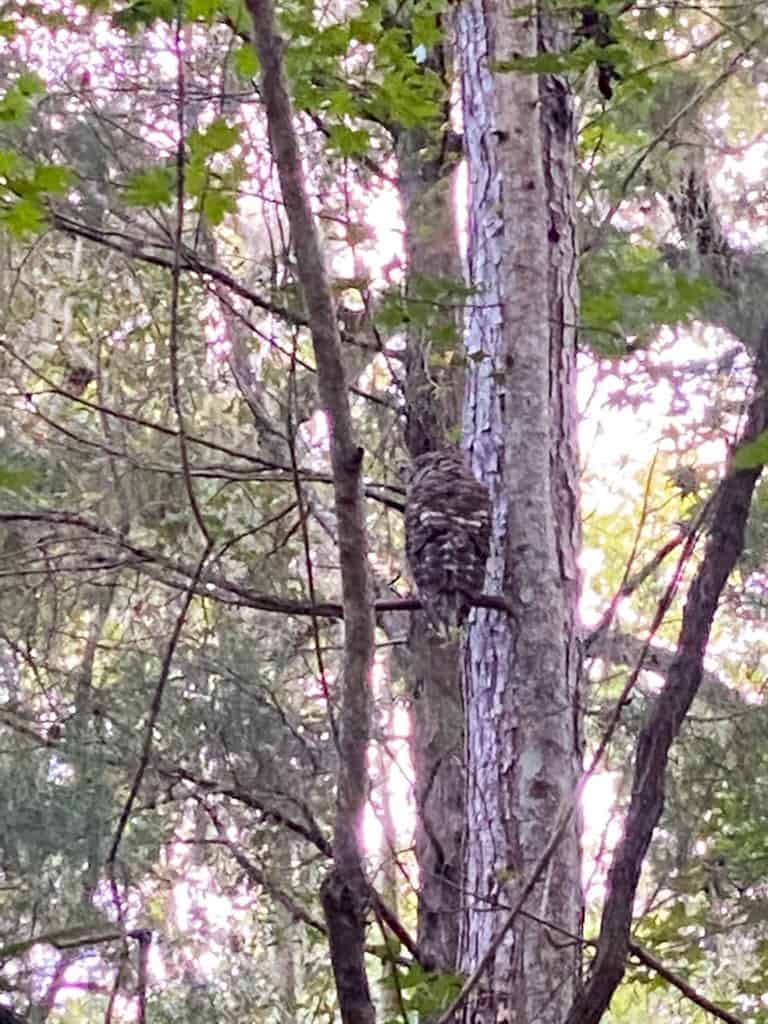 Quick Tips For Kelly Park And Rock Springs
Before you visit, there are a few things that you should know!
First, if you want to tube Rock Springs, you will have to bring your own tube or rent one from outside of Kelly Park.
There are no tube sales or rentals inside of Kelly Park.
Carrying your tube back up for the Rock Springs Run can be a drag as the tubes are on the larger side, so we suggest getting a pool noodle and riding around with the pool noodle.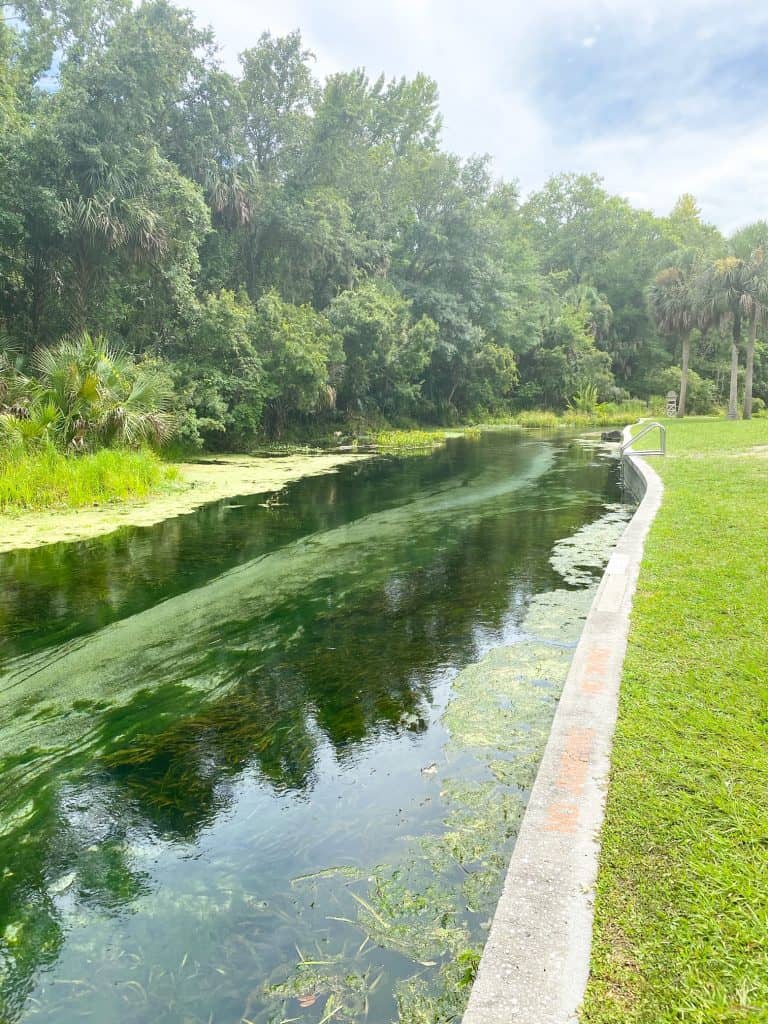 The pool floatie is the perfect way to hold yourself up in the water while being easy to carry back and forth.
If you find the 68F water too cold for you, then a tube may be the way to do it so that you can be outside of the water.
Keep in mind that kayaking or canoeing happens outside of Kelly Park down at Kings Landing.
You can rent kayaks from Kings Landing or you can bring your own and launch there. Make sure to check out our Tips For Kayaking Emerald Cut At Kings Landing.
There is no liquor or drinking allowed in Kelly Park or along rock springs. There are not very many springs in Florida that allow drinking and Ginnie Springs is one of the few and it has become a party spring.
Remember to always pick up your trash and throw it away! We want to ensure that Kelly Park and Rock Springs is better than when we arrived. Please do not litter and take care to throw everything away and pack anything out with you.
Finally, keep in mind that Kelly Park is massively popular, especially during high season, and can be closed by 9am!
Only 280 cars are allowed and once capacity is reached, the park is closed until further notice.
If you want to experience the beauty of Rock Springs, you must arrive to Kelly Park very early, no later than 9am!
We hope you enjoy the amazing oasis that Kelly Park and Rock Springs are in Florida! It is truly one of the prettiest places in the state!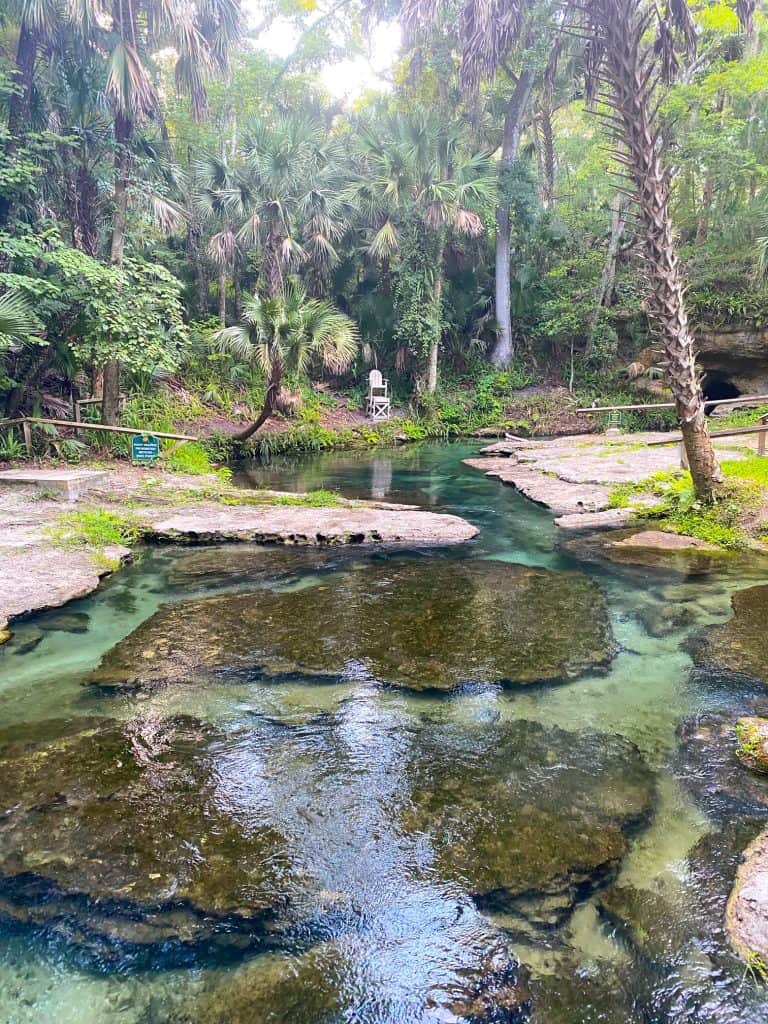 Did You Find This Post Helpful?
If so, we would love to keep in touch! We enjoy seeing photos and comments about your experiences in Florida! You can follow us on Instagram and we will repost your photos on our feed and comment too! Just tag us at @floridatrippers and hashtag #floridatrippers. We can't wait to see your travels!