Visiting one of the secret spots and hidden gems in Florida will provide a whole new outlook on what the sunshine state has to offer.
Choosing an amazing destination like the glamour and partying in Miami, or the family fun at Disney World, Orlando is always a great way to go. However, exploring something off the beaten path can be so much more rewarding.
Florida is one of the largest states in the country and offers different landscapes and adventures you won't see unless you search for them.
Luckily for you, we did the searching and we have found the best hidden gems in Florida
From old forts to expansive gardens, and Florida's tallest waterfalls, these are sights you and your family will want to experience then next time you plan your Floridian getaway.
Did You Find This Post Helpful?
If so, we would love to keep in touch! We enjoy seeing photos and comments about your experiences in Florida! You can follow us on Instagram and we will repost your photos on our feed and comment too! Just tag us at @floridatrippers and hashtag #floridatrippers. We can't wait to see your travels!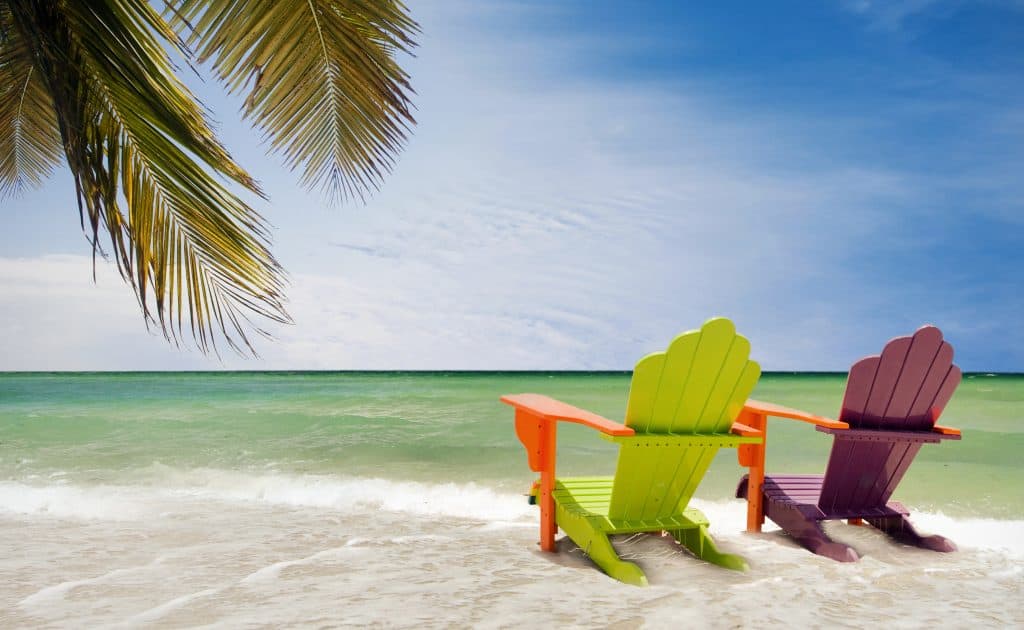 Florida Domes
Once the home of a millionaire seeking the serene beach life, these domes now provide shelter for birds and aquatic life off the Gulf Coast.
Years of erosion have slowly engulfed this structure and submerged the majority of it. The remaining "domes" are now part of the wildlife preserve and are accessible only by boat.
Located in Cape Romano, this hidden gem in florida is definitely a sight to see and provides a great glimpse into the power of nature.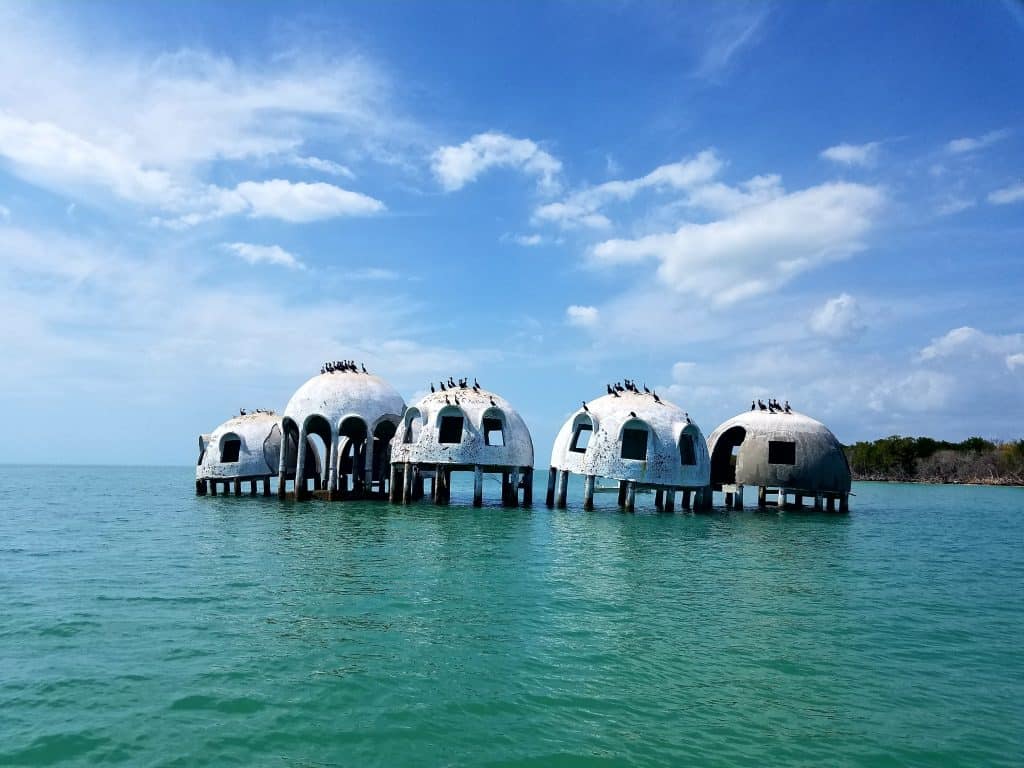 Florida Caverns State Park
Caverns? In Florida? This is not something most people would epect to see. However, It is definitely a gorgeous and engaging experience when enjoying Florida.
The Florida Caverns State Park provides guided tours through the caves! The rock formations are excentuated by LED lights creating a mesmerizing atmosphere for visitors.
You may even catch a glimpse of wildlife as the caves are home to some bats, and snakes!
This limestone cave system sits at 65 degrees so bringing a light jacket is recommended. Also, a pair of comfortable walking shoes as there are some stairs and narrow walkways.
The tour can last a little over an hour, but you will definitely take in some breathtaking sights along the way.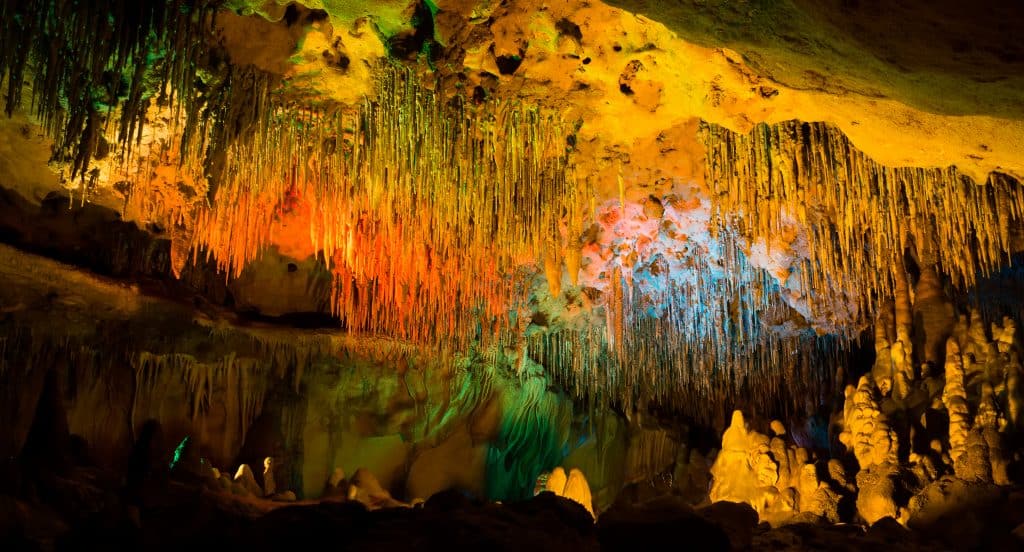 Bok Towers
Bok Towers is the epitome of a hidden gem in Florida. Located in Lake Whales in central Florida, this beautiful site is was originally a bird sanctuary and houses citrus groves and wildflowers as well!
The main attraction is the singing tower, which is home to daily concerts that show the power of sound that can resonate from the tower.
The tower sits next to the reflection pool which is a great place to see some koi fish and take in the luscious natural scenery.
The now 200-acre garden was originally founded by Edward and Marie Bok. Over the years it has grown into an expansive garden that is perfect for a relaxing day with the family.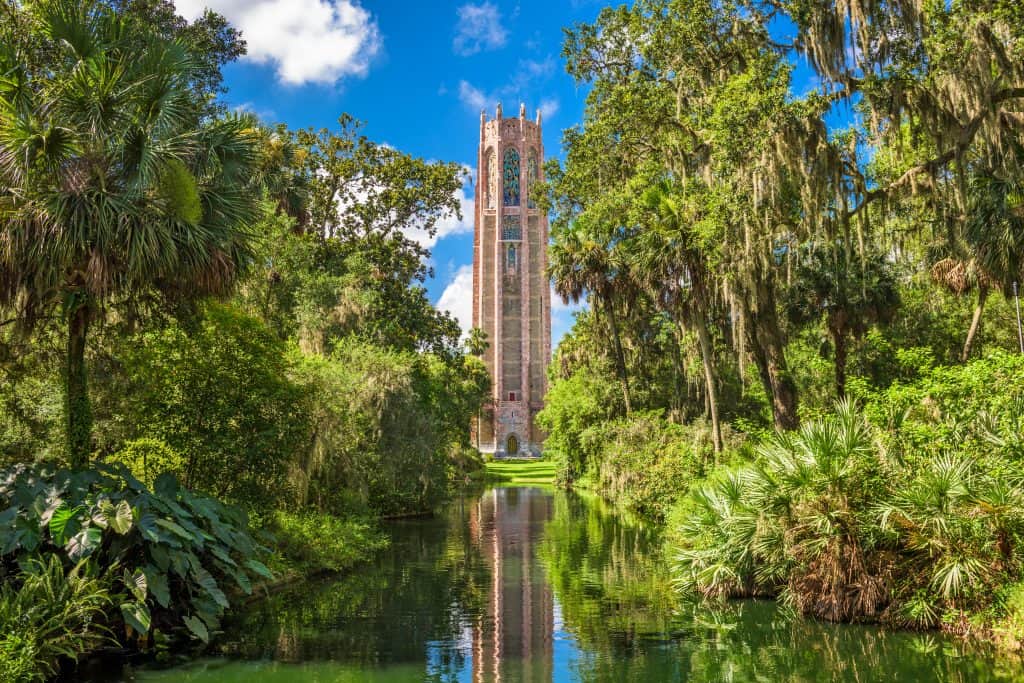 Falling Waters State Park
Let's be honest, did anyone know Florida had waterfalls? Well turns out it does and Falling Waters State Park is home to the tallest one!
Falling Water Falls stands at 74 feet tall and falls into a 20 foot a cylindrical pit. Obviously, this is not the tallest waterfall the surrounding foliage and landscapes make this a great destination for the family to take in some nature.
To better enjoy the falls, there is a boardwalk that takes you right to the edge of the falls.
The state park is filled with activities for the family! Nearby the falls there is a lake to take a dip in during the hot Florida summers and room for the whole family to enjoy a picnic in the park!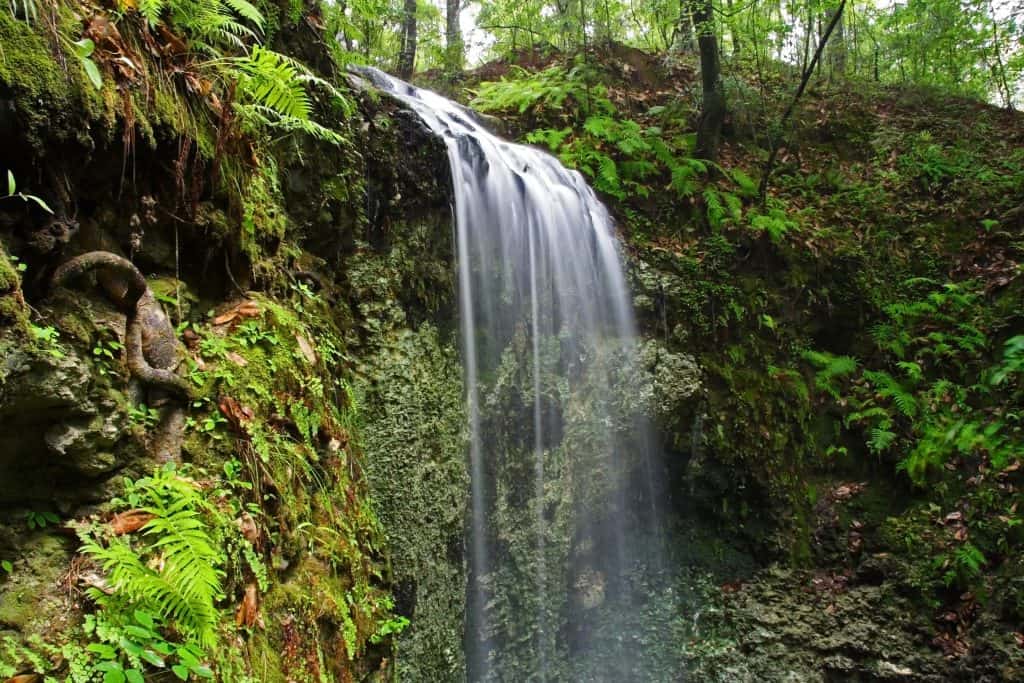 Blowing Rocks
Florida is home to some the most serene and picturesque beaches in the country. But blowing rocks is a unique habitat that includes mangroves, dunes, and stunning limestone rock formations.
Take a hike through the preserve and you will see some of the natural wonders the Nature Conservancy was able to preserve on this coastal stretch.
Many endangered wildlife call Blowing Rocks home for portions of the year! There a possibility you can catch of glimpse of sea turtles and manatees off the shore!
To capture the true wonders of this habitat, its best to visit at low tide. At low tide you can really take in the true extent of the limestone rocks that boarder the ocean!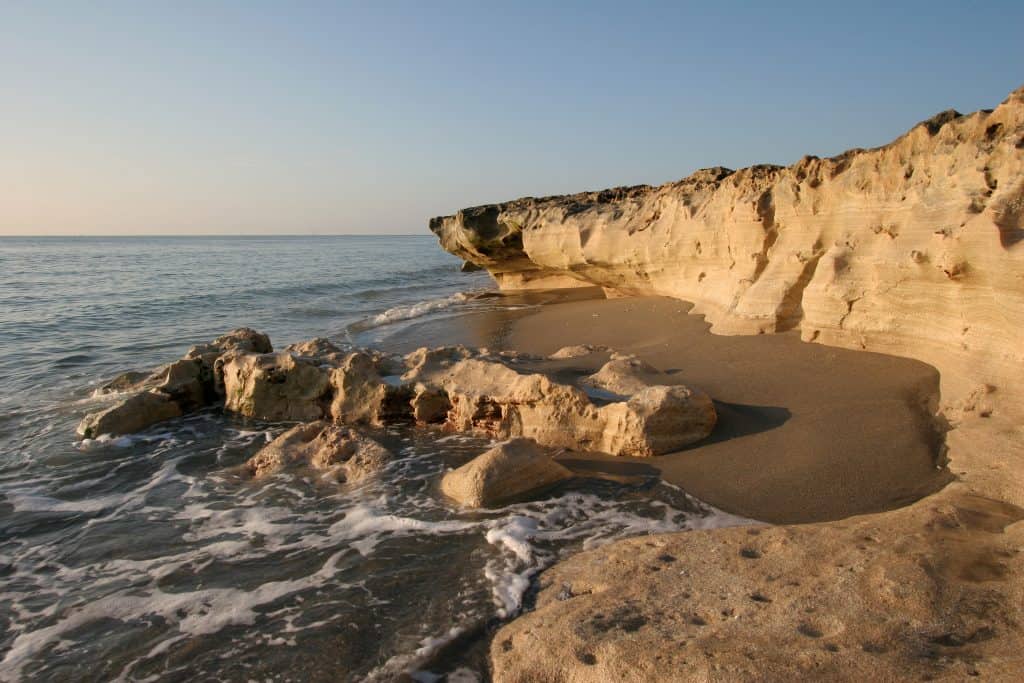 Dry Tortugas
The contrast of the historic fort and crystal clear water looks like something out of a Pirates of The Caribbean Movie.
Dry Tortugas are a great tourist destination that combines the beautiful coastlines of Florida with a splash of history. It is a cluster of 7 islands about 70 miles west of Key West.
The only way to access Dry Tortugas is by seaplane or ferry! The ferry will take about 2 hours, and once you are on the island you are free to roam for 4 hours to tour the fort and take in the beach activities!
Dry Tortugas is home to some great snorkeling exploration. The shallow crystal clear water has an abundance of fish and reefs! Snorkeling here is fun and accessible for all ages!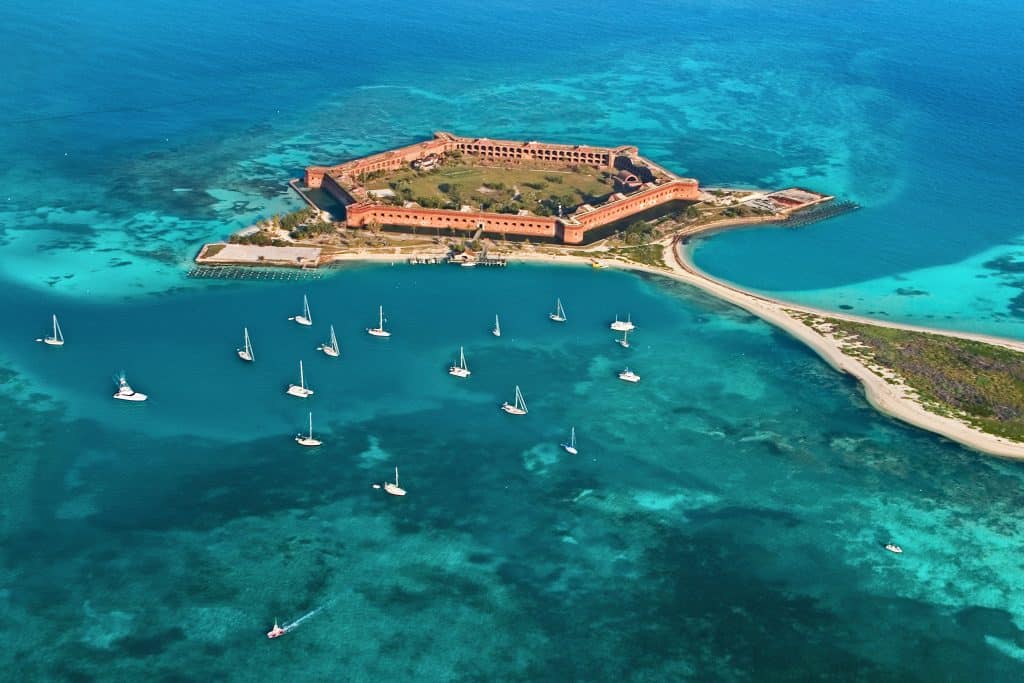 Weeki Wachee State Park
One of the best ways to take in the stunning Florida landscapes is by kayaking through the natural springs.
This is exactly the kind of activity that Weeki Wachee State park offers. Glide down the clam, cool and clear waters of the spring and be reminded of the relaxing lifestyle Floridians live.
Weeki Wachee is also abundant in hiking trails, swimming, and picnic areas for the family!
The water is a perfect 72 degrees most of the year so it's perfect for cooling off in the hot summer.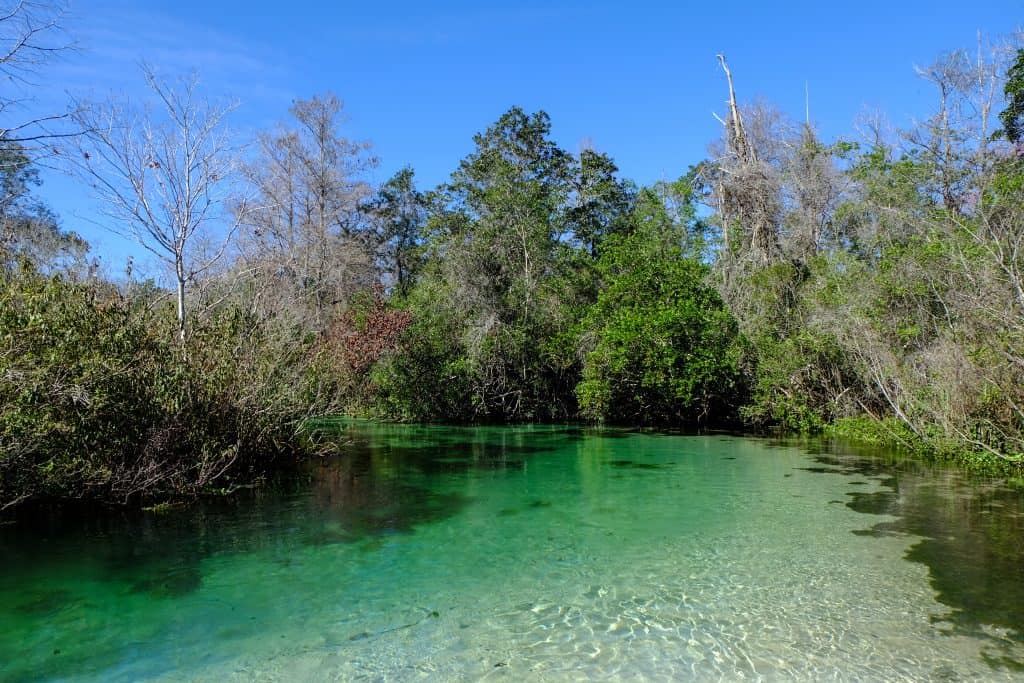 Ringling Museum
The Ringling Museum is not just centered on memorableia from the infamous circus. It is actually the state art museum of Florida. If you plan to visit, don't forget to check out our Tips For Visiting The Ringling Museum!
The grounds are beautiful and filled with artworks from different centuries and around the world.
Standing on 66 acres in Sarasota, this museum was once the estate of John and Mary Ringling. They were fascinated by varieties of art and filled the grounds with amazing works from around the world.
The couple also included stunning gardens to accompany the estate filled with sculptures and fountains.
It wouldn't be a Ringling Museum without a nod to the circus. There is a display that is dedicated to the props and gadgets that were once used on the road to entertain the masses.
If you are lucky enough to be nearby on a Monday, admission is free for all visitors! We highly recommend taking up this offer and experiencing this bit of history!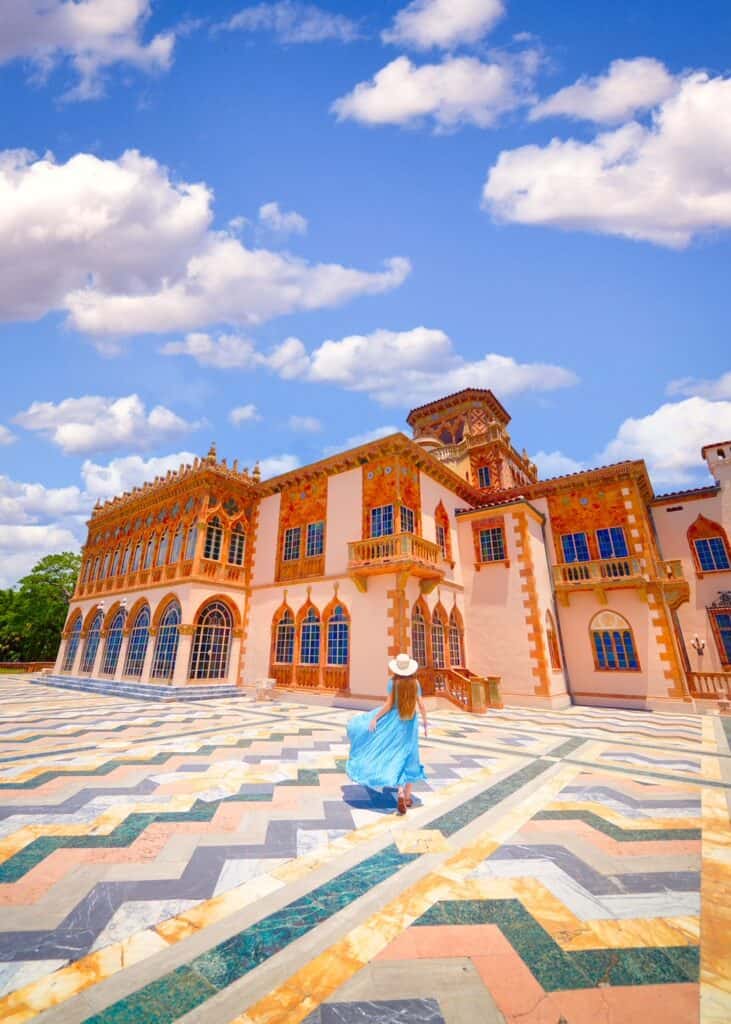 Molasses Reef
There is no place better to snorkel in the Keys than Molasses Reef!
Molasses Reef is located off the coast of Key Largo and can be accessed only by boat. Glass bottom boat tours are available for those who may not want to venture into the water, but still want to take in the beauty.
This is an excellent spot for diving and snorkeling in the warm Florida waters.
The marine life is abundant, so prepare to see everything from sea turtles to nurse sharks! Seeing the underwater ecosystem at work is mesmerizing and an unforgettable experience for the whole family.
If you can, make sure to go out to the reef during the week as the weekends have the ability to get crowded.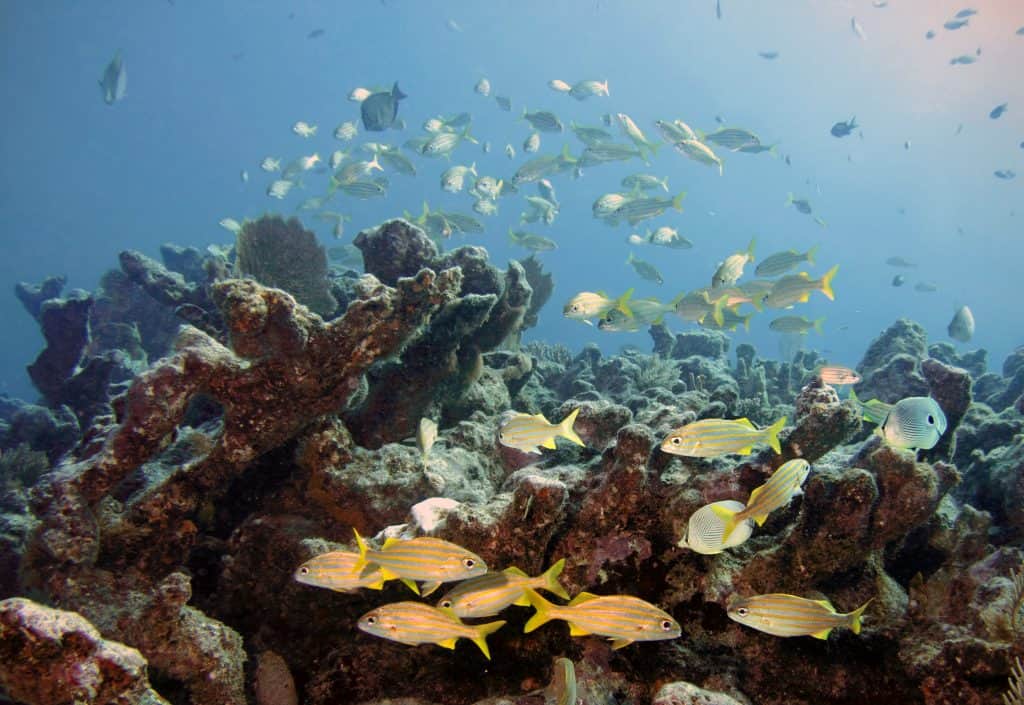 Devil's Den
Another diver's paradise, Devils Den is a unique experience in an absolutely stunning location and is literally a hidden gem in Florida.
Located in Wilston FL, this privately owned prehistoric spring has a natural sunroof allowing the sunlight from above to filter into this underground river.
The crystal clear water is filtered from the natural spring nearby keeping it cool at all times. These waters branch off into underwater river systems that you can explore with your scuba gear!
Devil's Den is for divers and snorkelers who want the experience of exploring in a unique environment. While you're submerged you will see that you are surrounded by fish and turtles that call this place home.
It is important to know that you can't enter Devil's Den without snorkeling or scuba diving. So, if you're ready to take a dip in the spring water don't miss out on this experience.
We have a list of Bucket List experiences in Florida for you to check out for your next visit!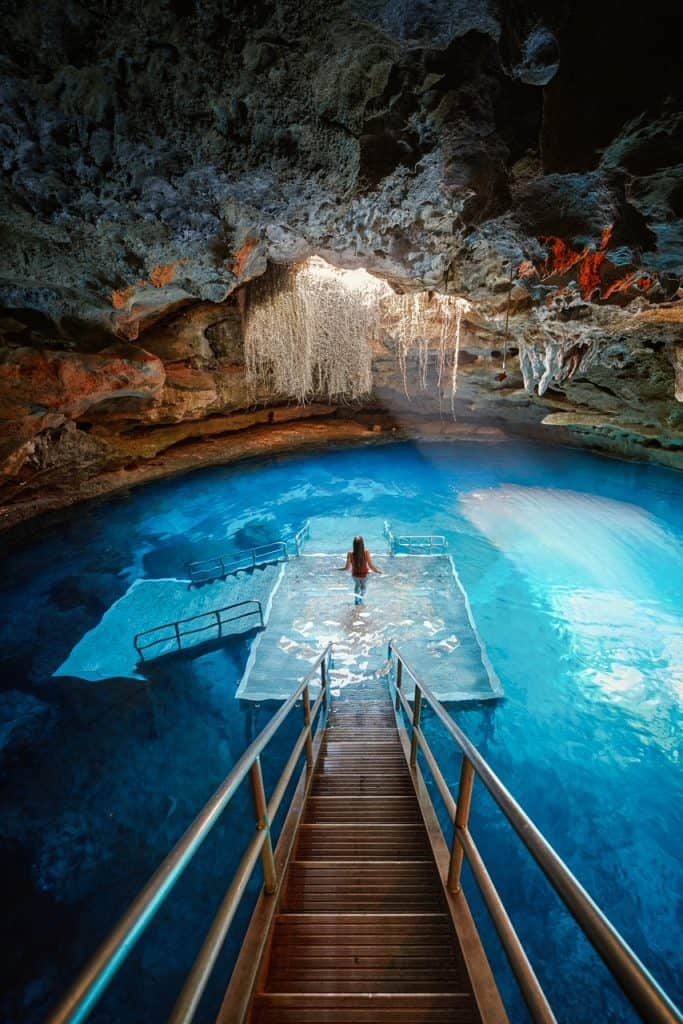 Caladesi Island
If you are visiting the Clearwater beach area and want to step away from the crowds, Caladesi Island is an amazing opportunity to enjoy a quiet white sand beach.
Paddle out in your kayak, or board the ferry for a relaxing day at one of the hidden gems in Florida, not far from Tampa!
Once on the island, feel free to explore the mangroves by way of the walking trails or kayak! Kayaks can be rented for $25 and are such a great way to see the island and maybe catch a glimpse of some fish!
When you're ready to hit the beach you will not be disappointed. During the summer months, the water can be in the mid 80's. This location is on the gulf so the waters are calm and relaxing.
While Caladesi Island is more secluded than the surrounding beaches, there is still access to the necessities on the island. Restrooms and a cafe are available for all beachgoers!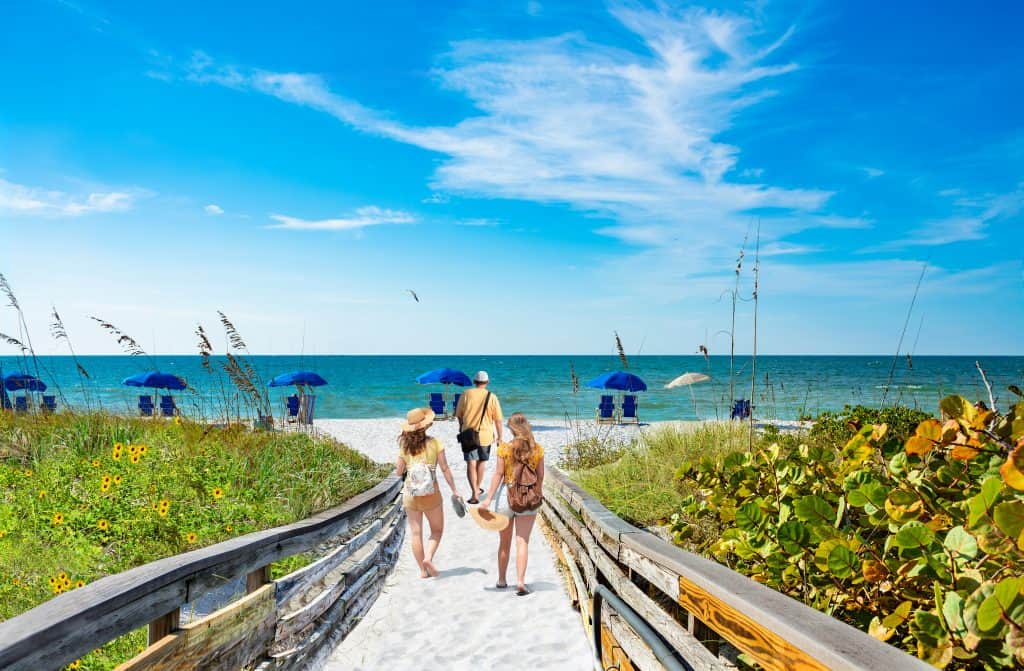 Ocala National Forest
Ocala National Forest has so many places to explore and each is just as stunning as the other.
Located in North Central Florida, this national forest stretches 673 square miles. It is abundant with wildlife, plant life and is extremely important to the ecosystem.
You can take your pick of springs to explore within the forest. Swim and canoe at Alexander, Juniper, or Salt Springs! Each has recreational areas for the whole family to enjoy! There are lakes as well to enjoy and make part of your trip.
Take one of the many hiking trails in the park and witness Florida's natural beauty. One trail in particular, the Yearling Trail, takes you past a giant sinkhole, a phenomenon that Florida is famous for.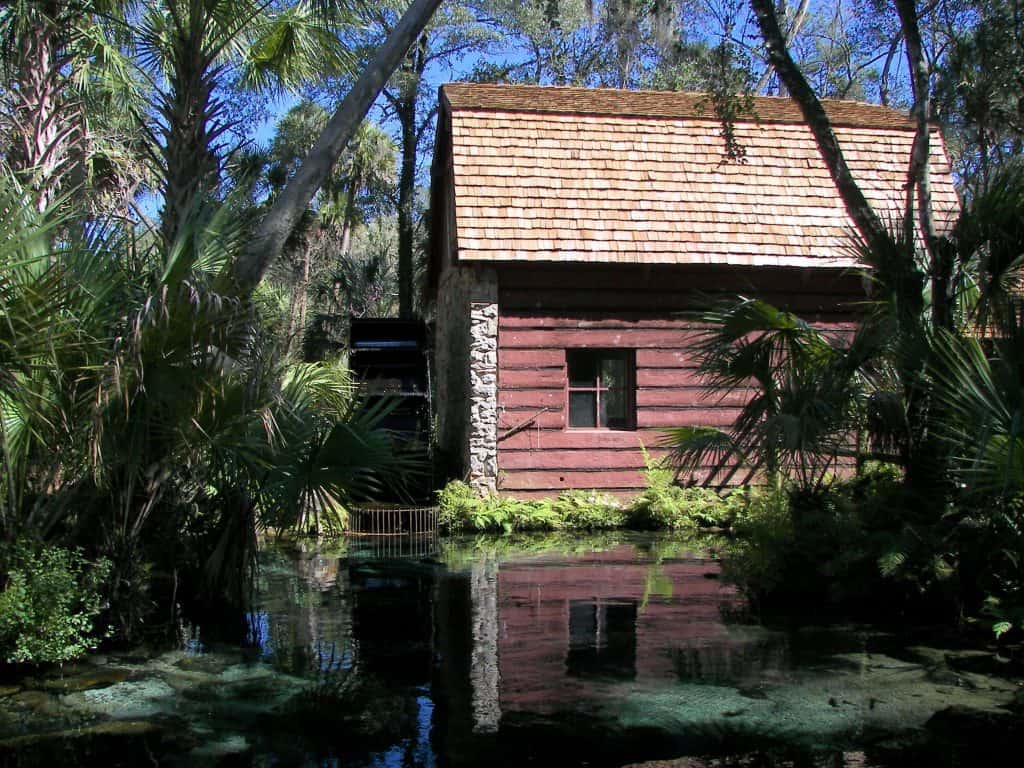 Ann Norton Sculpture Gardens
The home of renouned sculpture artist, Ann Norton has become a stunning tribute to her work and passion and sits snuggly in West Palm Beach, Florida.
The Ann Norton Sculpture Gardens are a tribute to her legacy and is filled with her artifacts and works of art. Inside the home, you will explore her art studio and many of the rooms that have been transformed into galleries displaying her work.
Outside, in the gardens, you will find the spectacular sculptures nestled within the trees and ponds throughout the garden. Ann wanted the sculptures to be a "surprise" to those who entered the garden. That is why they are nestled in with the immense amount of foliage.
The garden is home to many imported forms of palm trees and flowers from all over the world. So visitors get to be engulfed in rich culture and surrounded by exotic plant life all at the same time.
The sculptures concealed in Ann Norton's Garden are definitely some of the best hidden gems in Florida!
Cedar Key
Cedar Key is a charming small seaside town on the northwest coast and is one of the best hidden gems in Florida. This is the second oldest town in Florida and has an old historic charm that can't be overlooked.
The area is surrounded by amazing beaches, great fishing locations, and lush nature preserves.
The old charm of this town is undeniable! One of the best ways to see the town is to rent bikes and paddle through!
When you're beachside, you can rent paddleboards and kayaks as well for a relaxing day on the water!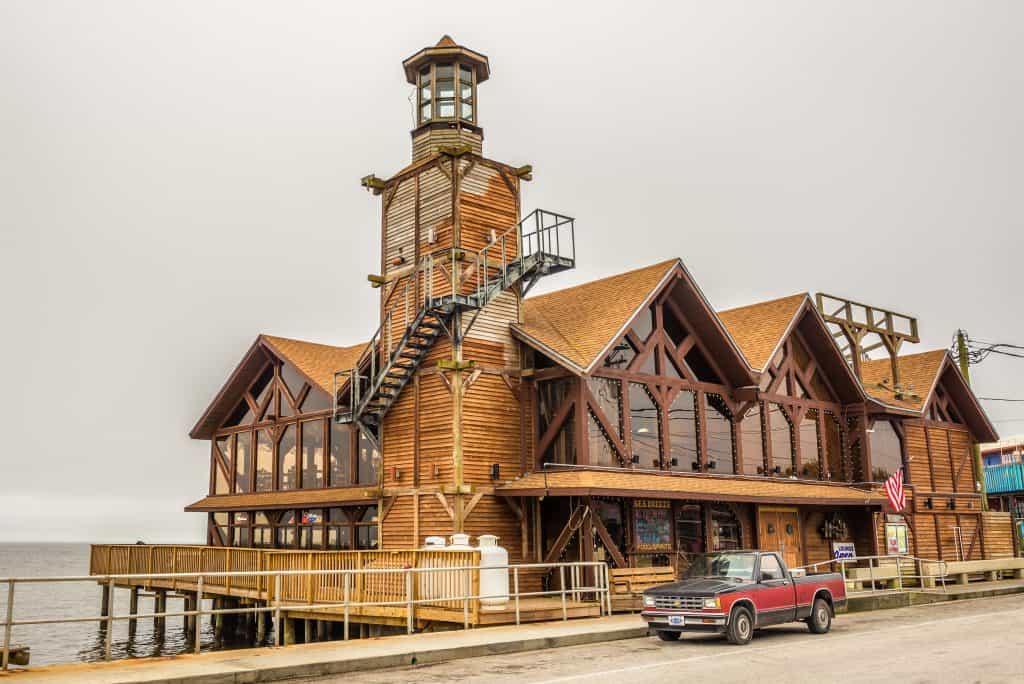 South Walton
This pristine white sand beach along the panhandle stretches 16 miles of coast and boasts some of the most scenic views in Florida.
South Walton is lined with coastal towns that range from luxurious to relaxing. This beachside stretch is perfect for families who want all types of experiences.
Rent bikes and explore how each town has its own personality! If you want to spend some more time on the water, rent some kayaks and explore the coastal dune lakes that are unique to this area!
Exploring the coastal dune lakes in South Walton is an experience that is hard to come by in Florida. Essentialy, they are lakes that sit just inland from the beach and provides the unique chance to experience both at the same time.
South Walton is the heart of scenic route 30A which provides beautiful views of the emerald coasts and hosts a number of great spots to explore! This truly is one of the best hidden gems in Florida! Take a look at some of our other picks for great Road Trips in Florida!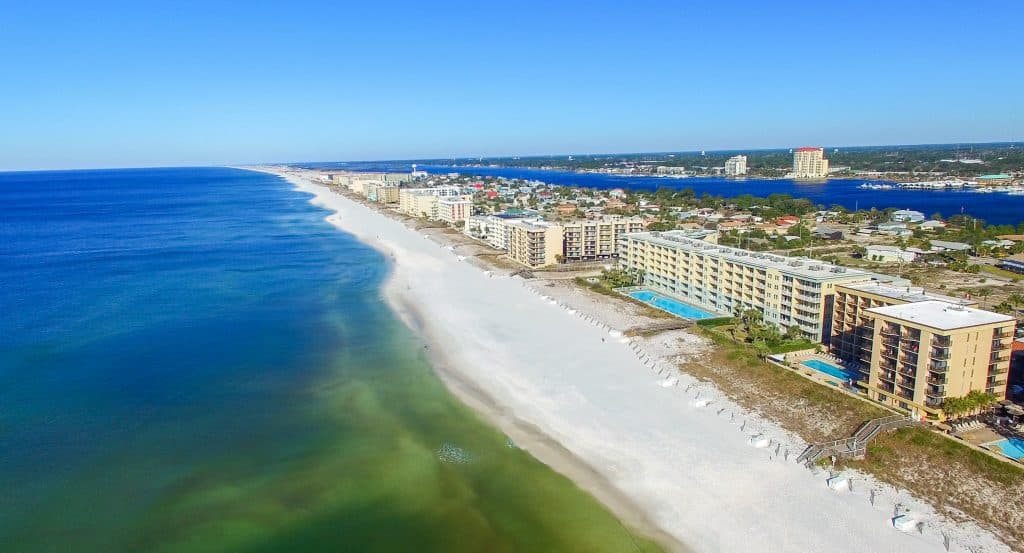 Beer Can Island
Explore a rare sort of beach experience on your trip to Beer Can Island. Located on Longboat Key, this island has a much more rustic quality than you will find at the surrounding beaches.
This beach is untamed and undeveloped which provides a stark contrast from the pristine hotel lined shores of most Florida beaches. The biggest attraction are the downed uprooted trees that line parts of the shore.
These trees are so attractive for photography and social media posts! This part of the beach has a very serene atmosphere and feels secluded for those who want a moment to take it all in!
Check out our Tips For Visiting And Finding Beer Can Island if you want to visit!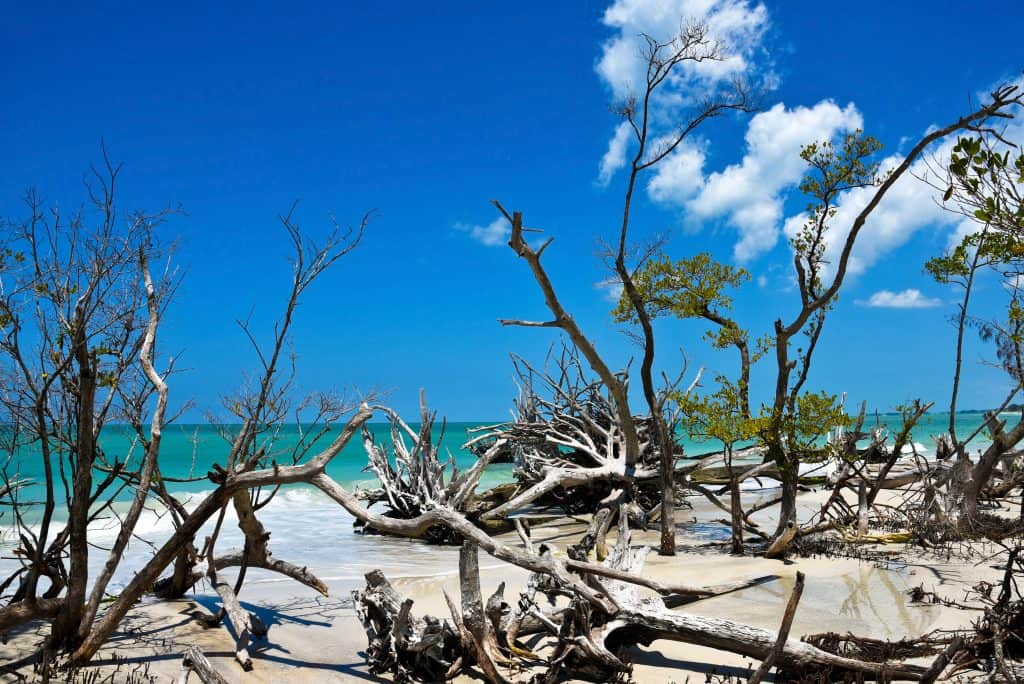 The best hidden gems in Florida all have something in common. They provide a unique perspective of Florida most visitors don't get to experience. Taking a cool swim in an underground river is not something most tourists expect.
Neither is finding yourself deep within a garden filled with exotic trees and world renounded sculptures.
Florida has so much to offer and if you find yourself and any one of these secret spots, you will not be disappointed!