Are you searching for one of the best things to do in Key West in December? Key West is such a fun place to visit in Florida. With its gorgeous weather, family fun activities, historic elements, and access to everything on the water, this location is the best way to spend a holiday season.
Planning your trip to Key West last minute?
Make sure to book ahead! Hotels and tours often sell out the closer you get to your trip. Here are our top picks for Key West!
Top Experiences And Tours In Key West:
Top Places To Stay In Key West:
If you're looking to do something different this Christmas, spend Christmas in the Key West! The light tours, museums, and just overall experience is not something you want to miss out on!
Before you plan your trip, make sure to check out The Best Times To Visit The Keys where we break down each month and talk all things weather!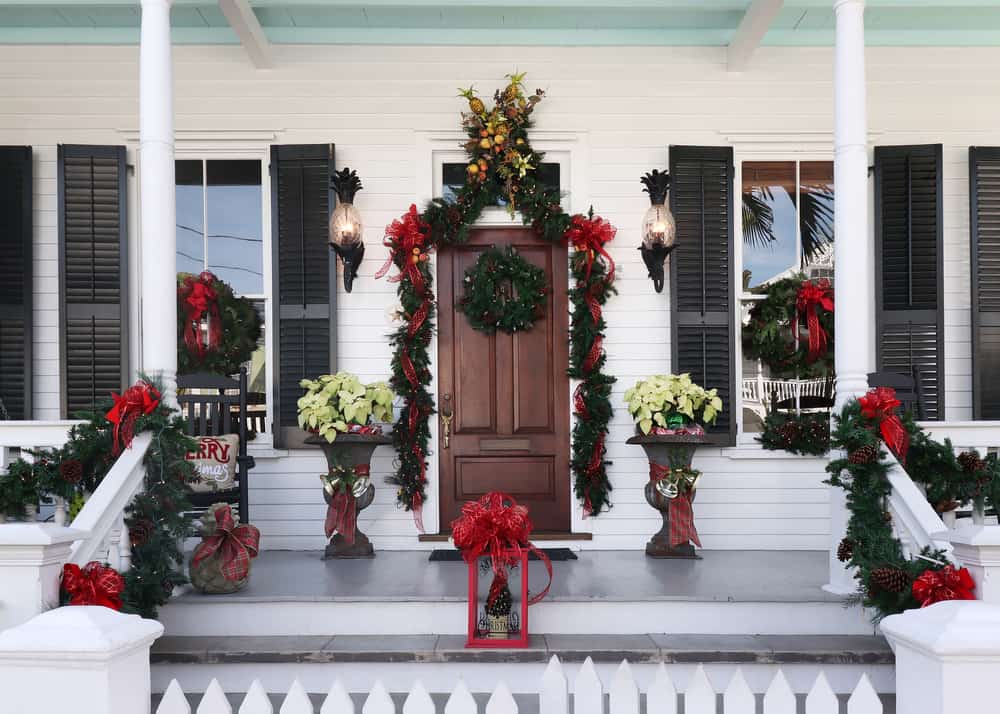 Is December Good Time to Visit the Florida Keys?
Yes! The beautiful thing about Florida in the winter is that there is no snow, so Key West in December is the perfect time to visit. It isn't too hot, or too cold. And better yet? The hot, oppressive summer months are gone, along with the chances for hurricanes! So pack your bag, travel, and go explore things to do in Key West in December. You won't regret it!
Make sure to check out our master post on the Best Time To Visit Florida including a breakdown by month, weather, events, and more!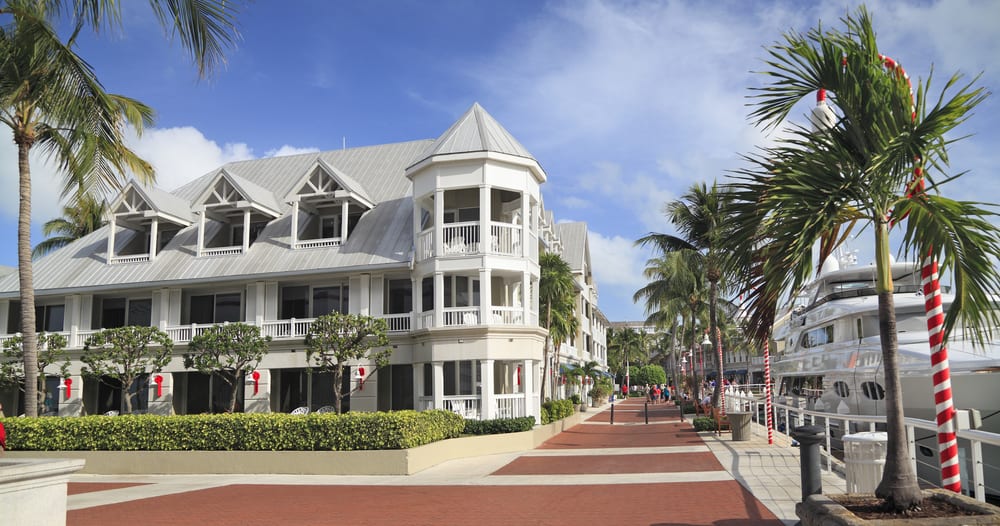 Key West Weather in December
Key West temperatures in December make celebrating Christmas in Key West magical! January is traditionally Key West's coldest month, with nightly temperatures dropping to 65 degrees. But during the day, it can get as warm as 89 degrees!
With these temperatures in mind, it is easy to see how wonderful Key West in December can be. Long gone are the hot summer months, and the risk for hurricanes and rainfall. During winter, and specifically in December, you will experience clear days with slight winds that are comfortable. Only on occasion will you have a humid day!
And don't worry, Key West temperatures in December are even comfortable enough to explore the beaches and go snorkeling and diving when the water is nice and clear! What a wonderful way to spend Christmas time!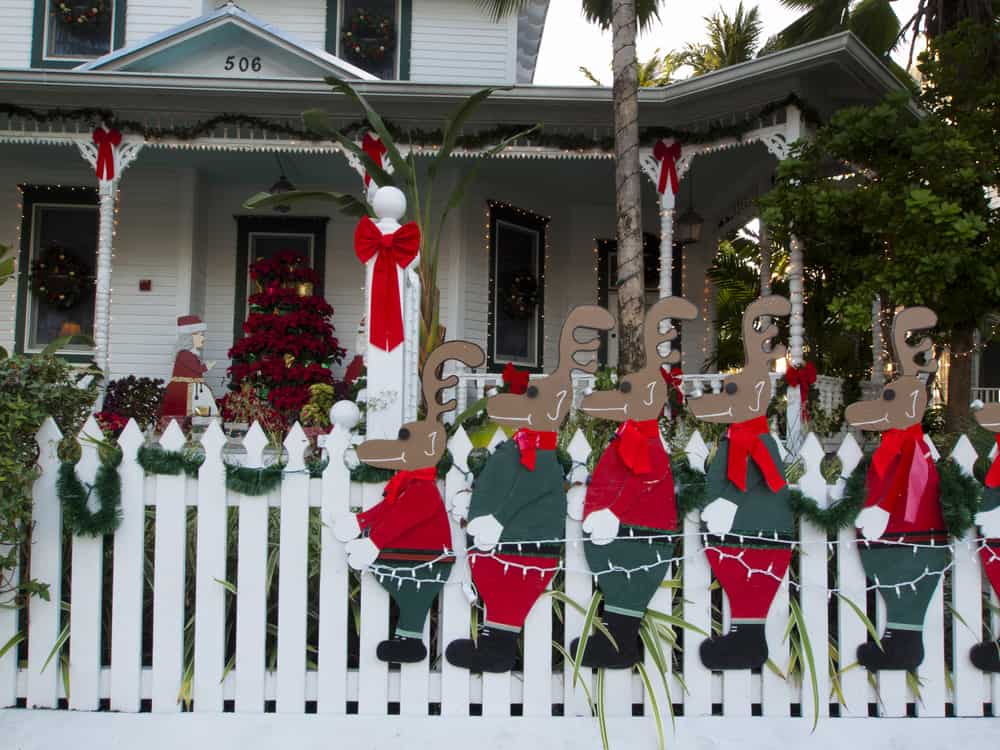 Best Things to do in Key West in December and Christmas
1. Visit the Key West Butterfly & Nature Conservatory
The Key West Butterfly and Nature Conservatory is a beautiful butterfly park that houses over fifty different species of live butterflies from around the world. This little trip is one of the best things to do in Key West in December, as it takes you through a climate-controlled, glassed-enclosed habitat on Duval Street.
Serene, calming, and beautiful, this conservatory also features colorful birds and allows you to be immersed in a tropical paradise. You can also spend some time in their unique gift shop, or the learning center, where you can get a rare close-up of a variety of live caterpillars as they feed.
From the plants to the animals, to just being able to relax, this conservatory is cheap (only $12.00!), and a great family-friendly thing to do in Key West in December!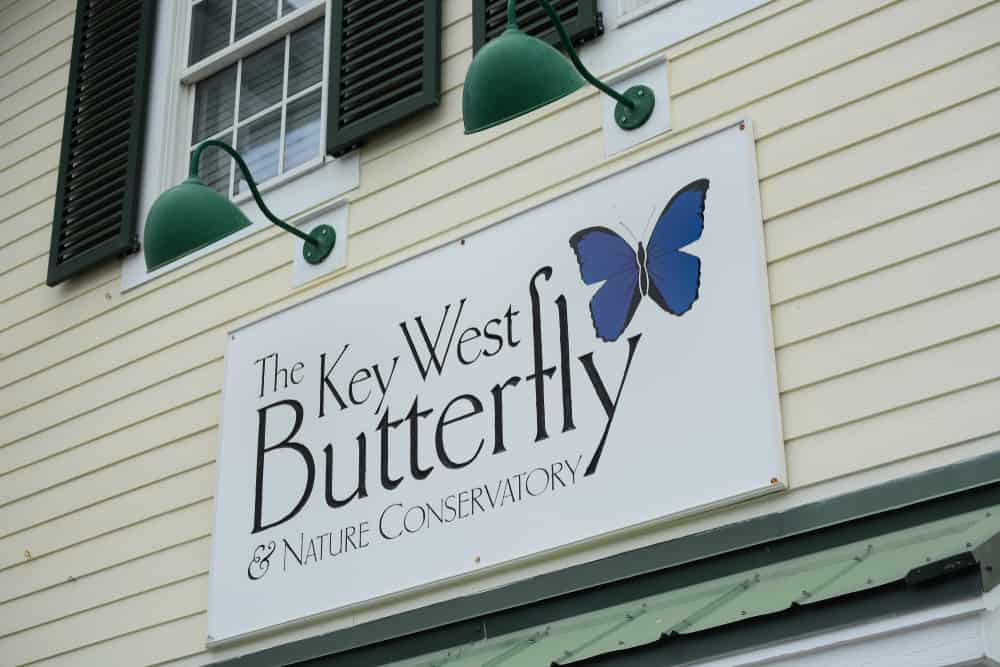 2. Explore Iconic Duval Street
The conservatory mentioned is just a 2-minute walk from Duval Street, which is definitely a must add to your list of things to do in Key West in December! This world-famous street is known as the "party epicenter" of Key West, as it is lined with a variety of cafes, shops, galleries, restaurants, and other attractions.
Make sure to check out the best bars and nightlife in Key West!
From bars to the waterfront Key West Hotel, this iconic street is a must-visit! And when you're spending Christmas in the Florida Keys, you know the weather will be great, so what better thing to do other than take a nice stroll down a street? This is truly one of the Best Places To Stay In Key West!
When looking for what do in Key West in December, most people will recommend going to Duval Street. This is perhaps the most popular destination of Key West, as it is the main drag of downtown. The street itself runs north and south from the Gulf of Mexico to the Atlantic Ocean.
Featuring tours and experiences, Duval Street is a perfect place to have fun! From a 2.5 hour pub crawl that takes you to all forty-three bars, or the Bone Island Haunted Pub Crawl that tells you the spooky history of this famous site, you will not be disappointed on Duval!
3. Witnessing the Key West Lighthouse
If you're a sucker for a classic lighthouse on the beach, look no further! The Key West Lighthouse is a great thing to add to your sites to see when visiting Key West in December. This lighthouse was the first lighthouse that was completed in Key West back in 1825– talk about historic! It had 15 lamps in total and a 15-inch reflector.
Although this lighthouse no longer is in use, you can still tour it and see the maritime heritage it represents while walking up the 88 steps to the top and exploring the keeper's quarters. As a fun fact: the first keeper of this lighthouse was a woman in 1848– which was nearly unheard of during this time! So make sure to check this historic place out!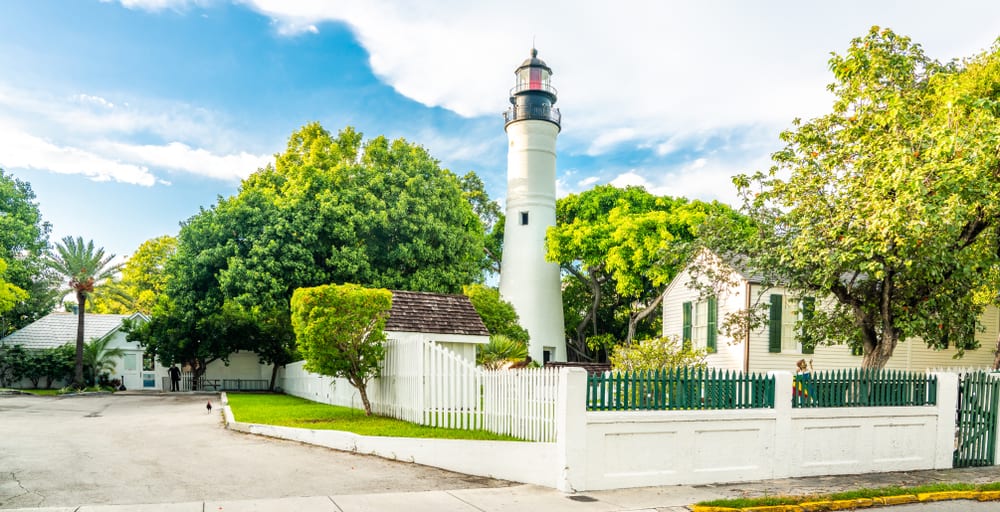 4. Stopping by the Southernmost Point of the Continental US
We've all seen the pictures: people in shorts and tanks or even bathing suits as they stand next to the concrete buoy in Key West that represents the southernmost point in the continental US. This is an iconic spot and something you should definitely go see when visiting Key West in December!
Located at the lowest latitude land of the contiguous 50 states, this buoy is only 18 feet above sea level, making it a breathtaking view for a clear-sky, winter day. But some of the best things about this location is not the landmark itself, but the things you can do around it!
During the winter we highly recommend doing a Southernmost Food and Cultural Walking Tour where you can discover the Cuban and Caribbean influences on Key West food and culture at 5 different locations. You can also do a History and Culture Walking Tour where you will see the southernmost area through the eyes of a local, talk about popular sites, and more!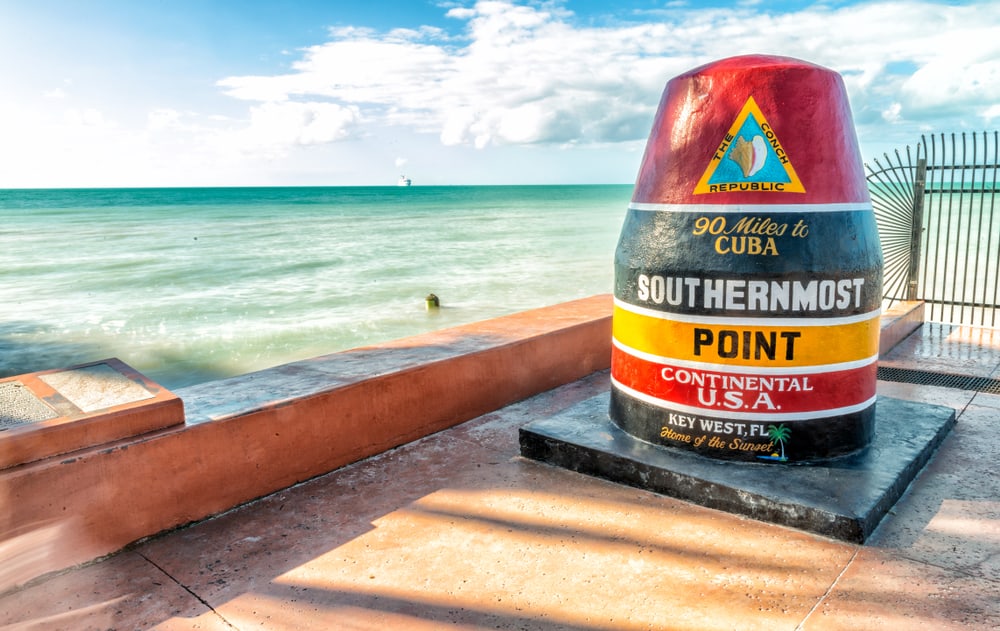 5. Step Back in Time at the Hemingway Home and Museum
If you are a bit of a literature and history buff, make sure to add Hemingway's home and museum to your list of things to do in Key West in December! In the 1930's the American writer Ernest Hemingway resided at this home, which is located right across the street from the Key West Lighthouse.
There are some unique features about this location including never before seen photos of Hemingway on his fishing adventures, a shop stocked with an assortment of mementos that are linked to Hemingway's life, and…. cats? That's right! Cats! Hemingway was gifted a six-toed cat by a captain, and how these genetically rare cats flood his home!
But one of the coolest things you can do in Key West in December is channeling your inner psychic. There is actually a Haunted Walking Tour that features a psychic guide who will help you speak with spirits that roam this island… and even more importantly, a famous ghost that resides in Hemingway's house! Will your EMF reader pick up communication with the author himself?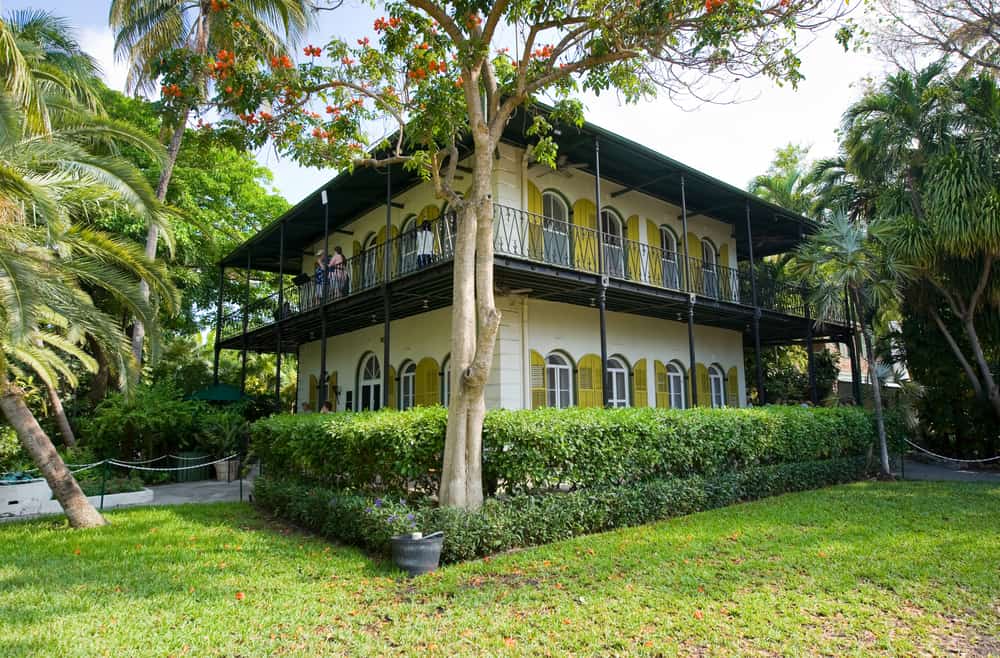 6. Shop and Stroll in Mallory Square
Mallory Square is the perfect place to visit when you are in Key West in December! This location is famous for the majesty of it's sunset views, and thus, you can go to the Sunset Celebration when visiting the Florida Keys in December!
Here, locals and visitors applaud the sun as it sinks below sea level, but you can also experience live music, stunt performers, comedy shows, and local vendors at the square itself. And even if you arrive before the sunset, you can pass some time by shopping at the square or eating at famous restaurants! December in Key West could not be more perfect than at an iconic sunset spot.

7. Participate in a Variety of Water-sports
The best thing about visiting the Florid Keys in December is that you don't have to worry about snow, so you can still be doing all the Florida and summer-themed things! There is no better thing to experience Key West in December than being on and in the water.
Despite Key West not having super accessible and large beaches, this island life is perfect for snorkeling, diving, and other water sports. Take a tour and double-dip at a 2 Stop Reef Snorkeling Trip or even kick it up a notch with a Breakfast Snorkeling Tour that includes mimosas!
Your exploration of Key West in December doesn't have to be in the water, though! Instead, take a Sunset Sail with live music, or load a Glass Bottom Boat to cruise by reefs and experience the life below the sea in a different way. No matter what you decide to do on the water, you can't go wrong: the Florida Keys in December are perfect for being one with the ocean!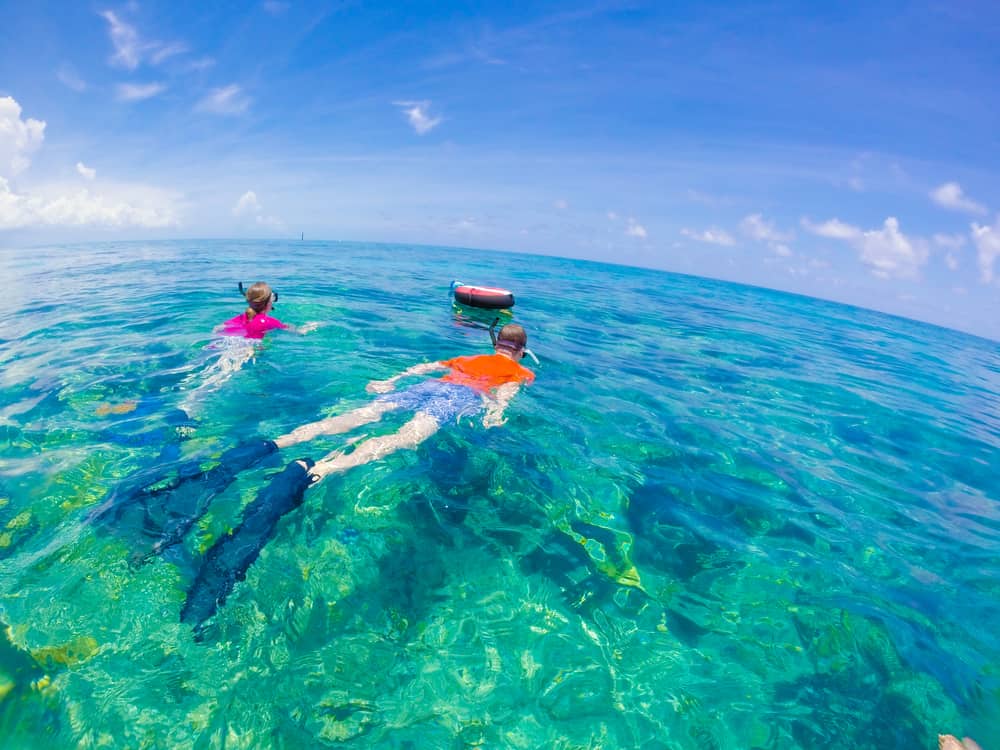 8. Dry Tortugas National Park Is Something You Don't Want to Miss In Winter or Summer!
Dry Tortugas is a National Park that is composed of seven islands plus protected coral reefs. People come from all over to dive here and explore the beaches and see animals first hand- it is truly one of the best things you can do in Key West in December!
Although these islands are slightly west of Key West, it is the place to visit when in the Florida Keys in December. The seven islands this national park is composed of includes access to Forts, Shipwrecks, lighthouses, famous reefs, and nesting sites for turtles and seabirds.
This may be one of the locations that you have to spend a lot of time at! Don't be shy to pack a full day's worth of adventures here, as the beaches, forts, animals, and history is ripe with opportunity. You don't want to miss this spot when visiting Key West in December!
Don't forget to check out our list of the Best Florida Keys Beaches for some more ideas of places to visit!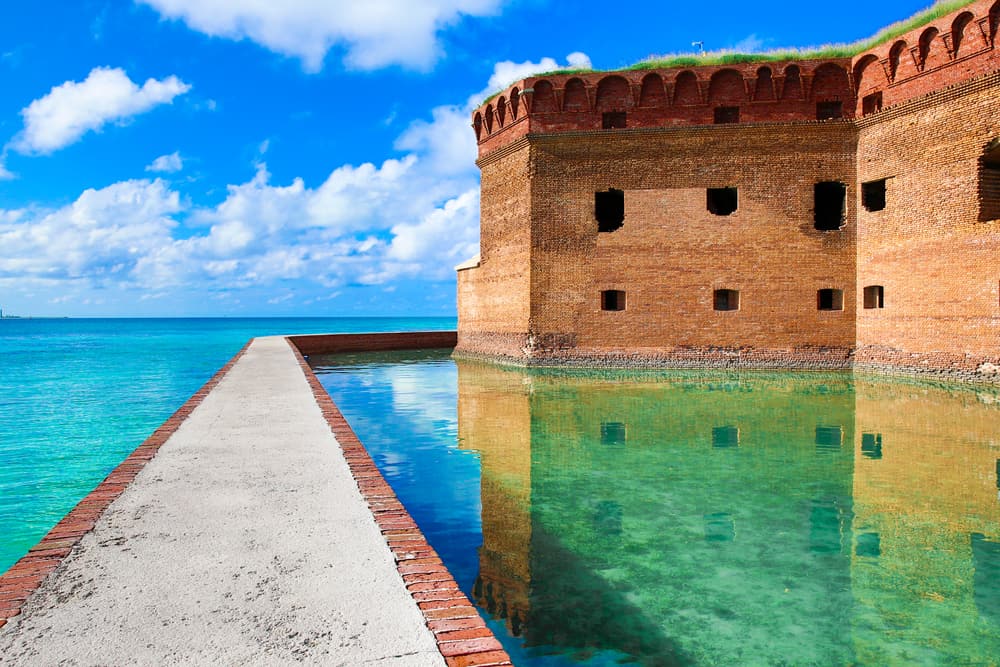 9. The Key West Aquarium is A Must See Considering the Island's Maritime Charm.
The Key West Aquarium has been a top-rated attraction since 1946, so why wouldn't you visit it when you are in Key West in December? Located in Mallory Square, this public attraction is family-friendly, educational, interactive, and immersive.
You can dive into fun at this attraction with touch tanks, shark exhibits, seeing jellyfish upfront, or even taking a sea turtle conservation tour. The beauty about this aquarium stems from its location: because Key West is right on the water, it only makes sense that their aquarium thrives! Don't miss this opportunity– visit the aquarium and say hi to our fishy friends when you're visiting Key West in December.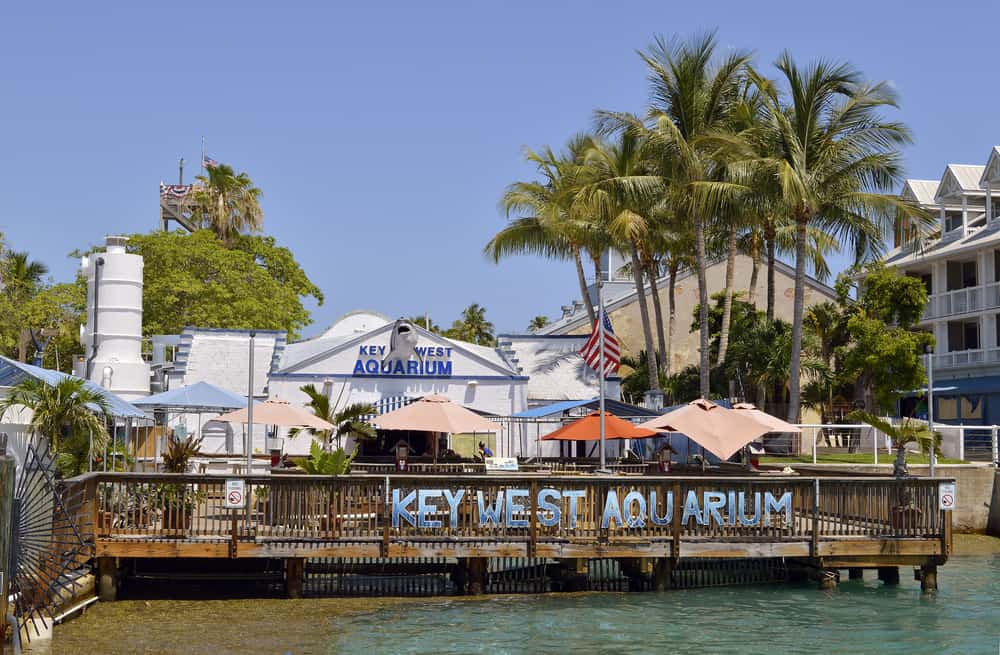 10. Historic Inns' Holiday Tour are Perfect for Key West in December with all their Lights!
If you are visiting Key West in December, of course, you want to go and celebrate Christmas in Key West!! If you weren't already away, Key West is known for its charming architecture and history, which is why so many people travel to the Southernmost City.
During Christmas in Key West, Key West takes full advantage of Christmas time and all of their grand hotels and their quaint bed-and-breakfasts go all out!
There are Christmas lights galore! Because of how popular and grand these lights have become, the hotels and historic inns now offer tours where you can walk through the festive lights and explore. Is there a better thing to do in Key West in December?
This is one of our favorite places to see Christmas Lights In Florida!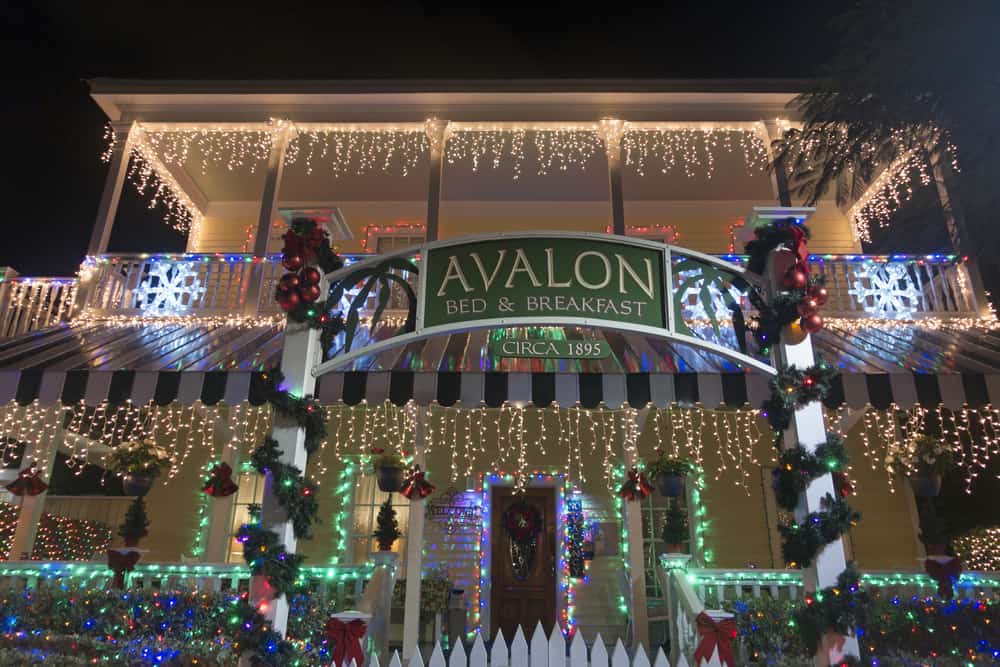 11. The Lights Tours at the Train, on the Boats, and more are a Must See!
Speaking of lights, we want to make sure that it is important to note that not just the hotels light up and decorate in Key West in December– the trains and boats do too! On select nights in December, the Conch Republic Train Station becomes part of an electric Holiday Lights Tour. Here you can indulge in cookies, cider, and caroling before boarding a train and cruising through Key West!
And if you are in Key West in December, you probably like no traditional ways to celebrate Christmas, so make Christmas in Key West special with water-sports tours and annual boat parades too! The custom designs on these boats are unique and extravagant, bringing in thousands of viewers and a panel of judges.
And when seeing these boats makes you want to get back on the water, you can join the Christmas Ultimate Adventure by relaxing on the beach, participating in fun water sports, and celebrating Christmas in Key West with a traditional holiday meal on a catamaran!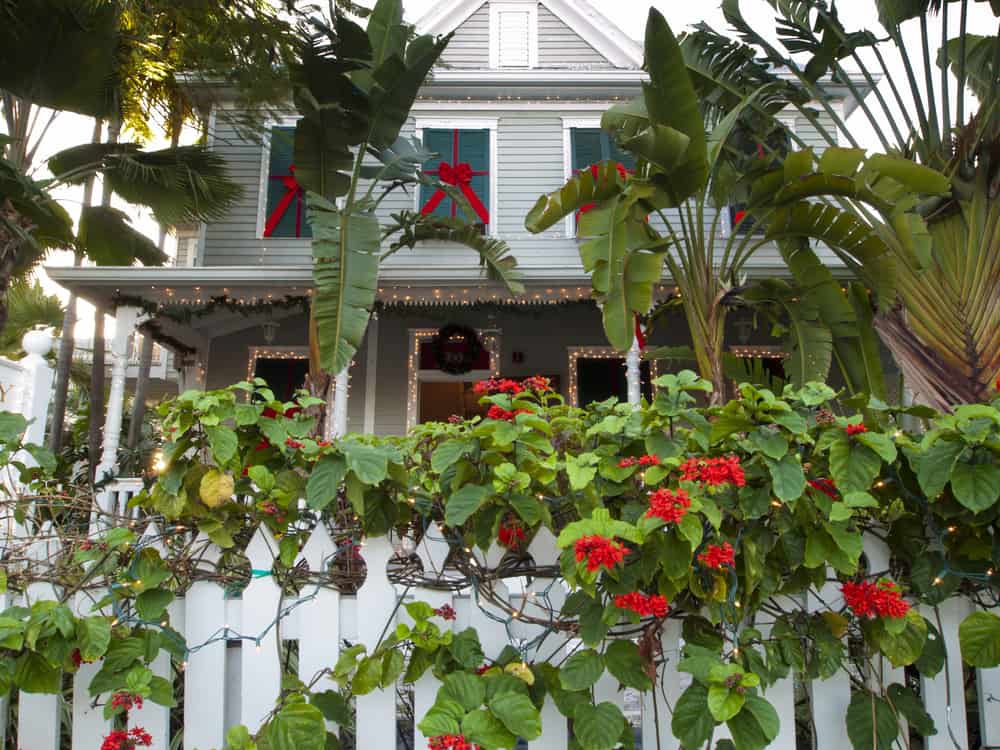 12. Participate in a Holiday Tour at the Little White House
The Little White House one housed our 33rd President Harry S. Truman. He would travel here for winters, and now the museum can be a part of your Key West in December experience too! What better way to experience Christmas in Key West?
During the winter months, the house is decorated to encompass the elegancy of the holiday season. This is a rare opportunity since most of the time we seem to step back in time at this house, but in the month of December, you can have a drink at Truman's original bar (or a cup of hot chocolate), while chatting amongst a VIP experience and taking in all the vintage regalia.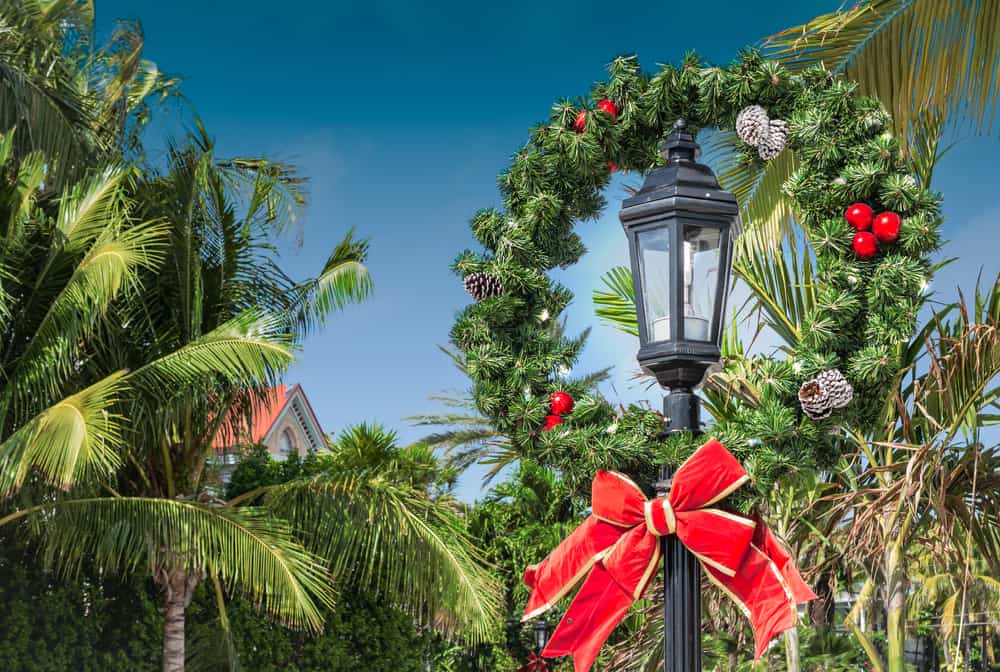 Where to Stay in Key West In December
1. Courtney's Place Historic Cottages & Inns
This historic Key West property is just a short walk from Duval Street, the beach, and more. Guests are welcome to a light congenital breakfast, their modern cottages that have a full kitchen and seating area, the pool, and barbecue facilities. With a great location, good price, and a truly authentic Key West feel, you won't want to stay anywhere else in Key West in December!
2. Coco Plum Inn
Located in the heart of Key West, guests who stay at Coco Plum Inn are well taken care of! It is the perfect place to stay in Key West in December. Here you can start your day with made-to-order breakfast and then take a dip in the pool before traveling to Smathers beach. The rooms are comfortable and can offer balconies and a spa bath. Better yet? This is an adult-only bed and breakfast that features a garden, bicycles, and more!
3. Hyatt Residence Club Key West, Windward Pointe
In every apartment at this location, you will find a kitchen, private bathroom, balcony, and ironing facilities. There are even living rooms! People love this location, especially when visiting Key West in December because you are so close to having a great adventure with nearby fishing, scuba diving, and parasailing. Located close to Duval Street and the Key West Airport, this might be where you need to stay!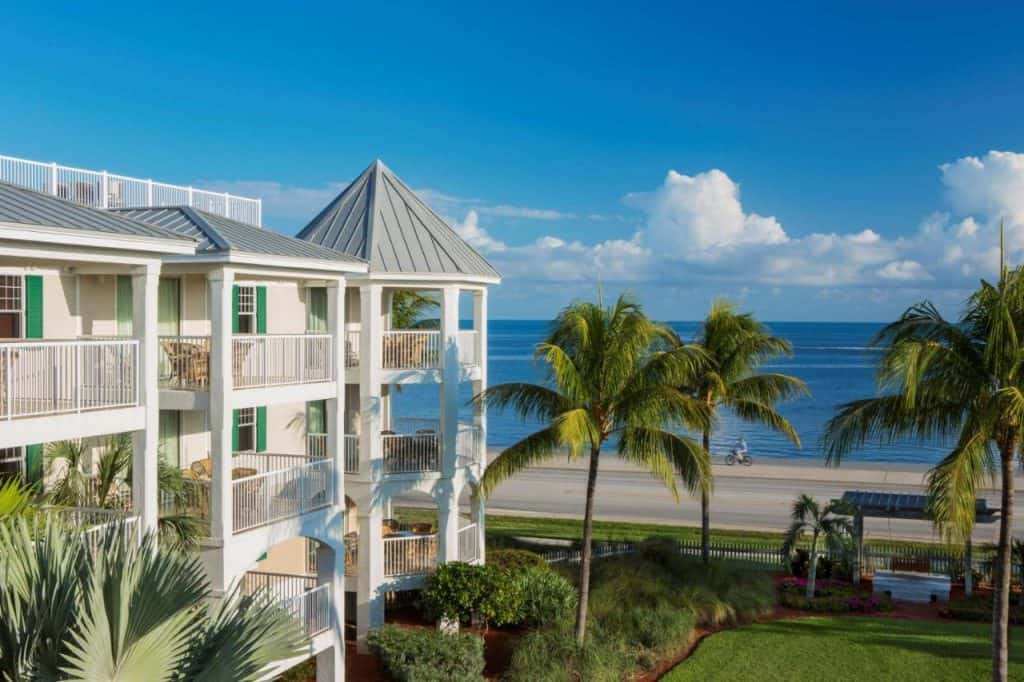 So there you have it! Look no further but here to find the best things you can do in Key West in December. From traditional tours and experiences on Duval Street or visiting iconic landmarks to making sure you have special Christmas in Key West things to do, Key West is always a great place to visit. Have fun and be safe!