Are you looking for a list of delicious places to eat in Jupiter? If so, checkout the list we put together of the best restaurants in Jupiter!
Jupiter is located just north of Miami on the coast and offers visitors beaches, art, culture, and dining! The dining scene in Jupiter offers everything from local breakfast spots with locally grown produce, amazing brunch spots on the Intercostal to casual lunch spots.
These amazing restaurants in Jupiter include upscale sports bars, a steakhouse, Caribbean inspire seafood, Italian and pizza spots, to global cuisines and casual beach bars. Choose from Mexican, Thai, Japanese, and vegan restaurants. The chef's in Jupiter offer diners unique flavors using the best local ingredients and seafood. Be sure to check out this list before or after exploring Jupiter!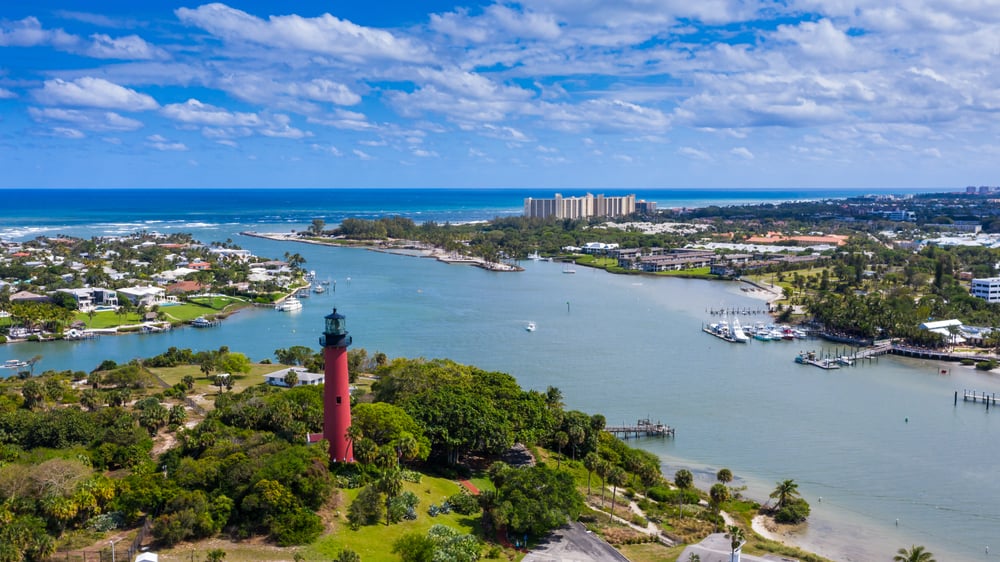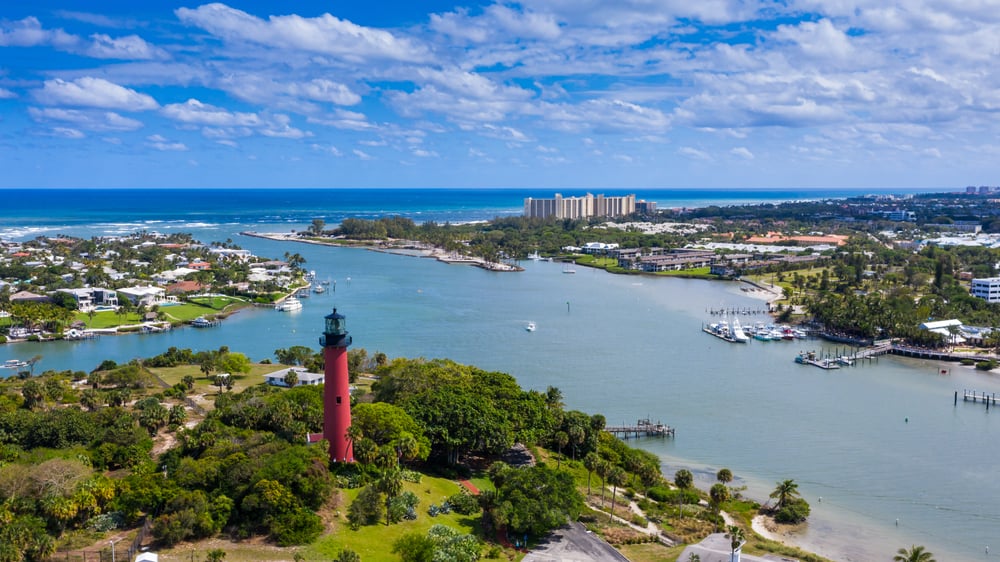 15 Best Restaurants in Jupiter FL You Shouldn't Miss
Berry Fresh Cafe
The motto at Berry Fresh Cafe is eat fresh, buy local and be well. They serve one of the best breakfasts in Jupiter and are also open for lunch. Focused on using locally grown fresh ingredients in unique combinations with a constantly changing blackboard menu.
On the breakfast menu at Berry Fresh, choose from a omelets with 3 eggs and served wit potatoes, tomatoes or homemade grits and oatmeal. Try the garden fresh veggie, shrimp crab cake and brie omelet or the redneck eggs Benedict. For sweeter breakfast choose from gluten free honey pancakes, challah bread French toast, lemon ricotta pancakes or bananas and blueberry stuffed French toast.
The lunch menu features homemade sandwiches like a roasted turkey, apple and brie, the BFC club, or the open faced green goddess turkey and avocado. Other options include homemade soups, a Brunch burger topped with fried egg, a housemade quinoa burger, and garden fresh salads.
Dive Bar Restaurant
If you are looking for unique dining experiences in Jupiter, head to the Dive bar Restaurant. Once inside you will be surrounded by a giant saltwater aquarium with wide screens showcasing underwater videos. Or sit outside on the al fresco patio. Only the freshest seafood and ingredients are used in the made from scratch menu.
Starters include the chef's daily hummus creation, fish dip, conch fritters, jumbo sea scallops, sweet Thai wings, and grilled Kimchee beef tenderloin tips. For healthier fare try the romaine grilled shrimp salad and the marinated steak salad.
Entrees feature a large assortment of seafood from sweet potato crusted grouper, seafood cioppino with saffron broth and Maryland crab cakes. Sandwiches range from lobster roll, to fish tacos, snapper banh mi, and po-boys. You can also order from the sushi and raw bar too.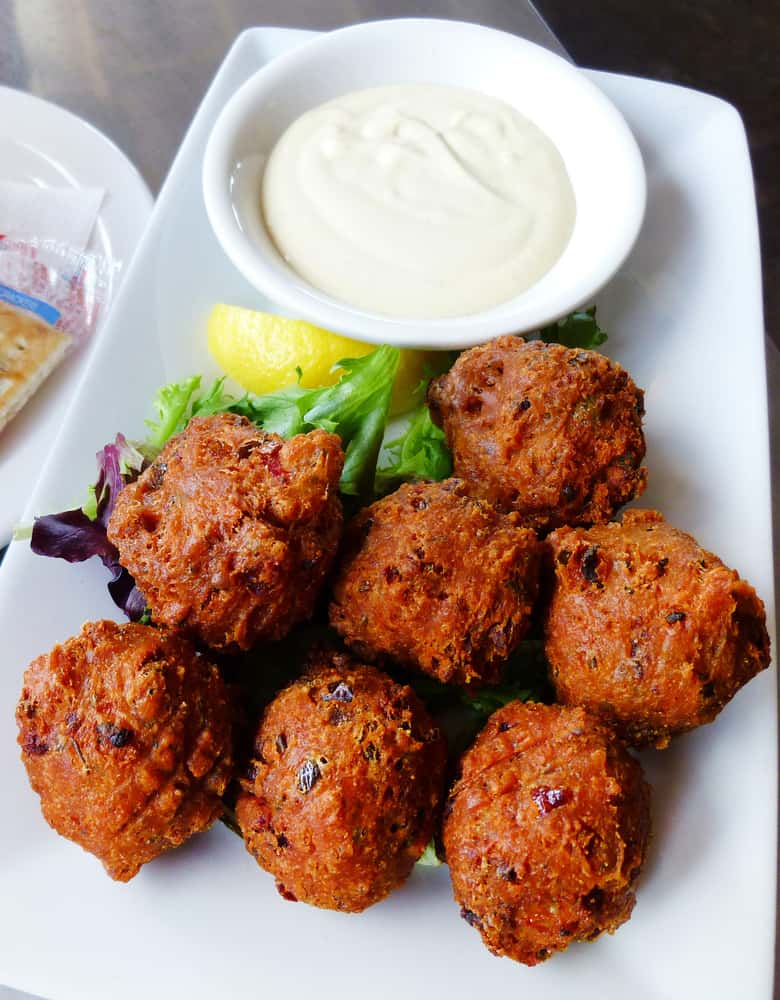 Guanabanas
If you are looking for an outdoor dining restaurant in Jupiter that transports you to a tropical island, try Guanabanas. Enjoy live music as you overlook the water on the intercostal and dine on fresh seafood. A great option for those looking to dine at a laid back Jupiter Beach restaurants.
For appetizers choose between the fresh shrimp fritters, the Florida Gulf tacos, Island smoked wings or the Guanabanas famous nachos . How many also features a wide selection sandwiches ranging from a Cuban, Blackened fresh catch of the day, Ruben, What are the island barbecue chicken sandwich.
If you were craving seafood try one of the local caught Florida dishes. The playa rice bowl comes with Atlantic caught shrimp with black beans and rice topped with a mango pineapple salsa. Try the zucchini Primavera with a fresh caught Florida fish of the day served over fettuccine style zucchini. Or the macadamia crusted fish, Fried shrimp, and tequila lime shrimp.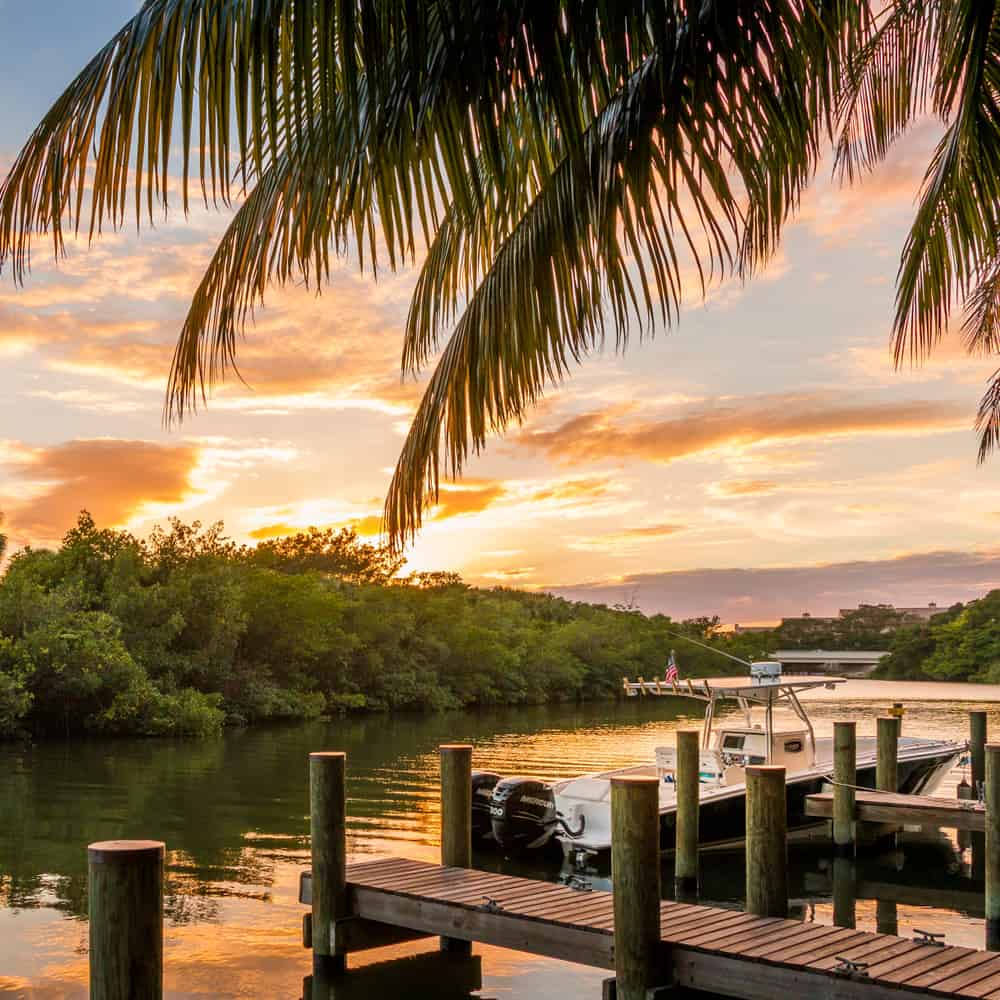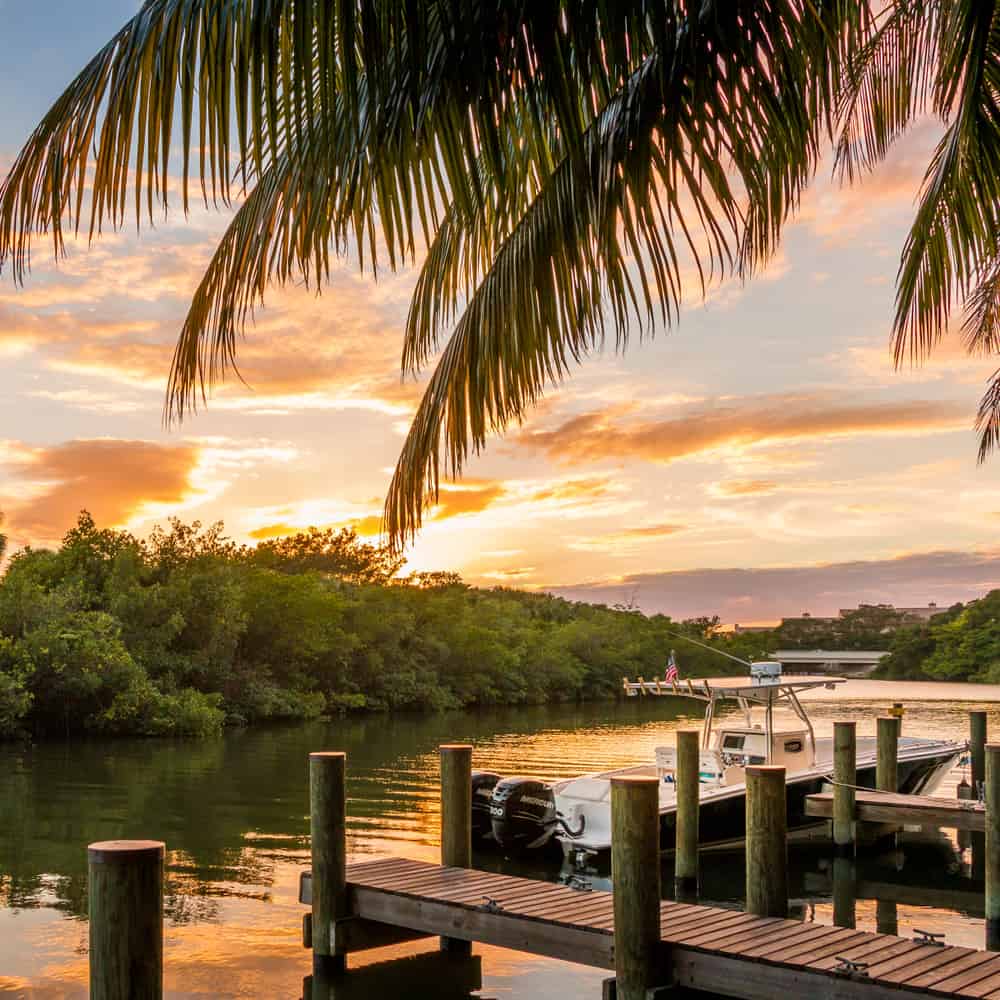 U-Tiki Beach
U-tiki is one of the Jupiter Inlet restaurants that is open for dinner during the week and all day dining on the weekends. Enjoy Caribbean style food as a sunsets over the at Marina.
The menu here features mainly seafood dishes such as cracked conch, conch fritters, tempura grouper fingers, ahi tuna tostada and Mrs. Peter's fish dip to start. Or Order one of the sushi rolls Such as the crunchy tuna Tempura and rainbow roll. For those interested in sandwiches they serve lobster rolls, fish sandwiches, or try The surf and turf roll.
Specialty dishes U-tiki Include the island Moli Grill salmon or filet, A pecan crusted salmon, In the Caribbean style barbecued shrimp and steak. They also serve Beach menu with appetizers, flat breads, sushi rolls.
The Woods Jupiter
The Woods, named after its owner Tiger Woods. This sports bar located in Harbourside place serves an elevated and sophisticated menu. Open daily from 11 am to 11 pm, with a happy hour from 3 to 6 pm. Brunch is also served on Sundays from 11 am to 3 pm.
If looking of brunch restaurants in Jupiter try the French toast, a prosciutto frittata, Korean meatballs, a grouper sandwich, or the woods burger. Entrees include a lobster ravioli, prime filet, and chicken piccata.
The dinner menu is divided into land and sea. From baby back ribs, a New Zealand rack of lamb with an espresso rub, and hand cut steaks with toppings like a horseradish crust or blue cheese. The sea menu features pan-seared salmon with artichoke hearts, Ahi tuna with asian slaw, and sea scallops and pork belly.
Make sure to leave room from dessert! From a creme brûlée, to s'mores casserole, key lime pie, hand spun cotton candy, or an after dinner cocktail like a banana split coffee or espresso martini.
Little Moir's Food Shack
Don't let the mall location of Little Moir's Food shack deter you from trying this locally run in and restaurant. On the menu ( you can check the website) you will find daily specials of what is on the menu for the day. They are currently open Monday through Saturday from 11 am until 9:30 or 10:00 pm.
The menu is broken up into Shackatizers, Worldly plates and sweet tooth. Shackatizers include Togarashi grilled octopus in a creamy papaya sauce, panko eggplant fries, smoked fish dip, and shrimp egg rolls. For Worldly plates you can find daily catch of salmon, red grouper, corvina, triple tail among others. You can have it served a variety of ways such as with sweet potato crusted with a key lime garlic dressing or try the Yuca Cashew fish Tandoori.
For dessert try the chocolate chip bread pudding, rum cake or one of the homemade ice cream flavors such as pina colada or Kahlua brownie.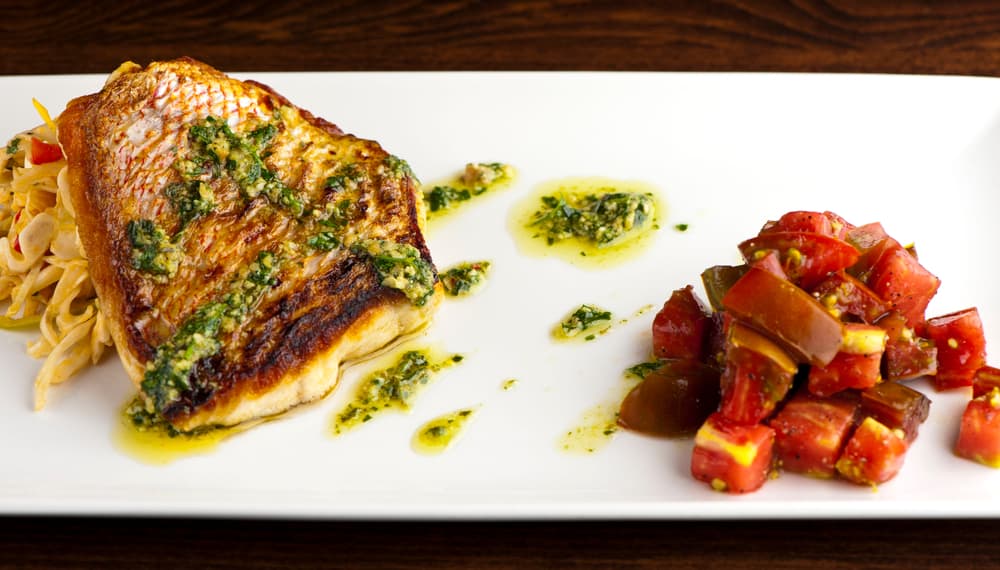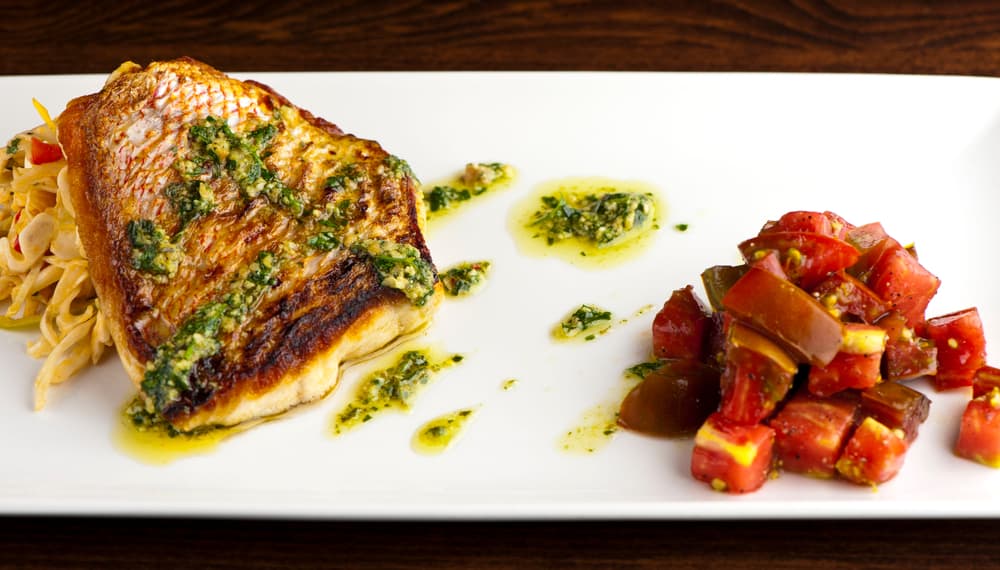 Bolay
While Bolay is a chain, they serve fresh and healthy food with bold flavors in a fast casual setting. They are open for lunch and dinner daily. The way the menu works at Bolay is a build your own bowl, either a regular with 1 base, 2 veggies and 1 protein, or a large with 2 bases, 2 veggies and 2 proteins. The menu does change based on seasonally available ingredients.
To begin you choose from bases including kale yeah salad, asian sweet potato noodles, Jasmine or black rice, and cilantro noodles. Next, you select veggies that rotate daily. From ginger broccoli, mushrooms, sweet potatoes, Power beans, brussel sprouts and more. Third, you select proteins like mis glazed tofu, spicy Thai shrimp, chicken, or Steak au Jus. Finally you can top your bowl with cilantro, tomatoes and add one of the sauces.
For those who are unsure what to order, choose one of the chef crafted bowls of the most popular choices.
Beacon Restaurant
Beacon is another of the restaurants in Jupiter on the water. Located on the inlet, this waterfront restaurant is all about showcasing the exhibition kitchen where you can watch chefs artfully prepare your meal. If you are loking for to dine for a special occasion, be sure to ask to sit in the front row the Chef's counter.
Focused on mixing Mediterranean flavor with local and seasonal ingredients where presentation is just as impressive as the food! On the dinner menu at Beacon, start with cold water oysters in a hibiscus and lychee snow, charred Spanish octopus with smoked potatoes and black garlic, sweet corn bisque with roasted rock shrimp or steak tartare with puffed beef chips and a caper aioli.
If you are in the mood for pasta try the Paccheri Siciliano with charred eggplants, or the tagliatelle verde di Mare with roasted mussels and grilled calamari. Large plates include the Key West pink shrimp and Cedar key clams with a fire roasted shellfish and confit of potatoes, or the Local whole grilled fish. Next, you will find the Hunter and the Angler where butcher cuts and market caught fish are cooked over a wood fire and prepared with a chef selected sauce and veggie of the night.
This is one of the restaurants in Jupiter that offers a vegan menu with honey lavander roasted fennel couscous, wood fired cauliflower steak with a tomato vierge sauce and veggies, and a swank farms tomato and shallot confit.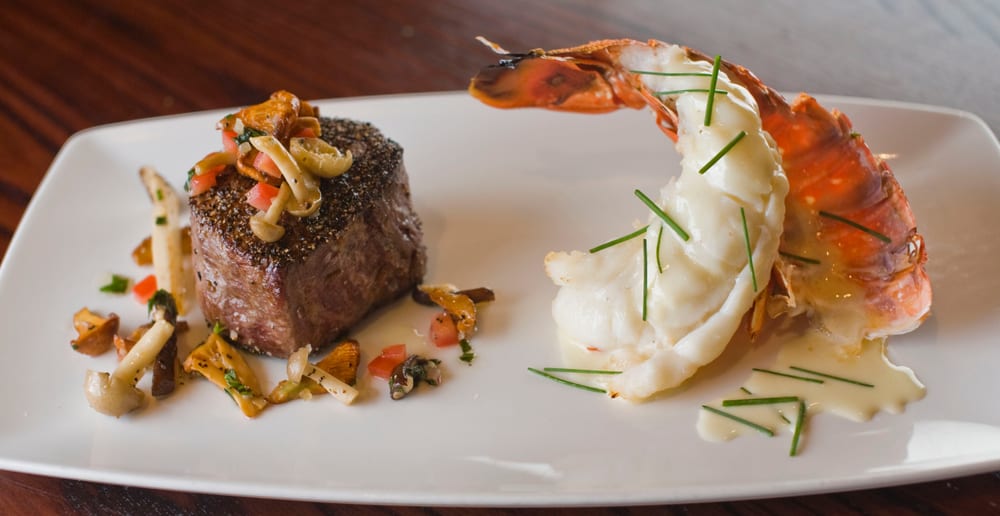 Angelo's Italian Restaurant
For those looking for some of the best Italian food in Jupiter put Angelo's on your list. They now have two locations, in Jupiter with live music on Saturdays from 6 to 9 pm, and in Jupiter Farms. Open daily for lunch and dinner. The owners use the highest quality ingredients including meat that is farm fed, organic produce and cheeses that is locally grown and delivery daily.
Come in for the daily lunch specials that include a soup or salad and homemade rolls. Italian classics include baked ziti, eggplant or chicken parmigiana, or half soup and salad and slice of pizza. For the dinner menu try the world famous pepperoni bread, fried zucchini, or fried calamari Anthony with spicy hot peppers.
Choose from wings in a garlic Gorgonzola sauce, calzones, hot subs, pizzas including gluten free crust and a deep dish Sicilian. And for those looking to dine before 6, they have an early bird menu where dishes are under $12 and include salad, rolls, dessert and coffee. The house specialties include Michaelangelo with penne chicken and roasted peppers, and the Veal Picasso with sautéed mushrooms.
Casa Mia
Casa Mia is known for traditional and authentic Italian dishes that are made from scratch using the freshest ingredients. They serve a weekday lunch menu, a happy hour menu at the bar from 11:30 am to 7 pm daily, and a dinner menu.
Customer favorite house speciality dishes include the Branzino Al Forno in a salt crust that is deboned table-side, the Gorgonzola gnocchi with truffle oil, the Casa Mia pizza with prosciutto and the pappardelle with wild boar ragout.
On the dinner menu you will find Italian classics like Prosciutto and melon, homemade soups, Caprese, a wide variety of pizzas, lobster ravioli in a cream sauce, Linguine alle vongole with fresh clams, sausage and peppers, Veal Scaloppini and Eggplant parmigiana.
Alforno Pizza
Alforno has been the place for pizza in Jupiter since 2013. Located in the Concourse Village shopping plaza and open daily from 11 am to 10 pm. The dough is made fresh daily, and topped generously with a large selection of toppings!
On the menu you will find a wide variety of gourmet pizzas. You can order pizza Sicilian style or grandma style thin crust.Such as the Amalfi with eggplant and roasted red peppers, the Greco with pesto and spinach, Shrimp Scampi pizza, the House special with pepperoni, sausage, a mushrooms or a white pizza. Or order a traditional pepperoni, margarita or veggie lovers.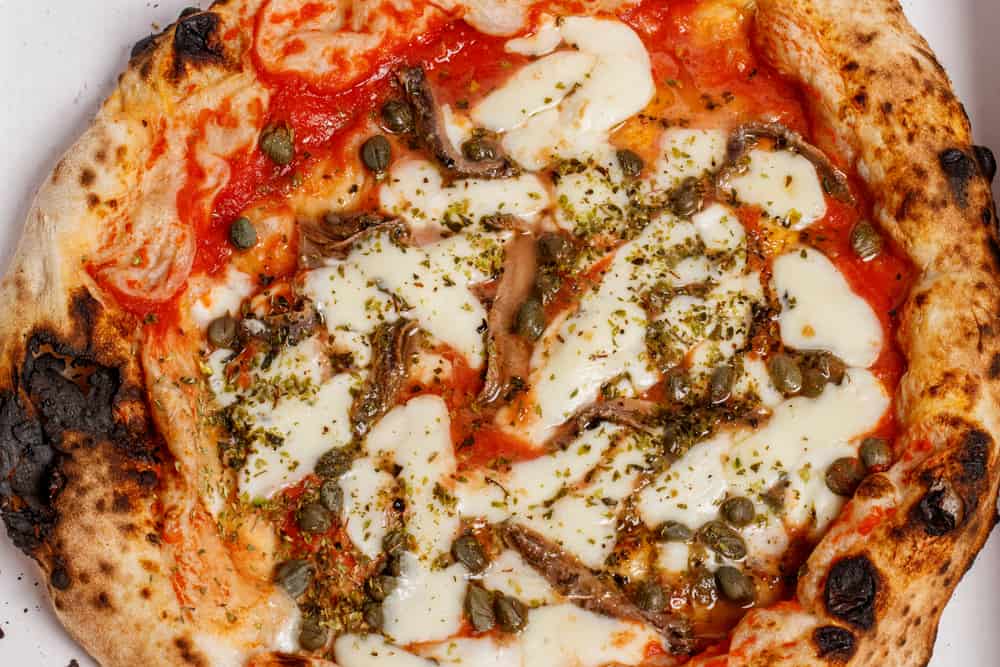 Jumby Bay
For those looking for dog friendly places to eat in Jupiter Jumby Bay needs to be on your list. Serving up Caribbean food, this Island Grill located in Downtown Abacoa has a large outdoor patio, and weekly specials.
Customers favorite dishes include the sesame seared tuna, bbq chicken quesadilla and conch fritters to start. If you are craving a sandwich try the crunchy fish sandwich or the buffalo chicken wrap.Main dishes include a Caribbean Jumbyala, crab cakes, cold water lobster tails, a curry chicken breast, the Cruz bay penne pasta, and the island style filet.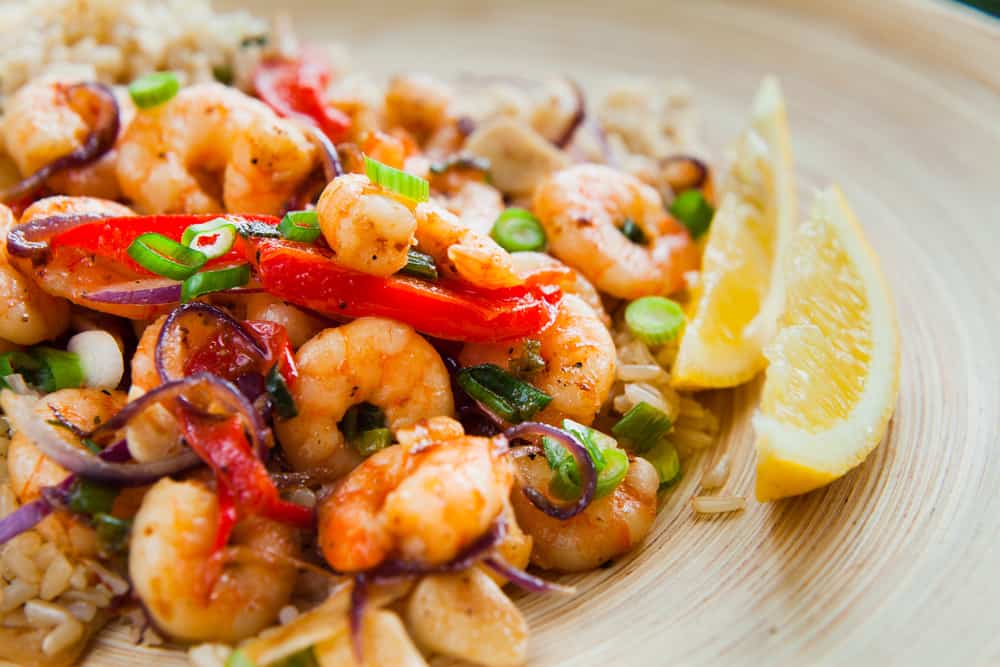 1000 North
1000 North is the place to eat in Jupiter for those looking for upscale dining with waterfront views of the Intercostal, Inlet and lighthouse. Dine the full service menu, the Club Lounge, the Lavern or the Terrace each offering a different vibe.
Head here for a weekend brunch. With snacks like oysters, street corn chicken caesar, 1000 North Prime or Impossible Burger with truffle fries, Ahi Tuna bowl or tacos, Lobster Tail Benedict, Steak and Eggs Tartine, or Chicken and Waffles.
For dinner try the prime steak tartare, bourbon and hay roasted oysters, rock shrimp risotto, Blue Crab Spaghetti, a pan fried Dover Sole in a brown butter sauce, Dry Aged duck breast with black truffle and roasted sun chokes, or a Wagyu meatloaf with morel mushroom sauce.
Try one of the 21 day aged steaks, all served with your choice of sauces. Choose from cuts like a strip, Delmonico ribeye, and a petite filet.
Christopher's Kitchen
If you are looking for vegan places to eat or want a healthy meal try Christopher's Kitchen. Located just south of Jupiter in Palm Beach Gardens, they serve organic plant based menu that is equally delicious and nutritious. They are open daily from 9 am to 9 pm and offer both a full menu and a juice bar.
Chef Albert is known for his molecular fusion cuisine featuring cuisines and flavors from around the world. Christopher's is a great option for brunch, lunch, or dinner! The menu features local, plant based organic options such as fig and honey crackers, avocado ginger roll, and a Thai wrap with mango, cucumber basil wrapped in a collard greens.
There is a large selection of salads like a Florida chop, superfoods or asian noodle with zucchini mango and carrots. The house specials include Spicy Kung Pao beets, Coconut Curry or Mexican Grain Bowls, and seasonal vegetable plate. Other menu options include sandwiches like a house made veggie burger and gourmet pizza with macadamia ricotta and a variety of veggies.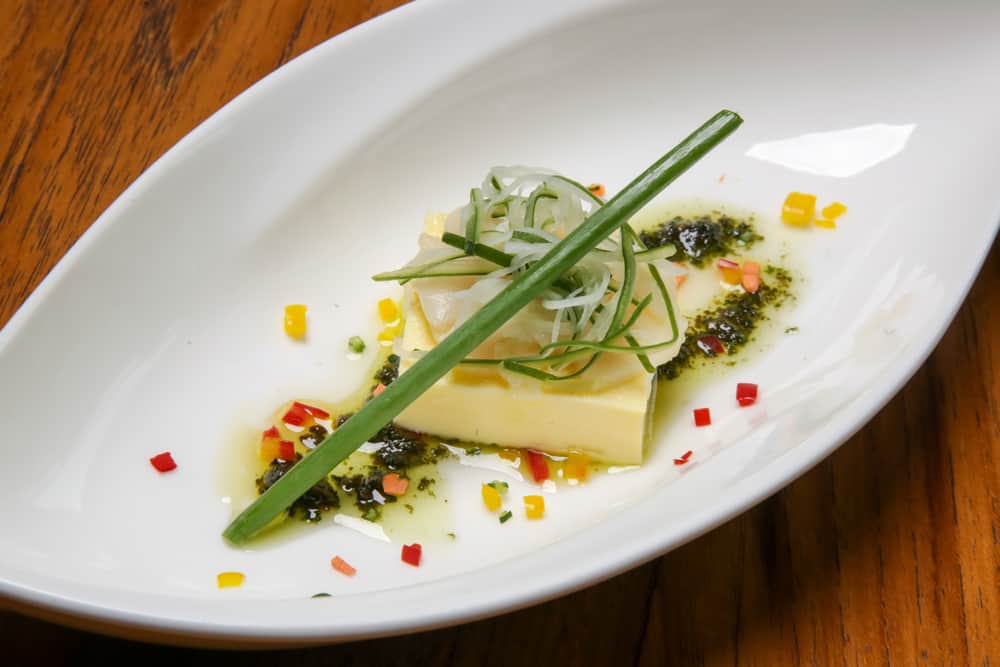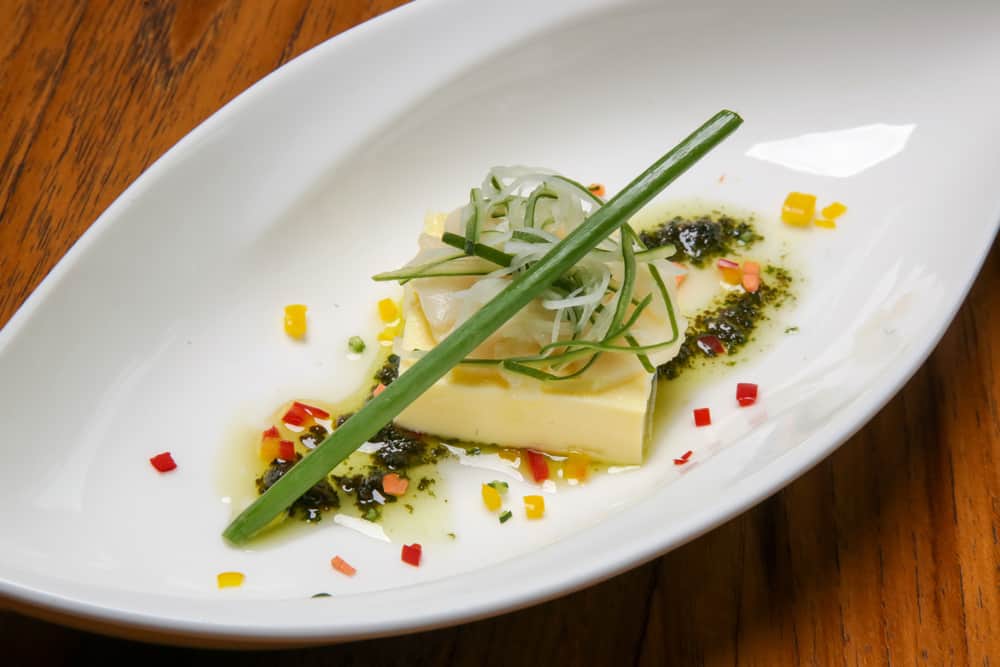 Koon Manee
Koon Manee is one of the best restaurants in Jupiter for sushi, Japanese and Thai cuisines. For those looking for a weekday lunch they offer a wide variety of lunch specials from 11:30 to 2:30. And are open for dinner daily from 4:30 pm to 9:30 pm.
The sushi menu here is extensive and you can find pretty much any roll you could imagine. If wanting a splurge try the sushi boats with 12 to 25 different types of sushi and sashimi. Speciality rolls include a veggie roll, He-Ma a shrimp tempura with asparagus, Scotty roll a deep fried tuna and salmon, and the nova roll with soft shell crab.
Chef specials at this restaurants in Jupiter feature a Koon Manee steak, Atlantic Ocean seafood curry, and whole red snapper. For Thai cuisine, try the house original curries such as fresh hot basil, ginger, cashew nut with a choice of proteins as well as noodle and rice dishes.
Calaveras Cantina
Calaveras Cantina is the a great choice of where to eat in Jupiter if looking for Mexican food. Located in the Harborside place, come for "sexy Mexican food", craft cocktails, and a Tequila bar. served in a fun contemporary restaurant. They are open 7 days a week from 11:30 am to 11:00 pm and 1 am on Friday and Saturday nights.
Start your meal with the table-side guacamole with cucumber slices or gluten free chips, or the queso fundido with ground beef, the duck confit empanadas or the nachos matador. Each of the taco meals include 2 tacos with a side of beans, and on Tuesdays they are $3. Choose from vegan with cauliflower, sweet potato, and avocado sauce, chicken, roasted pork, ground beef, al pastor, mushrooms and smoked brisket.
From ceviches, fajitas, enchiladas ( try the spicy lobster crema), to larger dishes like Chipotle Carne Asada, Grouper Diablo, or the Ramen noodle bowl with a Guajillo consommé and shredded beef with cilantro and lime.
Pair with a housemade margaritas, a Dusk to Dawn with Azteca chocolate bitters, sangria, the Salma's Snake dance with habanero tequila and fresh watermelon juice, or try one of the many tequilas offered.