Are you looking for the best Miami gifts money can buy for your loved ones? Look no further!
Gift-giving is one of life's simplest pleasures, seeing the happiness on someone's face when they open a gift that says "I thought about you" really just can't be beaten!
That being said, picking out a gift for your loved ones is not always the easiest task so we did the hard part and found some of the top options for people in your life who love Miami, making a true list of the best Miami souvenirs available!
This list has something for just about every age, so take a look around and see if anything catches your eye!
Whether it's a pillow to dress up a room, some high-quality whiskey glasses, or even a super cool backpack, there are so many fun ways to rep your favorite ocean-side city!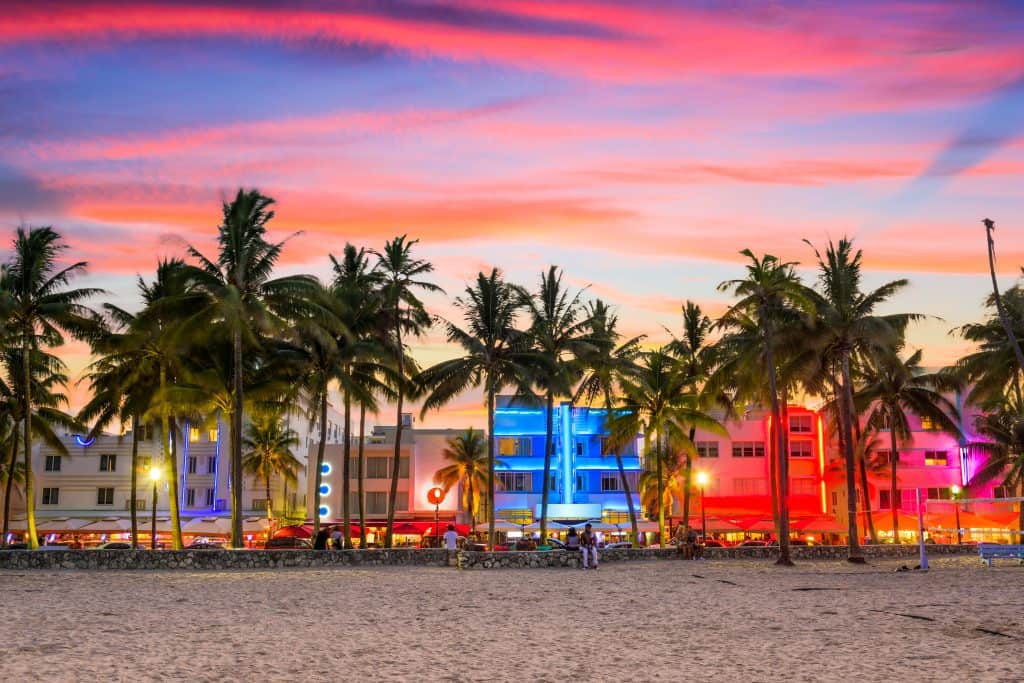 15 Best Miami Gifts You Will Love!
Miami Candle
Bring the beach to you with this fragrant, high-quality soy wax candle from Homesick Candles! Smells have a special power for unlocking memories, so relive your best times in Miami with this one-of-a-kind gift! You will see why it is one of the best Miami souvenirs you can buy online!
Check out our other post on the 15 Best Restaurants in Miami Beach for even more Miami fun!
The Miami candle features notes of fruits like coconut and banana as well as floral notes to really transport you right to the sands! You might want to have a pina colada handy to really bask in the beach vibes!
The soy wax makes for a very clean burn with little smoke, but be sure to regularly trim the wick so that the candle lasts for as long as it should and you get the most out of it!
This is sure to be a hit when gift-giving time comes, as it's one of the best Miami gifts!
Check availability: Miami Candle
Miami Whiskey Glass
For the whiskey connoisseur in your life, the perfect gift would be a set of hand-etched Miami whiskey glasses! These glasses look especially striking with a bit of dark liquor in them!
This is one of the best Miami themed Gifts for even those who don't consider themselves connoisseurs
Made by skilled artists and artisans, each sand-etched whiskey glass has a street map of Miami so you can pinpoint your favorite Miami spot while enjoying a nice bourbon or scotch.
If that weren't cool enough, the glass even has GPS coordinates on it! The glasses come in a high-quality gift box that will impress even the toughest fathers-in-law, making it one of the best Miami gifts!
The glasses are 100% dishwasher safe and lead-free, and the design is fade-proof, making this a gift of excellent durability and quality!

Check prices: Miami Whiskey Glass Set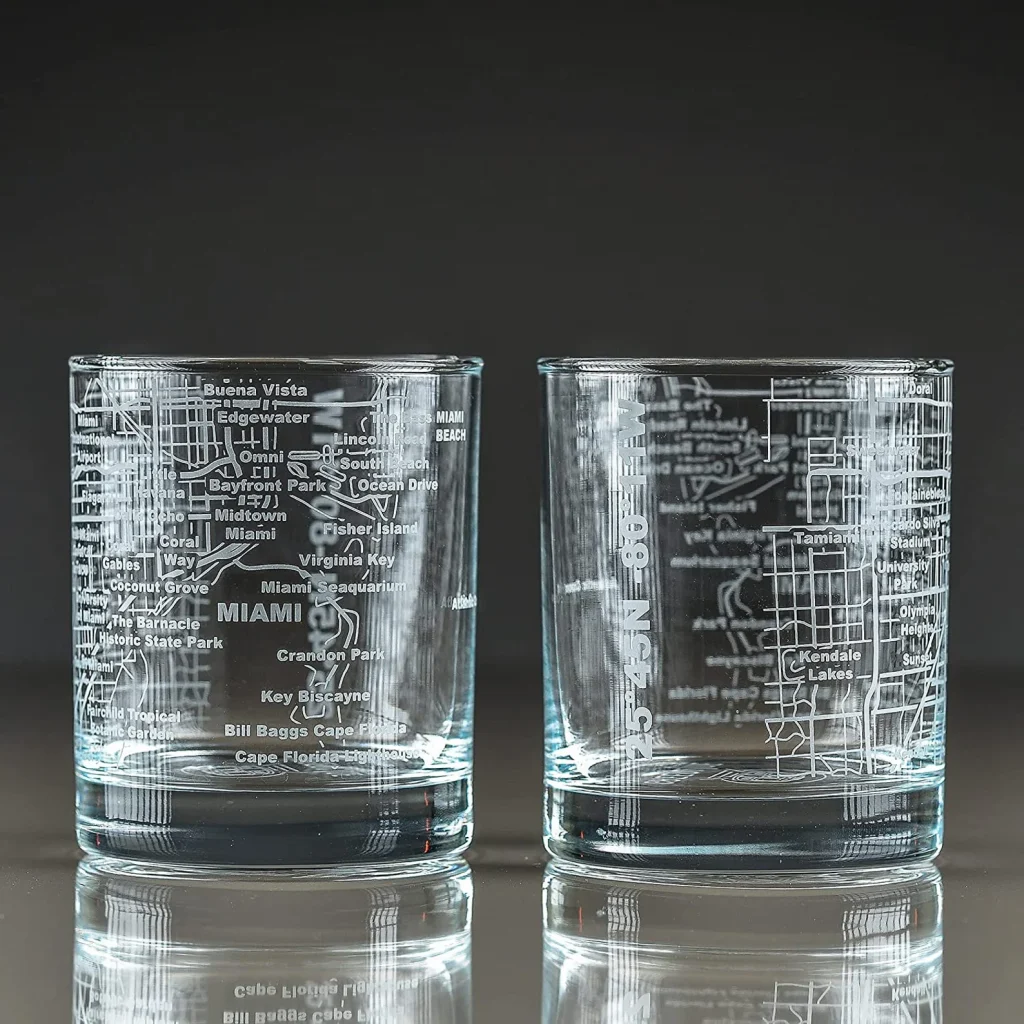 Miami Cutting Board
If you're someone who loves to cook or entertain at home, chances are you spend a good amount of time staring at a cutting board! Why not relive some of your most precious memories in Miami with this high-quality kitchen accessory, one you can customize no less: a Miami skyline cutting board!
This is one of the best Miami-themed gifts for your kitchen!
In addition to being made of excellent quality wood, the cutting board is fully customizable so you can really specific by adding dates or names, and you can also choose the size and type of wood you like from a vast array of different colors!
If this cutting board looks too pretty to mess up with your sharp kitchen knives, not to worry because the board looks gorgeous as a serving tray for charcuterie or vegetables with dip, so you can enjoy memories and make the design on the board last even longer!
This cutting board is a favorite Miami gift for those who like to entertain!
In addition to the cutting board, there are extras available with a purchase such as a stand for the cutting board, as well as oil for the board to keep it looking fresh for years to come!
Check Prices: Miami Cutting Board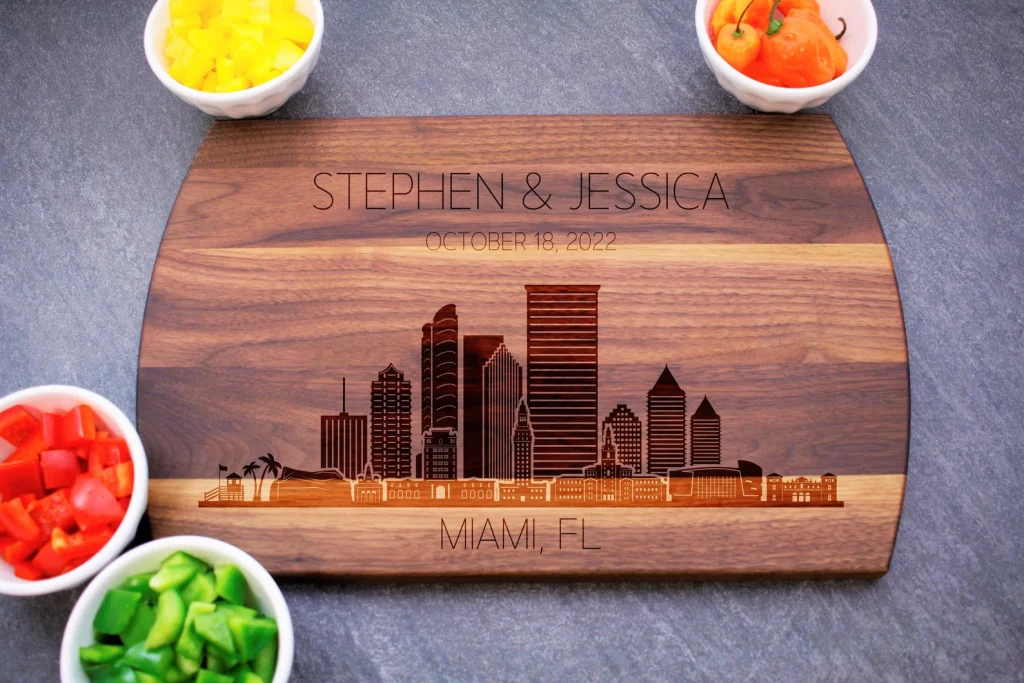 Miami Christmas Ornament
Everyone has something that they like to collect, and most people can think of at least one person who likes collectible Christmas ornaments! Ornaments are a great way to commemorate important events or places, and they are small so they're not super difficult to store or put away when you're not using them!
Check out one of the best Miami-themed gifts for Christmas, a Miami Skyline Christmas ornament!
Ornaments are also a great conversation starter for when the turkey talk with your hard-to-win in-laws is starting to wane! Never miss a beat in conversation again!
This glass Christmas ornament with the Miami City Skyline will be perfect for the Miami-loving person who celebrates Christmas in your life! This gorgeous ornament is made of glass-like acrylic and is laser-etched to ensure the sharpest image possible.
The ornament includes a beautiful gilded red ribbon to make hanging on a Christmas tree that much easier.
This Miami-themed ornament is 3.5 inches in diameter and 1/8th of an inch thick so the composition is highly durable and will last for many Christmases to come!
If you want to commemorate the specific year that you're buying the ornament that is totally possible and doesn't cost anything extra!
Check Prices: Miami Christmas ornament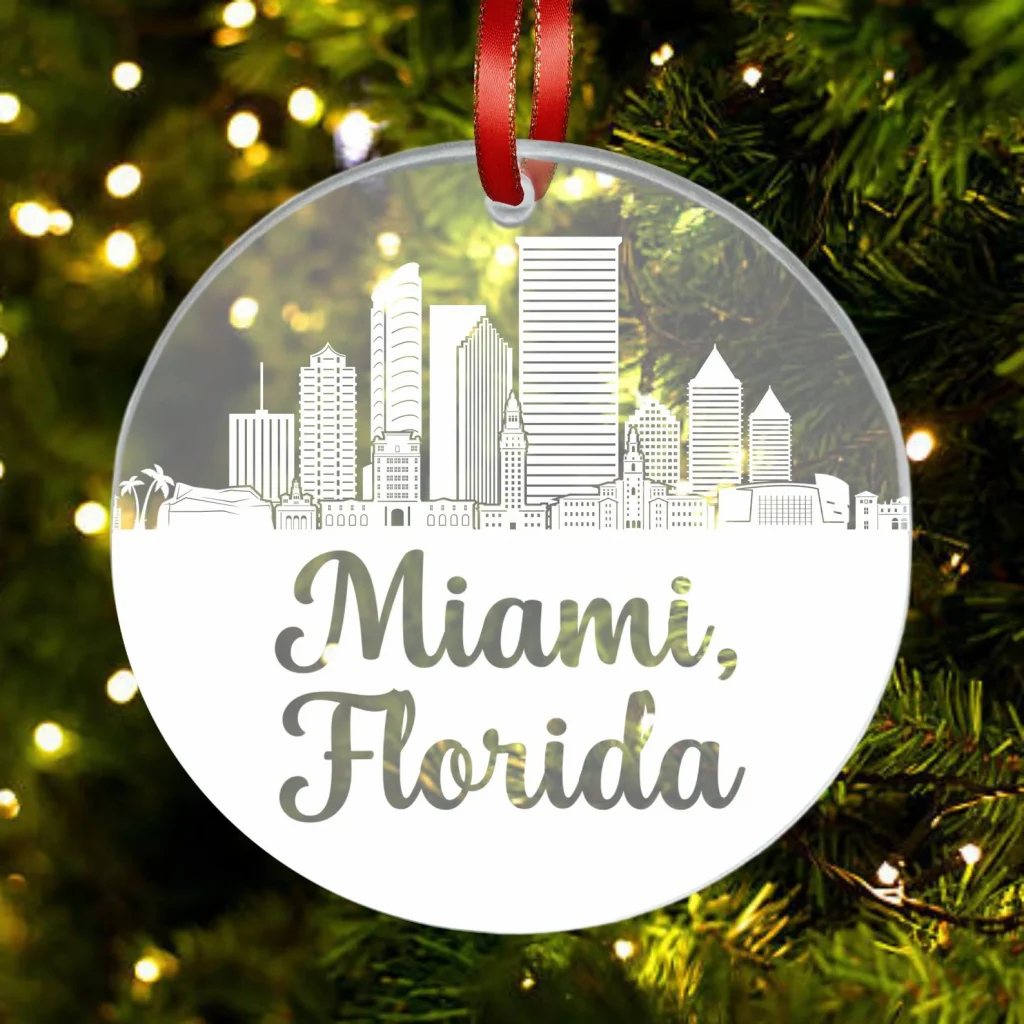 Miami T-shirt
Another great gift that some people like to collect is shirts and hoodies from different cities, making this stylish Miami t-shirt a perfect option!
This original design is not the official font or logo of the city, but the flowing font and rainbow of colors beautifully distill the fun vibe of the city!
Even if you don't collect t-shirts, this is a great way to connect with your loved ones over shared memories in your favorite Florida city, making it one of the best Miami gifts!
The shirt is fully customizable! There is a wide range of beautiful colors and different styles/sizes, and there are even options for it to be made into a tank top or a toddler's outfit!
The soft blended fabric is perfect for a casual outfit or even a fun night out, making it a great addition to our list of Miami-themed gifts!
Check prices: Miami T-shirt
Miami Blanket
Not everyone has the luxury of living in the sunshine state, so any chance to reminisce when the weather is cold and dark outside is a wonderful moment of respite!
This Map of Miami Fleece blanket is one of the best Miami gifts you can buy online!
This luxuriously plush fleece blanket is the perfect combination of nostalgia and warmth to take you back to the emerald waters and sandy beaches no matter what's going on at the other side of your windows!
The double-sided blanket features one side made of thick and warm fleece, while the other side features a print of the map of Miami's cities and landmarks in a beautiful yellow and blue design, making it a perfect addition to the collection of someone who loves Miami souvenirs!
So banish those winter blues with warm memories of Miami's lights and Duval st. in this super comfortable blanket!
Check prices: Miami Fleece Blanket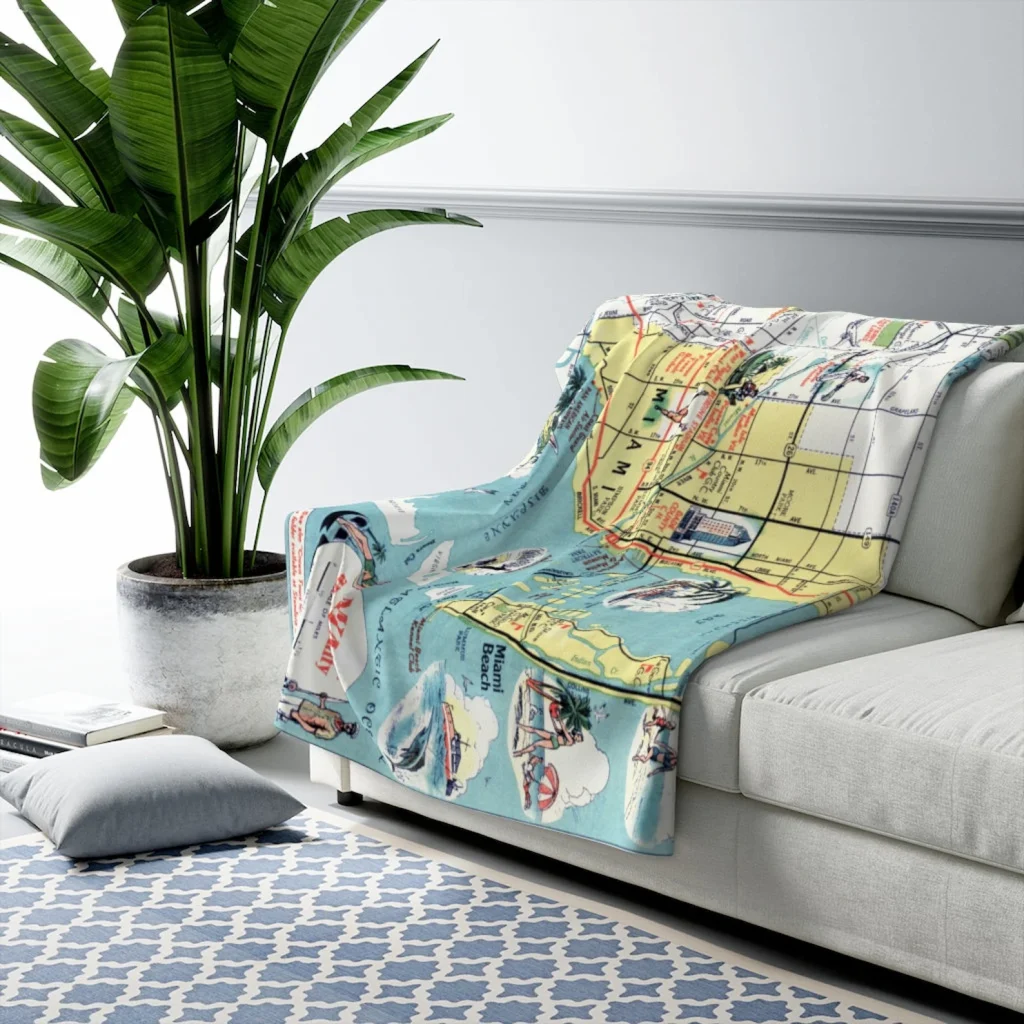 Miami Hoodie
Another great collectible or just overall useful item to give as a gift is a classic Miami hoodie!
Just about anyone would enjoy this as a gift, especially if they have any fun times to recount having in Miami, which makes it one of the best Miami gifts!
This timeless-looking hoodie is the perfect addition to your layers in the colder months, and can also be worn by itself! See why it's one of the best Miami gifts for yourself!
This gift could be perfect for someone who just moved away from the city, or moved there for work or school, or just for the person in your life who loves Miami souvenirs
The hoodie is made of cotton, and is very warm! This hoodie comes in sizes S-XL so there is a size for just about everybody.
Check prices: Miami Hoodie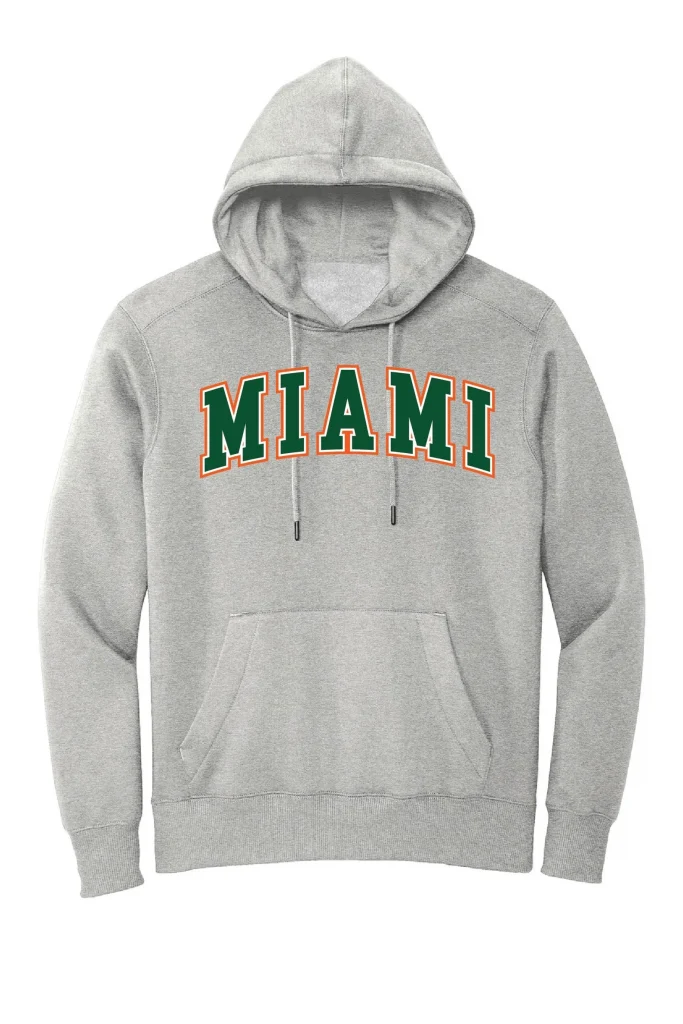 Miami Mug
Most people nowadays start their mornings with a hot beverage, especially in the colder months, but what most people don't realize is it's also a great chance to spend some time enjoying your favorite scenes or images!
If you're one for the beach vibes, then this is one of the best Miami gifts for you, a Miami Mug for all your beverage needs!
Using beautiful pastel colors, the artwork on this mug features a scene of Miami's iconic skyline and of course a little bit of the ocean and beach!
This gorgeous mug comes in two sizes, 11 ounces and 15 although when it comes to hot cocoa one could argue more is more!
The mug is 100% ceramic and safe to go in both the dishwasher as well as the microwave – so it's sure to last a long time and is easy to clean, making it one of the best Miami souvenirs you can buy online!
Check prices: Miami Mug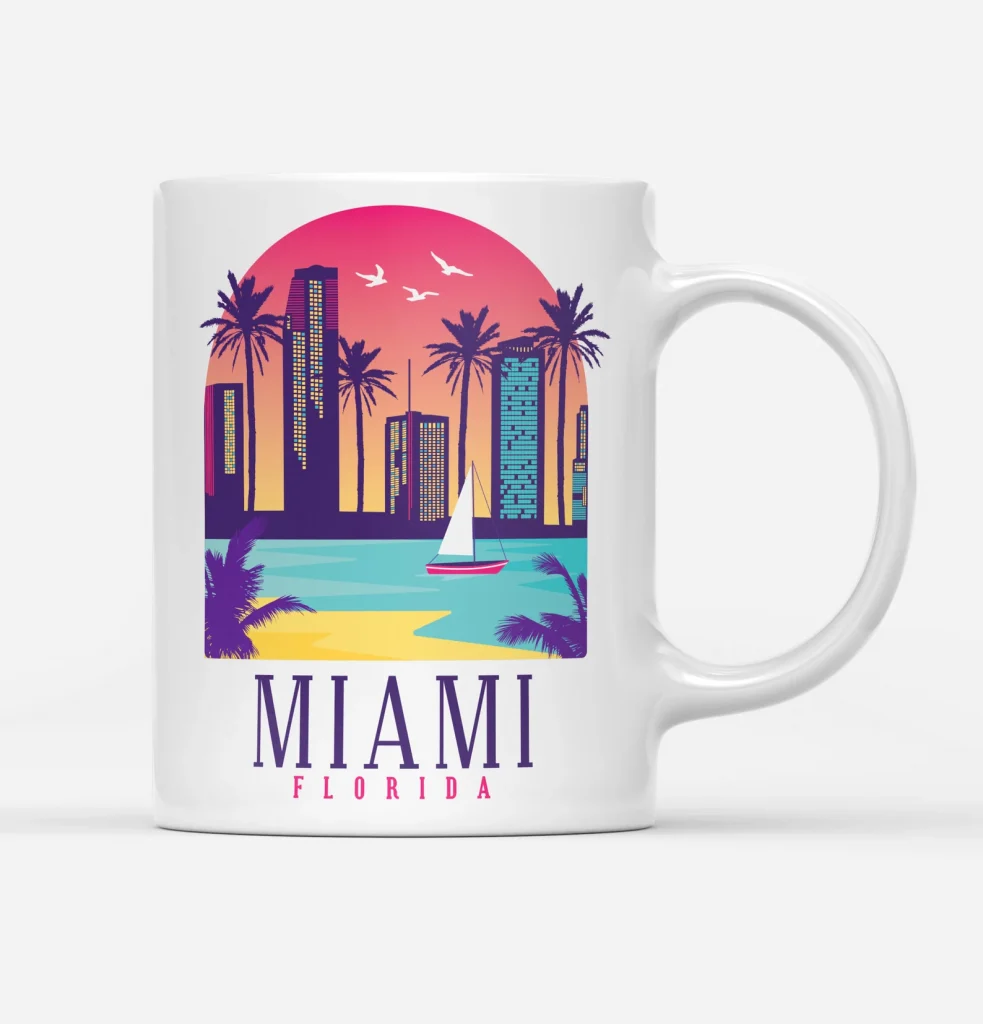 Miami Tote
One of the best ways to represent your city or style is with a carrying receptacle of some sort- nowadays tote bags are all the rage!
When you consider that having a tote also makes it easier to use less disposable plastic, it makes sense to have at least one handy!
For the eco-conscious person in your life who also has a love of one of Florida's best beach cities, this Miami cotton tote bag is one of the best Miami gifts you can find!
The scene depicted on the tote is a cartoon rendering of the vintage Miami Skyline using a gorgeous pastel color palette – making it very whimsical and fun!
The tote itself is made of 100% organic cotton, and printed with eco-friendly ink – standards that will satisfy even the most crunchy granola cousin in the family, making it one of the best Miami souvenirs you can buy online!
The tote bag is made in the USA ensuring high quality and is even machine washable in case there is a spill which makes it an accessory that will last you a long time.
Check prices: Vintage Miami Skyline Tote Bag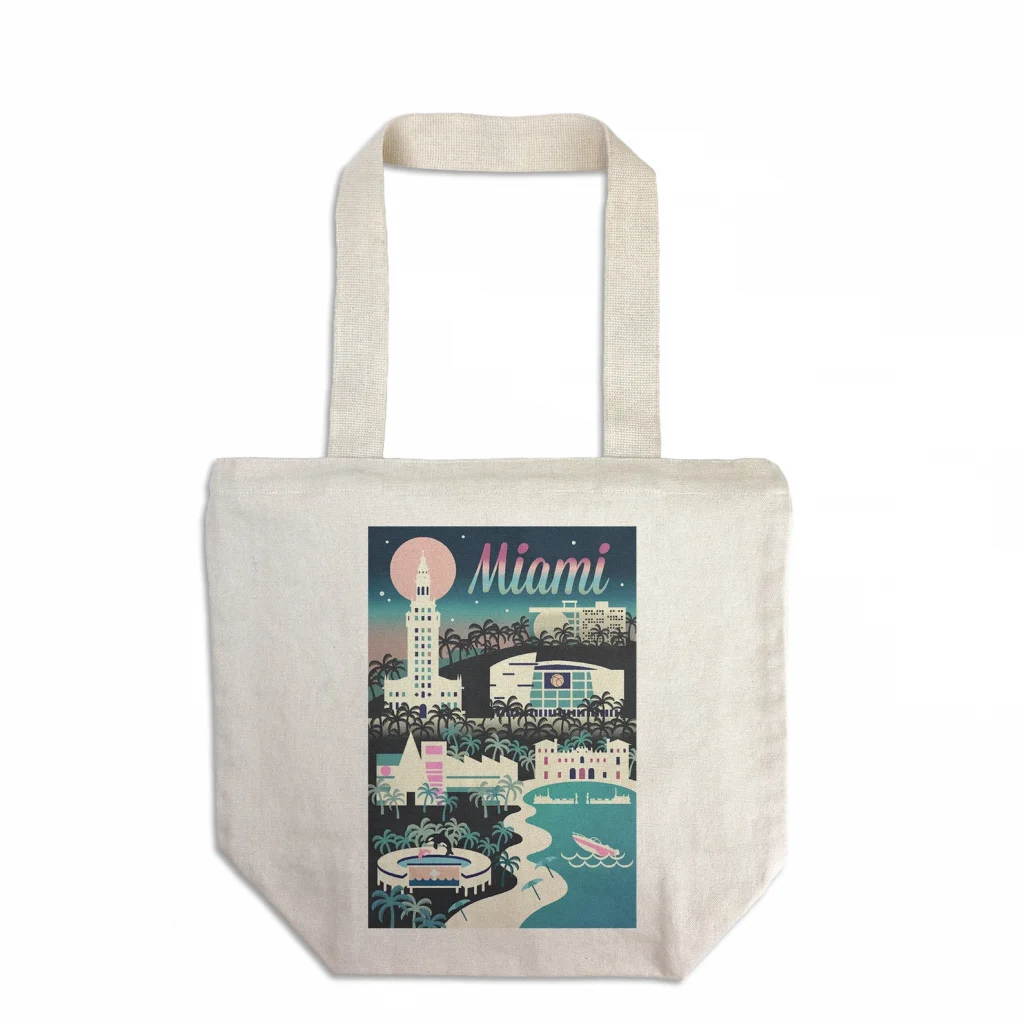 Miami Dolphins Personalized Lighter
The resident football team of Miami is known as the Miami Dolphins, and they have some great merch!
A great collectible item for the Miami Dolphins fan in your life is a customizable Miami Dolphins zippo-style lighter, it's one of the perfect Miami-themed gifts!
The lighter is chrome-plated to ensure a glossy finish that will stand against the test of time, making it one of the best Miami gifts for a loved one!
The lighter is oil-based and reusable, making it a much classier and refined-looking option than disposable lighters.
There are several fonts you can choose for your personalized message on the back of the lighter.
Additionally, if you so choose, the lighter also comes in a sturdy metal case with accessories to keep its maintenance in tip-top shape
Check prices: Miami Lighter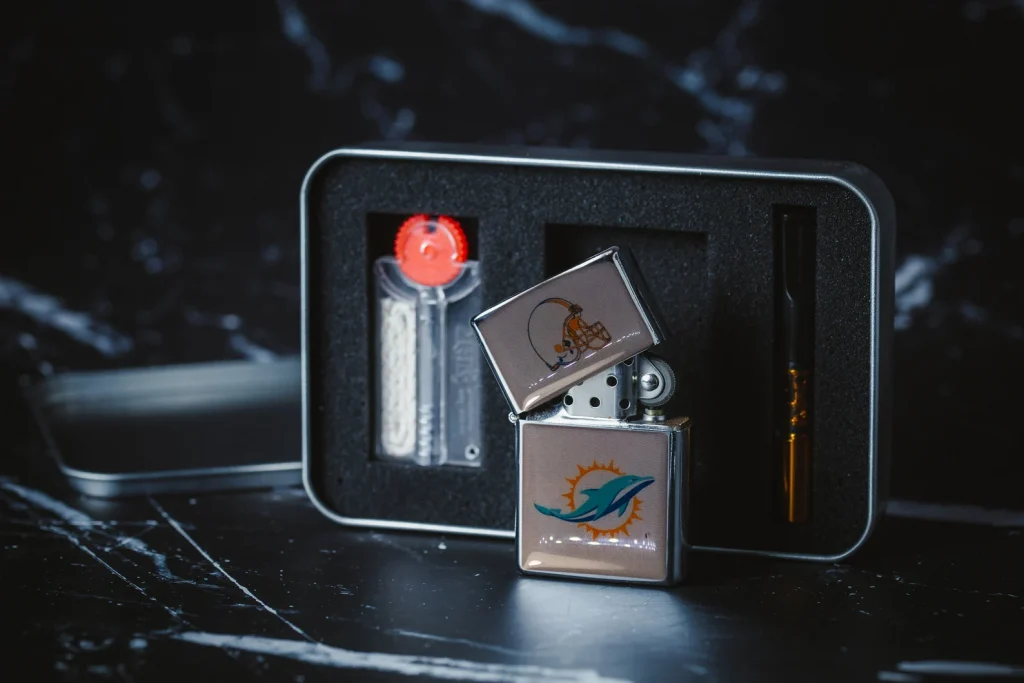 Miami-dade fire rescue backpack
If you're looking for something a little different to give as a gift to your favorite future firefighter, this is the best Miami Gift for you: a Miami-Dade Fire Rescue Backpack!
The Miami-Dade fire department rescue backpack is a perfect gift for the outdoorsy people in your life because it is made of waterproof material, making it perfect for hikes or even camping!
The backpack can carry up to 44 pounds and features a front pocket with a zipper and the main pocket with a separate compartment for a laptop.
This stylish backpack is sure to be a hit, as it is one of the more unique Miami-themed gifts!
As a perfect addition to your new outdoor gear, check out our post on the 15 Best Day Trips from Miami Worth the Effort
The lining of the backpack is made of a silky material, and all of the hems are piped to ensure durability.
Check prices: Miami-Dade Fire Rescue Backpack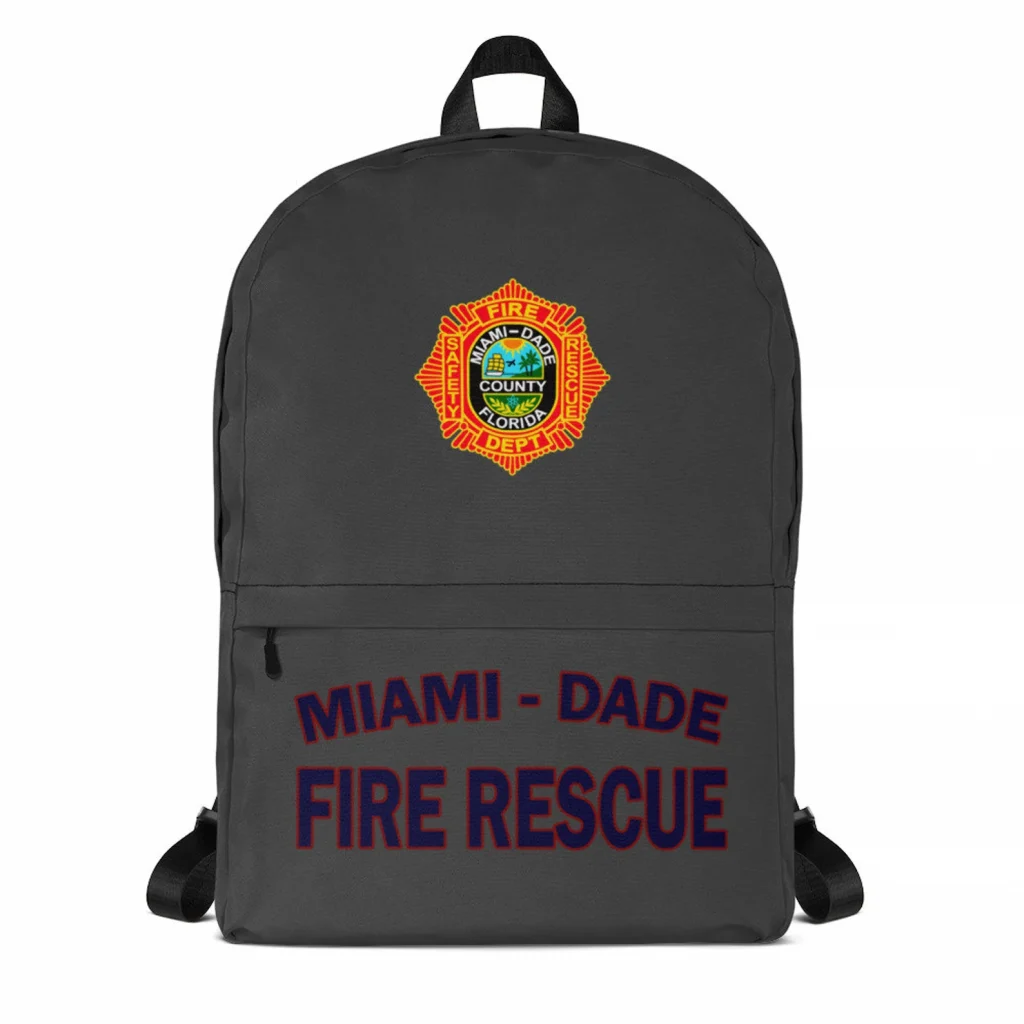 Miami Beach Towel
No matter what city you live in, everyone needs a good beach towel! If that towel represents a favorite city or memory then even better!
Presenting, the Miami Beach Towel! It's one of the best Miami gifts because it can be used anywhere that you need a towel!
This towel is a super cool find as a gift for your favorite beach-goer because it is super customizable coming in over 7 different styles!
The towel is designed to repel sand and dry fast, making it a perfect beach towel, and one of the best Miami souvenirs you can buy online!
Check prices: Miami Beach Towel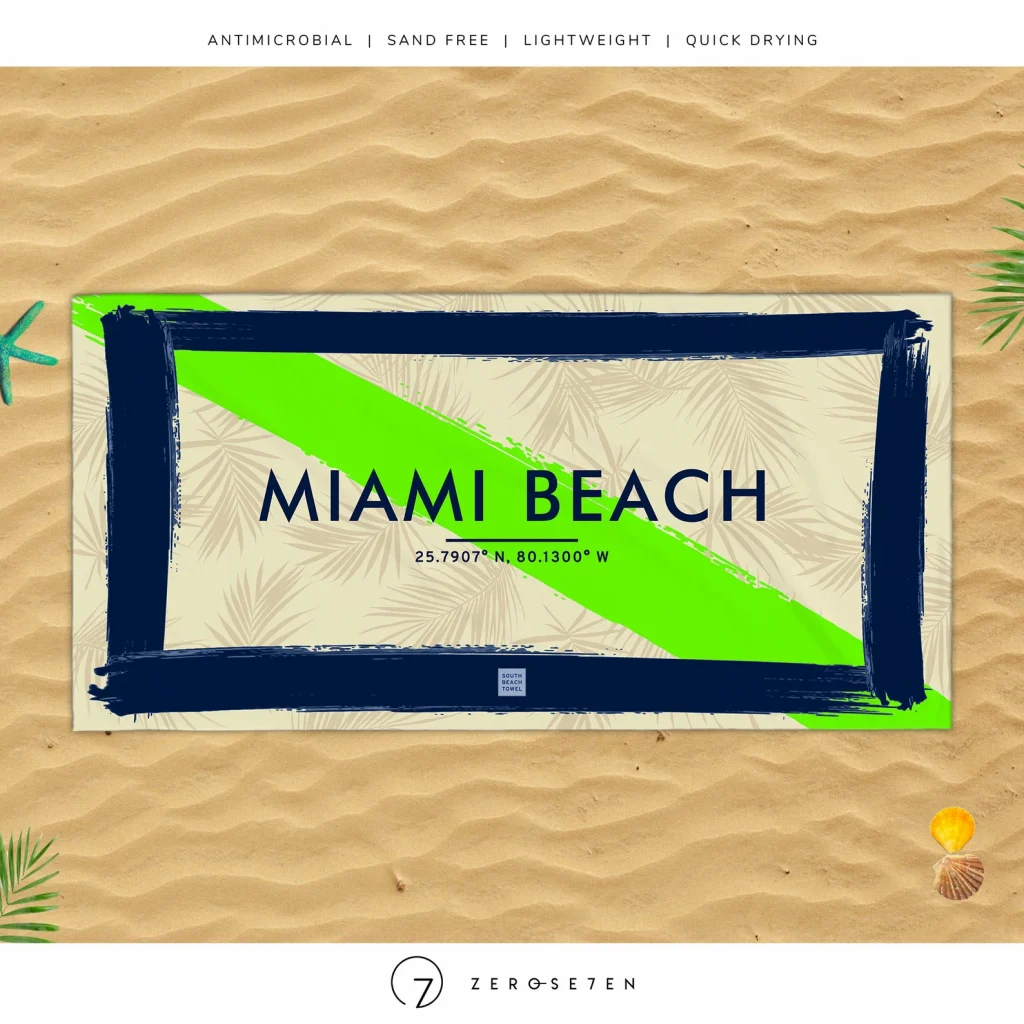 Miami Keychain
While everyone has seen the license plate keychains, this Miami keychain has a unique and whimsical design by the artist Romero Britto and is the perfect fun accessory to give your favorite Miami-an!
The keychain is made from zinc alloy so make sure to avoid long periods of submersion in water!
Since it's something small this is a perfect Miami souvenir you can buy online as a stocking stuffer!
Check prices: Miami Keychain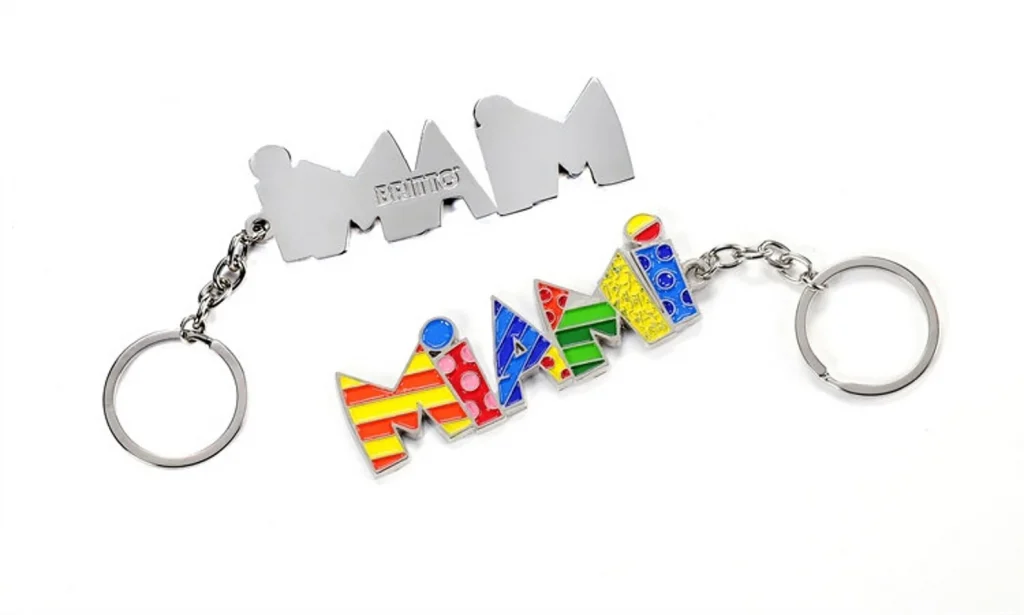 Miami Poster
This cute vintage-style Miami poster is a great pic for someone who is redecorating or just moved, and is a perfect addition to your collection of Miami souvenirs!
The poster comes by itself, no frame included, so if you want to lean into the Miami vibe even more you can find a Miami-themed frame to stick it in!
This is one of the best Miami gifts because it looks good in any color frame or wall!
Check prices: Miami poster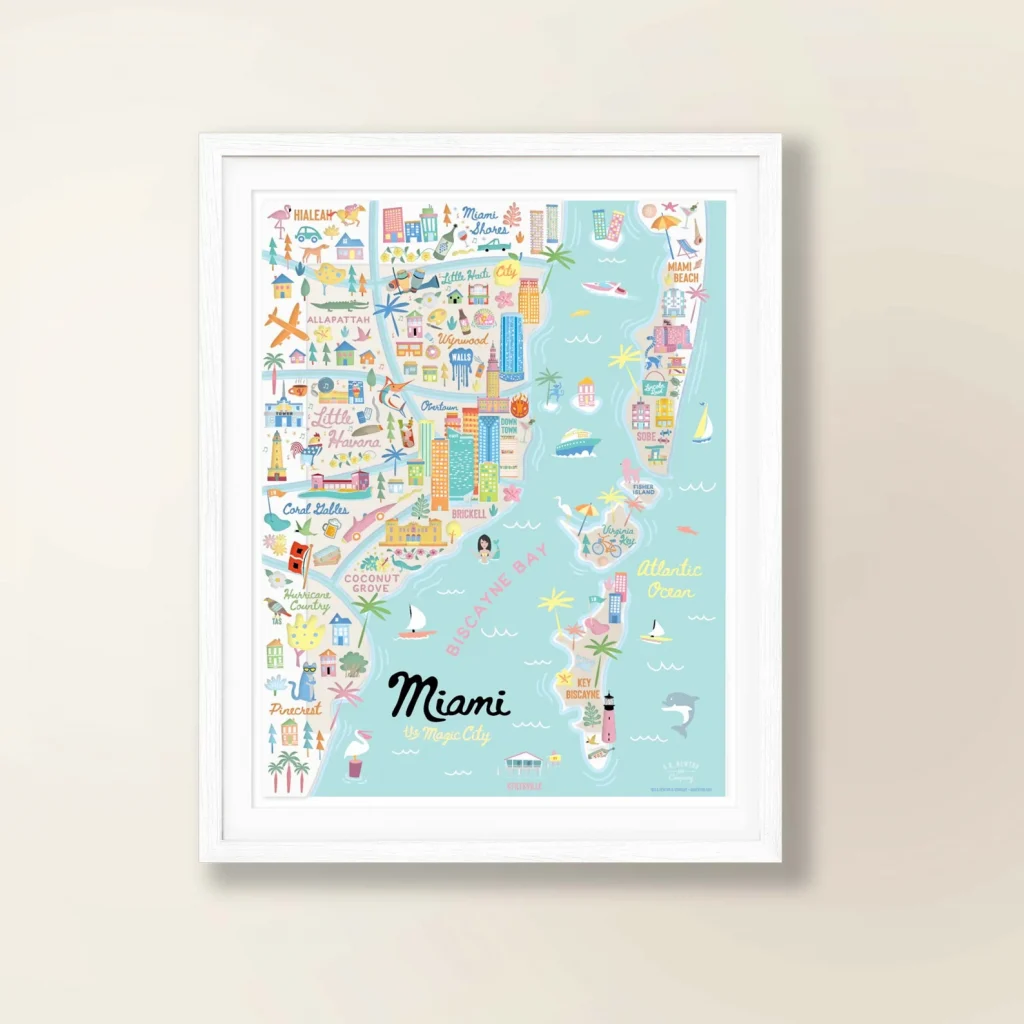 Miami Couch pillow
This Miami Couch Pillow is the perfect gift for the artistic Miami enthusiast in your life, and will be sure to stun!
If you want to give a themed gift but don't want it to be too souvenir-y, then this is the best Miami Souvenir you can buy online!
The pillow features a minimalist artistic rendering of the Miami Area, giving you a splash of the ocean underneath the beautiful autumn hues of the city's features.
This pillow makes an excellent final touch to a room to add a bit of intrigue or color, and is one of the best Miami gifts for the important people in your life!
There are a few different options for purchasing this lovely artwork: you can either buy the cover with a pillow insert, or just the cover itself.
The pillow comes in three different sizes, making it easy to customize to the specific room of the person you're thinking of!
The pillowcase is machine washable, however, make note that the pillow insert is only safe for handwashing!
Check prices: Miami Couch Pillow