Miami is certainly not a city to miss, but you can't afford to miss these day trips from Miami! We all get tired of the hustle and bustle of city life after a little bit. Which means it's time to hit the road and discover everything Florida has to offer just beyond your front door!
Just beyond Miami's city lines, you can experience an entire world of wonder. Whether you're trekking off to explore an ancient castle, or you're driving across the state to get to the quiet East Coast, you're definitely in for a change of pace!
The city's prime location on the Southwestern tip of Florida makes it an ideal base for day trips from Miami. If you're tired of crowds and want to escape, you're only a hop, a skip, and a jump away from the serenity of the Everglades. Just to the north you have the shopping haven of West Palm Beach.
Just to the south, you'll find one of the state's best features: the Florida Keys. If that's not enough seclusion for you, the Bahamas are only a short boat ride away, the most luxurious of Miami day trips!
So the next time you need to take a break from the Magic City, consult our list of best day trips from Miami. Even if you've been to some of the places on this list, but we guarantee you some of these Miami day trips will surprise you!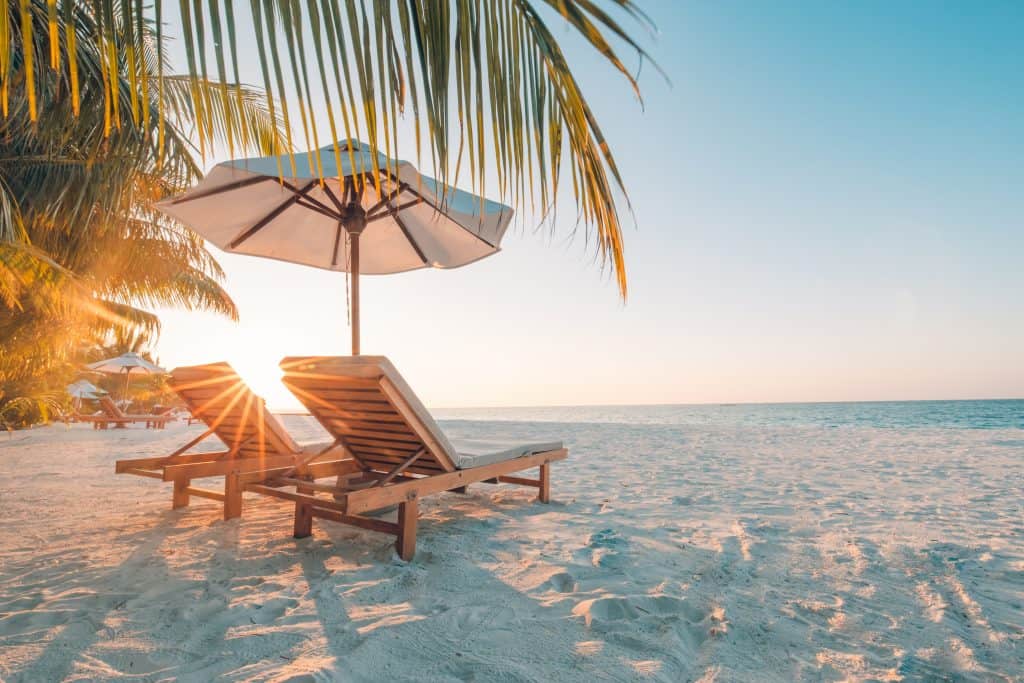 15 Best Day Trips From Miami Worth The Effort
Miami Day Trips Under 1 Hour Away
Stiltsville
On the south side of Biscayne Bay, you can find one of the most unique day trips from Miami. Stiltsville, a group of wood stilt houses, stands on reinforced concrete pilings in between Miami and the Florida Keys. Just 25 minutes away, you can encounter the most unique Miami day trip!
A group of pastel buildings appears to hover over the greenish water. At a distance, they even appear to be boats. There are currently seven houses, although a number of them have been destroyed due to hurricanes.
From Biscayne National Park, one of the best national parks in Florida, you can embark on a boat tour of the mysterious community. The rides to get there do last an hour, but the sight of the Miami skyline makes it worth it. You can even see native Florida animals like sea turtles!
You are free to charter your own boat as well! Try Monty's in Coconut Grove or Haulover Marina in North Miami Beach. Be advised the area around Stiltsville can be difficult to navigate. With only one deep channel running through the houses, pay attention close attention to markers.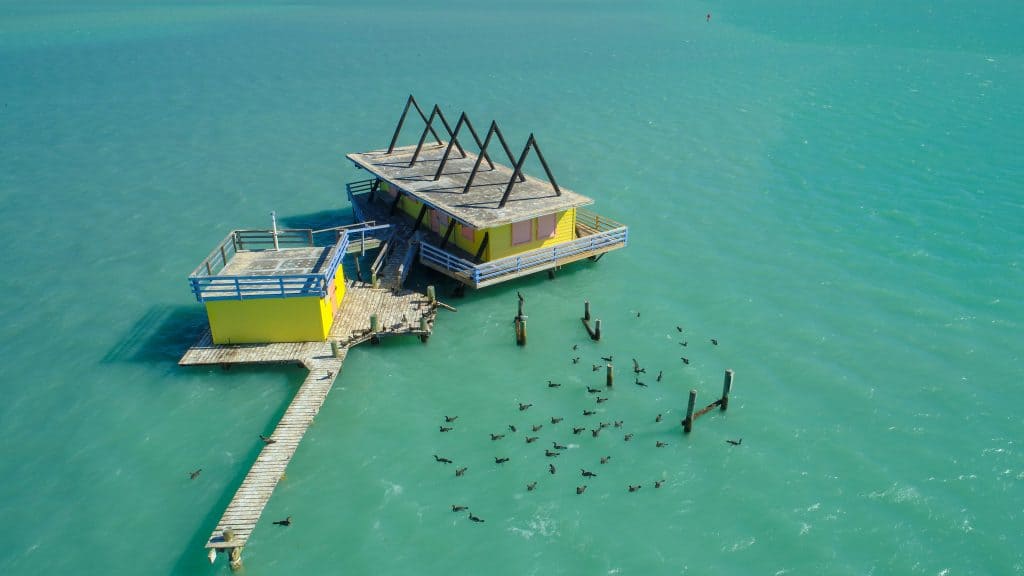 Fort Lauderdale
Only an hour away, Fort Lauderdale makes a perfect day trip from Miami! With a more relaxed vibe, you can explore museums, an arts district with painted murals, and the riverwalk areas.
Las Olas Boulevard is known as the place to be from award-winning restaurants, boutiques, hotels, and nightlife it is worth a visit! You can also check out Sawgrass Mills and The Galleria. For those wanting to visit the stunning beach, you are in luck.
Fort Lauderdale has more than seven miles of beautiful beaches and Ocean Rescue supervises two miles of it with 15 year-round, permanently staffed lifeguard towers making it a very family beach! For those looking for adventure you can snorkel, dive, jet ski, and more!
If you've got kids along for the ride, have no fear. Children absolutely adore seeing Butterfly World and feeding the pink beauties at the Flamingo Center. Better yet, the Museum of Discovery features attractions and exhibits geared for young minds to learn and play!
Don't forget to check out our list of the Best Things to Do In Fort Lauderdale while you are here!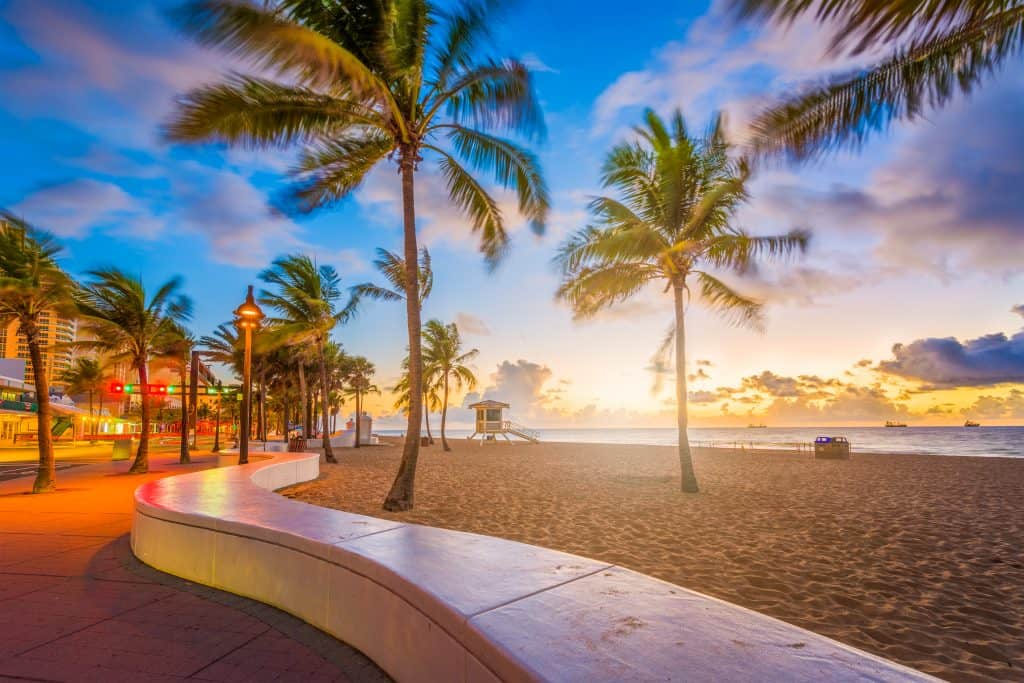 Miami Day Trips 1 – 2 Hours Away
West Palm Beach
Originally founded by Henry Flagler as a haven for the rich and elite, West Palm Beach certainly has blossomed into an urban center. Just under 2 hours away, West Palm Beach makes one of the most perfect day trips from Miami.
Through the vibrant neighborhoods with palm-lined streets, you'll feel electric energy found nowhere else. Separated by gorgeous Intracoastal Waterways, West Palm Beach may be the most serene gem along the Eastern Seaboard.
Visit art museums or take the kids to the aquarium. Catch a baseball game or build the most enormous sandcastle you can! Pick up a cigar at Havana Quest Cigars on Clematis Street or play mini-golf at the South Florida Science Center & Aquarium! West Palm Beach has something for everyone in the family!
Shopping lovers will adore the Palm Beach Outlets. Discover your one-stop shopping destination with over 130 stores and restaurants! Here you'll find luxury brands like Calvin Klein, Coach, J. Crew, Saks Fifth Avenue, and Kate Spade. Then relax at many of the Palm Beach Outlet's dining options like First Watch, BJ's, and TooJay's.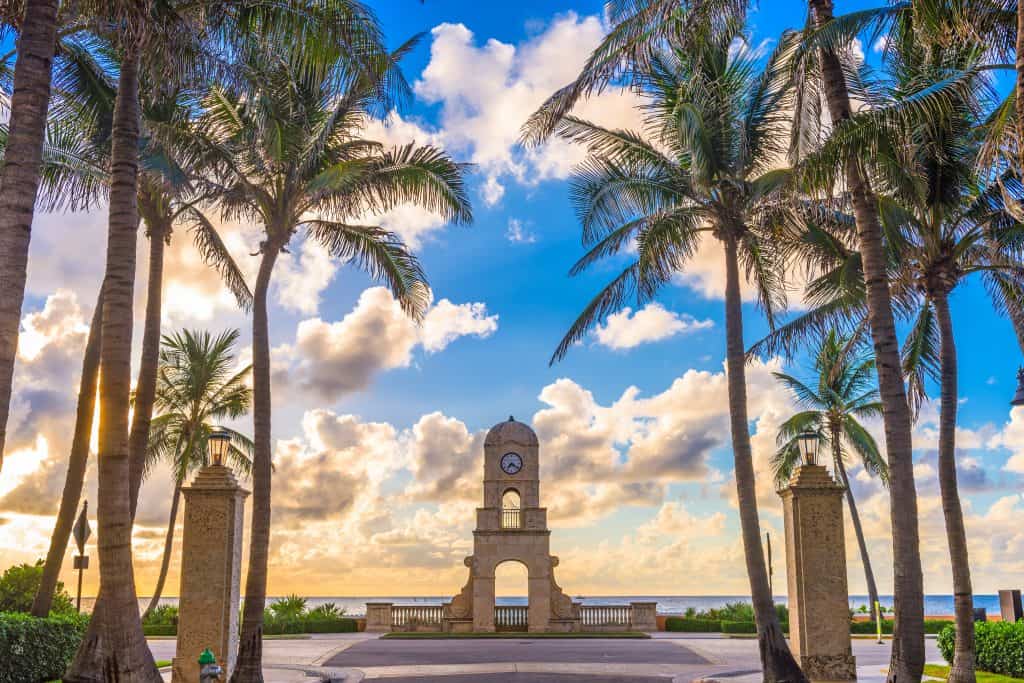 The Everglades
With over two million acres to explore, the Everglades provide endless recreation in Florida's most beautiful ecological feature. So grab your bug spray, we're here to help you take on one of the best national parks in Florida on one of the best Miami day trips.
If you're traveling from downtown Miami, you can expect only a forty-minute drive! You'll want to go to the Shark Valley entrance! For the quickest route, simply take I-95 North to exit 3A (FL-836 W to FL-825). From there, turn right onto US-41 West until you hit swamp!
From the Shark Valley Visitor Center, you can walk or bike along a 15-mile loop trail that leads into Shark River Slough. Halfway up the loop trail is a 65-foot high observation tower, where you will be rewarded with a panoramic view of the sawgrass marsh. This is also a great place to go stargazing in Florida. If you don't want to venture out on your own, consider some tours of the Everglades.
If you're a true outdoorsman, you can spend your day on portions of the Wilderness Waterway for some serious kayaking! If you don't want to get wet, consider the Anhinga Trail. One of the most accessible in the Everglades, it's also one of the best places to see wild alligators and more Florida wildlife.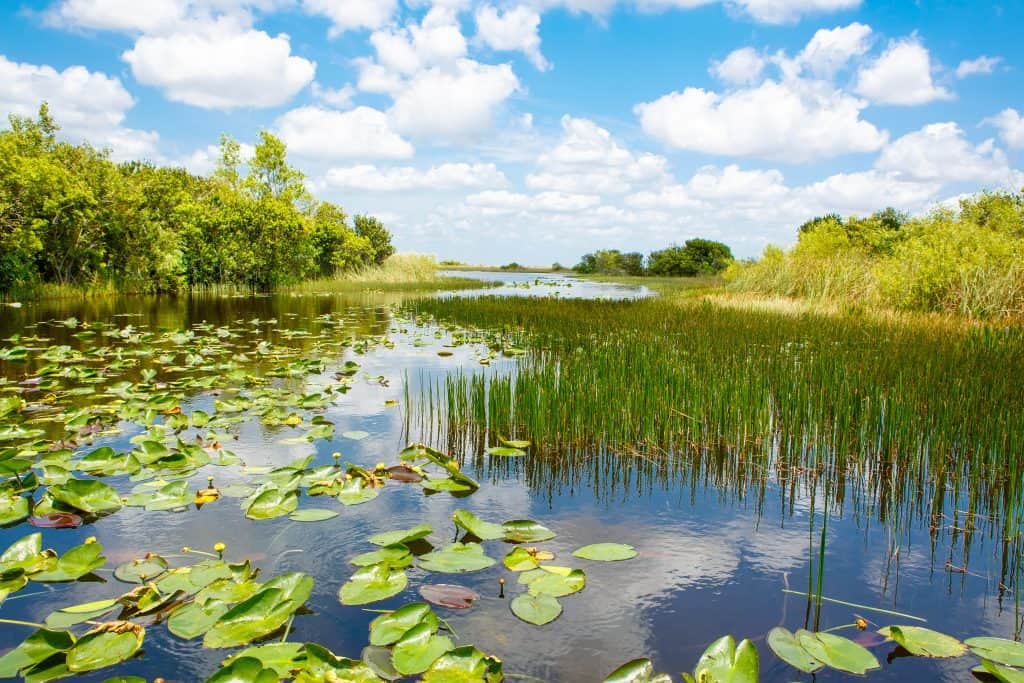 John Pennekamp Coral Reef State Park
The first undersea park in the United States, John Pennekamp State Park in Key Largo is 70 nautical miles of beautiful coral reefs! If Miami's nightclub scene is getting old, trade in your boaters and high heels for a snorkel and jump in!
A Florida National Marine Life Sanctuary, the living, shallow-water coral reefs are alive and vibrant with color. Divers from around the world travel here to experience the area's extraordinary wildlife. But you only have to drive an hour and 14 minutes from Miami to get there!
While the park boasts mangroves and tropical hammocks, the reefs are the star attraction. You are permitted to scuba dive and snorkel to get a closer look. If you want to stay dry, rent a glass-bottom boat to see the beauty underneath you!
For a truly unique experience in one of the prettiest state parks in Florida, exploring the underwater worlds of Key Largo is a must! Seeing the shipwrecks and sunken statues beneath the surface will make this one of the most memorable day trips from Miami!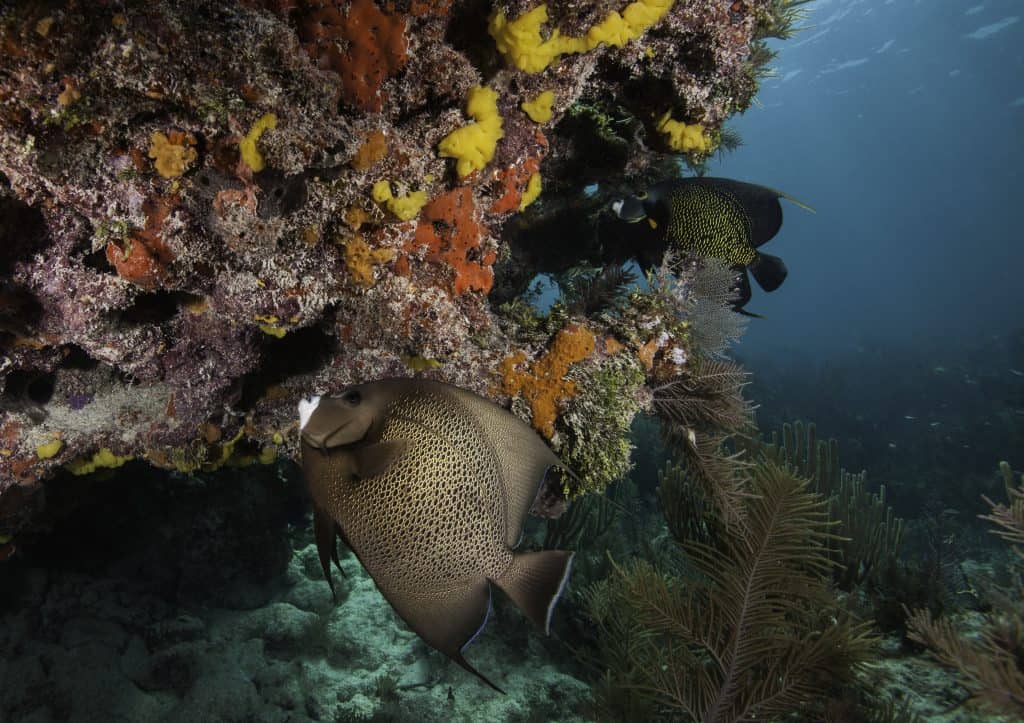 Naples
One of the prettiest beach towns in Florida on the Gulf of Mexico, Naples gained notoriety for its high-end shopping, world-class culture, and sophisticated fine dining. Here you'll find golf courses, pristine beaches, and adventure, any of which would make a great day trip from Miami!
Play a round of Bocce ball on the lawn after visiting the Naples Botanical Gardens! Then go fishing or watch the sunset on the famous Naples Pier. Then go kayaking on the mangroves of Denlor-Wiggins Pass State Park!
You can also head to the Baker Museum to see a permanent collection focusing on works using diverse media across artistic movements. Among the artists featured are Roy Lichtenstein, Diego Rivera, and Alexander Calder. Reflecting the cultural vibrancy of the southwest Florida community, this is one of the best museums in Florida!
Among the shops on Fifth Avenue South, you'll find fashion boutiques, custom jewelry stores, fine-dining options, and entertainment. The art galleries here helped Naples become the #1 small arts town in America. We adore Lovejoy Antiques especially!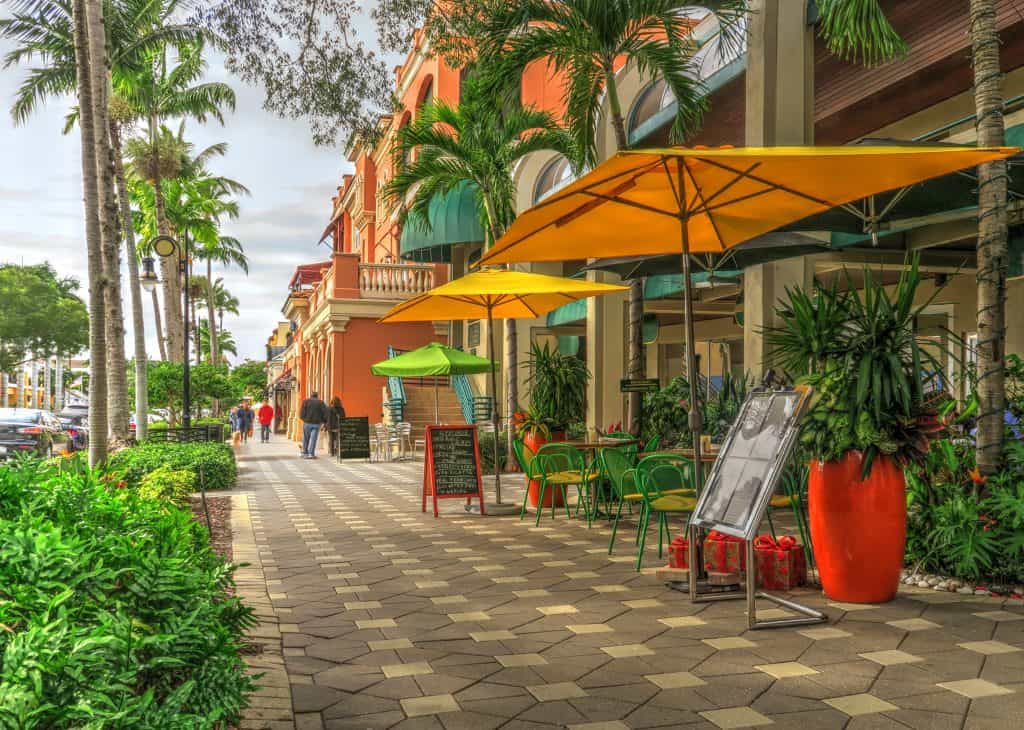 Key Largo
The first of the Florida Keys as you travel down south, Key Largo is only 1 hour and 45 minutes away from Miami! Part of the joy of visiting Key Largo is there is zero pressure to do anything at all. Even if your vacation doesn't involve napping in a hammock, there's still plenty to do on your perfect Miami day trip.
Admire the beauty of Key Largo at the Dagny Johnson Key Largo Hammock Botanical State Park. Here you can take an easy hike through twisting paths. Or if admiring Florida wildlife is more your style, admire more than 90 rescued birds at the Florida Keys Wild Bird Rehabilitation Center.
Fans of the movie The African Queen starring Humphrey Bogart and Katherine Hepburn can get a taste of Florida movie history here too! Take a 90-minute cruise on the actual boat and stop off for dinner at a beautiful waterside restaurant.
If you are interested in that day trip from Miami to a more secluded beach for relaxation? You should head out to Harry Harris Park. Parts of the beach are sheltered if you need shade from all that swimming. There are also showers, a boat ramp, barbecue areas, as well as sports facilities!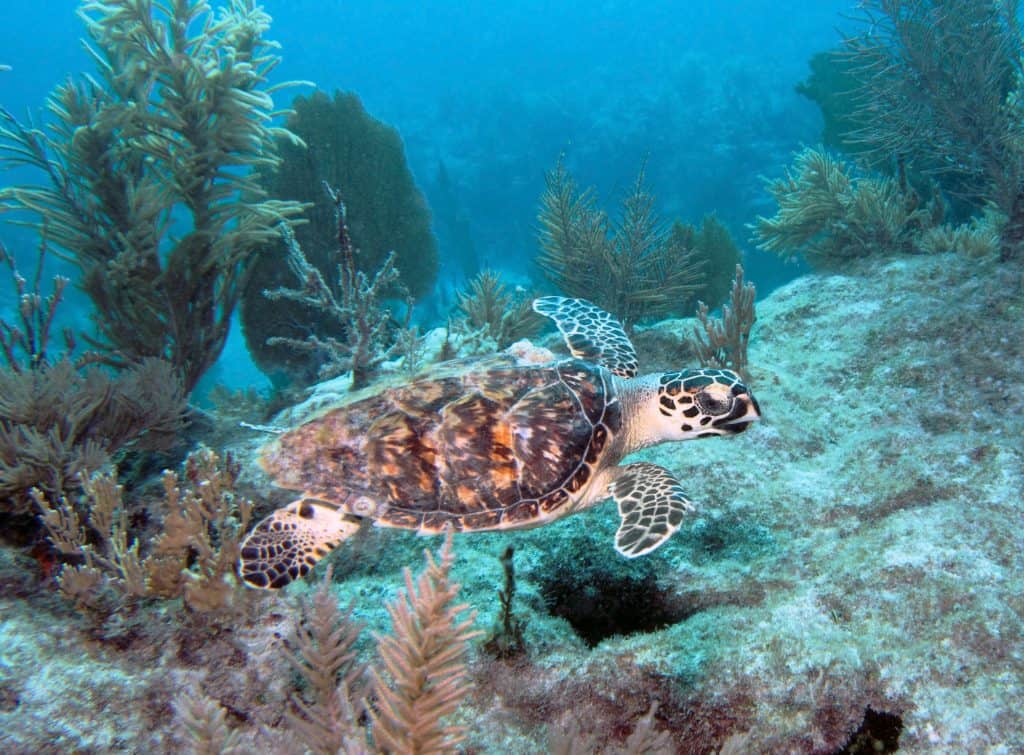 Marco Island
The largest of 10,000 Islands, mangrove-lined estuaries lie just south of Naples. Marco Island's beaches and surrounding sandbars offer some of the best shelling in the world. With community parks, nature preserves, festivals, and museums, there's something for everyone to enjoy!
And it's not too far away either! If you take Alligator Alley, you can start your day trip from Miami to Marco Island in just under two hours! Rent a jet ski and head to the Florida Domes! Once the home of a millionaire seeking the serene beach life, these domes now provide shelter for birds and aquatic life off the Gulf Coast.
For a unique beach experience, catch the ferry out to Keewaydin Island! Bring a cooler with snacks while you relax on the beach. Even if you pack sparsely, you can catch the Burger Barge, which brings refreshments like hot dogs and hamburgers!
If you want to make the most of your beach time, consider taking a shelling tour. Hit up Sand Dollar Shelling to see the gorgeous natural flora, pristine sands, and glistening ocean waters. Sand Dollar Shelling has also found more Junonia Shells than any other company, an incredibly rare and coveted shell!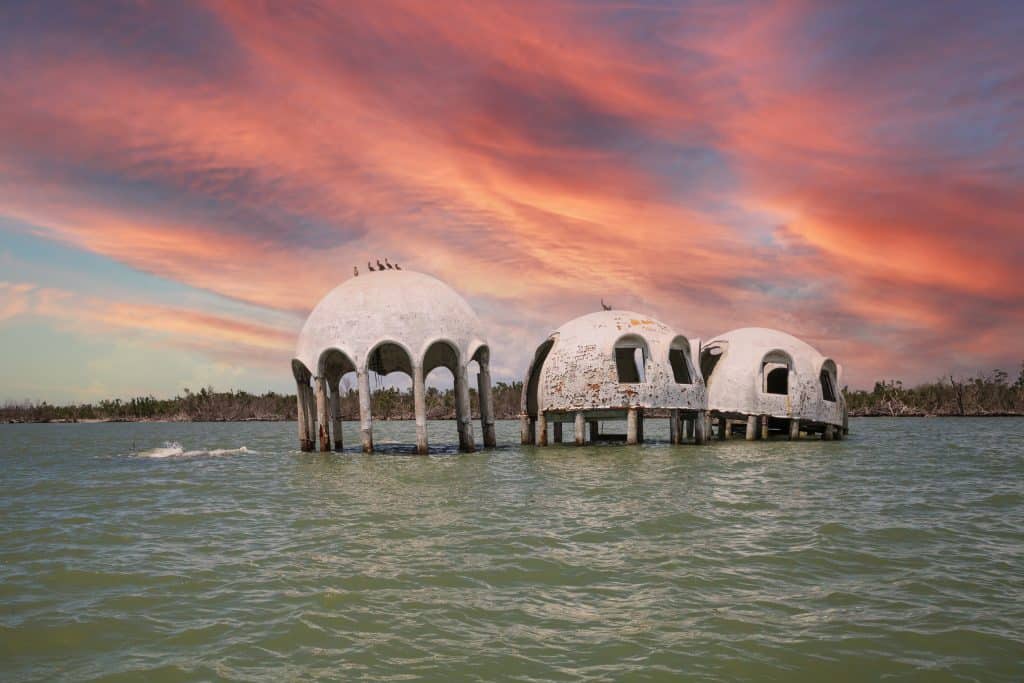 Biscayne Bay
If you're looking for an exciting Miami day trip, then why not head over to a national park in Florida? One of our favorites, and only an hour and 14 minutes away from the city, is Biscayne National Park!
The park is an expansive 172,971 acres and 95 percent is water. This national park is home to Elliott Key, which is the largest island in the park.
There are fun activities for everyone at this national park. From guided eco-adventures, fishing and lobstering, boating, paddling, snorkeling, camping, observing wildlife, to relaxing and admiring the view, everyone will enjoy the time spent at this National Park in Florida.
There is no daily entrance fee for this national park, however if you plan to camp overnight on either Elliott Key or Boca Chita Key, there is a fee of $25.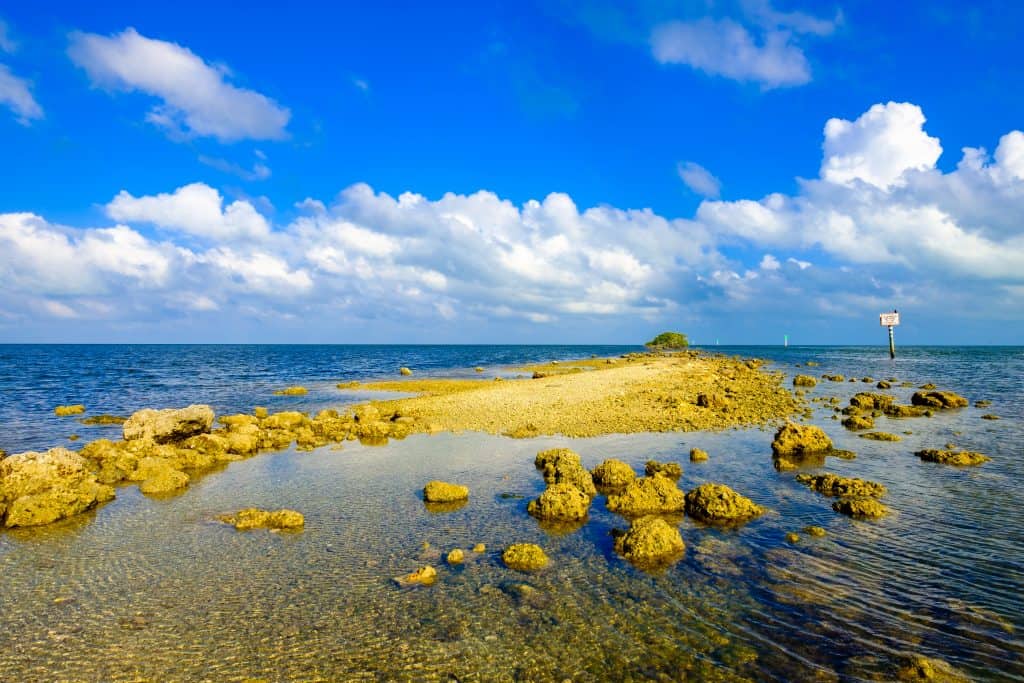 Coral Castle
For those that want a little mystery out of their day trips from Miami, consider visiting Coral Castle. One of the most beautiful castles in Florida, its origins to this day are still a mystery! And at only an hour and 13 minutes away, you'll easily be musing its mysteries on your drive home!
We know that from 1923-1951, Edward Leedskalnin carved 1,000 tons of coral rock. We know that he designed an elaborate rock garden. What we don't know is how he did it by himself. Leedskalnin said ""knew the secrets used to build the pyramids." Some have said he had supernatural powers.
What we do know is that Coral Castle remains an everlasting monument to his lover that canceled their wedding the day before the ceremony. The beauty endures in its exquisite rock formations, shaded by bougainvillea trees.
Among the garden's features is a 9-ton gate that opens with the touch of a finger, a Polaris telescope, and functional rocking chairs. All of them made completely of coral stone.
When you walk through the castle, you'll be in awe of the structure. While scientists debate how Leedskalnin built this castle, it stands as a testament to the power of love. The next time you're in the city, Coral Castle is a must of all day trips from Miami.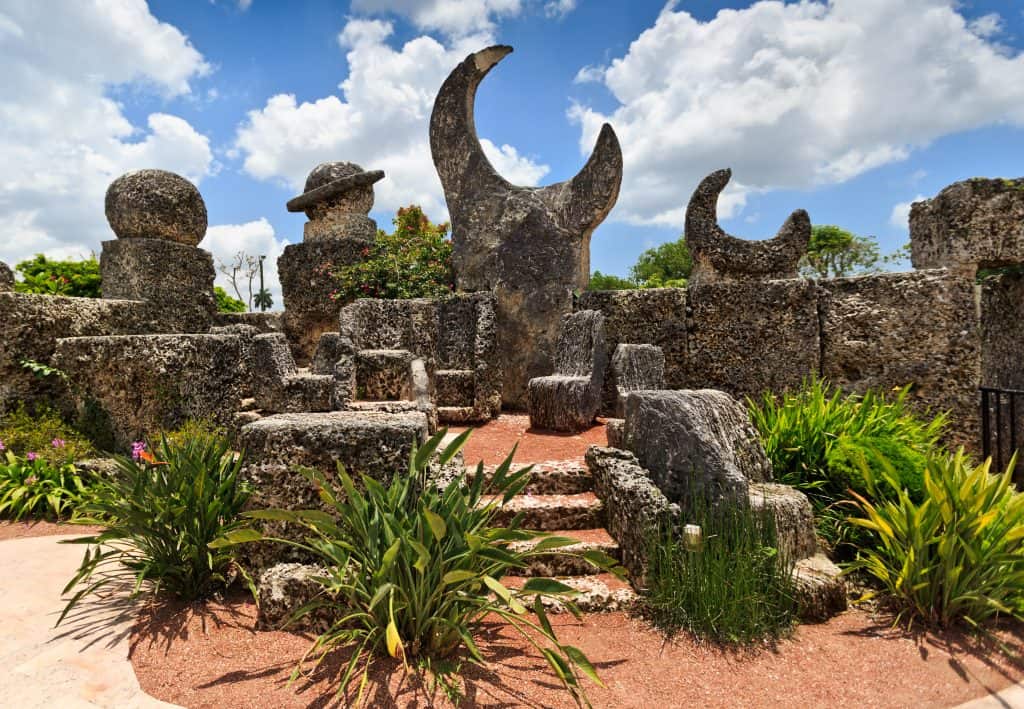 Miami Day Trips 2+ Hours Away
The Bahamas
Taking a ferry to the Bahamas is one of the best Miami day trips and one of the best escapes from Florida! It's definitely easier than you might think! With the ferry launching from Fort Lauderdale and the ferry ride lasting about two hours, you can get to paradise in just over 3 hours total!
The Balearia sails from Fort Lauderdale into the Bahamas port of your choice, either Freeport or Bimini! The cheapest ferry tickets cost $198 for a round trip. If you decide to extend your day trip from Miami into a weekend getaway, you have the option of extending your trip by booking a hotel through the Balearia.
Dock in Freeport, the main city on Grand Bahama, and you can enjoy the oceanfront Lucaya district, with beaches, resorts, and shopping! Check out Deadman's Reef for the most beautiful snorkeling. Head up the coast to Lucayan National park to explore extensive underwater caves, not to mention great kayaking and nature trails.
Bimini, the closer of the two docks, is only 50 miles away from Florida's coast. Bimini is also the less-touristy of the two docks, especially when compared to a place like Nassau. You can expect glorious beaches, incredible game fishing, luxurious food and accommodations!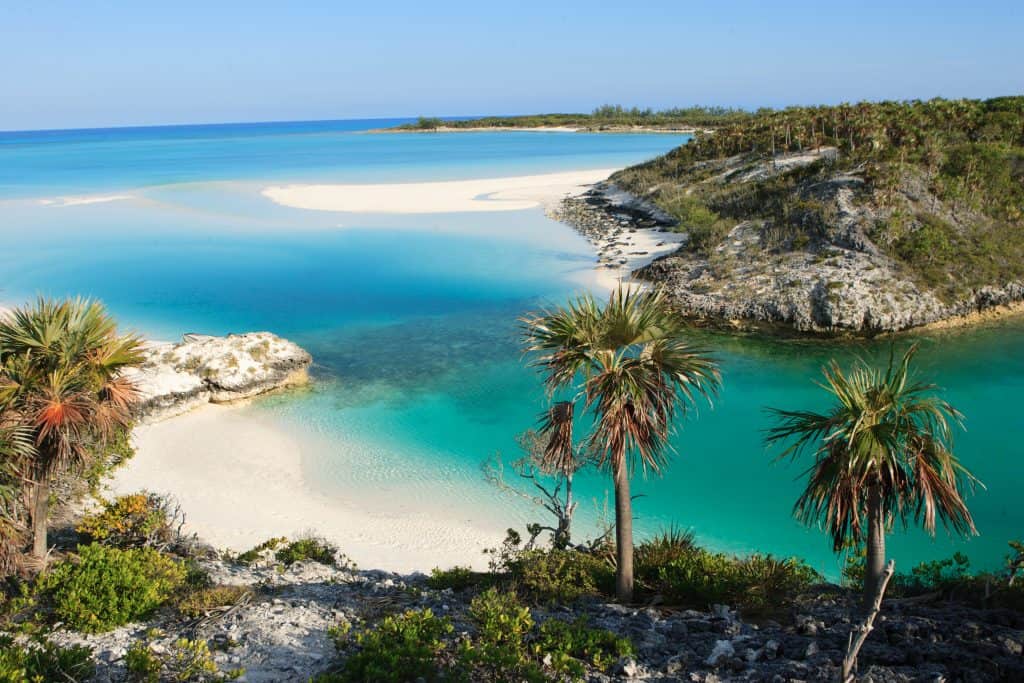 Bahia Honda State Park
While driving to the keys one of the most popular day trips from Miami, a lot of people overlook the natural beauty of Bahia Honda State Park on Bahia Honda Key! Only 3 hours away from the city, Bahia Honda provides the most relaxing beach escape for weary travelers.
Visitors to the park experience breathtaking views of what makes Florida the Sunshine State. Palm-lined shores are lapped up by gin-clear waters. Balmy breezes will keep you warm year-round in this South Florida State Park.
Explore the world just underneath the waters of Bahia Honda on a self-guided snorkeling tour. Among the seagrass beds and rocky bottoms, you'll catch a glimpse of spiny lobster, starfish, and queen conch poking their heads out to say hello.
Perhaps the most beautiful thing to do at Bahia Honda is star gaze. Once the sun sets on the turquoise waters, stars fill the night sky and the beaches become a magical wonderland. Walk the Old Bahia Honda Bridge and gaze up at the constellations, or just lie back in a beach chair and let the majesty wash over you.
Dry Tortugas
If you're looking for a true adventure out of your Miami day trips, consider heading out to the Dry Tortugas. One of the most beautiful national parks in America, we will warn you, this trek is not for the faint of heart as the journey will take you a bit of time to get there.
First, start by driving to Key West. From there, you'll board the Yankee Freedom III, which will take you 70 miles west to Dry Tortugas National Park and Fort Jefferson. The drive plus the ferry will take you in total about 4 and half hours to get there. You can also charter a seaplane for a faster journey, but this option is more expensive.
The beaches on Dry Tortugas National Park don't come anymore whiter or beautiful. The white sand slopes into crustal clear waters creating a perfect tropical paradise. Some areas are no swim zones and some reserved for snorkelers.
Take a tour of Fort Jefferson to learn about the island chain's sordid history as a prison, out in the middle of the ocean. At its height, it housed nearly 2000 people and was described as "a dark, mean place." You can also take a self-guided tour if this doesn't seem amenable to you.
Camping is also available on Dry Tortugas if you want to spend more than one day here. Keep in mind, this is extremely primitive camping. There is no fresh water on the island, so you will have to bring your own or get some from the ferry. But the good news is no fresh water means no mosquitos!
Check out our full guide for exploring Dry Tortugas National Park!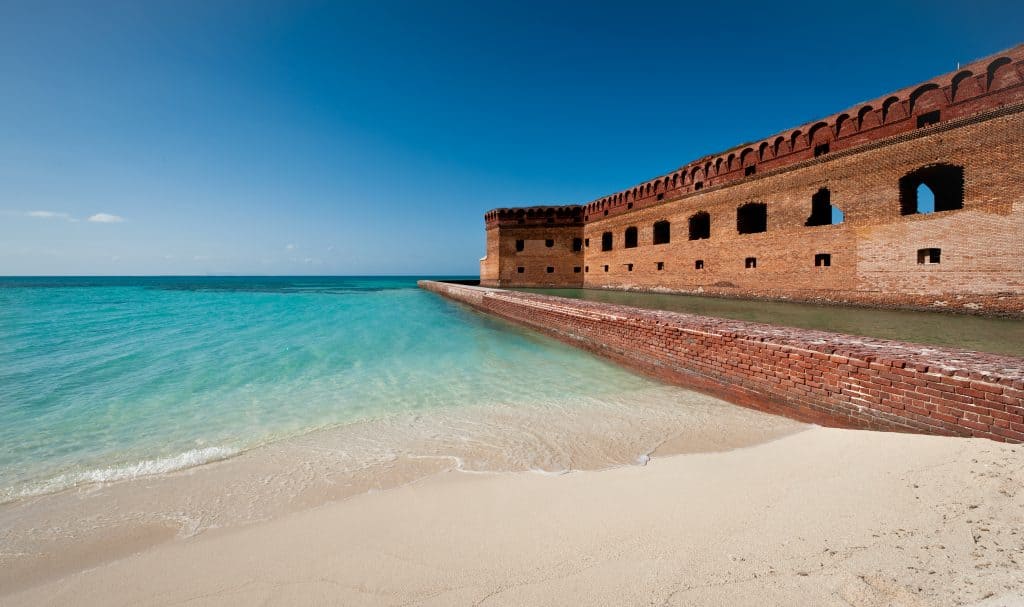 Marathon
One of the most overlooked of the Florida Keys is Marathon Key. When planning some upcoming day trips from Miami, consider exploring Marathon Key, only 2 hours and 42 minutes away from the city!
An aquarium and conservation center, Marathon Marine Park is perfect for the entire family! In addition to multiple aquatic exhibits, you can also explore four different touch tanks: Tide Pool, Nursery, Stingray Cove, and Giant Isopod! The more adventurous can take encounters with sting rays and even big sharks!
Then go snorkeling at Pigeon Key, a small island directly under the 7-Mile Bridge which takes you over the keys. The boat launches from Marathon Key, and once your arrive, you're free to hit the water. We recommend trying the area just off the dock, near the beach, and around the opening of Pigeon Key's saltwater pool. Be careful, the currents around the island might be swift.
You can also get up and close to sea turtles! The Turtle Hospital helps to rescue, rehabilitate, and release injured sea turtles. And you can support the cause while also getting up close to these endangered sea creatures by booking a tour. But be sure to book a tour in advance, because they fill up very quickly!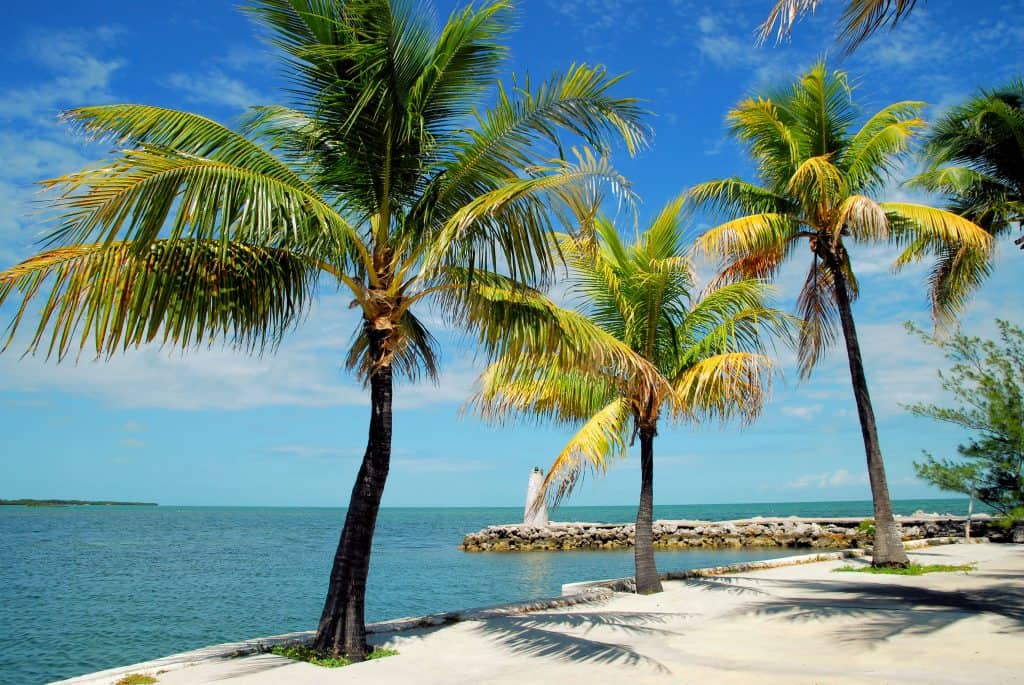 Key West
Key West is known for its nightlife, food scene, beaches, and relaxing island vibes. Don't be fooled, though. Key West offers a lot of history to learn and adventures for exploring. 3 hours and 47 minutes way, Key West makes the one of the best day trips from Miami.
While we certainly recommend a number of things to do on your drive from Miami to Key West, the southernmost of the Florida Keys has so much to offer on its own! Explore the bar scene on Duval Street to unwind after your long drive. You can also take in the sounds of live music and street performers!
History buffs will appreciate Harry Truman's Little White House while shopping lovers will appreciate the storefronts and beautiful sunsets at Mallory Square. Adventure lovers? Take a dive down to Vandenburg, a sunken ship eight miles off the coast for underwater sights.
To get yourself into that island living, you can visit one of three Rum distilleries on Key West. Whether you enjoy learning about the distillation process or just enjoy drinking Rum, then head to either Key West's First Legal Rum Distillery, Papa's Pilar, and Key West Distilling. You can even pick up some new drink recipes while you're there.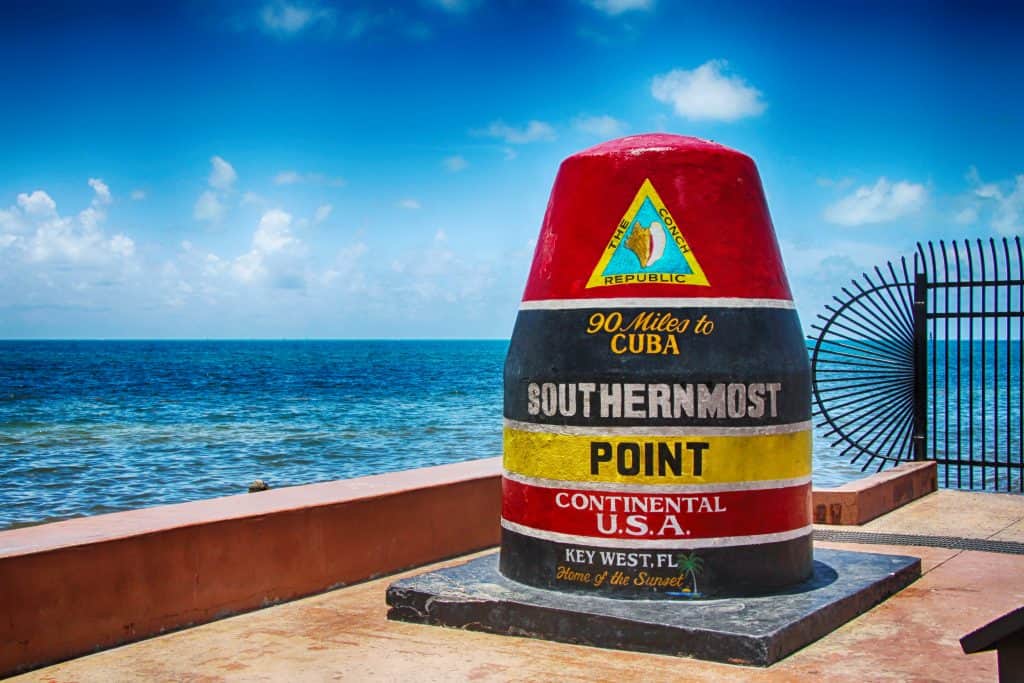 Did You Find This Post Helpful?
If so, we would love to keep in touch! We enjoy seeing photos and comments about your experiences in Florida! You can follow us on Instagram and we will repost your photos on our feed and comment too! Just tag us at @floridatrippers and hashtag #floridatrippers. We can't wait to see your travels!