Are you looking for the best things to do in Key West at night? Look no further, we have a list of the best options to take out any guesswork! Key West is an exuberant city full to the brim with things just about anyone could enjoy! Thankfully the sun will be down for most of these activities, so even if you're sunburned you can still partake in the fun.
Planning your trip to Key West last minute?
Make sure to book ahead! Hotels and tours often sell out the closer you get to your trip. Here are our top picks for Key West!
Top Experiences And Tours In Key West:
Top Places To Stay In Key West:
If you have an urge to spend your night doing something fun in Key West, well then you are in luck! Whether it's pub crawls, spacious ocean vehicles with food and drink, stand-up comedy shows, musicals, or even a dessert-only restaurant, Key West has everything you need to have a fun night to remember fondly for years!
If you're someone who likes to book things in advance, keep in mind that most of these tours do not include gratuity, so it's always good to make sure you have some petty cash on hand for when you want to show appreciation to the tour guides and other people who work hard to make sure you have a great time!
Before you plan your trip, make sure to check out The Best Times To Visit The Keys where we break down each month and talk all things weather!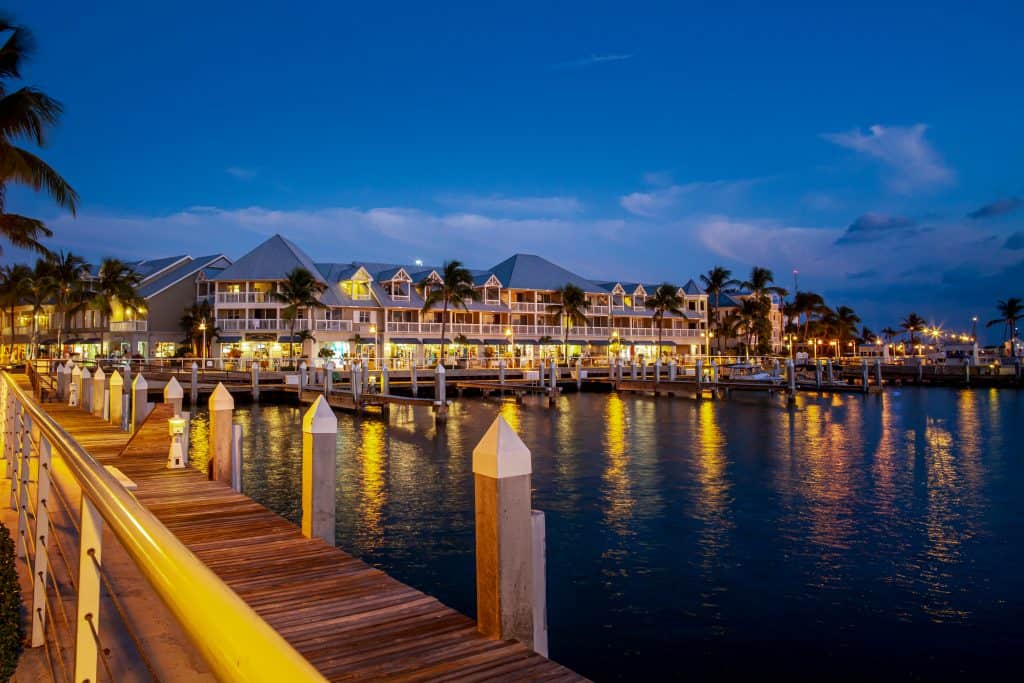 10 Best Things To Do In Key West At Night
Key West Ghost tour
Taking a ghost tour at night can be a thrilling experience if you're into that sort of thing. This isn't just any old ghost tour though, this is one of the best ghost tours in the country! You might be surprised why it's one of the best things to do in Key West at night! Click here to book!
While most people know that Key West is a super fun city, they don't know that it's named one of the most haunted cities in America, meaning that Key West is a hub of supernatural activity after the sunsets!
If you're spookily inclined, need a break from the busy nightlife, or even just love Halloween-themed content, then this is absolutely the tour in Key West for you!
The one-hour-long tour features everything to tickle your spooky-loving fancy! What if you see an actual ghost? What if you catch one on camera?!
The tour includes graveyard and 16th-century house sightseeing, spine-chilling true-life ghost stories that sound too crazy to be real, and even some ghostly macabre comedy. Maybe even a tragic love story or two!
See if Key West lives up to its name of one of the most haunted cities in America – the reviews sure don't lie!
Make sure to arrive at the point of departure 30 minutes before your tour starts to ensure that everything goes smoothly and see why it is one of the best fun things to do in Key West at night!
Book Here: Key West Ghost Tour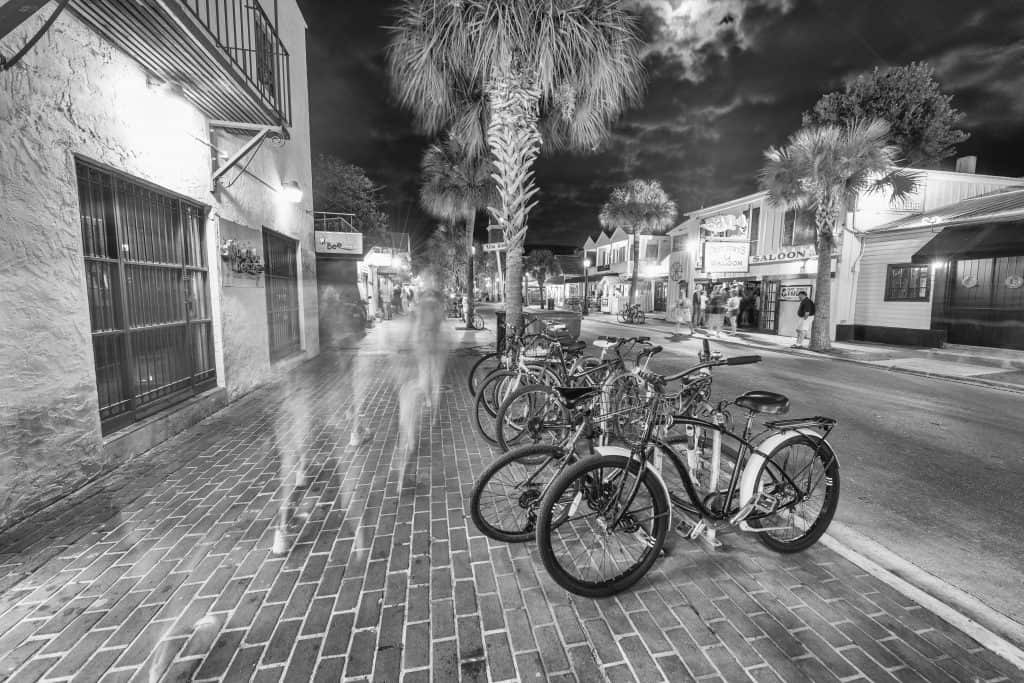 Drag Queen Pub Crawl
Have you ever wanted to explore Key West's nightlife led by a local drag performer with intimate knowledge of all the best spots to get a drink or see a show? You're in luck, with this tour you'll get all that and more! Going on a pub crawl led by a drag queen is one of the most fun things to do in Key West at night!
Make sure to check out the best bars and nightlife in Key West!
Buckle up, you've never seen nightlife like this, no matter your orientation, gay or not, you're sure to have a great time with a night full of fun! If anyone knows how to party like a rockstar, it's a drag queen! Click here to book!
Since you'll be led around by drag royalty, expect treatment thusly: you get to skip all the lines at each club like a true VIP – it really is one of the most fun things to do in Key West at night!
This two-and-a-half-hour tour takes you to the most happening nighttime destinations in Key West, featuring drinks, karaoke sing-alongs, dancing, and all the drama that comes along with being in the presence of a world-famous drag performer!
The tour begins at 8:30 pm so make sure you have all your bar tabs closed out beforehand, masks are required and the price does not include tips or drinks! Drag queens love a tip, so if there is anything that you NEED cash for, this is it!
Book Here: Drag Queen Pub Brawl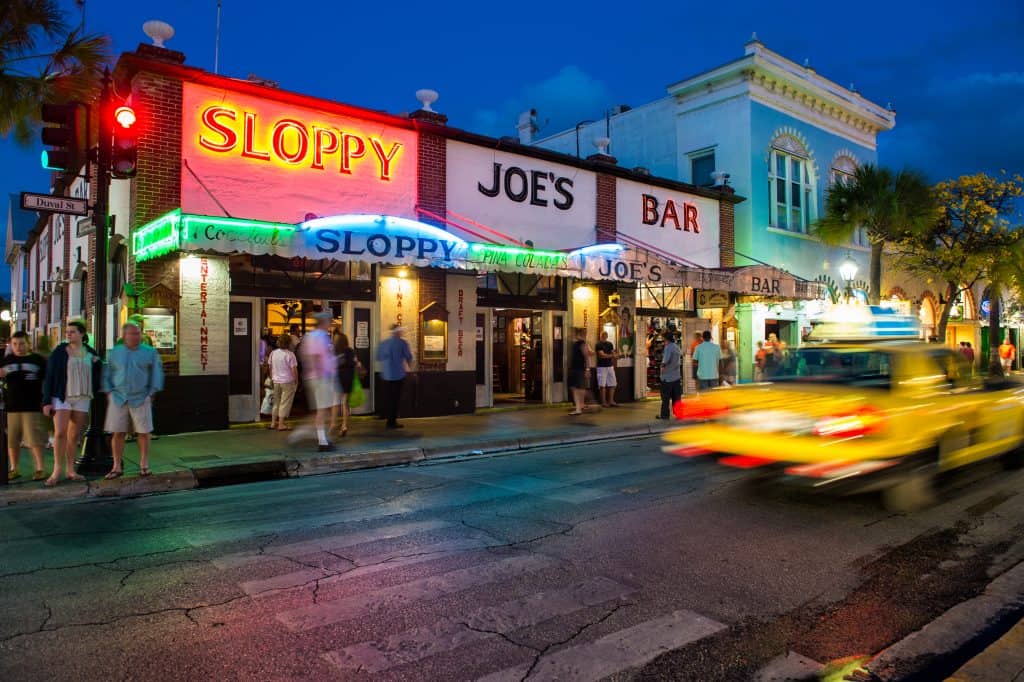 Duval Street Pub Crawl
Duval Street is the main downtown area of Key West, so it is home to many of the best things to do in Key West at night! Every city has one or two streets that showcase the best of the best in the city, and Duval street is that for Key West! That's why Duval Street is one of the best things to do in Key West at night! Click here to book!
If you want to see all the best nightlife and clubbing spots, but would rather be shown around by someone who knows the place (always advisable) then this perfect is for you! Plus who doesn't love a free t-shirt?
This 2.5-hour long tour includes a stop at 5 of the best bars in Key West, one cocktail per bar, and a commemorative t-shirt to wear on the way to get something greasy for your headache the next morning!
Book Here: Duvall Street Pub Crawl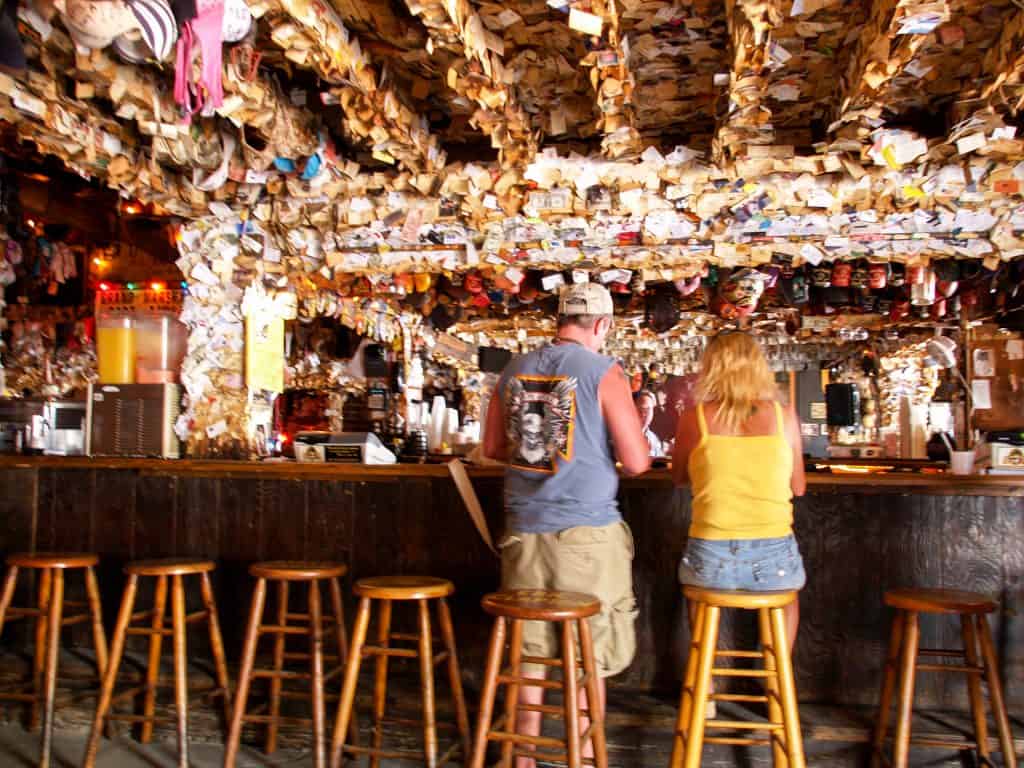 Sunset Catamaran Ride
If you want to enjoy the ocean and sunset even more intimately or are looking for romantic things to do in Key West at night, consider booking an evening catamaran cruise! There is truly nothing like being RIGHT on the water and seeing all the colors reflected. Click here to book your ride and see why this is a top-tier romantic thing to do in Key West!
The catamarans for this cruise are state of the art, and spacious to boot, you might even forget you're on a boat!
As if being able to see the sunset on the ocean wasn't enough, the catamaran cruise includes live music and food AND drinks! (tips are not included though) The food offered is limited to finger foods, so if you are a big eater then consider getting a little snack on the way to the catamaran or have a really light dinner.
To make sure you have the smoothest experience possible make sure to bring a form of ID for the boat and don't forget to soak in every moment in that salty ocean air!
Book Here: Sunset Catamaran Cruise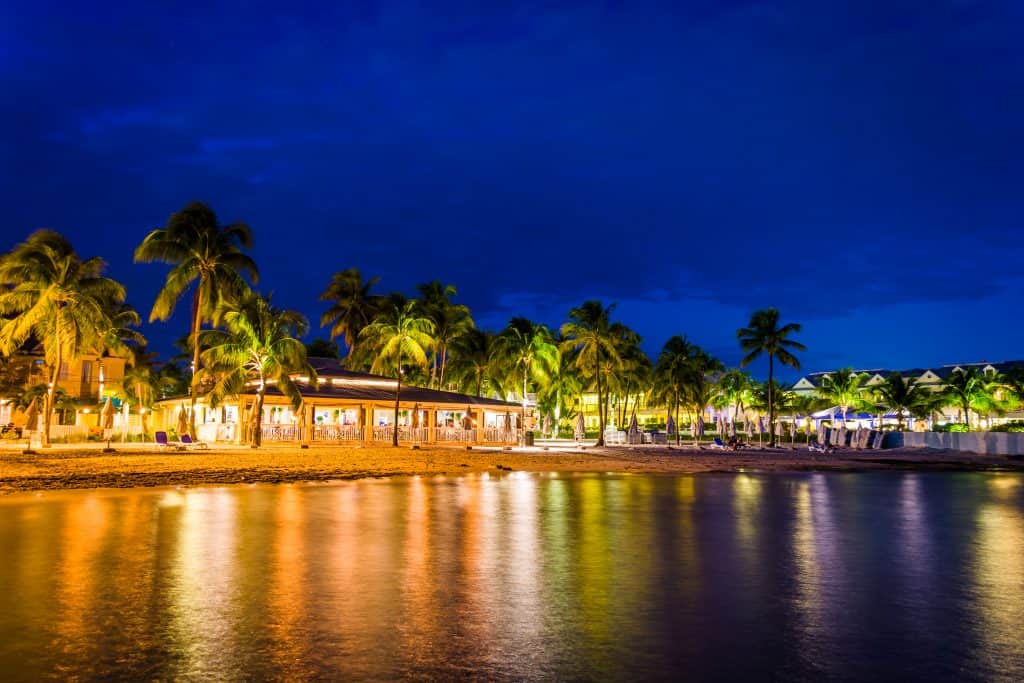 Key West Theatre
Key West Theatre is the name of the performing arts complex in Key West. The theatre complex hosts several entertainment groups including a burlesque, a concert venue, a comedy club, and even a recording studio! It is one of the more unique things to do in Key West!
Seeing a show at this world-class performing art complex is one of the best things to do in Tampa at night, so see if there is a show that catches your fancy, and realize why Key West theatre is one of the best places to go in Key West at night!
Not only is the Theatre the central hub of the performing arts in Key West, but the building has a rich and storied history. The Theatre was actually many different things before it became a fully functioning performing arts complex, including the first Baptist church in Key West and a dance club! How things can change with time!
The Theatre offers all kinds of live entertainment including stand-up comedy, burlesque shows like Harriet Potter and the Enchanted Tassel, and raunchy adult-themed musicals like Bum Farto: The Musical.
If the racier fares of the theatre aren't your style, not to worry! There are all kinds of top-notch music performances featured weekly at the Theatre as well! Grab a ticket and see why Key West Theatre is one of the best fun things to do in Key West at night!
Rooftop Bar
Enjoying the beautiful sunset with a drink in hand is one of life's greatest and most simple pleasures, add a rooftop and you've got yourself a slice of paradise: the rooftop bar!
Luckily there is no shortage of great places with rooftop seating In Key West, making them one of the best things to do in Key West at night!
Our best two rooftop bars are:
Bull and Whistle is in a gorgeous historical building with a lush rooftop seating that is clothing optional! The website advises that the most "clothing option" time happens when the sun is up, For regularly clothed bar cavorting there is the main "bull" bar downstairs as well.
Scotty's Front Street Stage is a fun place for drinks (and food) with live music every week! The bar has been closed for the summer of 2021 for renovations, so check out their new digs and see why it is one of the best places to go in Key West!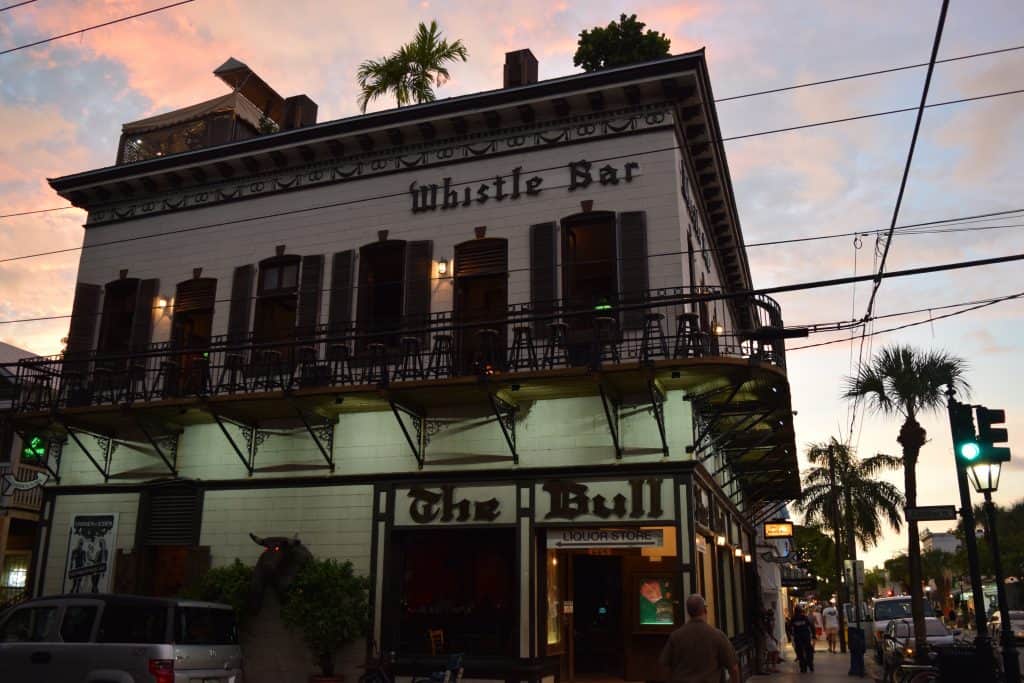 Dessert Restaurant
If you love the atmosphere of a sensuous cocktail bar but are also on the prowl for the perfect spot to get your sweet fix, then we have the perfect spot for you! Enjoy an evening reservation at a sex-themed dessert restaurant! Better Than Sex is one of the best things to do in Key West at night, and is a perfect romantic thing to do in Key West for a couple!
Reviews all rave of the strong drinks, delicious dessert, and the unique exciting ambiance which make it a super romantic thing to do in Key West at night! While a dessert restaurant certainly would seem kid-friendly, perhaps one that serves innuendo-laden drinks such as the "caress the carrot" and desserts like "the fourgasm" or "banana hammock" is better left to the grownups.
It's worth noting as well that the restaurant only seats up to four at a time, as parties of two are the target audience for this experience – see why this is one of the best date night ideas in Key West!
See what all the hype is about by making a reservation (which is required!) and don't forget to bring your ID!
Kava Shack for adults who don't drink alcohol
If you're looking to get a little buzz, but don't care too much for alcohol then fret not, we have the perfect spot for you! Dr Feelgood's Kava shack is located at 420 Greene St in downtown key west, and is one of the best things to do in Key West at night for people who don't like alcohol!
Dr Feelgood's has an impressive offering of many different vehicles for Kava consumption such as drinks and eatables! The plant makes for a very pleasant and calm feeling of euphoria, not unlike alcohol, but much more gentle.
The shack also has offerings of CBD and Kratom products as well, so if you don't find Kava agrees with you there are plenty of other things to try!
Definitely don't come for the ambiance though, as the Kava shack is literally just a shack with very little seating – plan to take your goodies elsewhere to enjoy unless you are fine standing around. Doesn't a kava cocktail by the ocean shore sound heavenly?
The shack is open from noon till midnight so there is plenty of time to get a treat to enjoy the sunset with! Check it out for yourself and understand why it's one of the most fun things to do in Key West!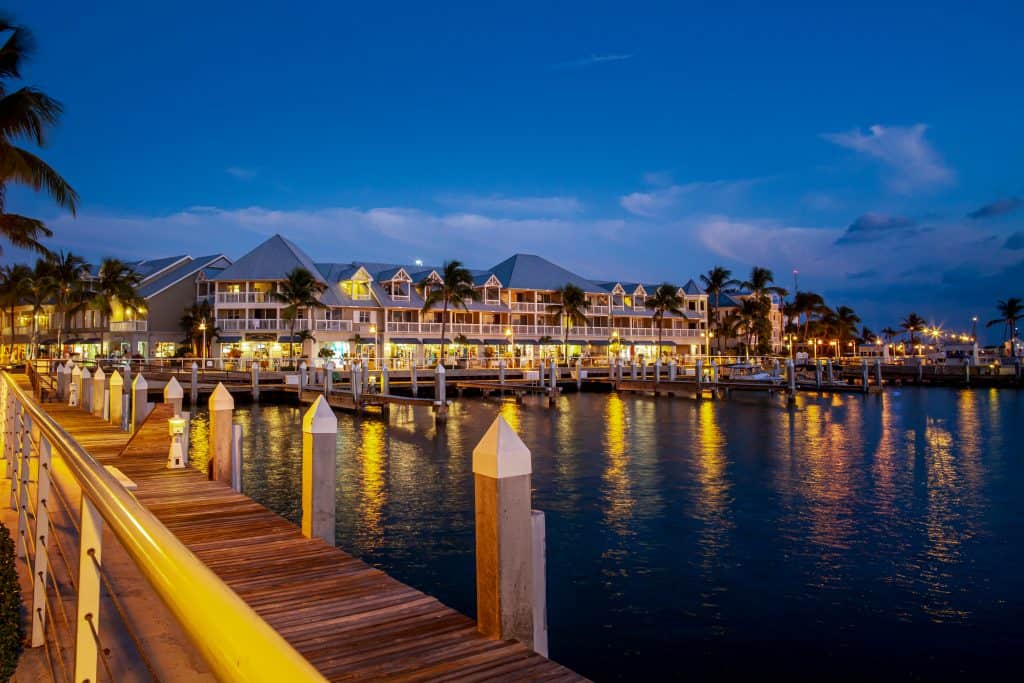 Key West Paint and Sip
On the off chance, the weather is not great in Key West, and it's raining, it's always good to add just one more indoor activity to the list!
Getting to enjoy a nice glass of pinot and creating a very approachable and eye-catching masterpiece is one of the best things to do in Key West when it's raining!
Now we know the whole wine and paint thing is overdone, but hear us out! There aren't any other classes like this around!
Presenting: Key West Paint and Sip! The unique artistic experience is led by local artistic soul Kristen Mcnamara who is affectionately called "KMAC".
Not only is KMAC amazingly talented with a brush, but she is also a local musician and performer who frequents the stages of many of the local venues to perform her originals – some of which have even ended up on TV!
KMAC is a local of Key West, and also self-proclaimed "Key West Enthusiast" who has a lifetime's worth of experience in the glory of the native landscape, she even has written song for each piece of artwork she has painted that represents the soul of the painting.
The expertise of KMAC's teaching is sure to make you feel comfortable enough to make a masterpiece while enjoying a nice glass of whatever you like!
During the COVID-19 pandemic, all of the classes are offered virtually so you can enjoy them from your hotel room or anywhere else in the world with an internet connection, making it truly one of the best things to do in Key West at night!