Are you looking to explore and get lost in the beauty of the best National Parks in Florida? Well, you've come to the right place!
Florida's National Park's are diverse and rich in nature, and depending on where you are in the state, each park offers a unique experience.
So if you're seeking adventure, the National Parks in Florida are sure to give you a thrill with exciting activities such as camping, boating, snorkeling, hiking, paddling, biking, and historic site-seeing.
What's so amazing about Florida's National Parks, is that they do not fit the definition of your tradition national parks. They are so much more, from national monuments, everglades, pristine undeveloped seashores, islands, unspoiled coastal wetlands, and sparkling crystal-clear turquoise waters.
The activities are endless and are spread across the state, so if you aim to hit all the best National Parks in Florida, be prepared to travel and have ample time on your hands!
Below we have put together of the Best National Parks in Florida as well as some of the unique activities that each park offers. We hope you visit each and every park and that you have a memorable and fun time!
Remember, these National Parks in Florida are not listed in any particular order, for they are all amazing places to visit and explore.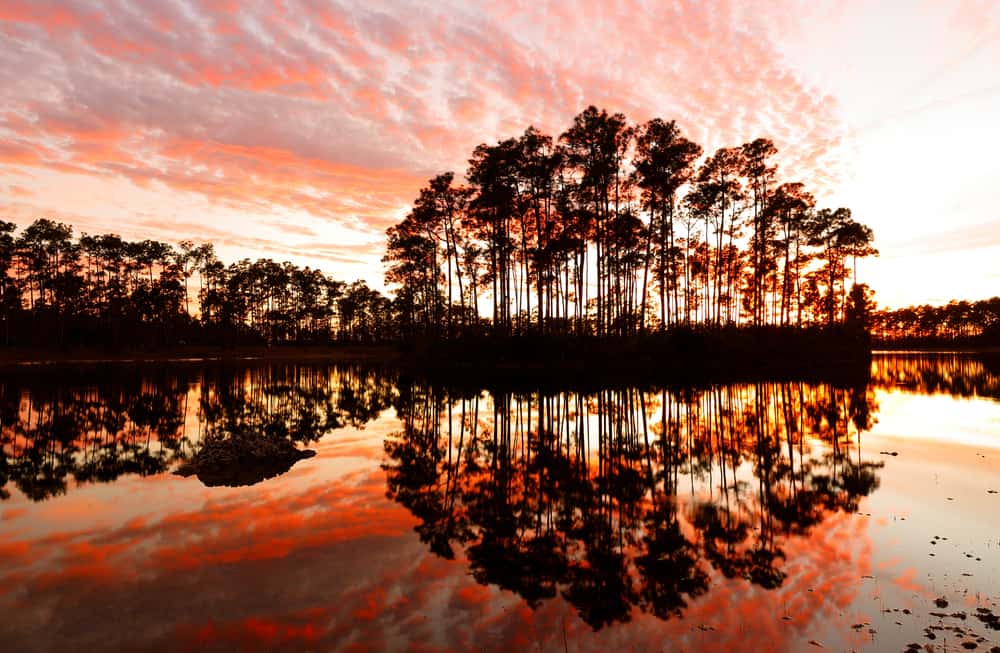 12 Best National Parks in Florida To Explore
Everglades National Park
Everglades National Park is the largest subtropical wilderness in the United States, and is the largest wilderness east of the Mississippi River. This National Park in Florida is so huge that it spans 1.5 million acres over the southern part of Florida.
The park is broken up into three main areas. You can access the northern end of the park from Miami or Everglades City, and the southern section from Homestead. Due to the expansive amount of land, it is essential to know what section you want to explore so you can get the most out of your visit.
The landscape is unparalleled, and is home to a diverse and fragile ecosystem with tropical hammocks, coastal lowlands, mangroves, and cypresses.
This habitat includes a wide variety of rare and endangered species, such as the American crocodiles, the great blue herons, alligators, manatees, Florida panthers, dolphins, and many, many more.
This National Park in Florida offers a variety of activities for families, groups, or individuals to explore and have fun in the great outdoors. So what activities can you do?
You can bike on trails, you can birdwatch and hopefully catch a glimpse of the great blue heron, you can fish, you can geocache, you can hike on trails, or you can go slough slogging which is off-trail hiking that brings you deeper into the park. You can also participate in ranger lead programs in which rangers lead guided tours or activities throughout the park.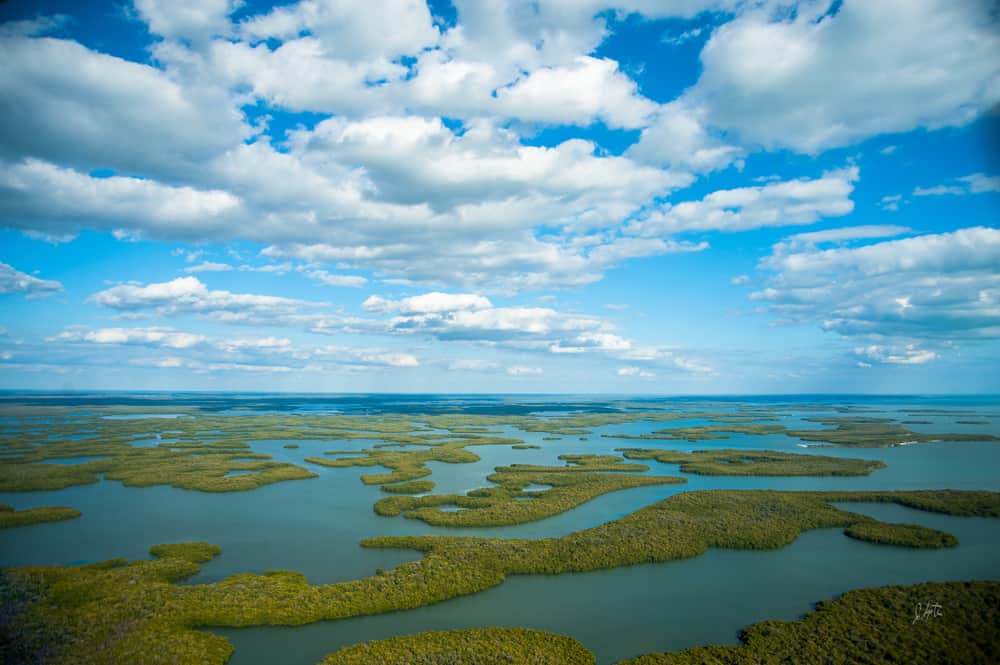 Everglades National Park is mostly accessible by water so boating with your own boat or a rented one is a great way to experience this Florida national park.
Kayaking and canoeing put you in the middle of the vegetation, and there are many short trails and long trails such as the 99 mile long Wilderness Waterway that let you experience the unrivaled majesty of the national park. There are also many campsites throughout the park.
Before you venture to Everglades National Park, make sure you understand that there are two seasons: dry season and wet season.
Dry season starts in November and goes till March. Dry season also attracts the most tourist due to the warm winter weather and the migration of a variety of wading birds and their predators to the park.
Wet season starts in April and goes till November. Wet season is not as busy as dry season due to a muggy climate, the plethora of bugs, and that many ranger programs are temporarily stopped.
The entrance fee is $30 per car, and is valid for seven consecutive days. For people who are walking around the park, or cyclists, the entrance fee is $15, however children ages 16 and younger are free of charge.
Additional entrance fees can be found here.
For more information about visiting and staying in the Everglades, check out 20 Interesting Weekend Getaways in Florida.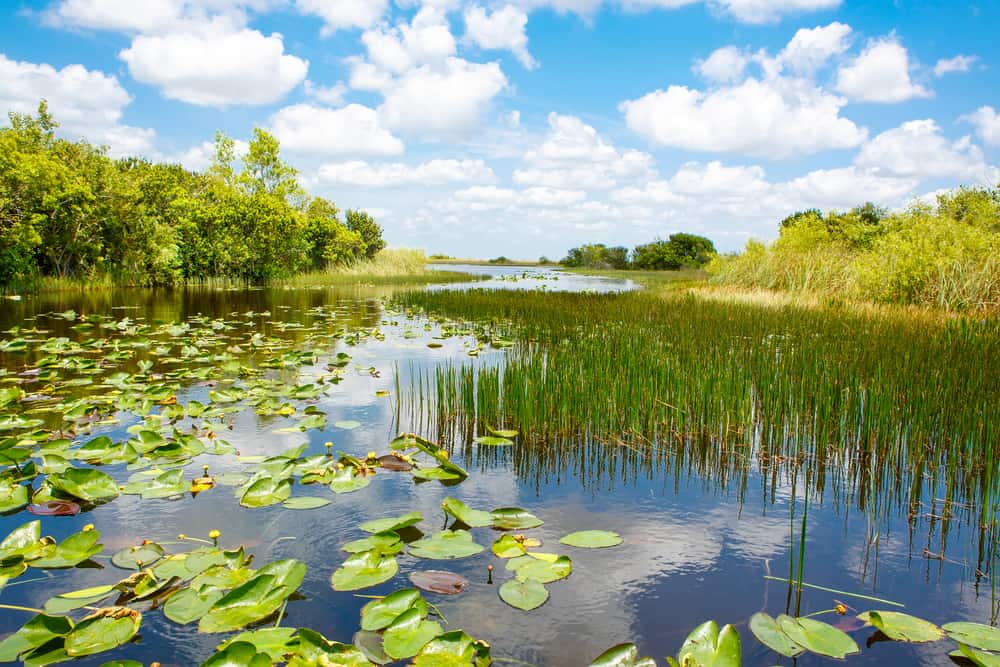 Biscayne National Park
While this watery wonderland is a stones throw from the concrete jungle of Miami, this paradise transports you to the emerald islands, turquoise waters, and colorful coral reefs found in this national park.
The park is an expansive 172,971 acres and 95 percent is water. This national park is home to Elliott Key, which is the largest island in the park.
There are fun activities for everyone at this national park. From guided eco adventures, fishing and lobstering, boating, paddling, snorkeling, camping, observing wildlife, to relaxing and admiring the view, everyone will enjoy the time spent at this National Park in Florida.
There is no daily entrance fee for this national park, however if you plan to camp overnight on either Elliott Key or Boca Chita Key, there is a fee of $25.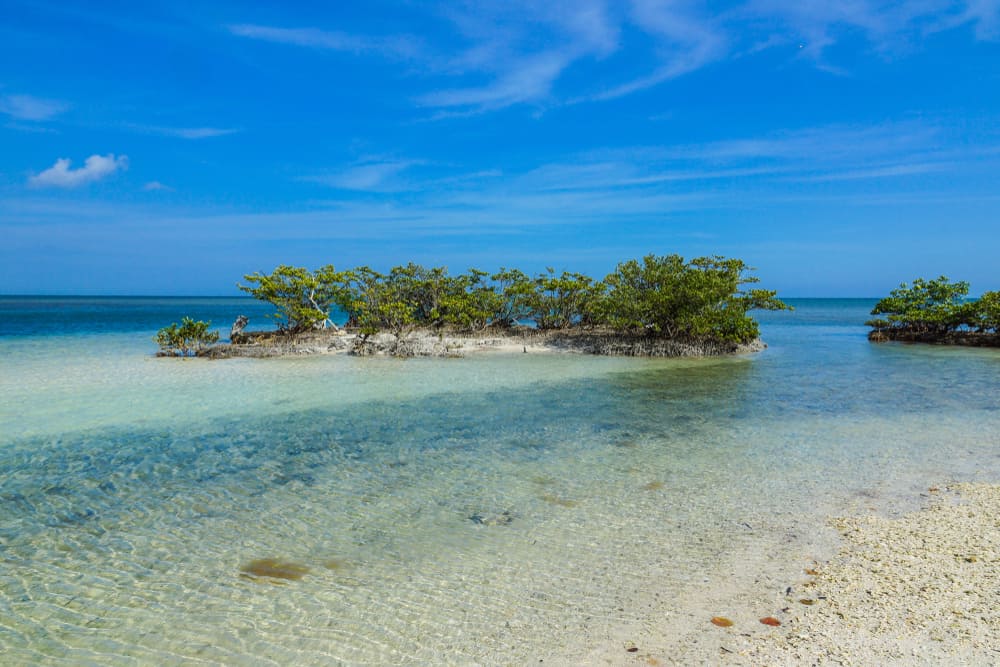 Dry Tortugas National Park
These seven beautiful islands make up the 100 square mile Florida National Park known as Dry Tortugas. This is one of the coolest parks to add to your National Park Checklist!
While the park is mostly made up of the warm waters of the Gulf of Mexico, it is also home to the famous 19th Century Fort named Fort Jefferson after the 3rd US President, Thomas Jefferson. While it is roughly 70 miles west of Key West, this National Park is definitely worth the trip, and here's why!
The tropical setting of the islands combined with the fact that the fort is the largest masonry structure in the western hemisphere makes this Florida National Park one of the most unique places to visit.
The sandy beaches, coral reef, and marine life all make this National Park in Florida a great place to swim and snorkel. There are so many sea turtles in these crystal clear waters, that in 1513 when Ponce de Leon found the Dry Tortugas, he named the islands "tortugas" which means turtles in Spanish.
After a swim and a snorkel, be sure to visit the historic 19th century fort, which was built to protect the southern coast of the US and also used as a prison for criminals and deserters during and after the Civil War. If you want to spend the night, there are only eight campsites in the Garden Key Campground that are available on a first-come, first-served basis.
This Florida National Park can be reached by ferry from Key West on the Yankee Freedom III which takes about 2 hours 15 minutes. The ferry can be a rough and choppy ride, so if you are prone to motion sickness, you may wish to contact Key West Seaplane Adventures, which is the only seaplane service to Dry Tortugas, and takes about 40 minutes.
To reserve a spot on the ferry as well as pricing, you can visit here , and to reserve a spot on the seaplane as well as pricing, you can visit here.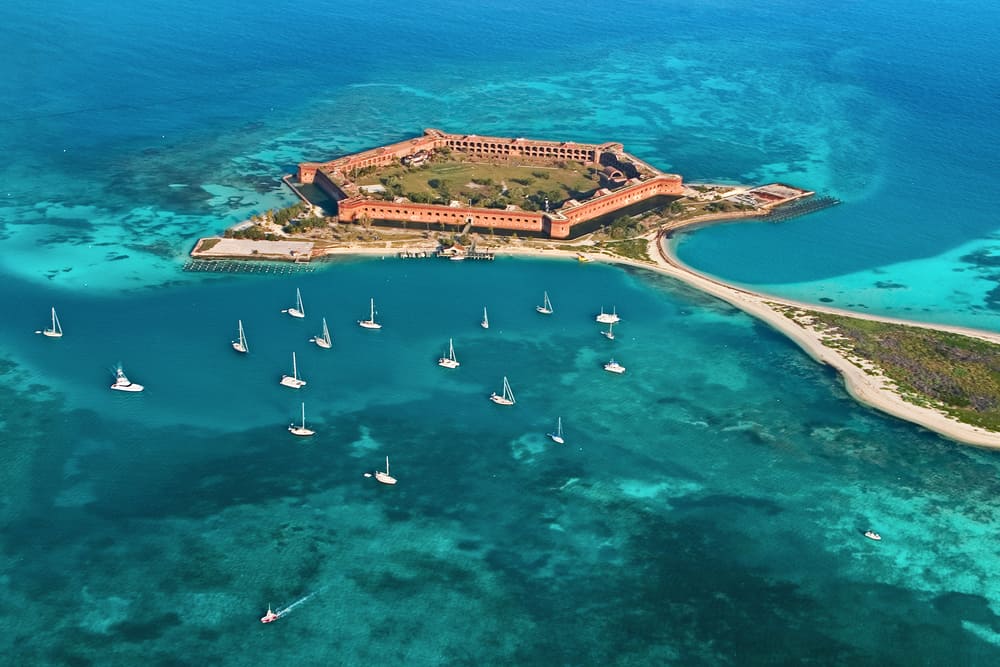 Castillo de San Marcos National Monument
In the beautiful city of St. Augustine lies the oldest masonry fort in the US named Castillo de San Marcos which is Spanish for "St. Mark's Castle." Construction began in 1672 which makes it over 345 years old.
This enormous Spanish stone fort was meant to defend Spain's claims in the New World from enemy attack. This National Monument is a treasure of 17th century St. Augustine, and has played an active role in the early history of the US.
There are many ways to enjoy the beauty of Castillo de San Marcos such as guided ranger tours of the fortress, a virtual tour, experiencing living history, weapon demonstrations, and cannon firings.
However you chose to spend your day at this Florida National Monument, you will be rewarded with an enriching, fun, and memorable time!
The entrance fee for Adults ages 16 and older is $15 and the entrance fee for children ages 15 and younger is free of charge. The tickets can be used for seven consecutive days.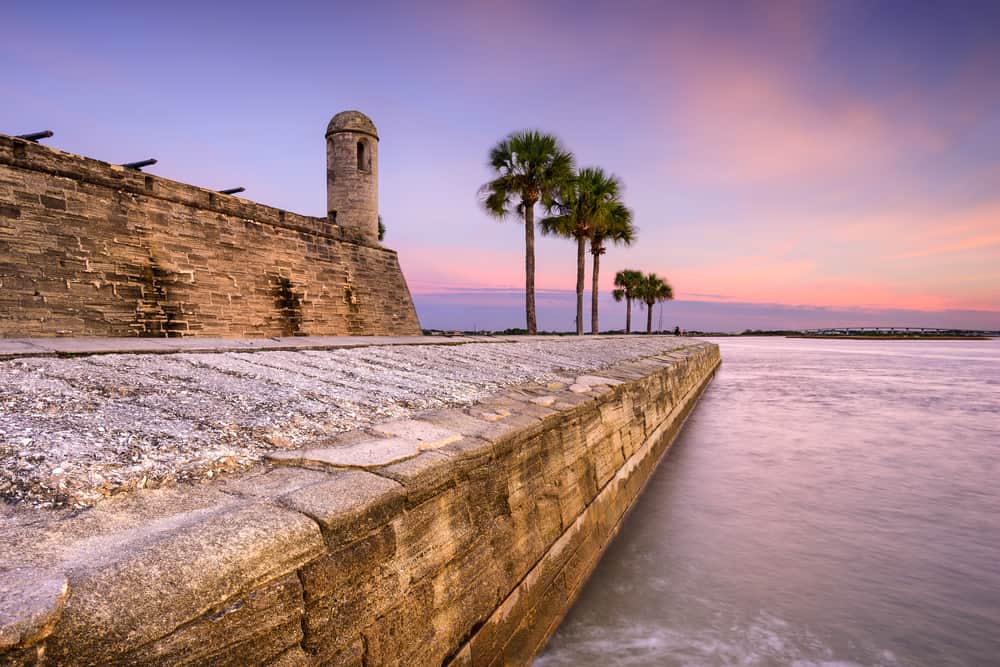 Fort Matanzas National Monument
Just 14 miles south of St. Augustine, and after a free ferry ride across the Matanzas Inlet, you'll find the spectacular Spanish-fortified watchtower which was built in the 1700s.
This picturesque structure was built of coquina which is made up of seashells and sand, and was used to protect the southern approach to the Spanish who were stationed at St. Augustine.
Spending time at this Florida National Monument is best enjoyed by immersing yourself in exploring the park.
There are many adventures to be had such as walking the Nature Trail or the Marsh Trail, fishing on both the river and ocean side, and learning from park rangers. Children even have the opportunity to become a Junior Ranger, and everyone will love the breathtaking views of St. Augustine's best beach.
It is important to remember that there is only one way to get to this National Park in Florida. You must get a ticket at the visitor center and board a ferry at either 9:30, 10:30, 11:30, 12:30, 1:30, 2:30, 3:30, or 4:30.
There are no fees for the ferry or for admission to the monument, but the passes are issued on a first-come first-served basis.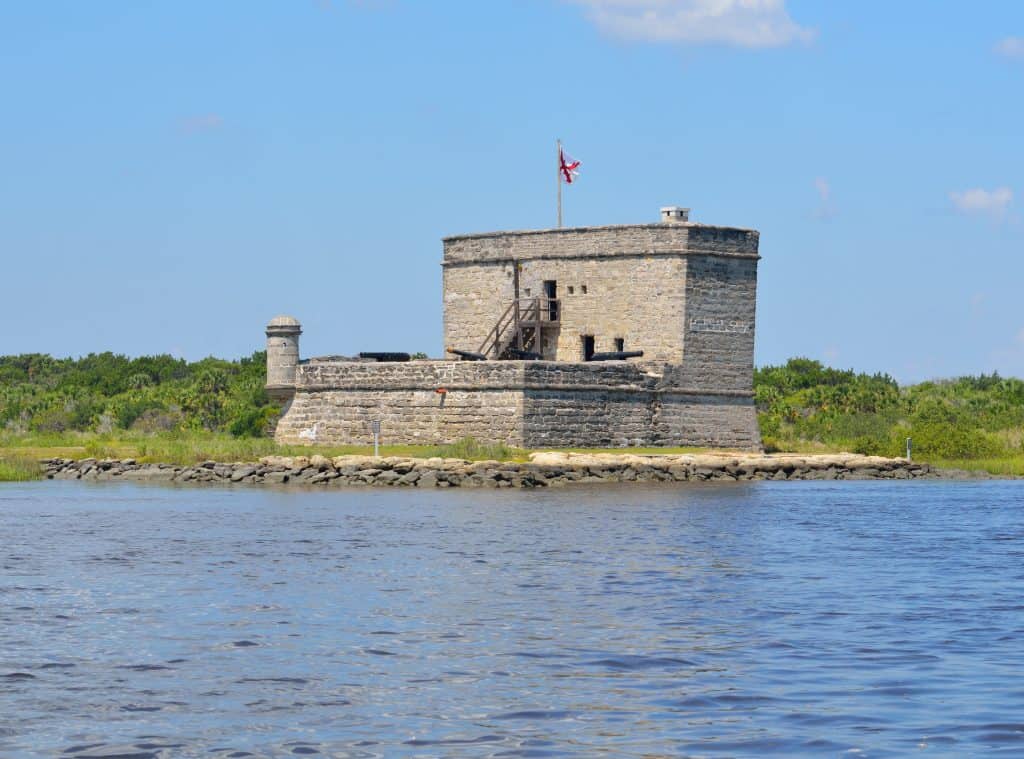 Canaveral National Seashore
Located between New Smyrna Beach and Titusville on the barrier island you'll find the pristine Canaveral National Seashore.
This heavenly seashore is as close to a perfect beach as one can find, as it is still untouched by development. It provides both a place to reflect and unwind where true tranquility abounds.
There is a wide variety of endangered species who seek shelter in this uninhabited seashore. From five different types of sea turtles, to snakes, birds and manatees, time spent at this majestic place will surely bring you up close and personal to lots of different animals. In addition, the seashore has abundant flora and over 1,000 species of plants can be found in this National Park in Florida.
There are many activities that you can do at this National Seashore. Many of these activities focus on nature, science, history, and culture. From simply strolling the beach, to swimming in the water, to the amazing ocean fishing, you are sure to enjoy any time spent at this paradise.
You can either purchase a park pass at the Apollo Beach or Playalinda Beach entrance. More information on passes and fees are listed here.
To learn more about the Canaveral National Seashore and other fun places nearby, check out 18 Best Day Trips From Orlando Worth the Effort.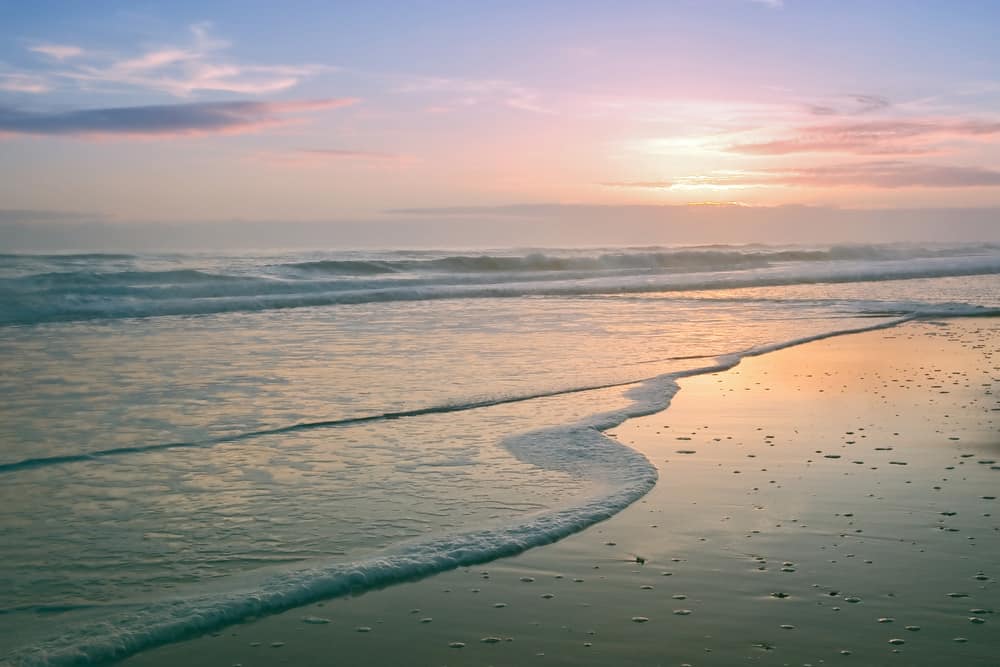 Gulf Islands National Seashore
Gulf Islands National Seashore is the longest stretch of federally protected seashore in the US. White sugar sand and sparkling turquoise waters of the Gulf of Mexico, provide the ultimate relaxation without crowds of people or development.
This National Park in Florida is home to an abundant ecosystem that is teeming with wildlife. You can find osprey, great blue herons, dolphins, sea turtles and so many more.
There are numerous activities to do at this National Seashore. Do not miss swimming, or snorkeling in the crystal-clear waters where you can see lots of fish, crabs, starfish, and sand dollars. You can also fish, kayak, boat, bike, camp, or join a ranger for a nature tour.
If you are into history then make sure to check out the three forts within the National Seashore built to fortify Pensacola Harbor: Fort McRee, Fort Pickens and Fort Barrancas.
Entrance fees are needed at the Fort Pickens Area, Okaloosa Area, Perdido Key Area, Opal Beach at the Santa Rosa Area, and the Fort Barrancas Area. Eighty percent of the fees are used to improve facilities at this beautiful park. For more information on fees visit here.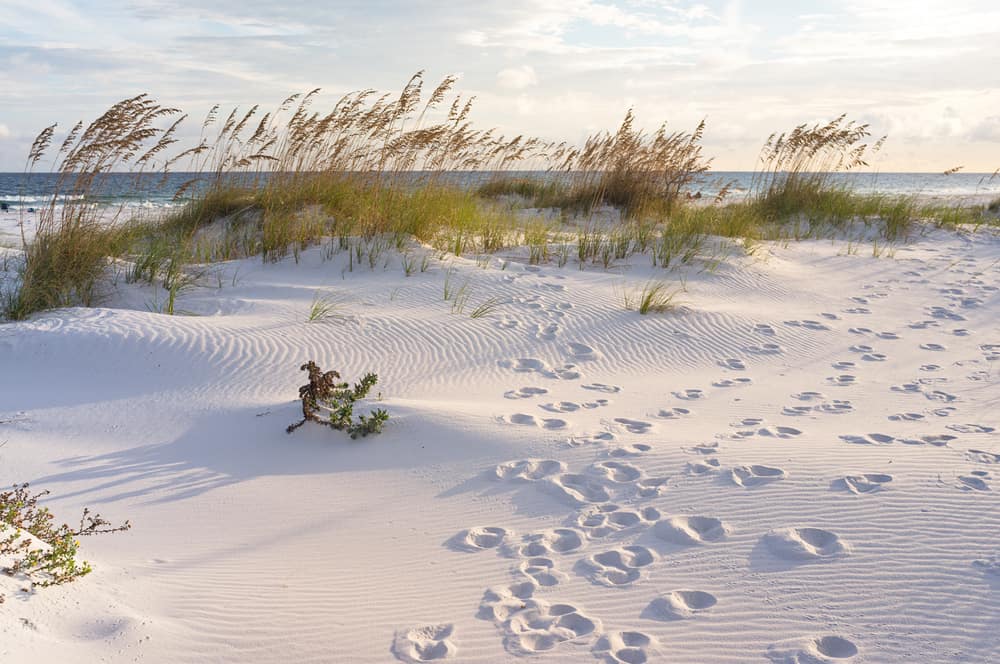 De Soto National Memorial
De Soto National Memorial can be found five miles west of Bradenton. This National Memorial was built to remember the 1539 landing of Hernando de Soto and the subsequent first major exploration by Europeans of the southern US.
History truly comes alive at this National Memorial, and there are so many activities to engage in. A living history camp called Camp Uzita will find you interacting with rangers and volunteers dressed in period clothing while telling historical tales. There are also craft and weapons demonstrations.
Outdoor activities include: ranger led kayak tours, nature trails, bird watching, swimming, fishing and boating. Keep in mind that there are only ten picnic tables available in the parking lot on a first-come basis, and no camping is allowed within the National Memorial.
The De Soto National Monument does not require any entrance fee. If you have any questions about making a reservation for a group tour, click here.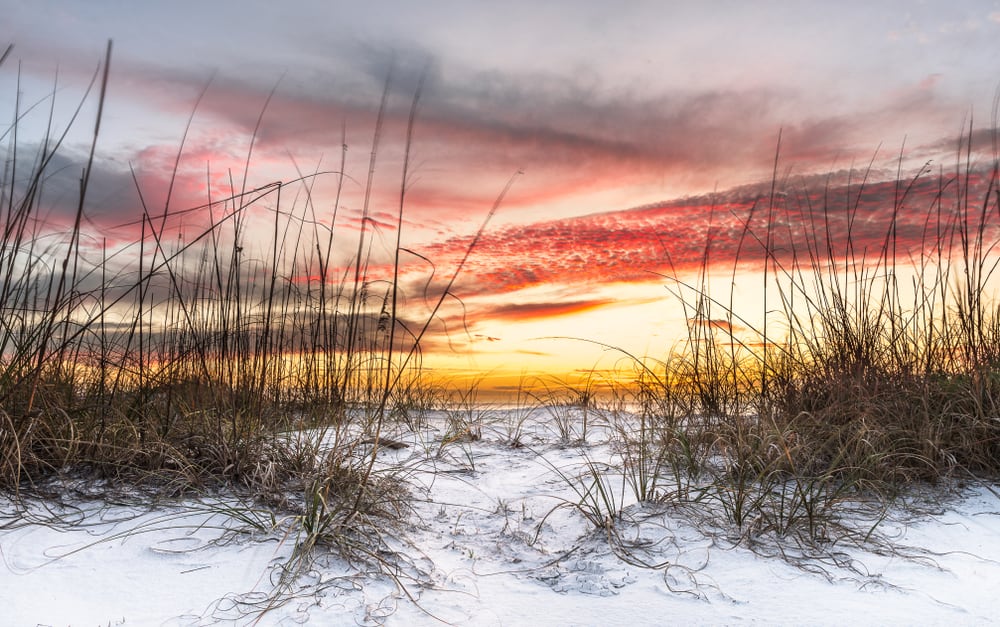 Fort Caroline National Memorial
Fort Caroline National Memorial is in Duval County on the banks of the St. Johns River. It commemorates the brief French presence in 16th century Florida.
History comes alive at this National Memorial through the informative and educational visitor center and the small museum. In addition there are historical reenactments.
Kids can earn a Junior Ranger Badge and there are both short and long nature trails to hike. Be sure to keep an eye out for dolphins who leap in and out of the St. Johns River.
The Fort Caroline National Memorial does not require any entrance fee.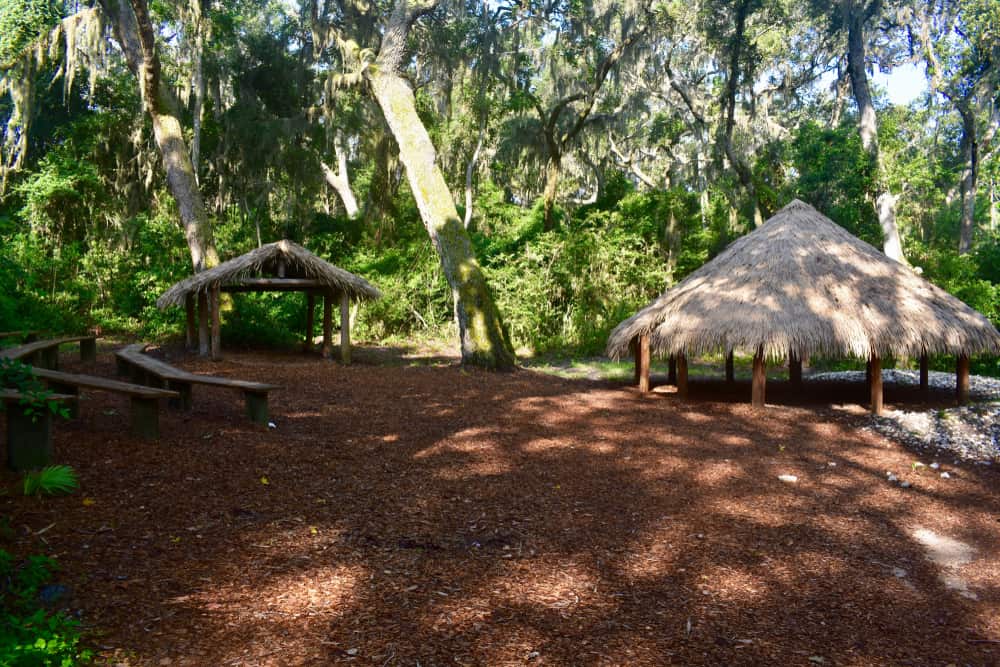 Timucuan Ecological & Historic Preserve
Timucuan Ecological & Historic Preserve is located in Jacksonville and it houses the Fort Caroline National Memorial and the Kingsley Plantation. Within this spectacular preserve you'll find 46,000 acres of coastal wetlands on the Atlantic Ocean coast.
In this vast unblemished wilderness you will be immersed in both history and beauty. History comes alive when you visit the Kingsley Plantation to learn about slavery and freedom, and when you visit Fort Caroline National Memorial.
You can also learn more about nature and science within this National Park in Florida from ranger-led programs. There is also boating from Cedar Point. You can experience 600 acres of forest, wetlands and vegetation from numerous nature trails in the Theodore Roosevelt Area.
A must see is the historic American Beach which was founded in 1935 so that during segregation African Americans could have a resort-like beach. You will find a great big sand dune in the middle of American Beach.
The Timucuan Ecological & Historic Preserve does not require a fee for entrance or any other activities.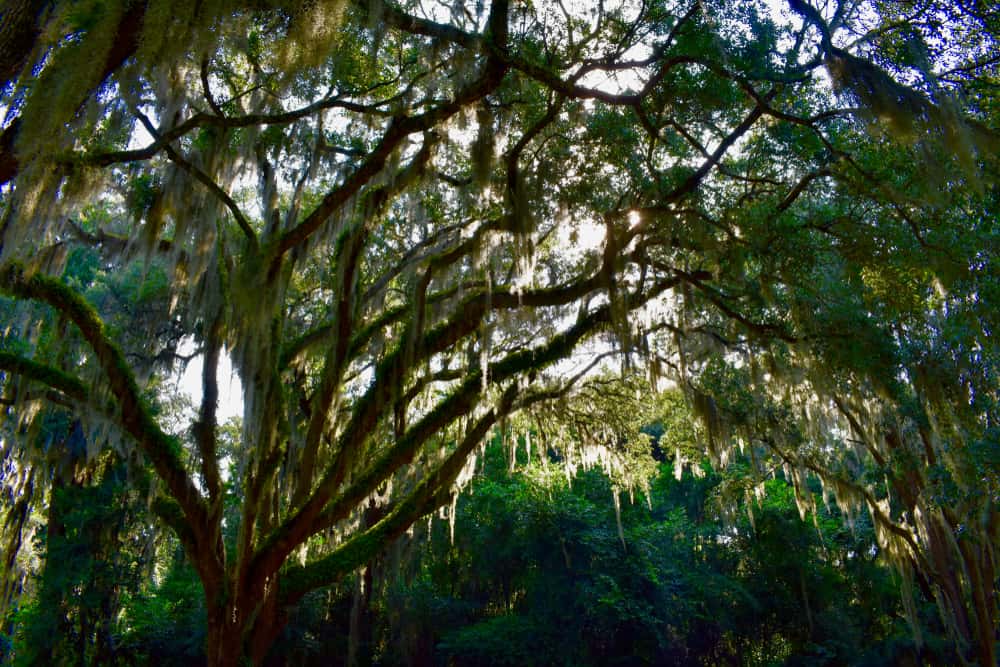 Big Cypress National Preserve
Big Cypress National Preserve is located in South Florida about 45 miles west of Miami on the Atlantic coastal plain. The freshwaters of this Florida National Park protect both the Everglades and the marine estuaries of Florida's southwest coast.
Within the 729,000 acres of enormous swamp you'll find diverse wildlife, including the majestic Florida panther. As you enjoy the great outdoors, you will be impressed with both the tropical and temperate plant life that thrive within the preserve.
There are many great activities waiting for you such as swamp buggy, biking and bird tours, exploration by cane or kayak, off-roading, scenic drives, and camping.
Ranger-led programs like discussions to learn more about the preserve, swamp tours and canoe rendezvous let you deeply explore and truly learn more about the amazing aspects of the preserve.
One super cool fun fact about this National Park in Florida is that Big Cypress has been designated as an International Dark Sky Place. Here you have one of the last protected night skies where you can still enjoy the magnificent Milky Way and thousands of stars with your naked eye. Do not miss seeing the night sky from Big Cypress National Preserve.
There is no entrance fee into the park, however, there is an annual fee of $100 for an off-road vehicle. Also, if you plan on camping overnight, the prices vary based on different parts of the park. Visit here to learn about off-road vehicle permits, and visit here for more information on camping fees.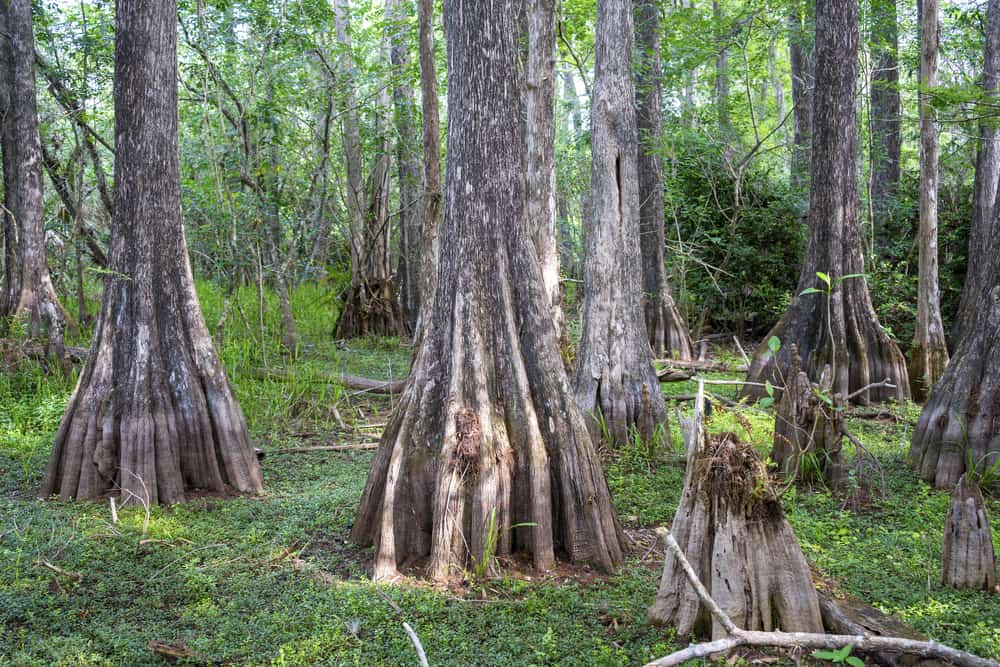 Gullah/Geechee Cultural Heritage Corridor
The Gullah/Geechee Cultural Heritage Corridor spans a huge area of the US east coast from North Carolina to Florida. You can visit this National Park in Florida in beautiful Jacksonville.
This park will bring on a journey back in time to learn about the unique culture of the Gullah/Geechee people, who have long resided in this corridor.
The Gullah/Geechee are descendants of Central and West Africans who were brought to America through the Transatlantic Slave Trade. Jacksonville remains the home of the largest Gullah/Geechee descendants in the US.
If you want to visit this enriching place, it's important to remember that there is not one entrance, or one visitor center. There are many areas from Wilmington to Jacksonville where you can visit, and learn more about the Gullah/Geechee people, as well as their culture.
To learn more about this historic corridor, click here.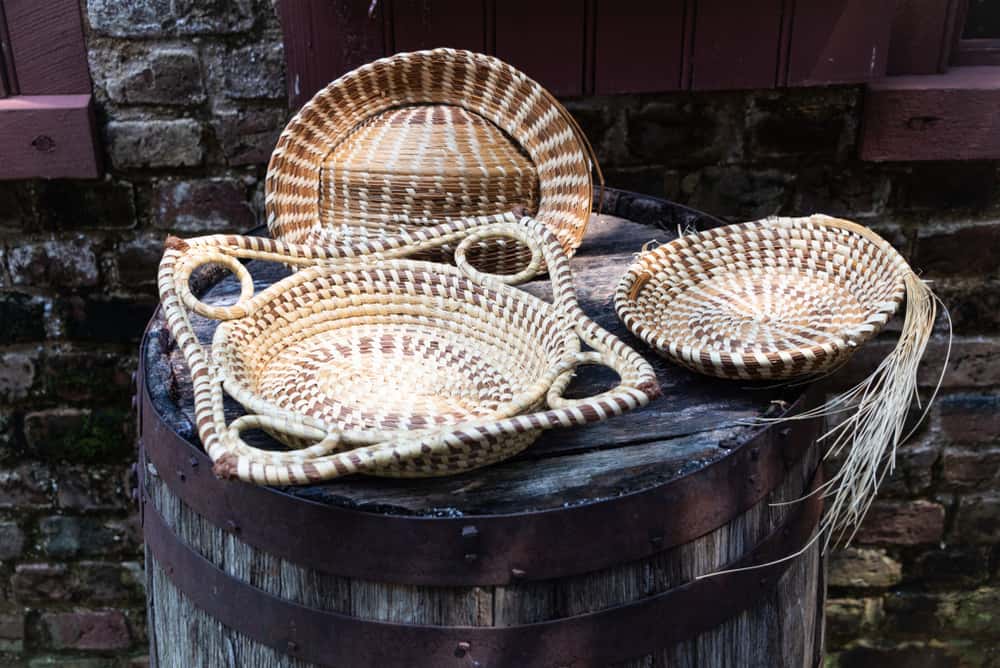 Did You Find This Post Helpful?
If so, we would love to keep in touch! We enjoy seeing photos and comments about your experiences in Florida! You can follow us on Instagram and we will repost your photos on our feed and comment too! Just tag us at @floridatrippers and hashtag #floridatrippers. We can't wait to see your travels!