Summer is over and its finally fall in Florida! The temperature begins to drop around this time of year, making this season ripe for events and festivals!
Whether you're looking for the best festival to pick up an early Christmas gift for a loved one, itching to get a hair-raising fright during Halloween, or simply experience something off the beaten path, Florida in fall won't disappoint.
Make sure to check out our master post on the Best Time To Visit Florida including a breakdown by month, weather, events, and more!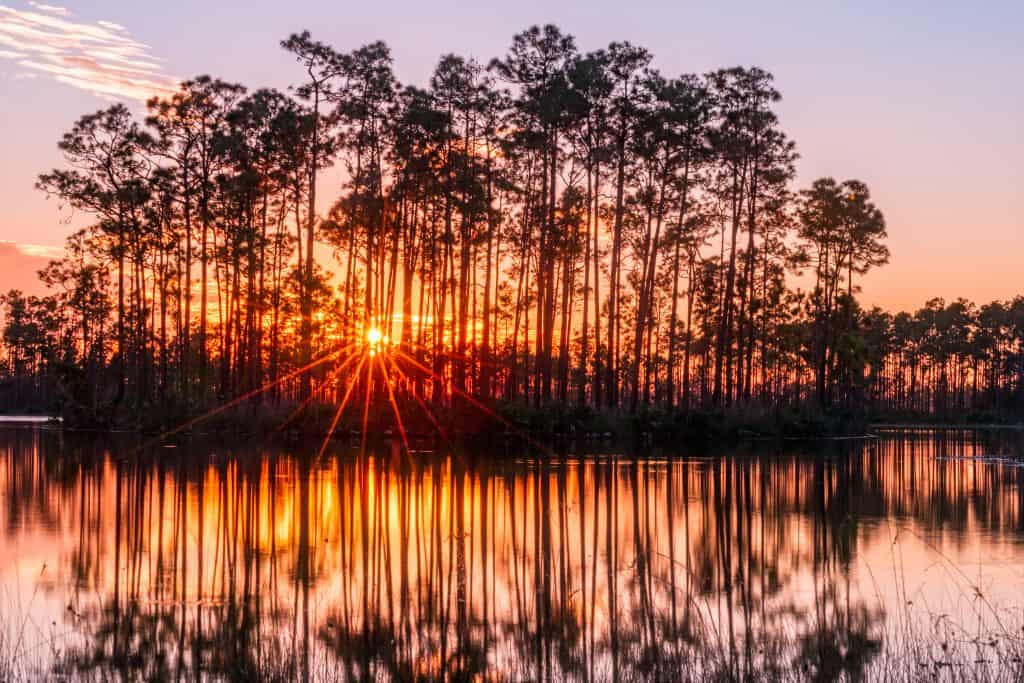 What Is The Weather Like During Fall In Florida
Florida's scorching temperatures finally begin to cool down right about mid-September after peaking in late August. Your best bet to experience the temperate weather of Florida in fall will be during the September, October, and November months.
Keep in mind temperatures will still be relatively high during the day, while taking a dip once the sun goes down. Also, hurricane season isn't technically over until the end of November, so we always recommend checking the weather before attending any events!
September
Average High: 89 degrees Fahrenheit (32 degrees Celsius)
Average Low: 71 degrees Fahrenheit (22 degrees Celsius)
Sea temperature: 84 degrees Fahrenheit
October
Average High: 84 degrees Fahrenheit (29 degrees Celsius)
Average Low: 65 degrees Fahrenheit (18 degrees Celsius)
Sea temperature: 81 degrees Fahrenheit

November
Average High: 77 degrees Fahrenheit (25 degrees Celsius)
Average Low: 56 degrees Fahrenheit (13 degrees Celsius)
Sea temperature: 79 degrees Fahrenheit
What To Wear When Visiting Florida In Fall
Dressing for Florida in fall can be tricky, especially when transitioning from indoor to outdoor events.
Regular summer clothes will suit any outdoor activities, as the temperature highs remain in the mid to low 80s throughout the fall. Transitioning to night is a different story.
We recommend bringing a light jacket or sweatshirt to throw on once the sun sets. Also, it never hurts to bring a raincoat or umbrella just in case you're greeted by a rain shower!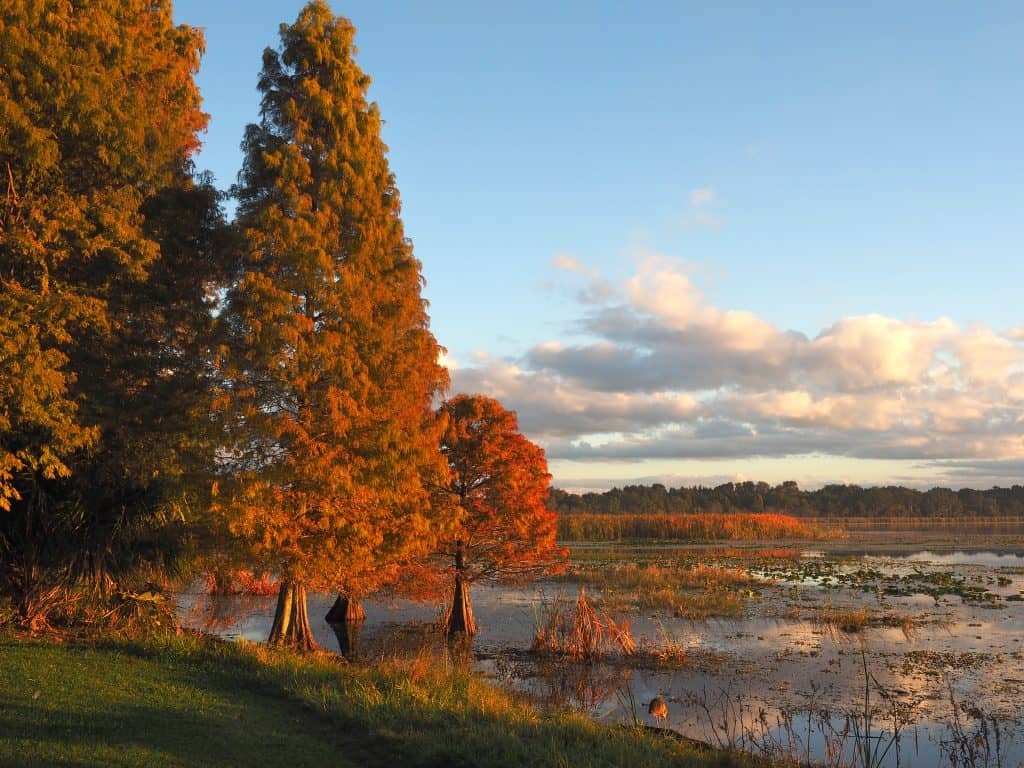 Best Things To Do In Florida In The Fall
Visit Cassadaga
There are so many sleepy towns that are all too easy to just drive past on the interstate. If you're looking for something that's off the beaten path, taking the exit to Cassadaga is ideal, especially during fall in Florida.
While there's nothing inherently spooky about Cassadaga, it is known as the "psychic capital of the world," founded by a trance medium, George P. Colby. A Native American spirit guide instructed Colby to come and settle this land, where he formed a spiritualistic camp.
Cassadaga today has only built upon Colby's camp, but has also become the home of over 100 healers, psychics, and mediums. Tourists arrive by the busload to consult with them!
If you visit, you can spend money to make an appointment with a healer. Keep in mind Cassadaga Spiritualist Camp Church holds free classes, seminars, and workshops that are open to all with an open mind.
It is always wise to take things like supernatural with a grain of salt, but sometimes reassurance is all the human spirit needs, making it a popular destination for those who believe.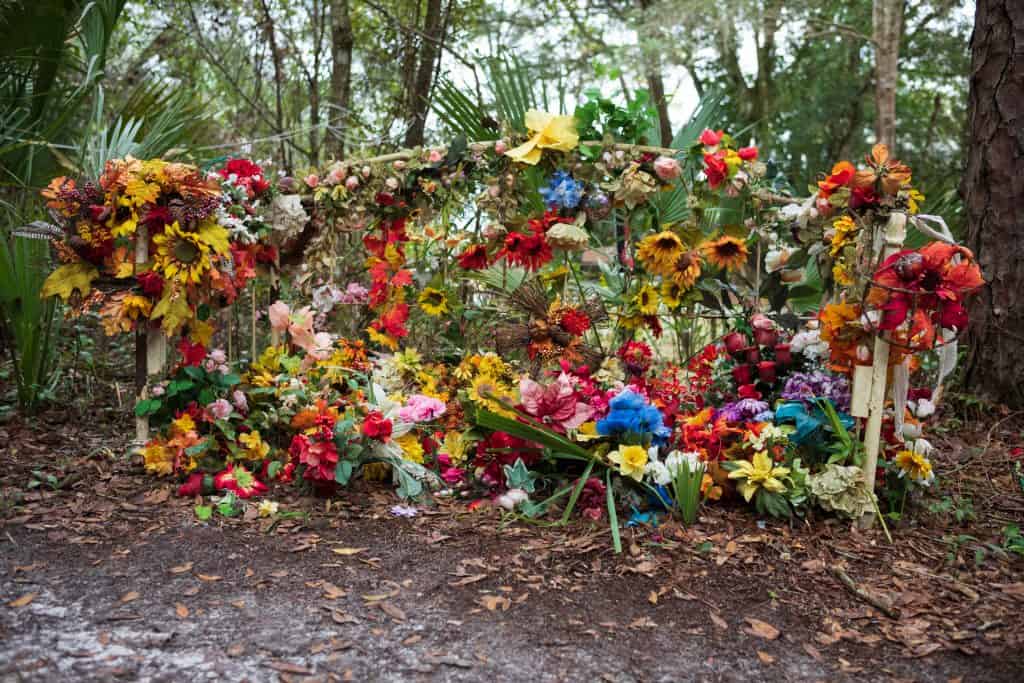 Have a scream at Halloween Horror Nights
If you've even been to Universal Studios, you might know that Halloween Horror Nights is a premiere annual event guaranteed to make the hair on the back of your neck stand up with terrifying haunted houses, spooky scare zones and wild live entertainment.
Generally running from September through early November, Universal Studios keeps the park open from 6:30 PM – 2 AM so you can get your scare on. If you're looking for a true fright, this is the best way to experience Halloween in Florida.
Haunted houses are usually based on existing Universal franchises, like Stranger Things and The Walking Dead, but also have original houses: each one an immersive, three dimensional, and unescapable experience. All other rides and attractions remain open.
Even if you don't go into a haunted house, you still could catch a fright walking through the park. Scare zones allow scare actors to free roam and pick their own unsuspecting victims. They can't touch you, but be warned. The later you stay into the night, the hungrier they are to hear you scream. We recommend sticking to the paved sidewalks.
Even though Universal normally offers free parking after 6 PM, be prepared to pay $26 for self-service parking if you are attending HHN.
Due to current events, this event has been postponed in 2020.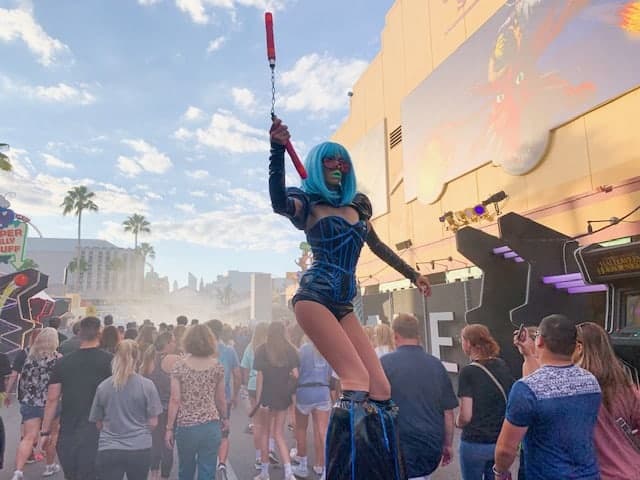 Get lost in the Sweetfields Farms Corn Maze
Sometimes it feels like you only see those elaborate hedge mazes on television. Wouldn't it be so cool to actually walk through one of those? Now you can at Sweetfields Farms in Hernando County!
Every fall, five acres of the grounds are transformed into a life-sized living labyrinth of tall corn stalks! In springtime, there is a sunflower maze as well!
Checkpoints throughout the maze have riddles and clues to help point you in the correct direction. Guides are present in the maze to help at any time. The time it takes depends on the individual, but be warned: it's difficult!
The farm also offers organic lemonade, fresh kettle corn, a pumpkin patch, and a free craft of the season station to really make you feel like it's fall in Florida. We recommend bringing some extra cash to participate in the Pumpkin Sling!
Admission is $9.50 for ages 12 and up. Parking is free, but we recommend arriving early, because you will be turned away if the lot is full. Operating hours vary upon the day, so make sure to check the website before you visit!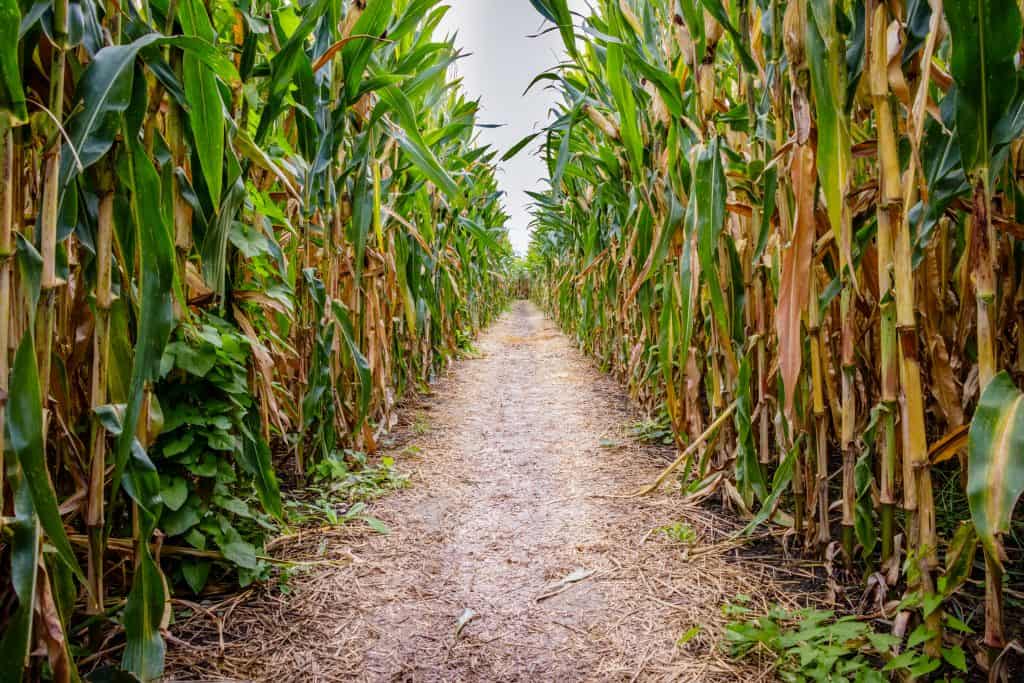 Fantasy Fest in Key West
Fantasy Fest is a 10 day celebration that takes place annually during the last week of October in Key West. It's essentially a big street party, like Mardi Gras in New Orleans or Carnival in Rio de Janeiro!
Key West locals started the celebration in 1979 to bring tourism to the area. Today it is a heavily-attended themed party in paradise for adults, filled with merrymakers, glitter-goddesses, and lots of feathers. A previous theme was "Freaks, Geeks, & Goddesses."
Events during the week include Tutu Tuesday, where everyone wears brightly colored tutus, The Headdress Ball, an LGBTQ+ inclusion party, the Pet Masquerade, a pet costume contest, and the Coronation Ball, in which the King and Queen of Fantasy Fest are crowned.
The festival culminates in a parade, with fun, loud, colorful floats with some costing up to $15,000! The final float in the parade showcases the newly elected King and Queen of Fantasy Fest.
If you're brave enough to embrace your wild child within, book yourself a cozy AirBnB, and ring in fall in Florida with one of the most loving and accepting festivals around!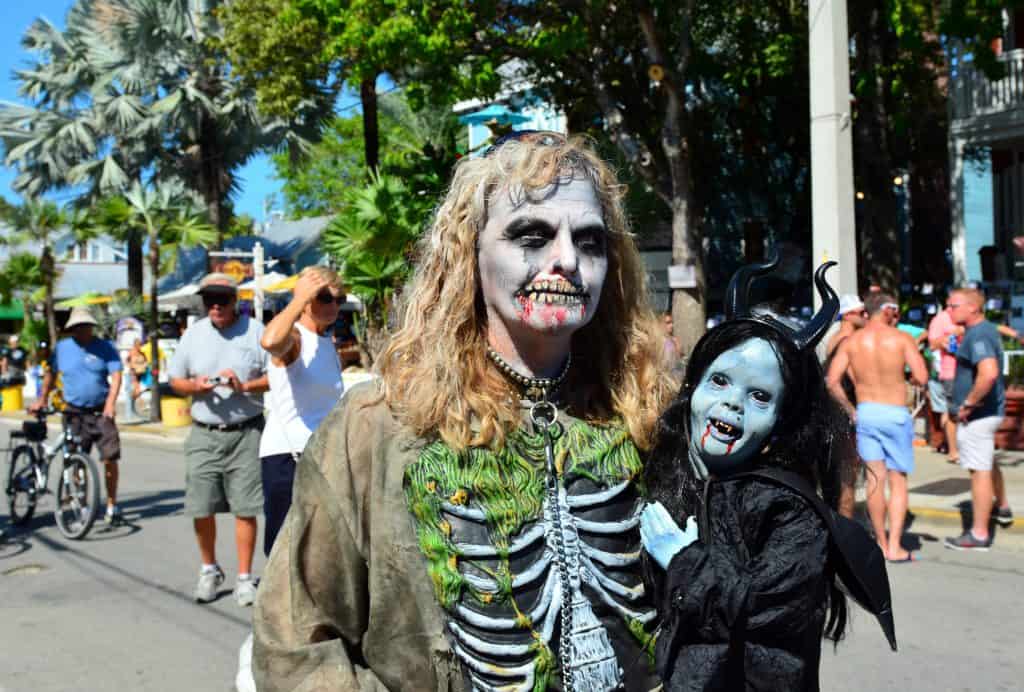 See Manatees
Manatees, or sea cows, are large, grey aquatic creatures with flippers and flat tails. They inhabit Florida's rivers and natural springs and are actually related to elephants!
Despite their large size, they have little body fat, so manatees need warm water to survive. During fall in Florida, when the temperature drops, they will migrate from the rivers to the warmer waters of Florida's natural springs!
There are more than 700 naturally occurring springs in Florida, and because the water bubbles up from the limestone aquifer, it always stays at 72 degrees, which is perfect for Manatees!
One of the best places to see them is Crystal River, just north of Tampa, where you can swim and snorkel with them, see them underneath your glass-bottomed boat, or just view them from a dock!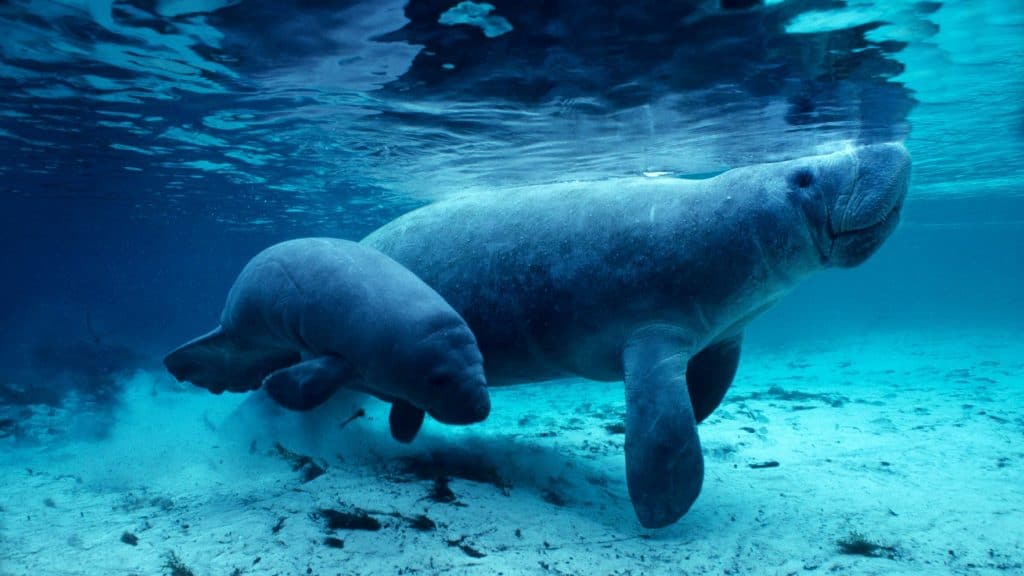 Take a Ghost Tour in St. Augustine
St. Augustine is the oldest city in the United States, on the northeast coast of Florida, settled by the Spanish in 1565. It has a storied history, filled with war and even pirate siege! It is no wonder that St. Augustine is said to be incredibly haunted.
With Spanish colonial architecture as a spooky backdrop, taking a ghost tour in St. Augustine is the perfect way to get in the mood for Halloween in Florida.
You could take a tour and learn about Sheriff Guy White, who died in 1911 keeping law and order in the city. A tour called GhoSt Augustine even gives you a special ghost detection meter to use on the tour! Touring the St. Augustine lighthouse will recant the legends of pirates died trying to siege the city.
The general consensus is that the scariest tour is through the Old Jail, the most haunted building in all of St. Augustine where the most hardened criminals died. There are also haunted bar crawls, exploring the pubs that usually have some ghosts sitting at the bar stools.
Make sure to bring your camera to bring back evidence of your paranormal sightings, because no trip to St. Augustine would be complete without a ghost tour.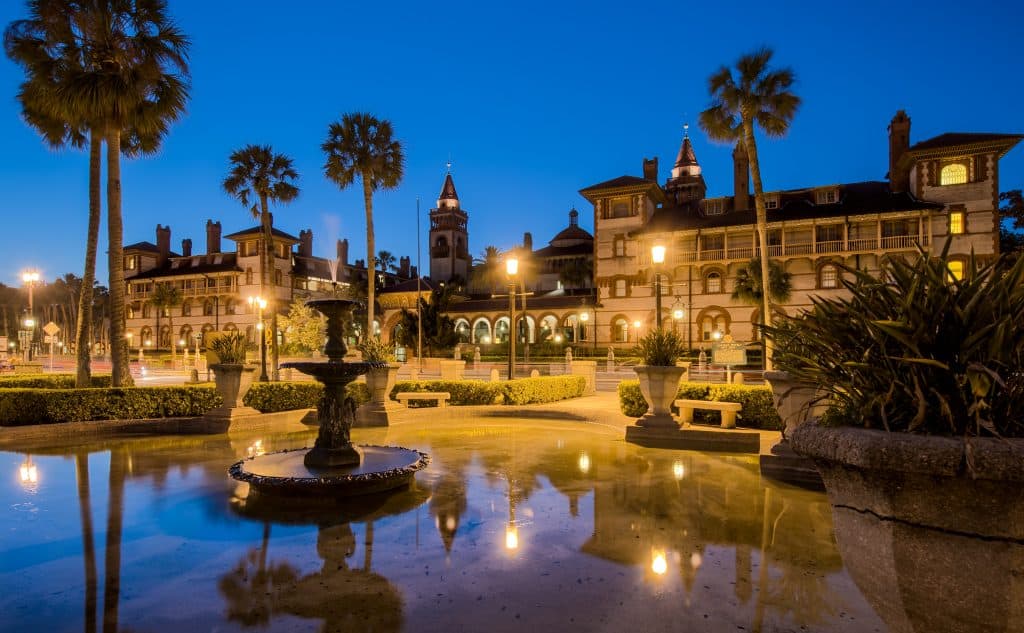 Mickey's Not-So-Scary Halloween Party
If Halloween Horror Nights is not your cup of tea, Mickey's got you covered. Mickey's Not-So-Scary Halloween Party is perfect for those who want to celebrate Halloween in Florida without having to walk into a terrifying haunted house!
The party starts annually around mid-August and lasts through early November. While Disney usually closes at 6 PM, the park reopens its gates from 7 PM-midnight with an additional ticket purchase.
Visiting Disney during Halloween is almost more magical than any time of year. The Dapper Dans turn into the Cadaver Dans, and there are candy stations set up for trick-or-treaters!
Mickey's Boo-To-You parade and the Hocus Pocus Villain Spectacular with the Sanderson Sisters will have you saying "boo" rather than "ahh!" The night culminates in a special fireworks show hosted by none other than Jack Skellington.
Costumes are optional, but highly encouraged! You can come as your favorite Disney character, but you can't sign autographs. We recommend bringing your own candy bag to make the most of the trick-or-treat stations!
Due to current events, this event is postponed for 2020.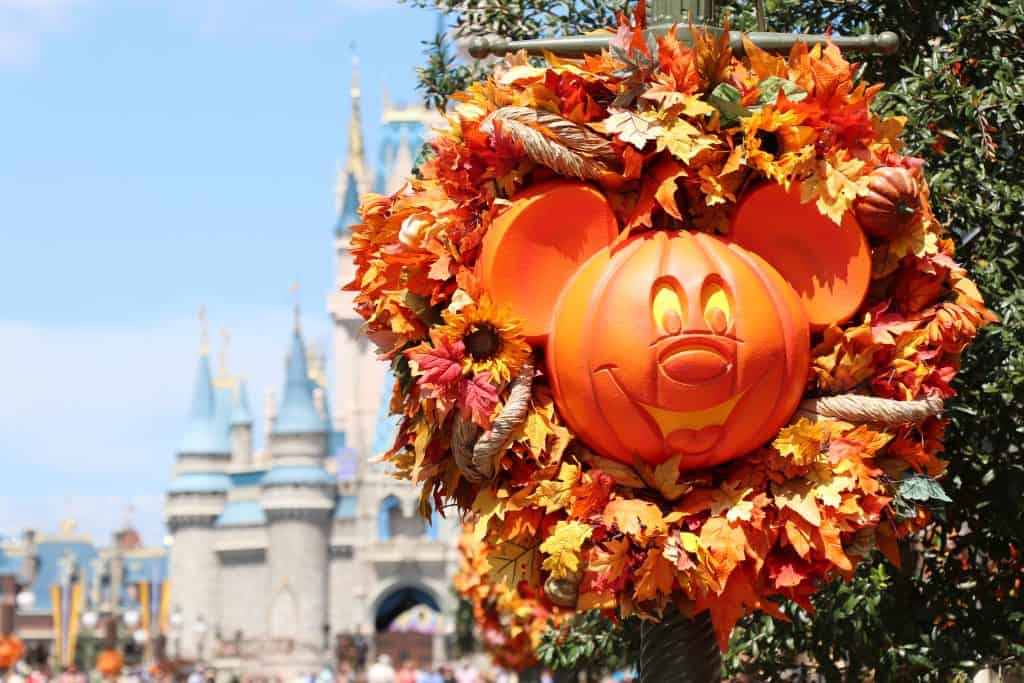 Pick you own fruits at Hunsader Farms
Fall is the time to harvest crops, and there's no better way to feel like you have a green thumb by picking your own fruits and vegetables.
In 1967, the Hunsader brothers left their dairy farm in Wisconsin to move to Bradenton to try their hand at farming tomatoes. Today, you can visit and pick your own fruits and vegetables year-round, including eggplant, okra, tomatoes, sweet corn, and green beans!
If you get overheated out in the fields, step inside the Eat Shack for some burgers and barbecue, or step into the market to pick up some jams, jellies, and homemade honey. If you bring your kids, they can frolic on the playground and enjoy a petting zoo.
Stop by in October, and you can attend their Pumpkin Festival with hayrides, live music, a craft show, and even a scarecrow display!
Make sure to call Hunsader Farms first to check availability and hours of operation before going to pick your own vegetables. Once you've got the freshest produce around, take it home to enjoy and taste the best of what fall in Florida has to offer!
Biketoberfest in Daytona Beach
Start your engines! Biketoberfest is an annual four-day motorcycle rally held in Daytona Beach since 1991. It is considered the "little brother" of the Daytona Beach Bike Event.
Generally in October, motorcycle enthusiasts travel to attend what is considered the Southeast's best motorcycle rally, with hundreds of the industry's top vendors present.
The rally features showcases of classic and rare models, and even wild and crazy custom bike builds. Get the adrenaline pumping with motorcycle races. You can catch a concert on one of the stages, or you can even coleslaw wrestle!
If you're shopping for parts for your hog, or just want to meet up and geek out with other bike-heads, you need to make a trip to Biketoberfest!
Sarasota Farmers Market
Just an hour south of Tampa, the hidden gem city of Sarasota hosts a must-visit destination in fall in Florida: the Sarasota Farmers Market.
You may think all farmers' markets are the same, but this one stands out. The Sarasota Farmers Market celebrates the best of what the city has to offer.
The streets of downtown are lined with vendors selling everything from flowers to local art, to every kind of street food imaginable. Farmers come and sell their produce, fresh from the fall harvest. Live musicians play on every street corner.
The Farmers Market recycles all of its earnings directly back into the community, providing relief for those that need it. Most recently, they raised about $5,000 to donate to their local food banks.
Not only can you not empty your wallet while enjoying everything the Sarasota Farmers Market, you can feel good about it.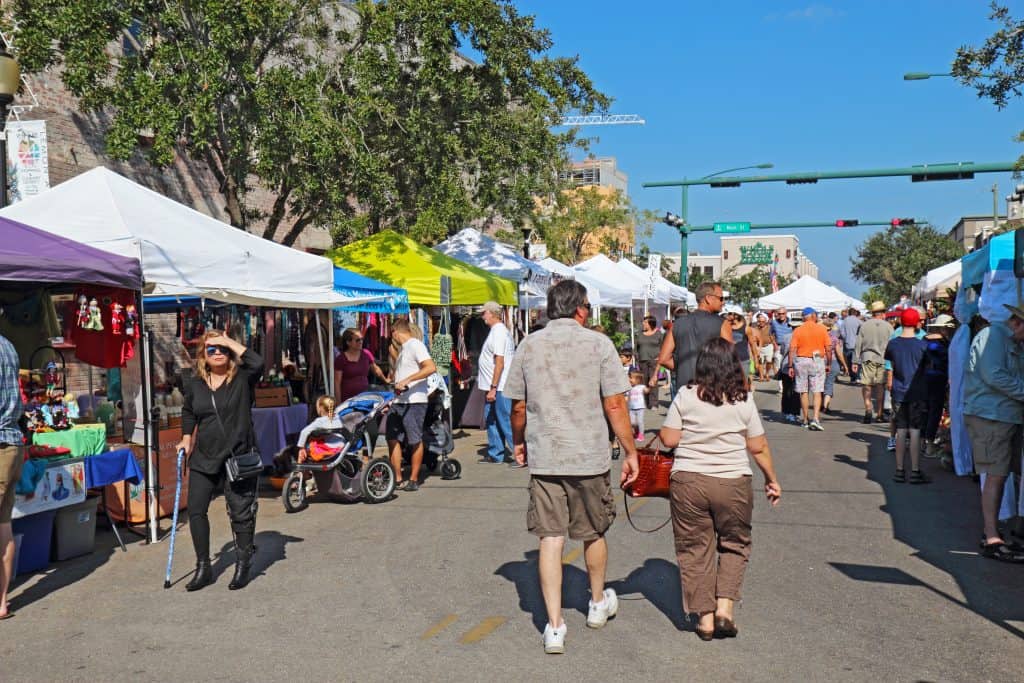 Bird Festival at Fairchild Tropical Botanic Garden
When the temperatures drop in fall in Florida, it's time to grab the binoculars and head to the Bird Festival at Fairchild Tropical Botanic Garden in Coral Gables, just south of Miami.
The grounds are an 83-acre botanic garden, laden with palms, flowering trees, and the largest collection of bamboo on earth with 125 species. The Bird Festival attracts birders from all over the state to get a glimpse at some rare breeds.
Guests can walk down the "Warbler Zone" on the Kushian Bird Trail, where Barn Swallows, Red-shouldered hawks, and Ovenbirds have been sighted. The paths and trails are filled with tropical garden flora, with more than 30 species of butterflies dancing about.
There are arts and crafts booths, activities for children, and many vendors selling plants that attract birds to take home! Guest speakers are also present to speak about findings within the birding community.
Even if you're not a birder, this festival welcomes all that are interested in birds or beginners wanting to learn, making it a perfect activity in fall in Florida.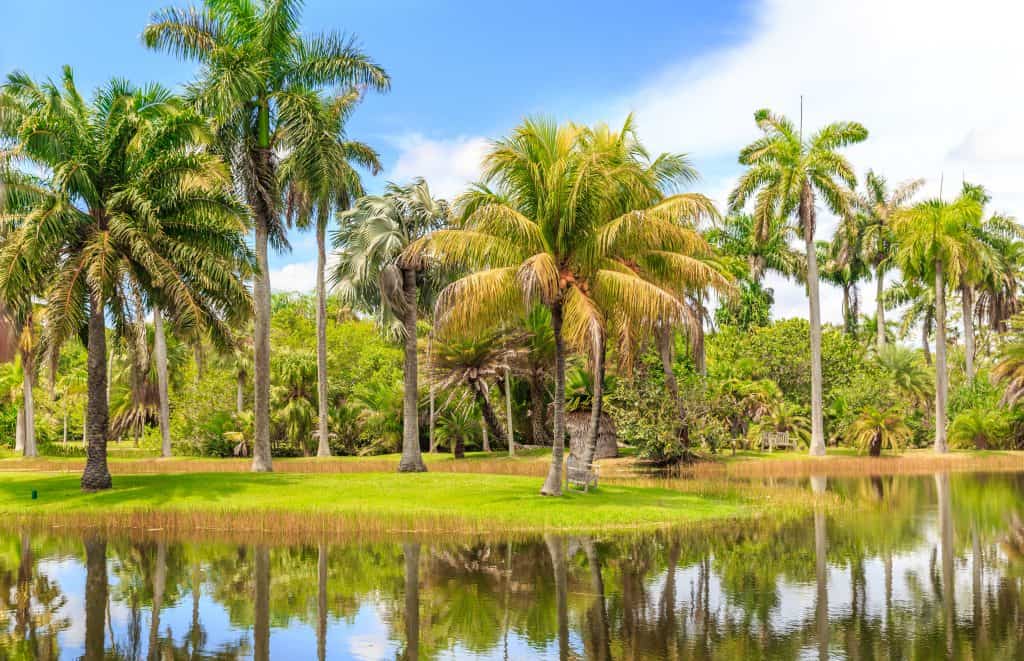 Renninger's Steampunk & Industrial Show in Mount Dora
In the quirky, antiquing town of Mount Dora, Renninger's Steampunk & Industrial Show flourishes and wakes up this sleepy lake-side community.
Steampunk is a genre of science fiction with a historical setting that marries steam-powered machinery with a punk fashion aesthetic: think vintage, but with a modern avant-garde flair. This festival celebrates everything Steampunk.
Cosplayers don their best costumes and parade around perusing the commercial vendors, taking advantage of the live music, and maybe even taking a Steampunk Horse & Carriage Ride!
Mount Dora is know for its antique shops and events just like this one. This festival embraces that: also on property is the historic Mount Dora Flea Market, The Street of Shops, and the Antiques Center.
The Renninger's Steampunk & Industrial Show in Mount Dora generally runs for two days in October, 9 AM – 5 PM each day. This festival is certainly off the beaten path, but completely unforgettable if you make the trip.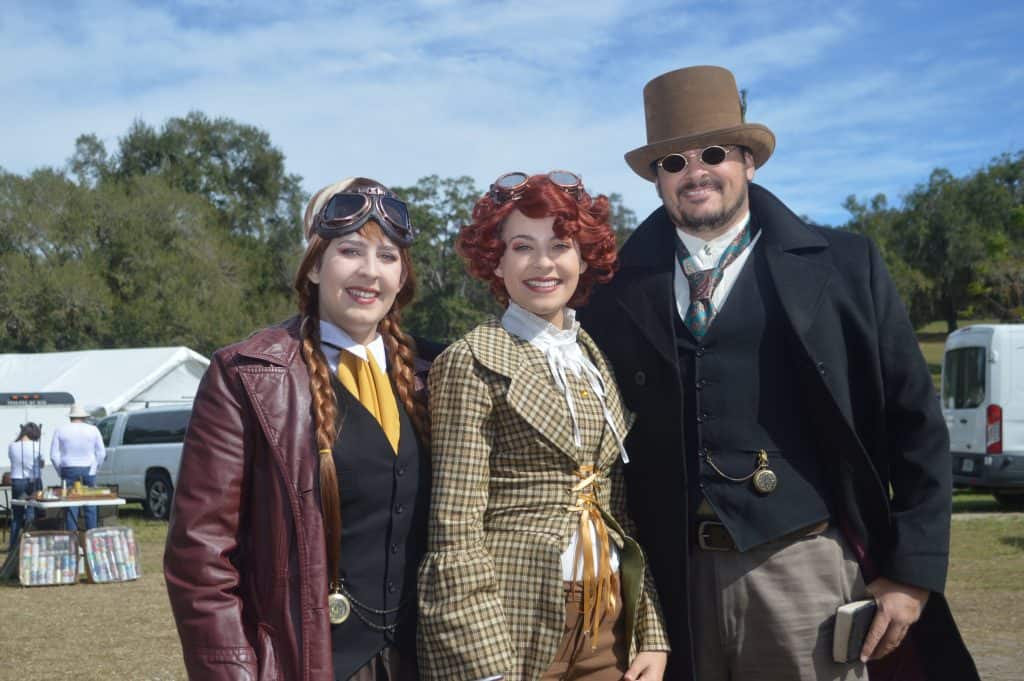 Pensacola Seafood Festival
The northern gulf coast is a haven for fresh fishing, so naturally the Pensacola Seafood Festivals celebrates all things cuisine in this 3-day festival typically in November.
Applying to be a vendor is very competitive, and with good reason. All of the food is so incredible! Seafood vendors feature "gulf to table" dishes like paella, lobster rolls, gumbo, scallops and crawfish.
If you have a shellfish allergy, or if seafood just isn't your thing, that's okay too. All are welcome, and so are "landlubber" vendors, who offer a variety of American fare foods like burgers, hot dogs, coleslaw, and turkey legs.
Arts and crafts vendors selection is also highly competitive. All wares for sale are 100% handmade, which is impressive considering the crafts vary from woodworks, pottery, glass art, jewelry, soaps, artwork, and clothing.
Some of the bands that have played at the festival have gone on to win Grammys. There is also an area for children, including a touch tank with sea urchins and starfish.
Seafood-lover or not, there is something for everyone to enjoy at the Pensacola Seafood Festival, a perfect way to leap into fall in Florida.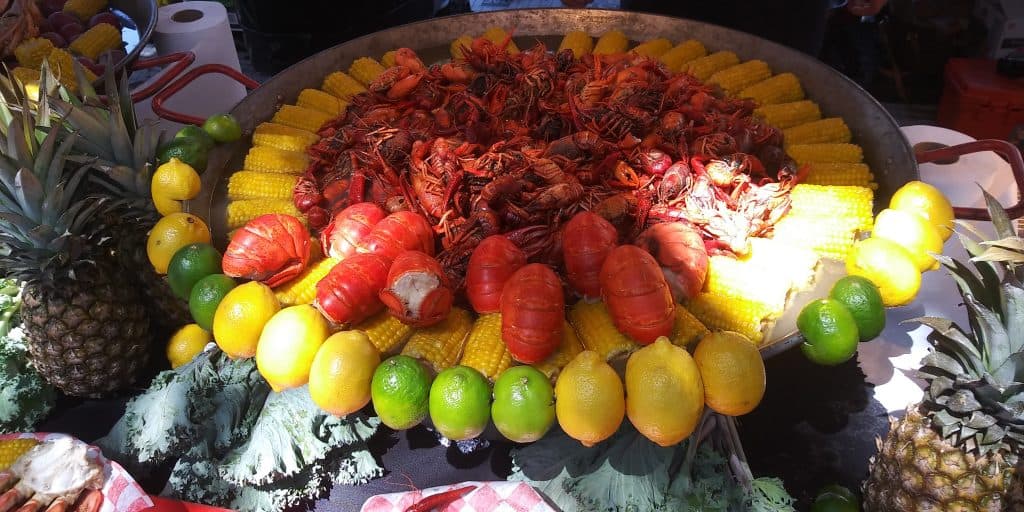 International Chalk Festival in Venice
In the shark tooth capital of the world in Venice, artists travel from all over the world to participate in the International Chalk Festival.
Chalking is a form of performance art: an artist in one sitting will complete a piece of art, often three dimensional, from start to finish. This takes hours and is grueling, especially in the hot sun, but the finished product is a temporary masterpiece only to be washed away the next time it rains.
At the International Chalk Festival, the scale is overwhelming. In 2007 over 250 artists were chalking in Venice with over 60,000 guests in attendance, watching where they stepped, of course!
Each year, the artists are tasked with a theme. Previous themes have been "Eat, Drink and Be Merry," "Legacy of Valor," and "Love & Peace." Many records have been set by these artists, including the largest anamorphic pavement art in the world which raised awareness about the rate of extinction for many endangered species.
You don't need to be an artist to attend the International Chalk Festival to be inspired. The sheer size and celebration of art are heartwarming and only happens in the fall in Florida.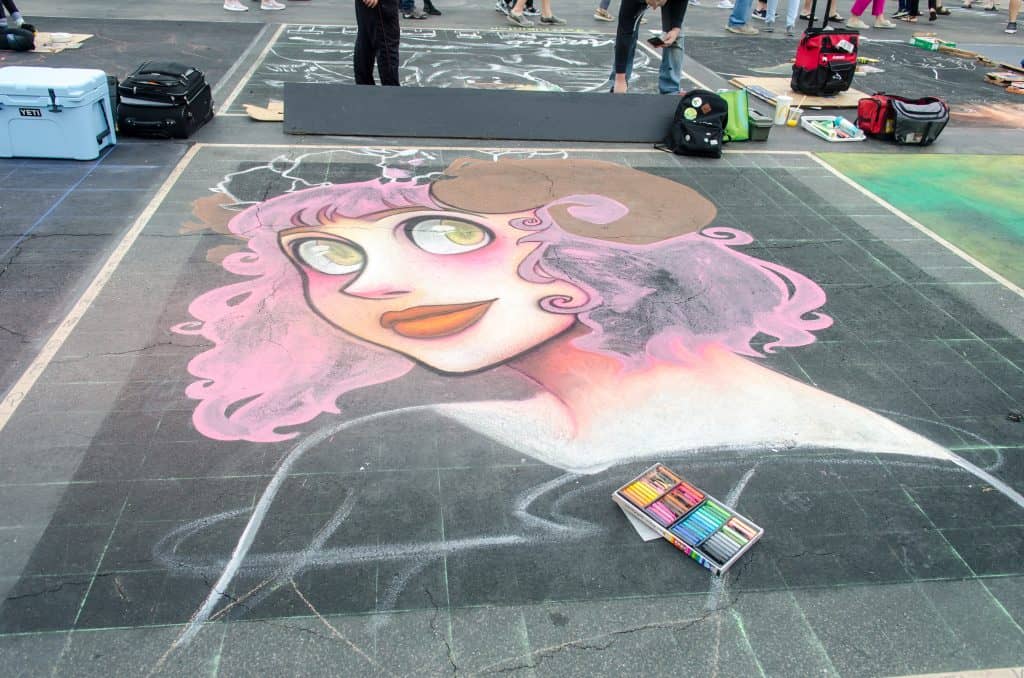 Did You Find This Post Helpful?
If so, we would love to keep in touch! We enjoy seeing photos and comments about your experiences in Florida! You can follow us on Instagram and we will repost your photos on our feed and comment too! Just tag us at @floridatrippers and hashtag #floridatrippers. We can't wait to see your travels!