Are you looking for a list of the best restaurants in Kissimmee that you must visit? We have you covered with our list of places to eat in Kissimmee!
On our list of the best Kissimmee restaurants, there is wide variety of cuisines to choose from. Whether you are looking for a family run pizza and Italian place, authentic Mexican, a variety of Latin restaurants to healthy breakfast and brunch spots, steakhouse, Middle Eastern and Mediterranean the options are endless!
There is so much to do in Kissimmee other than theme parks, checkout our list if planning a trip to the area!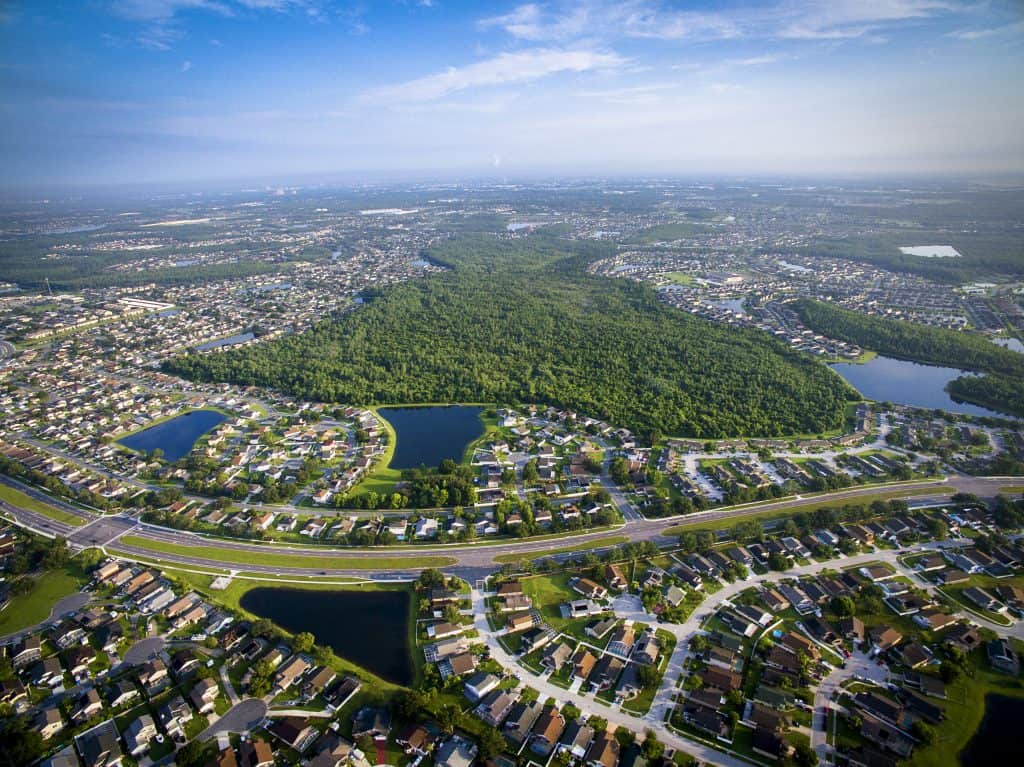 15 Best Restaurants In Kissimmee FL You Must Try
Pienezza
If you are looking for delicious pizza in Kissimmee, head to Pienezza. This is a family run New York style pizzeria. Located off of John Young Parkway they are closed Mondays, but open for lunch and dinner Tuesday to Sunday.
On the menu in addition to pizza you will find salads, wings, sandwiches and calzones, and house pastas. Try one of the square pizzas like the Sicilian Bruschetta with fresh vegan bruschetta topped with pesto, or the Italian Flag topped with a creme sauce.
Pizzas here come in three sizes : personal, medium and large. Go traditional with the New York Neapolitan, or try Mama's Lasagna Pizza, Meat Monster, NY white pie or the house special Prosciutto Nella Neve a white pie.
El Cilantrillo Restaurant
El Cilantrillo is another of the best local restaurants in Kissimmee that you must eat at! Opened in 2017 this Puerto Rican restaurant serves up some of the best seafood in Kissimmee. Known for serving up gastronomic masterpieces rich with flavor, served in large portions there are three different locations in the Kissimmee area to choose from.
The dishes from the sea are the speciality here. There are so many dishes to choose from. Try the El Mar Picao known as the wild sea served with a lobster tail, grilled shrimp, creole shrimp, mofongo ( or mashed plantains in a lobster sauce served with a. side of greed green plantains. For those looking for fish try the Chili Frito fried whole snapper (you can even have it stuffed with shrimp) or the Filet of salmon cooked your style.
Other house dishes include the rice with peas, roasted pork and sausage, or skirt steak, pork chops, fried chicken with cilantro rice, french fries, and green plantains. All are served with salads and can feed 2, perfect for those looking for a date night spot!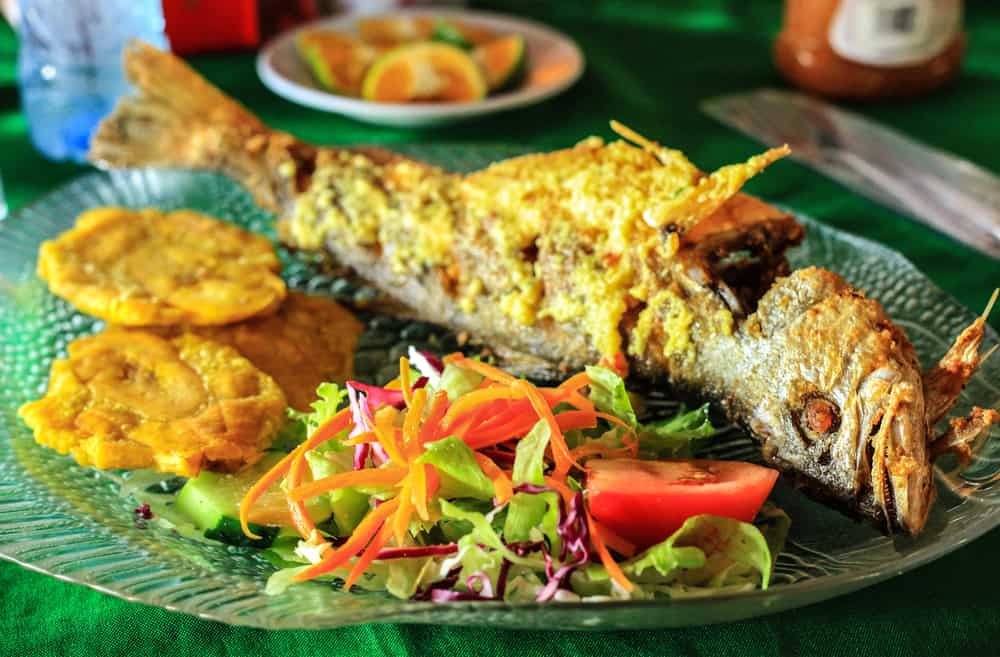 El Tapatio Mexican
El Tapatio is one of the authentic Mexican restaurants in Kissimmee. Opened in 2012, the food here is made from scratch every morning. Located on Vine Street, they are open daily from 11 am to 10 pm. In addition to serving up flavorful authentic Mexican dishes, they have offer a full bar.
You will want to come hungry! Start off with the Fontera sampler, house made guacamole, or nachos tapatios with queso, and refried beans, and choice of steak or chicken for the table. From burritos, to tacos, tortas, sope, and Huarache you can choose your choice of protein and make it a combo with rice and beans.
For those looking for vegetarian restaurants in Kissimmee, there is a large menu. From Chile relent, to a quesadilla with broccoli, cauliflower and squash, to fajitas, and tacos with grilled nopal.
They serve a fantastic lunch menu weekdays from 11 am to 3 pm starting at just $7.99! You will find burritos, quesadillas, enchiladas, taco salad, and lunch portion fajitas.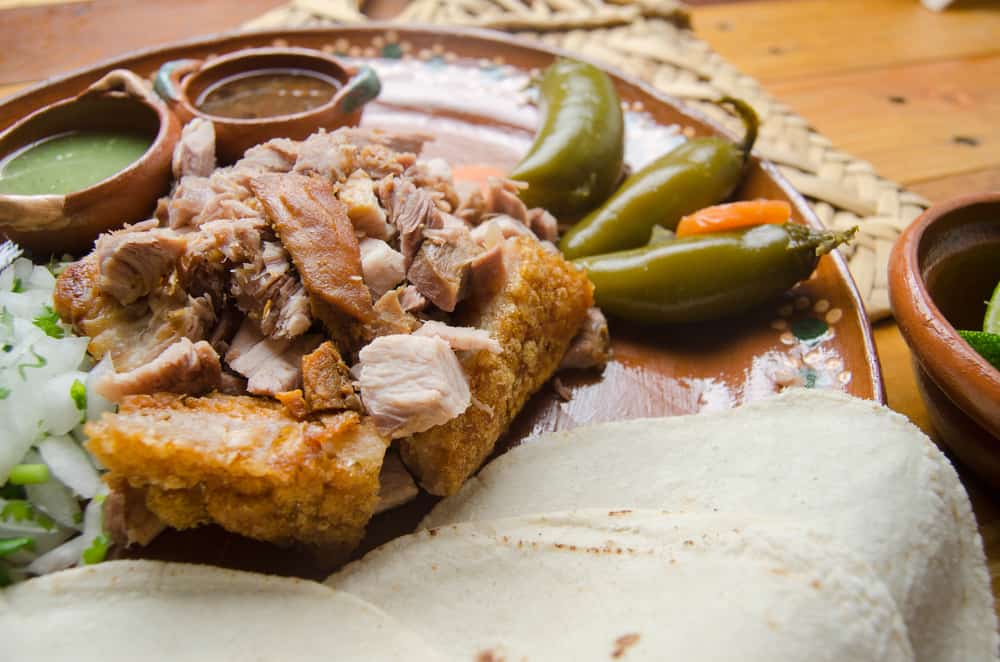 Oh Que Bueno
For those dining in Kissimmee and craving Latin cuisine, Oh Que Bueno is open for lunch and dinner and serves authentic Colombian cuisine.
Traditional plates range from Bandeja Paisa is a feast served with steak, rice, beans, fried pork skin, sausage, sweet plantains, avocado, and eggs with corn cakes. For smaller dish try the steak served with rice, beans and sweet plantains.
If you are craving seafood try shrimp in pepper sauce or filet of fish served with rice, salad and green peppers. And the Mofongo is a must try here! Made with green plantains you can choose your toppings, from pork, steak, chicken or shrimp.
This is one the restaurants in Kissimmee you will want to leave room for dessert. Try the Passion fruit mousse, house flan, and tres leches.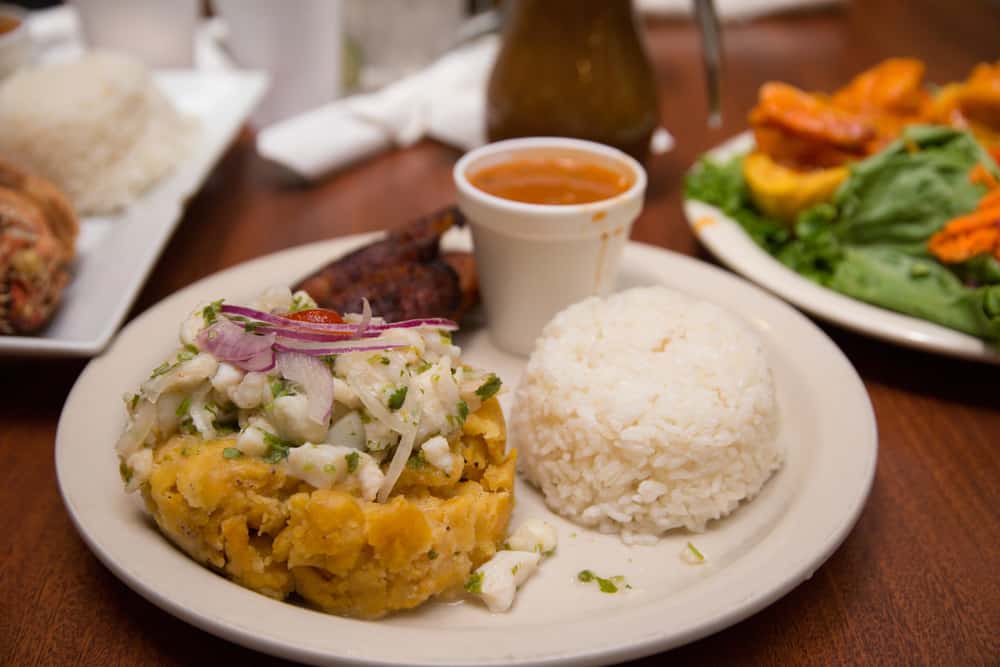 El Tenampa
EL Tenampa is one of the Mexican places to eat in Kissimmee. This casual restaurant will transport you to Mexico with its colorful murals and decor. This locals favorite is more authentic and very flavorful with large portions. Best part is chips and salsa are made in house, and on weekends they often have a Mariachi band. Be prepared to wait during dinner rush time.
Serving up some of the best food in Kissimmee, on the menu of this Mexican cantina you will find all the traditional favorites. Start the meal off with an appetizer sampler for the table or the house made guacamole to pair with the chips and salsa.
Favorites include the Wet Burrito topped with house signature sauce, chicken fajitas, El Tenmpa Mix Meats combo all served with rice and beans. Choose from a quesadilla with your choice of protein, to shrimp ceviche, Veracruz style fish, tacos, and more!
Main Street Pizza
For those looking where to eat in Kissimmee for lunch head to Main Street Pizza for some amazing lunch specials served before 4 pm on weekday. Everything served here is made fresh in house each day, from the pizza dough, to sauces, to fresh cut cheese!
On the lunch menu you will find 2 slice and a drink, 1 slice and salad, 1 topping personal pizza or calzone, wings and fries all served with a drink for under $10! Equally know for their wings, they come in a variety of flavors like hot garlic parm, bbq, and Honey hot Garlic in 10, 20 or 30 pieces.
You can either create your own pizza in sizes form personal (10″) to a Monster (36″)! With every imaginable topping to choose from. Or go with one of the house speciality pies, like the Frankenstein a philly on a pizza, the Bruschetta with tomatoes, onions on a basil pesto sauce, Rockin BBQ with garlic butter base, onions, bacon, bbq chicken and jalapeños or the Margherita with fresh tomatoes, buffalo mozzarella and a balsamic glaze.
Other menu items include calzones and Strombolis, pasta dishes, sandwiches and salads. No matter what you eat at this restaurant in Kissimmee it will be made fresh to order!
Woodsby's Cafe
Woodsby's Countryside Cafe serves up one of the best breakfast in Kissimmee. This casual family run eatery is open weekday from 6 am to 7:30 pm and weekends from 6 am to 2 pm. They serve a southern style breakfast lunch, and dinner!
The best part is breakfast is served all day here. Try the Woodsby omelette special with sausage, bacon, ham, peppers, onions and cheese, a veggie omelette, or create your own! Other breakfast favorites are the pancakes and French toast, and biscuits and gravy. Other dishes include Woodsby fried catfish breakfast, Leisa's steak and eggs, and Larry's center cut country ham and eggs with home fries or grits.
On the lunch menu you will find chicken finger and popcorn shrimp baskets, an assortment of burgers all made fresh in house like the Ol' Hickory burger with bbq sauce, onion straws and cheese, a French dip or Reuben sandwich, a grilled cheese or your choice of a philly. Also on the menu are a wide variety of cold subs and sandwiches as well as salads.
For the dinner menu you will find traditional Southern favorites all served with cup of soup or salad, two veggies and bread. Choose from hamburger steak with gravy, ribeye steak, fried shrimp or chicken, country fried steak, and fried catfish filet. They also serve up several veggie plates with your choice of 3-5 veggies, as well as a blacken veggie burger, and stuffed tomatoes.
Don't forget to ask for the daily special of cake or pie!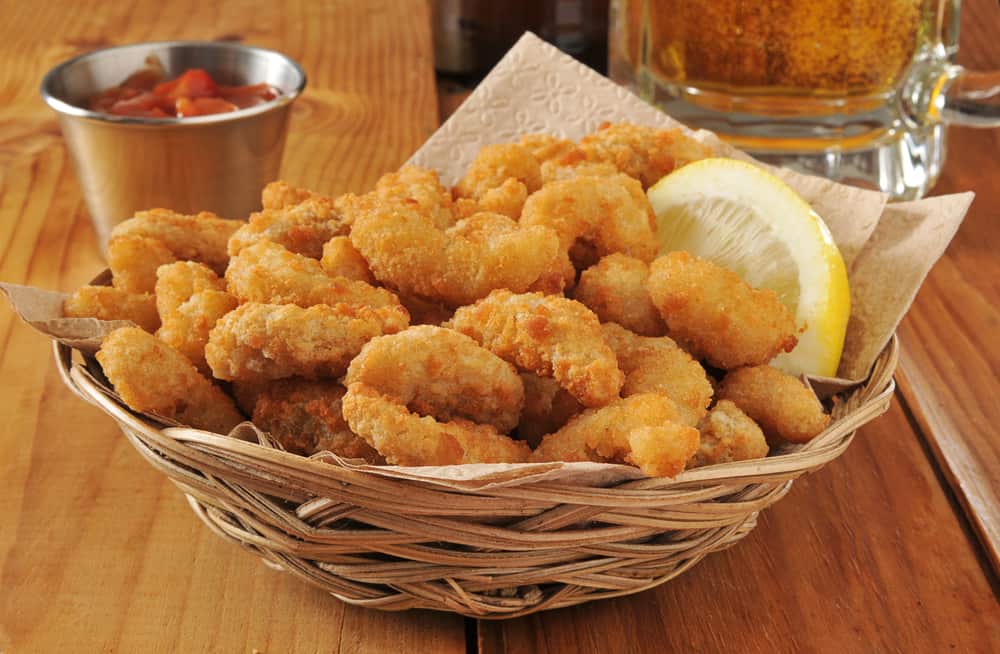 Buchito's Cafe
If you are looking for a great spot for breakfast or lunch in Kissimmee, head to Buchito's cafe. This family run diner shares its family recipes for delicious Cuban dishes. You will be welcomed like family when dining here while enjoying made from scratch dishes.
For breakfast start with a strong up of cuban coffee or a cafe con leche, or a Buchito's Iced coffee, they also have plenty of other options. To eat there are fresh fruit smoothies, pastries and sandwiches. From a breakfast sub with eggs and bacon, to Cuban buttered toast, and egg dishes.
For lunch sandwiches include the Benny Cuban, a Media Noche ( a cuban with mustard), Alexander with pastrami and bacon, Cubano Loco with pork, guava and cream cheese, BBQ sandwich, Veggie or Tuna and classic ham and cheese.
For those interested the sell hand rolled cigars that are made fresh each day.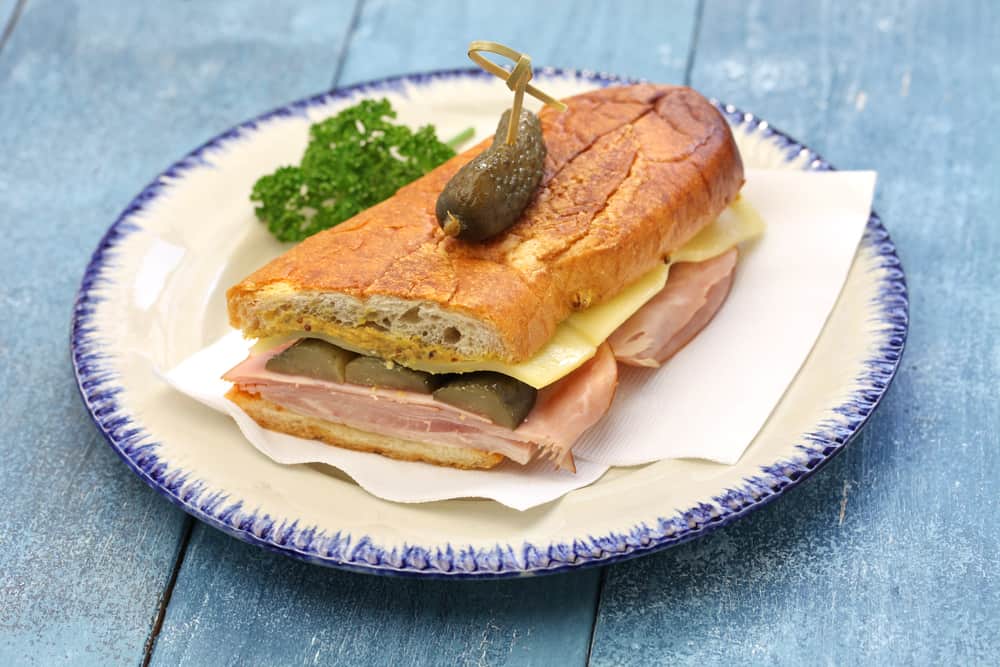 Maracas
Are you looking for the best dinner in Kissimmee? Head to Maracas restaurant where the motto is "real food, real good." They are open for breakfast, lunch and dinner serving Dominican cuisine. They pride themselves on using the freshest seasonal ingredients to craft an ever-changing menu.
You must start the meal with one of the house made soups like chicken soup or seafood soup or the daily offering. All soups are served with rice! House specials for dinner include the onion steak, palomilla steak, currasco flap steak, fried pork chops, seafood rice, and the mofongo platter. All meals are served with rice, plantains or our choice of sides from black beans, white rice, sweet plantains or fried plantains.
Lunch platters here range from beef stew, roasted pork, baked chicken, ox tail, and spare ribs. Make sure to ask what the special of the day is!
Tasty Lemon
Tasty Lemon is one of the health-focused restaurants in Kissimmee. If you are looking for a juice bar and açaí bowl place, this is the place in Kissimmee to go! Everything is made fresh in house, and ordered from the market daily and dishes inspired by the owners travels.
Start the an organic açaí bowl, with choice of fruits, granola, coconut flakes and coconut oil. Or opt for one of the smoothies such as dragon fruit, peanut butter and banana, red mango pineapple, or triple berry.
Next, they are known for their Lemonade from original, limeade, or flavored with coconut, mango, guava, passion fruit, açaí, or tamarindo. Pair with one of the fresh salads, like baby spinach avocado salad, a nuts and berries salad, or a Cobb salad.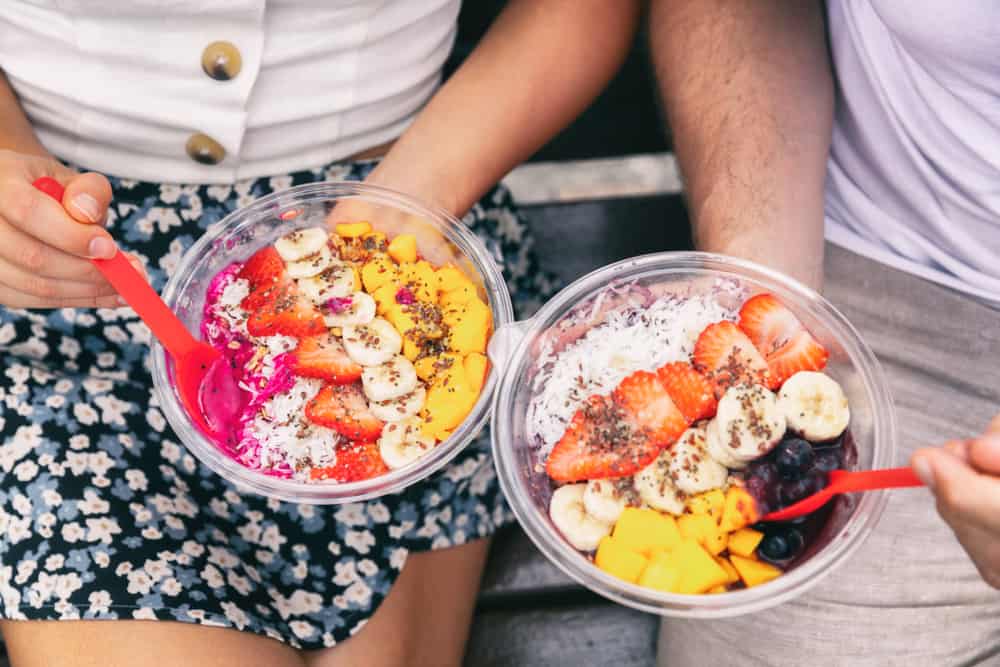 Oriental Square Chinese Restaurant
Oriental Square Chinese Restaurant is the place to go for Chinese food in Kissimmee! This family run restaurant is know for serving traditional Chinese dishes, as well as all the American favorites. They are located just south of Downtown Kissimmee area.
Dinner combinations here range from chicken chow main, vegetable egg foo young, beef and broccoli, shrimp with a garlic sauce, general Tso's chicken, and boneless spare ribs. House specialities include scallops with garlic sauce, five flavored seafood platter, walnut chicken, Mandarin fried red snapper, and salt and pepper squid, as well as Peking duck!
More traditional dishes include Hunan chicken, shrimp with a lobster sauce, sesame chicken, and peppered steak. Try one of the mouth watering soups like hot and sour or wonton Cantonese noodle soup. Lunch specials are served weekdays from 11 am to 3 pm.
The Boat House
Those looking for upscale dining in Kissimmee and a beautiful ambience The Boat House is your place! Located at the Disney Springs resort, this is one the restaurants near Kissimmee located in nearby Orlando that is worth the short drive. You will be awarded with waterfront dining and an amazing weekend brunch! Or come for lunch or dinner.
We think this is the best brunch in Kissimmee and is served Saturday and Sunday from 10 am to 2 pm. Main dishes include shrimp and grits in a spicy beer cheese, crab cake Benedict, a Belgian waffle with smoked sausage, avocado toast, or steak and eggs. Pair with the Boathouse Bloody Mary or an Espresso Martini!
The daily lunch and dinner menu features a rotating menu, such as jumbo florida stone crab claws or oysters. Regular menu features a raw bar, market fresh fish like a coriander seared yellowfin tuna, shrimp Mac n' cheese, a dockside shrimp boil, the yatch club or Boathouse burger and for steak lovers all steaks are Gibson Heritage aged.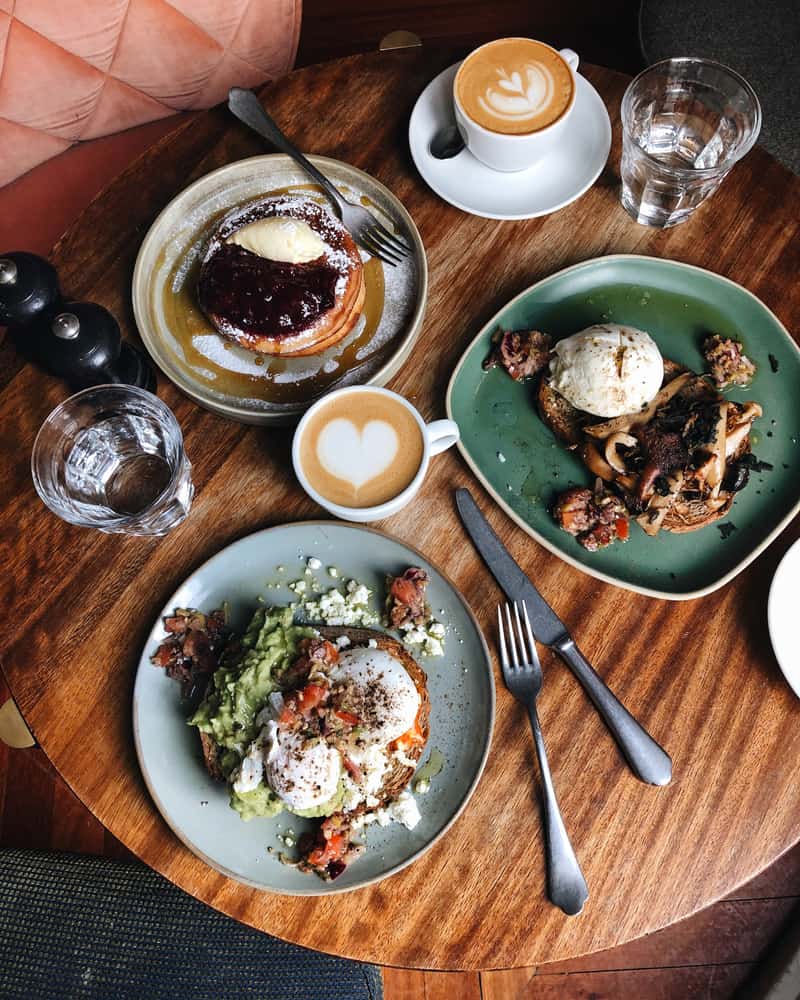 Jerusalem Restaurant
Jerusalem Restaurant is one of the best local restaurants in Kissimmee for casual Mediterranean cuisine. Closed on Tuesdays they are otherwise open 11 am to 10:30 pm for delivery and pickup only.
Guest favorites here include the chicken shawarma, kabab platter, for those who are vegetarian or looking for non-meat options the Mazza comes with hummus, baba ghanouge, grape leaves, tabouleh, and falafel letting you try a little of everything!
If ordering takeout why not try several appetizers such as the hummus with chicken shawarma, tzazaki dip, fried kibbeh ( ground beef with seasoning). Entrees range from lamb, vegetarian or chicken couscous, musakkaa fired eggplant dish, and gyros.
Two Brothers Steakhouse
Opened in 2020, Two Brothers is one of the newest restaurants in Kissimmee. They are closed on Mondays but otherwise open for lunch and dinner Tuesday to Sunday and specialize as both a steakhouse and bistro.
Start your meal with one of the sampler platters with top sirloin, pork chops, chicken, sausage and fried plantains or the big brother sampler with addition of bbq ribs, blood sausage, yuca and more.
All grilled steaks are served with one side, house salad and your choice of sauces. Choose from hollandaise, mushroom or red wine Demi or an avocado Guasacara sauce. Steak choice range from a 16 oz porterhouse, strip, filet mignon and a ribeye.
Seafood dishes are served with side and house salad and choices include red snapper, shrimp, and salmon. All pasta dishes are served with house made sauce and can have proteins added to the dishes.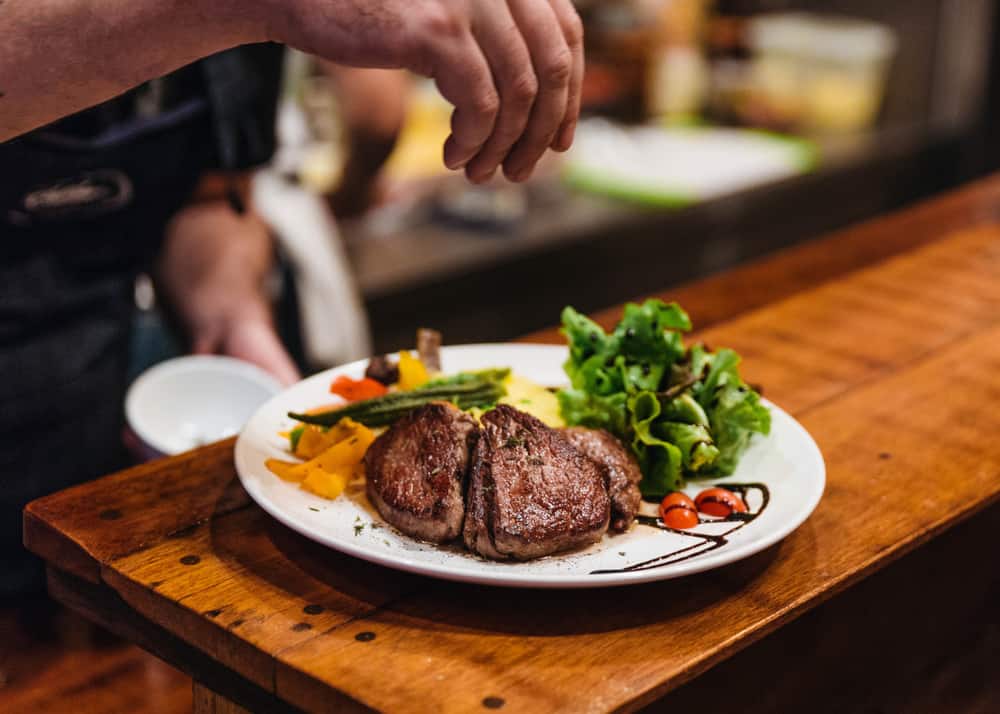 King O' Falafael
For those craving Mediterranean, King O' Falafel serves some of the best food in Kissimmee. Since 2009, the restaurant has found a loyal following of " falafelites" that have made the restaurant one of the best restaurants in Kissimmee. Open daily from 11 am to 11 pm, diners can expect fresh food and friendly service.
You will find everything from falafel, to hummus, babaghanouj, grab leaves, fuul to start your meal. Choose from a wide variety of salads from tabouleh, mediterrean, Jerusalem, and the house salad. Choose from sandwiches with your choice from falafel to ka-bob with lamb or chicken, Kifta ground beef with spices, or gyros.
All entrees come with rice, fries or hummus, and your choice of salad. Choose from a vegetarian plate, Kifita Kabobs, Chicken Kabob's, Gyro or a combination platter. Make sure to ask what homemade dessert is available for the day?