Are you looking for the most exciting things to do in Kissimmee, Florida? Then you've come to the right place!
Just outside of Orlando city limits, you'll find a town with a strong, diverse community. Since it is very safe for families, many love Kissimmee for its proximity to theme parks like Disney and Universal Studios.
However, if you are looking for fun things to do in Kissimmee other than Disney, we have you covered! There are so many other things to do in Kissimmee besides theme parks, especially if you are trying to stay within budget.
Only 25 minutes from Florida's Atlantic coast, Kissimmee isn't too far away from some of the best beaches in Florida. Outdoorsmen will appreciate the proximity to Everglades National Park and other gorgeous state parks.
You won't be wanting for anything in Kissimmee. So pack your bags and hit the road, the best things to do in Kissimmee are waiting for you!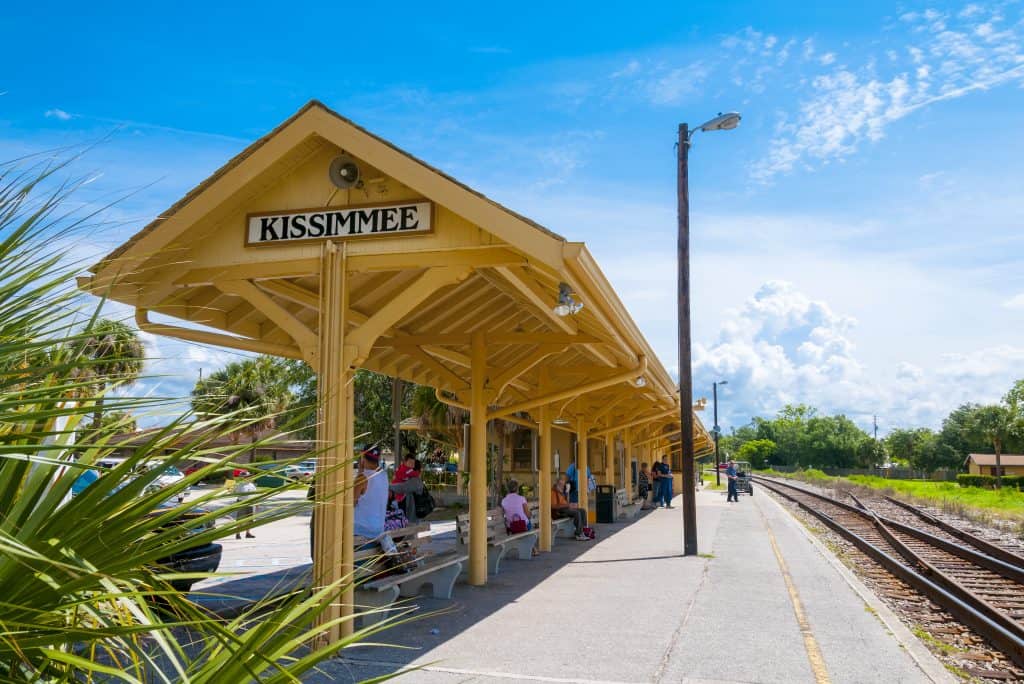 20 Best Things To Do in Kissimmee You Shouldn't Miss
Explore Kissimmee Lakefront Park
On Lakeview Drive, you'll find a grassy waterfront park that glitters with the beauty of Florida's flora and fauna. Visiting Kissimmee Lakefront Park is one of the best things to do in Kissimmee.
With grounds overlooking Lake Tohopekaliga, Kissimmee Lakefront Park provides a pleasant distraction from tourist traps in the area. As a not-so-hidden gem in the area, you'll find a haven for locals.
A one-mile bike and hiking path provides scenic views along the lake's shores. Anglers will be pleased to find many fishing piers because the lake is so expansive. You can even grab paddles for some of the best kayaking in Florida.
Perfect for families with small children, the park also has an expansive playground area with swings and slides. In the summer months, kids can cool off on a fun interactive splash pad.
Many historic markers throughout the park provide background information. You can also learn about Florida native wildlife in the area like turtles, fish, and birds. This is also one of the best places to see wild alligators in Florida. This is easily one of the best outdoor things to do in Kissimmee.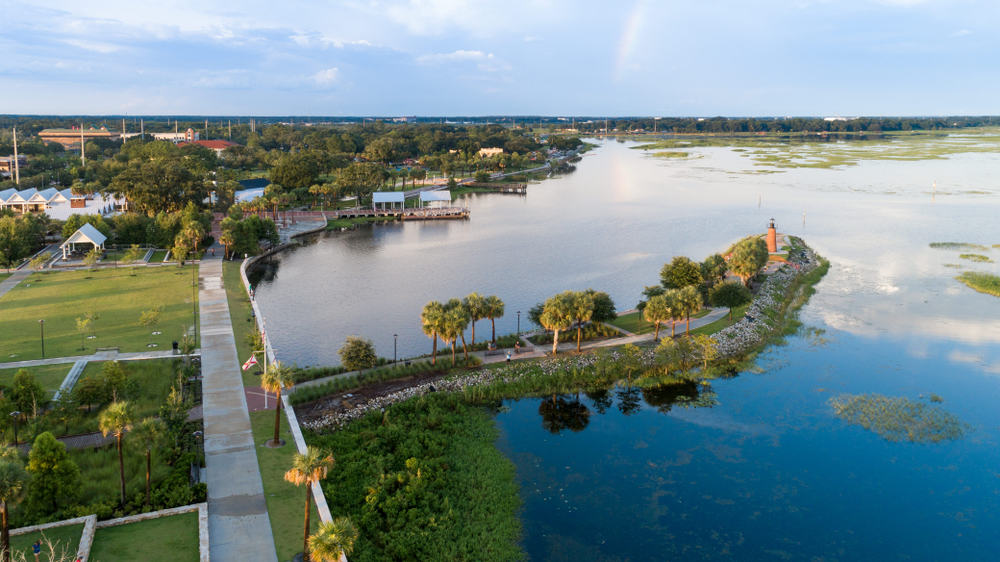 Play a Round at Oaks National Golf Club
Sometimes Dad needs to escape the family and hit the links! For one of the best golf courses in Florida, head to Oaks National Golf Club, one of the best Kissimmee attractions.
Designed by Karl Litten, Oaks National's course holds many prestigious titles, a staple in Osceola County. Completely rebranded in 2015, Oaks National Golf Course was named GolfAdvisor's 2016 Winner for the Top 25 Most Improved Courses in the United States.
The 18-holes get their name from the ancient oak trees that litter the course. With picturesque views throughout, you'll have a very special golf experience with unbeatable views.
If you're in need of apparel, accessories, or equipment, you can find the best of the best at the Oaks National Golf Shop. Pick up something to improve your game or a gift to maybe bring home to your boss.
After your round, enjoy a nosh at the Oaks Cafe. Grab delicious, hand-made wraps, hoagies, and hot paninis. There's also a full bar and large flat-screen TVs so you can relax!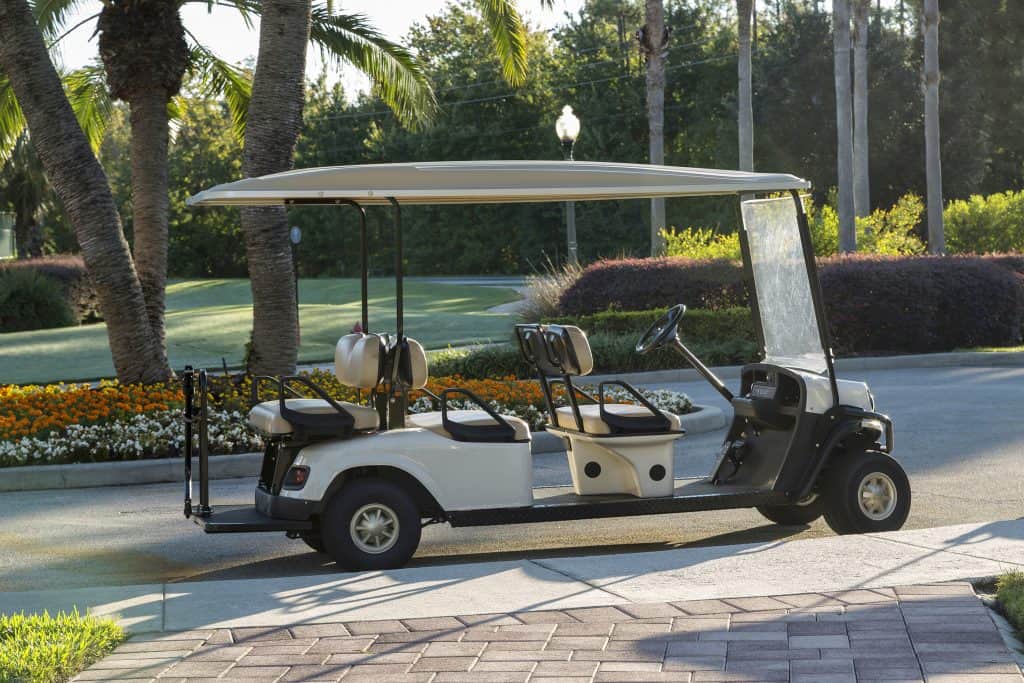 Learn at the Museum of Military History
One of the most sobering ways to remember the cost of freedom is to visit one of the best museums in Florida. Visit the Museum of Military History to honor our country, one of the best things to do in Kissimmee.
With a concept born at the Vietnam Veterans Traveling Memorial Wall, the Museum of Military History found its permanent home in 2004. Here you'll find numerous exhibits detailing the most prominent wars in which the U.S. fought.
The artifacts seen in the exhibits have been donated by veterans themselves and organizations like the Daughters of the American Revolution. Here you'll see things like muskets, uniforms, personal items, and service vehicles.
One of the most notable artifacts is a C.E.M. gas mask. Catapulting the Museum of Military History to a national stage, the gas mask was featured on Travel Channel's television show, "Mysteries at the Museum."
The museum also hosts many events and ceremonies to remember those who have fallen in service of the country. You can catch annual events like the POW/MIA Remembrance Ceremony and the "Quilt of Valor" Ceremony.
You can visit the museum on Tuesday through Sunday from 10 AM to 6 PM. Adult admission costs $12 with discounts for seniors, veterans, and students. Active military members enter free.
Book Here: Skip the Line: Museum of Military History Ticket
Enjoy Lake Tohopekaliga
Just minutes from Orlando and Disney World, you can find the largest lake in Osceola County. Perfect for water sports enthusiasts, Lake Tohopekaliga is one of the best Kissimmee attractions.
Known affectionately as Lake Toho, the lake spans 18,810 acres. It's a joking pet name and Kissimmee locals have a slice of their own Lake Tahoe! If you are looking for what to do in Kissimmee to relax, then come here!
The lake's commission-made fish attractions are some of the best things to do in Kissimmee. There are eight designated fishing spots. Some are on piers, while some are in the middle of the lake, which has several small islands.
Anglers will be most likely to catch a variety of fish like largemouth bass, bluegill, redear sunfish, and black crappie. In fact, many bass caught here have been documented in the Trophycatch Tracker.
If you're not a fisherman, you can still enjoy the shores of the lake at Kissimmee Lakefront Park. You can sit on benches on a natural jetty with benches next to a scenic lighthouse.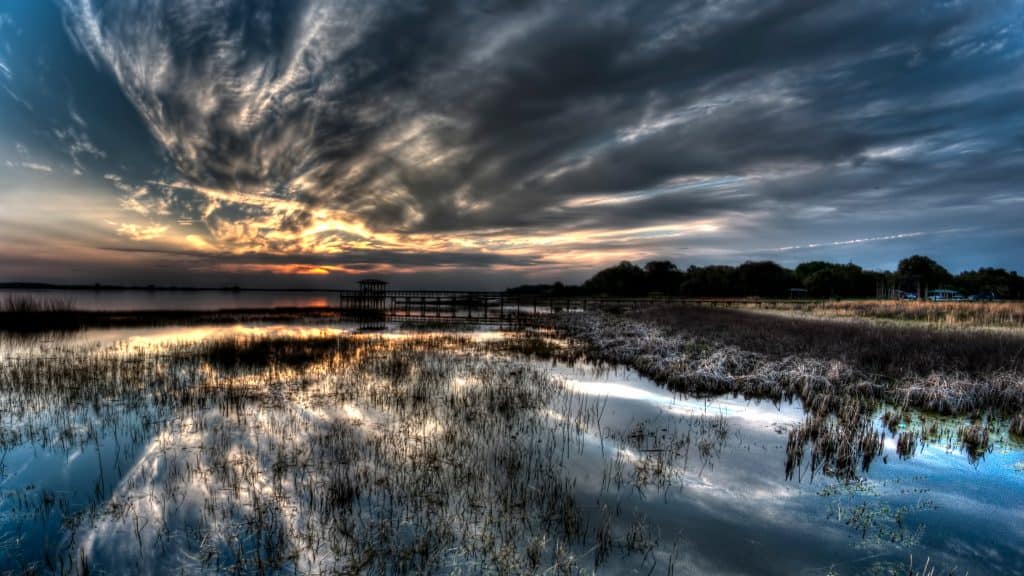 Visit Kissimmee Air Museum
To get a sense of patriotism while learning about vintage aircraft of yesteryear, visit the Kissimmee Air Museum. This is one of the best indoor things to do in Kissimmee, allowing you to see the War Birds and even a few surprises.
Found at the Kissimmee Gateway Airport, the Kissimmee Air Museum celebrates the heritage of military aircraft. History buffs will appreciate the many aircraft on display from the United States, Germany, Japan, and the United Kingdom.
The museum allows you to get a close-up look at each exhibit. In an indoor showroom and an outdoor display, the museum also provides the background information, specifications, and history of each display.
Perhaps the most famous plane is the P-51 XR Mustang. A single-seat bomber, the aircraft fought in both World War II and the Korean War. Known for their aerial acrobatic abilities, you can also see the MiG-17 F, Cessna L-19, and the Molt Taylor Aerocar.
Have Fun With Boggy Creek Airboat Adventures
If you want to experience the great outdoors with an expert guide, then hit up Boggy Creek Airboat Adventures. Set in an enchanted 32-acre landscaped park, this is one of the best things to do in Kissimmee.
When you take a ride with Boggy Creek Airboat Adventures, you'll experience the thrill! Touring since 1994, you'll boat through Florida's nature and even a Native American village exclusive to Boggy Creek.
You'll see towering chickee huts nestled in the landscape. Genuine artifacts and hand-made creations highlight the daily life of the Big Mountain Native American family.
In particular, you'll get to witness a reenactment of indigenous people hulling a canoe using primitive tools. You'll also hear stories and accounts detailing how this tribe lived in the swamps.
Exclusive to Boggy Creek, kids can enjoy the Fossil & Gem Mining Activity. As water flows from a tower through 70 feet of troughs, you can find alligator teeth, arrowheads, fossils, shark teeth, and rare gems.
After your day on the water and mining for gems, relax at one of the best restaurants in the Orlando area. At the Boggy Bottom BBQ, discover the true taste of Florida-style barbecue.
Book Here: 30-Minute Airboat Ride near Orlando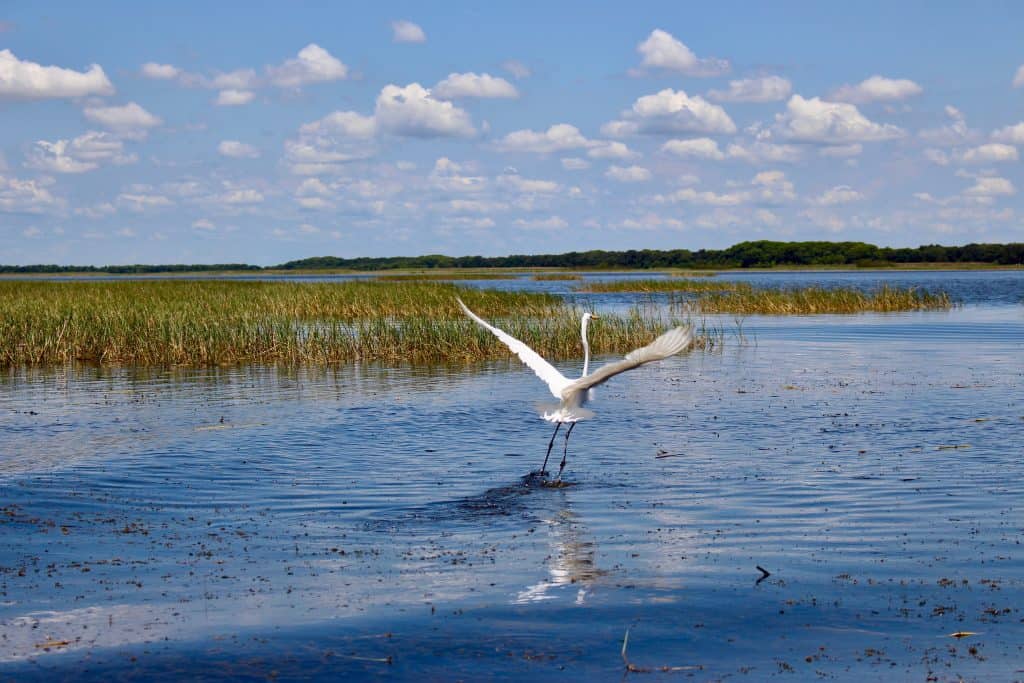 Kayak With the Paddling Center
Kissimmee is full of creeks, lakes, rivers, and streams perfect for paddling. For the best canoeing and kayaking in Florida, head to the Paddling Center!
One of the greatest things to do in Kissimmee, Florida, the Paddling Center offers kayaking, canoeing, stand-up paddleboards, rentals, tours, and more. Perfect for families, the facility provides novice paddlers with the skills to enjoy Shingle Creek.
All paddling equipment is included in your rental. Paddle Shingle Creek at your leisure! Walk-ins are welcomed daily first-come, first-served with availability.
You can also take exciting paddling tours through cypress forests. In addition to special tours to see manatees at Blue Springs State Park, the Paddling Center offers tours at night during the full moon of each month. Doesn't that sound like one of the most unique activities in Kissimmee?
Book Here: 2-Hour Cypress Forest Guided Kayak Tour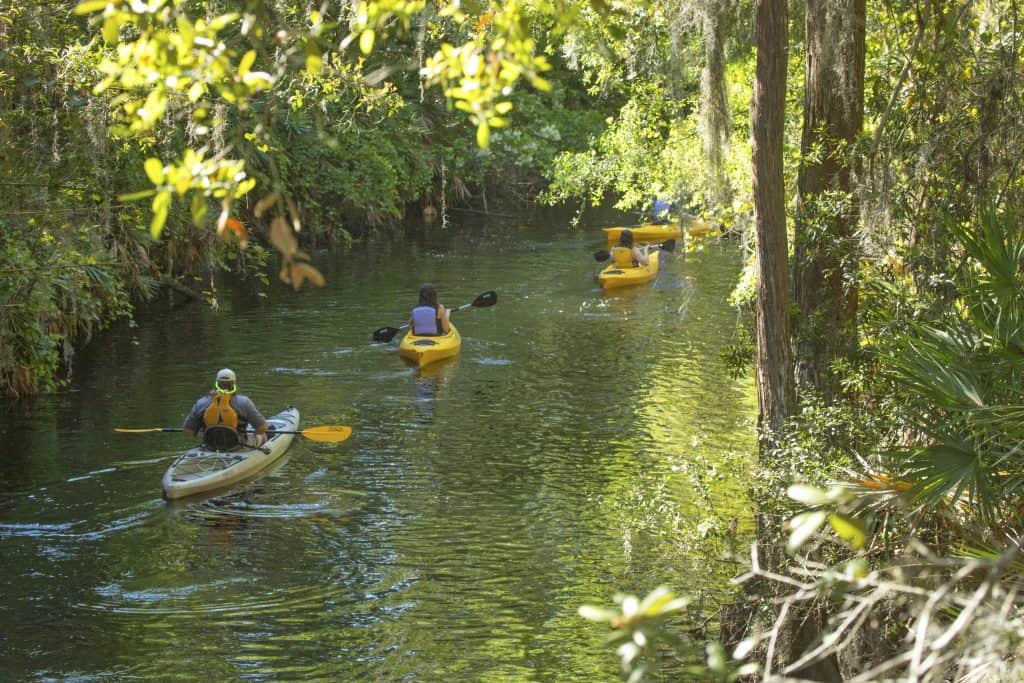 Visit Celebration
Close your eyes. Imagine a small town designed by Disney architects. Open your eyes. You can find the real thing in Celebration, Florida, one of the best things to do near Kissimmee.
With a quaint atmosphere, candy-colored buildings, and scenic views, Celebration was inspired by Walt Disney's dream of creating a "perfect utopian city," or the Experimental Prototype Community of Tomorrow, aka EPCOT.
The original plans included placing the city under a climate-controlled dome and a convenient monorail system. "Epcot" became a full theme park instead as Disney died in 1966, decades before Celebration was born.
With an open town square with lights strung above, Celebration still retains traces of that Disney magic, even after the company sold the town in 2004. However, no businesses or buildings are Disney-themed.
Even though you won't find any hidden Mickeys, the small town has fewer than 7,500 residents that give the area a homey camaraderie. You'll be charmed with their library, post office, shops, restaurants, a dog park, and even an abandoned movie theatre.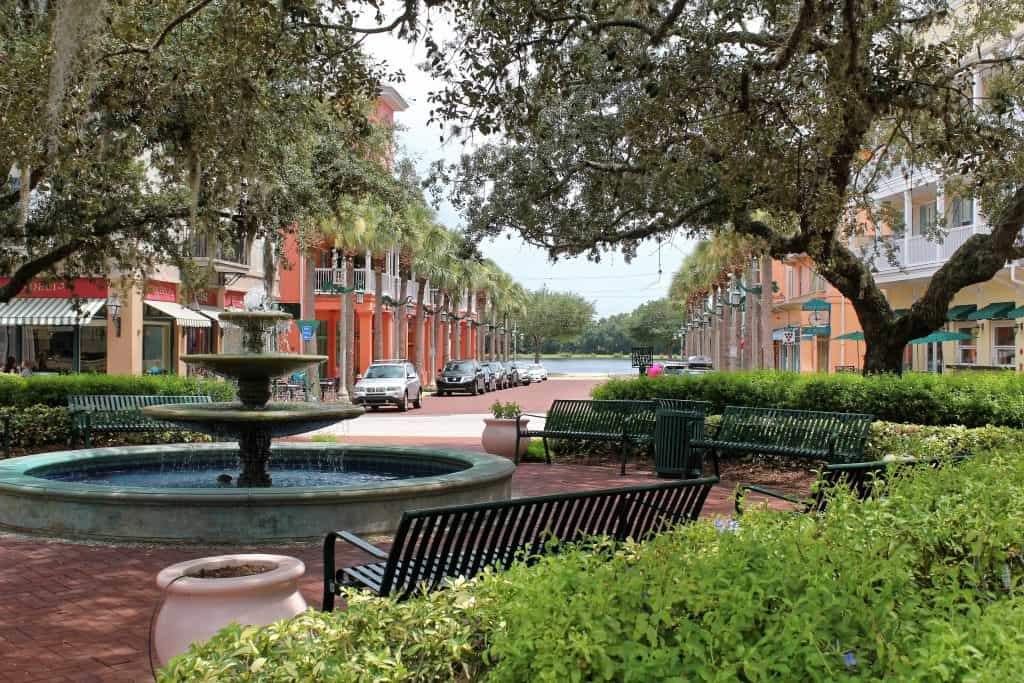 Have Thrills at Island H20 Live!
Even though Kissimmee is in Central Florida, the temperatures are still scorching! When families need to cool off during the summer, they head over to Island H20 Live!
As one of the most fun things to do in Kissimmee with kids, Island H20 Live! remains the best way to beat the heat! One of the Orlando area's newest water parks, Island H20 Live! combines family fun with cutting-edge technology for an experience like no other.
Drift down the lazy river, float around in a wave pool, or let the kids play in a splash area! Compete with your friends on racing slides, take a spin on giant raft rides, or relax in the adult pool with your own private cabana!
Each guest can customize their ride experience by selecting the music and lighting for many slides! Using a state-of-the-art wristband system, you can make your adventure personal!
In addition to the wristband technology, guests will love the selfie stations, video booths, and of course photo capture images on rides to share on social media! This makes it easy to share one of the coolest places to visit in Kissimmee.
Book Here: H2O Live! Admission Tickets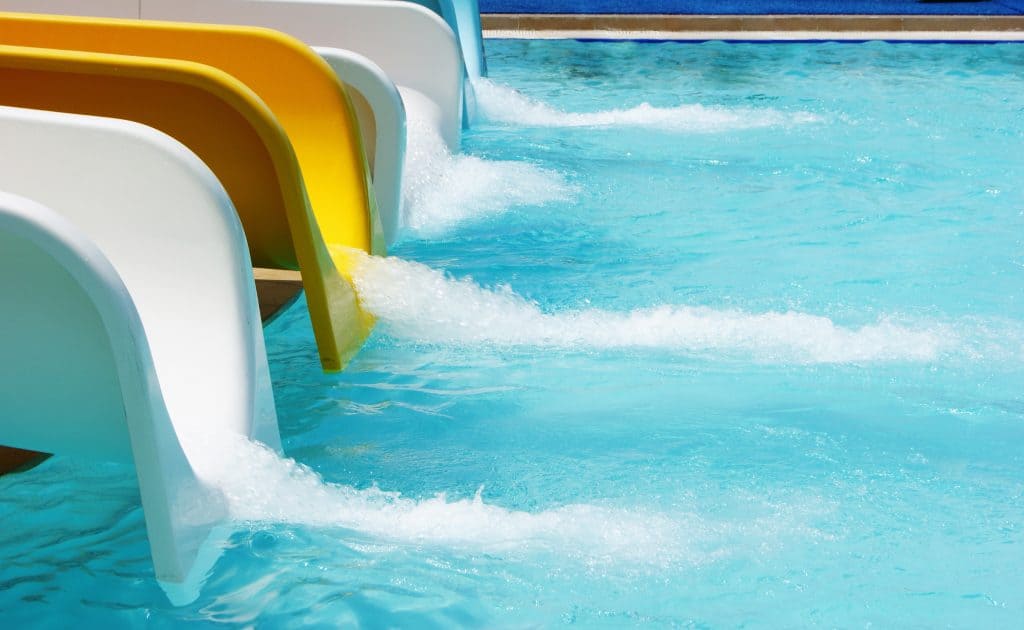 Book A Stay At A Luxury Vacation Home
Did you know that Kissimmee is the vacation home capital of the world? Just a few miles away from the Disney parks, Universal Studios, and the riches of Orlando, book a stay at a luxury vacation home to see the best Kissimmee, Florida attractions.
When you're vacationing in Kissimmee, ditch the chain hotels for a more special experience. Many people purchase vacation homes in the area to use when visiting family or Disney. For the rest of the year, these homes are available on Airbnb!
And it's not just homes either! You can find all kinds of quaint stays in Kissimmee, everything from cabins and condos to treehouses and tiny homes!
Among our favorite Airbnb vacation home rentals in Kissimmee are the Story Lake Resort, the Treehouse in the Clouds (pictured below), the Solara Resort, Wyndham Cypress Palms, Reunion Resort, and Star Island.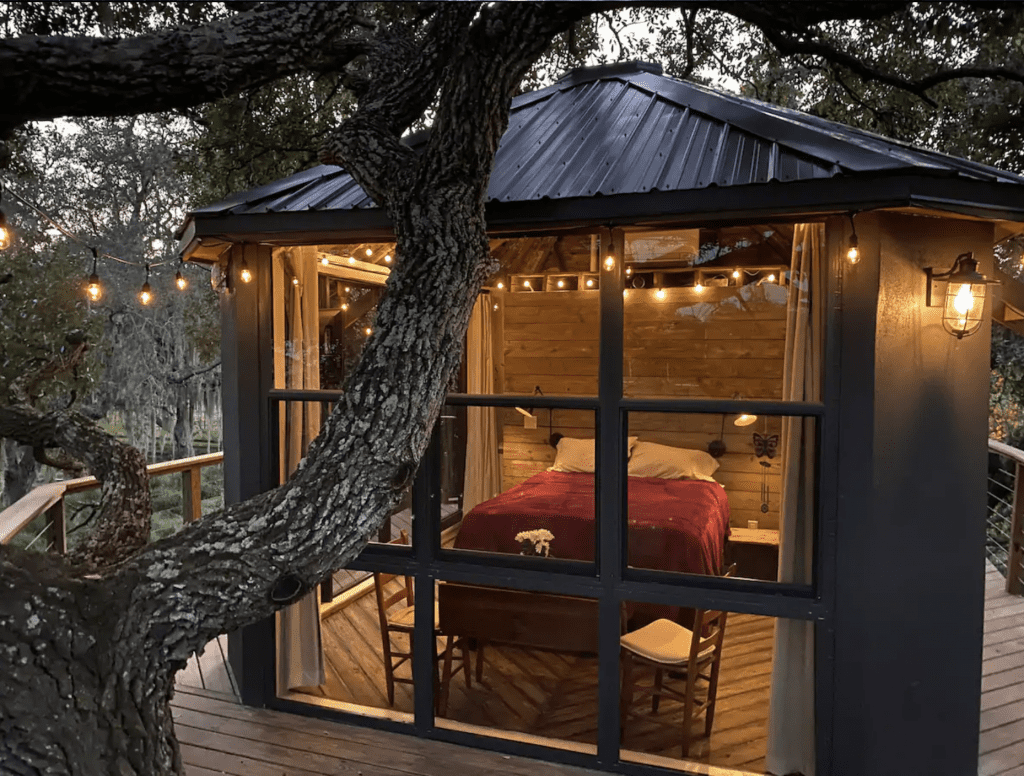 Ride Rollercoasters at Fun Spot America
When you need to let loose and feel like a kid again, hit Fun Spot America! This is one of the best places to visit in Kissimmee to embrace your inner child!
As a wholesome theme park, the rides at Fun Spot America resemble the ones you'd see at the Florida State Fair rather than a major theme park. Supporting the local community, Fun Spot America prides itself in practicing "The Golden Rule" at all times.
Open since 1997, Fun Spot America holds many milestone rides. Here you'll find the second-tallest SkyCoaster in the world and Orlando's first wooden rollercoaster: The Mine Blower!
If you dare, take on rides like the Happy Swing, the Hurricane, and the Hot Seats. You'll also find classics like a Ferris wheel and bumper cars.
Don't worry, there's also a kiddie midway for smaller guests that can't go on the bigger rides! Here you'll find classics like the carousel and Fun Slide, as well as appropriate Kiddie Coaster, the Baron Planes, and the spooky obstacle course, Scooby Boo.
Book Here: Fun Spot America: Orlando or Kissimmee Admission Ticket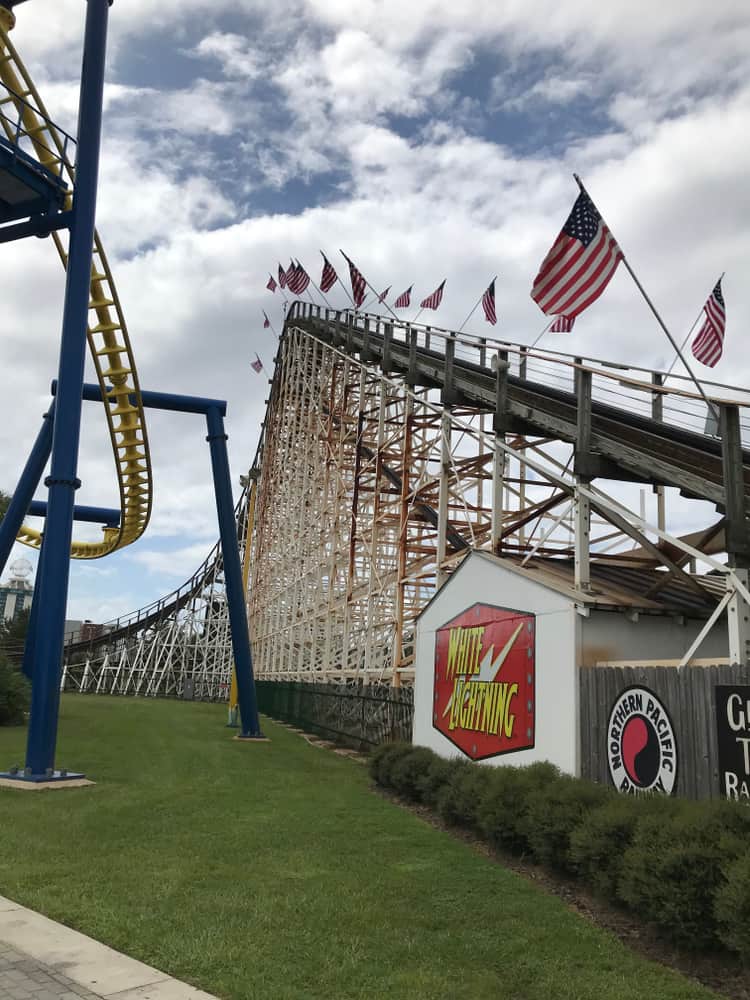 Admire Florida From Above with Orlando Heli-Tours
Don't be fooled by the name! Orlando Heli-Tours is one of the best things to do in Kissimmee. You'll get the best views of the Kissimmee/Orlando area in a truly "uplifting" experience.
As the area's premier helicopter operations and touring company, your flight will provide you with scenic views and comfort. Soar over some of the best places in Florida! And your ride is air-conditioned!
You can choose from a number of tours that originate in Kissimmee and travel over the area! The Disney Spectacular Tour takes you all over the theme parks in the Walt Disney World Resort.
The Celebrity Grand Tour takes you over some of the theme parks on the way to view the Butler Chain of Lakes and the homes of Florida's most famous residents. The Disney and SeaWorld combo tour flies you over both parks!
While walk-ins are totally acceptable, reservations are recommended. Make sure to bring a valid photo ID, the credit card used, and the voucher received when making your reservation online.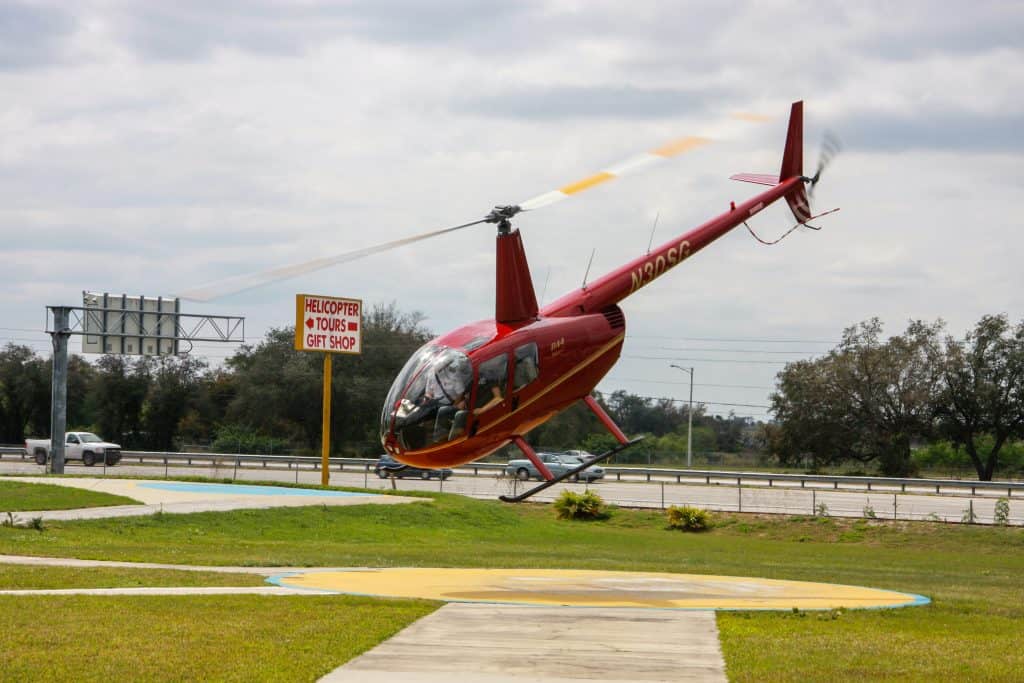 Get Your Heart Pumping at Orlando Tree Trek Adventure Park
If you're looking for a new adventure, why don't you take to the trees? One of the best things to do in Kissimmee with kids is trying the Orlando Tree Trek Adventure Park.
A progressively challenging obstacle course high atop the trees in a natural pine forest, this park will test your limits. With four challenging courses, 97 aerial challenges, and two courses just for kids, you'll be exhilarated.
Rain or shine, it doesn't matter! After a brief group training session, you'll be fitted into a harness. After your treetops guide knows you can safely use your equipment, you're off!
Swing on Tarzan ropes, leap into hanging nets, climb 50-foot rope ladders for unbeatable thrills. Along the courses, you'll also navigate swinging logs and cross wobbly suspended bridges.
After you've climbed, jumped, and swung to your heart's content, clip into a zip line. This route is gigantic at 425 feet, and you'll soar across the treetops getting the best views in Kissimmee.
Book Here: Orlando: Tree Trek Admission Ticket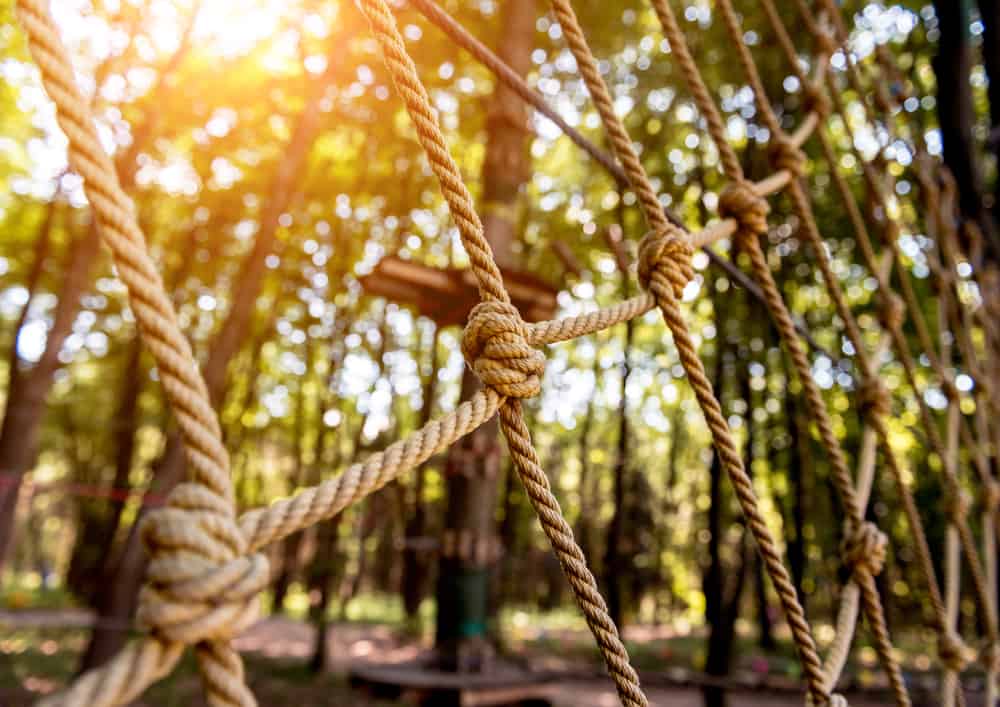 Step Back in Time at Shingle Creek Pioneer Village
Get a taste of Osceola's history at the Shingle Creek Pioneer Village! You won't find a better interactive museum in the area.
A permanent collection of authentic structures once all throughout Osceola County, Pioneer Village will transport you. The relocated structures form a village to demonstrate how life was lived before modern times.
First, stop off at the Welcome Center and History Museum to see realistic dioramas of different habitats in Osceola. See how history and nature are tied together in swamplands, pine flatwoods, oak hammocks, and lakefront.
Then go out to the village! Explore the general store, post office, schoolhouse, church, and train depot. You can also see working structures in action like the blacksmith shop, citrus packing plant, cane grinder, and barn.
If you want even more information you can take a guided tour! Available on Wednesday from 10:30 AM to 1:30 PM, tours are included in your admission price. The cost is $8 for adults and $4 for children, making it one of the best cheap things to do in Kissimmee.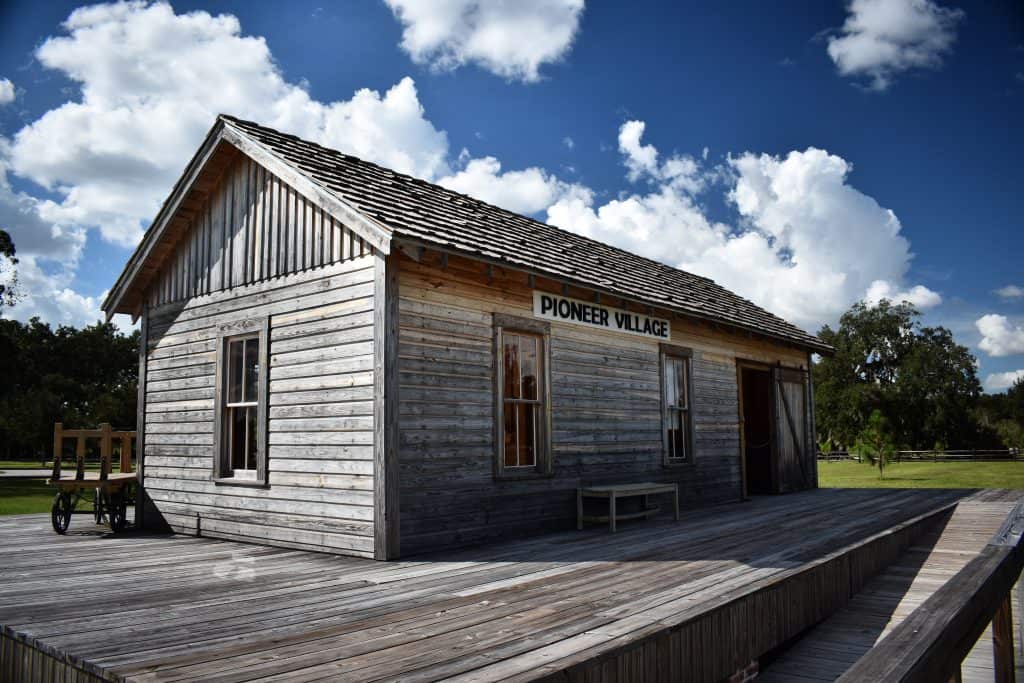 Look to the Sky with War Bird Adventures
If you love taking to the skies and aviation in general, you'll love visiting War Bird Adventures. This is a vintage flight school you'll love.
For 20 years, War Bird Adventures has presented incredible, once-in-a-lifetime flight training experiences! In one rare opportunity, guests can fly "The Pilot Maker" themselves!
You can ride in the front seat of a T-6 Texan in the sky! Your instructor will guide you as you assist in acrobatic maneuvers or a smooth straight-and-level flight, whichever you like.
With a full set of instructors, experienced aviators can take checkout courses to hone their skills. With dual instruction, you can secure your high-performance tail dragger endorsement.
On certain weekends, you can catch a spectacular air show at War Bird Adventures! In shows like the World War II Arsenal of Democracy Flyover, you can see more warplanes like P-40s, a Bellanca 7kCAB Citabria, and the 8KCAB.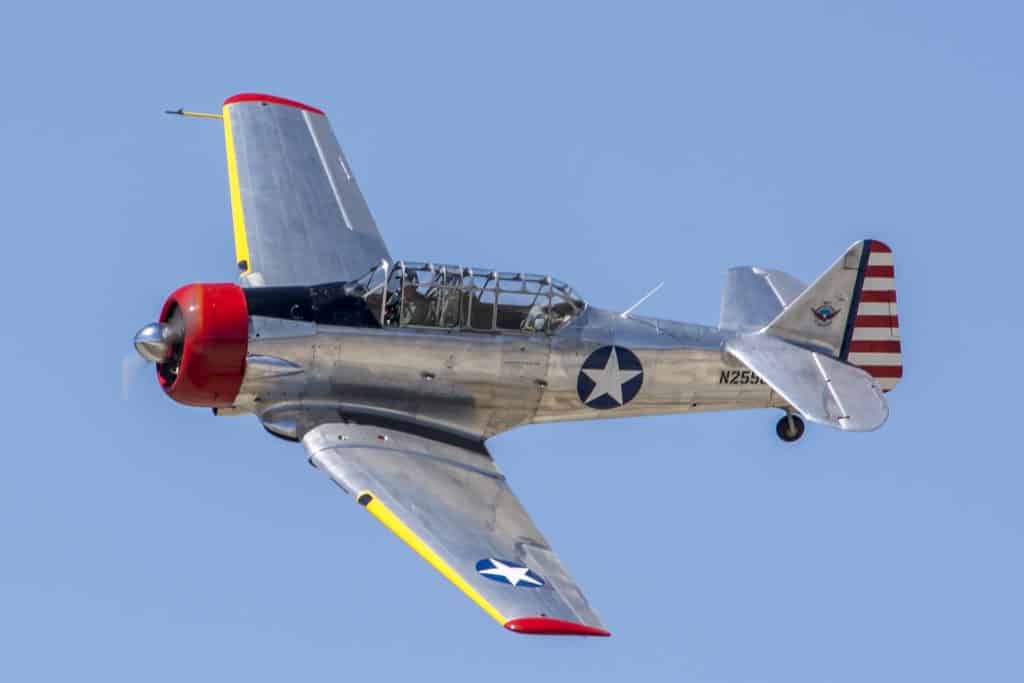 Soar with Thompson Aire
There is no better way to see Kissimmee than from the skies above! Get ready for the experience of a lifetime. At Thompson Aire, you'll see Florida as you never have before.
As North America's leading hot air balloon company, Thompson Aire is one of the best things to do in Kissimmee. Their balloons are smaller than most other companies, but unlike most, have seats so you don't have to stand for hours on a flight.
Many hot air balloon companies will cram as many people as they can into one flight, to get the biggest bang for their buck. Thompson Aire however prides itself on being a family company and flies smaller balloons so you can have an intimate experience with your loved ones.
A balloon ride is perfect for birthdays, anniversaries, or even a Mother's Day treat. You can always charter a private balloon as well, so gentlemen, take note. There's no more romantic date in Orlando and could be a spectacular place to propose…
Right at sunrise, you will ascend several thousand feet in the air. Once you're airborne, your pilot will point out points of interest! Get "carried away" as you gaze at the orange groves, forests, and swamps.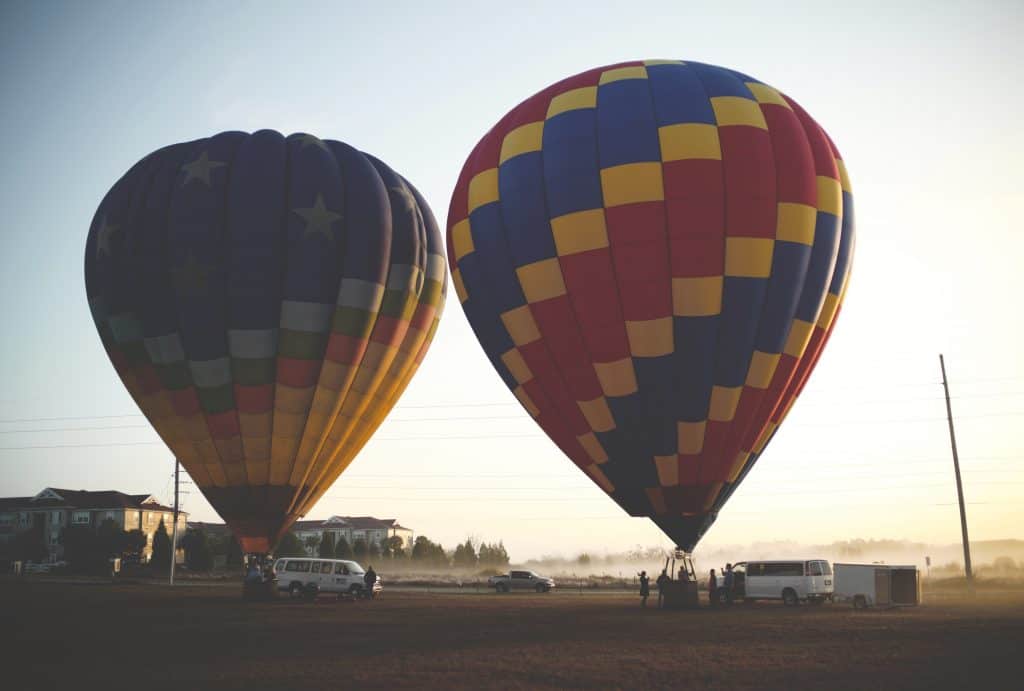 Admire the Classic Old Town
If you're a native Floridian that's nostalgic for yesteryear, head to Old Town, a throwback shopping complex. Here, the crowds are a bit smaller, lines a little shorter, and the fun a little simpler. There are so many fun things to do in Old Town Kissimmee!
Old Town isn't your average shopping complex. Through 18 acres of beautiful, tree-lined brick streets, you'll find over 70 unique shops and restaurants.
The main attraction is of course the iconic Ferris wheel. Every generation, young and old, will enjoy taking a ride 86 feet high. Hand-built in Italy, the Ferris wheel affords amazing views of Orlando and Kissimmee.
Every weekend, classic muscle cars and trucks parade through Old Town. Along Main Street, you can see them during the Friday or Saturday Nite Muscle Car Cruise.
Charming visitors for over 30 years, Old Town is a Kissimmee staple and family tradition. Come and enjoy the simple pleasures of classic American fun.
Old Town is one of the best things to do in Kissimmee at night when the neon lights shine bright. Bring your tripod to try out some night photography.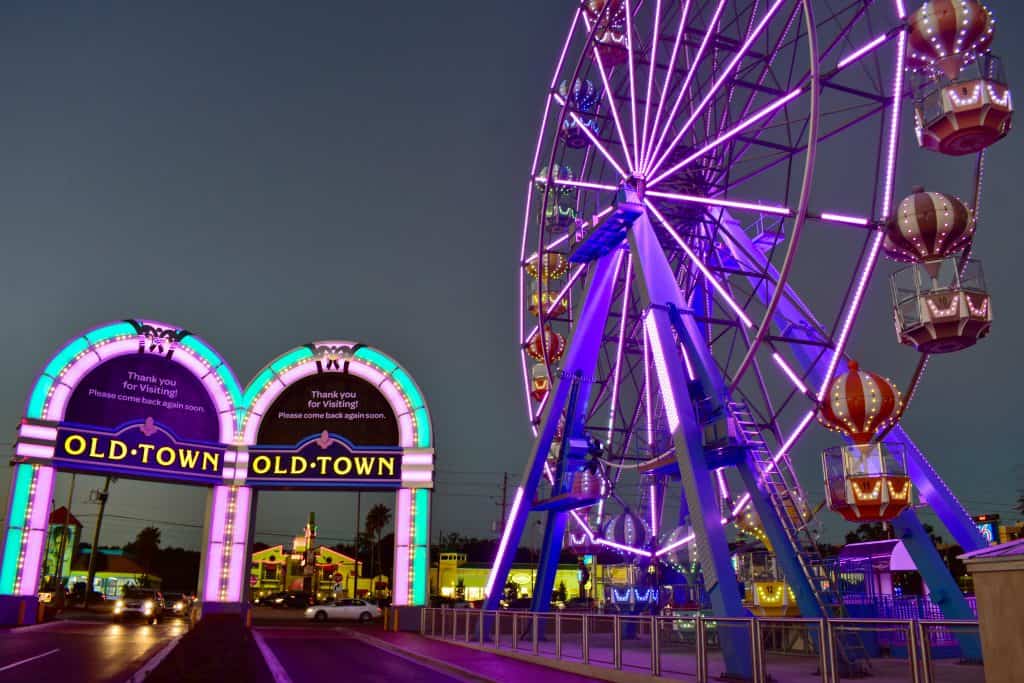 Eat a Fancy Meal at MOOR
If you want to enjoy a delicious, gourmet meal during your Kissimmee vacation, then book a table at MOOR. This upscale, seafood restaurant is found in the Gaylord Palms Resort.
This Kissimmee restaurant serves super fresh fish straight from local sources. You will love the regional dishes, delectable desserts, and jewel-colored cocktails. Foodies will have plenty of photos to share on their Instagram feed.
For your main course, order the Florida seafood stew, grilled swordfish, or char-grilled filet mignon among other choices. Vegetarian? No problem! Order the fall vegetable pasta or the heirloom tomato soup.
If you save room for dessert, you can reward your taste buds with Key lime pie, apple brown butter cake, or one of the other tasty treats. A trip to the bar here is one of the best things to do in Kissimmee for adults.
The look and feel of MOOR is super unique as well. Even though it is inside, the restaurant is designed to look like a boardwalk complete with a lagoon and a big sailboat. It is definitely one of the prettiest places to eat in Kissimmee.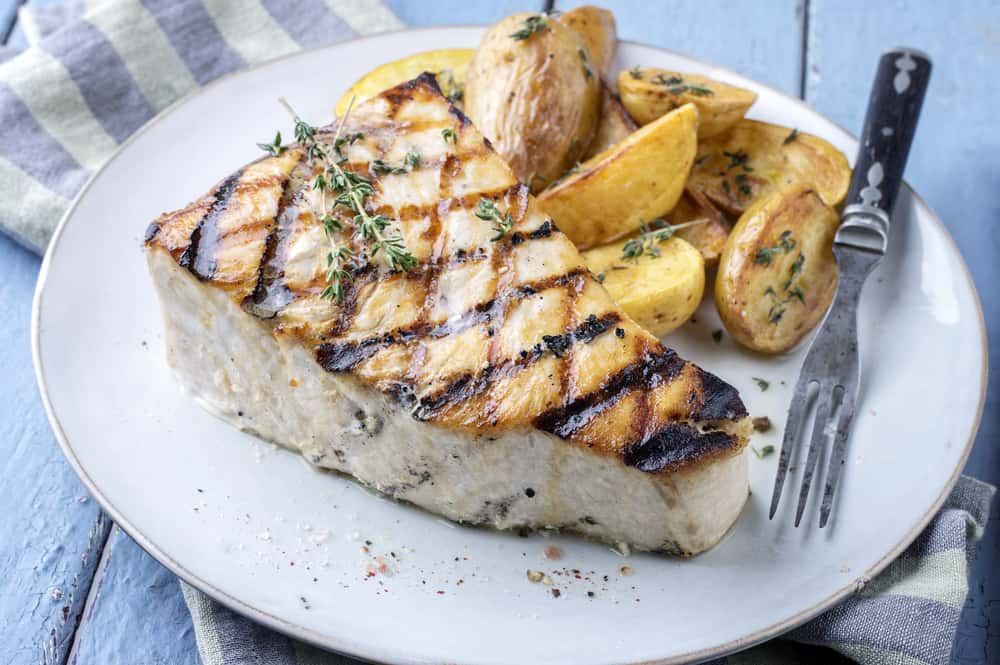 Swim at Kelly Park/Rock Springs
An hour's drive north will bring you to Kelly Park/Rock Springs, one of the best things to do near Kissimmee for outdoor lovers. The water at Rock Springs is super pretty and crystal clear, perfect for swimming as well as tubing.
The water stays at a cool 68 to 72 degrees Fahrenheit year-round, so it is a great place to cool off in the summer. If that water is a little too chilly for you, you can kayak down the river or take advantage of the underwater views from a glass-bottom boat. How cool would it be to spot aquatic life swimming under you?
Make sure to bring cash for the concession stand where you can pick up hotdogs, burgers, snow cones, and funnel cakes. Also, be aware that you should arrive early to get a parking spot since there is a strict capacity limit. The park opens at 8 am year-round.
Well vacationing in Kissimmee or Orlando, you should schedule a day trip to this gorgeous spring! It is one of the best natural springs in Florida! If you want to stay longer than a day, pitch a tent or park your RV for some great Florida camping!
Admission to the park is only $3 to $5 per vehicle depending on the size of your party. This is one of the best cheap things to do in Kissimmee and should not be missed!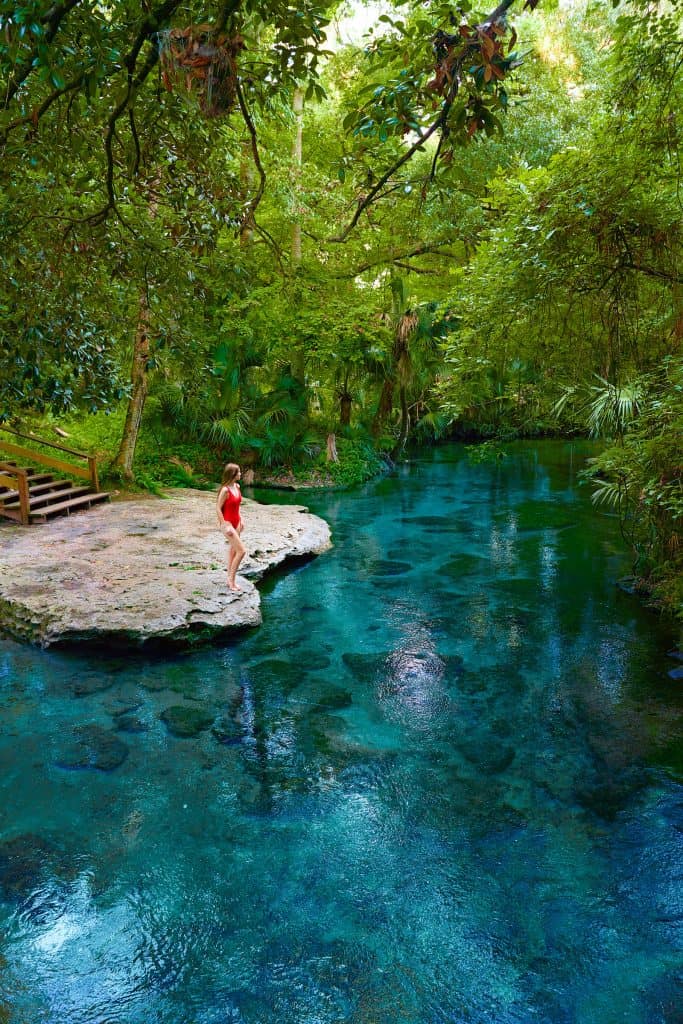 Get a Treat at the Chocolate Kingdom
The Chocolate Kingdom is one of the most unique attractions in Kissimmee and is perfect for kids and adults with a sweet tooth.
Go on an interactive journey on the Factory Adventure Tour. The tour will walk you through the process of taking simple cocoa beans are transformed into a yummy chocolate bar.
You will also see the Cacao Tree Greenhouse, the Chocolate Museum, the Mystical River of Chocolate, and the Bean-to-the-Bar Factory. The tour lasts 45 minutes.
After the tour, you have the chance to make a customized chocolate bar for an extra fee. Isn't that so cool?! That would make a really unique souvenir.
The Chocolate Kingdom also has a variety of group experiences that last over an hour. You can pick from one of the Hands-On Chocolate Making Experiences, the Wine and Chocolate Pairing Experience, or the Chocolate Fountain Galore Experience.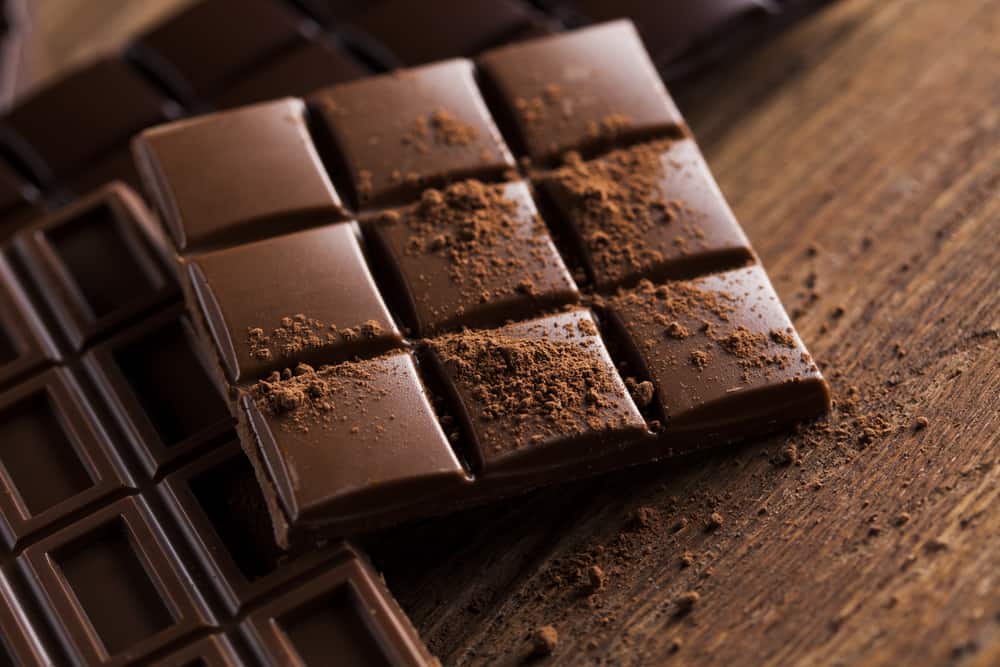 Book a Fishing Charter
Even though Kissimmee is in Central Florida, there are plenty of places for fishing. You do not need the ocean for a great fishing excursion! Fishing is a classic Florida pastime and one of the best outdoor things to do in Kissimmee. The waters here call to both pro anglers and hobbyists.
There are a ton of lakes where you can cast your line, including Lake Kissimmee, Lake Tohopekaliga, East Lake Tohopekaliga, and Lake Hatchineha. This area acts as the headwaters of the Everglades and is a fantastic place to reel in bass, crappie, bluegill, and more.
You can fish on your own or book a fishing charter with a knowledgeable captain. Either way, you are in for a relaxing day on the water under the Florida sun.
If you are visiting Florida, make sure you get a visitor's fishing license. Children under sixteen do not need a license. If you are on a charter, you do not need a license as long as there is a valid charter license or the captain has a license. Make sure to follow all fishing regulations.
Book Here: Orlando Bass Fishing Guide near Kissimmee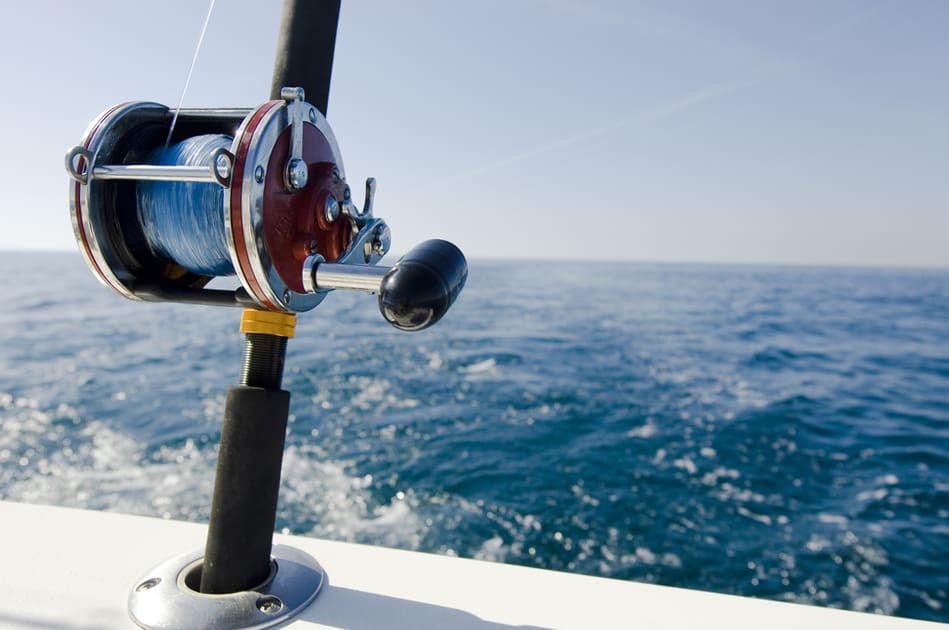 Did You Find This Post Helpful?
If so, we would love to keep in touch! We enjoy seeing photos and comments about your experiences in Florida! You can follow us on Instagram and we will repost your photos on our feed and comment too! Just tag us at @floridatrippers and hashtag #floridatrippers. We can't wait to see your travels!