Looking for some free things to do in Orlando? We've got you covered!
Let's face it, travel can be expensive, but there are so many free things to do in central Florida that can help you make the most of your trip without breaking the bank or feeling like you are missing out.
Planning your trip to Orlando last minute?
Make sure to book ahead! Hotels and tours often sell out the closer you get to your trip. Here are our top picks for Orlando:
Top Experiences And Tours In Orlando:
Best Places To Stay In Orlando:
Whether you are an avid Disney fan, love to explore nature, or are looking for free things to do in Orlando with kids there is something on this list for you.
We've put together Totally Free things to do in Orlando that you will love. While some of these are a little bit outside Orlando, we can assure you they are worth the trip.
So whether you're local to the area or visiting on holiday we are sure that you will be able to find things to do in Orlando for free that you will love!
Don't forget to check out some of the Best Places To Stay In Orlando when planning your visit!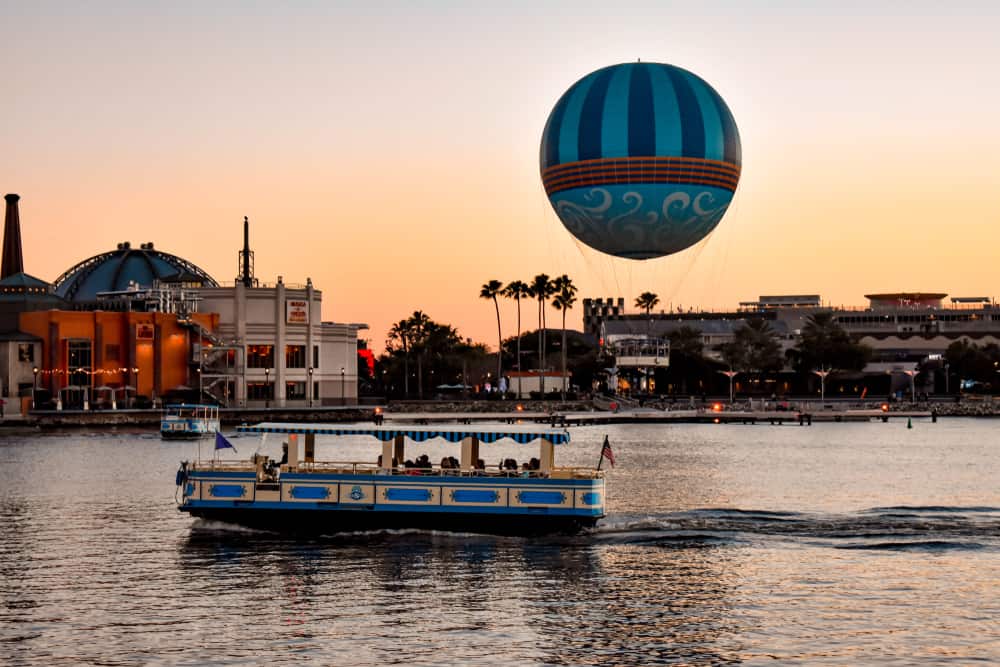 15 Totally Free Things To Do In Orlando
Disney Springs
Visiting Disney Springs is a must for Disney fans! Not only is the admission to Disney Springs free but so is the covered parking. This is definitely one of our favourite free things to do in Orlando.
You can explore so many places here; from amazing restaurants, seasonal experiences, shops, splash pads, concerts and even free ferry rides to several of the official Disney parks!
Some ideas to get you started are: building at the official LEGO store, enjoying the free chocolate from the Ghiradeli Chocolate Shop or digging for bones and panning for gems at the T-Rex Paleo Zone. All these reasons make this a great place to find free things to do in Orlando with kids. It is also one of the best places for breakfast in Orlando!
There really is something for everyone! To help prepare for your trip here be sure to download a map and have some ideas for what you want to do first. Even if you just go for an afternoon stroll the ambiance is so fun.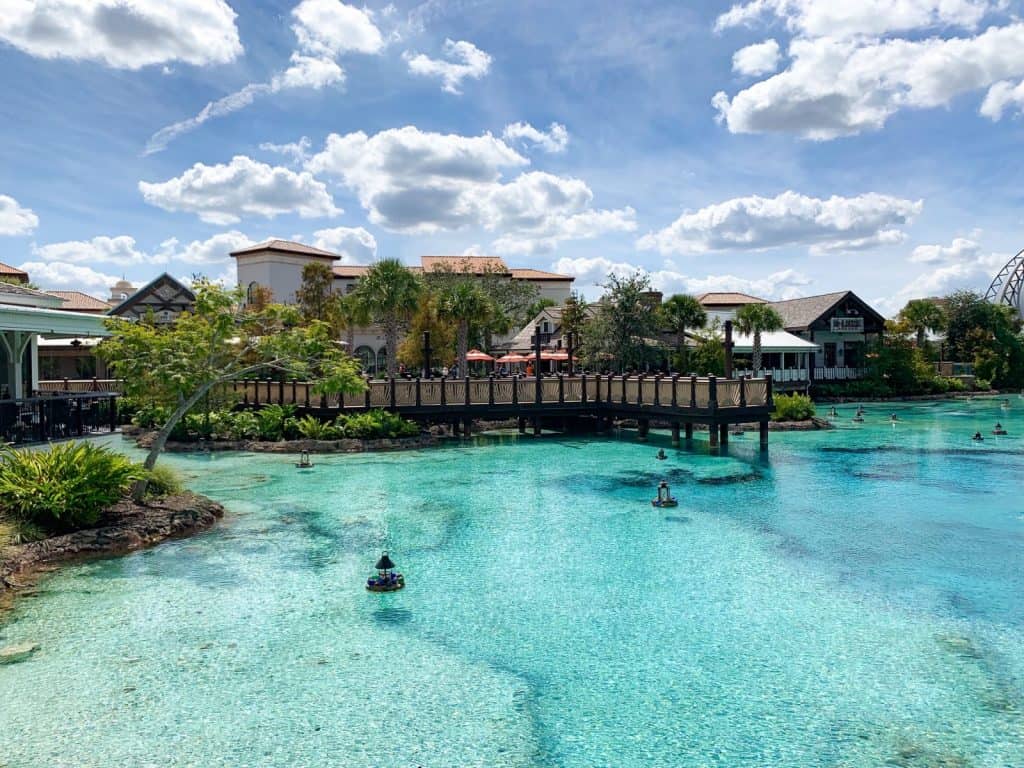 Orlando Fire Museum
This is an easy favourite for families with kids that love firefighters and a great place to visit on our list of free things to do in Orlando. The museum is conveniently located near the Orlando Science centre and is housed in a restored red brick firehouse.
The museum itself is quite small but kids are sure to love the vintage firetrucks and all the memorabilia that they have. Not only is there a ton of information about the history of firefighting in Orlando but they have so many items that will amaze you that they were able to use them to fight fires!
As an amazing bonus all of the staff are retired firefighters so they have so much knowledge to answer all your questions. So if you are looking for free things to do in Orlando with kids this is a great place to check out.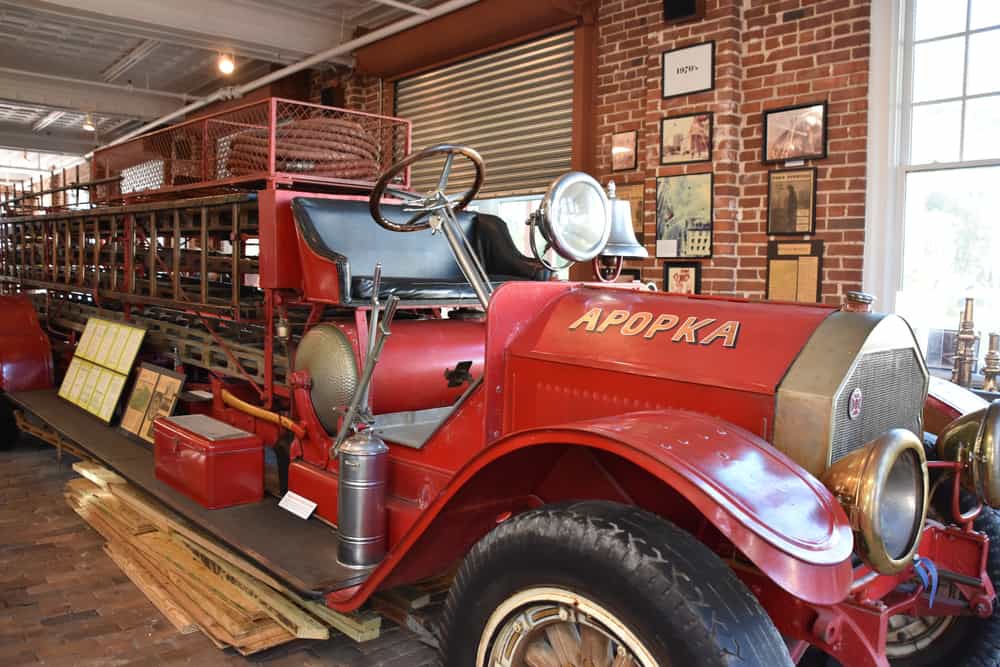 Universal CityWalk Orlando
If Universal studios is on your list of places to visit (or even if it isn't!) the Universal City Walk Orlando is a great place to find free things to do in Orlando for adults and even some awesome things for kids.
On the adult side, Universal CityWalk has yearly Mardi Gras, New Years Eve parties and frequent DJ dance parties making it one of the best things to do in Orlando at night!
For families, there are free splash pads, water taxi rides and free buttons making it a great place to find free things to do in Orlando with kids.
And, if none of that appeals to you then perhaps the added bonus of free parking after 6pm (they are open until 2am) and the beautiful ambiance of an Italian Piazza filled with the sounds of opera will entice you. And if you love Italian food this is where the best Italian restaurant in Orlando can be found! There are definitely several free things to do in Orlando here!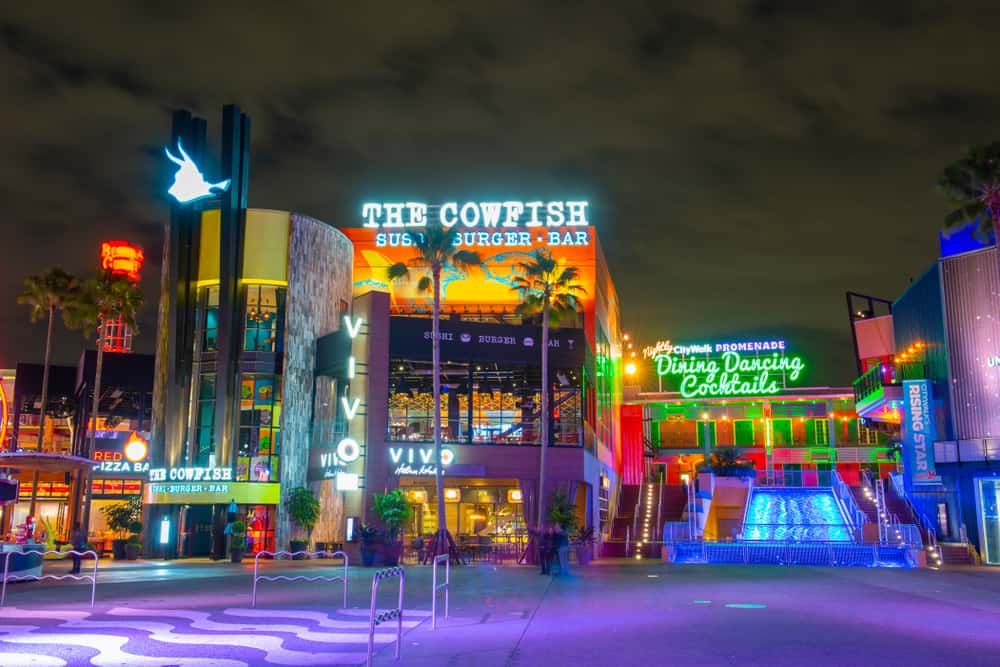 Cornell Fine Arts Museum
Ready for something a little more relaxed? The Cornell Fine Arts museum at Rollins College in Orlando is great for free things to do in Orlando – for adults and children!
This museum is completely free and boasts the only collection of European Old Master paintings in the Orlando area. There is also contemporary art, ancient artifacts and great temporary exhibits that rotate frequently so even if you're local there is often something new to see. As an extra bonus the air conditioning feels lovely during that Central Florida heat.
Traveling with children? Be sure to check the museum website because they frequently offer workshops and events geared towards children. Just be sure you check their website operating hours before you head there as their hours vary throughout the week and a reservation time may be required.
Another super fun thing to be aware of is that the museum offers one of the best viewing places for the Winter Park Boat Parade & Water Ski Extravaganza which is a really fun event to check out during Christmas time in Orlando.
So if you love browsing art, checking out local events or want to encourage a love of painting then this is one of the top free attractions in Orlando for you!
Tour Orlando Brewing
If you are traveling without kids a tour at Orlando Brewing is a must-do of free things to do in Orlando for adults. After a tour you get to enjoy some samples of their fresh brews.
The tours run Monday-Saturday at 6pm but be sure to check their website as there are some holidays or high-traffic days that the tours don't run.
And if you should have a bit of cash to spend, feel free to stop in for a drink where they have more than 30 different brews on tap of their own making. A free tour and great beer selection easily make this one of the best cheap things to do in Orlando.
Explore Celebration
Have you heard of the town of Celebration in Florida? This is an amazing place for free things to do in Orlando!
Not only was this town designed originally by Disney but it is like a step back in time as they used towns from the early 1900s for their inspiration. This gives the own an amazingly unique feel and it is so fun just to walk around and check out the buildings; it was even named one of America's 10 Prettiest towns!
You can do a self guided walking tour here, visit the weekly Sunday Farmer's Market or check out the snow fall (in FLORIDA!) when the town is all decked out at Christmas time. This is such a unique place for free things to do in Central Florida.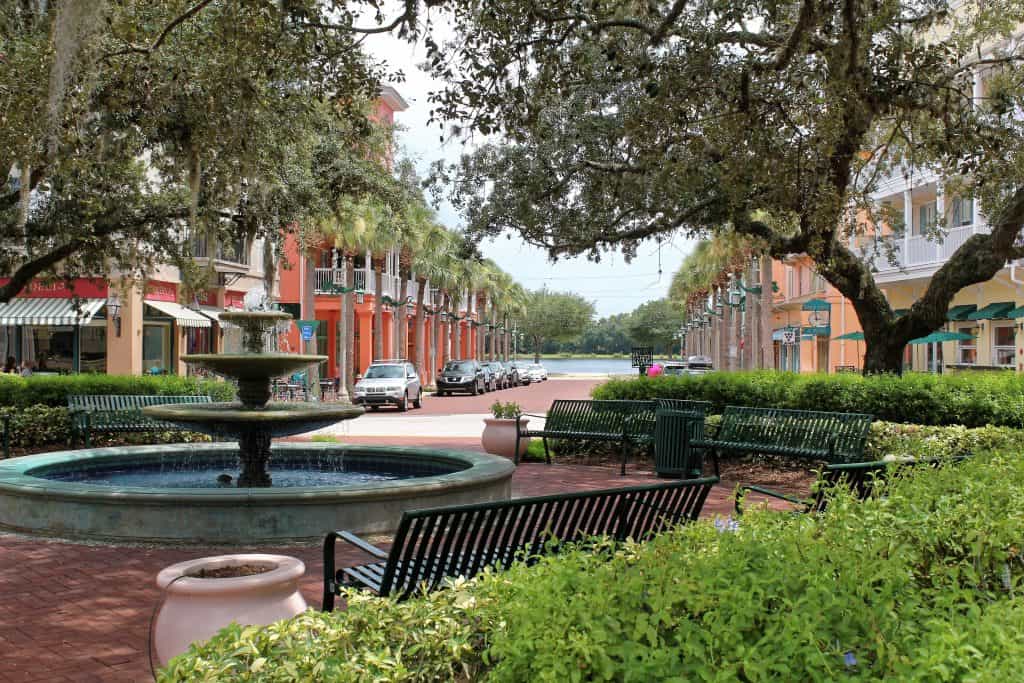 Visit Disney's Wilderness Preserve
The Disney Wilderness Preserve is a little further out but it is one of the great free things to do in Central Florida. With more than 11,000 acres this land that was reclaimed from cattle ranch land that was destined for commercial and residential development is beautiful and diverse.
This is one of the fun things to do in Orlando with kids!
Thanks to some incredible restoration work you can now go and explore 3 miles of trails and check out more than 1000 plants and animal species. This is a great way to enjoy a more relaxed pace and see how many animals you can name!
And this is all at no cost to you making it another of the amazing free things to do in Orlando!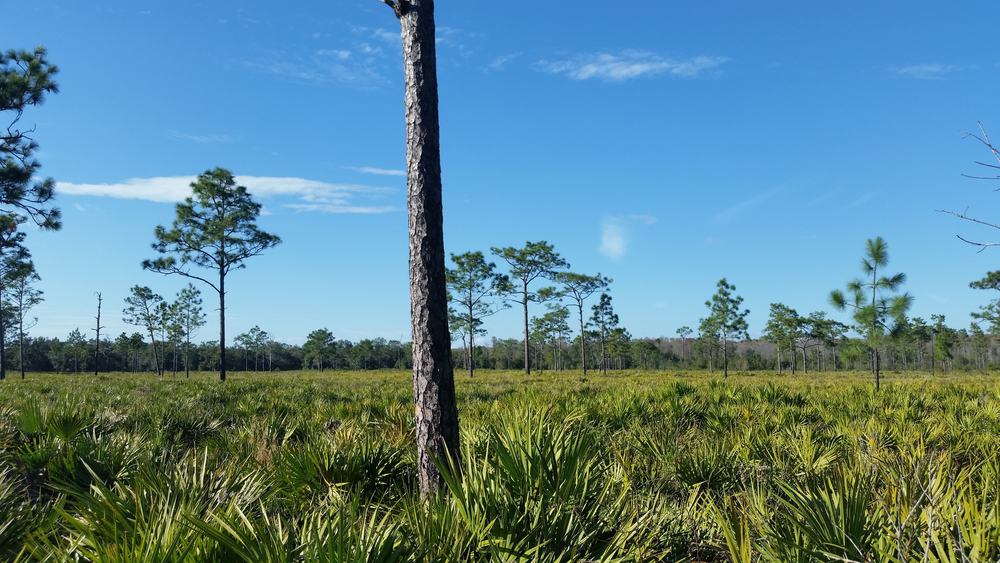 Lake Eola Park
Lake Eola Park is in the center of it all and a great location to find free things to do in Orlando. You can even park for free on the east side of the park if you get there earlier in the day!
While enjoying the 1 mile walking loop around the lake there are often things going on in the park to check out including watching the beautiful swans on the lake. Depending on the day of the week there are also farmers markets, art shows, and dog shows.
You can even catch some 4th of July fireworks here and check out the Walt Disney Ampitheatre!
One thing to note is that it can get a bit busy on weekends but, if you are ready to just relax and enjoy this essential part of the Orlando landscape then we highly recommend you add this to your list of free things to do in Orlando for adults and kids alike.
Just remember, you can't feed those beautiful swans bread, but there are some very affordable stands to get some swan food if you want to make a few feathery friends.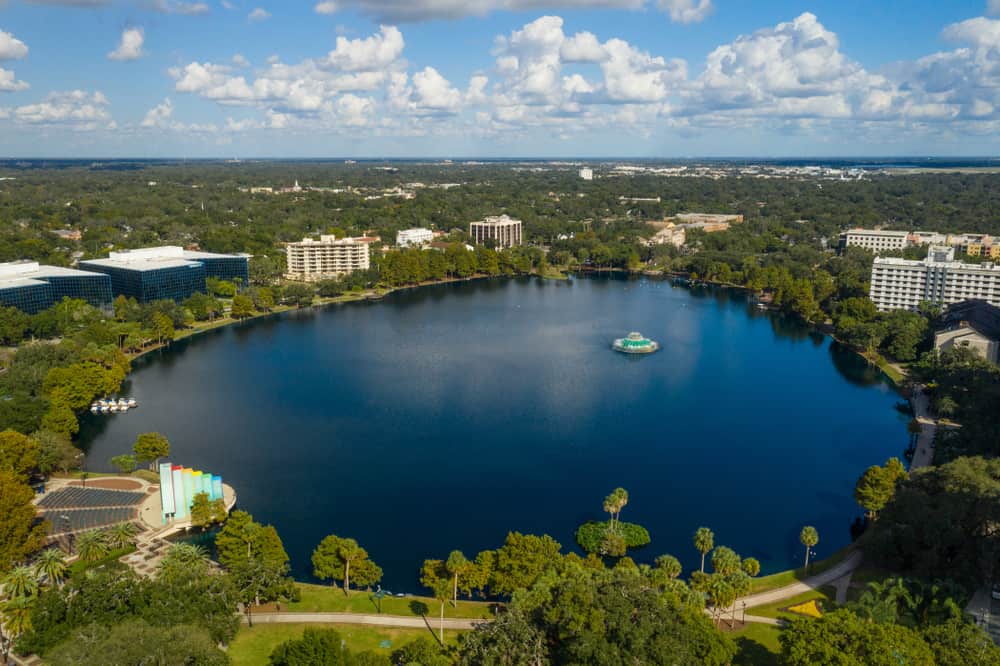 See the ducks at the peabody hotel
What started off as a little fun for the Peabody Hotel manager to surprise the guests has become a long standing tradition at the Peabody hotel and a popular item on our list of free things to do in Orlando.
For more than 90 years the ducks at the Peabody hotel in Tennessee have been waddling from their duck palace on the rooftop, into the elevator, down to the lobby and across a red carpet to spend the day eating and swimming in the hotel fountain. So when the Peabody hotel opened in Orlando (now called the Hyatt Regency Orlando) they continued the tradition. Travelers have literally come from around the world to see these little ducks make their daily walk.
The ducks come into the lobby at 11am each day and head back to their $100,000 penthouse abode at 5pm each day. You can watch the ducks arrive or depart, visit them at the fountain during the day, and even pay a visit to their fancy living quarters. These definitely aren't your typical things to do in Orlando for free but it's a fun trip to make.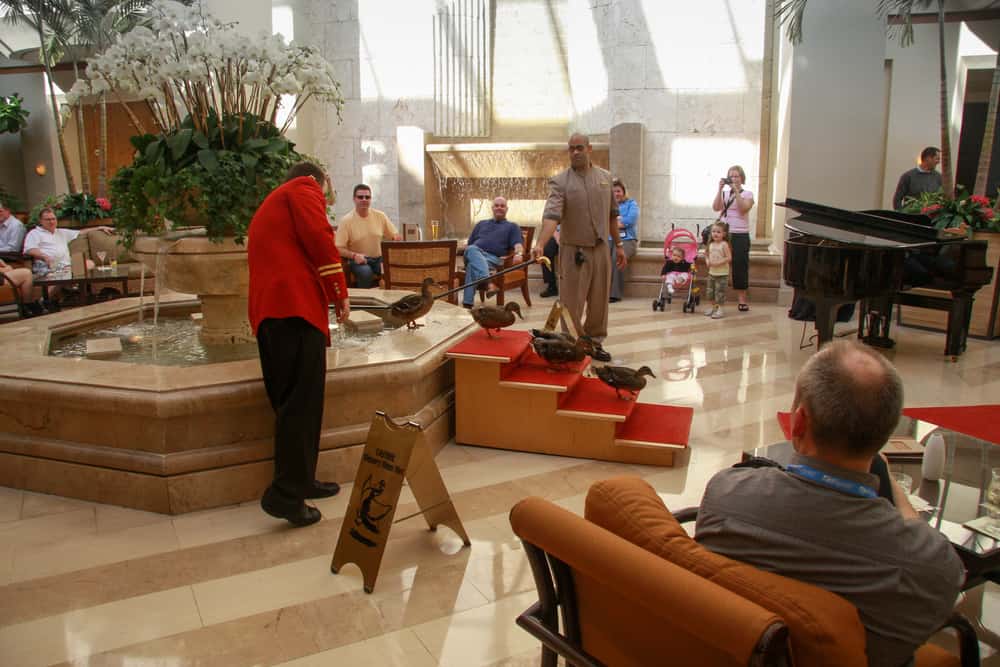 Sands Space History Center
Located less than one hour from the Orlando international airport the Sands Space History Center is one of several fun free things to do in Orlando.
Admission to this unique museum is free and the museum is located just outside the Cape Canaveral Space Force Station. Inside the museum you can learn all about the launch complexes that are at Cape Canaveral. There is also a gift shop – which obviously isn't free – where you can scout out some souvenirs for the space enthusiast in your life.
The museum itself isn't super interactive for kids but kids who are crazy about space will likely find it more interesting. However, due to the displays being more reading based this is definitely geared towards free things in Orlando for adults.
What's really great about this museum is that it is nearby two amazing beaches. Both Cocoa Beach and Cape Canaveral beach are nearby and offer a full day of beach waves and sand. These would be great places to pair with a visit to the museum especially if you are traveling with children.
If you are lucky, you can time your visit to this area with a rocket launch. There is no doubt that watching a rocket launch would be incredible memorably and definitely one of the top free things to do in central florida.
Zora Neale Hurston National Museum of Fine Arts
While exploring free things to do in Orlando be sure to stop in at the Zora Neale Hurston National Museum of Fine Arts.
Named after the well known writer of the same name this small museum showcases African American artists. The staff are incredibly friendly and knowledgable and, with new exhibits rotated in frequently, you can visit several times in a year and have a new experience.
The museum also highlights the importance of the historical community that it is located within which also happens to be where Zora Neale Hurston is from. The staff at the museum are super knowledgable and so friendly and can even point you in the right direction for a self guided walking tour to learn more about the area of Eatonville and the life of Zora Neale Hurston.
Fort Christmas Historical Museum & Park
If you are looking for free things to do in Orlando that are away from the city but still give you an opportunity to learn a ton of new thing then the Fort Christmas Historical Museum and Park is a great place for you.
About 40 minutes east of Orlando, Fort Christmas is an incredible historical park that tells the Second Seminole War events. There is a fort, historical houses and a school house.
We suggest you pack a picnic and make at least a half day of your visit here. There are so many incredibly preserved artifacts in the museum portion and the grounds even have a large playground structure making this an idea place for free things to do in Orlando with kids.
The best part? You get to explore an incredible bit of nature, learn some history, and soak in that beautiful Florida sunshine for free.
And for a fun bonus, if you are traveling before Christmas time you can stop in the town of Christmas, Florida while you are there and mail off some holiday greetings with some special stamps!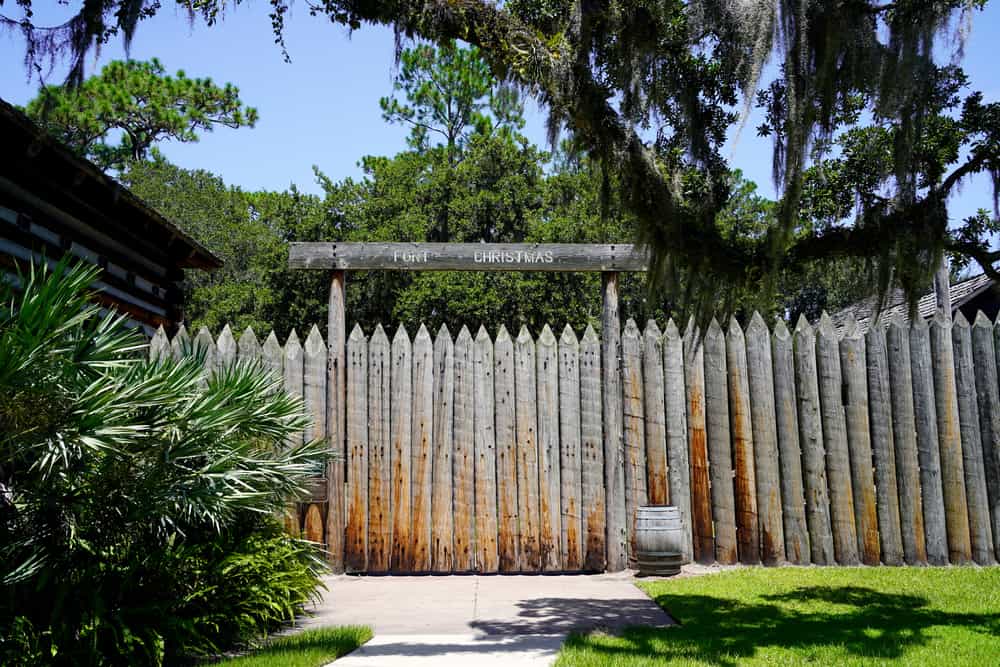 Old Town, Florida
If you are looking for a little touch of vintage Florida charm then this is the place for you to put on your free things to do in Orlando itinerary.
Old Town is set up to feel like a retro Florida town and they have done a great job. Not only is the ambiance great but the weekly events list is always full of great things to do in Orlando for free. It is located near Celebration so it can be a fun add on to exploring both in a day.
If you are a car fanatic for muscles cars or classics then you are in luck because they have three separate car shows each week. They also host weekly karaoke if you are wanting to try out your vocal talent, or encourage someone else to try out theirs. Then there is also a weekly farmers market complete with live music! In addition to all that, there are amusement rides, games and restaurants that are all on theme but, of course, these things will cost.
Be sure to check out their events page before you plan your trip so you can go on a day when you can catch your favourite event!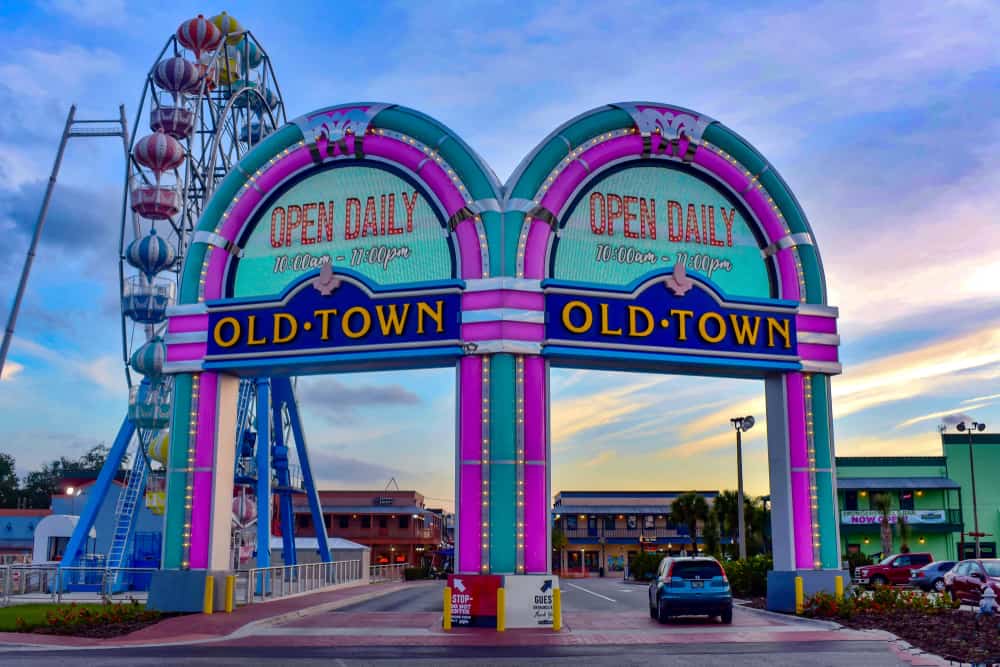 Spook Hill
This is definitely not your typical spot and despite what the name might make you think this is definitely one to put on your list of free things in Orlando to do with kids.
Spook Hill, located less than an hour south of Orlando, is actually a naturally occurring optical illusion of the land. There aren't many places like this in the world making it a pretty unique place on the list of free things to do in Orlando. It is also one of the most haunted places in Florida!
Basically you head to this hill and you will be instructed at one part to put your car in neutral and let the magic happen. Your car will start moving and the slope of the land makes it feel like your car is being pulled uphill even though you will be traveling downhill. It's almost like a big magnet is pulling you up the hill without you doing a thing.
Kids are sure to love this but, don't be fooled, adults are sure to enjoy this as well. It is so well loved that people have been visiting Spook Hill since the 1950s.
While the whole experience is an optical illusion there have been plenty of legends created about the area to try to add to it's spookiness. So if you want to give your kids an extra spook just explain to them that a dead Floridian pirate is pushing your car up the hill (yes, that is actually one of the legends that have been perpetuated!). Or mention the great battle between the Native American chief and an alligator where both lost their lives.
Most gps should pick up the location if you search for Spook Hill near Orlando but to help you out here are the gps coordinates 27° 54′ 43.35″ N, 81° 34′ 56.47″ W It's near the aptly named Spook Hills Elementary School.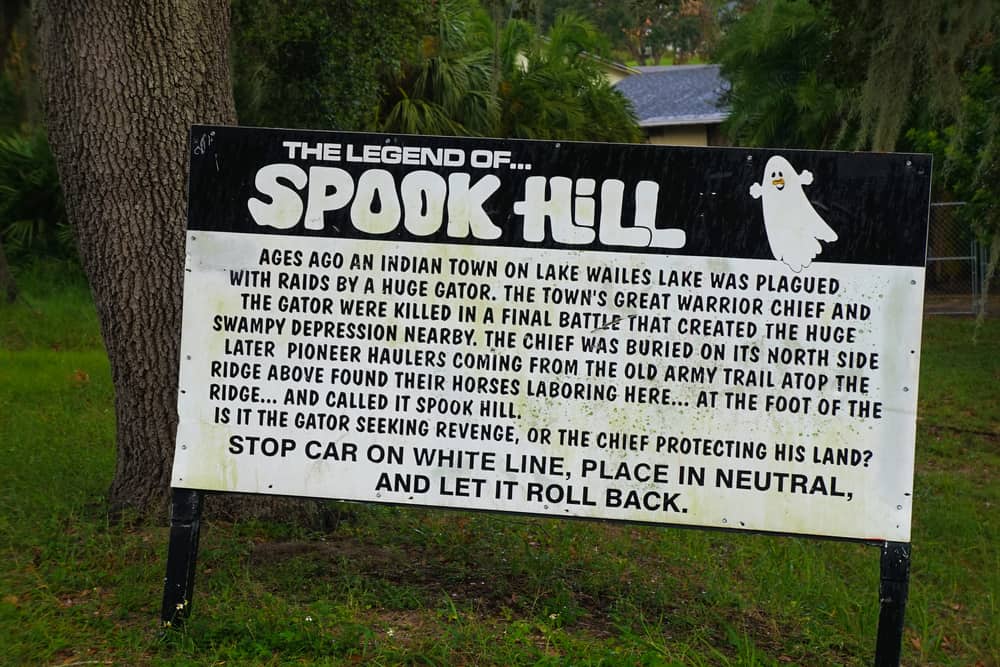 Go resort hopping at Disney
Not all the fun to be had at Walt Disney World is found in the park. We've already mentioned how many free attractions in Orlando there are at Disney Springs but did you know there are a ton of free things to do in Orlando at the Disney Resorts?
The best part is you can choose from several modes of transportation to go between resorts. There are the buses, boats, monorail, and the really fun new Skyliner! And from there the options are nearly limitless.
Just to name a few; you could watch some fire baton tossing at the Polynesian, check out Disney movies under the stars at several resorts, watch the fireworks from the Polynesian, Grand Floridian or the Disney Boardwalk, visit the wandering animals at the Animal Kingdom Lodge, or visit the horses and sing around the camp fire at the the Fort Wilderness Campground. There is truly so much variety and options to choose from!
There are literally so many free attractions in Orlando found at the Disney Resorts that you won't want to miss out on. For more even ideas be sure to check more totally free ideas at Disney!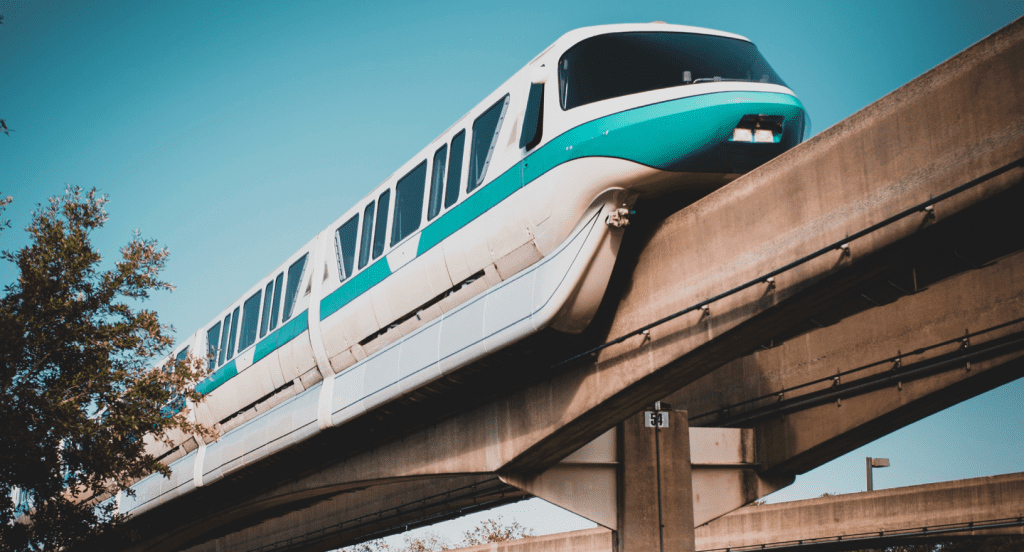 And there you have it: several free things to do in Orlando that you can enjoy on a solo trip, travelling with kids or even if you live in the area already!
And if you would like to find some more fun or cheap things to do in Florida there are even more suggestions on our best things to do in Florida list. Or, if you find yourself wanting some more free Disney fun be sure to check out all of the free things to do at DisneyWorld.
No matter which you choose from our list we know you are in for a fun trip without breaking the bank!