Are you planning on spending Christmas in Florida, but you are not sure what to do to make your trip feel festive? Do not worry, because that is where we come in and take you on a magical journey discovering all of the fun and exciting ways to celebrate Christmas in Florida!
We will share all of the details including cost, location, and what to expect from each activity. Florida might not be the first state that comes to mind when you think of Christmastime, but we are going to show you that it really has a lot to offer.
If you are planning on staying a while or if you just recently relocated to Florida, here are some year-round attractions that you should check out! If you are just simply spending Christmas in Florida, here are some best Airbnbs in Florida!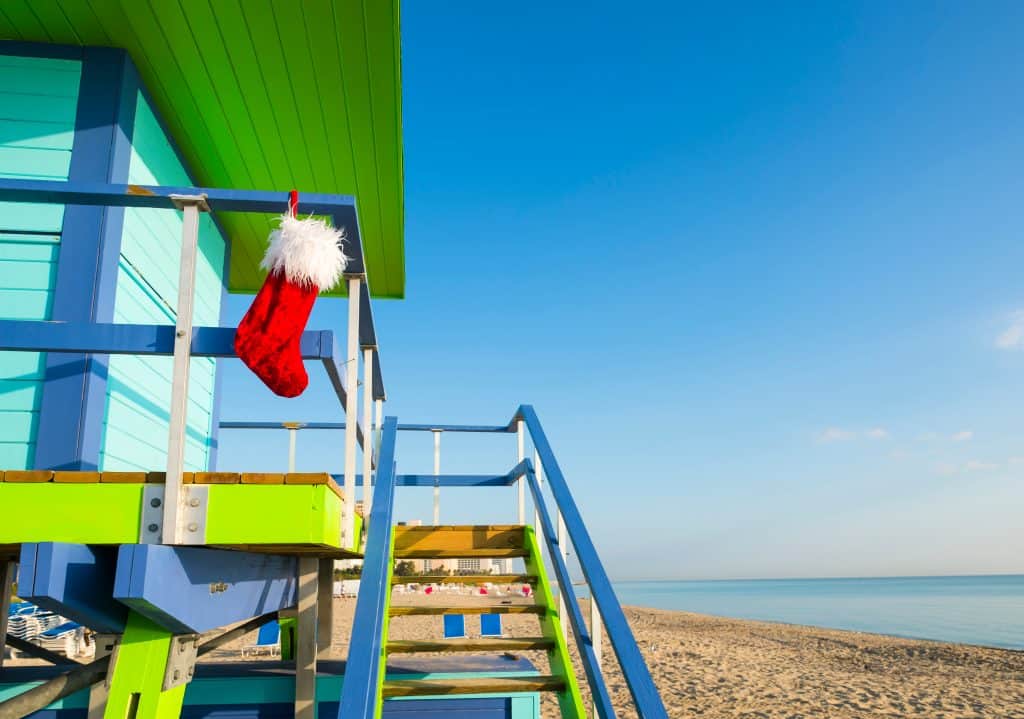 Is Christmas A Good Time To Visit Florida?
Winter in Florida is actually pretty amazing because we have the best of both worlds! We do not have to battle snow and the heat has eased up to make the weather very enjoyable and pleasant.
The average temperature highs are in the low 70s and the average temperature lows are in the upper 50s. We would recommend packing for mostly warmer weather, but add a light jacket for comfort.
Fun fact: It has actually snowed in Florida! It is not definitely not a common occurrence, but you will hear of very very slight snowfall every few years. The most significant and recent snowfall on record occurred in 1977. It was experienced in Miami Beach and all the way up to West Palm Beach.
Personally, we think winter/Christmas in Florida is the best time to visit ever because of the weather! No hurricanes, less rain, less humidity etc. What could be better?
Make sure to check out our master post on the Best Time To Visit Florida including a breakdown by month, weather, events, and more!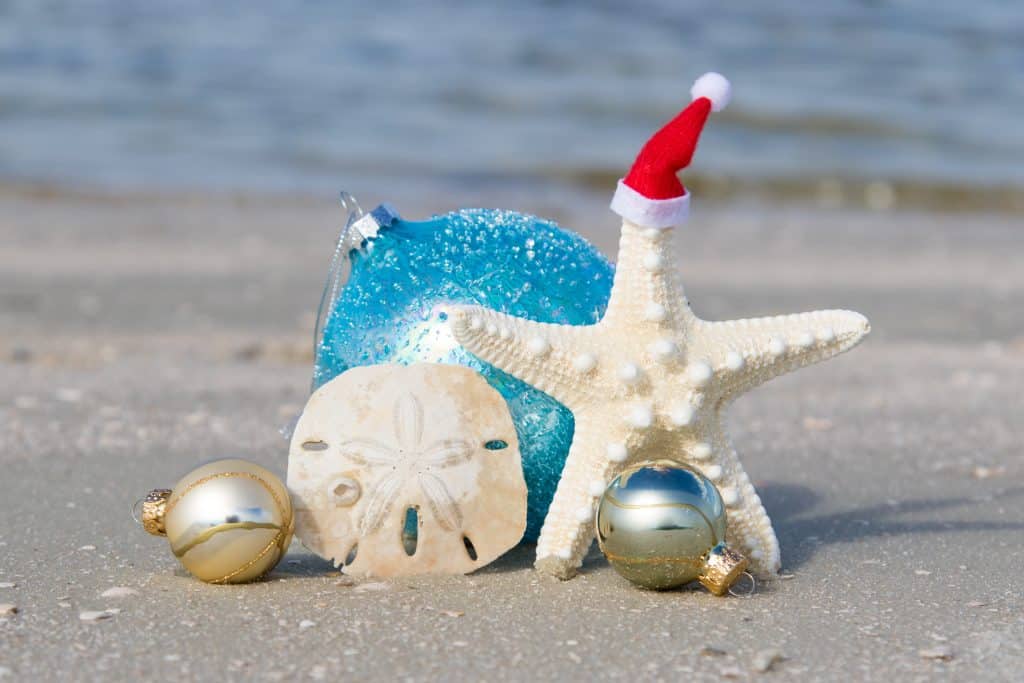 16 Festive Ways To Celebrate Christmas In Florida
Chill Out At Gaylord Palms ICE!
Gaylord Palms Resort and Convention Center features their ICE! event annually and it has certainly become a tradition for most families celebrating Christmas in Florida.
Guests are invited to stroll through a winter wonderland filled with elaborate ice sculptures that all represent the theme for that year. Over 2 million pounds of ice is hand-carved to created a magical experience for all ages.
The temperature inside the ICE! exhibit is a very chilly 9 degrees Fahrenheit, but don't worry because all guests are provided a calf-length winter coat to wear during your visit. Sizes include infant, child, and up to adult 4X.
Christmas in Florida can sometimes be a bit on the warmer side, so visiting ICE! is a great way to cool down and get into the festive winter spirit.
Ticket prices start at $14.99 child/$28.99 adult, but make sure you look for specials and ask about discounts. ICE! is wheelchair and stroller accessible, so it is a really great family-friendly event and one of the best Things To Do in Orlando At Christmas!
Gaylord Palms Resort & Convention Center is located in Kissimmee, Florida.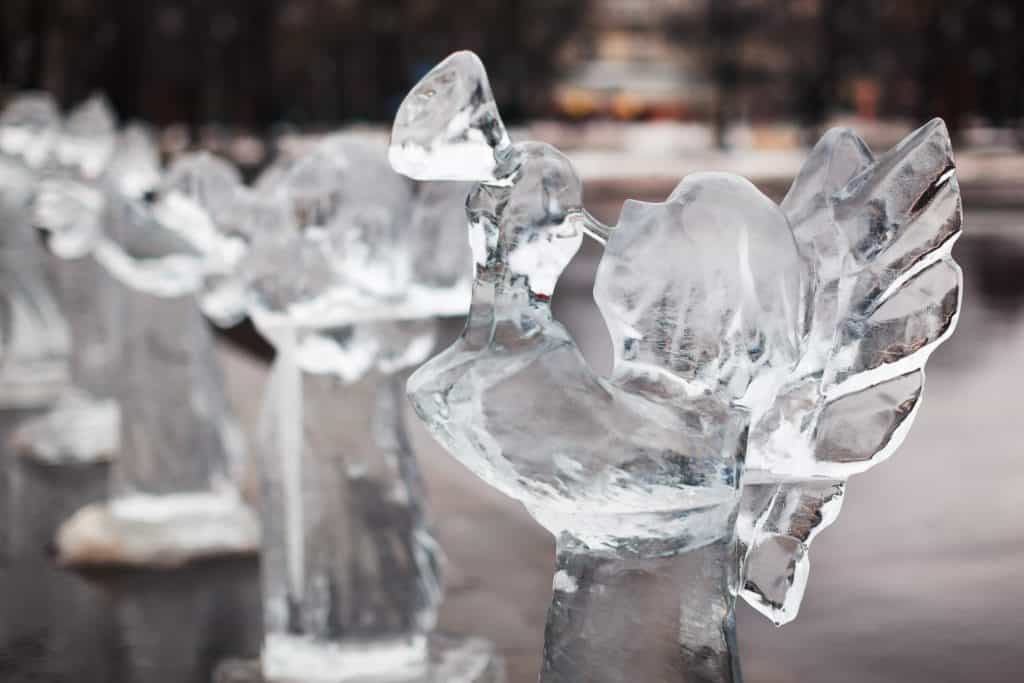 Hallmark Channel Presents Holidays At LEGOLAND
Let's talk about festive!! Holidays at LEGOLAND are a truly decked-out extravaganza of lights, decorations, massive Christmas trees, and interactive performances.
What is really exciting is that all of the holiday festivities are including in your general admission ticket to LEGOLAND! You get to enjoy all that the park has to offer regularly with the added bonus of extra holiday fun and entertainment.
LEGO Santa and Toy Solider will be making appearances throughout the holiday season which makes for a great photo opportunity. You also get to experience hands-on building at different stations throughout the park.
LEGOLAND is located in Winter, Haven Florida.
Santa's Enchanted Forest
Our next fabulous thing to do during Christmas in Florida is located in Miami! Santa's Enchanted Forest is a 37 year-old family tradition for the holidays.
It is the world's largest holiday theme park that features over 100 games, rides, attractions, and shows. The rides include kiddie rides are for guests over 36 inches tall, family rides for guests over 42 inches tall, and thrill rides for guests of 54 inches tall.
The entire theme park is decorated for Christmas and includes South Florida's tallest Christmas tree. The real highlight is the light show spectacular. It is truly one of the best things to do in Miami at Christmas!
Disney Christmas Events
There are so many Disney Christmas events that we can't possibly showcase them all in one post!
Disney is home to many Christmas activities and the parks start decorating the day after Halloween.
With recent changes, favorites such as Mickey's Very Merry Christmas Party are being substituted with after-hours events with a Christmas theme.
There is also the candlelight processional at Epcot which is a yearly favorite and one of the best ways to celebrate Christmas in Florida, complete with celebrities and music.
There is truly something for everyone at one of the many Disney Christmas events, including the Holiday Cookie Stroll at Epcot Festival Of The Holidays.
Please remember that park admission is required for experiencing Christmas in Florida at Disney!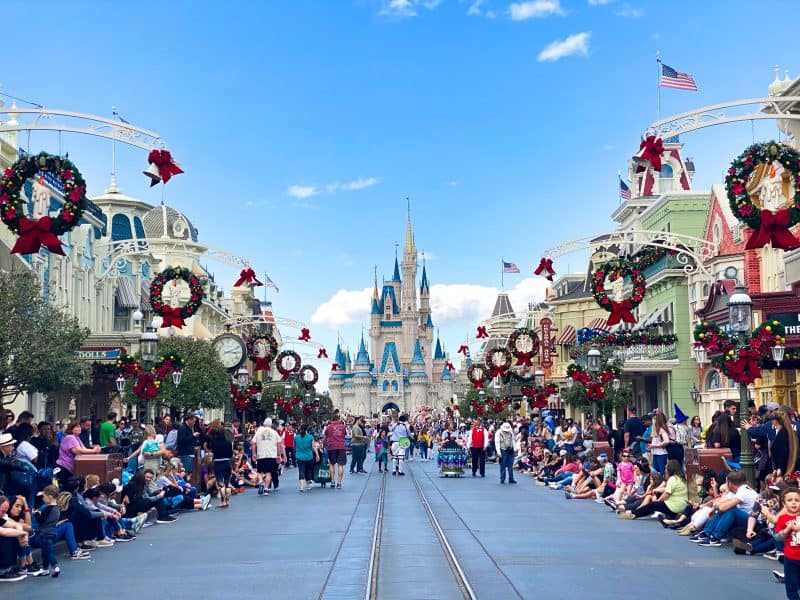 Busch Gardens' Christmas Town
Now, we head over to Tampa, FL to Busch Gardens' Christmas Town. Christmas Town is open between November 14th through January 3rd.
Visiting Busch Gardens' Christmas Town is a great thing to do to celebrate Christmas in Florida. You get the fun theme park experience with all of the added holiday trimmings which is really one of the more festive Christmas activities in Florida!
Christmas Town features indulgent desserts, handmade gifts, millions of lights, a Sing-a-long train, and light tunnel walkway. Meet Santa and Mrs. Claus at Santa's house and leave with a souvenir photo.
This is one of our favorite ways to celebrate Christmas in Tampa and since we live in the area, we visit every year!
The best part is just walking around with all of the lights. The whole park is decked out and it really is a very nice way to experience Florida during Christmas!
International Festival Of The Holidays
International Festival of the Holidays takes place at EPCOT which is located in Bay Lake, FL, close to Orlando. It is a very special and unique festival that features cultural holiday traditions from around the world.
Storytellers provide an exciting, fun, and educational element to your holiday festivities. Learn all about how other cultures celebrate the winter holidays while you enjoy delicious food from each nation.
As mentioned above, a stunning and peaceful candlelight processional takes place nightly that is quite breathtaking. You can expect some stars to make cameos throughout the performances.
This is a great way to celebrate Christmas in Florida with the entire family and something that we try and do every year.
Night Of Lights
The Night of Lights takes place in St. Augustine, FL from late November through early February. The roots of this festival honor the old Spanish tradition of placing a white candle in your front windows during the holiday season. Saint Augustine is truly one of the best Christmas Towns In Florida!
The entire town is fully decorated and filled with the Christmas spirit! Millions of lights, tons of wreaths, lots of bows, and palpable joy to be found in this historic town.
The historic district in Saint Augustine is really festive during the normal time of the year, but during Christmas, it is even better. You can stroll and try treats from sweet shops, go shopping, see Christmas trees, and more. Christmas in Saint Augustine really is the best and the weather is nice too.
Trains and trolleys are offer special tours that highlight the best parts of the festival. What's really great about this event? It's free!! This is a really fun way to celebrate Christmas in Florida without hurting your budget.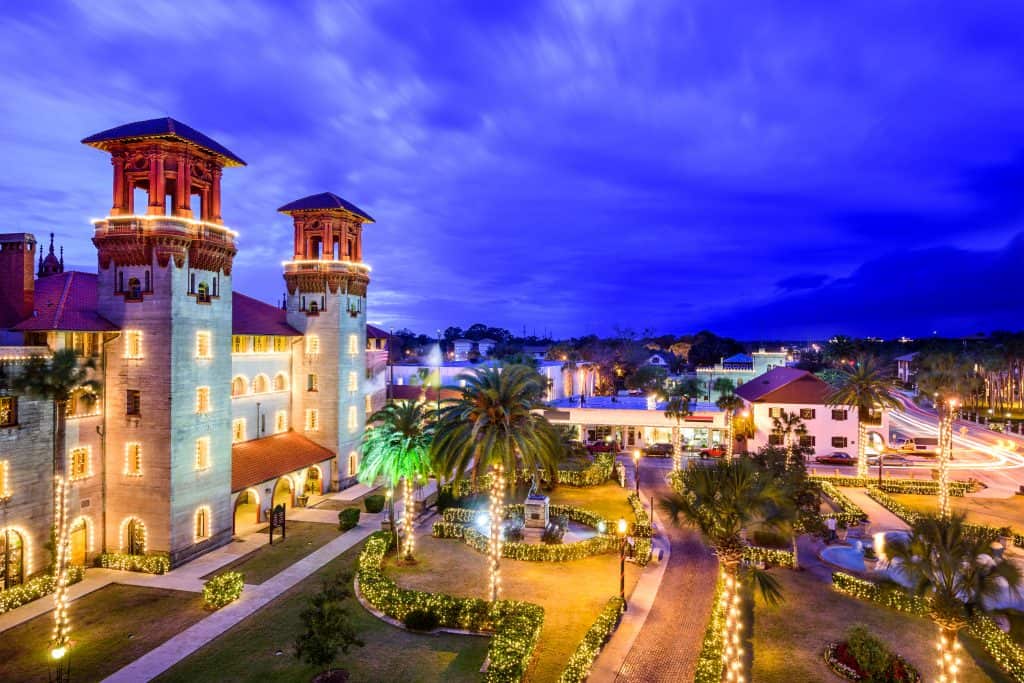 Christmas, FL
Located only 23 miles east of Orlando, the town of Christmas is a cute little town with a military background. It is home of the Fort Christmas Historical Park that features artifacts and exhibits that tell the story of the Second Seminole War.
The Christmas town in Florida features a lot of quirky tourist attractions including a 200 foot long building that is painted to look like an alligator. You enter Jungle Adventures through the alligator's mouth for a real Florida animal park experience.
Every year people travel from all over to mail their Christmas cards with a very special postmark. The town fully embraces their name with tons of holiday cheer and Christmas Spirit. If you are looking for a real Florida Christmas, does it get any better than this?
Visiting Christmas, FL is a fun little day trip with touristy photo opportunities. An affordable and low-key way to enjoy Christmas in Florida.
SeaWorld's Christmas Celebration
SeaWorld is located in Orlando, FL and every year they transform the entire park into a holiday themed wonderland with over 3 million lights and gorgeous decorations.
Special holiday entertainment includes the Sesame Street Christmas Parade, O'Wondrous Night, and Winter Wonderland on Ice. Meet Rudolph the Red-Nosed Reindeer and all of his friends and then meet Santa over in the Wild Arctic section of the park.
As mentioned above, this is similar to the Busch Gardens experience and one of the more popular Christmas in Florida attractions. There is a fee because it is a theme park, but it is more affordable than Disney so you can count that as a win!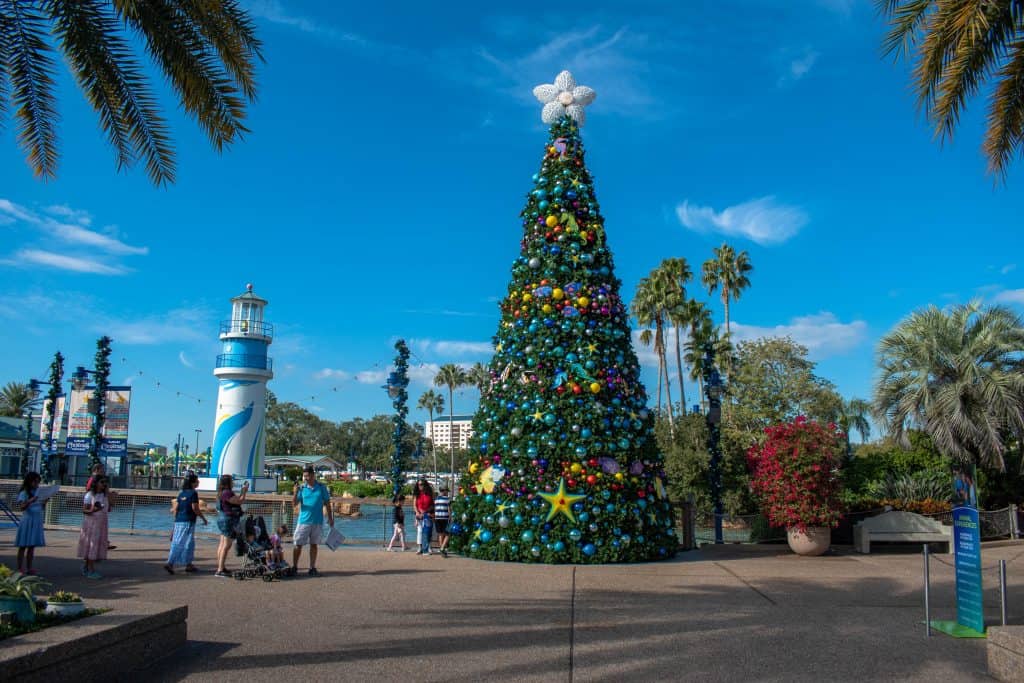 Pensacola Winterfest
The Pensacola Winterfest is located in the Panhandle of Florida and was ranked by Florida Travel + Life as one of the top holiday events in the state.
This event includes over 400,000 sparkling white lights that really create a charming holiday atmosphere and make your Christmas in Florida one to remember.
Hop aboard the Winterfest Trolley and travel along a 2 mile long route that goes around historic Seville Square and Palafox Street.
The trolley features interactive entertainment with characters including the Grinch, Elvis, Charlie Brown, and other holiday friends making this one of the better places to spend your Florida Christmas.
Special tour packages include a Santa photo party, Polar Express Tour, Puppet Magic Tour, Scrooge Tour, and others. Prices vary depending on what activities you select, so check their site for more details if you want to spend your Florida Christmas Vacation here!
Key West Holiday Fest
Head on down to the Florida Keys for very tropical holiday treat! The Key West Holiday Fest features boat parades, walk of lights street parade, and the harbor of lights.
Celebrate Christmas in Florida with your toes in the sand and egg nog in your hand! Reserve a spot for a special holiday tour at Key West Inns.
Bring your pets on specified dates for pictures with Santa! The majority of this event is free, but expect to pay for tours, photos with Santa, and drinks.
Honestly, there are so many amazing things to do in Key West In December, and celebrating your Florida Christmas there is just one of the many!
Christmas in Key West means snorkeling and diving by day, and strolling the quaintly decorated streets by evening. You won't want to miss it.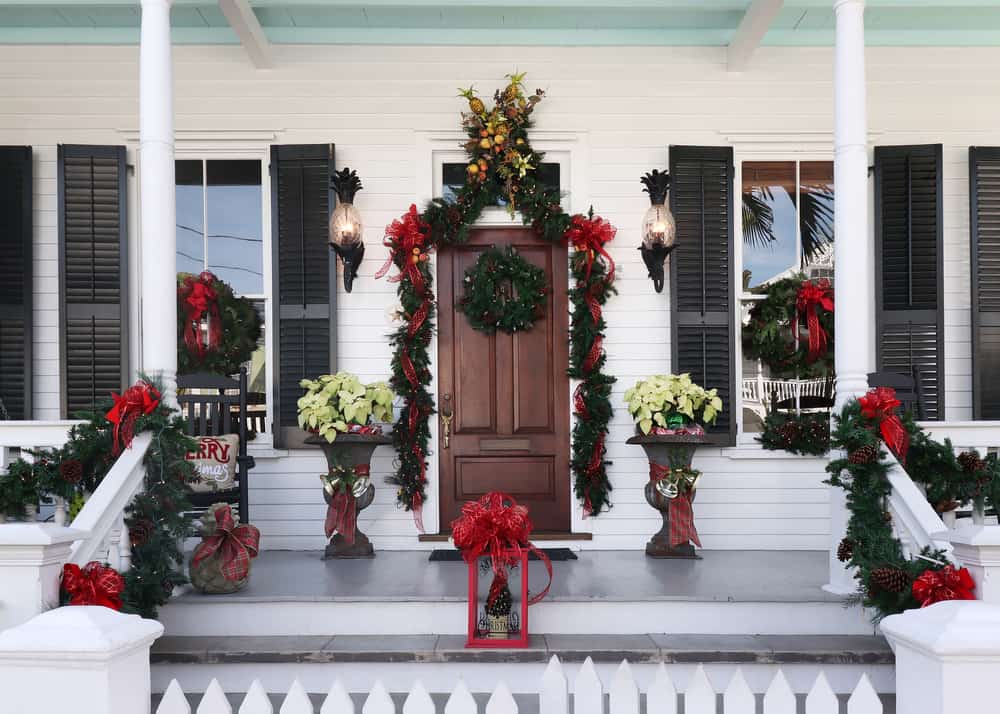 The Festival Of Trees
Our next event takes place at the Orlando Museum of Art and features dazzling trees, fun vignettes, and elegant décor. Your eyes will definitely be aglow with all of the beautiful features on display.
Not only do you get to marvel at these gorgeous decorations that were created by Orlando's best designers, but they are also all available for purchase.
If you aren't going to go to one of the many Christmas Tree Farms in Florida to cut your own tree, this may be another solution!
Leave with inspiration for making your own decorations or maybe you'll buy a unique souvenir that will always remind you of Christmas in Florida.
The Town of Celebration
Also known as "Town that Disney Built," the town of Celebration is a really fabulous place to spend Christmas in Florida. We told you before that it does not snow in Florida, but in Celebration, FL you can see "snow" fall several times a night!
Get into the Christmas spirit with Dickens' Carolers singing your favorite holiday songs. You can even go ice skating!! And, of course, no visit to Celebration is complete without meeting Santa. This is one of the most memorable Christmas activities in Florida!
Enjoying the "snow" is free as well as parking and the carolers. Staying in Celebration is a great home base for all of the Christmas in Florida adventures.
Lake Eola Tree Lighting
Lake Eola Tree Lighting is a great evening event that is conveniently located in Orlando. Join the City of Orlando at Christmas as they light a 6-story tree with almost 100,00 lights! If you love lights, then this is where you should go if you are visiting Florida for Christmas.
Stick around after the tree lighting for food, drinks, and music. As an added bonus, throughout the evening the tree has special synchronized lights with music.
This would be a great add-on to any stay in the Orlando/Celebration area and its really awesome because it is a another free event! What a perfect way to enjoy Christmas in Florida!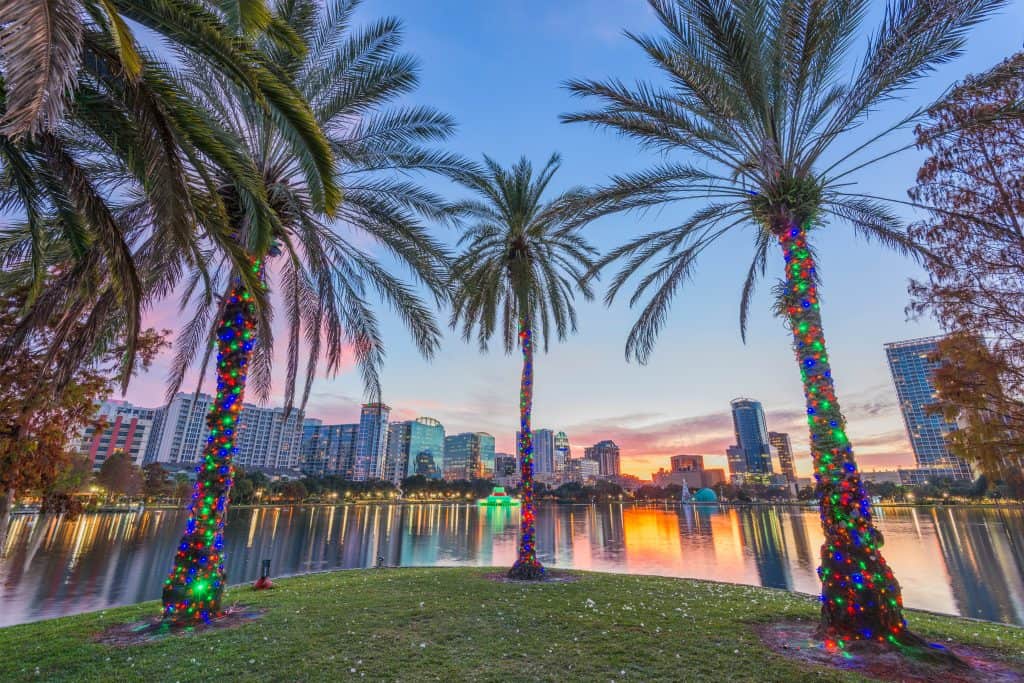 Disney Springs Christmas Tree Trail
Hey, guess what? Another free event!! This time, we find ourselves at Disney Springs as they hold an annual Christmas Tree Trail event. It is home to some of the best Christmas lights in Florida and it is free, which you can't beat.
We feel like this is definitely a MUST SEE! Walk along the trail as you view some of the most intricately decorated trees with elaborate Disney themes.
You can't help but smile as you snack on delicious holiday treats and drinks all while listening to Christmas music and marveling at the amazing trees.
Kids and adults alike will really enjoy this fun family friendly event! You can't get much better than a Disney themed Christmas in Florida.
Jingle Bell, Jingle BAM
Want a really exciting way to celebrate Christmas in Florida? Well, mix the action packed adventure of Hollywood Studios Orlando with Christmas and fireworks and you get Jingle Bell, Jingle BAM!
Spend the day at Hollywood Studios Orlando and finish the night with this amazing show. It is included with your general admission and takes place at the Chinese theater.
Scenes from all of the top favorite holiday films are projected on the the theater while Christmas music is playing. The show ends with a phenomenal firework display at this lovely Florida Christmas festival.
Bok Tower Gardens
Located close to LEGOLAND and about one hour from Orlando, Bok Tower Gardens features a garden tour, lots of holiday lights, and home tour inside of a 1930's mansion. It is one of our favorite Florida vacations in December as the weather is just very great!
The Bok Tower Gardens are a lush oasis escape from the busy outside world. Relax as you walk around the beautiful grounds and enjoy nature. You'll hear birds chirping, see curious squirrels, and stunning butterflies.
The tower itself is breathtaking with its height, stone, and glass. Plenty of photo opportunities to be had throughout the property. There is typically a fee for this event, but it is not expensive.
Christmas concerts are held frequently throughout the season and provide a calming and peaceful way to enjoy Christmas in Florida.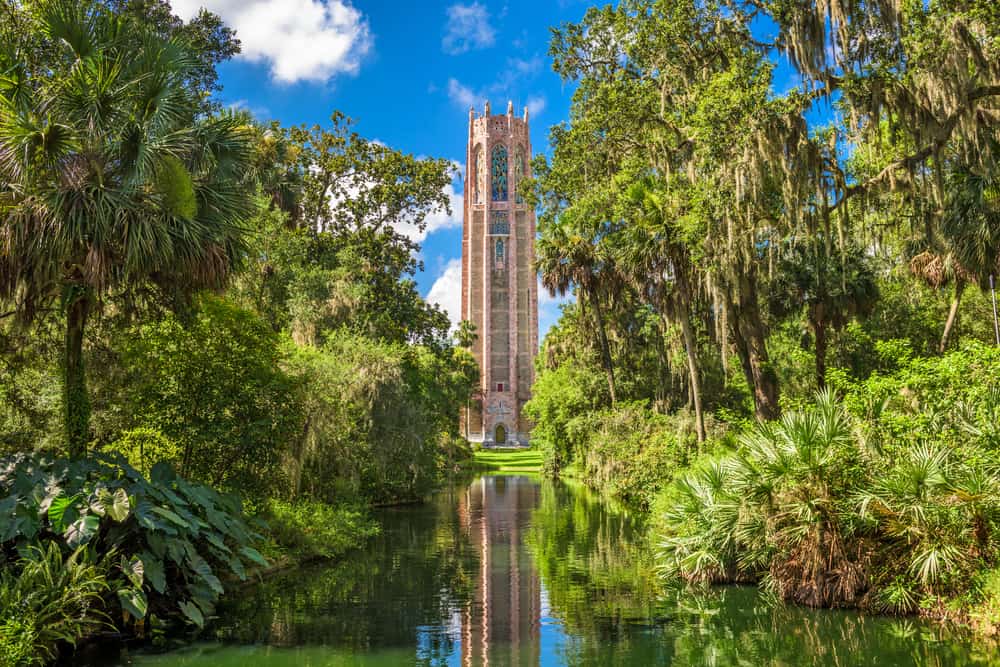 Well, we hope you have enjoyed learning about all of the exciting ways you can celebrate Christmas in Florida! Florida really has so much to offer with events for every budget.
Don't forget to look for special discounts as most of the theme parks offer them. However you decide to spend your Florida Christmas trip, we hope you have a magical time!