Have you always wanted to visit sunflower fields in Florida?! Well, now is your chance to get the scoop on the best locations and what each farm has to offer. Visiting sunflower fields can be a great day trip to enjoy some fresh air and sunshine.
Tons of fun for all ages, sunflower fields offer visitors the opportunity to take in nature's beauty, pick their own fresh sunflowers, and take some amazing photos too! Join us as we travel around the state of Florida touring the prettiest sunflower fields and give you all of the need-to-know details!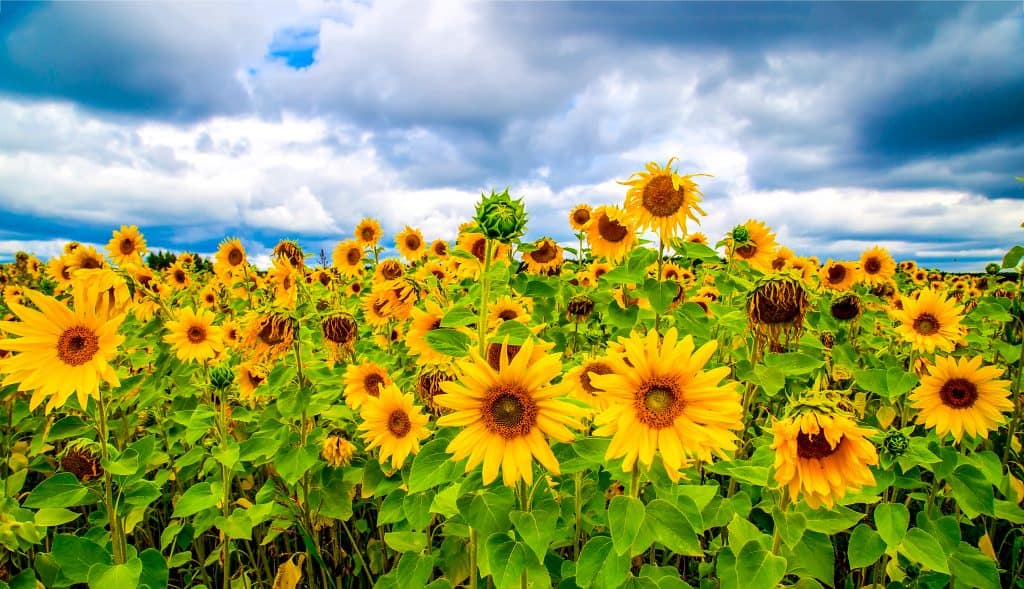 When Is The Best Time To Visit Sunflower Fields In Florida?
Well, we are lucky enough to get 2 seasons that are ideal for viewing and picking sunflowers! Both Fall and Spring are perfect times to view this stunning, bright yellow blossom.
The temperatures and rainfall during Spring and Fall in Florida are moderate which provides the best environment for these beauties to thrive. Florida is one of the few states that have this opportunity, so it makes it very easy for visitors to plan a trip without having to wait very long!
Tips For Visiting Sunflower Fields In Florida
When planning your trip, you might just think that all you need to do is jump in the car and go, but we are here to help you have the best possible experience with these pro-tips!
Now, you don't need to do much to prepare for your trip, but following these tips ensures that you have a great time. For starters, please wear and bring sunscreen! A small amount of time in the Florida sun can produce surprisingly painful sunburns.
If you aren't a big fan of sunscreen lotion, you can try SPF clothing that will help protect your sun as you roam the fields. In addition to sunblock, we highly suggest that you bring a hat and sunglasses.
Closed-toe shoes are a seasoned picker's top suggestion as they will keep you from getting dirty feet and ant bites. Bring water with you to stay hydrated, especially if you plan to visit during mid-day or the afternoon when the sun is at its peak.
Planning on bringing home some sunflower cuttings or fresh produce? Then, it is highly suggested that you bring a cooler with you to keep your flowers from wilting and your produce from spoiling.
Next, you should pack allergy medications or lotions, especially if you are traveling with someone that has known airborne or insect allergies. Lastly, bring cash with you as most farms can only accommodate cash sales.
12 Prettiest Sunflower Fields In Florida
Southern Hill Sunflower Field
Southern Hill Sunflower Field is located in Clermont, 22 miles west of Orlando in Central Florida. Southern Hill Sunflower Field prides itself on always having an abundance of gorgeous sunflowers for visitors to enjoy.
If you are interested in bringing some of the sunflowers home, you can pick them yourself for $2 per stem. The farm provides guests with a pair of scissors and bouquet bags for gathering their selections.
Make sure you pack your camera as you will have various opportunities to take some truly breathtaking photos. Guests will love the staged photo area that includes blue velvet couches that really make the sunflowers pop!
In addition to sunflower picking, kids can enjoy the Kids Zone. The Kids Zone includes a rock climbing wall, a giant slide, and wagon rides. The admission fee for the Kids Zone is $10-14.
If you happen to visit during Springtime, you will have the fortune of also experiencing strawberry picking season. Going home with flowers and strawberries sounds pretty great to us!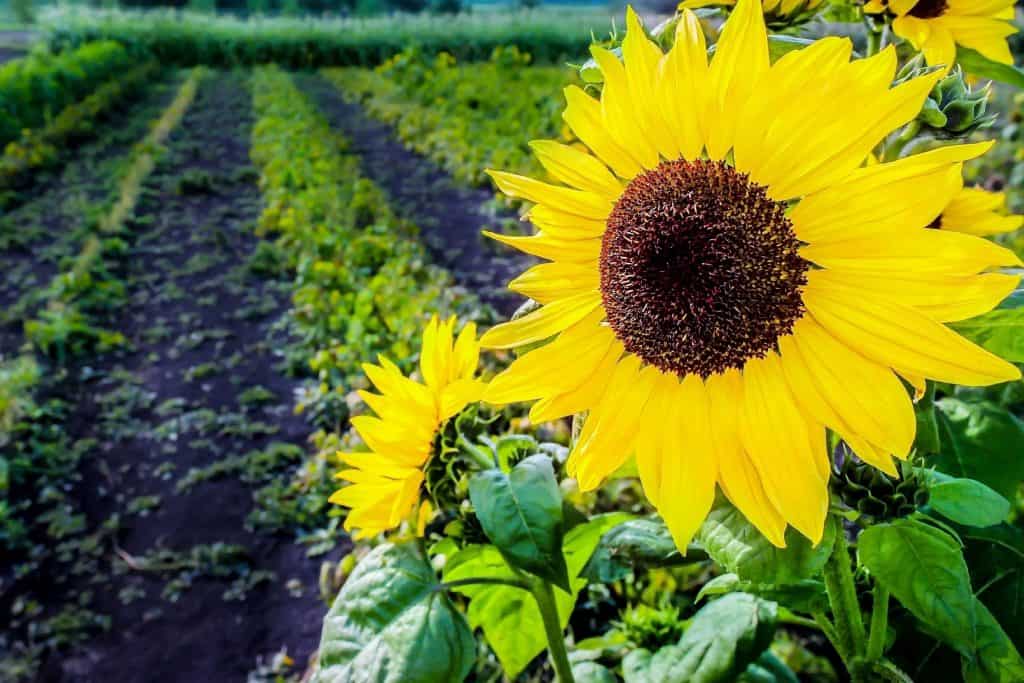 HarvestMoon Fun Farm
The HarvestMoon Fun Farm is great for families that want to view sunflower fields in Florida and also partake in other fun outdoor activities. HarvestMoon Fun Farm is located about 50 minutes north of Tampa in Masaryktown.
Activities include a massive jumping pillow, seasonal mazes, a kiddie cow train, a petting zoo, carnival games, and more! Admission is $12.95 for anyone over the age of 3. Admission is free for anyone under 3.
Sweetfields Farm
Now, we travel over to Hernando County to visit Sweetfields Farm. Hernando County is on the West Coast of Florida, just under 2 hours from Orlando and 1 hour North of Tampa.
Not only can you enjoy taking photos and picking sunflowers, but you can also visit their Harvest Barn for fresh produce. The fresh produce includes green beans, chard, fresh basil, butternut squash, and more! Guests are also encouraged to view the farm's cow, pigs, goats, and chickens.
Sweetfields Farm hosts many events year-round, so be sure to check out what they have going on during your visit. Events include a Spring Sunflower Maze, Fall Corn Maze, a Pumpkin Patch, and more!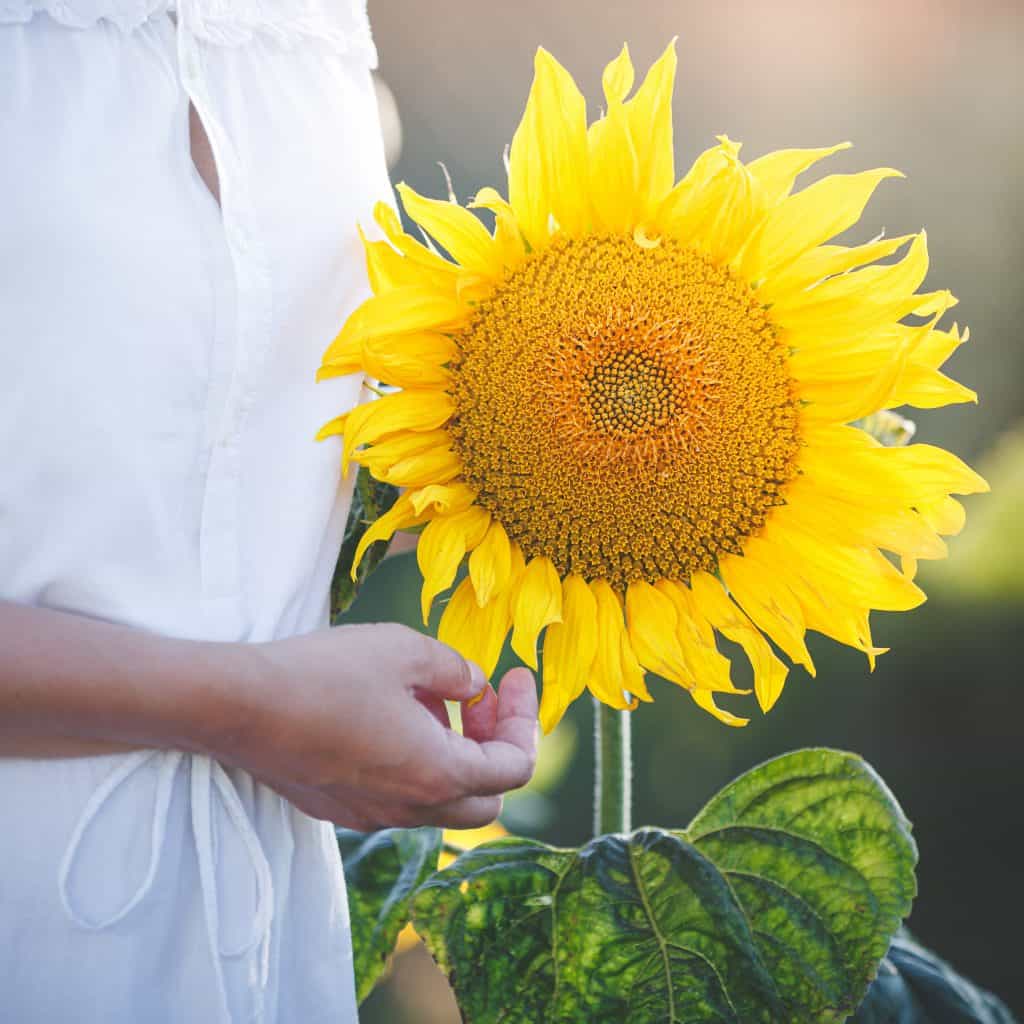 The Pickin' Patch
The Pickin' Patch is located in Dunnellon, which is only 20 minutes from Crystal River. If you are looking for a combo trip, Crystal River is one of the 12 Best Places To See Manatees In Florida! You can view wild manatees and then pick sunflowers all in one day!
The cost of admission is $5 per person. Kids 3 and under get in for free. The Pickin' Patch is more rural, so it is great for those wanting a quiet retreat from the busy city.
A Land Of Delight Natural Farm & Nursery
Located in Plant City, A Land Of Delight Natural Farm & Nursery features amazing sunflower fields, farm animals, citrus trees, u-pick crops, and hands-on classes. Plant City is part of Hillsborough County, just about one hour from Orlando and 40 minutes from Tampa.
Visiting A Land Of Delight will place you about 20 minutes from Lakeland. If you are planning on grabbing a bite to eat after picking sunflowers, then you should check out the 14 Best Restaurants In Lakeland You Must Try!
In addition to sunflowers, visitors will have the opportunity to purchase local honey and farm-fresh eggs. During the farmer's market on weekends, guests can participate in free classes given on self-sustainability.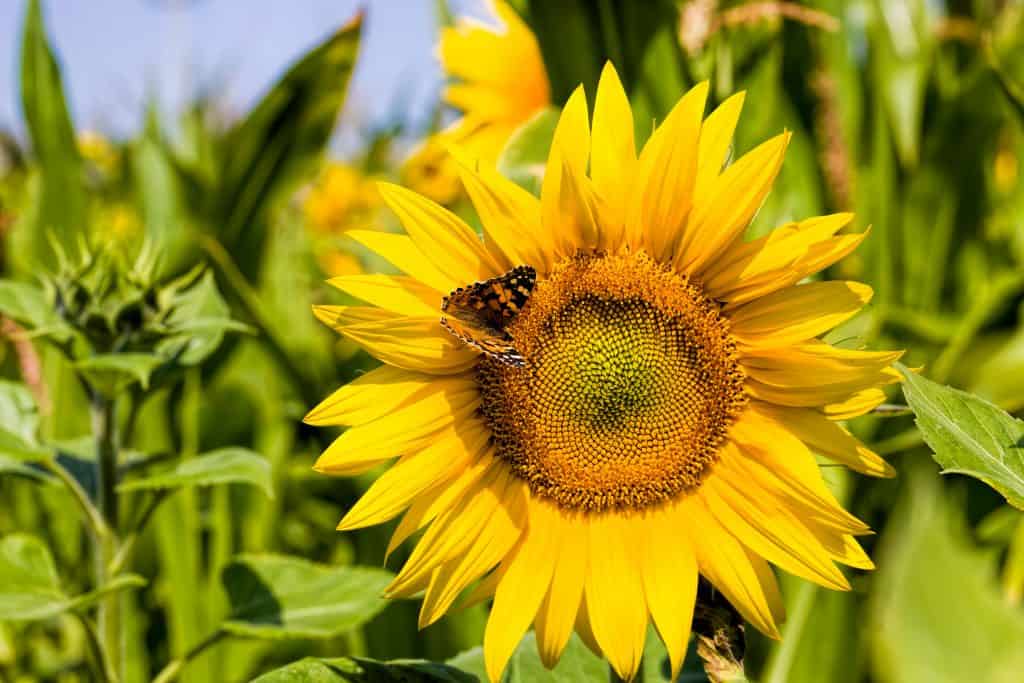 The Berry Farms
Now, we travel down south to Miami to visit The Berry Farms. The Berry Farms feature spacious sunflower fields, a farmer's market, strawberry picking, tractor rides, and more!
During weekdays, admission is $5 per person. On the weekends, admission is $7 per adult and $5 per child. Berry Farms prides itself on being one of the few farms that have sunflowers year-round!
Several festivals are held throughout the year and attract visitors from all over Florida. Foodies will be in heaven because The Berry Farms serves some of the most delicious strawberry milkshakes, sundaes, and shortcakes around town.
Stanley Pond Adventure Farm
The Stanley Pond Adventure Farm is one of the best places for viewing sunflowers fields in Florida. The farm is located in Astatula, which is conveniently only 35 minutes Northwest of Orlando.
Visiting the Stanley Pond Adventure Farm would make a great day trip addition to any theme park vacation! If you are looking for a full-day experience, then Stanley Pond Adventure Farm is for you! 23 acres of outdoor activities await you.
The U-Pick sunflowers and zenias are incredibly beautiful and ready to brighten your mood and lift your spirits. In addition to sunflower fields, you will find 2 ponds for fishing, a splash pad, and a jumping pillow.
Admission to the farm is $10 per person and this includes a free vase for your new flowers.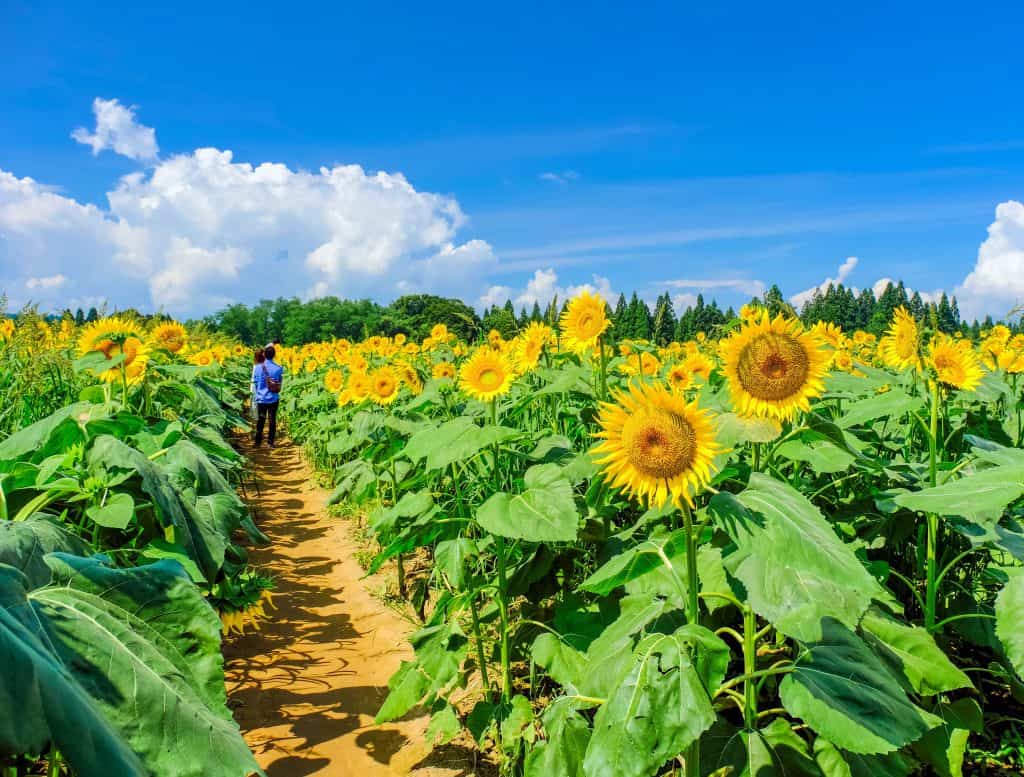 Sledd's U-Pick
Sledd's U-Pick is located about 45 minutes to 1 hour from Orlando, Daytona Beach, and Cape Canaveral. Sledd's U-Pick is a local favorite and a hidden gem in Mims, Florida.
Sledd's is very affordable and a cash-only business. The admission is $5 for anyone over 3 years of age and free for anyone under 3. If you are focused on getting really amazing photos, then this is the spot for you!
The horizon feels endless and the area is rural without any obstructions. The busy and hectic world just melts away and you are left with natural Florida beauty.
Sledd's is also well-known for their scrumptious strawberries, so don't forget your cooler to bring home this tasty fruit souvenir!
Hunsader Farms
Now, we bounce back over to the West coast of Florida to visit Hunsader Farms. Located in Bradenton, Hunsader Farms is about 1 hour southeast of Tampa.
Hunsader Farms is one of the rare sunflower fields in Florida that is only open in the Springtime. When picking sunflowers, guests will only pay $1 per stem, which is very reasonable.
In addition to having spectacular sunflowers, Hunsader Farms features a petting zoo, playground, and a farmer's market. Admission to the petting zoo is $5 per person. All ticket proceeds go directly into buying the animal's food, vet care, and general upkeep of the grounds.
A wide variety of U-Pick fields rotate throughout the year. The fields include green beans, eggplant, tomatoes, and more! Bring a little extra cash for homemade jams and jellies, as well as local honey.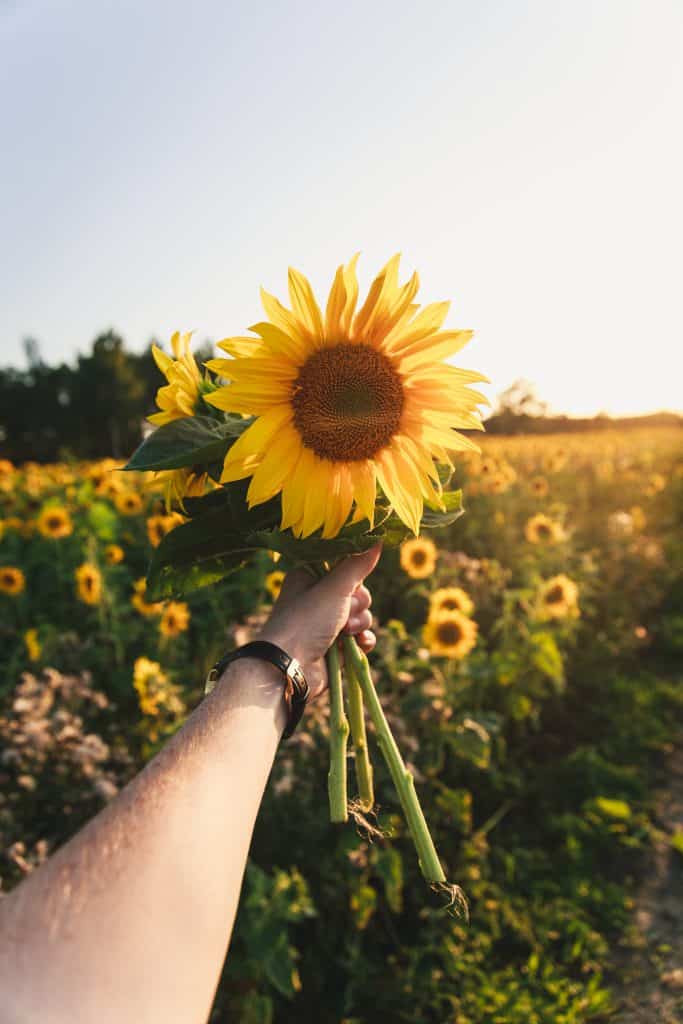 Bedner's Farm Fresh Market
Bedner's Farm Fresh Market is located on the east coast of Florida in West Palm Beach. Their sunflower fields are open from November through May.
Tractor rides are available on weekends and make for great family-friendly entertainment. If you are looking for a large fresh market with a vast array of produce and pantry items, then Bedner's is the perfect spot for you!
Graham Farms
Graham Farms is located in Umatilla, Central Florida. Umatilla is an hour from both Ocala and Orlando. Graham Farms was established all the way back in 1918, but they only just planted their first sunflower field in 2019.
To their surprise, the sunflower field brought many visitors and spread happiness in their community. After seeing how happy the visitors were to see the sunflowers, they started planting many other varieties of colorful flowers.
Prices vary for flowers, so check with the farm for up-to-date information. There is no general admission, so guests only pay for the flowers and produce they pick.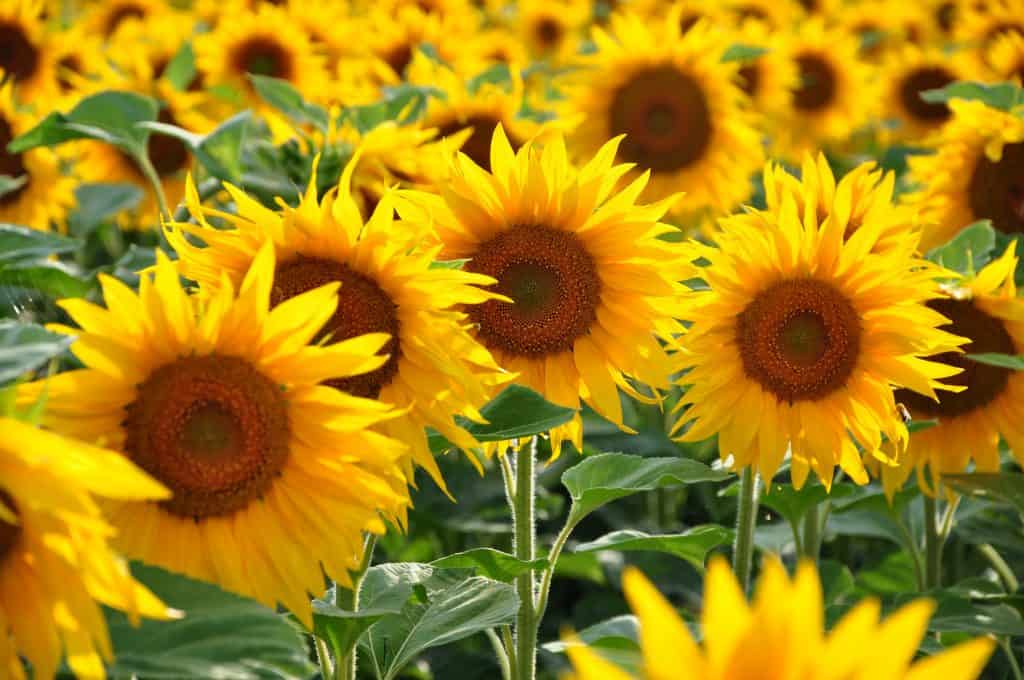 Mick Farms
Located just 40 minutes from Orlando, Mick Farms is a great location for viewing sunflower fields in Florida because they are community-focused. Mick Farms strives to bring fresh and nutritious vegetables to all.
In addition to encouraging a farm to table lifestyle, they love when visitors come to view their beautiful sunflower fields. Several times throughout the year, visitors are welcome to help with harvesting and further their farming knowledge.
There is currently no fee to enter the farm. Prices for flowers and produce vary depending upon the type and season. We suggest you call them ahead of your visit for more details.
Well, we hope you have enjoyed touring all of these incredible sunflower fields in Florida! As you can see, Florida plenty of locations that allow u-picking, photo opportunities, and great outdoor entertainment. We wish you a wonderful trip and hope you go home with tons of farm-fresh souvenirs.