If you're looking for an escape and need advice about the best day trips from Naples, Florida you've come to the right place! After you have checked out the best things to do in Naples, it is time to expand your horizons! While Naples may be the best place to retire, that doesn't mean you can't get out and explore.
The beach town happens to be close to many amazing towns, islands, springs, and other attractions. All of these spots make for great day trips from Naples!
Choose between perusing beautiful art museums, soaking up the sun at secluded beaches, and even visiting Florida's well-known theme parks for your day trips from Naples. Florida is a notoriously big state and has a lot to offer.
Enjoy the Sunshine State and all it has to offer, from art museums to beaches and state parks and botanical gardens! Don't hesitate to embark on one of these day trips from Naples.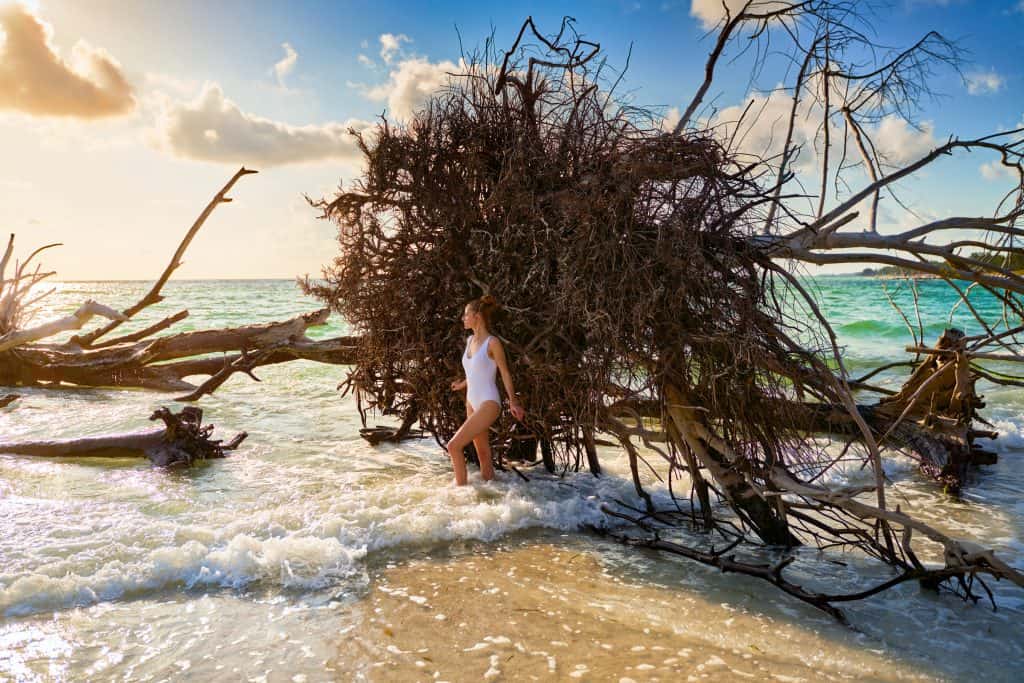 14 Best Day Trips From Naples Florida Worth The Effort
0-1 Hour Away
Fort Myers
Regular citizens and tourists continue to flock to Fort Myers for its pristine beaches, entertainment like professional theatre and baseball, and its litany of nature preserves. Only about 58 minutes away, this town makes a great day trip from Naples!
Because Fort Myers hosted many notable citizens like Thomas Edison and Henry Ford, the city became famous for its historical estates. You'll see acres of botanical gardens, a laboratory, and the museum itself. Additionally, you can also take tours of Edison and Ford's actual homes!
Check out Lover's Key State Park for a relaxing day on the beach or a romantic walk at sunset. If you're visiting from February through March, you can catch a baseball game during Spring Training!
For a taste of the weird, head to Koreshan State Historic Park. Once inhabited by a religious cult seeking to create the "New Jerusalem," you can walk through 11 immaculately restored buildings. You'll learn about life a century ago in a very eccentric community.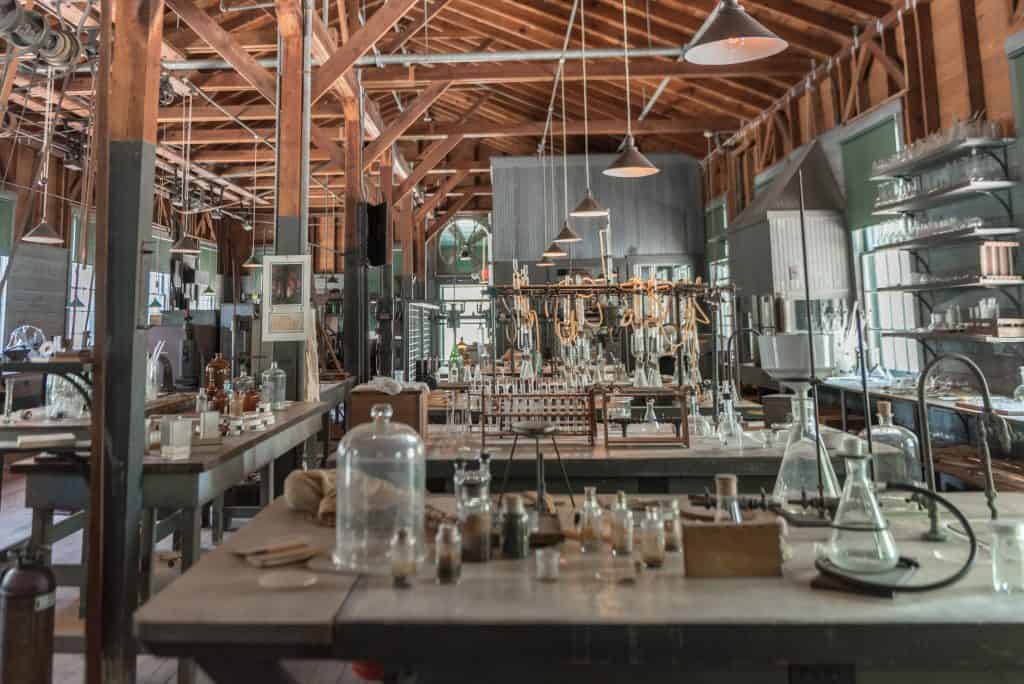 Sanibel and Captiva Islands
Just an hour away from Naples, Captiva Island is all about the outdoors. As a result, you'll feel the magical current in the air through the island's slightly off-kilter vibe. For one of the best day trips from Naples, visit one of the prettiest islands in Florida.
Because Captiva boasts some of Florida's best beaches, you'll find some of the clearest waters for swimming, scuba diving, and parasailing. Head to Bowman's Beach, one of the best dog beaches in Florida! Additionally, Turner Beach is great if you don't want to travel by car.
Captiva Island also boasts many nature and historical walks and tours! You can see lots of animals at the Clinic for the Rehabilitation of Wildlife! Then visit Chapel By The Sea, a tiny, historic one-room schoolhouse!
For the most unique dining experience that captures the quirky vibe of Captiva Island, you must visit the Bubble Room. Because it is decorated as a Florida Christmas Wonderland, palm trees are strung with lights year-round. You'll also always see a tiny model train running through the themed rooms.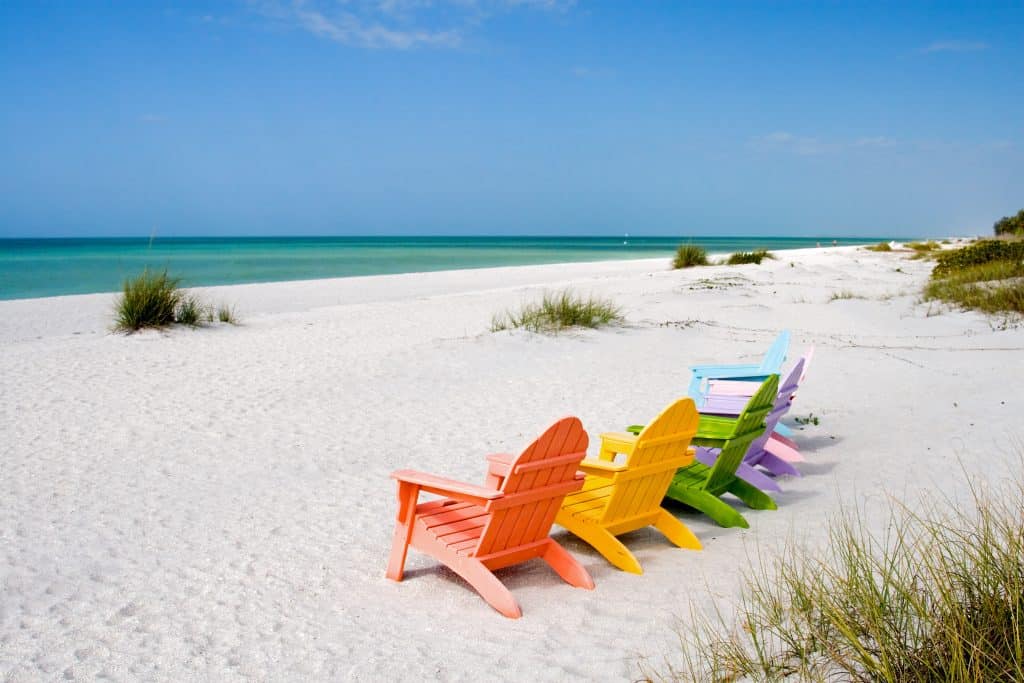 Marco Island
Marco Island, the largest of 10,000 Islands, mangrove-lined estuaries lies just 33 minutes south of Naples. Marco Island's beaches and surrounding sandbars offer some of the best shelling in the world.
Perfect for a spot of fishing, you can reel in snook, tarpon, and trout. After that, visit the weekly Farmer's Market to snag local ingredients to create a true Gulf Coast meal!
Rent a jet ski or charter a boat to see the Florida Domes a true hidden gem. Once the home of a millionaire seeking a serene beach life, these domes now provide shelter for birds and aquatic life off the Gulf Coast.
Then get your shop on at Tin City. An open-air specialty shopping district, waterfront shops are divided into four buildings where you'll find food, crafts, antiques, seashells, wine, mood rings, and more! For more shopping, head to Fifth Avenue South!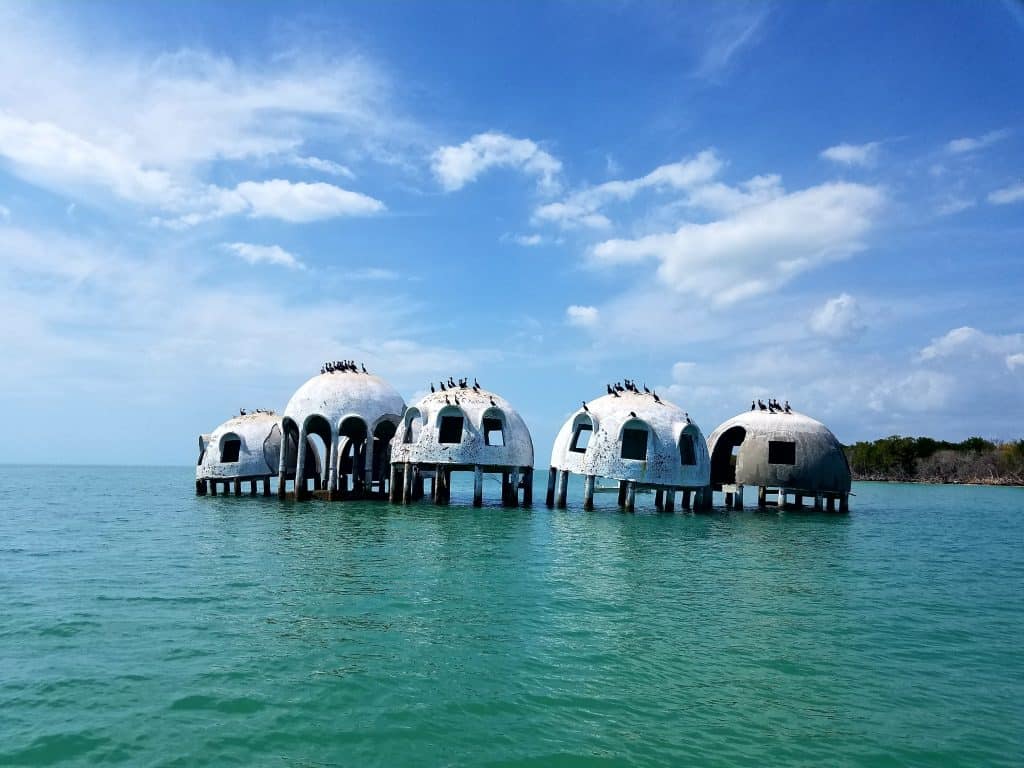 Everglades
With over two million acres to explore, the Everglades provide endless recreation in Florida's most beautiful ecological feature. Only 45 minutes away, this is one of the best day trips from Naples to one of the best national parks in Florida! If you like tours, we have a list of the best Everglades Airboat rides from Naples just for you!
To get there, you'll want to set your GPS to the Gulf Coast Visitor Center. This is the closest entrance to Naples. You can either ride I-75 or US-41 before taking FL-29 to get there.
Home to hundreds of animal species, you can find many of Florida's native animals in the Everglades today. It is not uncommon to see the endangered leatherback turtle, Florida panther, and Burmese pythons. The Everglades are also home to Florida's alligators and manatees as well!
Visit Lucky Cole's home and he and his wife will serve you venison chili and maybe even have a photoshoot with you! They only welcome guests on the weekend so check his Facebook page before you go.
Slather on the bug spray before tackling some of the best hiking trails in Florida like the Anhinga Trail. If you're more into kayaking, make sure you tackle the 99-mile long Wilderness Waterway!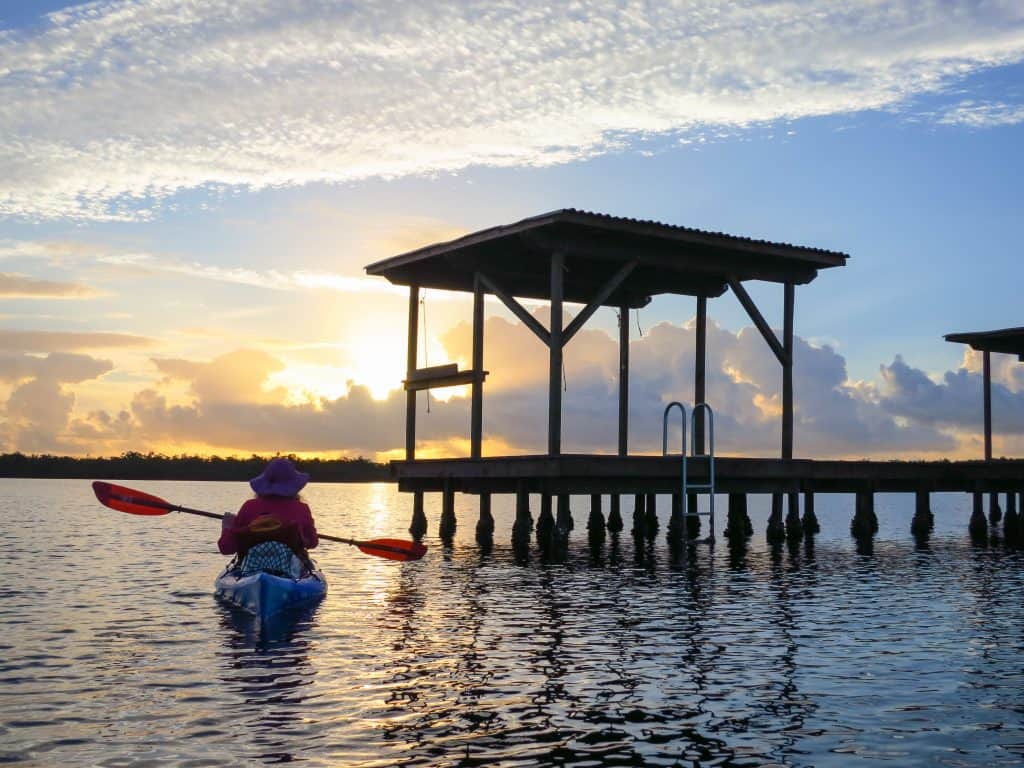 1-2 Hours Away
Miami
Only two hours away from Naples, the melting pot of Miami makes one of the best day trips from Naples. The city's diversity, seen through its food, art, and entertainment, represents destinations from all over the globe.
Visit the Vizcaya Museum and Gardens with its timeless Mediterranean-style architecture. A visit to the Vizcaya is like taking a tour through the Gilded Age with 32 decorated rooms and 10 acres of gardens that have been pristinely preserved.
The Fairchild Tropic Botanic Garden features lots of blown glass art among beautiful tropical plants and flowers. If you visit during the Bird Festival, one of the best festivals in Florida, you'll find arts and crafts booths, activities for children, and many vendors selling plants that attract birds to take home!
Of course, you have to hit up Miami's famous beaches. Then visit Little Havana for authentic Cuban Coffee. Take in the graffiti art at the Wynwood Walls and then finish your day with a cocktail on one of Miami's rooftop bars!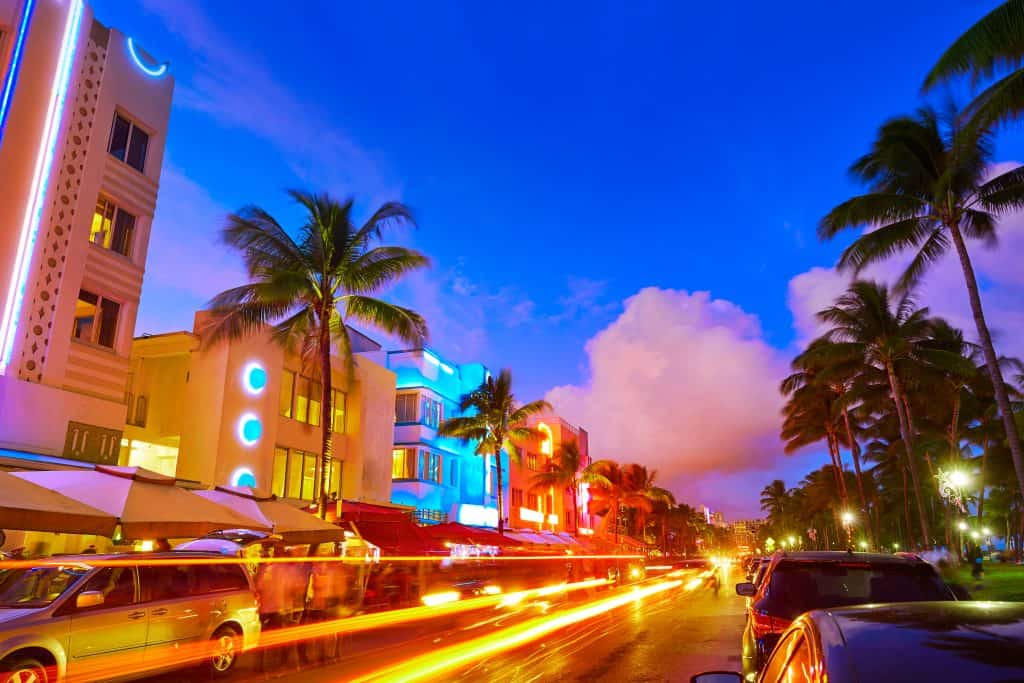 Fort Lauderdale
With a more relaxed vibe, you can explore museums, an arts district with painted murals, and the riverwalk areas Fort Lauderdale is one of the best day trips from Naples. Only an hour and 45 minutes away, you can't miss it!
Las Olas Boulevard is known as the place to be in town. From award-winning restaurants, boutiques, hotels, and nightlife, it is worth a visit! For those wanting to visit the stunning beach, you are in luck!
Fort Lauderdale has more than seven miles of beautiful beaches and Ocean Rescue supervises two miles of it with 15 year-round, permanently staffed lifeguard towers making it a very family beach! For those looking for adventure you can snorkel, dive, jet ski, and more!
If you want to do something unique while visiting take one of the Everglades Airboat Tours in the hopes of spotting alligators!
Don't forget to check out our list of the Best Things to Do In Fort Lauderdale while you are here!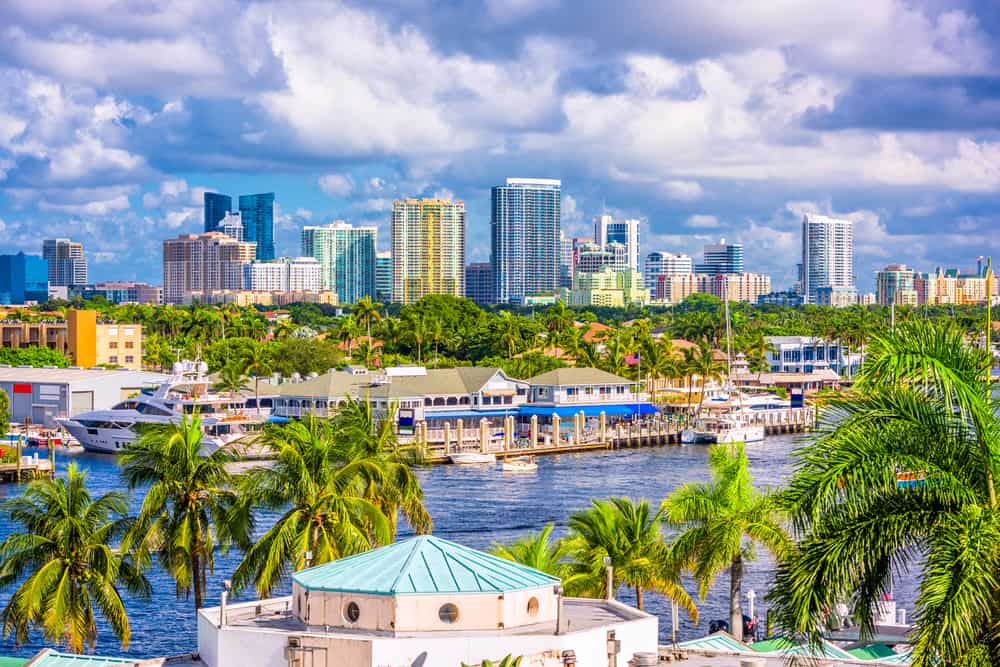 Sarasota
On the gulf coast of southwest Florida just under two hours away from Naples, Sarasota is a town we consider a hidden gem. Because of all the fantastic Sarasota attractions, the town motto describes it as a town "where urban amenities meets small-town living."
We couldn't agree more. Sarasota's Italian-influenced architecture, diverse collection of environmental attractions, glittering beaches make it a sleepy paradise. There's no wonder it's the winter headquarters of the Ringling Brothers Circus!
Visit the Ringling Museum of Art, known for its works from the Roman, Greek, Medieval, and Renaissance periods. If you plan to visit, don't forget to check out our Tips For Visiting The Ringling Museum! Then grab lunch at Siesta Village, filled to the brim with dining options, quaint boutiques and shops, restaurants, and cafes!
If you visit on a Saturday, check out the Sarasota Farmers Market from 7 AM – 1 PM. The streets downtown are lined with vendors, selling everything from fresh vegetables, fruits, flowers, local art, and every kind of street food imaginable.
You can also kayak over to Beer Can Island! Downed Australian pine trees and driftwood litter the island's shores. The result is a unique, secluded beach experience, you'll feel like you're straight out of the movie Cast Away!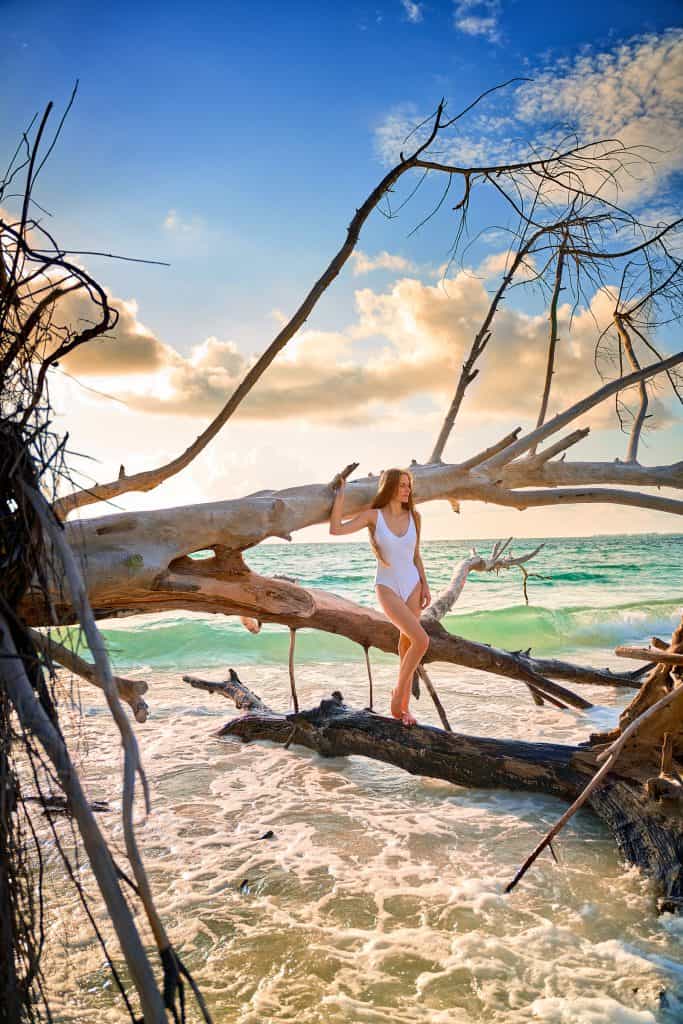 Matlacha
For something truly out of the ordinary and one of the best day trips from Naples just an hour away, head over to Matlacha Village! Pronounced "mat-la-SHAY," Matlacha means "big warrior" in Seminole!
A quirky, historic fishing village, Matlacha feels like Key West, minus the crowds. The colorful charm and laidback vibe captures the essence of turn-of-the-century Florida. On a walking tour, you'll see pink palm trees, dolphins painted with polka dots, and one-of-a-kind homes painted in neon colors.
When you visit Matlacha Pass, you'll always see an angler reeling in a big catch! Known as the "World's Fishing-est Bridge," a tidal current runs beneath that sweeps in snook, red fish, and tarpon.
After, you have to pass by the "Doll Lady's" House. She decorates her front yard with her collection of "junktiques." You'll be charmed by hobby horses and rag dolls sitting in salvaged garden chairs.
Matlacha Village is also home of renowned international artist Leoma Lovegrove. Her eclectic, colorful artistic medium has influenced the entire village. In her gallery, you'll find her vibrant paintings displayed throughout a whimsical garden.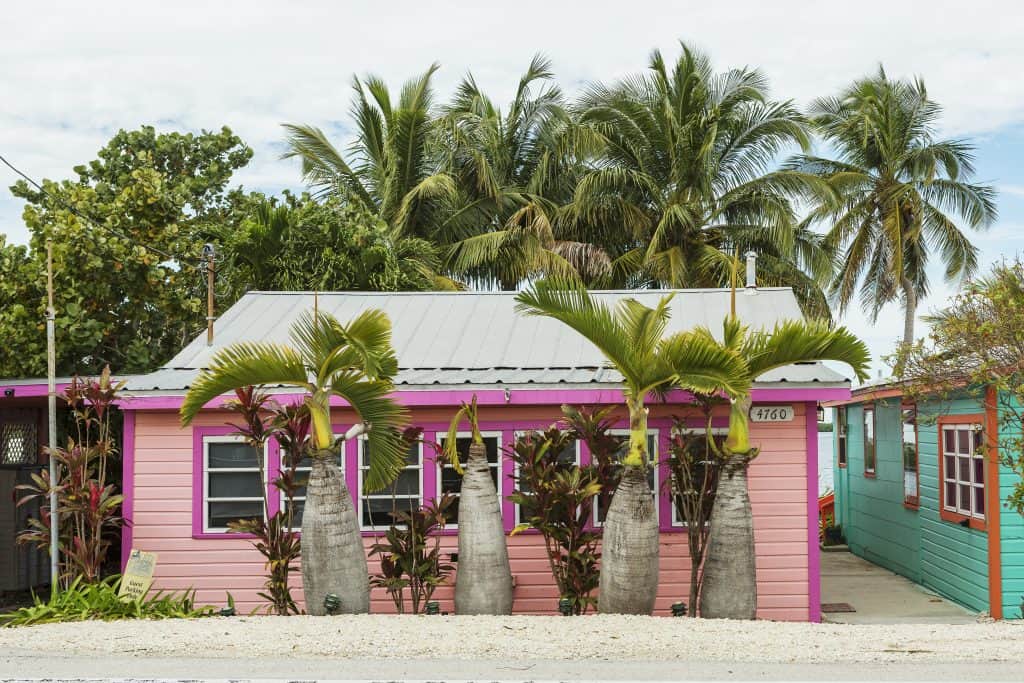 Gamble Plantation Historic State Park
Florida has many beautiful state parks, but few explore history in such a detailed way. In one of the best day trips from Naples, you can visit the Gamble Plantation in Ellenton, only an hour and a half away.
This historic state park is home to a beautifully restored antebellum mansion which once was the center of a thriving sugar plantation. You can join a guided tour of the estate on Thursdays through Mondays.
While the park provides insight into plantation life during the 1840s, it is nothing to be glorified. The mansion has been restored to provide insight into an ugly part of our history, lest we repeat it again.
There is no charge to visit the estate, which is open from 8 AM – sunset daily. Bring a picnic lunch and a blanket to enjoy on the beautiful gardens. You can also visit the Visitor's Center and Museum on Thursdays through Mondays.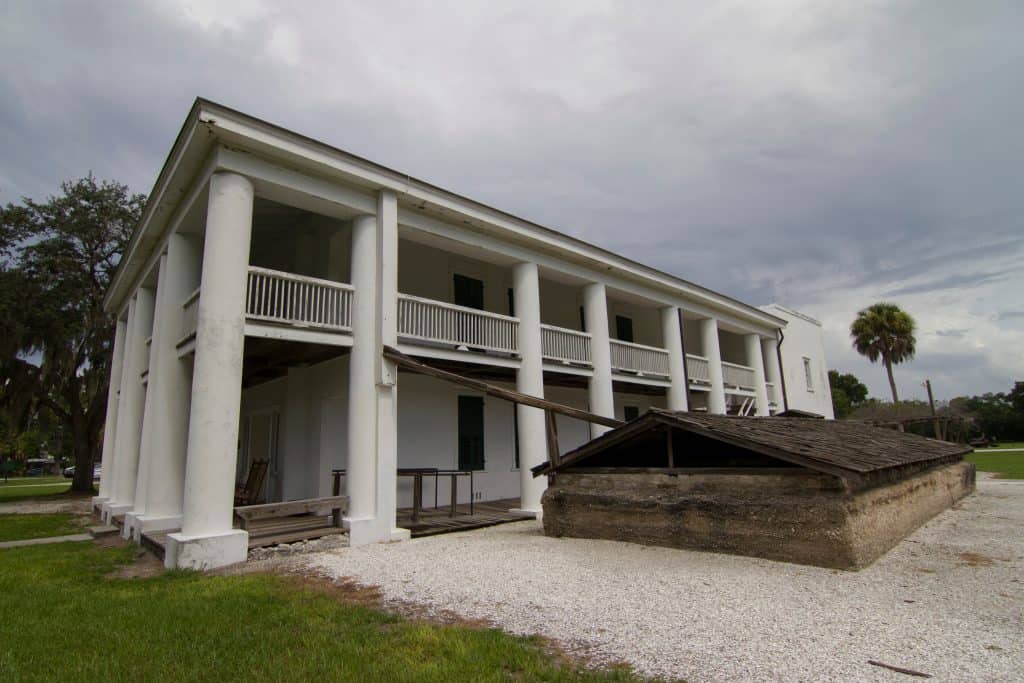 2+ Hours Away
Key West via Key West Express
Normally under good driving conditions, getting from Naples to Key West would take just over five hours. To cut back that time, take one of the best day trips from Naples and cruise on the Key West Express!
On the Key West Express, you'll be on an air-conditioned ferry that will only take three and a half hours to sail down to Key West. You can leave from Fort Myers or Marco Island.
On the ferry, you can enjoy sunbathing on the decks outside. Inside you can lounge on couches and reclining airline-style seating. There's also a full-service galley, full-service bar, and flat screen TVs with satellite television!
While you bring on two carry-on-sized pieces of luggage, you may not bring weapons, drugs, coolers, or anything contained in glass. When you arrive, you can spend as many days as you like, there's a lot to do in Key West as well!
Horseback Riding in Bradenton
Just over two hours away in Bradenton, you can take one of the most exciting day trips from Naples. With Beach Horses, you can take the adventure of a lifetime.
Sure you've been horseback riding in Florida, but have you ever been riding on the beach before? Beach Horses will take you on a beautiful, safe, slow ride on the Florida coastline giving you views you've never seen before.
The first half of your ride will be a one-mile walk along the beach. For the second half, you'll actually take to the water on your horse! Don't worry if you're an inexperienced rider, your horse will be on a lead controlled by a guide the whole time!
While in the water, you have the opportunity to try horse surfing! If you weigh less than 150 lbs, you can carefully try to stand on the back of your horse. That's way better than a surfboard!
Your entire ride will last between 45 minutes to an hour. Make sure you bring waterproof shoes as well as a waterproof camera to capture the amazing experience!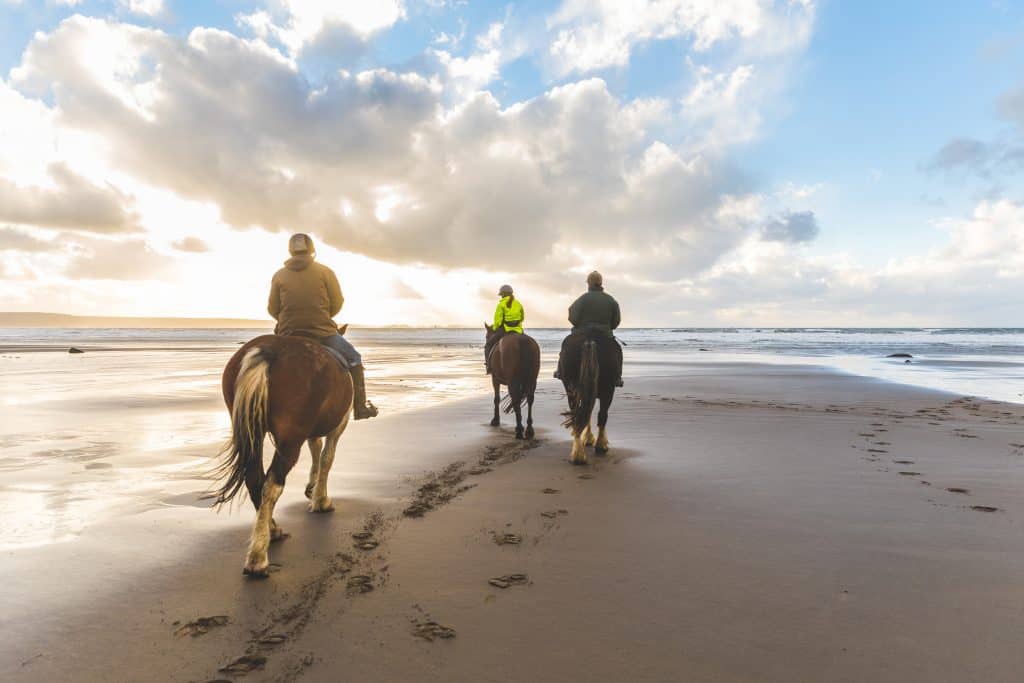 Bok Tower Gardens
North of Lake Wales, Bok Tower lies in the middle of a meditation and reflection garden that doubles as a bird sanctuary. One of the best road trips from Naples, it only takes just under three hours to get there.
Founded by Edward Bok, originally from the Netherlands, the grounds have been transformed into what he called "a spot of beauty second to none in the country." We agree with this sentiment, especially when you take time to walk the grounds.
You can wander through the paved pathways and mulched trails leading to the Core Gardens, full of native Florida plants. There are so many beautiful routes to explore and get lost in!
You eventually will arrive at the actual Tower itself, which is a Carillon, a type of bell tower that can be played like an instrument. There are daily concerts at 1:00 PM and 3:00 PM and the tower's music can be heard throughout the grounds also at half-hour intervals.
A stop on the Great Florida Birding Trail, the reflecting pool and its surrounding gardens are home to over 126 species of birds. The gardens are also home to endangered species like the Gopher Tortoise and the Eastern Indigo Snake.
Visit the Blue Palmetto Cafe for signature soups, salads, and sandwiches. Commemorate your visit at the Shop at Bok to take home unique treasures as well as plants to plant in your own garden.
West Palm Beach
Famous for its upscale boutiques and tantalizingly turquoise beaches, West Palm Beach beckons new visitors to the best of Florida! One of the best road trips from Naples, you'll love visiting the city founded by Henry Flagler.
Hop on Molly's Trolley downtown on Clematis Street to get to Rosemary Square. Also known as City Space, here you'll be charmed by the old-world architecture with retail shopping, restaurants, a movie theatre and performing arts center!
You can also show your appreciation for the arts and sciences by visiting The Norton or the South Florida Science Center & Aquarium. Or take a walk through Mounts Botanical Gardens with 25 display gardens with 2,000 species of plants, including those native to Florida.
Sports fans will love catching a game at The Ballpark which hosts the Houston Astros and the Washington Nationals during Spring Training. On the concourse, you'll also find the Banana Boat lawn that hosts soccer and lacrosse tournaments!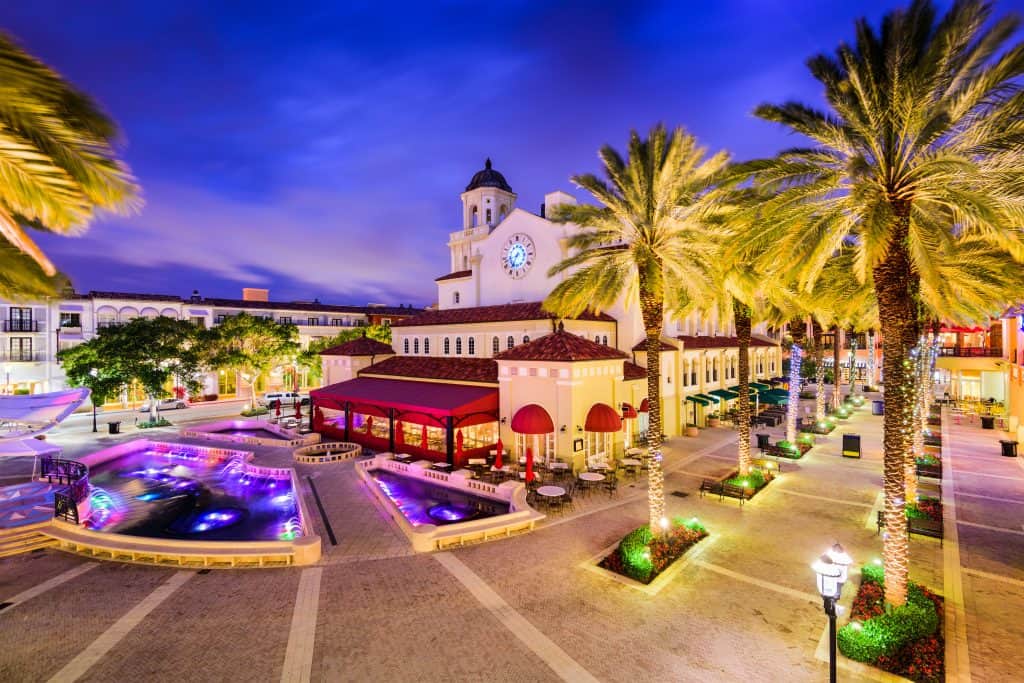 Tampa Bay
Just two and a half hours to the north, Tampa makes one of the best day trips from Naples! Nicknamed the "lightning capital of the world," there's something here for everyone!
When you're deciding what to do, take a walk along the Tampa Riverwalk. Along the banks of the Hillsborough River, you can choose from one of Tampa's many restaurants, rooftop bars, or breweries. You can even take in a show at the STRAZ or visit the Tampa Museum of Art.
Channelside has its own entertainment district where you can go shopping or even bowling! Don't forget to visit the Florida Aquarium. Kids can play in an aquatic-themed water park, adults can brave a swim with the sharks, and you can even meet penguins!
If you're a thrill seeker, head on down to Busch Gardens Tampa. Get your adrenaline rush by riding one of the 10 heart-pounding roller coasters, notably Iron Gwazi, a hybrid coaster that is currently the world's fastest and steepest.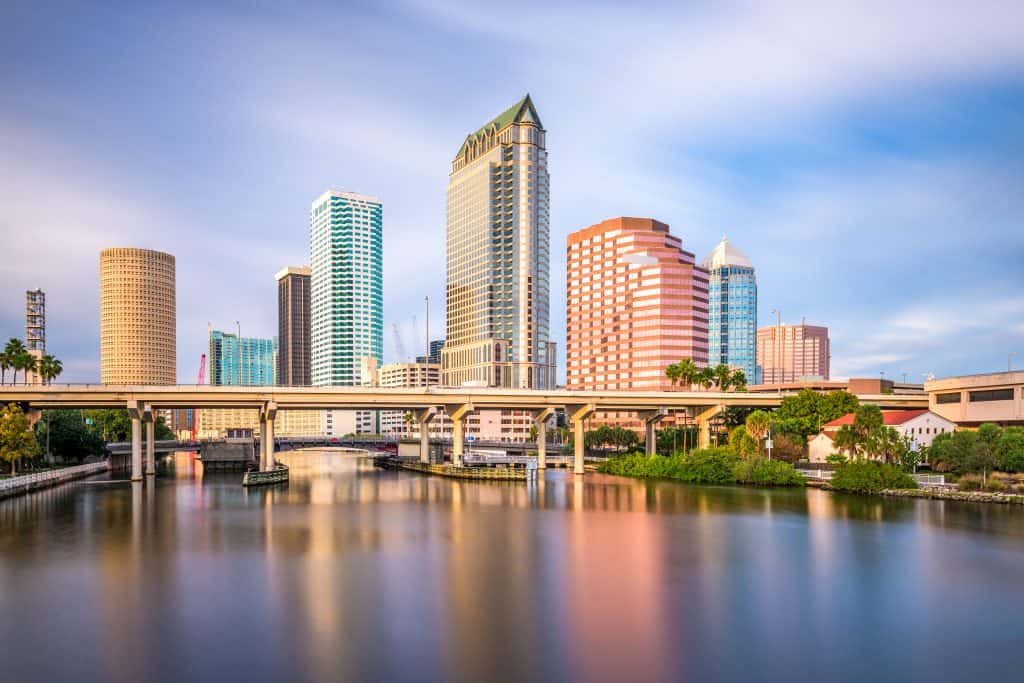 Did You Find This Post Helpful?
If so, we would love to keep in touch! We enjoy seeing photos and comments about your experiences in Florida! You can follow us on Instagram and we will repost your photos on our feed and comment too! Just tag us at @floridatrippers and hashtag #floridatrippers. We can't wait to see your travels!