Manatees in Florida are not difficult to find if you know where to look! These gentle giants are gray in color with a large paddle-shaped back fin. They can grow to be 13 feet long and up to 3,500 lbs!
Because their diet is made up mostly of seagrass, manatees are also known as sea cows. As aquatic mammals, they move between fresh water and seawater. Manatees can hold their breath for up to 20 minutes with lungs that can expand almost the entire length of their body!
Manatees are very intelligent creatures. They show signs of complex associative learning, like dolphins! They also have excellent long-term memories. It's no wonder they're distant relatives of the elephant!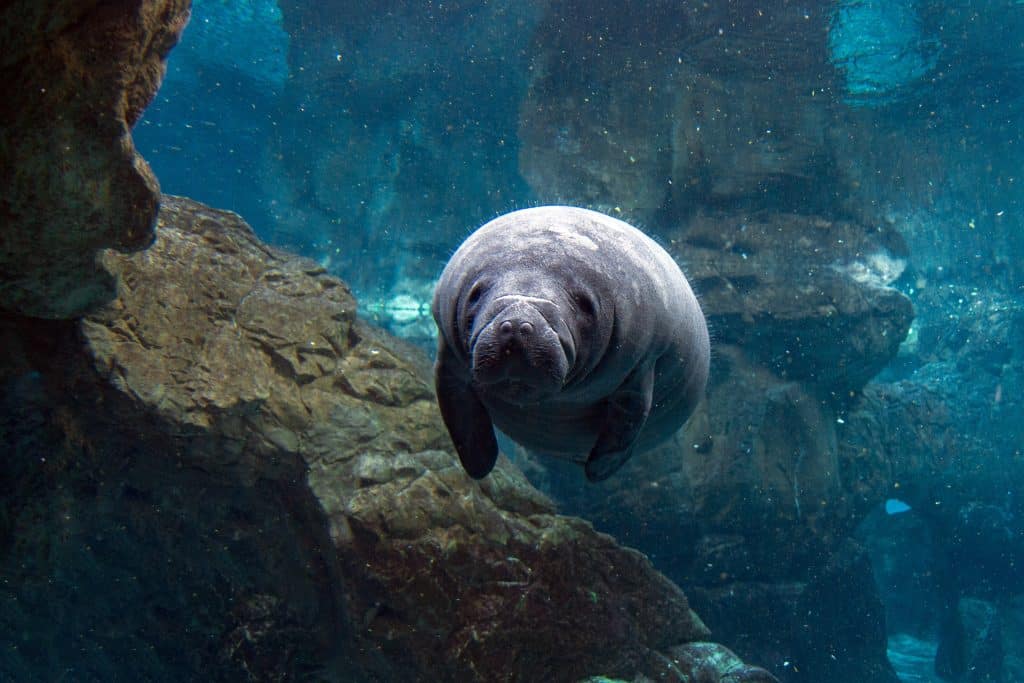 Best Time of Year To See Manatees in Florida
While manatees are very large, they only have an inch of body fat. This makes it harder for them to keep warm. As a result, they are at high risk for a life-threatening condition called "cold stress."
Subsequently, manatees are always in search of warm waters! Wild manatees in Florida will travel to natural springs when the temperature drops. This is because Florida's natural springs always remain at an average of 72 degrees!
As a result, your greatest chance for successful manatee viewing in Florida is during the fall months when the heat dissipates through the winter. Manatees sightings are highest from mid-November through the end of March, peaking in December, January, and February.
Because manatee encounters depend on the weather, our advice is to check the weather before you venture out! If you plan your trip around a cold snap, or a drastic drop in the temperature, you might have a better chance of seeing wild manatees in Florida!
What Kind of Manatees Live in Florida?
While there are three known types of manatees around the world, Florida is home to the West Indian manatee.
West Indian manatees are found along the Southeastern United States, the Caribbean and Gulf of Mexico, and Central and South America. They prefer habitats near the shoreline where seagrass and eelgrass are plentiful!
While also being larger than its two counterparts, the Amazonian and African manatees, the West Indian manatee has rougher skin and nails on its paws. Florida's manatees are also capable of traveling between fresh water and salt water!
Can You Touch Manatees in Florida?
You should NEVER touch wild manatees in Florida! If manatees become too comfortable around people, they will begin to alter their behavior in the wild! While manatee populations have gone up in Florida, they are still an endangered species.
Too much interaction could cause manatees to lose their fear of humans and start to approach them in boats. Boat propellers account for 25% of all manatee deaths. Touching manatees could also inadvertently separate a calf from its mother, which would directly result in its death.
As a result, you should always practice "passive observation" when around wild manatees in Florida. Remember, you are a guest in their home!
This means you should not chase, approach, or touch a manatee. These behaviors are all considered "harassment" which is illegal and punishable by up to six months in jail.
You also should not feed manatees. Human food, while filling them, provides them with none of the nutrition they need to survive. Feeding manatees could also change their natural feeding behaviors, causing them to lose their independence.
Always practice passive observation around manatees. Never approach them and keep your distance! If you are kayaking, stay two kayak lengths away and never paddle over them.
If you are in a boat with a motorized propellor, look for manatee "footprints." If you see circular wave patterns on the water's surface, immediately cut your motor and wait for the manatees to pass!
Manatees can be very friendly and playful. More likely than not they will approach you! If you remember your manners around them, you check "swimming with manatees" off your Florida bucket list while respecting an endangered species!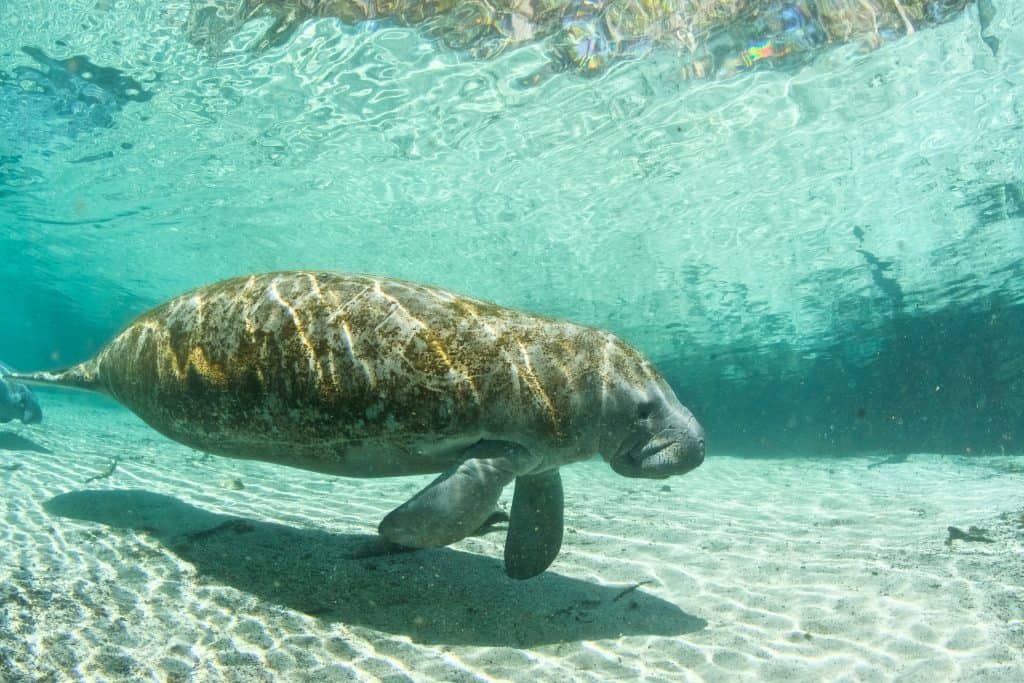 Best Places To See Manatees in Florida
Manatee Springs State Park
Just west of Gainesville in Chiefland, you can find one of the best places to see manatees in natural Florida springs! Manatee Springs State Park is a haven for migrating sea-cows.
This first magnitude spring pumps up to 100 million gallons of 72 degree temperature fresh water daily, perfect for manatees. Manatee Springs flows out into the Suwannee River.
Up to 20 manatees have been seen at one time at Manatee Springs. Viewers can tell they're around usually because fish dart away when the manatees swim through the area!
This is a popular spot for swimmers, snorkelers, and especially divers. The Catfish Hotel is a cave system where you can also see gar and crayfish. At the end of the cave system, there is a lot of duckweed which manatees love to eat!
Blue Springs State Park
In Orange City, Florida, Blue Springs State Park was established after wildlife researchers tracked an aggregation of manatees swimming up from the St. John's River. Today, Blue Springs is a state park perfect for canoeing, kayaking, and observing manatees.
While guests are not permitted to swim with manatees at Blue Springs, manatees are visible from the boardwalk, located a third of a mile from the St. John's River to the headspring.
For an even closer look, rent a canoe or kayak and take a guided tour along the waters. You will easily see manatees socializing and nursing calves from a safe distance.
If you don't want to get wet, take a tour with Blue Spring Adventures, which hosts nature and ecological tours that travel down the St. John's River.
Blue Springs State Park is a popular spot for researchers rereleasing rehabilitated manatees back into the wild. With incredibly clear waters, researchers safely observe that the manatees are adapting well in the wild!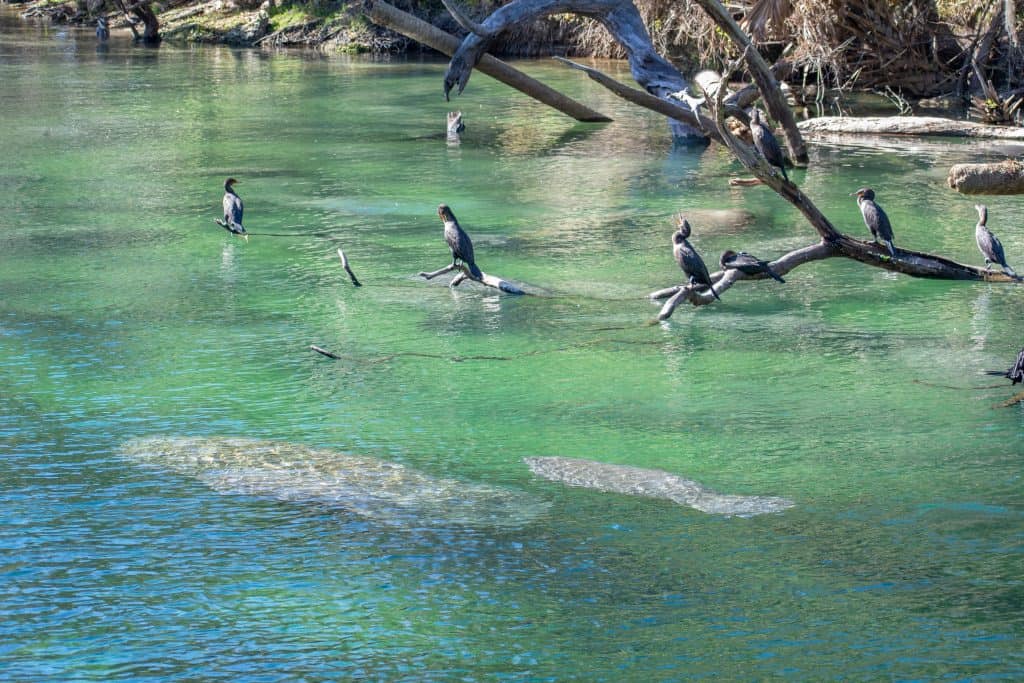 Lee County Manatee Park
Lee County Manatee Park, located in Fort Meyers, is a perfect place to see wild manatees in Florida in their non-captive, natural environment.
Guests are permitted to swim with the manatees in Lee County Manatee Park, but do not enter areas marked "No Entry: Manatee Refuge." If you don't want to get too wet, rent a kayak or canoe to see the manatees above the surface.
If you purchase a pair of polarized sunglasses at the rental shop, the manatees are much easier to see. There are also native plant and butterfly gardens to browse after you dry off!
Make sure to bring some cash, there is a $2 parking fee per hour. Lee County Manatee Park is open 365 days a year!
Manatee Lagoon
Located in south West Palm Beach, the Manatee Lagoon is a center devoted to the education of all things manatee-related. The center also advocates to preserve all manatee environments and ecosystems!
Go on a walking tour of Lake Worth Lagoon, where a docent will teach guests about "all things manatee." The tour lasts about 45-60 minutes, but advance registration is recommended.
If you're looking to learn more, the center hosts a Lecture at the Lagoon series given by manatee masters. The lectures feature never-before-seen, close up footage of manatees in their natural habitat in the Lake Worth Lagoon.
The Manatee Lagoon even hosts educational groups for children ages 10-13 called Lagoon Explorers. Explorers learn about how manatees migrate in the winter months and how to identify and safely interact with them!
Manatee Viewing Center
Located in Apollo Beach, one of the best small Florida beach towns, manatees started flocking to the area thanks to the Big Bend Power Station's discharged canal. Salt-water is jettisoned back into the shoreline after it is warmed up as it cools down the units that provide the area with electricity.
As a result, the area became a designated manatee sanctuary as they sought out the warm waters. Thus, the Manatee Viewing Center was born!
Take a stroll along the habitat loop trail through the grounds that ends at the boardwalk. The trail is about a mile long, and guests are encouraged to wear appropriate footwear and bug spray. Please don't feed the wildlife!
At the end of the boardwalk, there is a wildlife observation tower that stands 50 feet tall! Bring a picnic lunch to enjoy on the picnic tables at the base of the tower.
Once you're done seeing the wild manatees in Florida, cool off and take a stroll through the butterfly gardens, also featuring native Florida flowers and plants.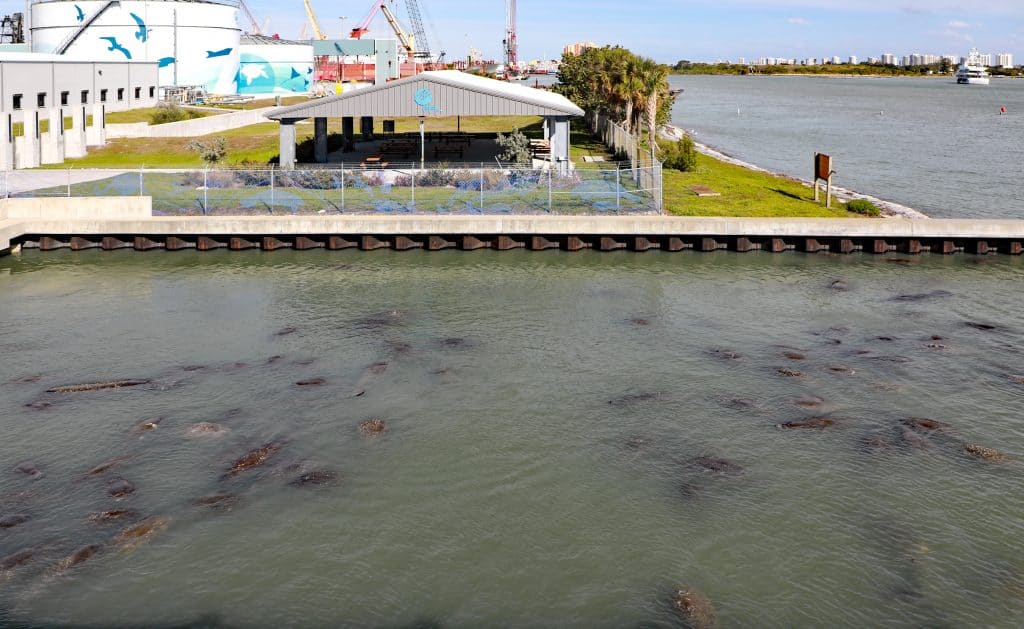 Three Sisters Spring, Crystal River
Crystal River manatees are some of the friendliest and most easy to spot in Florida. Just about 90 minutes north of Tampa, swimming with the manatees is a perfect day trip for fun with the whole family.
Accessible by launching from King's Bay Park, Crystal River is one of Florida's hidden gems. Guests enjoy the luscious scenery and take refreshing swims in the aquamarine waters of the spring.
Swimming tours are given in Three Sisters Spring, where aggregations of manatees are most common. Before you swim with the manatees, you will be required to take a course on proper manatee etiquette. Remember, you are a guest in their home!
If you're not the strongest swimmer, rent paddleboards and kayaks to see the Crystal River manatees above the surface. If you don't want to get wet at all, take a walk on the boardwalk separate from in-water recreation.
Be warned, if the waters are too crowded with manatees, in-water recreation may be closed for their protection. We recommend visiting in the middle of the week, as this can be a crowded tourist spot. Consider visiting early in the morning as well, as it is said the manatees are at their most playful at this time!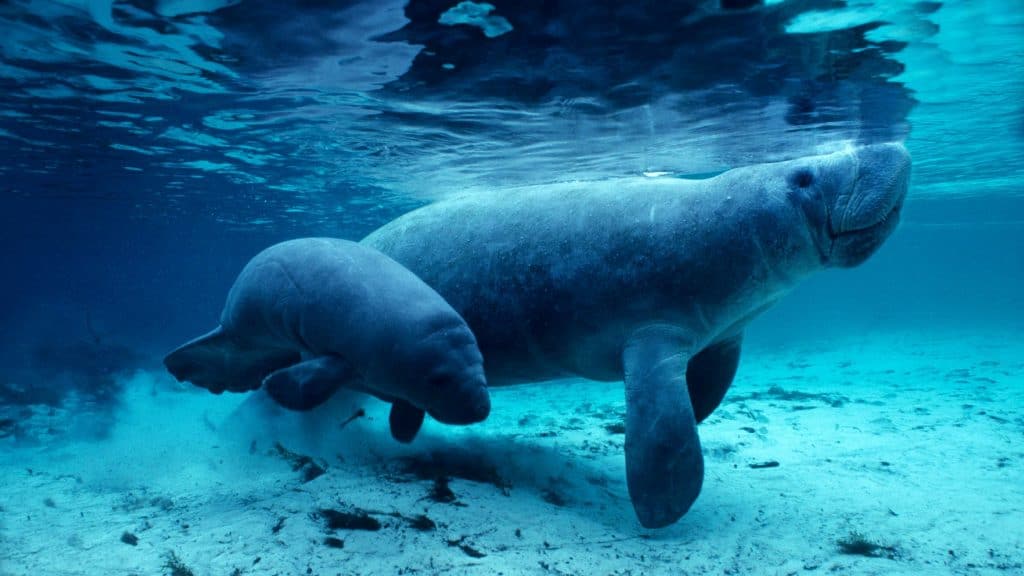 Lovers Key State Park
Once a lovely, secluded island only accessible by boat designated for development into high-rise condominiums, this manatee sanctuary's home was donated and transformed into Lovers Key State Park.
Manatees swim and are visible in the serene canals and lagoons which surrounds one of the prettiest beaches in Florida, surrounded by dense mangrove forests. Its beauty make it a popular wedding destination!
To get a closer look at the manatees, rent a kayak or paddleboard! Because the park is so secluded, you can hear the manatees! If you listen closely enough, the manatees talk to each other through a series of squeaks, whistles, and tiny chirps.
Park rangers lead daily tours that give information about the manatees as you watch them playing, rolling around, and somersaulting in the clear waters!
Homosassa Springs
Just 15 minutes south of Crystal River, the centerpiece of the Homosassa town area is the Ellie Schiller Homosassa Springs Wildlife State Park. The spring itself was cultivated with rehabilitated flora and fauna. Today, it is a haven perfect for manatee viewing in Florida!
Viewers can paddleboard and kayak on the water's surface for a close up look. Take a manatee boat tour and cruise to Blue Waters just outside the springs. If you don't want to get on the water at all, descend underwater while staying dry in the Fishbowl Observatory!
Because of the crystal clear waters, Homosassa Springs is a designated spot for manatee rehabilitation release. Once manatees have recovered from illness or injuries, like from boat propellors, researchers release them back into the water!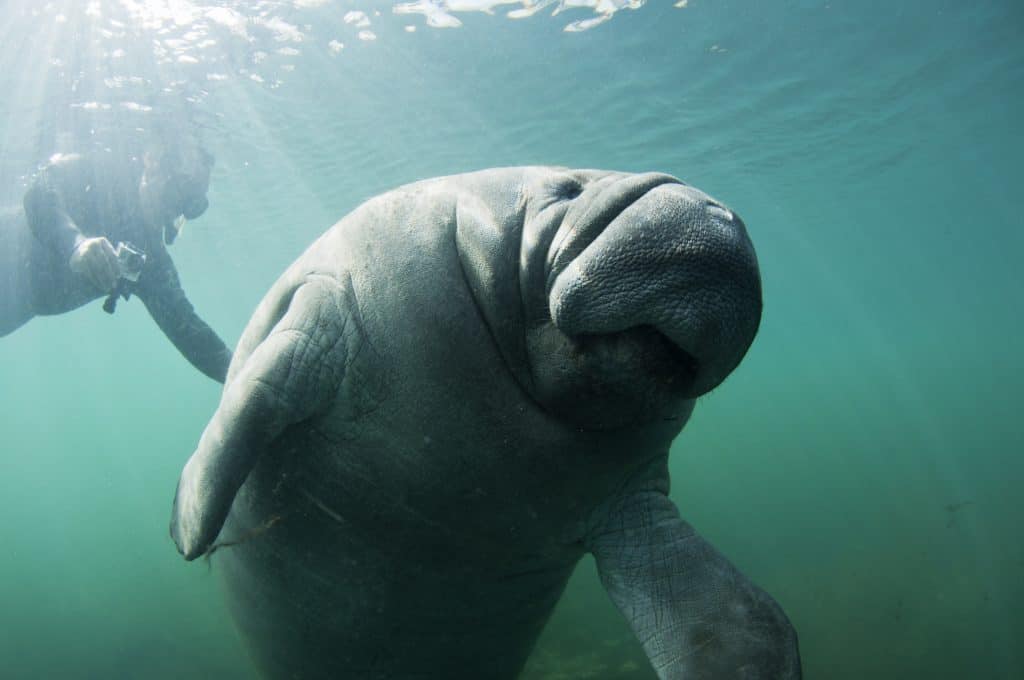 Manatee Observation and Educational Center
The Manatee Observation and Education Center is in Fort Pierce, north of Port St. Lucie on the Atlantic Coast. It straddles the Indian River Lagoon and Moore's Creek, a fresh water tributary.
Manatees flock here because of the warm water that used to come out of the Henry B. King power plant. Even though the power plant is no longer in use, manatees and guests still flock to this area today.
The actual center is a self-guided facility that explores and outlines the history of the manatee. Just outside, there is an observation walkway and two-story observation tower.
Roving naturalists wear polarized sunglasses to help point out the manatees! Every year, the center sees around 300-400 manatees in their waters!
Wakulla Springs
14 miles south of Tallahassee, Wakulla Springs is the world's largest and deepest freshwater spring. The waters are surrounded by a lush and ancient cypress swamp.
In the age of Old Hollywood, Wakulla Springs was used as a backdrop in films like "Creature From The Black Lagoon" and "Tarzan's Secret Treasure." Today, the grounds and habitat have been restored into what has become a popular manatee breeding ground.
The springs are so nice, some manatees have chosen to make Wakulla Springs their permanent home. You can take a swim with these manatees, but you cannot touch them!
Deep within Wakulla Springs stands The Lodge, a full-service 27 room hotel! Book a room, see some manatees, and make your trip a weekend getaway!
Your best chance to see these manatees is underneath the Lodge's two-story diving tower. If you don't want to get wet, take in the great views on the Jungle Cruise. This boat tour runs every hour from 9:00 AM – 5:00 PM from the springs upstream!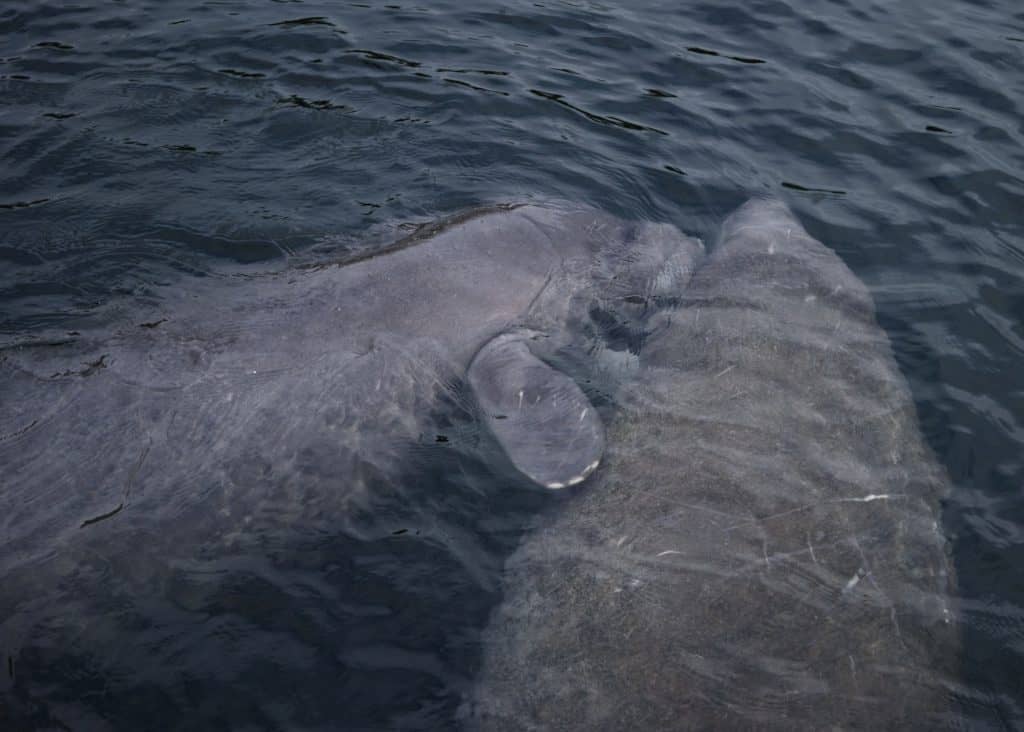 Merritt Island National Wildlife Refuge
On one of the prettiest islands in Florida lies a 140,000 acre National Wildlife Refuge. The land, originally acquired by NASA to build the John F. Kennedy Space Center, was designated a national reserve to protect these marshes, lagoons, and wetlands.
Once in the Merritt Island National Wildlife Refuge, go to Haulover Canal! Here, manatees congregate year round! There is even a Manatee Observation Deck surrounded by educational signs about the sea-cows.
For more information, the Refuge offers Manatee Programs that meet at the Visitor Center and travel down to the deck at the Bairs Cove boat launch. Reservations are recommended.
Once you've seen the manatees, get in your car and drive through the Black Point Wildlife Drive. On this one-way loop, look out for herons, roseate spoonbills, osprey, and rattlesnakes!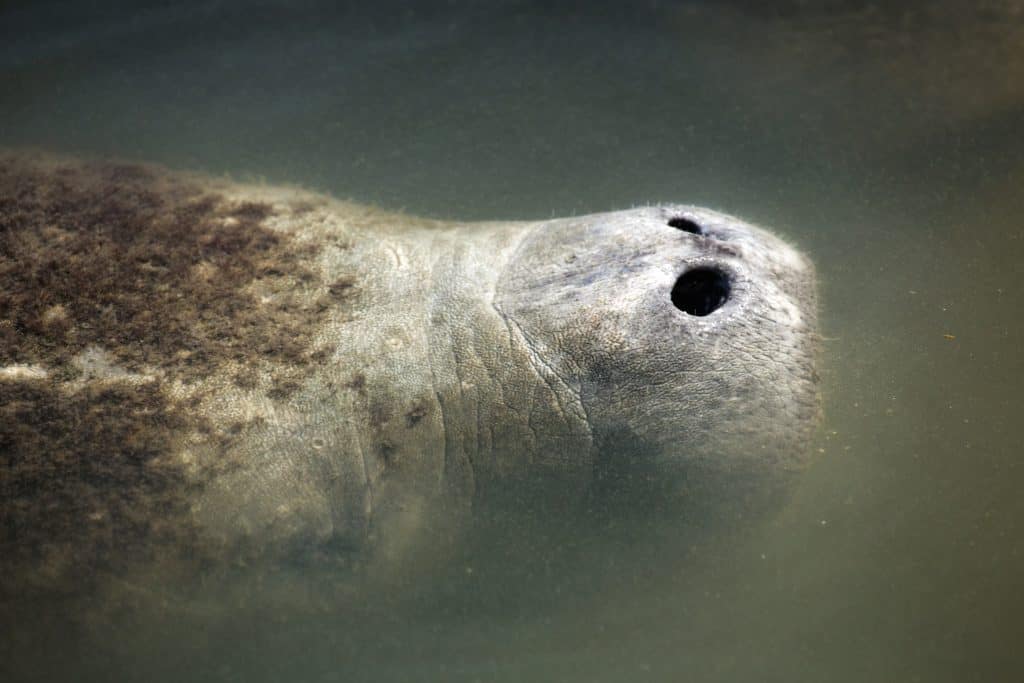 Did You Find This Post Helpful?
If so, we would love to keep in touch! We enjoy seeing photos and comments about your experiences in Florida! You can follow us on Instagram and we will repost your photos on our feed and comment too! Just tag us at @floridatrippers and hashtag #floridatrippers. We can't wait to see your travels!