Staying at one of the best Airbnbs in the Keys will enhance your trip to Florida and provide you with the quality stay of your dreams! Most people will immediately think of Key West, but did you know that there are several other amazing Keys to discover?!
Our list of the best Airbnbs in the Keys will include properties in Marathon Key, Key Colony Beach, Long Key, and more! So, you will have many different options to select from when planning your trip to the Florida Keys!
The Keys have some of the most beautiful beaches you will ever see! You will be delighted by the gorgeous white sand, seashells, and tiki huts galore! Not only are the sights incredible stunning, but you will also fall in love with the small town hospitality and laid back vibe!
If you struggle with planning your itinerary, we can help with that as well! Visiting the beach is obviously high on the list of priorities, so here are the 7 Best Key West Beaches that you must see! Do you love dessert?! Well, why not go on a Key Lime Pie sampling tour! Here are the Best Places To Get Key Lime Pie In Key West.
When planning any trip, we know that travelers can have very different budgets in mind, so we made sure to include a range of price points. Our list will also contain different styles, sizes, and locations.
Staying at one of these Airbnbs in the Keys will provide more privacy, unique amenities, and a home away from home ambiance. So, let's dive right into exploring all of these wonderful locations!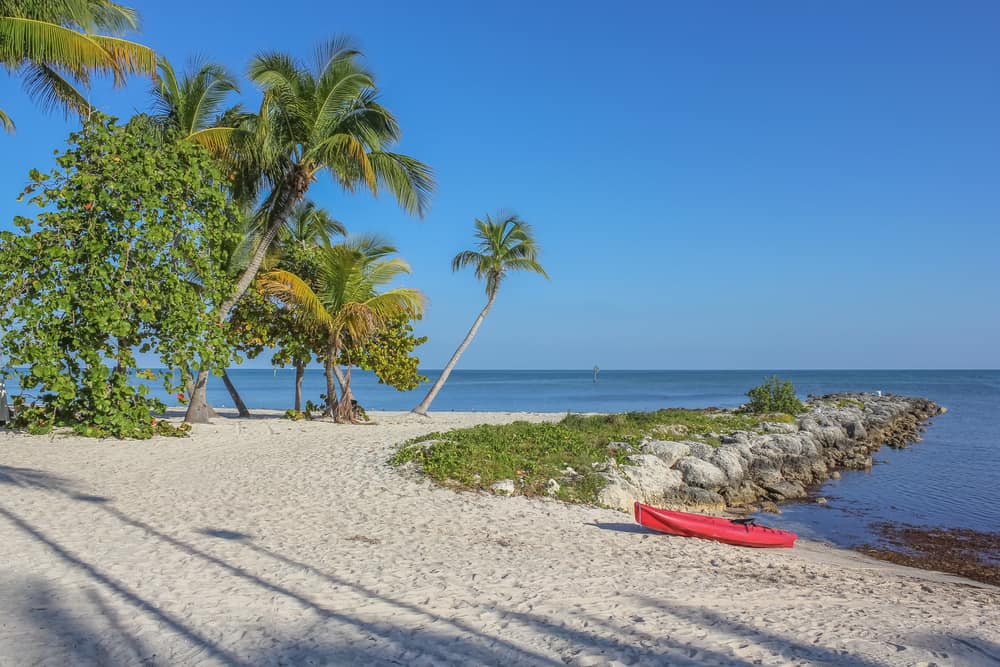 15 Best Airbnbs In The Florida Keys
Sunset Cottage
For our first stop on this list of the best Airbnbs in the Florida Keys we are heading to Grassy Key. This Key has epic beaches, is home to the Dolphin Research center, and is a great choice if you're looking for a beach getaway without crowds.
This coastal cottage sits on the edge of the beautiful Gulf of Mexico. You'll have a private dock that can host up to a 30ft boat. The surrounding yard is spacious and beautiful. This is truly a private oasis.
This cottage is 1300 square feet. It can sleep 6 people in 2 bedrooms. It has two full bathrooms. The cottage is brimming with charm, including an original coral fireplace. It has the bonus luxuries of air conditioning and wifi, which not all Florida Keys cottages have.
>>>Check Rates: VRBO.com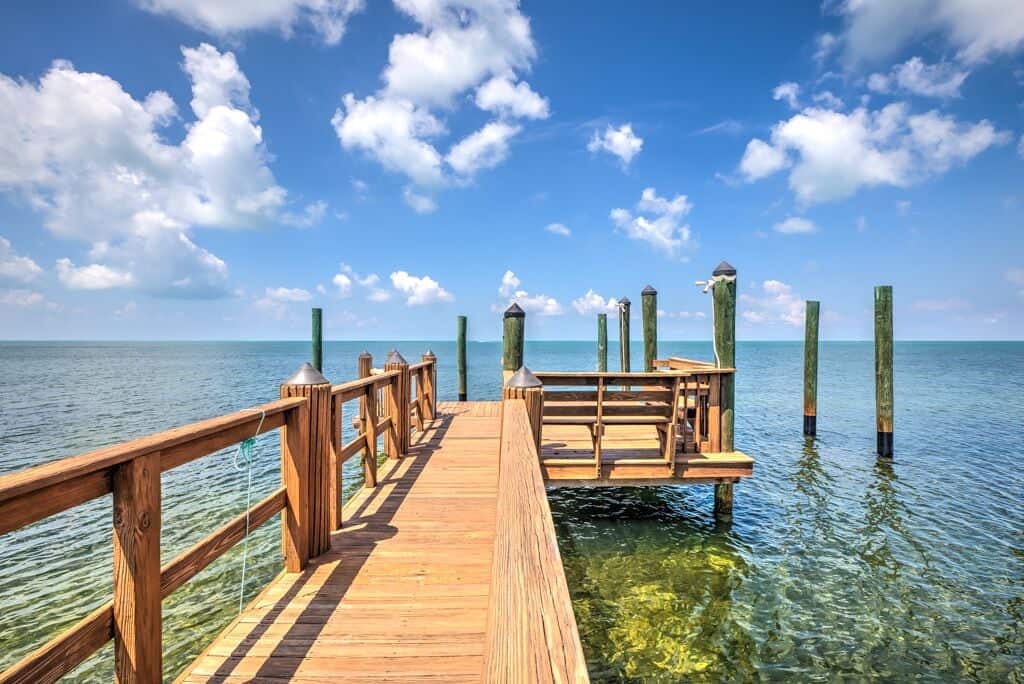 3 Bedroom Oceanfront Villa
Next, we travel to Islamorada to explore a cozy and elegant 3 Bedroom Oceanfront Villa. If privacy is a top priority, then this will be one of your favorite Airbnbs in the Keys!
A true oasis, nestled on almost 2 acres of tropical and lush land. You will enjoy unobstructed sunset views and have plenty of opportunities to relax by the outdoor firepits.
Some of the rooms include water views and the kitchen is amazing with plenty of room for cooking and baking. Guests will have access to the La Jolla Resort including the pool and beach area.
>>>Check Rates: VRBO.com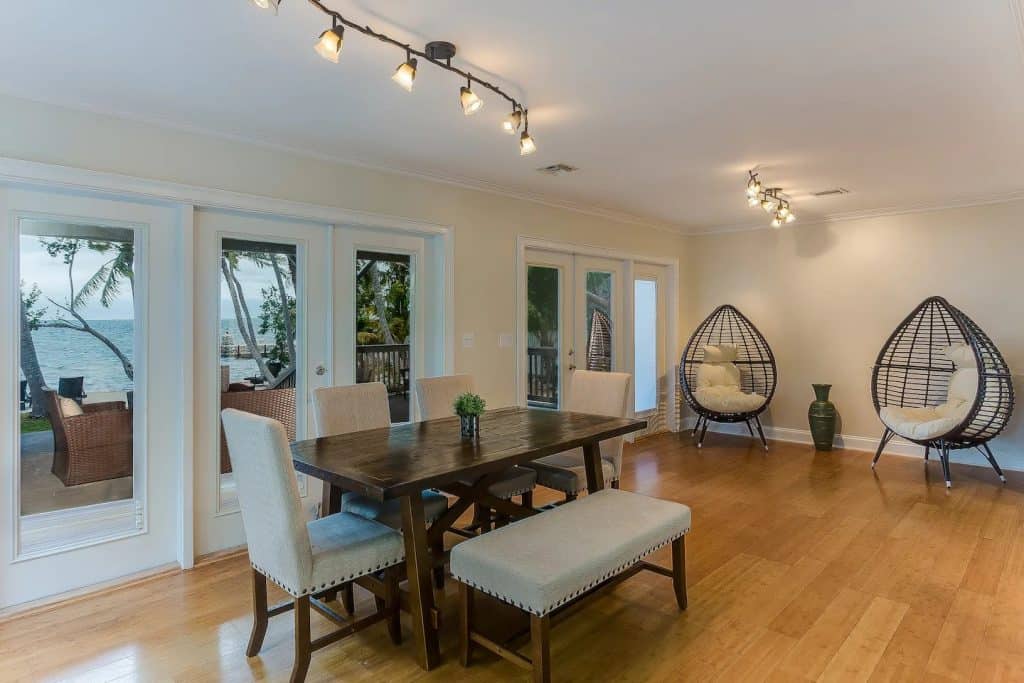 Miles Away
Are you hoping to stay in the affordable to moderate price range? If so, Miles Away just might be one of your dream Airbnbs in the Keys! Miles Away is located in Cudjoe Key and features old Florida charm and character.
Set in a very peaceful and tranquil gated community, Miles Away is one of the very best Airbnbs in the Keys! The vibe is very comfortable and feels just like your home away from home.
The waterfront home can accommodate up to 4 guests with 2 bedrooms, 3 beds, and 1 bath. Guests will love lounging on the private hammock that is situated on the back waterfront deck.
>>>Check Rates: VRBO.com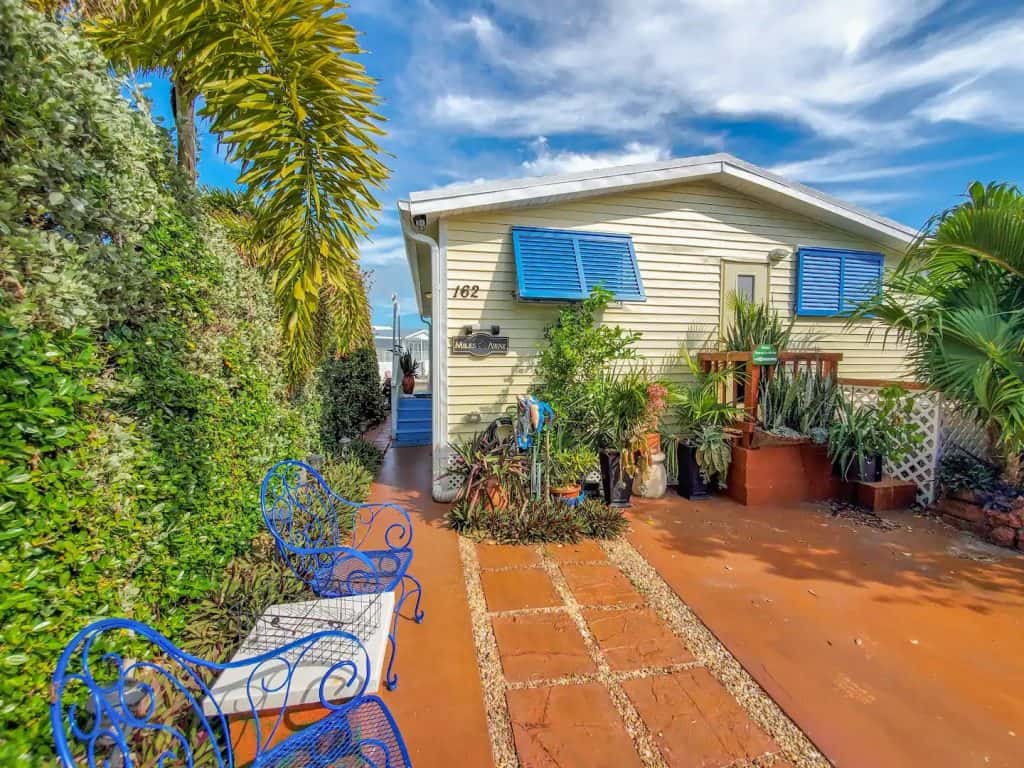 Oceanfront Cottage
Let's head on over to Long Key to check out an amazing Oceanfront Cottage. The décor features a classic beach theme with shades of blue, seafoam green, and gray. It is soothing and definitely puts you into vacation mode!
This is truly one of the Best Places To Stay in The Florida Keys!
The Oceanfront Cottage has a lovely wooden deck, cute tiki huts, and a sea grape tree with decorative buoys hanging from it. Guests will love this prime location! Just imagine finishing your breakfast and walking directly onto the sand!
This cottage is one of the Airbnbs in the Keys that is great for large parties as it can accommodate up to 6 guests with 2 bedrooms, 4 beds, and 1 bath. Be on the lookout for sea turtles as this is a common nesting site.
>>>Check Rates: VRBO.com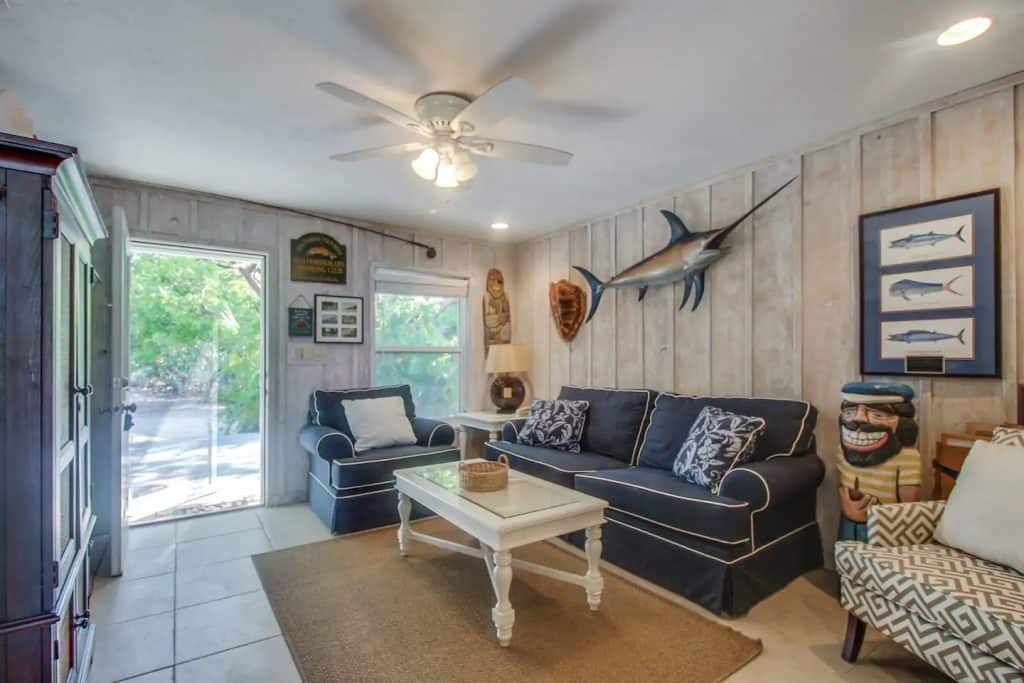 Fins to the Left
This half duplex vacation rental in the Florida Keys has truly spectacular views. You won't believe how turquoise the water is! This rental comes with dockage for one vessel in those amazing teal waters.
This vacation rental can sleep 5 people in 2 bedrooms. It has 2 full bathrooms. It boasts 2 king-sized beds, what luxury! The property is pet friendly, message the host for details.
This property is conveniently located in Key Colony beach with local attractions that include deep diving, snorkeling, and boat rentals.
>>>Check Rates: VRBO.com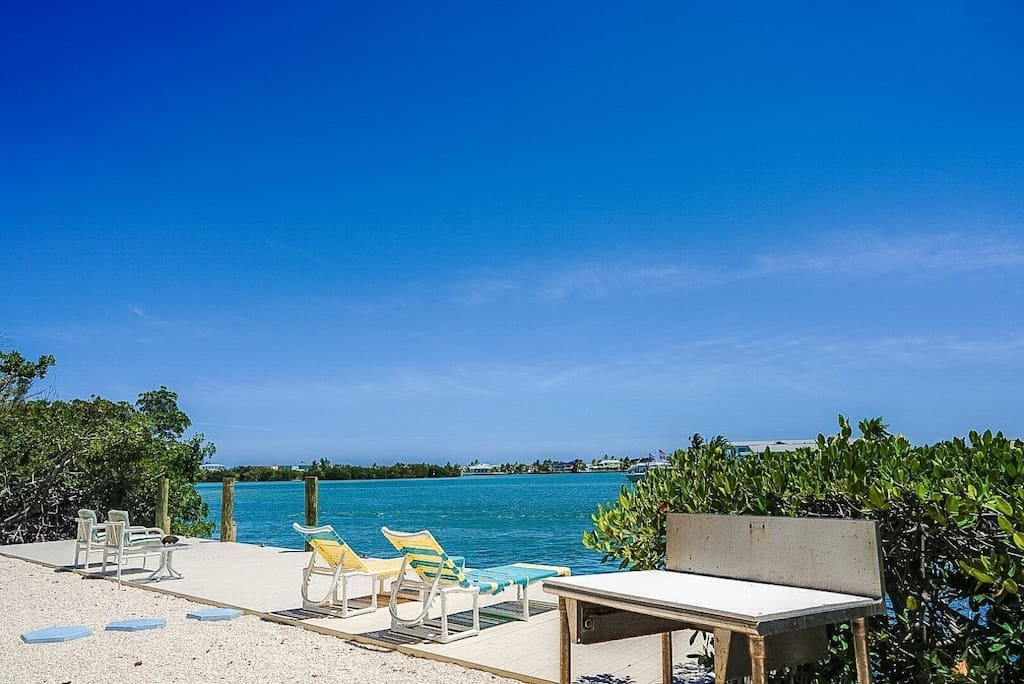 The Grand Tiki
The Grand Tiki is one of the Airbnbs in the Keys that is located in the waters just off of the famous Key West. If you desire something unique and tropical, then The Grand Tiki will definitely pique your interest.
Enjoy true seclusion upon this fascinating houseboat that is designed to be a floating luxury tiki hut retreat. Special details include an artistic roofline, French doors with integrated blinds, and underwater and exterior soffit lighting!
The Grand Tiki is ideal for solo travelers or couples as it can only accommodate up to 2 guests with 1 bed and 1 bath. We would say this is a bit of a splurge, but it pays out an interesting experience.
>>>Check Rates: Airbnb.com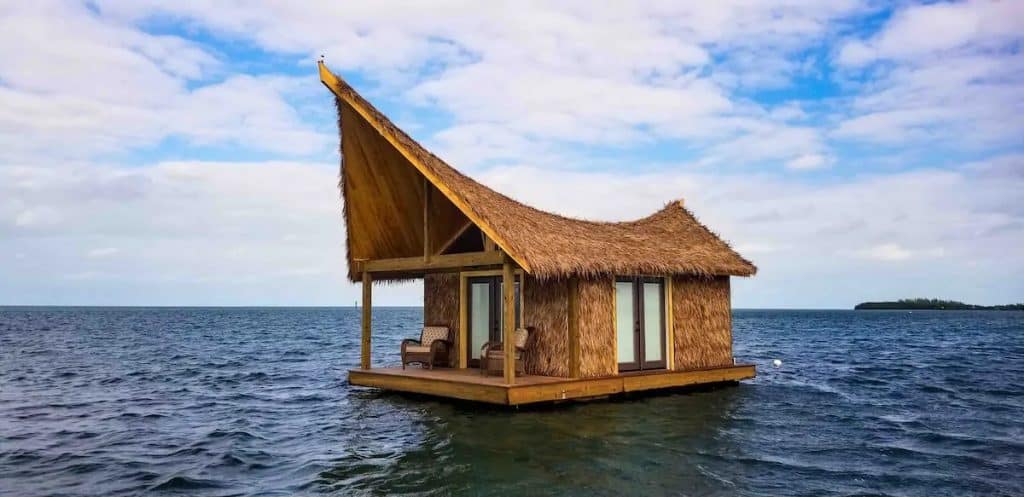 Waterfront Tiny House
Alright, so now let's take a peek at a really adorable Waterfront Tiny House that is located in Key Largo. You are going to love how fresh and modern the décor is in this tiny home, but wait until we tell you all about the incredible amenities!
The tiny home is part of a private community that includes 2 private beach areas, a heated swimming pool, beach volleyball, a boat ramp, a playground, and laundry facilities!
Another really unique feature of this tiny home is that it can accommodate up to 6 guests with 1 bedroom, 4 beds, and 1.5 baths. The house is right on the water with a dock and gazebo perfect for outdoor dining.
>>>Check Rates: VRBO.com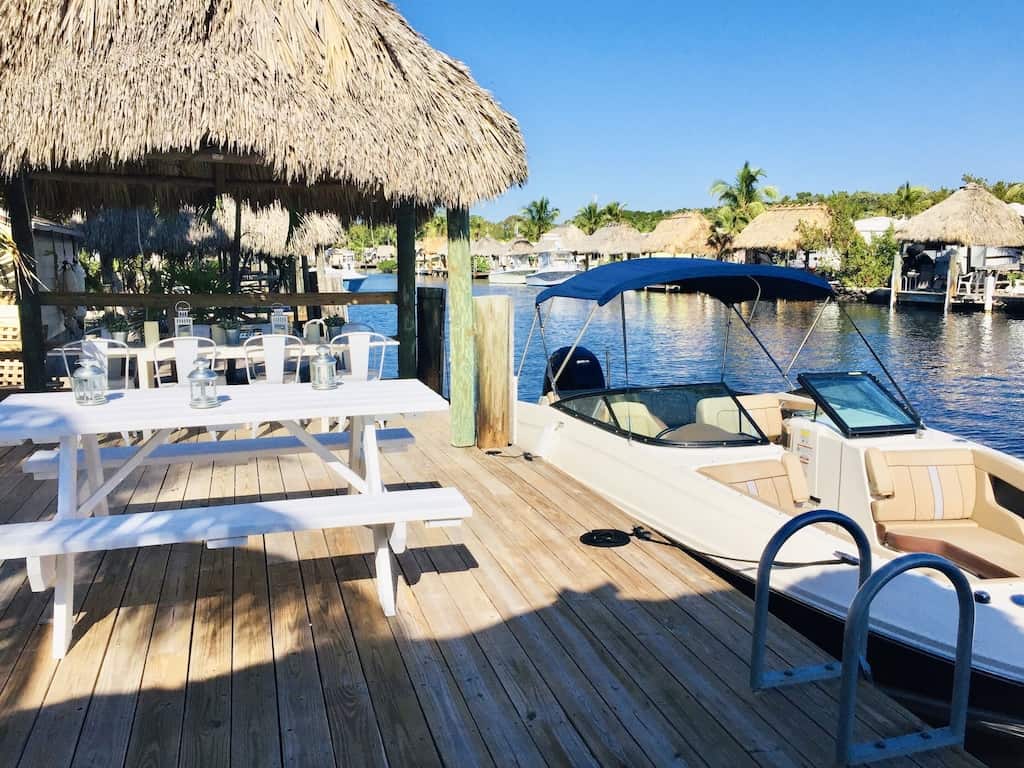 Atlantis
Atlantis is a newly remodeled oceanfront cottage that is located in Cudjoe Key. The cottage can accommodate up to 6 guests with 2 bedrooms, 3 beds, and 2 baths. You will immediately feel at ease and in full vacation-mode because the décor creates a tropical retreat vibe!
Guests will be able to enjoy complimentary kayaks and bikes, as well as access to all the Venture Out Resort amenities. The resort amenities include a heated pool, Jacuzzi, tennis, basketball courts, bocce courts, kiddie pool, an ocean bay swimming area, and an on-site convenience market!
>>>Check Rates: VRBO.com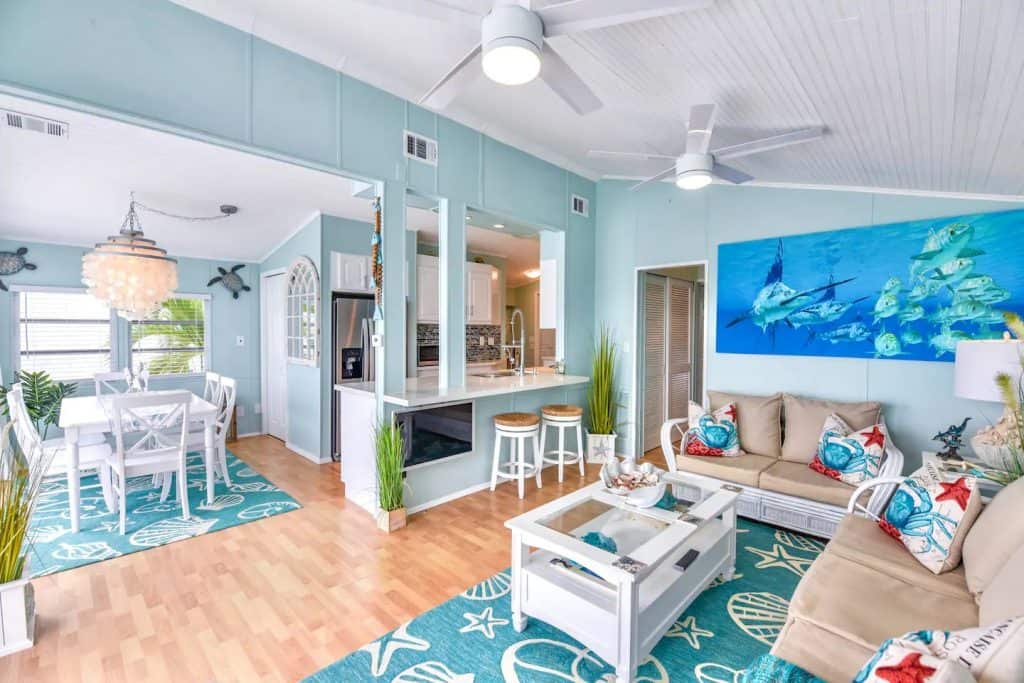 Anglers Terrace
Anglers Terrace is located in Marathon Key and certainly has that "WOW" factor! Let's check out this 2-Story waterfront home that has a rooftop terrace and a private pool.
The home is light, open, and features a Zen-like ambiance and design. Other amenities include a private balcony with outdoor dining, a large outdoor grill, and a private outdoor shower.
Anglers Terrace can accommodate up to 10 guests with 4 bedrooms, 6 beds, and 3 baths.
>>>Check Rates: Airbnb.com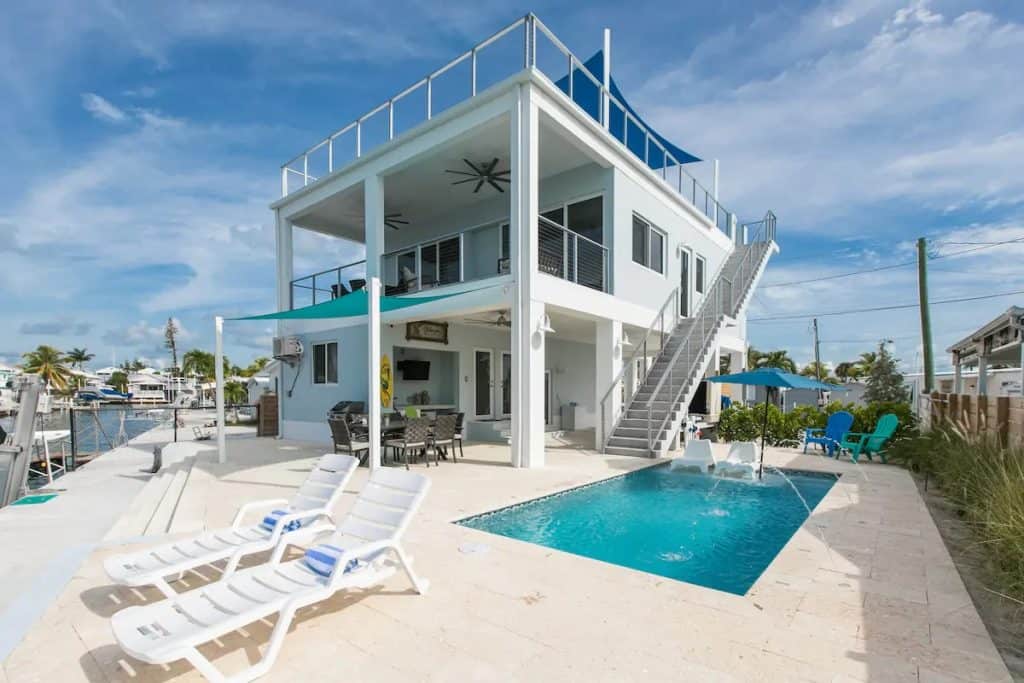 Dog-Friendly Home With Private Pool
Are you planning an extended stay in the Keys and want to bring your pups with you? If so, this Dog-Friendly Home With Private Pool might be exactly what you need!
Conveniently located in Central Key West, staying at this home will place you in a prime location for exploring shops, restaurants, beaches, historic landmarks, and dog parks!
Get ready to enjoy your days sightseeing and then come back to relax on the porch or by the pool. The home is ready to accommodate up to 3 guests with 2 bedrooms, 2 beds, and 1 bath.
>>>Check Rates: VRBO.com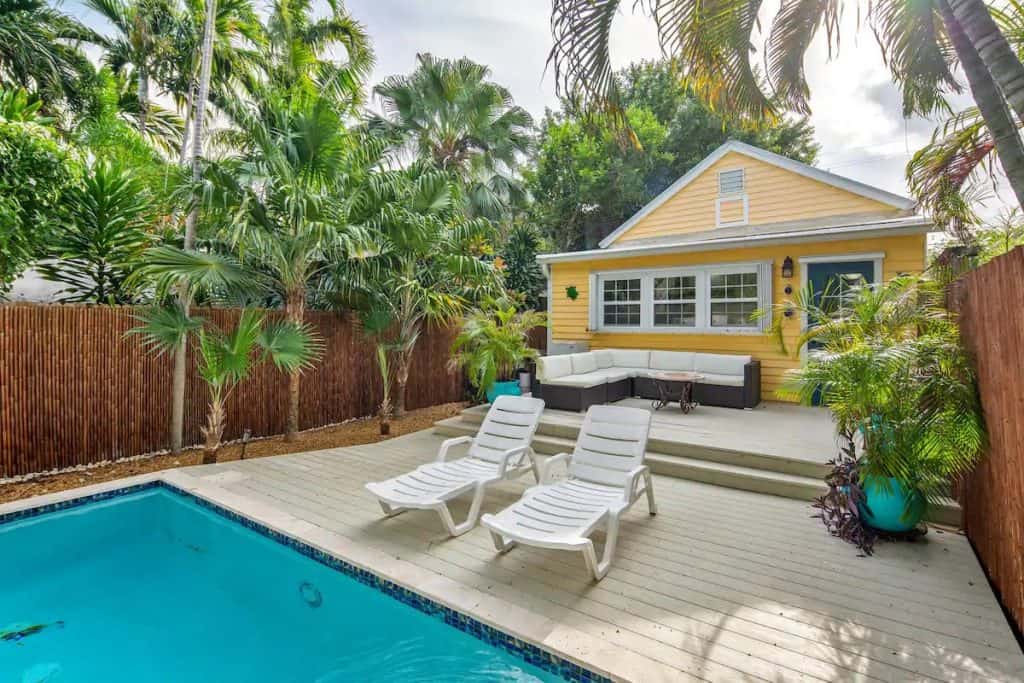 Casa de Luna
Casa de Luna is located in Key West, just off of the fun party center of Duval Street. If your ideal vacation involves swimming in clear blue waters during the day and dancing the night away, this is the best Airbnb in the Florida Keys for you!
This charming property has one bedroom and can sleep four guests. It has one bathroom. The kitchen has been recently renovated and has everything you need to whip up a delicious dinner before you head out for a night of fun on Duval Street. The property includes access to a shared pool just three blocks down from the house.
>>>Check Rates: VRBO.com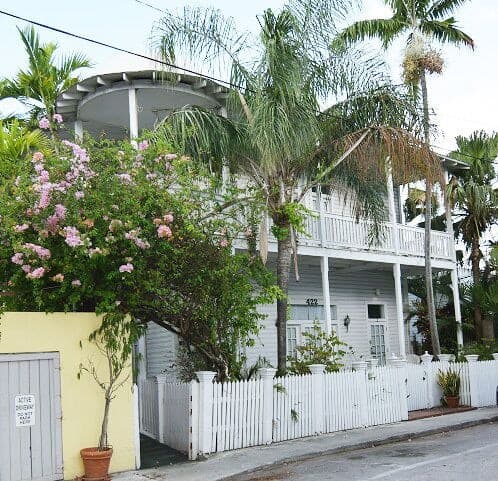 Waterfront Oasis
This 2 bedroom 2 bath home has amazing views of the bright turquoise water that the Keys are famous for.
This property can sleep 6 people in 4 beds. It is 1568 square feet. This is a very fun property, with plenty of outdoor seating, a grill, and a pool table. The home comes with life jackets and kayaks so that you can explore the channel that the house is on. You're sure to have a fun time at this vacation rental in the Florida Keys!
>>>Check Rates: VRBO.com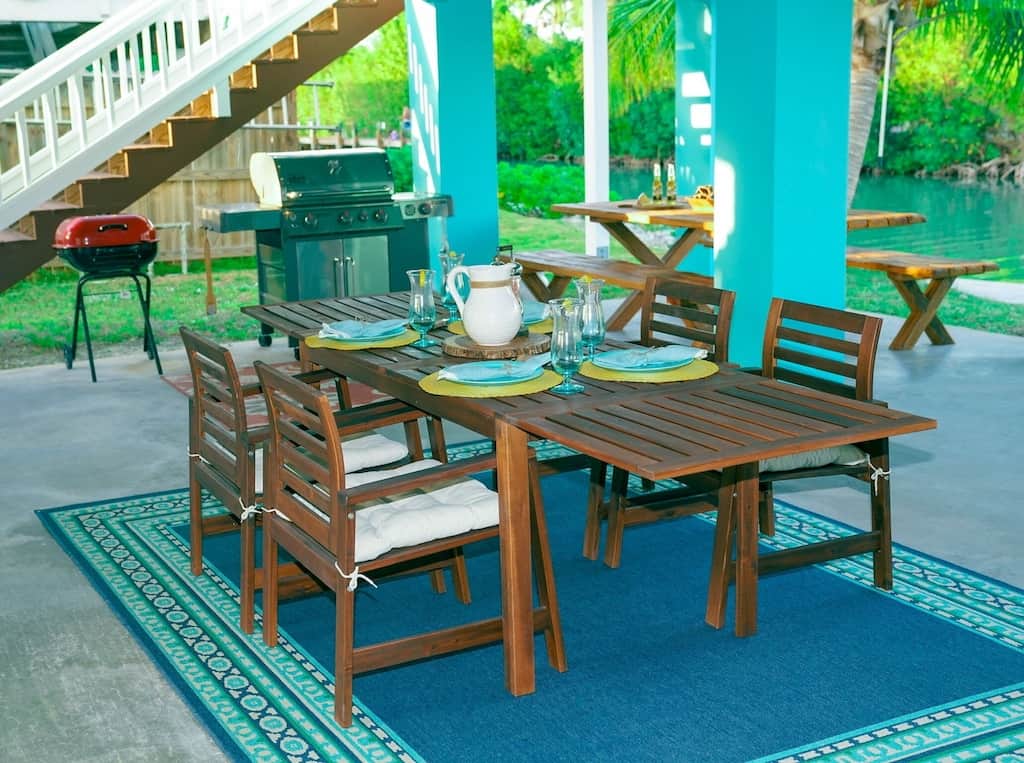 Luxury Catamaran Sailboat
Close your eyes and just picture sunbathing on the deck of a Luxury Catamaran Sailboat. Sounds amazing, right?! Well, your dreams can come true aboard this fully staffed sailboat that is located in Key West.
Prepare to have a completely stress-free experience as the professional crew takes care of all of your needs and provides exceptional hospitality. Guests will be given Turkish robes and served breakfast with mimosas!
The sailboat can accommodate up to 2 guests with 1 bedroom, 1 bed, and 1 private bath. The boat is docked at a primer resort marina that includes kayaks, bikes, snorkel gear, water floats, two pools, and fitness center.
>>>Check Rates: Airbnb.com

Townhome at the Beach
If you're looking for a luxurious vacation rental for a fair price in the Florida Keys, this property in Islamorada is the best Airbnb in the Florida Keys for you. You'll enjoy ocean views from your designer decorated newly refurbished townhouse.
This property has 2 bedrooms, 2.5 bathrooms, and can sleep 5 children or 4 adults. It is 1550 square feet and is well designed and beautifully modern. It is located in Islamorada's Port of Call community on what is known as Millionaire's Row. The community includes a heated pool, common area barbecue grills, and a sandy private beach. Fish off the communities new dock or use the ladders to take a dip or snorkel in the warm Atlantic Ocean.
>>>Check Rates: VRBO.com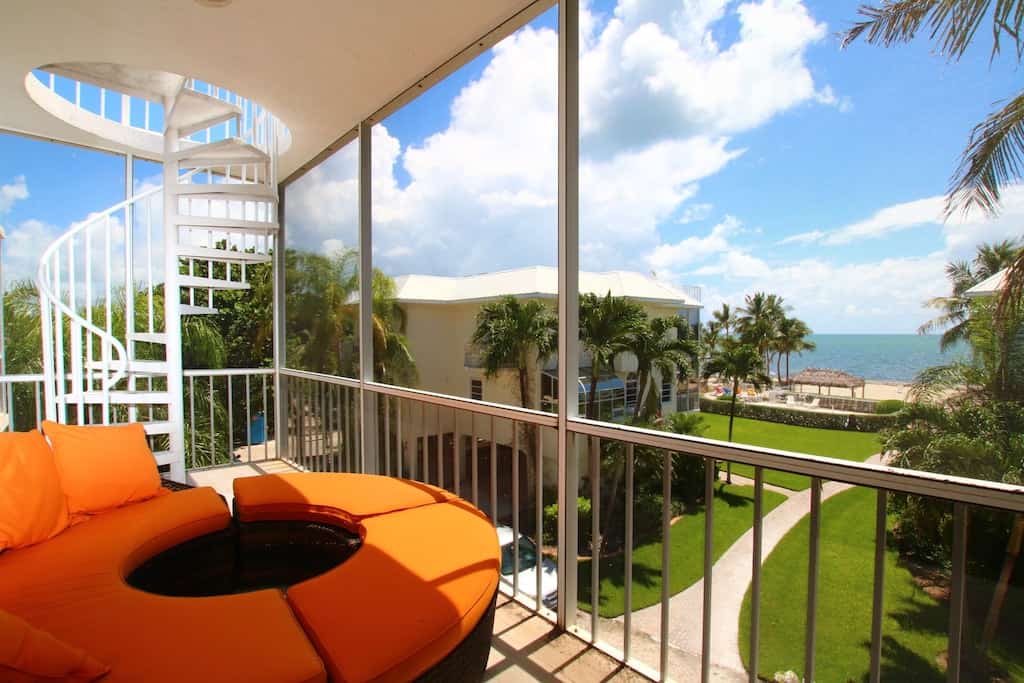 Casa Atlantica Studio
We love to wrap up a list with a real show-stopper, so may we present Casa Atlantica! Some of the best views of the Atlantic Ocean available are showcased by the floor-to-ceiling windows of this studio apartment. This would make a great romantic getaway to the Florida Keys for you and your sweetheart.
The sunrises and sunsets from this private balcony are sure to be epic. If you want to get closer to the ocean, there is beach access from this complex. The studio sleeps two and has one modern, luxurious, bathroom. In addition to the sweeping Atlantic views, this studio is also located within walking distance to Duval Street, the restaurant and bar hub of Key West.
>>>Check Rates: VRBO.com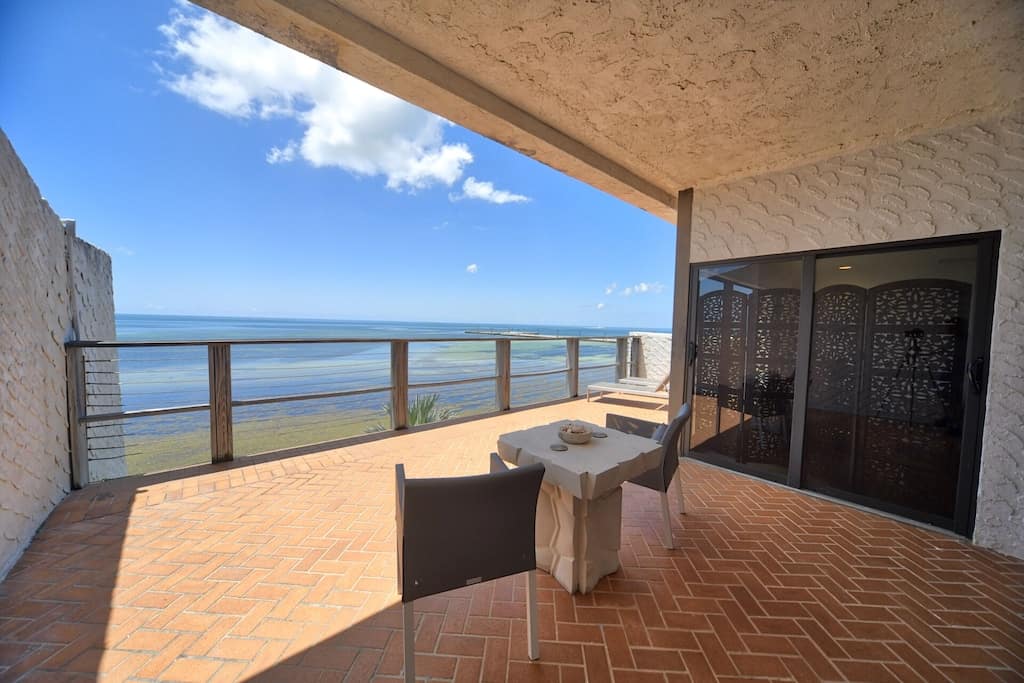 Well, we hope you have enjoyed touring all of these amazing locations. As you can see there are several styles of Airbnbs in the Keys, so you won't have to comprise when it comes to selecting your accommodations. We wish you safe travels and a fabulous vacation in Florida.