Come with us as we share with you the top places to get the best Key Lime Pie in Key West! You are in for a real treat as we will tour all throughout Key West to find the best of the best! Once you've tasted genuine Key Lime Pie, you will never settle for the pre-packaged green dyed Key Lime Pie that is out there.
Just imagine spending the day soaking up the sun while floating in the ocean and then having the most amazing slice of chilled Key Lime Pie! Sounds fantastic, right? Key Lime Pie always seems to hit the spot because it is light, refreshing, and the perfect balance between sweet and tart.
If you are planning on staying in in town for a bit, here are the 12 Best Airbnbs in Key West! In between Key Lime Pie tastings, you might be looking for some other forms of entertainment, so here are 16 fun things to do in Key West.
Key Lime Pie recipes can vary greatly and there is a lot of heated debate as to which ones are the most authentic or the "right" way to make them. Graham cracker crust or traditional pie crust? Meringue topping or fresh whipped cream? Good thing is that you don't have to choose! You can find several different styles in Key West and sample them all!
So, get ready to be drooling over all of these incredible places to get the best Key Lime Pie in Key West. We will share what makes each one special, a little bit about the location, and what might be fun to check out nearby.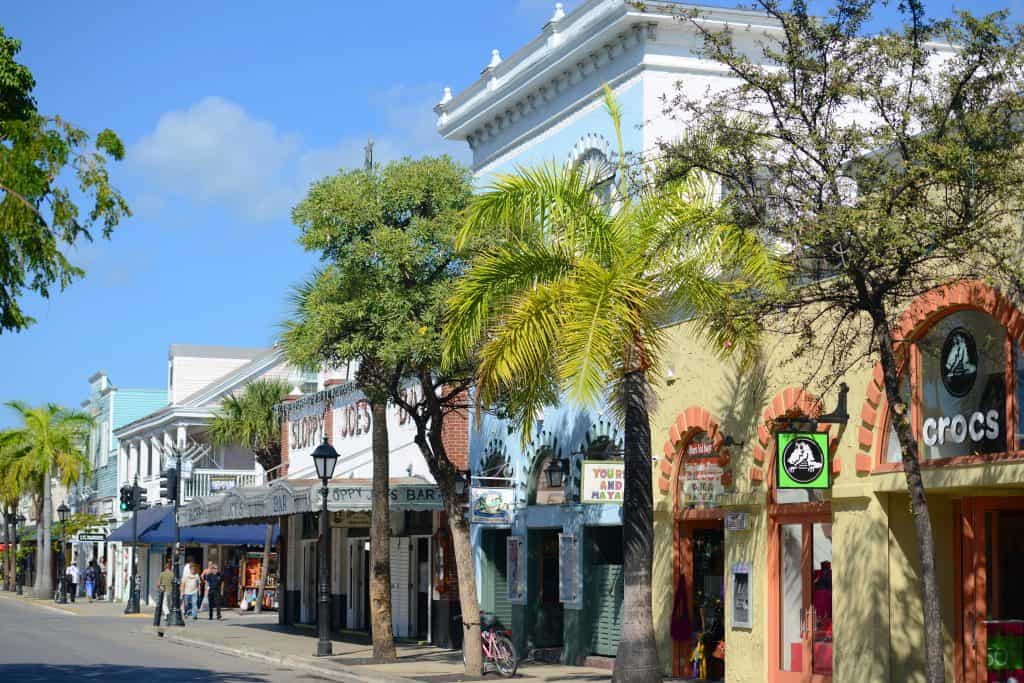 Where Did Key Lime Pie Originate?
So, before we jump into where to find the best key lime pie in Key West, we thought we would give you a little back story as to the origin of key lime pie.
Now, the facts as to who made the very first key lime pie are a little fuzzy. Some claim that William Curry, as ship salvager in Florida, had a cook that made the first key lime pie. While others claim that sponge fishermen were the very first to concoct this delicious dessert.
What we do know is that Key Lime Trees were found in abundance all throughout Key West dating back as early as the 1800s. During that time, refrigeration was not common, so the innovation of using shelf-stable sweetened condensed milk was pivotal.
In 2006, Key Lime Pie became the official state pie of Florida. So, we might not be completely sure as to its origin, but we sure do love this pie and we are so happy it was created.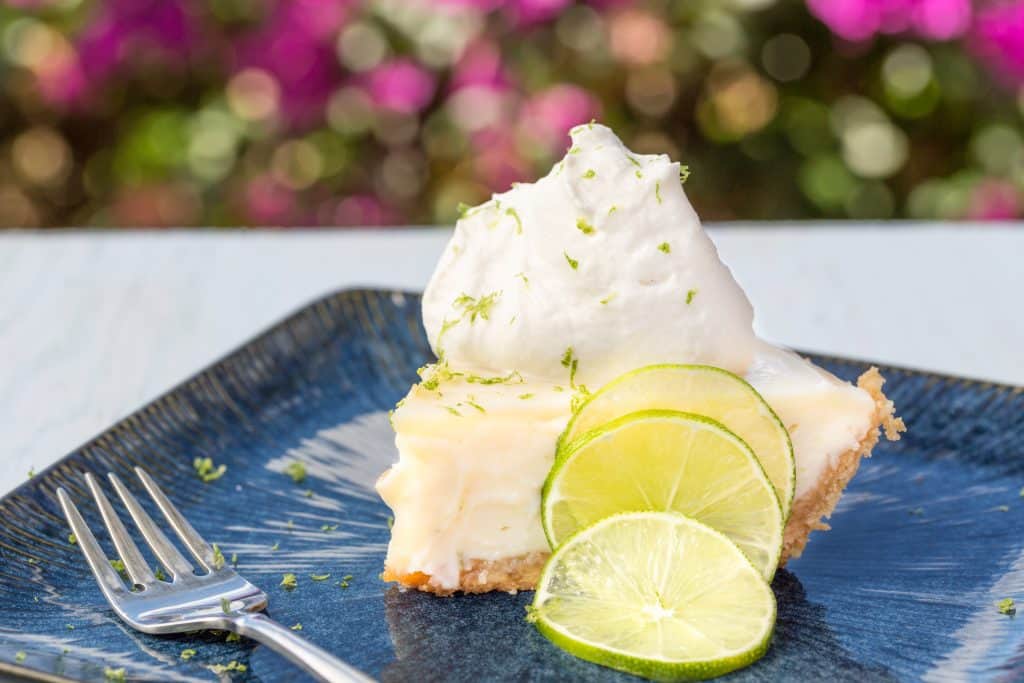 Why Is Key Lime Pie Famous In Key West?
Key Lime Pie is very famous and popular in Key West. So, why is that? It is all about the climate! Key limes only grow well in areas where the temperatures stay very warm and never dip below freezing.
Simply put, Key West has the perfect tropical environment for key limes to thrive and ripen beautifully. Key limes are quite tart and almost bitter if you eat them alone, but they truly shine as the super star ingredient for Florida's most beloved pie.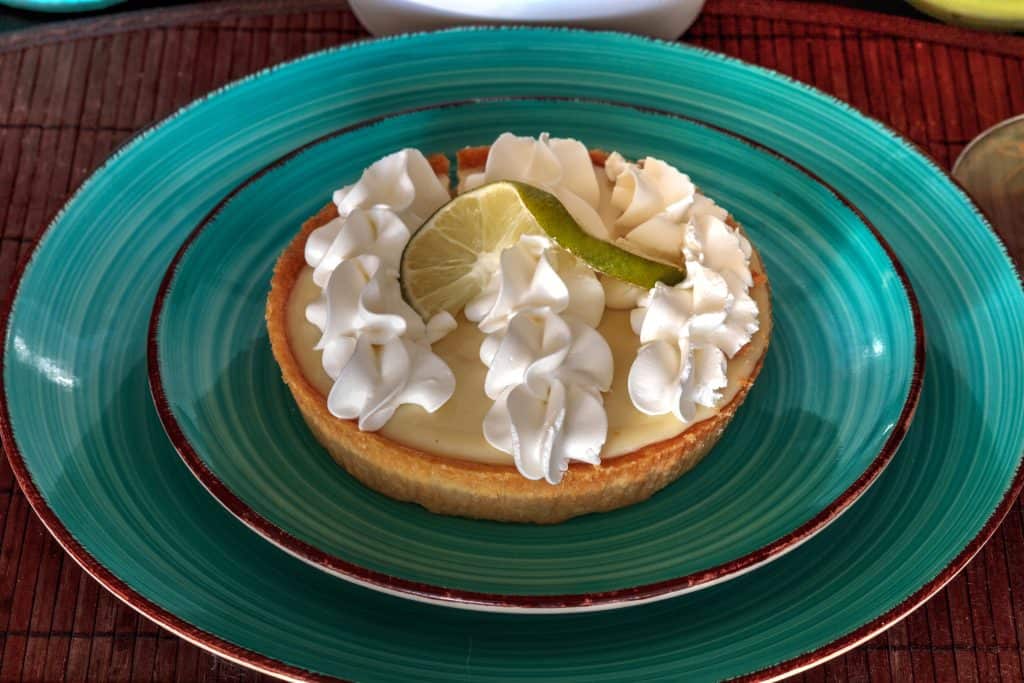 7 Best Places To Get Key Lime Pie In Key West
Old Town Bakery
Old Town Bakery has been serving up tangy Key Lime Pie since 2010. The exterior of Old Town Bakery has a lovely old Florida vibe and looks a lot like a tackle shop that you'd find on most Florida piers.
The interior feels very casual and laid back. There are traditional glass front pastry display cases that feature several enticing desserts, but one of their most requested items is the Key Lime Pie.
Old Town Bakery is a great spot to get some of the best Key Lime Pie in Key West because it offers a very traditional take on this popular pie in a very relaxed atmosphere.
It is the quintessential Key Lime Pie complete with whipped cream and a graham cracker crust. You can purchase it by the slice or leave with your very own whole pie.
In addition to Key Lime Pie, Old Town Bakery also serves sandwiches made with fresh baked bread, cold drinks, gourmet cheeses, and several hot drink options.
A few nearby attractions include Mallory Square, Fort Zachary Taylor Historic Park, and The Ernest Hemingway Home and Museum.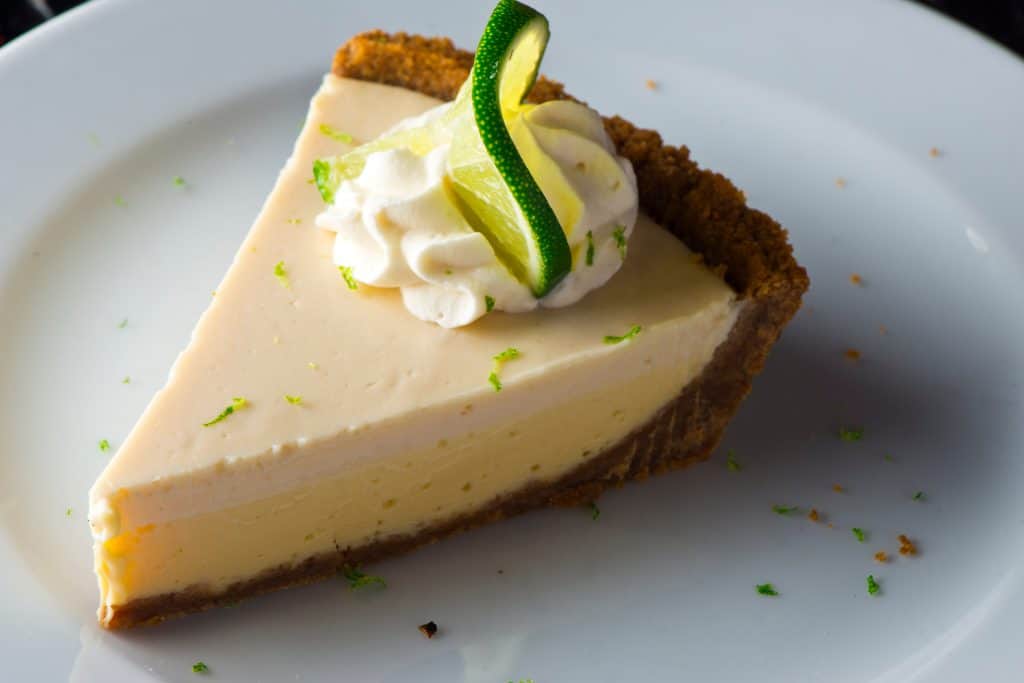 Salute! On The Beach
Alright, so now we head on over to Salute! On The Beach for another version of the tempting Key Lime Pie. Salute! On The Beach has the best Key Lime Pie in Key West for those looking for a very slight twist of the traditional recipe.
You won't find whipped cream on this Key Lime Pie, but instead you will discover a stunningly high peak of meringue on top of the creamy light yellow custard and a graham cracker crust.
Salute! is a beach café that is right on the water with a sand volleyball court just steps away. If you decide to grab some food during your visit, you can enjoy Caribbean-influenced takes on Italian classics.
Some fun nearby attractions include the Southernmost Point of the Continental US, Higgs Beach, and Smathers Beach. Any one of these locations would be ideal for a little impromptu family photoshoot.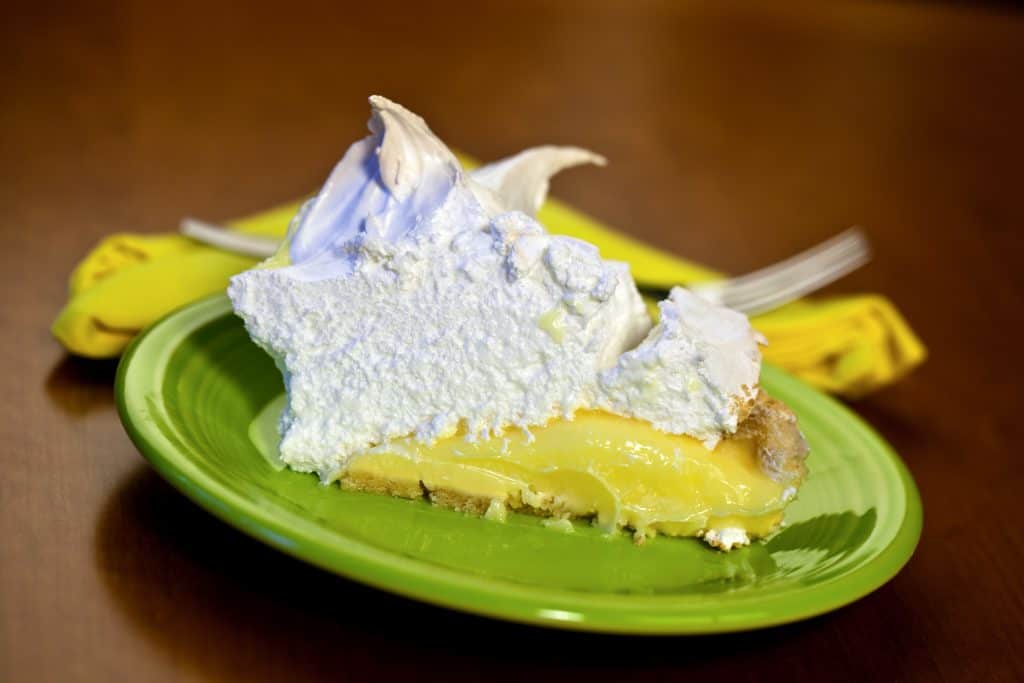 Green Turtle Inn
The Green Turtle Inn has been an iconic restaurant and bar since 1947, so its no wonder that is serves some of the best Key Lime Pie in Key West!
Let's dig into this interesting variation of classic Key Lime Pie. The Green Turtle Inn features their Key Lime Pie with a very special crust! Are you ready?! The crust is made with macadamia nuts and rice crispy cereal and houses the most light and creamy Key Lime custard.
The presentation is really outstanding too! Your slice of Key Lime Pie will come out on a beautiful white plate with a fruit glaze drizzle, copious amounts of whipped cream, and a strawberry and lime garnish.
Live music and drink specials are featured frequently. They offer a lunch and dinner menu, as well as a kids menu. The ambiance is casual and has a roadhouse vibe.
Nearby entertainment includes Theater of the Sea- a dolphin and sea lion show, Windley Key Fossil Reef Geological State Park, and the History of Diving Museum.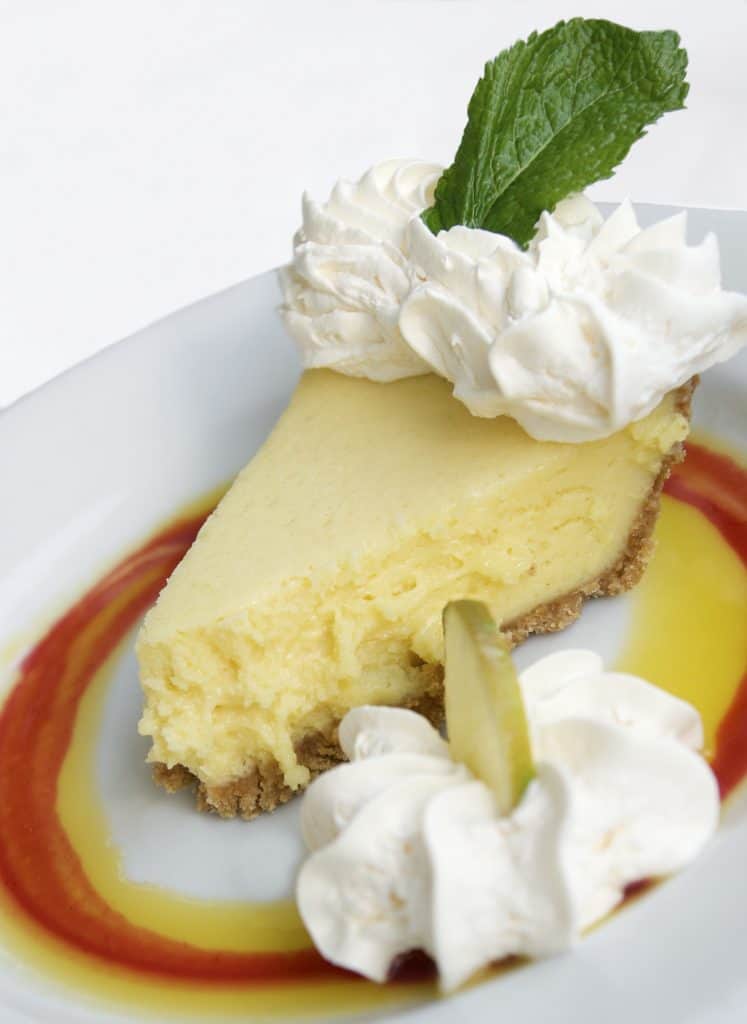 Porky's Bayside BBQ
Okay, so you're looking for the best Key Lime Pie in Key West, but you are not the average traditional type of person. You are seeking something exciting and new! Don't worry, we've got you covered!
Porky's Bayside has a really fun and thrilling take on Florida's state pie. Get ready to devour a slice of Key Lime Pie that has been deep-fried for the most perfect crispy crust with a subtly sweet filling that is then drizzled with a raspberry reduction and topped with whipped cream!!!
Sounds like a foodie's dream, right?! We think you should order at least two and take some for the road because it is just that amazing. While we are making suggestions, you might want to come to Porky's more than once, that way you can have plenty of room to enjoy their fantastic BBQ too!
Locals love spending time at Porky's Bayside BBQ enjoying their good food and friendly island vibe. It is located right on the water with a lot of activity due to boats coming and going from the marina.
A few nearby attractions include Spirit Snorkeling, Jersey Key Charters, and Port Nautical Gifts Shop.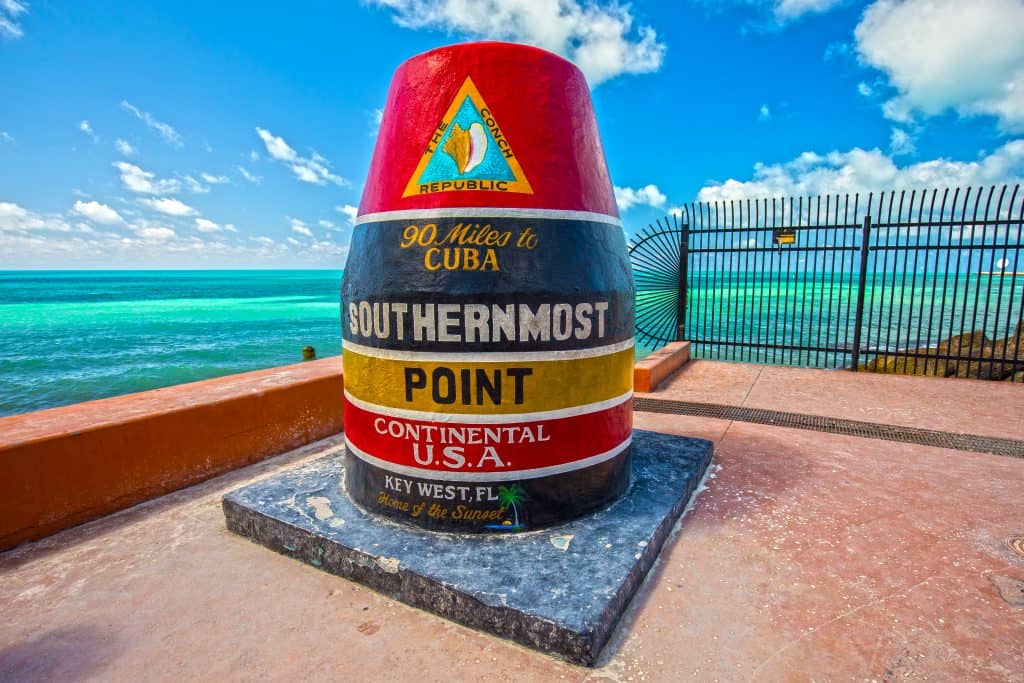 The Stoned Crab
The Stoned Crab has the best Key Lime Pie in Key West for those of us that want the best of both worlds. We want a bit of tradition, but we also want a little something extra thrown into the mix!
This version contains the classic ingredients for most mouth-watering Key Lime custard, graham cracker crust, and fresh whipped cream. Then, they mix things up by offering a chocolate and lime glaze on the side for dipping.
Not only does The Stone Crab have some of the best Key Lime Pie in Key West, but they also feature breakfast, lunch, and dinner menus. The ambiance is casual yet elevated. You can choose to enjoy your pie indoors, outdoors, or at the bar.
Paddle boards, kayaks, and jet skis are all available to rent nearby. Other attractions include Key West Adventures Jeep Rentals and More, the Key West Golf Club, and Night Kayak Key West.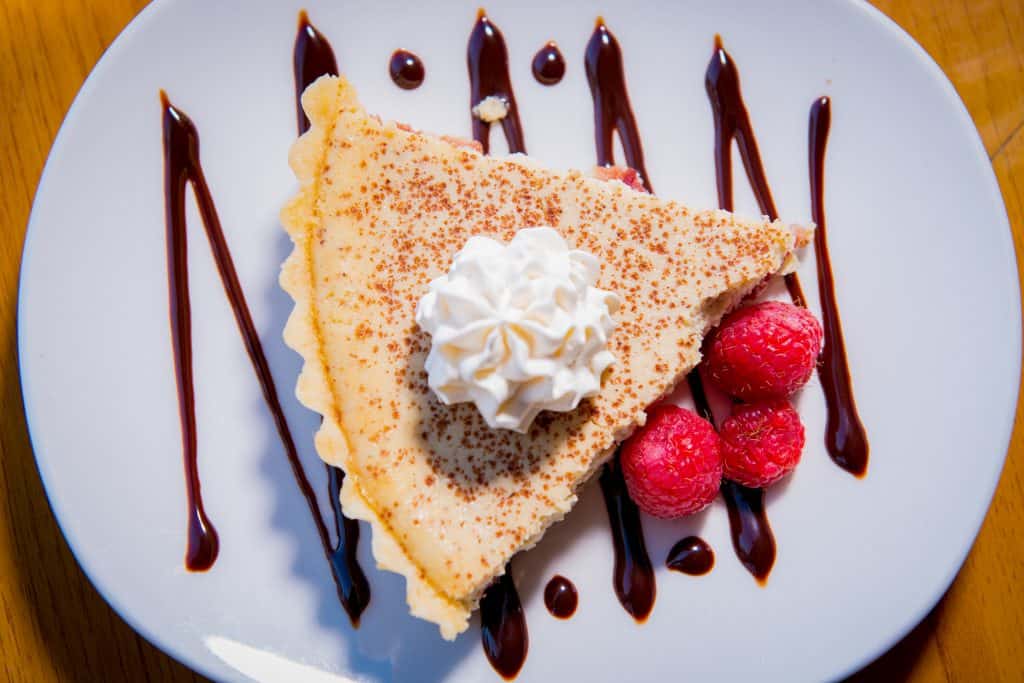 Kermit's Key West Key Lime Shoppe
Kermit's Key West Key Lime Shoppe is your one stop shop for all things Key Lime! Not only will you find some of the best Key Lime Pie in Key West, but you will also be able to buy Key Lime taffy, shampoo, conditioner, body wash, bar soap, lip balm, salsa, cookies, and apparel!
Looking for some souvenirs to bring home to friends and family? Well, then Kermit's will be the ultimate destination on your quest to find the very best Key Lime Pie in Key West.
The exterior is a bright and colorful as the famous Key Limes themselves. You just can't miss this Kermit's green and yellow paint scheme! Once you have had your fill of shopping, you can enjoy some tasty food in their lively café.
They offer a traditional Key Lime Pie with whipped cream and a graham cracker crust, as well as a gluten-free version and a Strawberry Key Lime Pie. In addition to their fabulous pies, they also created a Key Lime Pie Frozen Bar in a few different flavors.
The extremely popular Mallory Square, Sloppy Joe's Bar, and the Key West First Legal Rum Distillery are all nearby.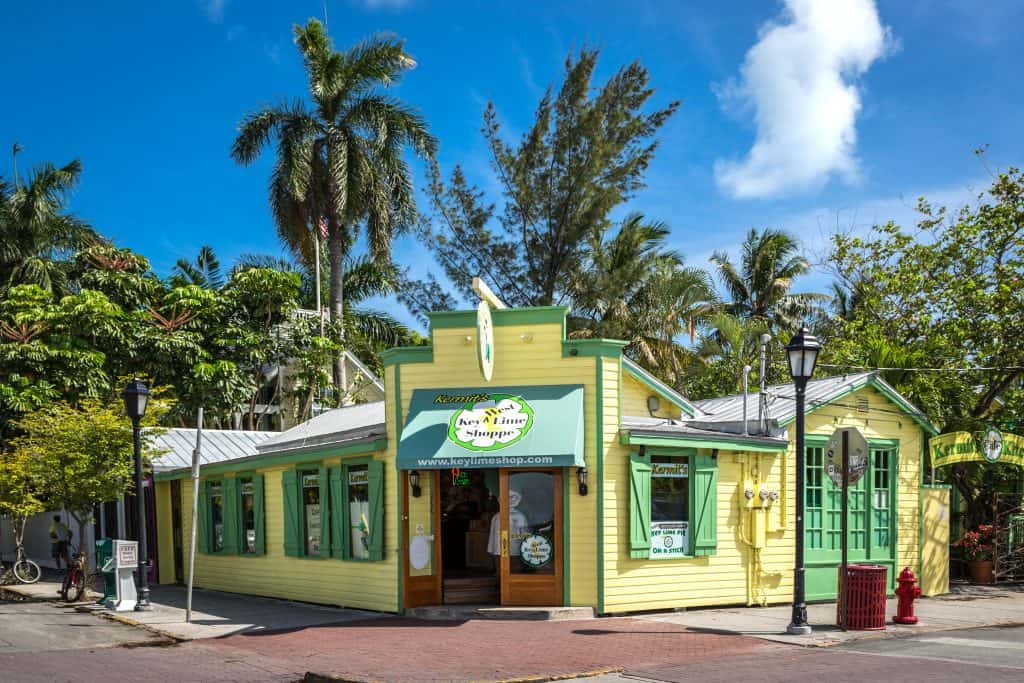 Burdine's Waterfront Bar & Grill
So, we saved the most interesting and creative iteration for last! Burdine's Waterfront Bar & Grill offers traditional Key Lime Pie, but that not the reason they made our list.
Their second version is why they have some of the best Key Lime Pie in Key West! Picture a perfectly fried chimichanga, but instead of a savory flavor you get a Key Lime Pie filling that is almost like ice cream.
They take a tortilla and wrap it around frozen Key Lime Pie, then they flash fry it and immediately top it with cinnamon sugar! Let us tell you, this is what Key Lime Pie dreams are made of!!
Burdine's is located directly on the water and offers a full bar and grill menu with fresh burgers, seafood, and more. Located close to Sombrero Beach, Keys Art Glass Stained Glass Studio, and Salt Seekers Water Sports Equipment Rentals.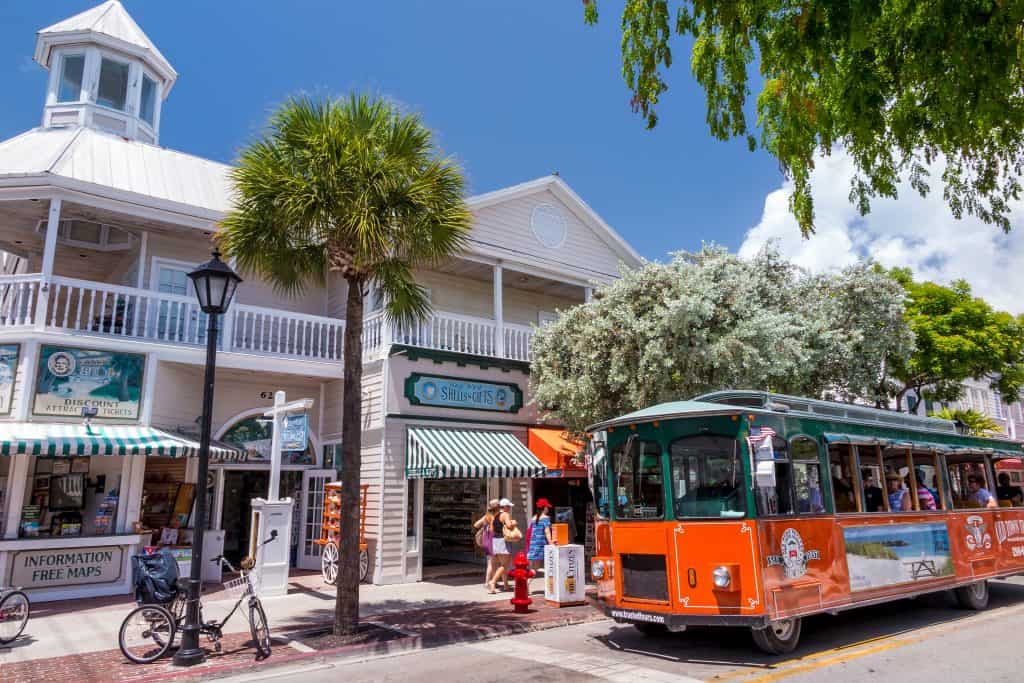 Well, we hope you have enjoyed learning a little bit about Key West, the origin of Key Lime Pie, and where to get all of the best Key Lime Pie in Key West! We have had so much fun touring all of these amazing places and we cannot wait to hear which one is your favorite. One last suggestion…order dessert first!!