Alligators in Florida are wild reptiles that are apex predators! Only found in the Southeast United States, their name comes from Spanish settlers when the creatures were discovered in Florida.
Found in ponds, wetlands, marshes, swamps, lakes, and rivers, gators increase plant diversity and provide habitat for other animals during droughts. This makes them very important to their ecosystems!
While as of 1973, alligators were considered an endangered species, conservation efforts have reversed this! Alligators are now plentiful in Florida, the state's official reptile!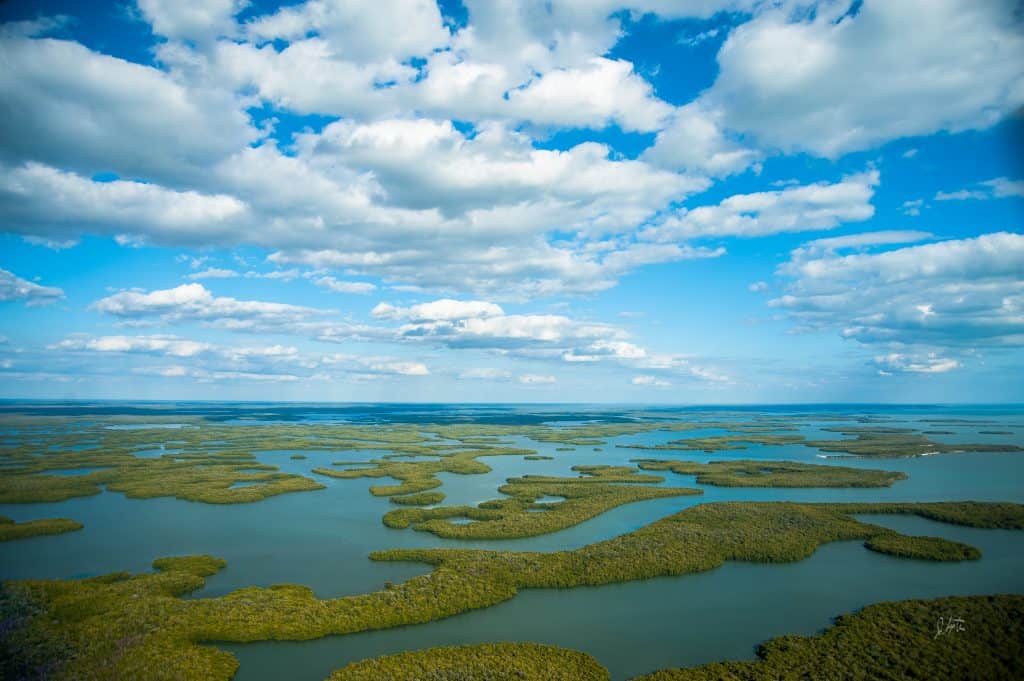 Does Florida Have Crocodiles or Alligators?
Actually, Florida has both! Florida's warm climate makes it a perfect habitat for both crocodiles and alligators.
South Florida is actually the only place in the world where both crocodiles and alligators can coexist! While alligators are found in all of Florida's 67 counties, crocodiles are shy and can only be found on the Florida coast.
While both creatures are dangerous, alligators prefer freshwater habitats while crocodiles prefer saltwater habitats. Alligators have u-shaped faces while crocodiles have more toothy grins.
How Many Alligators Are There In Florida?
The average count of alligators in Florida is staggering: 1.25 million! This is incredible, considering they were once endangered!
Gators are so populous now, that is one is big enough, you can report it to animal control. If a gator is spotted in your home and is over four feet, you can report it as a "nuisance alligator" and animal control will come to deal with it.
How long do alligators live? On average, most live between 30-50 years. Some alligators, despite fighting for their lives, can be known to live up to 70 years. The oldest recorded alligator life has exceeded 100 years!
Did you know that the alligator population has grown so much, that from 2006 -2015, Disney World had to remove over 200 of them? Luckily alligators will leave humans alone and won't attack if they aren't provoked.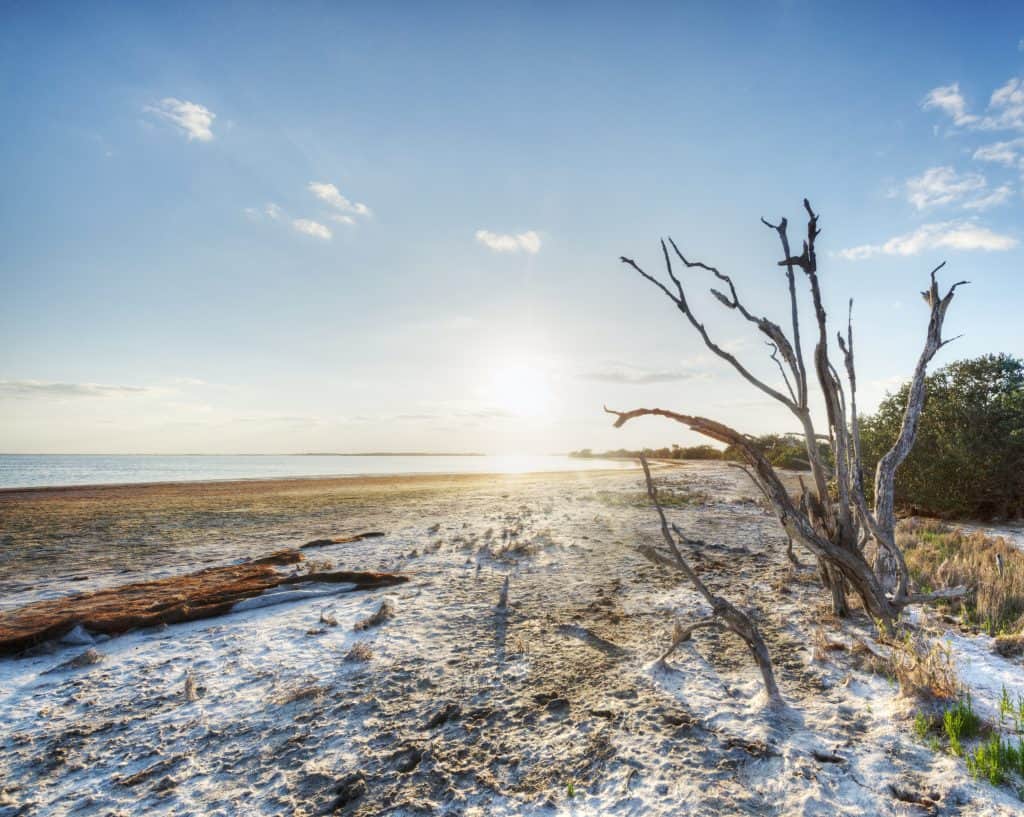 What Kinds of Alligators Live in Florida?
Florida is home to two different types of alligators. The American and Chinese alligators both make Florida their home, but the two could not be more different.
While alligators are the largest reptiles in North America, the American variety is much larger than the Chinese alligator. The easiest way to tell these two apart is to look at their snouts. The Chinese alligator has a tapered, more narrow snout than the American alligator.
While both varieties are carnivores, the Chinese alligator has a more blunt set of teeth, better equipped to eat shellfish. This being said, you should be more cautious when dealing with American alligators.
American alligators will attack and eat anything if they are hungry enough. They have been known to attack turtles, humans, and family pets like cats and dogs. Chinese alligators have been known not to attack humans.
How Large Are Alligators In Florida?
On average, an American alligator, the most common type of alligator in Florida, can grow up to 800 pounds and as long as 13 feet.
How large are alligators? Males averagely grow to 9.8 – 15 feet while females only grow to 8.5 feet. Females in general rarely exceed 10 feet, but males can grow much larger.
How long do alligators live? In the wild, alligators can live 35-50 years. As stunning as they look, you should always stay a minimum of 50 feet away!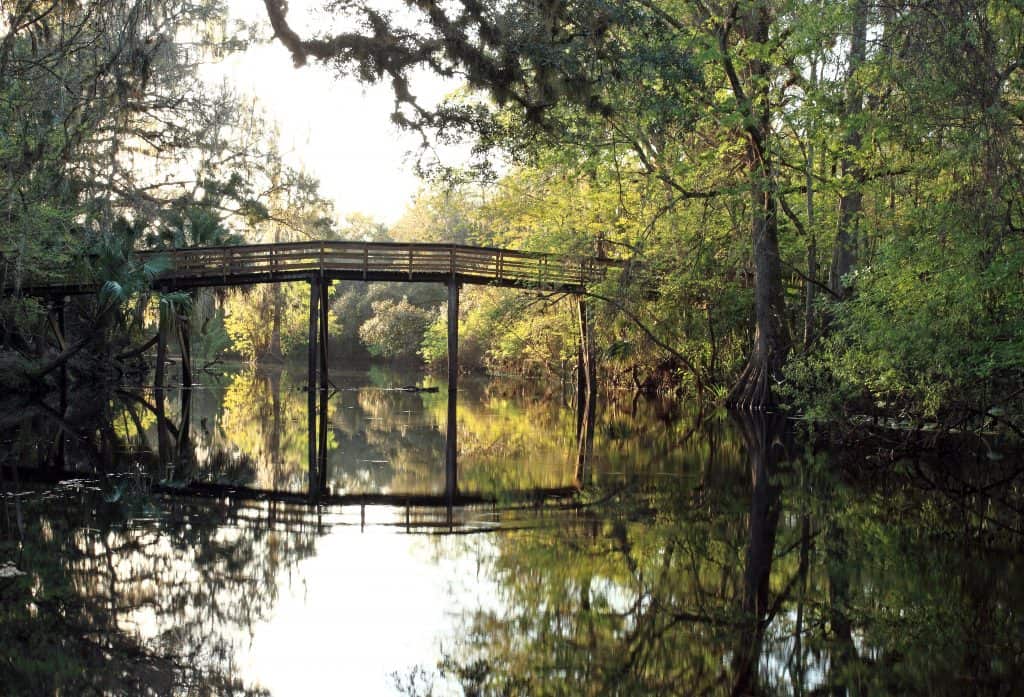 14 Best Places To See Wild Alligators In Florida
Everglades National Park
The Everglades National Park is the third-largest national park in the United States! With over 200,000 wild alligators calling this park their home, this is one of the best places to see alligators in Florida!
The Everglades is made up of 1.5 million acres of wetland preserves. Sawgrass marshes, pinewood flats, and coastal mangroves make up the park! This is the only place in the world where crocodiles and alligators can coexist.
Alligators are one of the most important parts of the Everglades ecosystem. The nesting activity of females is the biggest creator of peat in the area!
The best place to see alligators in the Everglades is the park's entrance in Shark Valley. Take a airboat tour of a tram ride! Your closest views of the gators will be on Anhinga Trail at Royal palm, which is a ten minute drive from the Ernest Coe Visitor Center!
While alligators are one of the most dangerous predators in the park, we recommend bringing bug repellant. Without it, the mosquitos are almost unbearable!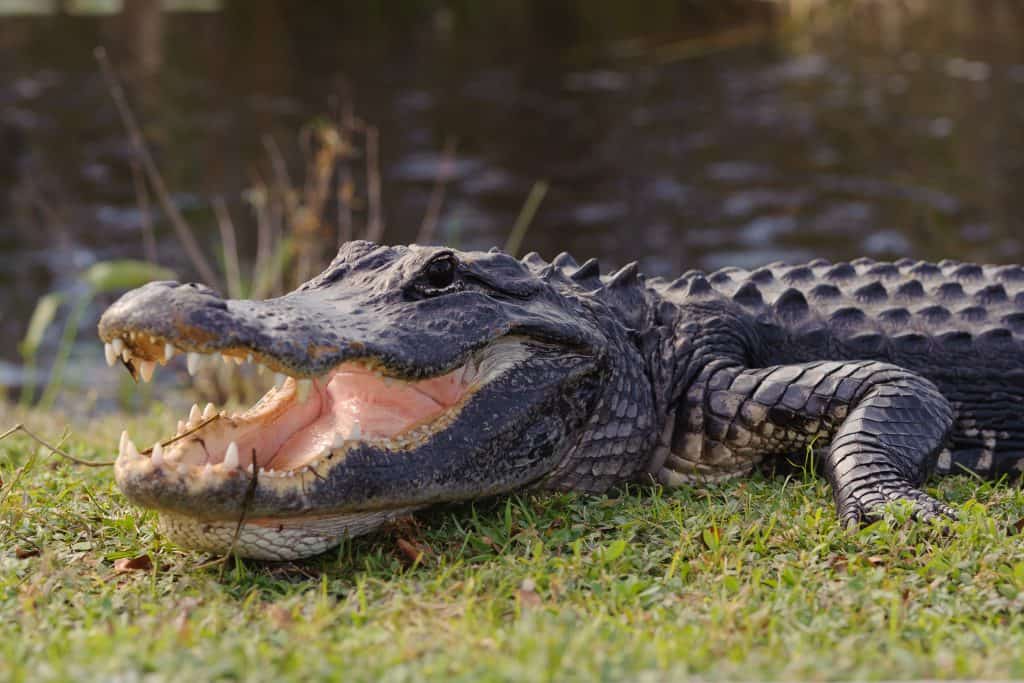 Hillsborough River State Park
In the northeast corner of Hillsborough near Zephyrhills, you'll find the Hillsborough River State Park! 2900 acres with over 7 miles of trails, the park is one of the oldest of Florida's parks.
Popular for its proximity to Tampa, spotting a gator is easy here! Among the many ecosystems found on the Wetlands Trail are habitats perfect for alligators. These are great areas for them because it is so swampy!
Keep your eyes peeled on the Rapids Trail, there are almost always gators lounging on a log or floating in the water. Walk along the stationary bridge and gators will be sunbathing on a bank across the river.
For a safe swim free of alligators, take a dip in the State Park Pool! Next door is the Hillsborough Park Poolside Cafe which offers food and beverages as well as umbrellas and lounge chairs rentals!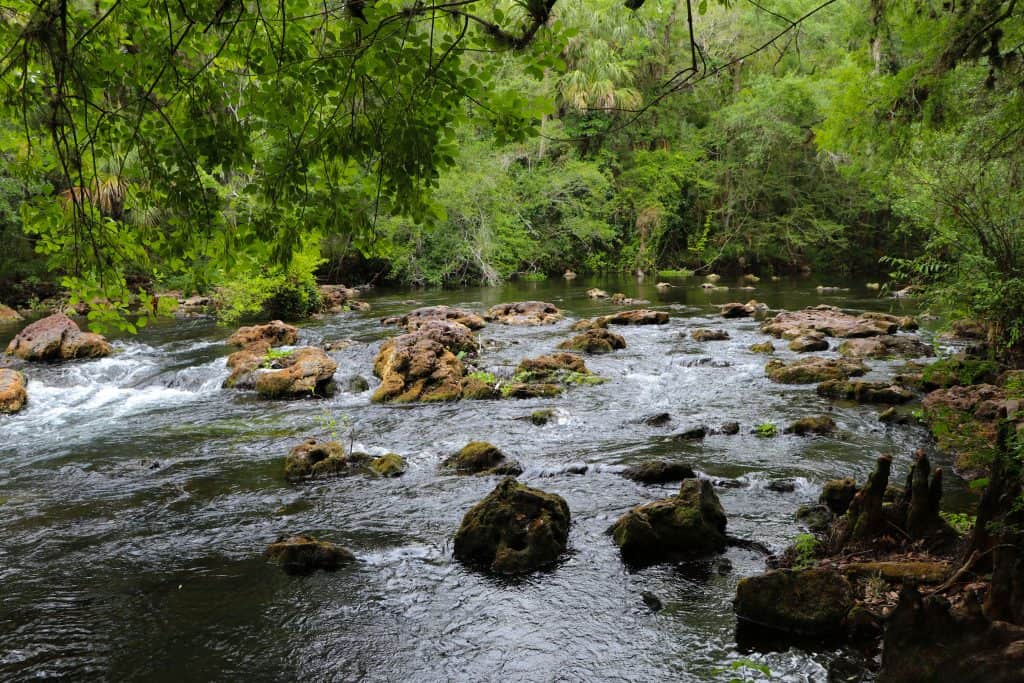 Merritt Island National Wildlife Refuge
When NASA purchased the land that would become the Kennedy Space Center, they had a lot leftover! The unused surrounding land would become the Merritt Island National Wildlife Refuge.
Start with the Visitor Center, where you'll find the best places to spot a gator on your trip. Throughout the trails you'll see what life was like before Cocoa Beach became civilized! Birds flutter by as Spanish moss hangs from the oaks like cobwebs.
For $10, take your car on through the Black Point Wildlife Drive. On the 7 mile auto tour, you will most assuredly see a gator from the safety of your own car! Alligators can be seen in winter on warm and sunny days, but they are most visible basking in the sun during the winter and fall months.
If you venture out on the hiking trails, make sure to wear bug spray! Be cautious, alligators can be sunning themselves nearby these trails. Always be aware and make sure to never feed or harass the alligators! Make a stop at the Manatee Observation Center to see wild manatees before you head home!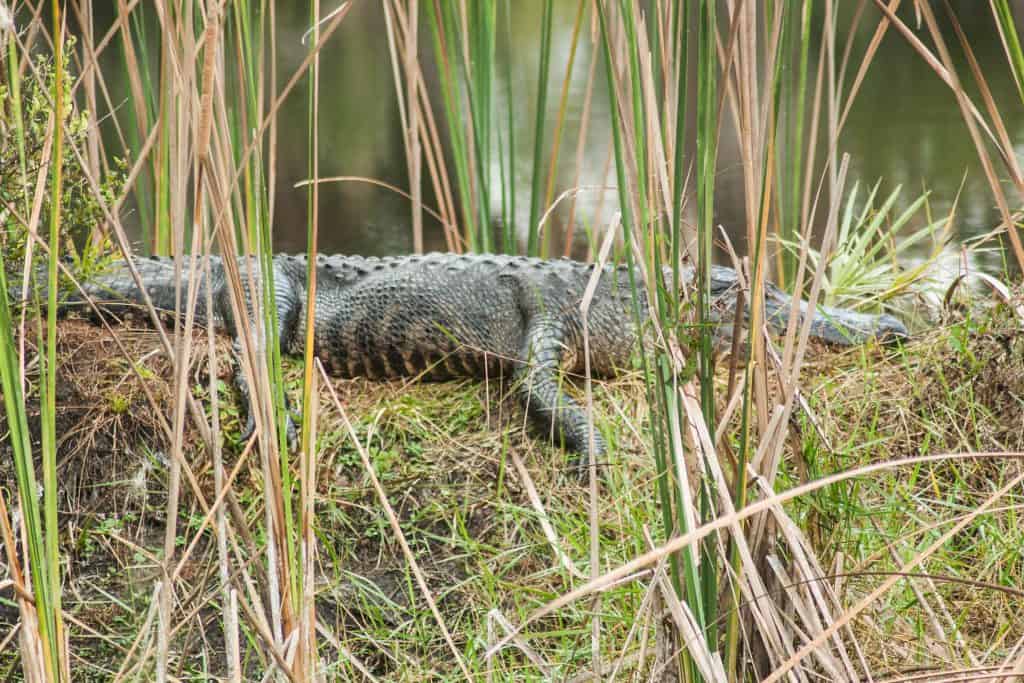 Ocala National Forest
Just north of Orlando, Ocala National Forest is 600 square miles, known for its sand pine scrub forest. In addition to seeing alligators, this park is full of activities perfect for the whole family!
The best place to see alligators at the Ocala National Forest is on the riverbanks, where they will be sunbathing on the shore! Alligators are also visible on the Florida Black Bear Scenic Byway, a driving path which cuts through the heart of the forest.
For a closer look, rent a canoe and hit the water on the Salt Springs Run. Highly considered one of the best paddle trails in the country, you can spend 2-4 hours in a canoe looking at gators on the shore. Because there is so much shade provided by the tree canopies, this trail is especially refreshing in the summer.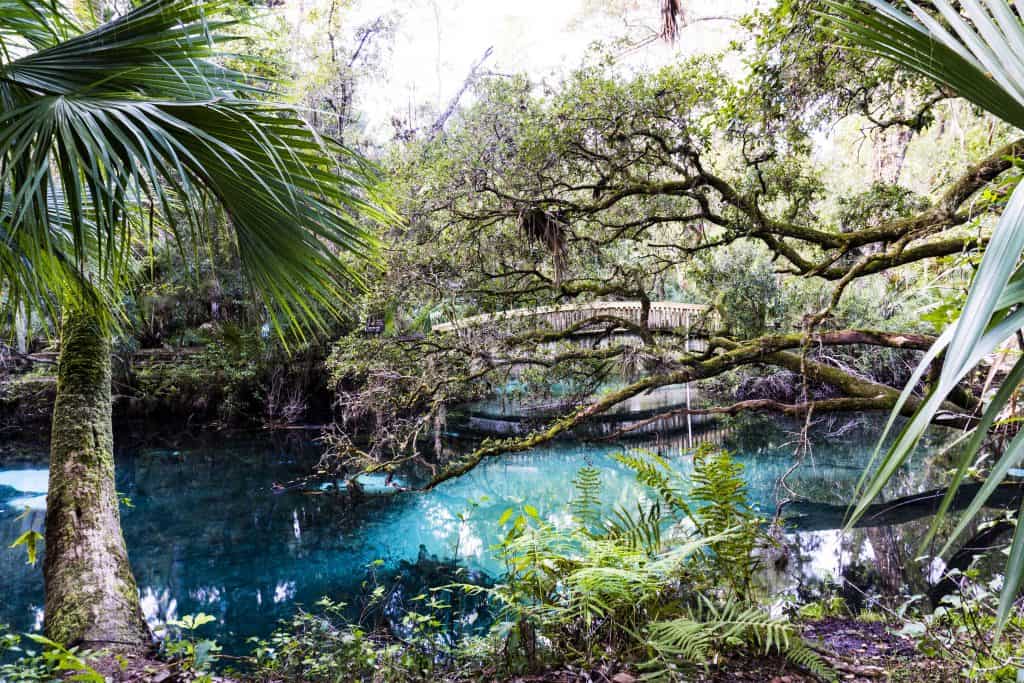 Myakka River State Park
Located just off of I-75, Myakka River State Park is a perfect destination to see alligators in Florida. In Sarasota County, a trip to see alligators in this 37,000 acre park is one of the most fun things to do in Sarasota!
Alligator sightings are possible year-round in all bodies of water in the park, but park rangers say your best shot for seeing these creatures is in early spring. Alligators like warm, but not hot weather!
In the hottest months of the Florida year, alligators will tend to spend more time in the water. They like to lie on the bottom of rivers and lakes where it is cooler. Mating season is actually in late March, one of the easiest times to see alligators in Florida.
Within Myakka is the "Deep Hole," a popular site where alligators congregate like moths to a lamp! Scientists and researchers have not been able to figure out why, but at least 120 gators have been spotted in this area in one sighting!
If you would like a safer, guided tour, follow signs for the Myakka Outpost once you enter the park to find an airboat guided tour. If you choose to just walk along the park's nature trails, posted signs will alert to you a possible presence of gators!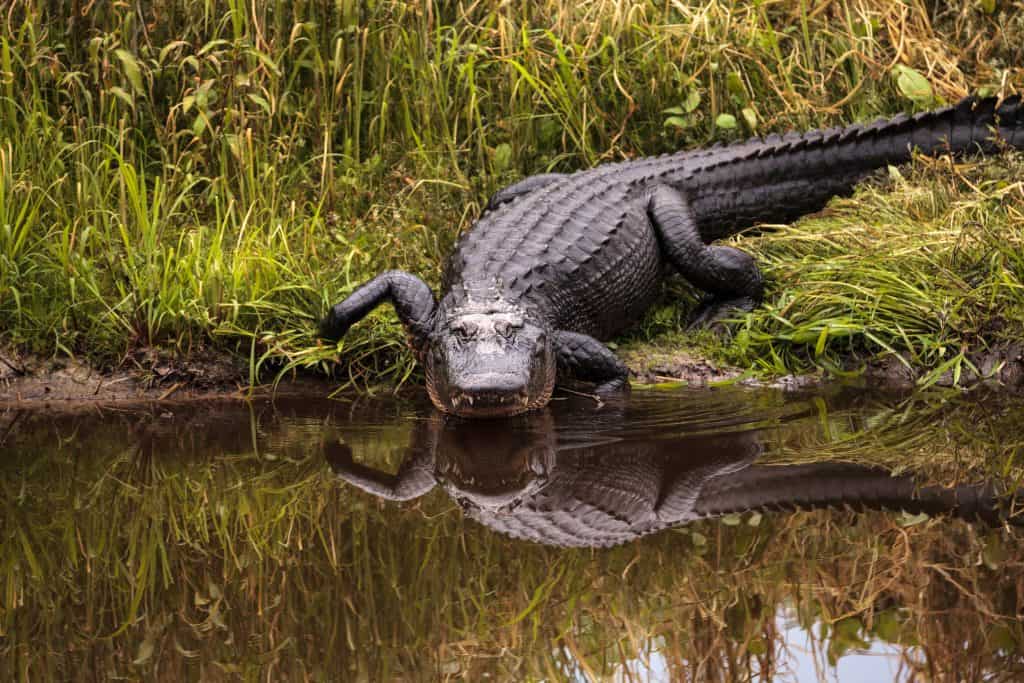 Lake Kissimmee State Park
Lake Kissimmee is just south of Orlando is the third largest lake and the third largest park in the state of Florida! Of all the attractions in Orlando, is Lake Kissimmee State Park, perfect for viewing all kinds of wildlife, not just alligators.
Just off of SR 60, you can see bald eagles, ospreys, bobcats, as well as alligators in this lush park. You will want to look for the alligators in the canals and lakes, first though.
Lake Kissimmee is known for its "cow camps" where primitive Florida cowboys used to wrangle cows in addition to alligators. Today still, over six miles of trails are available to equestrians those who don't want to get their toes wet.
Lake Jessup
Lake Jessup, in Central Florida, is one of the biggest home of Florida gators, with an average of 12,925 per year. It is estimated that there are 421 gators per mile of shoreline in Lake Jessup!
Lake Jessup is the ideal environment for gators, as the grounds are loaded with mudfish, shad, and turtles, which are all perfect for a gator dinner. This is the second most populated place to find wild alligators in Florida, second only to Lake Okeechobee!
While the state record for length of wild alligators in Florida is only 14.3 feet, hunters in Lake Jessup have reported an alligator of 18 feet. They say its only a matter of time that they bring him in for measuring, but we recommend caution and distance when visiting.
Over 16,000 acres, Lake Jessup is a popular tourist attraction with brewing companies and sunflower parks. If you're looking to find the biggest gators in Florida though, you might want to start here!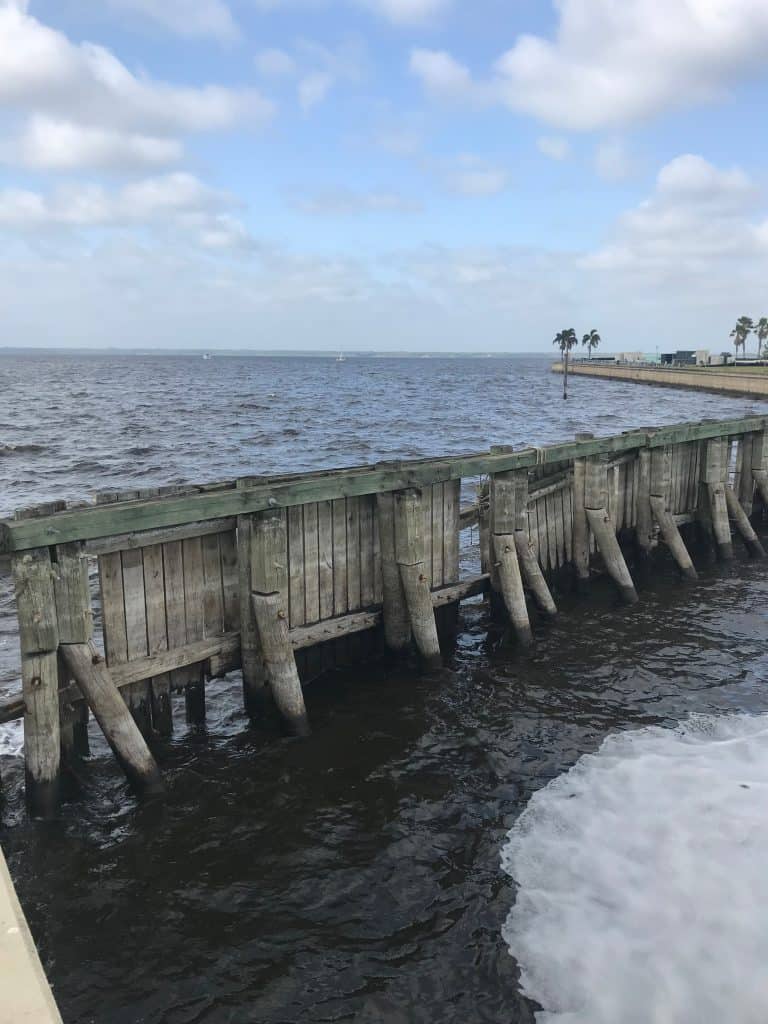 St. John's River
The St. John's River is the longest river in the state of Florida, and its freshwaters are the perfect places for alligators to call home! Running along the east coast, the river has a slow flow rate. It's like a real life lazy river!
A popular site for hikers, boaters, and birders alike, the St. John's River is also a very common site to see alligators in Florida! An estimated 771 alligators live in just a thirteen mile radius of the river.
The backwater river is flanked by marshes instead of banks, where it is easy to spot a gator basking in the sun. The easiest place to see many gators at once is the Black Creek tributary in Clay County.
Enjoy seeing the gators from the safety of the hiking trails or on an airboat tour, but take caution. In recent years, these gators have been becoming more active. Never approach or try to feed an alligator if you do encounter them!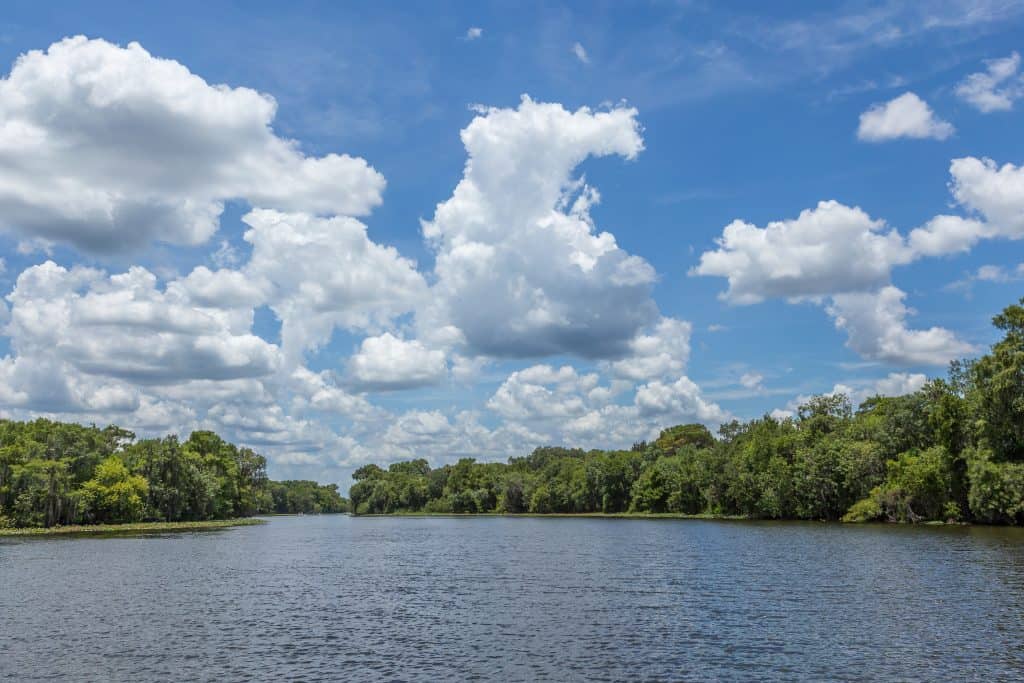 Canaveral National Seashore
Canaveral National Seashore is a series of campgrounds on a barrier island between New Smyrna Beach and Titusville in Volusia and Brevard counties. One of the 14 islands in Mosquito Lagoon, a camping trip here is considered "primitive." You need your own boat to get to your campsite!
This seashore is considered a nature sanctuary as it is unspoiled by hotels, restaurants, or other man-made infrastructure. A camping trip here is a perfect way to reconnect with nature and see some alligators among the other creatures!
Even if you don't want to set up your own campsite, there are many ways to make a visit to Canaveral National Seashore a perfect day trip, and see some alligators.
Take a drive down the Bio Lab Road to see some gators resting on the shore. Walk the Scrub Ridge Trail, which borders wetlands and ponds, where gators are always peeking out! Or take the road to Playlinda Beach, where guests say they have seen the most gators!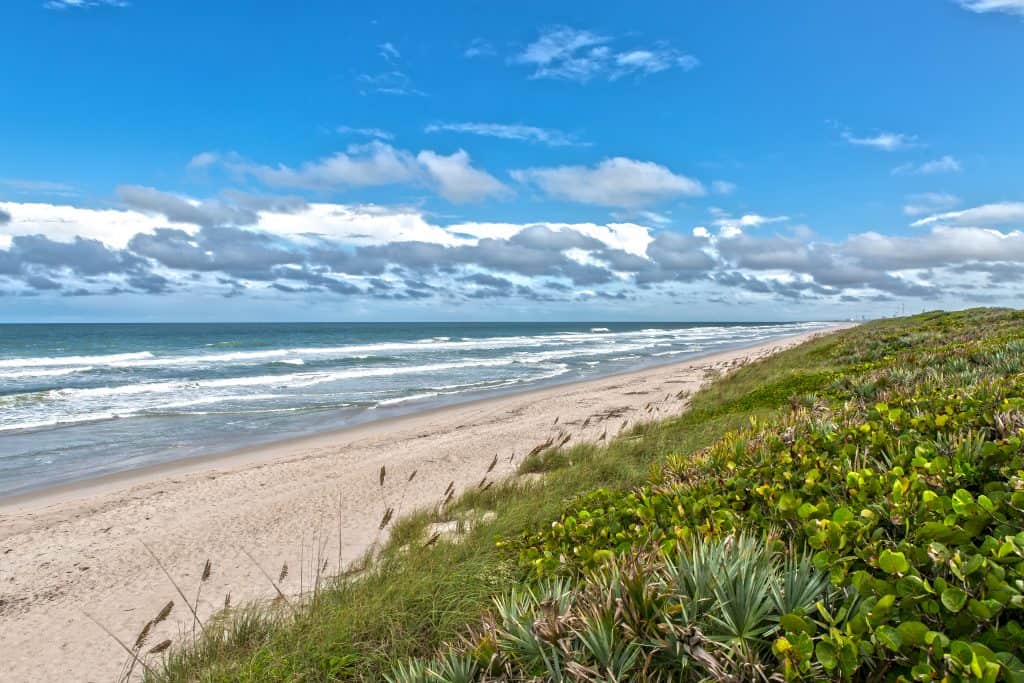 Black Bear Wilderness Area
The Black Bear Wilderness Area is 1,650 acres of marshes and wetland plains in Sanford, Florida, just north of Orlando. With trails and boardwalks winding throughout, this is some of the best wildlife watching in the state of Florida.
The area was named because guests could easily see black bears scratching their backs on a tree or playing with each other! Besides being a sanctuary for black bears, you will find a variety of wildlife like roseate spoonbills, white-tailed deer, and of course, alligators!
The best way to see these alligators is to take a hike on the 7.1 mile Black Bear Wilderness Loop Trail. You'll be taken through marshes and riverbanks where you will undoubtedly catch a glimpse of alligators.
This is a moderate-to-difficult trail, it can be very slippery and steep in some areas. We recommend using a hiking stick and following the loop counterclockwise to catch some river breezes on the second half of your journey!
Wekiwa Springs State Park
At Wekiwa Springs State Park, you will find over 7,000 acres of springs, nature trails, and campgrounds. Come to swim in the springs, but stay for the wildlife, which includes of course, alligators!
The main attraction is the natural spring, which is perfect for swimming, kayaking, and canoeing. There is a cave, but guests are not allowed to scuba dive or spelunk in the area.
Surrounding the spring are acres of Florida nature, untouched and undeveloped. It is here in the waters surrounding the springs that you will see alligators in addition to deer, foxes, and rabbits!
After you've taken a dip in the springs, dry off by taking a walk along the network of trails. There are also biking trails and horseback riding trails! If you walk the Volksmark trail, you will skirt Sand Lake where there are always alligators resting on the shore.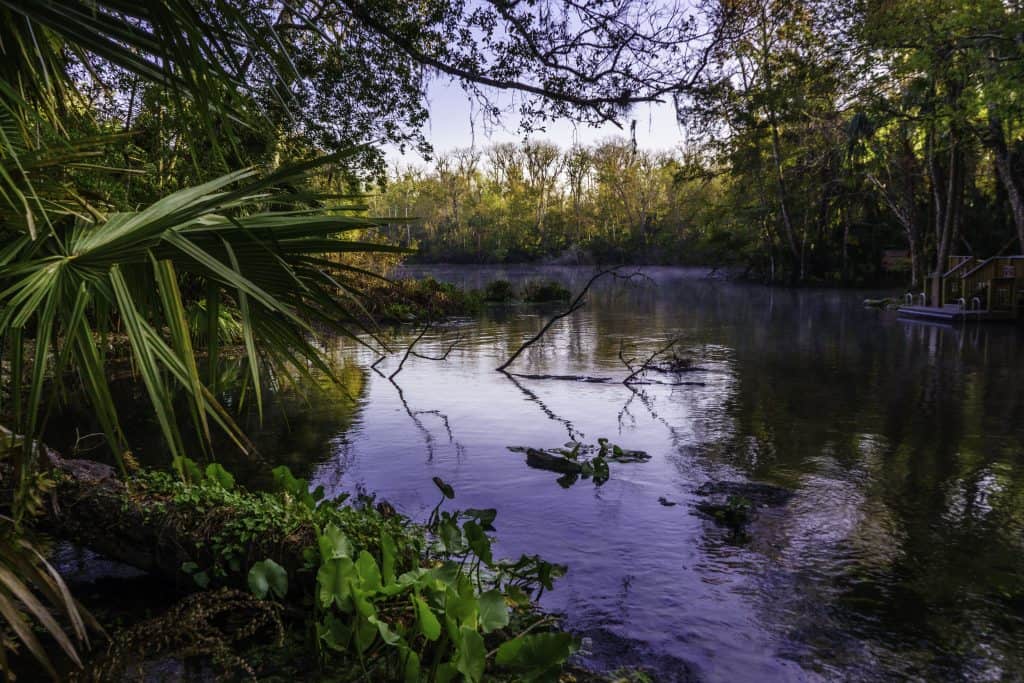 Audubon Corkscrew Sanctuary
In Naples east of Bonita Springs, the National Audubon Society tends to the Audubon Corkscrew Sanctuary. In the heart of Everglades flora and fauna, the Sanctuary protects the wetlands and the creatures that call these lands home.
The land was preserved in 1954 to protect the cypress forests from being leveled for their lumber. The swampy grounds are home to otters, white-tailed deer, and rabbits as well as over 150 alligators.
Enjoy the pristine beauty of the forest on the 2.25 mile boardwalk as it takes guests through the branches of the cypress trees. Through marshes and wild swamps you can find alligators peeking through the water.
Make sure to bring a camera because the sanctuary provides a picture-perfect background around every turn. We recommend bringing bug spray or wearing long sleeves and pants, as the park can get buggy in the evenings.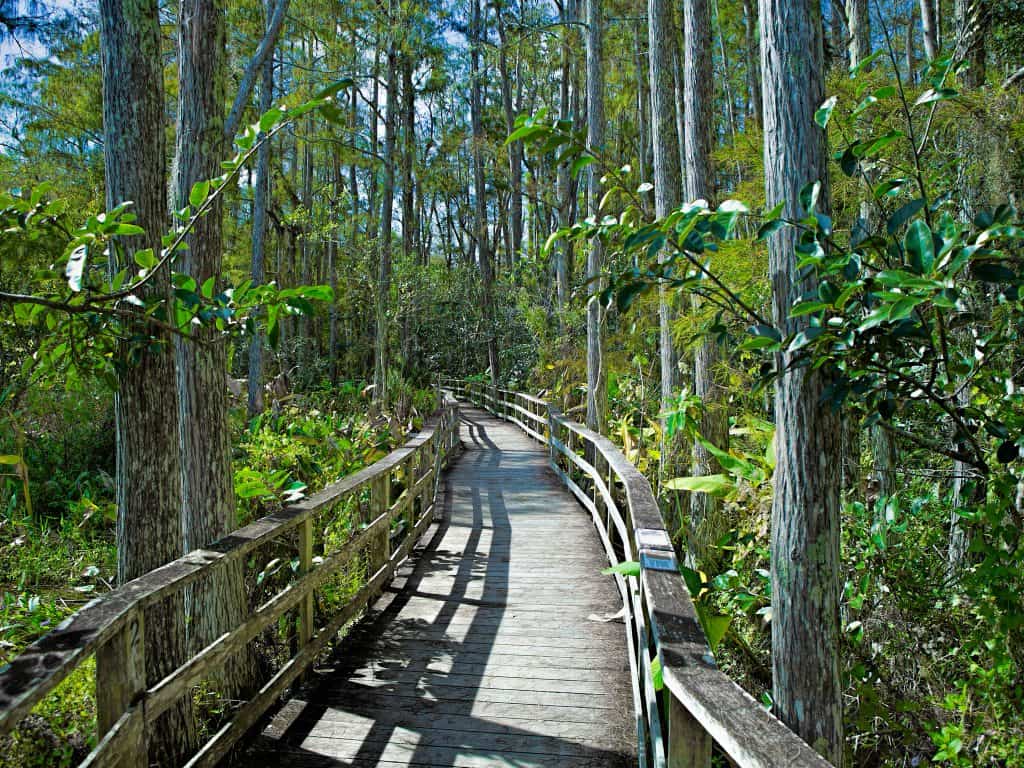 Circle B Bar Reserve
The Circle B Bar Reserve is not a brewery! It's actually a beautiful wildlife sanctuary spanning over 1,267 acres. With wildlife like wild pigs and heron, this is a perfect place to see alligators in Florida in Lakeland!
Formerly a cattle ranch, the Circle B Bar Reserve hosts an array of wildlife in different ecosystems. Guests can almost always see alligators in Lake Hancock at the center of the reserve basking in the sun or floating in the water!
This is also a haven for birders, as sandhill cranes, great blue heron, and bald eagles. Take a walk on the Mark Rabbit Run Trail to see more alligators and maybe some families of otters playing in the water.
Admission to the Circle B Bar Reserve is free. The grounds are open from 6:00 AM – 6:30 PM daily.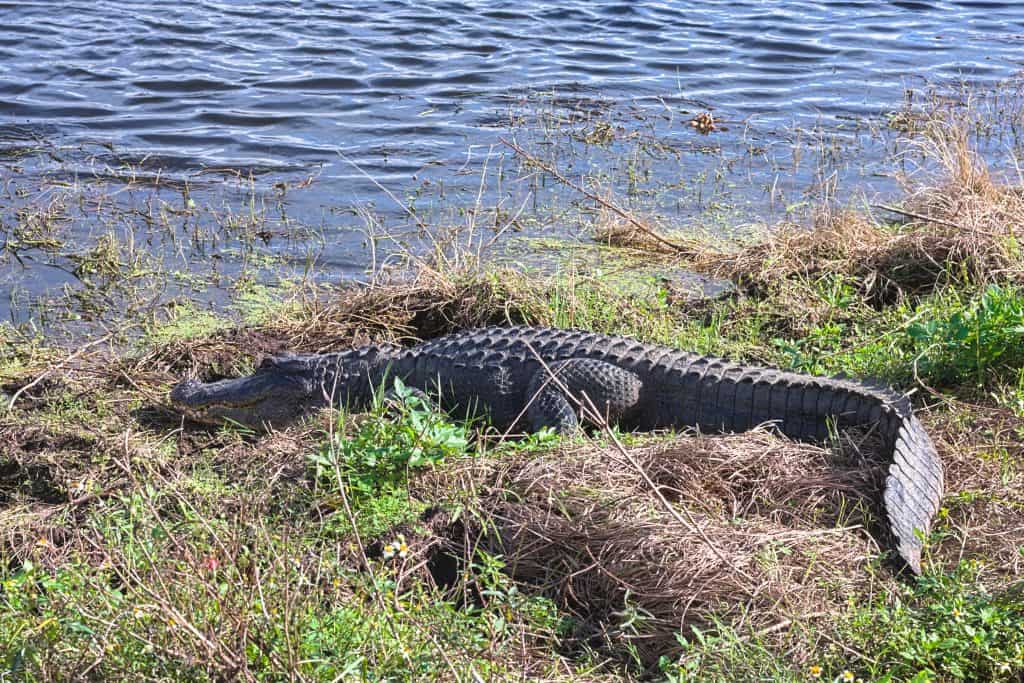 Wakulla Springs State Park
Located just south of Tallahassee, Wakulla Springs State Park is a 6,000 acre sanctuary which is also home to the world's largest and deepest freshwater springs! The Springs flow into the Wakulla River on whose banks are home to many alligators!
One of the best places to view wildlife in Florida, guests have the option of taking one of three nature trails. Get lost in the pinewood forests and bald cypress wetlands where you can see manatees, wild turkey, and of course, alligators!
On any given day, you can see up to 14-21 alligators on a typical boat tour on the river. The gators actually are the backbone of the natural springs ecosystem!
After you've gotten your fill of the alligators, you can cool off by swimming in the always cool waters of the spring system! There are also options for tubing, canoeing and kayaking!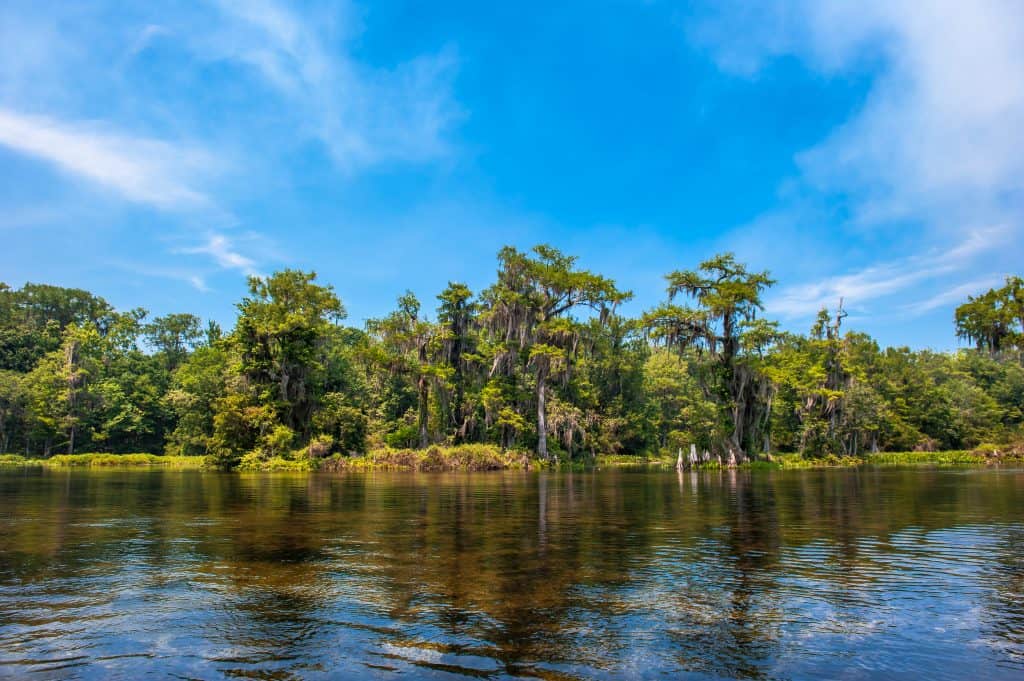 Did You Find This Post Helpful?
If so, we would love to keep in touch! We enjoy seeing photos and comments about your experiences in Florida! You can follow us on Instagram and we will repost your photos on our feed and comment too! Just tag us at @floridatrippers and hashtag #floridatrippers. We can't wait to see your travels!