Curious about the best things to do in Lakeland, Florida? We've got you covered! As the largest city on Interstate 4 between Tampa and Orlando, Lakeland's culture is defined by the lakes that surround the area.
The 38 named lakes circling the community provide scenic areas for recreation. Lakeland's infrastructure and nature have even provided a backdrop for big-budget Hollywood movies like Edward Scissorhands and Adam Sandler's The Waterboy!
The downtown area is known as "Lakeland's living room" renowned for its brick architecture, antiquing, and craft breweries. Lakeland is also the corporate home of Publix, the most beloved grocery store chain among Southerners.
Whether it's strolling through historic downtown, visiting a museum, or taking in nature, let us help you discover the best things to do in Lakeland FL!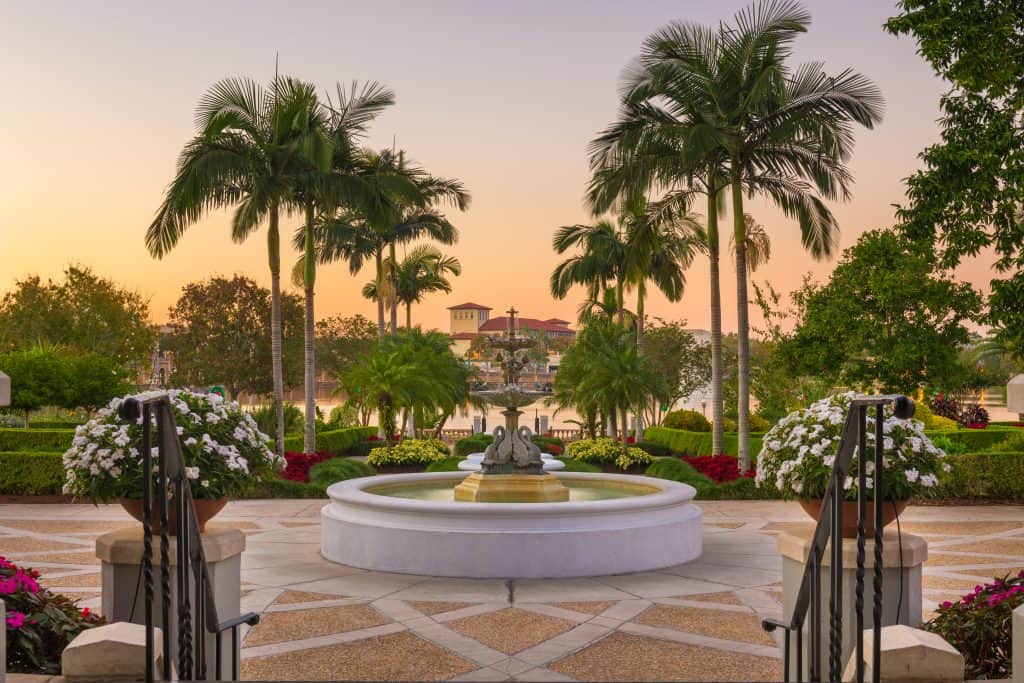 14 Best Things To Do In Lakeland FL You Shouldn't Miss
Hollis Garden
One of the most relaxing things to do in Lakeland is to pay a visit to Hollis Garden, a 1.2-acre lakefront botanical garden full of neoclassical architecture.
An intimate "secret garden" with plenty of secluded spots of shade and benches, Hollis Garden is adorned with intricate flower beds, public art, and decorative fountains. You can see over 10,000 flowers, trees, and ornamental shrubs here!
Once you walk into the gardens, you are greeted by the sounds of classical music playing over loudspeakers. Koi fish swim around in ponds as you walk by. Statues and sculptures add to the ambiance.
While admission is free, bring some money. A small stand sells tea cakes and wine to sip on as you literally stop and smell the roses. The Hollis Garden is definitely one of the best free things to do in Lakeland!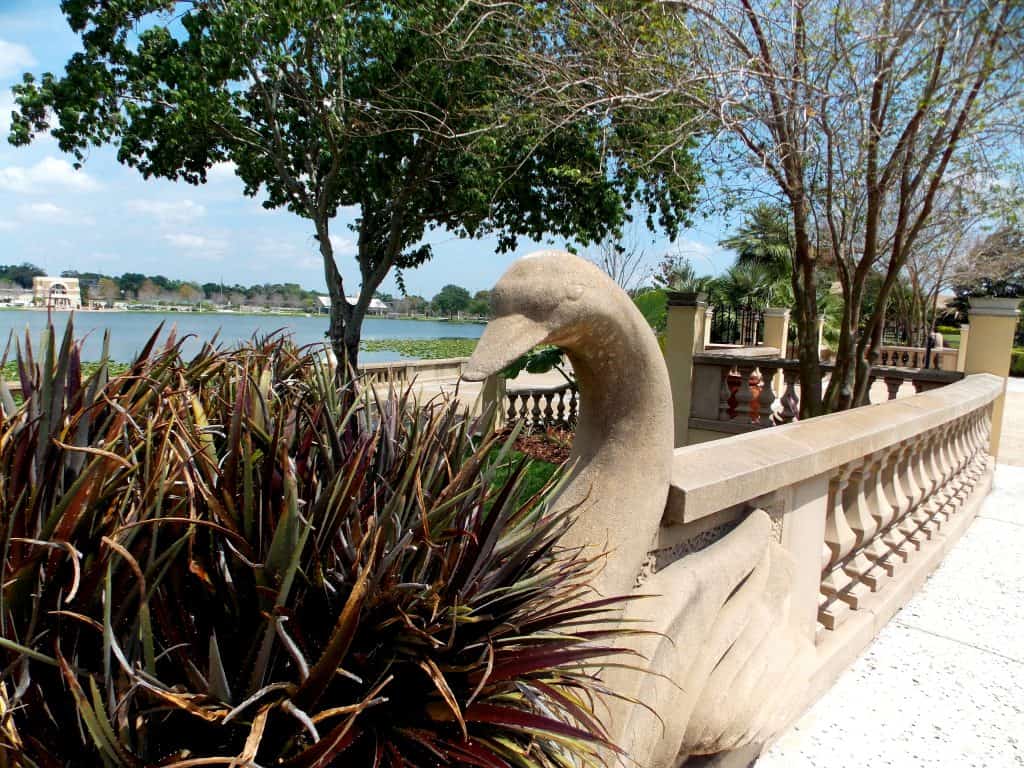 Lake Mirror Park
Right next to Hollis Gardens, is Lake Mirror Park, one of the most beautiful attractions in Lakeland the heart of downtown. Named for the clarity of its waters, the park is a favorite among locals for a relaxing day full of nature and culture.
An arts and culture hub, Lake Mirror Park has many facilities like the Lake Mirror Theatre which is home to Lakeland Community Theatre. There is also a built in amphitheater along the lake shoreline.
A path runs around the edge of the entire lake, making it a popular destination for runners and bikers. Guests can also participate in swan boat races on the actual lake. In the fall, Lake Mirror Park is home to an antique car show.
Two tours are offered! The Historic Tour teaches guests of Lakeland's early beginnings dating back to the 1880s. The Green Hat and Green Gloves tour chronologies notable people, places, and achievements of the city.
Once you've finished you stay at the park, you can cross the street for plenty of dining options. Among the most popular spots are the Garden Cafe and the Texas Cattleman's Restaurant. If you're wanting to check out more delicious dining options, check out the best restaurants in Lakeland! Across the street is the Terrance Hotel, with vintage 1920s architecture, which has a Grill on the ground floor.
With breathtakingly beautiful views and a calm ambiance perfect for a lazy afternoon, Lake Mirror Park is a can't-miss on our list of places to go in Lakeland.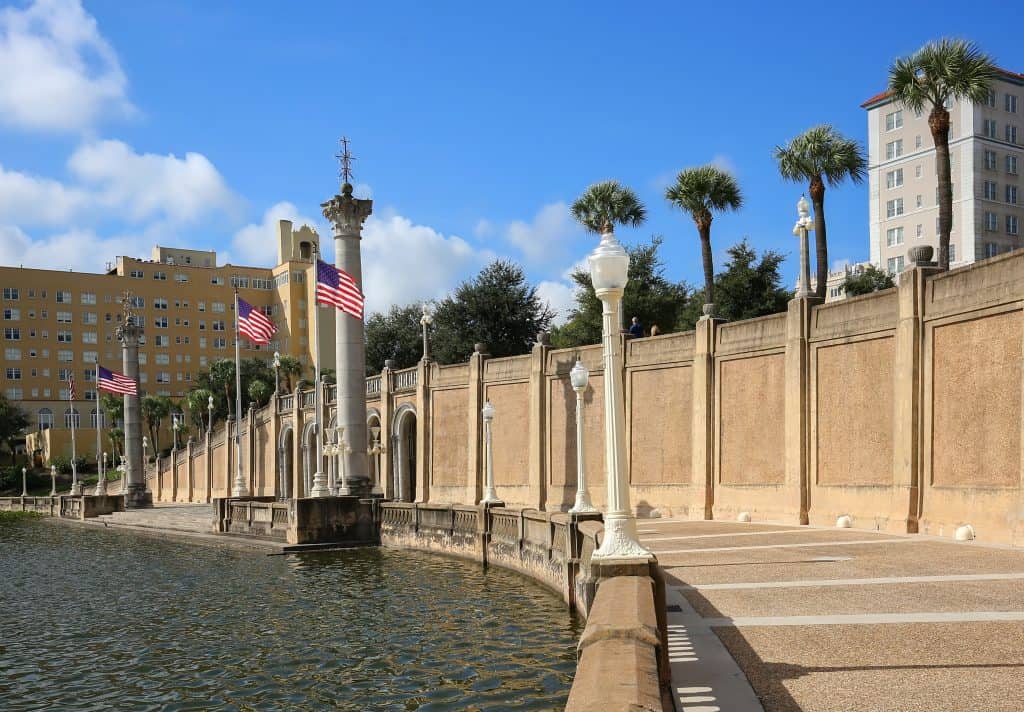 Florida Air Museum at Sun 'N Fun
One of the most fun things to do in Lakeland is to pay a visit to the official Aviation and Aerospace Education Center in the State of Florida! The Florida Air Museum is the perfect destination on a day trip from Tampa or Orlando!
The Florida Air Museum has an extensive exhibit detailing the life of famous aviator Howard Hughes. Visitors can see his actual flight gear, awards, and personal memorabilia from his aviation and film career.
The Discovery Zone is an area designed for children that has many STEM (science, technology, engineering, and math) games. There is also a dress-up station and photo booth so you can really feel like an aviator!
The Museum also has a variety of aircrafts on display like the SeaDart, the Vertical Riser, and the Tomcat. The curators hope to inspire the next generation of aviators and aerospace engineers with regular shows performed by the Blue Angels!
Polk Museum of Art
Of the places to go in Lakeland, the Polk Museum of Art is a perfect dissection of local art and culture. Located on the Florida Southern College campus, the Museum is non-profit and an affiliate of the Smithsonian and American Alliance of Museums.
There are over 2,500 works on display, including the photography and paintings of Ansel Adams, Marc Chagall, and Henri Matisse. Outdoor gardens feature statues and sculpture. A portion of the museum also displays the art of Florida Southern College students.
While the permanent displays feature the pre-Columbian era, traveling exhibits pass through the Polk Museum of Art. Past exhibits include Japanese prints and textiles, American folk art, and contemporary modern masterpieces.
The Museum also hosts an art therapy group called "Meet Me at PMoA," a time for dementia patients to meet to create and discuss art.
Explorations V Children's Museum
One of the best things to do in Lakeland with kids is the Explorations V Children's Museum. It is an independent non-profit dedicated to curating an accessible world for children of all ages to discover!
The "V" refers to each of the five senses with which young explorers will discover. Arts and sciences are learned and explored through the "power of play." The interactive exhibits promote uninhibited creativity.
The Basement floor features an interactive orange grove. Children discover areas of the world through the life cycle of the orange tree. From picking, packing, and sorting through oranges, you and your family will learn about different areas of the world from Asia, Australia, Africa to the Americas.
The First Floor features more hands-on opportunities where children learn music appreciation, science, and history. An area named "The Tot Spot" is designed for toddlers, the youngest of explorers.
The Second Floor is all about art appreciation with a museum-style gallery full of art for children. One entire wall is a gigantic chalkboard on which little visitors can sketch and draw. A separate area features interactive science components and brain teasers in the "Dreamer's Gallery."
Historic Downtown Lakeland
Lakeland may not be the first place that comes to mind when you think of art and foodie-fare, but a trip to downtown will change your tune! From festivals to vendors, there is something for everyone in downtown, one of the most fun things to do in Lakeland.
The food scene in Lakeland can't be beaten. The quaint, terrarium-filled Concord Coffee specializes in custom brews and espresso. The Lakeland Brewing Company offers a gorgeous taproom with stunning views of Lake Mirror.
Downtown is full of art installations, too! There are multiple butterfly and swan sculptures around every corner. Downtown is also home to the Dixieland Selfie Wall, a huge mural where you can pose in front of a huge pair of angel wings. If you're short, don't worry, there is a mini-step you can stand on to get that perfect shot.
Every Saturday, the Farmers Curb Market is held from 8:00 AM – 2:00 PM on the streets of downtown. You can find over 50 vendors selling everything from jewelry and art to fresh produce and rare herbs.
Make sure to check out First Fridays which happen every month. A free local festival, browsing through the variety of vendors paired with dinner and drinks makes for a perfect date night or a great beginning to a weekend getaway.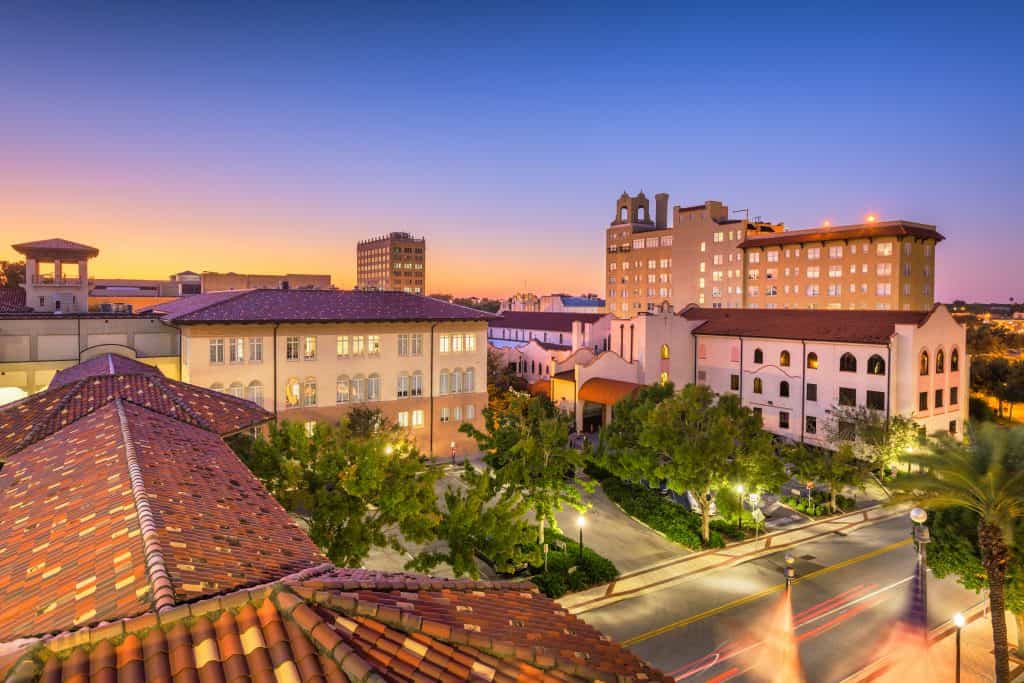 Pick Berries at Shady Oak Farms
In the northwest corner of the city, locals congregate every year to cultivate their green thumbs. A trip to Shady Oak Farms is one of the best things to do in Lakeland.
Shady Oak Farms is a family-owned, 10-acre farm that grows five types of blueberries. All crops are herbicide and pesticide-free! Visitors can arrive with a basket to pick their own blueberries, making it an essential snacking stop on any Florida road trip.
The biggest and most plump berries are in season during April and May. You can even buy your own blueberry plant to grow your own berries at home! Take a picnic to enjoy by the pond when you're done!
You can also dig your own ginger roots and pick your own raspberries. The farm also cultivates hard-to-grow flowers. Daffodil bulbs, ginseng, bloodroot, and goldenseal are available for purchase.
Circle B Bar Reserve
Contrary to how its name sounds, the Circle B Bar is not a brewery, but a gorgeous wildlife reserve spanning over 1,267 acres, one of the most fun things to do in Lakeland for birders and nature lovers alike.
Formerly a cattle ranch, today, the Circle B Bar Reserve is made up of different ecosystems, hosting an array of flora and fauna! Park-goers can almost always see alligators in Lake Hancock, while sandhill cranes, great blue herons, and even eagles soar by.
Underneath and extending past a living oak canopy is a sprawling bed of wildflowers, which play a huge part in the reserve's ecosystem. Scrub mint Conradinas and Garberias light up the fields with their beautiful colors.
Experienced hikers can take the Eagle Roost Trail to spy on meadowlarks and quail. If you brave the Marsh Rabbit Run Trail, you can occasionally see families of otters and turtles sunbathing on fallen logs.
Admission to the Circle B Bar Reserve is free!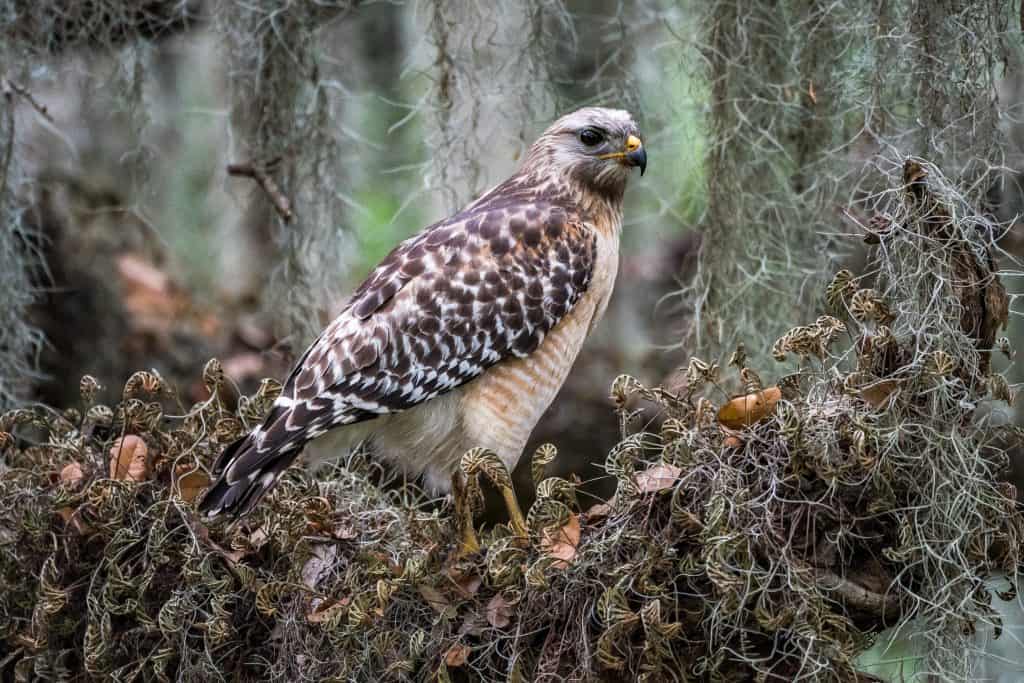 Polk Theatre
If you're looking for fun things to do in Lakeland to take you back in history, look no further than the historic Polk Theatre!
A former vaudeville movie palace built in the Golden Age, the Polk Theatre has 1,400 seats. The beautifully constructed interior is reminiscent of a Mediterranean courtyard, complete with stars glittering in the ceiling.
The Polk Theatre is a historical landmark, supported by revenue from its Performing Arts series as well as feature film showings. The space is rented out by local theatre communities which also contributes to its revenue.
You can catch classics like a Mary Poppins Sing-A-Long as well as interactive performances acted out alongside showings of the cult classic, The Rocky Horror Picture Show.
Lakeland City Center
If something huge is coming to town, you know it will definitely be held in the City Center, the home of the biggest and brightest Lakeland attractions. Now called the RP Funding Center, the Lakeland City Center can transform into a theatre and even a sports arena!
The Lakeland City Center is a multipurpose entertainment complex. The Jenkins Arena hosts basketball and hockey games and holds 8,000 people while the Youkey Theatre can hold 2,200 guests during a single show! There is also a 100,000 square-foot exhibition space perfect for conventions.
The Lakeland City Center is home of the Lakeland Magic, the city's own basketball team. The Lakeland Magic are an Orlando Magic NBA affiliate. The theatre on the campus hosts an annual Broadway series, usually a collection of six of the best Tony-award winning, national Broadway tours.
The 8,000 seats Jenkins Arena can also be transformed into a premier concert space. The Lakeland City Center has hosted some of the best musicians in American history, like Elvis Presley, Bon Jovi, and Duran Duran.
Guests have flexible ticketing options and make sure to check out the Center-Stage Cafe for a fine-dining experience before your show!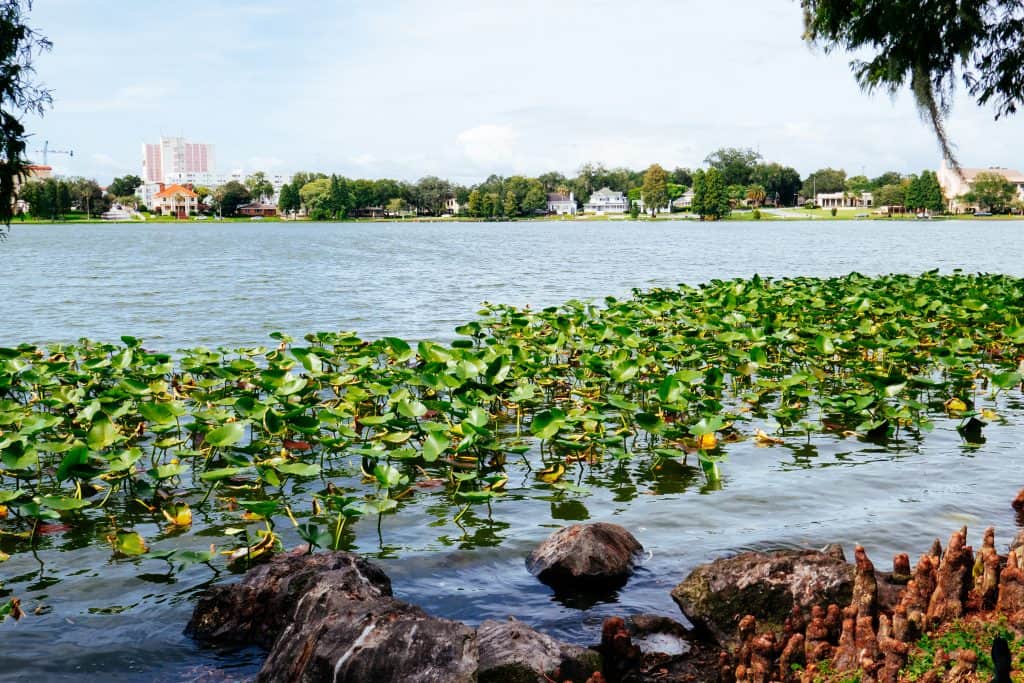 Lake Hollingsworth
At the very center of the city is one of the best places to go in Lakeland to enjoy and reconnect with nature. Lake Hollingsworth is over 350 acres in area, and outflows to the Peace River which empties into the Gulf of Mexico.
The lake is named after John Henry Hollingsworth, one of Lakeland's first pioneer settlers. Lake Hollingsworth has great views of Florida Southern College, especially the buildings designed by Frank Lloyd Wright. Water lilies pool on the surface of the water.
Surrounding the water is a 3-mile "Lake-To-Lake" trail, which is the most popular running trail in the area. Runners and birdwatchers can see roseate spoonbills, white pelicans, and long-billed dowitchers as well as the occasional otter family swimming about.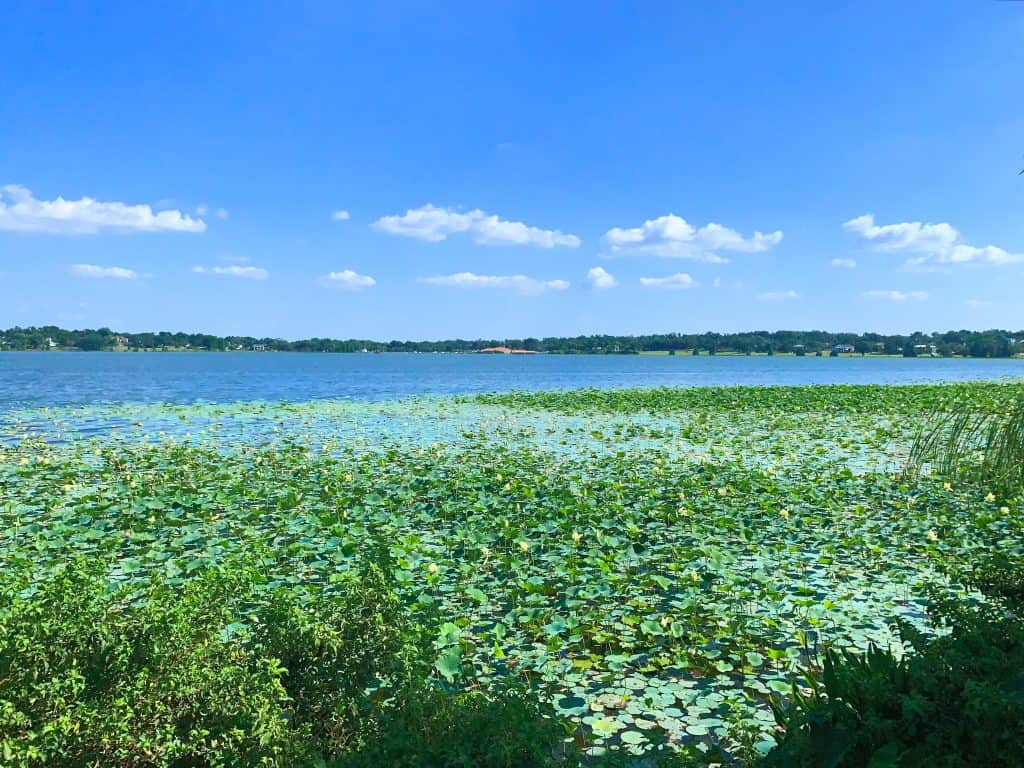 Frank Lloyd Wright Visitor's Center
If you love art, history, architecture, or just anything beautiful, then you must take a trip to the Florida Southern College campus. Frank Lloyd Wright left his mark on Lakeland by building 13 structures on the campus!
Frank Lloyd Wright is considered the best of American architects. He believed and designed under a philosophy of "organic architecture." Structures must be in perfect harmony with humanity and their environment.
Today, the world's largest collection of Wright's work is on the Florida Southern College campus. Of the 13 structures on the grounds, the collection includes Wright's largest water feature, his only planetarium, and a theatre in the round, an acoustic marvel you have to hear to believe.
A visit to the Frank Lloyd Wright Visitor's Center is your gateway to discovering and exploring his architecture. The center houses photos and drawing of Wright's work.
The center offers multiple tours, but the most popular option is the In-Depth Tour, which allows you to go into the structures as well as view their exteriors.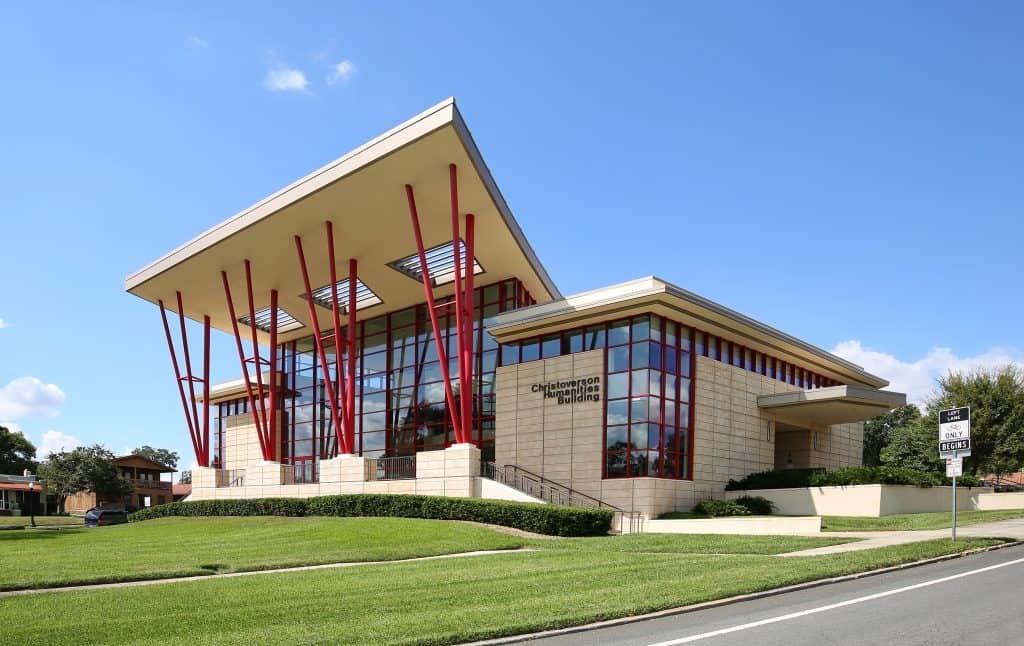 Common Ground Park
Common Ground Park is one of the most family-friendly things to do in Lakeland! Of all the parks in Florida, this is one of most non-traditional playground areas with multiple features to create an "inclusive play experience."
This playground encourages jumping, sliding, climbing, running, and exploring for kids of all ages! The parks' play areas are separated into different areas for age range and level of difficulty. Parents can look on from an open grassy area that is perfect for picnics and play breaks.
Younger children can enjoy a sand pit, a spinning carousel, and a challenging balance course. Older children can take on a gigantic jungle gym, a rock garden for climbing, and a towering rope mountain! Swing sets cater to all ages and even provide options for children with disabilities.
Admission to the Common Ground Park is free. Paved parking is also free.
Bok Tower
While technically not close enough to be a Lakeland attraction, Bok Tower is only a 50-minute drive to the east and well worth the trip! It is one of the coolest hidden gems in Florida!
North of Lake Wales, Bok Tower lies in the middle of a meditation and reflection garden that doubles as a bird sanctuary.
Founded by Edward Bok, originally from the Netherlands, the grounds have been transformed into what he called "a spot of beauty second to none in the country." We agree with this sentiment, especially when you take time to walk the grounds.
You can wander through the paved pathways and mulched trails leading to the Core Gardens, full of native Florida plants. There are so many beautiful routes to explore and get lost in!
You eventually will arrive at the actual Tower itself, which is a Carillon, a type of bell tower that can be played like an instrument. There are daily concerts and the tower's music can be heard throughout the grounds also at half-hour intervals.
A stop on the Great Florida Birding Trail, the reflecting pool and its surrounding gardens are home to over 126 species of birds. The gardens are also home to endangered species like the Gopher Tortoise and the Eastern Indigo Snake.
Visit the Blue Palmetto Cafe for signature soups, salads, and sandwiches. Commemorate your visit at the Shop at Bok to take home unique treasures as well as plants to plant in your own garden.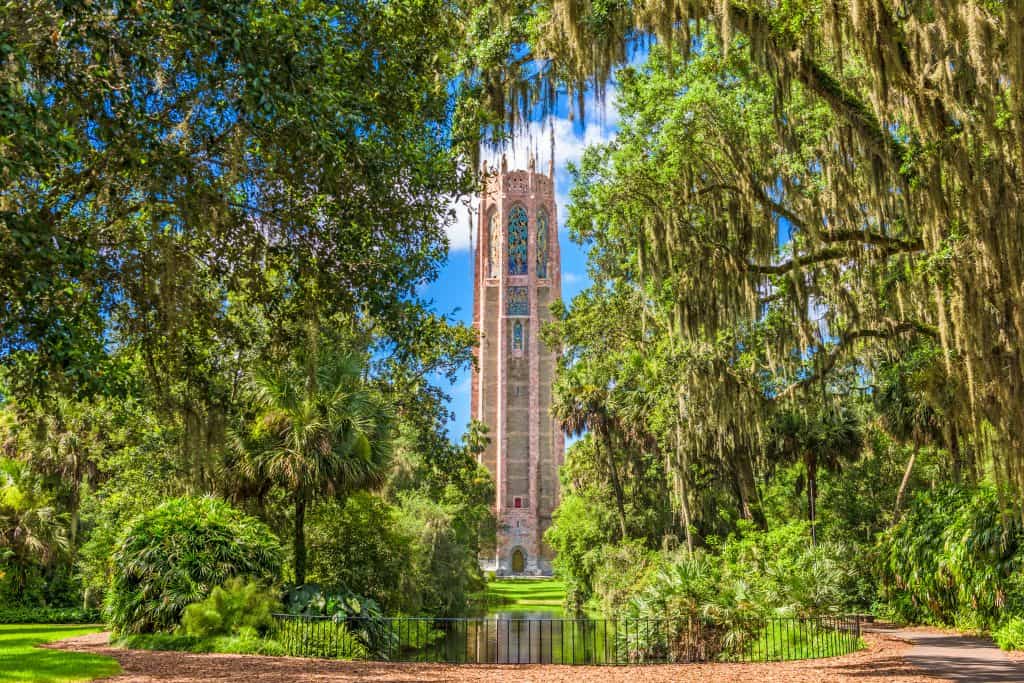 Did You Find This Post Helpful?
If so, we would love to keep in touch! We enjoy seeing photos and comments about your experiences in Florida! You can follow us on Instagram and we will repost your photos on our feed and comment too! Just tag us at @floridatrippers and hashtag #floridatrippers. We can't wait to see your travels!