Did you know that there are actual castles in Florida? While castles are commonly associated with fairy tales and dragons, they are pretty common in Europe. But in Florida? You might be pleasantly surprised!
Florida is home to many castles, including chateaus, mansions, and palaces! Castles in Florida blend history, architecture, and nature together almost seamlessly. The grandeur of these historic sites is overwhelming.
Because these castles rival their European counterparts, they are popular tourist attractions. They make great subjects for any photography portfolio. These castles are even popular wedding destinations for Florida couples.
Thankfully, you don't have to book a flight across the Atlantic to step back in time and experience these magnificent feats of architecture! When you're making your bucket list of Florida attractions, make sure to add these castles to your road trip itinerary.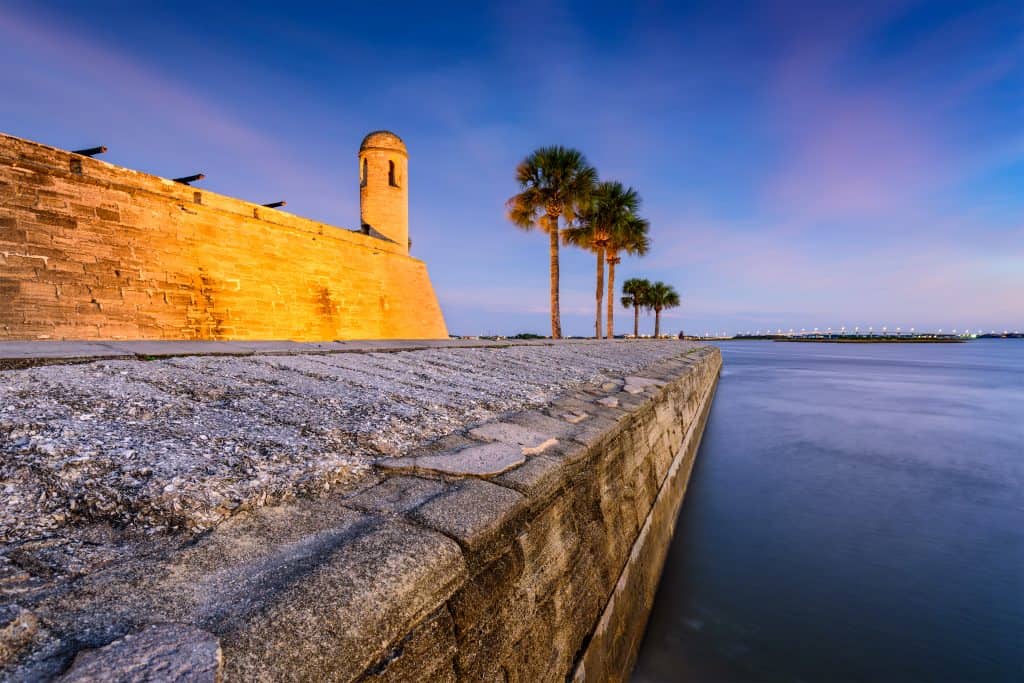 10 Magical Castles in Florida
Solomon's Castle
Tucked away in the Florida woods lies one man's dream turned reality. Built by Howard Solomon entirely out of aluminum, Solomon's Castle is a testament to determination and artistry!
Just to the east of Sarasota, Solomon's Castle functions as the home, gallery, and workshop of its creator and builder. Howard Solomon, an internationally renowned artist, sculptor, and painter, has opened up his home to tour his aluminum castle!
Make sure to have lunch at the Boat in the Moat Restaurant. You guessed it, the restaurant is actually in a boat… on a moat! Of course, this born and built from Solomon's imagination. The medieval themed menu includes salads, sandwiches, and hot plates.
Tours of Solomon's Castle are available from Tuesday through Saturdays. The Castle is closed to the public every Monday, as well as the entire months of August and September. Tickets start at $18 with discounts available for seniors, children, and students.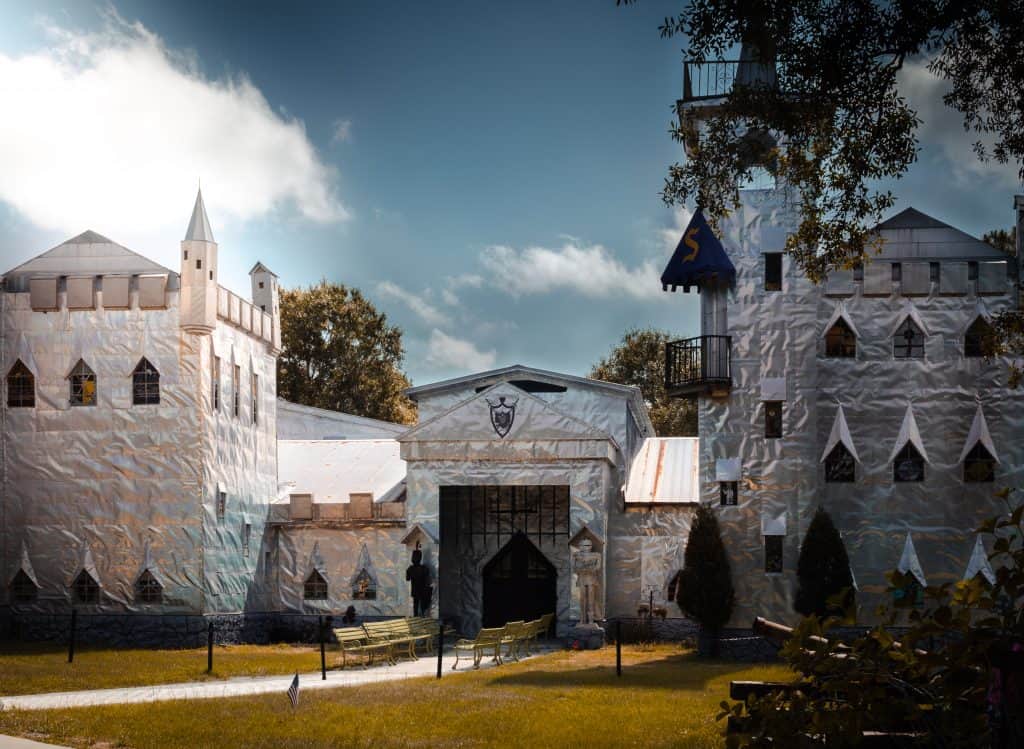 Coral Castle
To this day, Coral Castle in Florida's origins is a mystery. We know that from 1923-1951, Edward Leedskalnin carved 1,000 tons of coral rock. We know that he designed an elaborate rock garden. What we don't know is how he did it by himself.
A true eccentric, Leedskalnin attributed this feat because he "knew the secrets used to build the pyramids." Some have said he had supernatural powers. Perhaps we'll never know how he did this single-handedly. But the Castle's legacy endures today.
Built as an everlasting monument to his lover that canceled their wedding the day before the ceremony, there's something quite romantic about the gardens. Bougainvillaea trees shade the gigantic rock walls.
Among the garden's features are a 9-ton gate that opens with the touch of a finger, a Polaris telescope, and functional rocking chairs. All of them, made completely of coral stone.
When you walk through the castle, you'll be in awe of the structure. While scientists debate how Leedskalnin built this castle, it stands as a testament to the power of love. The next time you're in Miami, Coral Castle is a must on your way to Key West.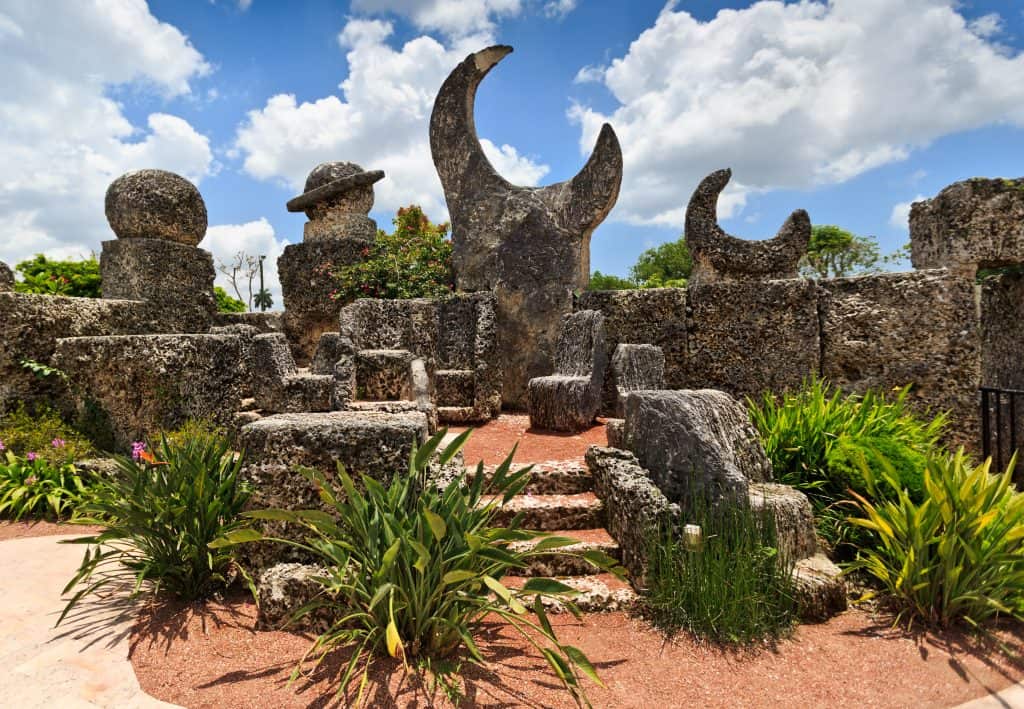 Whitehall Mansion
In Palm Beach, you'll find a castle the New York Herald described as "more wonderful than any palace in Europe, grander and more magnificent than any other private dwelling in the world."
This hidden gem was the private residence of Henry Flagler, Florida's original railroad magnate. This 75-room Gilded Age mansion features neoclassical Beaux-Arts architecture. At the center, you'll find an open-air courtyard, modeled after other palaces in Spain and Italy.
Inside, you'll find marble floors, walls, and columns. There are murals on the ceiling and heavy gilding everywhere. All of the details are custom and are as ornate as they are breathtaking.
Tour the Whitehall Mansion today! It is open for tours Monday through Saturdays from 10:00 AM – 5:00 PM. Admission starts at $18 with discounts for children.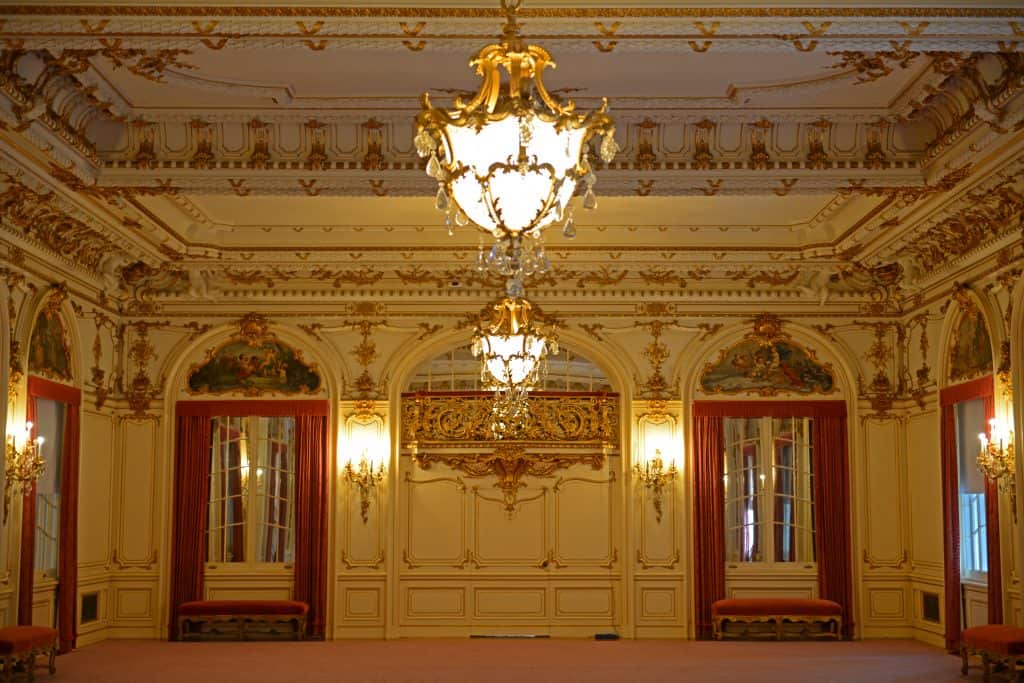 Castle Otttis
In St. Augustine, you can find historic Castle Otttis (yes, with three t's). Built by Ottis Sadler and Rusty Ickles in 1988, it took three years to complete. This castle was "done in remembrance of Jesus Christ."
As you approach the castle, notice the turrets rising above the trees. Because it was based on the designs of Irish castles from the last century, it was intended to be a landscape sculpture. It stands open to the elements with its rock walls standing over 50 feet tall.
The interior was designed with the help of Catholic historians to evoke the atmosphere of an Abbey, or an old Irish church. Walking into Castle Otttis is a deeply religious experience, meant to be treated with respect. As a result, you will find many scheduled religious services here.
While Castle Otttis is open for tours, they are only available by appointment only. Be prepared to be flexible, the owners rarely open the Castle to the public, and when they do, it is only for a short amount of time.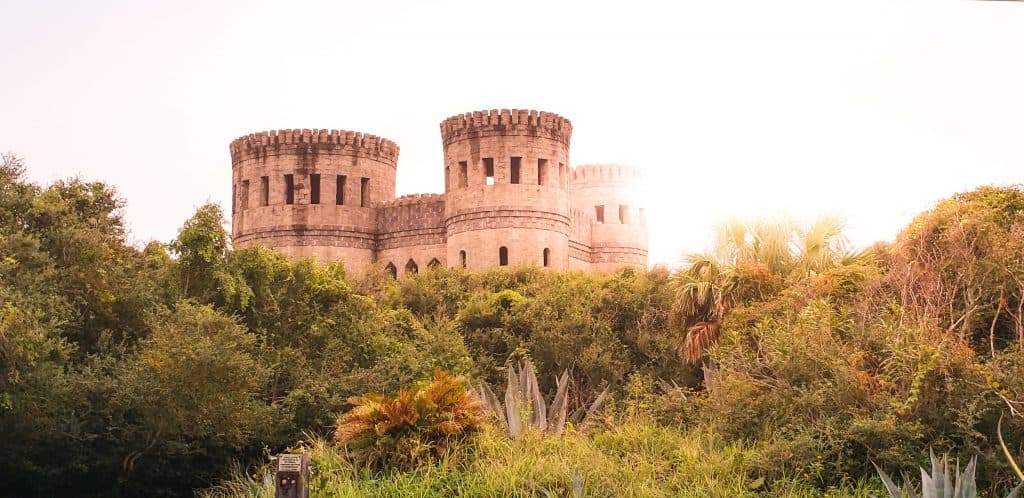 Loews Don Cesar Hotel
One of the best places to visit in St. Petersburg, a trip to the Don Cesar will take you back in time to the roaring 20s. Constructed in 1924, it was envisioned to be a "pink castle." In fact, before it was renamed the Don Cesar, it was called the "Pink Lady."
Designed with a mix of different styles, the Don Cesar blends Mediterranean and Moorish styles. Consequently, you'll see this in the arched openings, red clay tile roofing, balconies, and tower-like upper stories.
In the past, the "Pink Lady" was the romping grounds of famous figures like F. Scott Fitzgerald, Al Capone, and FDR. Today, it has been renovated into a fully functional hotel, complete with restaurants and a full-service beach club and spa.
Because Don Cesar is so iconic, it has been featured in many movies, music videos, and even its restaurant was featured on Food Network. It is said the hotel today is haunted by its former guests. Naturally, you can take a ghost tour of the grounds.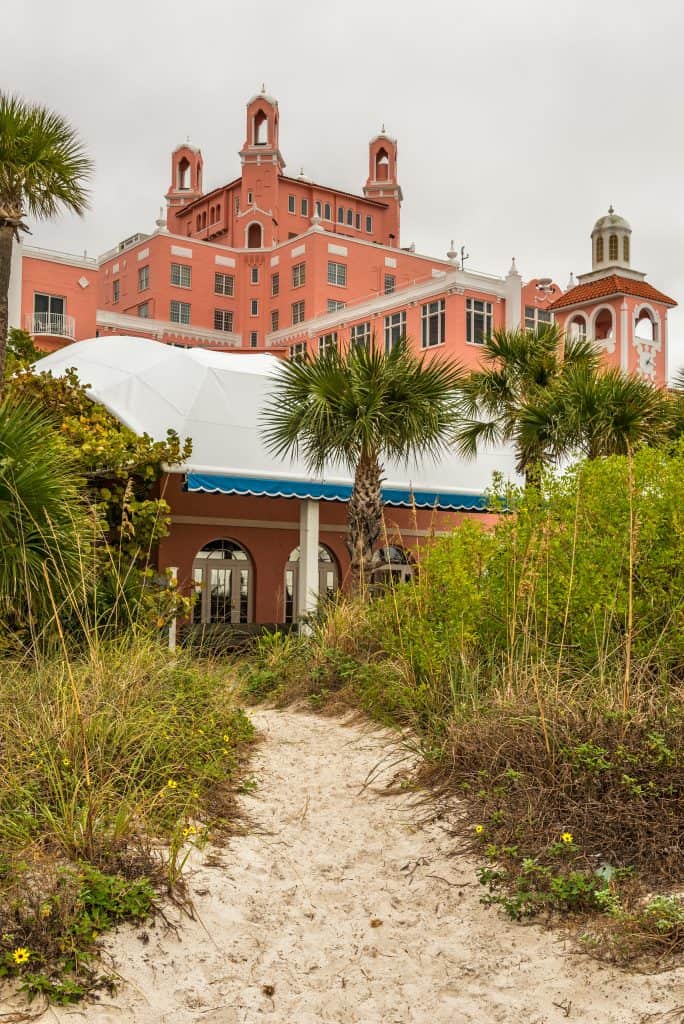 Castillo de San Marcos
On the western shore of Mantanzas Bay in St. Augustine lies Castillo de San Marcos, the oldest masonry fort in the continental United States. A monument of stone and mortar, this castle stands today as a testament to human determination and endurance.
Originally a fortress for the Spanish, Castillo de San Marcos was built completely using coquina, the only rock the Spanish could buy at the time. Luckily, coquina is formed from congealing of sea shells, and it remains a very solid rock. This was a solid fortress for the Spanish at war.
Right next to two Florida State Parks, visitors can take a self-guided tour using an app on their phones! Of course, there are rangers and volunteers in period dress to pose for pictures and answer questions.
Guided tours are available as well. You can catch a historic weapons demonstration every hour, weather permitting. If you check the castle's app, you can see the next time the International Space Station will pass overhead!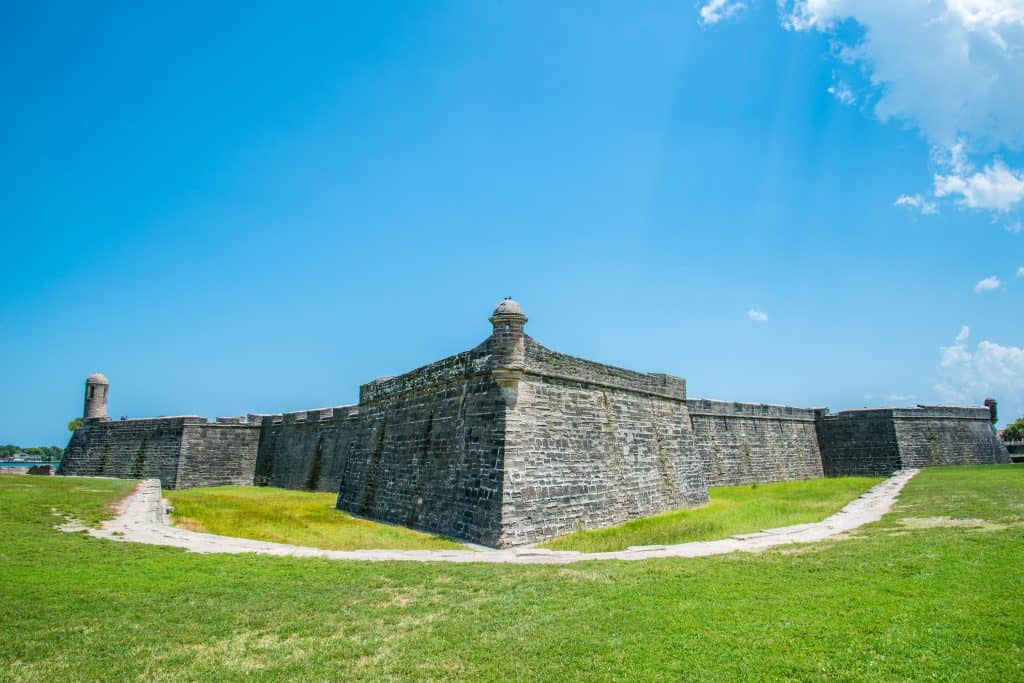 Villa Zorayada
Take a step back in time to the Victorian Era when you visit Villa Zorayada in downtown St. Augustine. Built in 1883 by eccentric millionaire Franklin W. Smith, this palace served as his home.
Once a restaurant and club, Villa Zorayada then became a gambling casino during Prohibition. After it shut down, the city declared it a national landmark to preserve its culture, open to tour today!
The interior features replicas of the walls of the Alhambra palace. Among the fine detailing, you'll see hand-painted wood tiles, intricate fireplaces, and mosaics made of stained glass.
Among the many pieces of art displayed is the Sacred Cat Rug. Infamous and highly discussed by visitors, it is over 2,400 years old and made of the hair of ancient cats that roamed the Nile River.
It was Smith's intention to bring part of Spain to St. Augustine, and he succeeded. Today it educates visitors about different world cultures from Monday through Saturday from 10:00 AM – 4:00 PM.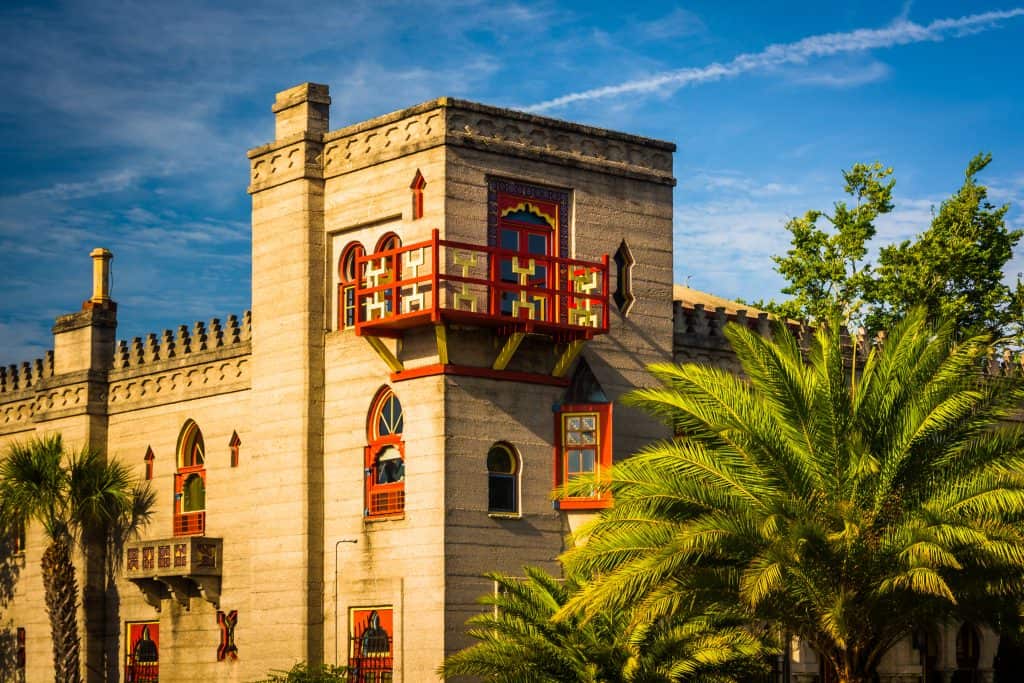 Castle Warden
Built originally in 1887, Castle Warden was a winter home for William Warden and his family. Then in the 1940s, it was transformed into a hotel. By the 1950s, Robert Ripley acquired the castle to transform it into the world's first odditorium, housing his collection of oddities.
If that name seems familiar, it's because Castle Warden was home to the first of Ripley's Believe It Or Not Museums! You can still visit the museum today to see Ripley's first collection.
The unique architecture, thankfully, has been preserved today. With Moorish influences, the intricate details are pristine and make an interesting backdrop for the collection. The thousand of oddities include an Egyptian mummified cat and the world's largest moving erector set!
Warden Castle is a focal point for ghost hunters. One of the most haunted places in St. Augustine, you can ride a "ghost train" that starts out in the castle and moves through the city. You'll see the most haunted places in the nation's oldest city.
Cinderella's Castle
Would it really be a list of Castles in Florida if we didn't include the most iconic one? You've seen it in the vanity logo that plays before every movie. If you're a Florida native, you might even have visited it before.
Of course, we're talking about Cinderella's Castle. This is the perfect place to start your day at Magic Kingdom. The iconic symbol of the park, observe all the major fireworks shows from here!
You can't miss the 189-foot monument to magic with its lofty spires and ornate turrets. Surrounded by a tranquil moat, this is the perfect place to pose for a picture on your Disney vacation.
First, once you head inside, you'll see mosaic stained glass windows that chronicle Cinderella's rags-to-riches story. Then visit the Bibbidi Bobbidi Boutique. Your Fairy Godmother will transform you into a prince or princess!
After you've finished your adventure in the park, sit down for a meal at Cinderella's Royal Table. Meet Cinderella at an elegant meal with all your other favorite Disney princesses.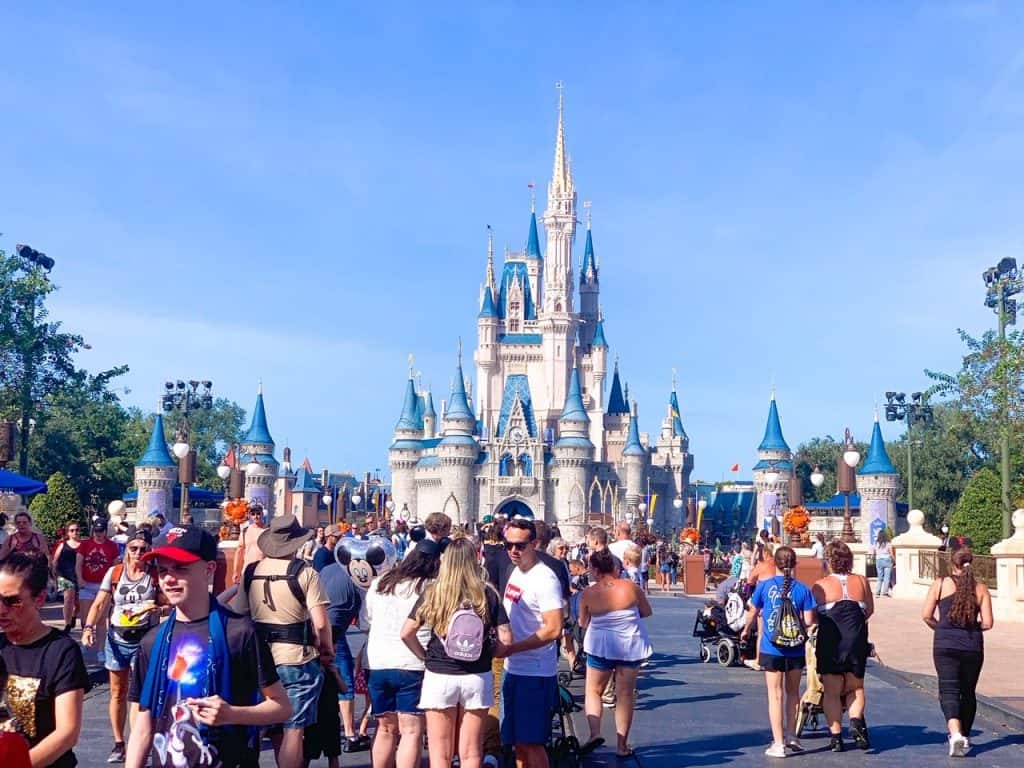 Hogwarts Castle
While the Hogwarts Castle at Islands of Adventure may not be a true castle, we believe Dumbledore said it best. "Of course it is happening inside your head, but why on Earth should that mean that it is not real?"
The magic of the Hogwarts Castle can be seen as you approach it while passing through Hogsmeade Village. The lofty blue spires soar into the sky. It really looks as though it's sitting on top of a small mountain. It's one of the best places to visit during Christmas, with faux snow on the rooftops.
The interior of the castle houses the Forbidden Journey ride attraction. As you pass through the castle, you'll see many Harry Potter relics. The Triwizard Cup, Dumbledore's pensive, and the Sorting Hat. You'll even pass by the living paintings as they talk to you.
Perhaps the most magical of all the castles, thanks to its franchise, the Hogwarts Castle is breathtaking to any Harry Potter fan when they first see it. Even if you're not a fan, the attention to detail is still striking. And hey, the ride itself inside is still very exciting.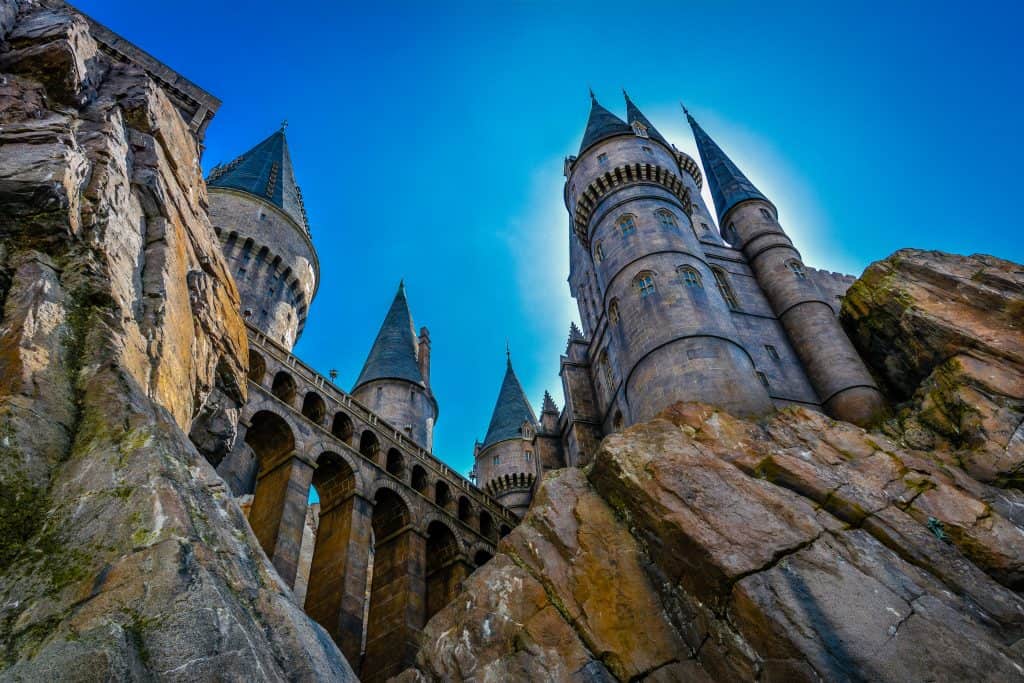 Did You Find This Post Helpful?
If so, we would love to keep in touch! We enjoy seeing photos and comments about your experiences in Florida! You can follow us on Instagram and we will repost your photos on our feed and comment too! Just tag us at @floridatrippers and hashtag #floridatrippers. We can't wait to see your travels!