If you're looking for things to do in Sarasota, then look no further. We're here to help!
On the gulf coast of southwest Florida just an hour south of Tampa, Sarasota is a town we consider to be a hidden gem. Because of all the fantastic Sarasota attractions, the town motto describes it as a town "where urban amenities meet small-town living."
We couldn't agree more. Sarasota's Italian-influenced architecture, diverse collection of environmental attractions, and glittering beaches make it a sleepy paradise. It's no wonder Sarasota is the winter headquarters of the Ringling Brothers Circus!
Whether you're discovering the area for the first time, or you're a local looking for something new, we'll help you treat yourself to the best things to do in Sarasota, FL.

16 Fun Things To Do In Sarasota
Ringling Museum of Art
Located on the Ringling Brothers Museum campus, the Ringling Museum of Art started as a collection of personal art belonging to the circus co-founder John Ringling. Works include those by Velázquez, Rubens, and Veronese. The Ringling is only an hour south of Tampa by car, making it a must-visit on a day trip from Tampa.
Visitors will first be charmed by a stunning, Renaissance-inspired, pink courtyard. There you can find bronze and stone casts of iconic sculptures-including Michaelangelo's David. In the courtyard, a garden area flourishes with flowers and fountains. If you plan to visit, don't forget to check out our Tips For Visiting The Ringling Museum!
Once inside, art lovers can gaze at the expansive collection in the long building that frames the courtyard. Visiting this museum in Florida is one of the best things to do in Sarasota. It's known for its works from the Roman, Greek, Medieval, and Renaissance periods.
The Ringling has a top entrance fee of $25 for adults, offering lower payment tiers for children, seniors, and college students! Reduced entrance rates are offered on Thursdays between 5 PM – 8 PM.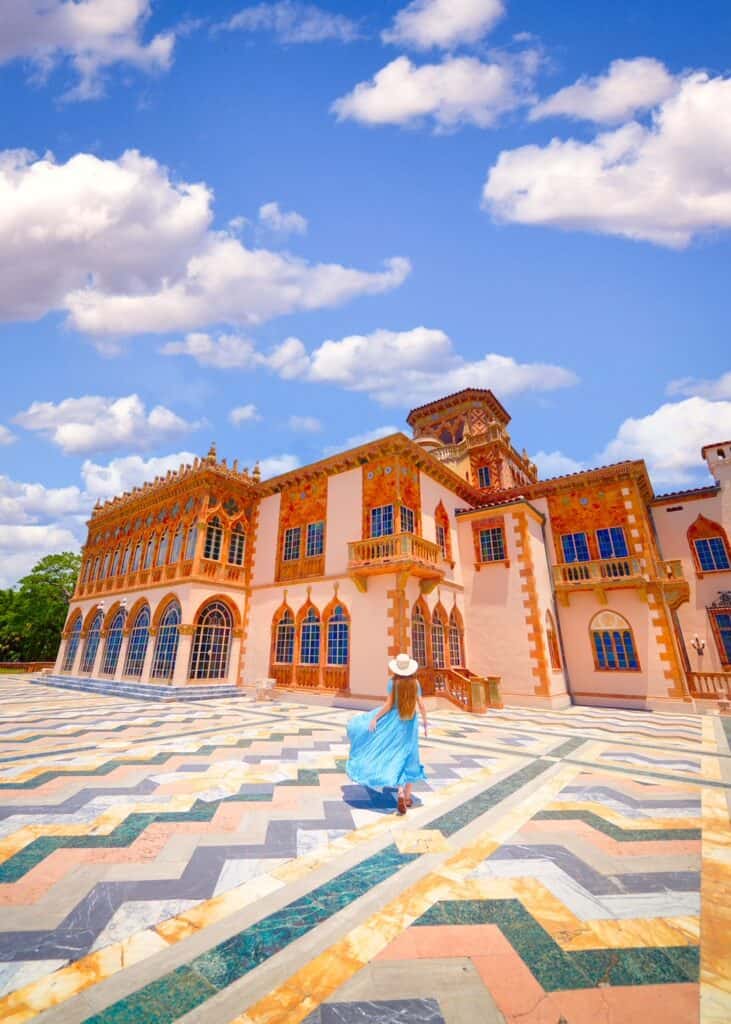 Siesta Key Beach
Siesta Key Beach has been named one of the finest white sand beaches in the country. Swimming there is also one of the best things to do in Sarasota! This is a great family destination, ideal for children looking to collect shells as souvenirs.
Siesta Key is broken up into smaller beaches. Turtle Beach is a quieter beach option for those looking for a low-key afternoon to enjoy the rest of that book. The Point of Rocks is a must for snorkelers to observe sea life.
Adjacent to the beaches is Siesta Village, filled to the brim with dining options, quaint boutiques and shops, restaurants, and cafes to grab a cup of joe. Those lucky enough to visit on a Sunday night will be treated to the beats of the drum circle while watching sword-balancing belly dancers!
Siesta Key Beach has something to offer for everyone, making it one of the best Sarasota attractions.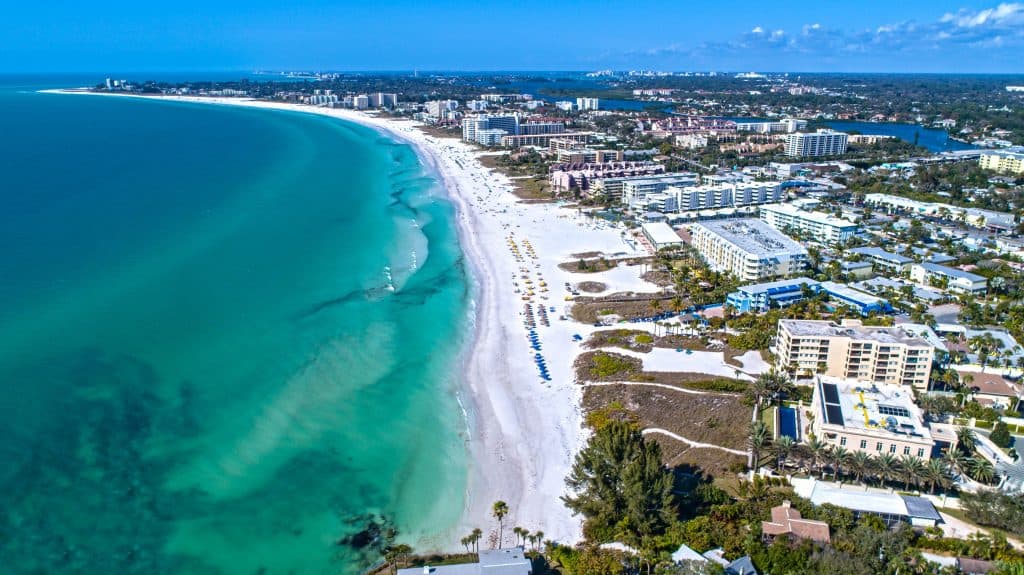 Myakka River State Park
So you want to feel what Florida must have felt like when Spanish explorers first encountered the land? That's the feeling you'll get when you step foot into Myakka River State Park.
One of the best Sarasota attractions, the Myakka River winds through the grounds, full of tall pines, vast prairies littered with wildflowers, and wetlands teeming with wildlife. The Myakka River State Park is one of Florida's oldest and most expansive state parks at 58 square miles.
In addition to boating, fishing, and canoeing, guests can walk the Birdwalk at Myakka. The long-planked bridge offers a way to observe the ecosystems up close without disturbing anything. This is an excellent spot for birders to add to their life lists, and maybe even see bald eagles!
Families can take their children for a walk through the pines and palms through the Canopy Walkway, suspended 25 feet above the ground, making it one of the best things to do in Sarasota with kids!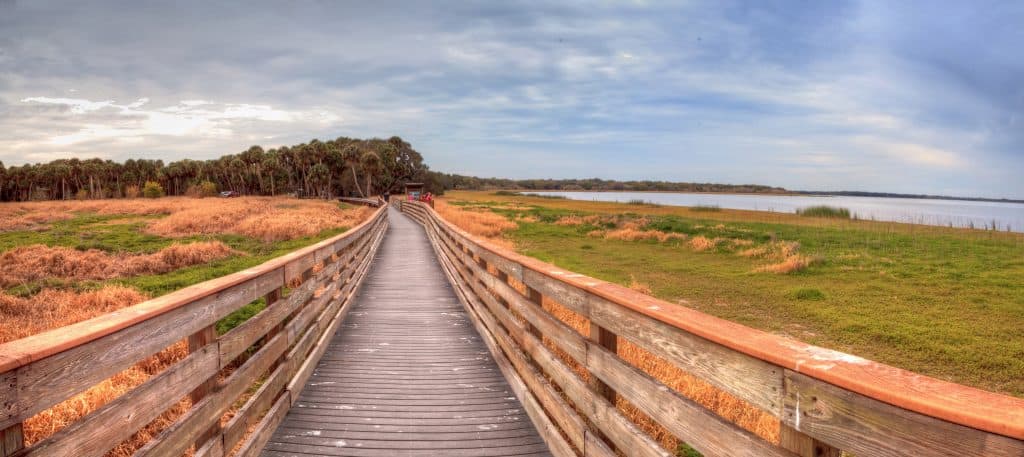 Sarasota Farmers Market
One of the best ways to get a taste of Sarasota, and we mean literally, is to make a visit to the Sarasota Farmers Market. Founded in 1979 by the Downtown Merchant's Association, it was designed to bring more foot traffic downtown.
Today, the Farmers Market is a celebration of the best Sarasota has to offer. The streets downtown are lined with vendors, selling everything from fresh vegetables, fruits, flowers, local art, and every kind of street food imaginable. Musicians can also be found playing on the streets as well.
A non-profit, the Farmers Market takes pride in their philanthropy, funneling their earnings back into the community. You can feel good about emptying your pockets here. We suggest you come here hungry.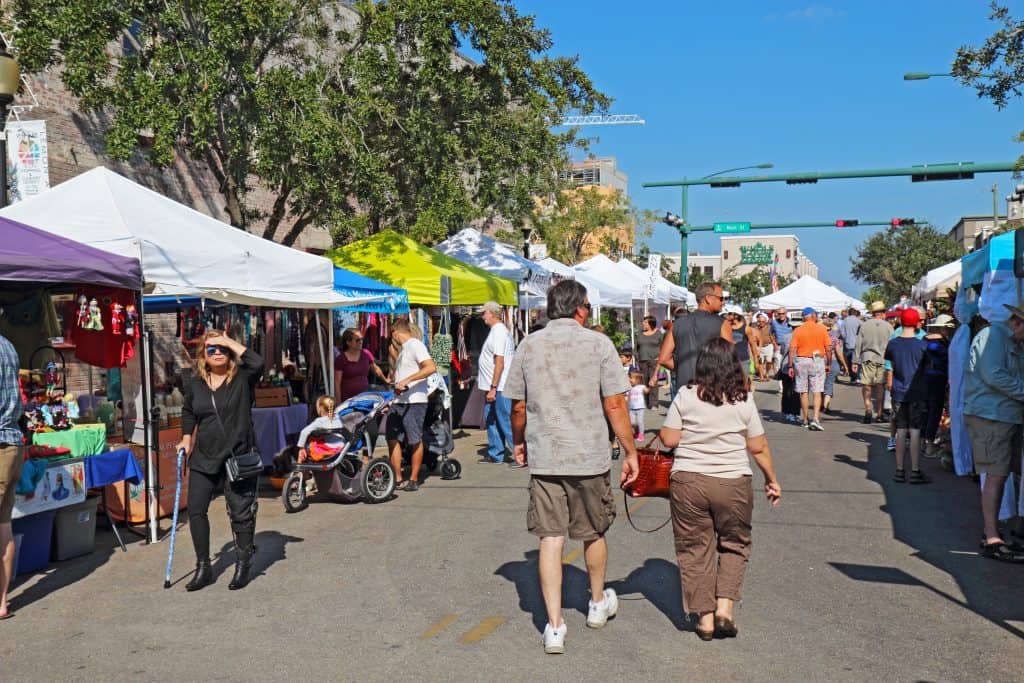 Bayfront Park
Just a walk across the street downtown lies one of the most beautiful Sarasota attractions. A charming marina, Bayfront Park is to Sarasota what Grant Park is to Chicago.
Overlooking the Sarasota Bay, a large stone archway covered in bougainvilleas welcomes visitors to the park. Once inside, the pavilion offers benches to gaze over the marina, a gigantic playground for children, and picnic tables perfect for an outdoor lunch.
Want to take to the water? The Marina has sailboats and sight-seeing cruises available. This is also a perfect place for deep-sea fishers to launch their boats.
Children can enjoy the Steigerwaldt Fountain, a water feature where jets shoot water up at timed intervals, a perfect way to beat the heat. The fountain, as well as the entire park, is dog-friendly!
If you're hungry for a nosh, you can head to the adjacent O'Leary's Tiki Bar and Grill, a tropical-themed restaurant offering casual bites in an open-air space. If you've just been playing in the fountain with your dog? No problem. O'Leary's is dog-friendly as well!
With stunning views, Bayfront Park is the best place to watch the sunset, making it one of the most beautiful things to do in Sarasota at night.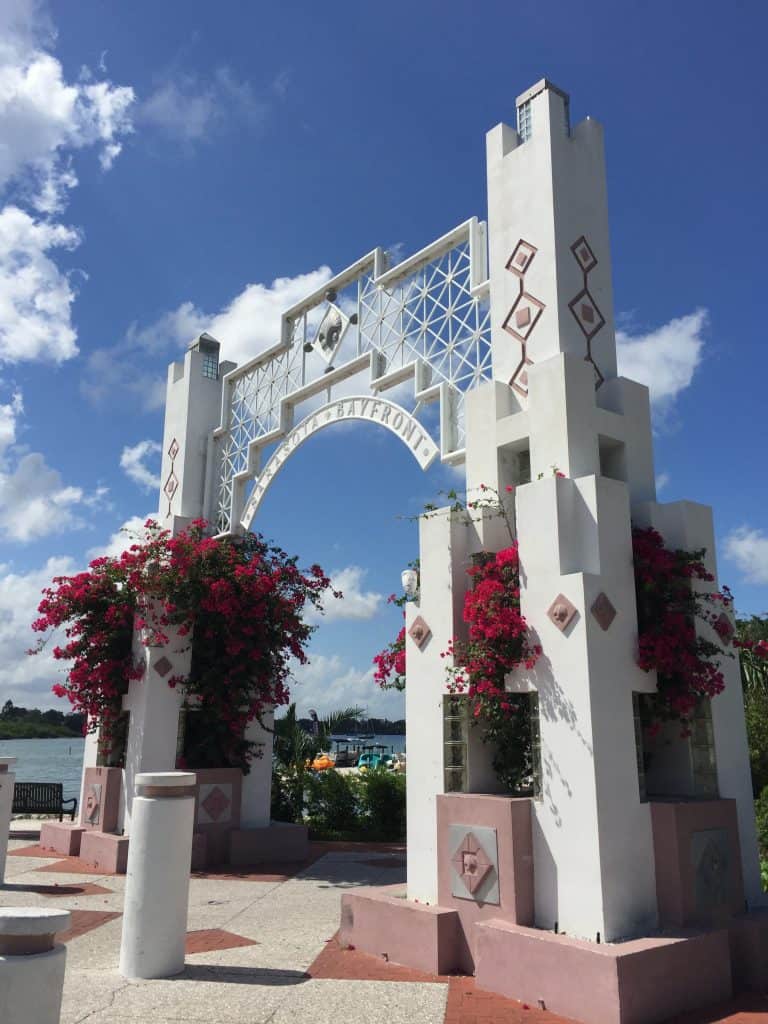 Asolo Repertory Theatre
Asolo Repertory Theatre is unlike other theater centers in Sarasota. It is not a performing arts venue where touring Broadway shows come to perform. Asolo is its own professional theatre company, casting and producing shows of their own choosing and invention.
Asolo Repertory Theatre is the biggest professional theatre company in Florida. They produce about fifteen different productions each season, which typically lasts from fall through the spring of the following year. The company has attracted many Broadway and TV/film stars to perform on their stages like Brad Oscar and Jeremy Jordan.
Asolo Repertory Theatre also has a partnership with the conservatory of Florida State University, offering students a Master of Fine Arts degree in Acting. They also offer classes in-house as well as online.
The center of Sarasota's fine arts scene, a trip to see a production at Asolo Repertory Theatre is worth a trip, one of the most cultural Sarasota attractions.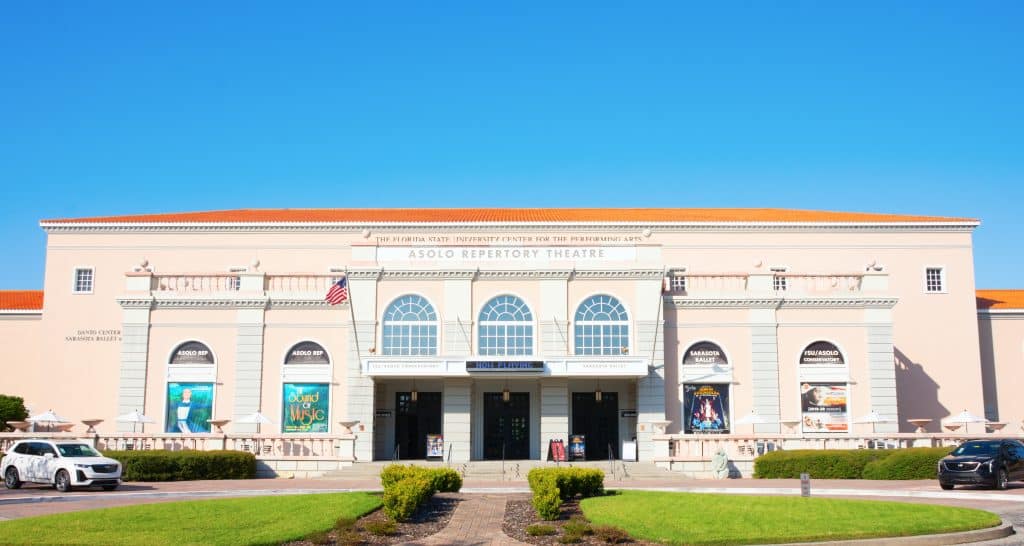 Ca D'Zan Mansion
One of the architectural gems of the area, the Ca D'Zan Mansion was the winter home of the Ringling Brothers Circus co-founder John Ringling. A lover of Venice, Ca D'Zan is Venetian for "House of John."
The mansion borrows architectural aspects from Ringling's favorite places in Venice: Doge's Palace, Ca d'Oro, and the Grunwald Hotel. The marble terraces and bayfront windows echo a Venetian Gothic aesthetic, making a visit one of the most beautiful things to do in Sarasota.
The interior of the former residence is every bit as opulent as the exterior. In the living room, a crystal chandelier from the original Waldorf-Astoria hotel is suspended over a black and white tiled floor. The long dining table seats 22 people. Opulent silver and china are displayed in the butler's quarters.
One of the United States' architectural gems, the mansion was used in the filming of Great Expectations directed by Oscar winner Alfonso Cuaron in 1998!
The Ca D'Zan offers self-guided tours of its first floor with tickets at $25 for adults. There are ticket discounts for children and seniors, as well as for military, teachers, and college students. The mansion is open from 10 AM – 5 PM daily, with the exceptions of Thanksgiving, Christmas, and New Year's Day.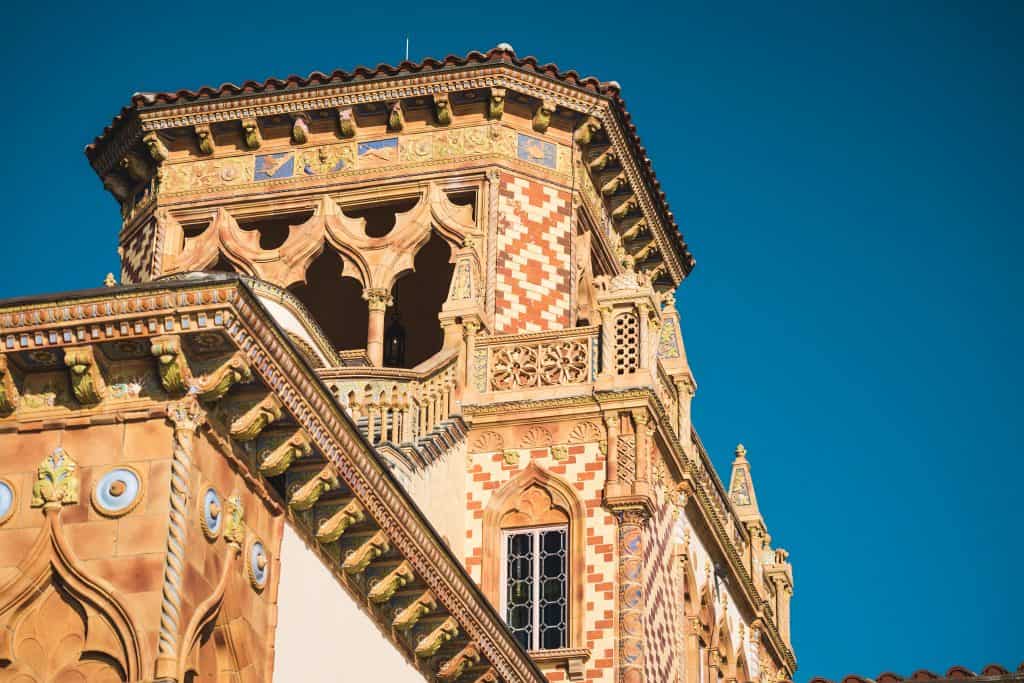 Sarasota Classic Car Museum
For something off the beaten path, why not pay a visit to a different kind of museum? The Sarasota Classic Car Museum is the second oldest of its kind in the United States! For those who love classic cars, this is one of the best things to do in Sarasota.
The Sarasota Classic Car Museum has the largest "timeline room" which details the history of the automobile from its conception by Karl Benz in 1885 to the present. As you walk through the space learning about the evolution of cars and its major players, you can see artifacts of the automobiles in question.
A showroom has a vast collection of over 75 classic and muscle cars from all of the greatest names including Bentley, Cadillac, Romeo, and Ferrari! Even if you're not a car person, these restored relics are undeniably beautiful.
The museum is open seven days a week from 9 AM – 6 PM except Christmas Day. Tickets for adults are $14.85 and free for children under the age of five!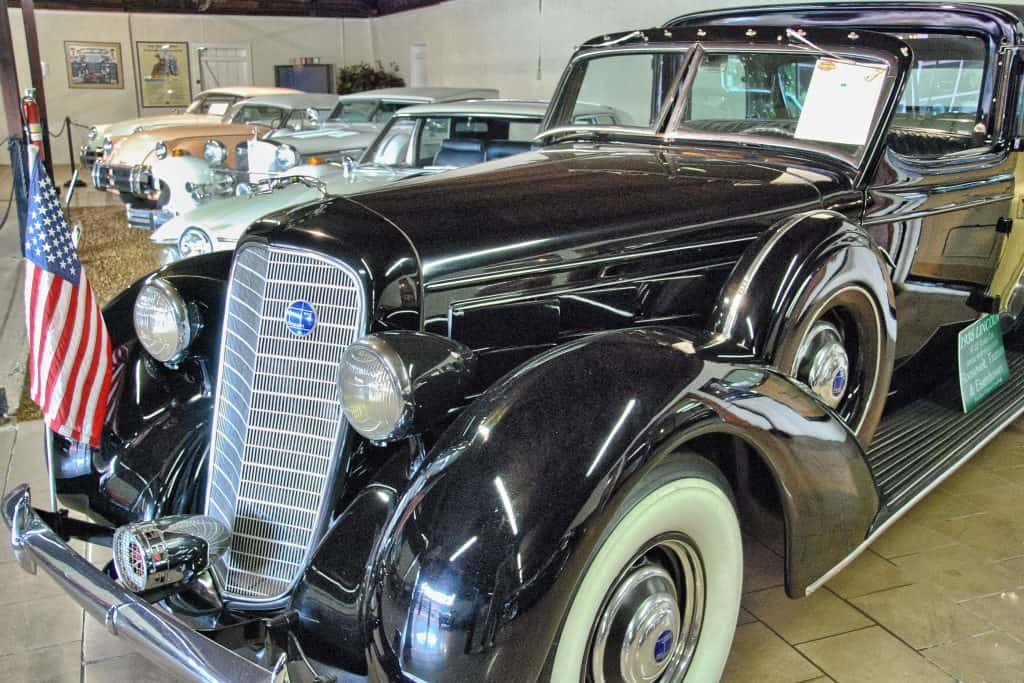 Sarasota Jungle Gardens
Not quite a zoo, but not quite botanical gardens, Sarasota Jungle Gardens meets somewhere in the middle. Built on the swampy remains of a former banana grove, the Jungle Gardens is a combination of animal and bird sanctuary/botanical gardens.
Sarasota's favorite family attraction, Sarasota Jungle Gardens is a nature walk where patrons can have up-close experiences with all sorts of wildlife like flamingos, alligators, a variety of birds, small deer.
Guests can wander through sunny paths with sections dappled with shade, surrounded by lush foliage and matured trees. Throughout the path, you'll have the opportunity to participate in animal feedings within the flamingo and alligator enclosures!
Every day, patrons can attend animal shows including a Multi-Species Animal Show, a Jungle Bird Show, a Wildlife Wonder Show, and a Reptile Show. Children can enjoy a playground area with a koi pond and even enter the petting zoo and meet a new fuzzy friend!
Truly a haven for flora and fauna, Sarasota Jungle Gardens is one of the most fun things to do in Sarasota! Adult tickets are $18, with options for children and seniors. Annual passes are available.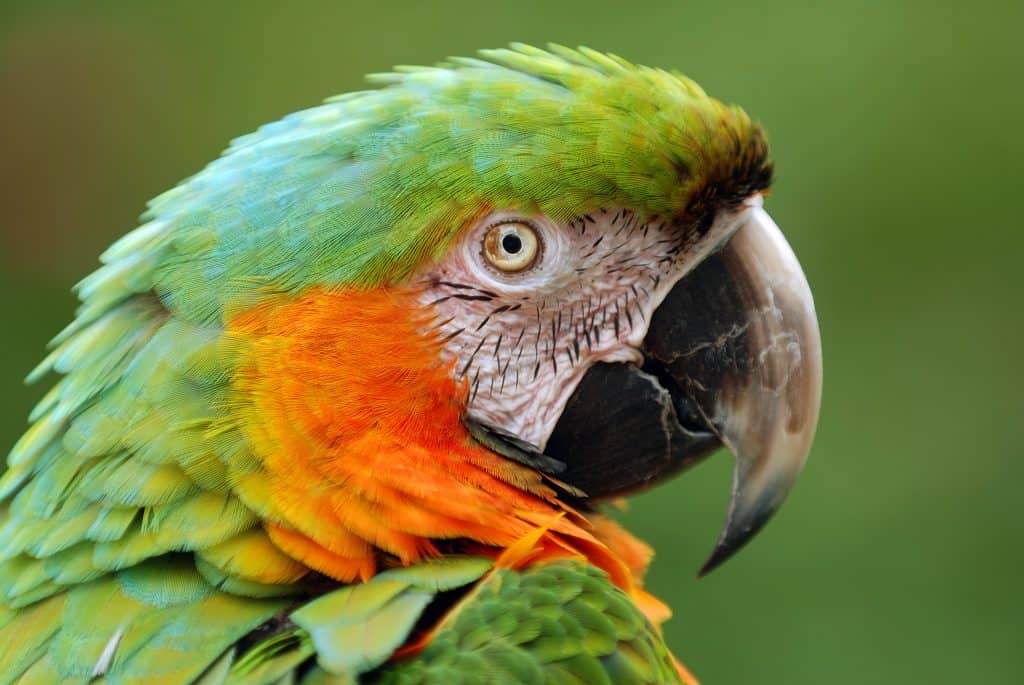 Lido Key Beach
Just adjacent to Siesta Key Beach with a short scenic drive west of Sarasota, Lido Key Beach is a lesser-known hidden gem. One of Florida's most pristine beaches, it is the ultimate destination for shoppers, sight-seers, and adventurers alike.
Lido Key Beach is a must-visit for fishermen. Grab a bucket of bait and a pole and wade through the water to try your hand at catching snook, whiting, and jacks! Wade further out into the water with a surfboard and catch some waves since Lido Key is a hidden surfing spot!
Walk to the south of the key to the South Lido County Park where picnic tables, grills, and volleyball courts await you. Don't want to grill yourself? Lido Key is also home to the Columbia Restaurant, an iconic restaurant with roots in Tampa, so go grab a glass of sangria!
Just blocks away from the sand, you can visit St. Armand's Circle, an elegant center with high-end shops and fine dining restaurants. The metropolitan hub is full of European flair and mid-modern architecture, a scenic haven.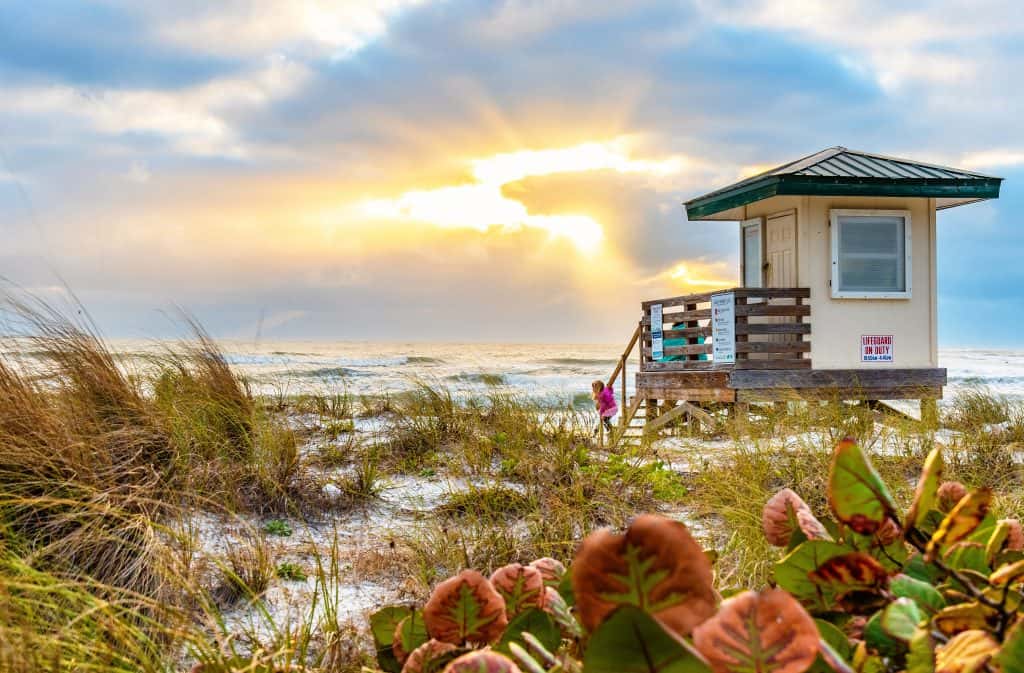 Marie Selby Botanical Gardens
Of all the botanical gardens in Florida, Marie Selby might just take the cake when it comes to sheer beauty. That's because this paradise in Sarasota is a little bit different.
Marie Selby Botanical Gardens is the only one in the world dedicated to the preservation and care of epiphytic tropical plants: orchids, bromeliads, and gesneriads. Once entering, the plants truly take the guest to what feels like a completely different part of the world.
Spanning over 45 acres of bayfront sanctuaries, the paths of Marie Selby Botanical Gardens will lead you on a self-guided walking tour through the grounds. At the end of the tour is an outdoor museum with works of the featured artist of the year.
A must as one of the best things to do in Sarasota, Marie Selby Botanical Gardens are open daily from 10 AM – 5 PM. Parking is free, and tickets are $15 for adults. We recommend arriving at opening or earlier in the day, to beat the crowds and the heat.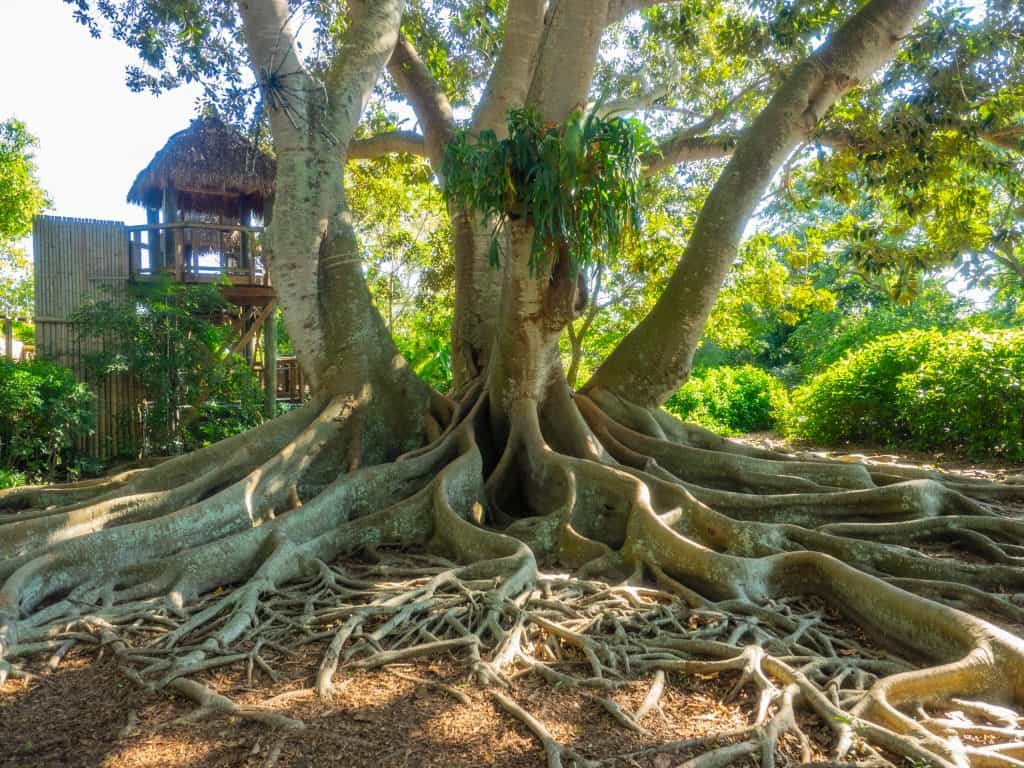 Sarasota National Cemetery
The Sarasota National Cemetery is one of six in Florida. Resting there are members of the United States Armed Forces who either died while on active duty or died with any discharge condition except dishonorable.
The Patriot Plaza, lined with bronze statues of perched bald eagles, leads to a promenade with a glass overhang that covers a stage used for ceremonies.
The grounds, while beautifully kept out of respect for the fallen, are sobering. Among the headstones are benches for mourners and those wishing to pay their respects. There are also large stone blocks outlining the characteristics of soldiers, like endurance and courage.
Visiting a national cemetery is a very patriotic way to honor our country, and the beauty of the Sarasota National Cemetery only enhances the honor and respect paid to the fallen that rest there.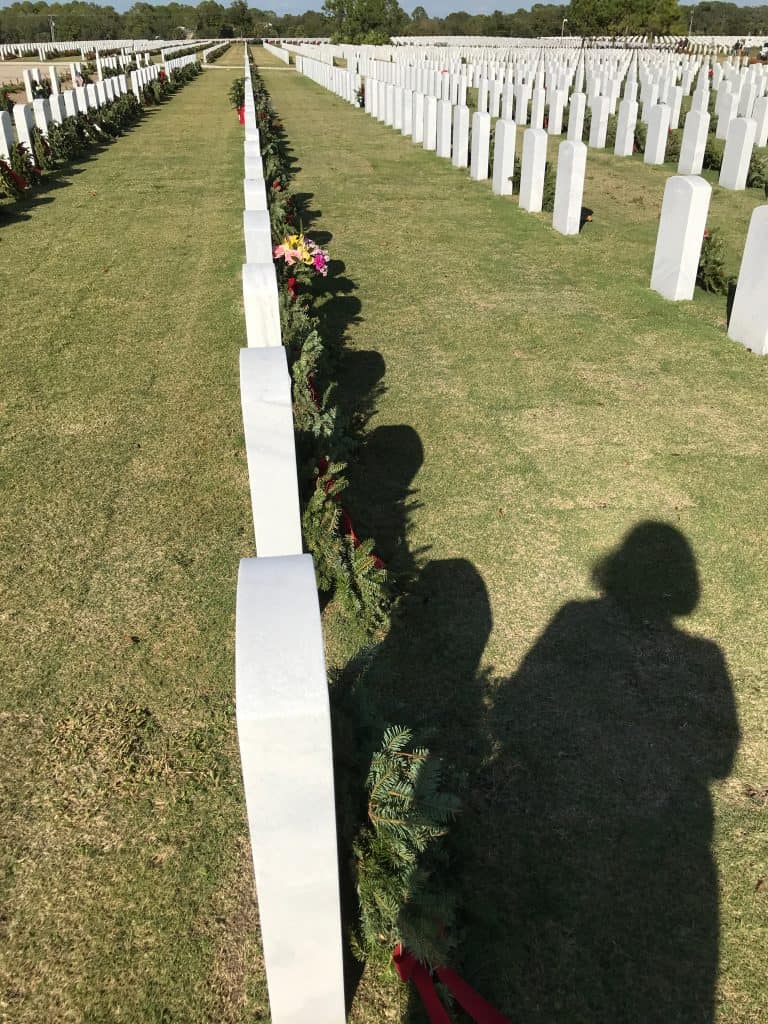 Mote Marine Laboratory & Aquarium
Dedicated to marine life, the Mote Marine Laboratory and Aquarium is first and foremost a research facility, whose aims include conservation of marine ecosystems. Secondly, they are an aquarium open to the publish to share and teach these findings. Visiting is one of the best things to do in Sarasota if you're looking to learn more about marine life.
Most recently, the Laboratory had a breakthrough in coral reef restoration. Scientists were able to introduce gametes that promote reproduction into colonies of coral reefs in Florida!
Visitors to the aquarium can learn about their efforts by viewing the 135,000-gallon shark tank, or seeing the sea turtles and manatees. Other ecosystem exhibits are teeming with jellyfish and colorful fish!
General admission will not only grant visitors entrance to the aquarium, but also to the Marine Mammal Research and Rehabilitation Center, where you can learn more about what you can do to save our oceans!
The Mote Marine Laboratory & Aquarium is open daily from 9:30 AM – 5 PM, but tickets must be purchased online in advance.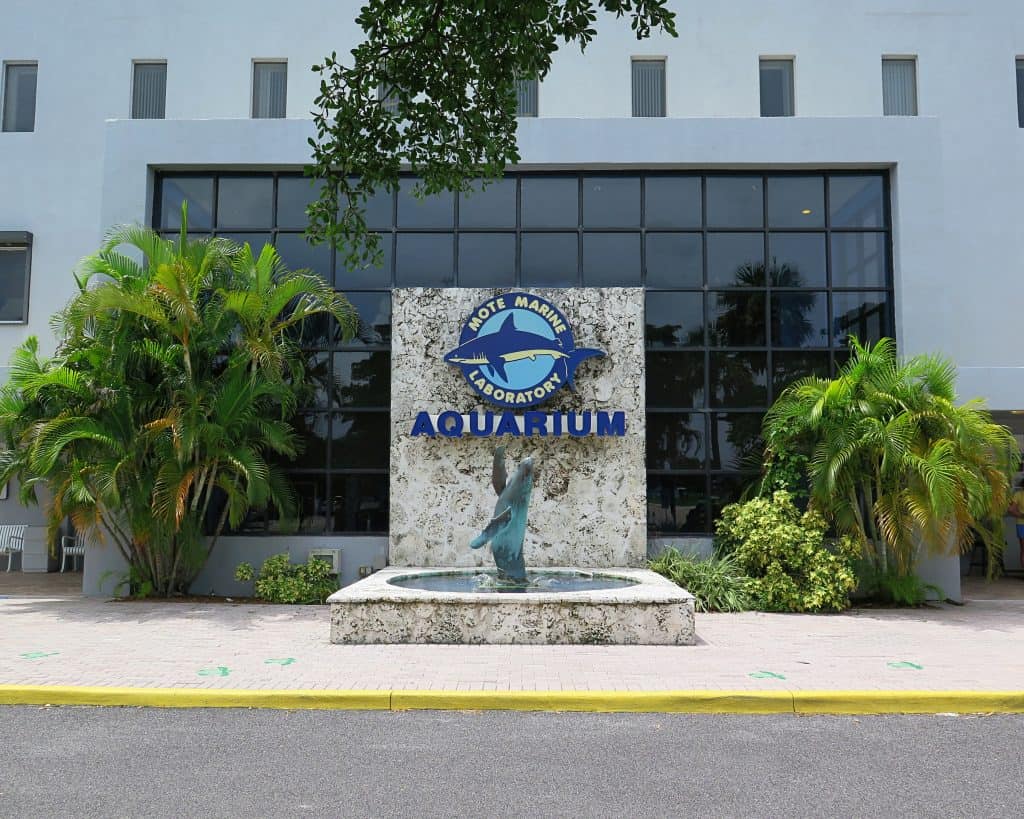 Celery Fields
No, Celery Fields is not literally a farm with fields of celery. Instead, it is one of the most beautiful Sarasota attractions. Celery Fields offers some great Florida hiking.
Celery Fields is actually more than 400 acres of swamps, pools, deep ponds, and canals all inhabited by a variety of Florida wildlife. Plentiful in archeological artifacts, the grounds were once home to early native Floridian settlers.
Located on the Great Florida Birding Trail, surveyors of the area have found at least 246 species of birds, including roseate spoonbills, blue herons, and meadowlarks. This makes Celery Fields an ideal scouting location for birders looking to catch glimpses of rare birds.
Visitors can walk through the fields, now transformed into more traditional wetlands to sustain the ecosystems, on one of two boardwalks. One boardwalk is at the north and one is at the south end of the grounds. Helpful guides are available to give information about any birds seen in the area!
The park is open from 6 AM to sunset every day, and there is no admission fee, so grab your binoculars and check out one of the best things to do in Sarasota!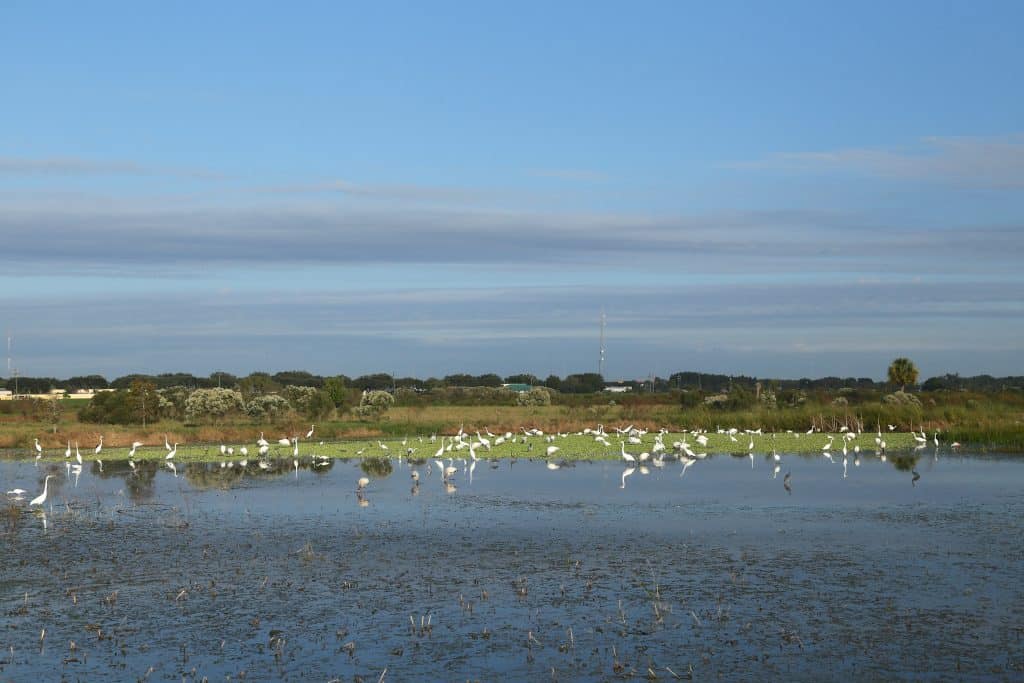 Circle Drum Distilling
How many places have you visited that have their own brand of alcohol? Add Sarasota to that list with Siesta Key Rum, distilled at Drum Circle Distillery! For those interested in brewing or distilling, this is one of the best things to do in Sarasota
When you visit the Circle Drum facility, you can take a guided tour, usually taking around 45-50 minutes! See the large copper pots that house the rum from fermentation to distillation, and then learn about the benefits of barrel aging.
After seeing how the rum goes from barrel to bottle, you will be released into the tasting room where you can sample the spiced rum in some of the creators' favorite drink recipes! We recommend arriving 15 minutes early before your tour, you will be greeted with samples!
Beer Can Island
Most of the beaches you'll find are developed–surrounded by infrastructure and cleaned up. This is not the case for Beer Can Island, as it is completely untamed and undeveloped.
Downed Australian pine trees and driftwood litter the island's shores. The result is a unique, secluded beach experience, you'll feel like you're straight out of the movie Cast Away!
Beer Can Island was named for the empty beer cans left behind by previous boaters. While most people arrive at Beer Can Island by boat, it is possible to walk there from Longboat Key in shallow waters.
If you do go looking for a secluded weekend excursion in this magical hidden gem, be warned, that the island may see more visitors on the weekend. Be sure to bring a hammock to tie around two trees and enjoy!
Check out our Tips For Visiting And Finding Beer Can Island if you want to visit!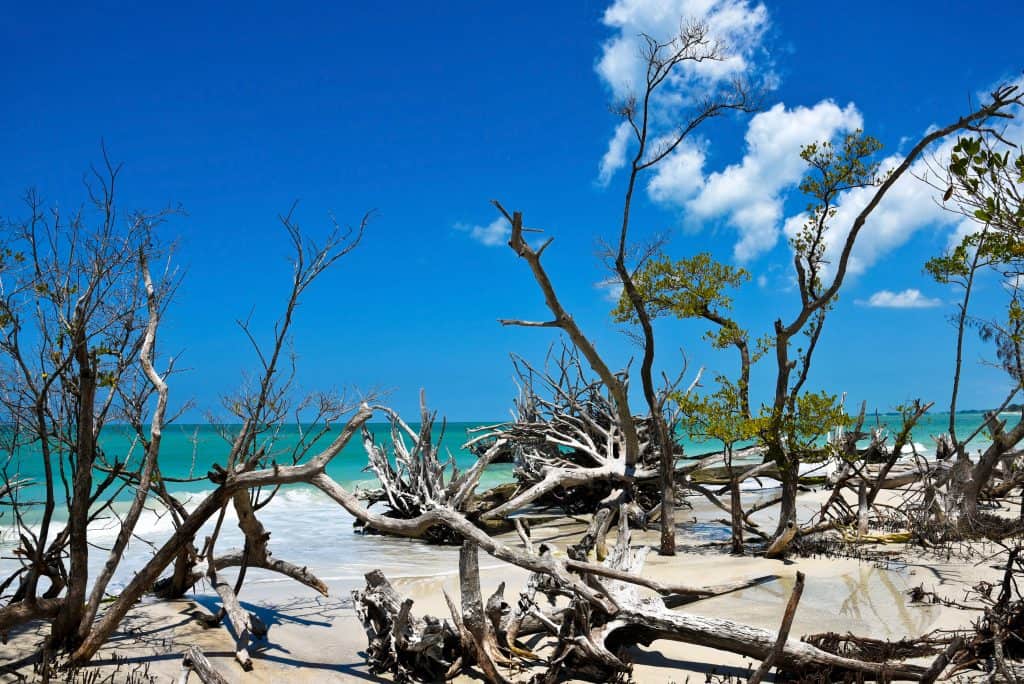 Kayak Through Mangrove Tunnels
For those who like adventure, one of the best things to do in Sarasota is to try kayaking through Sarasota's mangrove tunnels. Paddle through blue water and stay in the shade created by the mangrove trees on either side of you.
A guided kayak tour is a great family activity in Sarasota, especially if you haven't kayaked before! On a kayak tour, you begin your adventure in Ted Sperling Nature Park. From there you can test your equipment in Sarasota Bay before heading into the unique ecosystem of mangrove tunnels.
Keep an eye out for all sorts of wildlife, including the dolphins and manatees that frequent the area!
Book here: Kayak Tour through Mangrove Tunnels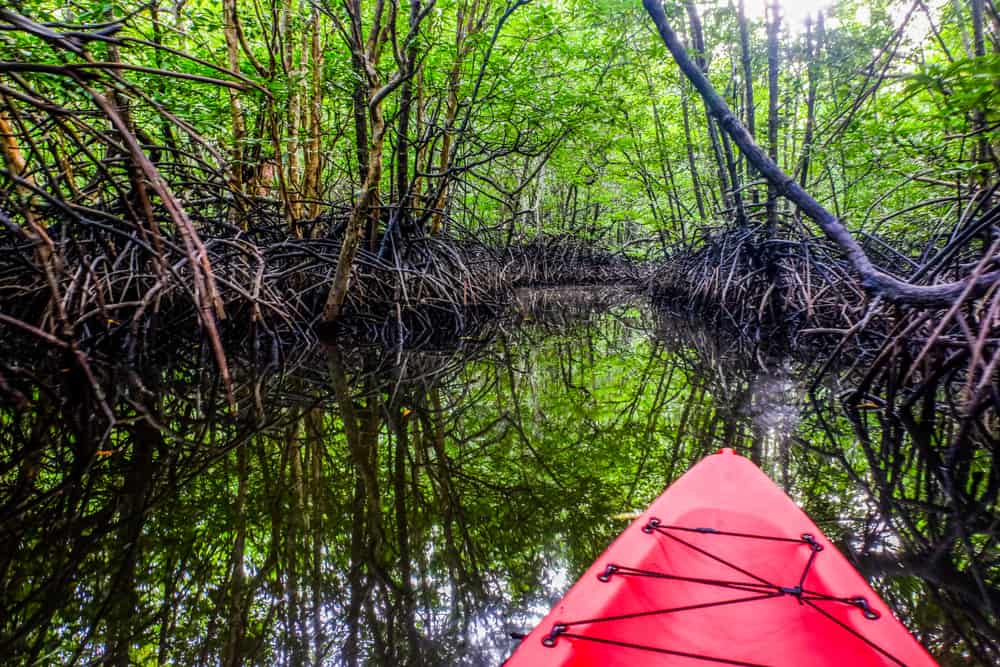 Owen's Fish Camp
One of the best things to do in Sarasota is to try the cuisine at local restaurants! At Owen's Fish Camp, that cuisine is seafood, of course.
At Owen's you will be treated to some of the best seafood in the area, with fresh catches coming right from the bay. Enjoy Southern classics like shrimp and grits or whatever the current "Naked Fish" is, depending on the season, with a side of collard greens.
You'll come to Owen's Fish Fry for the food, but stay for the atmosphere. Hang out in the backyard under the banyan tree, listen to live music, or chat with the locals.
Just be aware that Owen's can get quite busy, so get there early to avoid a wait!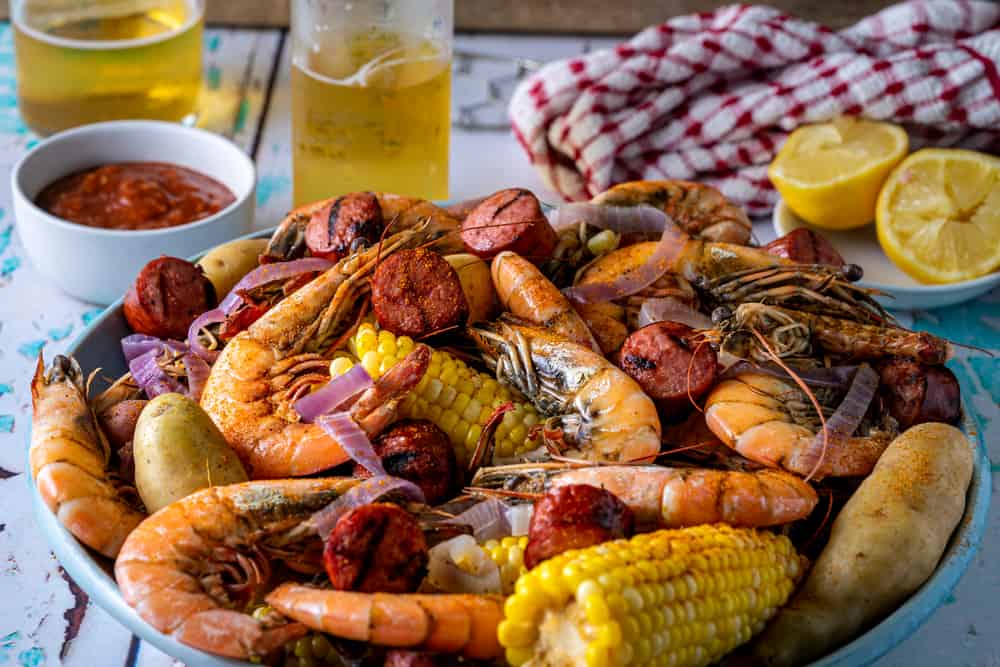 Did You Find This Post Helpful?
If so, we would love to keep in touch! We enjoy seeing photos and comments about your experiences in Florida! You can follow us on Instagram and we will repost your photos on our feed and comment too! Just tag us at @floridatrippers and hashtag #floridatrippers. We can't wait to see your travels!