Are you wanting to find the best brunch in Tampa? Look no further! There are so many delicious and diverse restaurants to try in the Bay area; everywhere from downtown Tampa to the trendy SoHo area. This city has so many things to offer, food and drink wise especially!
Who wouldn't want to gather up some friends on a late morning or early afternoon to enjoy some brunch at one of the best restaurants in Tampa, Florida? It's a no brainer! Whether it be a celebration, a date, friends getting together, or a girls day out, brunch is really always a fun idea.
If you're thinking of visiting the Tampa area, you know with all the fun things to do you'll work up an appetite, so add one of these places to your plans! Our fellow foodies out there will love to find out the best breakfasts in Tampa.
So get ready to explore the top places for brunch in Tampa for those bottomless mimosas you've been day dreaming about or that brunch food you've been craving. Let's get right into it!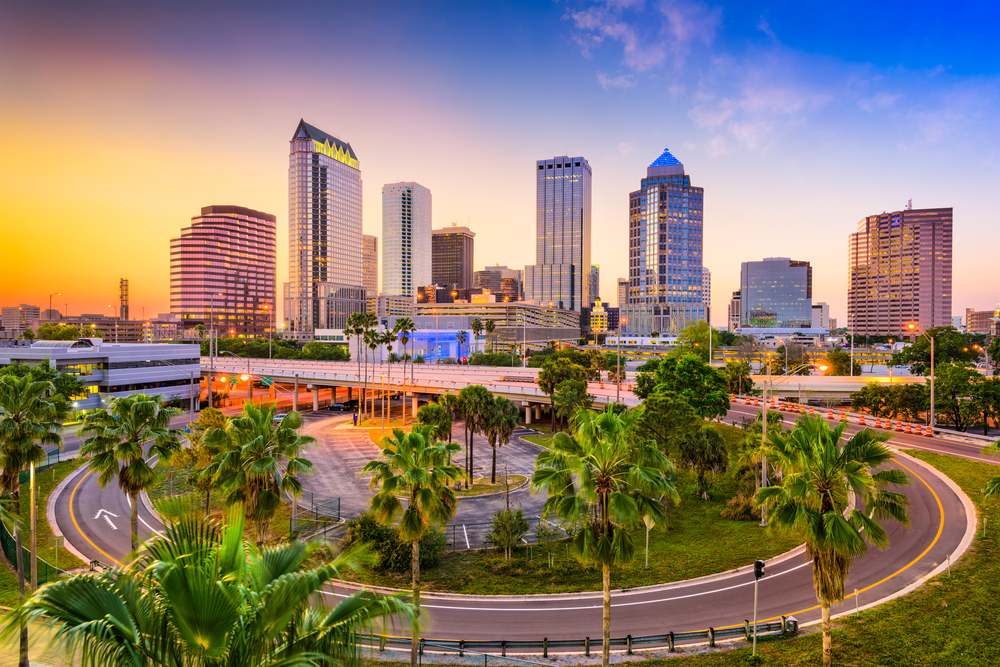 10 Best Places For Brunch In Tampa FL You Must Try
Oxford Exchange
This gorgeous restaurant is one of the best places for brunch in Tampa. Its European-style fancy art-filled decor make it the perfect vibe for an extremely beautiful Instagram-worthy brunch spot. Aside from the restaurant, there is also a bookstore, coffeeshop, and champagne bar within the same building.
Oxford Exchange has many wonderful food options, from breakfast dishes, delicious salads, small plates, sandwiches and more. Also of course mimosas, bloody marys and other signature brunch drinks. They serve brunch Saturday and Sunday 9am to 5pm, so all day during the weekend you can get your breakfast favorites! One of their delicious menu items is called 'breakfast Bread,' which is warm chocolate chip pound cake, served with a sweet raspberry cheese. It's a must try!
The dining room is filled with viney plants, a fountain, and has a retractable glass roof for amazing natural lighting. You will be wanting to snap both pictures of your food and the atmosphere! The experience at Oxford Exchange, one of the best brunch in Tampa FL, is unmatched!
Cask Social Kitchen
If you are looking for an American brunch with a southern twist, Cask Social Kitchen could be the Tampa brunch place for you! Cask pancakes, deep fried French toast, chicken and waffles…all your favorite yummy comfort food. They even serve things like shrimp cocktail and candied bacon during their brunch! They have a specialty bloody mary drink on their menu called the "lock stock and barrel" which comes with a whole corn cob and garnished skrewer filled with meats, pickles etc!
They serve brunch Friday, Saturday, and Sunday, 11AM to 4PM. And the best part? Bottomless mimosas! During Sunday brunch they also have live music if that is something you enjoy! They have indoor and outdoor seating and are located in the SoHo area.
Cask Kitchen even won people's choice Tampa Bay Times Best Brunch a few years ago. This highly rated restaurant will not disappoint with their delicious comfort food, and bottomless mimosas in Tampa!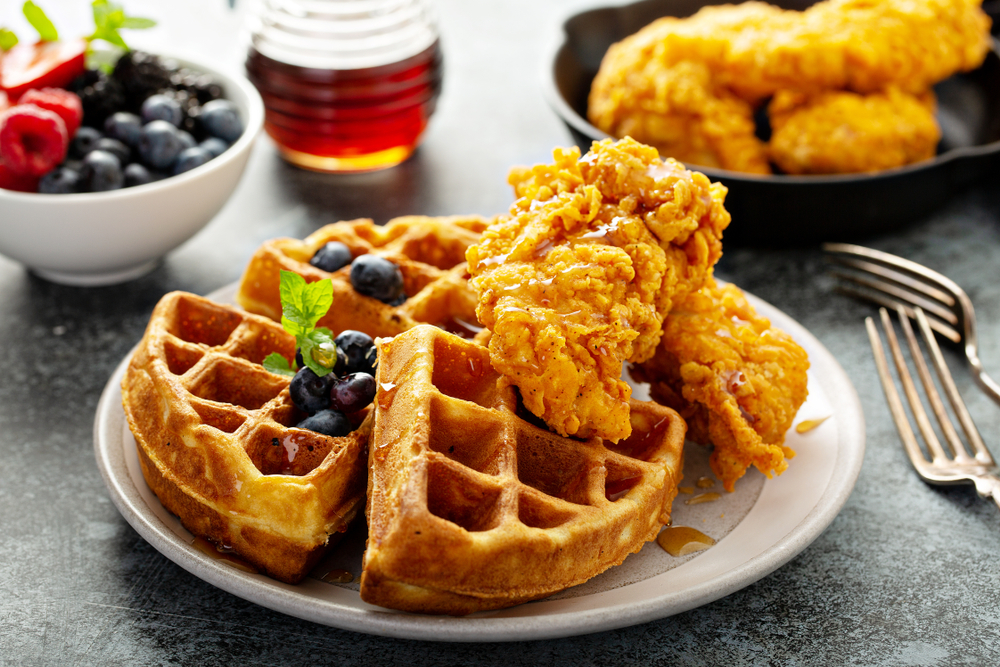 Jackson's Bistro
This Tampa brunch spot is located on Harbor Island, just minutes away and across a short bridge from downtown! So its a great idea if you're wanting to explore downtown or beautiful Bayshore after your brunch. This restaurant offers an amazing view of the river and downtown building skyline from almost every dining table, so its a great option if you want to do an outdoor brunch in Tampa. Apart from it being a bistro, they also have a bar and sushi.
Jackson's Bistro Bar and Sushi, do Sunday brunch in Tampa. It offers a brunch buffet, with classic breakfast items like eggs and bacon, with the addition of sushi, pasta, pastries and more delicious choices! Bottomless brunch in Tampa? Yes, please! This mean you can try a little bit of everything, so pile up that plate!
With Jackson's having amazing food, drinks, and also a view of the river and Tampa, It's a must! Just remember, its only on Sundays!
Datz
Looking for breakfast in South Tampa? There's Datz! This restaurant offers a weekend brunch, with so many food options! They have plenty of different special egg dishes, breakfast burgers (even Beyond Burgers and vegan sandwiches for all you veggie lovers!) and much more!
Datz takes sweets up a notch with so many must-try desserts: Grilled cheesecake, crème brulee French toast, and the Datz classic monkey bread just to name a few. It's really the best way to spend a cheat-day! Datz is known for their mouth-watering dessert menu!
They also have shareable mimosa pitchers, (who could say no to that?) and lots of beer and tasty cocktails or mocktails, whichever you prefer! You won't regret trying this amazing and highly rated brunch spot, Its a fan favorite in the Tampa area!
Daily Eats
Next up, Daily Eats! This Tampa brunch spot gives you the feel of a classic diner with a modern twist. A big plus is they offer brunch every single day of the week, not just weekends! So if you don't work until later in the day or don't have that normal weekday nine to five, this could be a great place for you! But who are we kidding, everyone wants brunch everyday, right?
Daily Eats offers a great combo of comfort foods and also heathy options. They have many protein-filled breakfast bowls, omelets, melts, acai bowls and even gluten-free pancakes. The coffees, juices, and milkshakes are also noteworthy! And plenty of sangria, champagne, beer, or cocktails to choose from.
Located in Soho, this Tampa brunch spot will give you all the options you could want along with that super cool modern diner feel. Also it is a great option if you want a brunch on the healthier side.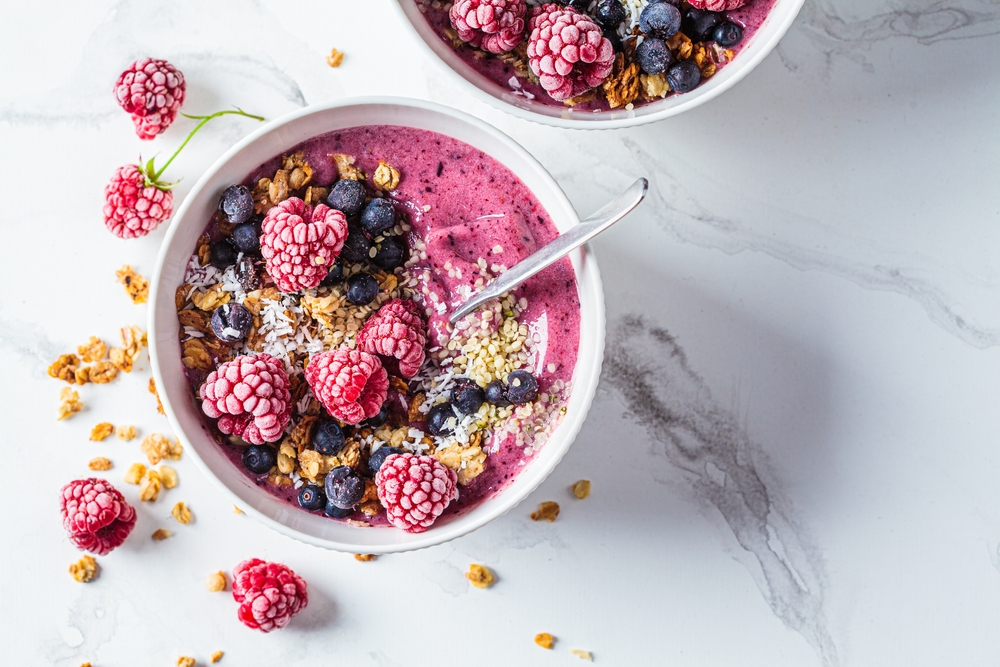 Ella's Americana Folk Art Café
Looking for some soul food on a Sunday morning? Ella's is the place for you! Every single Sunday this artsy Seminole Heights café cooks up your favorite Kansas City style southern food. Brunch foods on the menu like grits, biscuits, and waffles along with other options like perfectly smoked ribs, or brisket BBQ, are just waiting for you to order. There are many really interesting places in the Seminole Heights area of Tampa, its worth a stop if you are visiting!
As for drinks, there's always the signature "Bloody Ella," a bloody Mary garnished with with a hickory-smoked rib, to try. They have many flavors of mimosas and tasty cocktails also, like the Ella's Old Fashioned. They have a full bar, so if you're wanting to drink, you're at the right place. Take a look at the entire menu when you're there. There's a lot to take in!
All this delicious food is served all day every Sunday, and sometimes they even have some live music to make your brunch even more entertaining. Ella's is always a great place to catch some fun, local music.
The dining room decor is quite intriguing to look at too; so many unique art pieces hung about! And there's also outdoor seating, if you would rather enjoy the fresh air and dine out on the patio. Ella's Americana Folk Art Café's Soul Food Sunday is a must for that comforting brunch you've been craving.
The C House
Another Seminole Heights Tampa favorite is The C House. It has a very interesting concept; everything on the menu starts with the letter 'C'! It's brunch menu is no exception. Their menu has a "California Toast" a "Craft Your Own Omelet" and other creative ways to make the menu with all 'C' words. They also have candied maple bacon, and a country biscuit made freshly in-house.
This upscale eatery has become known for having brunch charcuterie boards, with many different cheeses and meats to choose from. For example, aged cheddar, brie, prosciutto, spicy chorizo and much more. Its a build your own charcuterie board! Its not a brunch norm, but who says it can't be! Great for sharing or eating all of it by yourself.
The C House serves all the classic cocktails you could think of, along with some crafted cocktails as well, draft beer, or champagne. Their slogan is "Champagne, Charcuterie, Cheesecake"…what more could you want? Try this Seminole Heights brunch favorite for a treat!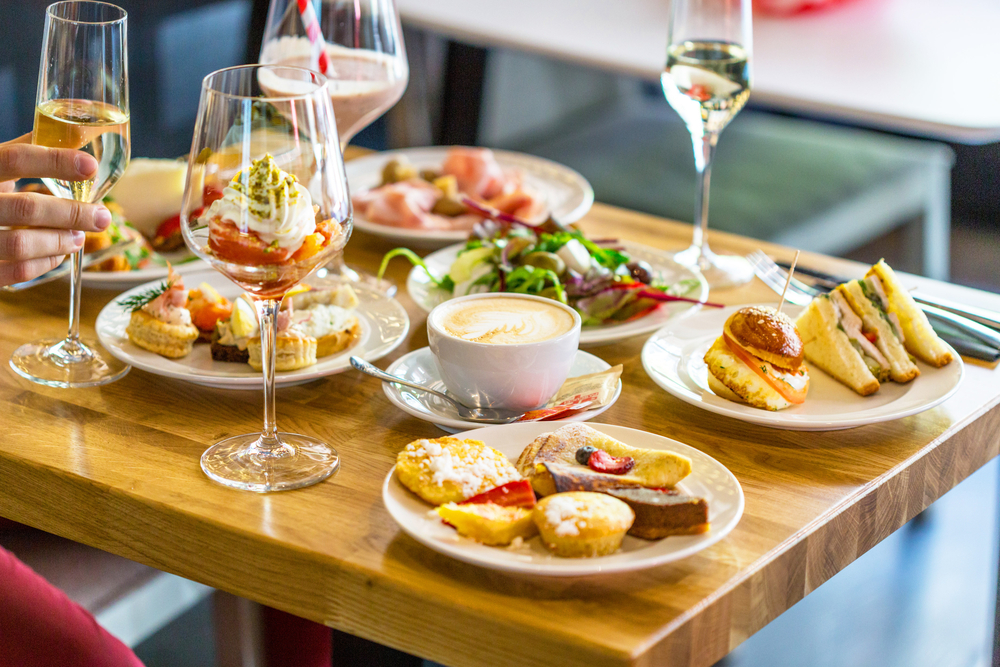 SteelBach
SteelBach is a Southern grill and steakhouse located on the riverfront in the beautiful Heights Public Market. Its ambience is unmatched with its industrial modern feel since you will be dining in a restored brick streetcar warehouse.
For brunch, SteelBach serve interesting starters, like rolled shrimp and buffalo cauliflower. They offer a flight of mimosas, for the person that loves to try all the flavors! Their menu has fancy twists on breakfast food. For example, a pork belly benedict, a bananas foster French toast, and a 'hangover' burger with a fried egg on top. Their top-tier grass-fed beef is cooked over an 1000-degree open fire grill to perfection!
After your meal you could also take a stroll down the lovey Riverwalk, right by the restaurant. The entire riverwalk and Armature works area is worth visiting, so check it out before or after you dine! You will also be walking distance from downtown Tampa and the Tampa Art Museum.
Brunch at SteelBach is on Saturdays and Sundays, so you could make a day out of it! SteelBach is a perfect choice for you if you want something slightly more upscale or want to have many other options for things to do within walking distance.
The Bruchery Restaurant
The Brunchery in South Tampa has been around since 1985 and has all of your favorite breakfast classics. This comfy American restaurant specializes in brunch, its obvious from their name! This laid-back spot is located in South Tampa and is open 7AM until 2PM every day of the week! Its a family owned resturamt and also does lots of catering. The White House even used their catering company when the president came to Tampa!
Their menu offers egg benedict dishes, signature omelets, specialty pancakes, sandwiches, and so much more. They serve Expressos, cappuccinos, frozen smoothies and even hot chocolate. Some of the delicious-looking specialty pancakes on the menu consist of 'pancakes a la brunchery' which has cream cheese sauce and covered in bananas and strawberries, coconut chocolate chip pancakes, and many more!
If you want to try a timeless brunch spot in South Tampa this one should be on your list for sure! Great for the whole family.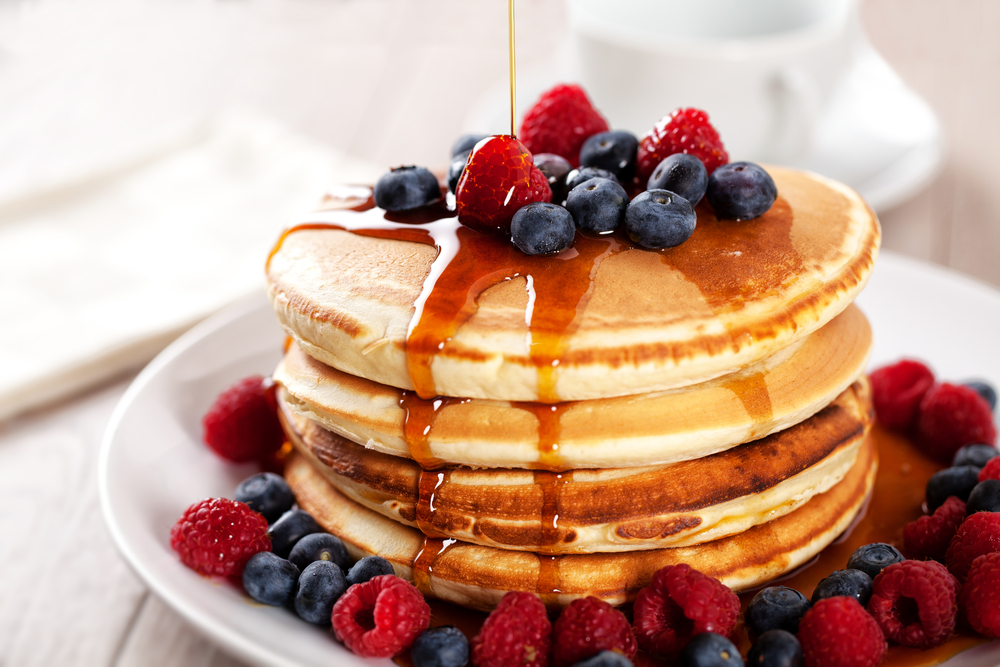 Oystercatchers
Last but not least on our list is OysterCatchers! This upscale spot is located in the Grand Hyatt Tampa Bay with a gorgeous view of the water. Its been voted one of the best brunches in Tampa and is worth it for that Florida feel alone!
Their Sunday brunch has everything seafood from lobster and crab bisque to sushi rolls. Oystercatcher uses fresh, locally sourced and sustainable ingredients in all of their seafood dishes! If you're not in the mood for seafood they have plenty of other options like the Nutella pancakes, or short ribs and eggs.
Also, each entrée comes with your choice of either two mimosas or bloody Marys! And a complimentary dessert. Can't say no to that, its a great deal! If you want that perfect Florida view or want seafood for brunch this is the place for you!
As you can see, there are so many interesting and delicious brunch choices in the Tampa area. Whether you are looking for an outdoor view, an indoor setting, a classic brunch, or something that's a little more unique, there is something for you. They each have their perks, so we hope you find that one that ticks all the boxes for you and your friends or family! Though, they really all are worth going to. Make sure to check out one or even a few of these spots, and indulge in all your favorite foods and drinks, whether you live here or are just visiting!