Because some of the best restaurants in Tampa have become nationally acclaimed, the city in Central Florida is quickly becoming a dining destination. In fact, Trip Advisor named Tampa as one of seven up-and-comers.
The arts and theatre communities in Tampa have been becoming more elevated in recent years, and the dining scene is right behind them. With overwhelming culinary choices, innovation never stops. Let's not forget that Tampa invented the Cuban sandwich.
Tampa created culinary stars like Greg Baker, Chris Ponte, Jeannie Pierola, and Ferrell Alvarez. But the city also draws in big names like Fabio Vivani from Top Chef and James Beard Award winner Art Smith.
Sure, it's easy to become overwhelmed. With cuisines from around the world and different restaurant styles, choosing becomes daunting. Quickly. We're here to help! Here are the best restaurants in Tampa for a quality dining experience.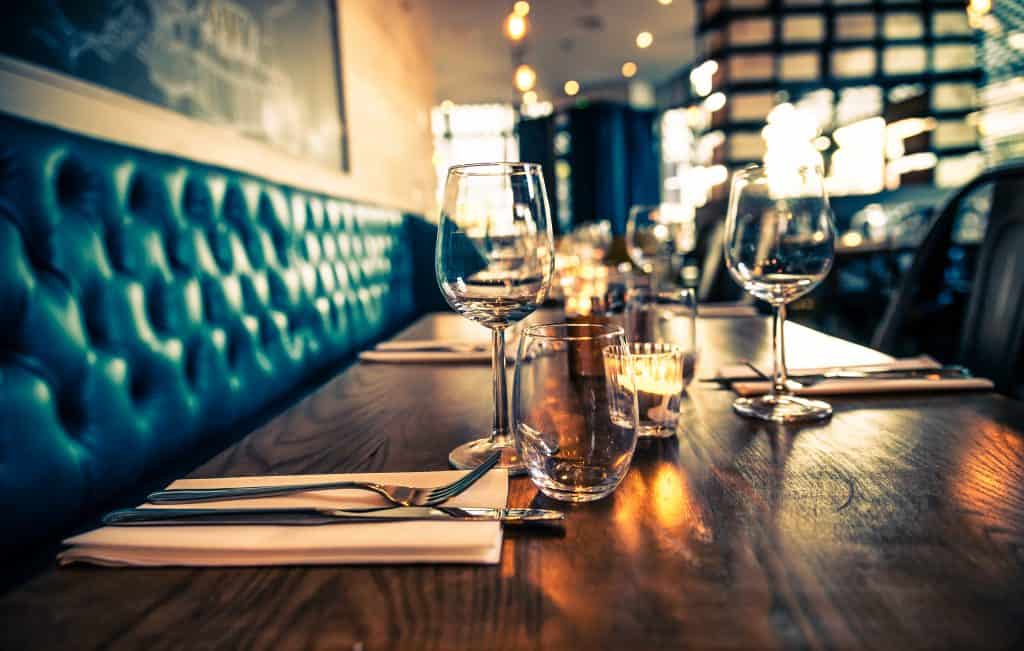 18 Best Restaurants Everyone In Tampa Should Try
Green Lemon
Found in the SoHo District, or on South Howard in Hyde Park, Green Lemon is one of the best restaurants in Tampa. Here you'll find expertly combined traditional Mexican cuisine and modern healthy options!
First, when you enter, you'll see the walls covered in murals. The modern, upbeat style evokes an authentic atmosphere. While there are over 100 Mexican restaurants in Tampa, Green Lemon stands out with its Latin-infused Tapas and Fiesta Bowls!
Start with the Dip Trio! You'll receive three dips, organic avocado guacamole, a queso blanco, and lime salsa with chips of course. Don't hesitate to pair this with their famous margaritas. Made with Patron, options include infusions of jalapeño, orange liqueur, and fresh fruits!
Most of the menu is gluten-free with the kitchen ready to cater to any other food allergies you might have. You'll also find vegetarian and vegan options on the menu as well!
Green Lemon is found on 915 S Howard Avenue. Hours are Monday, Wednesday, Thursday, and Sunday from 11 AM – 10 PM and Tuesday, Friday, Saturday from 11 AM – 11 PM. Don't miss Happy Hour from 3 PM – 7 PM.
The Columbia
There are many romantic options for a date night in Tampa, but we're singling out the Columbia in Ybor City. Not only does it celebrates over a century of history, culture, and cuisine integral to the area, its atmosphere is unbeatable.
Once a sleepy Cuban cafe, the Columbia gained popularity when it was transformed into a vibrant dining room featuring live music and flamenco dancing. 115 years and five generations later, the same family runs the restaurant today, the oldest in Tampa Bay.
Once you step inside The Columbia, you'll recognize the experience is something truly special, from the flamenco dancing, to the incredible ambiance, and the hospitality provided by the staff.
Highlights of the iconic menu include the savory "1905 salad," the traditional chicken and yellow rice, sangria by the pitcher, and the legendary flan. Sharing a meal here is one of the most romantic things to do in Tampa.
To dine at The Columbia is truly to taste the inspiring culture of the region, and of those that founded it. Make sure to share a piece of flan when you go.
The Columbia can be found at 2117 E 7th Ave in Ybor City. Hours are Sunday though Thursday from 11 AM – 9 PM and Friday through Saturday from 11 AM – 10 PM.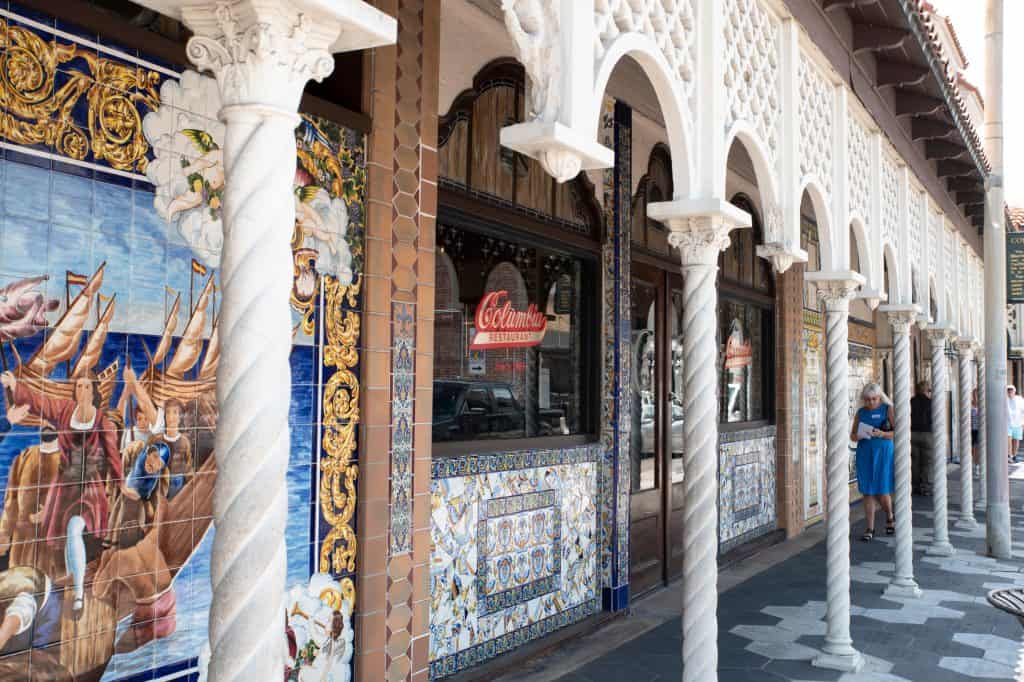 Ulele
Just at the northern end of Tampa's Riverwalk, you'll find one of the most iconic restaurants of late. Ulele makes its home in a renovated water-works building, beckoning a rustic, industrial-chic vibe.
Inspired by the indigenous people of Florida, the menu combines fresh and local ingredients in new, exciting flavor combinations. As a result, the menu changes seasonally.
One of Ulele's must-try staples is their Yellowfin Tuna crusted with pumpkin seeds served with Alligator hush puppies. Don't worry, the menu offers many gluten-free options as well.
In the dining area, you'll see gorgeous views of the Hillsborough River. Grab a specialty cocktail on one of the two outdoor bars with lawn seating or on the rooftop lounge. If you look carefully, you'll find rustic metal artwork by local Rusty Creations.
Ulele can be found at 1810 N Highland Avenue. Their hours are Sunday through Thursday from 11 AM – 10 PM and Friday through Saturday from 11 AM – 11 PM.
Whiskey Joe's
When driving from Pinellas County into Tampa on the Courtney Campbell Causeway, make sure to make a stop at Whiskey Joe's! Here you'll find Florida favorites spiced up with Caribbean flavors!
The restaurant's name takes a page from the legend of Whiskey Joe, a sailor, explorer, and alligator tamer. According to lore, he sailed across the world to discover new spices for cooking. Today, you can taste the expedition in the Mango Mahi Tacos and the Coconut-Rum Chicken!
Because the restaurant is literally on and over the water, the dining room has large windows. This is perfect to see gorgeous views of the Tampa sunset.
Outside, enjoy Florida's subtropical climate on the deck at the Tiki Bar! Along with specialty cocktails, you'll find a special menu with pizza, tacos, and sandwiches. You can even order your drink in a take-home souvenir glass to take home!
Whiskey Joe's can be found at 7720 W Courtney Campbell Causeway Blvd. Hours are Sunday through Thursday from 11 AM – 10 PM and Friday through Saturday from 11 AM – 12 AM. Happy Hour is 3 PM – 7 PM.
You can take advantage of free valet parking in front of the restaurant, or you can play 50 cents an hour for a metered parking space at Ben T. Davis Beach, one of the prettiest beaches in Tampa, just a short walk away.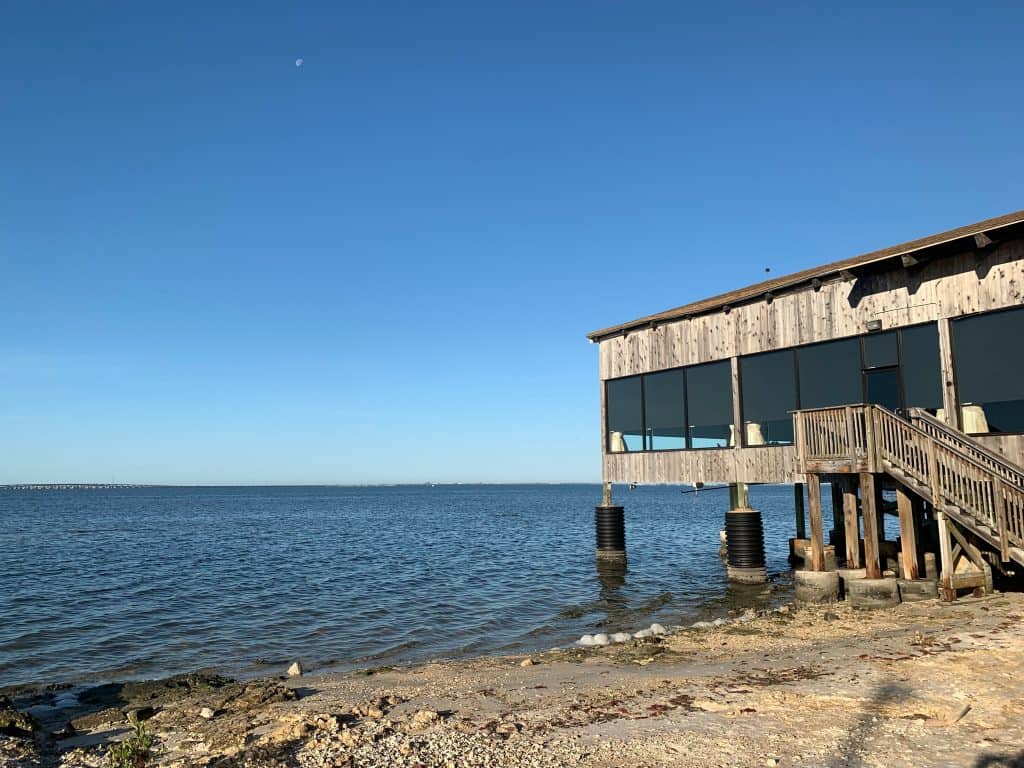 Bern's Steakhouse
If you're a Tampa native, there's a good chance you've been to Bern's for a special occasion. If you're coming in to visit, you need to have a meal at Bern's Steakhouse to understand why this restaurant is so beloved in the Bay Area.
Since 1956, Bern's has been serving up perfectly-aged prime steaks always cut to order. Vegetables are prepared with incredible care and are grown locally on the Bern's farm.
The only thing better than the food at Bern's is the table service. Because servers at Bern's train for a minimum of a year before hosting tables of their own, you will have a perfect experience every time.
Bern's hold the very high honor of winning the James Beard Award for Outstanding Wine Program. You'll find a perfect pairing for every bite with Bern's wine selection. Take a tour of the wine cellar to see half a million bottles and over 6,500 labels.
Afterward, head to the Harry Waugh Dessert Room next door. Here you can enjoy decadent desserts in private booths made from old wine casks. You will also be able to choose from a variety of specialty cocktails to go with your dessert.
Bern's Steakhouse can be found at 1208 South Howard Ave. Hours are Sunday through Thursday from 5 PM – 10 PM and Friday through Saturday from 5 PM -11 PM. Due to the volume of requests, we recommend booking your reservation well in advance at (813) 251-2421.
Thai Temple
For a more cultural experience, head to the Thai Temple on the banks of the Palm River. Wat Mongkolratanaram, or Wat Tampa, will transport you to another country. Here you'll discover one of the best places to eat in Tampa.
A Buddhist Thai Temple, Wat Tampa hosts a charming Sunday Market weekly from 8:30 AM – 1:00 PM, rain or shine. We advise arriving before 11:00 AM, it can get very crowded quicky.
At the Market, vendors set up their tables on a covered porch. You can browse and buy everything from delicious Thai foods, orchids, fruit trees, plants and fresh fruit, vegetables, and herbs! Bring cash, because no credit cards are accepted.
Choose between yummy options like fried bananas, pad thai, spring rolls, and mango sticky rice. Then meet back up at a picnic table underneath a shady oak tree to share your meals. The portions are huge, so you can easily create a dim sum experience!
What separates the Thai Temple from other markets is the ambiance. The read turrets lined with ornate gold trim will make you feel like you're in Thailand. Afterward, out onto the dock and feed the fish bits of bread to end the perfect date in Tampa.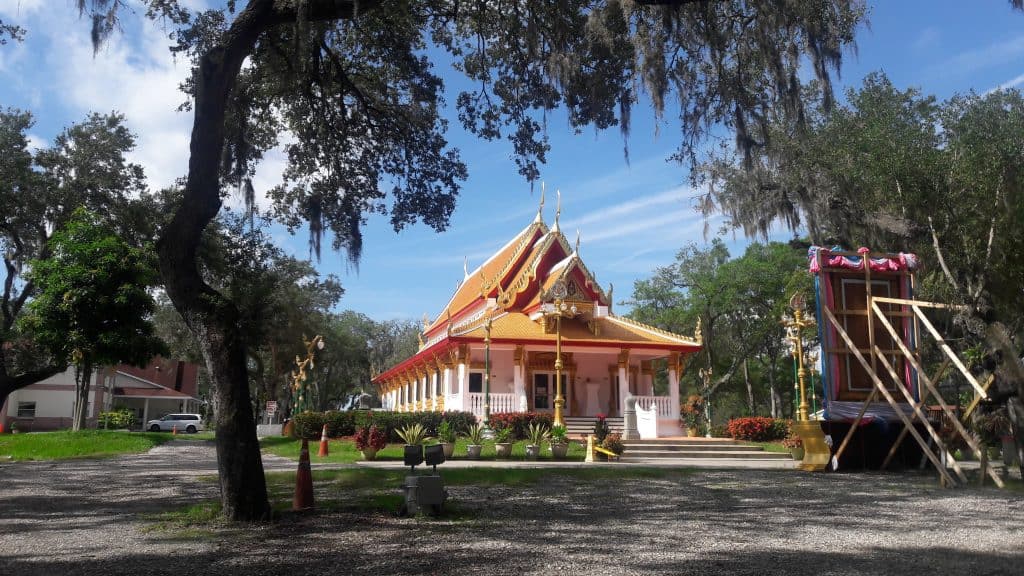 Datz
Datz is an American gastropub that elevates your average comfort food. Described as "if Willy Wonka owned a restaurant," Datz is no doubt one of the best restaurants in Tampa.
Even Food Network has profiled Datz as one of the best restaurants in Tamps responsible for championing the gastronomic revival. Datz also offers vegetarian, vegan, and gluten-free options.
Datz features a highly eclectic menu that puts original spins on your favorite American classics. You'll first receive a complimentary popcorn basket! Afterward, try the Chicken-skin Tacos, or Bacon and Jalapeno Mac and Cheese with Sriracha aioli. Our favorite is the Short Rib Sloppy Joes.
Afterward, grab an unforgettable Bacon Bloody Mary. Then, head next door to Dough. The sister-bakery offers the craziest sweets like Creme Brulee and Froot Loop Donuts, homemade gelato, and delicate French Macarons.
Datz can be found on 2616 South MacDill Ave. Hours are Monday through Thursday 7 AM – 10 PM, Fridays 7 AM -11 PM, Saturday 8:30 AM -11 PM, and Sunday 8:30 – 9 PM.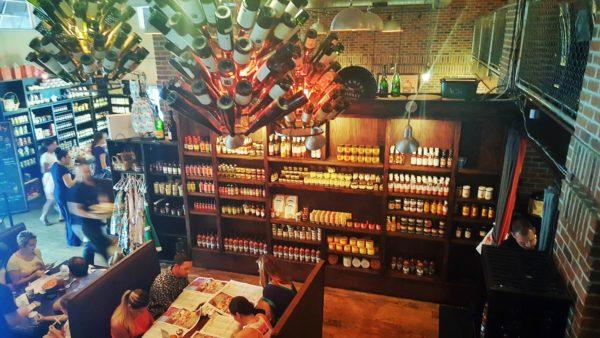 Oak & Ola
Inside Armature Works, one of the best things to do in Tampa, you'll find Oak & Ola within the Heights Public Market. Oak & Ola is one of the best restaurants in Tampa, but also one of its newest, having just opened in 2019.
Inside a renovated TECO streetcar warehouse, you'll feast on Euro-American Fare from the mind of renowned chef Anne Kearney. Not only has she studied and worked with Emeril Lagasse, but she won the James Beard Award for Best Chef in 2002.
Inside the dining room, your eyes will also be feasting on the incredible views. The expansive dining room features retractable floor-to-ceiling glass doors that overlook the Tampa Riverwalk.
Dishes are focused on the little details. Chef Kearney celebrates simplicity rather than complicated showmanship. Share plates like Blue Crab Spaghetti, Spanish Fire-roasted Octopus, and the Endive Salad, a recurring hit in Kearney's repertoire.
Oak & Ola can be found on 1910 North Ola Ave. Dinner hours are Monday through Thursday 5:00 – 9:00 PM, Friday through Saturday 5:00 – 10:00 PM, and Sunday 5:00 – 9:00 PM. Lunch hours are Friday through Sunday 11:00 AM – 2:00 PM.
Stone Soup Company
In the heart of Ybor City in 2009, a dream was born. Stone Soup Company started as a specialty soup shop. However, this wasn't the best idea for hot Florida. As a result, Stone Soup Company has broadened its horizons to serve the best food in Tampa.
In case you've forgotten, Tampa created the Cuban Sandwich. Stone Soup Company revered that recipe, so much so that they won Best Traditional Cuban at the 3rd Annual Cuban Sandwich Festival, one of the best festivals in Florida.
A laid-back space with exposed-brick walls, you'll often hear the staff shouting to the patrons "MORE SOUP FOR YOU," a departure and wink to Seinfeld's Soup Nazi.
Come and hang out at the "little soup shop that could." Play tabletop games like dominoes, checkers, and puzzles. There's even a Ms. Pac-Man machine! You can also grab a cigar and smoke on the porch just outside.
The Stone Soup Company is found on 1919 East 7th Ave. Hours are Sunday through Thursday from 10:30 AM – 9 PM and Friday through Saturday from 10:30 AM – 11 PM.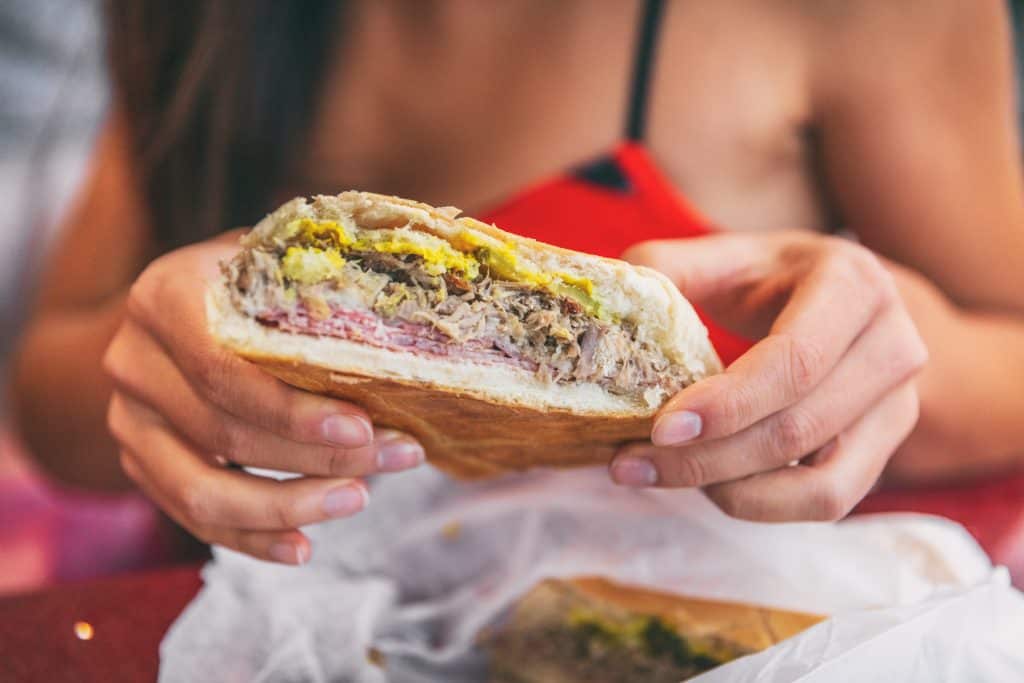 Mise En Place
Mise En Place in cooking means "everything in its place before preparation." As one of the best restaurants in Tampa, Mise En Place sees this through with a carefully designed menu culminating in a gastronomic tour de force.
Found in Grand Central Palace in a banquet hall, the space used to be Lafayette Bank. With one of the best wine lists, Mise En Place makes it a perfect date night in Tampa.
Meant for those adventurous in palate and spirit, start off with the Cornmeal Crusted Oysters with green tomato chutney. Then feast on the Spatchcock Chicken with a barbecue spice rub. Afterward, enjoy the Chocolate Pecan Toffee Mousse.
Mise En Place also operates the SONO Cafe. Found within the Tampa Museum of Art, the food elevates the institute to be one of the best museums in Florida.
Mise En Place can be found at 442 West Kennedy Blvd. Hours are Tuesday through Thursday from 5 PM – 9 PM and Sunday from 5 PM – 10 PM.
Big Ray's Fish Camp
Chef Raymond "Nick" Cruz learned about fishing from his grandfather on Ballast Point Pier. Summers of fishing together developed into a passion subsequently creating one of the best downtown Tampa restaurants.
Big Ray's Fish Camp is meant to feel like a fishing shack. You'll grab your food from a counter and eat outdoors on picnic tables. A rustic honey hole, there are boating and water-toy rentals next door. So eat up then go play on the Hillsborough Bay.
The seafood-focused menu features the most notorious item: the Grouper Burgers. However, you'll find other delectable options like Lobster Corn Dogs, Shrimp Po-boys, and some of the best hand-battered onion rings we've ever tasted.
Chef Raymond focuses on taking your food from the bay to your belly. If the outdoor heat is too much for you, you can always get it to go!
Big Ray's Fish Camp can be found on 6116 Interbay Blvd. Hours are Wednesday through Saturday from 11 AM – 9 PM, Tuesday from 11 AM – 4 PM, and Sunday from 11 AM – 8 PM.
Jerk Hut
If you've never had Jerk before, it's the art of preserving meat in a coating of spicy seasonings and grilling on a wooden grate over low fire. The tradition formed through the melting pot of French, German, and Spanish settlers in the Caribbean.
The Jerk Hut offers the most authentic Jamaican food in the Bay Area because it's not Americanized. The authenticity of the food carries over into the atmosphere with live music and a staff that welcomes you as family. It's one of the best restaurants in Tampa for this style of cuisine.
Of all the Jamaican food on the menu, you must try the Jerk Chicken with rice and peas. While complex in its flavor profile, it's not overwhelmingly spicy. Pair the Jerk Chicken with their Ginger Beer, smooth and not overpowering.
Make sure to try Jerk Hut's fresh fruit juices. Try specialty combinations like Passionade, Cool Runnings Fruit Punch and the pure juice from carrots, sorrel, and pineapple ginger.
The Jerk Hut can be found on 1241 East Fowler Ave. Hours are Monday 11 AM – 9 PM, Tuesday through Thurday 11 AM – 10 PM, Friday through Saturday 11 AM – 12 AM, and Sunday 11 AM – 9 PM.
Olivia
Florida Native Chris Ponte's newest addition to Midtown's restaurant scene is named for his youngest daughter. Similarly, Olivia celebrates family with sophisticated Italian cuisine fused with the contemporary.
While the flavors here could have come straight from an authentic trattoria, the interior design by Ponte's wife, Michelle, is anything but. Traditional and industrial styles are married by fixed long French windows and warmed with tiered spherical chandeliers.
The cuisine here is best enjoyed family style. Sample everything including the Roasted Oysters, the fluffiest Gnudi made from ricotta, and the best Chicken Milanese in town. Don't forget exciting pizzas and of course, the cannolis!
Afterward, grab a specialty cocktail at the open bar. Our favorites are the Espresso Martini garnished with a mini macaron and the Honey and Oatas made with bee pollen! Then make sure to watch the kitchen make their pasta and fresh mozzarella in the Working Dough Room.
Olivia, one of the best restaurants in Tampa, can be found on 3601 West Swann Ave. Hours are Sunday and Monday from 5 PM – 9 PM and Tuesday through Saturday 5 PM – 10 PM.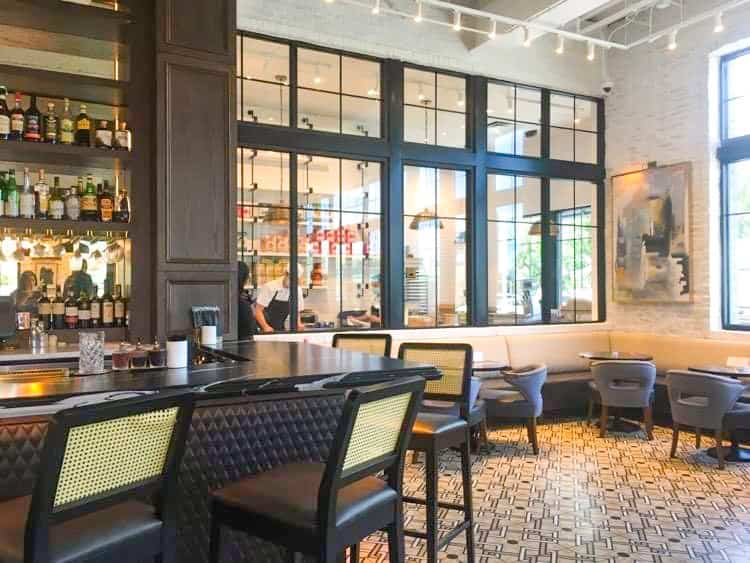 Yah Mon
It's rare to find authentic Caribbean restaurants in Tampa, but it's even more rare to find a restaurant that elevates the cuisine to fine dining status. Yah Mon does both as the best reviewed and highest rated Caribbean restaurant in Tampa.
The ambiance is filled with joy and love. The decor reflects this energy with black and white fixtures peppered with red accents. Leather banquettes provide privacy and intimacy.
Family-owned, Yah Mon welcomes you as a part of their own family. Their hospitality begins when you call to make your reservation and doesn't end until you've eaten your last bite. Because everything on the menu uses organic products and seasonings, the food is mostly gluten-free.
The most popular dishes include the Oxtails, browned then slow-cooked until the meat falls off the bone. Additionally, the Taste of the Islands perfectly captures curry with goat and chicken with peas and plantains.
Yah Mon can be found on 301 West Platt St. Hours are Friday through Saturday from 2 PM – 10 PM and Sunday from 3 PM – 9 PM.
Cafe Creole
A true labor of love, Elihu and Carolyn Brayboy founded Creole Cafe in honor of Elihu's late mother. The result is a celebration of New Orleans Creole and Soul flavors married together in the best food in Tampa.
Known locally as Mr. and Mrs. B, the husband and wife pair welcome you with warm, friendly service. In fact, it feels like you're enjoying a meal in somebody's home.
First, you'll receive a complimentary basket of fried okra. Then, try Cafe Creole's most infamous dishes like Red Beans with Rice and Andouille Sausage, Jumbalaya, and other Louisiana favorites. There's a reason locals call this one of the best restaurants in Tampa.
If you're musically inclined, feel free to tickle the ivories on the piano on the parlor. You can even bring your own wine and enjoy your meal on the garden patio while admiring the central fountain.
Because it is only half a mile off of the Pinellas trail, Creole Cafe is the perfect stop after a day enjoying the best State Parks in Florida.
Cafe Creole can. be found on 901 22nd St South. Hours are Tuesday through Sunday from 11 AM – 4 PM.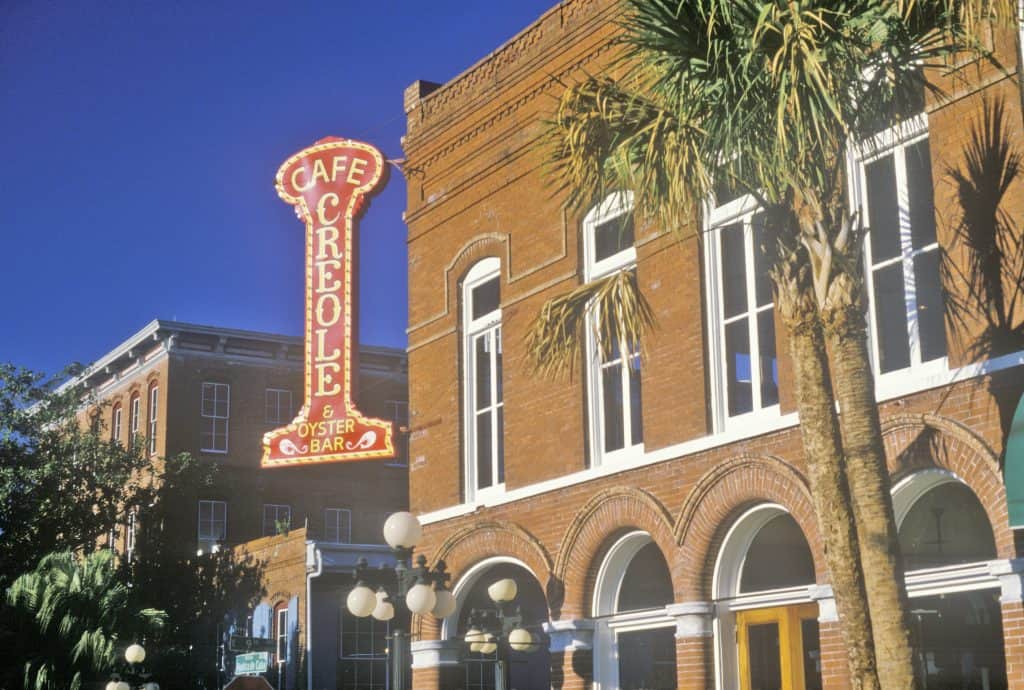 Taco Bus
Before street food was the next big trend, Taco Bus did it best and did it first. The original food truck, Taco Bus is now a popular chain with trucks and brick and mortar establishments all over the Sunshine State.
However, the brick and mortar location in East Hillsborough is where it all began. The vision of Chef Rene Valenzuela, Taco Bus is synonymous with the best Mexican food you can grab on the go in Tampa.
In fact, Guy Fieri visited Taco Bus on his hit show Diners, Drive-Ins, and Dives. He infamously said the chain had "the best torta [he'd] ever had." Buzzfeed also recognized Taco Bus as one of the Nation's Top 25 Food Trucks.
With vegetarian, vegan, and gluten-free selections, enjoy all your favorites on an expansive menu. Grab some extra napkins and try not to overeat their tacos, burritos, chimichangas, and burrito bowls.
Afterward, wash it down with pineapple and watermelon water. It tastes as if the kitchen just stuck a straw in the actual fruit. Don't forget the Horchata and Sangria too!
Taco Bus's flagship location can be found on 913 East Hillborough Ave. Hours are Monday through Thursday from 11 PM – 12 AM, Friday and Saturday from 11 AM – 3 AM, and Sunday from 11 AM – 11 PM.
Oxford Exchange
A visit to the Oxford Exchange is not just a visit to one of the best restaurants in Tampa. One step into Oxford Exchange and you're transported into a bookstore, lifestyle gift store, design studio, and eatery all in one.
The founders sought to bring people together over food in drink. You can do just that by sharing one of the best breakfasts in Tampa, weekend lunch, weekend brunch, or afternoon tea with your friends and family.
Enjoy smoked salmon, breakfast tacos, salads, specialty sandwiches, and flatbreads in the art-filled dining room. You also have the option of dining in the beautiful conservatory filled with creeping vines, a central fountain, and a glass roof.
In the Champagne Bar, sip on bubbly or rose and craft cocktails while browsing the Shop. Here you'll find greeting cards, linens, candles, jewelry, vases, frames, and many more goods.
Visit the Oxford Exchange on 420 West Kennedy Blvd. Hours are Monday through Friday from 7:30 AM – 5:30 PM and Saturday through Sunday from 9:00 AM – 5:30 PM.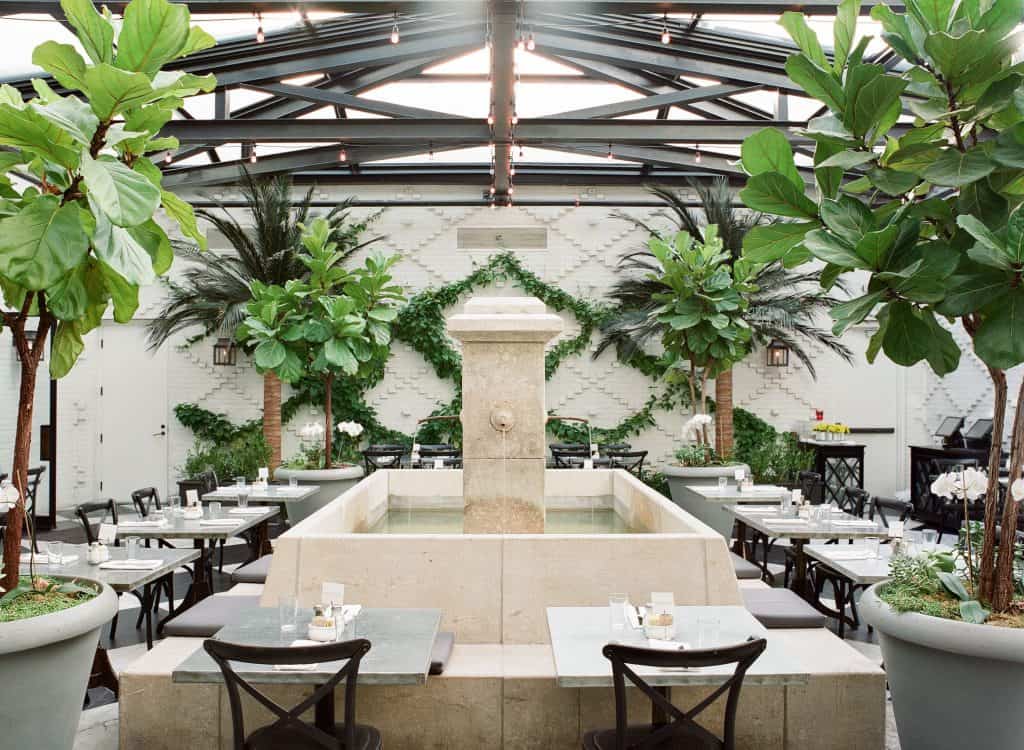 On Swann
Tucked away in Hyde Park Village, On Swann's name reflects its location. You'll never forget where it is, because On Swann is literally on Swann Avenue!
Chris Ponte's second restaurant marks a departure from his fine dining flagship. Thanks to his studies at Cordon Bleu, France's iconic culinary institute, On Swann features a menu of thoughtfully sourced contemporary American Fare.
On Swann is a perfect jumping-off point for those wishing to expand and explore their palate. The open kitchen prepares dishes meant for sharing or constructing your own coursed meal.
Must-try items include the buttery Foie Gras, Mussels, and Beef Carpaccio. You must also try the parmesan fries topped with shaved truffle, a savory staple found at all three of Ponte's restaurants.
Afterward, wash down your meal with craft sodas and specialty cocktails. Like all of Ponte's restaurants, On Swann also features a thoughtful and expansive wine menu that pairs with every bite you take.
On Swann can be found on 1501 West Swann Ave. Lunch service runs Tuesday through Sunday from 11 AM – 2 PM. Dinner service runs on Sundays, Tuesdays through Thursdays from 5 PM – 10 PM and Friday through Saturday from 5 PM – 11 PM.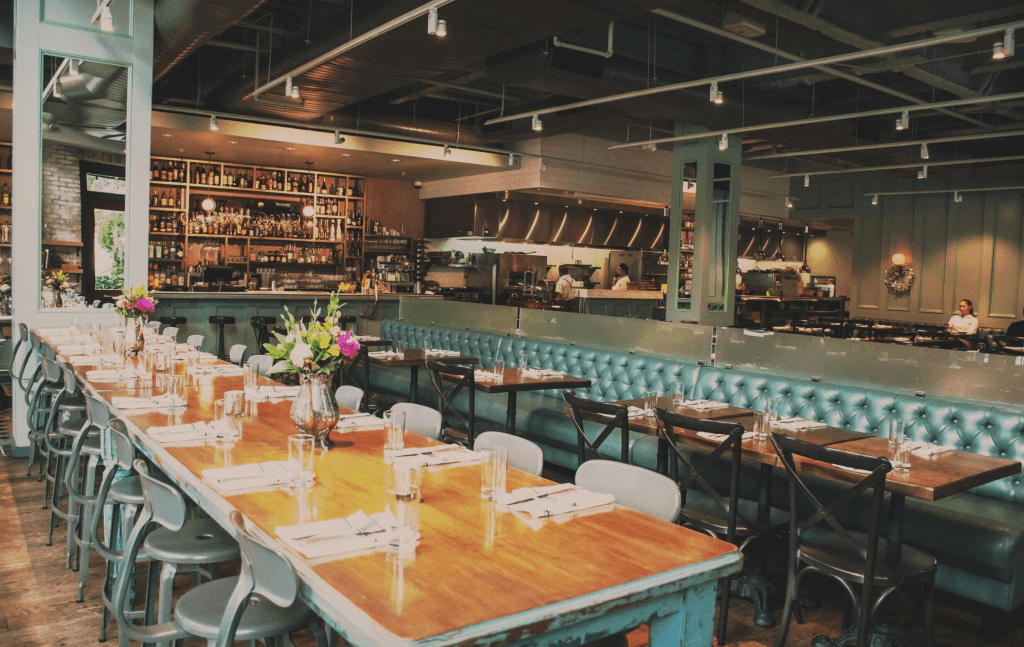 Did You Find This Post Helpful?
If so, we would love to keep in touch! We enjoy seeing photos and comments about your experiences in Florida! You can follow us on Instagram and we will repost your photos on our feed and comment too! Just tag us at @floridatrippers and hashtag #floridatrippers. We can't wait to see your travels!