There are so many exciting and unique things to do in Key West, Florida. This town is found at the southern tip of the Florida Keys and is known for its nightlife, entertainment, and relaxing island vibes.
Driving down from Miami to Key West is one of the best Florida road trips. You will pass many beautiful sights along the way!
Planning your trip to Key West last minute?
Make sure to book ahead! Hotels and tours often sell out the closer you get to your trip. Here are our top picks for Key West!
Top Experiences And Tours In Key West:
Top Places To Stay In Key West:
Along with a party atmosphere, Key West offers a lot of history and adventures. Whether you are here for a day trip, weekend getaway, or even longer, there are plenty of fun Key West activities to keep everyone entertained.
Are you a history buff? Explore the home of a great American author or the winter getaways of former U.S. Presidents! Maybe you want to live life more on the edge? Key West is filled with dives and rentals that will keep you going!
This Florida beach town is perfect for everyone in the family, and this list will help you decide what to do in Key West, Florida!
If you are looking for places to stay in Key West, there are a ton of cute Airbnbs and hotels that range from budget to luxury!
Before you plan your trip, make sure to check out The Best Times To Visit The Keys where we break down each month and talk all things weather!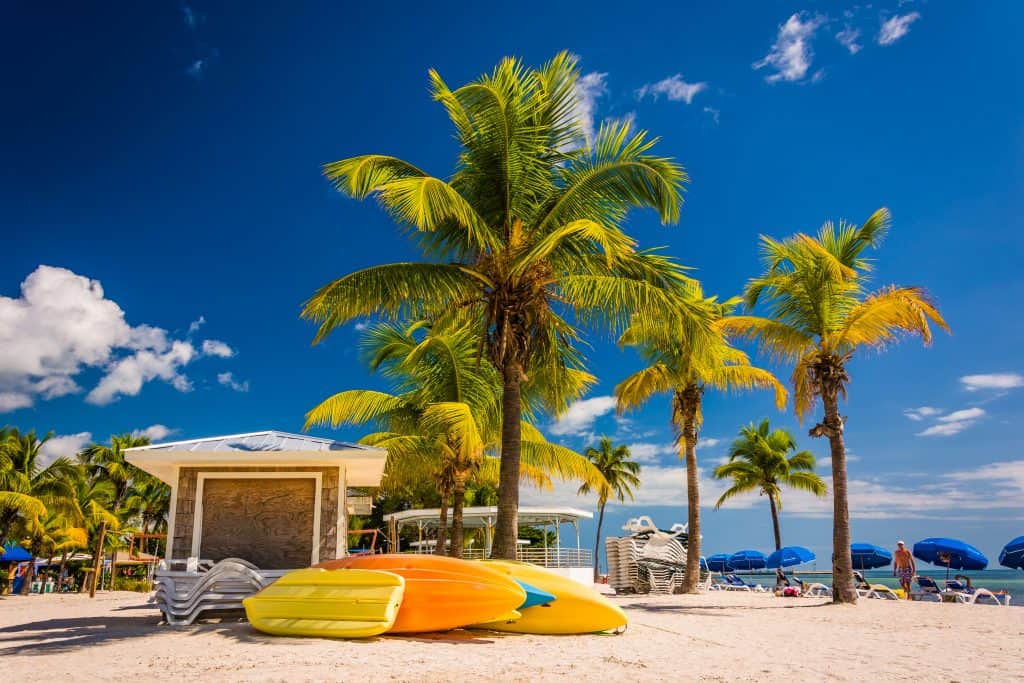 20 Best Things To Do In Key West, FL You Shouldn't Miss
Get a Drink on Duval Street
It's not a trip to Key West if you don't spend time on Duval Street! This lively and colorful area is one of the most popular things to do in Key West for adults.
Make sure to check out the best bars and nightlife in Key West!
This is the best place in Key West to take in some sights and enjoy local food and drinks. You will also enjoy the sounds of live music and street performers while you embrace the city! This is truly one of the Best Places To Stay In Key West!
The bar crawling scene is notorious on Duval and is a great way to spend a day or two. Even if you don't drink, you can come for the fun atmosphere. Hanging out on Duval Street is easily one of the best things to do in Key West at night.
Sloppy Joe's Bar is a staple in Key West and is a great stop for a drink or history. It has been around since 1937 and many famous people have ordered a drink here. It was allegedly Ernest Hemingway's favorite bar. They even have a "Papa" Hemingway look-alike contest every year.
Book Here: Key West: 2.5-Hour Duval Street Pub Crawl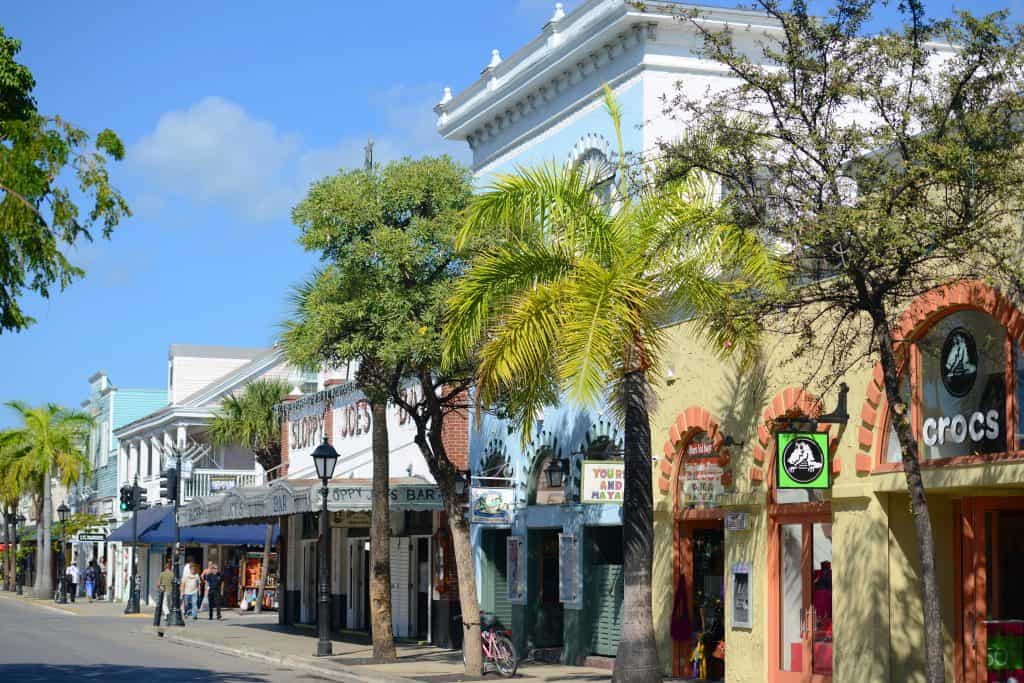 Celebrate Sunset at Mallory Square
Mallory Square is one of the most notable Key West attractions! This location is famous for its beautiful Florida sunsets and is the perfect place to unwind from your busy day.
Located on the water in the Old Town, Mallory Square is full of family fun. The Square has shops and restaurants that the whole family can enjoy!
The fun doesn't stop there! While you're walking through the Square, you will enjoy the entertainment of musicians and street performers, and you can even buy something unique from a street vendor!
Make sure to come for the nightly Sunset Celebration. This tradition has been happening for decades and should not be missed! Crowds fill the Square to watch the sun sink over the Gulf and watch street performers such as jugglers and magicians. This is one of the best free things to do in Key West!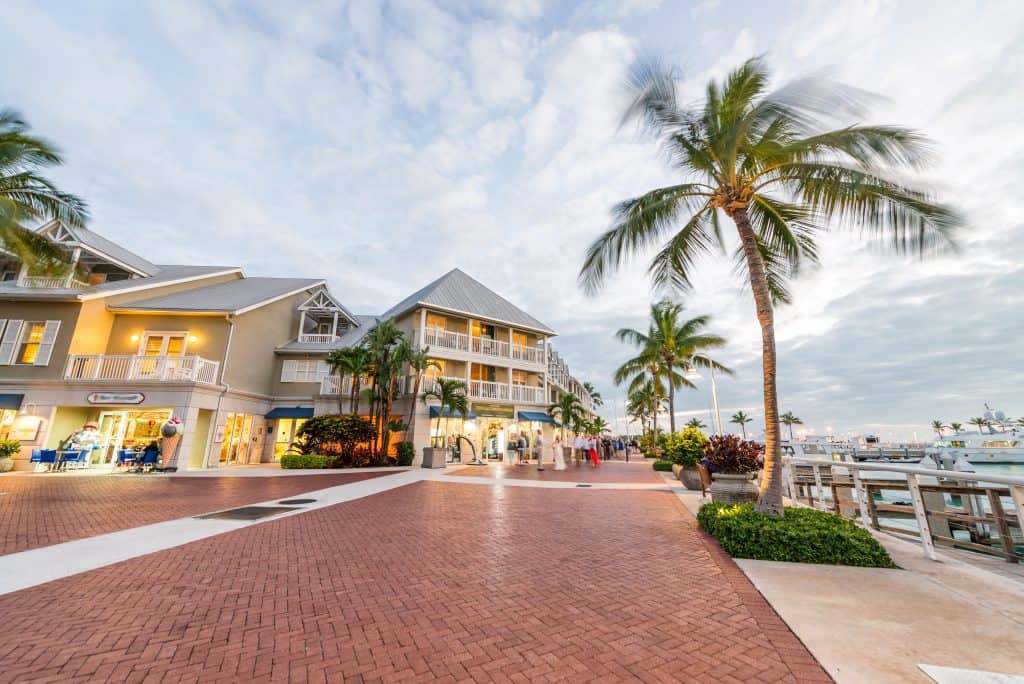 Tour Harry S. Truman's Little White House
You can learn a little bit about American history by stopping into Harry Truman's Little White House. This is Florida's only presidential museum and is one of the best places to visit in Key West for American history.
The home was built in 1890 and was originally used as housing for naval officers. During his presidency, Harry Truman used this house in Key West as his winter getaway when D.C. got too cold to bear. He use the house from 1946 through 1952.
It may be named after President Truman, but he is not the only president to seek the warm weather of Key West. Presidents Taft, Eisenhower, Kennedy, Carter, and Clinton have all visited as well.
For $20 per adult and $10 per child, you can tour the house and the grounds and see how the presidents lived while they were visiting Key West.
Book Here: Truman Little White House: Key West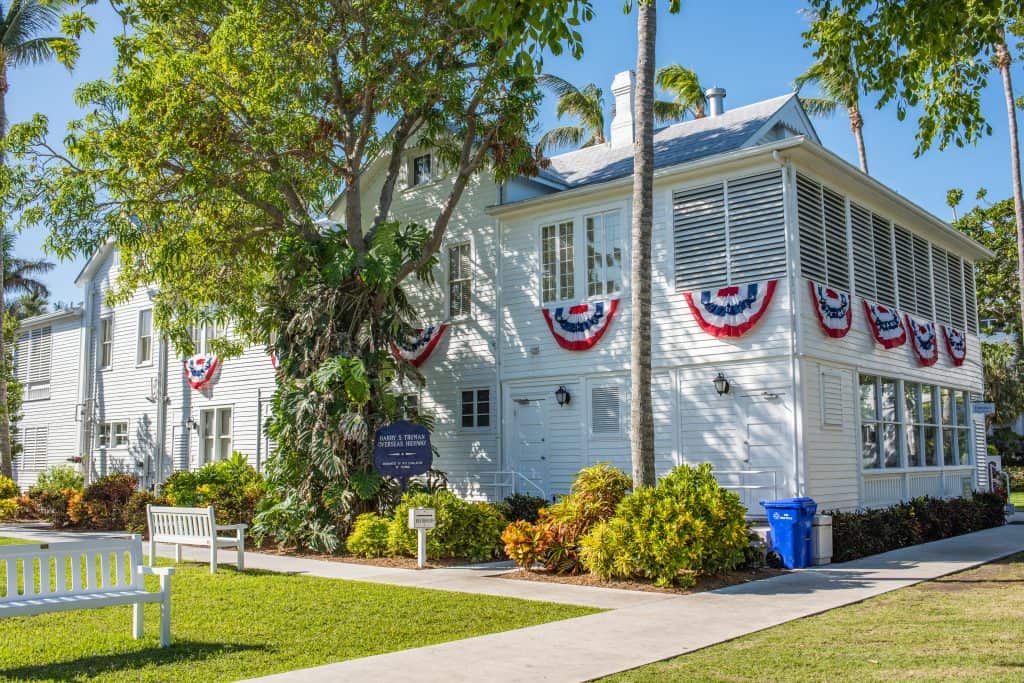 Visit the Ernest Hemingway House
Another place to visit in Key West for history buffs is the Ernest Hemingway House and Museum. Nestled just a block from Duval street, the Hemingway House is a great way to take in some beauty and local history.
The beautiful Spanish Colonial-style mansion is full of the famous writer's personal items, historic furnishings, photographs, paintings, and more. This is a must-see Key West destination for anyone who loves history, architecture, or literature. Make sure to put this on your list when doing a Florida Keys Road Trip!
Hemingway and his wife were gifted the home in 1931 from his uncle-in-law. They lived here from 1931 to 1939 and the deed stayed in his name until his death in 1961.
As you walk through the grounds, you will see stunning decor, lush gardens, and even some feline friends prowling around! These famous cats are descendants of cats that roamed the grounds while Hemingway himself lived in the house. Interestingly, they all have six toes like their ancestors.
Book Here: Key West Conch Train Tour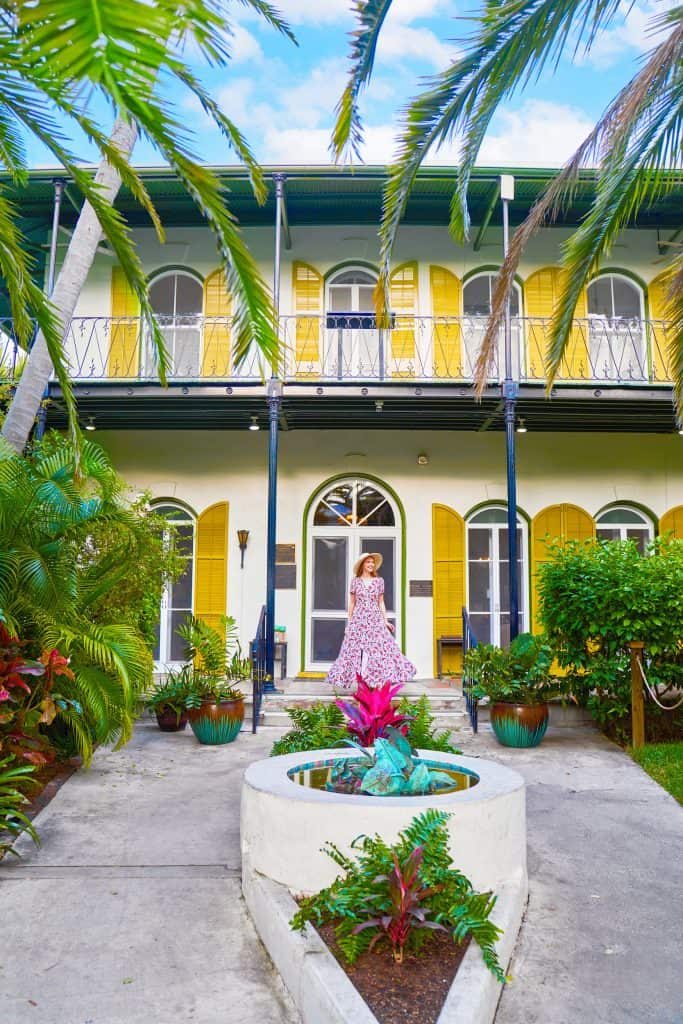 Find Great Views at the Key West Lighthouse
If you're going to pop into the Hemmingway House, you might as well cross the street and take in the sights at the Key West Lighthouse and Keeper's Quarters Museum!
Lighthouses always bring an extra bit of history, and this one is no exception. This black and white structure was built in 1848 to protect ships from the surrounding shallow water and coral reefs.
If you take a tour of the lighthouse, you will learn about the first lighthouse keeper, who was a woman, and you will see historic photos from when the lighthouse was operational.
Climb 88 stairs to the top of the 65-foot lighthouse to be greeted by amazing sights. You will have a 360-degree view of the island of Key West and the surrounding ocean! Don't forget your camera!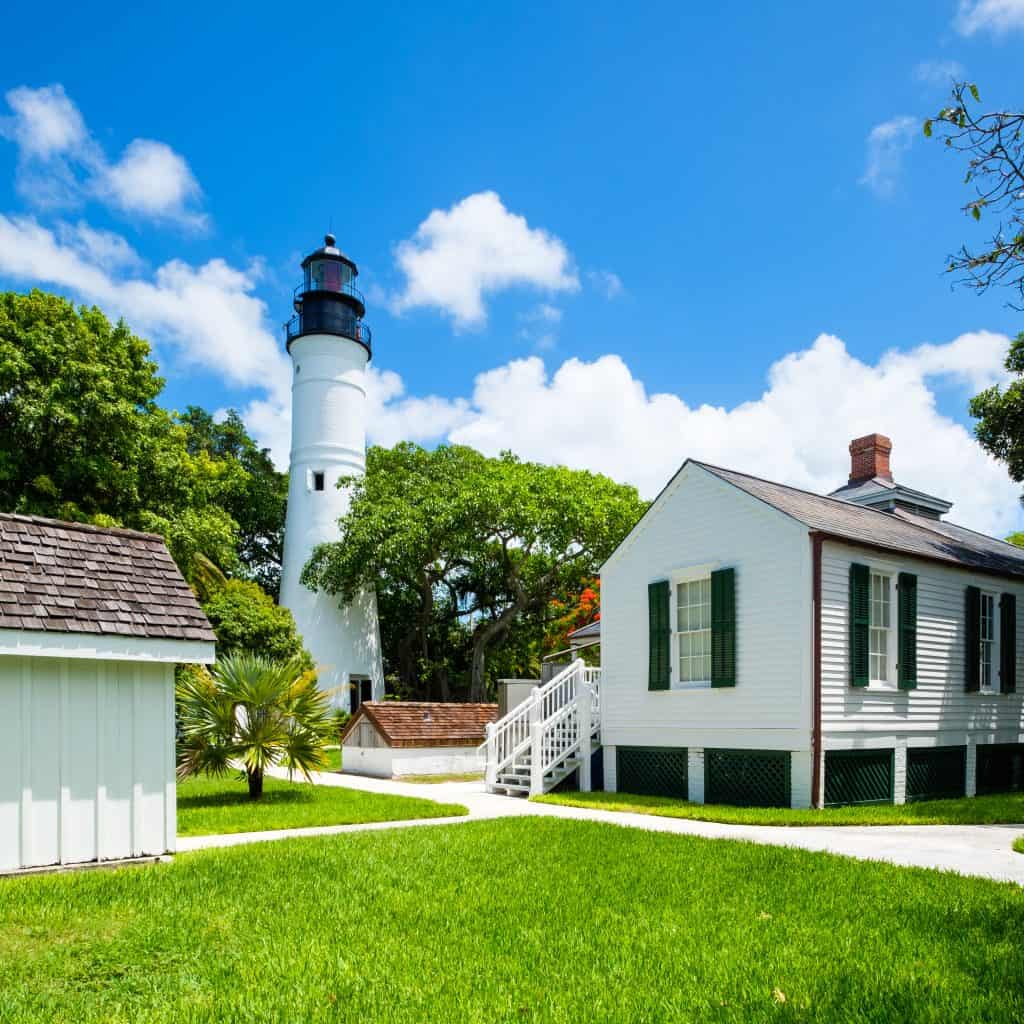 Dive to Discover Vandenberg
Key West is one of the best places in Florida for scuba diving. One of the most stunning dives you can take is down to the Vandenberg.
This retired Navy ship was sunk seven miles off the coast of Key West in 2009 to become an artificial reef to help aquatic wildlife. The skeletal ship can be explored 150 feet below the surface if you have an up-to-date scuba certification.
The ship is found in the Florida Keys National Marine Sanctuary which offers many other places to dive. You can find North America's only coral barrier reef and many shipwrecks. Some attractions are not as deep underwater as the Vandenburg and can be explored by snorkeling if you are not scuba certified.
Book Here: Key West: SNUBA Experience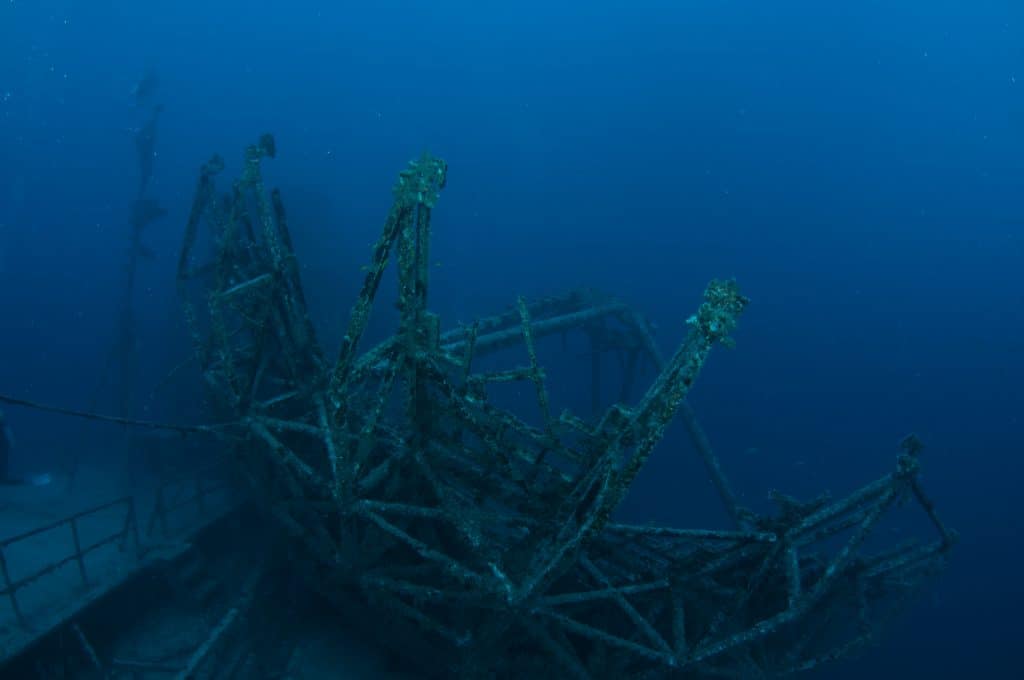 Admire Wildlife at the Key West Butterfly and Nature Conservatory
The Key West Butterfly and Nature Conservatory is one of the best things to do in Key West with kids who love animals and nature. This is truly a tropical paradise that will cause visitors of all ages to gaze in wonder.
If you like butterflies, this place will be your heaven! There are between fifty and sixty species of butterfly housed here and over twenty species of exotic birds. Stroll through the climate-controlled, enclosed habitat and try to spot as many creatures as possible.
The conservatory has a learning center where you can learn all about the butterfly's anatomy, life cycles, and migratory patterns. There is also an art gallery where you can see tons of art inspired by the butterflies and birds of the conservatory.
The Nature Conservatory is located right near Duval Street and is in the heart of Key West.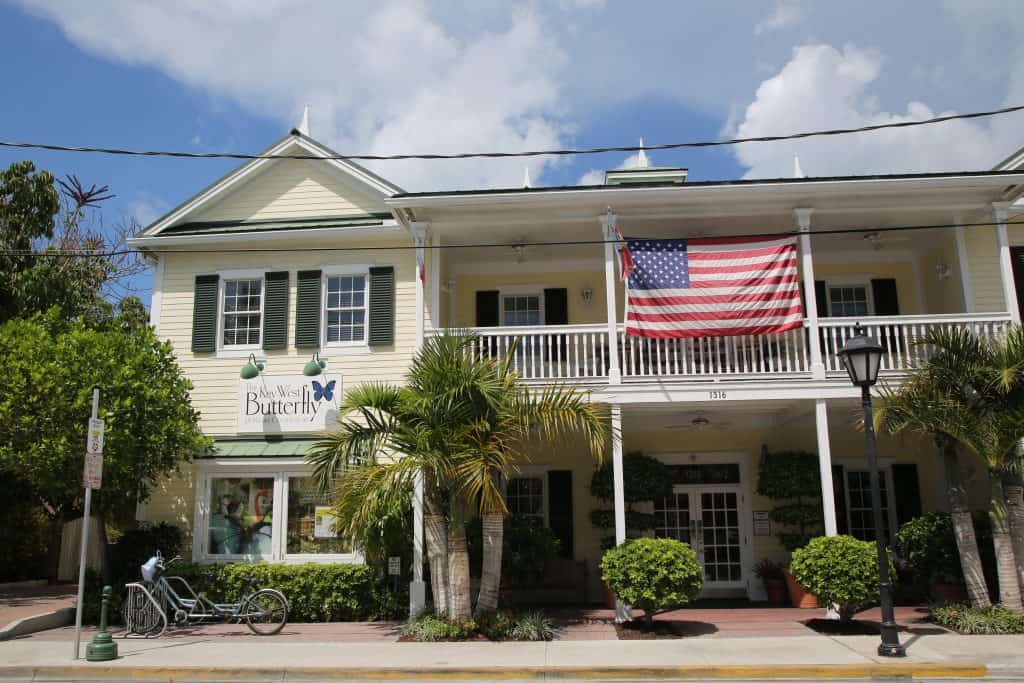 Taste Test at Some Rum Distilleries
Key West is known for its rum and the Rum Runner is said to be the island's official drink. This cocktail dates back to the 1950s and is named after the rum runners who would illegally bring alcohol to the U.S. during Prohibition.
If you are interested in the production of rum, or just drinking it, there are actually three locations in Key West that may be of interest. Key West's First Legal Rum Distillery, Papa's Pilar, and Key West Distilling are all excellent places to pop in and learn about the distilling process of delicious rum and other liquors.
Each distillery has its own unique taste, so you have to tour each one, right? These distilleries are also a great place to learn how to whip up some new recipes!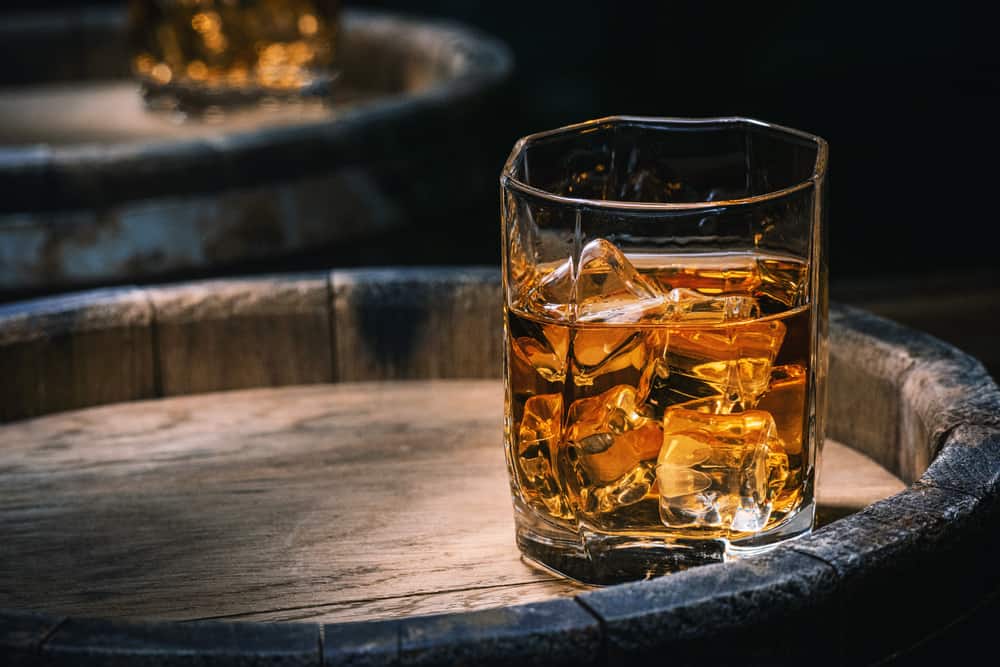 Take a Day Trip to Dry Tortugas National Park
If you have the time, taking a tour to Dry Tortugas National Park is worth it! Exploring Dry Tortugas is definitely one of the most unique things to do near Key West. If you love checking off the U.S. National Parks, make time for this activity.
Technically Dry Tortugas is not on the island of Key West. It's seventy miles off the coast, and while it's not the easiest excursion to get to, it is so worth the trip.
Once on the island, you are free to explore the grounds, relax by the beach, and even go snorkeling! It is a fantastic opportunity to take in history and adventure at the same time!
The biggest attraction of the park is Fort Jefferson, which was built between 1846 and 1875. Take a guided tour to learn the complete history of this place and see how soldiers lived.
Unfortunately, visiting Dry Tortugas is not the cheapest or easiest thing to do. To get here, you have three options.
You can take the ferry for $190 per adult and $135 per child. The seaplane is the fastest and most scenic option, but it will set you back anywhere from $361 to $634 per person depending on how long you plan to stay. You can also charter a boat or take your own.
If you want to stay longer than a day trip, this is one of the best places to camp in Florida.
Book Here: Dry Tortugas National Park Day Trip by Catamaran from Key West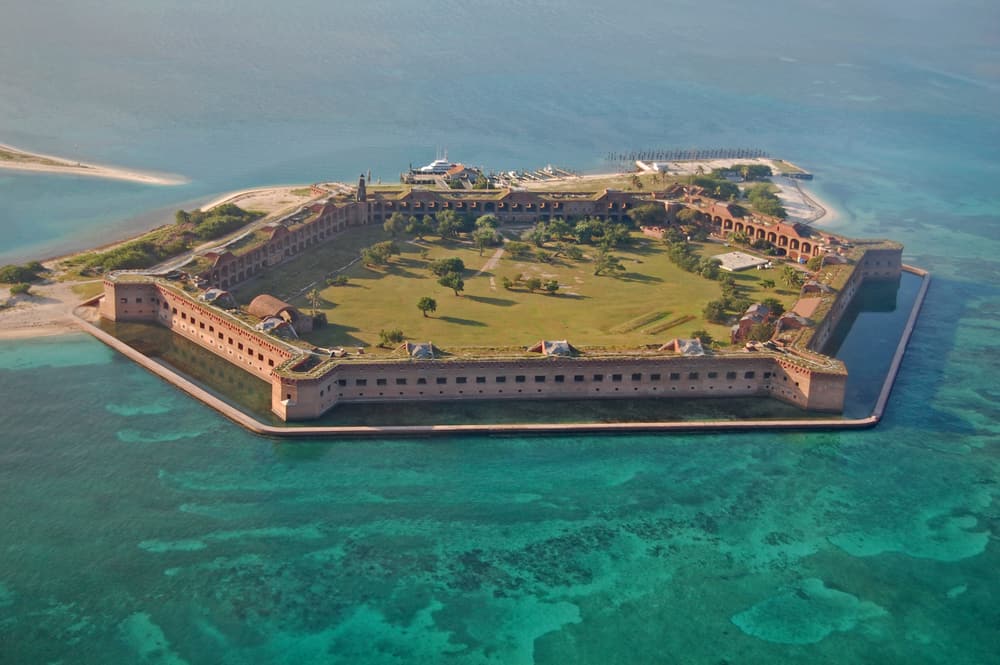 Learn at the Coast Guard Museum
American history can be found all over Key West, especially tied into the ocean. One of the best Key West activities to entertain history buffs is the U.S. Coast Guard Cutter Ingham Maritime Museum.
Take a tour of the Coast Guard Cutter Ingham and learn all about what life was like on board while it was in service and after. This ship was in service from 1936 to 1988 and helped save lives during both World Wars.
You will be immersed in testimonials from those who served aboard. You will also see equipment, weapons, and uniforms used by the servicemen at the time.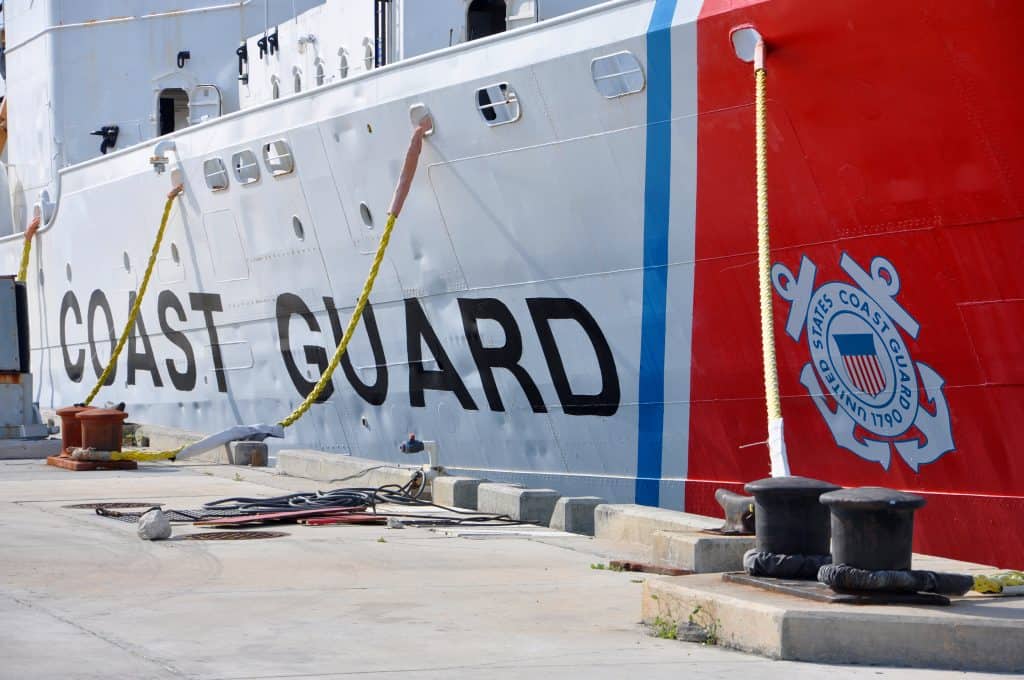 Step Back in Time at the Audubon House and Tropical Gardens
The Audubon House is a beautiful historic site, allowing us to catch a glimpse of the wealthy lifestyle of the mid-1800s. Built by Captain John Huling Geiger in 1840, the home was made to fit his family's wealthy lifestyle in the heart of Key West.
In 1958, the house was saved from demolition and renovated to reflect its heyday. The house has become a beautiful destination for tourists to enjoy. Inside, you will find decor and art dating back to the home's beginnings.
The outside is just as intriguing as the inside. The gardens are landscaped with picturesque flowers and greenery. Stroll the winding paths and admire the blooming flowers and tropical plants.
Book Here: Key West Historic Homes and Island History – Small Group Walking Tour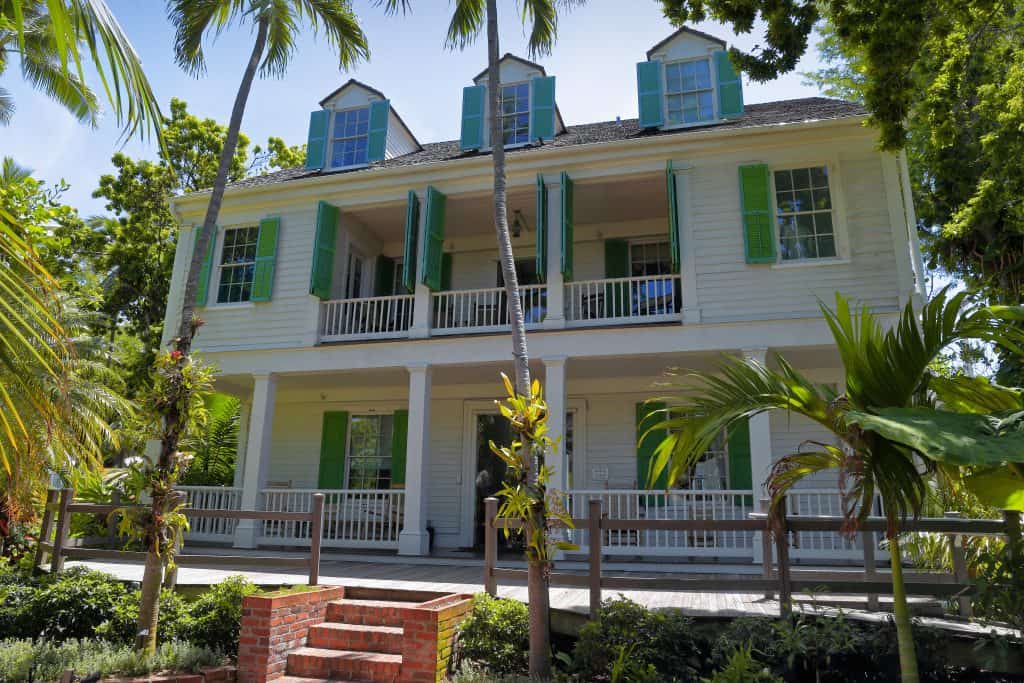 Stroll the Historic Seaport and Harbor Walk
Taking a walk down the Historic Seaport and Harbor Walk is one of the top things to do in Key West because there is so much to experience along the way. The seaport is lined with restaurants and happy hour's to enjoy. There are also great gift shops and picturesque, Instagram spots.
If you make your way down the Harbor Walk, you are sure to find fishermen coming in with their catches of the day and some of the expensive private boats parked by wealthy people from around the world.
This area has been a cultural and economic hotspot for almost two hundred years! This is a great place for a relaxing walk away from the larger tourist crowds, even more so when you are taking in the sunset! Bring your significant other for one of the most romantic things to do in Key West for couples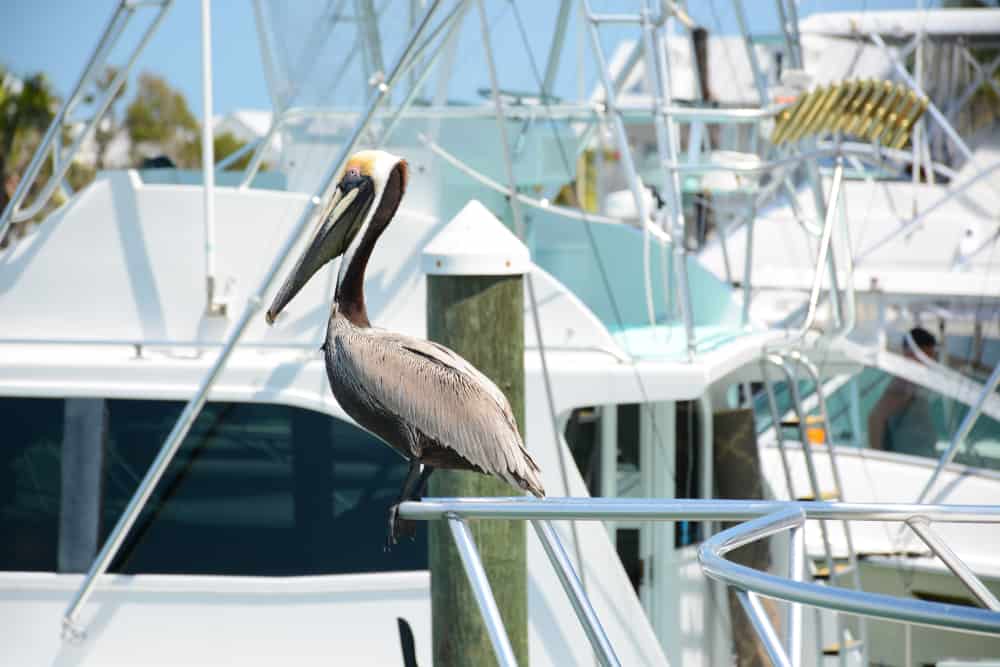 Rent a Kayak or Jet Ski
Seeing Key West from the water is such a fun experience, and it can be yours with a simple jet ski or kayak rental. You are in Florida; you have to get out on the water!
If you prefer high-octane water sports then there are a variety of locations you can choose from to rent jet skis and tour around the island. Get your heart pumping as you zoom through the bright, blue ocean water.
Kayaking is also a popular way to explore the surrounding ocean waters. Take a solo or a tandem kayak beyond the break of the waves and enjoy a relaxing day out on the water. This is a great way to spot wildlife as well. There are also guided tours to take that are both entertaining and informative!
Book Here: Key West: Jet Ski Island Tour with Free Second Rider
Book Here: Florida Keys: Key West Kayak Eco Tour with Nature Guide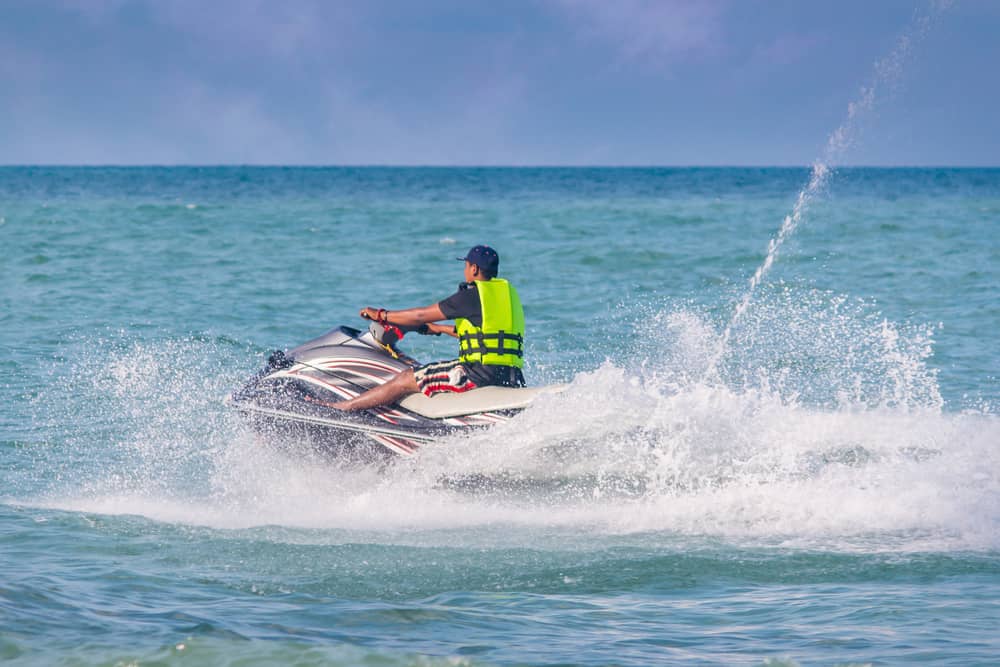 Enjoy Nature at the Key West Garden Club
The beautiful grounds of the Key West Garden Club are stunning for so many reasons.
This garden has the goal of teaching guests about tropical gardening. You will be amazed as you along the brick paths and through gorgeous courtyards all the while surrounded by amazing greenery and colorful flowers. There is a pretty water lily pond and waterfall as well.
Within the garden, you will also find the West Martello Tower. Built in 1862 during the Civil War, this tower is now listed on the U.S. National Register of Historic Places.
The Garden Club also sits right near Higgs Beach. The edges of the gardens overlook the ocean making for a serene experience.
This attraction is great for the wallet, too, because this is one of the best free things to do in Key West, Florida!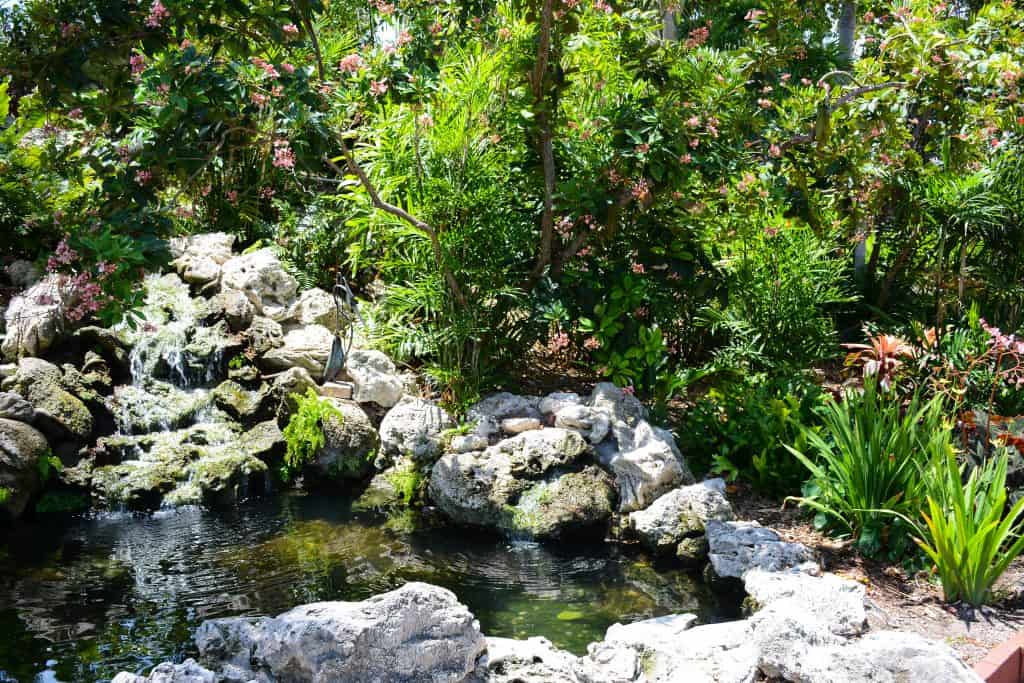 Take an Old Town Trolley Tour
Old Town Trolley Tours have always been a popular way to take in scenery and history while traveling.
Luckily, Key West has implemented Old Town Trolley Tours into their city so you can see all of the hidden and not so hidden gems this city has to offer!
The trolley is a great way to see a lot of the city without having to walk all over, especially in the Florida heat. If you have kids, this is an easy way to see the city without fear of them getting lost or tired.
If you want to add a bit of a spook factor to your trip, take the trolley after dark when it transforms into the Ghosts and Gravestone's Tour where you can learn about the creepy history and present of Key West!
Book Here: Key West: Old Town Trolley 12-Stop Hop-On Hop-Off Tour
Book Here: Ghosts & Gravestones Tour of Key West
Dine at Sunset Pier
Sunset Pier is one of the best restaurants in Key West, not just for the food, but for the view!
Located at the Ocean Key Resort near Mallory Square, Sunset Pier is everything you can expect from Key West. Dine at a colorful table right on the pier and look out over the water.
They do not take reservations, so make sure you get there in time to snag a seat for the sunset. The seafood is delicious, especially the seasonal oysters!
Since it is part of the resort, there is much less bustle than at Duval Street or Mallory Square, but the atmosphere and views are everything you would expect from Key West!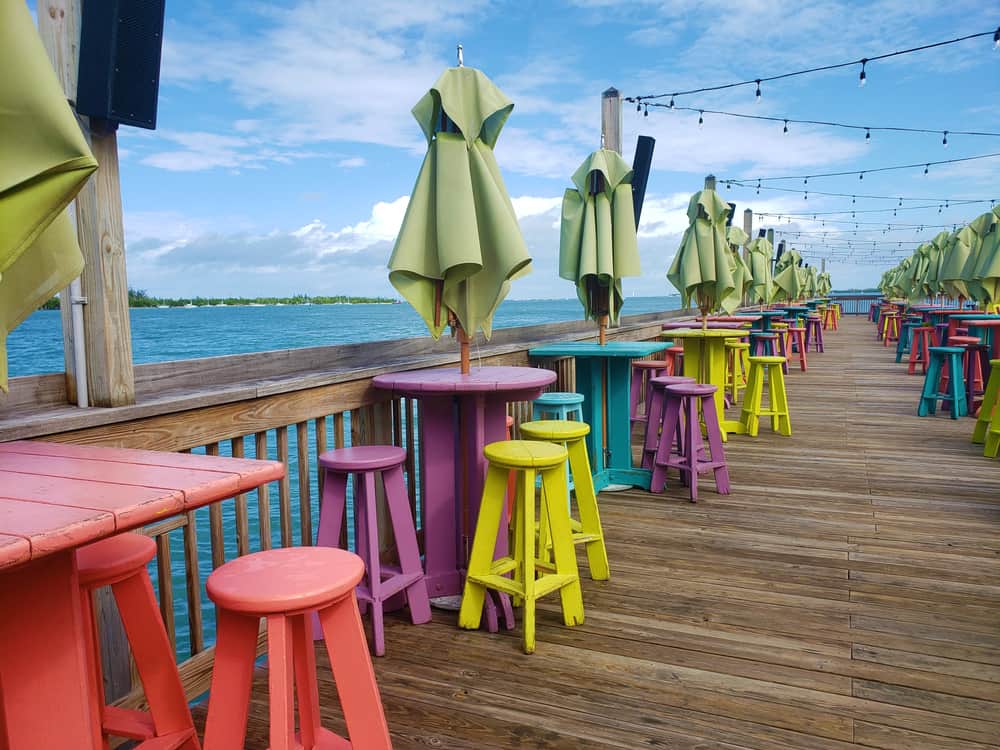 Take a Selfie at the Southernmost Point
One of the best attractions in Key West is the one that can only be seen here. Did you know Key West is the southernmost point of the continental U.S.?
At the corner of South Street and Whitehead Street, you'll find a big, brightly colored buoy that marks this claim to fame. The buoy was placed in 1983 and has been a popular tourist spot since. If you want to take a picture with the monument, make sure to get there early because the line can get long.
There are also plenty of other things to do in this area. Take a picture of the Southernmost House Hotel with its pretty, pastel colors or eat at one of the nearby restaurants.
Book Here: Key West: History and Culture Southernmost Walking Tour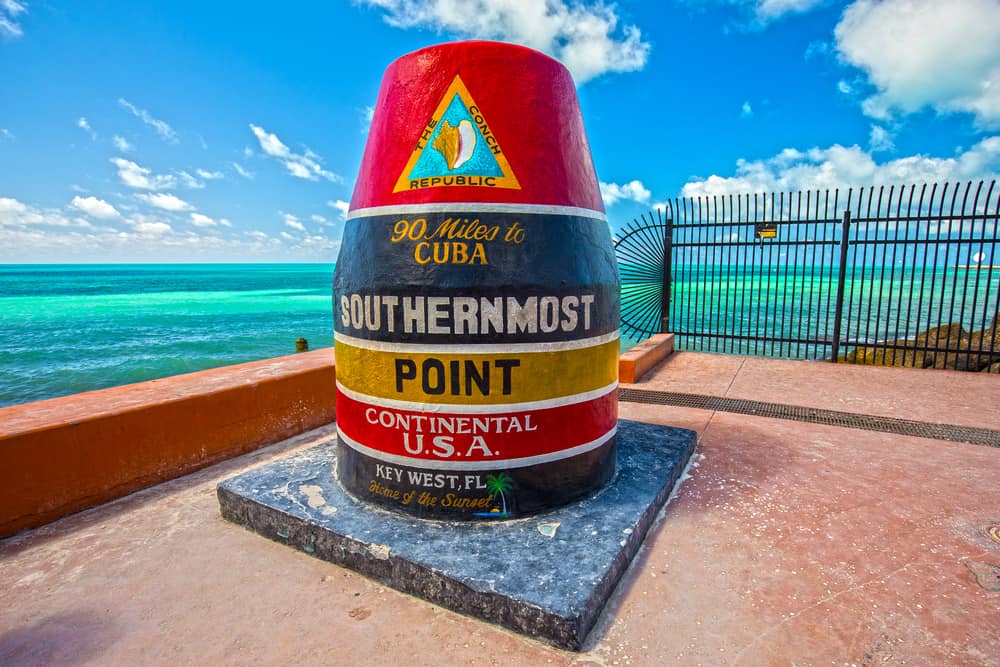 Try Key Lime Pie
You cannot come to the Florida Keys and miss an opportunity to eat some genuine key lime pie! No one knows exactly when or where this Southern delicacy was first created, but the first written recipe dates back to the early 1930s.
Key West offers the perfect climate for growing key lime trees and the famous pie is the signature dessert here. Almost all restaurants have some sort of version for you to try. If you want to do a tasting to find your favorite, you can check out our list of best places to get key lime pie in Key West.
Key lime pie is a light and refreshing dessert with a crumbly graham cracker crust and a fluffy, sweet, and tart filling. Pie is not the only way to enjoy key limes. You can try key lime ice cream, fudge, cocktails, and more! Satisfy your sweet tooth with the best of Key West desserts!
Book Here: Key West: 3-Hour Guided Bicycle Tour with Key Lime Pie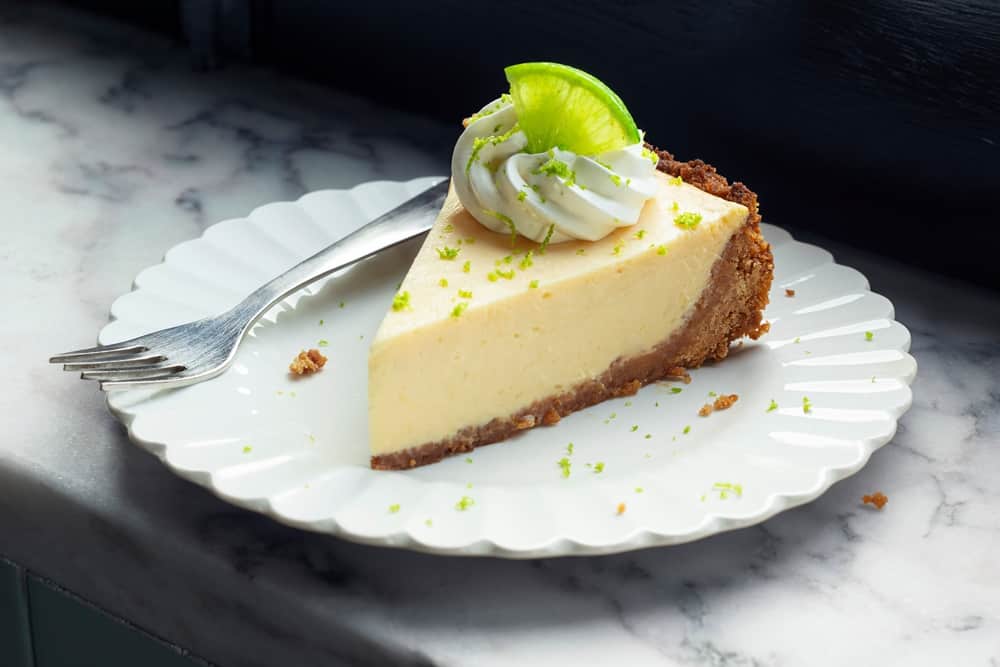 Explore Fort Zachary Taylor Historic State Park
Fort Zachary Taylor Historic State Park at the southern tip of the island is one of the best activities in Key West for the whole family. If you have the time, this is an awesome place to spend a couple of hours relaxing.
Explore the Civil War-era Fort Zachary Taylor and learn about the significance of this location. Come for one of the monthly historic reenactments to see history come alive.
The beach here is one of the best beaches in Key West, especially for snorkeling. Just off the beach, you will find amazing tropical marine life. Don't have snorkel gear? You can rent some at Chickee Hut Beach Rentals. You can also get umbrellas, chairs, and rafts here.
Bring water shoes to protect your feet from the coral beach. This is a great place for fishing and birdwatching, too. Stop by the Cayo Hueso Café for a snack.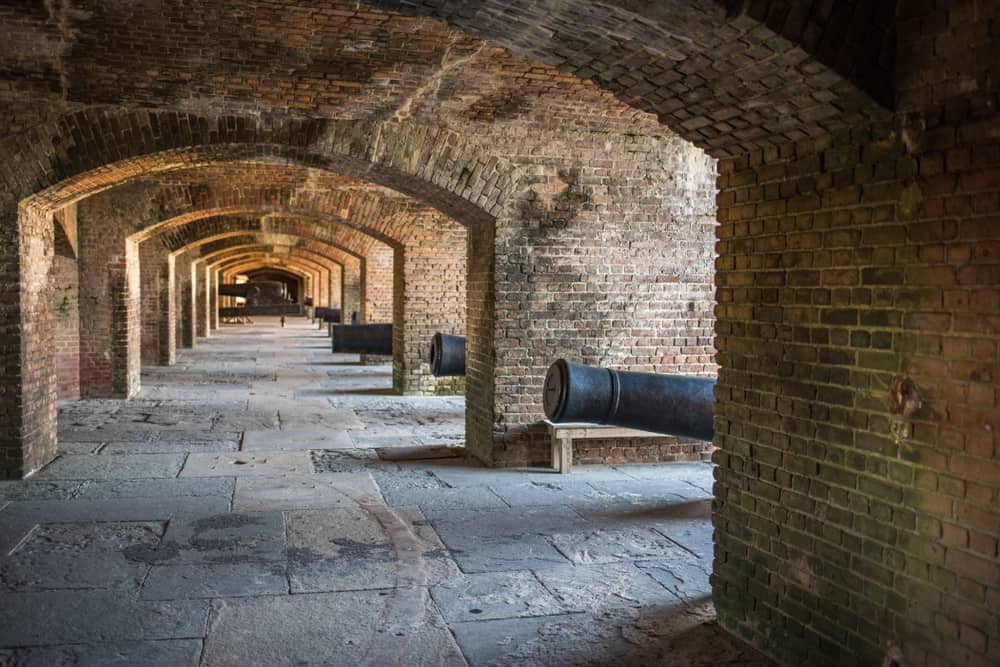 Relax at Smathers Beach
If you want more beach time, head to Smathers Beach. While it is a manmade beach with imported sand, it is just as beautiful as any of the natural beaches in Florida.
This is the largest beach in Key West and has a half-mile of soft sand. This beach is known for its clear water and calm waves. It is the perfect place to swim with your kids. This is also a great place for snorkeling, parasailing, and playing beach volleyball.
This beach is free to access, so it should be on your list of best places to go in Key West if you are looking to save money. Bring a picnic to enjoy at one of the tables.
Don't forget to check out our list of the Best Florida Keys Beaches for some more ideas of places to visit!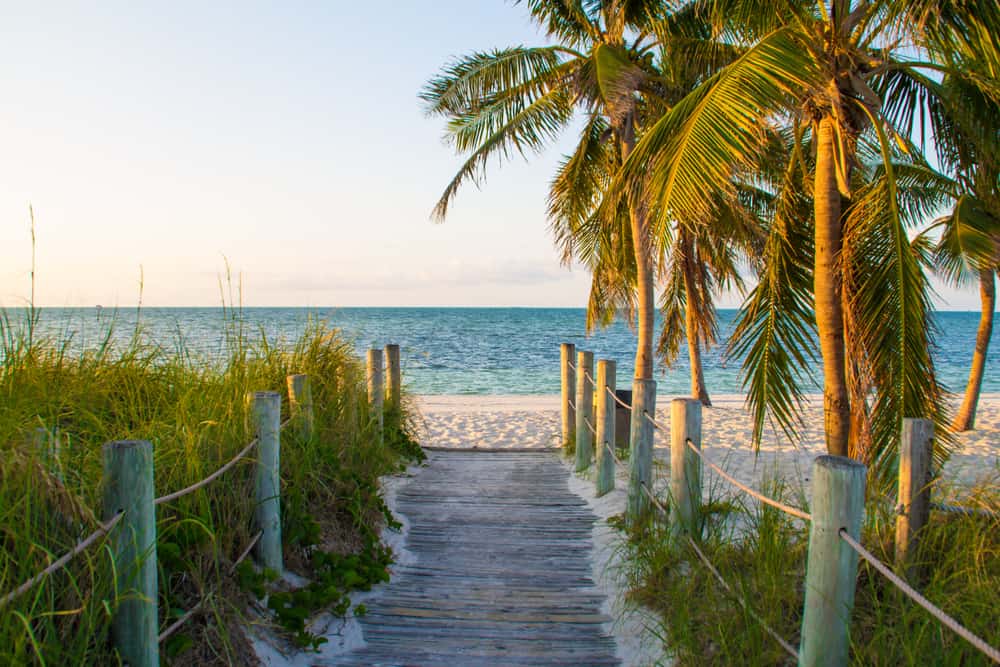 There are so many fun things to do in Key West that everyone can enjoy! It's a location rooted in fun and relaxation, so it is virtually impossible not to have a good time!
There is history and adventure sprinkled throughout all of Key West. That coupled with the natural beauty of the island is what keeps tourists coming back year after year.
Add some of these locations to your list of places to visit in Florida and your next trip will surely be a vacation you will never forget.
Did You Find This Post Helpful?
If so, we would love to keep in touch! We enjoy seeing photos and comments about your experiences in Florida! You can follow us on Instagram and we will repost your photos on our feed and comment too! Just tag us at @floridatrippers and hashtag #floridatrippers. We can't wait to see your travels!