With an abundance of things to do in Naples, there's a reason it's one of the top vacation destinations in the state of Florida! If you're new to the area, or a local in need of new ways to experience Naples, you've come to the right place.
One of the prettiest beach towns in Florida on the Gulf of Mexico, Naples gained notoriety for its high-end shopping, world-class culture, and sophisticated fine dining. Here you'll find golf courses, pristine beaches, and adventure.
Naples is one of the best places to retire in Florida, as well! Residents here are friendly, lead a healthy lifestyle, and retain a positive outlook on life. The idyllic streets look like something out of a European postcard!
A real-life paradise on Florida's Paradise Coast, you'll come for the beaches but stay for the international food scene and museums. Discover why Naples is the #1 small arts town in the United States.
Here are some ideas of what to do in Naples, Florida!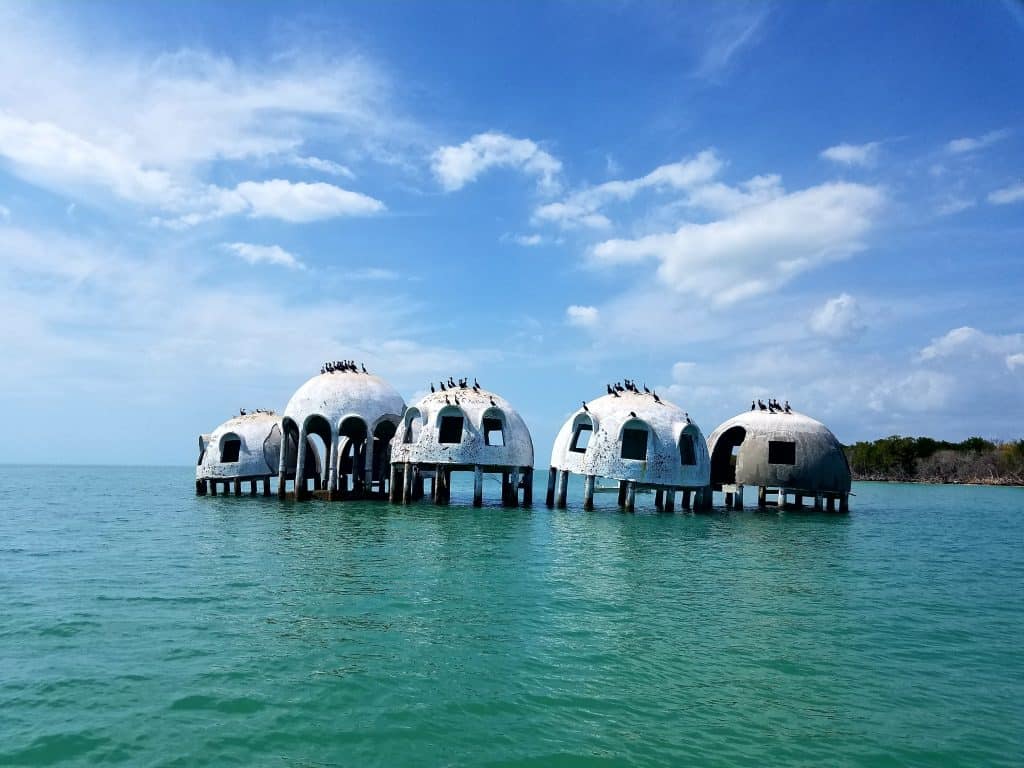 20 Best Things to do in Naples, FL, You Shouldn't Miss
Explore Marco Island
One of the must-see things to do in Naples, Florida, is to visit Marco Island. It is the largest of 10,000 Islands, mangrove-lined estuaries that lie just south of Naples. Its beaches and surrounding sandbars offer some of the best shelling in the world.
Perfect for a spot of fishing, you can reel in snook, tarpon, and trout. After that, visit the weekly Farmer's Market to snag local ingredients to create a true Gulf Coast meal!
Marco Island has a rich history as the home of the remnants of the Caxambas Clam Colony and the Witch Watchtower. A visit to the Marco Island Historical Museum will give you more insight into the area's storied background.
Perhaps the most beautiful hidden gem here is the Florida Domes. The remains of a millionaire's home in Cape Romano, you can only see this by boat. The domes have eroded into what provides shelter for birds and aquatic life off the Gulf Coast.
Book Here: Marco Island: 2-Hour Dolphin, Birding, and Shelling Tour
Book Here: Naples, FL: Manatee and Dolphin Cruise to 10,000 Islands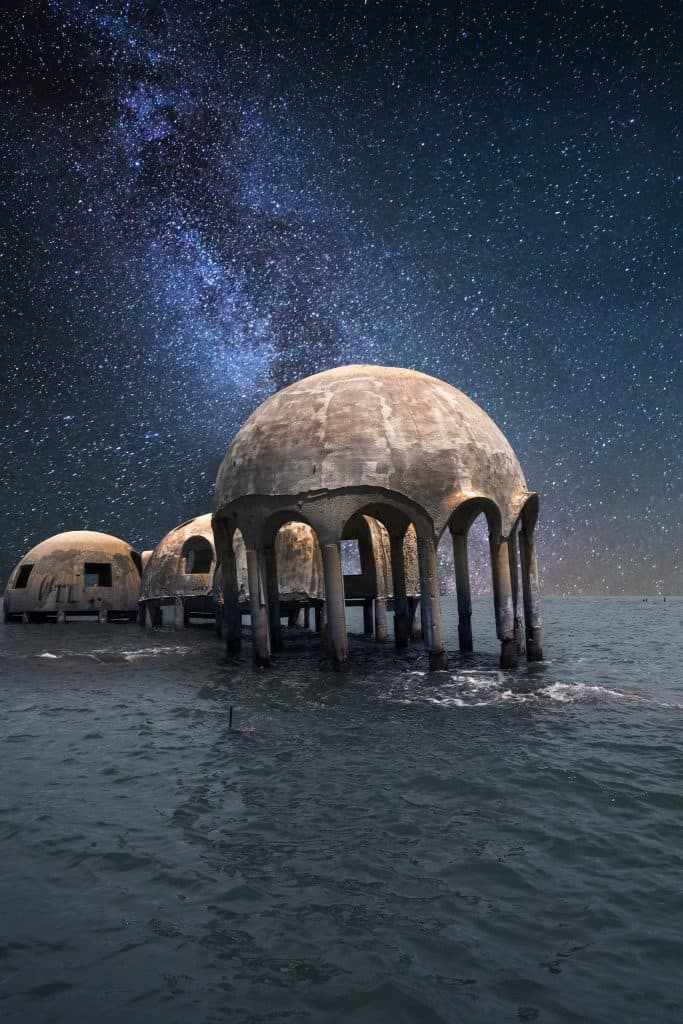 Stroll the Naples Botanical Gardens
With 170 acres of flora from around the world, the Naples Botanical Gardens conserves collections and habitats that gift us beauty, tranquility, and well-being. Visit and be one of the 220,000 visitors per year!
The gardens are cordoned off into different categories. The Water Garden highlights the beauty and mystery of water lilies. In the Caribbean Garden, you'll find over 500 types of plumeria. Wander the Brazilian Garden to see South American palms, aroids, and bromeliads.
Afterward, relax in the garden hammocks, play a round of Bocce ball on the great lawn, or play steel drums in the Caribbean House. There is a soundstage for the best local musicians and special performances. Catch them at Night Lights in the Garden!
Before you head home, grab a bite at the Fogg Cafe. The menu incorporates botanical textures and colors from the gardens into high-class dishes. Best of all, the ingredients are all local. You can't go wrong with the Bahn Mi or Mango Chicken Salad.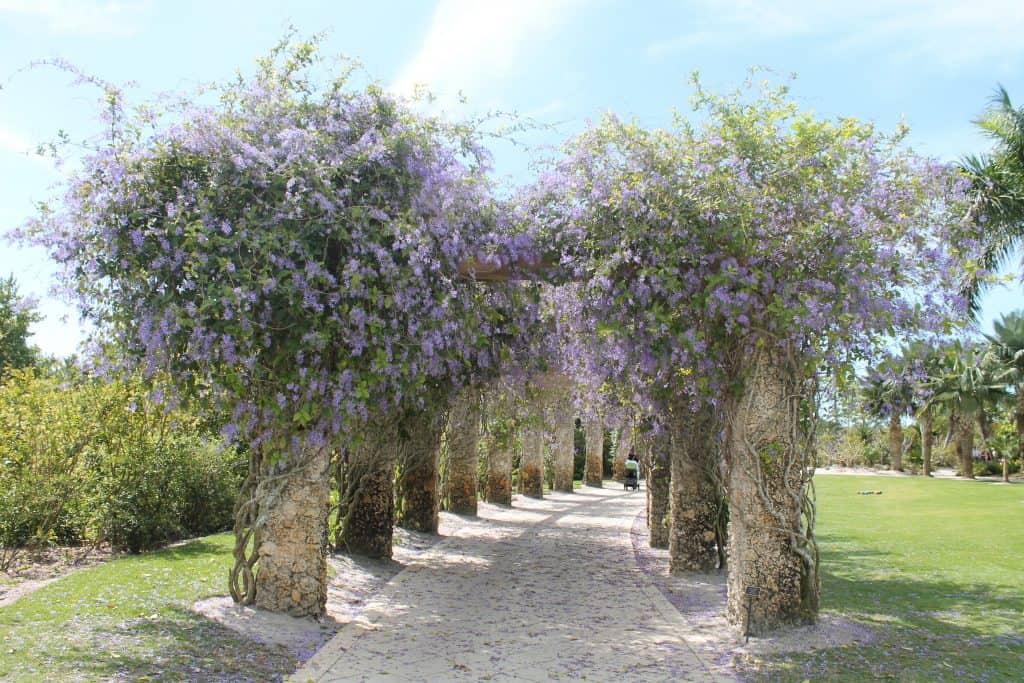 Watch Sunset at the Naples Pier
Residents say that Naples has the best sunsets in Florida. To see what all the fuss is about, head down to the beach and check out the historic pier, one of the best free things to do in Naples, Florida.
At the end of 12th Avenue South, the Naples Pier stretches over 1,000 feet out into the Gulf of Mexico. Walk all the way to the end and sit on the benches to enjoy one of the most beautiful sunsets you've ever seen.
Surrounding the pier are beaches perfect for shelling. In the waters, if you look closely, you'll see a variety of aquatic life. Pods of dolphins are known to swim by, and pelicans swoop down looking for their next meal.
If you want to go fishing, you're in luck. Visiting anglers don't need a fishing license on the pier! Hit the concession stand halfway down the pier to pick up bait, snacks, and other beach supplies.
When you're ready for a nosh, head to Cosmos Cafe & Pizzeria, which serves Italian classics and of course, pizza. Choose between eating in the warm, casual dining room or outside on the patio on the pier. Cosmos is open from 9 AM to sunset every day.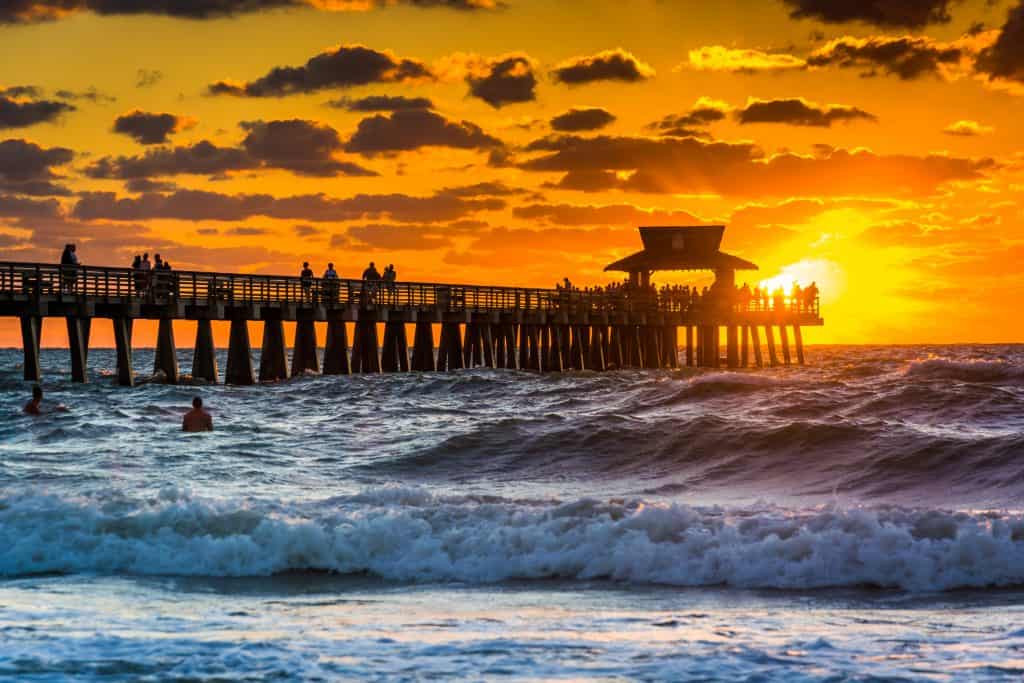 Find Nature at Denlor-Wiggins Pass State Park
You'll find one of the most beautiful state parks in Florida just off of the Naples coastline on a small barrier island. Denlor-Wiggins Pass State Park is one of the best things to do in Naples with kids!
Over 199 acres, Denlor-Wiggins Pass State Park has pristine stretches of beach, but 80% of that land is actually submerged in mangrove swamps! Here you'll find wildlife like dolphins, manatees, and sea turtles!
Because the park is plentiful in waterways, take a kayak, canoe, or paddle board on the water! The backwaters of the Cocohatchee River provide more shade. If you're looking for more of a workout, hit the beach where the waves are bound to make you paddle harder.
If you hit the concessionaire, Naples Beach Adventures is there to set you up with all the gear you need. Rent everything from paddleboards, kayaks, canoes, umbrellas, and beach chairs! Park rangers are also available for guided tours!
Because this is such a popular tourist attraction, we recommend visiting on the weekdays. If you must go on the weekend, avoid arriving during high visitation from 10:00 AM – 3:00 PM.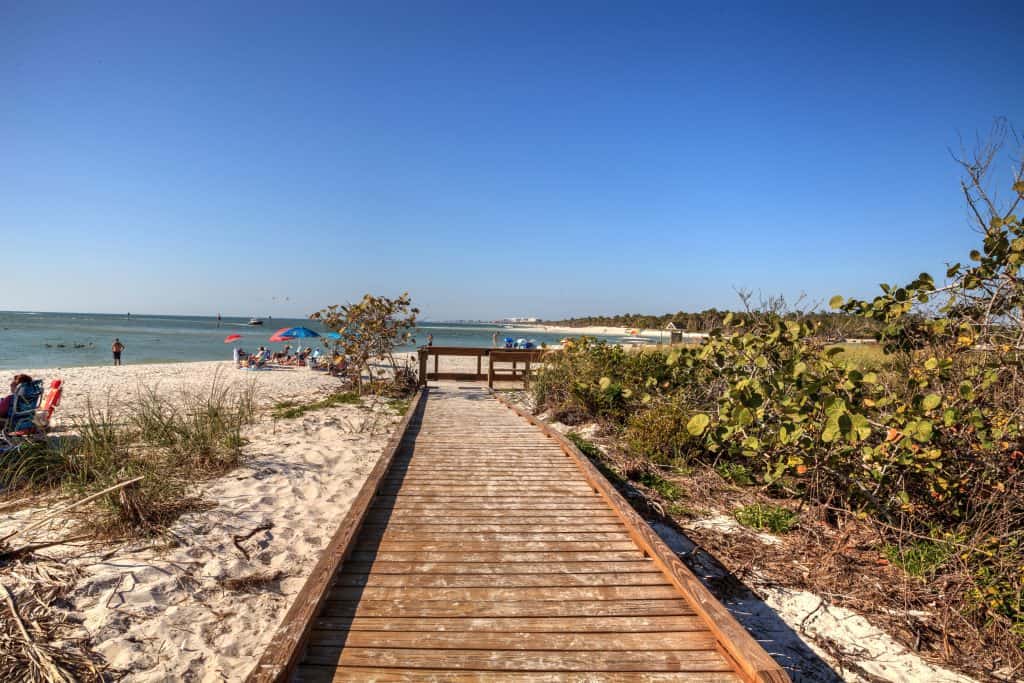 Learn at the Corkscrew Swamp Sanctuary
Within the Corkscrew Swamp Sanctuary, you will journey into the heart of the Everglades ecosystem. Just 30 minutes east of Naples, this sanctuary protects the most vulnerable of Florida's flora and fauna.
A 2.5-mile boardwalk winds through flat woods, wet prairies, and a marsh before twisting through the biggest Bald Cypress forest in the United States. Along the way, you'll see protected wildlife like alligators, otters, white-tailed deer, and red-bellied turtles.
Keep an eye out for the world's largest Ghost orchid! The orchid tends to bloom throughout the year, which is very rare for orchids! It has set records for the longest consecutive day of blooms. Because of the rarity of the orchid, scientists have made many discoveries concerning the plant's pollination process!
Unfortunately, yellow flies and deer flies are very common at the Sanctuary. Even DEET won't deter them, and chances are you won't notice them on your skin until after they've left you with a painful bite. In the peak season from March to November, we strongly recommend wearing long-sleeved shirts and pants.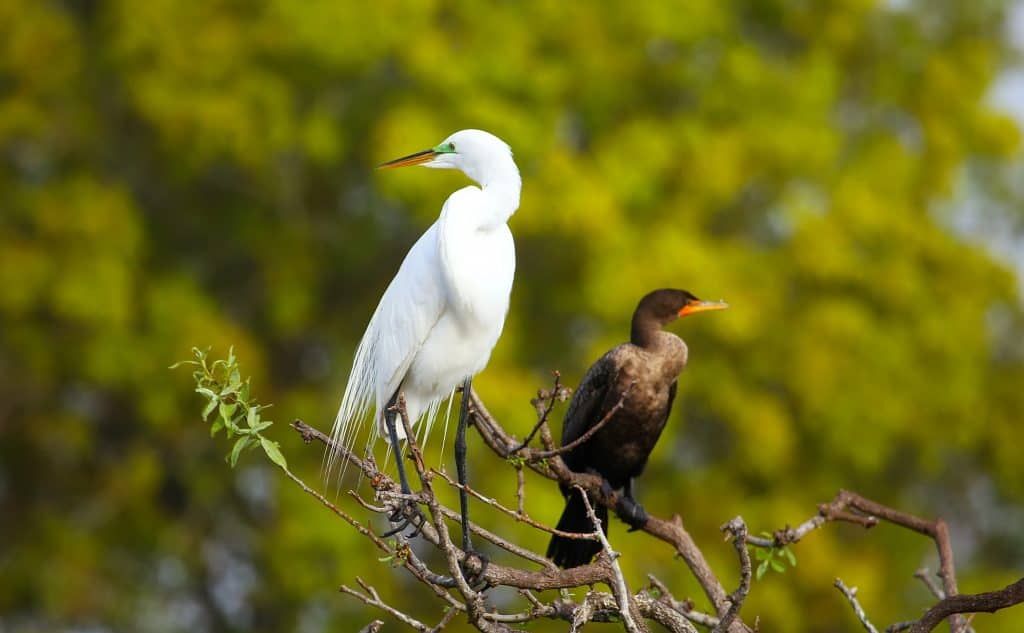 Visit the Baker Museum
One of the more cultural attractions in Naples is the Baker Museum, also known as Artis Naples. Opened in 2000, the museum stands three-three stories tall with over 30,000 square feet and is one of the best museums in Florida.
The Baker Museum's permanent collection focuses on works using diverse media across artistic movements. Among the artists featured are Roy Lichtenstein, Diego Rivera, and Alexander Calder.
Reflecting the cultural vibrancy of the southwest Florida community, this collection is a teaching tool for those wishing to learn more about Mexican and American Art of the 20th and 21st centuries.
Exhibition lectures are given every month! When you attend, experts will enhance your understanding and enlighten you on the history of both the permanent and visiting collections.
On the last Wednesday of the month from 6-9 PM, attend Art After Hours, one of the best activities in Naples! Admission is free! Wander through the space taking in the art with live local musicians playing and food and wine.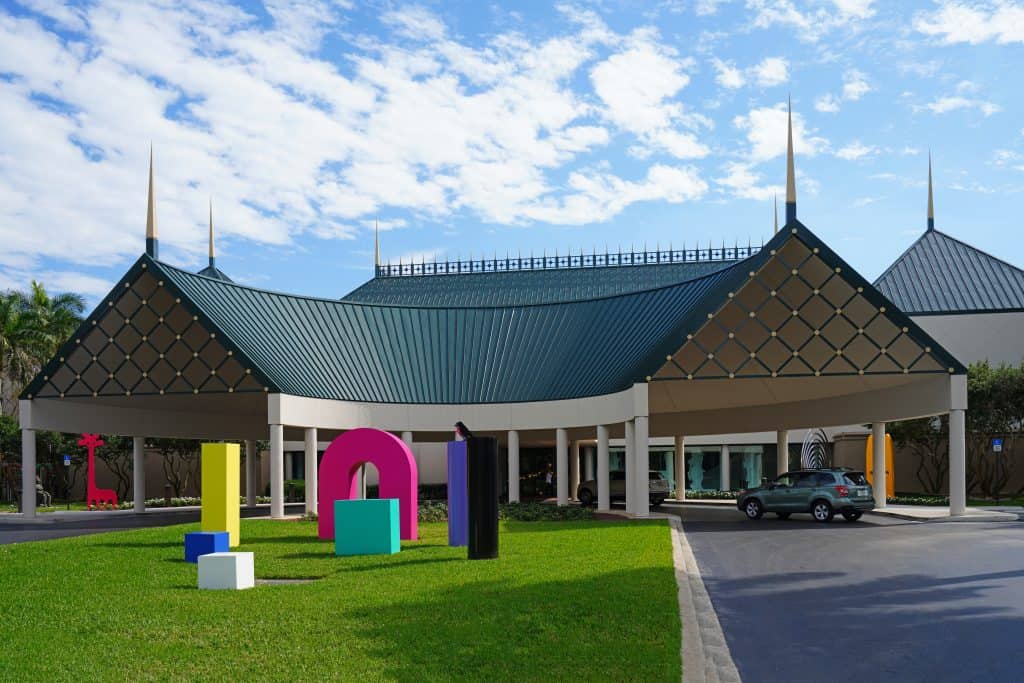 Shop on Fifth Avenue South
For the best of downtown, head over to Fifth Avenue South in the heart of Naples, one of the nation's most exclusive addresses. Here you'll find the eclectic shopping experience that catapulted Naples to fame.
Stretching from Tamiami Trail to the Gulf of Mexico in Old Naples, Fifth Avenue South's historic and modern architecture meet. The result? A blend of a glamorous and still laid-back vibe as well as one of the best Naples activities.
Among the shops on Fifth Avenue South, you'll find fashion boutiques, custom jewelry stores, fine-dining options, and entertainment. The art galleries here helped Naples become the #1 small arts town in America.
We personally love stepping into Lovejoy Antiques, where you never know what great find is just around the corner. Then Alberto's on Fifth always hits the spot for a fine, Italian meal. After dinner, check out art galleries like Cocoon or Roots Studio!
Fifth Avenue South also hosts some of the best festivals in Florida! Evenings on Fifth showcase a variety of live musical performances on the sidewalks. During the annual Christmas Walk, enjoy the tree lighting ceremony and long-table dining in the streets!
Book Here: Naples, Florida: Group Sightseeing Guided Bike Tour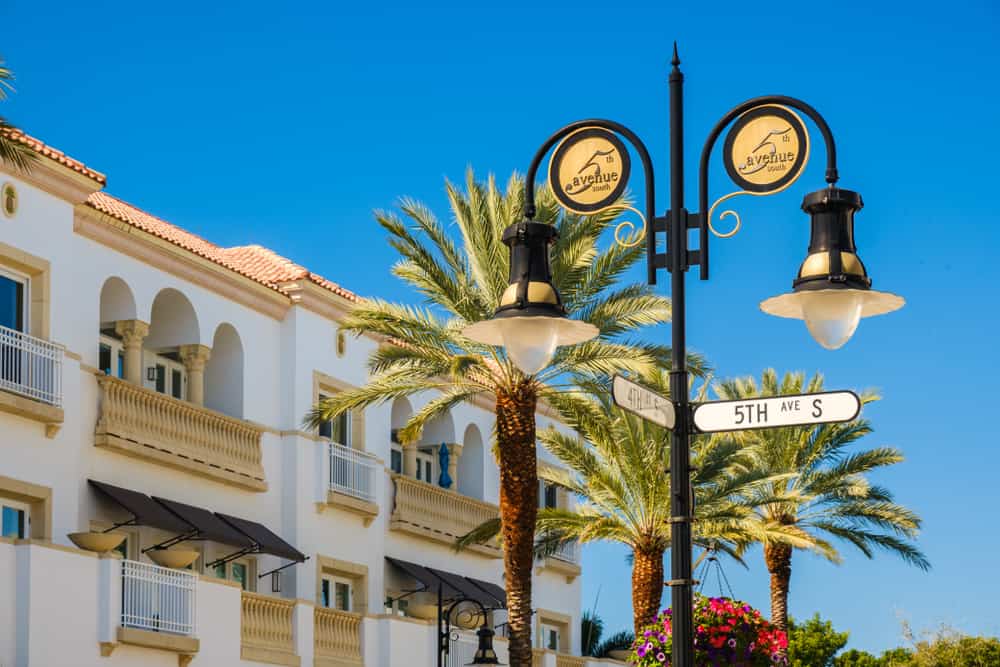 Check Out Tin City
Of course, all your shopping doesn't have to be bougie. For a more eclectic and obscure shopping experience, Tin City is waiting for you!
In an open-air specialty shopping district, you can easily spend your entire day exploring all of Tin City. Waterfront shops are divided into four buildings where you'll find food, crafts, antiques, seashells, wine, mood rings, and more!
Tin City is the perfect place to grab a souvenir for your family back home or a swimsuit to hit the beach right afterward! To test out that new swimsuit, hit up Cruise Naples to get a boat tour of Naples or charter your own boat!
While there are 30 boutiques at Tin City, that's not all they have to do. Visit 1500 South by celebrity chef Art Smith for Southern fare, cocktails, and wine. Then head back to enjoy a frozen treat at Tin City's ice cream parlor.
Tin City has a partnership with Slidr. Scooters and shuttles are available if you plan on drinking and want safe, free transportation!
Book Here: Naples, Florida: Manatee Sightseeing and Wildlife Boat Tour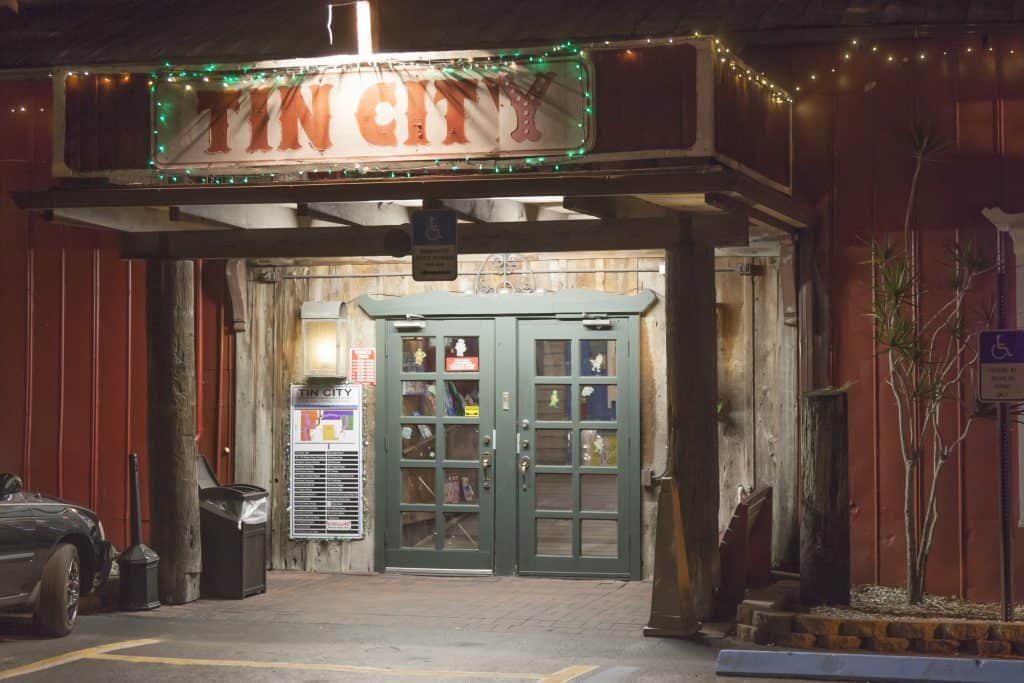 Take a Swing at Hibiscus Golf Club
Did you know that there are over 90 golf courses in Naples? This is why people love to retire in Naples! Unfortunately, only 30 are open to the public. One of the best golf courses in Florida is the Hibiscus Golf Club.
Hibiscus Golf Club's 18 holes cater to high and low-handicap golfers. Here you'll find wide fairways, bunkered greens, and numerous lakes and streams. The 18 holes run you $45, while 9 holes will only cost you $25.
The club also offers instruction via Dennis Meyer's Golf School. A PGA professional, Meyer was named Teacher of the Year in 1999 and 2016. He offers instruction to novices and advanced players! You'll practice in one of the few private practice facilities in the state.
After you're done golfing, relax at Erin's Isle Restaurant and Lounge. You'll come for the green but stay for the ambiance. Enjoy brunch specials and happy hour with nightly entertainment!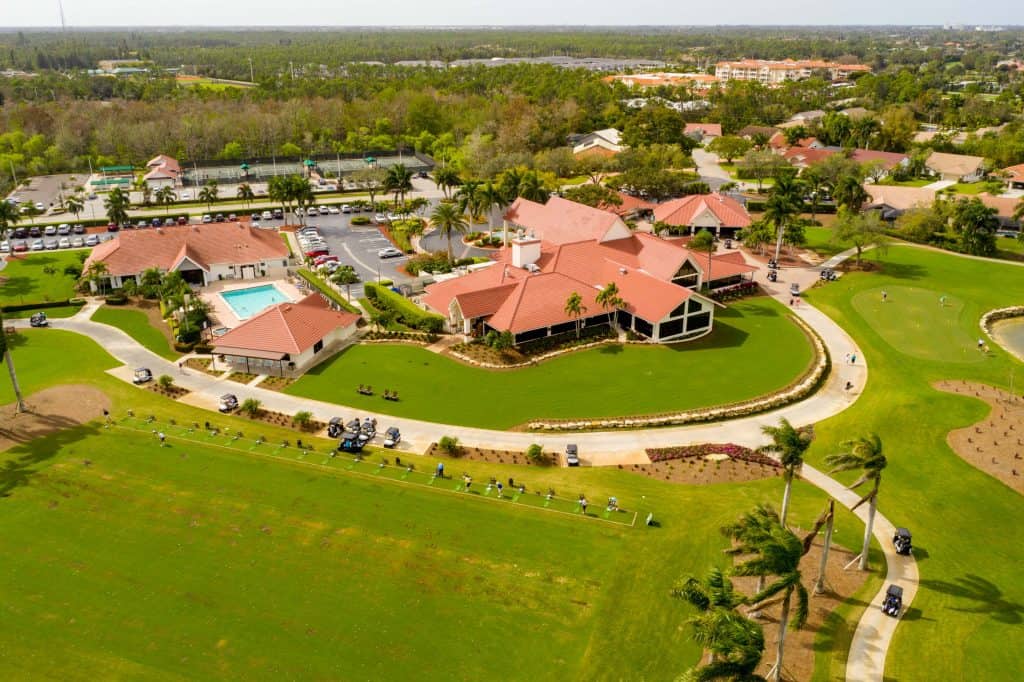 Stop by Everglades National Park
Compared to a grassy, slow-moving river, the Everglades National Park is one of the best National Parks in Florida with 1.5 million acres of coastal mangroves, sawgrass marshes, and pinewood flats.
Because the Everglades are so expansive, a wide variety of wildlife makes the marshes and swamps their home. You'll find everything here from the endangered Leatherback turtle, Florida panthers, and manatees. The Everglades is one of the best places to see wild alligators in Florida, as well.
Because the park is so huge, there are three separate entrances in three different cities. For the purposes of this article, we'll be discussing the entrance in Collier County. Of course, don't forget to check out some of the best Everglades Boat Tours from Naples if you prefer a guided visit.
Take exit 80 from State Road 29 and drive for about 20 miles to reach the Gulf Coast Visitor Center. The park's western salt-water gateway should be your first stop to get oriented with the attractions in this area.
Climb atop Shark Valley's 65-foot observation tower for a bird's eye view of the land. Paddle through the mangrove forests in the nine-mile pond. Or simply take an easy hike along the Anhinga Trail to see turtles and herons!
Make sure you bring your own water and snacks and leave nothing but footprints. You must arrive by car as many of the Everglades' points of interest are many miles apart!
This is a great day trip from the city and one of the best things to do near Naples, Florida!
Book Here: Everglades National Park: Airboat Tour and Wildlife Show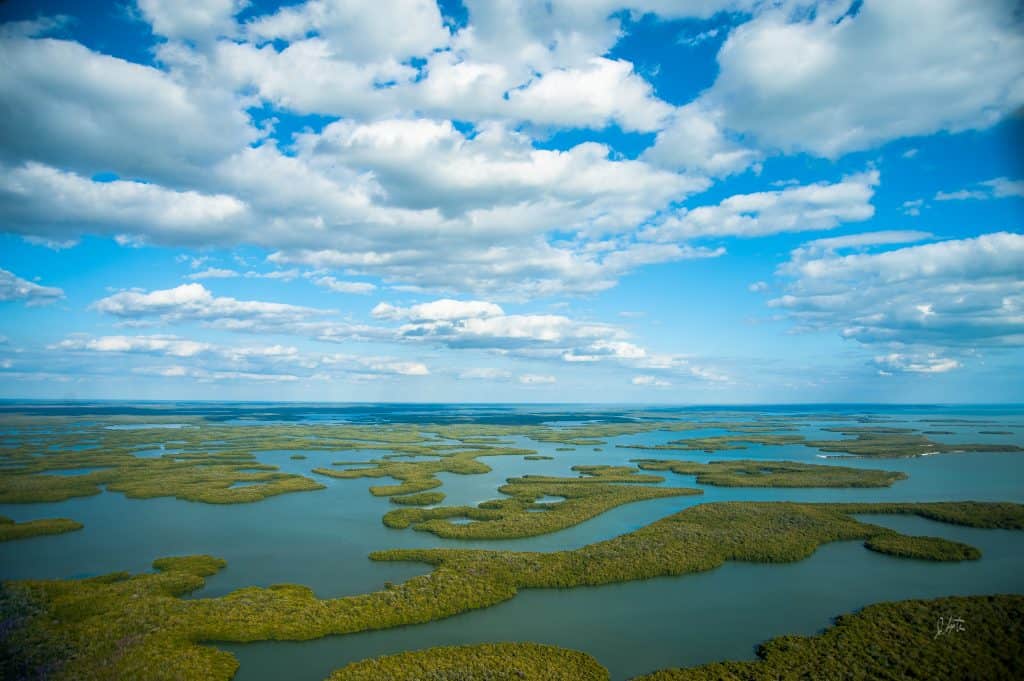 Take Photos at Matlacha Village
For something truly out of the ordinary and one of the most fun things to do in Naples, FL, head over to Matlacha Village! Pronounced "mat-la-SHAY," Matlacha means "big warrior" in Seminole!
A quirky, historic fishing village, Matlacha feels like Key West, minus the crowds. The colorful charm and laidback vibe capture the essence of turn-of-the-century Florida. On a walking tour, you'll see pink palm trees, dolphins painted with polka dots, and one-of-a-kind homes painted in neon colors.
When you visit Matlacha Pass, you'll always see an angler reeling in a big catch! Known as the "World's Fishing-est Bridge," a tidal current runs beneath that sweeps in snook, redfish, and tarpon.
After, you have to pass by the "Doll Lady's" House. She decorates her front yard with her collection of "junktiques." You'll be charmed by hobby horses and rag dolls sitting in salvaged garden chairs.
Matlacha Village is also home to renowned international artist Leoma Lovegrove. Her eclectic, colorful artistic medium has influenced the entire village. In her gallery, you'll find her vibrant paintings displayed throughout a whimsical garden.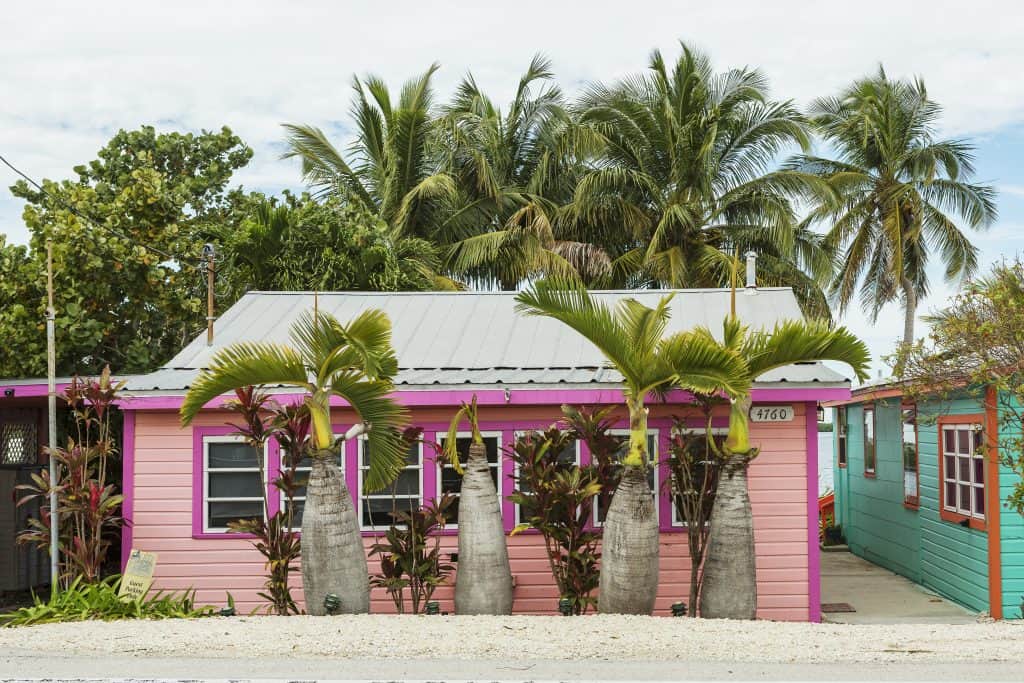 Relax at Lowdermilk Beach Park
As Naples' premier beachfront park, Lowdermilk Beach Park is one of the best things to do in Naples with kids! Visit before or after a trip to the beach to round out a day of fun and really get the energy out of the kids.
Within the park, there are plenty of activities for the entire family. Kids can romp around on two playgrounds with swings, slides, and jungle gyms. There are two sand volleyball courts, so bring your own ball!
Along with restroom and shower facilities, a concession stand is on the premises. Here you can rent kayak and paddle boards for the beach! Because the stand is managed by Rita's Italian Ice, you can grab hamburgers, hot dogs, salad, coffee, and of course, an Italian ice!
You can also rent one of two gazebos for your family functions, or just for some well-needed shade. The one in the north has two picnic tables inside while the south gazebo is next to an open-air lawn, a perfect wedding destination.
Make sure to bring your quarters, metered parking is $2.50 an hour! However, free parking is available down the street if you don't mind a short walk.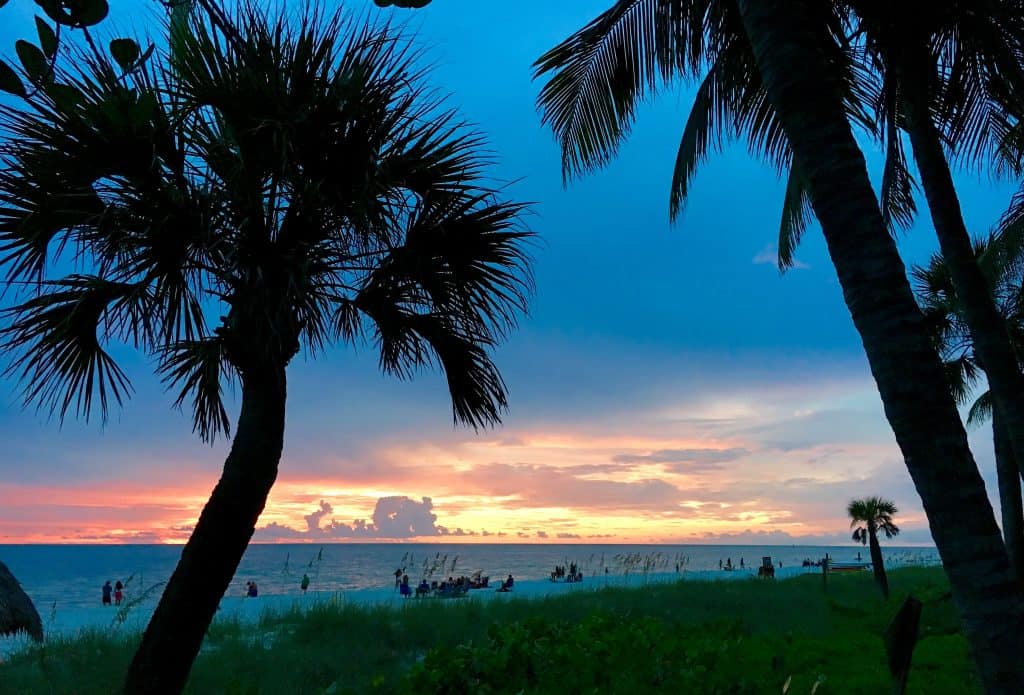 Visit the Village on Venetian Bay
To encounter the most sophisticated shopping experience in Naples, make a stop at the Village on Venetian Bay. This is the height of luxury! Right on the water, spending a day here will make you want to treat yourself!
The Village on Venetian Bay is a series of high-end waterfront shops in an open-air complex. The 45 shops and restaurants overlooking the Venetian Bay may seem small, but your experience will be anything but. Less is more here!
The Village became renowned for its local and major luxury retailers combined with its personalized customer service. You'll find Tommy Bahama, Chico's, and Windflower all ready to outfit you for your beach vacation!
You won't just find shops at the Village. The best dining establishments in Naples make their home here, and you'll find everything from casual fare to fine dining as well as upscale cafes and bars. We recommend the risotto at Miramore Ristorante.
If you're watching your wallet, don't worry. The Village also hosts many events like sidewalk sales. Outdoor racks are marked down up to 75%! You'll also enjoy the Venetian Carnival which offers mask decorating, face painting, and children's crafts!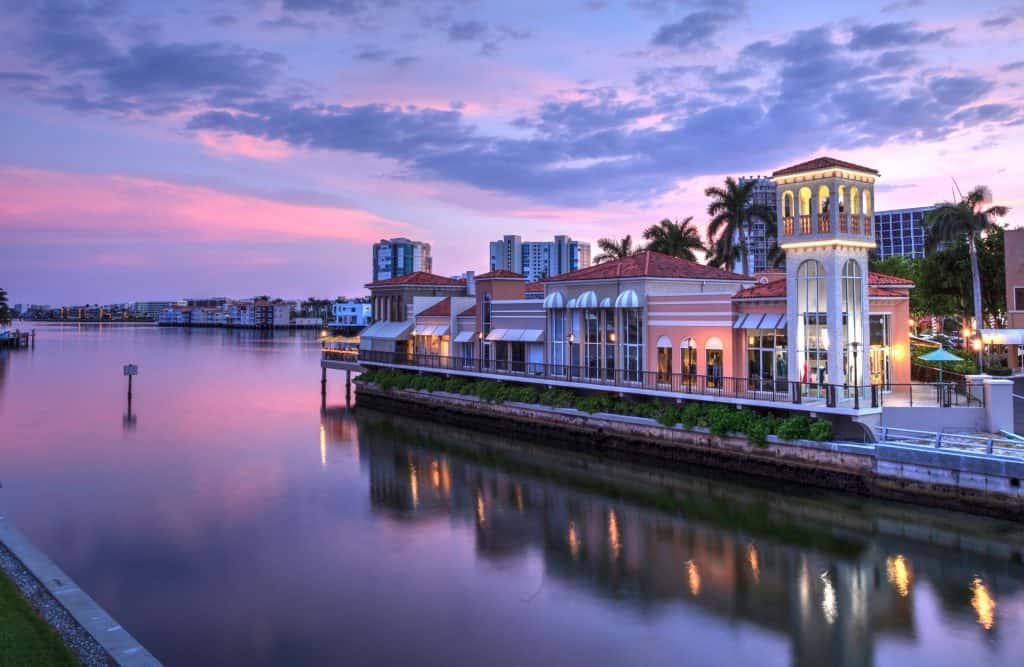 Enjoy the Naples Depot Museum
Originally the Naples Seaboard Air Line Railway Station constructed in 1927, the site has been restored by Collier County to become the Naples Depot Museum. The original architecture is still intact, heavy in Mediterranean Revival influence.
The exhibits take visitors back in time to the railroading boom of the Roaring Twenties and its influence on the development of the city. You'll discover how Floridians used technology and transportation to conquer a vast and daunting frontier.
Inside the museum, you'll see railroads and refurbished vintage train cars you can walk through! Also on display are Seminole dugout canoes, a mule wagon, and an antique swamp buggy. This is one of the things to do in Naples when it rains.
The Lionel Train Museum is dedicated to model trains, specifically the ones that ran through Naples and Southwest Florida. In fact, a miniature railway runs around the perimeter of the museum!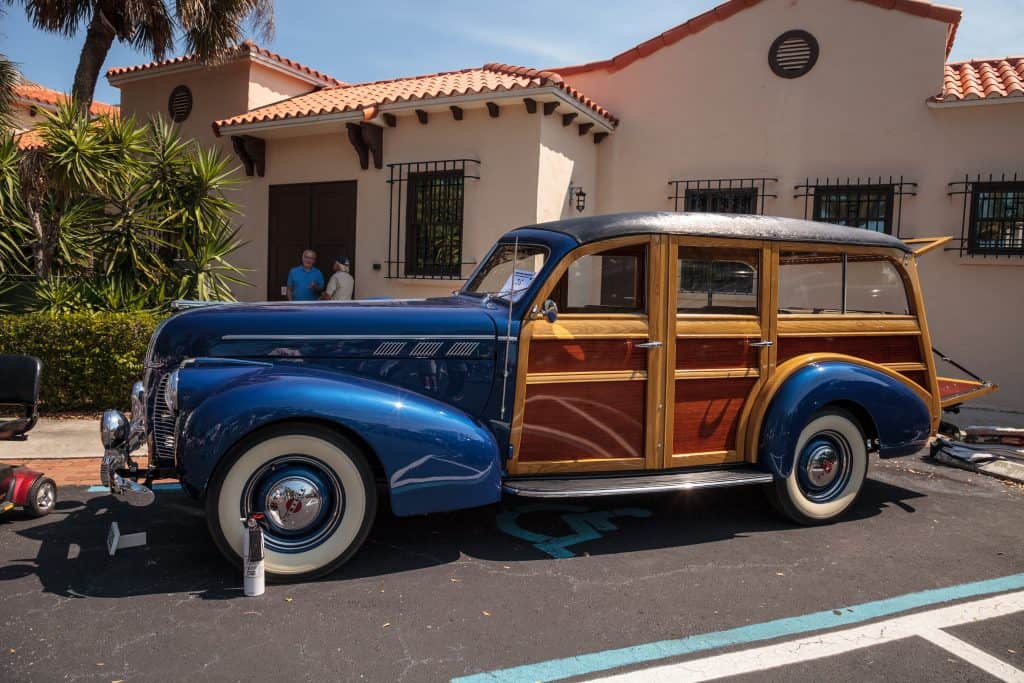 Step Back in Time at Palm Cottage
To learn about how Naples came to be the flourishing community it is today, make a visit to Palm Cottage, the oldest house in Naples. At the corner of 12th Ave South and Gulfshore Blvd, the house is made of tabby mortar, a primitive concrete made of sand and shells.
Built by the co-founder of Naples, Walter N. Haldeman, the Palm Cottage is maintained by the Naples Historical Society. Today, the Palm Cottage has hosted 2,100 students and over 1,000,000 visitors to teach the history and founding of Naples!
A docent-guided tour takes you through the 3,500 feet of donated artwork, furnishings, and tools from Naples from 1895. Then you'll stroll through the Norris Gardens and later the Archival Viewing Center to watch a 24-minute video about Naples' past.
Palm Cottage also hosts many different events! Gatsby at the Cottage is a Roaring Twenties party in the vein of the F. Scott Fitzgerald novel. Brew in the Garden, one of the best things to do in Naples for adults, introduces a new ale annually from the Naples Beach Brewery. Clue at the Cottage brings the board game to life, Naples-themed, of course.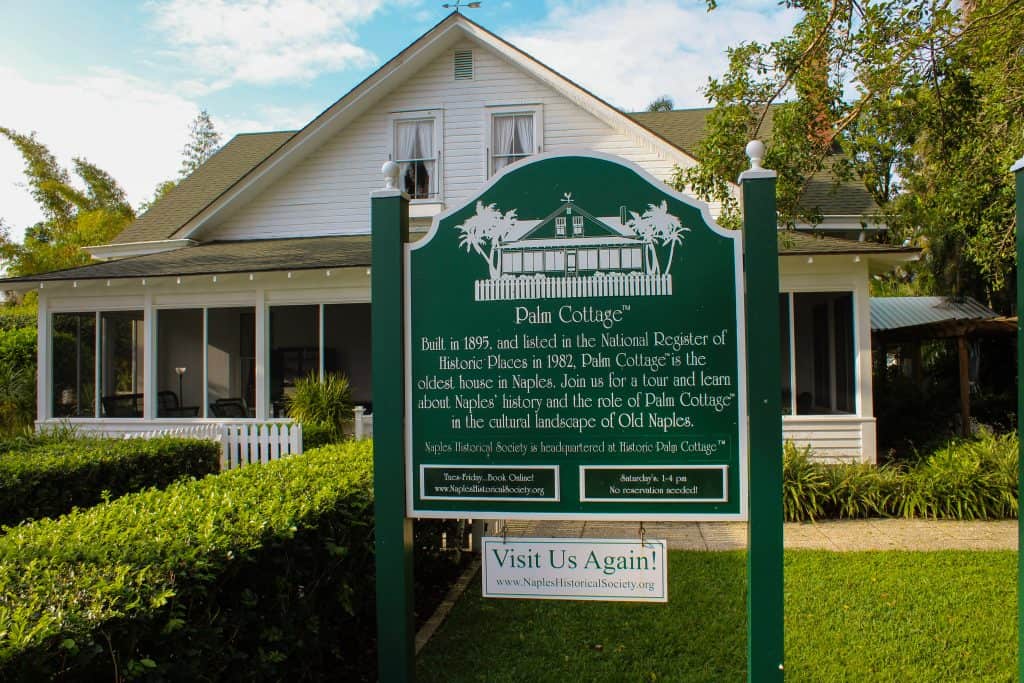 See a Show at Sugden Community Theatre
To get your dose of entertainment, head to Fifth Street South for a show at the Sugden Community Theatre, home to the Naples Players. Here you'll be able to see professional quality community theatre shows like musicals, comedies, and dramas.
The Naples Players produce shows year round with 14 productions a year! Performances are given on Wednesdays through Saturdays at 8 PM with a matinee on Sundays at 2 PM. Past shows have included Broadway hits like The Producers, Oklahoma!, and Noises Off.
If you have an itch to get on the stage, take a class at Sugden! Try your hand at singing, dancing, improv, or learn technical theatre skills. Wellness classes are offered for students with Parkinson's, Down Syndrome, anxiety, and sensory processing disorders.
You can also take a guided tour through the entire theatre. Inside, you'll tour backstage areas and see the moving parts and the effort it takes to mount a theatrical production!
If live theatre isn't for you, then no worries. The Sugden Community Theatre hosts other performances. Groups like the Naples Jazz Society and the Classic Chamber Concert Series call this beautiful theatre their home venue.
This is one of the best things to do in Naples at night, especially for a fun date!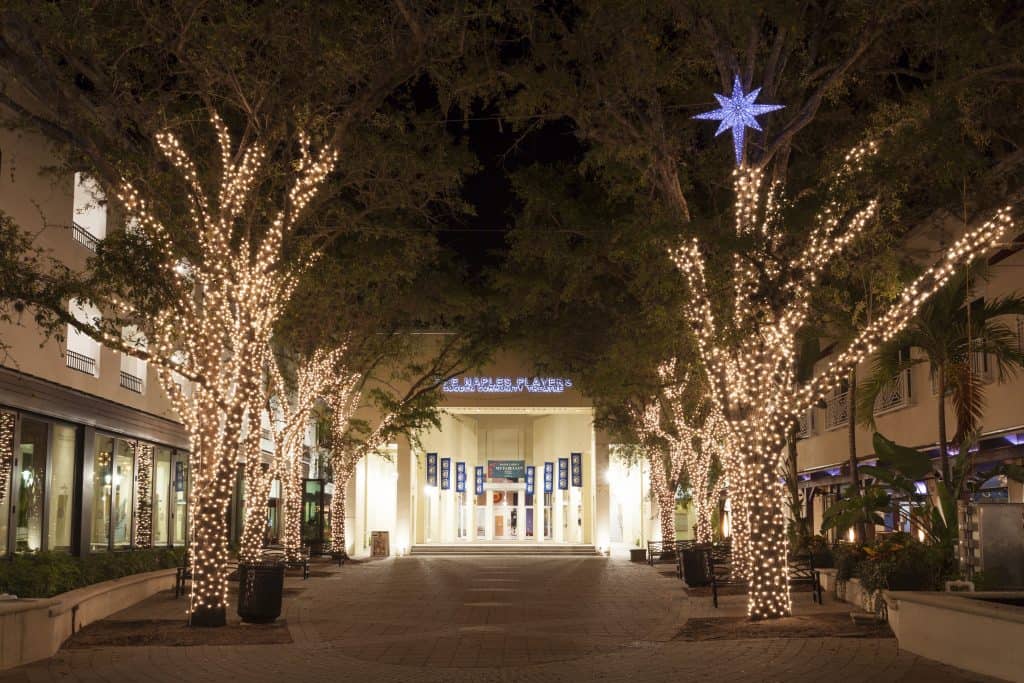 Soak in the Atmosphere at the Stone Crab Festival
Naples is home to many festivals, but perhaps the biggest and tastiest is the Stone Crab Festival, held over a weekend in October when Florida Stone Crab is in season. Unlike most festivals in Florida, which are set in one place, this event takes up the entire town!
Get ready for a full weekend of live music, great seafood, and entertainment. First, the festival kicks off with the traditional cracking of the first stone crab claw, usually cracked by the mayor. After, head over to Tin City for live music performed by a Bob Marley tribute band!
The activities are endless and sure to put a smile on your face. Enter the M&M ice cream eating contest. Browse the wares of the vendor booths pedaling local art, jewelry, and clothing. The Freedom Kids Corner hosts children-friendly activities with raffle prizes!
Take advantage of discounted cruises and water sports from Pure Florida and Naples Princess. If you look around town and through the shops in Tin City, you'll also see deals and discounts from Naples restaurants and retailers at designated festival locations.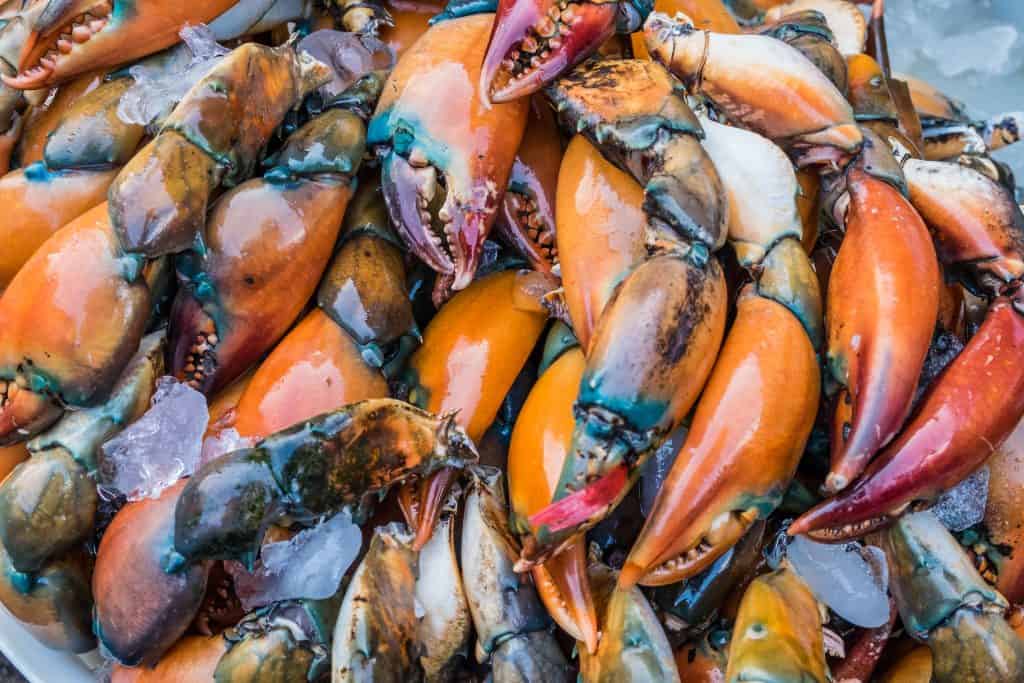 Chill Out at Clam Pass Park
Just up the coast from Naples is Clam Pass Park, a beautiful slice of peaceful nature. The park is 35 acres of beach and coastal habitat perfect for a day of relaxation. It is also one of our favorite secluded beaches in Florida!
A walk along the Clam Pass Boardwalk will bring you through lush mangrove forests ideal for bird watching or spotting colorful butterflies. You might also see alligators in the water.
Once you make it to the beach, you will be in awe of the soft, white sand and crystal clear waters. This is a great place for sunbathing, swimming, kayaking, and sand castle building. There is also a restaurant where you can grab a meal while enjoying views of the ocean.
This is one of the best things to do in Naples for couples looking for a quieter beach to watch the sunset.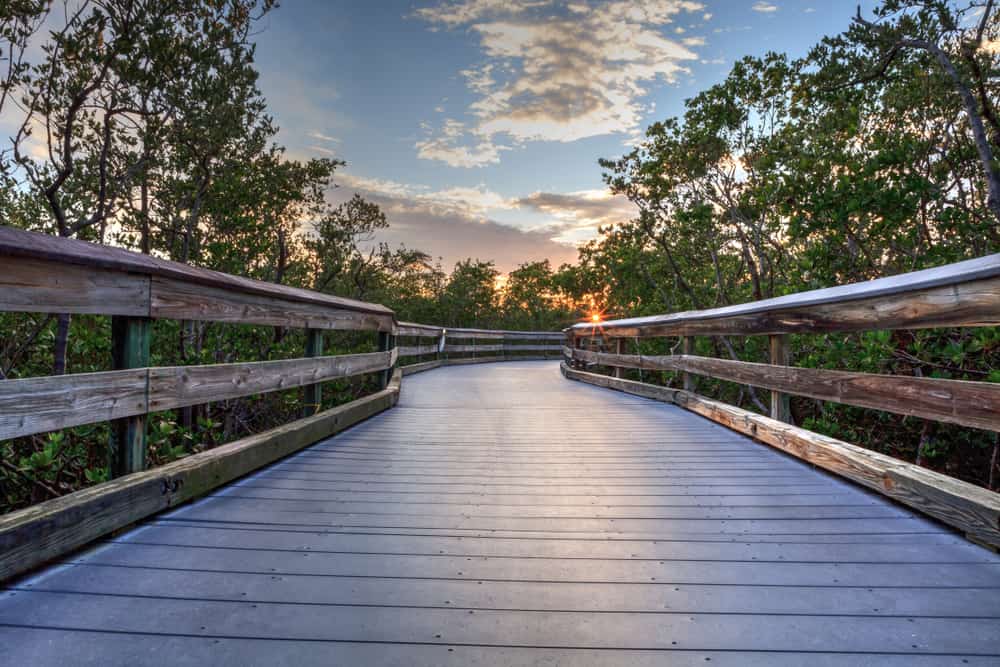 Have Fun at Sun-N-Fun Lagoon
If you somehow get tired of the salty beach, head to the Sun-N-Fun Lagoon water park in North Collier Regional Park. With five water slides, a diving board, a lazy river, and fun water toys, this place is fun for the whole family!
Enjoy a thrill on the Sting Ray slide as you drop into the pool in a quick seven seconds. If you want a more chill experience, float in a tube around the 1,250-foot Sunny's River.
Kids six and younger can explore the interactive Tadpole Pool while older kids have fun with the floating lily pads and rope course in the Cove.
After some pool time, take the family across the street to the Golisano Children's Museum of Naples. There are a ton of interactive and fun exhibits that will teach kids about many subjects.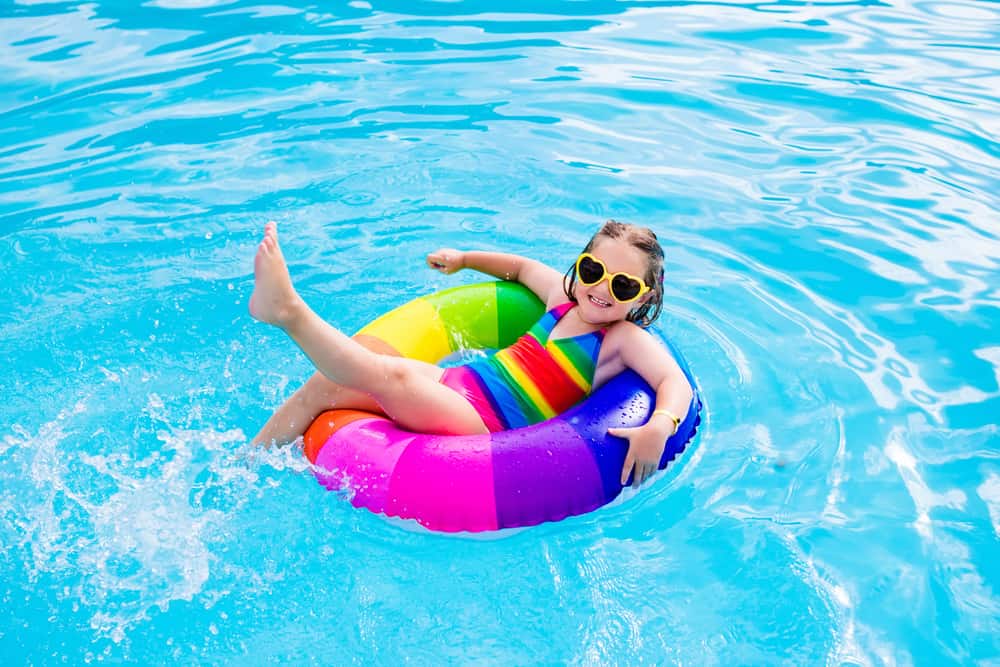 See Cool Cars at the Revs Institute for Automotive Research
Vintage car lovers will want to check out the Revs Institute for Automotive Research. This 80,000-square-foot museum is all about the history of the automobile.
There are over 100 cars spread out in four different galleries: Automobility, Vitesse, Revs, and Porsche. The cars are all fully operational and displayed without barriers so you can get a close look. The building is pressurized and the air is double filtered to keep the cars well preserved.
Some of the vehicles date back to 1896 and some are even one of a kind so you know you will see some interesting specimens of the auto industry.
This is certainly one of the best places to visit in Naples for anyone interested in history and automobiles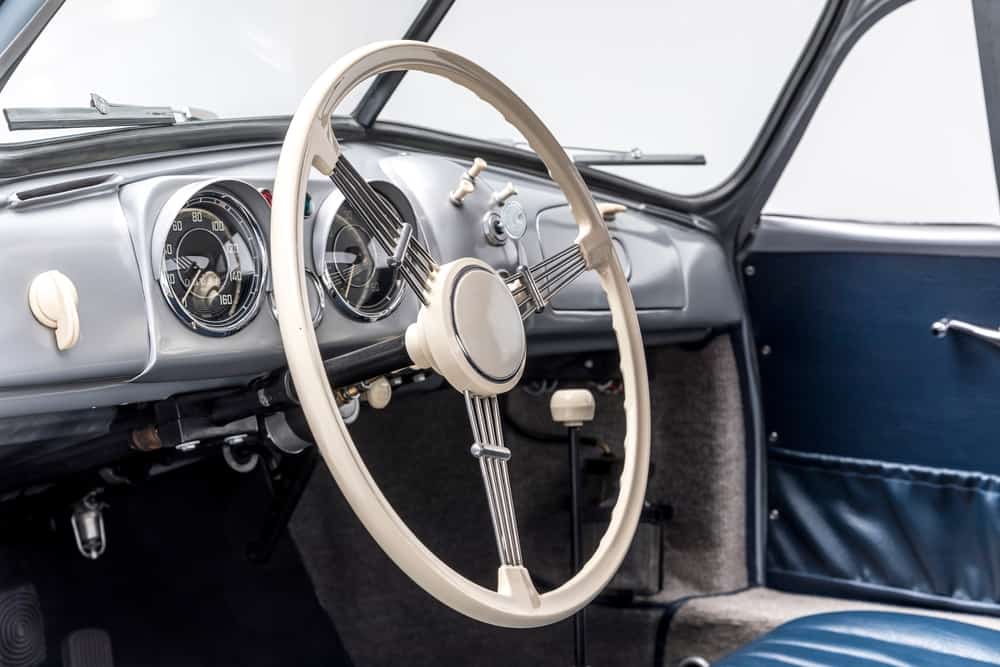 Did You Find This Post Helpful?
If so, we would love to keep in touch! We enjoy seeing photos and comments about your experiences in Florida! You can follow us on Instagram and we will repost your photos on our feed and comment too! Just tag us at @floridatrippers and hashtag #floridatrippers. We can't wait to see your travels!