Are you on the hunt for the best things to do in Orlando at night? Well get ready for the ultimate list of the best activities in the nightlife in Orlando!
Most think of Mickey Mouse when Orlando comes to mind, but there is so much more to see and do aside from Disney World and Universal.
Planning your trip to Orlando last minute?
Make sure to book ahead! Hotels and tours often sell out the closer you get to your trip. Here are our top picks for Orlando:
Top Experiences And Tours In Orlando:
Best Places To Stay In Orlando:
Whether you're planning a couples trip or family activities, Orlando will not disappoint, especially at night! The best part is that Orlando is very central and easy to get from place to place, be warned though, traffic comes in highs and lows.
It was tough to narrow down the best things to do in Orlando at night, but here are our top activities for an epic trip to central Florida's mecca. From wining and dining, dancing the night away, to adventures in the sky, Orlando will have something for every one!
Don't forget to check out some of the Best Places To Stay In Orlando when planning your visit!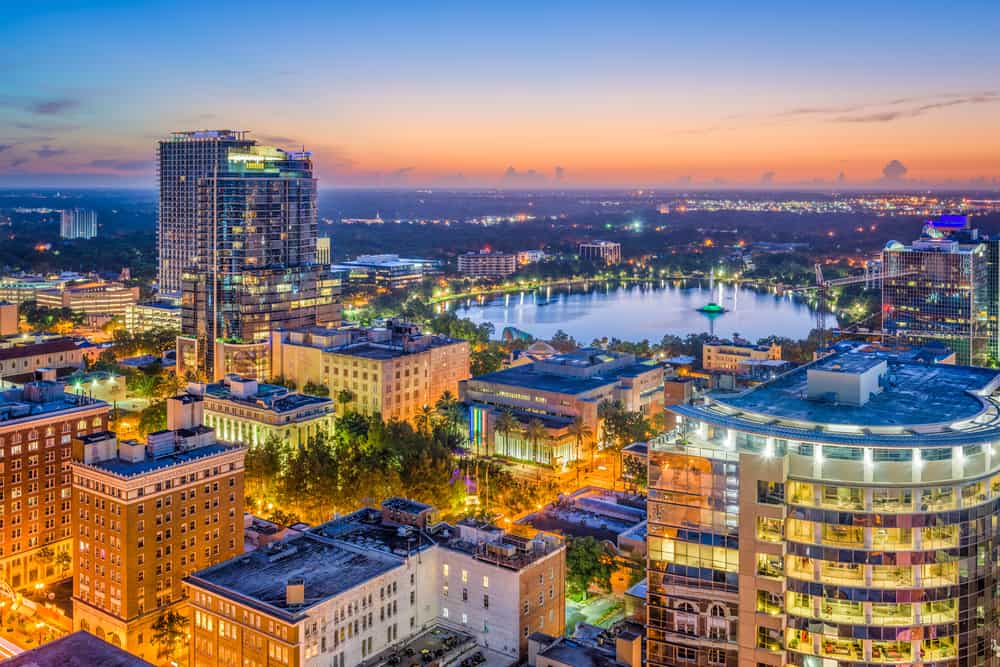 Best Things To Do In Orlando At Night
1. Go Resort Hopping at Disney
You know we can't talk about things to do in Orlando at night without mentioning Disney! Walt Disney World is one of the most famous things about Orlando, and we highly recommend checking out these theme parks during the day!
The hotel resorts are plentiful around the parks and have a different vibe and scenery to please any eye. Resort hopping gives you the opportunity to check them all out! Believe it or not there is even a free ride that will transport you between parks so you can tour around the properties at your leisure and for free!
To start compiling your Orlando night activities list, here are just a few of the resorts you can check out. The luxurious Disney's Grand Floridian Resort & Spa will showcase the utmost sophistication and refinement, offering the largest rooms in all of the Disney Resorts at 440 square feet. Disney's Animal Kingdom Lodge will transport you and your family through a safari vibe like no other, with real live animals living right next to you! For a tropical getaway, check-into Disney's Polynesian Resort & spa and be transported to the island chain right in central Florida!
Regardless of which resort you decide to lay your head at night or to scope out on a day tour, you will surely be entertained and impressed.
2. Movie Night at Leu Gardens
Dinner and a movie. A tale as old as time, right? The Harry P. Leu Gardens puts a special twist on it, showcasing a movie under the Orlando night sky.
This 50 acre botanical oasis was donated by Harry P. Leu and his wife to the city of Orlando. Today, it serves not only as an exquisite garden, but a major wedding venue, and a photographer's paradise backdrop.
Movies play about once a month via a large projector aimed at giant screen across the lawn, underneath the stars, of course. The movies are family friendly, and a delightful way to spend time in Orlando at night.
Spots are first come, first serve, so make a night of it and arrive early! Stroll through the gardens before picking out the perfect spot on the lawn. No movie night is complete without snacks and drinks, so be sure to pack them. And for all who imbibe out there, alcohol is permitted! Be sure to add this to one of the top things to do in Orlando at night.
3. Explore Celebration
Just outside of the grand world of Disney and away from the tourist bustling Kissimmee, you can find the quaintest little town of Celebration.
The candy-colored buildings and views welcome all visitors to explore what was Walt Disney's inspiration of creating a "perfect Utopian city". It was also known as Experimental Prototype Community of Tomorrow, or EPCOT.
With Epcot becoming a theme park instead, Celebration became a go-to destination all on it's own. You might not think this town would have much to offer as a list of things to do in Orlando at night, but think again! It's open town square adorned with dangling string lights is the perfect starting point for you and your family to explore the local shops, restaurants, and even an abandoned movie theatre! An excellent addition for things to do in Orlando at night with a family!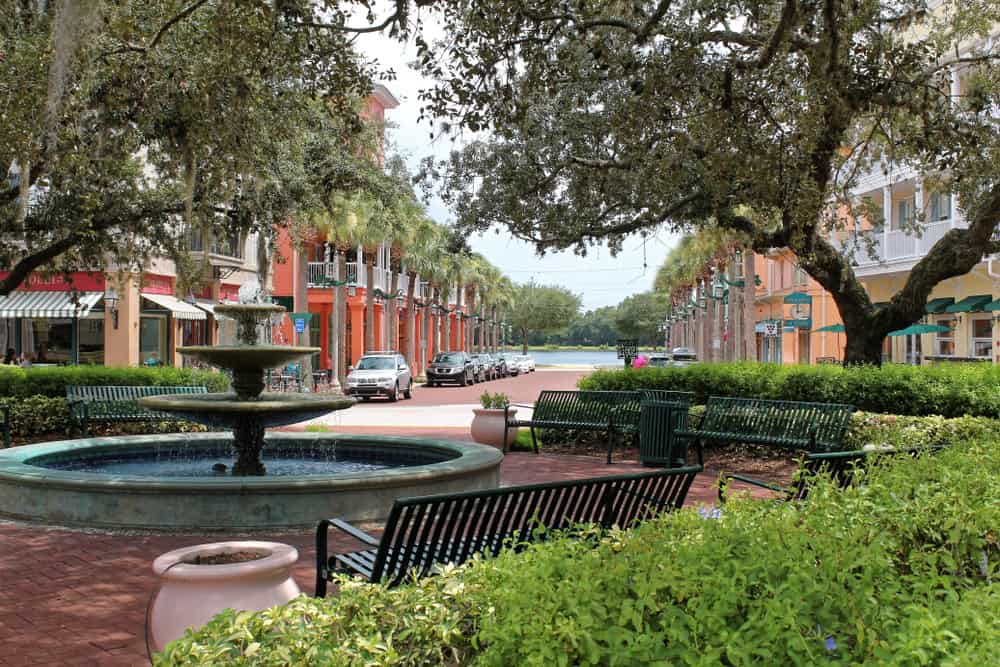 4. Wine and Dine at Disney Springs
One of the best things to do in Orlando at night with a family is to visit Disney Springs. Here all worlds of shopping, dining, and entertainment collide into charming village! Boasting a free entrance makes the browsing of 100s of shops, restaurants, and entertainment venues a serious bargain!
Your Disney Springs dining options feature a combination of bars, restaurants, lounges, and quick-service kiosks. Chef Art Smith's Homecomin' features fine-dining from celebrity chef, Art Smith. For the fried chicken lovers, you can't miss Chicken Guy! where creations by Guy Fieri are served up with more sauces than one chicken finger can take! Even the kids will be transported to a tropical dining adventure at the Rainforest Café!
Once you've had your fill of dining delight, walk off your dessert and check out one of the multitude of shows or attractions! The kiddos can hop aboard the Marketplace Train Express while parents take photos and await their ticket time for a Cirque du Soleil show! Keep it simple with a movie or a round of bowling at Splitsville Luxury Lanes. The Orlando night activities are endless!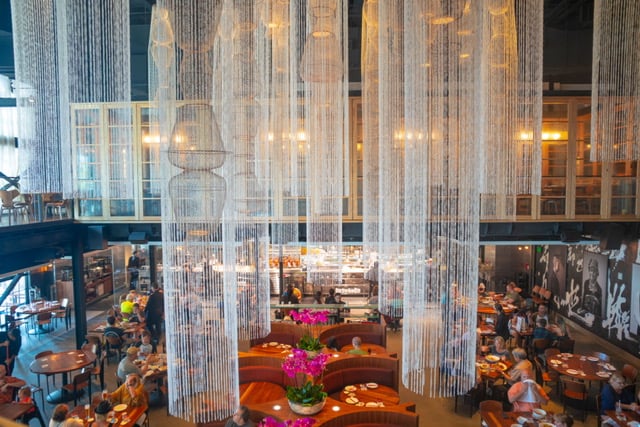 5. Go Dancing at Citywalk
Another great way to burn off the evening's indulgence is to dance it off! Top off your dinner and desserts at one of Universal Citywalk's many dance venues! Get down, and up, at the multi level dance club, The Groove.
Or let the tropical vibes pull you away to the sounds of Cuban and Polynesian tunes set in an Old Vegas setting at the Red Coconut Club. Cool off in between songs on the outdoor patio and take in the stellar views of City Walk.
You could even pay homage to the reggae legend at the Bob Marley a Tribute to Freedom club, sipping a Red Stripe beer while letting the island jams soothe your soul. The music options are limitless in the list of things to do in Orlando at night!
If you want to try out all there is to offer, consider a CityWalk Party Pass! Each club may have a cover charge, but for about $13, you'll have unlimited access to all the venues, all night! Add on an extra few bucks and that will include a movie ticket as well!
There are so many options to bundle party passes with park passes and even free guest party passes! The fun goes on and on in Orlando at night!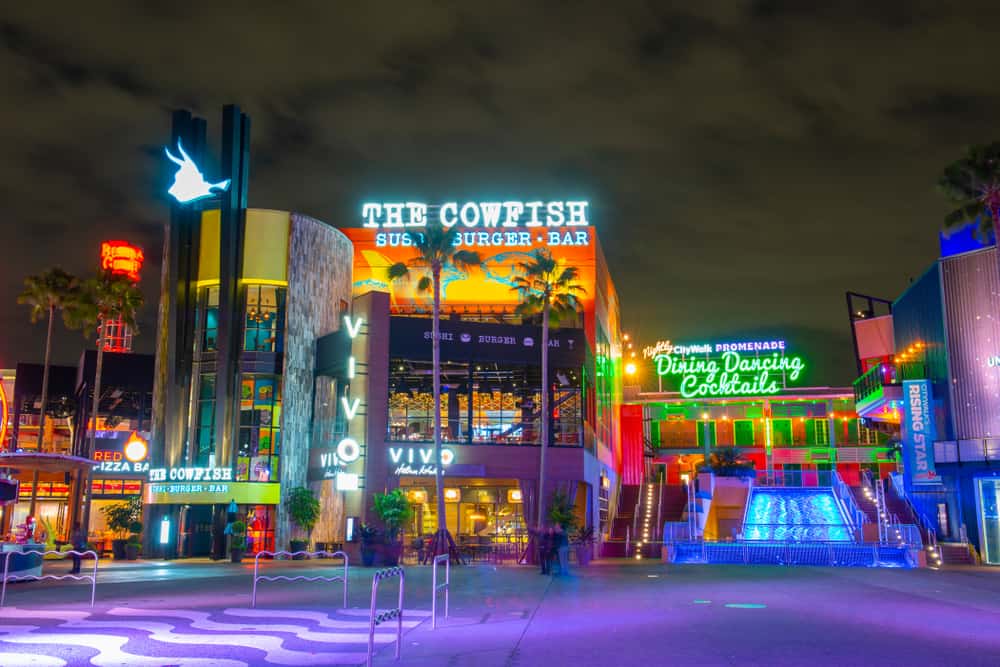 6. Park Avenue
If you want to change up the tourist scene, take a short 20 minute drive north to Winter Park. Here you'll find eclectic dining, interesting museums, and boundless shopping! Relax with your family and promenade along Park Avenue, the center of Winter Park and where world renowned eating and endless shopping collide!
Start off the evening with dinner, perhaps the The Ravenous Pig? Here James Beard nominated-chefs James and Julie Petrakis will delight your taste buds at their seasonal Gastropub. The dining options will quickly travel to the top of your Orlando night activities list.
Shopaholics rejoice! The range of eclectic shops and boutiques may cause you to purchase an extra suitcase or two, filled with your new finds! Most of the shops are on or near Park avenue, so you'll easily find your way back if you get lost in the myriad of clothing and gifts.
With over 20,000 square feet of shopping and dining, you won't run out of things to do in Orlando at night!
7. Ride the Orlando Eye
Also known as The Wheel at ICON Park Orlando, this 400 foot tall giant observation wheel opened on April 29, 2015 and provides absolute stellar views of all of Orlando. It is a true spectacle to take in Orlando at night, be it with family or solo!
Take a ride on The Wheel at ICON Park , one of the most popular things to do in Orlando at night, for a birds eye view of all of Orlando. From the top of the Observation wheel, you can not only see Walt Disney World and Universal Orlando, but all the natural beauty the city has to offer. It's an even more special thing to do in Orlando at night while you sway underneath the stars and lights! The 20 minute ride can be private, with friends, or even a private capsule. Prices start at $27.99 per person and ICON Park also offers VIP Packages and discounts when bundled with park tickets!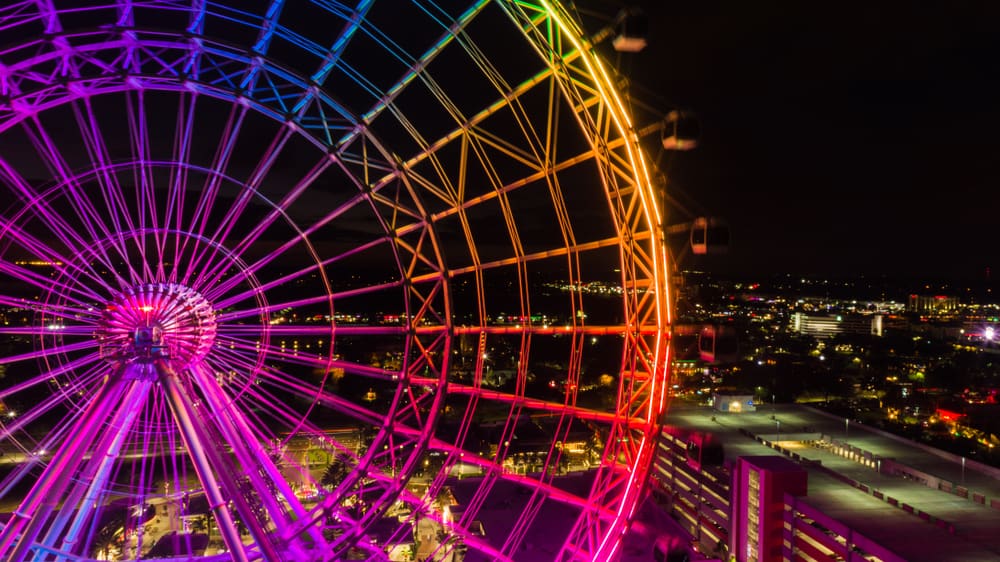 8. Stroll Lake Eola Park
Why not take a post dinner (or pre!) stroll around lake Eola Park. The .9 mile path centers around a pristine lake filled with live swans and surrounded by natural wildlife. You can park your car for free or in a metered spot close by and take in the quiet beauty right in the heart of downtown Orlando.
Aside from the limitless people and swan watching, you'll also be able to take in the colorful rainbow inspired Walt Disney Amphitheatre, maybe even catch a concert or play performance, a sure choice in things to do in Orlando at night with a family, or solo!
You could also put your feet to work and rent a swan paddleboat! For $15, you and your friends could spend 30 mins paddling in the lake, doing your best to avoid the swimming swans, of course. Rentals are open until 9 pm Wednesday through Monday and 7pm Sunday though Tuesday. Lake Eola is truly a fun and inexpensive way to do Orlando at night.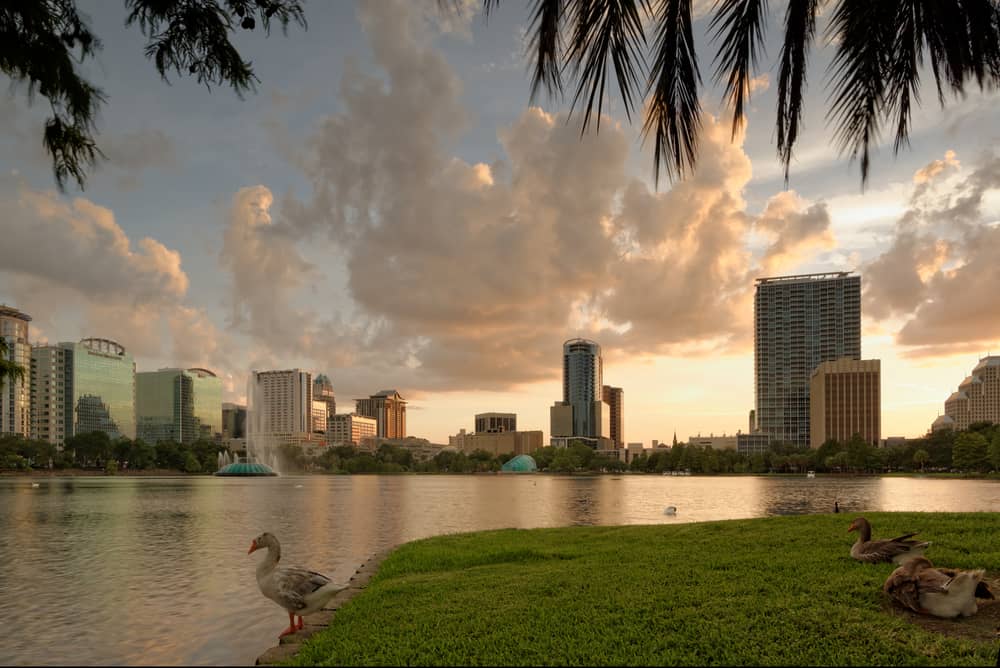 9. Moonlight Walking Tour
If you're in the mood for more dark and unique types of Orlando night activities, take a walk off-the-beaten-path, and join a Moonlight Walking Tour. You may want to bring a friend or two that doesn't mind a tight squeeze, because this walking tour takes place in Greenwood Cemetery.
Established in 1880, the cemetery offers worthy views and carries historical importance. Notable figures in Orlando's history have been laid to rest here, like city officials and mayors. The City of Orlando takes great care in owning and operating the cemetery.
You may want to pack your walking shoes for this one, as the Moonlight Walking Tour is a 4-mile trek through 100 acres. You'll visit about 100 graves of notable individuals in Orlando's history. The spooky vibes attract many tourists and locals as some of the most unique things to do in Orlando at night.
Moonlight Walking Tours are scheduled about once a month, and are very popular; so book in advance because they sell out quickly!
10. Dancing in Downtown Orlando
If the kids are staying in one night, then consider exploring downtown Orlando for more of an adults only vibe. With the highest concentration of nightclubs in all of Orlando, it's no wonder it's the place to be for nightlife in Orlando.
One of the most popular nightclubs in Downtown Orlando is Room 22 – Show bar. And a show you will most definitely receive as the waitstaff is also the dancing entertainment. The vibe incorporates a contemporary mix of burlesque and professional dancers resulting in a high energy and memorable show,
For a more posh, lounge type of evening, head on over to Eve Orlando. Their beautiful interior will further add to your enjoyment as you sip specialty craft cocktails amidst brilliant lights; creating a colorful vision to the space. On any given night of the week there is a theme like Latin night or Ladies night, so you'll be surely surprised of what things to do in Orlando at night.
Downtown will have something to please any type of party-goer looking for some fun things to do in Orlando at night.
11. Visit the Performing Arts Center
The Dr. Phillips Performing arts center showcases the Orlando Philharmonic, to live stand up comedy shows, and Celebrity artists! A perfect to-do on your Orlando night activities list would be to check out a show and support the arts!
When planning your visit, look at the events calendar and see who or what will be performing while you're in town. The variety of performances are endless! Dance ensembles, nationally renowned Orchestras, movie nights, talk show hosts, Operas, and internationally recognized singers have and do continue to grace the stage at the Dr. Phillips Performing Arts Center.
An truly entertaining experience of things to do in Orlando at night!
12) Join the Orlando Magic
Any basketball fans in the house? The excitement that fills the air in an arena of thousands of fans all cheering for one common goal- for their team to win- it is eclectic!
If you have never felt it then we can not recommend this enough! Look up the schedule and see if the Magic are playing at home and grab a couple of tickets. Don you team gear, pick up nachos and a large soda and cheer till your voice runs out! You may regret the voice loss, but you won't regret the crazy amount of fun you'll have with these Orlando night activities!
For big fans, maybe even consider a VIP experience and watch the game from a private box with catered food and drinks? With excellent service and high energy all around you, we bet a Magic game will be always remembered as one of the best things to do in Orlando at night!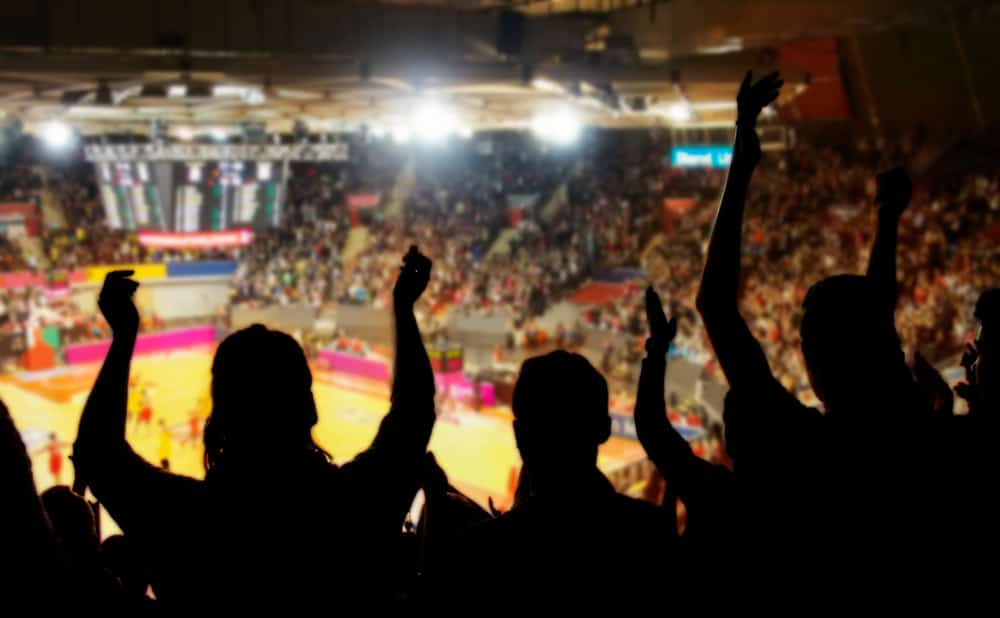 7) Chip 'N Dale's Campfire Sing-A-Long
Now don't think we've forgotten about the little ones! One of the best free things to do in Orlando at night with little ones is a campfire sing-a-long at Disney's Fort Wilderness Resort. Even if you're not a guest at the resort you can still attend the campfire sing-along.
Feel free to pack your own smores or purchase them at the snack bar to roast by the fire. Afterwards, stay and enjoy a classic Disney film under the stars (does it get any better than that?)
Bring your camera and snap a take home photo with Chip and Dale to remember one of the best things to do in Orlando at night with a family.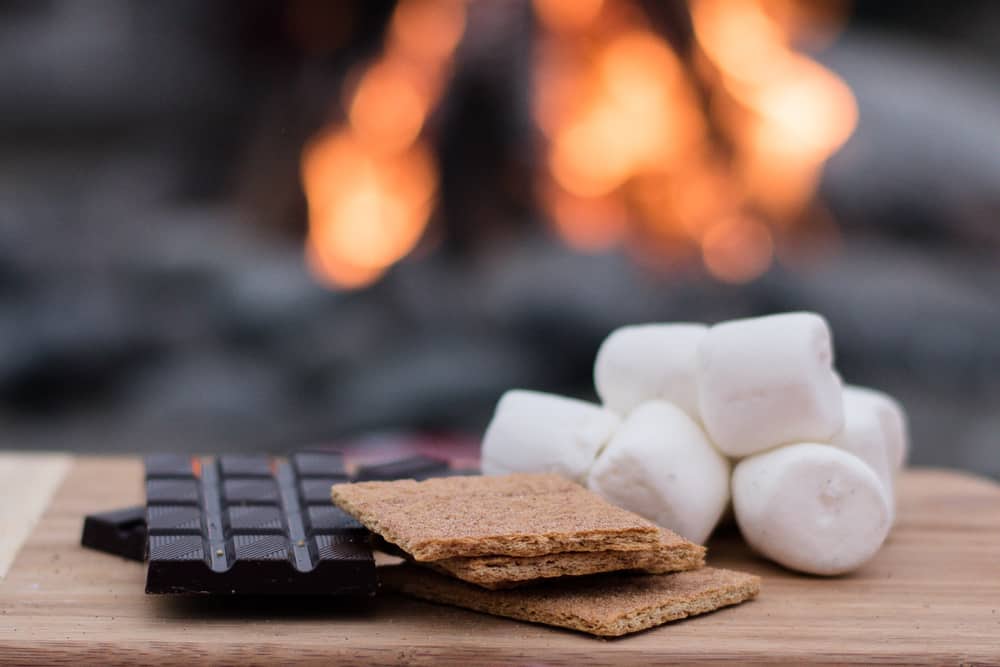 14. Sip some Beers at Orlando Brewing Company
And this one is for all of our beer lovers out there! Nestled in the center of the City Beautiful is Orlando's very own, Orlando Brewing Company. A locals favorite and one of the best things to do in Orlando at night.
If you love knowing where your beer is coming from, then you'll be pleased to know that this brewery is one of only 10 organic breweries in America! They have free tours available on a first come, first served basis so get there early and get your knowledge on – or your drinking!
Once the tour ends, meander over to the bar and try the other brews on tap. The taproom is open until 9:00 pm or later depending on the day of the week. You and your friends will have a blast in Orlando at night drinking Darn Good Beer and making great memories.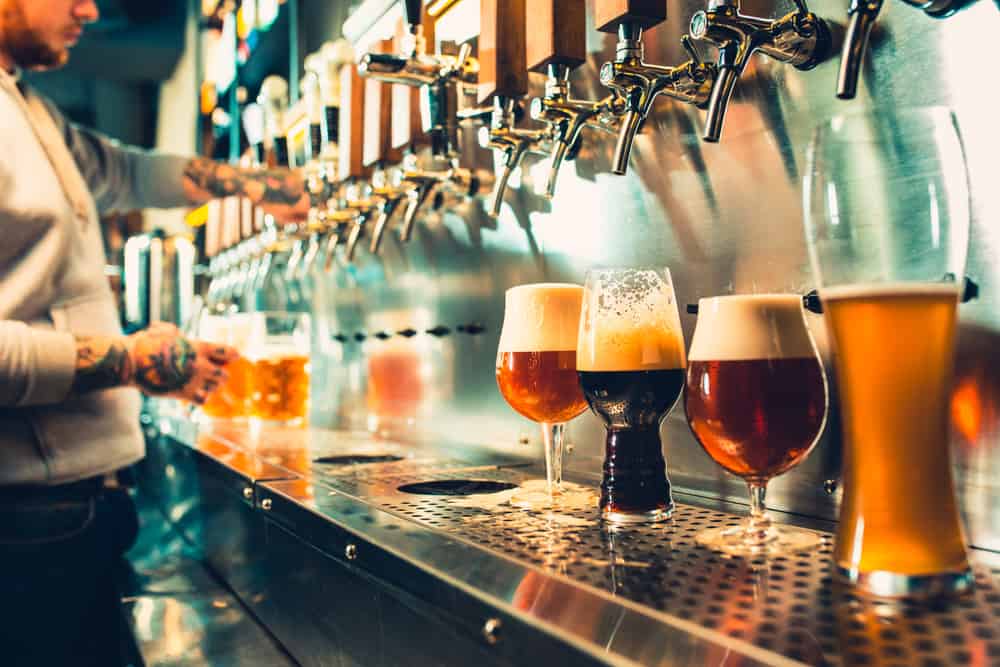 Did You Find This Post Helpful?
We hope you discovered some of the top things to do in Orlando at night with a family or in your own company through this article. Orlando at night will leave you wanting to come back for a visit time and time again!
If you do, we would love to keep in touch! We enjoy seeing photos and comments about your experiences in Orlando! You can follow us on Instagram and we will repost your photos on our feed and comment too! Just tag us at @floridatrippers and hashtag #floridatrippers. We can't wait to see your travels!