You've conquered the beaches, and you've braved the national parks, so now it's time for you to make the pilgrimage to Crab Island, Florida. Found in beautiful Destin, you need to experience one of the natural wonders that makes Florida so… well, quintessentially Florida!
If you've never been, then you're in luck. We're here to explain to you the tricks of the trade. Getting to Crab Island, Florida is as easy as pie. And once you're there, there's nothing to do but bask in the crystal clear waters and live that island life that you deserve. Let's dive on in!
Don't forget to check out some of the best beachfront hotels in Destin for planning your trip!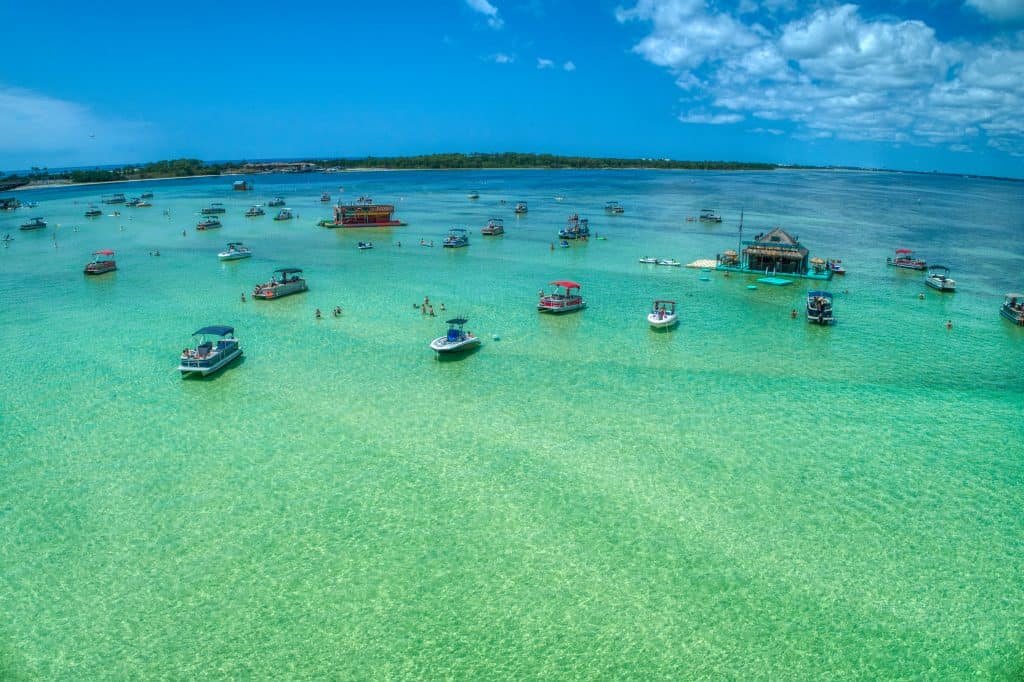 What Is Crab Island?
Crab Island, Florida is one of the most infamous attractions in Destin. If you've ever been to the area, you've probably heard locals talking about it. One of the most popular summer destinations, Crab Island, Florida has been features on HGTV, Good Morning America, in various travel magazines and publications across the globe.
It's name is slightly mislead because Crab Island isn't actually an island. It at one point was a manmade island, created by the Army Corps of Engineers. Over time, thanks to hurricanes, the island has eroded into an underwater sandbar.
Many boats come to anchor here. There is no actual land anymore but the water is incredibly shallow. At high tide, the water is only one to four feet deep. Many tourists and locals come here just to relax in the cool, blue-green waters of this enormous sandbar.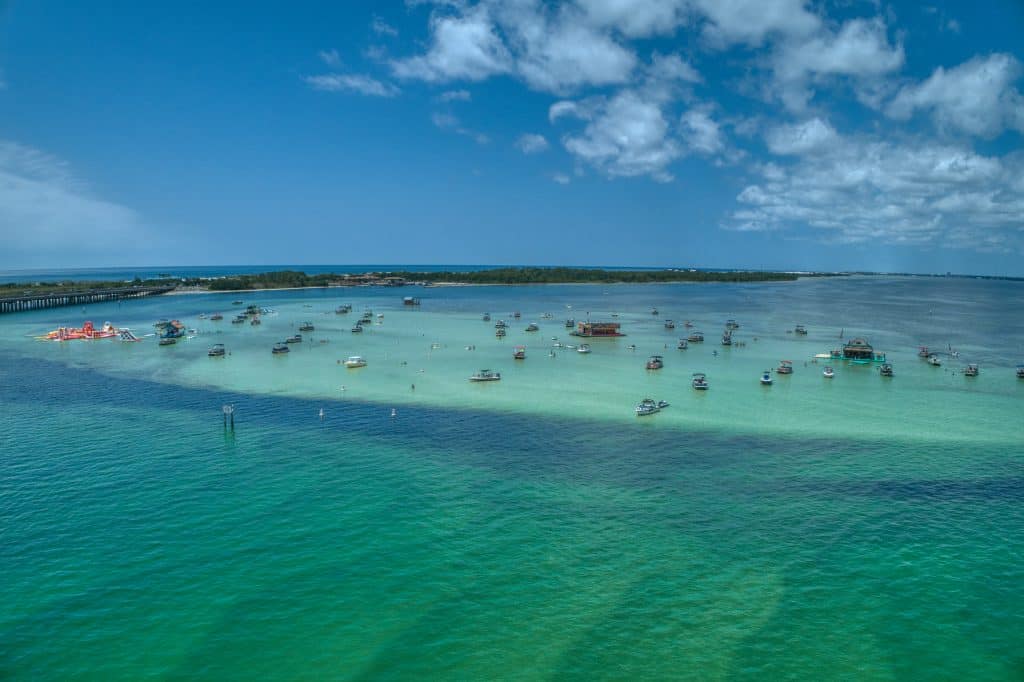 Where Is Crab Island Located?
Crab Island can be found in Destin on Florida's panhandle. Specifically, you'll find the beautiful sandbar on the north side of the Destin Bridge. This is also the southern entrance of the Choctawhatchee Bay just inside Destin's East Pass.
Crab Island, Florida also holds unique status because it is open to the tidal inflow and outflow of the waters of the Gulf of Mexico. Even still, its location protects it from the surf and heavy waves you would normally see along the beach.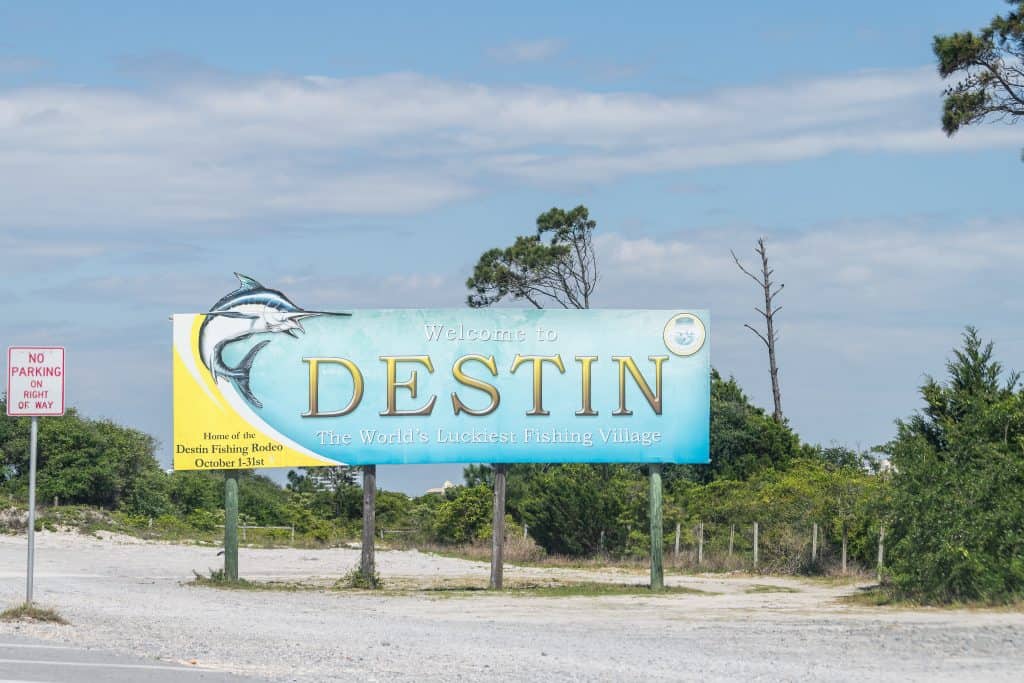 Best Time Of Year To Visit Crab Island
In the most general sense, when you decide to visit Crab Island will depend upon your tolerance for Florida climate. Even though the panhandle has humid subtropical weather, Destin can be as chilly as 50 degrees Fahrenheit during the winter. The water at its coldest will be a cool 60 degrees Fahrenheit, but you northerners might not mind. Keep in mind, this is only ten degrees colder than most of Florida's natural springs.
That being said, if you prefer warmer temperatures, then you will have success making the trip to Crab Island, Florida from the early spring to early fall months. Keep in mind that Florida's peak season months are February through April for snowbirds and spring breakers as well as June and July for summer breakers.
Crab Island, Florida is open 24/7, but we recommend going in the early morning or late afternoon when the sun's rays are not as harsh. During the daytime hours, that's when you'll find the most activities and most of the food vendors will be operating.
If you're hoping to get the most Instagram-worthy backdrop, then we recommend going during high tide. This is because the waters will still be clear, but will take on that beautiful blue-green color that you see in pictures. You can easily track the tides on your local weather app on your phone!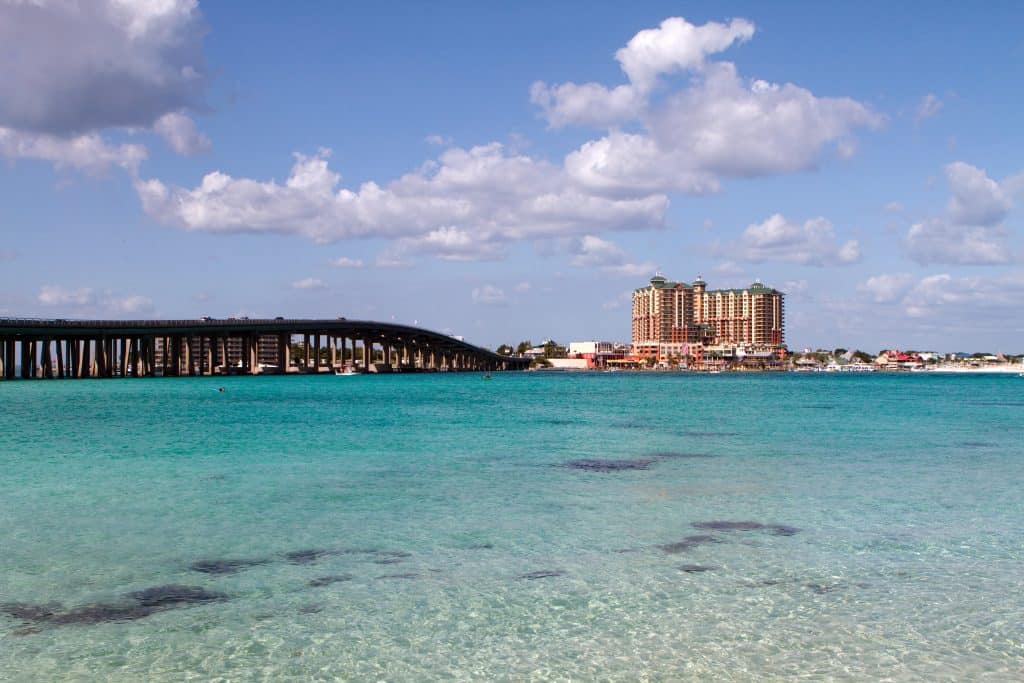 What To Pack For Crab Island
This doesn't just go for Crab Island, this goes for all of Florida: sun protection is the name of the game. Especially if you're prone to skin cancer, you're going to want to pack a lot of waterproof sunscreen, sunglasses, and perhaps a large sun hat to keep those rays off your face. Other beach essentials like towels and water shoes are recommended.
We recommend Reef Safe Sunscreen because it's biodegradable and won't hurt the plant and animal life in the water! Check it out on Amazon.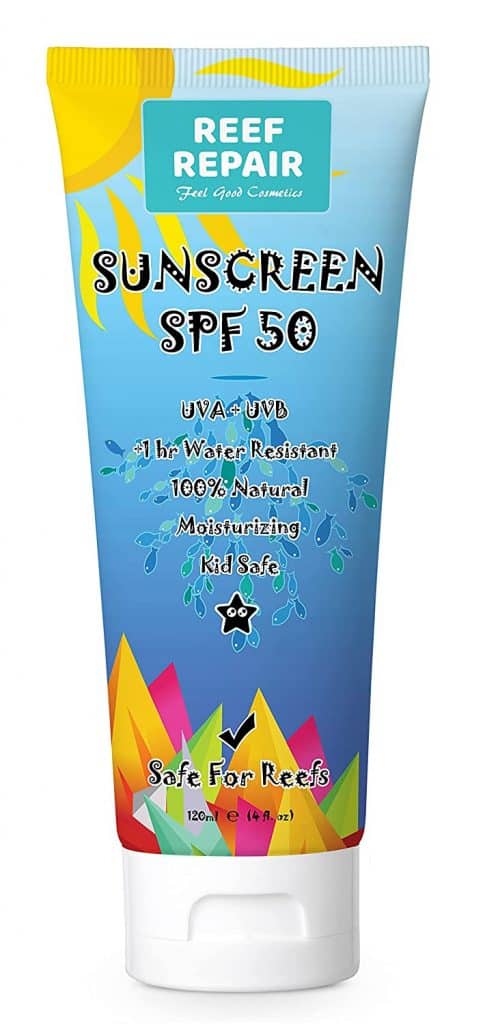 While there are food vendors floating about, it never hurts to bring your own cooler. Make sure to bring PLENTY of water to rehydrate yourself. You are permitted to bring alcoholic beverages, but please be responsible. Food is also permitted, but bring a garbage bag so you can clean up after yourself!
Reduce your carbon footprint and leave plastics out of the ocean by bringing your own reusable, insulated water bottle! Here's one we like on Amazon: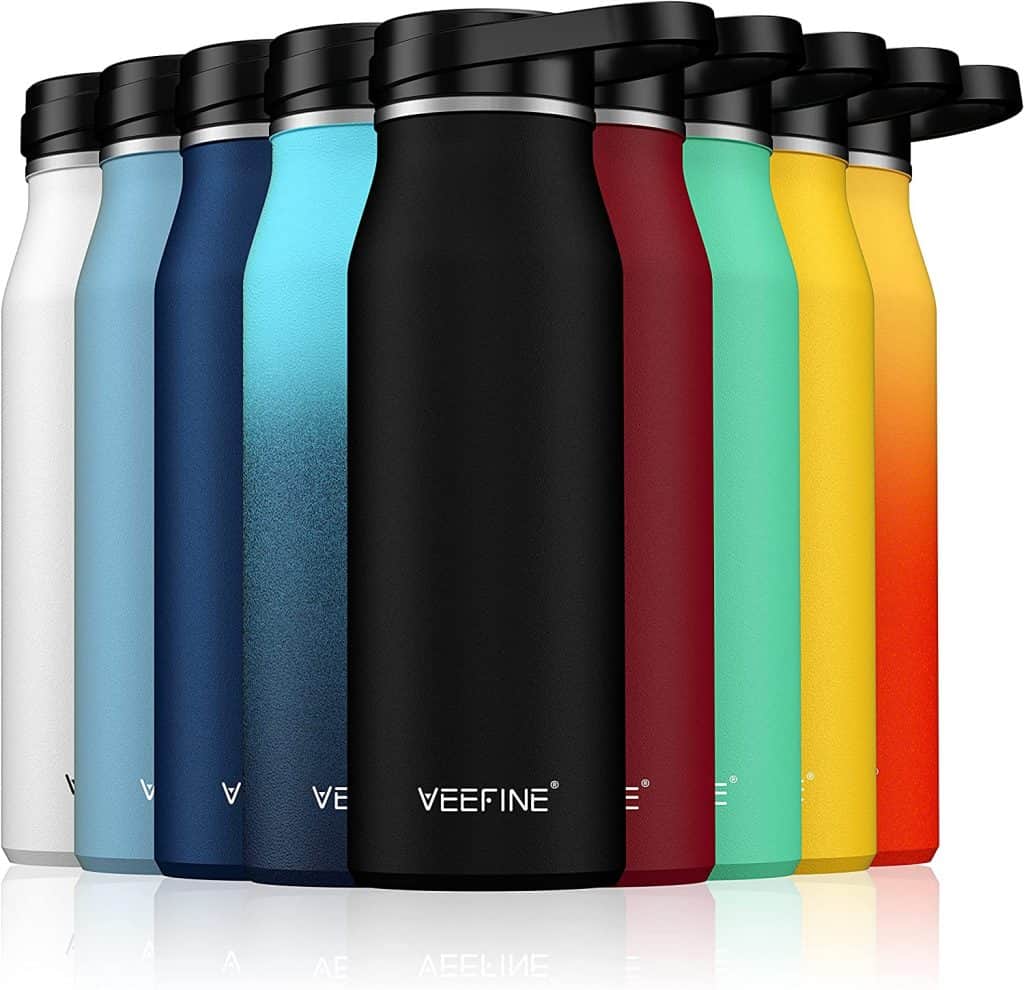 Of course, you're going to want to enjoy the water, that's what Crab Island, Florida is all about! Bring rafts, pool noodles, water toys, and anything you'd like to play with in the water! Snorkeling gear is a must, as you can see aquatic life flitting about you.
We also recommend bringing cash with you in a waterproof container or pouch. Here's the one that we like on Amazon!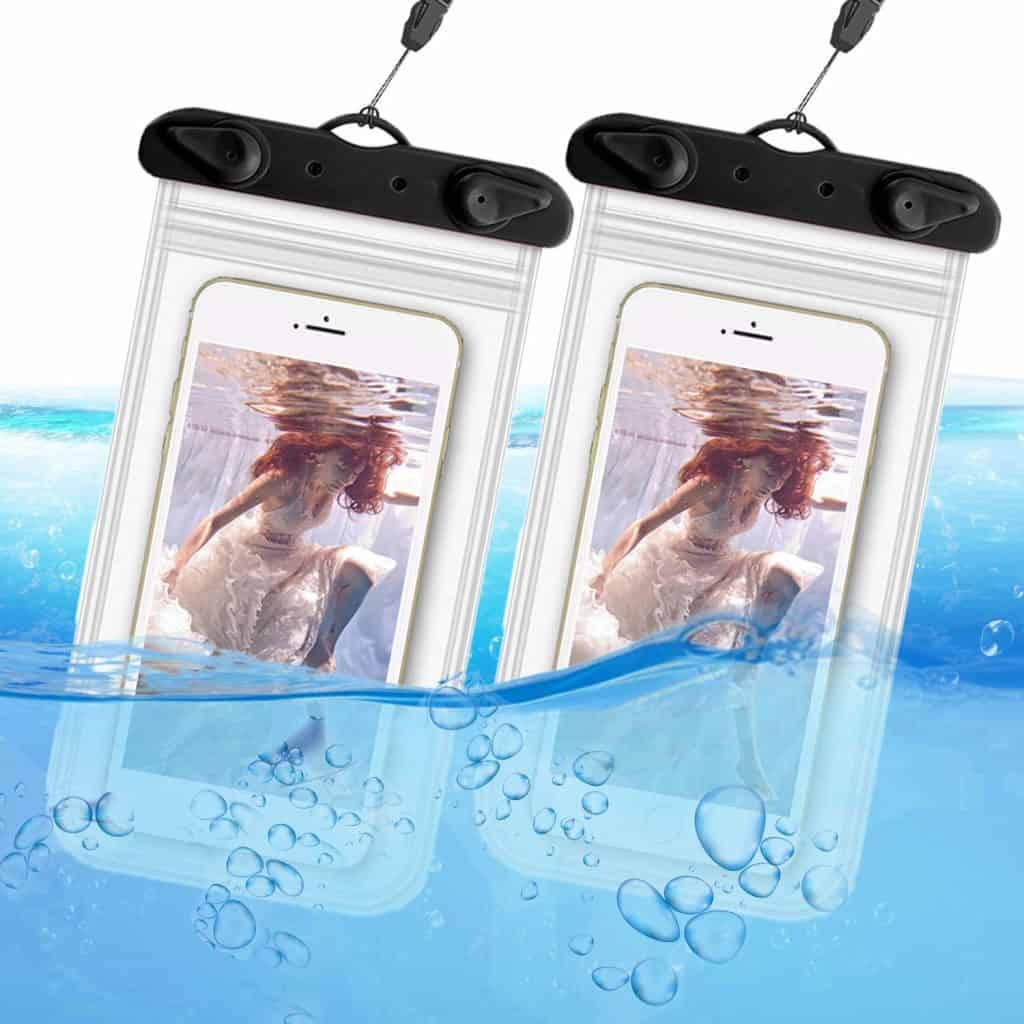 There are lots of vendors that frequent the waters of the sandbar, and you'll never know just what you'll just HAVE to take home with you. And last but not least, bring your camera to capture those memories!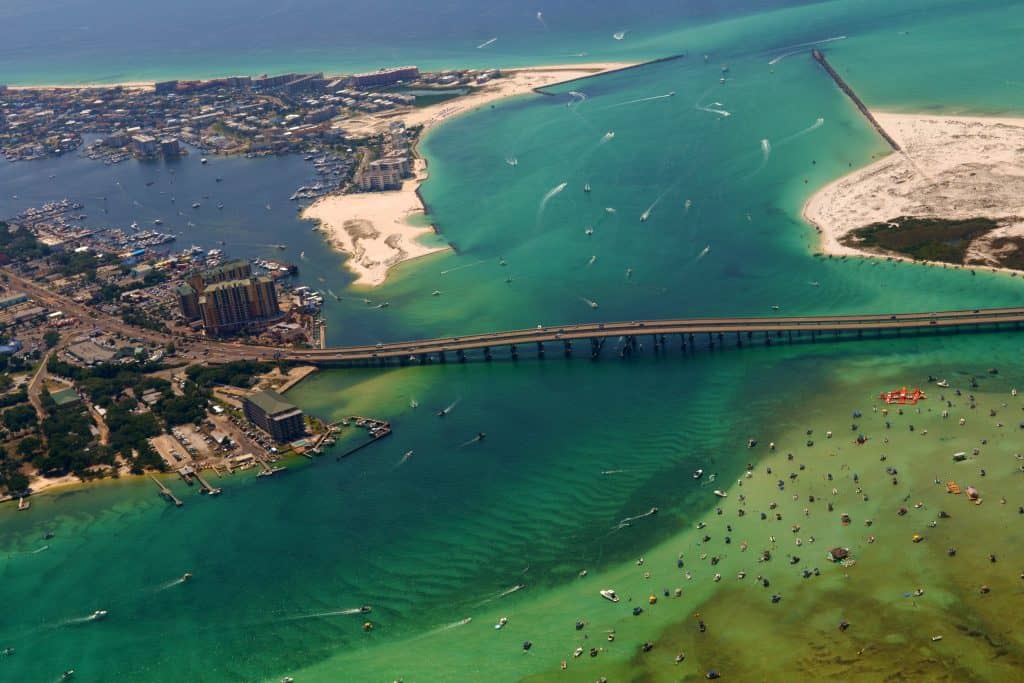 How To Get To Destin's Crab Island
Unfortunately, the only way to get to Crab Island, Florida is by boat. No, you can't drive your car there. And it's too far from the beaches for you to swim there!
Luckily you have options. You can rent a boat or charter your own. But don't discount excursion services which will take all the hassle and work out of planning for you!
The Crab Island Company offers a Shuttle Boat, or a wildly popular Adventure Tour. In addition to spending two and a half hours in the waters of Crab Island, Florida, you'll also go on a guided tour of Destin Harbor, play on water trampolines, water slides, paddle boards, and ocean kayaks. Tickets Start at $65!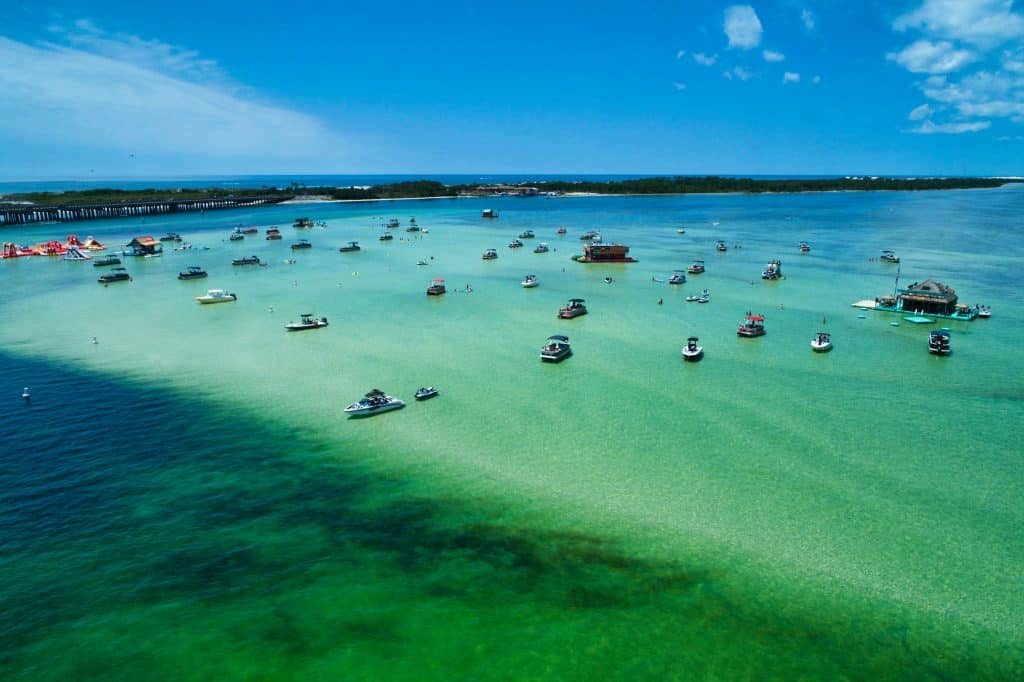 Best Crab Island Boat Tours
As mentioned above, The Crab Island Company offers a Shuttle Boat, or a wildly popular Adventure Tour. In addition to spending two and a half hours in the waters of Crab Island, Florida, you'll also go on a guided tour of Destin Harbor, play on water trampolines, water slides, paddle boards, and ocean kayaks. Tickets start at $65!
We also like Sun Venture Cruises! During the summer they host a mid-morning Crab Island cruise that lasts three hours, as well as an early afternoon excursion that lasts four hours. They also offer a tour of Destin Harbor to see dolphins in the evening, and once a week during the summer, you can take a two hour dolphin, sunset, and fireworks cruise every Thursday night!
Another popular option is the Crab Island Water Taxi! For $50 daily, you can enjoy a round trip water taxi ride on a boat with seating for 160 people. You'll have access to free water, soft drinks, juices, and snacks. They also provide floats and inner tubes for water fun. There's also a live DJ, games, and a gift shop!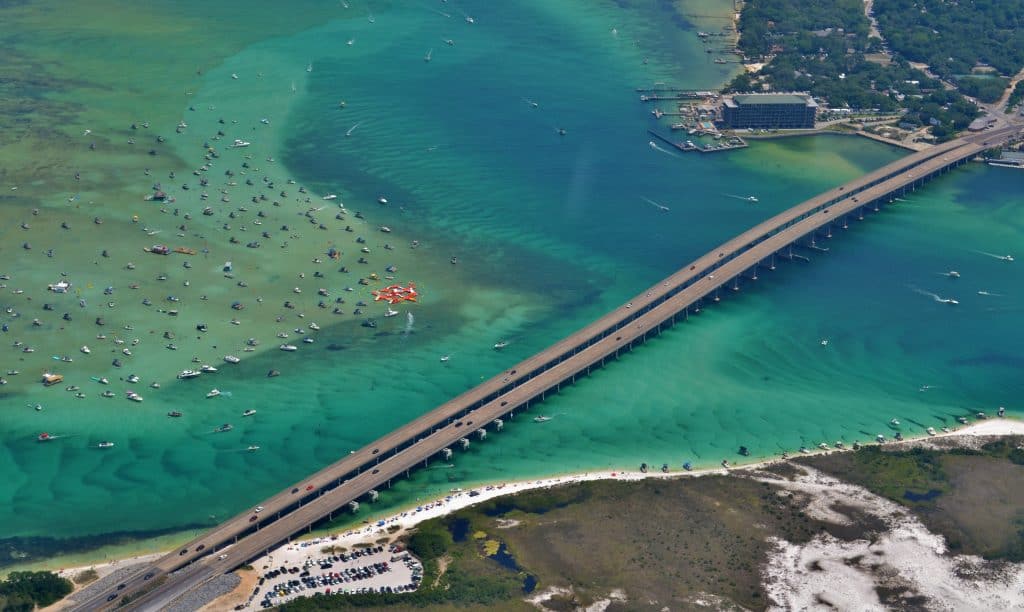 How Long To Spend At Crab Island In Destin
There is no set time for having fun at Crab Island, Florida. You can choose to stay for as little or as long as you like. The general consensus? Most people wish they had stayed for a longer duration of time. That's just how great this place is.
If you're renting or chartering a boat, most of those rentals come in four, six, or eight hour blocks. Most families choose a four hour option because they feel that six to eight hours will be too long. They could not be more wrong. We recommend renting a six hour or eight hour block. You won't regret it.
Conversely, if you choose to go with a ferry or tour service, you are a bit more restricted in your options. Most companies have set times that they set sail to and from the sandbar. If you want to make the most of your day in sun, we recommend looking for a tour that allows you the maximum time in the water!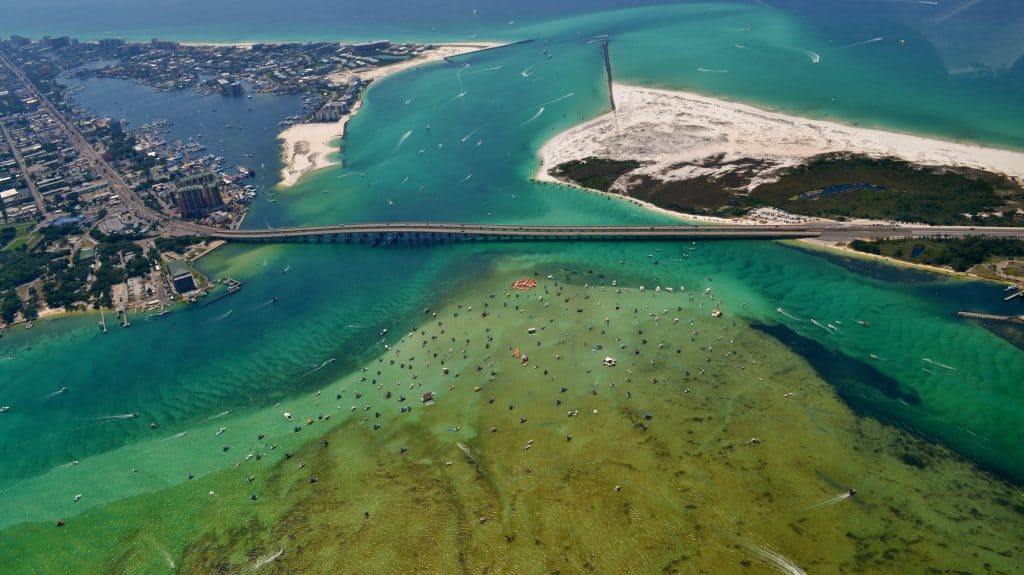 Things To Do On Crab Island
Crab Island, Florida is a water sports haven. Imagine all the fun you have in the shallow shores of the beach, minus the waves and heavy surf. This means its perfect for families, even those with small children. Make sure to check out our list of the best beaches in Destin for your trip!
Relax on your boat and soak up some sun. You can relax on a float with a tropical drink in hand for a cooler, more refreshing tanning option. Paddle around the sandbar by kayak or paddle board for a fun work out. Make sure to make some new friends and enjoy the people watching opportunities.
There are lots of inflatables and games happening around. There's always a game of water volleyball happening around somewhere. Put on a snorkel mask and float through the waters and look for little crabs and other sea life. Toss a football or frisbee around. You can also dive through the water to catch it!
Make sure to float around to the different vendors. There are lots of floating restaurants and mobile food boats around! Do a round first before you decide what you want to eat! If you want to indulge in alcoholic beverages, make sure to bring your own. BYOB is permitted, but vendors are not allowed to sell alcohol anymore.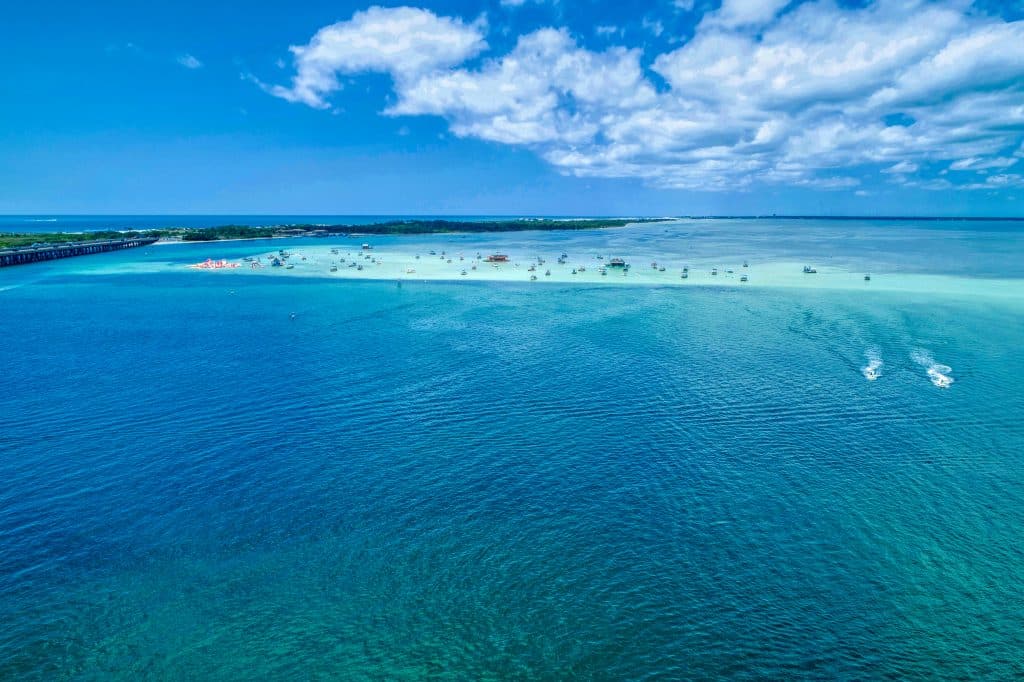 Quick Tips For Visiting Destin's Crab Island
If you're chartering your own boat, go for the longer option: a six or eight hour block rather than a four hour rental period. Most everyone agrees that they wish they could have spent more time on Crab Island, Florida.
Make sure to pack the essentials, but lightly: towels, floats, water toys, sunglasses, a cooler with water and refreshments, and most importantly, WATERPROOF SUNSCREEN.
We also recommend bringing a waterproof case for things like your phone, your camera, and your cash! You'll want to bring cash with you for the floating vendors that sell trinkets and food!
Make sure that you clean up after yourself. The waters of Crab Island, Florida are pristine and beautiful. Since there is no land here, there are no trash cans, so make sure you have a garbage bag with you!
If you want to avoid crowds, try to go in the early spring, or the end of the summer. This way, you won't be facing the high numbers of spring breakers and summer vacationers. This is truly one of the best beaches in North Florida so it makes sense!
Remember that if you don't want to rent or charter a boat, there are multiple boating services that will taxi you out to the sandbar. Keep in mind that you will have to adhere to their schedule and may not be able to spend as long as you'd like in the water. Don't forget to check out Where To Stay In Destin on your trip with our helpful area guide!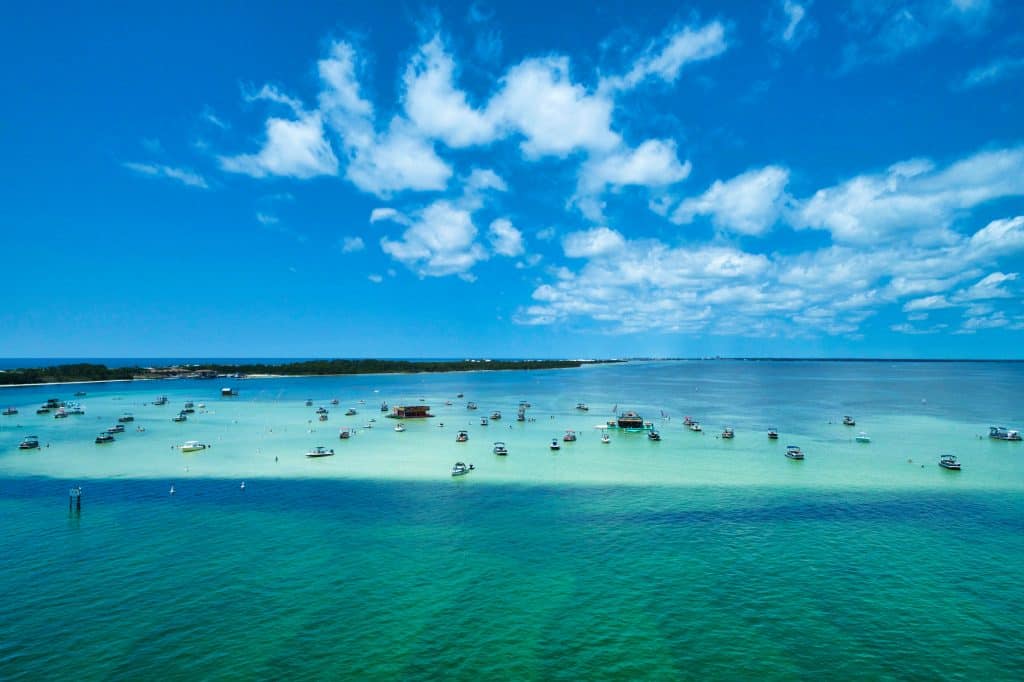 Did You Find This Post Helpful?
If so, we would love to keep in touch! We enjoy seeing photos and comments about your experiences in Florida! You can follow us on Instagram and we will repost your photos on our feed and comment too! Just tag us at @floridatrippers and hashtag #floridatrippers. We can't wait to see your travels!